This page contains affiliate links. Please read our disclosure for more info.
Walking the Queen Charlotte Track in the Marlborough Sounds, New Zealand is one of the best things we've ever done.
We are not hardcore hikers, but we've come to find multi-day hikes wonderfully relaxing—as long as we can stay in comfortable accommodation and have our bags transferred.
This coastal track isn't too challenging (although there are hills and the longest day is 25km) and we lucked out with perfect weather for all five days.
The scenery is astounding with so many shades of blue and green in the forest-covered mountains and clear water of the sounds.
We saw dolphins, stingrays, and many native birds (including the cheeky weka who always turned up at lunchtime).
Once we arrived each day, we could swim in the sea, kayak through the bays, enjoy a glass of local Sauvignon Blanc, eat a hearty meal, and soak in a hot tub.
The Queen Charlotte Track is the ideal multi-day hike (or tramp as they say in New Zealand) for newbies.
Unlike most of the tramps in the country, the trail passes through some private land which means there are comfortable lodges available as well as campsites.
Your luggage can be transferred each day by water taxi, and if you ever want to skip a day, just hop on the boat with it.
The trip is especially good for groups—your non-walking companions can take the water taxi and meet you at the lodge later in the day while you walk.
The trail is very easy to follow—it's almost impossible to get lost and you don't even need a map. You'll find Department of Conservation (DOC) maps and estimated times along the way as well as the occasional long drop toilet and picnic tables.
It's also possible to mountain bike the Queen Charlotte Track in two to four days, but some sections are closed during the busiest time from December to February.
This Queen Charlotte Track review includes our itinerary, where we stayed, a map, how to get there, and lots more tips on planning the hike.
Contents
How Long is the Queen Charlotte Track?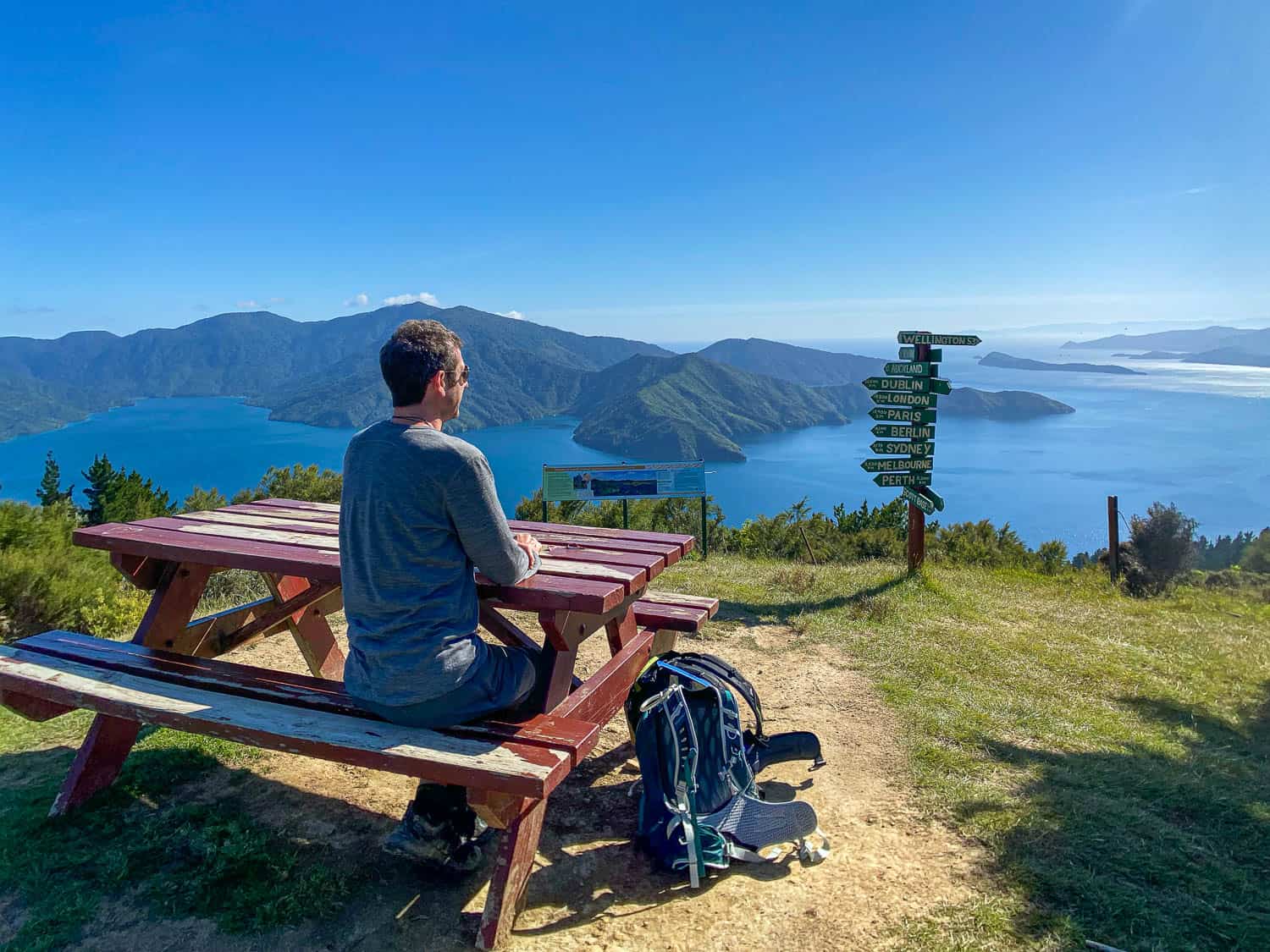 The Queen Charlotte Track is 72km (45 miles) long and most people walk it in four days.
It is possible to walk it in three days, but you'll have to move at a much faster pace and will have less time to enjoy the beauty of the area.
We met a guy who was so exhausted after his first nine-hour day (he covered our first two days in one) that he decided to skip the rest of the trail and take the water taxi.
Some people spend five days on the Queen Charlotte Track. This is what we did, taking a detour 3.5km off the track to Lochmara Lodge, which is well worth a visit.
You could also have a rest day at Portage Hotel after the longest day of the hike.
We ended up walking a total of 83.5km (52 miles) in five days including detours to Lochmara and a couple of scenic lookouts.
If you have limited time, you don't need to walk the whole track (although I highly recommend it if you can). The water taxis mean you can just visit for a day hike from Picton or walk a couple of days and stay overnight in a lodge.
Either way, the track is one of our top picks for the best things to do in South Island, New Zealand.
Queen Charlotte Track Itinerary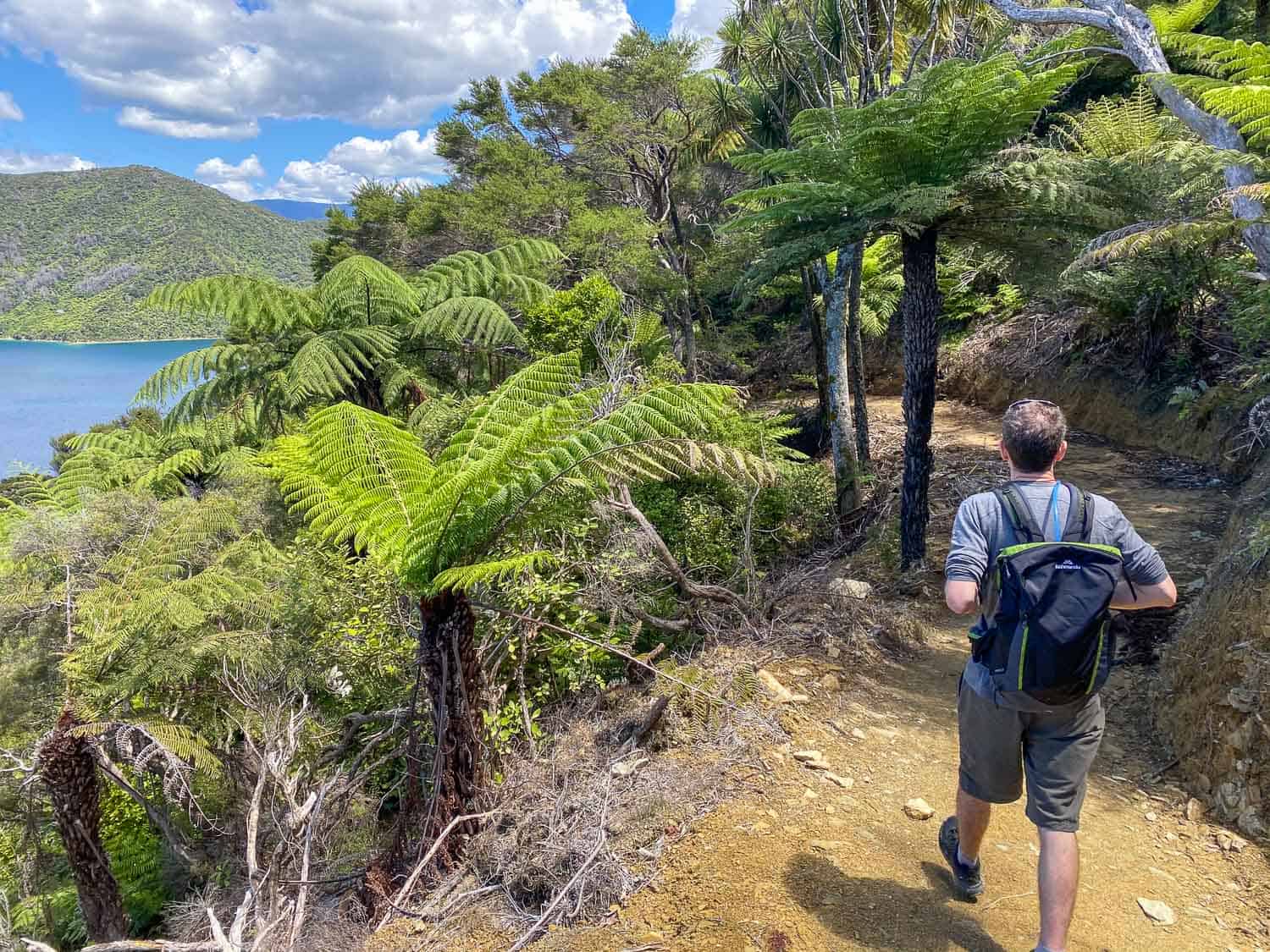 Most people start the Queen Charlotte Track in Ship Cove (the furthest point from Picton) and walk towards Anakiwa (a 20-minute water taxi ride from Picton).
Here are the times and distances for our five-day Queen Charlotte Track itinerary (with a detour to Lochmara). They are taken from the GPS on our Apple Watch.
We found that we took less time than the DOC estimated times (which we've given in the daily summaries below). These walking times don't include breaks (we've included those below too).
Day 1 – Ship Cove to Furneaux Lodge 16.8km (10.4 miles) / 3 hours 40 minutes
Day 2 – Furneaux Lodge to Punga Cove Resort 12.3km (7.6 miles) / 2 hours 45 minutes
Day 3 – Punga Cove Resort to Portage Hotel 25km (15.5 miles) / 5 hours 48 minutes including detour to Eatwell's Lookout
Day 4 – Portage Hotel to Lochmara Lodge 9.3km (5.8 miles) / 2 hours 20 minutes
Day 5 – Lochmara Lodge to Anakiwa 20.16km (12.5 miles) / 4 hours 48 minutes including detour to Onaharu Lookout
Here's the Queen Charlotte Track elevation map (you walk from right to left):

Queen Charlotte Track Accommodation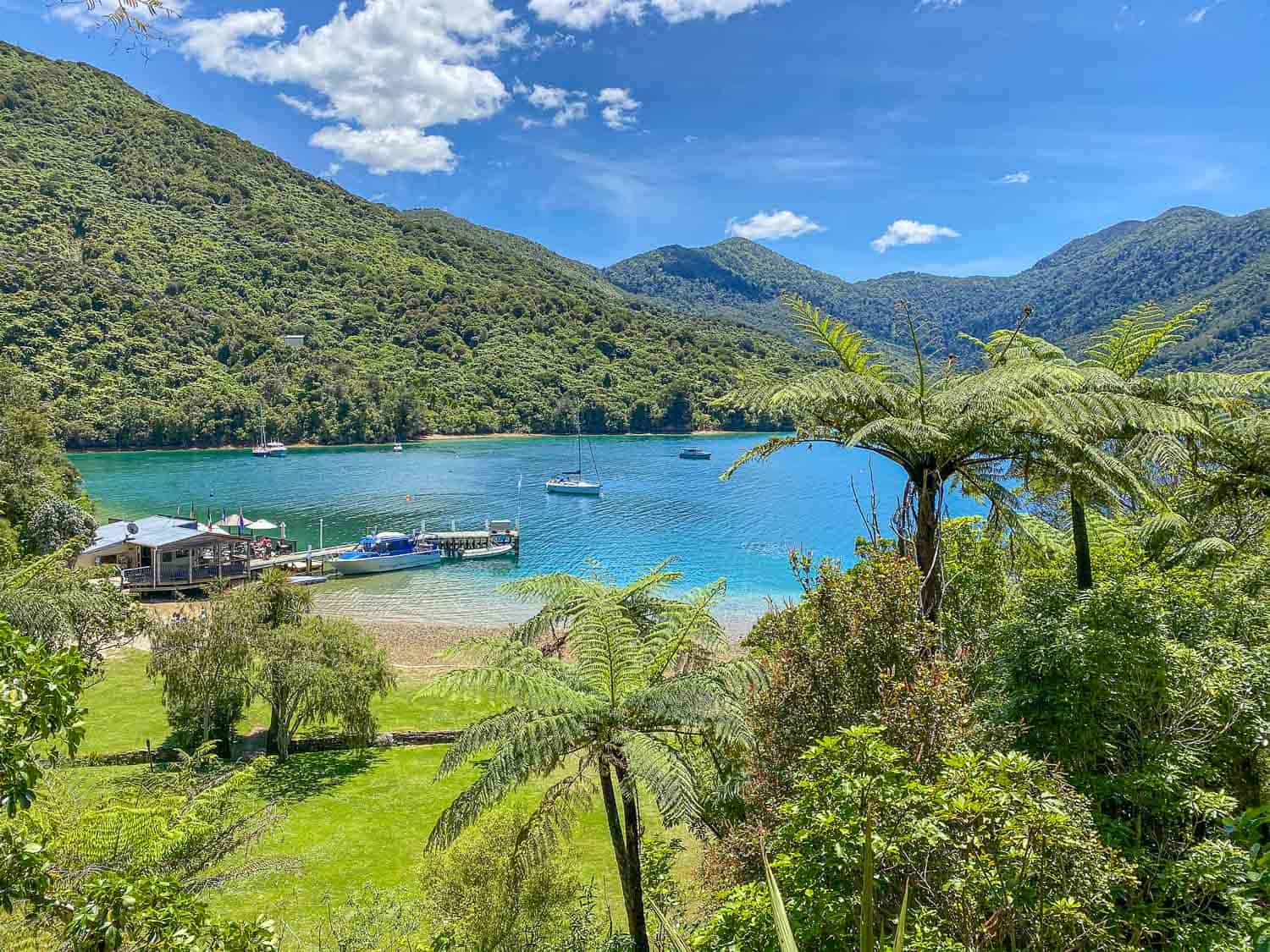 There are campsites on the Queen Charlotte Track, so if you are on a tight budget, you might want to camp, although some of the hotels have budget rooms.
What we love about the trail is the opportunity to stay in comfortable lodges in private rooms with ensuite bathrooms, many with sea views.
All the lodges have restaurants where you can enjoy a drink and meal at the end of a day's hiking.
They can also provide packed lunches for the next day's hike as there is nowhere to buy food during the day.
Everywhere we stayed was right on the water so you can swim in the sea. Some have swimming pools, hot tubs, and complimentary kayaks to borrow.
Here's where we stayed on the trail:
You can find more detailed reviews in the day descriptions below. Our favourites were Punga Cove and Lochmara.
Queen Charlotte Track Water Taxi and Baggage Transfer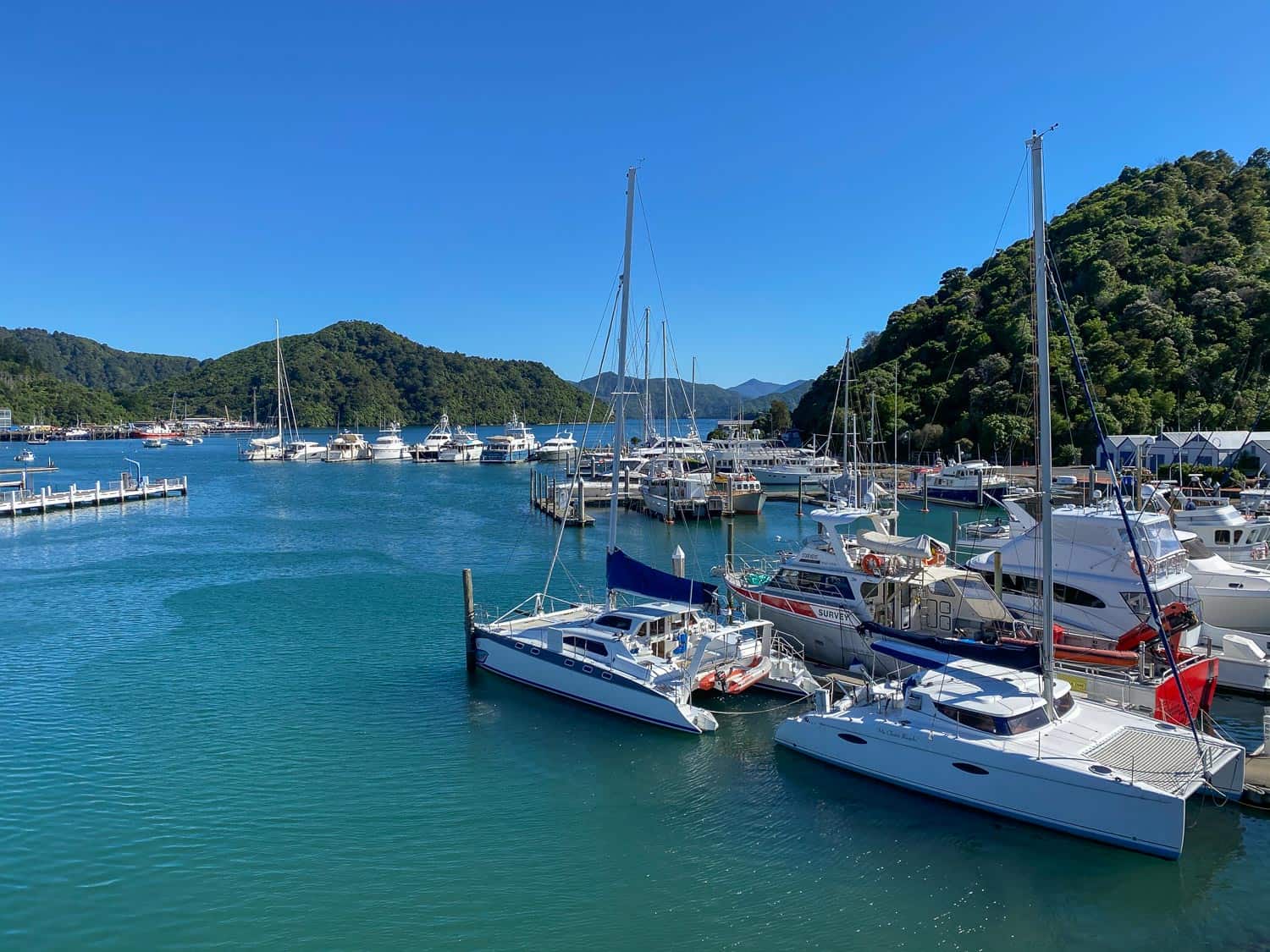 Picton is the starting point for the Queen Charlotte Track. It's a small town at the top of the South Island of New Zealand.
You can reach it by ferry from Wellington on the North Island (3.5 hours), by bus from other destinations on the South Island (Nelson and Kaikoura are both about two hours away), or by car.
I highly recommend a celebratory trip after the hike to the Marlborough wineries which are just 30 minutes away and famous for Sauvignon Blanc.
From Picton to the start of the track in Ship Cove you'll need to take a water taxi, which must be booked in advance.
There are a few companies—we went with Cougar Line who offer a Round Trip Track Pass for NZ $125 adults/ NZ $62.50 children. They operate every day except Christmas Day.
This includes free transfer of your luggage between each lodge, so you only need to carry a day pack each day.
We found the service very efficient and our bags always arrived before we did (even on short hiking days).
The outward trip from Picton to Ship Cove took 1 hour 15 minutes and the return journey from Anakiwa to Picton took 20 minutes.
How to Plan a Hike on the Queen Charlotte Track

It's easy to arrange an independent hike on the Queen Charlotte Track. Here are the most important steps:
Book Accommodation – There isn't a huge amount of choice, so it's best to book at least a few months in advance in the busier December to March summer months.
Book Water Taxi with Luggage Transfer – Once you know where you are staying (for the luggage transfer details), you can book your water taxi to the start and back from the end.
Buy a Land Pass – As the track passes through privately owned land, you need to buy a pass before you get to Punga Cove. It's best to do this ahead of time from the water taxi office when you arrive in Picton. It costs NZ $30 for five days.
Train – Although it's not a very difficult hike, you do need to have reasonable fitness, so get out and walk as much as possible. The longest hike we did in training was a hilly 10km (3 hours) plus we walked up a nearby hill (30 minutes) about four days a week. We felt this was enough.
Pack – See our tips below.
Although it wouldn't be too difficult to book all of the above yourself, we decided to make things easier and booked a self-guided freedom package with Marlborough Sounds Adventure Company in Picton.
They booked everything for us but we hiked alone. It made for a stress-free experience.
They also offer trips in small groups with a guide, but I don't think this is necessary as the track is simple to follow.
If you are new to multi-day hikes and a little nervous, I especially recommend booking the package.
Marlborough Sounds Adventure Company were very responsive to my questions before the hike and on departure day they provided us with a packed lunch and a useful booklet with an elevation map and details on what to expect each day including places to find water, toilets and rest stops. They also dropped us off at our accommodation after we returned to Picton.
Freedom packages with Marlborough Sounds Adventure Company cost from NZ $930 per person for a four-day hike in a standard room. You can also upgrade your room and add an extra day as we did.
The cost includes accommodation, water taxi, luggage transfer, land pass, and packed lunch each day. Breakfast and dinner are paid for separately at the lodges.
Best Time to Walk the Queen Charlotte Track
The weather is mild on the Queen Charlotte Track and it can be hiked at any time of year.
Most people walk it during the warmer months from October to April with the most popular months being the height of summer from December to February.
We hiked the track in mid-December just before the schools went on summer break (from before Christmas until the end of January).
It wasn't too busy and the weather was perfect—sunny every day but not too hot with cool mornings and afternoons around 18ºC – 20ºC.
We did get lucky, though, as the weeks before and after our hike were rainy.
Since our hike we've returned to the Marlborough Sounds twice—in mid-December again and in mid-March.
Both times we were lucky with warm sunny weather, although is felt a little colder at night in March.
Packing for the Queen Charlotte Track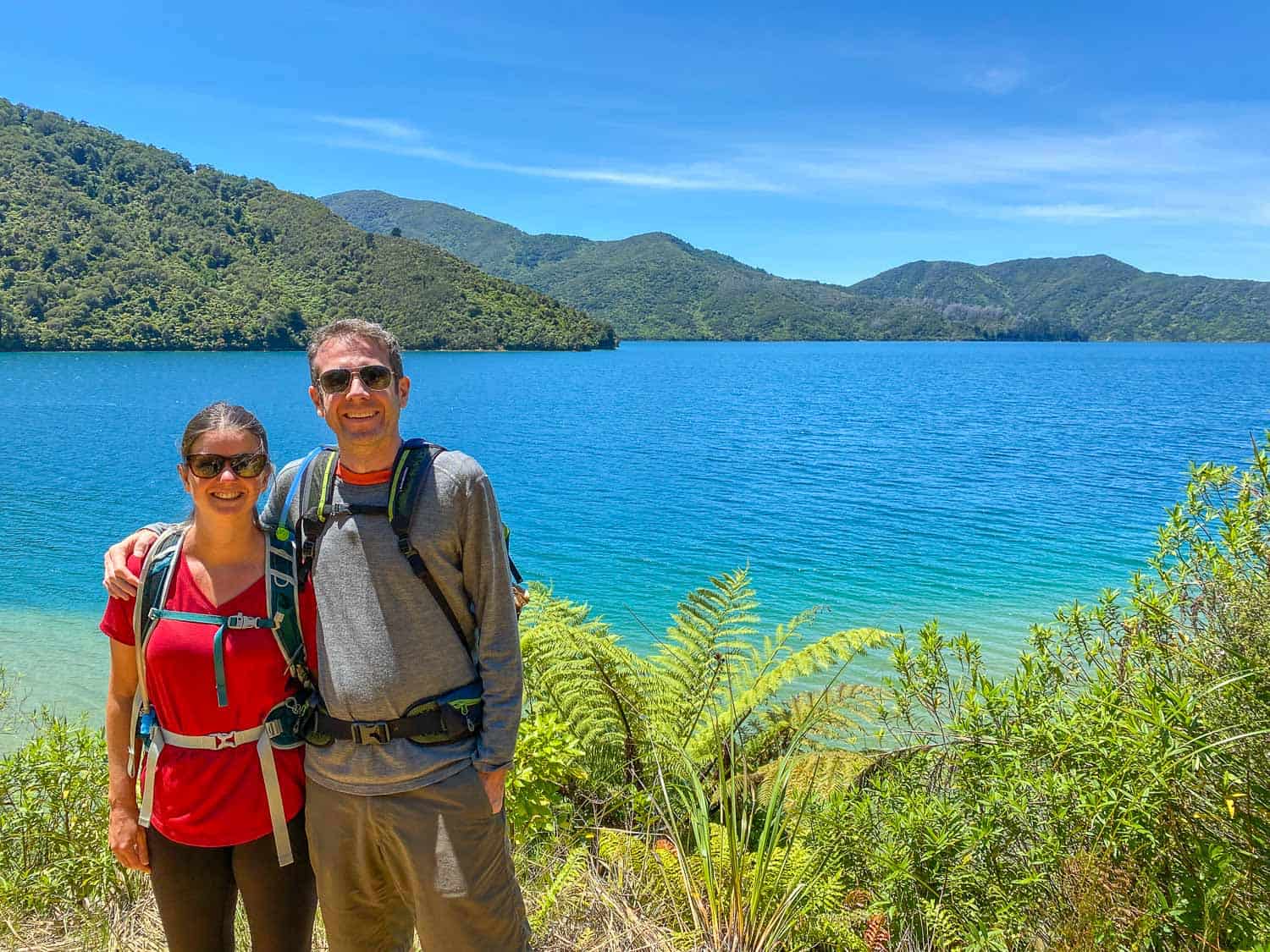 The good thing about having luggage transfer is that you don't need to pack too carefully as you won't have to carry your main bag.
If you need to buy some gear, Kathmandu and Macpac are the main outdoor stores in New Zealand, but neither have branches in Picton.
Here are the essentials:
A comfortable day pack – I recommend one with a padded hip belt and a water bladder compartment. I love the Osprey Tempest 20 and Simon used a 28L Daypack similar to this REI Co-op Ruckpack 28.
Overnight luggage – You can transport one piece of luggage no more than 20kg on the water taxis. They recommend you pack your stuff in plastic bags as they can get wet on the boat. On a sunny week, we had no issues with this.
Hiking shoes – You could wear boots if you are comfortable in them, but we found hiking shoes totally fine. In fact, I hiked the last two days in hiking sandals as I got a painful black toenail—it wasn't ideal but doable. Simon had no issues with his Keen Explore WP shoes. I liked my Solomon Outline GTX shoes until my toenail issues—I should have gone up a size as my feet swell on long hiking days.
Evening shoes – You'll appreciate having a pair of comfortable shoes to change into at the end of the day. Sandals are ideal if you get sore toenails like me. Simon brought his comfy and lightweight Allbirds Tree Runners.
Hikers wool – This magic stuff prevented both of us from getting any blisters. If you feel an area starting to rub, put a little bit of this wool in the problem area under your sock and it stops blisters occurring. It's available in most i-Site tourist information centres in New Zealand.
Waterproof jacket – We didn't need it, but you should always take one as it's a fairly rainy area. I like my Marmot Precip Eco jacket, which packs down small.
Water bladder or bottle – We each carried a 2-litre water bladder during the day and had a one-litre Vapur foldable water bottle for the evenings. All our rooms had fridges so we filled them up and chilled them overnight. We also brought a lemon to slice and put in them. I wished I'd brought the extra litre with me on the longer days as I did get low and you can't rely on finding taps that work on route.
Comfortable hiking clothes – I wore leggings (cropped on the hotter days) and Simon wore shorts. We both wore merino or Bluffworks t-shirts which are moisture-wicking, quick-drying and odour-resistant. Avoid cotton.
Fleece – An extra layer was useful on chilly mornings.
Swimsuit – For swims in the sea and hot tubs.
Sunglasses, hat and suncream
Hand sanitiser – For after using the long drops. Pack some toilet paper too as there isn't always some.
iPhone 11 Pro – We used this mainly for photos. We also saved the Google Map of the area offline and used that a couple of times to check where we were, but it wasn't essential. There was no phone signal on the first few days except for at higher points. The resorts have WiFi but speeds are variable.
Snacks – We packed lots in our overnight bag in a Tupperware tub including granola bars, nuts, satsumas, homemade oatmeal raisin cookies, and crisps. We used these for breakfast which saved money and enabled us to get earlier starts.
Credit card – All the lodges accept cards.
You can also see our packing list for the Dales Way, another wonderful multi-day hike we did in the UK.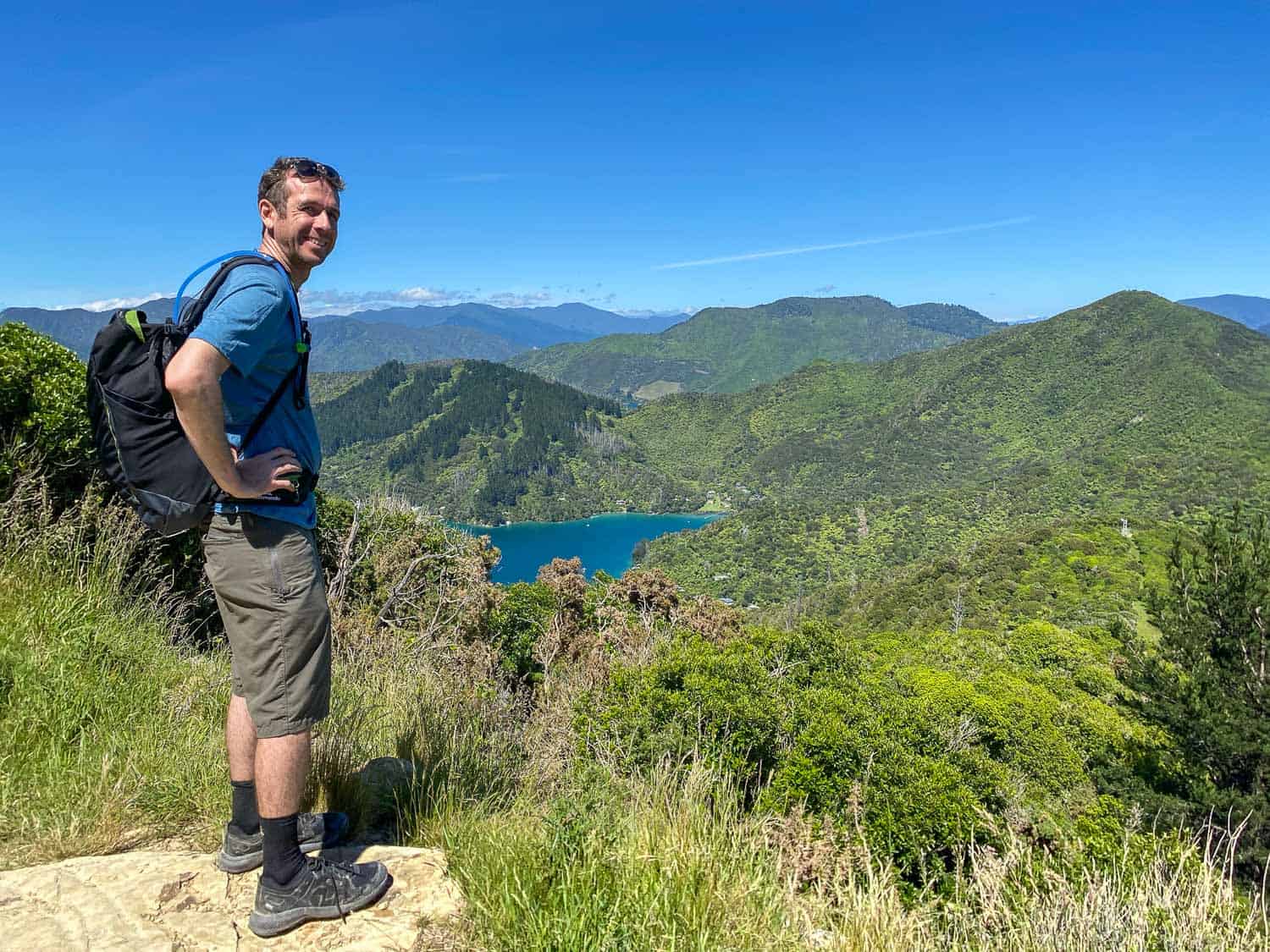 Picton Tips – The Base for the Queen Charlotte Track
As you need to get the 10am water taxi at the latest, you'll likely spend the night before the hike in the small town of Picton.
We found holiday rentals better value than the rather average-looking motels in town.
The house we stayed in is no longer available, but you can search for holiday rentals on Vrbo or hotels, motels and apartments on Booking.
Before the hike we had dinner at Cafe Cortado on the waterfront which had good bean and vegetable tacos.
At the end of the hike we were back in Picton at 4pm but were too tired to go out. Luckily, Scoozi Woodfire Pizza will deliver ($5 delivery fee) and it was just what we needed.
In retrospect, though, we would have preferred to spend our last night in Anakiwa where the hike finishes.
This would have meant no pressure to get to the water taxi at a certain time and would have given us more time in the beautiful sounds. We could have gotten the water taxi in the morning and continued on to our next destination.
Accommodation is limited in Anakiwa (it's mostly holiday homes) and there's no restaurant.
A great budget option is Anakiwa Lodge which also has a hot tub as well as a communal kitchen. They don't do meals but sell frozen pizzas.
Post-Hike Stays in the Marlborough Sounds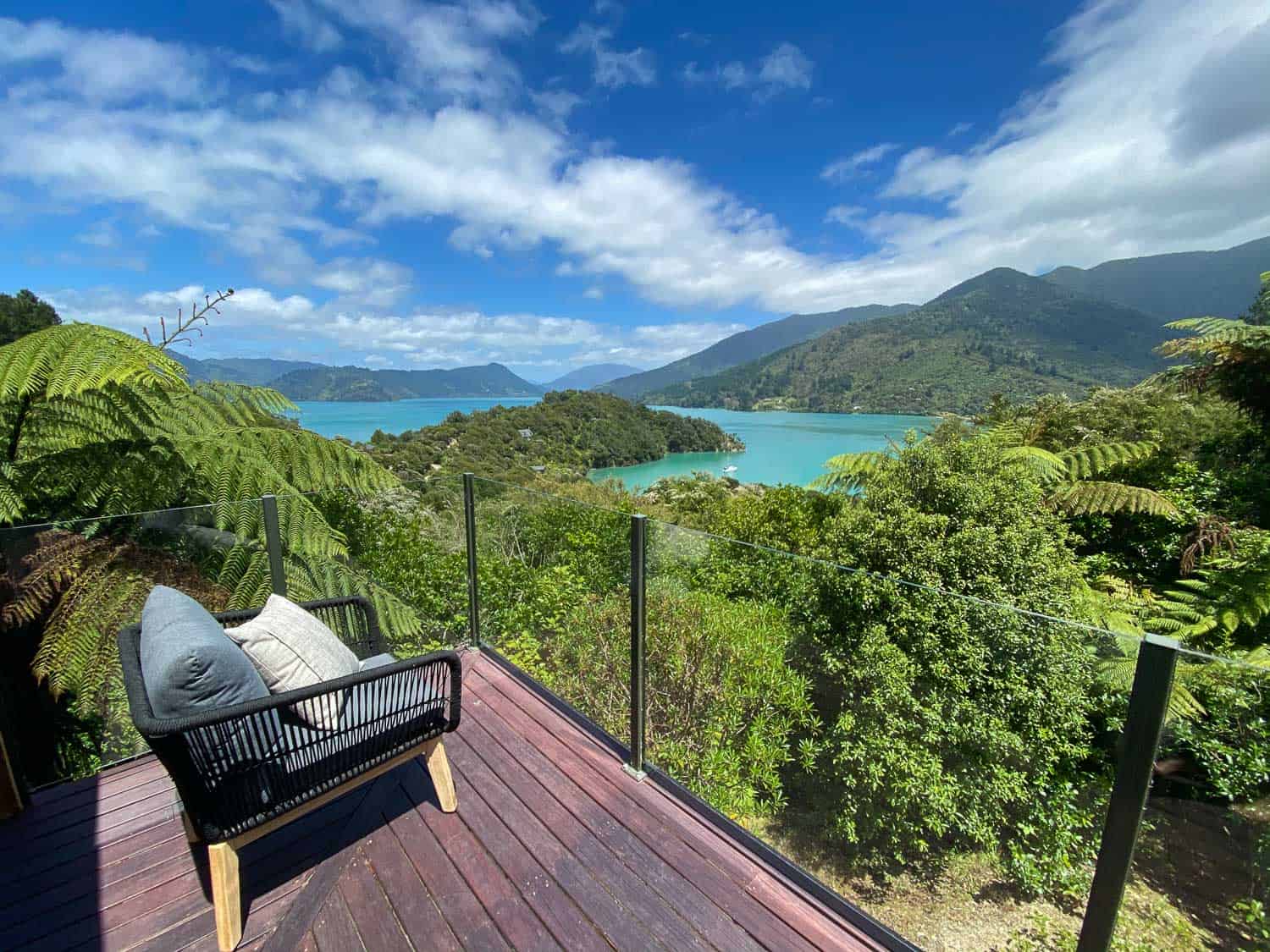 We fell in love with the Marlborough Sounds on our Queen Charlotte walk and have since returned to the area twice, each time for a week-long stay at St Omer's Hideout, a remote 3-bedroom house above Kenepuru Sound.
This would be the perfect place to relax and unwind after hiking the Queen Charlotte Track, although it's a 2.5 hour drive from Picton on a very windy road (take all your food supplies with you).
The views from the house and deck are outstanding, and it's a short walk down a steep hill to perfect St Omer bay, which we almost always had to ourselves.
We love the get away from it all feel of this beautiful spot and we always leave feeling so restored.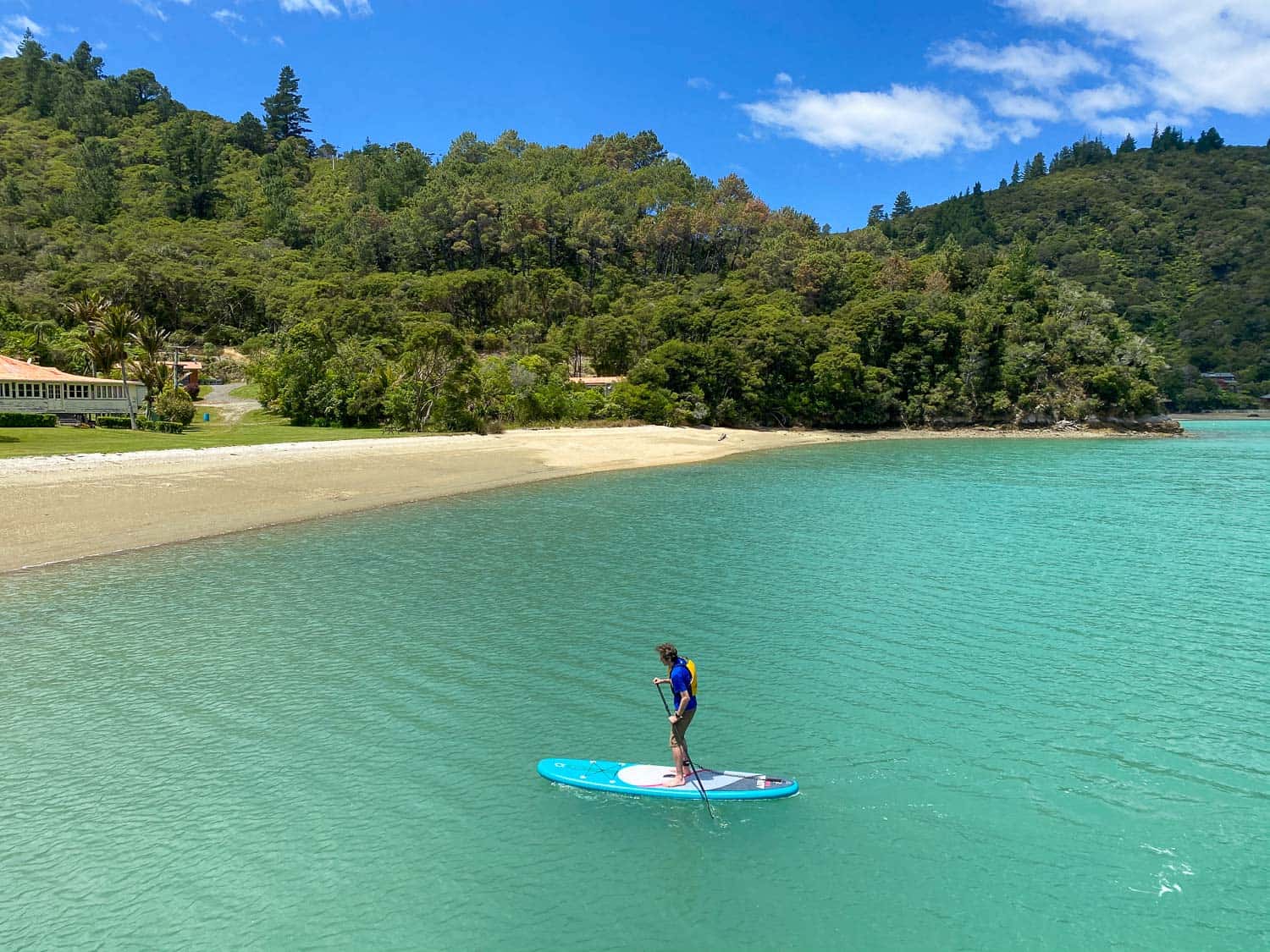 Queen Charlotte Track Map
Day 1 Ship Cove to Furneaux Lodge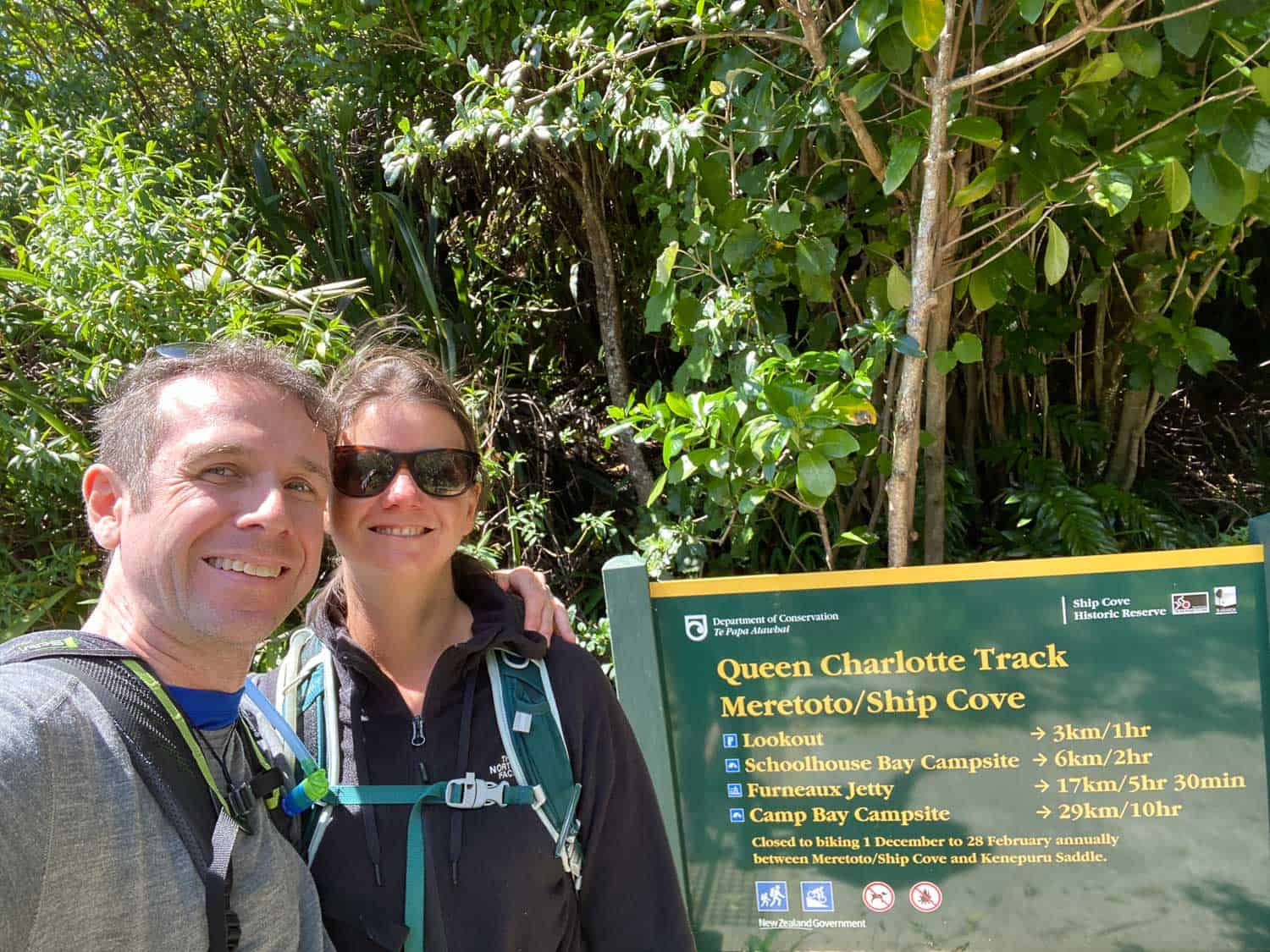 Distance: 16.8km (10.4 miles)
Walking Time: 3 hours 40 minutes
Total Time (with breaks): 4 hours 25 minutes from 11.25am to 3.50pm
DOC Estimated Time: 5.5 hours
Elevation: 527m total, 252m maximum
Toilets: Ship Cove, Schoolhouse Bay, Tawa Saddle, The Pines
We were a little nervous on the morning of the hike, but after a weekend of rain, it was a glorious day— sunny and 18ºC—and it continued that way for the rest of the week.
We checked in at 9.30am at the Marlborough Sounds Adventure Company office on the Picton waterfront where we dropped off our main bags and were given our packed lunch and all the details we needed for the hike.
At 10am we set off with a few other hikers on the water taxi. It took about 1 hour 15 minutes to reach Ship Cove where the hike starts at the furthest away point; we'd be walking back towards Picton over the next five days.
The boat ride was a scenic one as we weaved in and out of the sounds stopping to pick up and drop off other passengers at remote bachs (holiday homes) in the many little bays.
We were given commentary on the area including why the DOC is killing off pine trees to encourage native bush regrowth.
A highlight was seeing dolphins swimming and jumping alongside the boat!
After arriving at Ship Cove we took a quick look at the information signs that give details of how Captain James Cook anchored the Endeavour here in 1770 and named the bay.
We were keen to get going and started up the hill. The first section of the track had changed recently and it's no longer as steep as it once was (but is slightly longer). It's still an uphill climb but not too challenging.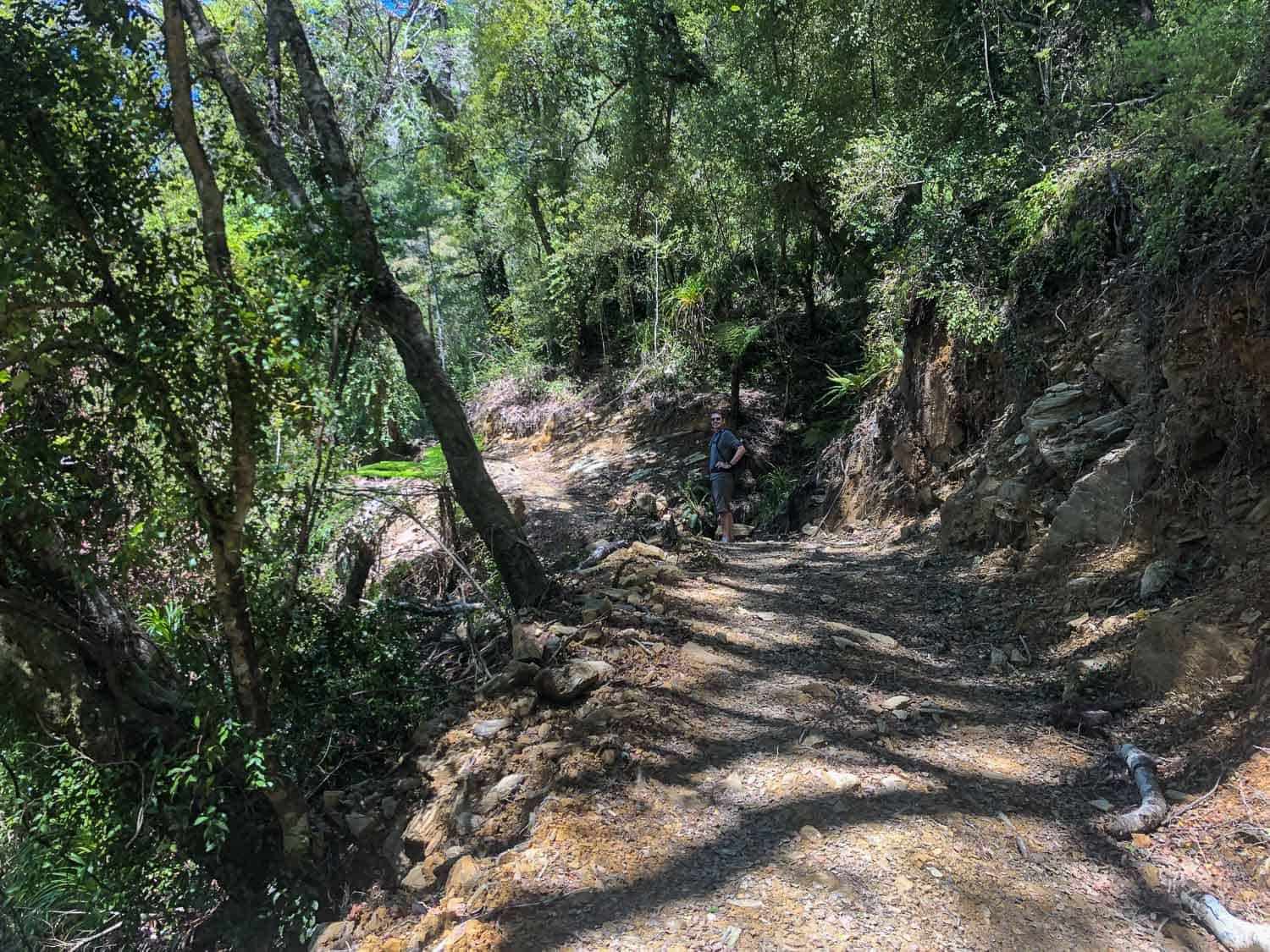 We walked through dripping vines then vibrant green ferns and beech forest, passing little waterfalls.
The trail was mostly through bush with occasional views through the trees of the bright blue water of the Queen Charlotte Sound below. The shade meant we didn't get too hot.
We found the Queen Charlotte Track very easy to follow with plenty of signs and no way to get lost.
It took us about 50 minutes to reach the lookout point at Ship Cove Saddle with stunning views of the sound and as far away as the Kapiti Coast on the North Island.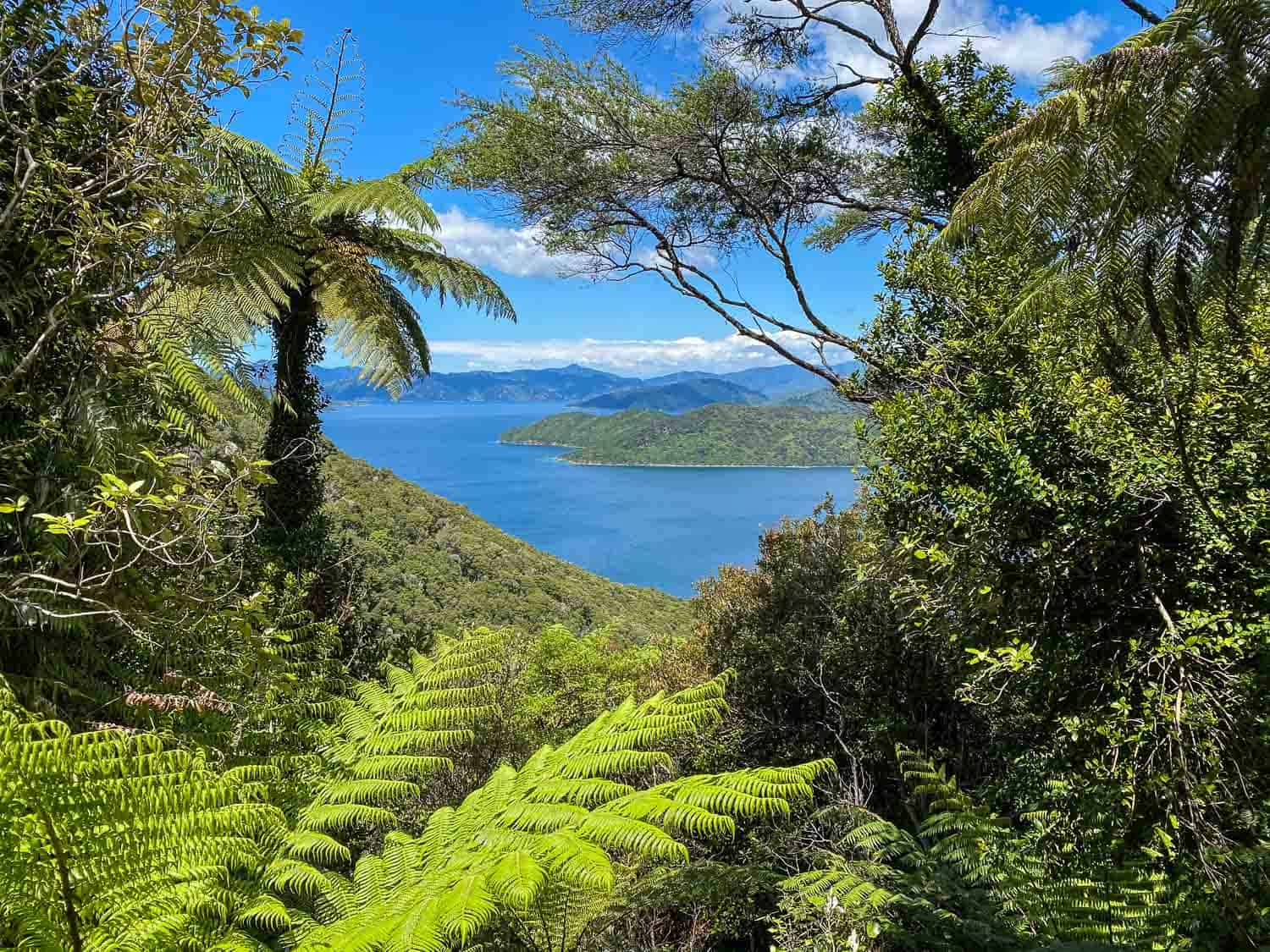 From there we walked down to Schoolhouse Bay (90 minutes from Ship Cove) where there's a pebble beach, campsite, and toilet.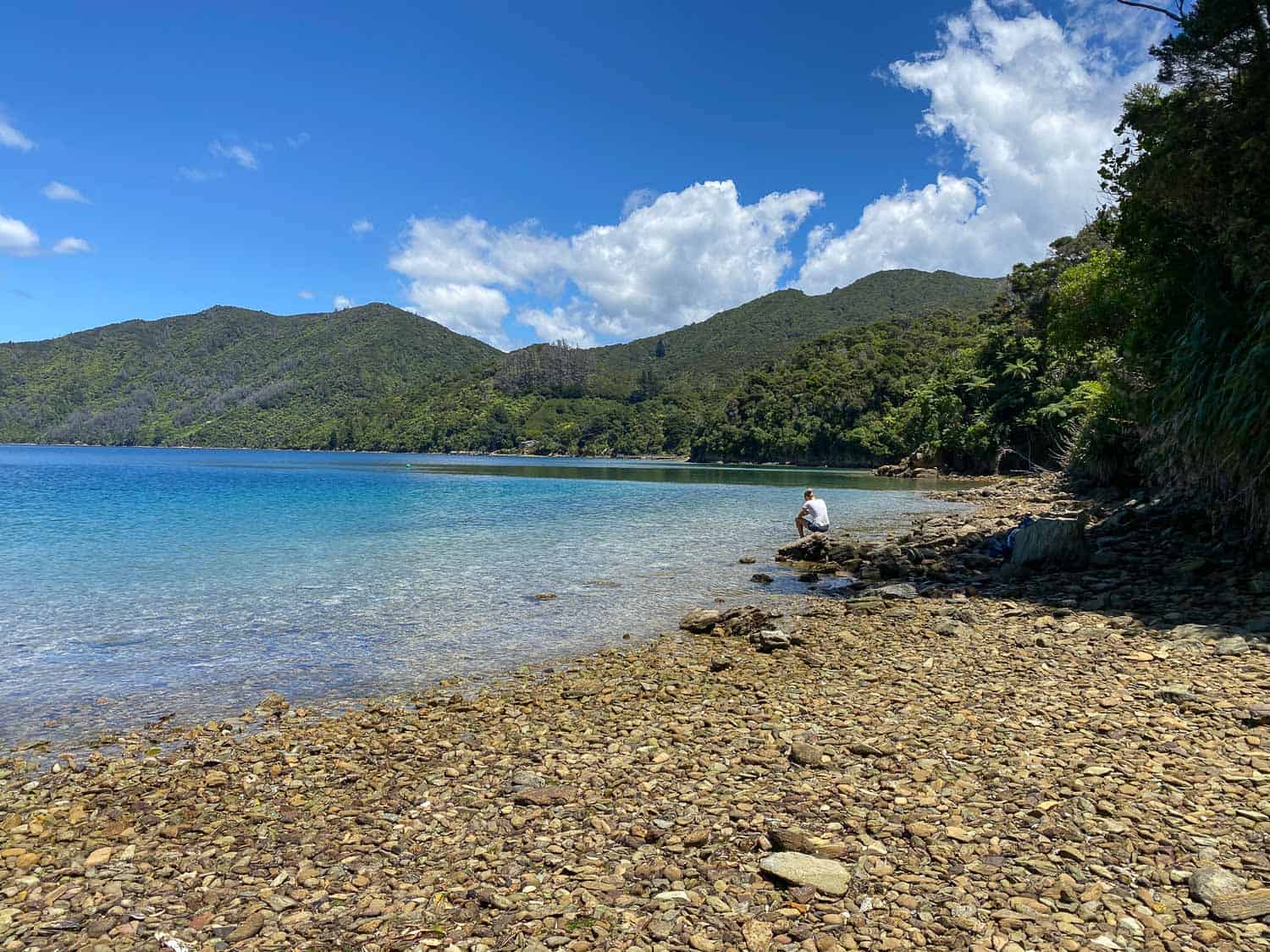 We had lunch on the beach and our first experience of trying to keep the wekas at bay—these cheeky, chicken-like native birds love to steal food.
After lunch it was time to climb uphill again to Tawa Saddle, but it wasn't too steep and there are lots of great views.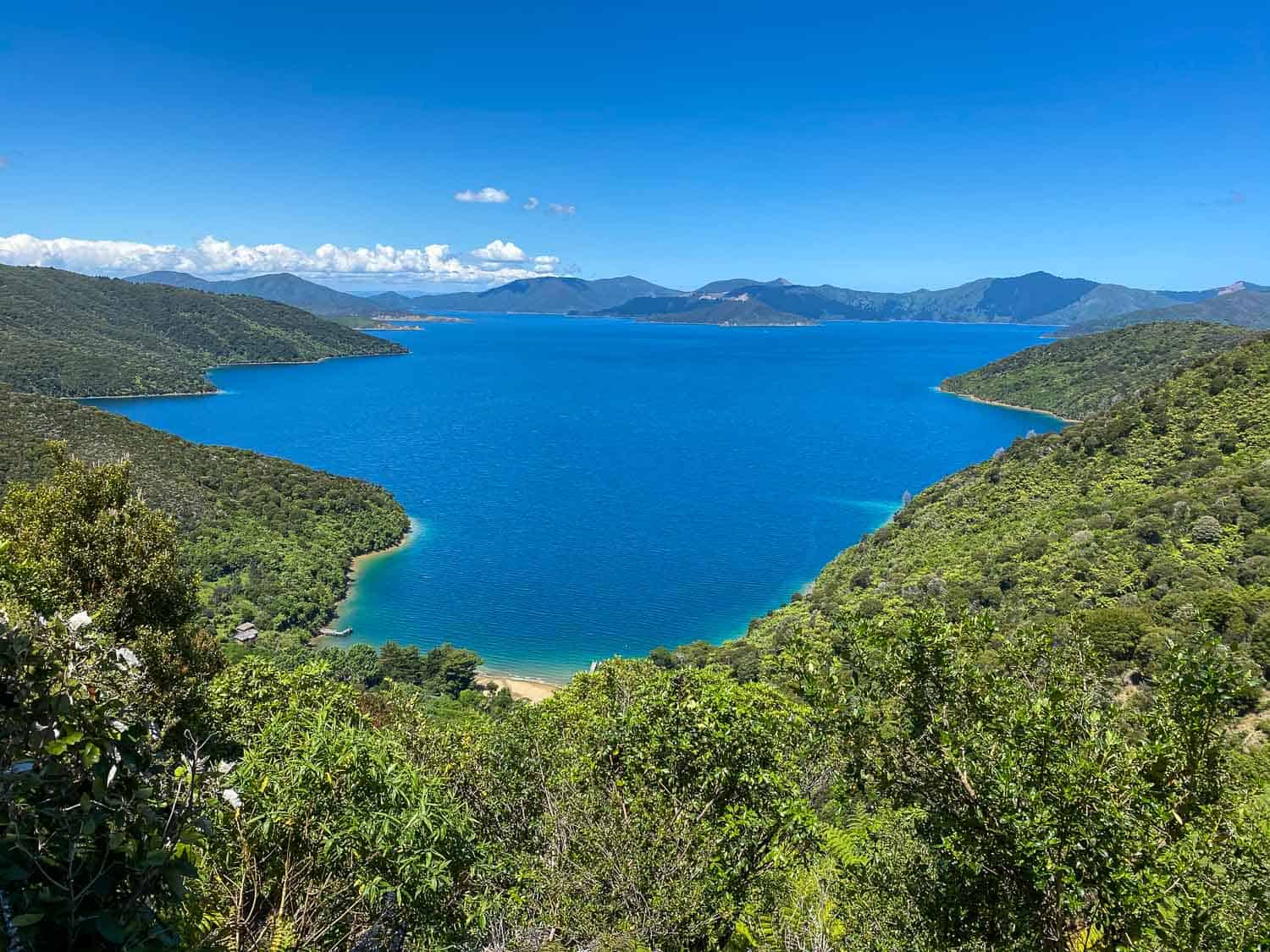 We arrived at the Tawa Saddle viewpoint, where there are tables, a toilet and fantastic views, about three hours after we left Ship Cove. This would be another good lunch spot if you haven't eaten yet.
Then it was a cruise downhill to the shore, past some isolated holiday houses at The Pines before arriving at Furneaux Lodge.
We were glad for a sit-down and a drink, but it hadn't been too challenging a day and we'd enjoyed the beautiful forest and stunning views.
Accommodation at Furneaux Lodge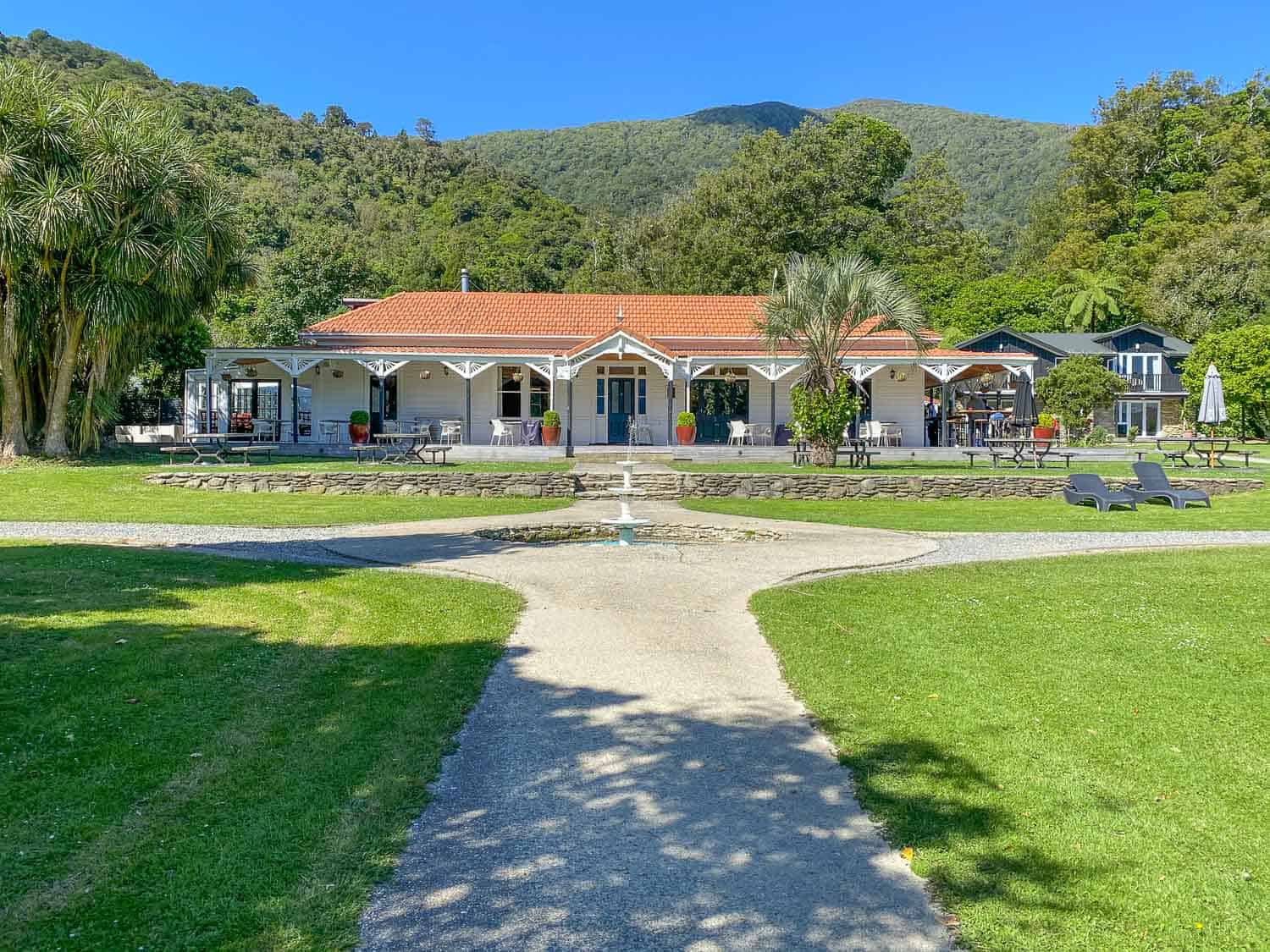 Furneaux Lodge in Endeavour Inlet has lovely grounds—the bar and restaurant are in a white house on a green lawn that leads to the calm water.
It's surrounded by native forest that was never cleared and we heard lots of birdsong.
We stayed in one of the Cook's Cottages which was surprisingly spacious with two bedrooms, living room, kitchen, and a sea view from the terrace.
The decor was dated and lacking in style, though, and our bed (two twins pushed together) was rather saggy and uncomfortable.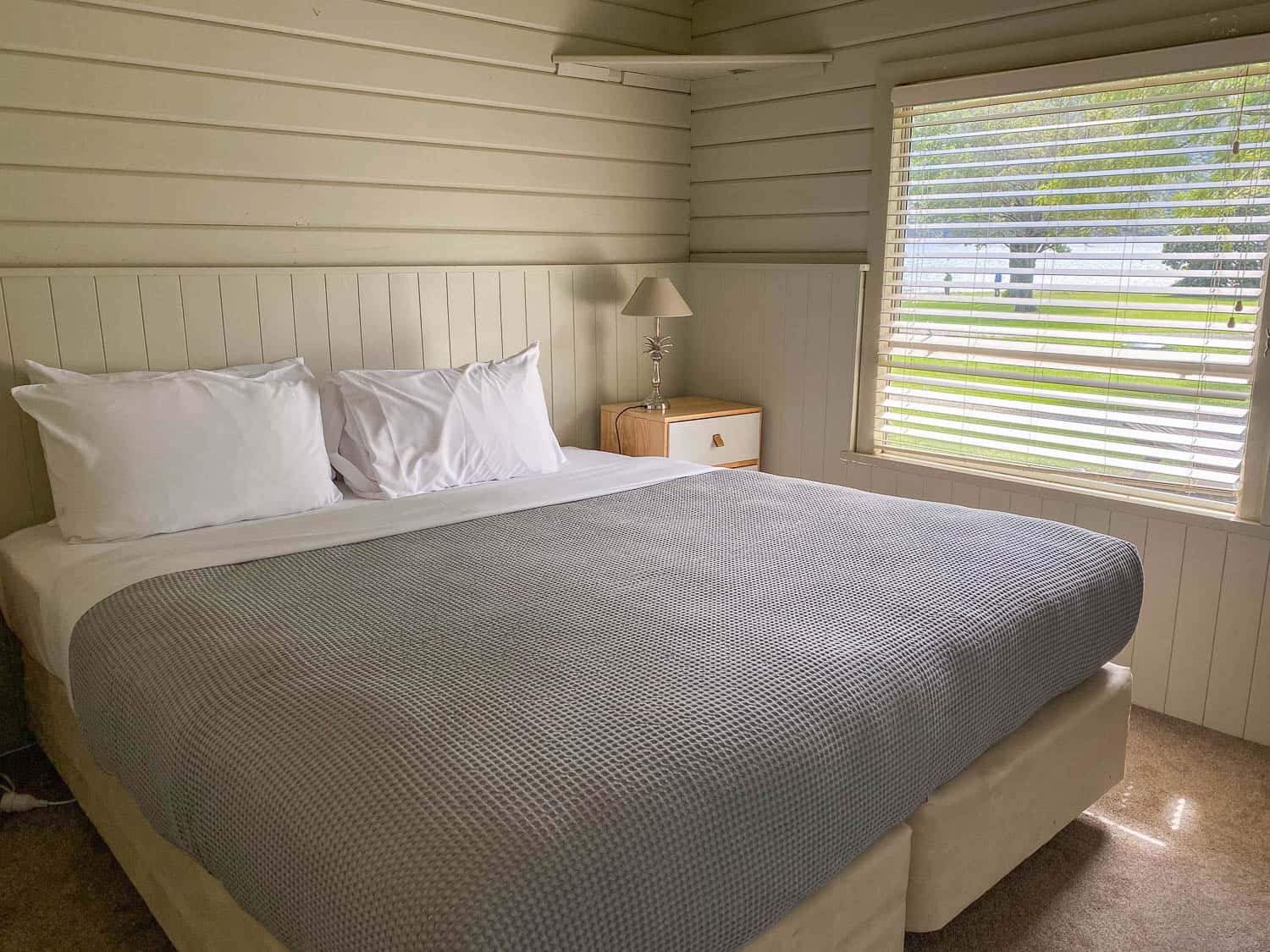 While it was fine for one night, if you have the budget, I'd upgrade to the Endeavour Suites which look much more modern and the beds face the sea.
Dinner is available from 6pm, but you can get some chips or potato wedges to tide you over.
We enjoyed a relaxing afternoon in the sun, drinking local wine and craft beer, and listening to the soundtrack of 50s and 60s tunes.
I was tempted by the yin yoga class at 6pm, but dinner called. The vegetarian options were good and we shared a variety of tapas including roast cauliflower, halloumi, tomato and mozzarella salad, and flatbread.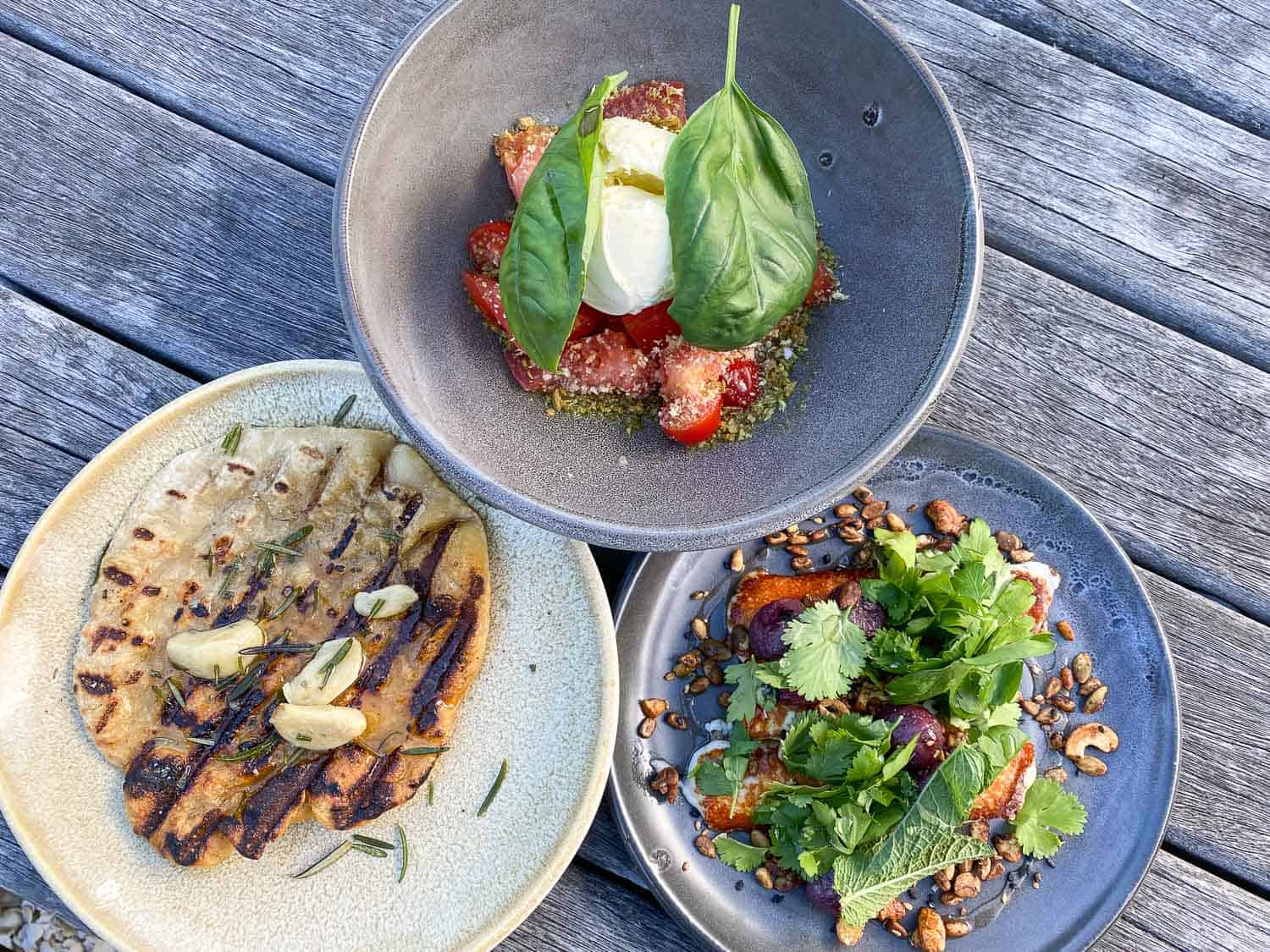 The food was tasty but prices were high for small portions—that's to be expected on the trail due to the isolated locations.
After dinner we relaxed in the hot tub—the perfect way to end a wonderful first day on the track.
Day 2 Furneaux Lodge to Punga Cove Resort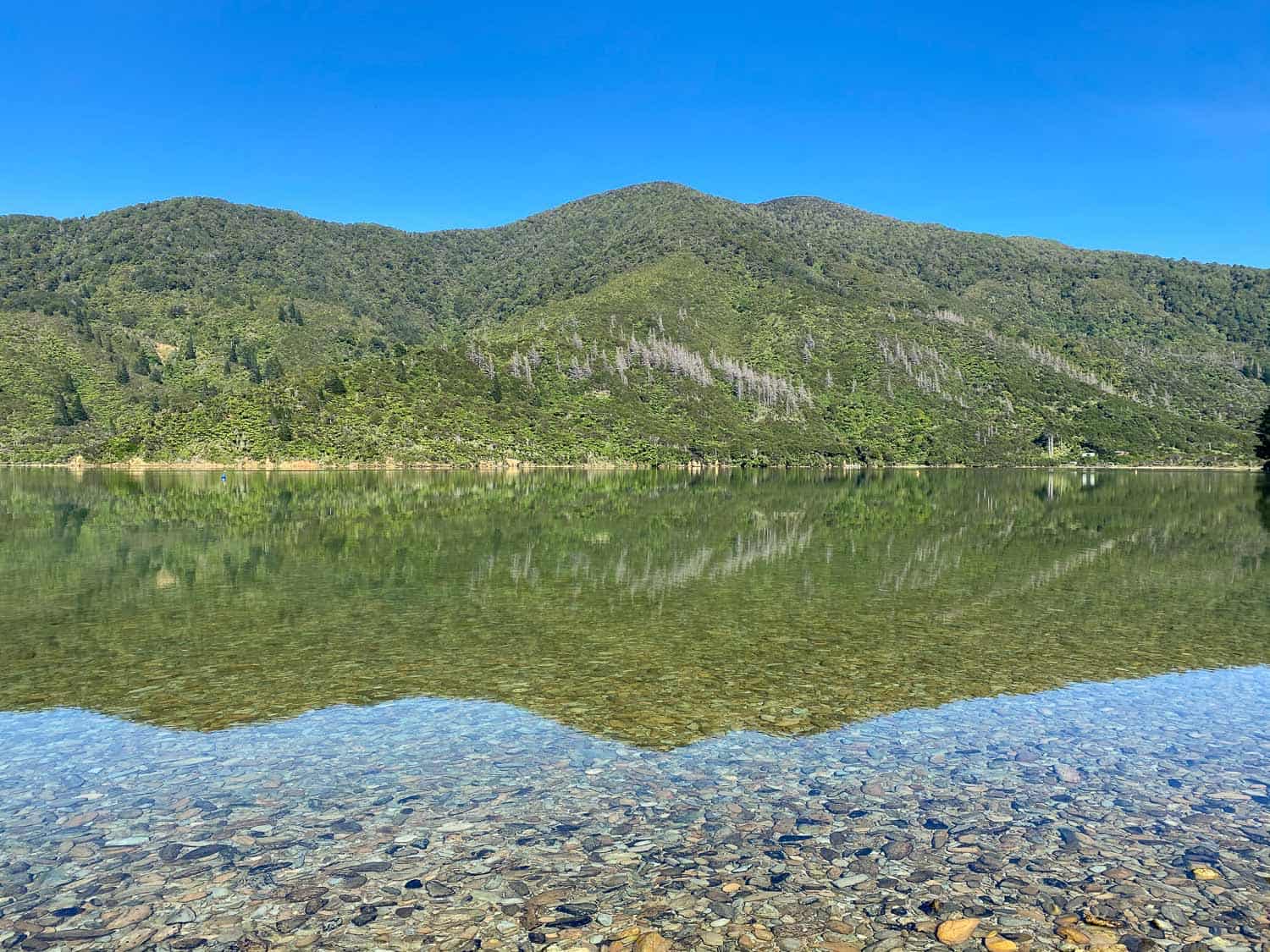 Distance: 12.3km (7.6 miles)
Walking Time: 2 hours 45 minutes
Total Time (with breaks): 3 hours 15 minutes from 10am – 1.15pm
DOC Estimated Time: 4 hours
Elevation: 278m total, 66m maximum
Toilets: Endeavour Head
Day 2 is the easiest and shortest day on the Queen Charlotte walk, so we had a late start. It was a chilly but sunny morning and the water looked so calm with the mountains reflected in it.
It was an easy morning's walk around Endeavour Inlet, sometime heading into the forest not far above the sea with lots of lovely views.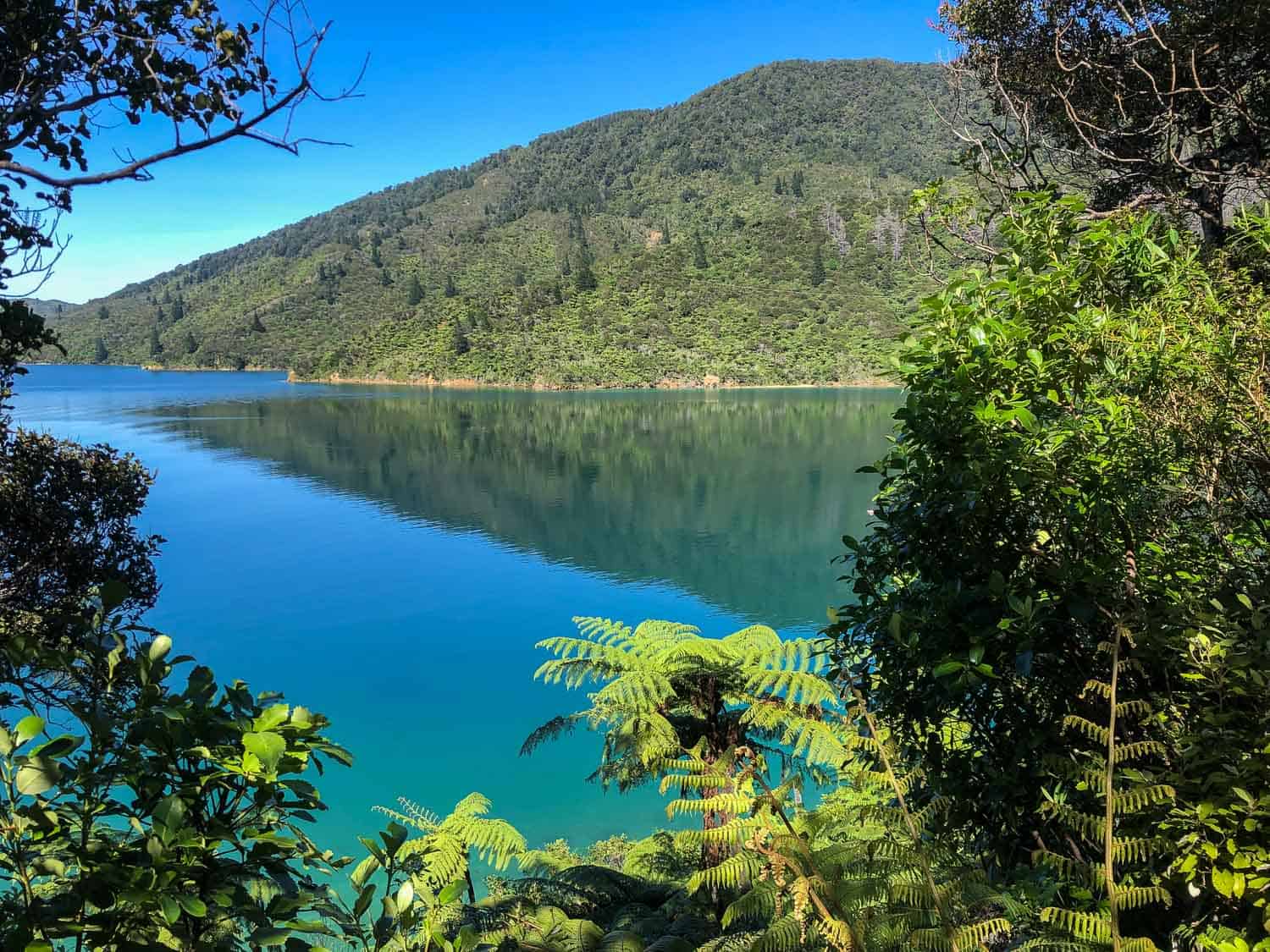 We only saw a few other hikers and often heard the chirps of the korimako (bellbird). A highlight was seeing a stingray in the clear shallow water swimming close to shore.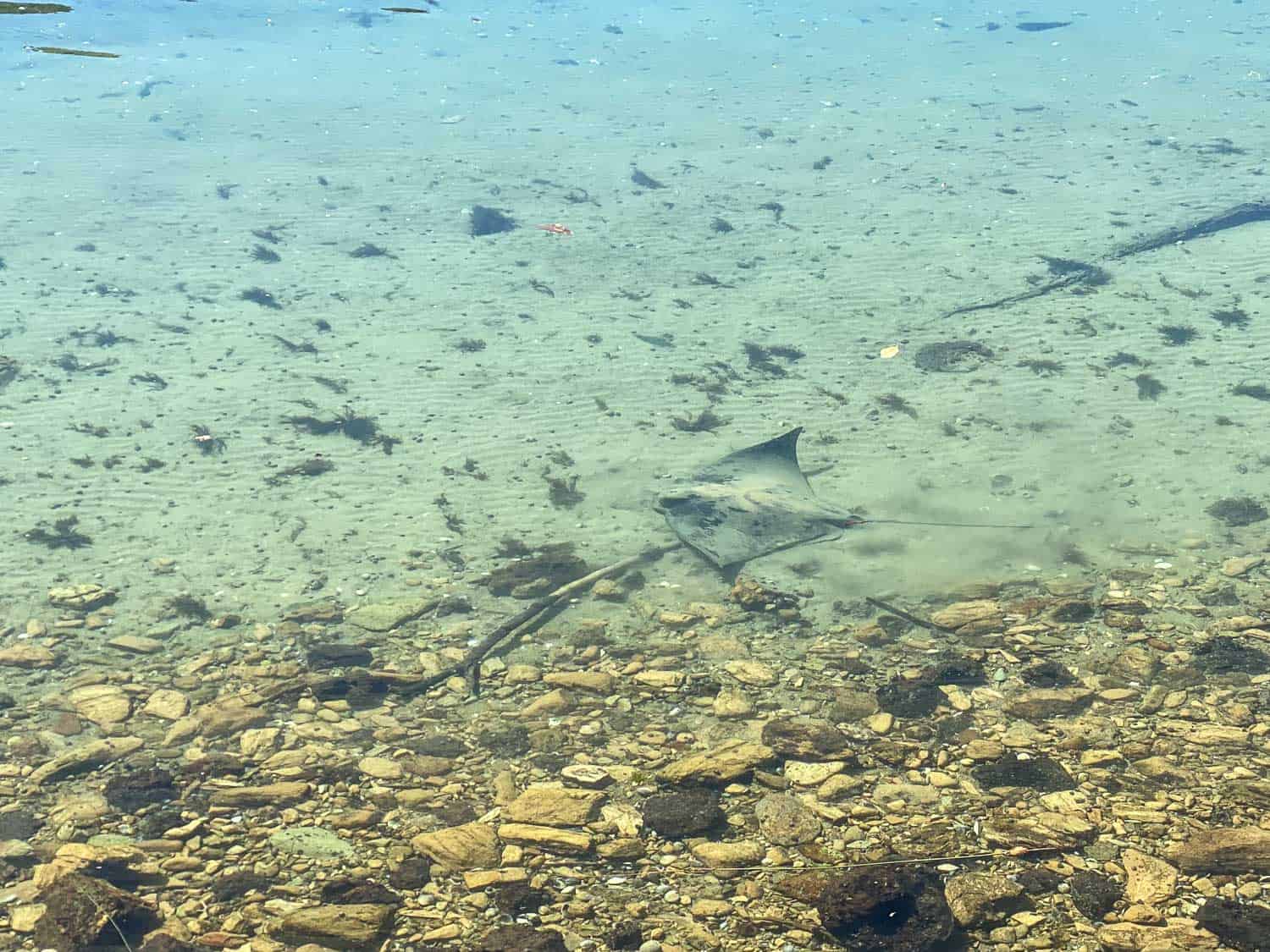 1 hour 45 minutes into our walk (at 7.6km), we found a perfectly located picnic table in a clearing overlooking the turquoise water and stopped for lunch.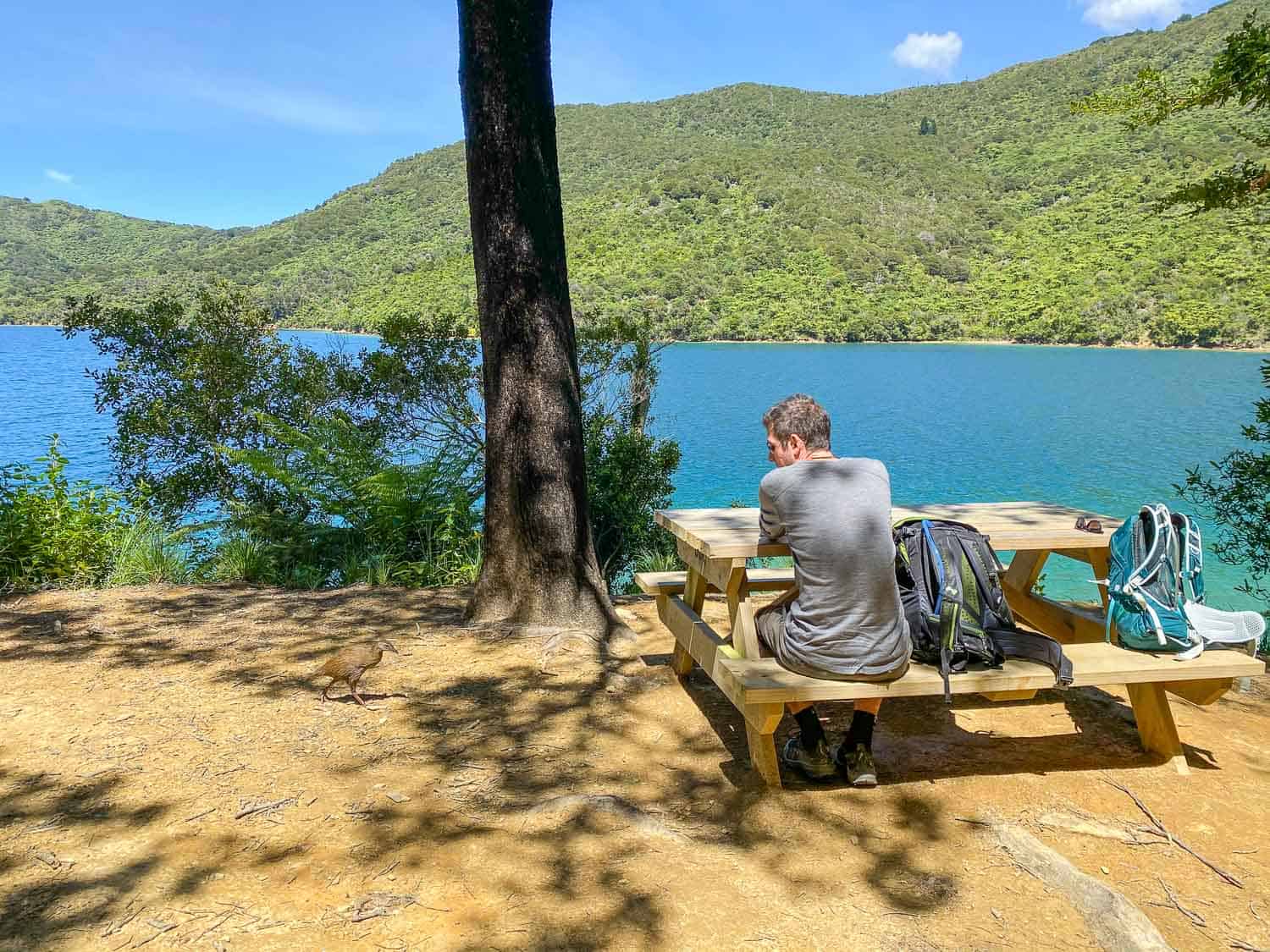 As usual our packed lunch was generous with a sandwich, cake, fruit, peanuts, and juice.
Accommodation at Punga Cove Resort
Punga Cove Resort was my favourite lodge on the track, so I'm glad we had a full afternoon there.
Luckily, we were able to check in to our room early. We were in Room 2 (a Koru Chalet) which is up the hill but not too far from the cafe and beach (some rooms have a steep climb).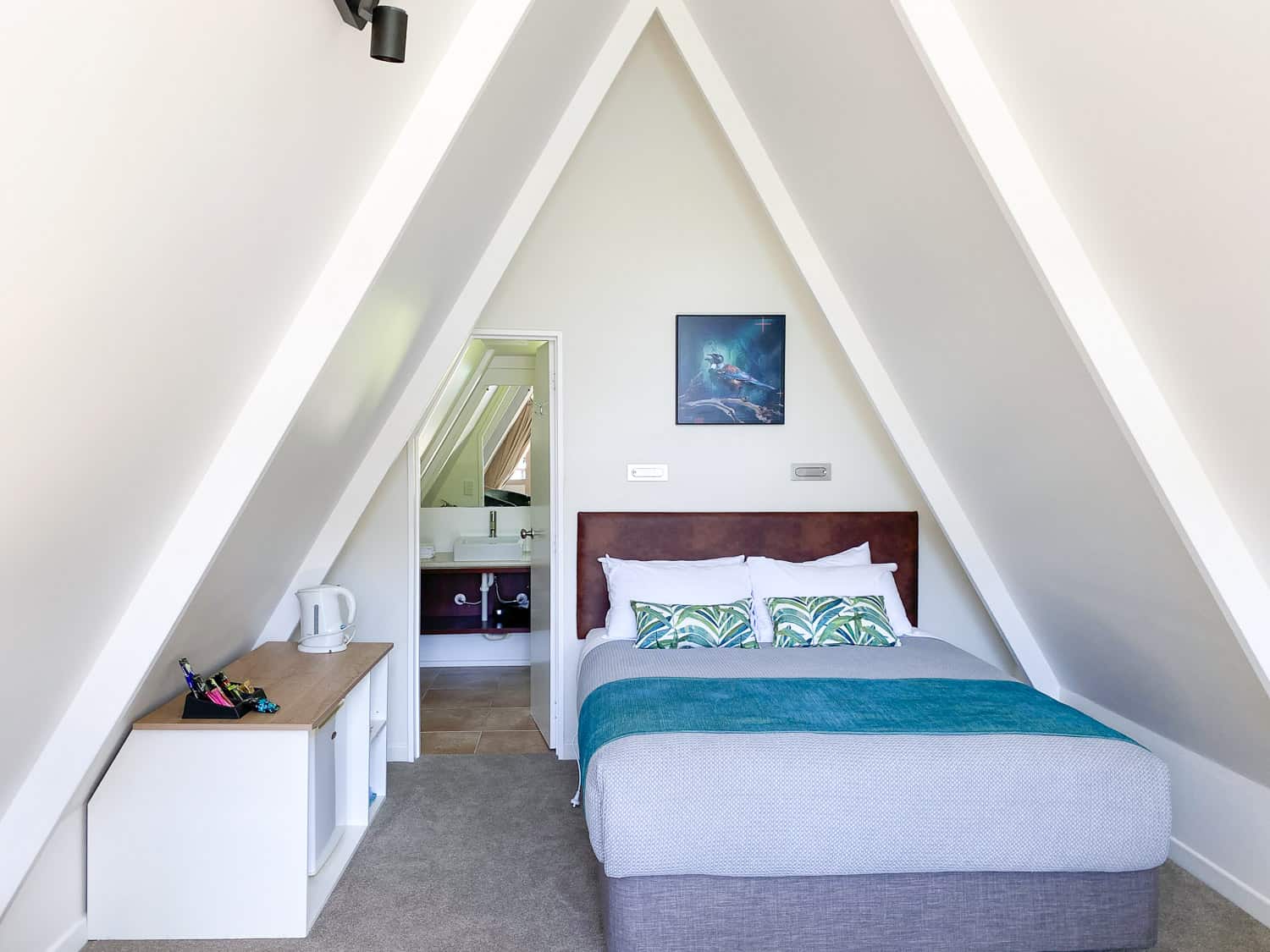 It was surrounded by vegetation with fantastic views of the sea from our bed, armchairs by the window, and on our sunny terrace. It felt modern and new.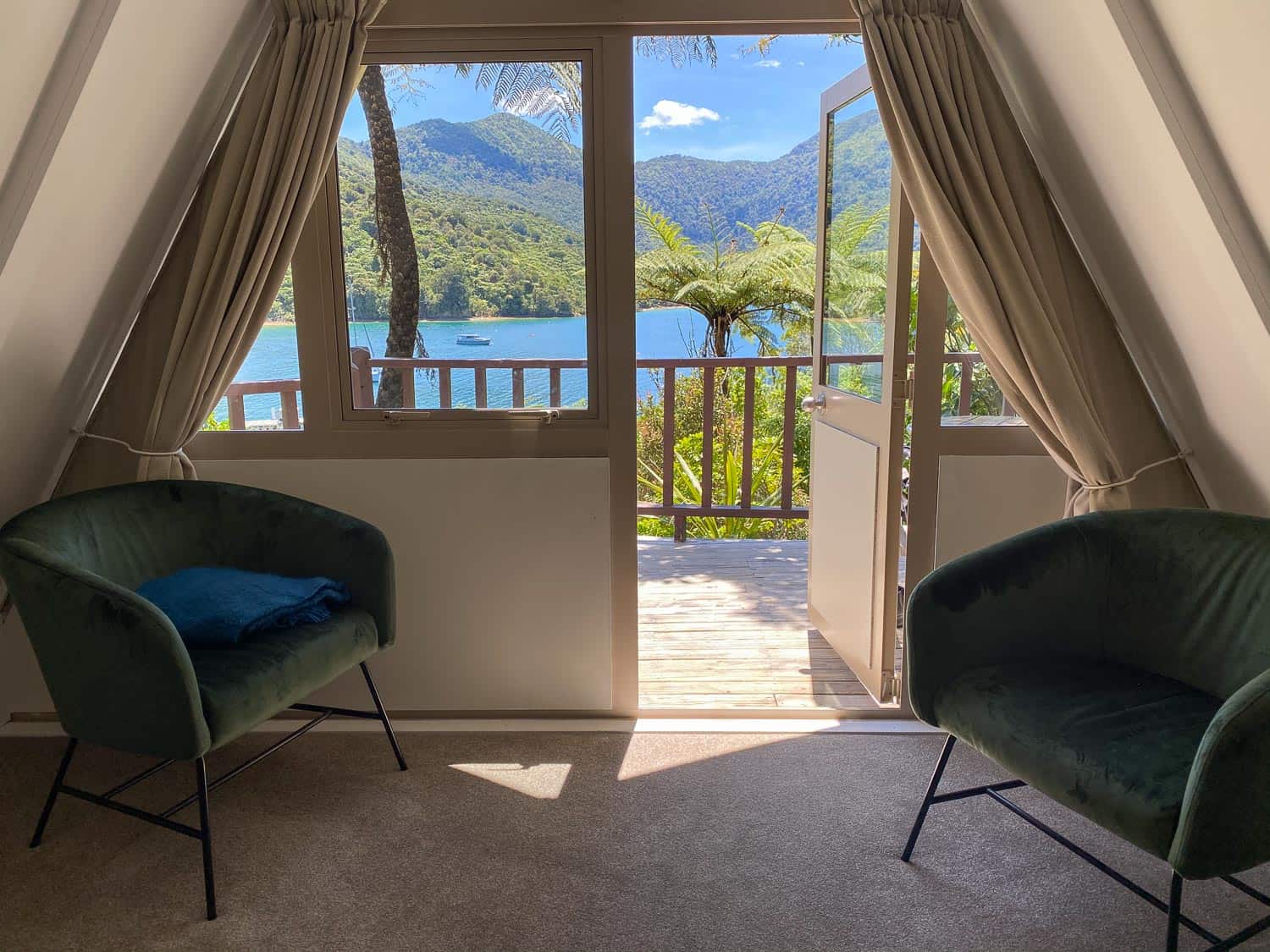 Punga Cove has a gorgeous location on a hillside tumbling down to a beautiful little bay surrounded by green mountains.
You can borrow kayaks and stand up paddleboards for free, but we didn't manage to summon up the energy.
I did go for a swim in the chilly but gloriously clear water and then laze in a hammock and sunbathe on a bean bag chair on the lawn.
There are lots of places to relax and enjoy the view. There's also a small pool, but I preferred the sea.
The cafe/bar on the jetty is the hub of action with passing yachts stopping by. We opted to have an early dinner here (they stop serving food at 5pm) rather than go to the more formal restaurant up the hill, where the vegetarian main consisted of a plate of broccoli.
The more substantial pizza, chips, and salad at the bar were just what we needed.
After dinner it was hot tub time again. The one by the pool wasn't hot enough yet, so we were sent to the "secret" hot tub up the hill by room 9. It was ultra relaxing with views of the sea.
Day 3 Punga Cove Resort to Portage Hotel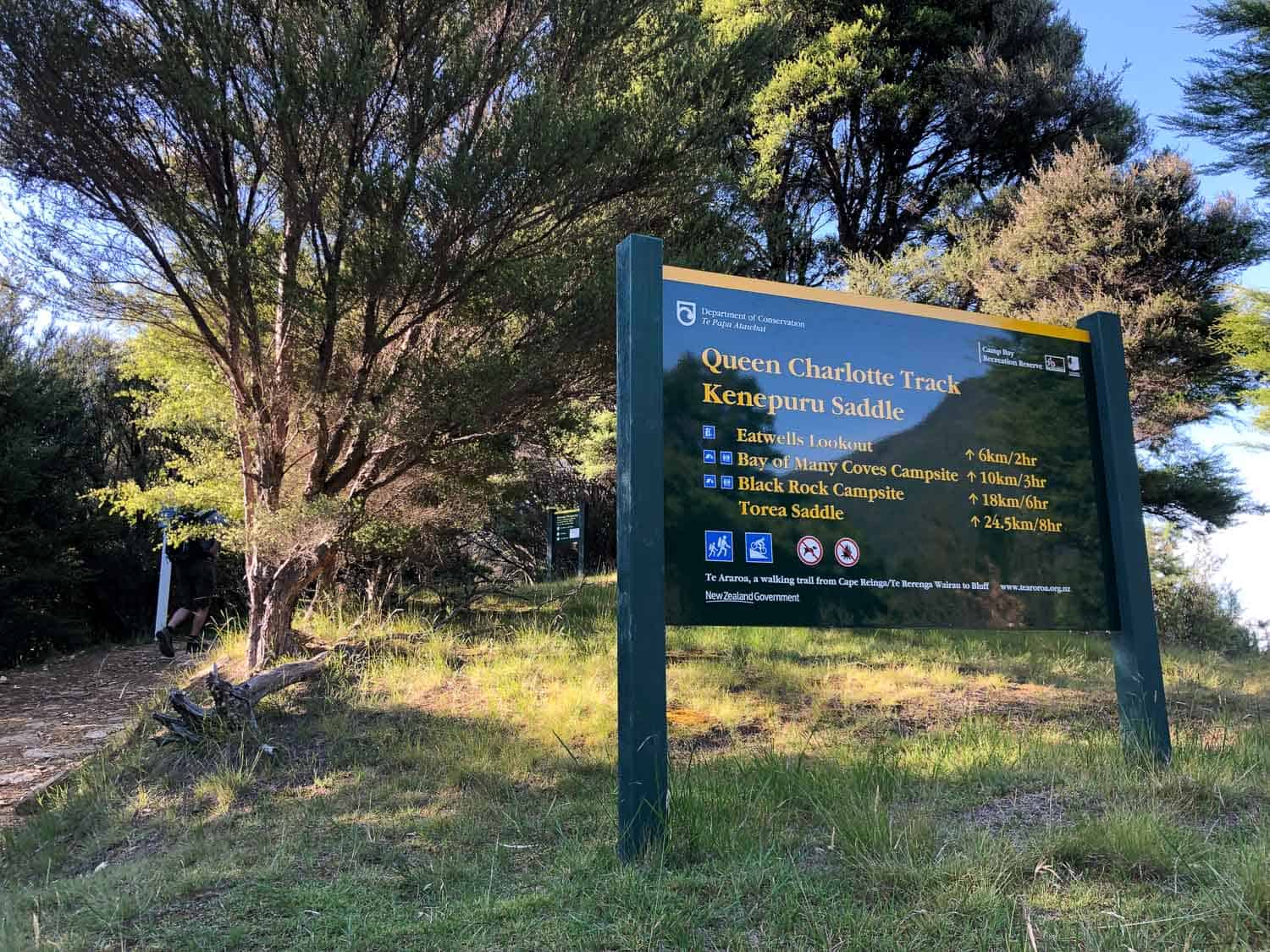 Distance: 25km (15.5 miles) including a detour to Eatwell's Lookout
Walking Time: 5 hours 48 minutes
Total Time (with breaks): 7 hours from 7.30am – 2.30pm
DOC Estimated Time: 8 hours
Elevation: 1003m total, 477m maximum
Toilets: 1.5hrs after Punga Cove, Bay of Many Coves Shelter, Blackrock Shelter
Day 3 is the longest day of the Queen Charlotte Track and the one we'd been worrying about in the months leading up to the hike.
The longest we'd walked in training was three hours, so we weren't sure how we'd manage the estimated eight hours with plenty of ups and downs.
We got an early start at 7.30am, the earliest we could pick up our packed lunch from the restaurant up the hill on our way out (or we could have collected it the night before).
We appreciated the cool morning air as the day starts with a climb up through Punga Cove Resort and then on a gravel 4WD track to reach the trail which continues up through the forest.
We didn't see anyone else for over an hour and despite the ascent, we were feeling good.
After about 90 minutes we reached the turnoff to the optional Eatwell's Lookout, a 1km return sidetrack up a steep hill for fantastic views.

It was well worth the 10-minute climb for the astonishing, almost 360º views of both Queen Charlotte Sound and Kenepuru Sound.
There's a table at the top where we had a snack break and enjoyed the scenery. The side trip took us about 30 minutes but half of that was spent at the top.
We continued on through the forest and reached the Bay of Many Coves Shelter high up above the bay at 10.15am.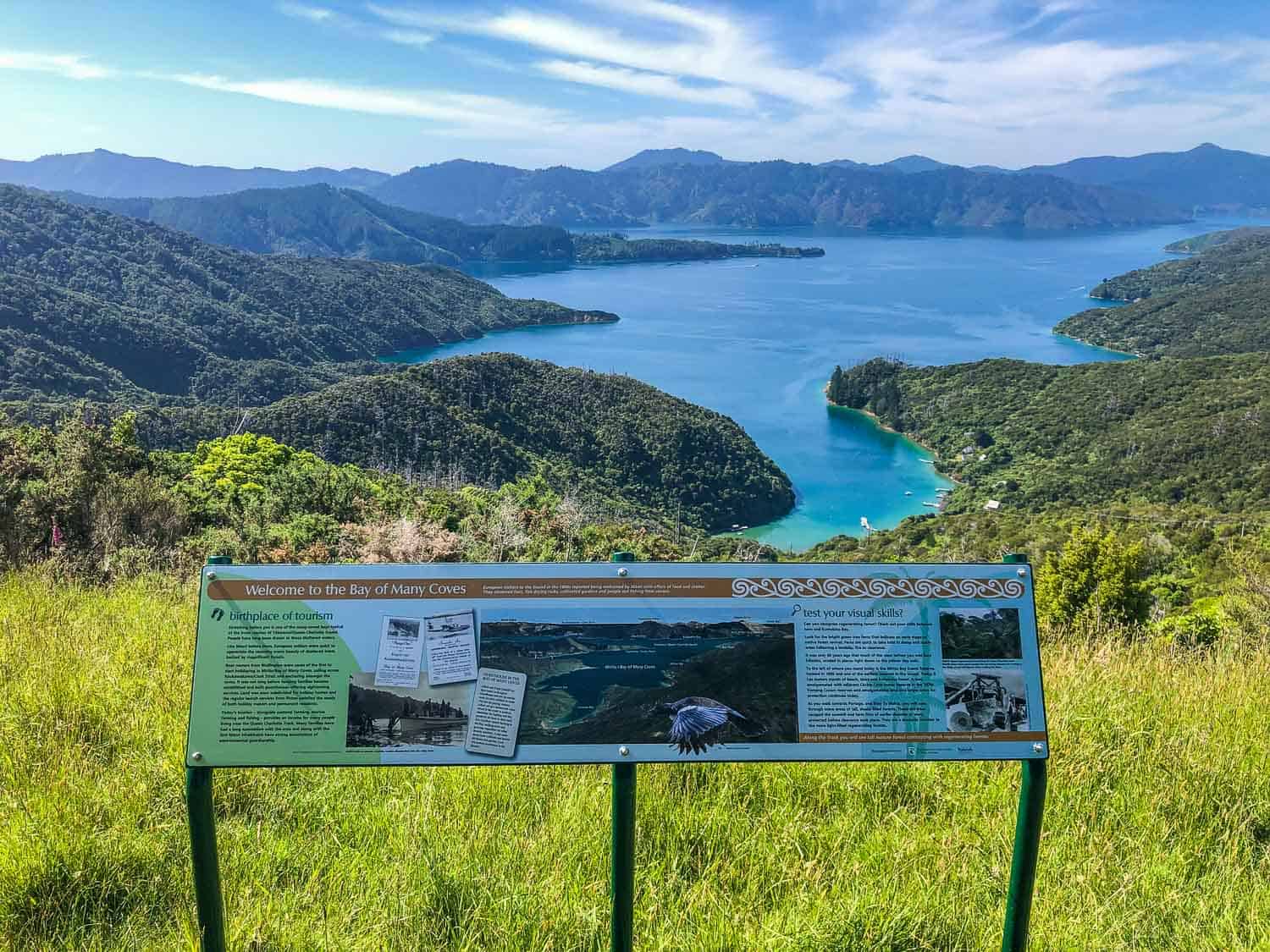 This looked like a beautiful place to camp and there's a table with a good view, but it was too early for lunch so we just used the toilet and moved on.
From there it was a mix of uphill and level trail through forest and on the more exposed ridge with amazing views.
At 11.30am and 15km in, we stopped for a 30-minute lunch break on a rock bench with a view of Picton in the distance.
While we weren't feeling as tired as we expected, I was having sore toenail issues so it was a relief to take off my shoes for a while.
The trail continues with the same mix of ridge and forest without any difficult ascents.
We reached Blackrock Shelter at 1pm after 19km of walking. This is another good lunch spot with a table and toilet, so we took some time to eat cake and enjoy the view.
From there it was just 1 hour 15 minutes until we reached Portage Hotel. After we reached the war memorial we had to detour off the track for 700 metres down a steep tarmac road, which wasn't much fun with tired legs and sore toes.
We made it, though, tired and ready for a drink, but it hadn't been as bad as we'd feared.
In fact, Punga Cove to Portage ended up being the best part of Queen Charlotte Track with stunning panoramic views from high above the sounds and fewer people around. It was definitely worth the effort.
Accommodation at Portage Hotel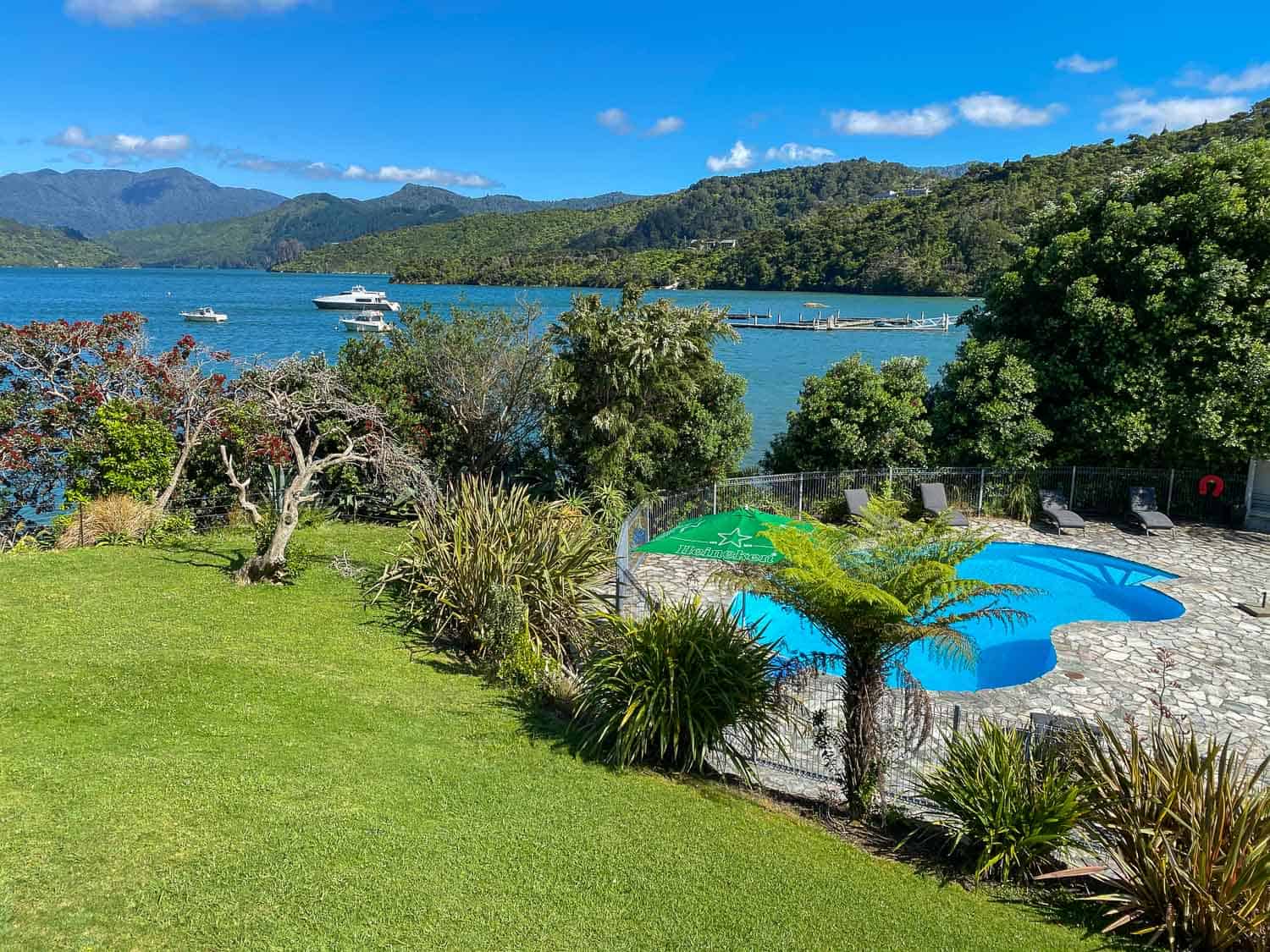 Portage Hotel has recently been taken over by a hotel chain and the rather bland, corporate feel felt a little strange after a long day hiking, especially as there's road access.
We were getting closer to Picton but weren't ready to return to civilisation.
Our renovated Tui room may have lacked character, but we appreciated the comfortable bed, hot shower, and view of Kenepuru Sound.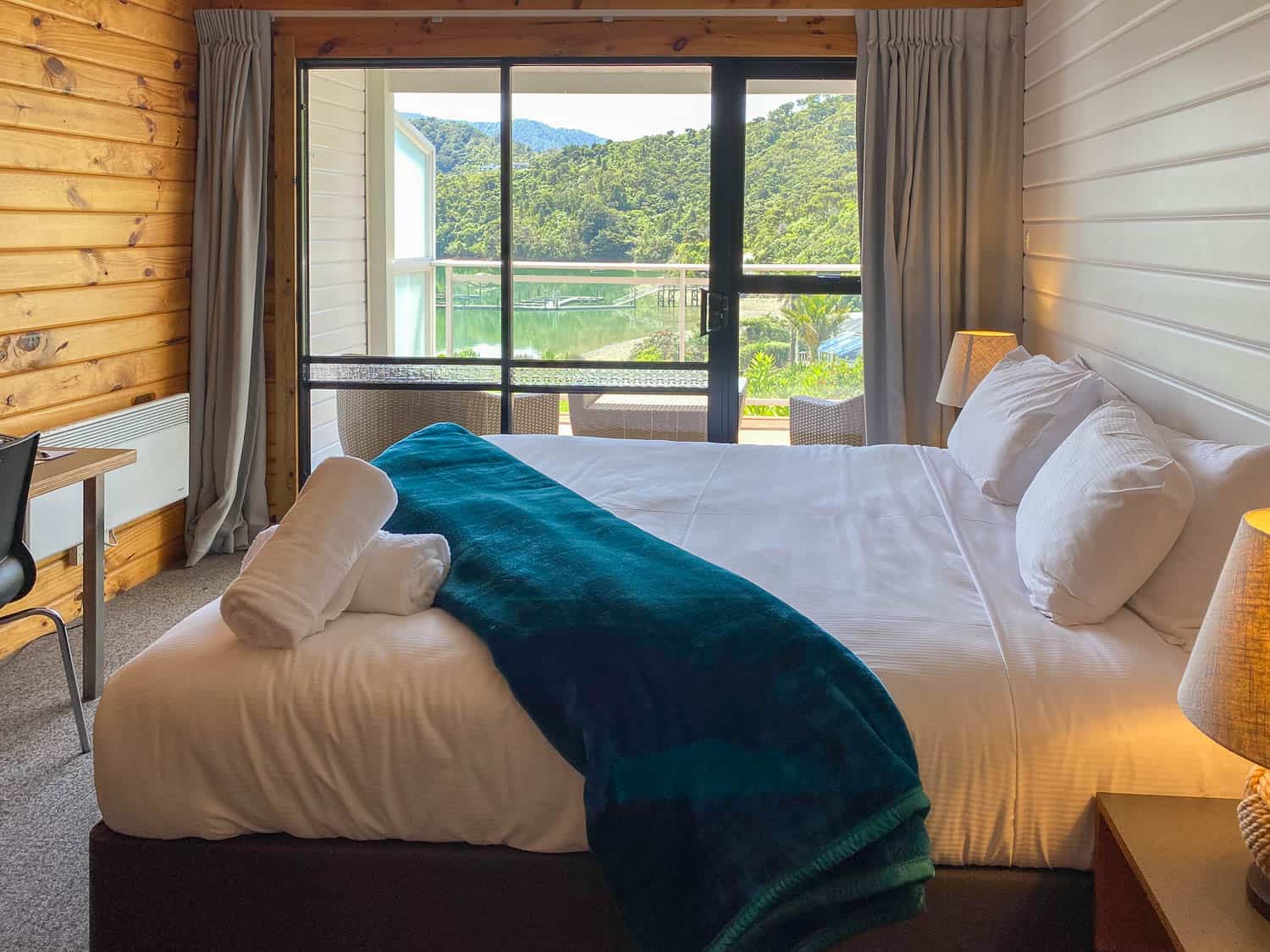 There's a pool, but sadly no hot tub or kayaks to borrow.
We spent the afternoon in the bar and then enjoyed a hearty vegetable lasagna for dinner.
Although Portage was our least favourite hotel on the walk, it was comfortable, and the only other options in the area are a campsite and Treetops, a basic hostel.
Day 4 Portage Hotel to Lochmara Lodge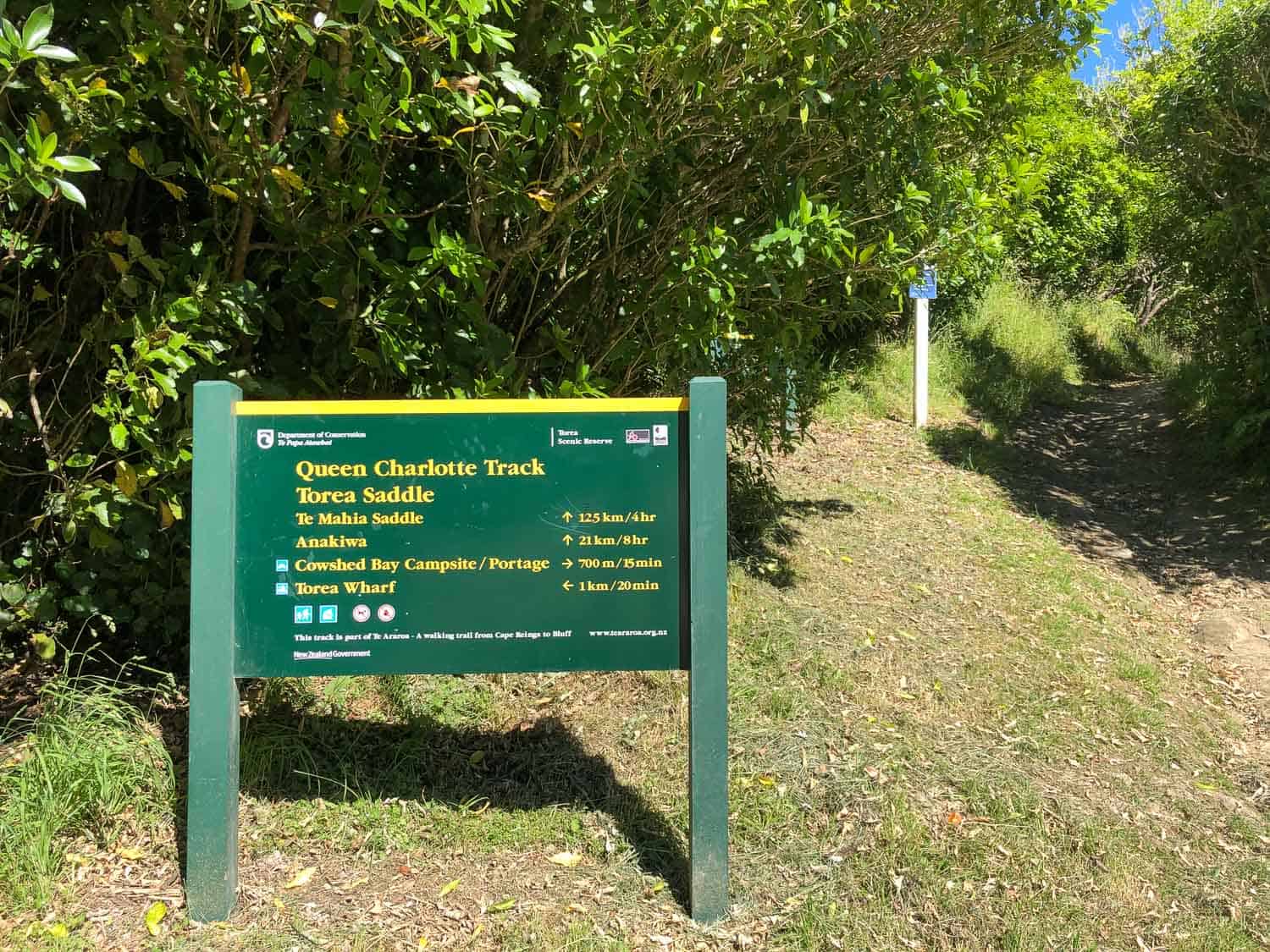 Distance: 9.3km (5.8 miles)
Walking Time: 2 hours 20 minutes
Total Time (with breaks): 2 hours 25 minutes from 10am – 12.25pm
Elevation: 451m total, 401m maximum
Toilets: Torea Saddle
For many hikers, Day 4 is the final day of the Queen Charlotte Track and they walk the 20km from Portage to Anakiwa (estimated 7 hours) and take the water taxi back to Picton.
Some people choose to have a rest day at Portage instead, but we're glad we decided to take a 3.5km detour (each way) off the track and add a night at Lochmara.
We'd heard good things about the lodge and it meant we had an easy day walking after the long Day 3 and would make the final day easier (or so we thought).
Day 4 starts with a one-hour ascent up the road from Portage and continuing up the trail.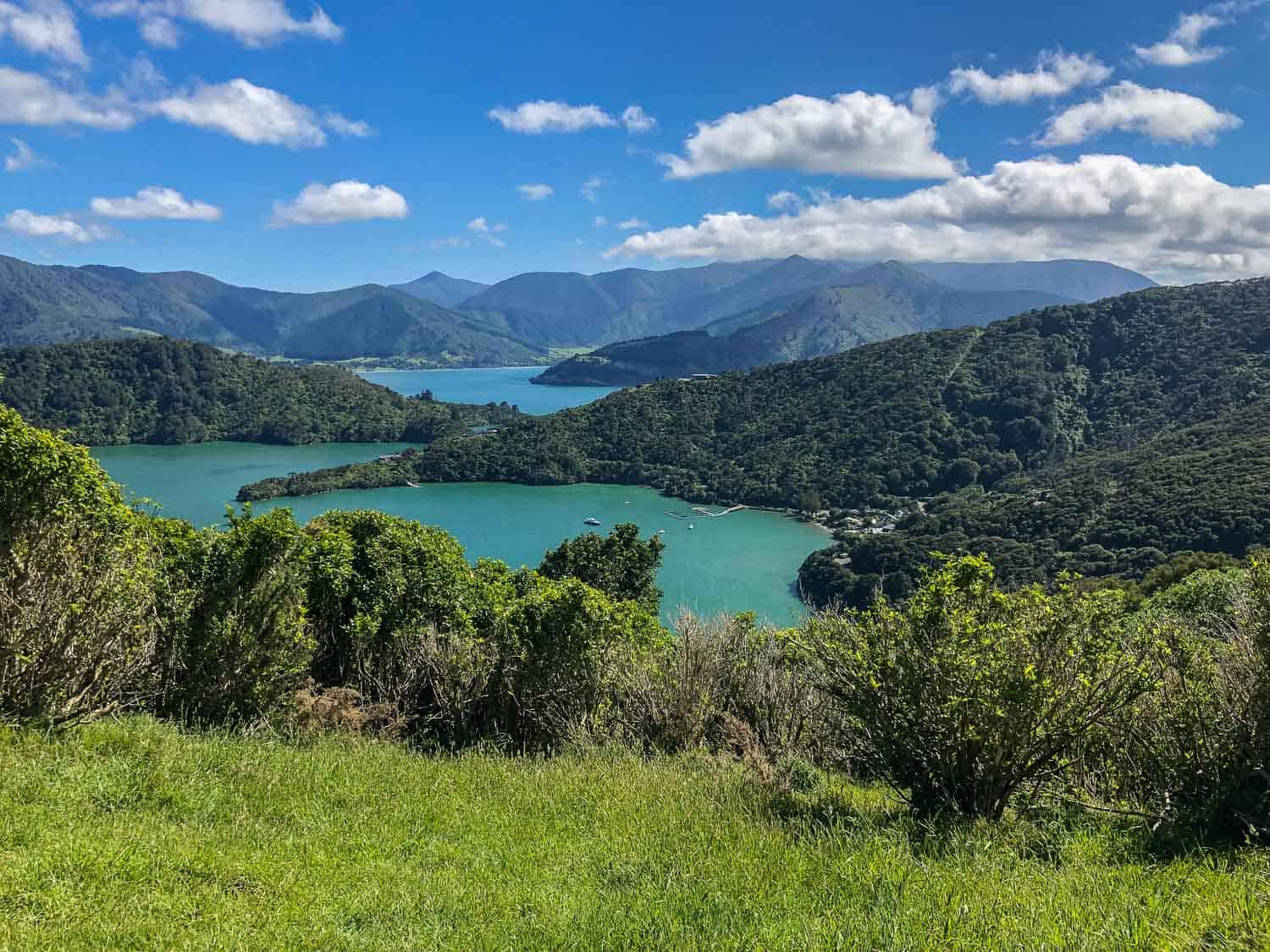 It felt even harder than the previous day, although there were incredible views on the way up and from the Shamrock Ridge at the top. At one point you can even see the sounds on both sides.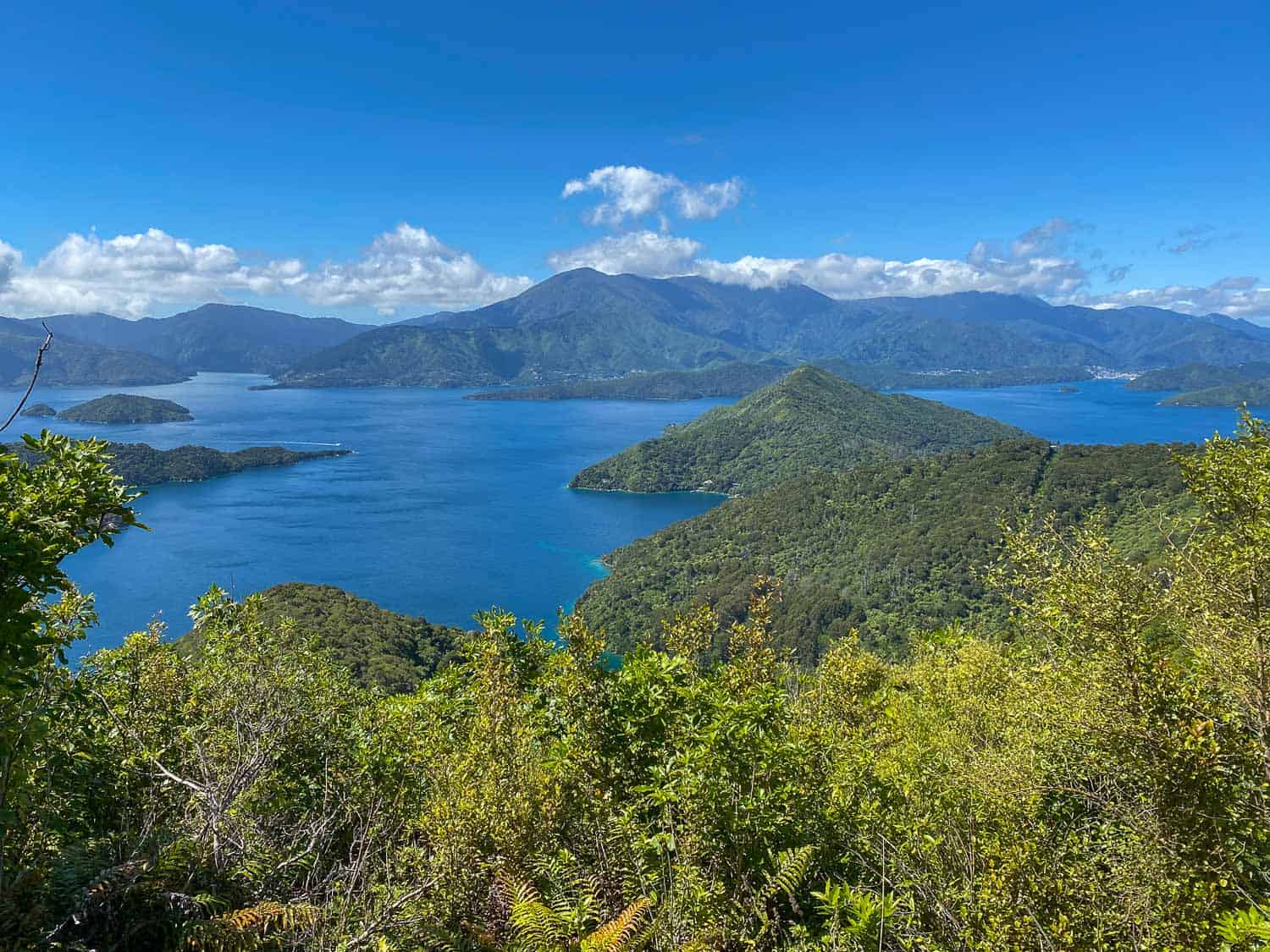 As on the previous day, it was a mix of walking through sheltered forest and along exposed ridge with views.
Once we began descending, it was an easy day. We reached the well-signposted turn off to Lochmara after 6km and 1 hour 40 minutes of walking.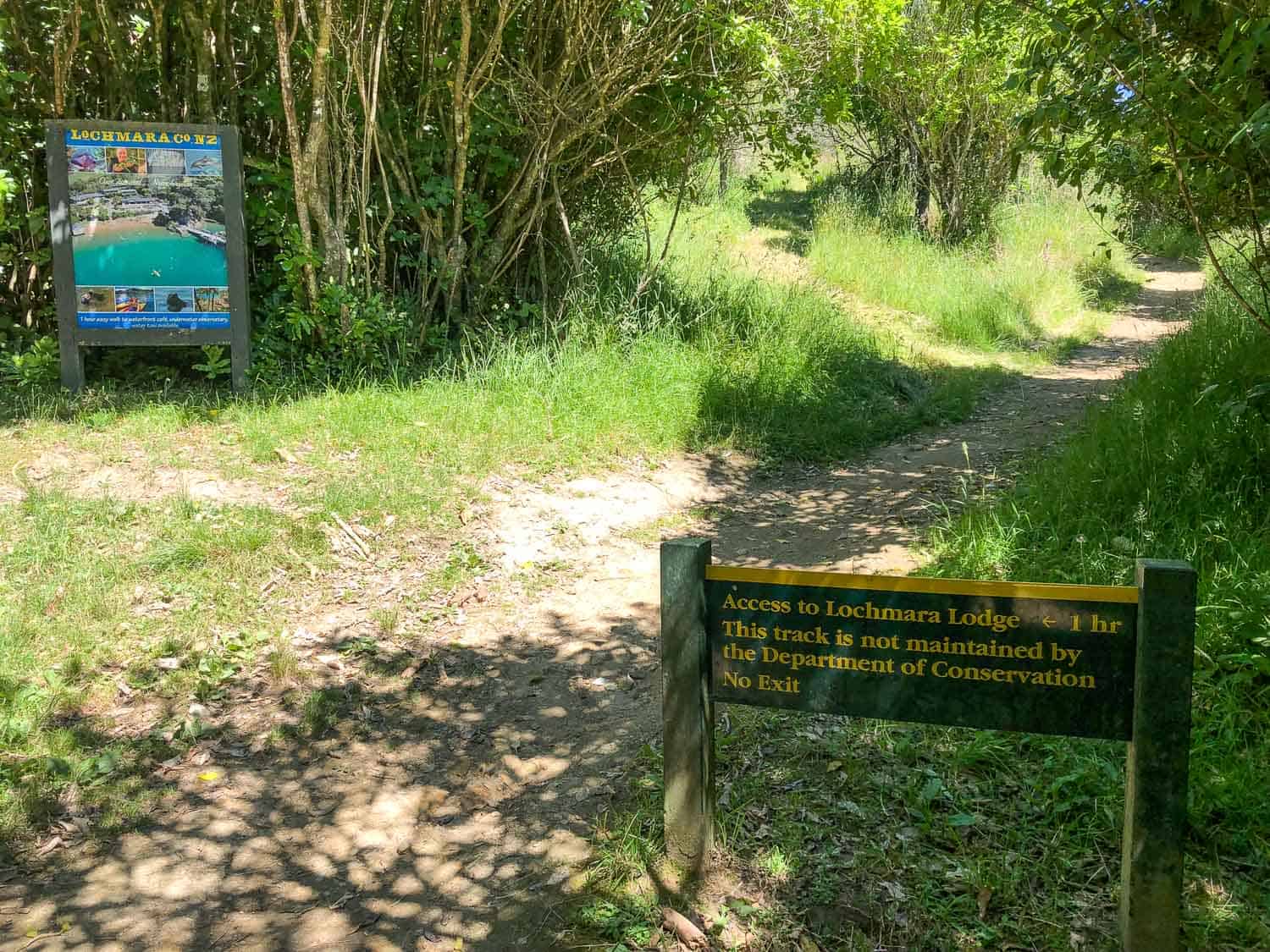 The trail to the lodge was fairly level high up above the coast then through the forest before a final descent. It took us about 45 minutes.
It was such a short day we didn't stop for more than a five-minute break and only ate our lunch once we arrived in our room.
Accommodation at Lochmara Lodge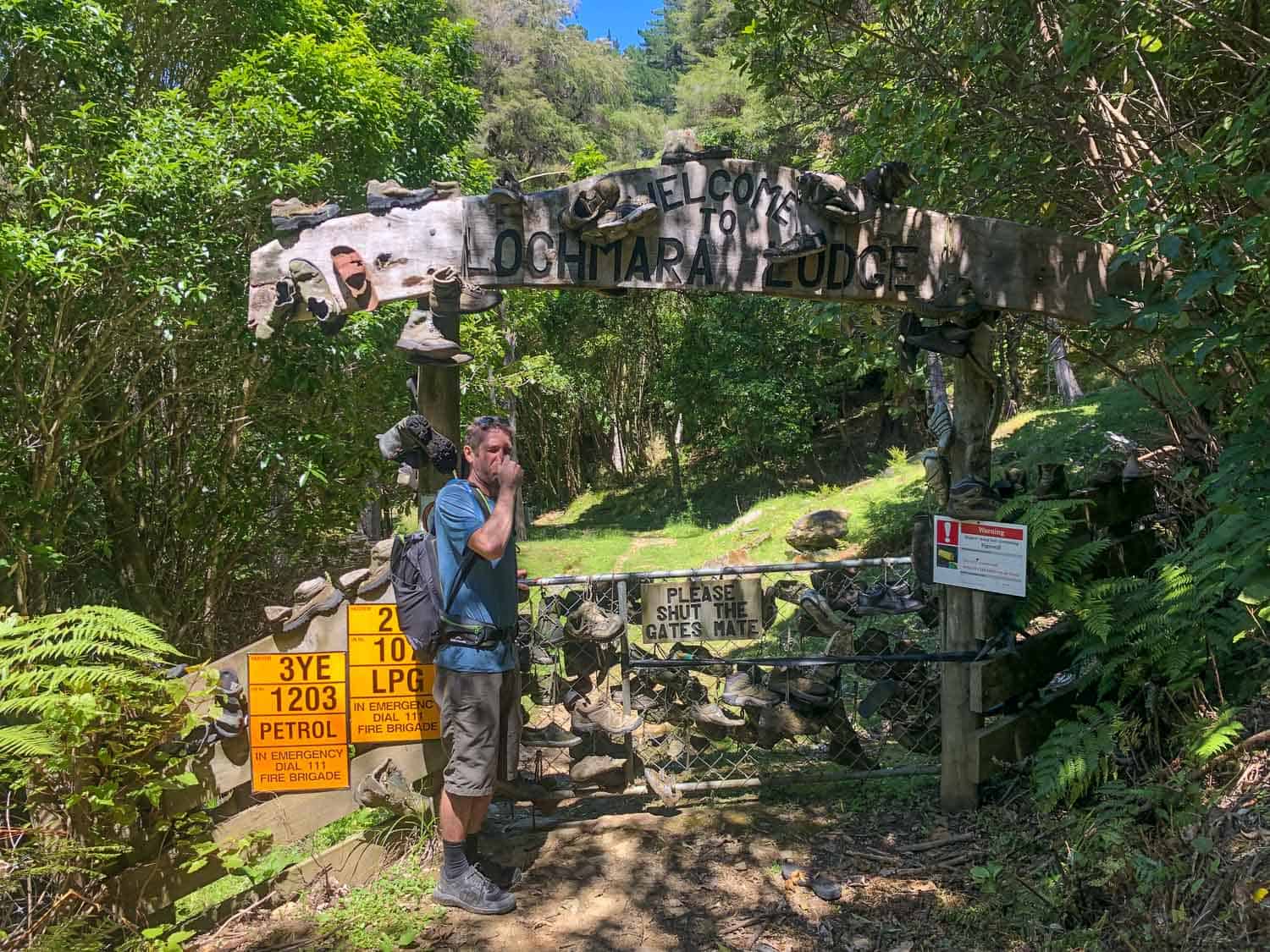 Lochmara Lodge couldn't have felt more different from corporate Portage. As soon as you walk through the gate decorated with old boots you realise it's a quirky place.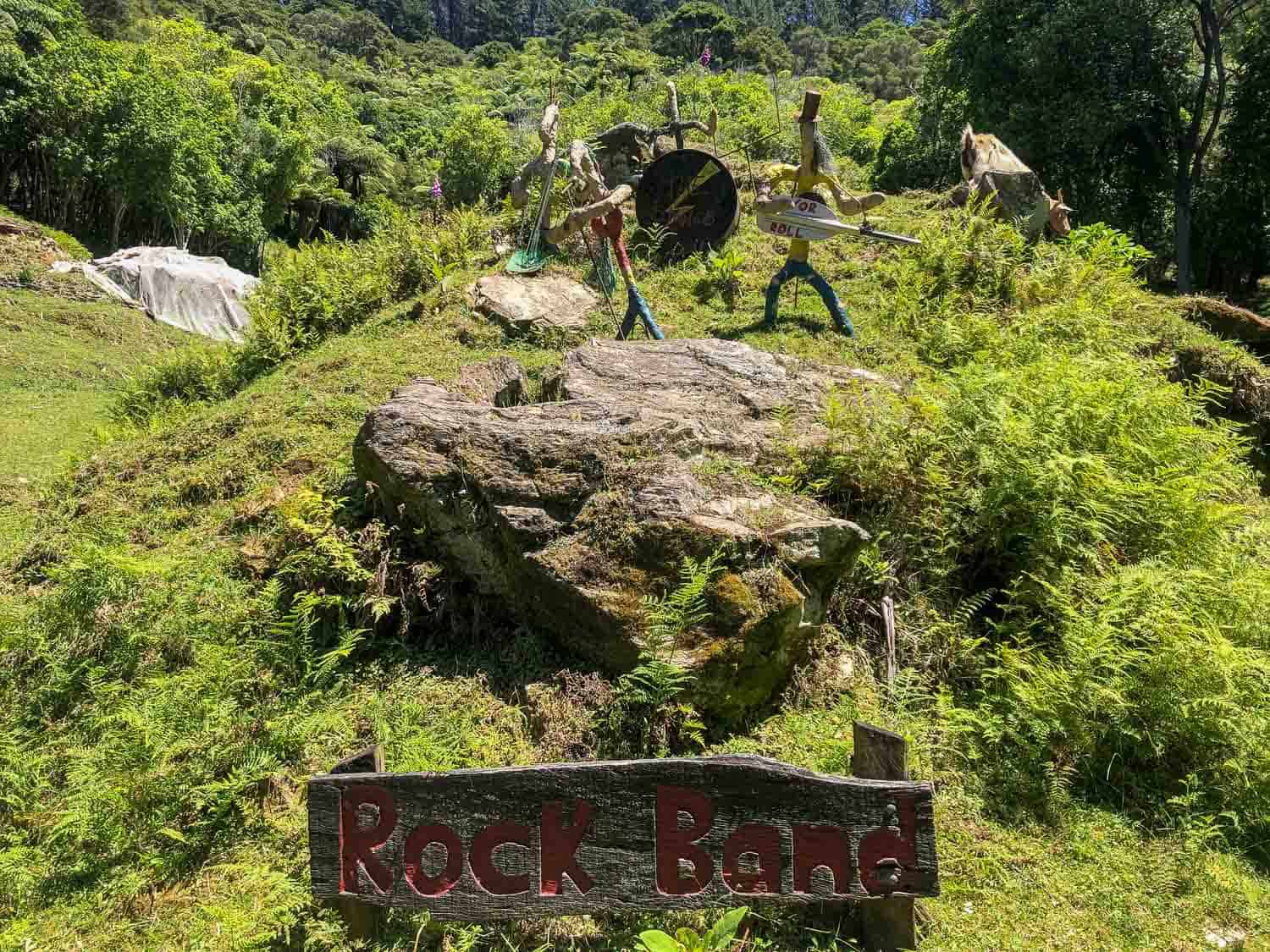 There's lots of artwork and animals everywhere and plenty of trails and interesting corners to explore. The staff was also very friendly.
Our Kakariki Chalet had a bed facing the sea, sofa, table on the terrace, and a small kitchenette.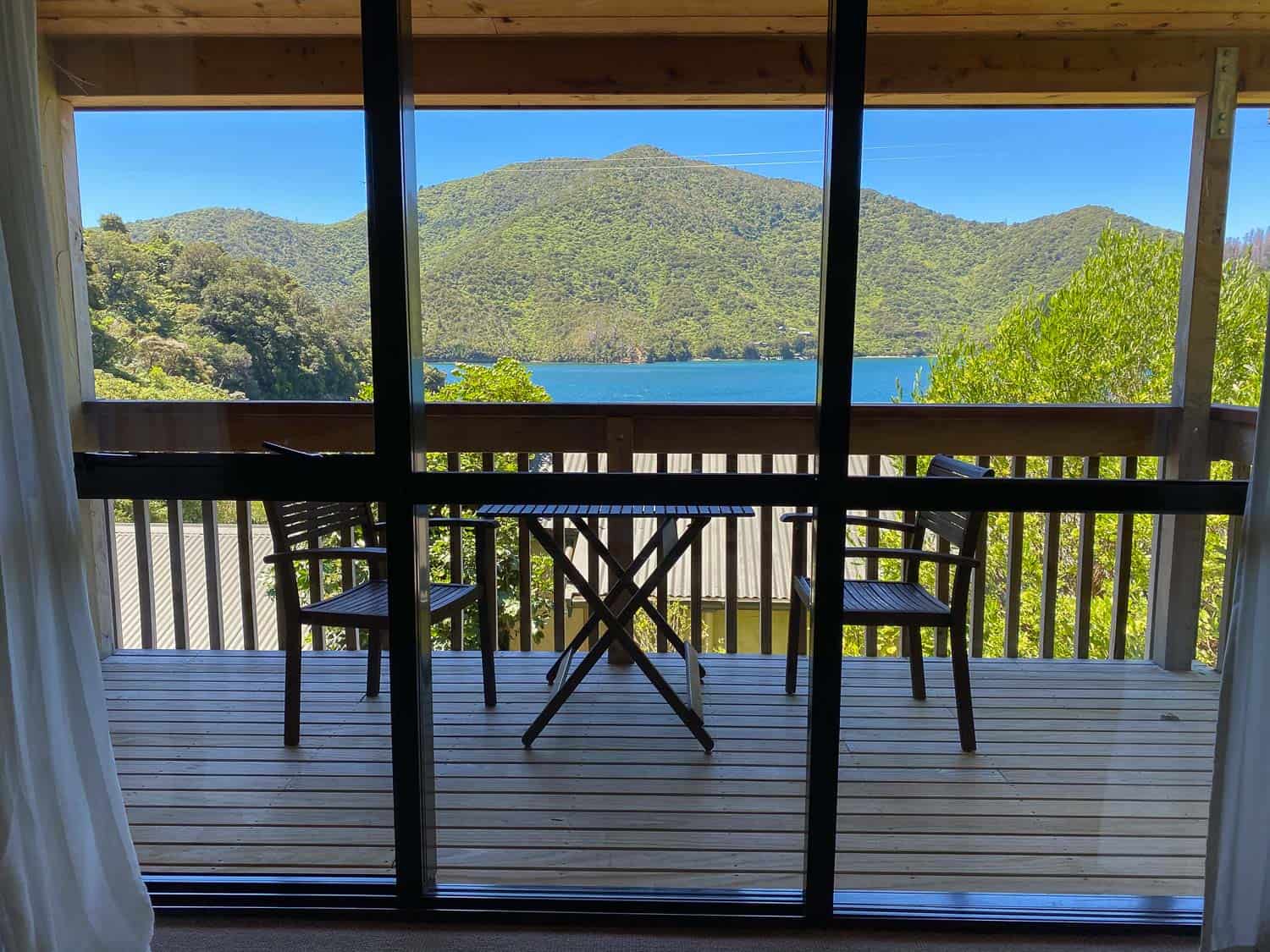 It's partway up the hill with another building in front, so the view wasn't as uninterrupted as at Punga Cove.
There are lots of activities, so we're glad we had all afternoon to explore. We missed the last tour of the underwater observatory (NZ $20 adults/ NZ $10 children), but we did swim in the bay, use the free kayaks (and saw a stingray), lounge on sunbeds, drink in the bar, and laugh at the antics of the escaped baby goats.
Dinner is served from 6pm with snacks available all afternoon. The one vegetarian main of arancini with Greek salad was the priciest so far (NZ $35 each), but was pretty good.
After dinner we had booked the private bathhouse (NZ $60 per couple for an hour) and enjoyed our wonderfully relaxing, side-by-side bubble baths with sea view.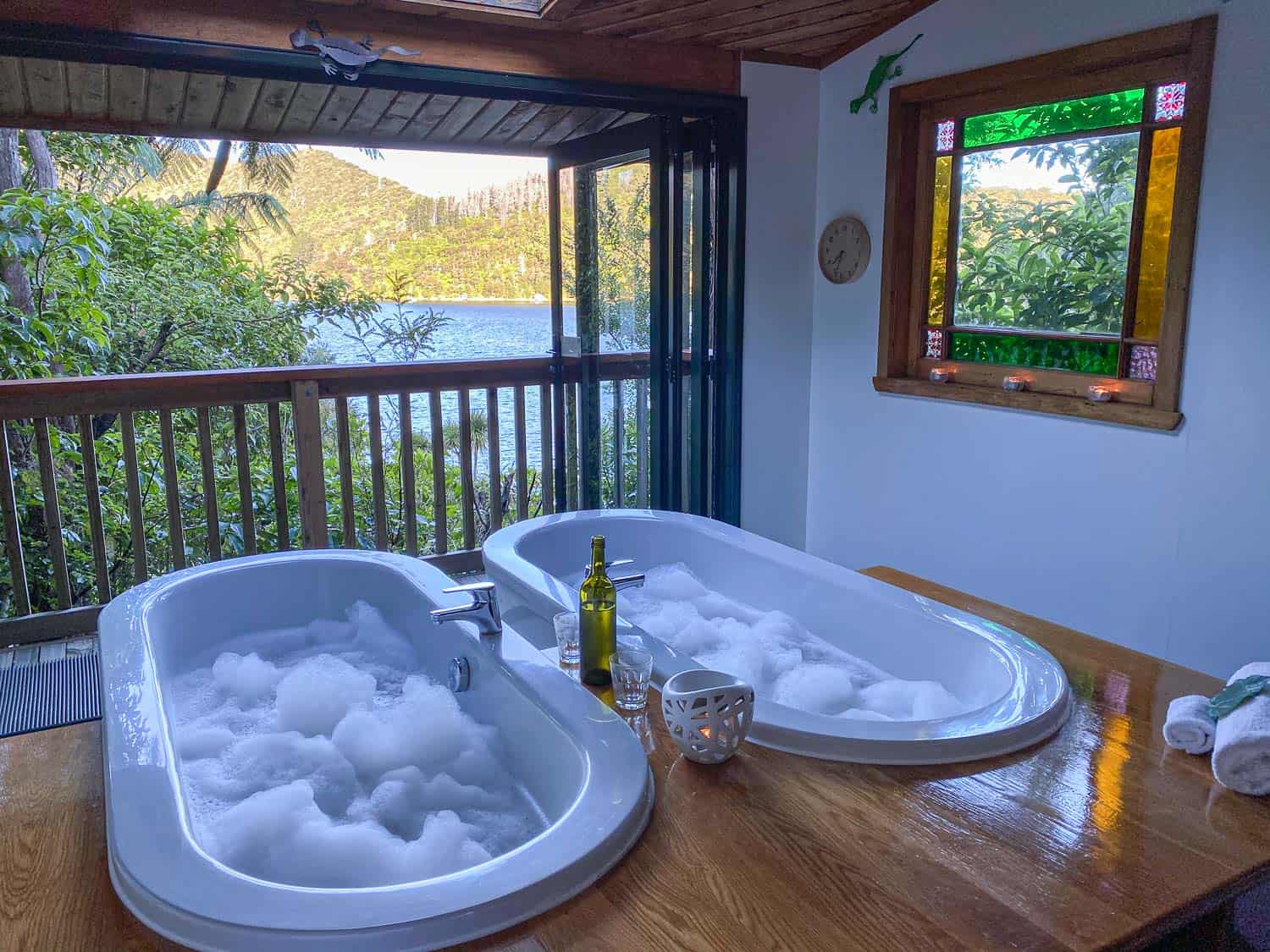 We even managed to stay up until after dark to see the thousands of glowworms that light up the forest like Christmas lights—it feels like magic.
We also tried to see bioluminescence in the sea, but it wasn't very strong due to the full moon rising above the mountains.
Day 5 Lochmara Lodge to Anakiwa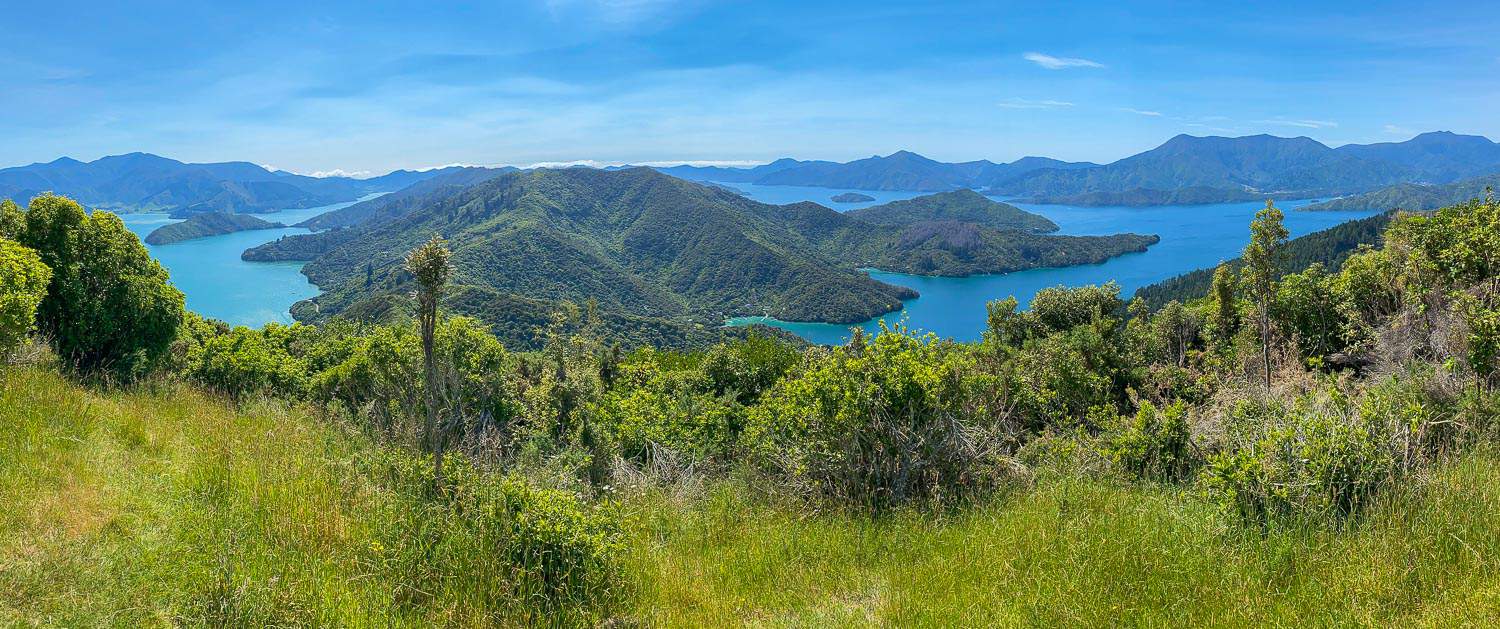 Distance: 20.16km (12.5 miles) with Onaharu Lookout sidetrack
Walking Time: 4 hours 48 minutes
Total Time (with breaks): 5 hours 45 minutes from 9am – 2.45pm
Elevation: 653m total, 415m maximum
Toilets: Te Mahia Saddle, Davies Bay
Ah, Day 5. Day 5 was a struggle. We'd put all our worries into Day 3 and Day 5 blindsided us.
We'd expected that our stay at Lochmara would break up the final leg of the track, but it didn't work like that.
As it took us 50 minutes to head back up to the trail from Lochmara and it had only taken us 1 hr 40 minutes to get to the turn-off the previous day, we only saved about 50 minutes on the estimated 7 hour day.
Plus we decided to take a detour to the Onaharu Lookout which added an extra 30 minutes of walking.
Perhaps it was also the hotter weather or the accumulated tiredness of the final day, but we felt exhausted from the start, especially as it's an uphill climb from Lochmara and then the trail continues to ascend.
The Onaharu Lookout added even more ascent, but it was well worth it for the best view on the entire trip with 360º views of Queen Charlotte and Kenepuru Sounds.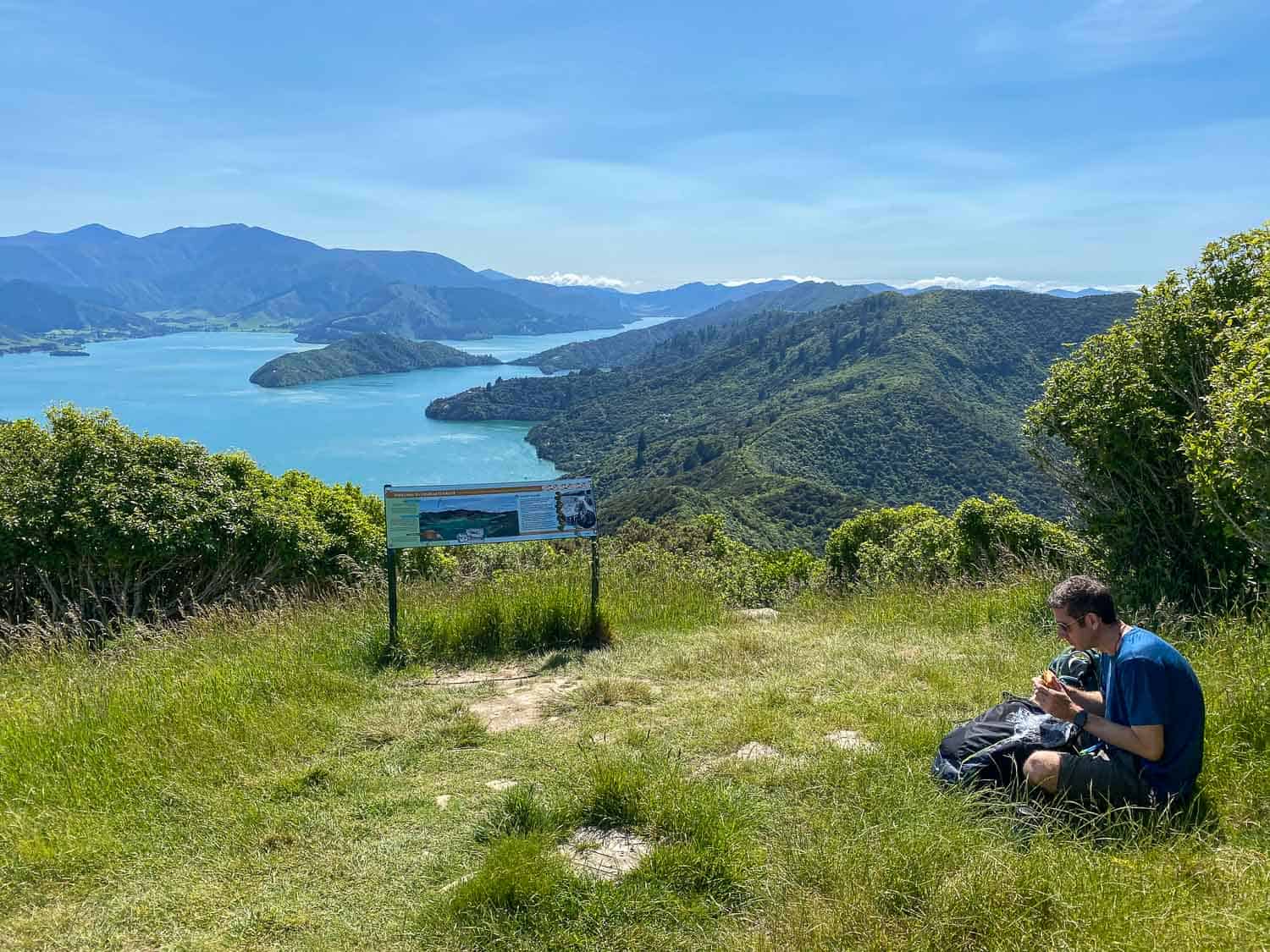 There's a picnic table and lots of grassy areas to relax on, so we had an early lunch (at 10.30am!) and lay back in the grass to enjoy the scenery. After a 30-minute break we continued on our way.
The rest of the day felt long, hot, and tiring. It was strange seeing so many day hikers out, as almost everyone else we'd seen so far was walking the whole track.
We soon discovered this was because there's road access at Mistletoe Bay. We even had to walk along the gravel road for a few minutes.
I also ran out of water and the promised tap at Hebberds didn't work; I started to dream about the kiosk at Anakiwa.
Due to this, we didn't stop at Davies Bay (3km before Anakiwa) for our planned swim but power walked at our fastest pace all week to the finish line.
Thankfully, the Green Caravan Cafe was open and we gorged ourselves on ice-cream and fizzy drinks before flopping on the grass to wait for the water taxi (which was due at 4pm but left at 3.30pm as everyone was early).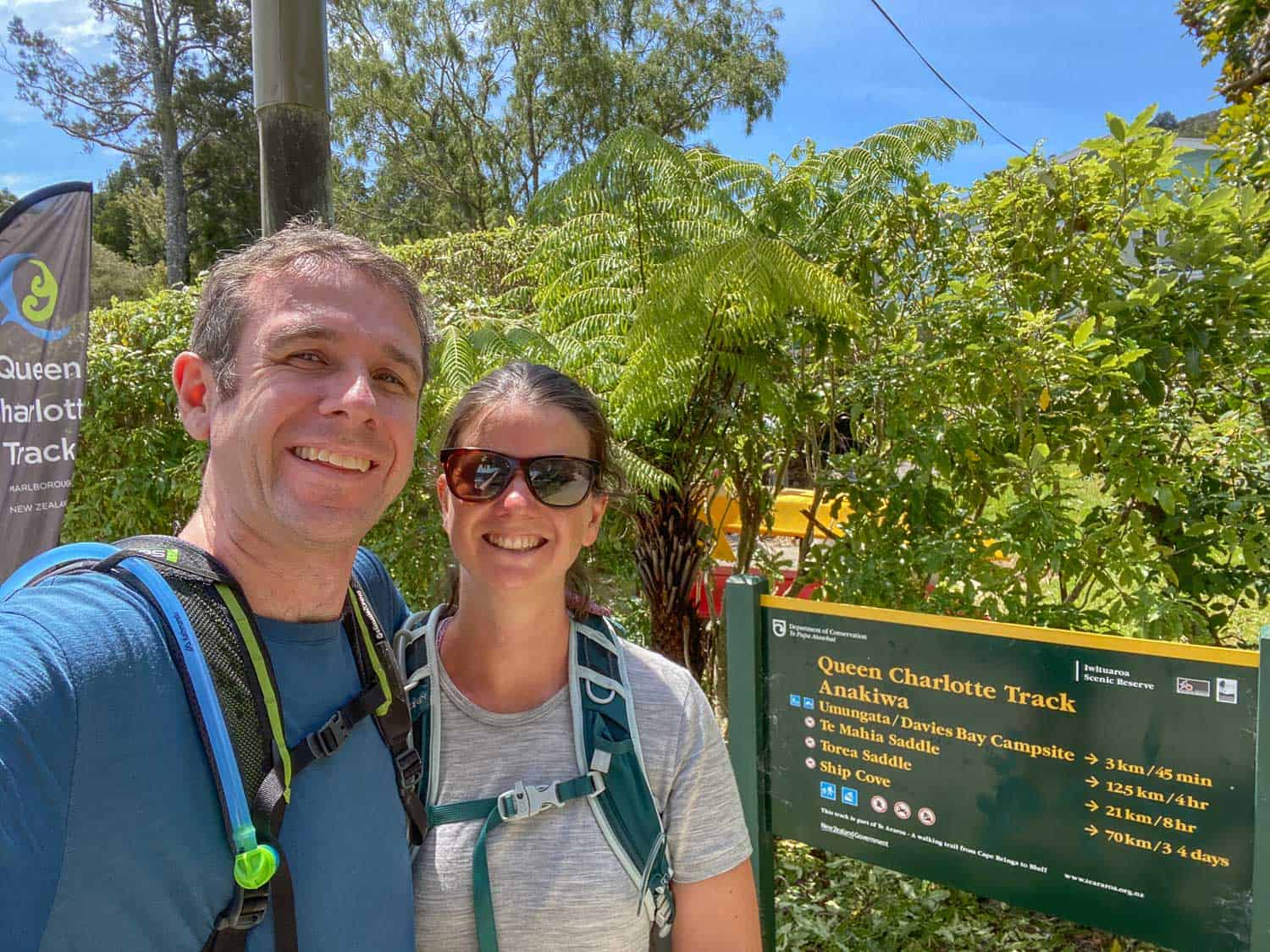 In retrospect, we should have stayed the night in Anakiwa. This would have meant we didn't have a time pressure to get to the water taxi and could have spent our final night out in the sounds (although Anakiwa is busier than the other bays).
As it's only a 20-minute water taxi ride back to Picton, we could easily have driven on to Nelson afterwards the following morning.
Anakiwa Lodge is a good option in Anakiwa (with a hot tub!), but you'll need to arrange dinner in advance.
Summary
Despite the exhausting final day and black toenails, we were sad our Queen Charlotte Track journey was over. We were almost tempted to turn around and walk it all the way back.
It was a blissfully relaxing week disconnecting from the world, enjoying peaceful forest trails and stunning views of the sounds with relaxing afternoons swimming and resting at the comfortable lodges.
We highly recommend walking the Queen Charlotte Track—it was one of our top travel experiences not only in New Zealand but anywhere in the world.
More New Zealand Tips
Top of South Island
Rest of South Island
North Island
Enjoyed this post? Pin for later!