This page contains affiliate links. Please read our disclosure for more info.
The Dales Way was our first experience of a long distance walk in the UK, and we were unsure what we'd need over the six days and 83 miles, especially as the northern England weather is notoriously unpredictable.
In the end we were happy with our Dales Way packing list and missed very little. Whatever time of year you hike it's important to be prepared for all weathers.
Our Weather in September
We hiked in early September and it was colder than we expected. We experienced maximum temperatures of 16ºC for the first two days (when it was dry with sunny spells) and 10–14ºC for the following four days (when it rained every day, but not all day). One morning was particularly chilly at 7ºC.
Baggage Transfer
We used the Brigantes baggage transfer service so we didn't need to pack light. I highly recommend using the service—at £8.50 a day it was well worth it for us not to have to lug all our stuff or worry too much about what to bring.
If we were carrying our own gear we could have reduced our clothes to one bottoms, two t-shirts, 2–3 socks, and 3–4 underwear (and washed them in the sink), plus a lightweight evening outfit.
Choosing Clothes and Shoes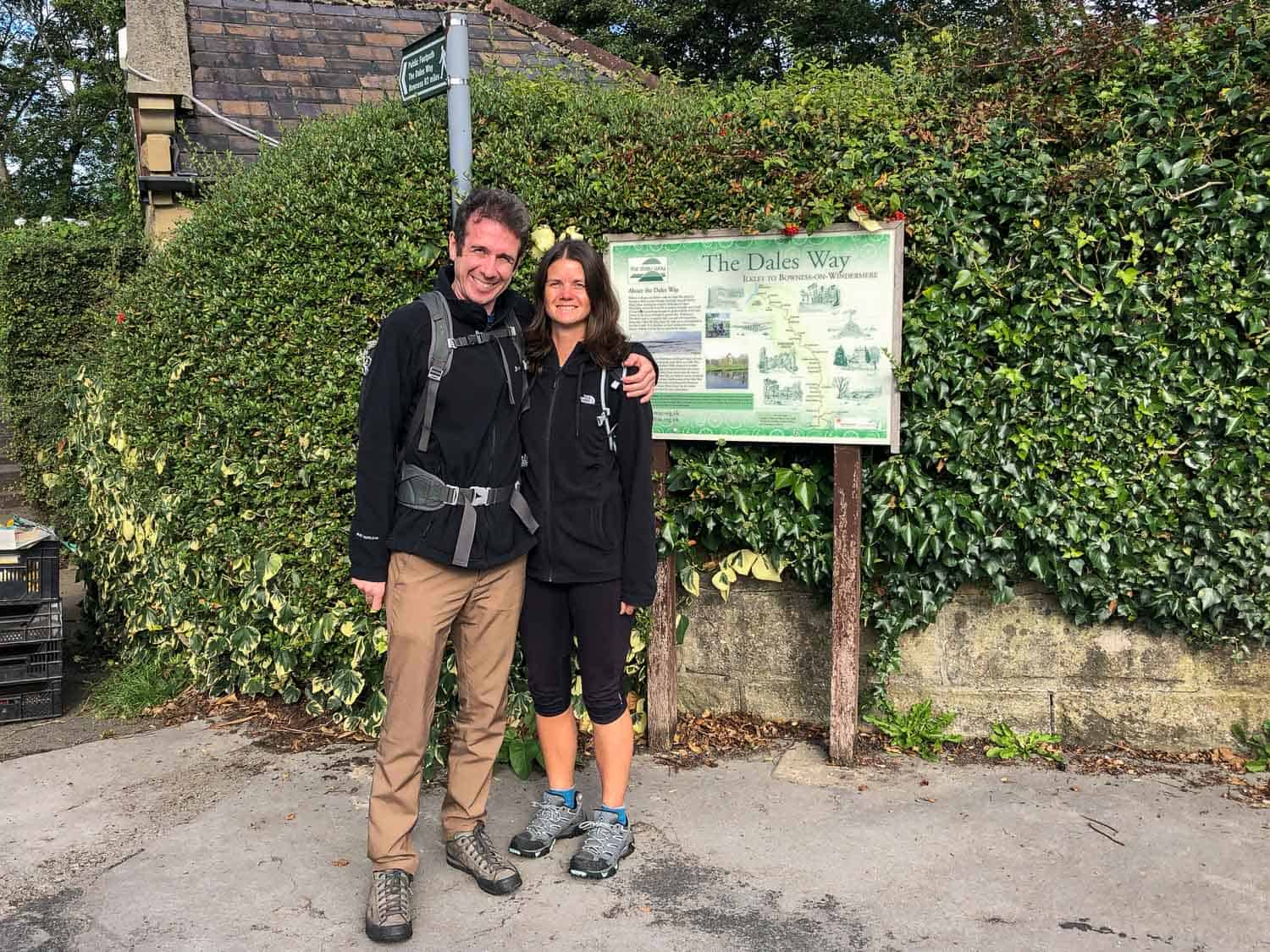 The most important thing when choosing clothes is to avoid cotton. Technical fabrics dry more quickly and wick moisture away from your skin to stop you feeling too sweaty.
Most people hike the Dales Way in hiking boots, but we managed in hiking shoes with no problems. Do make sure whatever you choose is waterproof (look for GTX for Gore-tex in the shoe name) as it does get muddy and boggy in many sections, and that they are well worn in.
Consider going up a size as your feet swell when warm. I had serious feet issues, but Simon used his regular shoes which he'd been wearing every day for six months and didn't have any problems.
Don't Forget Waterproofs!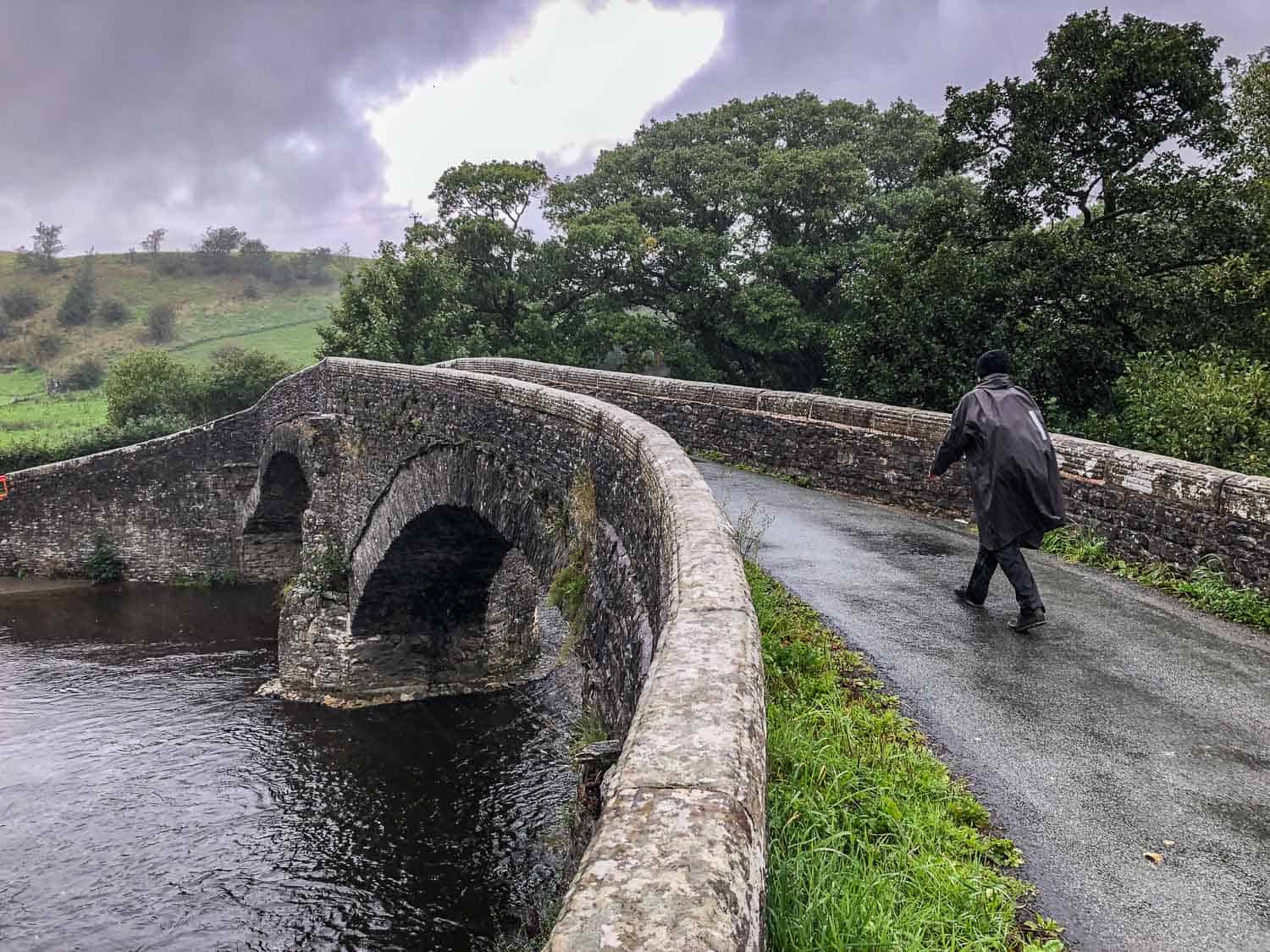 Another important factor when hiking in the UK at any time of year is waterproofs. It rained for four out of six of our days and we were definitely glad we had good waterproof jackets and trousers.
Simon opted for a poncho which covered his backpack and was very happy with his choice.
I preferred a waterproof jacket I could also wear around town and added a waterproof cover for my backpack. We'd heard that ponchos and waterproof covers don't work well but they did for us—perhaps it would have been different in very heavy rain and high winds.
See our Dales Way guide for planning and itinerary tips.
Here's our complete Dales Way packing list:
Contents
Luggage
As we used a baggage transfer service we needed two bags—an overnight bag that was transported between B&Bs and a day bag that we carried on the walk.
Day Bags
The most important features for a day bag are a hip belt (to take the weight off your shoulders), sternum strap (to keep the shoulder straps from moving around), and a few pockets to store smaller items.
Osprey Tempest 20 (Erin) – I bought this 20-litre daypack especially for the hike and it was very comfortable. It's not a huge bag but could easily fit a large water bladder (in a separate compartment designed for it), my waterproofs and some snacks. There are two small compartments (one inside, one accessible from the top), two pockets on the hip belt (useful for tissue or a phone), a mesh pocket on the front (which I used for rubbish), and two water bottle holders (which I didn't use).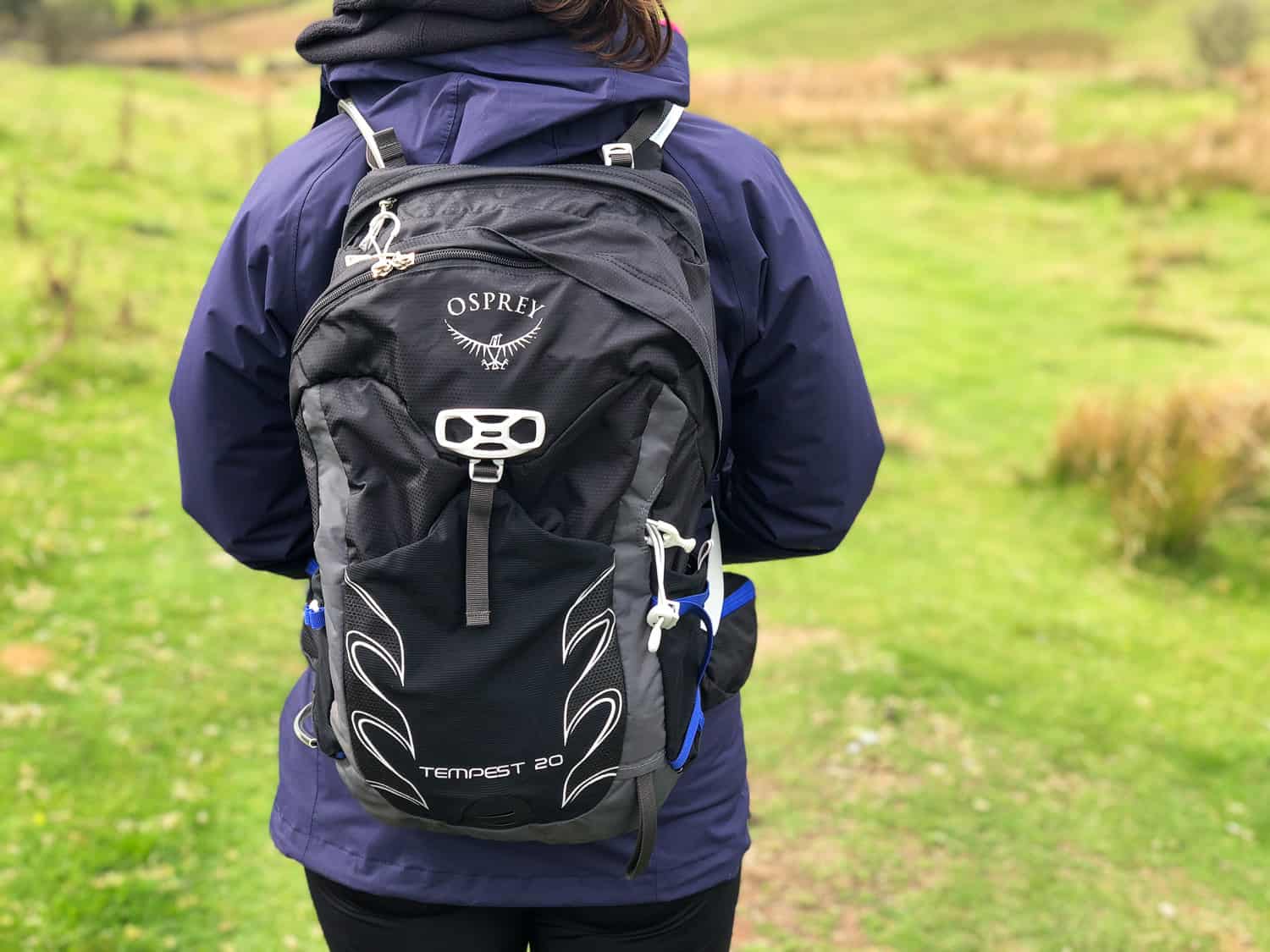 Waterproof backpack cover (Erin)
Osprey Farpoint 40 (Simon) – We already had this 38-litre backpack (it's my main travel bag) and Simon found it comfortable and spacious (more space than he needed). There's no water bladder compartment so I carried the water bladder while Simon carried smaller bottles as backups.
Overnight Bags
Simon used his usual Tortuga Setout backpack and I used the small Tortuga Setout daypack.
Simon's Clothes
Hiking
Scarpa Margarita GTX Shoes – These aren't really designed for hiking but they worked out much better for Simon than my "proper" hiking shoes—he didn't have a mark on his feet. They are fantastic travel shoes that look smart enough for restaurants but have rugged soles and a Gore-Tex lining. The waterproofing wasn't perfect and some water did come through the laces one day, but they were so comfortable it was well worth that downside.
Bluffworks Originals Pants – Simon's favourite travel trousers turned out to be amazing for hiking. They are comfortable, breathable, quick-drying, wrinkle-free, and look great. They are also stain-resistant—he wore them every day (including evenings) and they never smelt or looked dirty. He got some black muddy stains on them one day but they vanished like magic!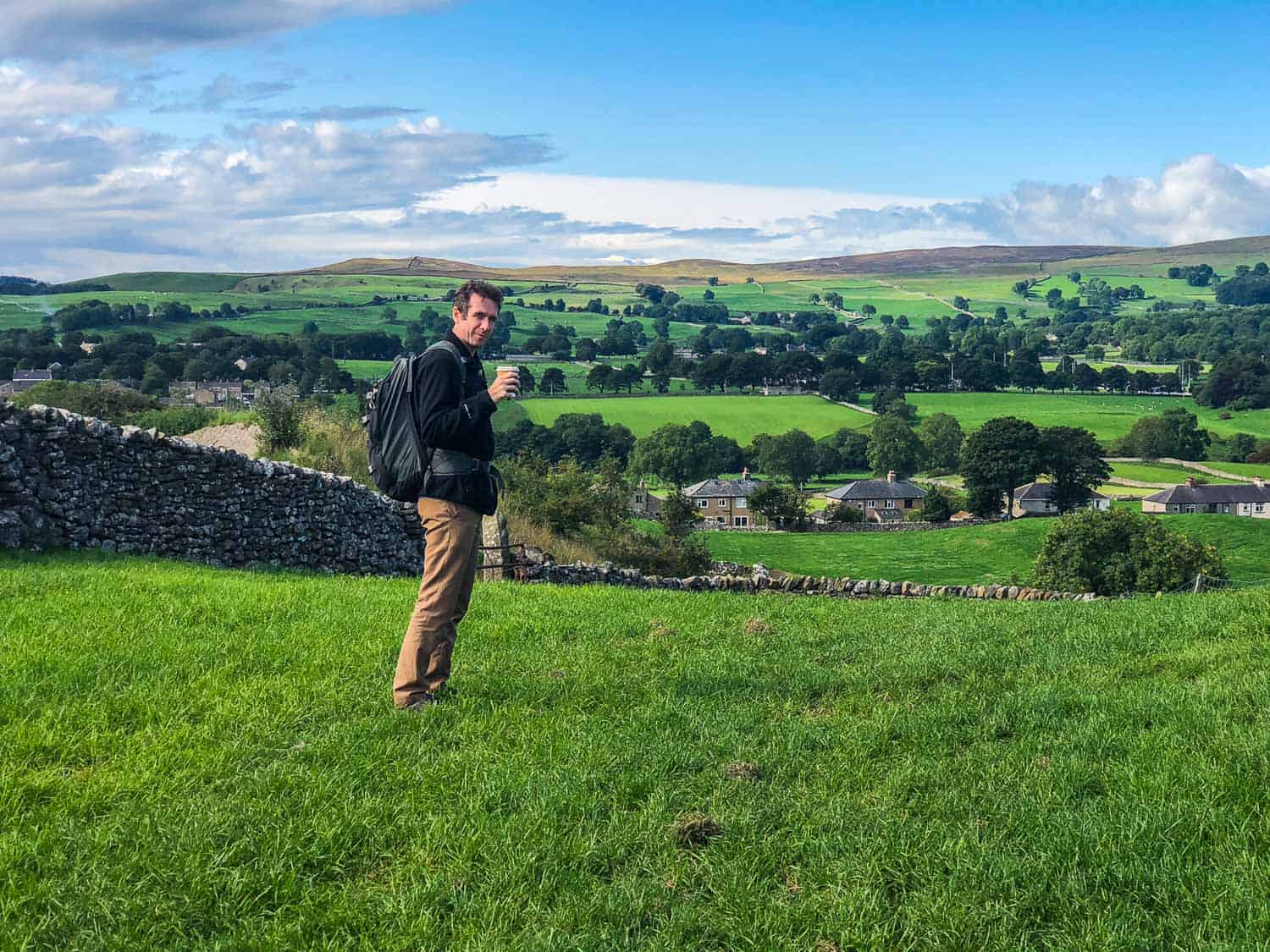 4 technical t-shirts – Two were Icebreaker Tech Lite made from merino wool so they regulate temperature and don't get smelly. They are expensive so he also had cheaper Under Armour Tech and Mountain Warehouse Endurance t-shirts which both worked well.
Fleece (Sprayway) – He wore it every day and it didn't get too smelly.
Fleece-lined beanie hat – Definitely necessary for the cool and windy days.
6 underwear – A mix of ExOfficio and M&S Microskin trunks.
6 hiking socks – Two pairs of Smartwool (PhD Ultra Light Crew Hiking Socks and Medium Crew Hiking Socks) plus some Bridgedale and Smartwool liner socks that he wore as lightweight socks. The thicker medium crew socks were the most comfortable and absorbed water well on the day his feet got a bit wet.
Montane Featherlite Smock – An ultra-lightweight windbreaker. It's not fully waterproof so Simon wore this in light rain then added the poncho when the rain got heavy. He could have skipped this and just had the poncho.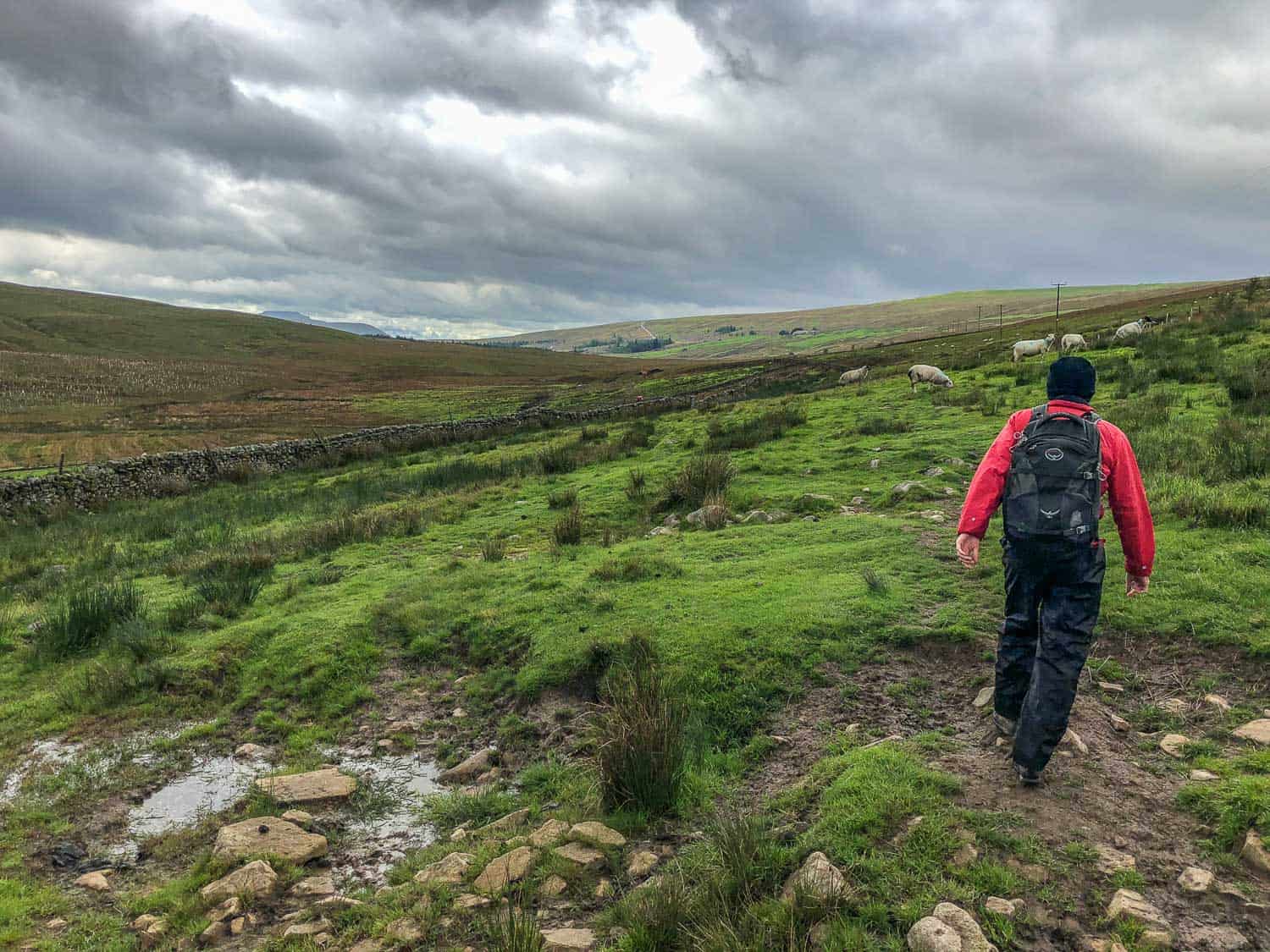 He also brought a summer hat and sunglasses but didn't need them.
Evening
Simon forgot to bring his jeans for the evenings/end of the trip but managed with just his Bluffworks trousers. He didn't bring an extra pair of shoes and would have liked something to change into.
T-shirt
Icebreaker long sleeve top – A merino wool top that would also have worked well as an extra layer for hiking (but wasn't needed).
Billabong submersibles hybrid shorts – If it were hot he would have worn them for hiking. They have a dual function as swim shorts so he only ended up using them in our pool at Bowness.
Underwear and socks.
Erin's Clothes
Hiking
Merrell Moab 2 GTX hiking shoes – I have had positive experiences with Merrell shoes in the past but made the rookie error of ordering these online. They were heavier and stiffer than I expected. I had seven weeks to wear them in but although they softened up, I never stopped getting blisters. I only had one major blister on the hike (which compeed helped with) but two painful black toenails and my feet were in a lot of pain at the end of each day. It's possible I should have gone up a size but they felt too big at first. The waterproofing did work well.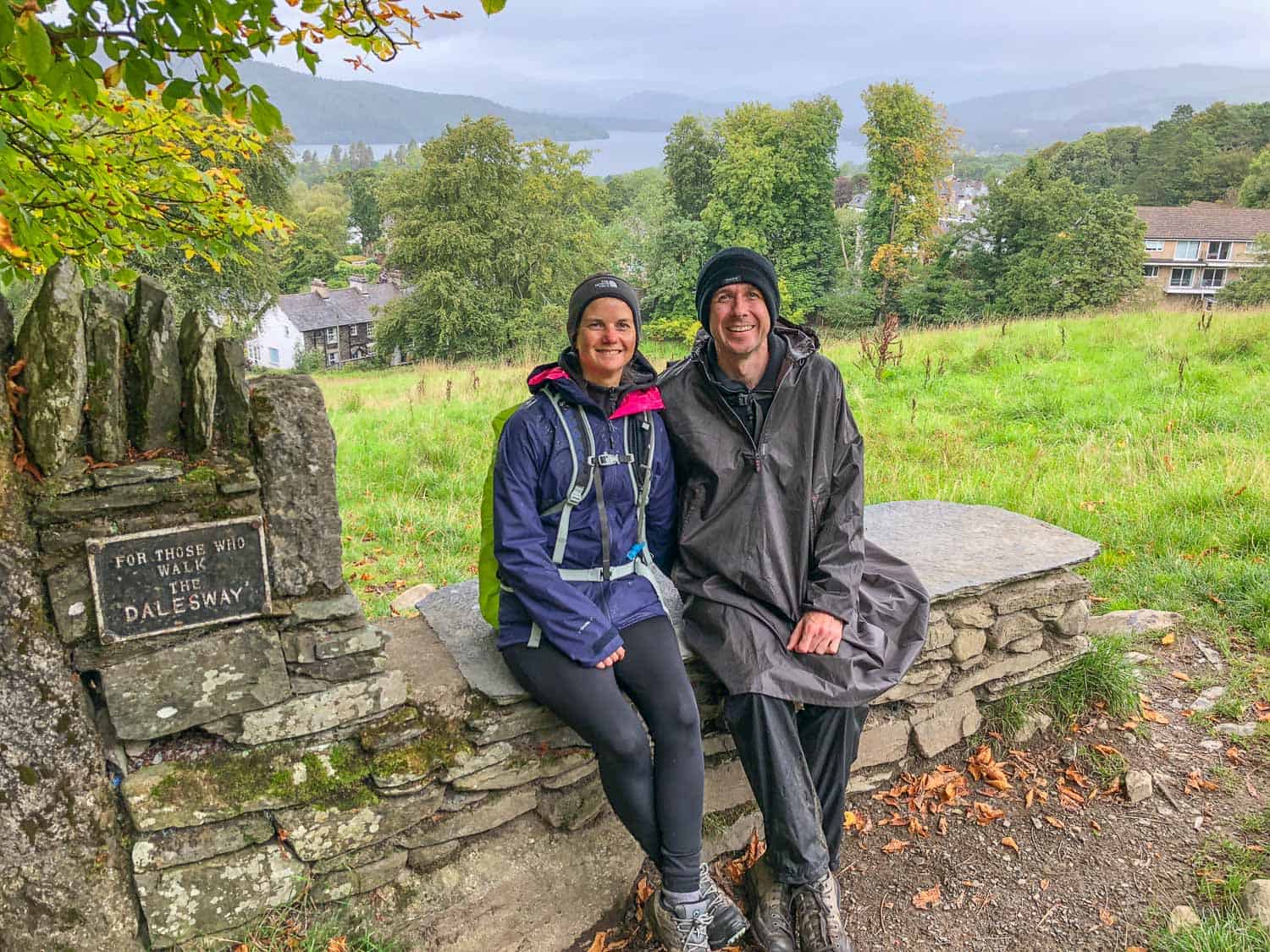 Capri leggings (Athleta) – Comfy with useful side pockets. It got a bit cold for short trousers from Day 3. Read more about them in my women's travel pants post.
Long leggings – I wore these for the second half of the trip when it was chillier. They were inexpensive on Amazon and were comfortable and quick drying (I didn't bother wearing my waterproofs on the last day in light rain). They lack pockets (except for a tiny one in the waistband) but this wasn't an issue as I had pockets in my fleece, waterproof, and waistband of my daypack.
3 technical t-shirts – Two of these were Mountain Warehouse Agra t-shirts which I bought inexpensively in the sale. They feel like cotton—soft and comfortable—but are quick-drying and moisture wicking. As it wasn't too hot I could wear each for two days without needing to wash them and didn't find them smelly.
Hooded fleece (North Face Mezzaluna) – Light but warm with a hood for when it was cold and windy and pockets to keep my hands warm. As the weather was cooler than expected I wore this every day. It needed a wash by the end but managed to stay relatively unsmelly.
Fleece headband – I didn't wear this on the first two days but after that wore it constantly to keep my ears warm—it was especially useful in the wind.
Sports bra (Victoria Secret Incredible) – Super comfortable, supportive and moisture-wicking. I wore it all week and it didn't smell.
6 underwear – One pair of Runderwear and the rest ExOfficio which I love as they are comfortable, lightweight, quick drying, and odor-resistant.
5 hiking socks – All were a merino wool mix. My favorites were the Bridgedale CoolFusion Trail Diva Socks and Smartwool Phd Light Mini Hiking Socks. Merino wool regulates temperature well and is odor-resistant so they weren't smelly.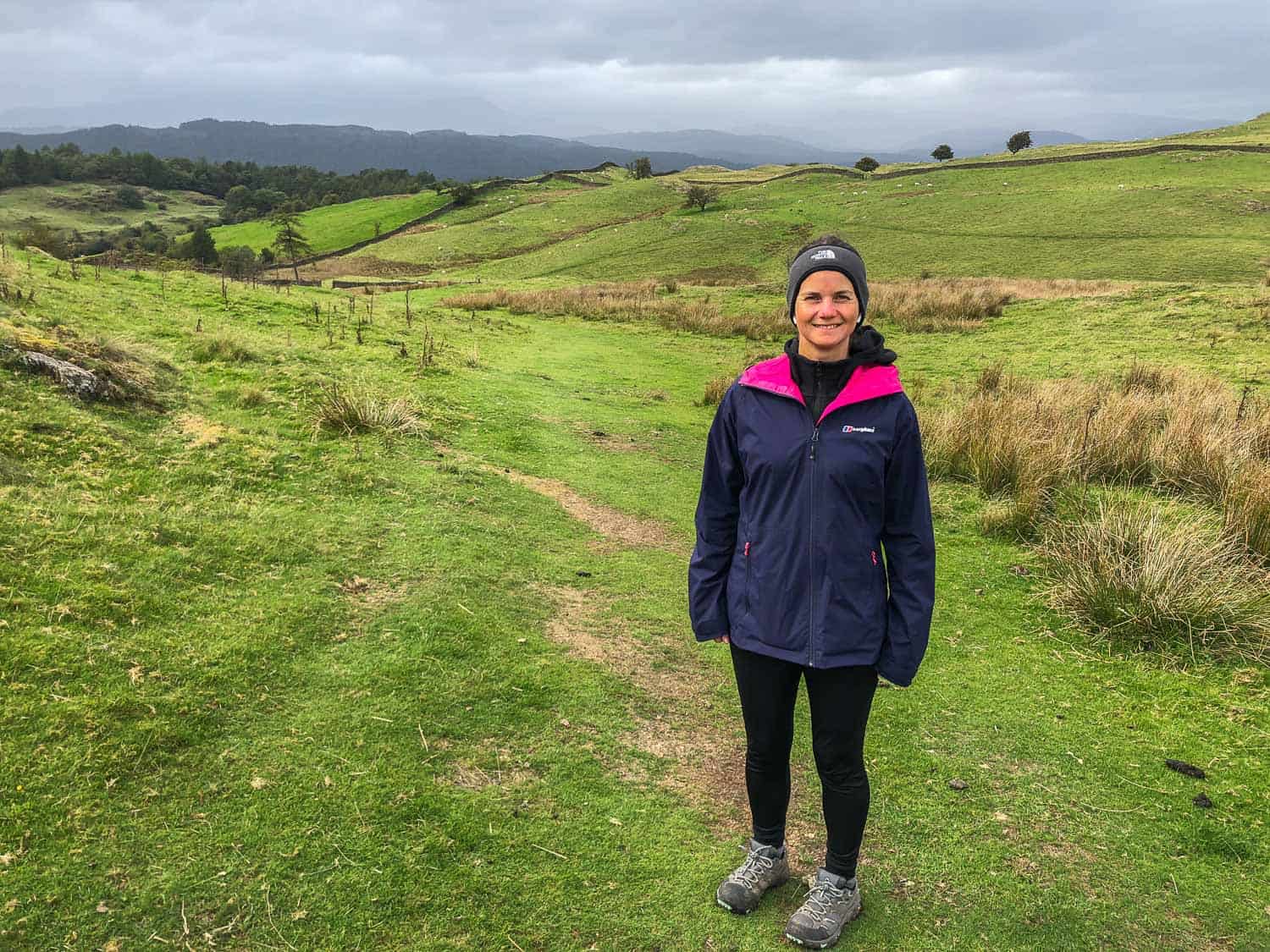 Berghaus Stormcloud Waterproof Jacket – A lightweight jacket that packed down easily into my daypack (although it doesn't have a stuff sack) with a decent hood and two pockets. It kept me dry although after a few hours of rain there was some dampness inside the jacket—my fleece absorbed it, though, and I never felt wet. When it was fully zipped it felt a little damp around my chin but overall I was happy with it. By the end I was wearing it as an extra warm/windproof layer even when it wasn't raining. I liked the matte look and hot pink lining, so it's ideal for around town too.
Higear Waterproof Trousers – These turned out to be essential with the amount of rain we had. I borrowed these so they were a little bulkier than I would have liked and would have been uncomfortable if it had been hot.
Things I brought but didn't need: a spare lightweight sports bra, sun hat, sunglasses, thin running socks (as sock liners which I tried one day but my feet felt too cramped).
The only thing I missed having was gloves. I managed without but my hands got quite cold at times.
Evening
Uniqlo thermal leggings – Really light and soft, nice for lounging and doing yoga.
Jeans – I wore these out to dinner and around Bowness (where we spent two nights at the end of the trip). I could have managed with the leggings if I were carrying everything.
T-shirt – I had a cotton one for the end of the trip and also used the next day's t-shirt for the first few evenings when they were clean.
Long sleeve t-shirt – Uniqlo Heatech which is soft and light. I also could have used this as an extra/alternative layer to my fleece for hiking.
Cardigan – I felt quite chilly in the evenings so found a few extra layers to wear under my fleece useful.
Tank top – Not really necessary but it was an extra layer and I ended up wearing it instead of a bra for comfort.
Bra – I didn't wear this much until Bowness.
Underwear
Thick Smartwool merino medium crew socks – Nice and cosy and could have been used as a spare pair of hiking socks.
Tieks ballet flats – It was great having an alternative pair of shoes to wear in the evenings. Given how painful my big toe ended up being, I wished I'd brought sandals instead (even if I had to wear them with socks).
Bikini – This was for our Bowness hotel (the stunning Dome House) where we had a pool.
My evening clothes could have been reduced to leggings, top and spare underwear, but I did appreciate the extra layers and shoes.
Carried in Day Pack
Between the two of us we carried these things when we were hiking:
Hydrapak Shape-Shift 3L Reversible Reservoir – We shared one water bladder which was really useful as we could drink from the hose without having to stop and open our bags. It tasted a bit plasticky at first but mixing bicarbonate of soda and lemon in with some water and leaving it overnight helped. We also added sliced lemon to the water on the first day. The Hydrapak was light and easy to fill with a wide opening but it seemed to leak a little from the hose attachment.
2 x Vapur Element 1-litre foldable water bottle – Our favourite water bottles. We didn't really need these but it was good to have extra water on the long days without places to stop, and if it had been hot, we would have needed them. They fold down small and are easy to fill from small sinks.
Guidebook Trailblazer Dales Way by Henry Stedman – A brilliant guidebook with detailed hand-drawn maps and lots of useful information on what to see along the way as well as where to eat and stay.
iPhone X and AirPods (Simon) – Really useful as a camera and for maps—we bought a subscription to all Britain's OS maps for £24.99 through the View Ranger app and downloaded the maps that covered the Dales Way for offline use. Being able to see where we were on the map (GPS still works without phone signal) stopped us ever getting lost.
Phone battery charger and cable – We only needed this once as the iPhone X has great battery life.
Apple Watch – Simon wore this every day to track our mileage.
iPhone 7 and AirPods (Erin) – I didn't use it until Day 5 when listening to podcasts and music got me through a long rainy afternoon.
Kindle – I liked to read during breaks.
Bin bag – For wet waterproofs when we took them off during the day.
Compeed (blister plasters) and regular plasters (Band-Aids) – Compeed worked well to make walking on my blisters less painful.
Surgical tape – I had a tiny roll of this paper tape and used it to tape up parts of my feet that usually got blisters. It seemed to help some areas but not all.
Ibuprofen
Hand sanitiser
Lip balm
Toilet paper
Small notebook and pen
A few granola bars
Cash (carried in wallet) – ATMs aren't available everywhere and two of our B&Bs only accepted cash. Most pubs, cafes and shops accepted cards.
Things we brought but didn't need:
Waterproof bag – Our backpack cover and poncho kept things dry enough.
Foam seat pad – This was very light so we borrowed it but only used it once to sit on damp grass. The poncho worked better as a picnic blanket as it fitted both of us and our lunch. A bin bag would be a lighter alternative.
Emergency space blanket – It's tiny so you might as well have one.
Toiletries and Miscellaneous Evening Items
Vaseline – Coating your feet with this is supposed to prevent blisters but it didn't work for me.
Suncream – A small bottle.
Plastic bags – For dirty laundry.
Phone chargers
Extra granola bars and almonds – We didn't get through many as there are so many places to stop for food.
Almond butter – To have on toast for protein at breakfast (no Full English breakfasts for us as we're vegetarian and don't like eggs). Only used a few times as most places had yoghurt/fruit/cereal as well as toast.
Golf ball – For massaging feet.
iPad Pro and Apple Pencil – Simon liked to draw with this in the evenings.
Toiletries – Lush shampoo bar, moisturizer, deodorant, hair brush and bands, razor and shaving oil, toothbrush and paste.
Nail clippers – We didn't need them as we clipped our nails before the hike started (a good idea to prevent problems).
AeroPress and coffee – To make coffee (for B&Bs that didn't have the good stuff).
For more details about our hike, see our Dales Way itinerary and planning tips.
If you enjoyed this post, pin it!