This page contains affiliate links. Please read our disclosure for more info.
When you only own ten items of clothing, you are very selective about what makes it into your backpack. As full-time travellers with just carry-on luggage, we ask the near impossible from our clothes.
They must be lightweight but durable, functional yet stylish, wrinkle-resistant, breathable, and quick-drying, can be worn for hikes and nights out, and go with all our other clothes.
It's a tall order, and in reality, most of our clothes don't meet all these criteria. Finding the best travel pants is particularly tough—most are ugly, while normal pairs are too heavy.
In the past, Simon wore technical travel pants from companies like The North Face and REI that were functional but not exactly attractive.
Then he discovered Bluffworks. Bluffworks was founded by Stefan Loble who ran a Kickstarter campaign to create his dream pants—smart enough for the office but practical enough for hiking, no ironing required, and can be worn multiple days without washing.
They sounded perfect for travel, combining the performance of technical travel clothing with a smart look. Amazingly, they seemed to meet all of our criteria.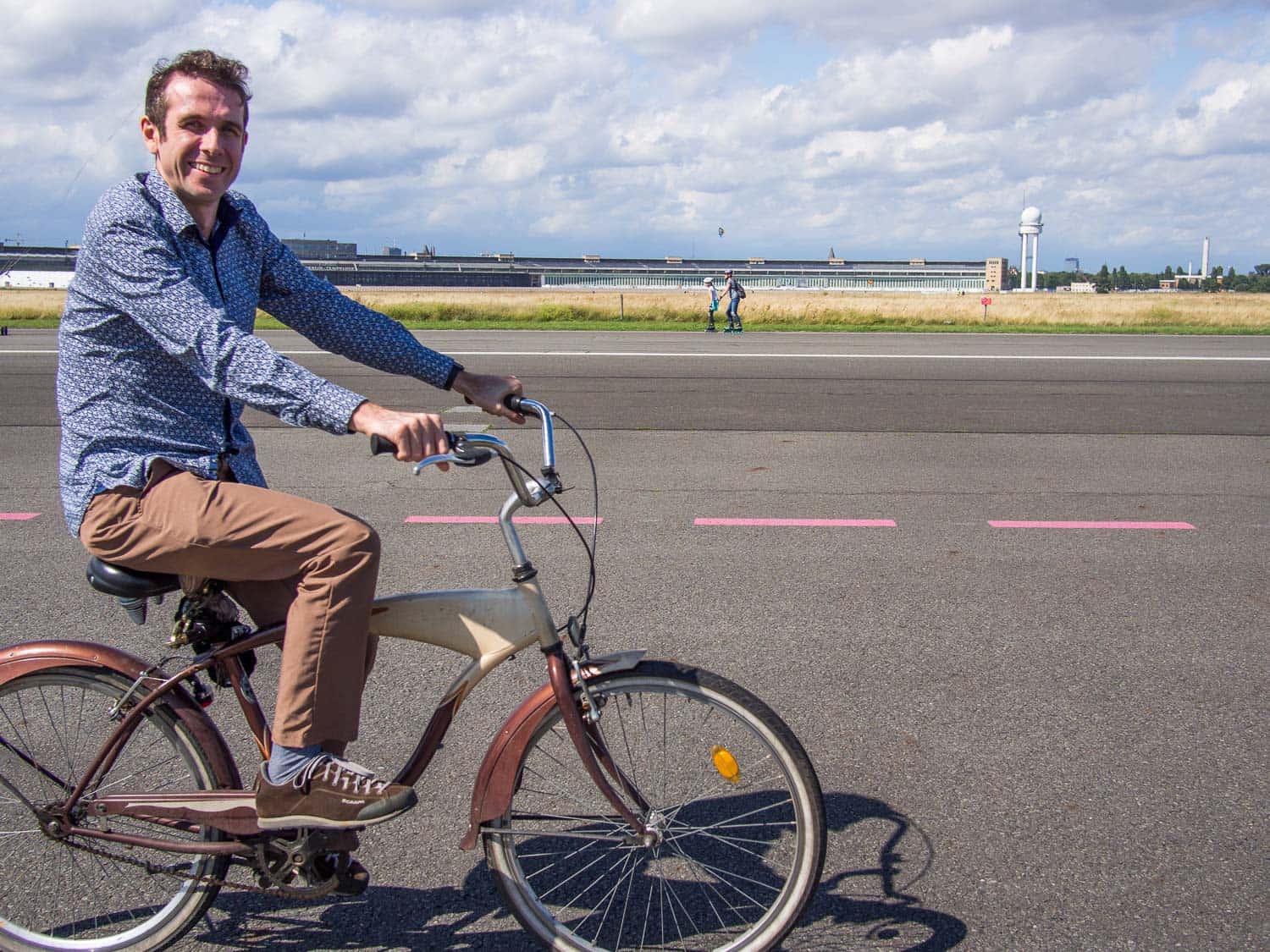 Simon has been travelling with Bluffwork pants for 10 years now, and he soon got rid of his REI travel trousers—the Bluffs have most of their benefits but look better.
They are lightweight, comfortable, highly wrinkle-free, and have hidden zippered pockets to keep his phone or wallet secure.
He has worn them on long bus journeys, horse riding, hiking, biking, city sightseeing, to fancy restaurants, and even to a wedding. They've worked well for every occasion and still look as good as new.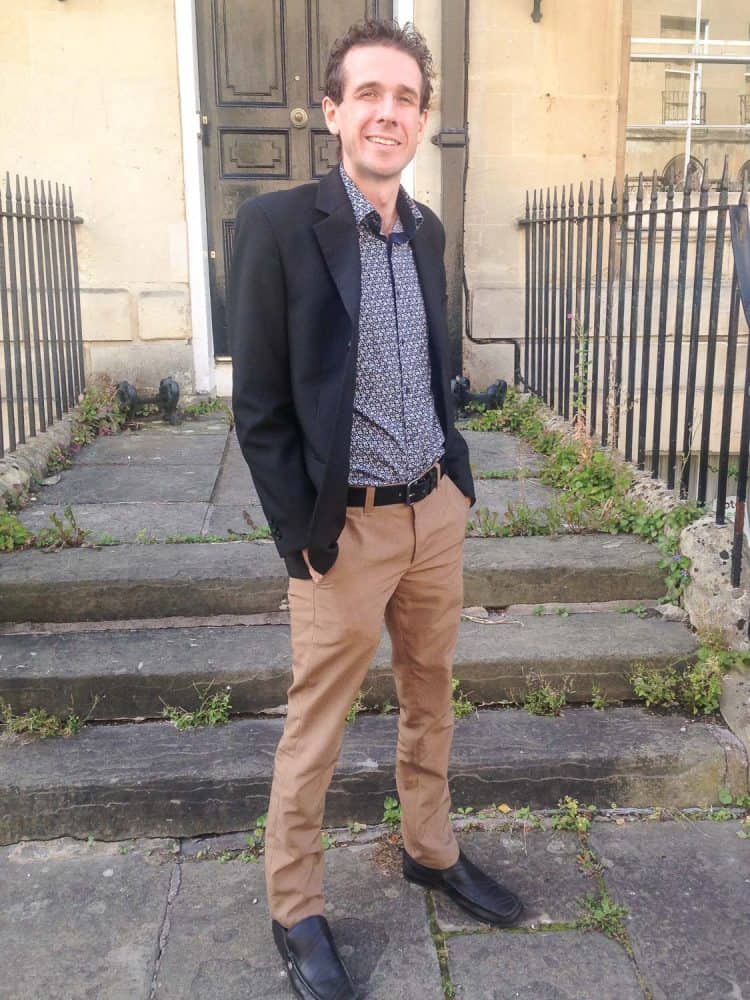 Contents
Bluffworks Pants Features
This Bluffworks pants review focuses on the Bluffworks Originals, which are no longer available. They have now been replaced with the Bluffworks Envoy Travel Pants.
Most of these features apply to all of Bluffworks' clothing, though, including the Envoys and the Bluffworks Ascender Chinos (which I discuss below).
Lightweight – Simon's Bluffworks Original pants weigh 380g (13.4oz), so they don't add much weight to his backpack, although he usually wears them on travel days anyway.
Comfortable – Even on 12-hour flights, bus journeys, and long hikes.
Quick-drying – Bluffs are made from polyester and dry really quickly.
Wrinkle-resistant – Simon never irons these wrinkle free pants, but they still look good, even straight out of his backpack.
Security pockets – This is essential. Bluffworks pants have hidden zippered pockets inside both front pockets where you can keep your wallet and phone. They prevented Simon from losing his phone when he was pickpocketed in Costa Rica. On the back of the trousers, there's a regular pocket, a zippered pocket, and a phone pocket just below the waistband.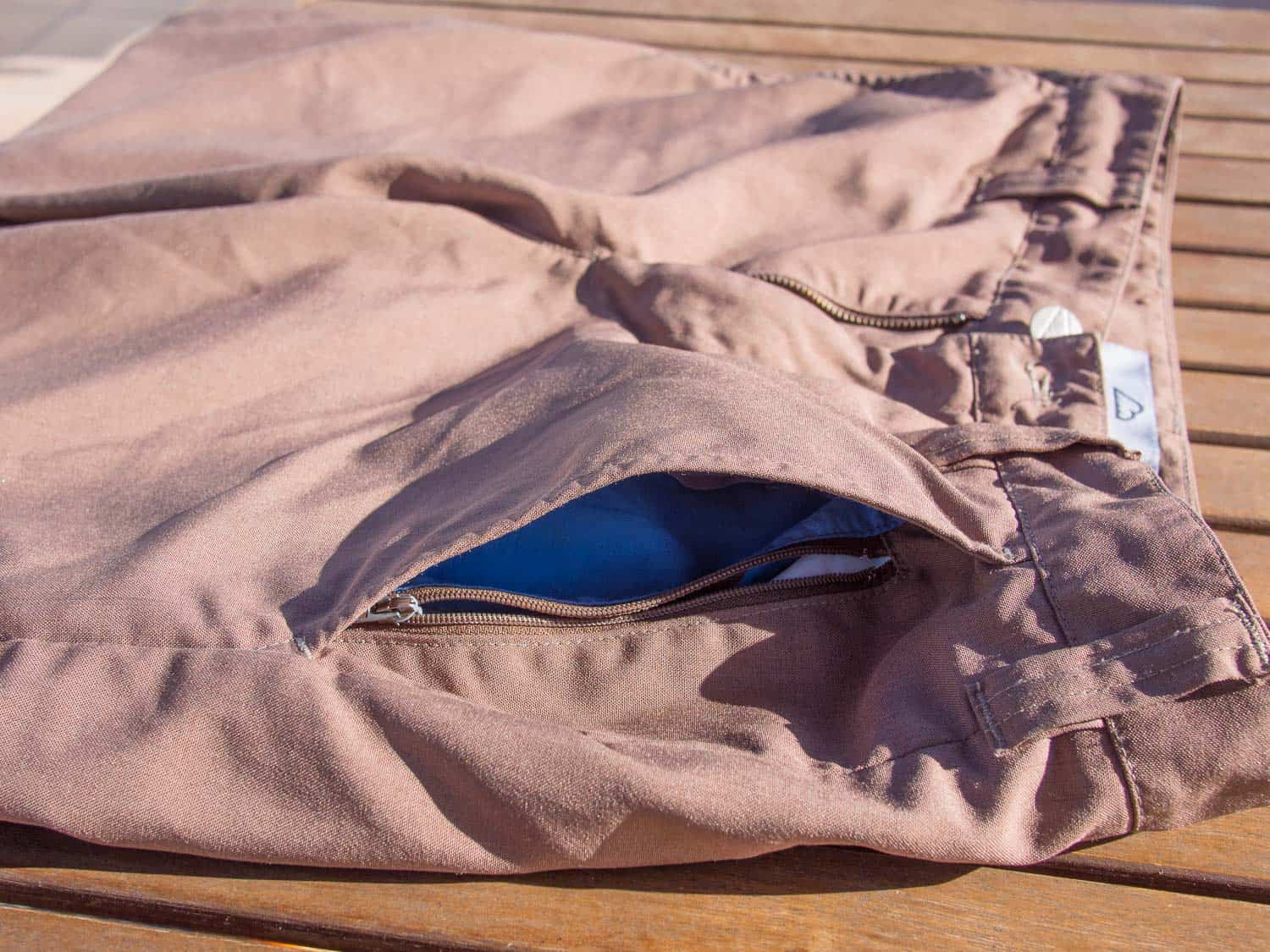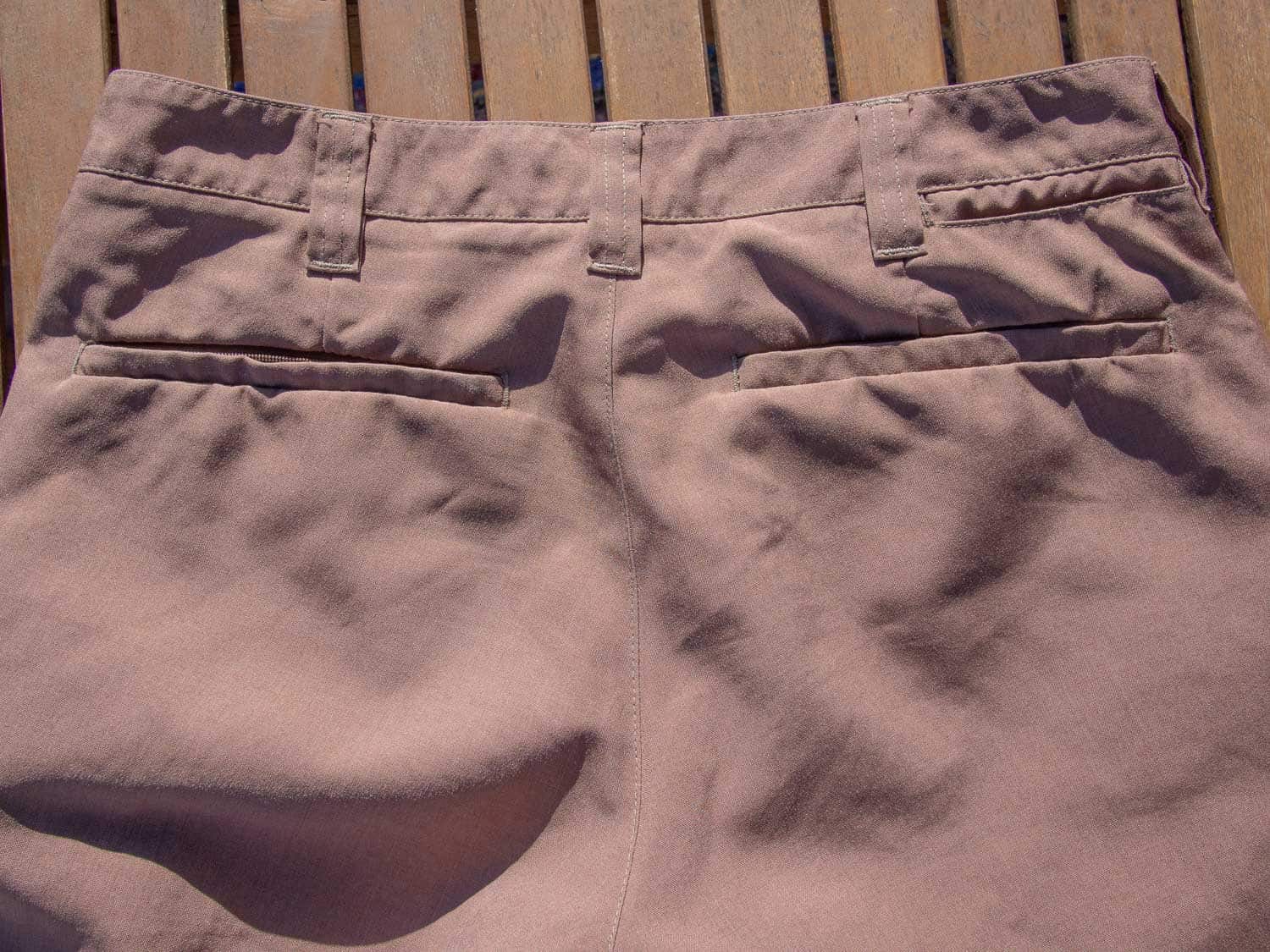 Versatile – The technical fabric means they are perfect for hiking and adventure, but the smart look works for fancy restaurants too. Simon even wore them to a wedding paired with a blazer.
Durable – Although the fabric is thin, it is very durable. After two years his first pair did develop a hole along the seam, but this would have been easy to repair, and it probably happened because they had become too tight. He went up a size for his second pair and has had no problems with these for years. They really look as good as new.
Stain-resistant – They can be worn for a week or so and still look good. Simon wore them every day on a six-day, 80-mile hike along the Dales Way and somehow any mud that appeared magically disappeared!
Easy to wash – They are machine-washable and can be tumble-dried. They have survived dozens of washing machines and laundry services around the world with no shrinkage or damage.
Range of colours available – Choose from black, navy, charcoal, classic gray, khaki, and velvet brown (Simon's favourite). Chinos have a few brighter colours too.
Regular or relaxed fit – The regular fit is slimmer and works well for Simon. If you prefer a looser style, go for the relaxed fit.
Designed and manufactured in New York City – On the same street where founder Stefan's grandfather worked as a garment cutter almost 90 years ago.
Free US shipping and returns
Bluffworks Pants Downsides
The Originals have a slightly rough fabric, although they do soften up with time. The Chinos are much softer.
Although they work well in hot weather, when it's really humid and the temperature soars over 30ºC/86ºF, they feel too hot. Simon usually wears shorts then anyway.
They are not cheap at $125 a pair, but they could be the only pair of trousers you need (Simon once travelled for six months with just his Bluffs).
Simon's Bluffworks Originals are his go-to trousers for travel days, hikes (except when very hot), fancy restaurants, and sightseeing when he wants the security pockets (like in cities renowned for pickpockets like Barcelona).
They are also comfortable enough to wear lounging around the house.
We have arranged a 10% discount on Bluffworks products for our readers. Just click the link below and use the promo code NEVENDVOY at checkout.
Check out Bluffworks Pants on the Bluffworks website.
Bluffworks Pants Around the World
Simon has worn his Bluffworks travel pants in over 20 countries in Asia, North and Central America, Europe, Africa, and the Middle East.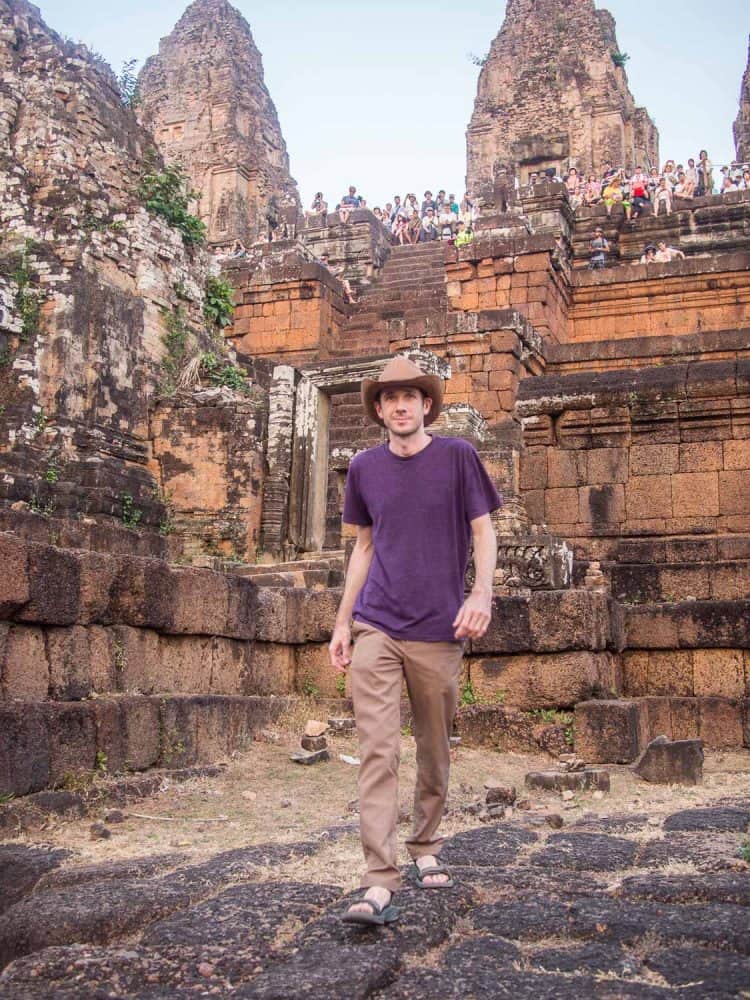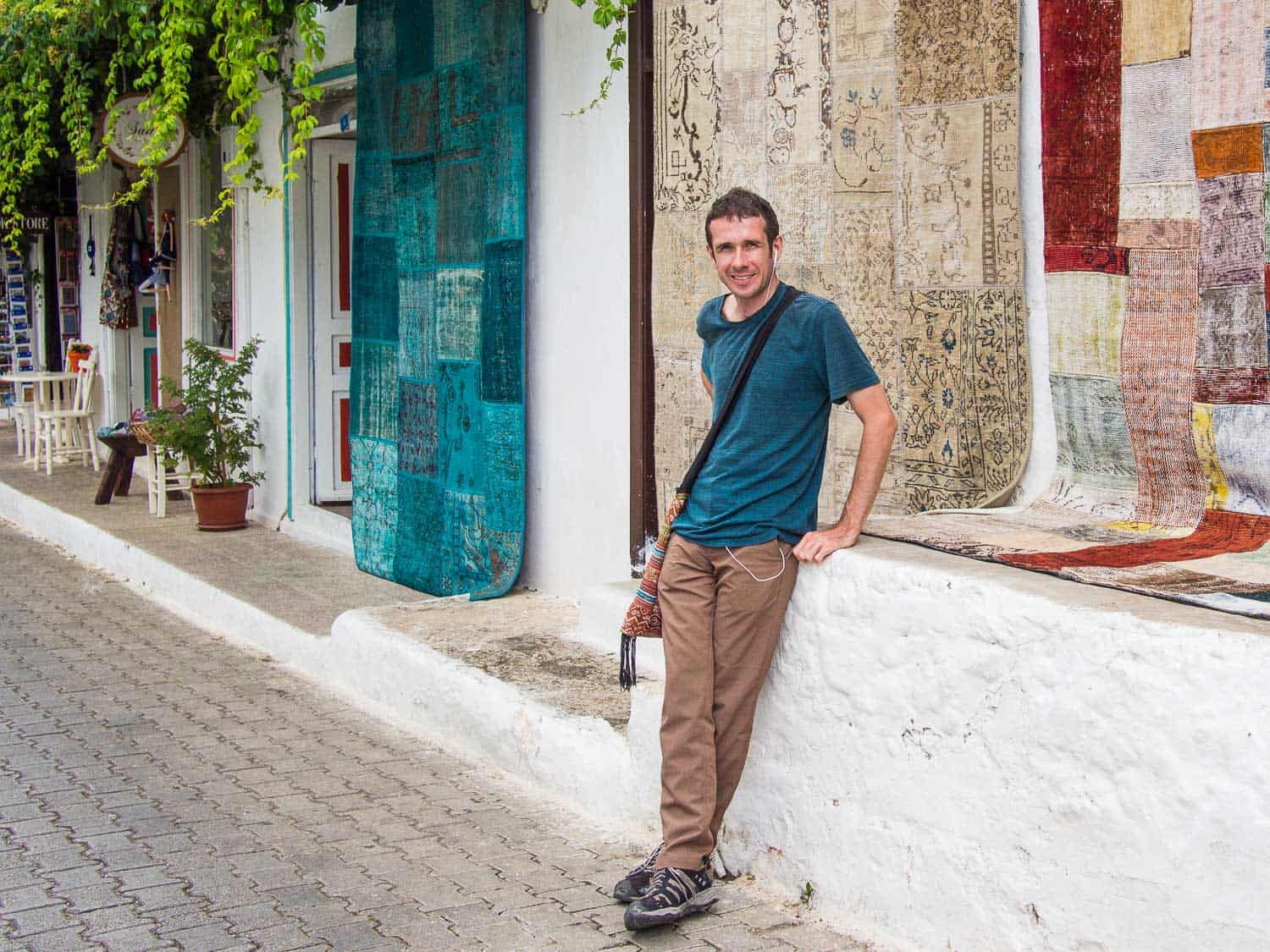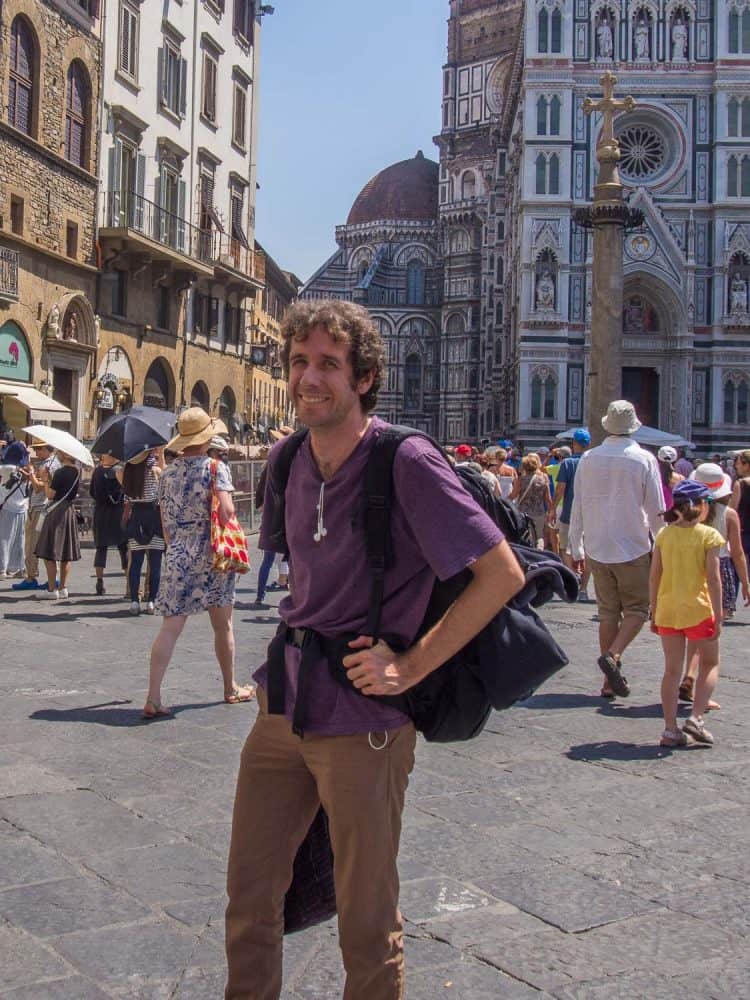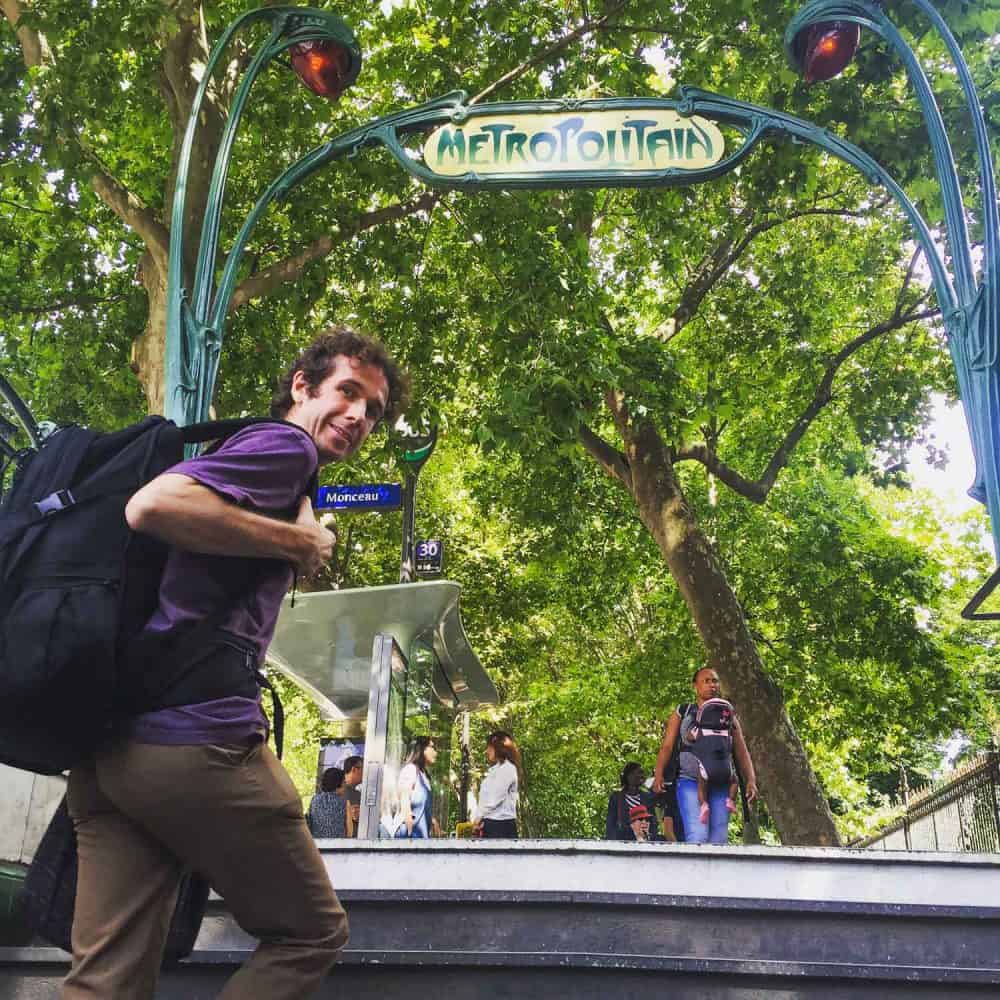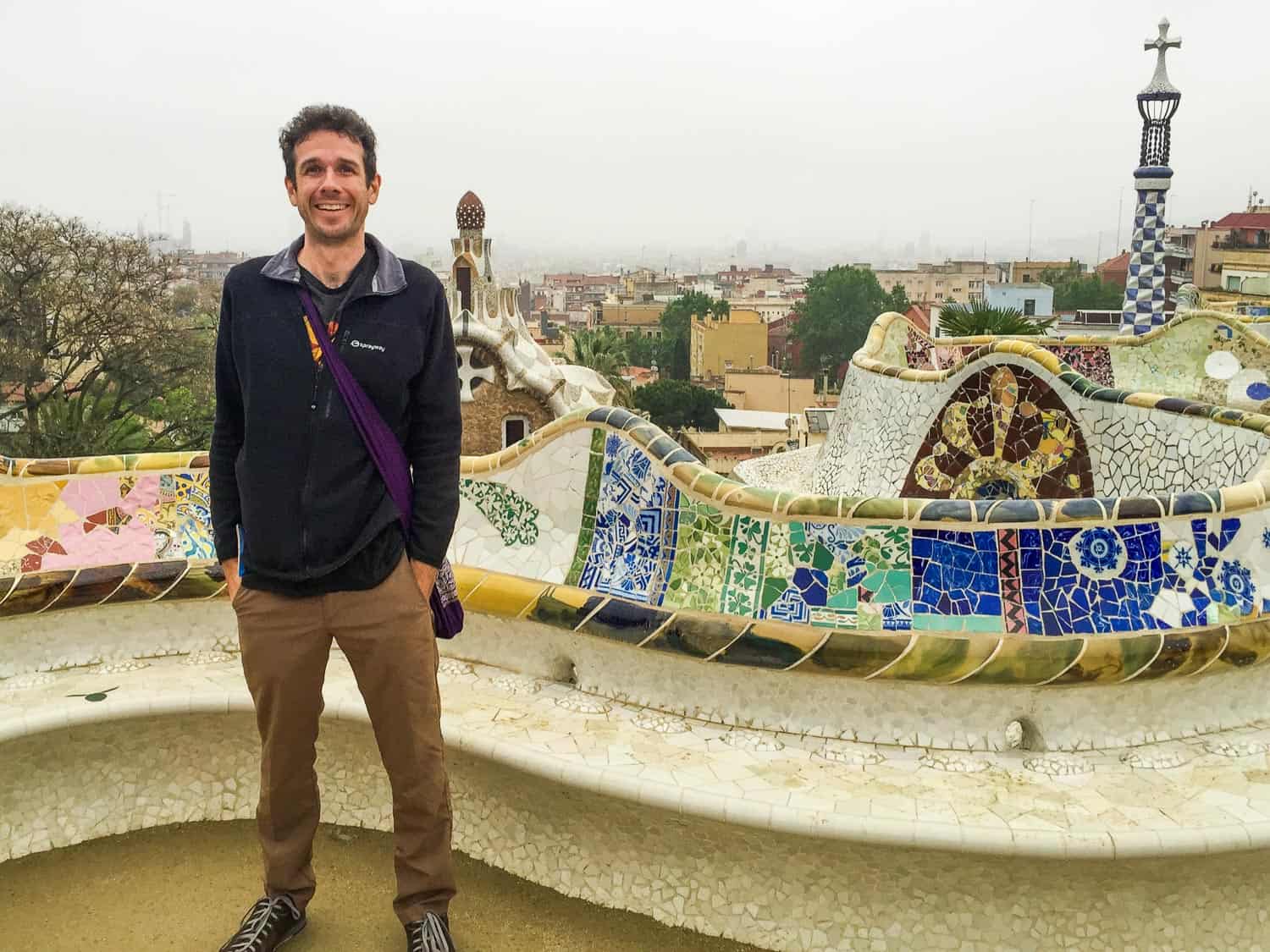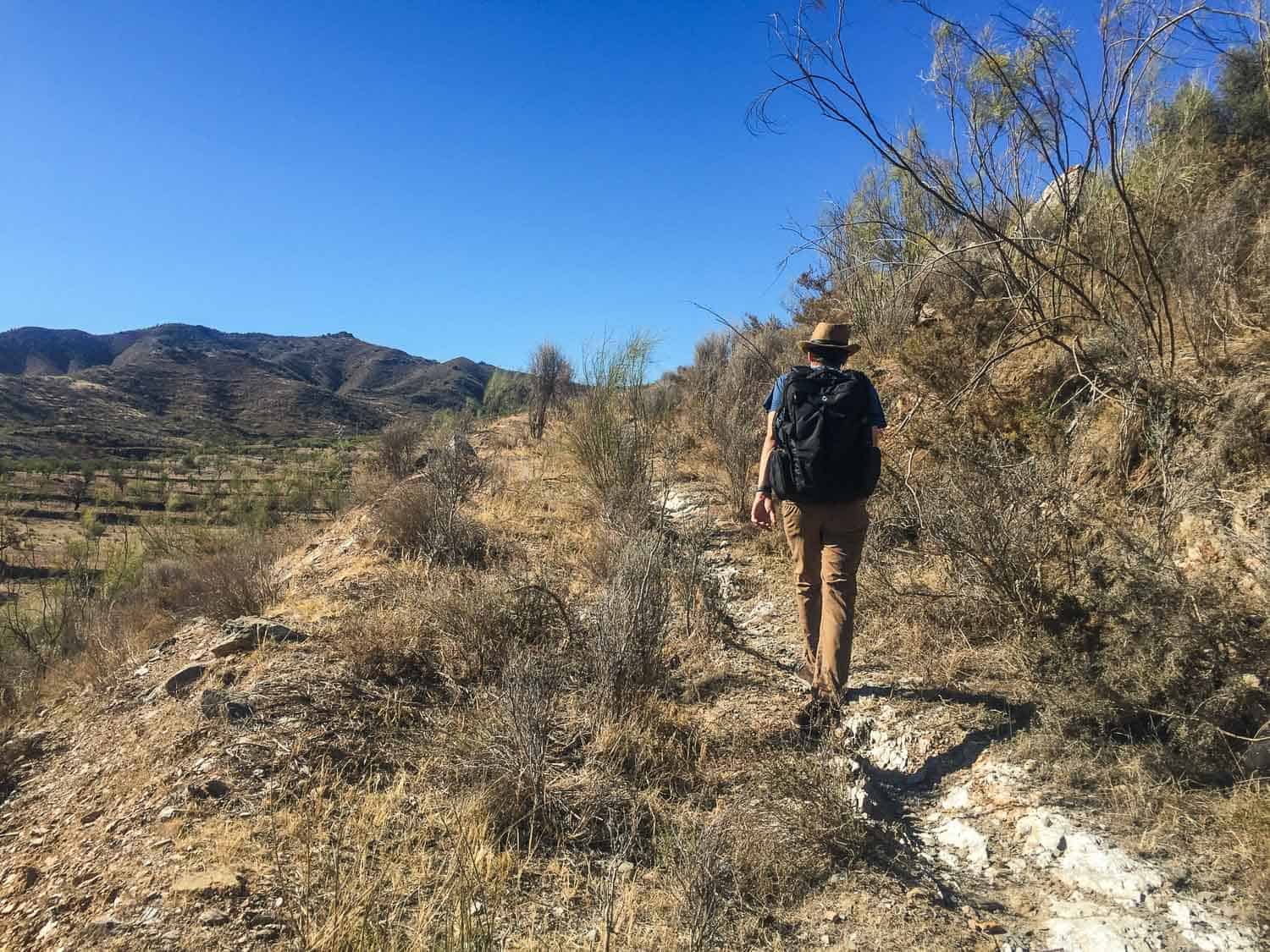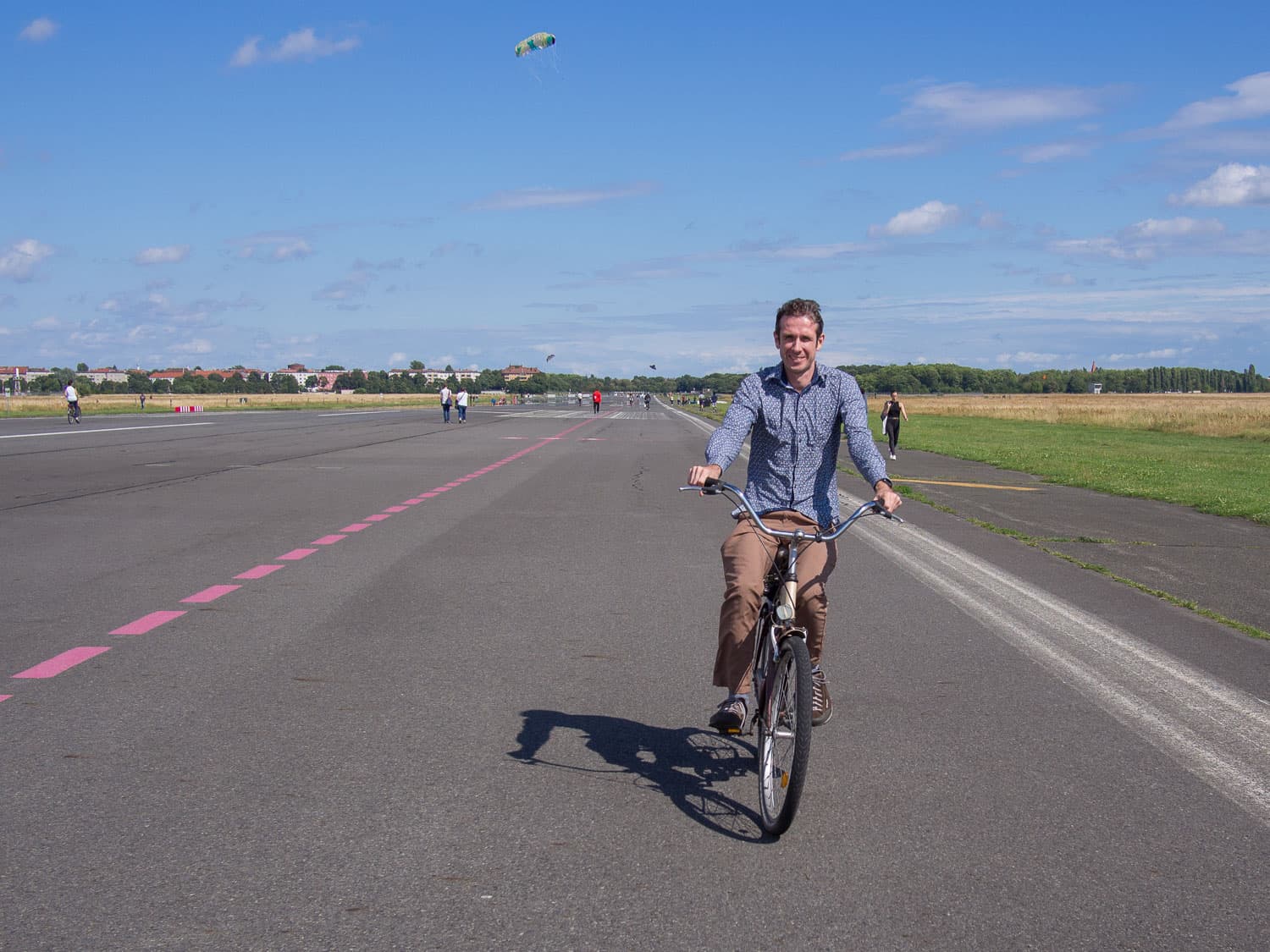 In Disneyland Paris, hiking to Positano in Italy, Eghuisheim France, Colmar France, Lucerne Switzerland, and Santa Margherita Ligure, Italy: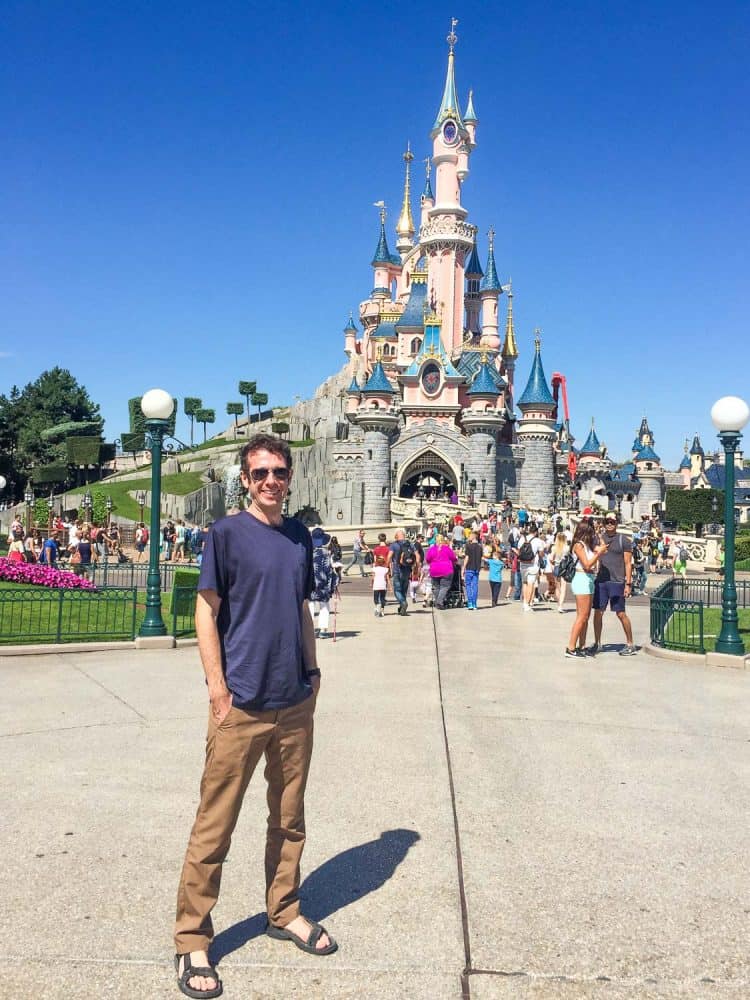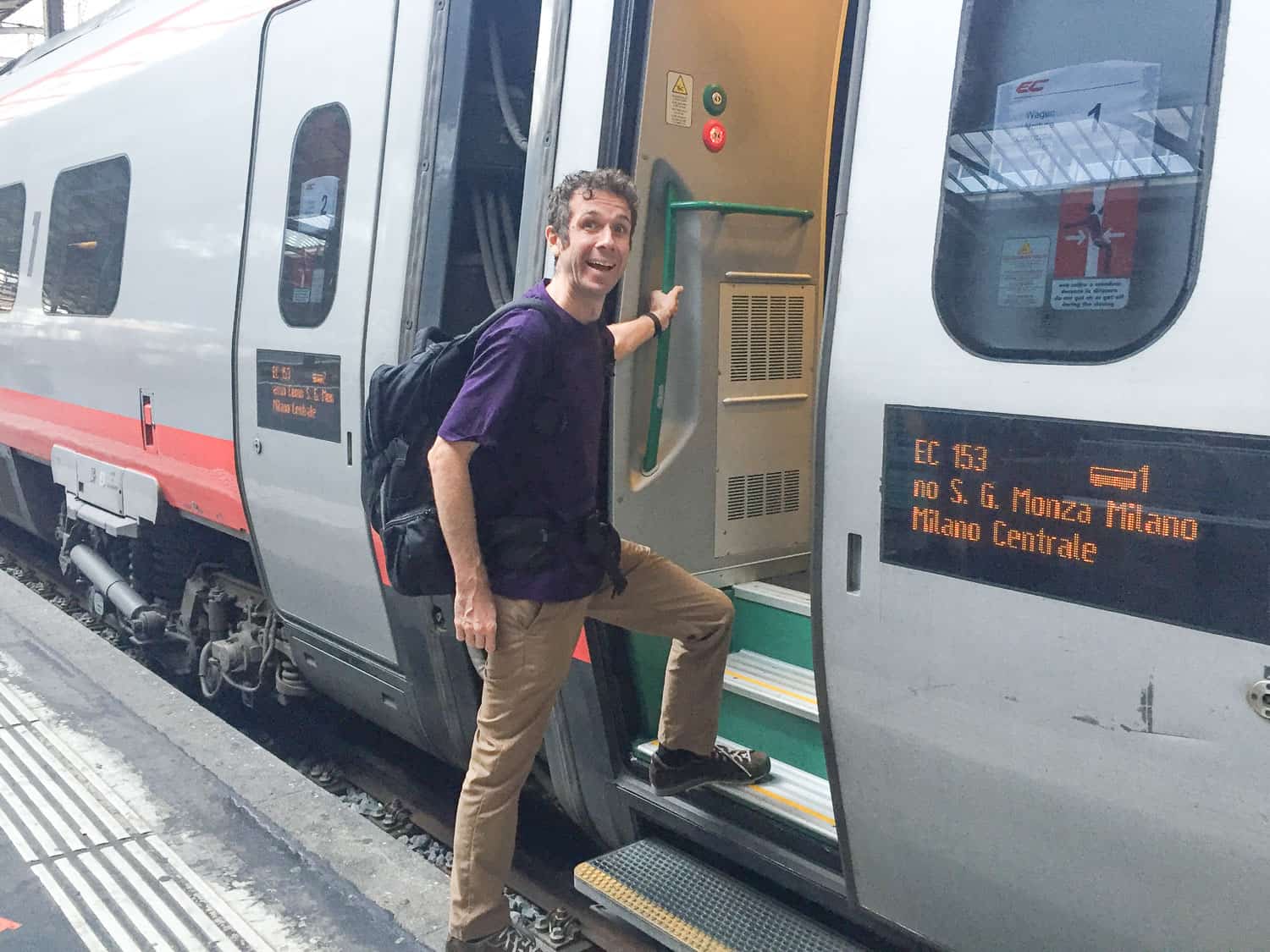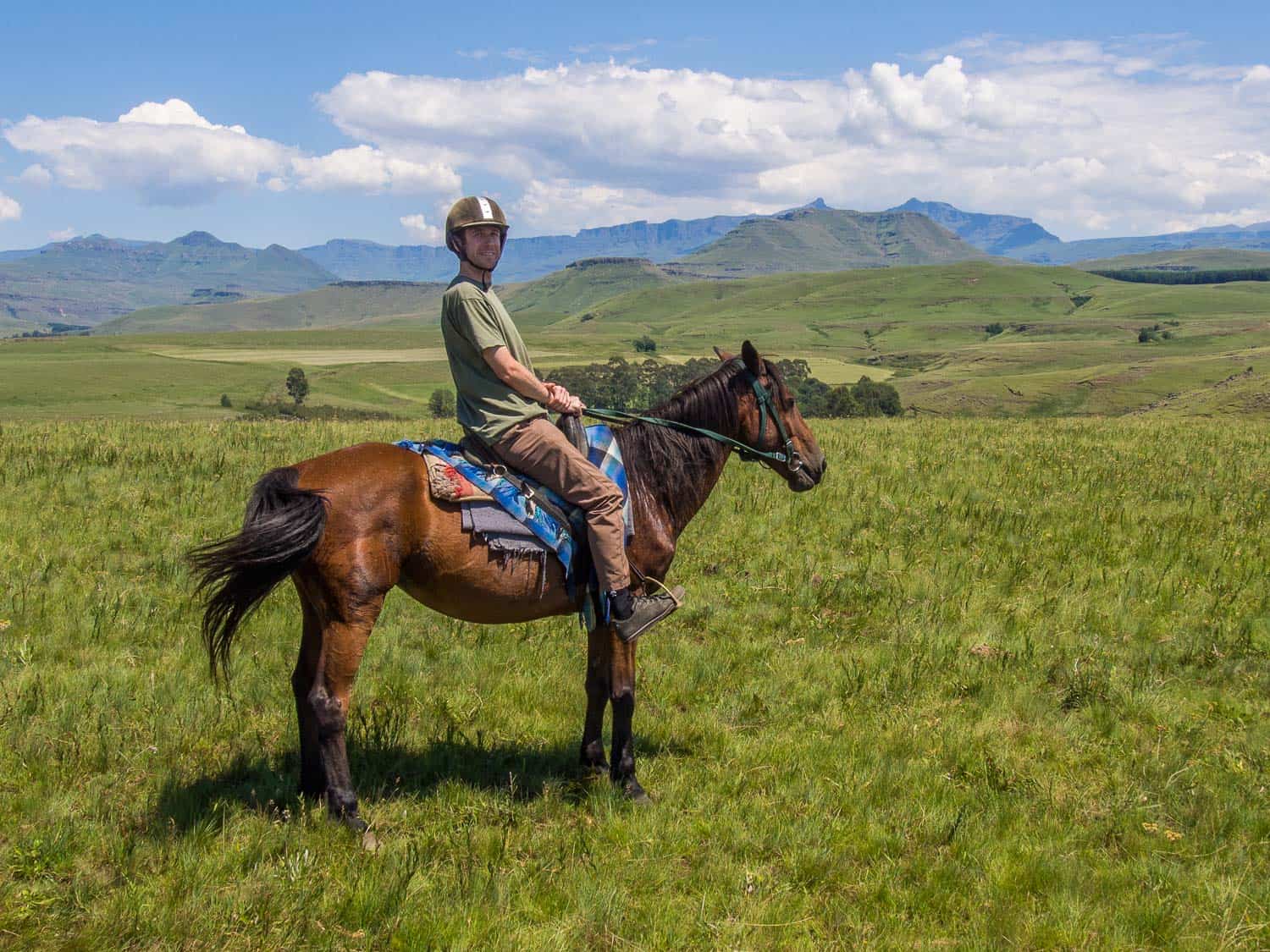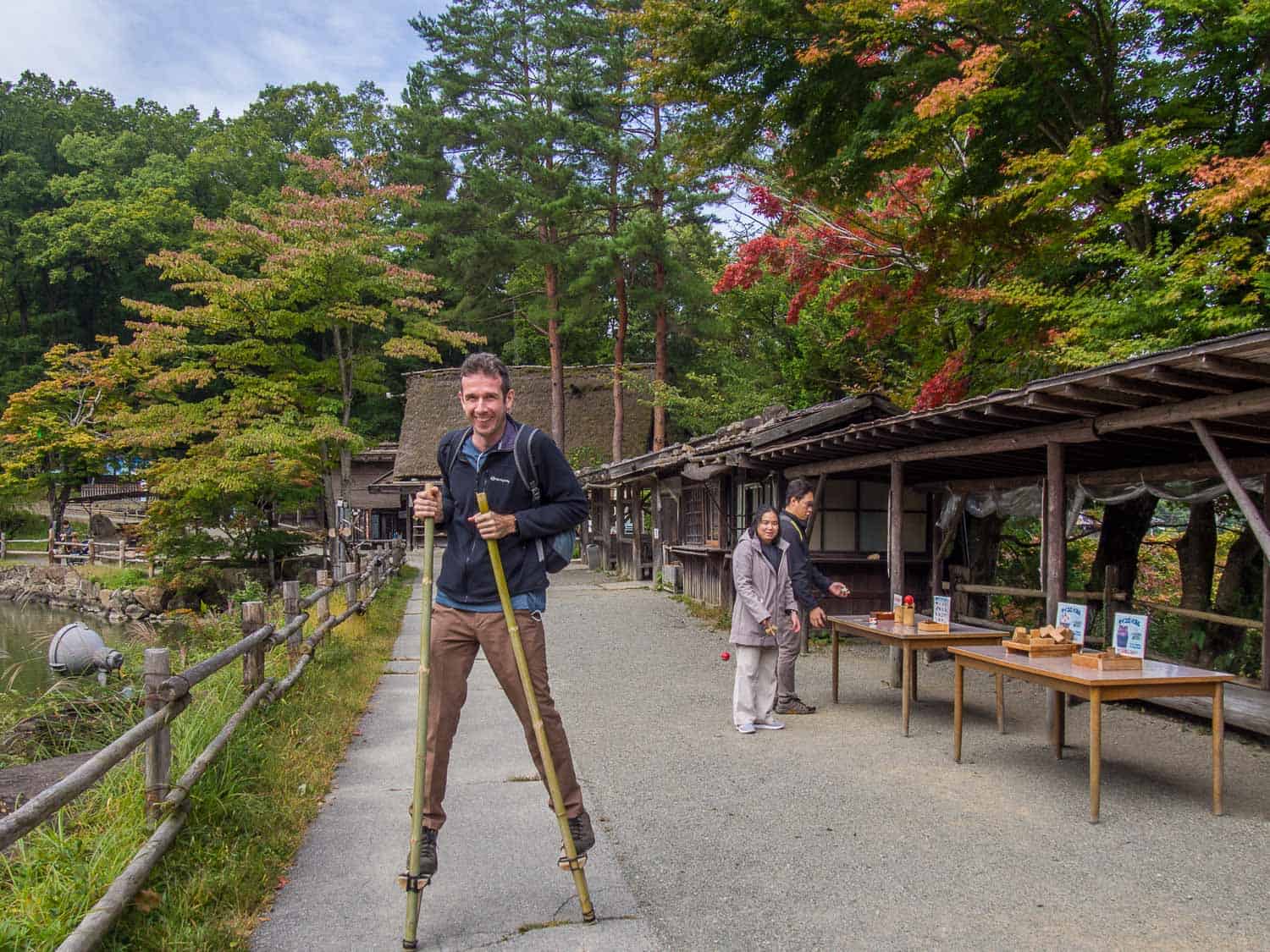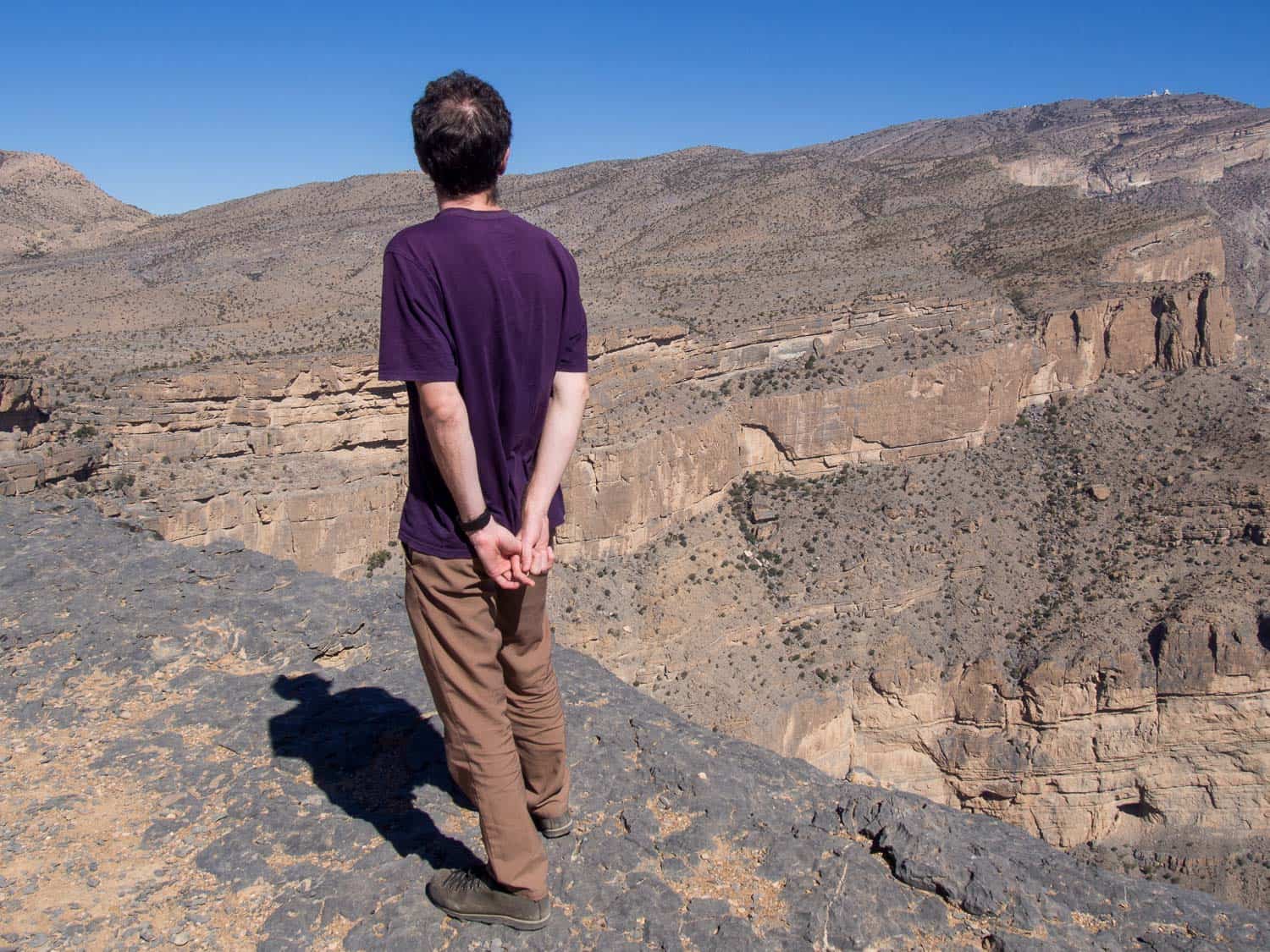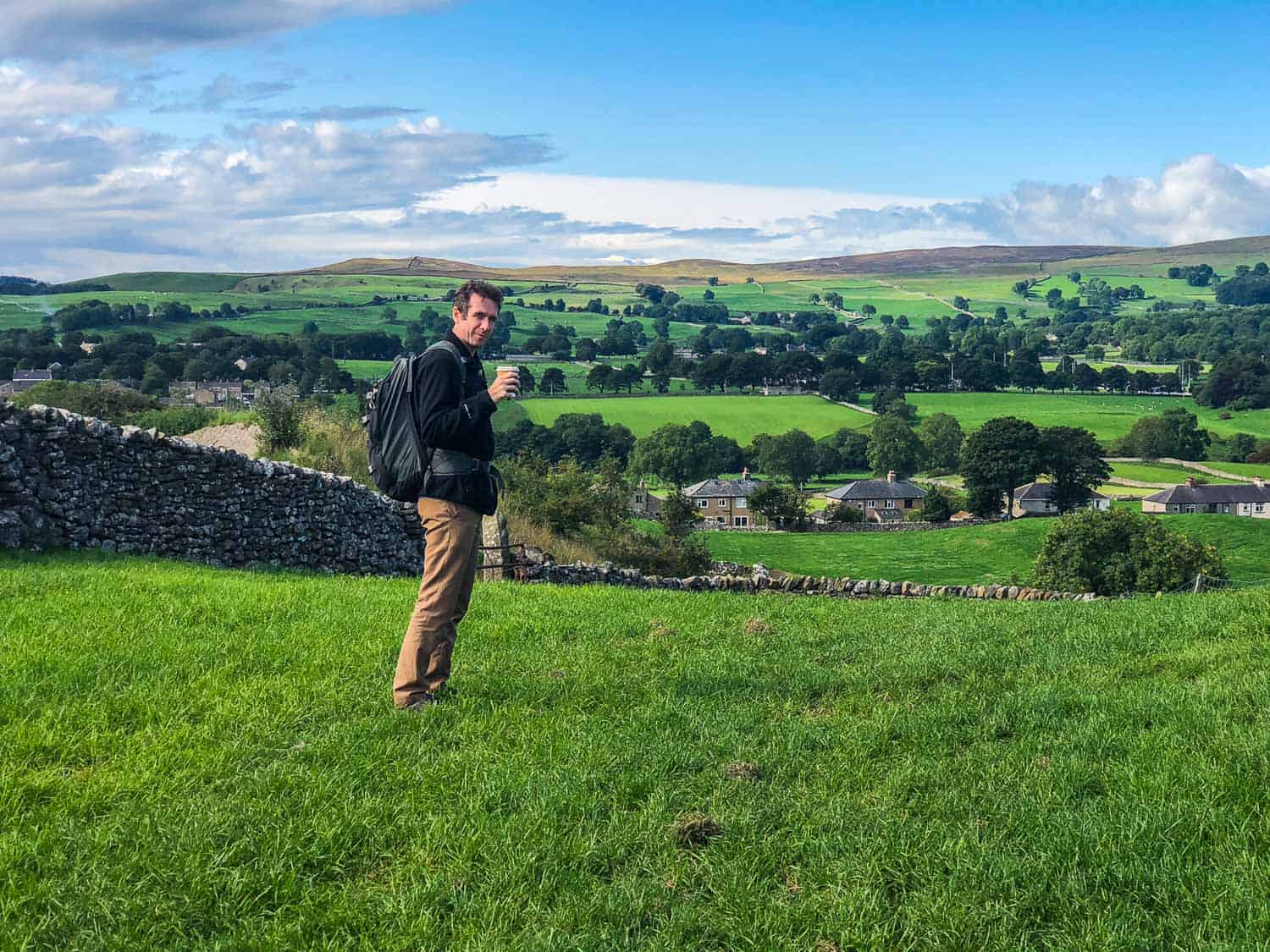 Bluffworks Original Vs Chino Pants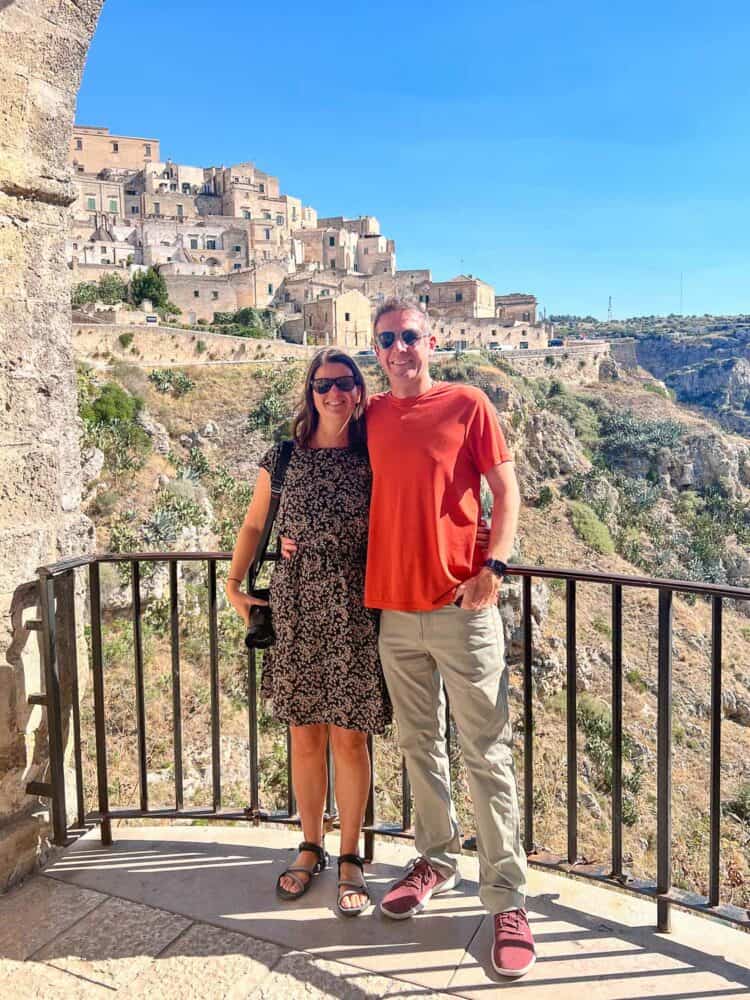 Bluffworks pants come in seven styles—Envoy (replacing the Originals), Chinos (Ascender and 5-Pockets), Dress pants (Gramercy and Presidio), Presidio airline pants, and Ascender Joggers.
See the whole Bluffworks pants collection here.
The Bluffworks Chinos have many of the same features as the Originals with the following differences:
The fabric is softer and stretchier
They are a little thicker (better for multi-climate travel, not so great for the tropics)
They are even more wrinkle-free
They have a modern slim fit
The style is more casual and looks like cotton
They come in more colours.
They have 10 pockets including 3 secret pockets and a travel money pouch (which fits a passport).
Once Bluffworks stopped selling the Originals, Simon switched to the Bluffworks 5 Pocket Pants, which are made from the same fabric as the Chinos with a more casual styling.
Check out the Bluffworks Chinos here.
Bluffworks Gramercy Pants and Blazer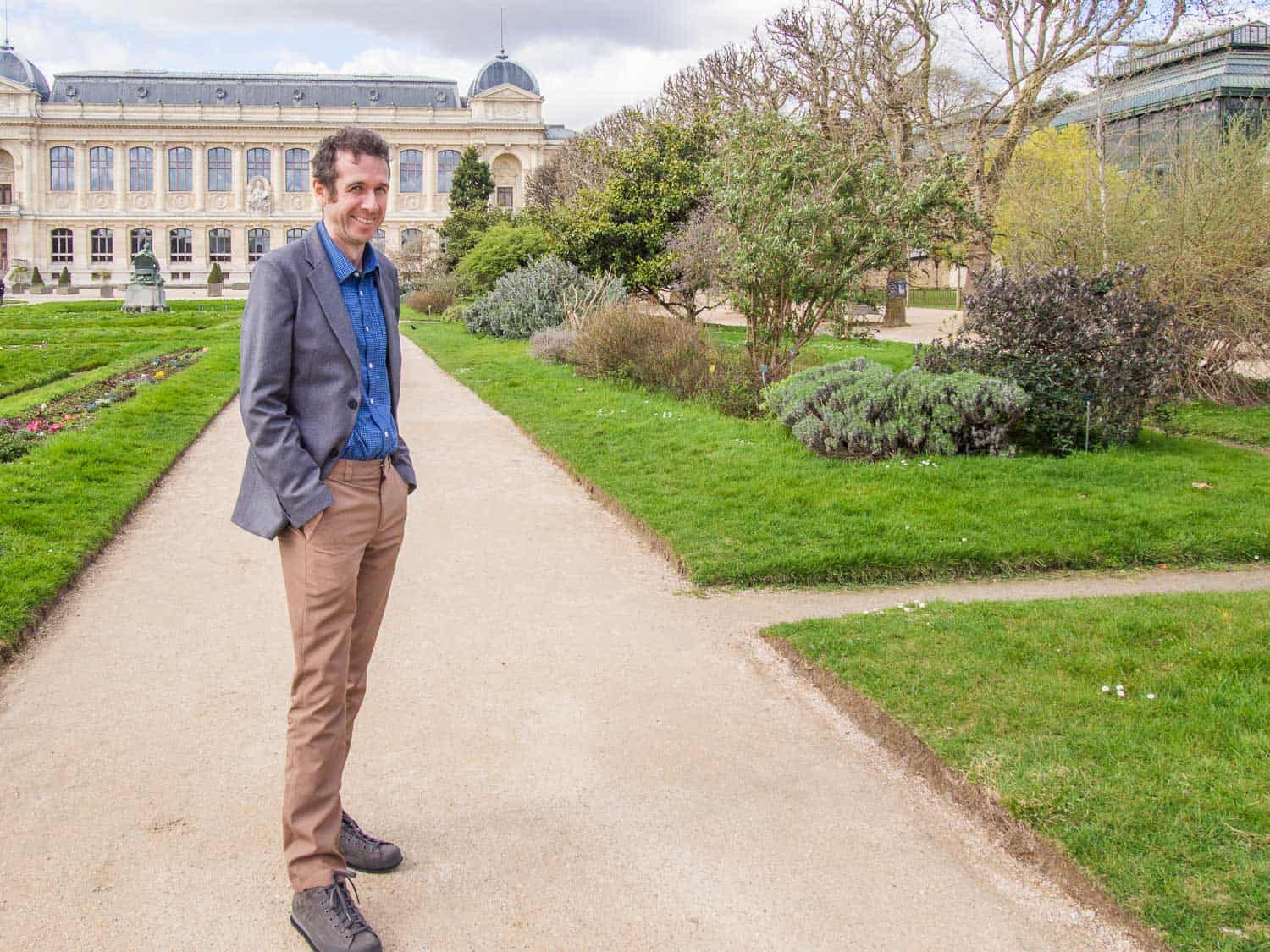 Simon travelled for a few years with the Bluffworks Gramercy blazer, which is perfect for visiting more stylish destinations (like Paris or Italy) or for business travel.
It really is incredible—it looks like wool and feels super soft, but it's made from 100% polyester.
The blazer is totally wrinkle-free, so you can stuff it in a bag and it's ready to wear straight away.
It's machine washable, quick-drying, and has 10 pockets, some of them so hidden it took us weeks to find them.
This is a fantastic jacket on travel days because there's enough space in the many pockets to securely hold your passport, boarding pass, cash/cards, phone, and even a Kindle.
Read our Bluffworks blazer review for more details.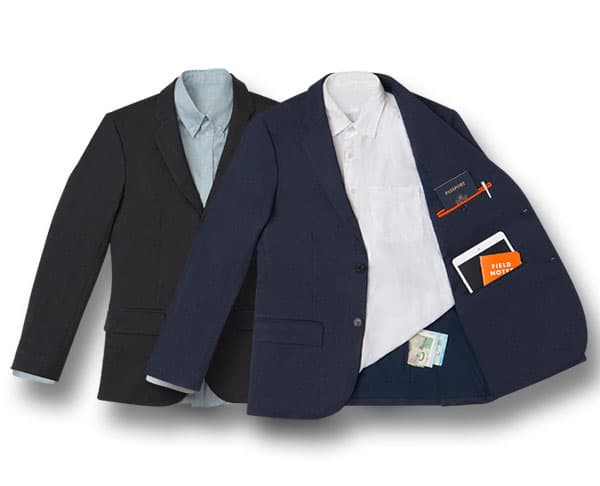 If you want to create the ideal travel suit, then pair the blazer with the matching Bluffworks Gramercy pants.
These dress pants look professional but have the same travel-friendly features of all Bluffworks pants—they are comfortable, quick-drying, wrinkle-free, and have hidden security pockets.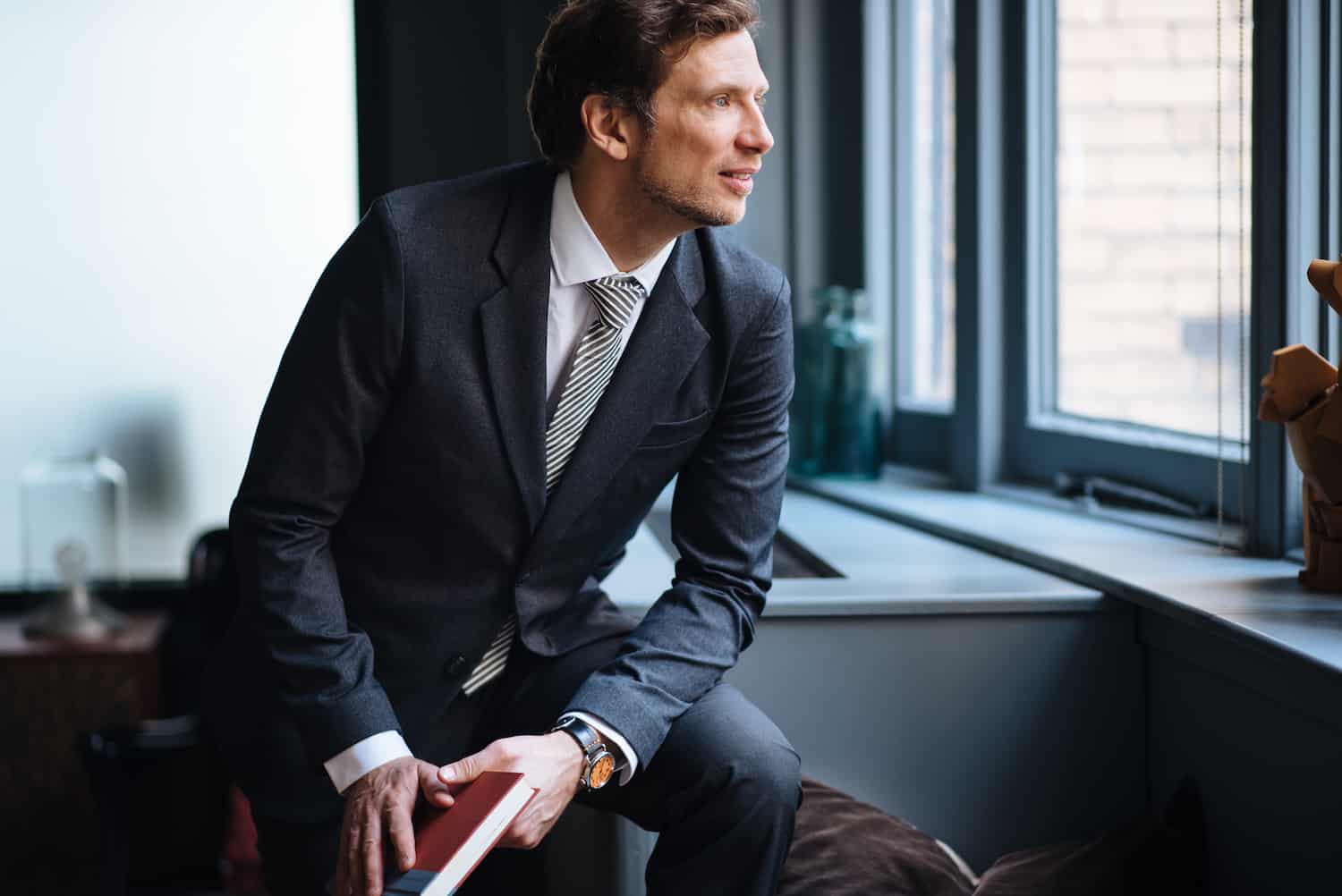 Do We Recommend Bluffworks Pants?
Yes, definitely! Bluffworks pants are the best travel pants for men that we've found. They are stylish, comfortable, wrinkle-free, quick drying, and have hidden pockets for security.
If you want to travel with just one pair of pants or are looking for a smarter alternative to hiking trousers, Bluffworks are ideal.
Bluffworks products are only available to buy from the Bluffworks website. Explore the Bluffworks pants collection here. Remember to use your promo code NEVENDVOY for 10% off.
If you enjoyed this post, pin it!
This post was sponsored by Bluffworks. We are very selective about the clothes we pack, and if Simon didn't love them, he wouldn't still be travelling with his Bluffs.