This page contains affiliate links. Please read our disclosure for more info.
Sometimes a cosy fleece just doesn't cut it. Before spending three months in fashion-conscious Italy, Simon upgraded his look with the Bluffworks Blazer, a wrinkle-free and machine washable men's travel blazer.
Bluffworks was founded by Stefan Loble who is committed to making clothing that both looks great and can be worn for multiple days everywhere from the office to the mountains without needing special care. Their clothes are perfect for travel.
Simon is a huge fan of Bluffworks pants and has been travelling with them for six years. They look way better than most travel pants yet share the same technical features.
However, he was a little resistant to trying the Bluffworks Gramercy Blazer when they first offered to send him one for review. His style is usually more casual, and he doesn't have much need for a blazer when we're in the steamy tropics. But for Europe, he decided it would be good to have a more stylish look.
Well, it didn't take long to convince him. He was immediately impressed with the blazer and it was perfect for sipping prosecco in the piazzas of Italy.
Over a year and many countries later, Simon is still travelling with the jacket.
Contents
So what's so special about the Bluffworks Blazer?
Bluffworks Blazer Features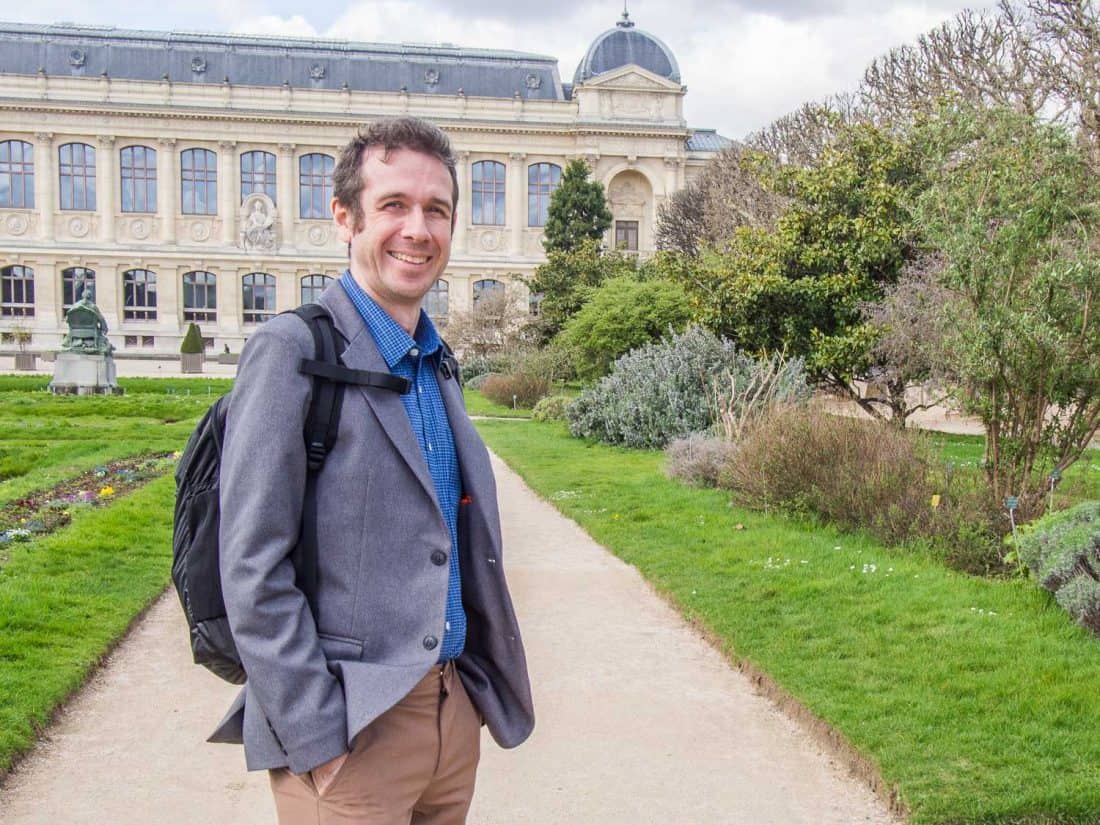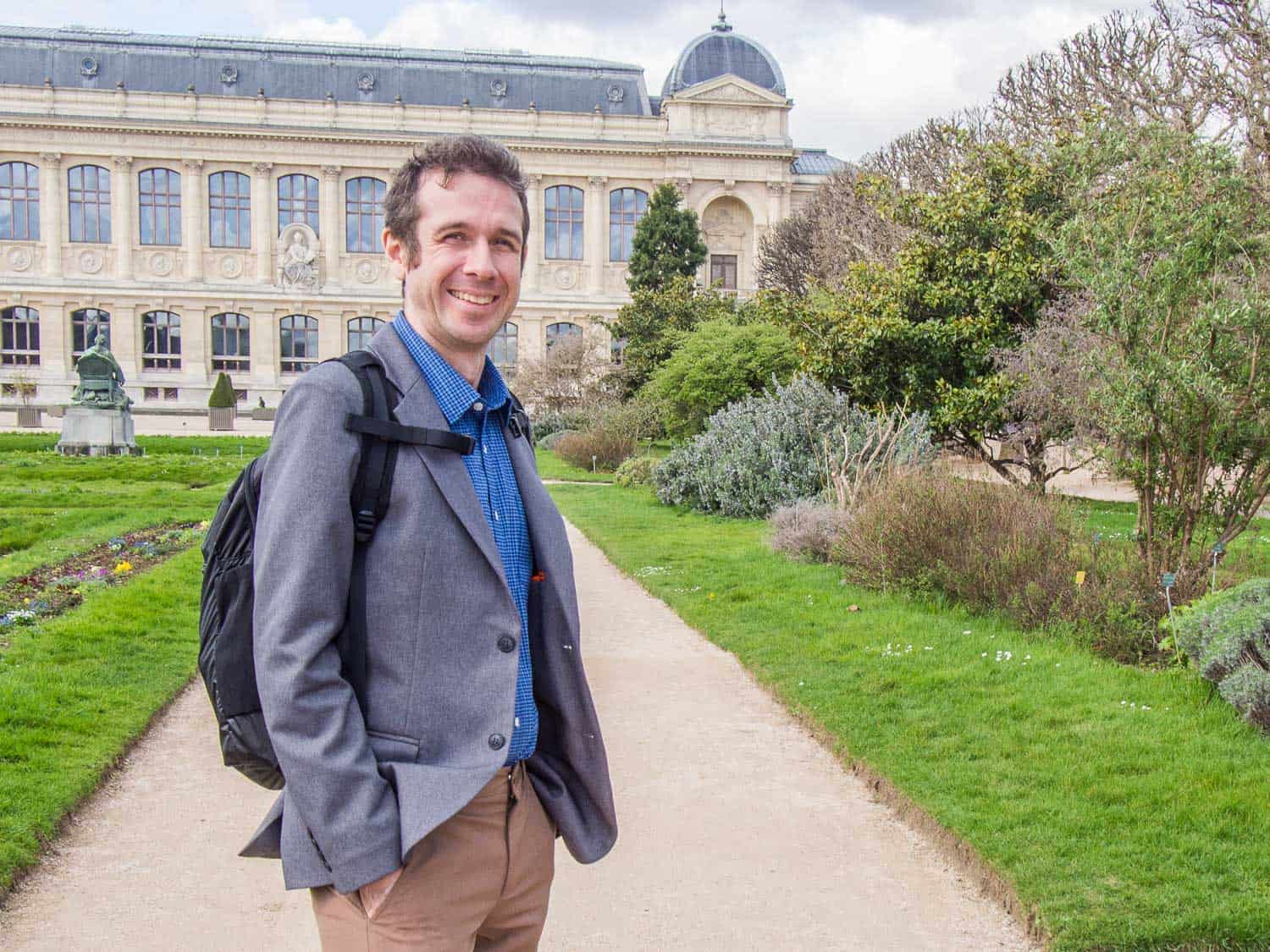 Bluffworks has created their dream blazer that combines impressive technical features with the look and feel of wool.
Wrinkle-free travel blazer
The wrinkle-resistance is what sets the Gramercy Blazer apart from other blazers. It doesn't need to be kept on a hanger or packed in a special garment bag. You can dump it in a pile on the floor or stuff it inside your backpack and it still looks great.
Suit bags might be OK for business travellers, but for long-term travellers with just a carry-on bag like us, they are not at all practical. The Bluffworks Blazer opens up the possibility of travelling with a blazer to many more travellers as it's so low maintenance and easy to pack.
Sometimes Simon wears the blazer on travel days (it fits under his packable down jacket for chilly days), but it also packs well inside his luggage. He just folds it and lies it flat on top of everything else.
I've read reviews that say they pack their blazer in a compression packing cube and it still emerges without a wrinkle.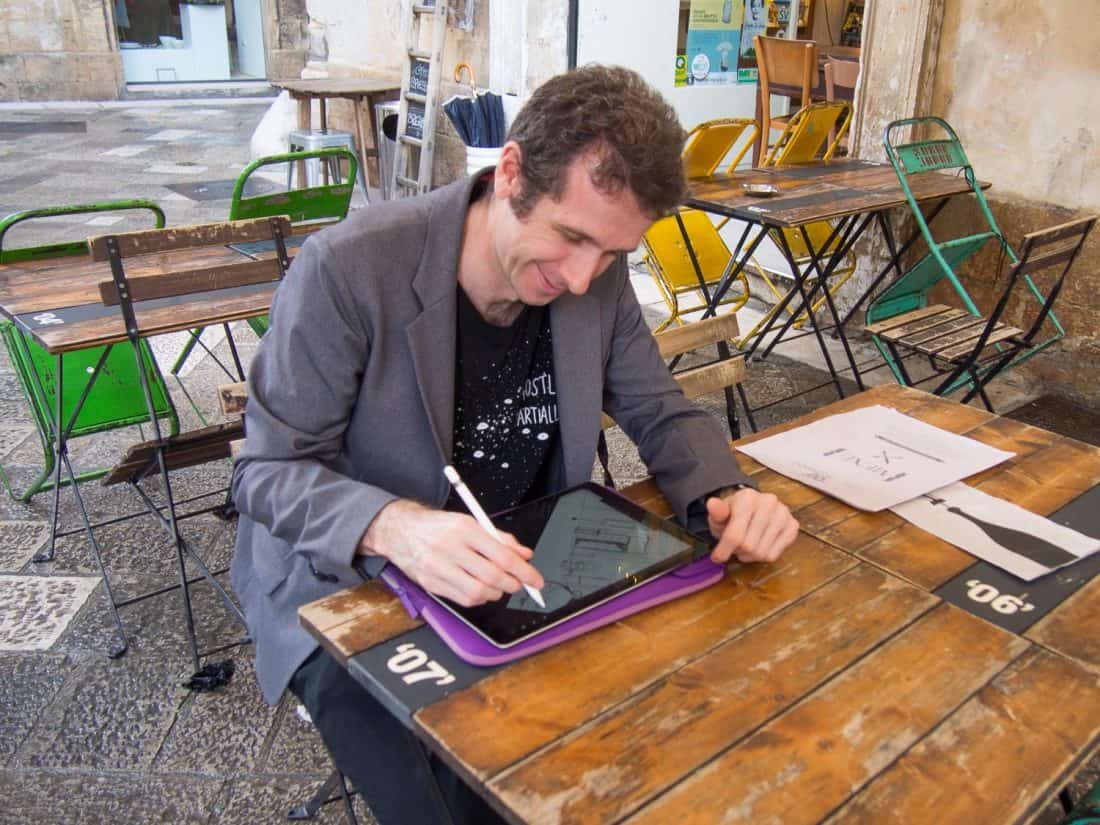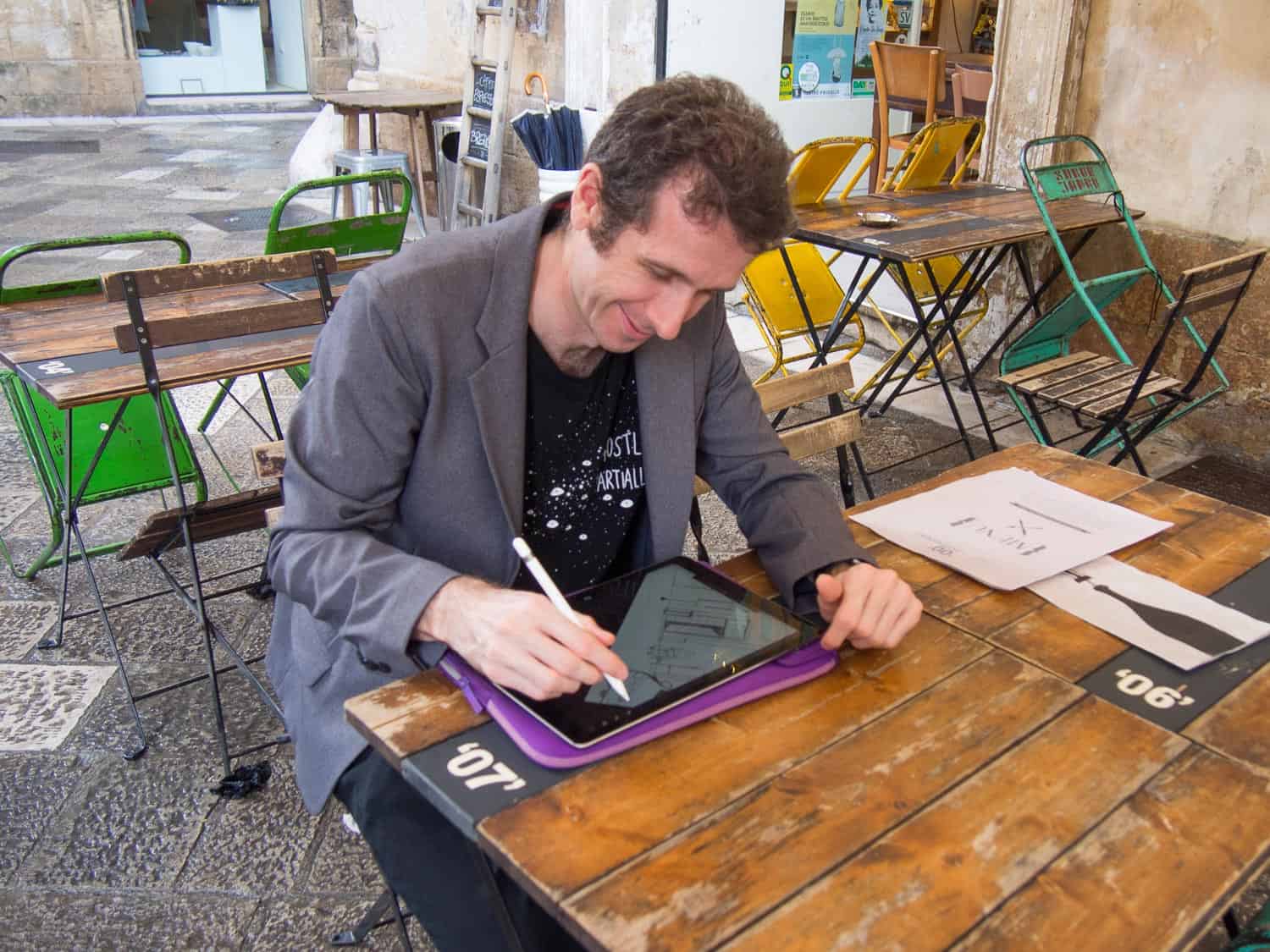 Stylish Design
It's unbelievable that the blazer is made from 100% polyester. It's such a lovely soft fabric that feels luxurious and looks classy. Finally, at 37, Simon can take himself seriously.
Comfortable
The blazer is very comfortable, even on six-hour train rides or seven hour walks around Paris. It has enough stretch that it doesn't feel confining and is made from a breathable fabric so you don't overheat.
Hidden Pockets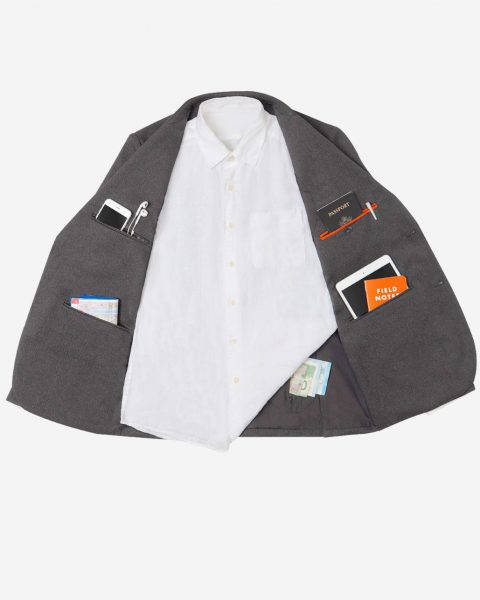 The Gramercy Blazer has an incredible number of hidden pockets. One of the things we love most about Bluffworks is how they always include zipped security pockets where you can keep your phone and wallet. It's pockets like these that saved Simon losing his phone when he was pickpocketed in Costa Rica.
The blazer has 10 pockets, some of which are so hidden he didn't discover them for weeks! There are three pockets with flaps on the front, two pockets on each side of the inside (one zipped and one buttoned), a pen pocket on the inside, a hidden velcro pocket inside the left hip inside pocket, and a large zipped pocket in the lining of the back.
Whatever you want to squirrel away in the jacket, you can be sure there's a pocket for it. A travel jacket with hidden pockets is especially helpful when trying to reduce the weight of your carry-on when flying on airlines with strict weight limits—you can even fit an iPad mini in the inside pocket.
Simon often wears his blazer on travel days as the pockets are so useful for storing everything. At airports they can hold his passport, wallet, phone, Kindle, boarding pass, and even snacks.
Machine-Washable and Quick Drying
There's no way we're going to dry clean anything while we're traveling, so the best travel blazer doesn't need special care. Impressively Bluffworks has created a machine washable blazer (they recommend 40ºC) that can either be hung dry or tumble dried on low. As it's made from polyester it will dry quickly.
We haven't washed the blazer yet despite over a year of wear! Yes, we really should do that, but honestly it just doesn't seem like it needs it. It looks as immaculate as when it arrived and doesn't smell at all. We'll report back when we do wash it.
Durable
The jacket is made from high-quality materials (including never fall off MMS thread-wrapped buttons), and if it's anything like Bluffworks' trousers, then we expect it to last for many years. After a year it still looks perfect.
Versatile
This men's travel blazer is very versatile. Simon has the Northwest Grey colour and has worn it in seven countries for a funeral, birthday party, Paris sightseeing, fancy dinners, theatre performances, and climbing Italian medieval towers. It's even comfortable enough for hiking or cycling.
The jacket can be dressed up or down—he has worn it with a t-shirt and jeans, with his brown Bluffworks original pants and dress shirt (see below), and with a white shirt and black tie (for the funeral). It's an easy way to make any outfit look good.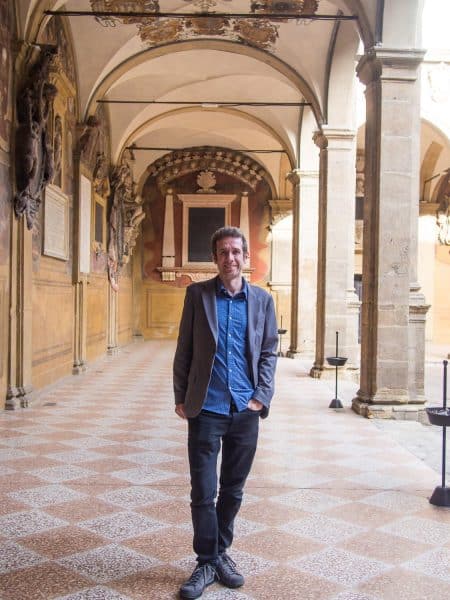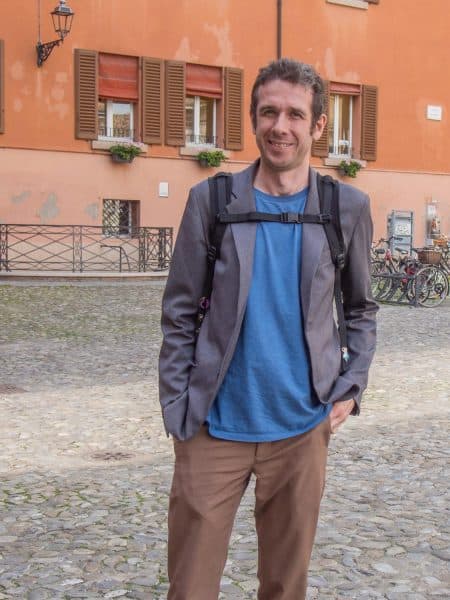 Lightweight
As we travel carry-on only, weight is a major concern for us. I thought carrying a blazer might be impractical, but it's surprisingly lightweight for a jacket at 1lb 6 oz (624g). And if you wear it on travel days (it's never a bad idea to look well-dressed at immigration), it won't add any weight.
Range of Colors and Sizes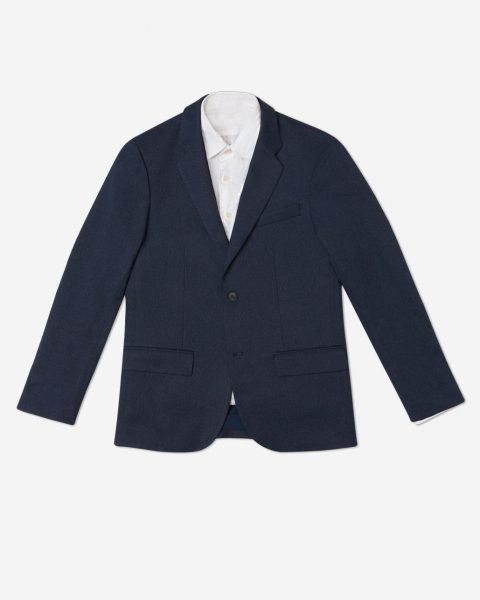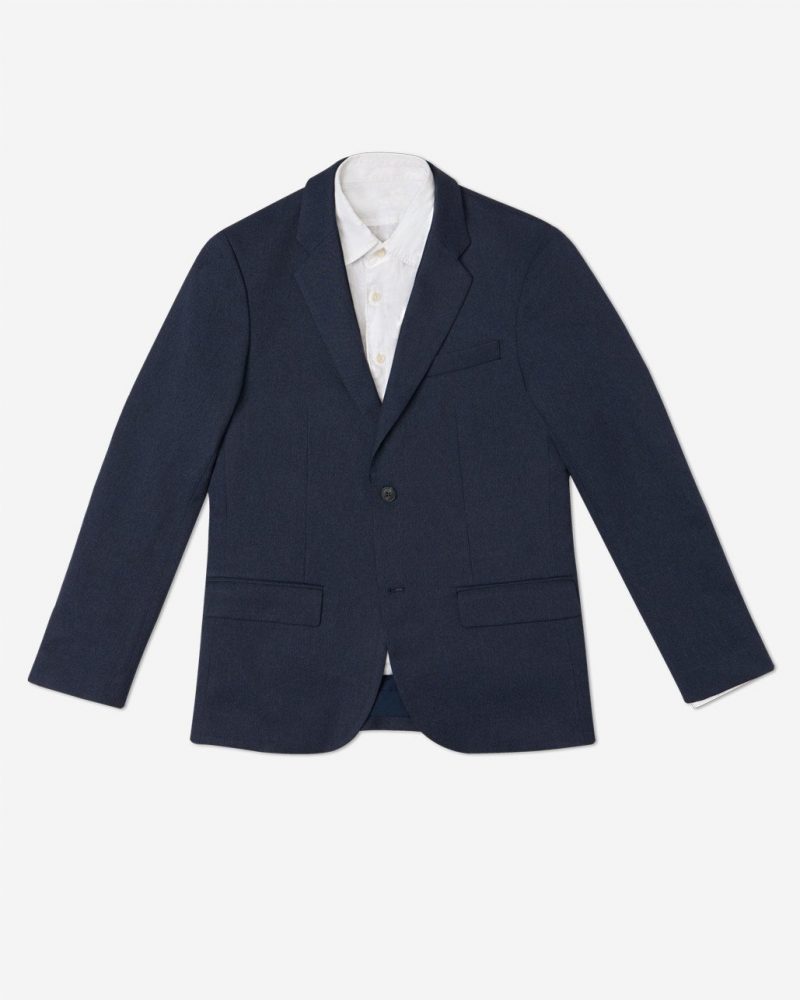 The Gramercy Blazer is available in the following specs:
Colours: Blue Hour (navy), Gotham Grey (dark grey), and Northwest Grey (mid-grey).
Fits: Classic and Slim
Chest: 36, 38, 40, 42, 44, 46, 48
Lengths: Regular, Long and Short
Simon got the 40R slim and I think it's the perfect fit but, if he's being particularly fussy, he thinks the sleeves are a quarter of an inch too long. He could get it tailored if it really bothered him, but after a year he doesn't notice it any more.
See the instructions in the fitting guide to determine your sleeve length and chest size.
Free Shipping and Exchanges
US shipping and exchanges are free. You can get a refund on unworn items within 30 days or exchange unworn items within 90 days.
The customer service team are very responsive so do reach out to them if you're not sure about sizing or anything else.
Bluffworks Blazer Downsides
It's difficult to find much to fault with this jacket.
It's expensive – At $295 it's not cheap, but for the quality and technical performance it's good value. As always we value quality over quantity and this is the only blazer you'll need.
No women's version – I could hardly wear my fleece next to Simon looking all elegant, so I had to pick up my own blazer. But Bluffworks currently only makes a men's travel blazer, so I had to make do with a vastly inferior one from a charity shop (which didn't last long). I have heard a Bluffworks women's blazer is coming soon!
We have arranged a 10% discount on Bluffworks products for our readers. Just click the link below and use the promo code NEVENDVOY at checkout.
Check out the Bluffworks Gramercy blazer here.
Pair the Blazer with the Meridian Dress Shirt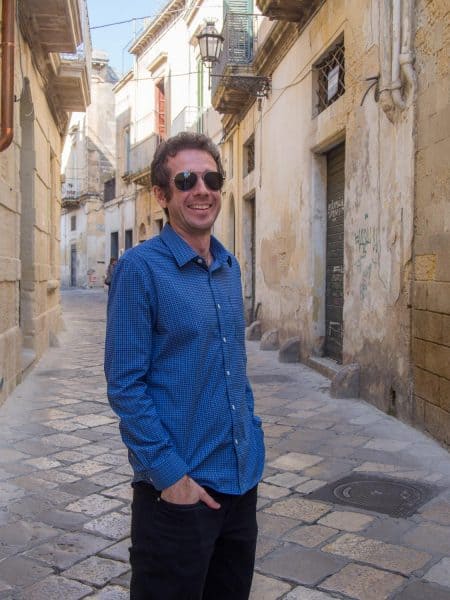 If you are looking for a practical yet stylish dress shirt to go with your blazer, the Bluffworks Meridian shirt is ideal. Simon always travels with one long sleeved buttoned shirt, but the last one he had was always a mess once he unpacked it, and we rarely have access to an iron (or can be bothered to use it).
His new Meridian shirt is so much more practical. It's perfect for travel because it has all the usual brilliant Bluffworks features:
Wrinkle-free – No iron needed!
Soft and comfortable and a bit stretchy
Lightweight, breathable fabric
Anti-microbial and odour resistant – Simon has worn it for days without it smelling.
Machine washable
Quick drying
Are there any downsides?
Limited designs – It's only available in three checked patterns (Simon has the deep blue mini check).
It's pricey at $98 – But, again, as it's the only shirt Simon needs, it's worth it.
Despite not usually being a checked shirt fan, there's no way Simon is going back to a regular shirt—the Meridian is really that good.
He now also has the new Zenith dress shirt in Gingham check which is just as good. It also comes in a blue micro check that looks like a solid colour shirt.
Check out the Meridian shirt here.
Pair the Blazer with Bluffworks Pants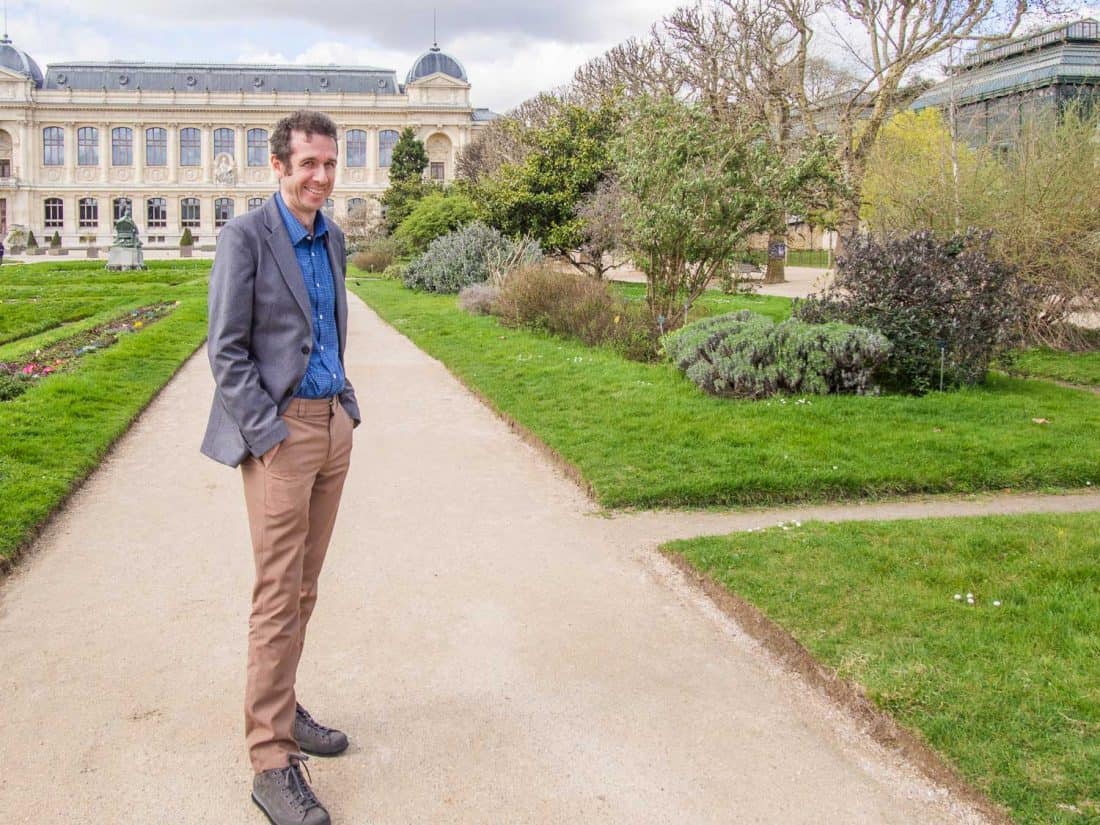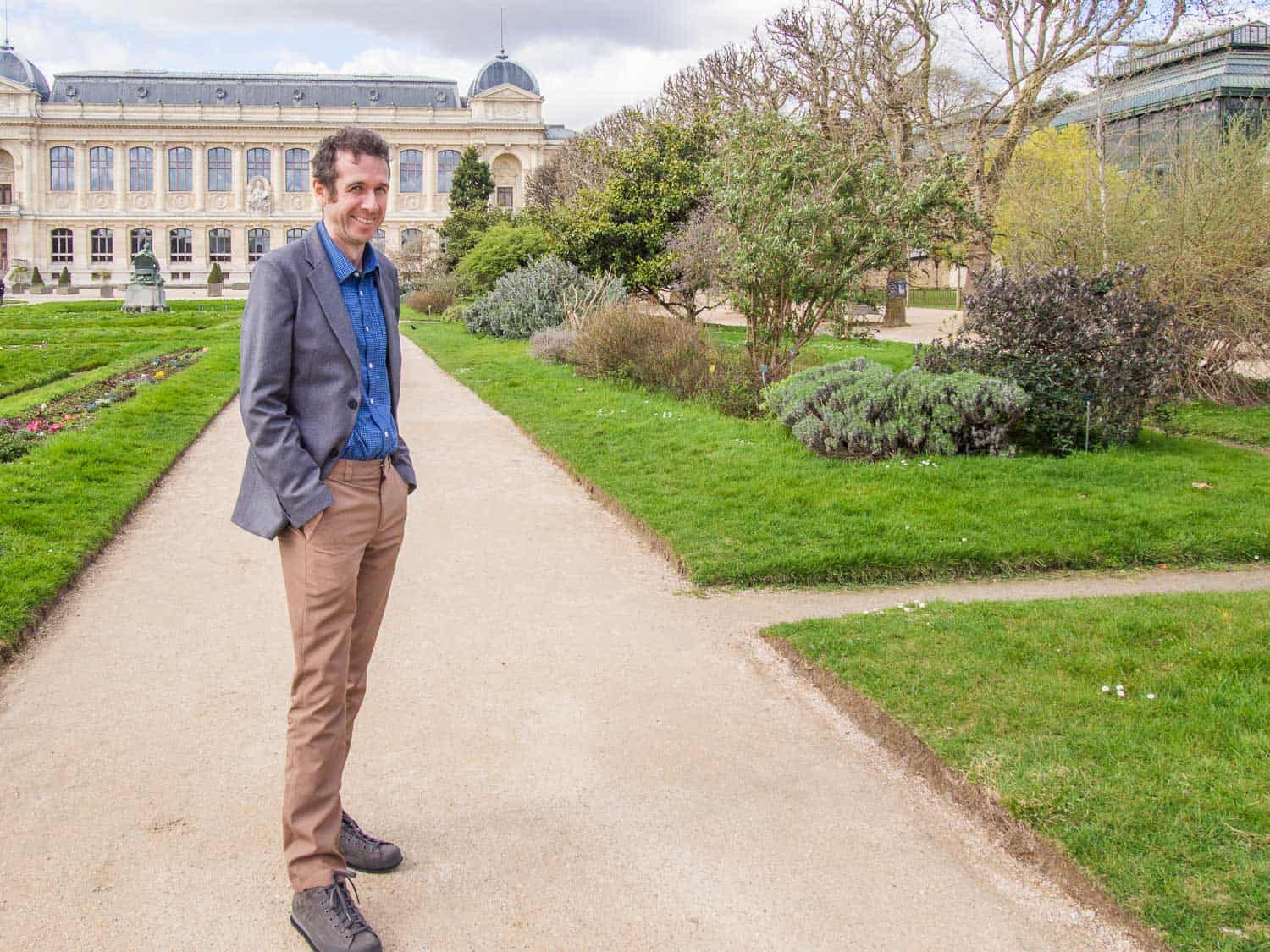 Did we mention we're a big fan of Bluffworks?
Simon has been travelling with Bluffworks original pants for six years (sometimes as his only pair of trousers)—see our Bluffworks pants review. They are lightweight, quick-drying, wrinkle-free, and have hidden zipped pockets for security.
The originals pair perfectly with the blazer when he wants a more dressed up look.
For something more casual, you might consider the Bluffworks chinos. If you want to really dress up, you can pair the Gramercy pants with the same colour blazer for the perfect travel suit.
Browse Bluffworks' pants selection here.
Pair the Blazer with Bluffworks Jeans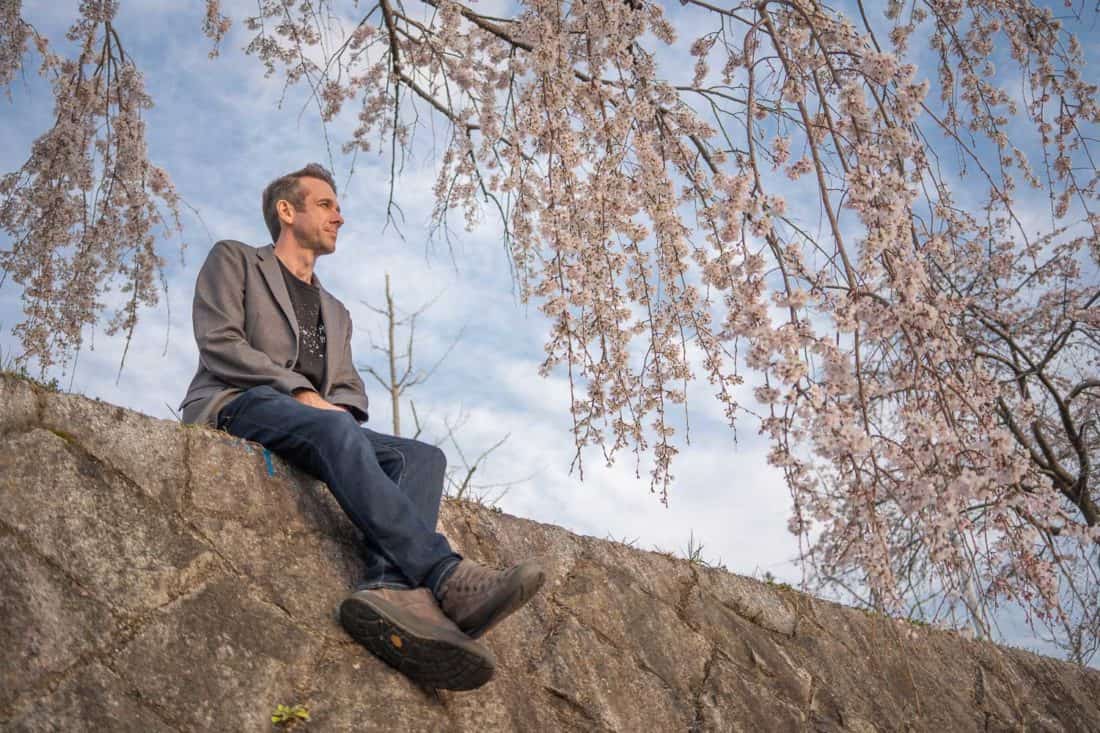 New in 2019 are the Bluffworks Departure jeans. This was an exciting addition to their lineup and now the Bluffworks Original pants plus the jeans meet all Simon's travel pant needs (along with shorts–now if only Bluffworks could come out with a pair of those).
The jeans combine classic styling with technical features. They are soft, ultra-comfortable, have just enough stretch for an active lifestyle (or long plane ride), and are lighter than a regular pair of jeans. They also have two super hidden pockets that fit passports.
Simon loves them (he barely took them off for two months in Japan) and they pair really well with the blazer for a smart casual look. See our Bluffworks travel jeans review for more details.
Do We Recommend the Bluffworks Blazer?
Yes, absolutely. There's no need to coddle the Gramercy like with other blazers—wear it on a plane for 20 hours or shove it in your luggage and it will come out wrinkle-free and ready to wear. It looks stylish and feels comfortable, and the pockets are perfect for keeping your valuables safe.
The Bluffworks Gramercy blazer isn't going to work for every traveller—if you are beach hopping around Thailand it won't be very useful—but if you travel for business or just want to upgrade your look for stylish cities, I can't imagine a better travel blazer.
Check out the Gramercy blazer on the Bluffworks website. Remember to use your promo code NEVENDVOY for 10% off.
If you enjoyed this post, pin it for later!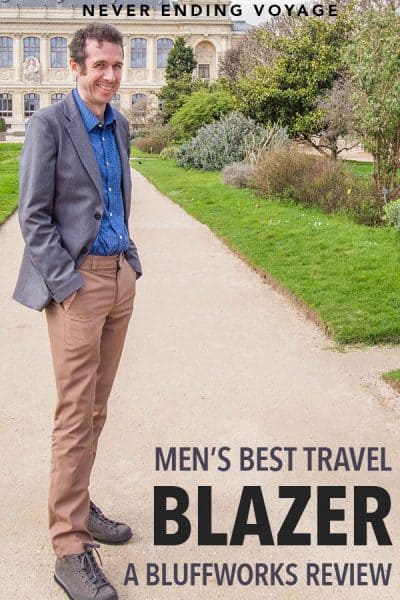 Thank you to Bluffworks who sent us a blazer, shirt, and trousers for review. As Simon only owns 10 items of clothing, there is no way he would still be travelling with them if he didn't love them.