This page contains affiliate links. Please read our disclosure for more info.
Bologna is one of the most underrated cities in Italy. Despite its beautiful historic centre, rich food culture, and lively yet relaxed atmosphere, it's often overlooked by tourists on the usual Venice-Florence-Rome route.
This is a shame as there are so many things to do in Bologna from climbing medieval towers to fun food tours, and it makes a great base for exploring other attractions in the region.
We spent a week there and loved the mix of elegance and grittiness and, of course, all that delicious fresh pasta.
Our detailed Bologna travel guide shares our top tips for what to do in Bologna, where to eat and stay, the best day trips, how to get there, and a map with all our recommendations.
Contents
Where is Bologna, Italy?
Bologna is the capital of the Emilia-Romagna region in northern Italy. It's located between Florence (to the south) and Venice (to the north) and is easily accessible by train.
Towards the end of this post, I share a map and details on how to get to Bologna from major cities in Italy.
What is Bologna Known For?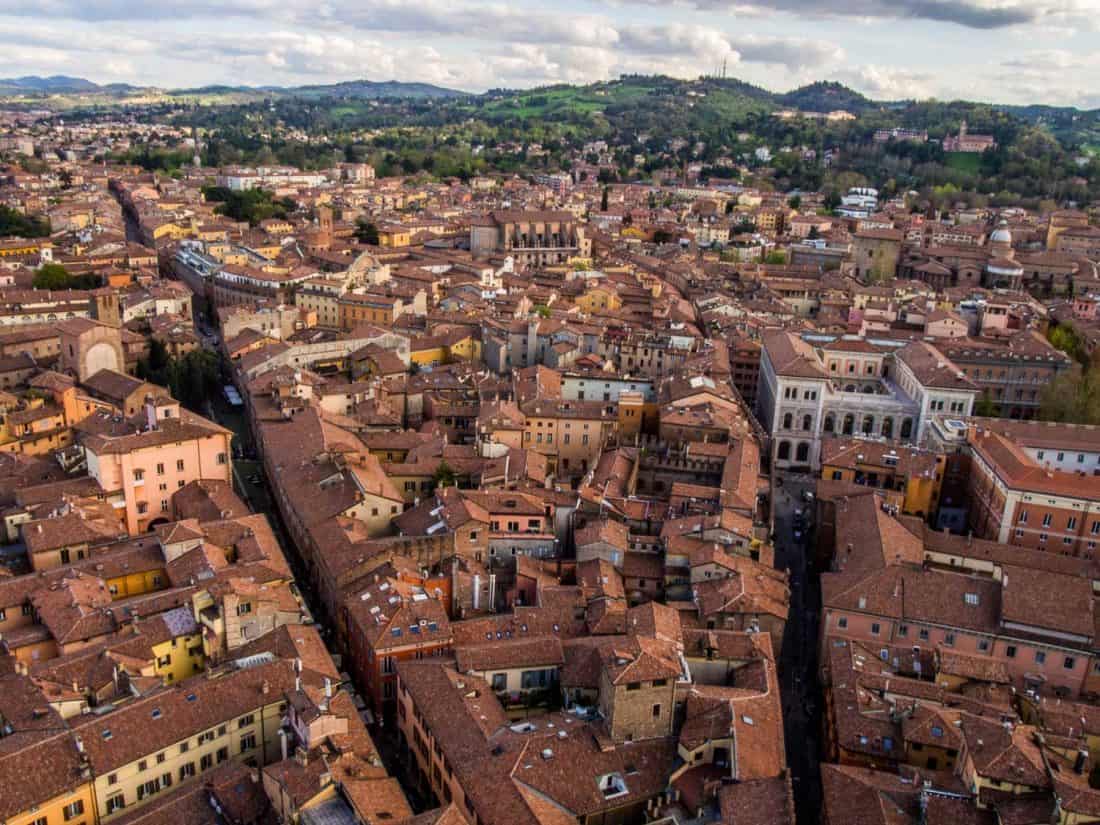 Bologna has three nicknames that reflect what it is best known for.
La Dotta (The Learned)
Bologna University, founded in 1088, is the oldest university in the western world and students came from all over the world to study there.
There is still a large student population which adds to the city's vibrant atmosphere, especially at aperitivo time.
La Grassa (The Fat)
For many people coming to Bologna is a culinary pilgrimage. The Emilia-Romagna region is where many of Italy's top products come from—balsamic vinegar, parmesan cheese, Parma ham, and mortadella.
The food here is rich and decadent and the markets are superb. I share the best things to do in Bologna for foodies below.
La Rossa (The Red)
Originally "The Red" nickname referred to the terracotta tiled roofs of the city, which are best seen from the top of Asinelli Tower.
In later years it also alluded to the city's leftist political leanings, especially during and after World War II when it was a stronghold of the resistance against Nazism.
Porticos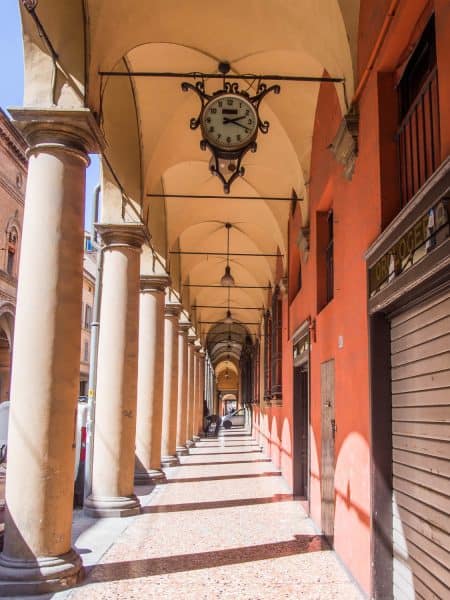 The other unusual thing about Bologna is the high number of porticos that extend from almost every building.
These attractive arches were originally built from wood in the late Middle Ages to create extra living space and now have the advantage of offering protection from the rain and sun as you walk around the city.
Bologna is home to the longest portico in the world at nearly 4km. It starts just outside the city walls and extends up the hill to Santuario di Madonna di San Luca—one of the best places to visit in Bologna.
Video: What to Do in Bologna
Foodie Things to Do in Bologna
1) Take a Bologna Food Tour
The cuisine is one of the main reasons to visit Bologna, and it's well worth taking a food tour at the beginning of your trip to learn more about the food culture. It'll help you make the most of the rest of your stay.
We did this four-hour Classic Bologna Food Tour with Sara of Taste Bologna. We started at the city's best coffee shop sampling unusual flavours like Caffè allo Zabaione, which was like a dessert in a mini cup, and even I, a non-coffee drinker, enjoyed it.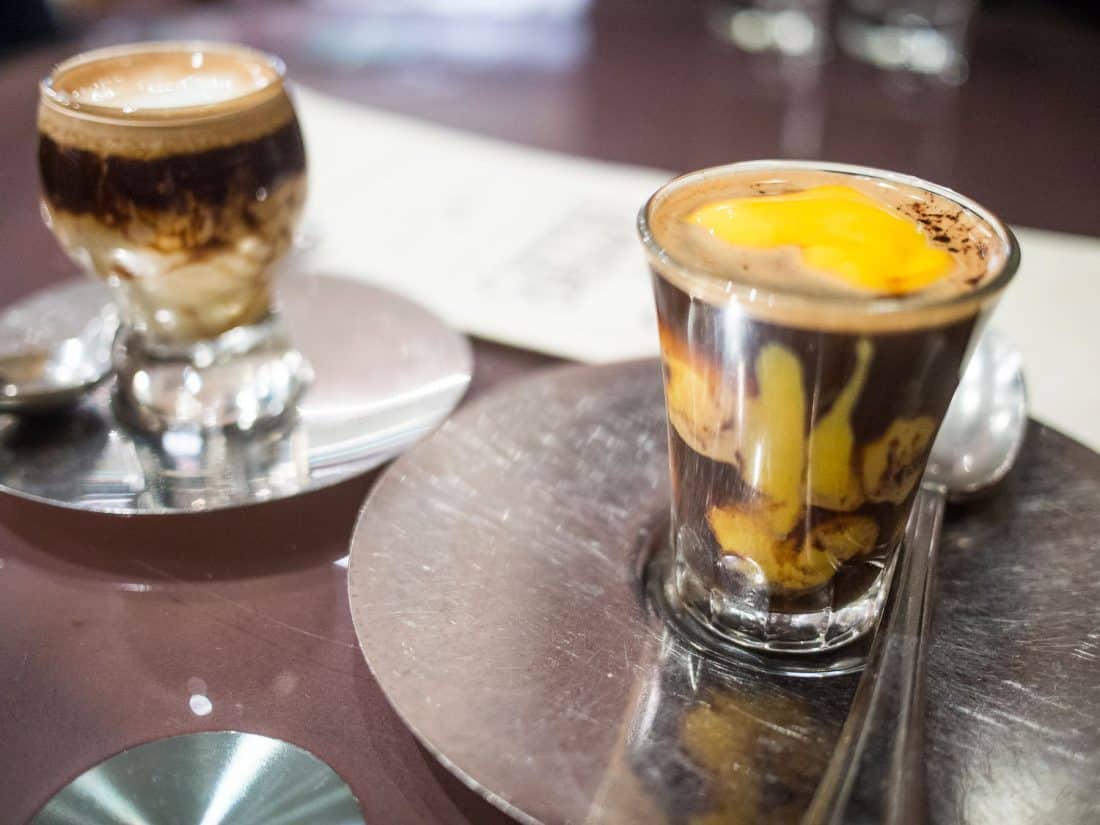 We continued our tour around the markets and food shops, sampling olive oil and aged balsamic vinegar (and discovering what real balsamic tastes like) and learning about the best local products.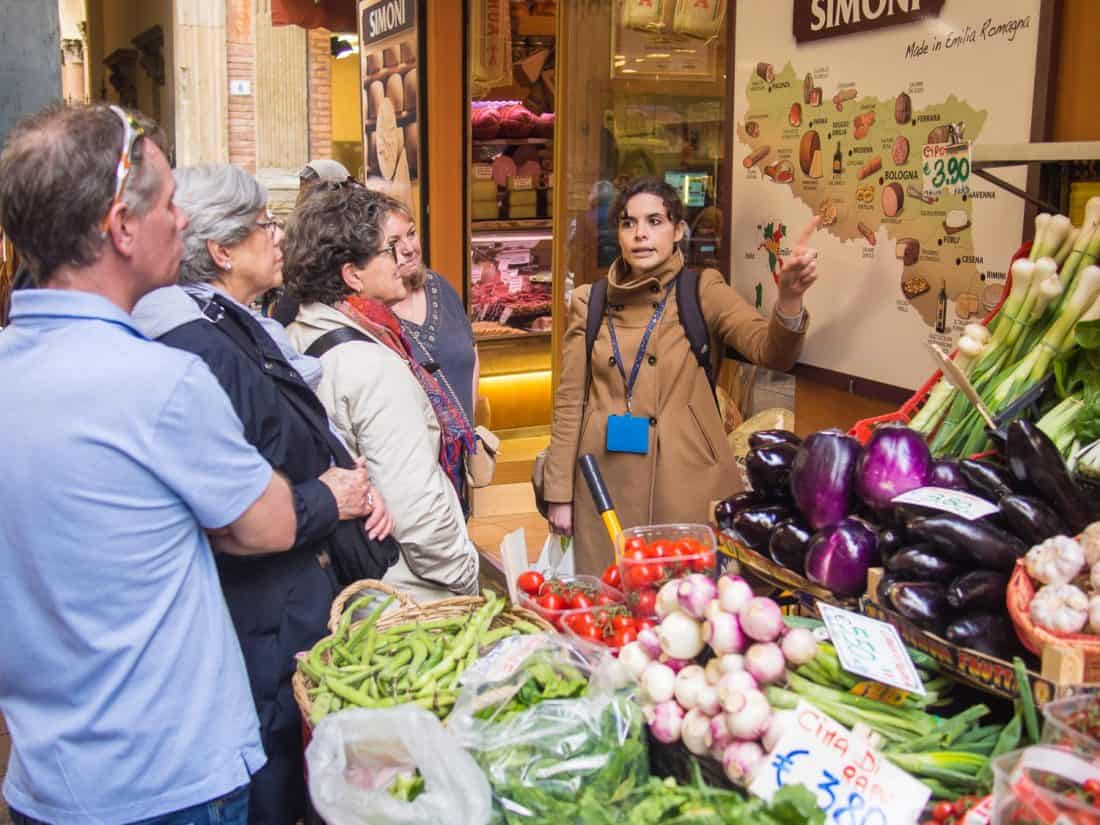 A highlight was a stop at a fresh pasta stop where we watched the ladies making tortellini (stuffed pasta parcels) incredibly fast and even tried rolling one ourselves (not as easy as it looks!).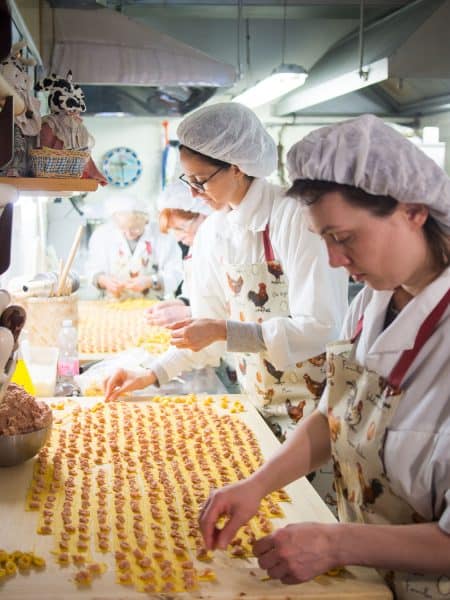 Lunch was a picnic feast of all the products we'd picked up at one of the oldest bars in the world.
We enjoyed our food with a glass of the local sparkling Pignoletto on a big wooden table under photos of the famous clientele who'd visited in the previous decades. Of course, our final stop was for some amazing gelato.
Bologna is a very meaty city, but as vegetarians, we really enjoyed the tour and had plenty to eat.
It was helpful to learn from Sara which products (like tigelle or even some focaccia) are made with lard which is commonly used here.
Half a day spent eating your way around an Italian city is never going to be a bad experience. Not only did we get to try some local products, but we also learnt more about the city and its delicious food.
Check availability for the Classic Bologna food tour here.
Thank you to Taste Bologna who hosted us on their wonderful food tour.
2) Go Food Shopping in the Quadrilatero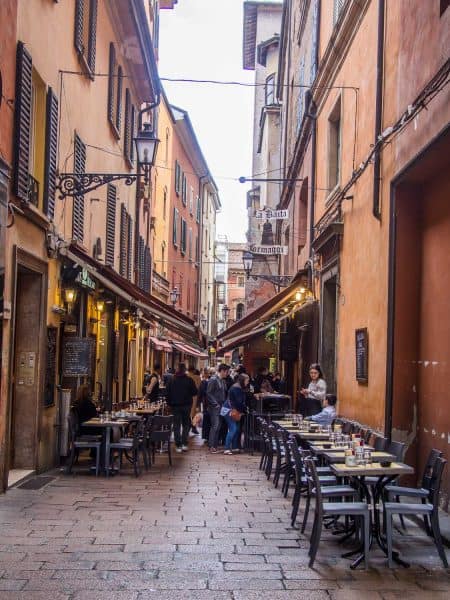 The Quadrilatero is one of the most atmospheric areas of the city.
This cluster of narrow streets off the main square has been Bologna's market since the Middle Ages and is still full of delis and stalls selling giant wheels of parmesan, legs of ham, and pristine piles of fruit and vegetables.
Via Pescherie Vecchie is one of the cutest streets with terracotta and yellow buildings, old signs and ornate street lamps, and restaurant tables spilling onto the pavement.
The shops used to sell fish from the canals, but now you're more likely to find chunks of cheese and fresh pasta.
We visited the area on our food tour.
3) Eat Your Way Around the Mercato Delle Erbe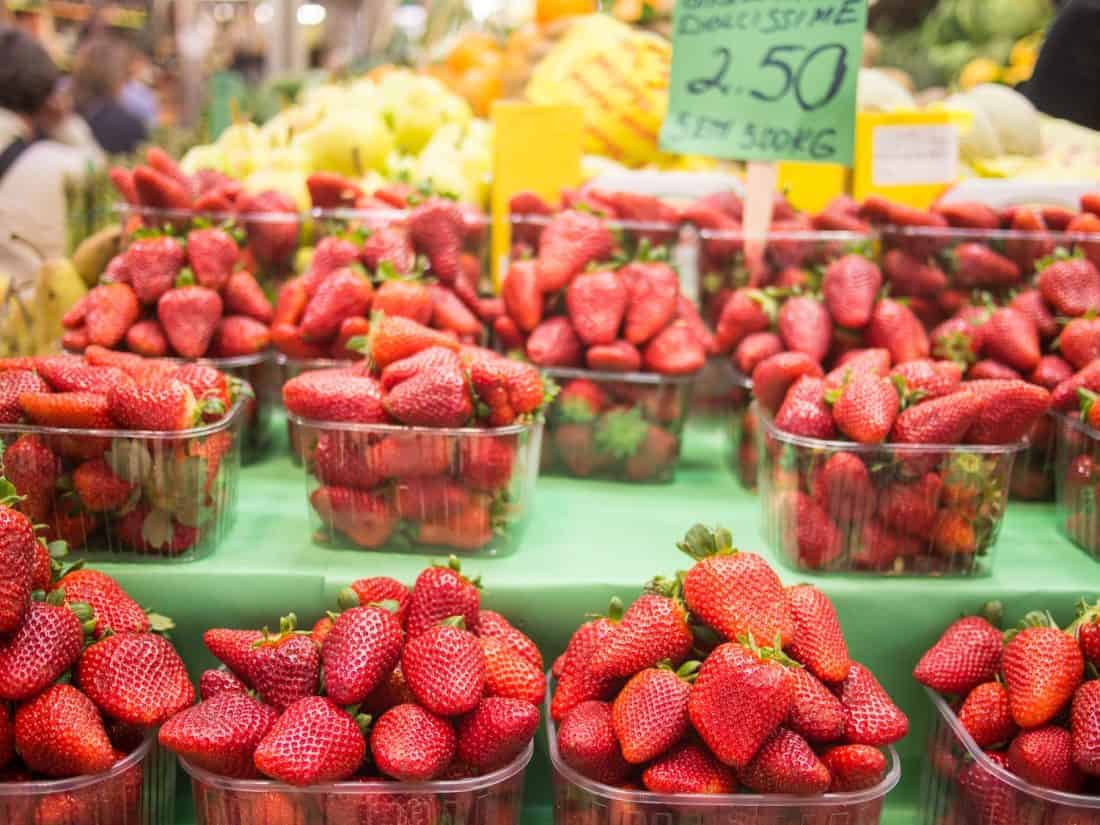 While the Quadrilatero is a good place to pick up cheese and cured meats, for fresh produce I preferred the Bologna food market, Mercato Delle Erbe.
The fruit and vegetables here are beautiful and most of them come from Italy. I was excited that strawberries from the Basilicata region were already in season in April.
There's also an upmarket food court where you can snack on sandwiches, piadina, slices of pizza, or even have a whole meal.
We stayed in an apartment right across the road from the market, which was wonderfully convenient for shopping and quick meals.
Search for more apartments in the historic centre of Bologna here.
4) Enjoy an Aperitivo
The tradition of aperitivo—a pre-dinner drink with snacks—is strong in Bologna.
Just wander the streets from around 6pm and you'll find plenty of bars offering everything from peanuts and crisps to buffets that are enough for a meal.
Sometimes the food is included in the price and sometimes you'll pay €8 or €10 for a drink and buffet.
The Mercato delle Erbe and the bars opposite are good places for aperitivo in Bologna. We also liked Marsalino which from 6–9pm provides pizza toasts and crisps with your drink.
5) Try Local Specialities
Spaghetti Bolognese is not actually an Italian dish. Instead, locals eat tagliatelle al ragù, thick strips of fresh egg pasta with a meat sauce.
Another classic local dish is tortellini, meat-stuffed pasta dumplings typically served in broth.
Vegetarians should look for tortelloni (with an o rather than an i) which are larger pasta parcels stuffed with ricotta and herbs.
Make sure you get them with a sage and butter sauce as they can also be served with ragù.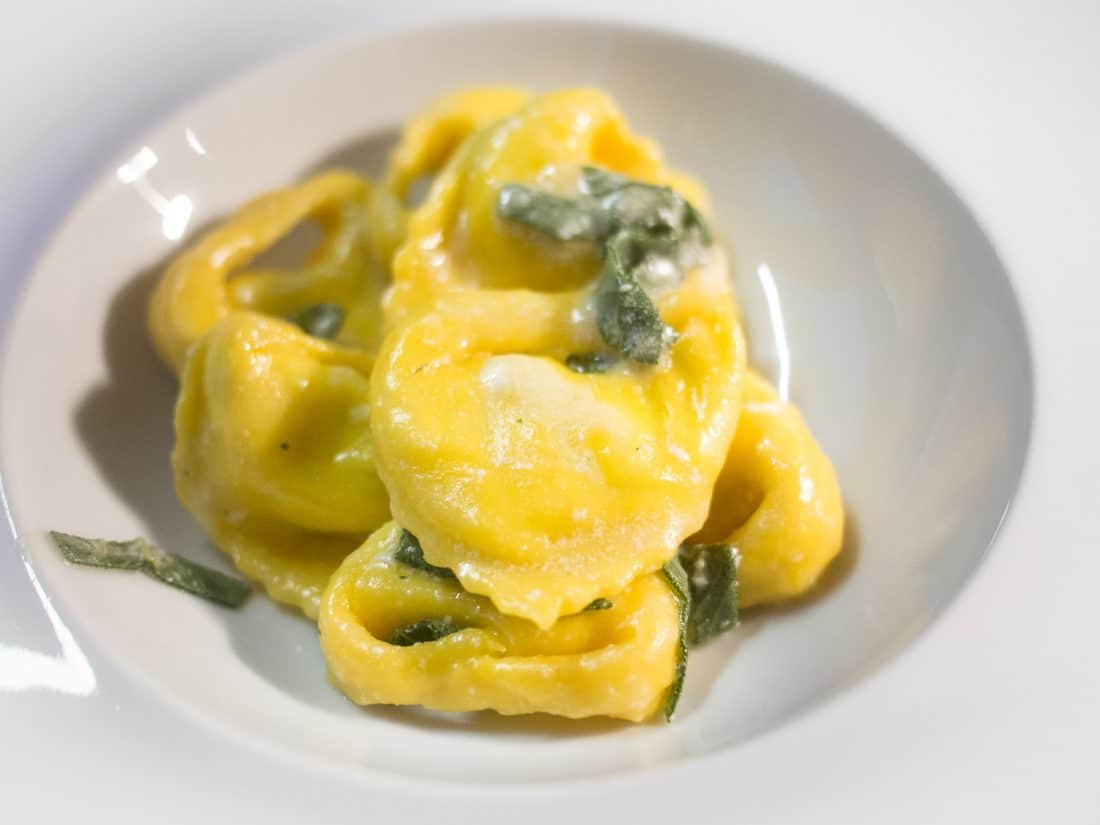 For a cheap quick meal, try a piadina, a flatbread sandwich with an array of fillings to choose from. The dough is usually made from lard but a few places offer a version with olive oil instead—see my recommendations below.
The wine is also excellent. Try Pignoletto, a sparkling white like a fruitier Prosecco, or a red Sangiovese. We also enjoyed the sparkling red Lambrusco from nearby Modena.
And don't miss the gelato—it's so good here!
See the Restaurant section below for tips on the best places to eat in Bologna.
Historic Things to Do in Bologna
6) Climb Asinelli Tower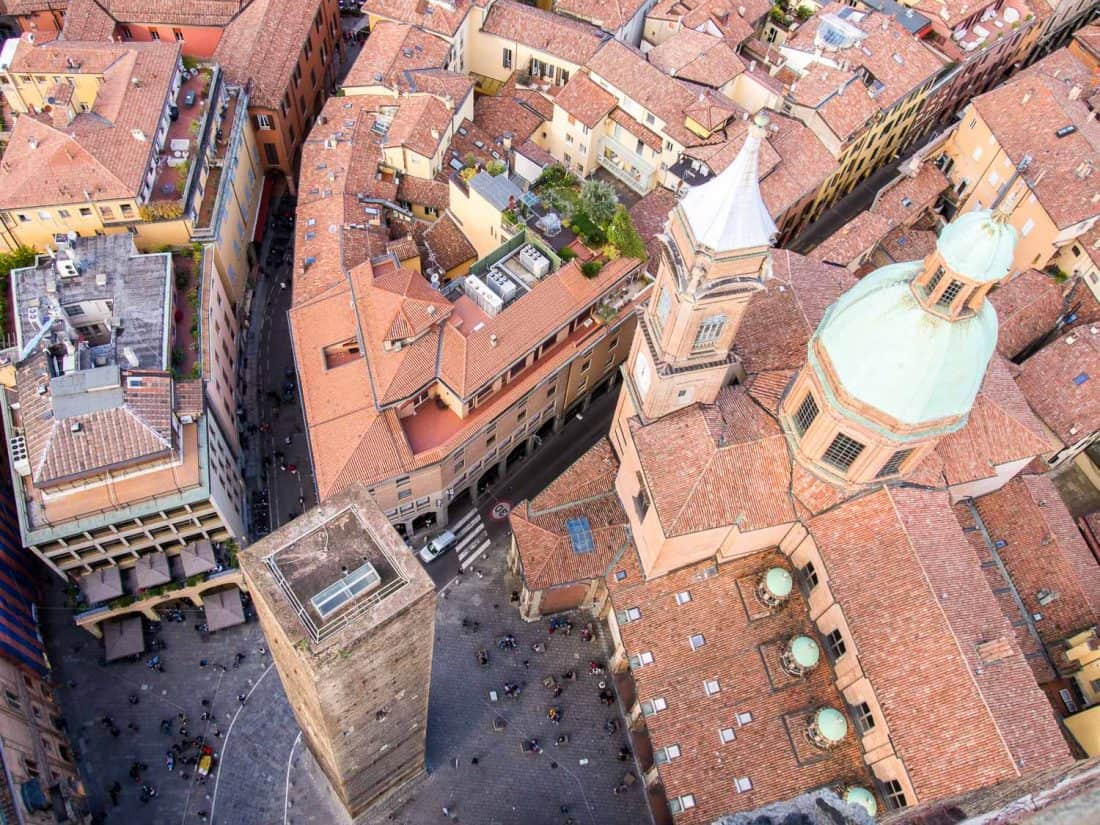 I love climbing Italian towers! Bologna's beautiful terracotta tiled roofs are best admired from above, so make your way up the 498 steps of the medieval Asinelli Tower—one of the top things to do in Bologna.
From the top you can enjoy stunning 360º views of the smaller Garisenda tower, which leans precariously next to it, Piazza Maggiore, and the hills surrounding the city.
You must book your ticket in advance (€5 adults/ €3 children)—we booked on the Due Torri website about three hours beforehand, but at busy times book a few days ahead. I recommend going early as it gets very crowded.
7) Stroll through Piazza Maggiore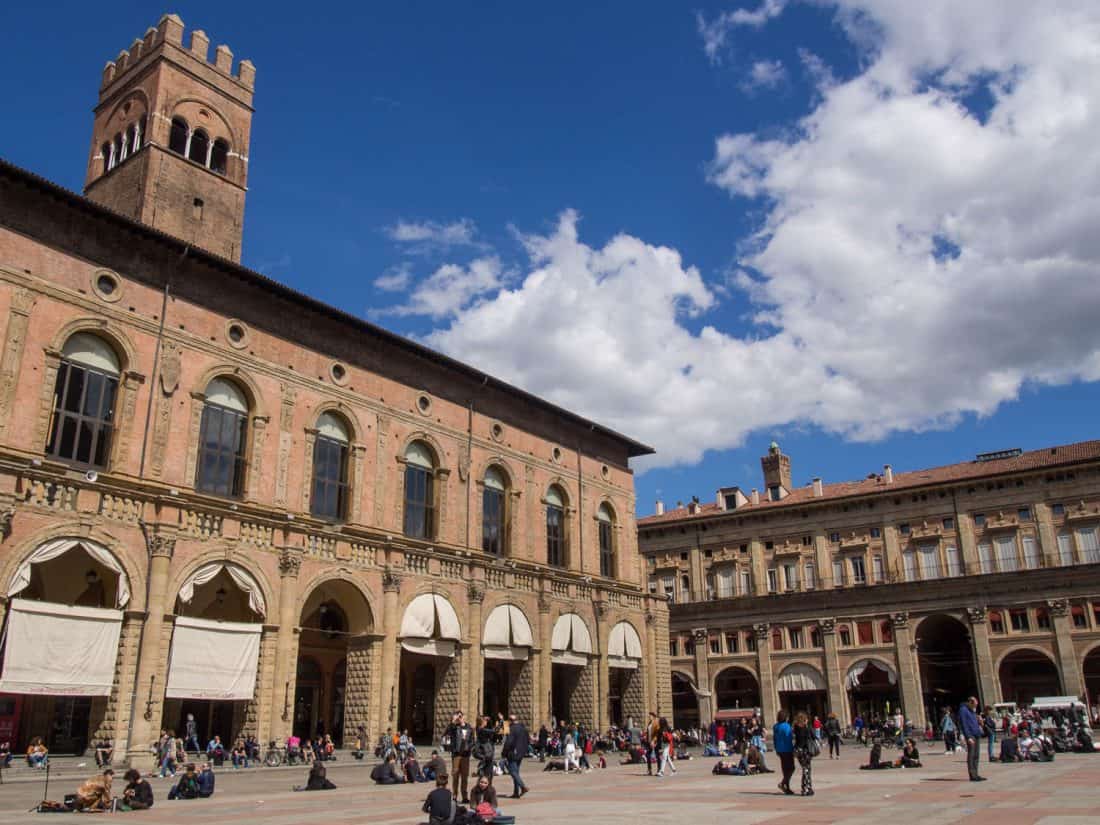 Piazza Maggiore is the main square and one of the top Bologna attractions.
Here you'll find the Basilica di San Petronio, which was started in 1390 and is oddly unfinished—the bottom section ornate marble and the top stark brick.
Depending on the story this is either because the church ran out of money or the pope stopped construction as he didn't like the idea of the plans for a cathedral bigger than Rome's St Peter's.
On the other sides of the square are grand palaces including Palazzo d'Accursio which was once the Town Hall.
If you'd like to learn more about Bologna's history, you can take a private guided tour around the historic centre. This group Bologna City Centre Walking Tour is another option to discover hidden gems.
8) See the Neptune Fountain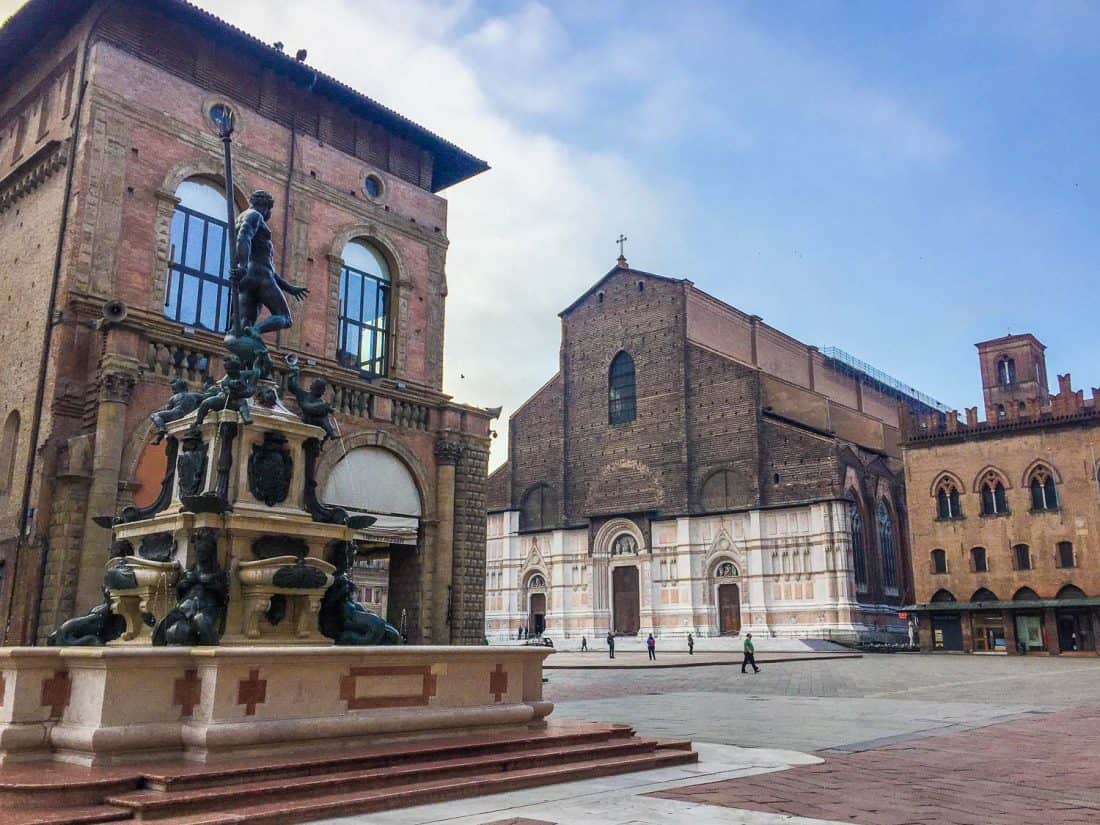 Next to Piazza Maggiore is the 16th-century Neptune Fountain built by Flemish sculptor Giambologna. It is so beautiful that many cities across Europe copied it.
Despite representing a pagan god, the pope approved of the statue because Neptune is the god of water.
There used to be a port and canals in Bologna and water meant power and riches—it was an extremely rich city (and is still one of the wealthiest in Italy).
9) Visit the Seven Churches of Santo Stefano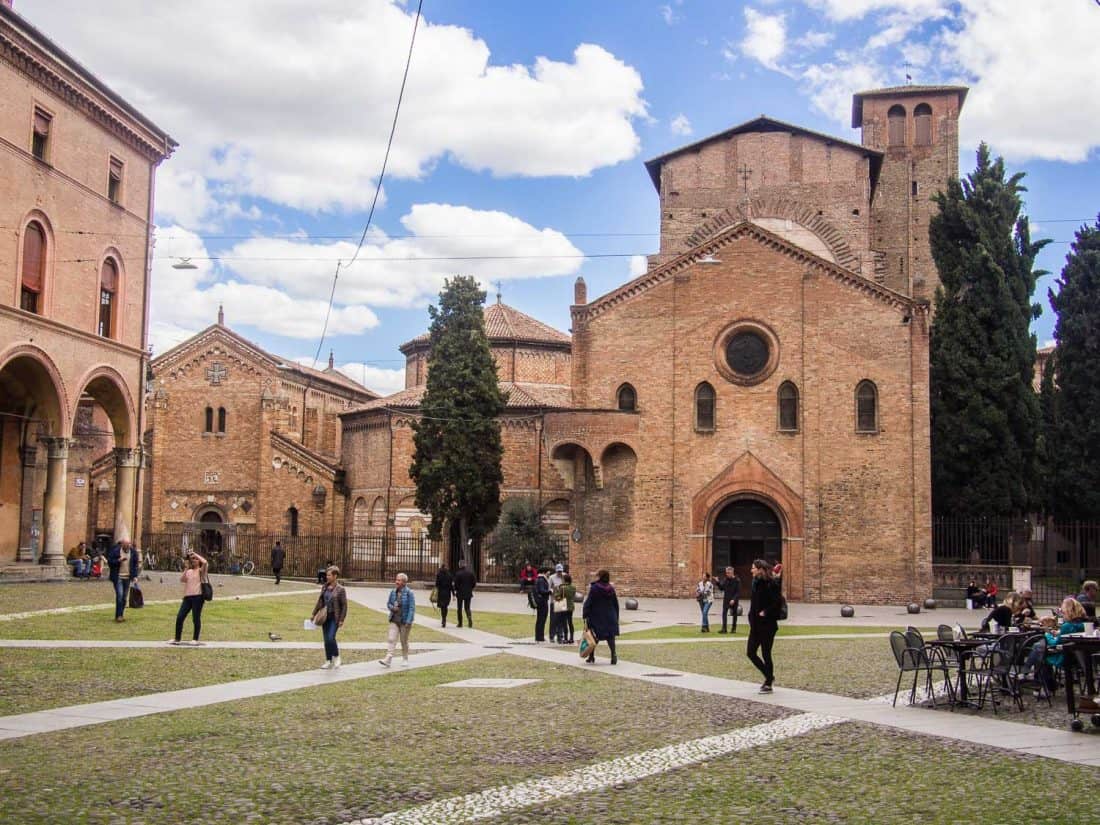 My favourite piazza in Bologna is Piazza Santo Stefano where beautiful porticos on both sides lead to a few outdoor bars and a complex of seven churches (well, only four remain).
Entry is by donation and it's worth a wander around the maze of interconnecting buildings and peaceful courtyards.
If you'd like to learn more about the churches, visit on a private tour.
10) Visit the Archiginnasio and Teatro Anatomico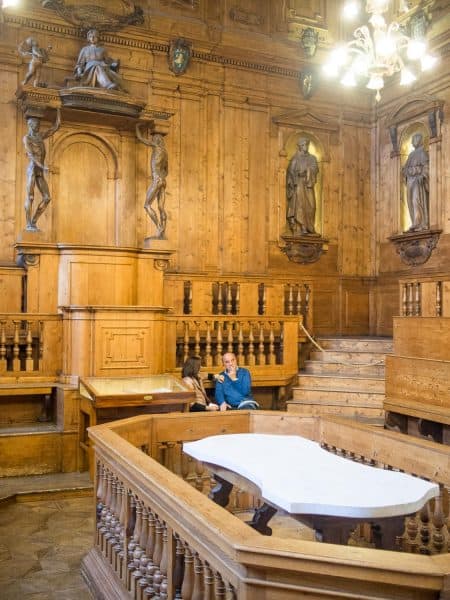 The Archiginnasio was once the main building of the University of Bologna and dates back to the 16th century.
Here you can visit the Teatro Anatomico (€3), an ornate anatomical theatre built in 1636 entirely from wood and decorated with statues.
Lectures were once given here with a cadaver laid out on the marble slab for dissection in the centre of the room.
There's a spy hole in the wall where the church kept tabs on classes making sure that nothing too progressive was being taught.
My favourite part of the Archiginnasio building is the gorgeous portico in the entrance courtyard with frescoes on the ceiling.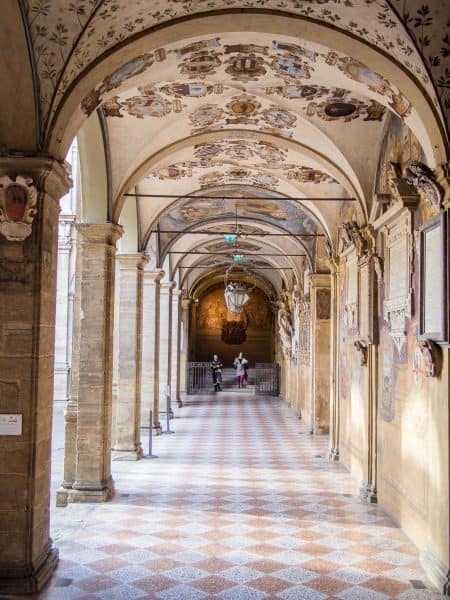 If you'd like to learn more, consider this Audio-Guided Archiginasio Tour.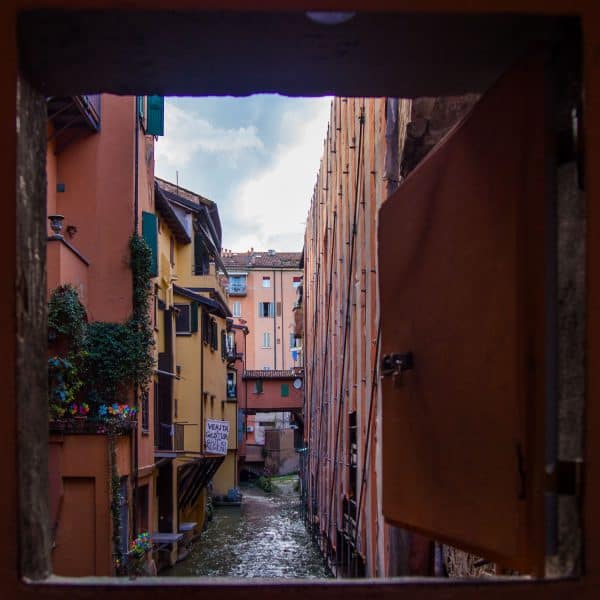 Head north of the Two Towers and you'll find the small remaining section of Bologna's once extensive canals.
Look out for the Finestrella di Via Piella where you can get a framed view of the canals from a window in the wall.
Places to Run or Walk in Bologna
If you are wondering what to do in Bologna to burn off all that pasta and gelato, there are some beautiful parks to the south of the city, perfect for walking or running as long as you don't mind hills.
12) Santuario di Madonna di San Luca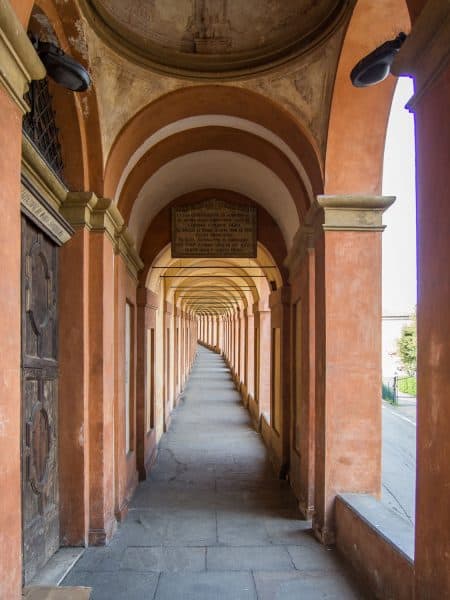 The Santuario di Madonna di San Luca is a church upon a hill above the city and is a Bologna must see.
For us, the highlight was getting there on a 50-minute walk from the centre under the 666 arches of the Portico San Luca, the longest in the world.
Start by exiting the city from Porta Saragozza and follow the portico—it's flat until the Arco del Meloncello and then it climbs uphill.
From the church you can enjoy views of the city and countryside. The best view is from the rooftop of the church known as the San Luca Sky Experience (€5 adults/ €3 children) which you reach by climbing a narrow spiral staircase.
If you don't want to walk up to San Luca, you can take the San Luca Express bus, but the walk is worth it if you can.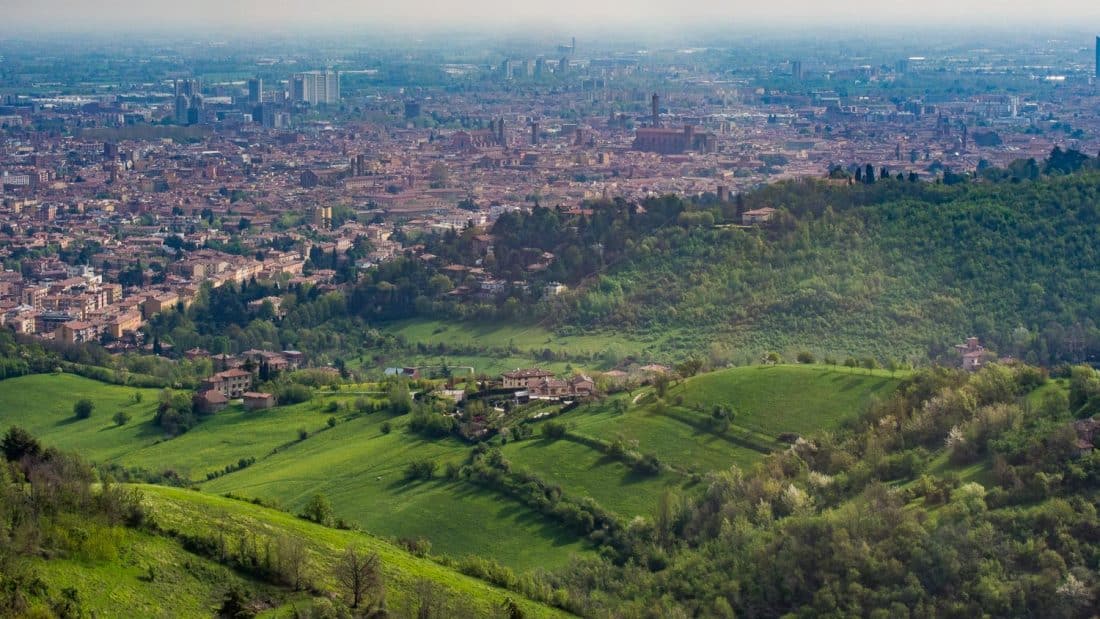 13) Giardini Margherita
Giardini Margherita is a pleasant park just south of the city and is the closest and flattest place for a run—it's about a 1.5km loop around it.
14) San Pellegrino Park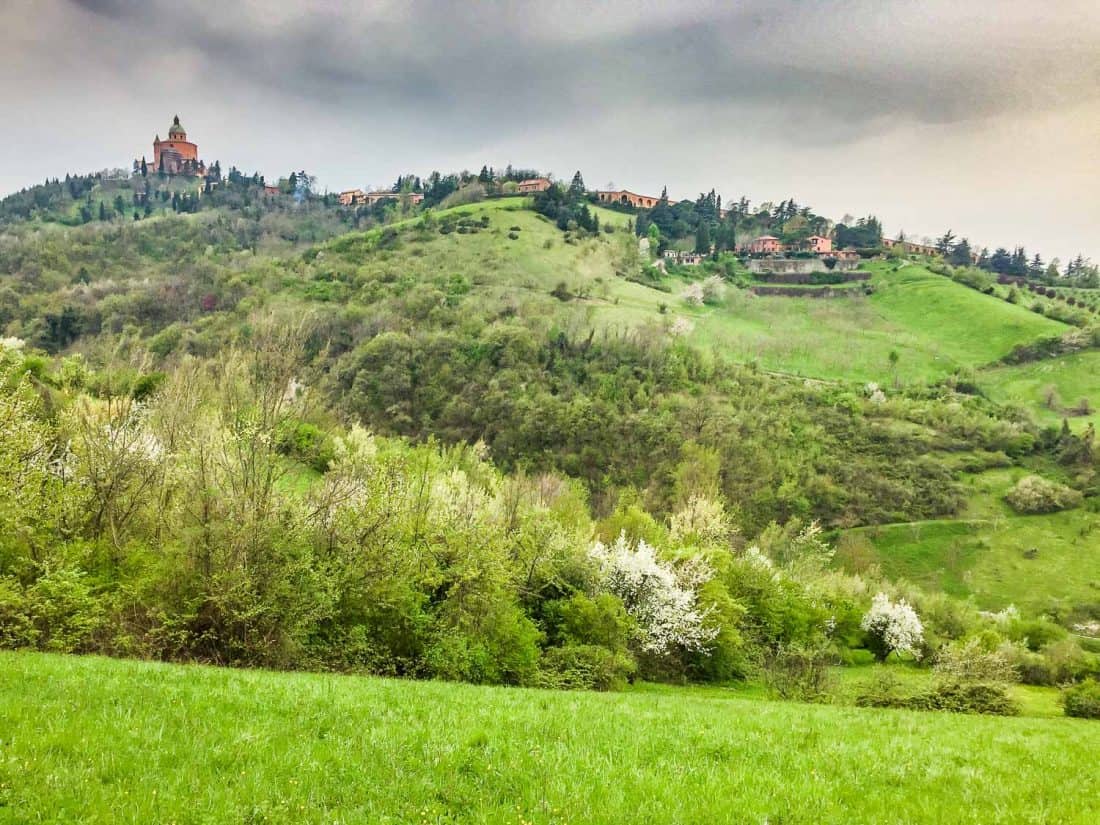 For a more challenging run or walk head up the hills to the Parco di San Pellegrino via the smaller Villa Spada park.
It's only 4km from the centre, but you feel like you're in the countryside with fields of wildflowers and views of San Luca and the city.
My early morning run up here was one of my Bologna highlights. It would be a lovely place for a picnic.
Day Trips From Bologna
It's worth spending a week or more in Bologna as it's a great base for exploring the Emilia-Romagna region. We visited Modena and Ferrara, both a 30-minute train ride from Bologna.
You could also visit the elegant city of Parma (1 hour on the train) where Parma ham and Parmesan cheese originate and Ravenna (1 hour on the train) known for its exquisite mosaics. Florence is only 35 minutes away on the fast train.
If you'd prefer to take a tour, this popular Bologna Food Experience includes visits to local producers of Parmesan cheese, prosciutto ham, and balsamic vinegar (with tastings), plus a traditional multi-course lunch.
15) Modena
Visiting a Balsamic Vinegar Maker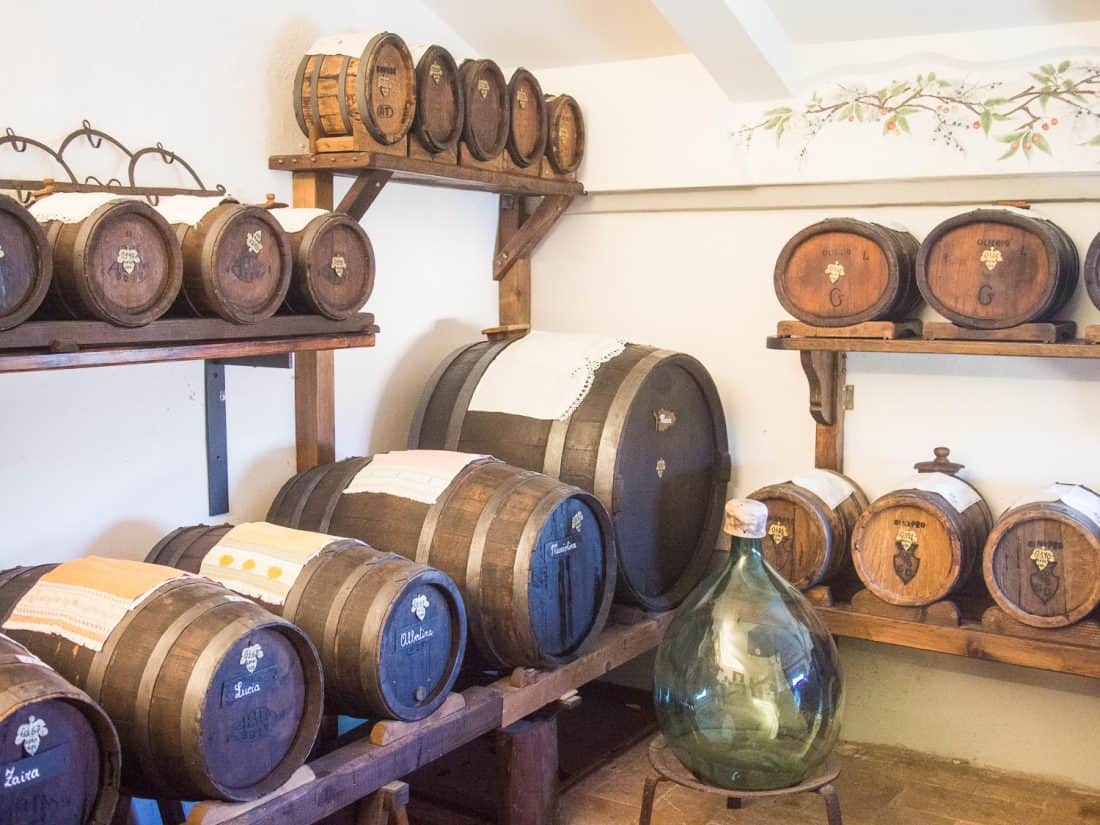 Modena is the home of balsamic vinegar and it's also where the first few episodes of Master of None season 2 were shot, so we had to visit.
After an easy 30-minute train ride to get there, our first stop was Acetaia di Giorgio, one of the closest balsamic vinegar makers to the centre (a 30-minute walk from the train station or take a taxi).
It's very much a family-run business. Giorgio's family has been making vinegar for 130 years and the tradition is passed down to each generation—Giorgio is now working with his son-in-law to keep it alive.
Giorgio's English-speaking wife Giovanna explained the vast difference between supermarket balsamic vinegar and traditional DOP balsamic vinegar which is strictly regulated for quality by a consortium.
The real stuff is made from 100% grape must with nothing added—it is cooked at a low temperature for a long time until it reduces to thick black liquid gold. It can only be made in Modena.
At the Acetaia the vinegar is aged in small wooden barrels for at least 12 or 25 years.
It's a long, painstaking process where some of the vinegar is moved from one barrel to another as it evaporates, year after year.
Finally, we got to try the final product and it was like no vinegar we'd ever tasted, thick, sweet and intense.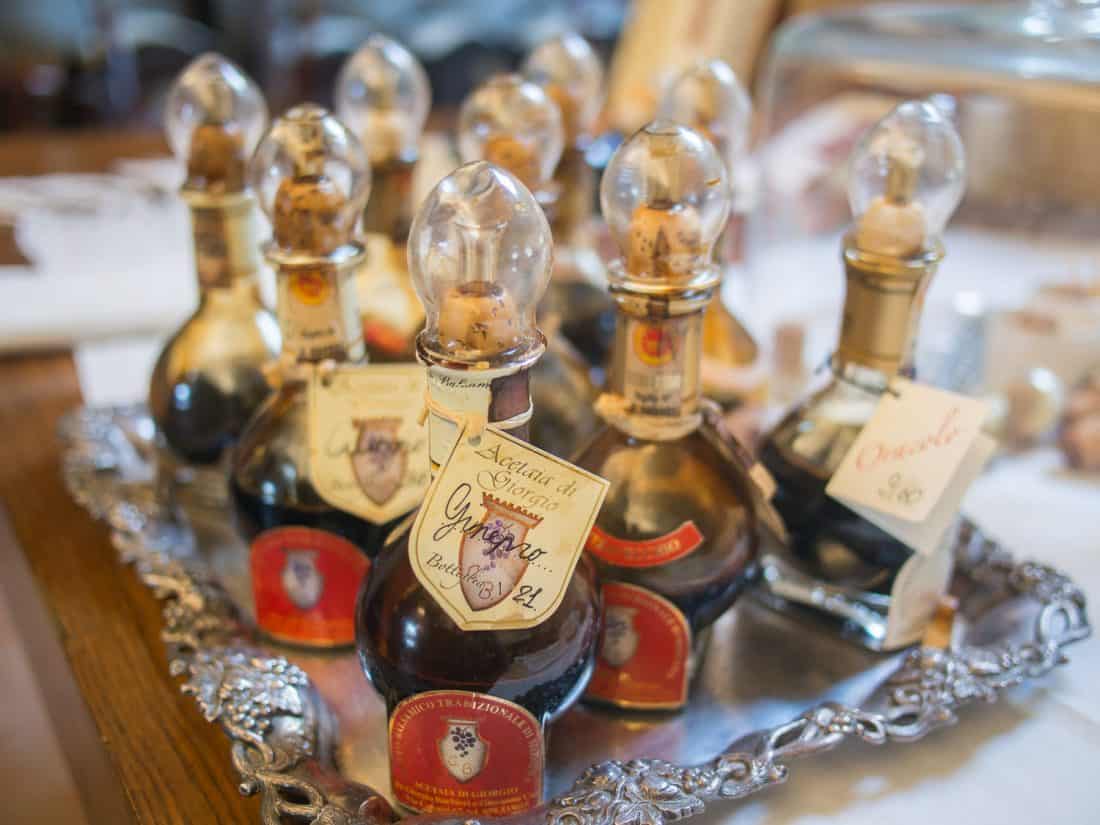 The type of wood that's used for the barrels really makes a difference—the juniper was spicy and the cherry fruity.
And the 25-year-old really does taste sweeter and richer than the 12-year-old—it doesn't taste like vinegar at all.
Traditional balsamic is very expensive (the cheapest 12-year-old costs €45), but it lasts forever and you only need a few drops to transform a dish (try it on strawberries or parmesan).
We couldn't resist buying a bottle—not only because it tasted so good and was a rare chance to buy real balsamic in Modena, but because we wanted to support this family who is working so hard to keep the traditions alive.
Tours are free but you must book in advance by email or phone. See the Acetaia di Giorgio website for details.
Eating in Modena
Modena has some of the best restaurants in the world including three-Michelin-star Osteria Francescana, so make sure you include a meal in your visit (and it's a good idea to book).
We had lunch at the simple, traditional Da Danilo—the pumpkin tortelloni were good if a little sweet and we loved the ricotta tortelloni in a balsamic sauce.
We also enjoyed the local sparkling red Lambrusco wine and the thick black digestif nocino (well, it grew on me). There are lots of vegetarian options and it's good value.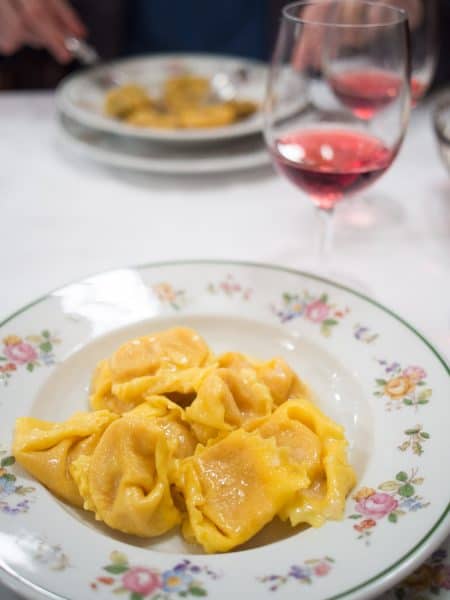 Stop by Bloom afterwards for an excellent gelato.
Exploring Modena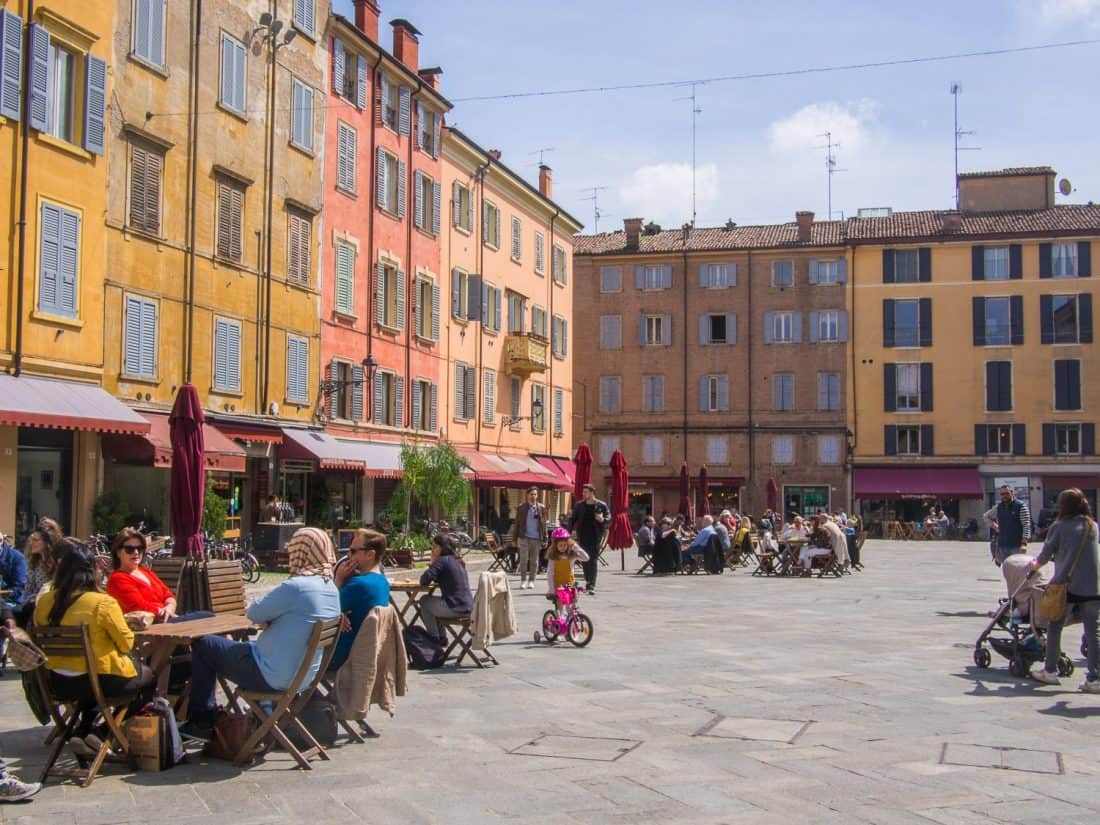 Modena is a pleasant city to wander and worthwhile stops are Piazza Grande, Mercato Albinelli, the Ducal Palace, and the Duomo where you can climb the Ghirlandina Tower.
It's much less crowded than Bologna's tower, but sadly you can't open the windows to take photos at the top.
16) Ferrara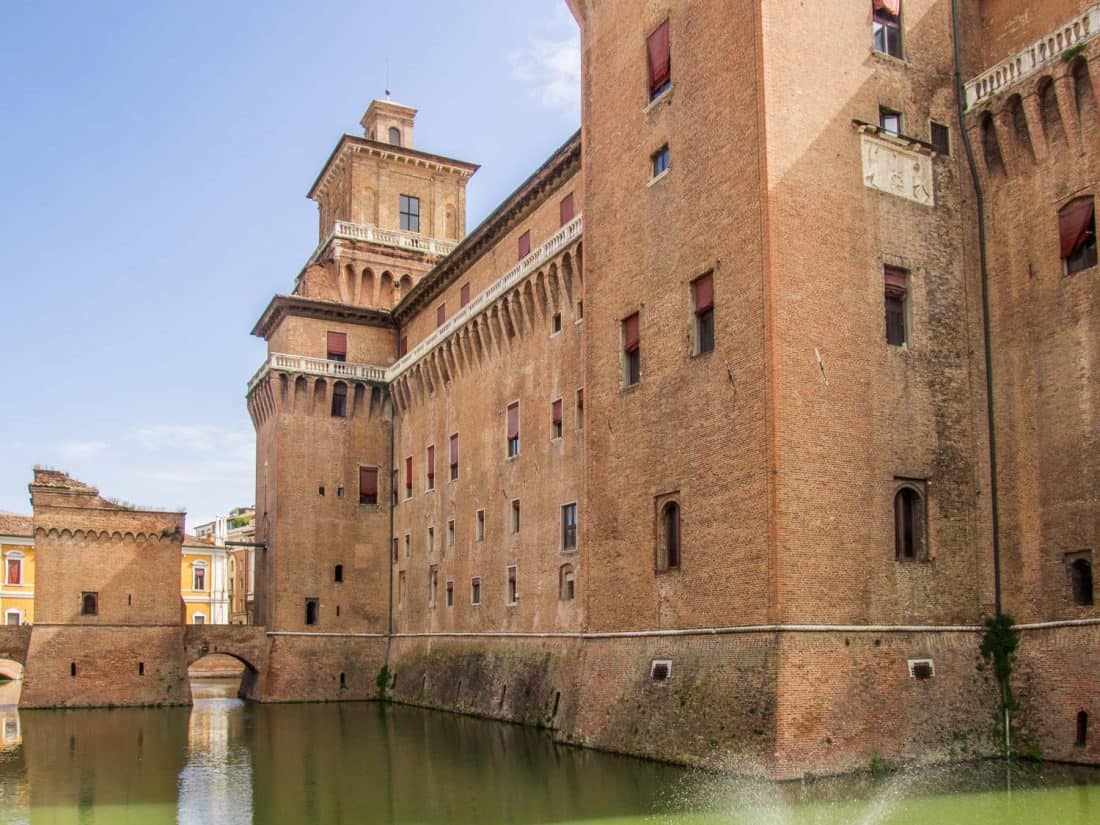 Ferrara is also worth a day trip to see the Estense castle surrounded by a green moat.
Honestly, we preferred the outside to the inside, which was crowded with Italian school groups, but we did enjoy the views from the tower.
We had lunch at Osteria I Quattro Angeli with views of the castle and tried the local specialities cappellacci di zucca (pumpkin stuffed pasta) with butter and sage and torta tenerina (chocolate cake).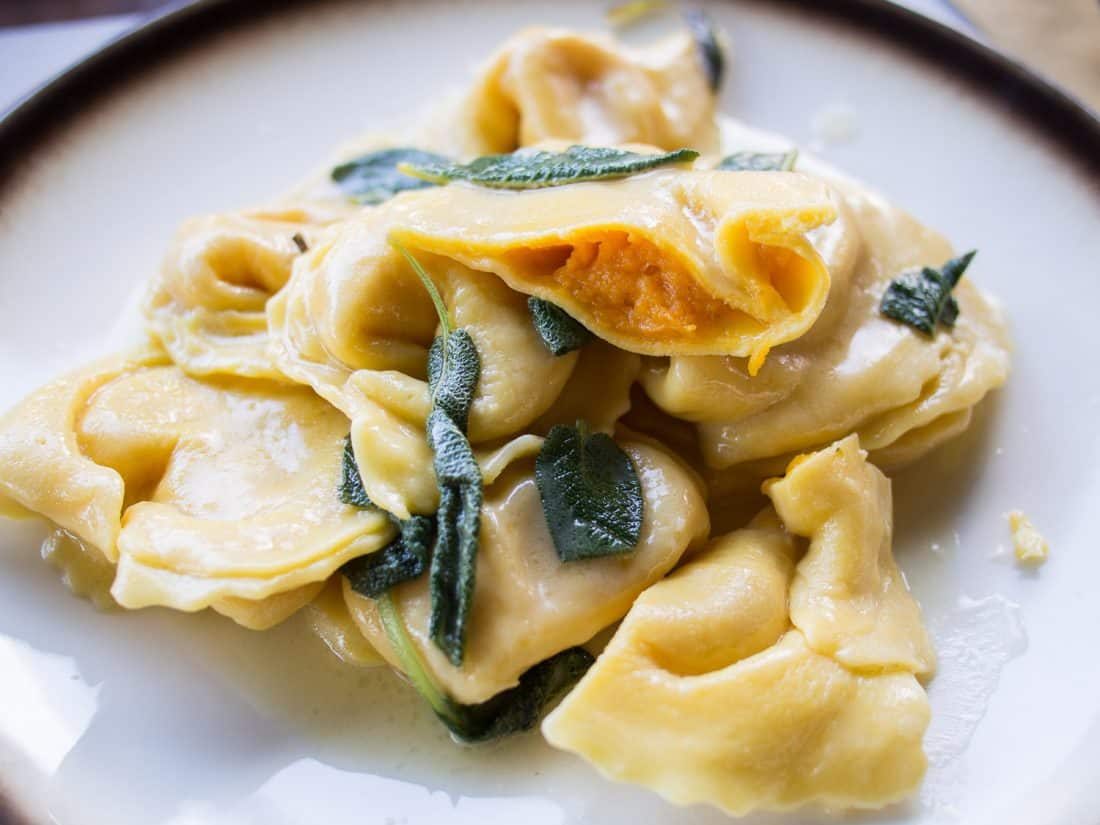 More Things to Do in Bologna
On our list for next time are these other Bologna activities:
Hands-On Home Cooking Class – Learn to make tagliatelle and tortelloni.
Gelato Museum – It's a 30-minute drive out of the city, but it's ideal for foodies who want to learn more about gelato and even try making their own. Reservations are essential.
Visit a Vineyard – Take a tour of a family owned winery.
Explore Bologna by Bike – A Guided E-bike tour that includes food tastings.
Discover Bologna's Best Street Art – Find the best murals with added fun on an E-Scooter.

Torre Pren

diparte – Another tower to climb with a fantastic view. You can even spend the night in the one-room

B&B here.

Basilica di San Petronio – For €5 you can access the panoramic terrace on top of the basilica for beautiful views. Check the timetable on their website as it's not open all day.
MAMbo – Bologna's modern art museum.
Pinacoteca Nazionale di Bologna – Bologna's largest traditional art museum.
Arte Fiera – Italy's longest running Contemporary Art Fair runs annually every February.
Ferrari Museum – A pilgrimage for the car enthusiast in your life.
FICO Eataly World – A foodie theme park.
Certosa di Bologna – A huge and beautiful cemetery just outside the city.
Where to Eat in Bologna
You don't need a list of the best restaurants in Bologna—you really can go almost anywhere and get a fantastic meal.
That said, here are our favourites, all of which have vegetarian options (most places do but the choice can be limited).
If you're not familiar with restaurant etiquette in Italy, see our guide to eating in Italy.
Sfoglia Rina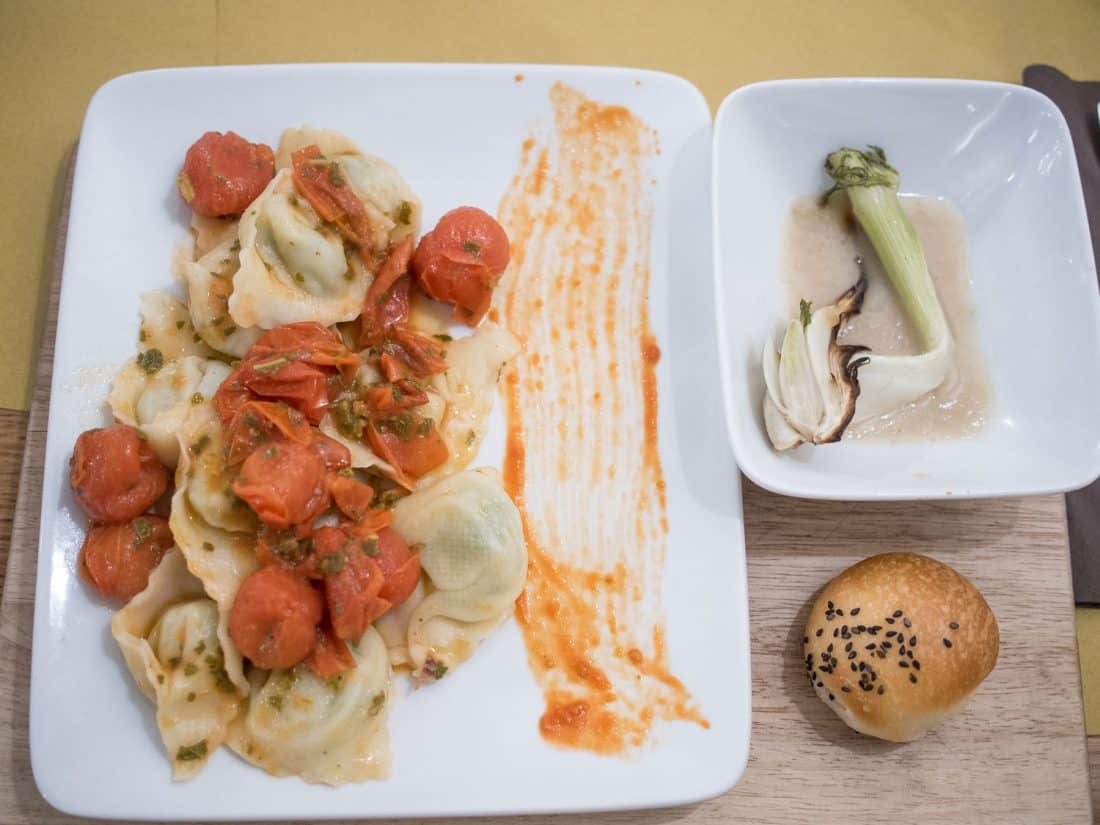 I love Sfoglia Rina for a number of reasons. They make their own fresh pasta and only serve that and desserts, so it's ideal if you don't want an epic multi-course meal.
They open all day until 9pm so you can eat outside the usual strict Italian mealtimes. They also don't have a cover charge and water is free (very rare in Italy).
The restaurant is housed in a cool and modern space with unusual lampshades and tables decorated with pots of fresh herbs.
Despite this it's a casual place—the menu is on a blackboard and you write your table number and order on the notepad and give it to the waiter then pay afterwards at the till.
Most importantly, of course, the food is delicious. The menu includes traditional Bolognese dishes (tortelloni is the only vegetarian one) and a changing weekly menu of more creative plates of pasta.
There were four vegetarian options and one vegan (marked on the menu) when we visited.
We had the vegan potato capellati with a cherry tomato and sage sauce and black ravioli stuffed with peas and buffalo mozzarella mousse on the side.
Both were wonderful and it was refreshing to have a break from tortelloni which was the only thing we could eat in many places. All dishes are served with a side of vegetables and a roll.
Our torta tenerina chocolate cake was excellent and even better than the one we tried in its home town Ferrara.
The only downside of Sfoglia Rina is that it's popular, so get there early for lunch or go outside the usual 12.30–2.30pm lunch hours.
We got in without waiting at 12 pm on a Monday but an hour later it was packed, and at the same time on a Sunday, there was a 40-minute wait.
Details: Via Castiglione 5/B. Open daily 9am – 9pm.
Website: Sfoglia Rina
Oltre.
Oltre is a mix of fancy and hipster and serves traditional Bolognese food with a modern twist.
The menu is quite small and there were no vegetarian mains, but when we asked, the waiter offered us the classic tortelloni filled with ricotta in a butter and sage sauce "fuori menu" (off the menu).
We shared a creamy potato and leek soup to start then both had the tortelloni and made yummy noises with every bite—it was the best pasta in Bologna that we had on our trip.
The chocolate fondant dessert was also wonderful.
It was our most expensive meal in Bologna (€63 for two), but it's worth it for a more upmarket experience and would be even better for meat-eaters.
Details: Via Majani 1/A. Open Thurs – Fri 7.30pm – 11pm, Sat – Mon 12.30pm – 2.30pm/ 7.30pm – 11pm. Closed Tuesdays and Wednesdays.
Website: Oltre.
Trattoria del Rosso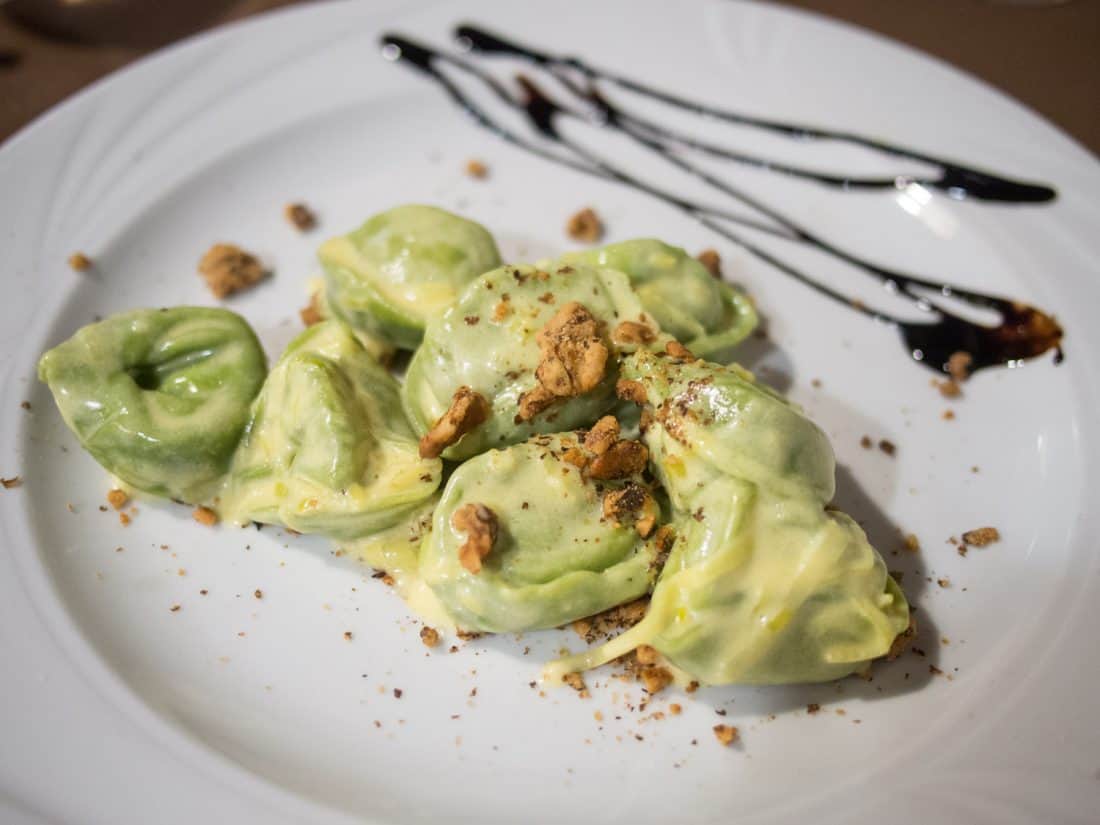 Trattoria del Rosso is a simple, traditional restaurant that was recommended by our Airbnb host.
They had four vegetarian mains on the menu as well as two meat-free specials.
We had the gnocchi with vegetables—the gnocchi was good but the sauce a little dull—and the special green tortelloni with a walnut and saffron sauce, which was tasty but we couldn't help comparing it to our perfect (but much more expensive) tortelloni at Oltre.
Overall it's nothing special but good for a casual, affordable meal (€41 for two at the time of our visit).
Details: Via Augusto Righi, 30. Open Mon – Sat 12pm – 3pm/ 7pm – 10pm and Sun 12pm – 3pm.
Website: Trattoria del Rosso
Ca'Pelletti
We ended up going to Ca'Pelletti twice during our week in Bologna for a break from the heavier traditional fare.
It's a casual cafe that serves food all afternoon so you don't have to wait until 7.30 pm for dinner.
There's no cover charge so it's affordable (€24 for two) and you pay at the till so it's quicker than most restaurants.
They are lots of vegetarian options including homemade pasta, soup, salads, and piadina. I liked the salads (you can choose your ingredients) and Simon's gnocchi was excellent.
Details: Via Zamboni, 4 and another branch on Via Altabella, 15 C/D. Open Mon – Fri 8am – 11pm and Sat – Sun 9am – 11pm.
Website: Ca'Pelletti
Cheap Eats in Bologna
Ca'Pelletti was the cheapest sit-down meal we had and the following are faster food options with a few seats or you can get takeaway.
Mercato dell Erbe
There is loads of choice in this wonderful market. We liked the piadina (see below) and pizza slices at Forno.
There's also a vegetarian stall at lunchtime, ironically in the old butcher shop (look for the sign Ex Macelleria) that does inexpensive pasta and vegetable dishes. Sadly we ran out of time and didn't get to try it.
Details: Via Ugo Bassi 23. Food stalls open Mon – Sat 12pm – 2.30pm/ 7pm – Midnight and Sun 11am – 3pm. Vendors hours may vary.
Website: Mercato dell Erbe
Sfarina
Piadina, flatbread sandwiches, are typically made with lard, but you can ask for a vegetarian version made with olive oil at Sfarina in the Mercato dell Erbe.
They have wholemeal and white dough options plus a few vegetarian fillings including a parmigiana with grilled aubergine, tomato sauce, and mozzarella.
La Tua Piadina in the market also has vegetarian piadina, but we didn't have time to try it.
Details: Mercato delle Erbe – Box 24. Open Mon – Sat 10am – 11pm. Closed Sundays.
Website: Sfarina
O Fiore Mio
O Fiore Mio serves tasty pizza slices with a range of toppings. You choose the amount you want and pay by weight. Ideal for a quick meal.
Details: Piazza Malpighi, 8e. Open daily 10am – 10pm.
Website: O Fiore Mio
Cremeria Santo Stefano
You have to eat gelato in Bologna—it's exceptionally good and the best place to try it is Cremeria Santo Stefano.
They won an award for the best gelato in Italy and the pistachio was the best I've ever had (and I've eaten a lot of pistachio gelato in Italy!).
Simon was a fan of the caffe bianco, and the chocolate fondant is incredibly rich.
Details: Via Santo Stefano, 70/C. Open Tues – Sun 11am – 10pm. Closed Mondays.
Website: Cremeria Santo Stefano
Sorbetteria di Castiglione
Sorbetteria di Castiglione is also a contender for the best gelato in Bologna.
They have a few unusual flavours—I loved the Dolce Emma with ricotta, caramelized figs, honey, and lemon. I've tried a similar flavour in a few places since but nothing comes close.
Details: Via Castiglione 44d. Open daily 11.30am -Midnight.
Website: Sorbetteria di Castiglione
Where to Stay in Bologna
The best area to stay in Bologna is within the city walls so you'll be within walking distance of everything.
Anywhere within a 10-minute walk of Piazza Maggiore would be ideal. If you are planning to do some day trips, it's also worth checking the distance from the train station.
Apartment
We usually rent apartments in Italy as they are more affordable than hotels. We like having more space and a kitchen for healthier breakfasts than the usual croissant.
If you are on a budget, there are some cheap holiday rentals in the Bolognina neighbourhood north of the station, but I'm really glad we chose somewhere in the historic centre.
The apartment we stayed in is no longer available. It had the perfect location opposite the Mercato dell Erbe, just a five-minute walk from Piazza Maggiore and a 15-minute walk from the train station. We walked everywhere.
A few options in a similar location include:
Apartment in the centre of Bologna – An elegant two bedroom with three bathrooms and a small patio that can sleep up to seven people.
The Red Door – A quiet, two-bedroom apartment with modern decor, a spacious open plan kitchen/living room, and large terrace for al fresco dining.
Wonderful attic with two terraces – This two-storey apartment has three bedrooms and two terraces with views, and it's just a one-minute walk from Piazza Maggiore. You can't get more central.
Search for more apartments in Bologna here.
Bologna Hotels
If you'd rather stay in a hotel, I kept seeing Hotel Centrale recommended in my research for its central location near Piazza Maggiore and historic building.
For a bit more luxury, consider Hotel Corona d'Oro or the extravagant five-star Grand Hotel Majestic "Gia' Baglioni".
Click here to search for more hotels in Bologna.
How Long to Spend in Bologna?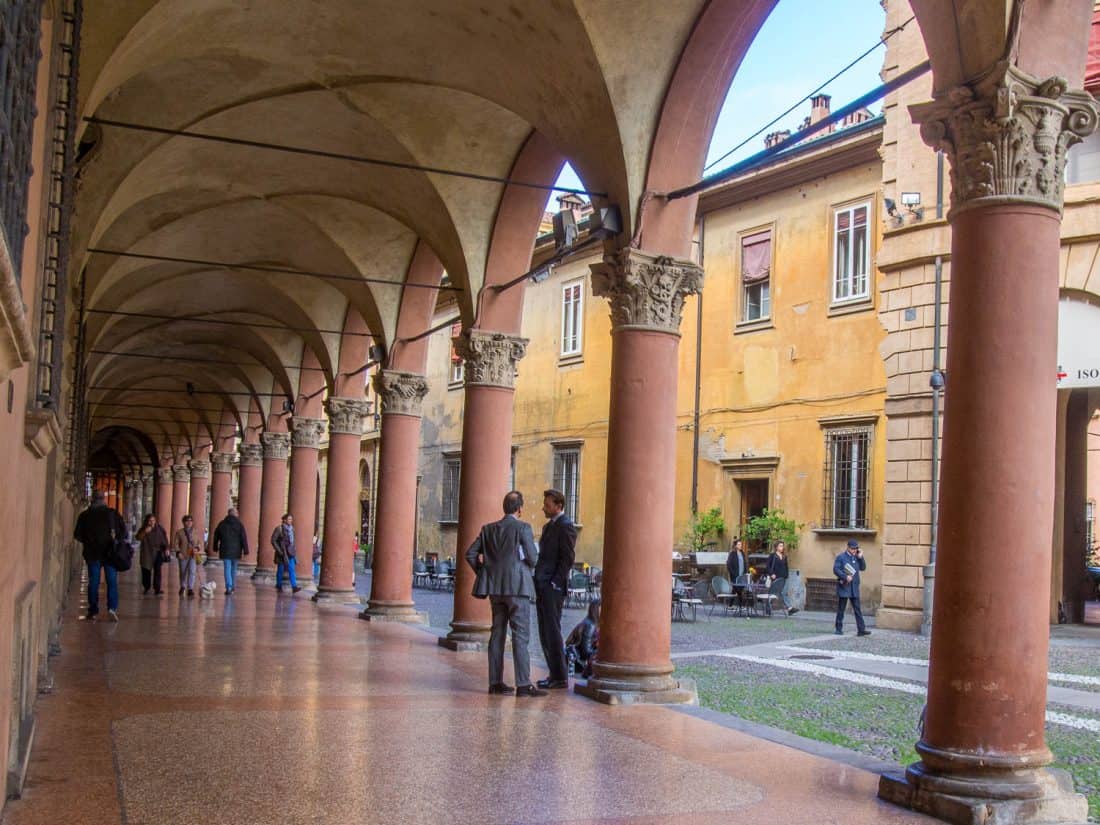 If you only have one day in Bologna, you can easily see all the major sights in the historic centre including everything in the Historic Things to Do in Bologna section above and still have time for a delicious meal and gelato.
The city does reward a longer stay, though. Bologna is becoming a popular weekend destination from the UK and other cities in Europe.
With two or three days you could see all the historic attractions plus have time for a food tour, the walk up to San Luca, shopping, and many more delicious meals.
Ideally, you'd spend a week in Bologna, like we did, to have time to take day trips to the surrounding area.
Getting to Bologna
Bologna Airport is 6km north of the city and is served by budget airlines Ryanair and Easyjet. You could also fly to Florence or Parma. Search on Kiwi for cheap flights.
The best way to travel around Italy is by train. You can check train times to Bologna on the Trenitalia website. You need to use Italian place names (i.e Torino not Turin).
Prices for the Freccia fast trains are much lower if you book online a few months in advance. Here are some journey times for the fastest trains:
Florence to Bologna – 35 minutes
Venice to Bologna – 1.5 hours
Rome to Bologna – 2 hours
Milan to Bologna – 1 hour
We travelled from Paris to Bologna by train with a change of trains (and enough time for lunch) at Turin. The entire journey took about nine hours and was comfortable and scenic.
Read our guide to traveling between London and Italy by train for more details.
In Bologna we got around everywhere on foot.
Bologna Italy Map
Is Bologna Worth Visiting?
Bologna is absolutely worth visiting, and I hope you consider a visit to Bologna on your next trip to Italy.
It can easily be combined with major destinations like Florence and Venice and will give you a break from the tourist crowds as well as an opportunity to try all that delicious food.
More Italy Posts
Rome
Puglia
Other Regions
If you enjoyed this post, pin it for later!