This page contains affiliate links. Please read our disclosure for more info.
The Salento peninsula, a subregion of Puglia in southern Italy, is known for its white sandy beaches and calm turquoise sea.
It's a popular summer destination for Italians, but foreign visitors often overlook it. That's a shame as aside from the beautiful coastline, Salento features untouristy historic towns, delicious food, and fascinating local culture with many festivals.
It's also home to Lecce, a city of golden baroque architecture that's one of the most stunning in Italy.
We've visited Salento many times including most recently for a month-long summer stay.
In this detailed Salento Italy travel guide, we share our tips for the best towns, beaches, activities, and food, plus where to stay and how to get there.
At the end of the post, you'll find a map with all these Salento recommendations.
Contents
Where is Salento Italy?
Salento is on the Salentine Peninsula (Penisola Salentina) in the southern Italian region of Puglia (also known as Apulia). It's the tip of the heel of Italy's boot.
The biggest city in Salento is Lecce, which is a 4.5-hour drive southeast of Naples and 6.5 hours from Rome. Bari in Puglia is a two-hour drive north.
From Lecce, it's an extra hour's drive to Santa Maria di Leuca, the southernmost tip of Salento (and Puglia).
Towards the end of this post, I share a Salento Italy map and details of how to get there.
Best Towns on the Salento Peninsula
The top three towns or cities to visit in the Salento region are Lecce (inland near the top), Otranto (on the Adriatic Coast), and Gallipoli (on the Ionian Coast).
But there are many other beautiful small towns to visit. Especially inland, you'll often find historic streets, ancient castles, excellent restaurants, and very few tourists.
Lecce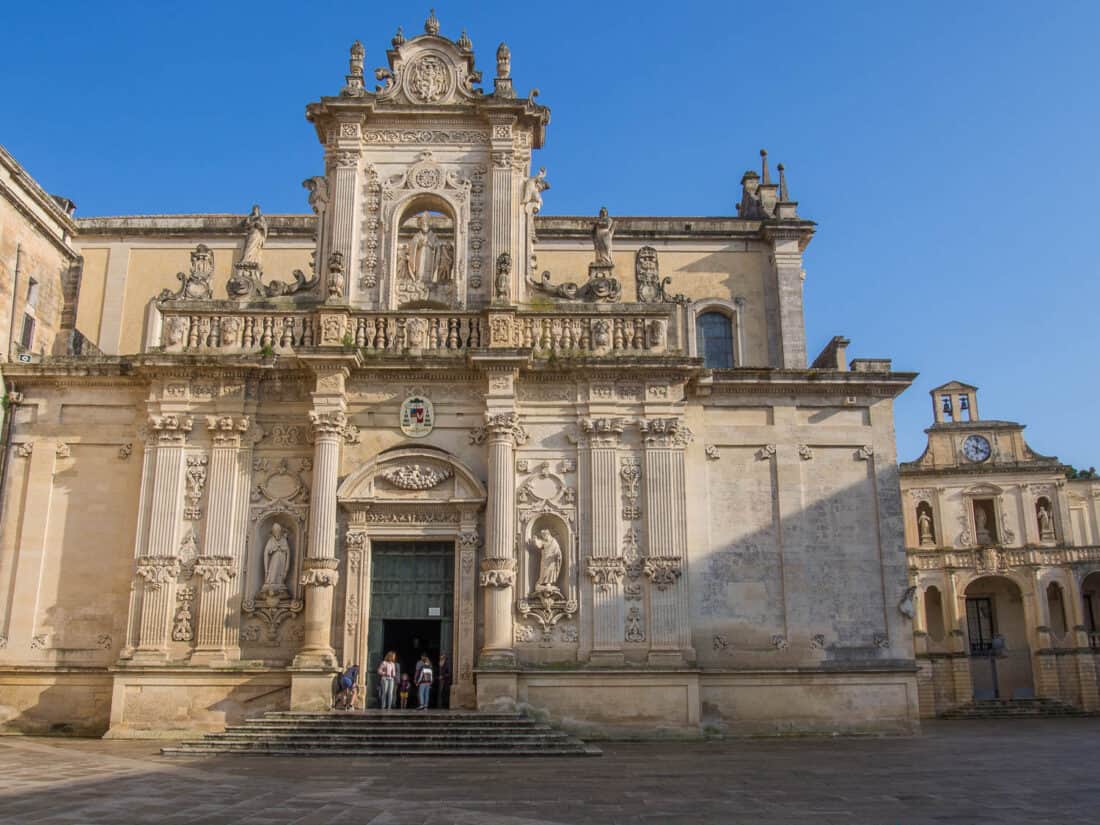 Lecce is a Salento must see. This small university city is nicknamed "The Florence of the South" due to its beautiful baroque architecture.
It's well worth spending a day or two away from the coast to explore the golden, extravagantly carved churches, picturesque piazzas, and excellent bars and restaurants.
On our last visit to Lecce, we spent a month in the city and loved wandering the hidden corners of the historic centre.
The streets come alive in the evenings when locals of all ages take a pre or post-dinner passeggiata (stroll).
See our Lecce travel guide for lots more tips.
Otranto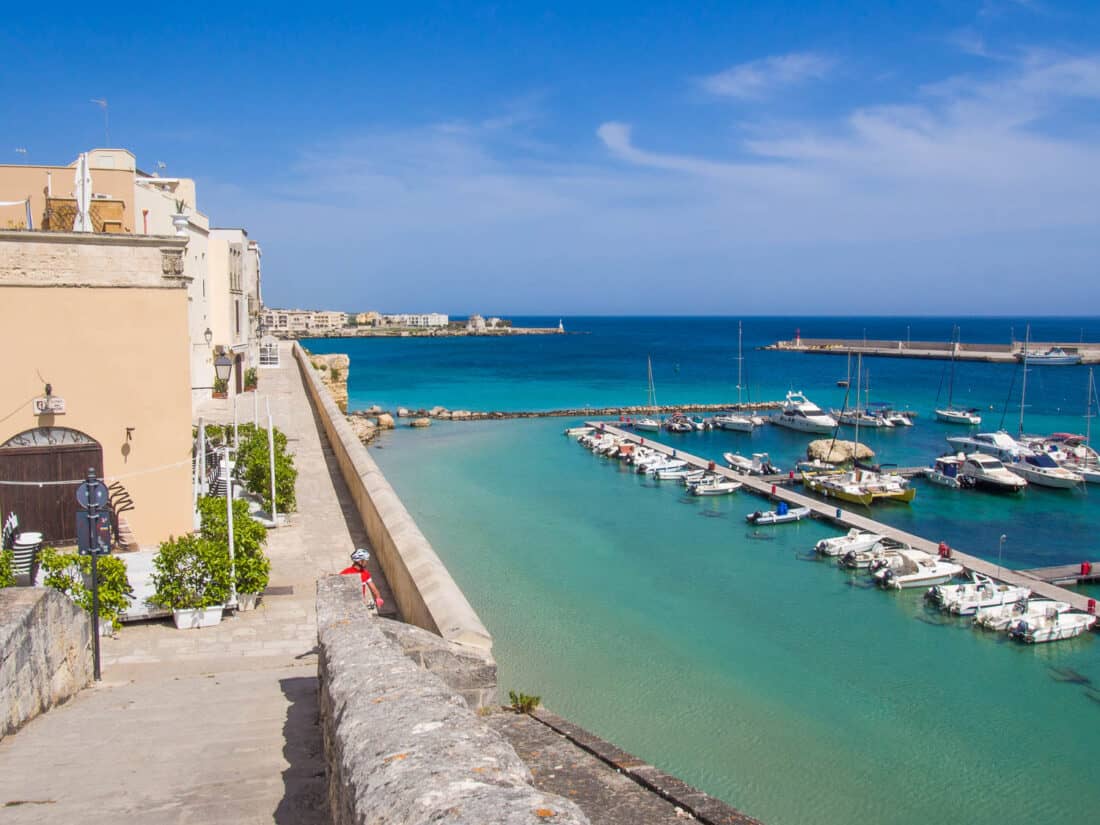 Otranto has a stunning location on the Adriatic Coast. You can spend the morning wandering the whitewashed streets and the afternoon relaxing on its small but pretty beach and swimming in the turquoise water.
The main attraction is Otranto Cathedral with its huge mosaic floor that dates back to the 12th century.
The chapel features a disturbing sight—the skulls of 800 martyrs who resisted the Turkish invasion in 1480 that destroyed much of the city.
North of Otranto are the beautiful Torre dell'Orso beach and the Grotta della Poesia (Cave of Poetry) natural swimming hole.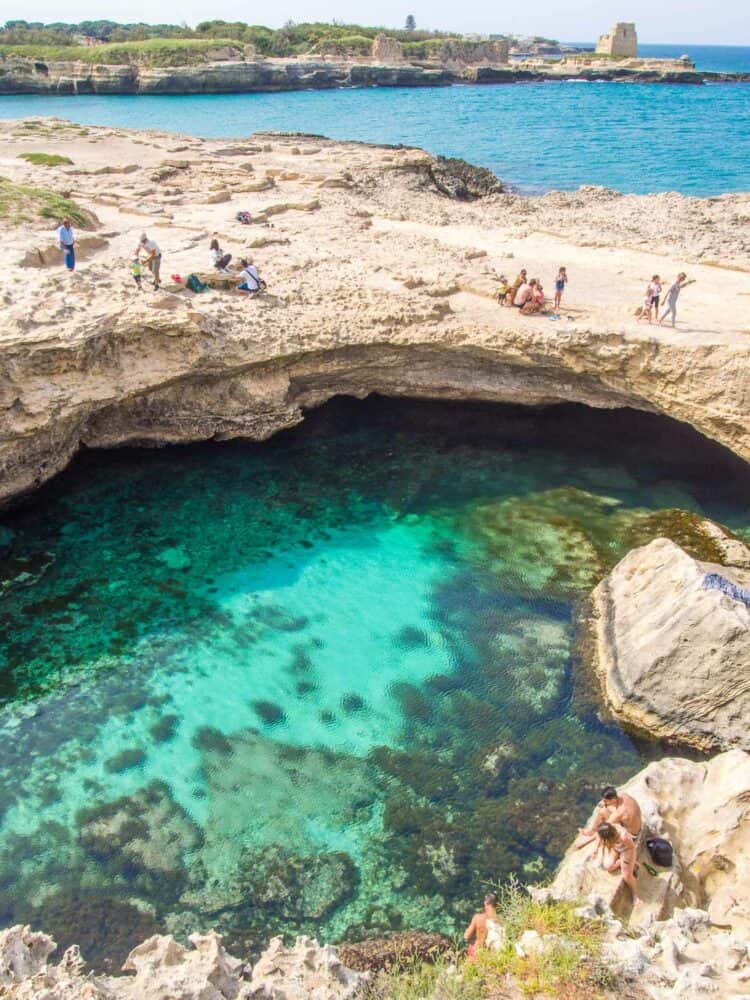 Gallipoli
Gallipoli is the other major coastal town in the Salento region. It's on the opposite side of the peninsula from Otranto overlooking the Ionian Sea.
The highlight is the old town on an island that's connected to the mainland by a causeway. Wander the narrow streets past hidden churches or stroll along the city walls for sea views.
The walls are the perfect place for a drink at sunset. We enjoyed aperitivo at Trattoria Scoglio delle Sirene with a wonderful view.
One of the most interesting sights in Gallipoli is Frantoio Ipogeo in Granafei Palace, an underground olive press that was first used in 1600.
You can see the original equipment used for grinding and pressing the olives to make olive oil for lamps. Working in this dark, damp cave along with blindfolded donkeys who worked the olive mill was a miserable experience.
Gallipoli has a lovely city beach and is a short drive from some of the best beaches in Salento.
This is an extremely popular destination with Italians in summer and we found the crowds on our August evening stroll here rather overwhelming. It's much more pleasant outside high season.
Castro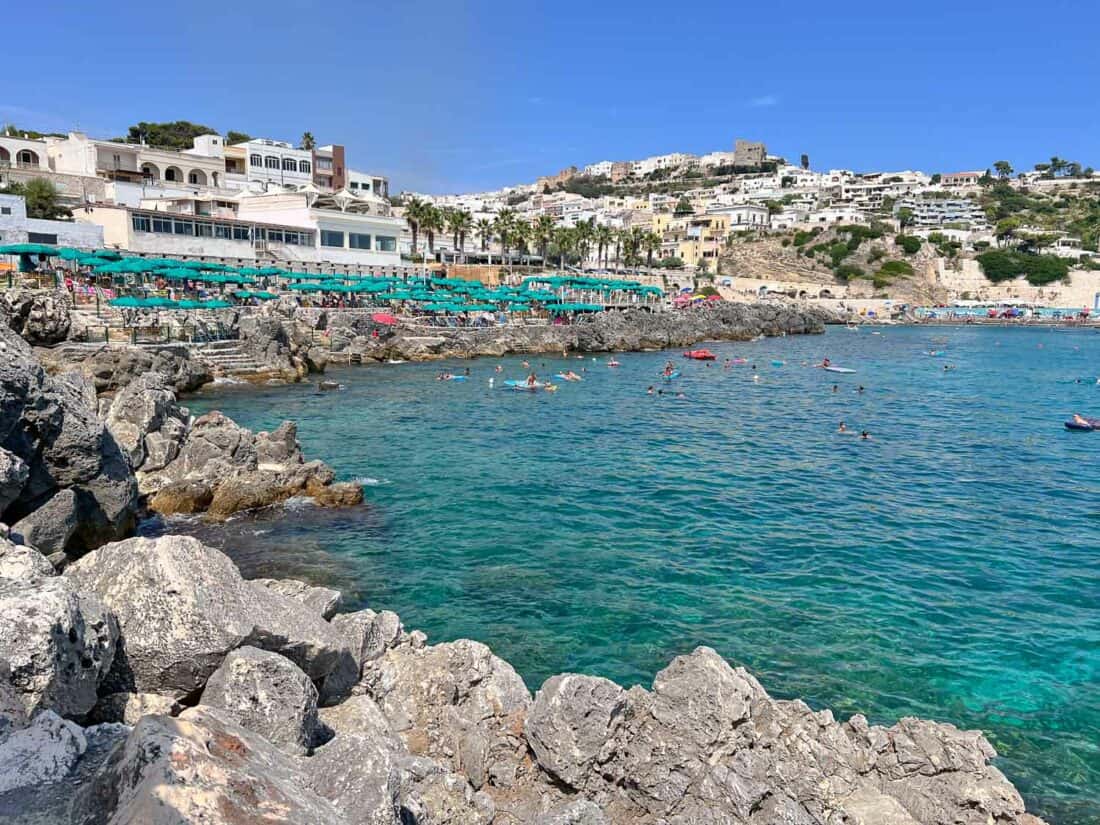 Castro is less visited than Otranto or Gallipoli and is my new favourite coastal town in Salento. Even during the busiest week of the year (mid-August), Castro felt lively rather than unpleasantly crowded.
There are two parts to this small town. Castro Marina is on the bay with gorgeously clear water. There's no sandy beach but lidos rent sunbeds on the rocks. You can take boat trips to explore nearby caves.
Up the hill is Castro old town (accessed by a shuttle train or steep walk), one of the prettiest small towns in Salento. There's a castle and a clifftop piazza overlooking the sea.
The wine bar Delizie in Contea is a wonderful place for a drink and platter of regional delights.
Castro is about 30 minutes south of Otranto on the Adriatic Coast and I highly recommend continuing the coastal drive down to Santa Maria di Leuca (see things to do below).
See our Castro Italy travel guide for more tips.
Santa Cesarea Terme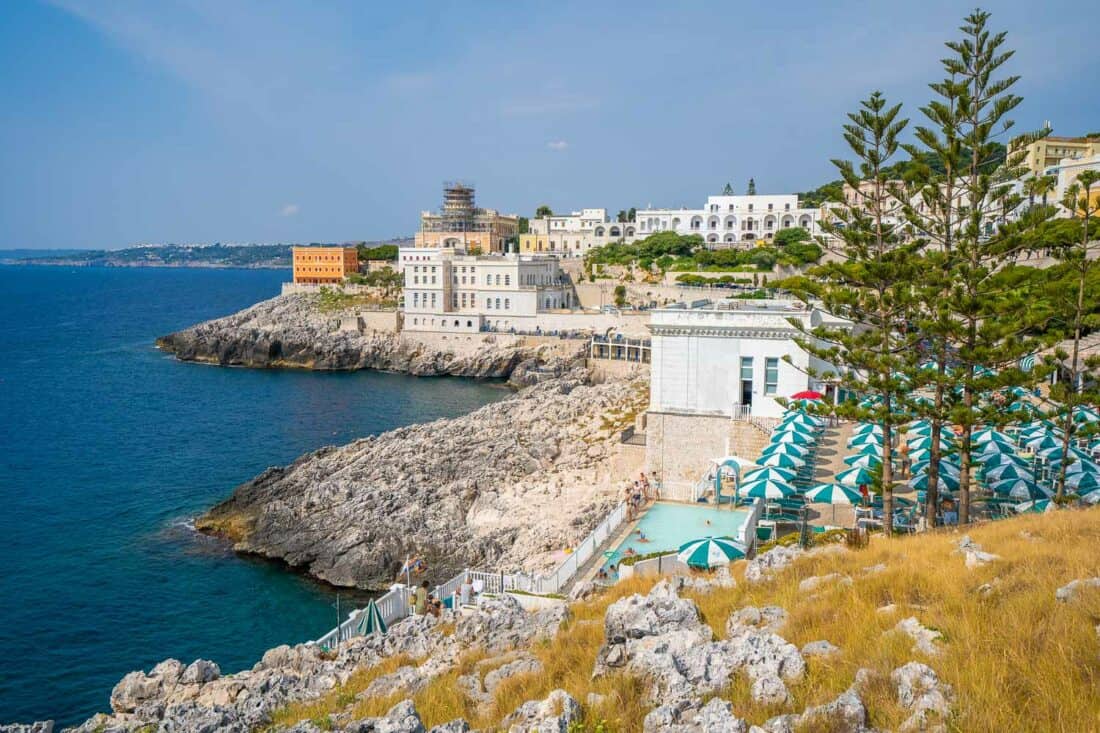 10 minutes north of Castro is another lovely coastal town perched on cliffs overlooking the rocky coastline. Santa Cesarea Terme is most famous for its thermal baths.
In the 19th century, it was a popular spa resort with the upper classes from Lecce who built ornate, colourful villas here. Two of the most iconic are the Moorish-style Palazzo Sticchi and Villa Raffaela with its Disney castle vibe.
We enjoyed walking along the seafront but didn't fancy soaking in the hot waters in the height of summer. Terme di Santa Cesarea has a thermal sulphur pool and access to caves that feature 30ºC sulphurous water. Spa treatments are also available.
Santa Maria di Leuca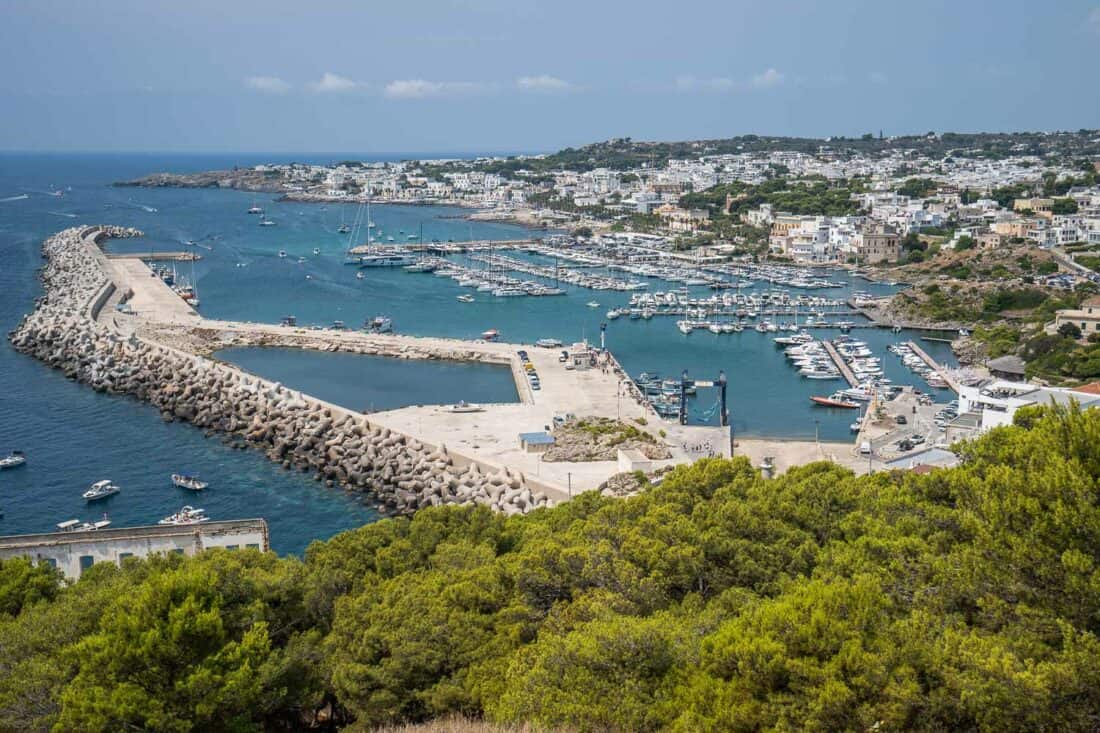 At the southernmost tip of Salento is Santa Maria di Leuca (also referred to as Leuca). For us, the highlight is the coastal drive here from Castro.
The pleasant seaside town has a palm-tree-lined lungomare (promenade) for strolling, a large marina, and colourful Art Nouveau villas.
We didn't find it quite as scenic as the other coastal towns, but it's one of the best places to visit in Salento for a boat trip. We rented our own boat (see below).
The most popular sight is the lighthouse next to the basilica, Santa Maria de Finibus Terrae.
Galatina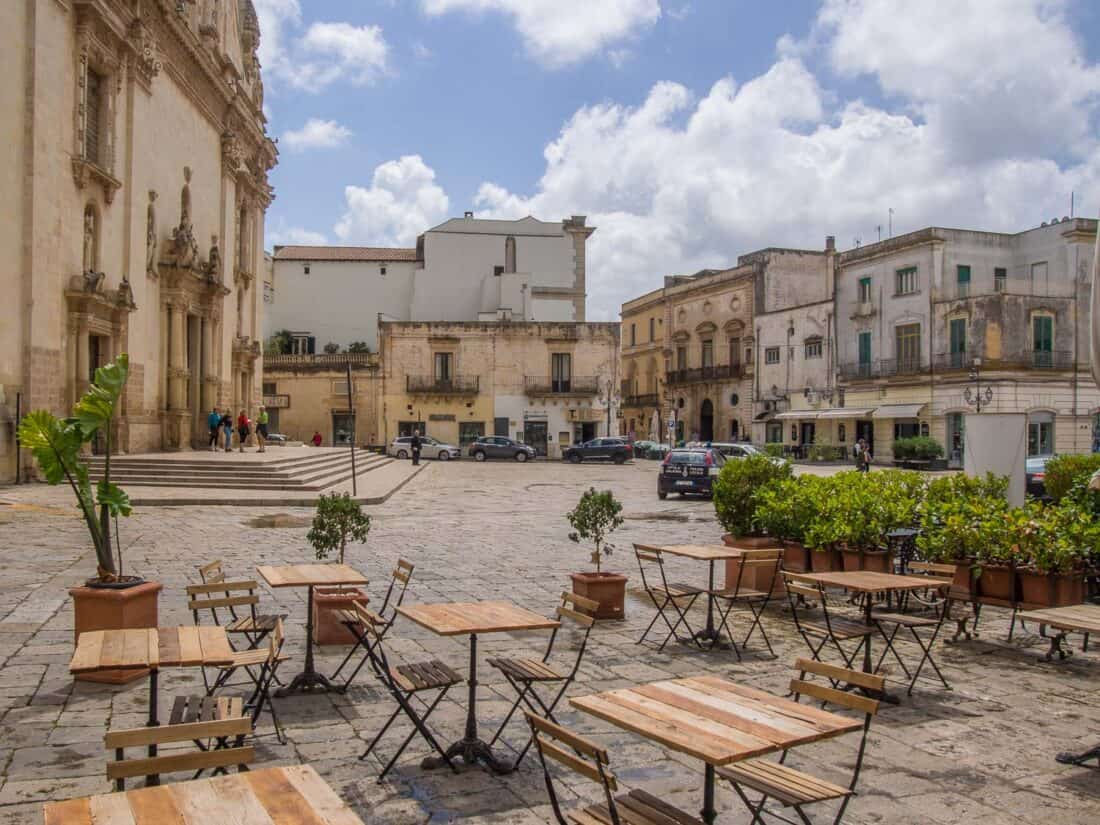 25 minutes south of Lecce is Galatina, one of my favourite untouristy inland towns.
The lovely historic centre features golden baroque buildings like in Lecce and is a pleasure to wander.
The main attraction is the Romanesque and Gothic church, Basilica di Santa Caterina d'Alessandria, with its frescoed walls and ceiling dating back to the 15th century.
The famous Salentine dessert, the pasticciotto (pastry filled with cream) was invented here. You can try it at Pasticceria Andrea Ascalone, but note that it does contain lard. (Vegan versions are available at the Martinucci chain in other parts of the Salento.)
Nardò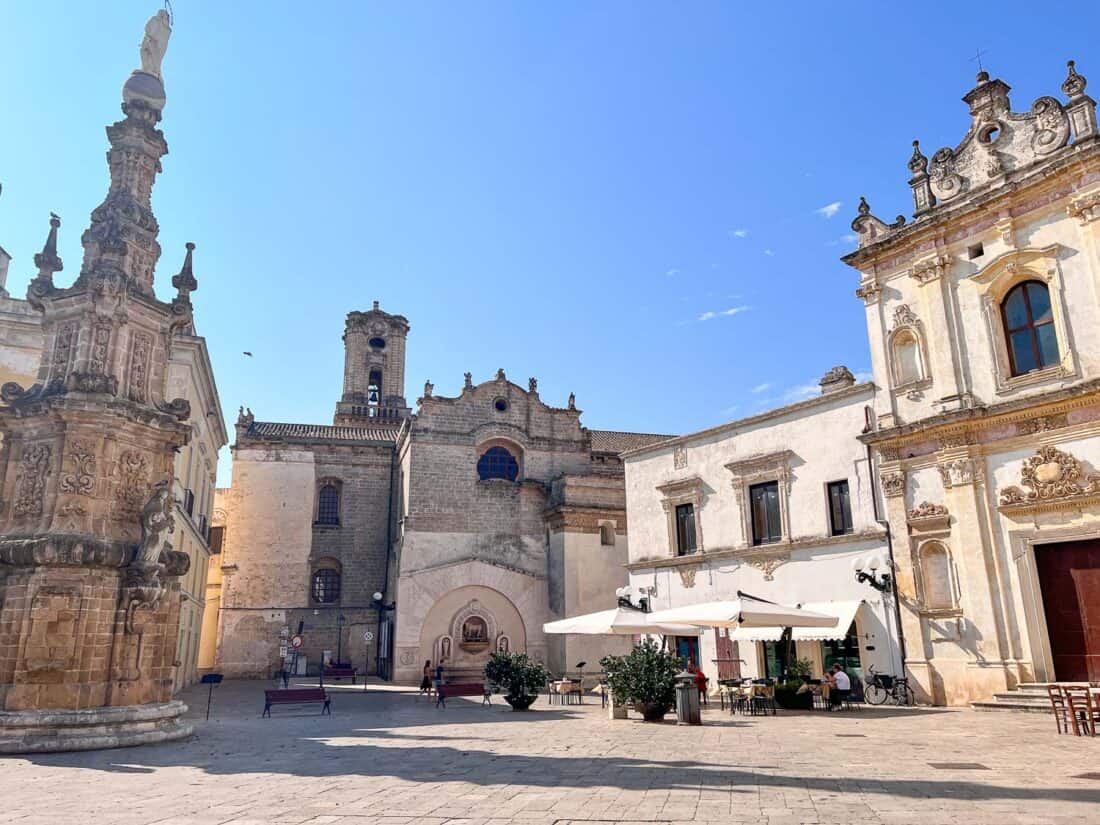 Nardò is another less visited interior town and is the second largest in Salento, after Lecce.
We came here after visiting Porto Selvaggio beach, just 10 minutes away. It was very quiet on a summer morning, but I imagine it's livelier in the evenings.
As always, the centro storico is where you want to head. The main square, Piazza Salandra, features an impressive column, the Fontana del Toro (Fountain of the Bull) and the Lecce-style baroque church, Chiesa di San Domenico.
Corigliano d'Otranto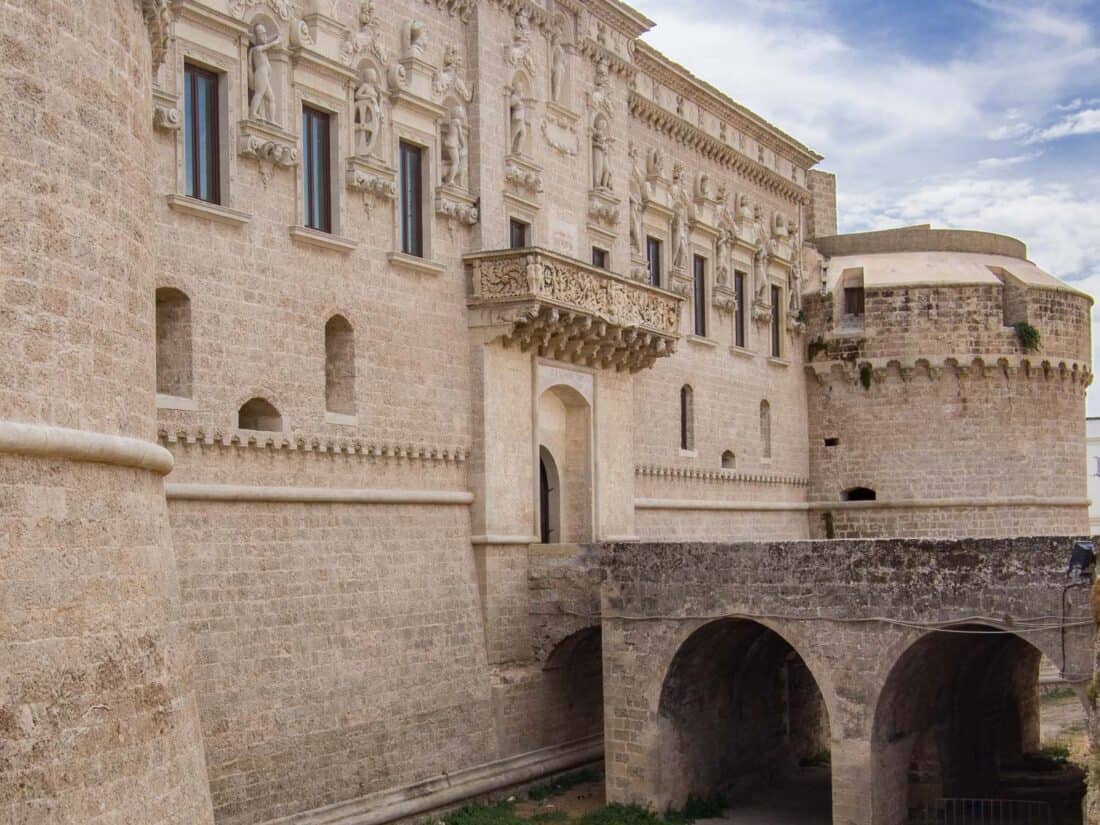 Corigliano d'Otranto is one of the 11 towns of the Grecia Salentina. This small area in the heart of the Salento peninsula retains its Greek heritage from the Byzantine period including the Griko dialect.
The highlight of this quiet town is the medieval Castello De Monti. It's one of the most impressive castles in the area and you'll likely have it to yourself.
We visited while staying at nearby Masseria Sant'Angelo, a working farm. It's a great place to learn about the traditions of the area and hear the local pizzica folk music.
Felline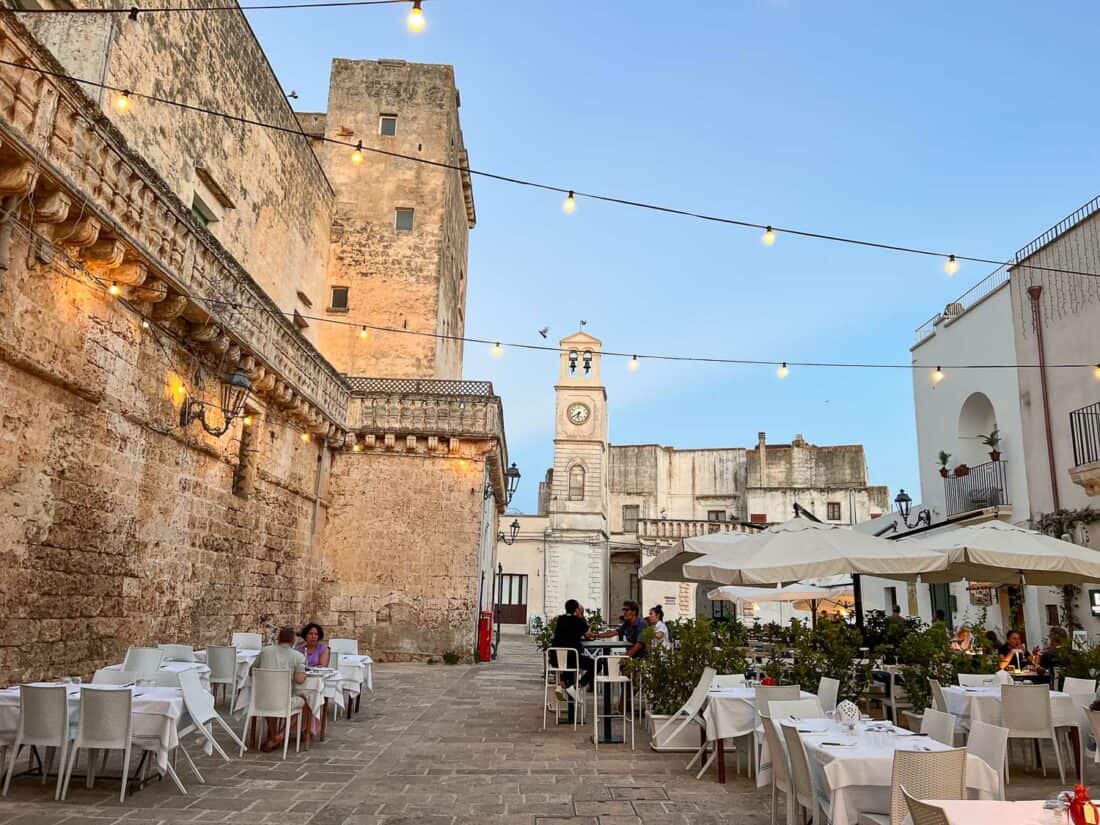 Another charming, off-the-beaten-track village is Felline, 20 minutes south of Gallipoli.
We only found it because we were staying in a rural Airbnb nearby. It's a tiny place with a castle and the most beautiful piazza decorated with fairy lights.
There's not much to see during the day (except the nearby iContadini shop, see below), so come for dinner at one of the restaurants with outside seating.
Vite Colta, which is run by a local winemaker, is our favourite. Antico Monastero is the most popular restaurant and we loved the stuffed pepper starter. We enjoyed the pasta at Terra e Sale too.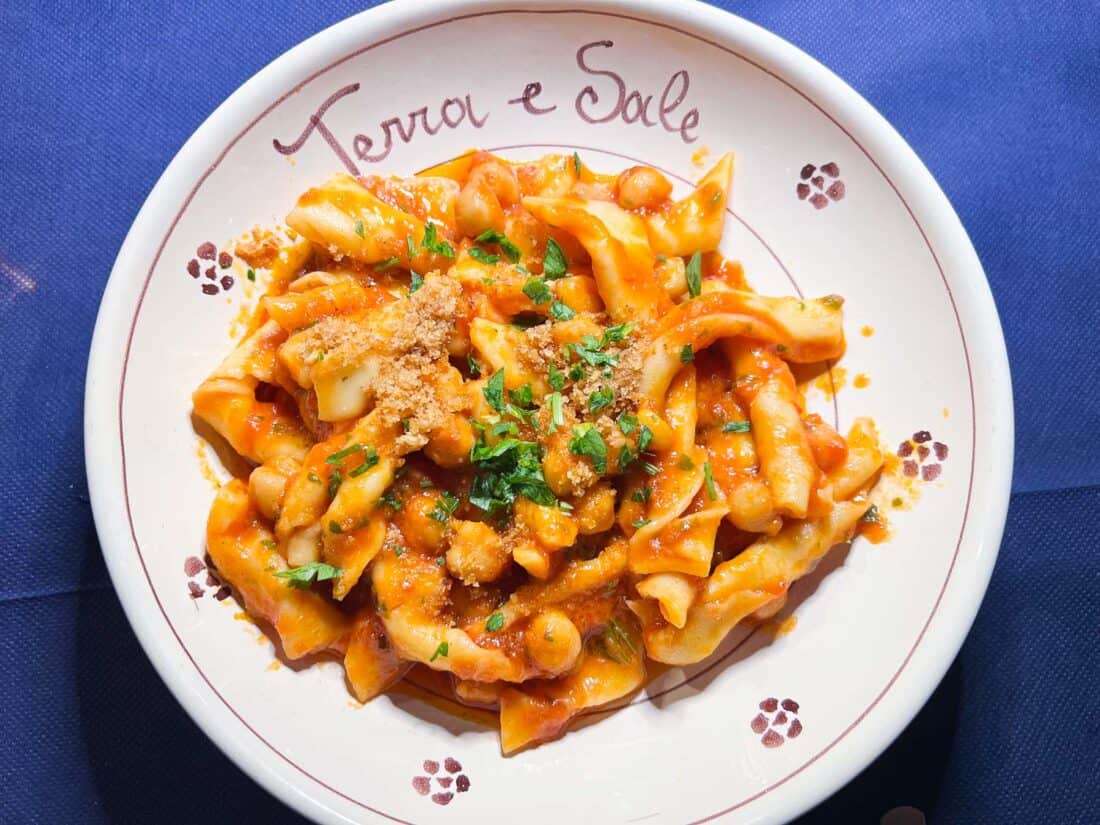 Best Beaches in Salento Puglia
The beaches are the main reason many people visit Salento. You are never far from one of the two coasts.
The Ionian Coast (north and south of Gallipoli) is flatter and features white or golden sand and clear turquoise sea.
The beaches here are often compared to the Caribbean or the Maldives, although that is overstating things.
The Adriatic Coast (from Santa Maria di Leuca and north to Otranto and beyond) has a different feel.
It's rockier and features more dramatic cliffs with charming towns overlooking the water. The sea is a deeper blue-green. There are a few sandy beaches, but most beach clubs are perched on the rocks.
Lidos (beach clubs with umbrella and sunbed rentals) dominate the Salento coast, but there's always a free section. Expect extreme crowds in July and especially August.
For more details on these beaches, as well as how to deal with lidos and summer crowds, see our detailed guide to the best Puglia beaches.
These are our picks for the best Salento beaches:
Torre San Giovanni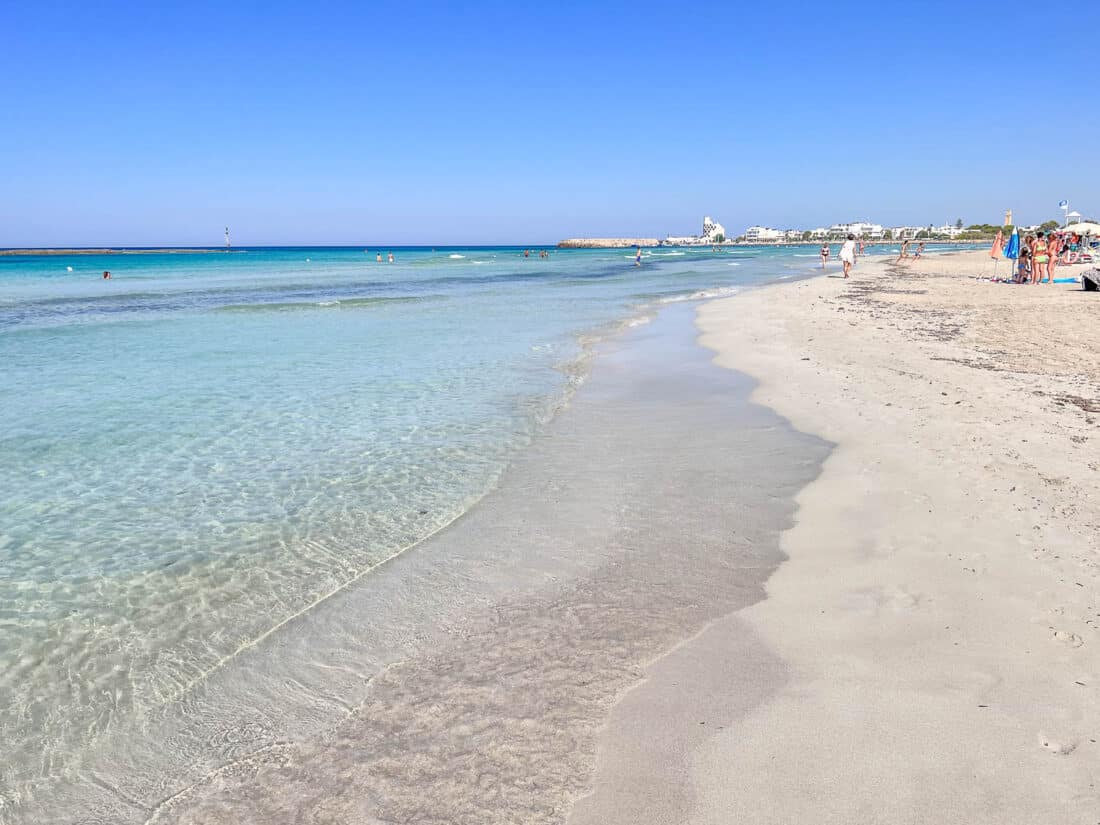 The Salento coast is full of modern beach towns like this. They lack pretty historic centres but offer the facilities you need for a beach holiday.
The beach in the centre of Torre San Giovanni is rocky but just south is a long stretch of soft white sand backed by dunes. The sea is very shallow and warm.
There's a long string of lidos with free sections in-between. We liked the free area just before Lido Isola Beach.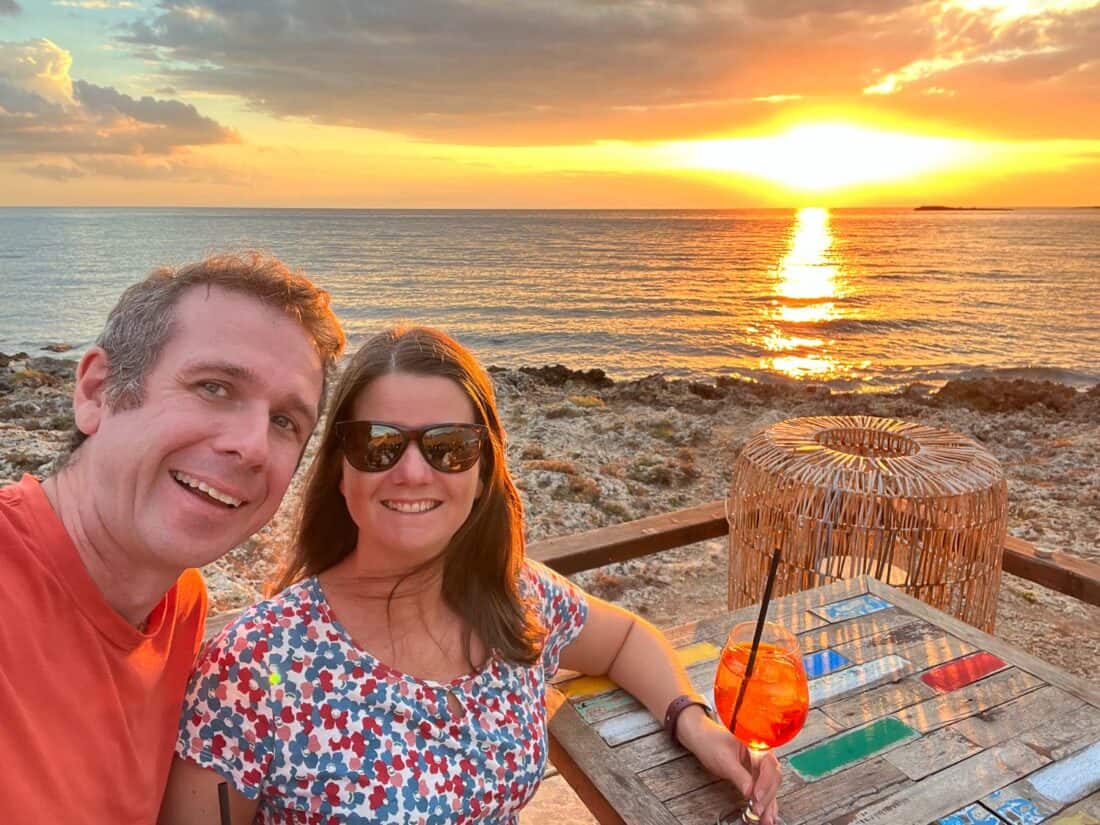 In the evenings, the promenade back in central Torre San Giovanni is a nice place for a stroll.
For sunset views, we liked aperitivo at Vespera Bar on the water and pizza and puccia (sandwiches) across the road at A Puccia Salentina.
Marina di Pescoluse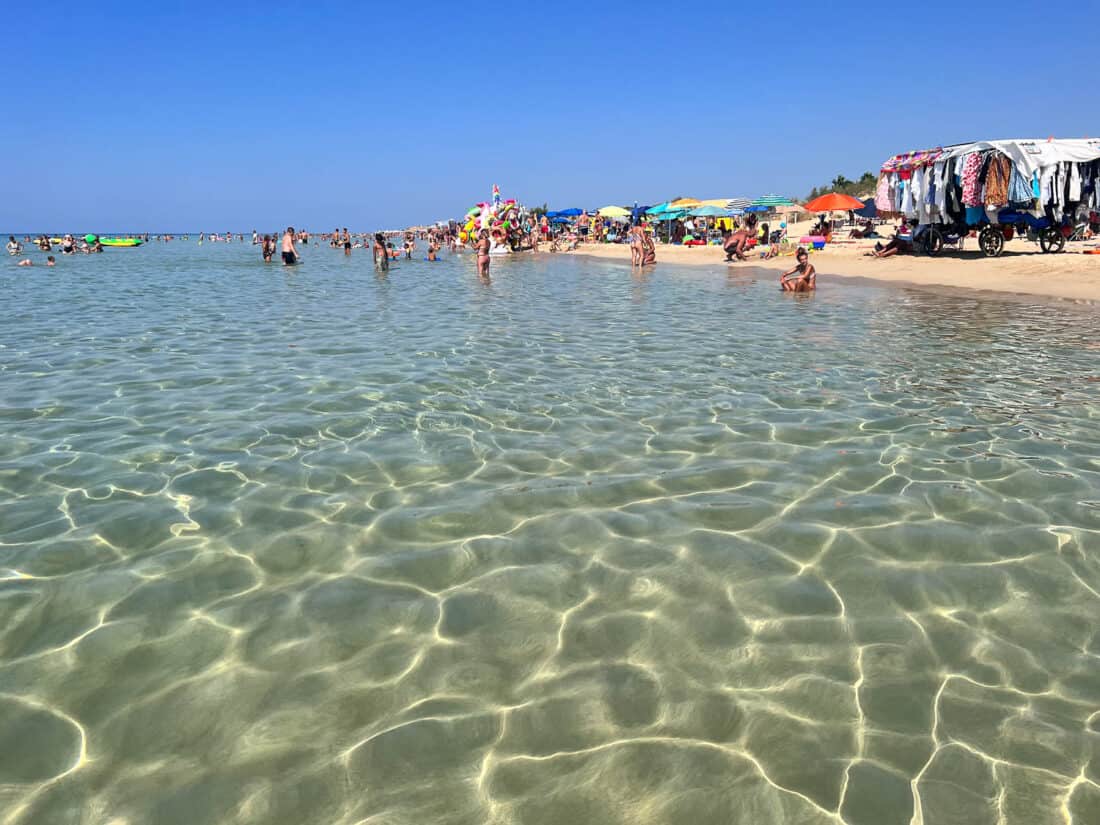 Further south on the Ionian Coast is Marina di Pescoluse, known as the Maldives of Salento because of its crystal clear water.
We've been to the Maldives and this does not compare, but it's still a beautiful Salento beach.
We found it more crowded than Torre San Giovanni and the sand was more golden than white. The swimming is better here as it's not quite as shallow but still warm and calm.
Much of the beach is free, but we were able to rent an umbrella and beds from a vendor (€18) and set them up in a prime front-row spot.
Baia di Torre Lapillo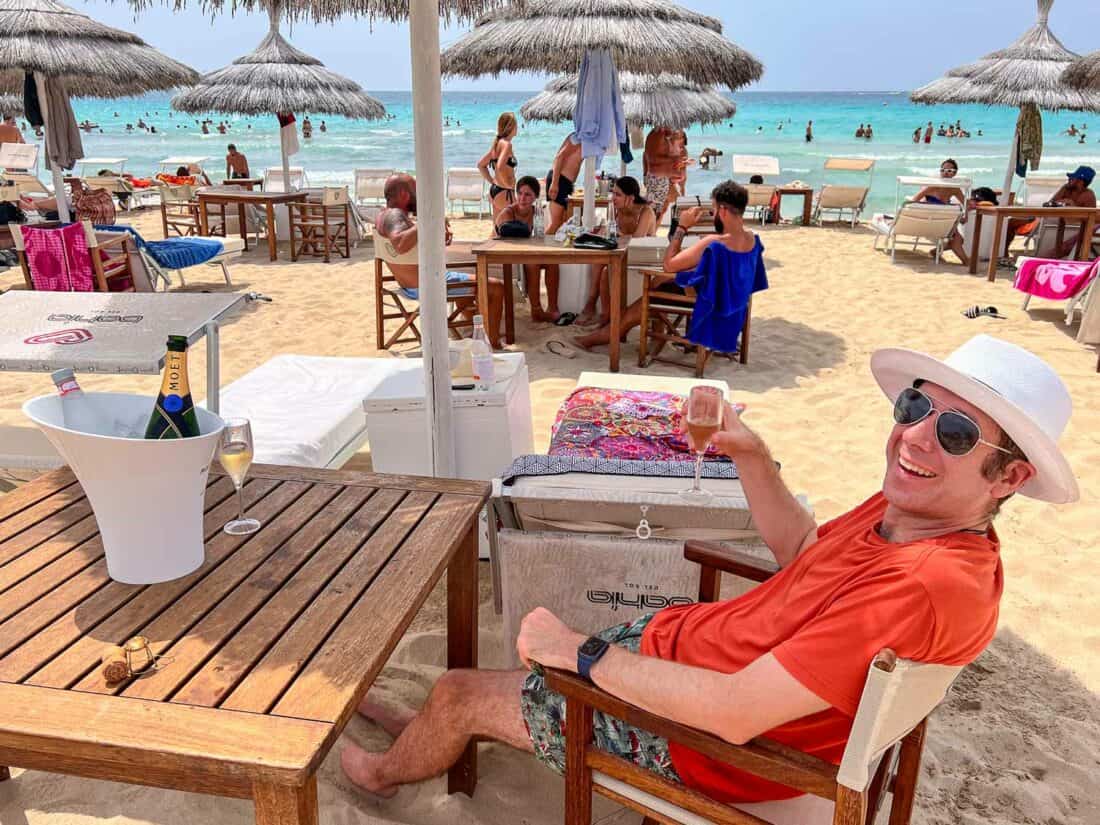 Porto Cesareo is a popular Salento beach town further north on the Ionian Coast. The town itself has no real beach so head north to Torre Lapillo and Punta Prosciutto.
We visited Torre Lapillo, a 4km long beach between the two watchtowers, Torre Chianca and Torre Lapillo.
As it's protected in a bay, the clear aqua water is usually calm, although it was windy and wavy on our visit. The powdery white sand was the nicest of all the beaches we visited.
This is an extremely popular beach, and in mid-August, the free section was packed even at 9am. We were glad we'd splurged on the fancy lido, Bahia del Sol Porto Cesareo, for more space.
While our Bahia Luxury package was very expensive (€220 in peak season), we were able to use the fee as credit towards food and drink (champagne helped us use it up!). It was worth it for a comfortable, relaxing day at the beach at the busiest time of year.
Porto Selvaggio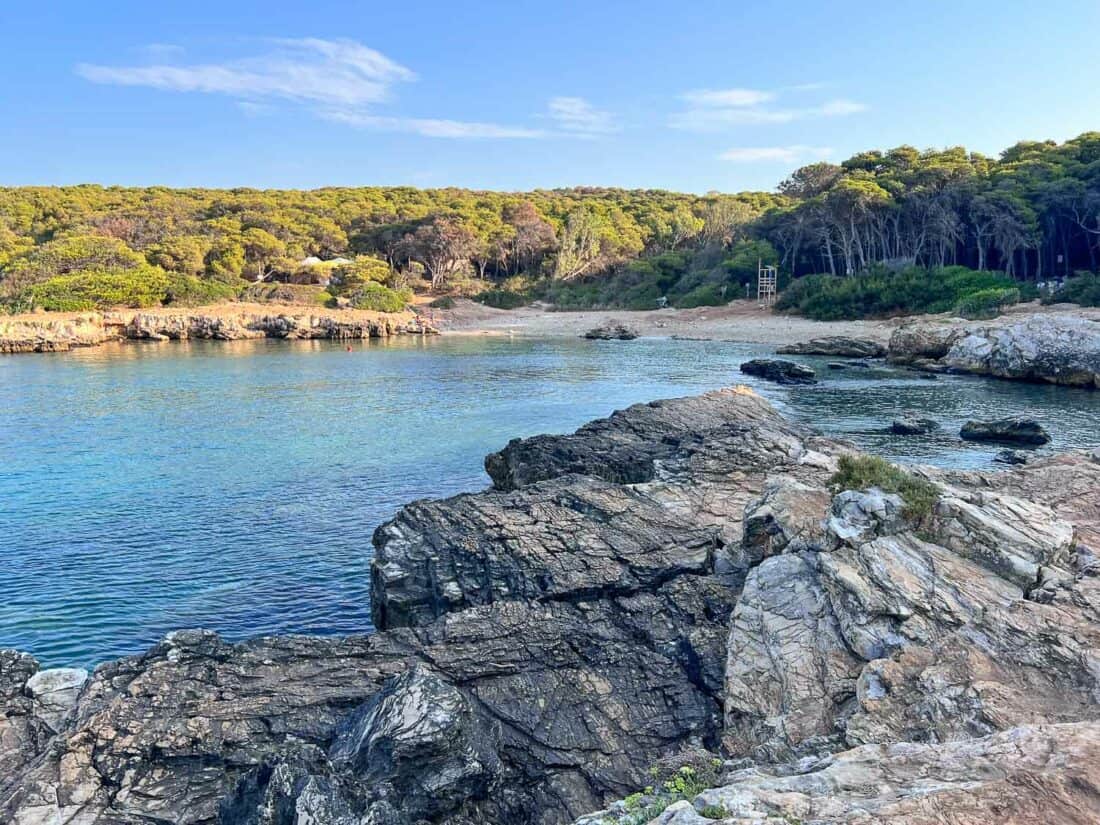 For a very different beach vibe, head to Porto Selvaggio, a wooded nature reserve.
This is much less developed, with no lidos, although it does get busy in summer.
You have to walk through pine trees to reach the beach. We parked by the Villa Tafuri entrance, which is only a 10-minute walk to the beach on a rocky path (uphill on the way back).
See our guide to Porto Selvaggio Beach for details on how to get there as it is confusing.
The beach is small and pebbly, and the water is colder than at other beaches, but it's crystal clear. Snorkelling was surprisingly good and I saw plenty of fish.
Torre dell'Orso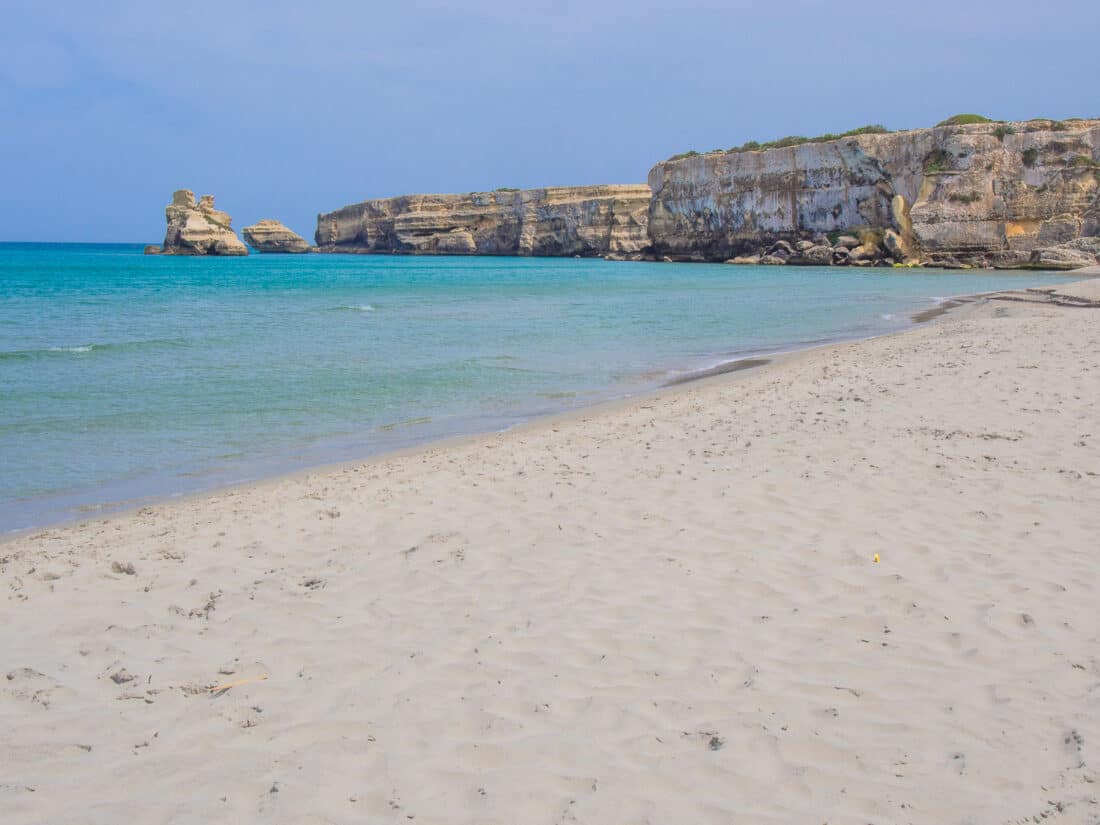 For sandy beaches on the Adriatic Coast, head north of Otranto.
Torre dell'Orso has powdery white sand, aqua sea, and attractive rock formations called Le Due Sorelle (The Two Sisters). There's a mix of public beach and lidos.
Other Things to Do in Salento Italy
Drive the Coast Road to Santa Maria di Leuca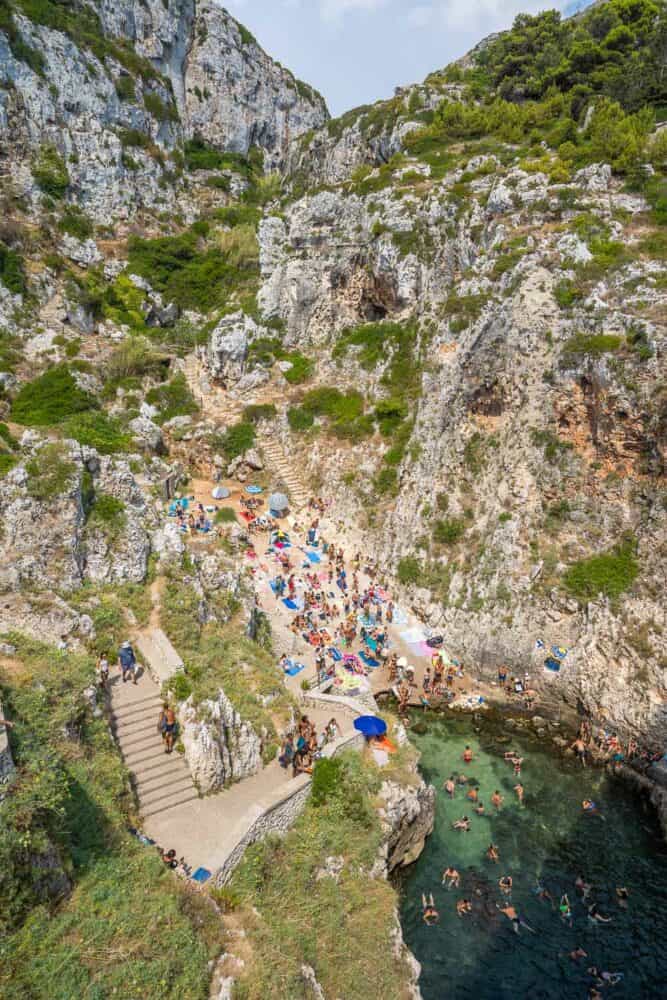 The most scenic drive on the Salento peninsula is the SP358 on the Adriatic Coast between Santa Cesarea Terme to Santa Maria di Leuca (you can also start in Otranto).
The winding 35km road follows the dramatic rocky coastline with sea views most of the way. It takes about an hour to drive, but there are plenty of possible stops including:
Grotta Zinzulusa – A cave you can take a tour of. We skipped it as it seemed too busy and commercial.
Castro Marina – A pretty bay with good swimming, bars and restaurants. See above.
Cala dell'Acquaviva – A rocky swimming spot.
Tricase Porto – A cute harbour with waterfront cafes and a pebble beach.
Marina Serra – A natural swimming pool.
Il Ciolo – Definitely stop at this scenic cove in a ravine. There's a great view from the bridge or you can walk down the stairs to the tiny rocky beach for a swim, but it gets packed in summer. In cooler weather, check out the hiking trails.
Don't blindly follow your GPS on this route as it'll try to take you inland.
We've driven this road in August and September and it's much more enjoyable outside the summer. While the road itself was quiet in August, the towns and swimming spots were rammed and parking was very difficult. Start early if you can.
Explore the Coast by Boat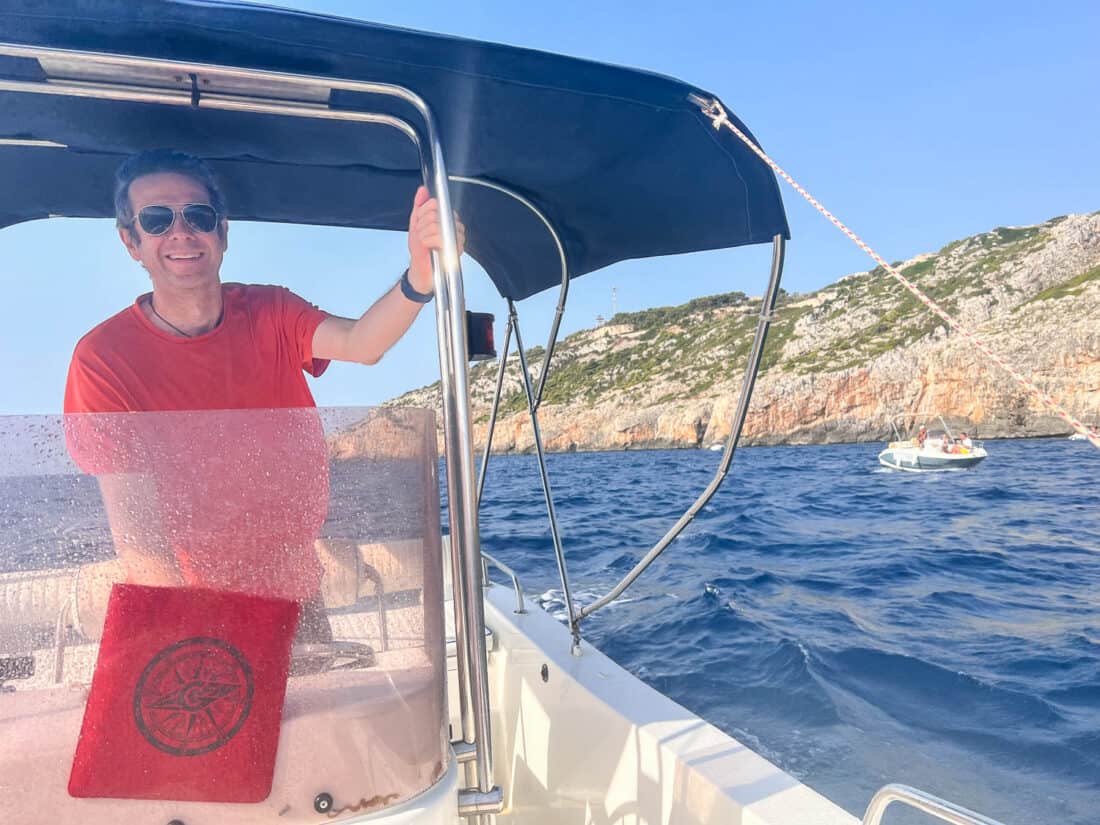 Santa Maria di Leuca is one of the most popular Salento destinations to take a boat trip. Located at the tip of the peninsula, it's where the Adriatic and Ionian seas meet, so you can explore both coastlines.
Most people take a guided boat trip like this small group tour of the caves. They are inexpensive and typically last 1 hour 30 minutes (3 hours to see both coasts) including a swimming stop.
In August, the boat trips looked very crowded, so we rented our own boat from Piccola Nautica. The cheapest 40HP boat, the Simpaty Honda (which doesn't require a boat licence) costs from €85 for four hours.
It was easy to drive, comfortable, and had space to lie on the cushions at the front. There's a 10km limit on where you can go, so you can't reach the sandy beaches north of Torre Vado.
We started on the Adriatic Coast past the lighthouse and along this undeveloped, rocky coast of rugged cliffs and sea caves.
You can't take the boat into the caves, but technically you could anchor and swim in. It was too wavy for us to do this, though.
After returning to Leuca, we continued in the other direction on the Ionian Coast. The coastline is lower with more pebble beaches where you can anchor and swim in the clear water.
We enjoyed our trip and it was a good way to see the coast, but we didn't find it as spectacular as similar boat trips we did in Corfu.
Next time, I'd love to try this kayak tour, which looks like a better way to explore the caves.
Take a Cooking Class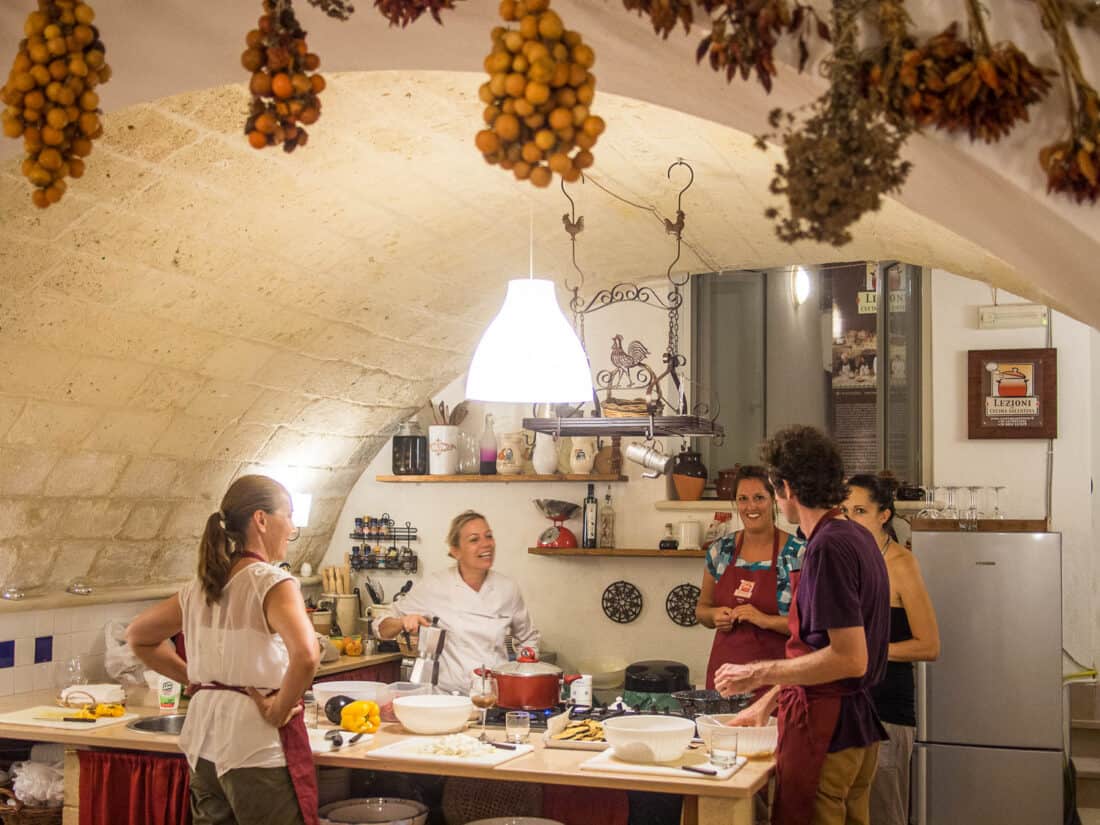 A cooking class is an excellent way to learn about Salento food and enjoy a delicious meal. Lecce has the most choice of classes.
We did a class with Cooking Experience in Lecce, which included shopping at the market before making fresh pasta and other tasty local dishes. We ended the evening with a leisurely meal to enjoy everything we'd made.
Read more about our Lecce cooking class.
Other Salento cooking classes include:
Discover Local Festivals
The Salento's geographical isolation has led to a strong identity with its own cuisine, traditions, and music, influenced by its Greek past.
There are many festivals in villages and towns across the region, especially in summer. It can be hard to find information, so look out for posters locally or ask your accommodation or at a tourist office. This guide to festivals in Puglia lists some of them.
The most famous is the Notte della Taranta at the end of August, which is a celebration of pizzica, the local folk music and dance. The main concert takes place in Melpignano, but there are small events all over the region.
Taste and Shop at iContadini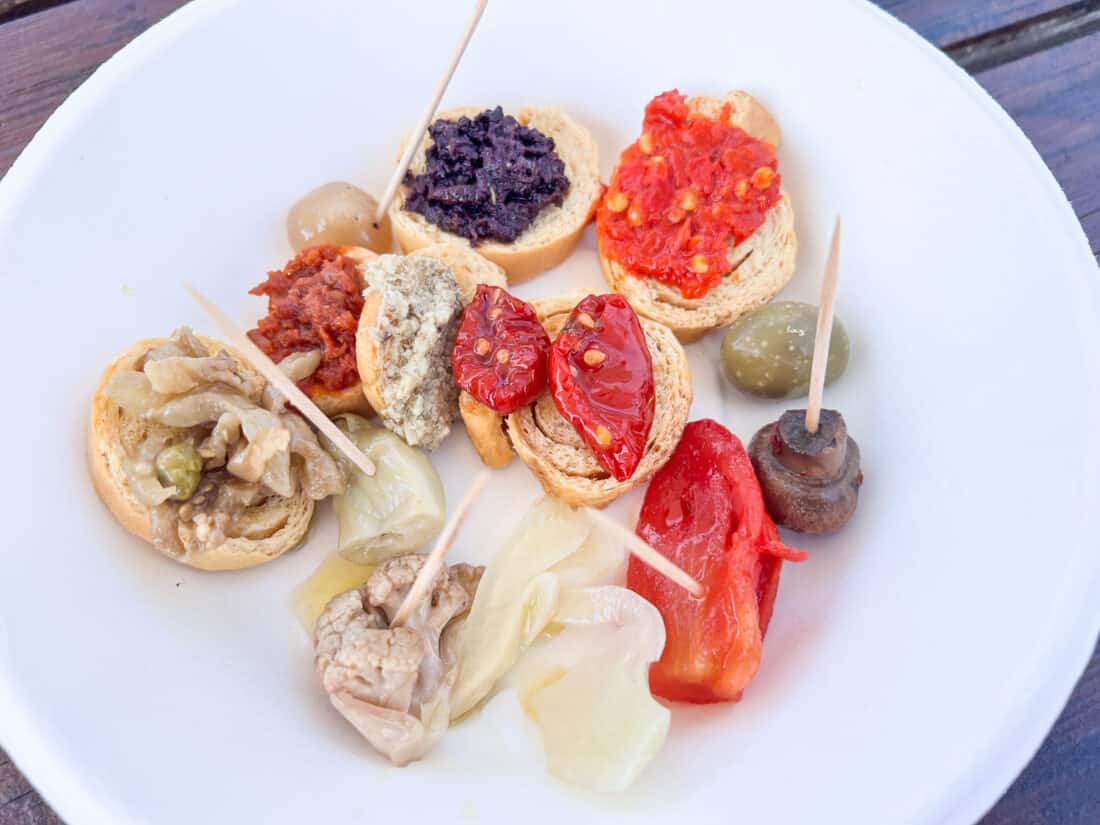 iContadini is a large farm shop between Felline and Ugento. They grow vegetables and tomatoes and dry them in the sun, preserve them under oil, or make spreads and sauces.
It's more of an experience than a shop. The staff speak multiple languages and will introduce you to the various products. You can do a tasting to decide what you'd like to buy—it's free and portions are generous.
If you plan to self-cater, come here near the start of your trip to stock up on pasta, taralli, oil, and sauces. The products also make good souvenirs.
We loved everything we bought, but our favourite was the sundried tomato patè.
Unlike many Italian stores, iContadini is open all day from 8am-8pm. I recommend going around 7pm before heading to Felline for dinner.
Try Salento Wine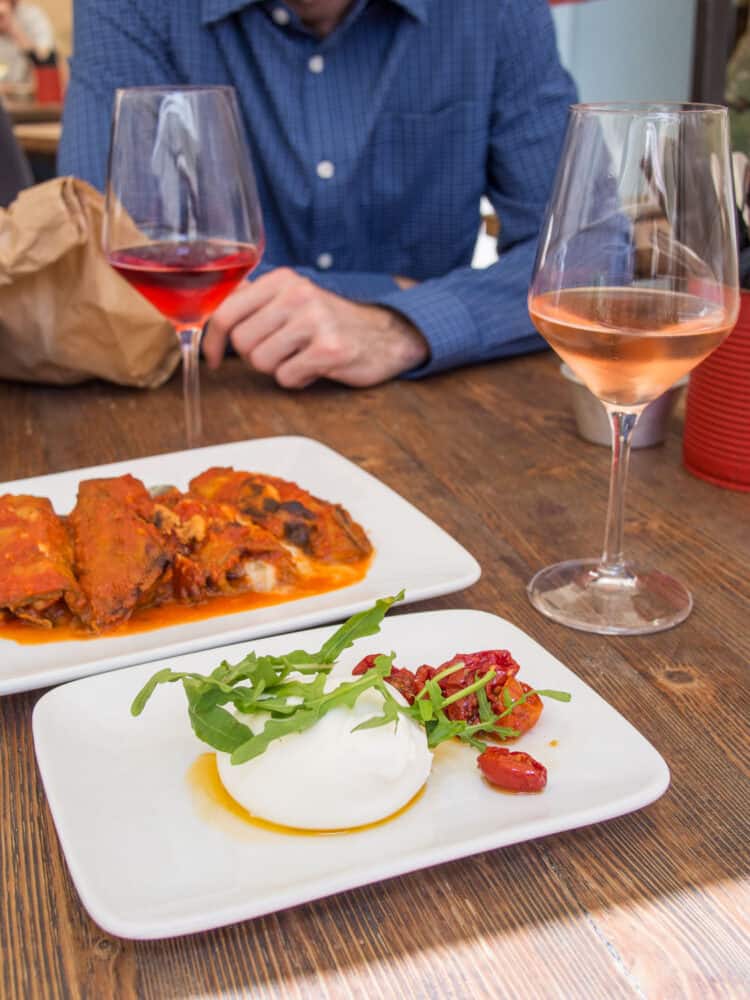 Salento is known for its Salice Salentino wine, a full-bodied red made from Negroamaro grapes. Primitivo is another popular red variety. In summer, I'm a big fan of Salento rosato (rosé).
Our favourite place to try Salento wines is Enoteca Mamma Elvira in Lecce, where you can try a wide variety of wines by the glass accompanied by tasty small plates.
If you'd prefer to learn about local wine from an expert, consider this Salento wine tasting in Lecce where you try six wines with local products.
Visiting a local winery is more challenging for English speakers as most aren't well set up for visitors. One option is this wine experience at Feudi di Guagnano winery, 25 minutes outside Lecce.
Or join this Primitivo and Negroamaro wine tour from Lecce, which visits two wineries and includes lunch.
Sample Salento Cuisine
Don't miss these typical Salento dishes:
Puccia Salentina – A sandwich made with a round, flat roll. You can choose from a wide variety of fillings and there are always vegetarian options using local vegetables preserved in oil.
Ciceri e Tria – A comforting pasta and chickpea dish. Some of the pasta is fried to add crunch.
Sagne 'Ncannulate – A long twisty pasta typically served with a sauce of tomato and strong ricotta.
Rustico Leccese – Puff pastry filled with mozzarella and tomato. Found in bakeries as a snack or sometimes in restaurants as an appetiser. It's best when warm.
Pasticciotto – Flaky pastry (usually made with lard) stuffed with custard. Find it in bars and bakeries for breakfast or as a sweet treat.
Caffè Leccese – Also called caffè salentino outside Lecce, this iced coffee is made with latte di mandorla, a sweet almond syrup. I don't usually like coffee but find it so refreshing.
My guide to Puglia food has more dishes to look out for throughout the region including the most typical pasta, orecchiette (little ears).
Best Restaurants in Salento Puglia
Here are some of our favourite places to eat in Salento.
See our guide to the best restaurants in Lecce for many more recommendations.
The Felline section above has more tips.
Pizza & Co, Lecce – Delicious pizza slices for a quick meal.
Baldo, Lecce – Our favourite gelato.
Gelateria Dolce Leuca, Santa Maria di Leuca – Another good gelato spot.
Alle Due Corti, Lecce – A great place to try traditional dishes like ciceri e tria. Don't miss the vegetarian antipasti to start.
Postofisso, Otranto – Tasty puccia (sandwiches). We loved the vegetarian one.
Duca, Ugento – A stylish restaurant in the Monteforte Hotel in an untouristy town. We ate on the roof terrace with a view of the castle. The food is superb and reasonably priced for its quality. They had a few vegetarian options on the menu but offered to make us some extras off-menu too. It's worth travelling for.
La Corte, Gallipoli – An upmarket pizzeria with some creative toppings, although we preferred the classic Margherita.
Delizie in Contea, Castro – Wonderful platters of local products on a pretty piazza.
Masseria Sant'Angelo – Our Salento feasts while staying at this farm were some of our most memorable meals. It may be open to non-guests a few times a week in the summer.
Martinucci Laboratorio – This local chain of bars is good for coffee, pastries, and gelato. Unusually, they have vegan cornetti and pasticciotto.
Where to Stay in Salento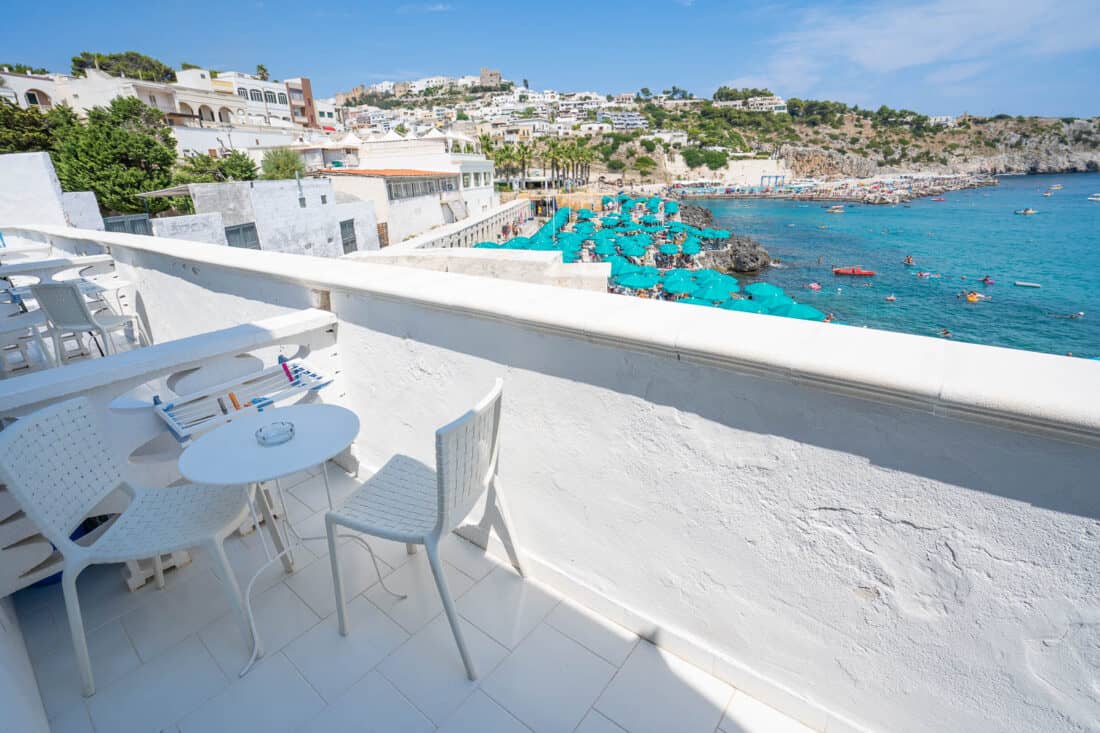 The best area to stay in Salento depends on your interests.
For a city break, Lecce is the best bet. The walkable historic centre is beautiful and there are plenty of restaurants and bars. It's centrally located for day trips, so it won't take more than an hour to get anywhere on the peninsula.
We rented an Airbnb, but there are lots of gorgeous hotels in historic buildings. At Dimora Storica Torre Del Parco 1419 you can even stay in a castle.
If you want to stay in a beautiful town on the coast, consider Otranto, Gallipoli, or Castro.
We absolutely loved Hotel La Roccia right on the water in Castro. Rooms are simple but all have sea views and include a guaranteed spot at their lido. This was a major advantage in August.
If your priority is to spend lots of time on the beach, Torre Lapillo, Torre San Giovanni, and Marina di Pescoluse have accommodation options as do many beach towns on the Ionian Coast. My pick would be a holiday rental right on Torre Lapillo beach.
There aren't any real beachfront resorts in Salento.
We usually stay in holiday rentals. Twice we've chosen random areas based on the houses available on sites like Vrbo. This works out well if you aren't bothered about walking to attractions and plan to take day trips.
On our most recent summer stay, we rented Dimora Acquare, a spacious one-bedroom house near Felline. The remote rural location isn't for everyone, but it's only a 10-minute drive to Torre Giovanni beach.
Search for Salento holiday rentals on Vrbo here.
Or see a range of Salento accommodation on Booking here.
How to Get to Salento Italy
Salento is best explored with a car as public transport is limited and slow. You can rent cars at the airports or in Lecce. Check Rental Cars or Kayak for car hire deals.
Brindisi (BDS) is the nearest airport, just 30 minutes from Lecce. It has some international flights including from budget airlines like Ryanair.
Check Kiwi or Skyscanner for flight options.
If you can't find flights to Brindisi, Bari Airport (BRI) also works. It's just under two hours north of Lecce and there are some amazing places to explore on the way (see our Puglia travel guide).
We usually fly or take a train to Bari and rent a car there to travel around Puglia.
We did mostly manage without a car when we spent a month in Lecce, but we rented one for two days for day trips.
Lecce is easily reached by train as it's the last stop on the national network (see Trenitalia). It's a 6-hour train ride from Rome.
You can connect to Otranto and Gallipoli from Lecce on the regional train network (Ferrovie del Sud Est), but there are limited services (with none on Sundays) and you might need to change. Driving is usually quicker around Salento.
The Best Time to Visit Salento
The best months to visit Salento for warm weather but less crowded beaches are May, early June, September, and October.
I recommend avoiding July and August unless you love crowded beaches (there are lots of parties and festivals if you are looking for a lively vibe). Mid-August is the absolute worst for crowds.
We were shocked by how crowded Salento beaches were in August, and parking was also a challenge at coastal towns. We had blue skies and 35ºC temperatures every day, but it was a bit too hot for us.
If you have to visit in summer and the busy coastal towns get too much, head inland where the towns are much quieter. And go to the beach early (before 8am) to avoid the crowds.
We also found April a pleasant month in Salento. It wasn't quite beach weather, but it was sunny and warm and ideal for exploring the towns.
Map of Salento Italy
Is Salento Italy Worth Visiting?
Absolutely, the Salento is worth visiting! Puglia is one of our favourite regions in Italy and the Salento is the place to come for gorgeous beaches, untouristy towns, fascinating culture, and of course, delicious food.
More Puglia Posts
Salento
Elsewhere in Puglia
If you enjoyed this post, pin for later!