This page contains affiliate links. Please read our disclosure for more info.
Despite the temptations of panzanella in Tuscany, pesto in Liguria, and cacio e pepe in Rome, Puglian food is our favourite in Italy.
In a country that lives for its cuisine and where we make annual foodie pilgrimages, that's no small claim.
It was dreams of mammoth plates of antipasti that prompted our return visits to Puglia and they only confirmed that the region is foodie heaven.
Here's why we love Puglian cuisine, and if you are wondering what to eat in Puglia, we share the best local dishes to try.
Contents
Why We Love Puglia Cuisine
Everything is Grown Locally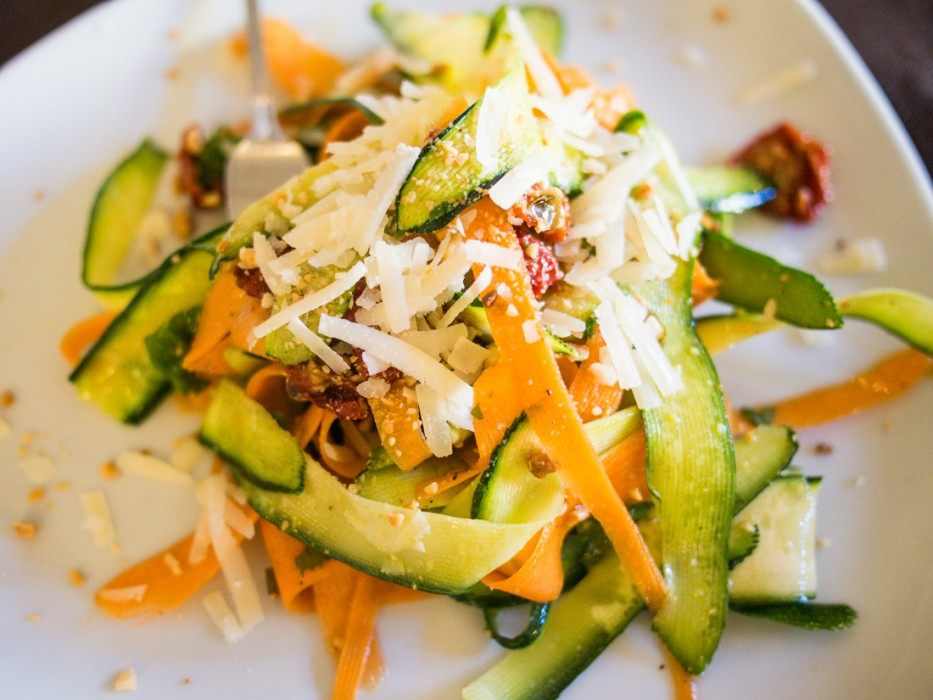 Puglia is an agricultural region in the far south of Italy (it's the heel of the country's boot). With plenty of sun, fertile soil, and a flat landscape it's ideal for growing vegetables.
Local and seasonal aren't fashionable buzz words here, it's just the way things are done.
The fruit and vegetables are fresh and flavourful, with a more intense flavour than further north. The juicy tomatoes and cucumbers we ate here are different species from the insipid vegetables you find in England.
It's not just fruit and vegetables either. Puglia has over 60 million olive trees and produces 23% of the olive oil in Europe. The fruity liquid is applied liberally to all the local dishes and enhances even the simplest plate of vegetables.
There are also vineyards all over the region producing some excellent local wines including full bodied reds like Salice Salentino, Primitivo, and Nero di Troia, and refreshing white and rosé wines ideal for summer lunches.
It's Vegetarian Nirvana
Vegetables are the cornerstone of Puglian cuisine as so much grows here and historically it was a poor region that couldn't afford much meat.
Instead the diet involves lots of vegetables, beans, pasta, and fish (which we found easy to avoid).
Vegetarians can just order an antipasto and a pasta dish in restaurants, it's plenty of food and you won't miss the secondo (the second main dish) which is usually fish or meat.
The Antipasti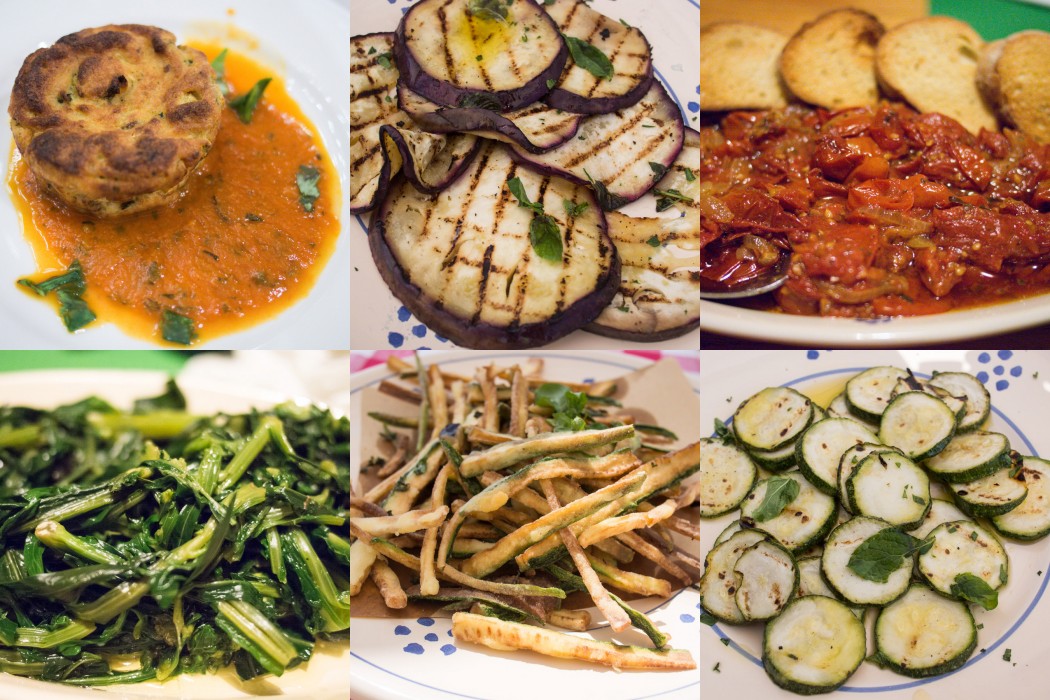 An antipasto is an Italian starter, and in Puglia it's the highlight of a meal. The best option is to choose the antipasti of the house that most restaurants offer.
You never know what you're going to get, but there will be multiple small dishes, almost always vegetarian.
Common dishes are vegetables marinated in oil, grilled, fried or stuffed—in the summer there's lots of aubergines, peppers, and zucchini; cheese, olives, and things like potato croquettes, sformato which is a kind of heavier soufflé made with cheese and vegetables, or torta, which is similar but made with pastry.
Whatever you find on your plate it's bound to be fresh and bursting with flavour.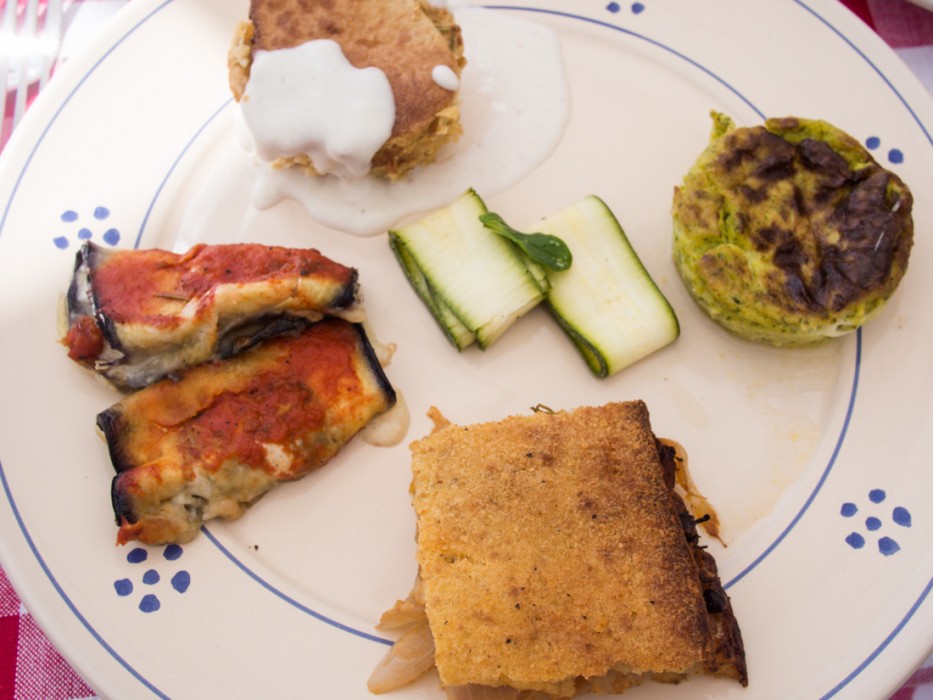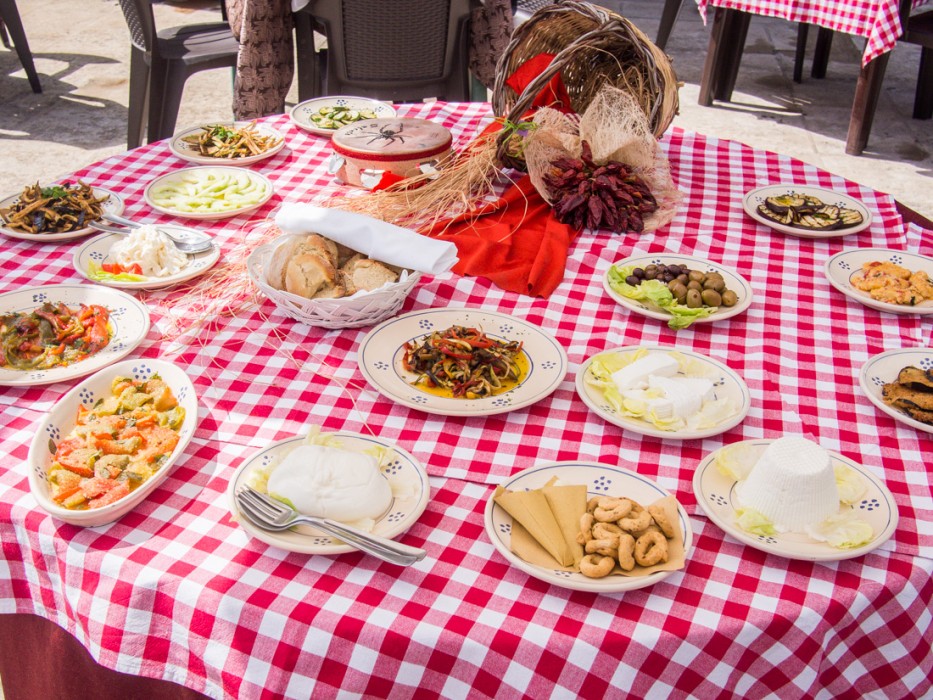 The biggest problem is trying not to overindulge. The antipasti plates are enough for a meal but Puglians would never dream of eating just that so expect a big bowl of pasta next.
On our first visit to Puglia we made the mistake of ordering an antipasti plate each—big mistake as both were large enough to feed a family, and trying to follow that with pasta was a challenge.
See our detailed guide to the best restaurants in Lecce for our favourite places to eat from gelato to traditional trattorias.
Eating at a Masseria
If you don't have family in Puglia then the next best thing is to stay at a masseria. These fortified farmhouses are found all over the countryside and many offer guest accommodation.
Some are fancy affairs but others are smaller, more rustic experiences where you eat with the family like we did at Masseria Ferri.
At Masseria Sant'Angelo in Corigliano d'Otranto us guests sat with hosts Rocco and Ursula, and sometimes their friends, at a long table on the terrace while an endless stream of dishes was brought out—perhaps eight antipasti, followed by pasta, cheese, dessert and fruit.
The food was simple but delicious and it was the best way to try local specialities.
As the masserie are working farms you can try wine, cheese, olive oil, and jams they've made themselves as well as eating vegetables picked straight from the garden.
Our favourite place to stay and eat in Puglia is Masseria il Frantoio, an organic olive farm where incredible eight-course tasting menus are created using almost all produce from the farm.
Local Specialities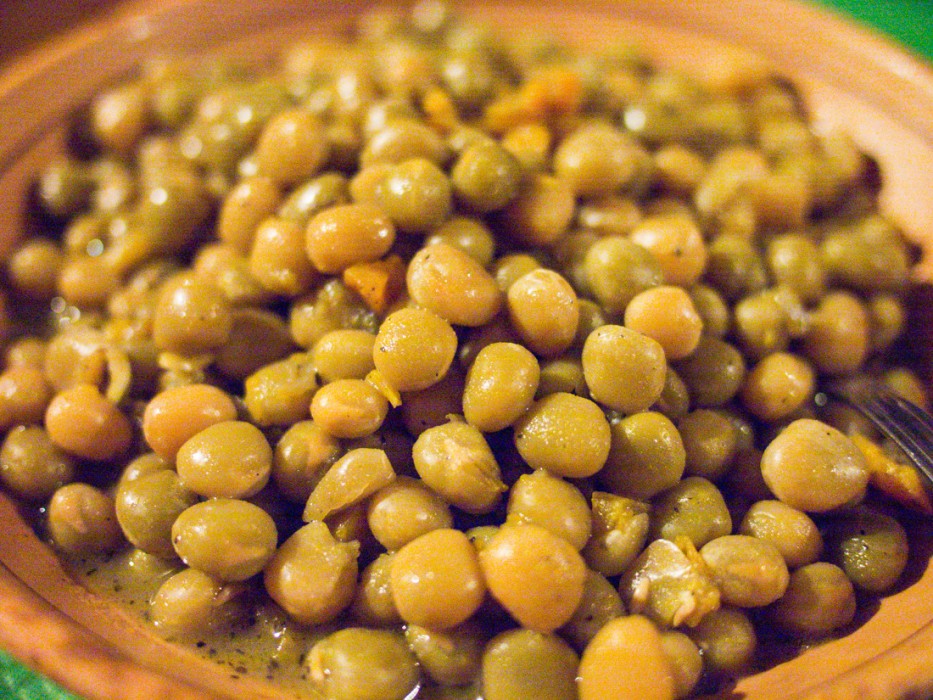 Puglia has its own food specialities but even each village has items that are only found there, such as poponetti, a type of cucumber we tried in Corigliano d'Otranto where you can find a market that sells nothing else but these melon-like vegetables.
In the same town we also ate piselli nano di Zolino a DOP protected pea from a village 4km away. They are larger and browner than normal peas and were traditionally eaten as a farmer's breakfast with bread and vegetables.
We love how specific these local specialities are and that even a humble pea can be protected to guarantee quality.
Cheese Heaven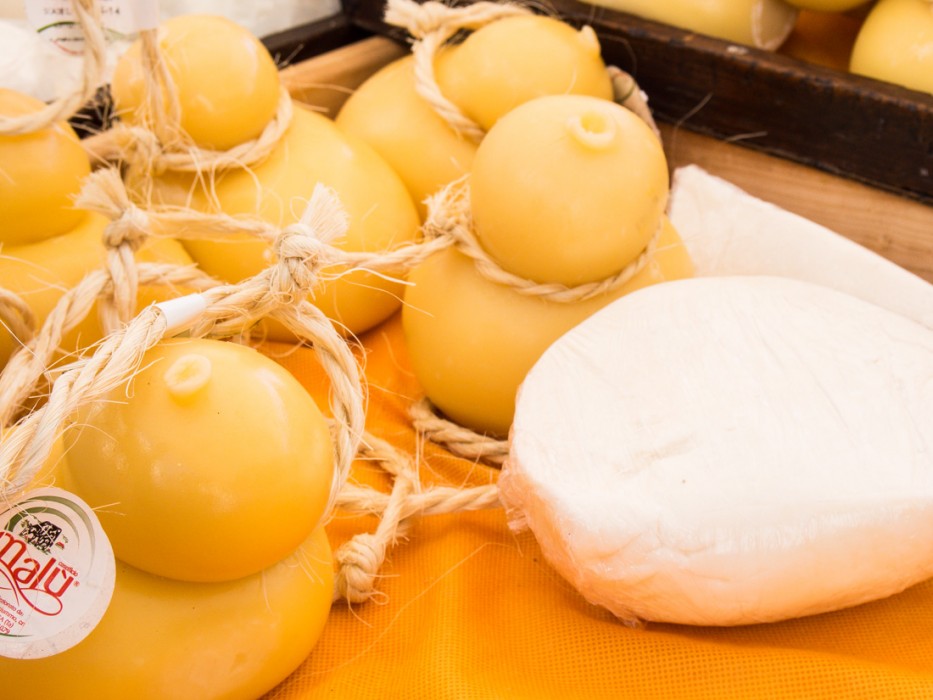 Puglia has many excellent types of cheese that will often turn up on an antipasti plate.
Burrata is the most famous cheese from Puglia and it's a foodie highlight.
It's a fresh cheese similar to mozzarella but with a gooey, creamy inside that oozes out when you cut into it. It's rich and milky and needs nothing but some local bread and perhaps a drizzle of olive oil to accompany it.
It's taken even further with stracciatella, the shredded buttery inside of the burrata without the ball container.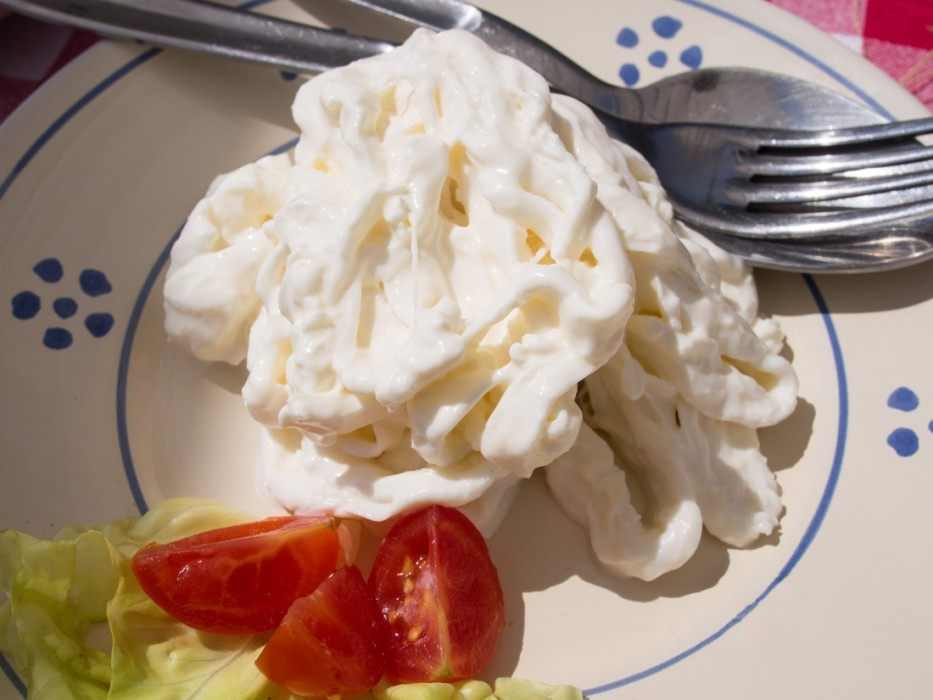 A rival for burrata for my favourite Puglian cheese is caciocavallo, especially the podolico variety made with flavourful milk from special cows that eat lots of herbs.
We loved the caciocavallo made at Masseria Ferri, and it was also delicious fried at La Cecchina restaurant in Bari.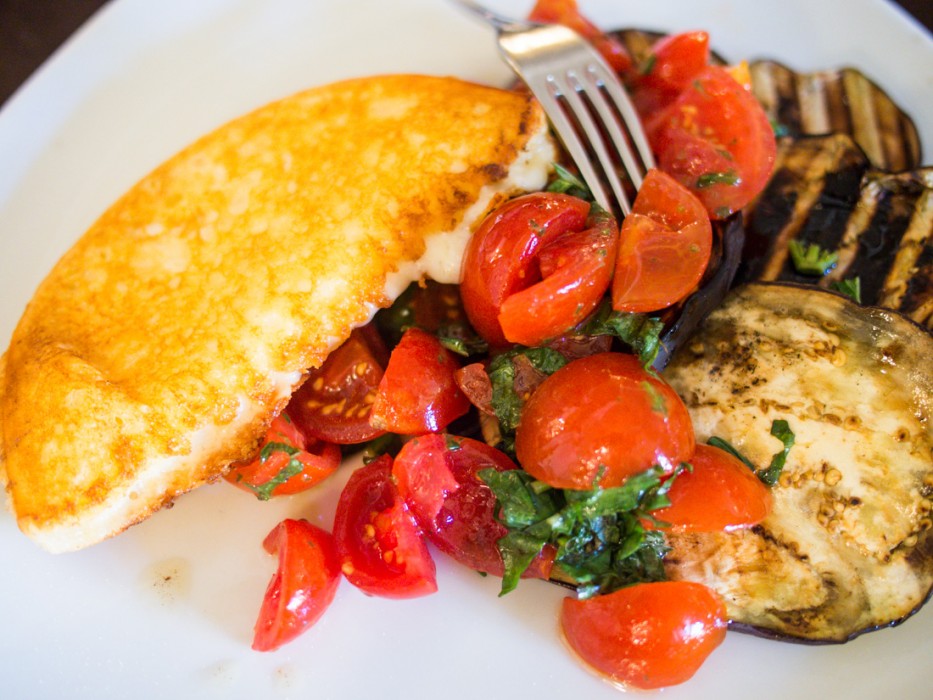 Another common fresh cheese is cacioricotta, a mix of ricotta and cheese, and primo sale, which is the first cheese that comes before ricotta.
Handmade Pasta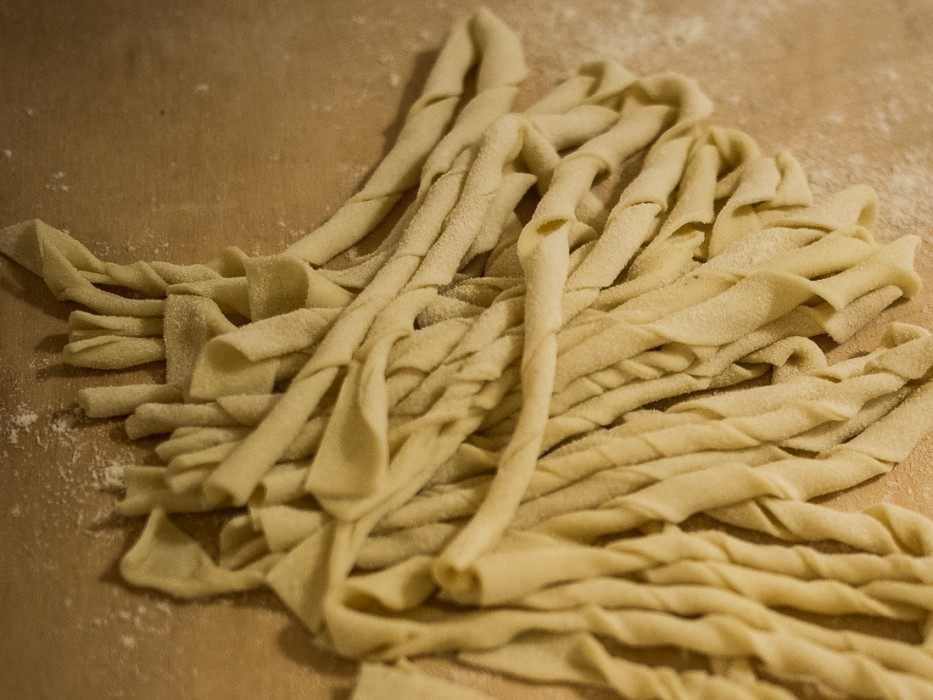 Pasta in Puglia is made with durum wheat semolina, no eggs, and is usually handmade. The most common type is orecchiette or "little ears" which feature on every restaurant menu.
You can see them being made on the streets of Bari, and we had a go ourselves at this tricky task during our Lecce cooking class.
Another typical Puglian pasta is sagne 'ncannulate, long twisted strands.
Bread in All Forms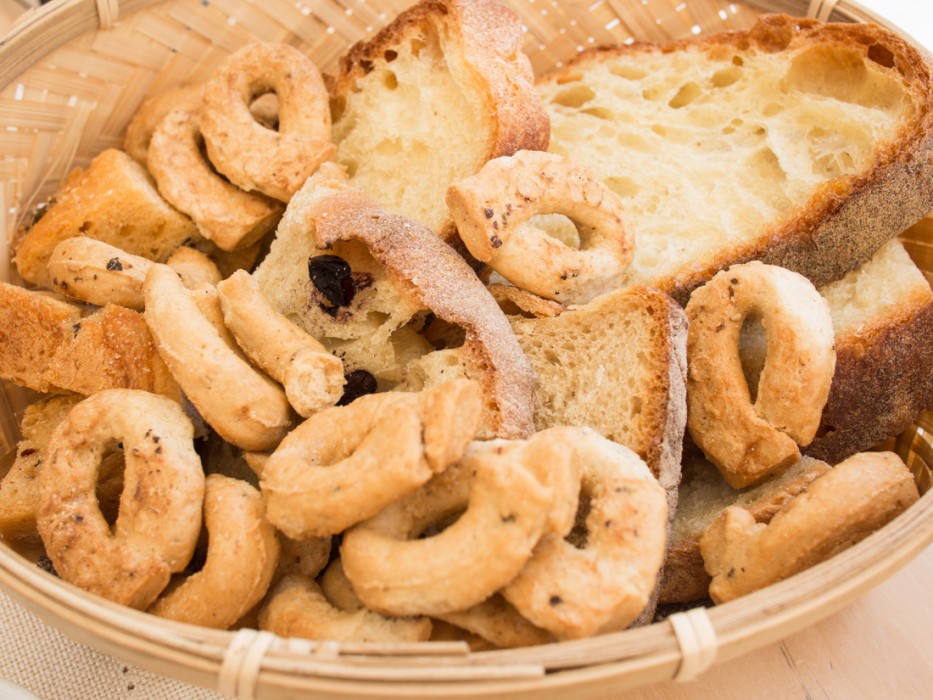 Bread is served with every meal and is used to mop up the delicious sauces leftover on your plate.
Other tasty bread products include:
Taralli – Baked bread stick rings that come in a range of flavours like fennel or onion and are often served with a drink or in your bread basket.
Pizzi or puccia – A bread from the Salento that's studded with olives and tomatoes.
Focaccia – This is especially good in Bari, smeared with roasted cherry tomatoes, olives and plenty of local olive oil. Our favourite was at Panificio Fiore in Bari's labyrinth old town.
Frisella Salentina – A crunchy dry bread that we ate as a bruschetta base and made into a panzanella type salad with cucumber, tomato and basil.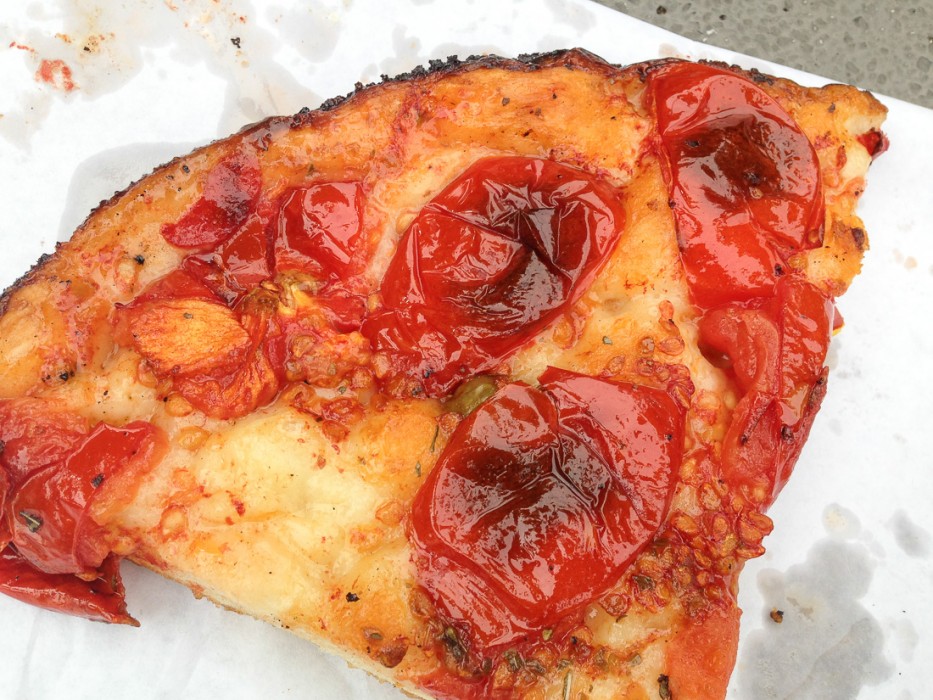 The Best Puglia Food to Try
Orecchiette con Cime di Rapa (Little ears pasta with turnip tops)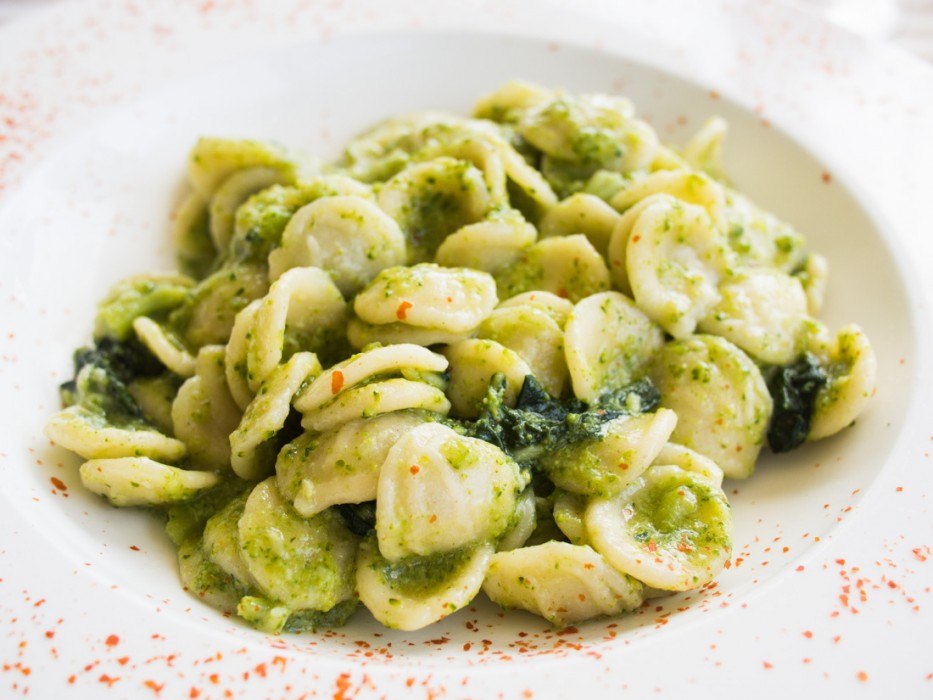 We ate orecchiette pasta with various sauces including tomato, but the most typical pairing is with cime di rapa or turnip tops/ broccoli rabe, a leafy green vegetable with a slightly bitter flavour.
You can also find dark orecchiette made with black durum wheat. We ate it with tomato sauce and caciocavallo cheese at Ristorante Porta Nova in Ostuni.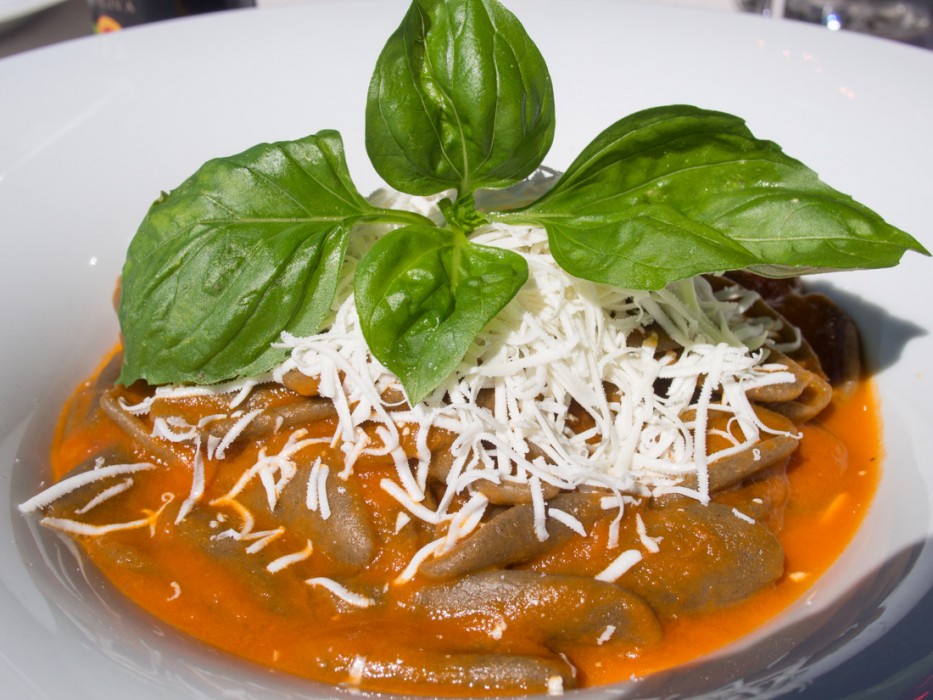 Purea di Fave con Cicoria (Fava bean puree with greens)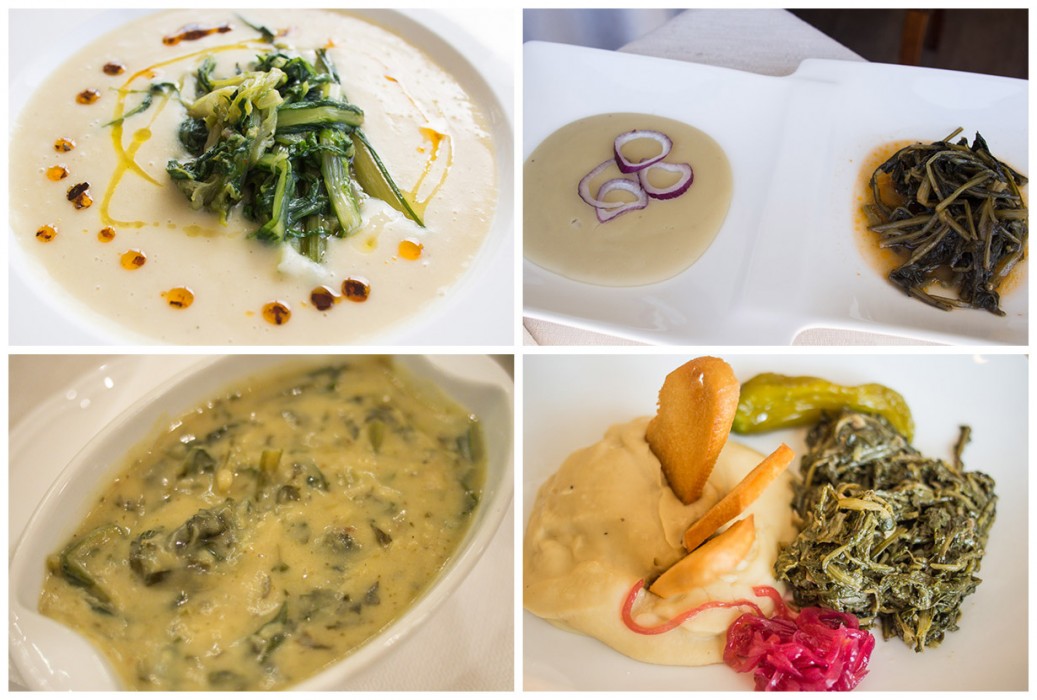 Another very typical Puglian dish is a comforting bowl of fava bean puree paired wonderfully with cicoria or bitter greens. Cicoria is translated as chicory but is actually closer to endive than to chicory.
There are lots of different varieties from rustic to elegant, thick or thin, served with chile oil or whole roasted peppers. We think it definitely works best with something to balance the flavours.
We particularly liked the modern twist on the dish at Osteria Spiriti in Lecce when it was served with sweet caramelised onion, grilled pepper and toast.
Parmigiana di Melanzane (Eggplant parmesan)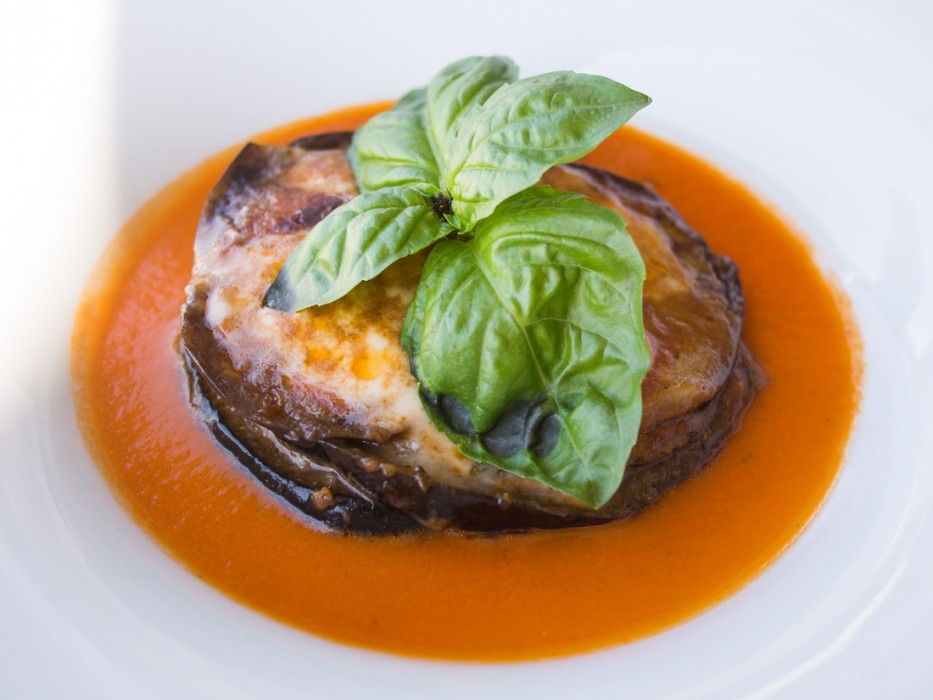 A parmigiana can be made with any vegetable but aubergine/eggplant is by far the most common.
You'll find it all over the country but it's particularly popular in the south and we often ate it in Puglia, which made me happy as it's my favourite Italian dish.
Sliced aubergines are fried (or sometimes grilled) and layered with tomato sauce, mozzarella, parmesan, and basil. It's all baked in the oven until it's melty and delicious, serious comfort food.
It's usually served as an antipasto, either as a whole dish or a smaller portion as part of an antipasti platter.
Pizza Rustica
Two layers of dough are stuffed with a variety of fillings and often served as an antipasto. Ours was filled with cicoria (bitter greens) at L'Altro Baffo in Otranto.
Pitta Rustica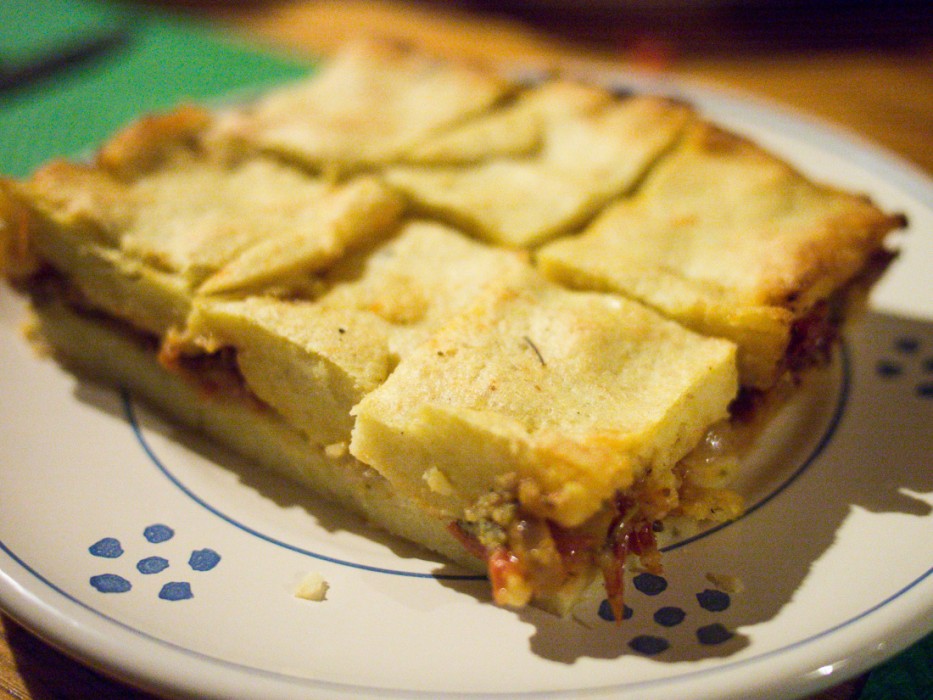 A similar dish to pizza rustica but mashed potato is used instead of dough for extra tastiness. We had pitta rustica filled with onion and with fennel, pepper, capers and tomatoes.
Panzerotti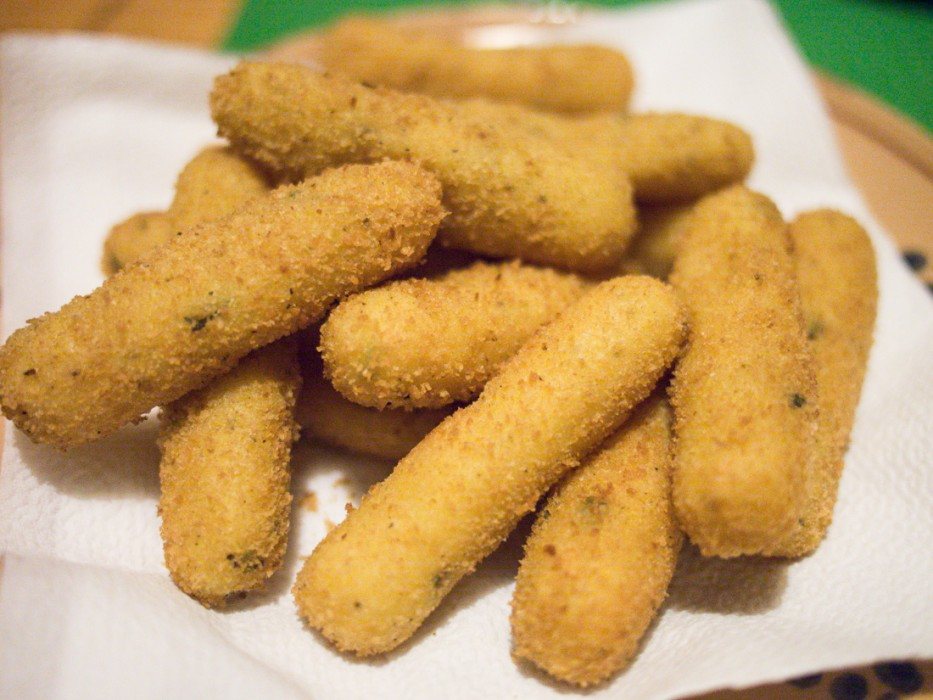 Panzerotti are most commonly small calzone-like pizza pockets, but the name is also used to refer to potato croquettes that we had with cheese and sage as an antipasto.
Zucchini Scapece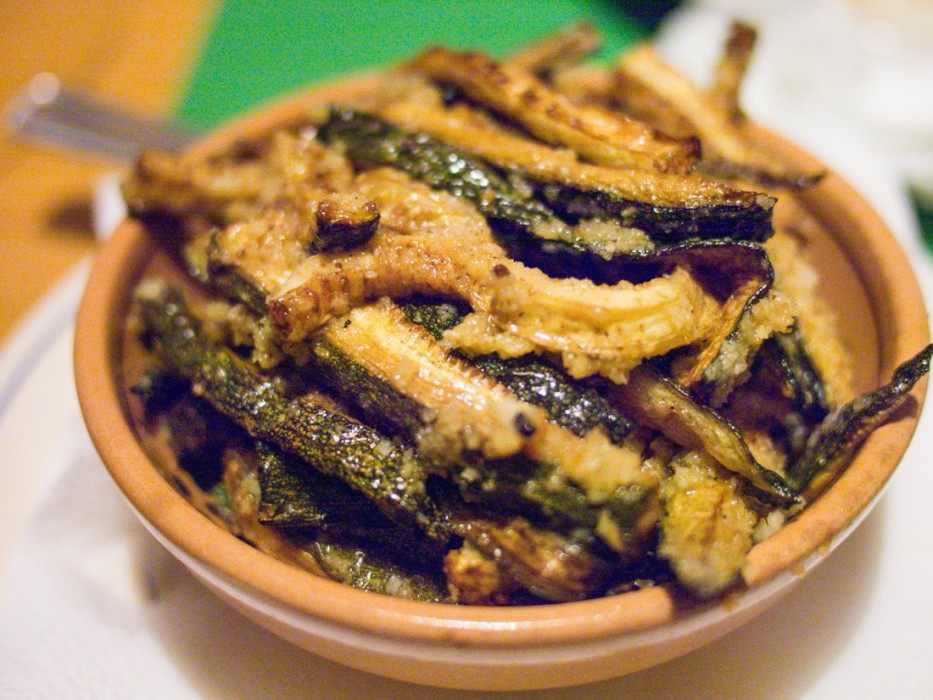 In other parts of Italy this means courgette marinated in vinegar, but we ate it in the Salento when it was first breaded and fried and then vinegar added for a wonderful tangy punch.
Mustaccioli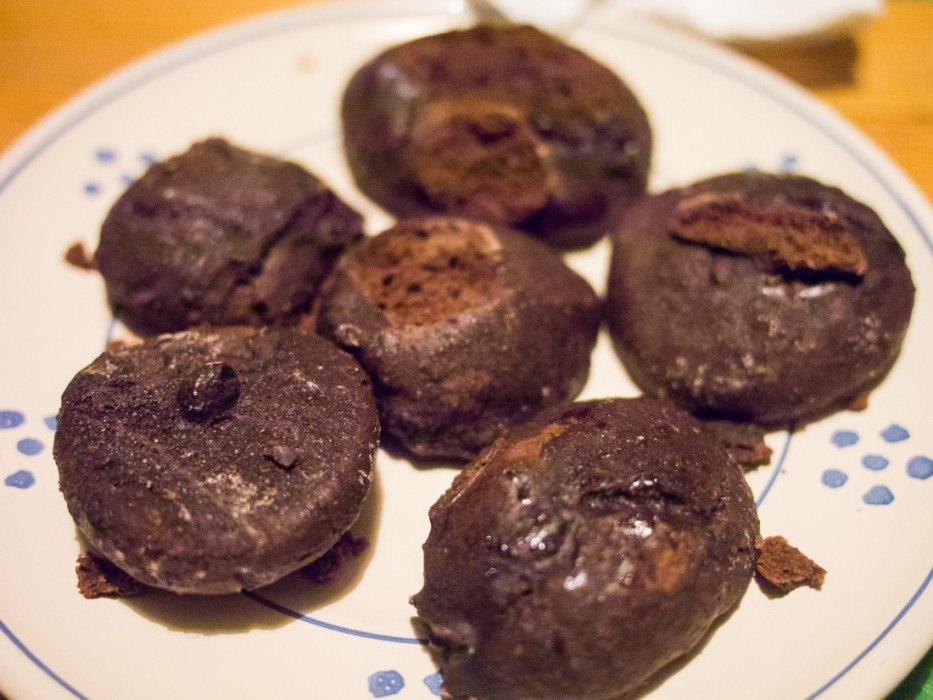 We were surprised to eat these soft chocolate almond cookies flavoured with cinnamon and nutmeg in the Salento as they reminded us of German lebkuchen.
Caffè Leccese
A shot of espresso is cooled and mixed with sweet latte di mandorla (almond milk) and some ice cubes for a tasty, refreshing summer drink. I'm not a coffee drinker but loved this in Lecce.
Sangria Leccese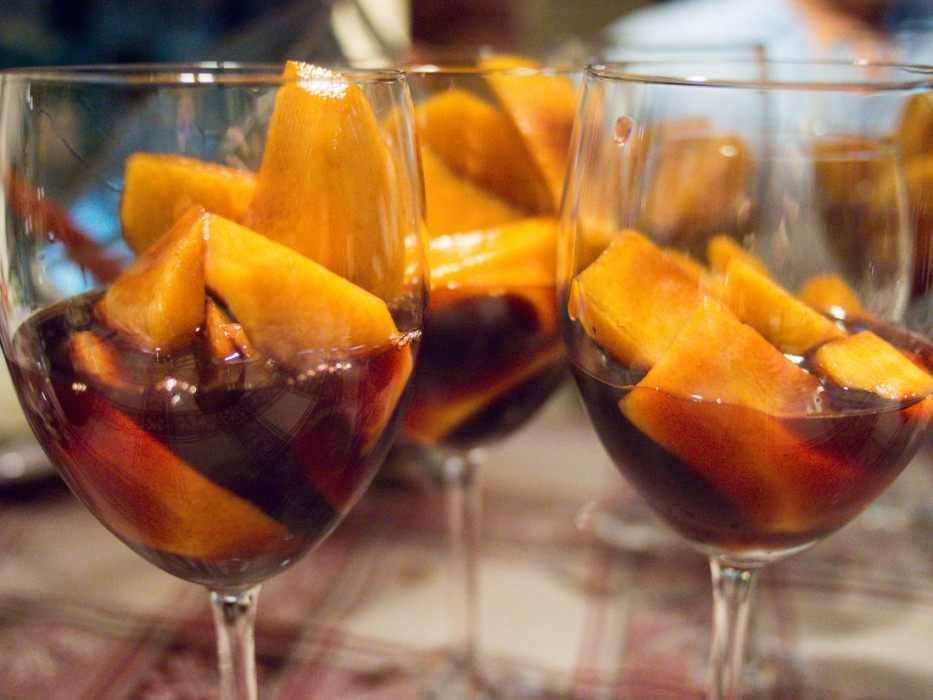 Peaches in red wine. A simple but tasty way to end a meal.
Puglia Food Guide Summary
Although we've spent months in Puglia we still haven't tried all the regional specialities.
The great thing about travelling in the region is that although you'll find common threads—orecchiette, fresh vegetables, fava beans, burrata—every town you visit will have its own speciality.
Wherever you travel you're guaranteed to eat well. Buon Appetito!
For a primer on eating etiquette in Italy, check out our dos and don'ts guide to eating in Italy.
See our post on the best places to visit in Puglia for our restaurant and accommodation recommendations in various towns.
If you enjoyed this post, pin it!