This page contains affiliate links. Please read our disclosure for more info.
After a week in Puglia eating the local orecchiette pasta every day, it was time to learn to make the "little ears" for ourselves.
We took our Lecce cooking class with Cooking Experience Lecce and spent a fantastic evening learning about Puglian cuisine from tastings in local delis to attempting to make fresh pasta for the first time.
Contents
Market Visit
Our cooking class started with Gianna, our teacher for the night, taking us on a leisurely stroll around the golden streets of baroque Lecce past artisan shops and ornate churches.
Along the way we tasted delicious cheeses at a deli, sampled sweet moscato wine straight from the barrel, and shopped at the local market.
Gianna encouraged us to buy anything we wanted and we'd add it to the evening's menu.
We chose bunches of cicoria, a common leafy green in Puglia, bright red peppers, salt packed capers, and shiny purple aubergine, before heading to their 17th century palazzo to begin cooking.
The Lesson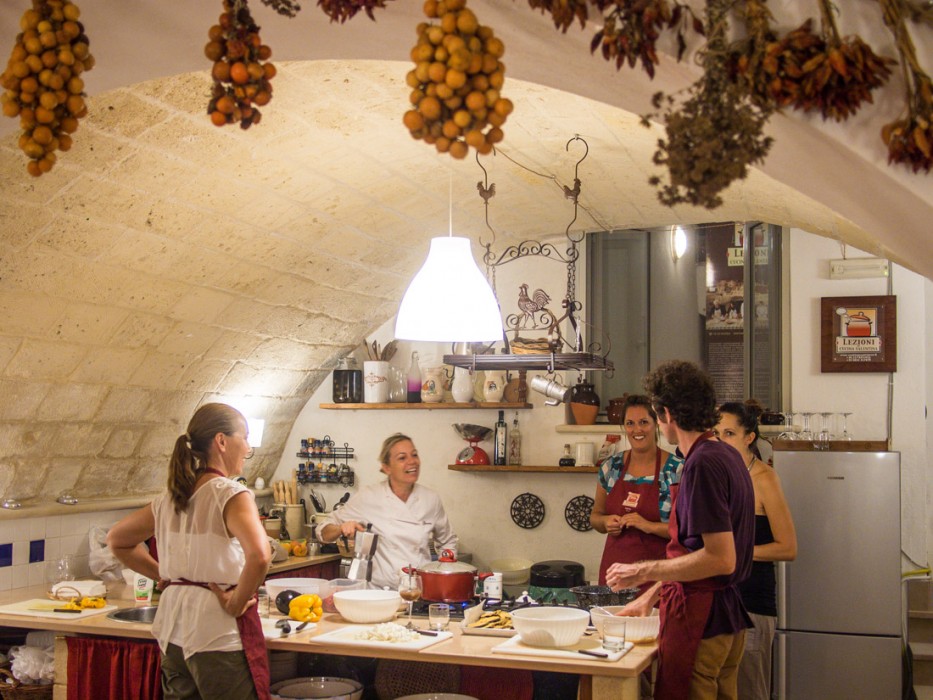 The palazzo is a beautiful space to cook in with a stone arched ceiling decorated with drying cherry tomatoes and oregano.
Gianna, founder of Cooking Experience, is small, lively, always smiling, and passionate about food.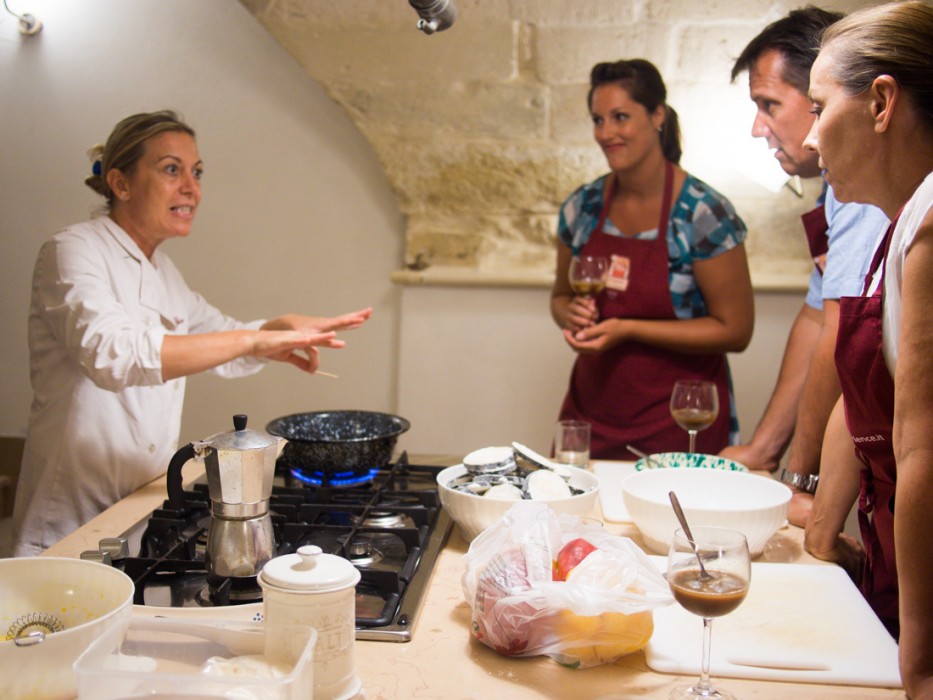 She doesn't speak much English but Stephanie a British translator was on hand, and for me it was an advantage—an Italian lesson as well as a cooking class.
Her enthusiasm and experience (she's a professional sommelier, chef, and olive oil judge) made her the perfect guide to Puglian food.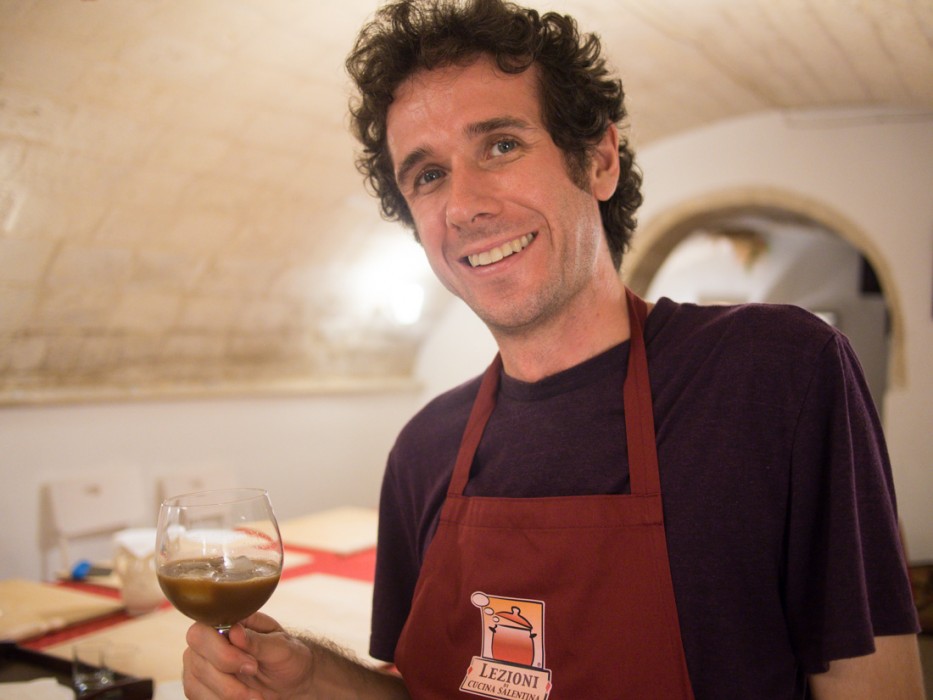 Italians don't rush into things so we began with a caffè Leccese, espresso mixed with almond milk and ice cubes.
I'm not a coffee drinker but this was sweet, nutty and wonderfully refreshing on a hot day.
Gianna gave us some handy cooking tips before we started to make our first dish, happily my favourite in Italy, parmigiana di melanzana (eggplant parmesan).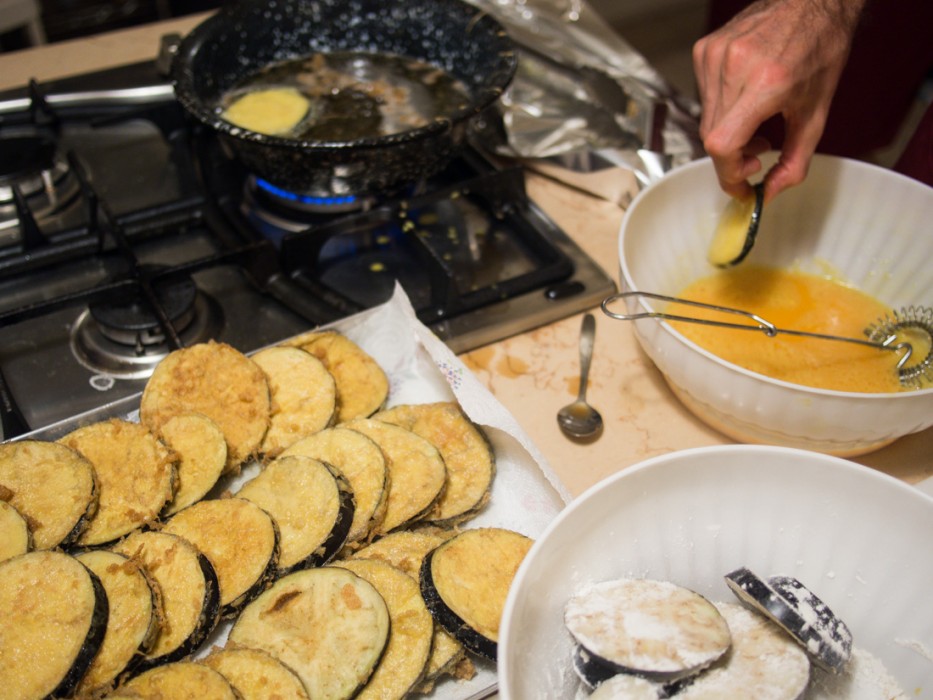 We all pitched in doing different tasks, slicing aubergine and then dipping them in beaten egg, flour and frying them until golden.
The tomato sauce was made using a very simple method—olive oil, an intact half an onion, some garlic cloves and a sprig of basil were added to a saucepan with a few bottles of passata (pureed and sieved tomatoes) and salt and left to cook for at least 30 minutes, before removing the vegetables for a very smooth sauce.
We compiled the dish by layering the sauce and fried aubergine with mozzarella, parmesan and basil, and baked it in the oven for 30 minutes.
It's a relatively easy dish and we were able to recreate it later in our apartment in Sicily.
Frying all the aubergine is the time-consuming part but it's worth it for the comforting melty mix of cheese, tender aubergine and sweet tomatoes.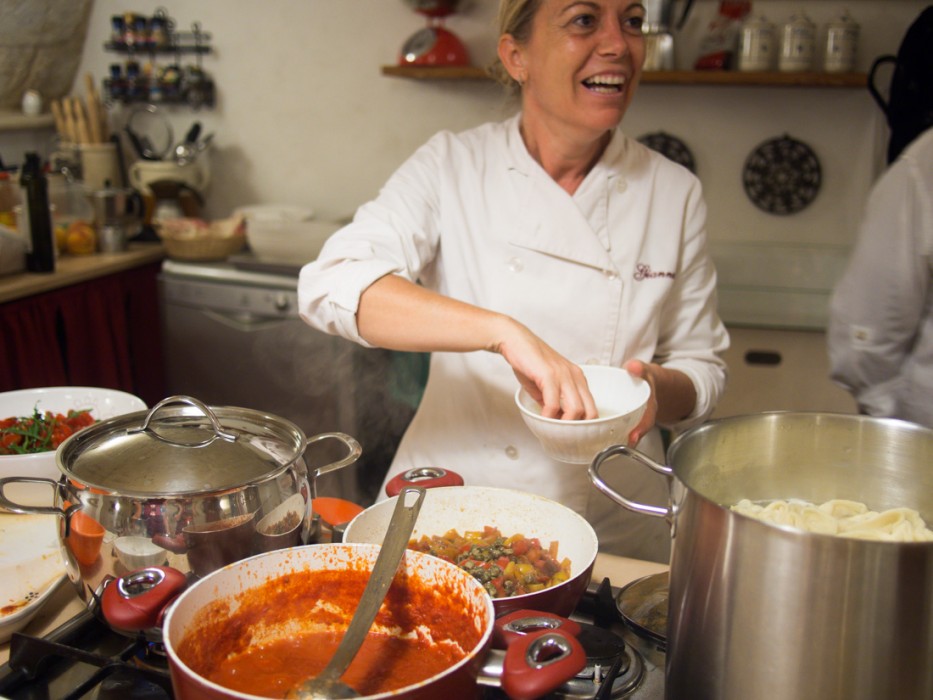 We worked on various dishes at a time—chopping peppers for the peperonata, stripping off the bitter outer leaves of the chicory, and preparing the tiramisu for dessert—just coffee poured over sponge biscuits, and a mix of mascarpone, cream, egg yolk and sugar added on top.
Although lots was happening at once it felt relaxed and more like a big family cooking together than a formal class; it helped that there were only four of us.
Once most of the dishes were underway it was time for the big challenge of the day—making fresh pasta. We've never made it before and it was harder than I expected.
Gianna made it look effortless but just kneading the dough to a smooth consistency and rolling it out to a thin rectangle took ages.
We made two classic Puglian pasta shapes—orecchiette or little ears made by rolling the dough into long logs, cutting off a chunk, rolling it over the knife to create the ear and turning it inside out; and sagne 'ncannulate, long twisted strands, which were slightly easier but I still didn't manage to get the hang of it for either shape.
Simon did really well, despite not usually cooking, but sadly doesn't seem keen to become the pasta maker in our house.
Somehow everything managed to come together and we could relax and enjoy a long leisurely dinner on the terrace.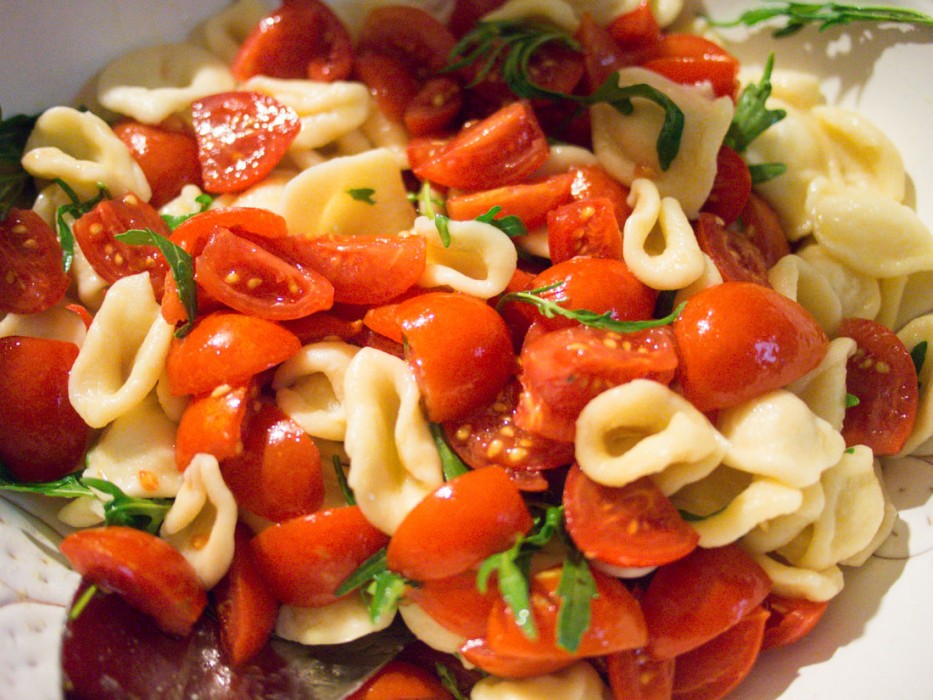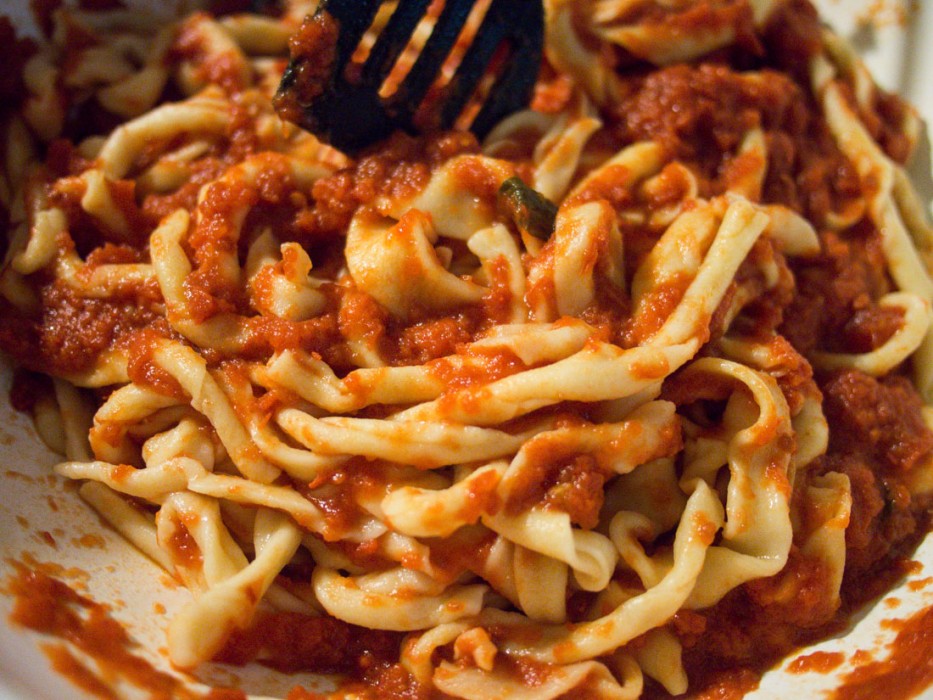 It was a warm September evening, fragrant with herbs from the garden; traditional pizzica music drifted from a nearby concert.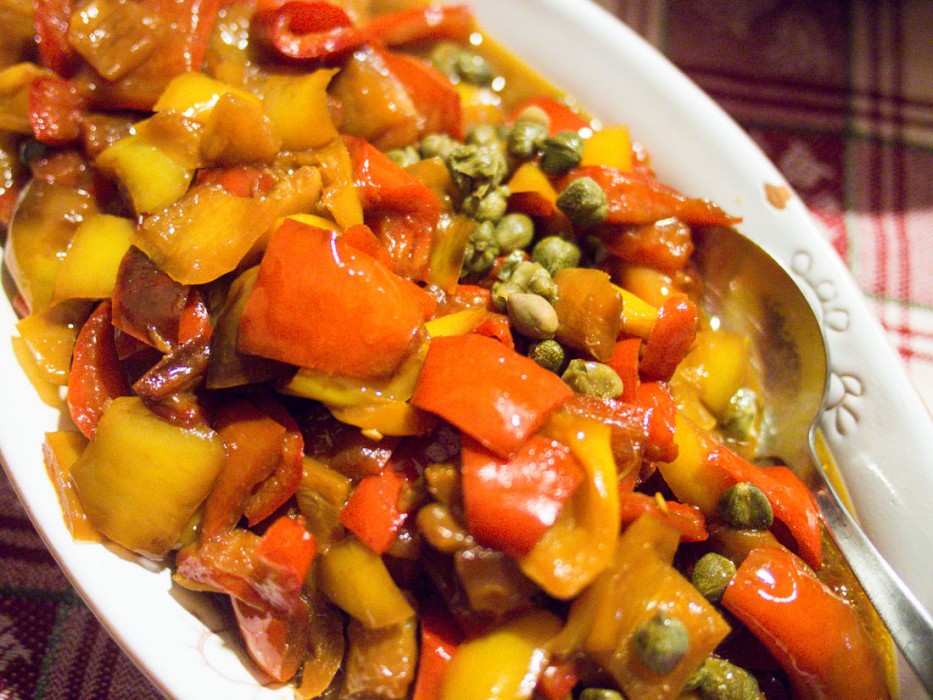 Gianna's husband joined us for dinner which lasted until nearly midnight, sampling everything we made accompanied by some excellent Puglian wines, and finishing with a homemade digestivo of lemon and wild fennel liqueurs.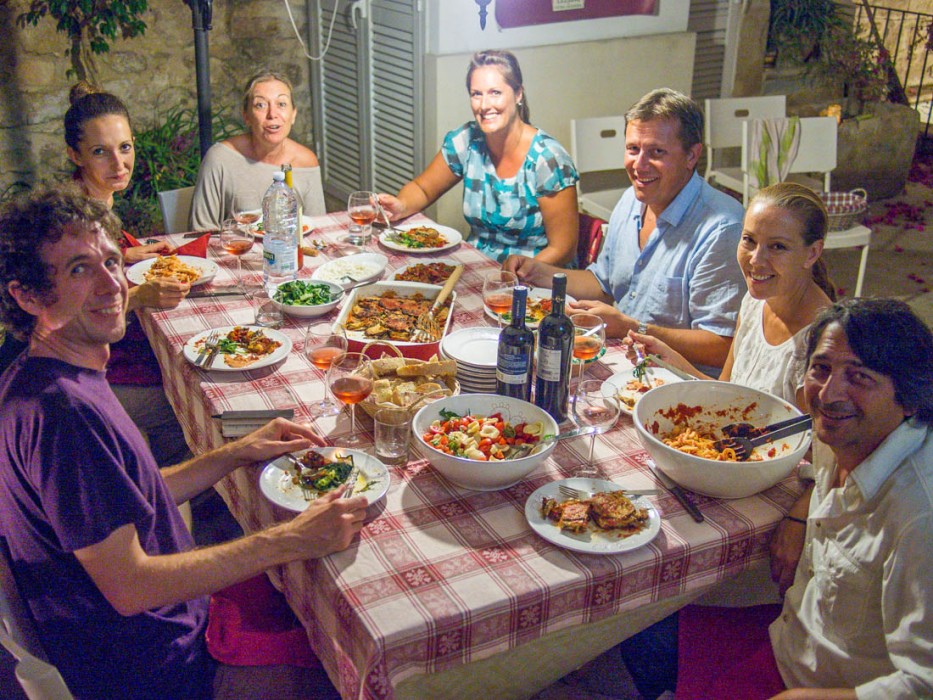 It was the perfect end to our Puglia trip and made us even more determined to return.
We love taking cooking classes on our travels and this was one of the best yet.
Gianna was a fun and passionate teacher, and we loved the informal, relaxed atmosphere, the bonus tastings and market visit, and the fact that sitting down to dinner we felt like we'd made new friends.
Cooking Experience Lecce Details
A cooking class with Cooking Experience Lecce costs €180 per person and lasts six hours starting either morning or late afternoon and includes plenty of food and wine.
They can tailor lessons for a variety of dietary restrictions (our class was vegetarian). For more details see the Cooking Experience website.
Other Lecce Cooking Classes
Other cooking classes in Lecce to consider include:
More Puglia Tips
Thank you to Puglia Promozione, the region's tourism board, who hosted us on this trip to Puglia, and to Gianna for sharing her passion about food with us.