This page contains affiliate links. Please read our disclosure for more info.
Off Sicily's north coast we found an island of raw scenic beauty with dramatic volcanic cliffs plunging into the sea, sleepy villages amidst verdant mountains, colourful fishing boats on pebbly beaches, hills covered in wild capers, and vines heavy with grapes for sweet Malvasia wine.
Salina, Italy is one of the Aeolian islands, a cluster of seven volcanic islands off Sicily.
The biggest island Lipari is the most popular, but we chose Salina, a quieter, greener base, its mountains vibrant as the only island with a natural water source.
In mid-September the summer crowds had left and it felt like we had the island to ourselves.
Contents
Video: More Sicily Destinations to Visit
Malfa: Our Base on Salina Island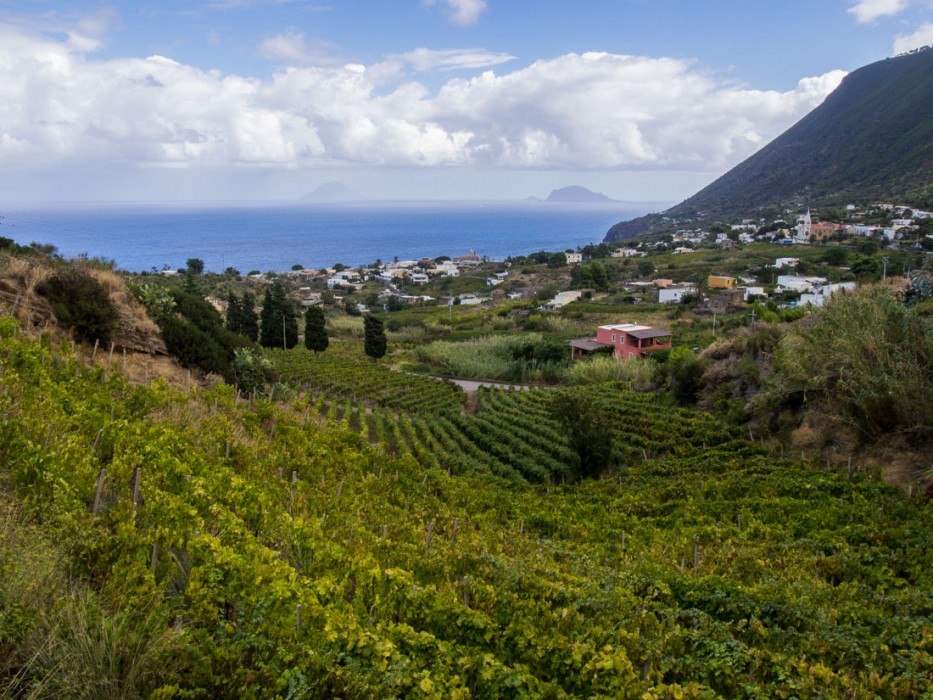 For our peaceful retreat on Salina we stayed in Malfa, a tranquil village on the wilder north coast that tumbles down a hill towards the cobalt sea, green mountains soaring over it.
It's small but the sloping maze-like layout meant we always found new alleyways to explore, uncertain whether we would end up in someone's house rather than our destination.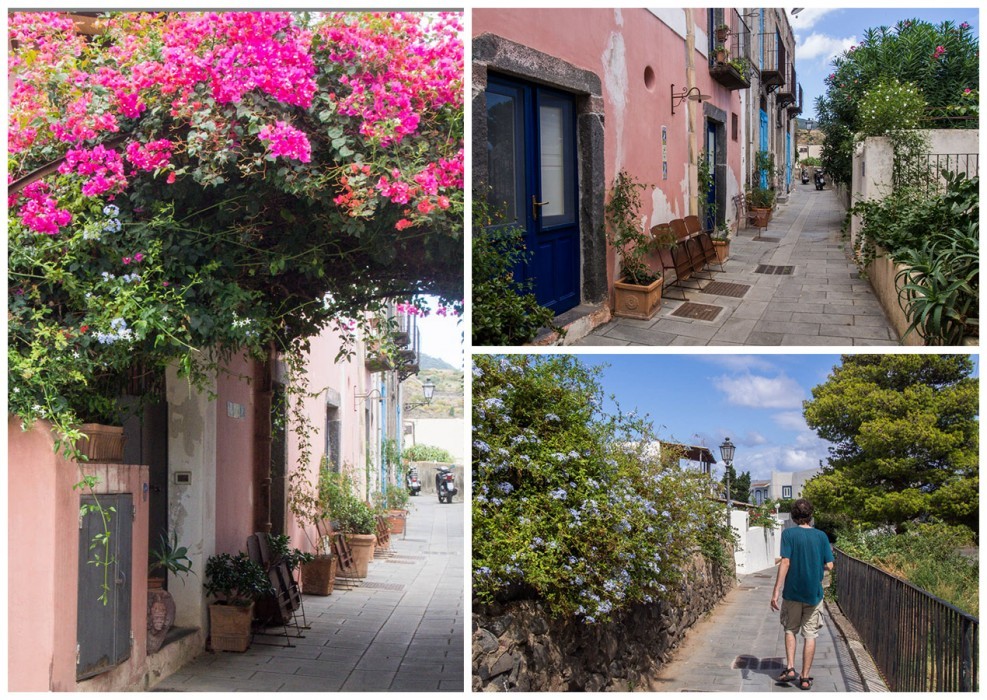 On our wanderings we passed simple white and pastel cubed houses, bushes of vivid pink bougainvillaea, trees overflowing with figs, lemons and grapefruit, and vines growing the local Malvasia grapes crammed between houses.
We were there at harvest time and saw farmers picking the grapes, piling them into their three-wheeled Ape or leaving them to dry on woven mats.
This concentrates the sweet flavour of the grapes to make the golden honey-like dessert wine, the perfect accompaniment to Sicily's almond pastries.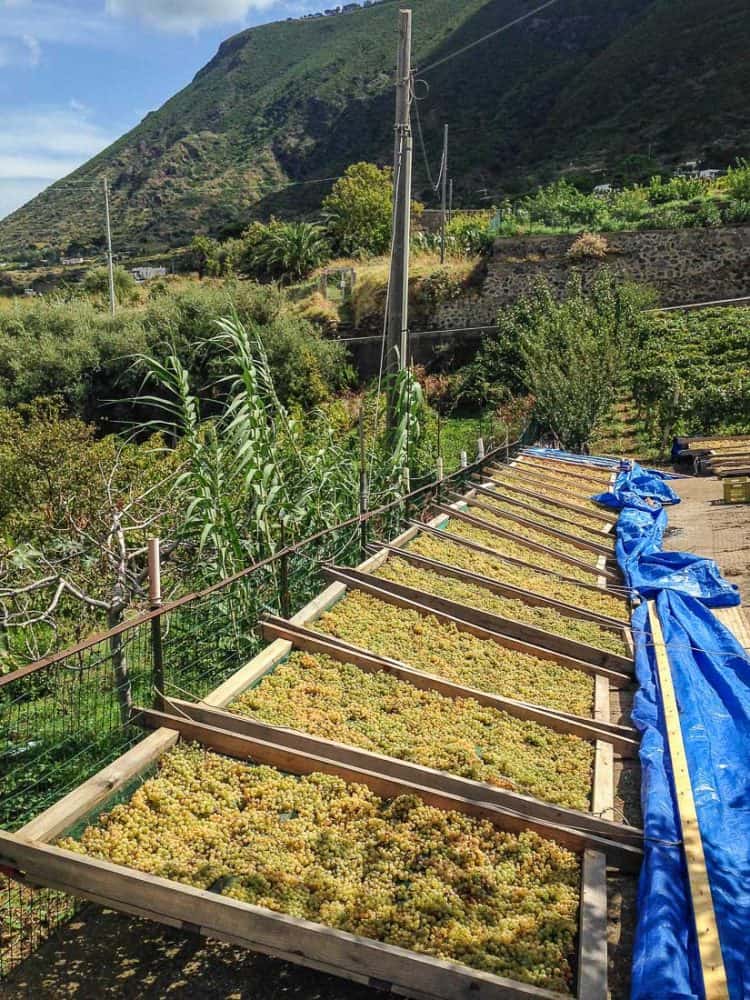 At the centre of Malfa village there's a simple peach church and small piazza next to a few bars where locals down espressos at the counter and buy cones of gelato.
There are only a couple of restaurants in Malfa and our favourite was A'Lumeredda with its lovely garden setting.
Much of the menu features salty capers which are grown on the island and are some of the best in the world.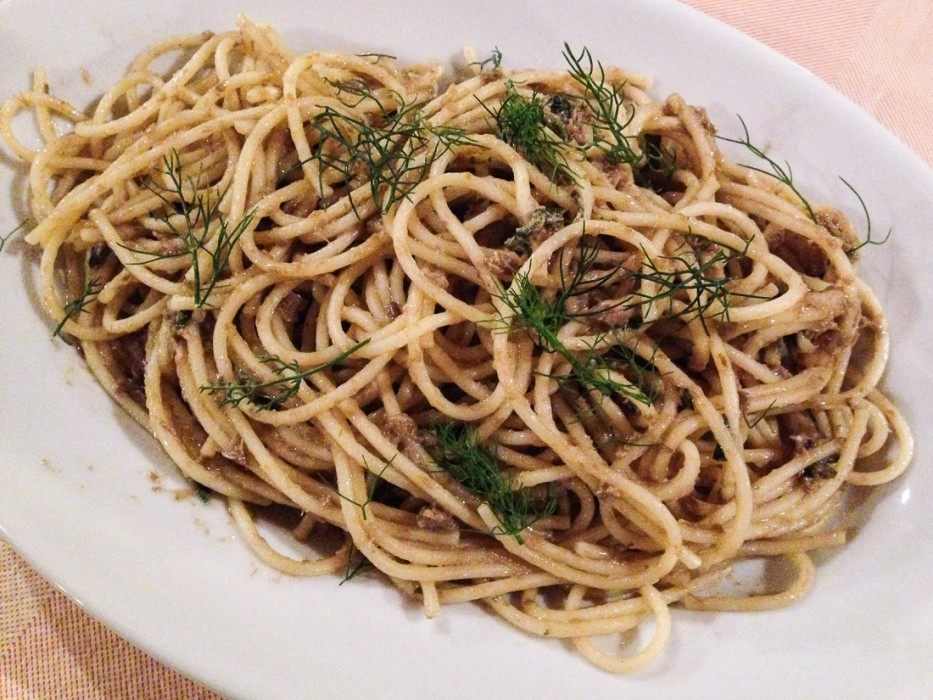 Malfa plunges down to the sea where you find a small cove. Like most of the beaches on Salina, it's pebbly, but the bar rents blow up mattresses for comfortable lounging.
On our second visit after a cloudy morning, the bar was closed and there was only one other woman on the beach, catching some rays on her lunch break.
In the shelter of the rocky bay, gazing out at sea, we felt far away from everything.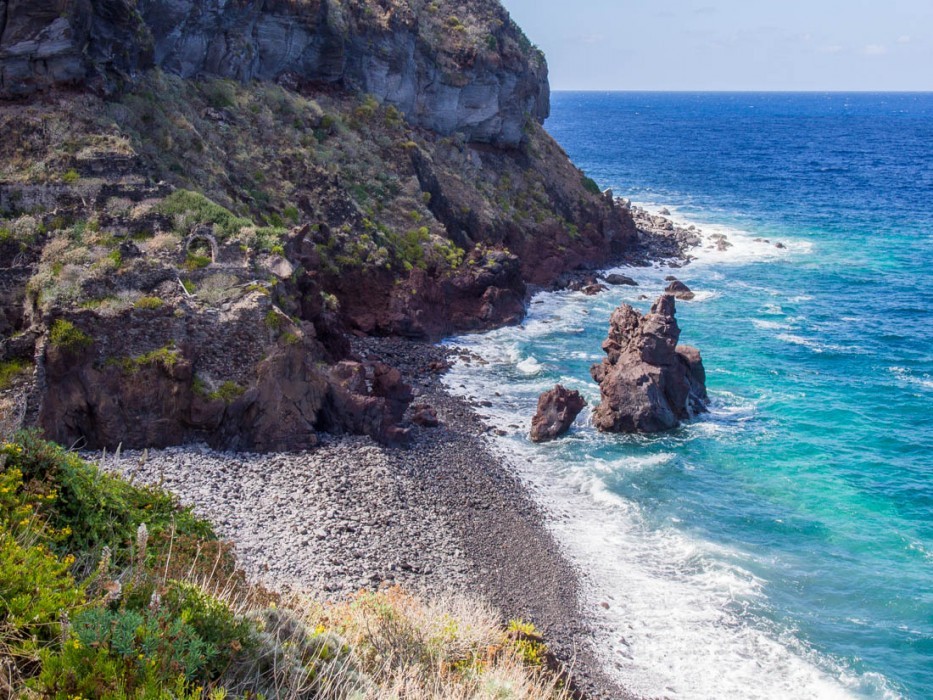 Where to Stay in Salina
We stayed at Hotel Principe di Salina, which was the perfect base to explore Salina.
It's located above Malfa just a five-minute walk into the village and 50 metres from the bus stop to get around the island.
The boutique hotel is on multiple levels so has wonderful views of the sea and mountains from the breakfast terrace, infinity pool, and room balconies.
We loved how many areas there were for lounging—the table and chairs on our balcony, the pool and thermal spring-fed jacuzzi, and a number of other common areas including a comfortable lounge with sofas.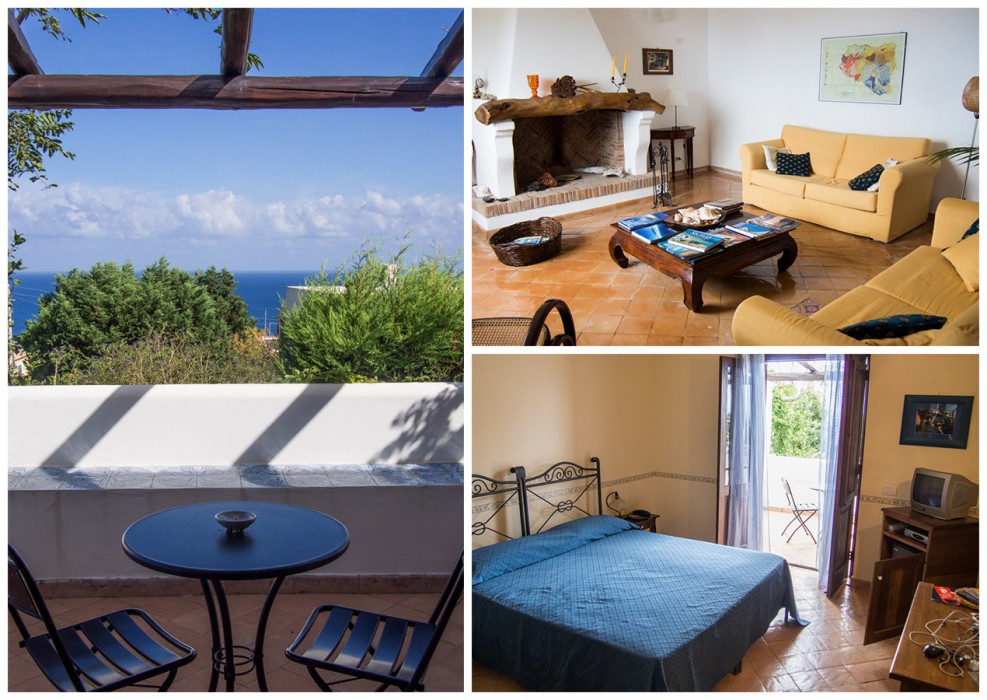 A highlight was the extensive breakfast buffet served on the terrace with views of the smoking Stromboli volcano and Panarea island.
It was a blissful start to the day and friendly owners Sara and Gaetano kept Simon stocked with excellent cappuccinos while we planned our day.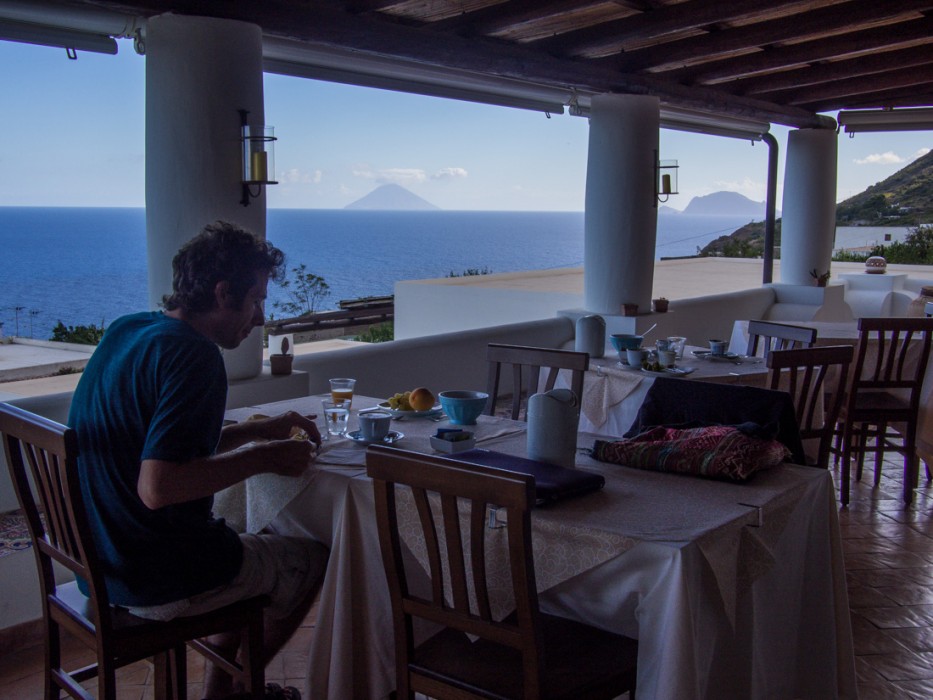 We highly recommend this beautiful hotel—you can't beat the views and hospitality.
Check the latest prices for Hotel Principe di Salina here.
Or search for more places to stay in Malfa here.
For more choice, look for hotels and B&Bs in Santa Marina Salina, the biggest village on the island.
Things to Do in Salina, Italy
Salina lulled us into a languid pace. There are boat trips and hikes and wineries you can visit, but somehow our four days passed in a serene mix of long breakfasts, strolls around the village, and enjoying the views from the pool.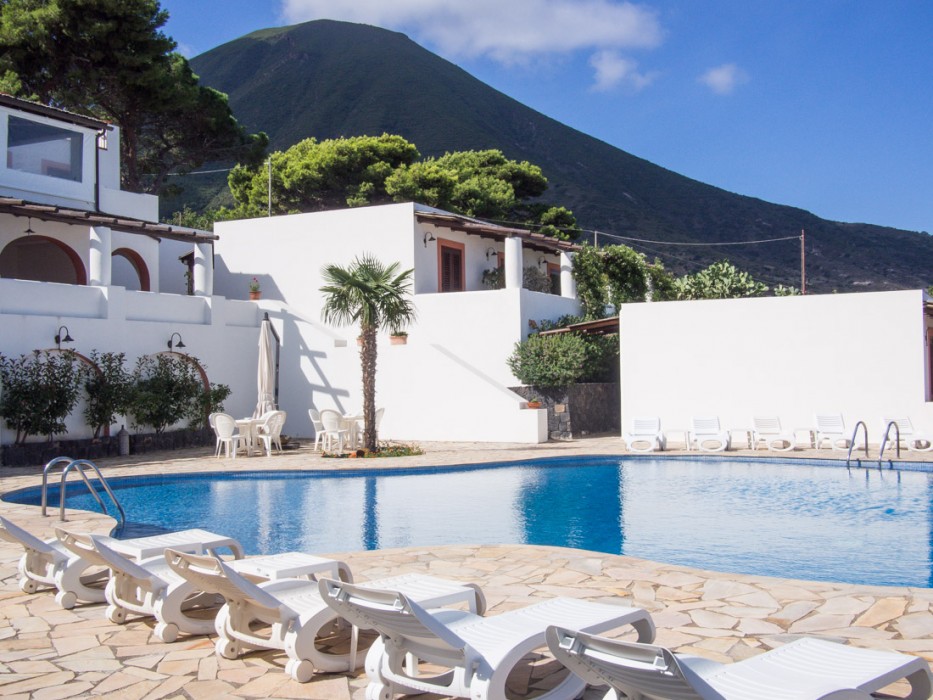 We did hire a scooter one day to explore the rest of the island, which I highly recommend.
We drove along quiet roads past wildflowers and caper bushes, cacti and poplars, through tiny villages and up and down winding roads; the twin extinct volcanoes now covered in lush vegetation dominating the island.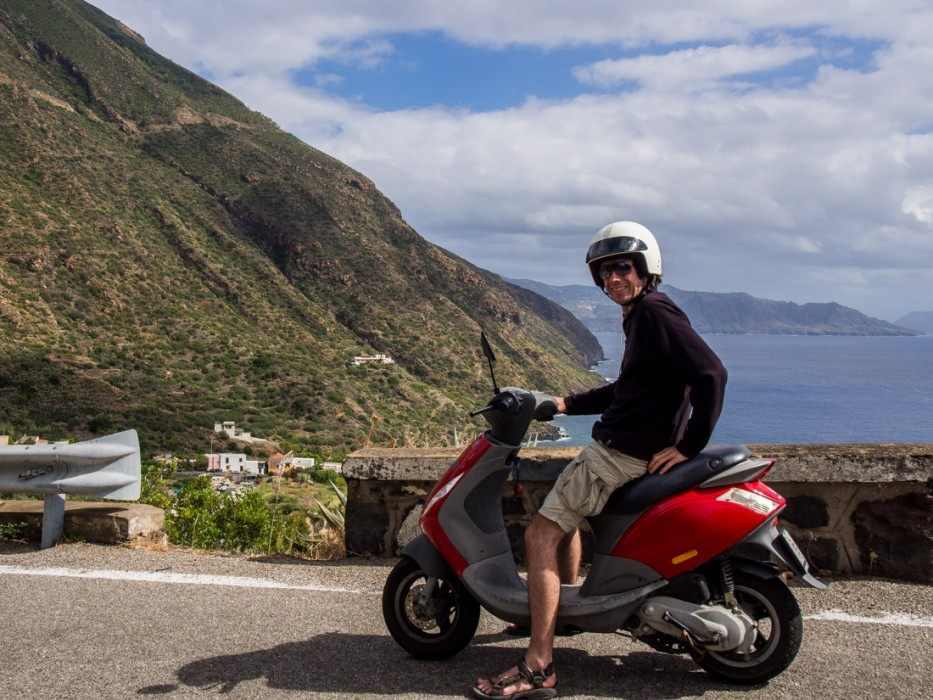 In the port town Santa Marina Salina we meandered past colourful houses and boutiques.
In Lingua we visited the salt lake and indulged in almond granita and huge pane cunzato at famous Da Alfredo's.
In the bleak, remote village of Pollara, we saw where Il Postino was filmed, following steep steps down to a few fishermen's homes built into the rock of a cove beneath sheer volcanic cliffs.
In Rinella we perched on rocks at the end of the black sand beach admiring the colourful village, sunbathers lazing amongst the fishing boats.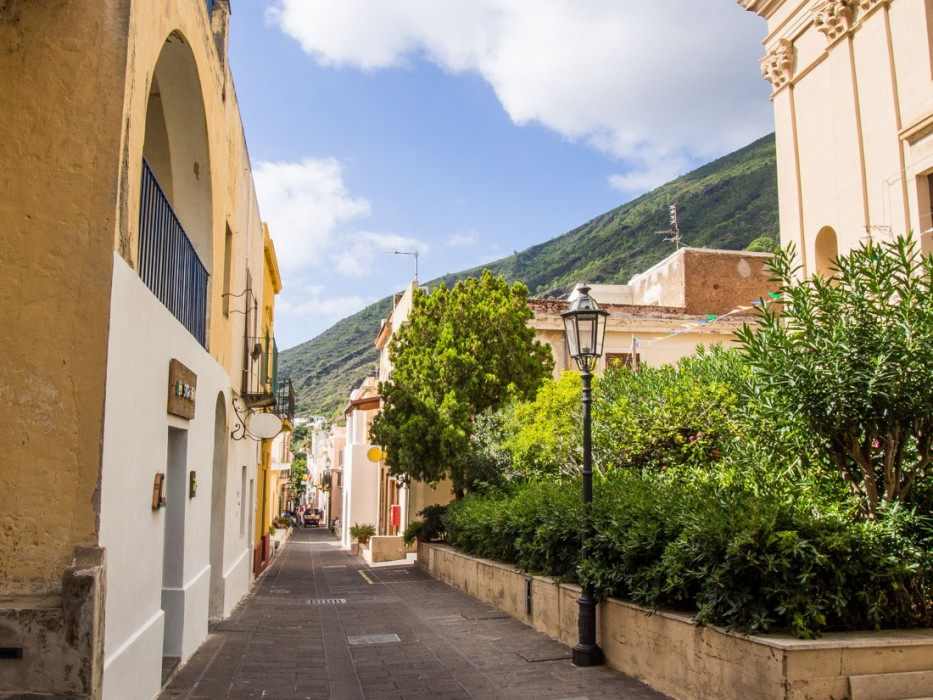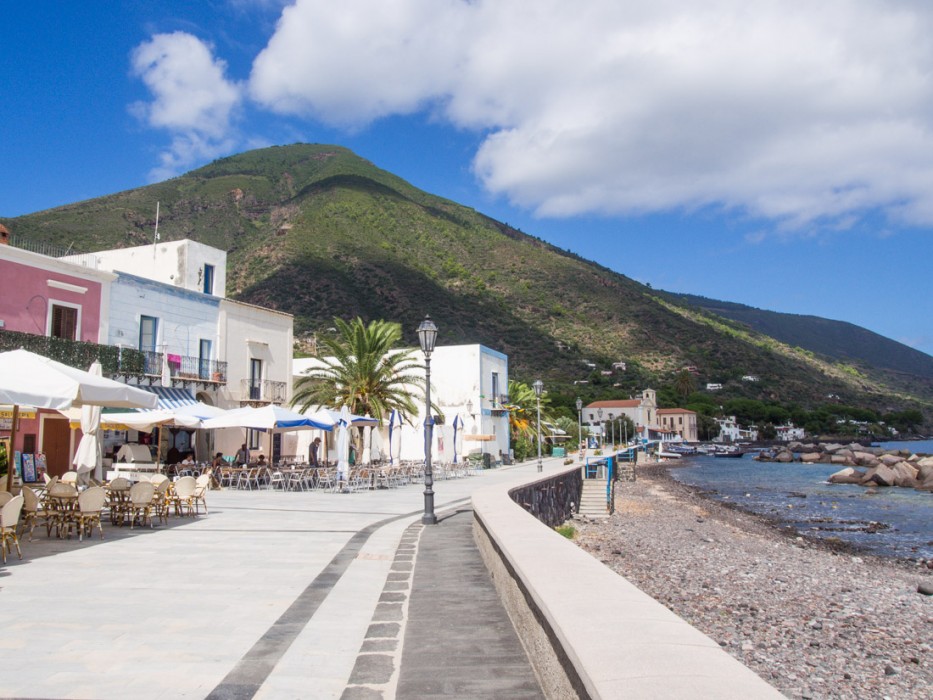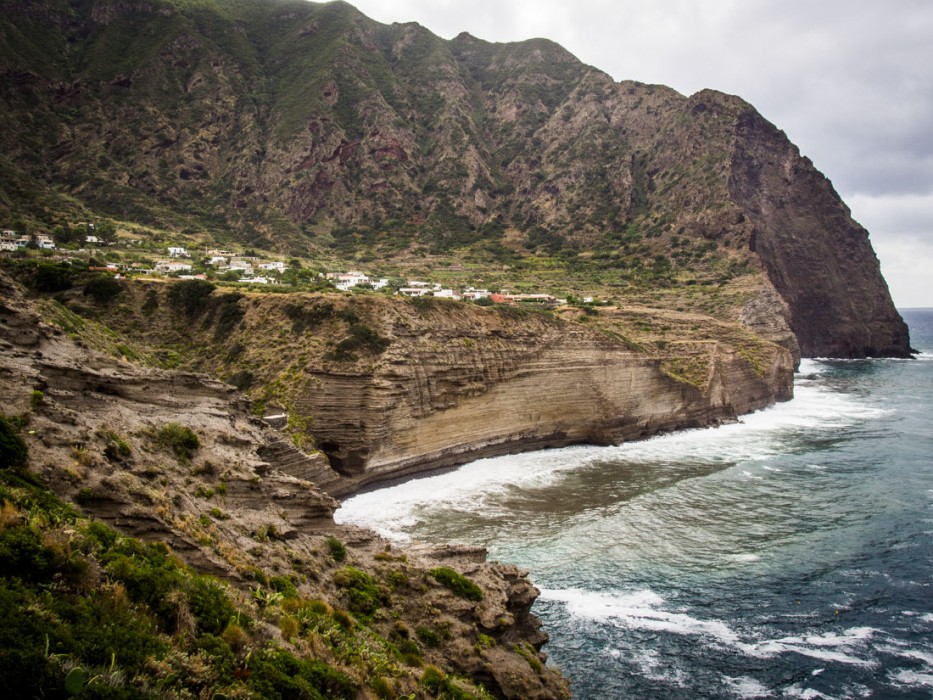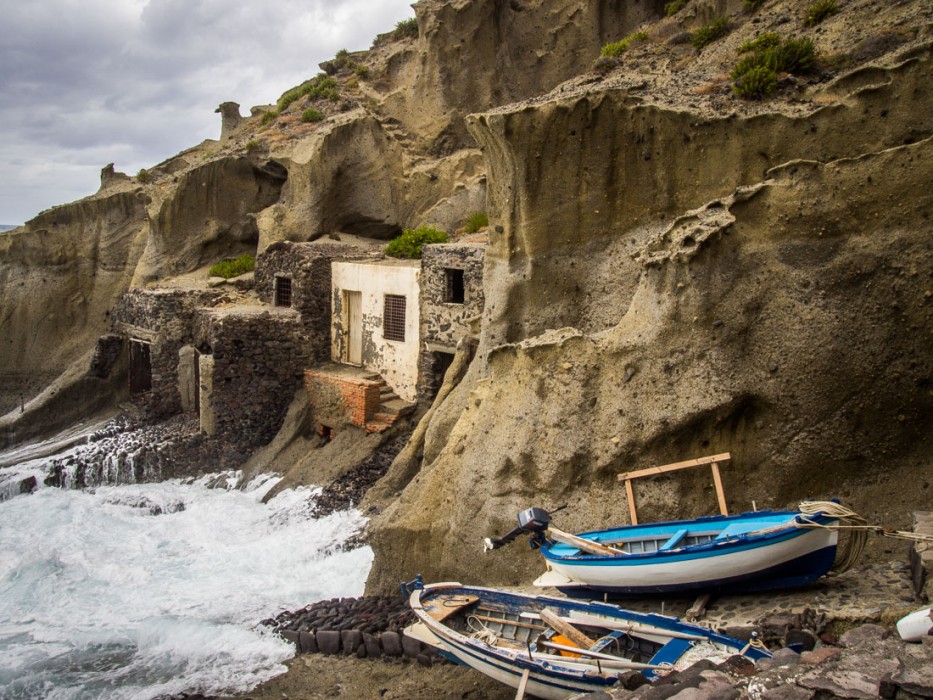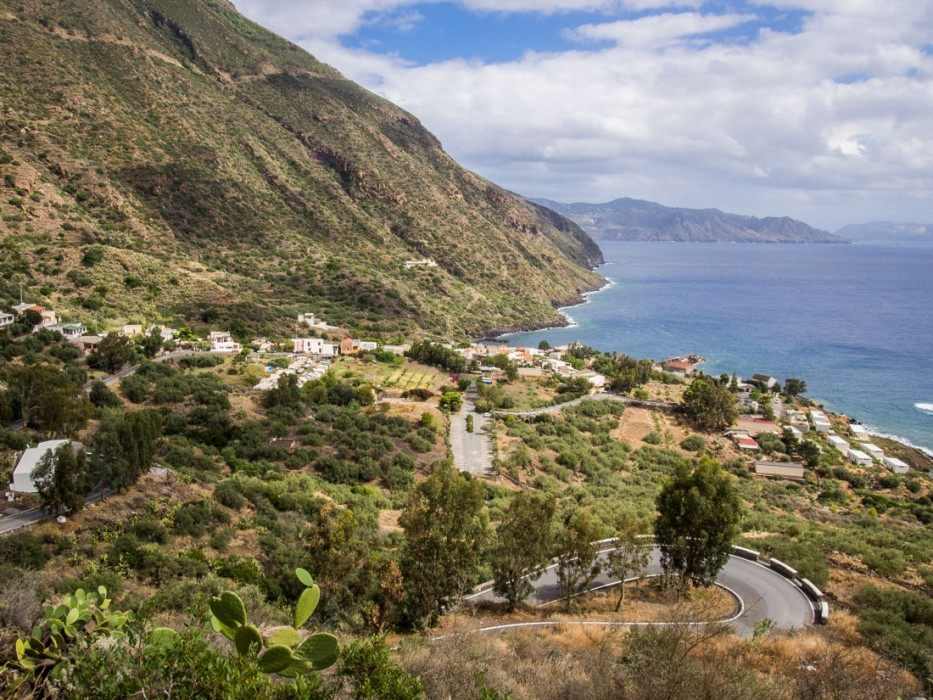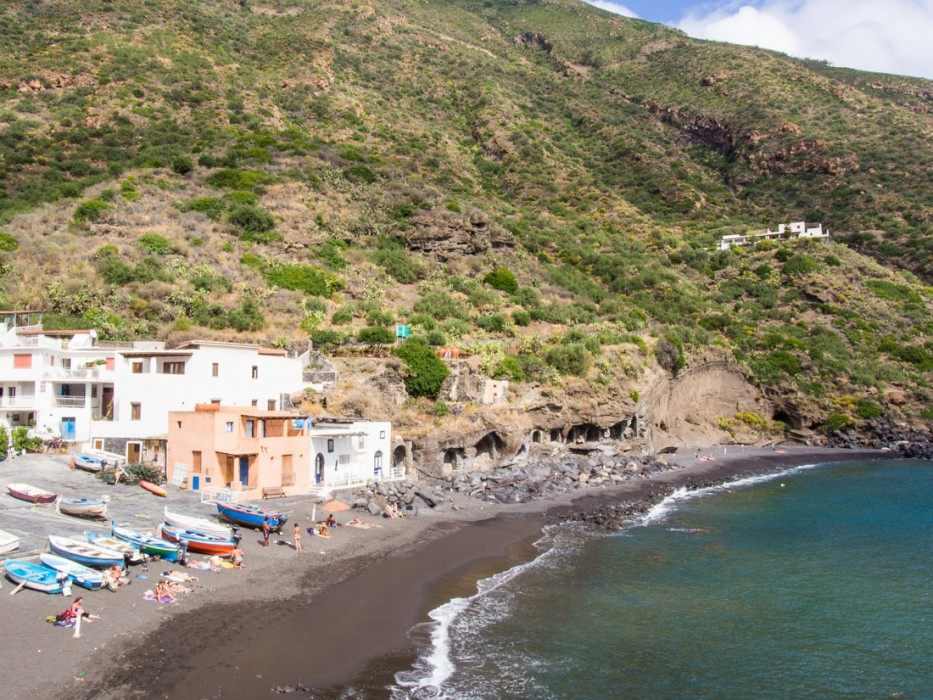 How to Get to Salina Italy
You can reach Salina by faster hydrofoil (aliscafo) with Liberty Lines or the slower ferry (traghetto) with Siremar.
Santa Marina Salina is the main port on Salina.
The main departure point is Milazzo, although in the summer it's also possible to get a boat from Palermo and Cefalu on Sicily and from Naples.
From Milazzo to Salina the hydrofoil took about 1.5 hours and cost €24. The crossing can be rough, so if you get seasick take medication and sit at the back of the hydrofoil.
We reached Milazzo by train from Naples, a 6.5-hour journey that involves the interesting experience of taking a train on a ferry for the short crossing from the mainland to Sicily. This trip is often delayed and ours was about an hour late.
Search on Trenitalia for trains to Milazzo. Or ItaliaRail is an easier site to use for English speakers. You can also read our guide to travelling from London to Italy by train.
There is a bus from Milazzo train station to the port, but after waiting quite a while, we had to take a taxi to make our ferry.
The nearest airport on Sicily to Salina is Catania. From June to September, the Giunta Bus runs from Catania airport to Milazzo port, which takes 1 hour 45 minutes and costs €15.
How to Get Around Salina
As we arrived late on Salina we took a taxi from the port at Santa Marina Salina to Malfa (€20), but there is also a bus that connects all the villages.
Hiring a scooter is a great way to explore the island. Moto Noleggio Merlino in Malfa is one of the places you can rent from. Or ask your hotel for the nearest option.
Visiting the Other Aeolian Islands
You can combine a trip to Salina with the other Aeolian Islands.
We travelled from Salina to Stromboli on the Liberty Lines hydrofoil (1 hour, €17) and did the incredible evening climb to watch the volcano erupting as the sun set. It's well worth spending a night on Stromboli to do this.
You could also visit the rest of Sicily—here are our Western Sicily highlights and our favourite Sicily food.
Salina, Sicily Map
Summary
Salina feels remote and peaceful with a relaxed pace, dramatic beauty, and excellent cuisine.
If you visit outside of August, it's the perfect place to unwind.
More Sicily Posts
More Italy Posts
If you enjoyed this post, pin it!