This page contains affiliate links. Please read our disclosure for more info.
This post is about our month living in Palermo Italy in 2013. It was last updated in 2021.
My day as a digital nomad in Palermo begins with a morning run along the seafront. I run down our street of 19th century buildings in this "new" part of town, in the middle of the road as cars are parked on the pavement.
It must have been too much effort to try to fit neatly inside the lines of the parking spaces so they just drove straight in, noses blocking the pavement, rears pointing out into the road.
I jog past well-dressed Italians drinking cappuccino in cafes, small children rolling their bright pink suitcases to school, a homeless guy and his dog bundled in blankets in a doorway.
I smell the harbour before I get there, the pungent smell of fish emanating from the warehouse-like market.
A little further along I reach the horseshoe of La Cala, a mass of boats reflected in the still morning water. Elegant yachts float next to rustic fishing boats, their bright blue paint peeling.
Fishermen untangle piles of nets, or sell their catch from a table in front of their boat; the buyers are all middle aged men.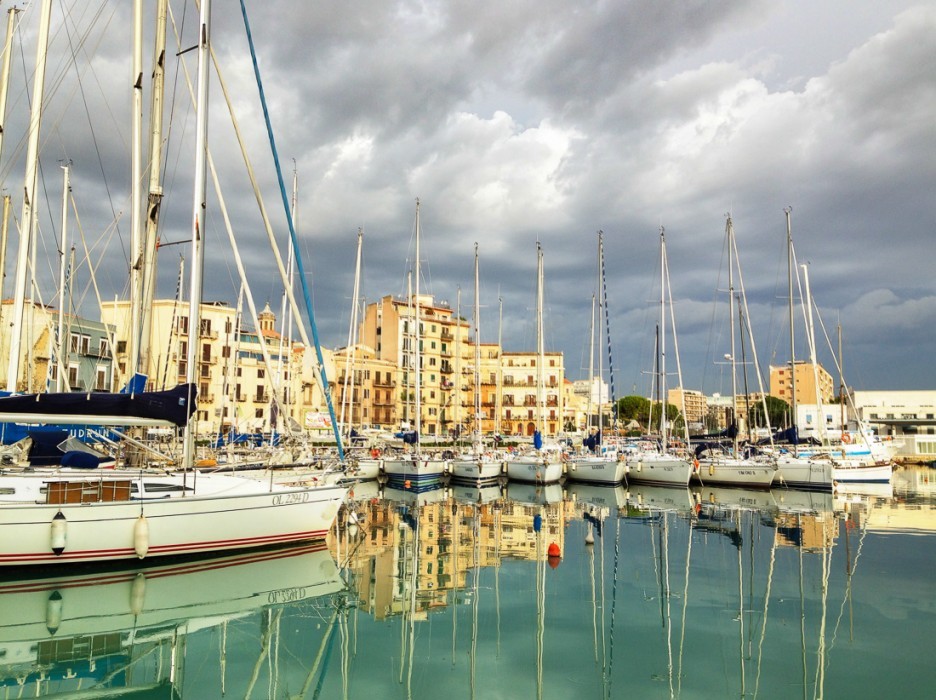 Palermo looks its best on the seafront. At a slight distance you can appreciate its setting, cobalt sea on one side, green mountains on the other three.
It's lined with grand but crumbling churches and palaces, with Porta Felice an imposing 16th century baroque gateway leading you into the city. But I carry on along the sea.
Our mornings are usually devoted to work. Our spacious one bedroom apartment is decorated with antique charm meets ikea practicality.
It's a real home with artwork and books and DVDs and a multitude of armchairs, and even an old Marsala wine barrel.
From our small balcony we can see the sea, a sliver of blue at the end of the road that's often filled with a ferry or cruise ship.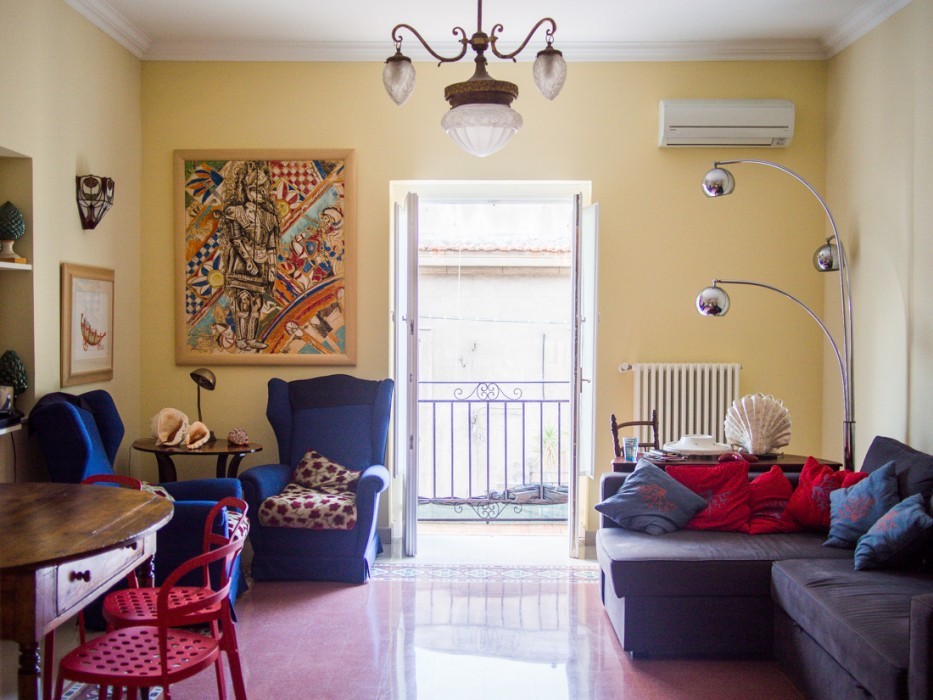 It's October but the temperature hasn't dropped below 25 C since we arrived.
We usually leave the French doors open, letting the sea breeze drift in along with the buzz of scooters, the occasional high pitched drill of building works down the road, the trill of the opera singer practicing across the narrow street, and the notes of the clarinetist downstairs.
Often we'll hear the cackling laugh of our neighbour. We've never heard someone laugh so much, so joyfully, and it almost makes us forgive her for playing Jesus music early in the morning.
The residents of our building—Italian, African, Indian—reflect the city's diversity, much more multi-cultural than other places we've visited in Italy.
We're nearer to Tunis than to Rome after all, and Sicily absorbed influences from its Arab invaders, reflected in the city's diverse architecture, the spices in the markets, and even the menus—nowhere else in Italy do you find couscous listed alongside pasta.
A gelato van sometimes parks outside our building and draws a crowd without needing to announce itself with saccharine tunes, although inevitably this means we miss it.
The flatbed truck is filled with aluminium tubs of different flavoured gelato—pistachio is popular here—and it's served in cones or stuffed in brioche.
Around lunchtime Simon dashes down the three flights of stairs and returns breathless with a sesame seed covered baguette (another surprise in Italy) from the bakery on the corner, which like all the shops closes at 1pm for a four hour lunch break.
While Palermo never empties like many small towns, the afternoons are certainly a quieter time and the traffic more manageable.
The Wonderful Markets of Palermo
Within a few minutes walk we have two bakeries and two greengrocers, one that also has everything else we need including dozens of types of pasta (buying spaghetti has never been so daunting) and a cheese counter.
The greengrocers sell more than just fresh vegetables and fruit, they also have pots of olives, cooked potatoes and green beans in big tubs of water, and freshly roasted onions and peppers—Italian convenience food.
The cheapest place for us to shop though is at one of Palermo's ancient markets—Ballarò is the biggest but Capo is closer.
They are both bazaar-like mazes of stalls down narrow cobbled streets with piles of aubergines, cherry tomatoes, chiles, peaches, grapes, incredible metre long cucuzza zucchini, and as we get closer to winter, mammoth heads of pale green cauliflower (confusingly called broccoli here), their dark green leaves discarded.
The vendors don't like you to touch the produce so it's good practice for our Italian asking for everything we need. Shopping is a leisurely, personal experience here.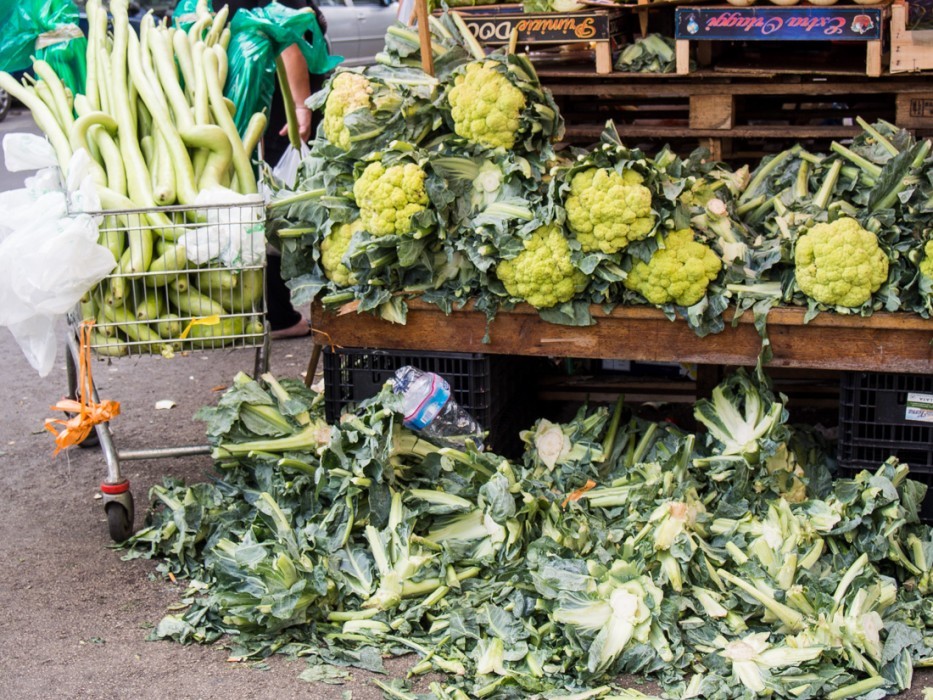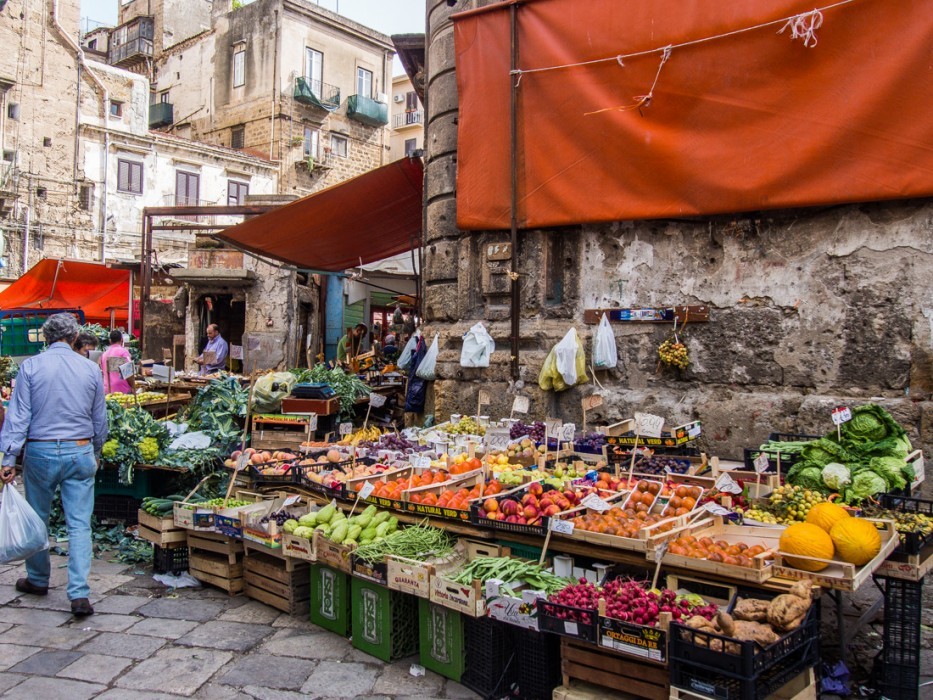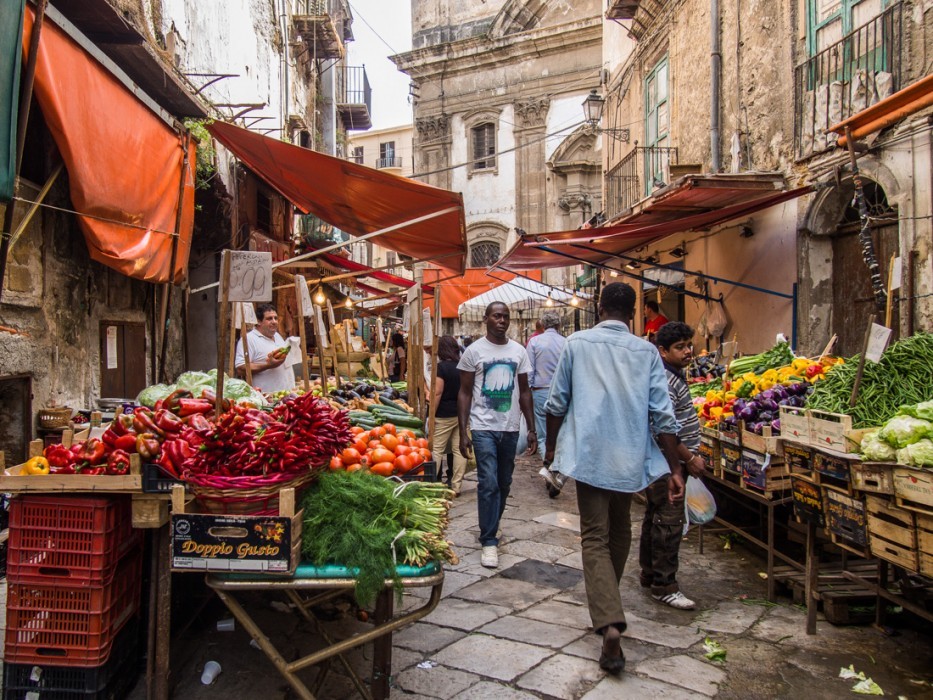 The markets don't just sell fruit and vegetables.
There are tubs of olives, green and black, spiced or herbed; wrinkly sun-dried tomatoes; dried cannellini and chickpeas; salt packed capers from the Sicilian island Pantelleria; pistachios and almonds and pine nuts, all grown on the island; the biggest range of spices I've ever seen in Italy; blocks of caciocavallo, ricotta salata, pecorino, and primo sale cheeses; and of course fish.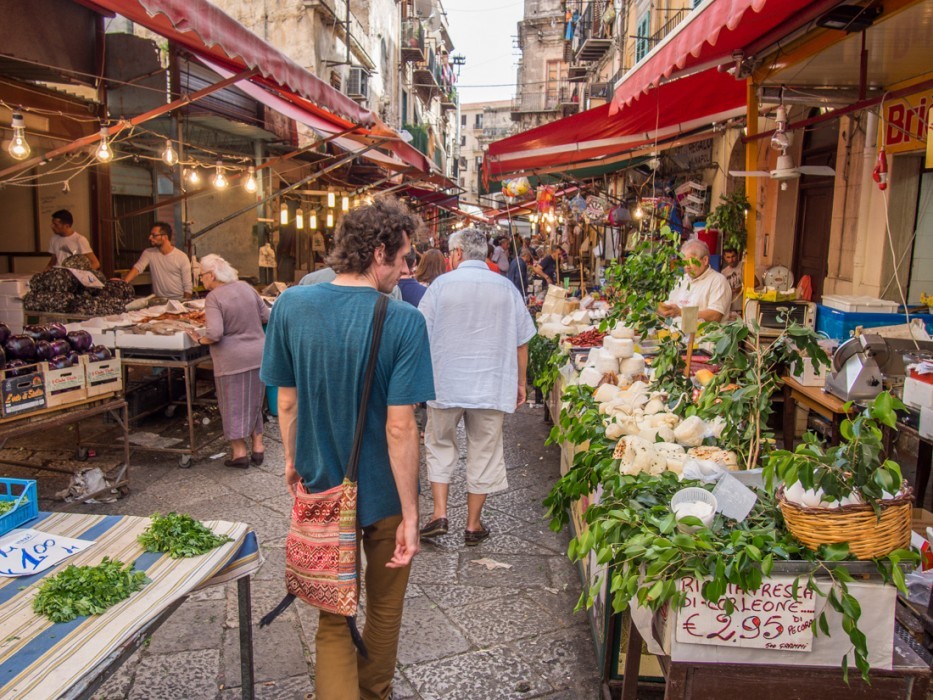 At Ballarò in particular you'll also find street food. Much of it—spleen sandwiches, grilled sheep intestines—isn't vegetarian friendly but we can indulge in pane con panelle, a sesame-seeded roll stuffed with chickpea fritters—the Palermitano chip butty.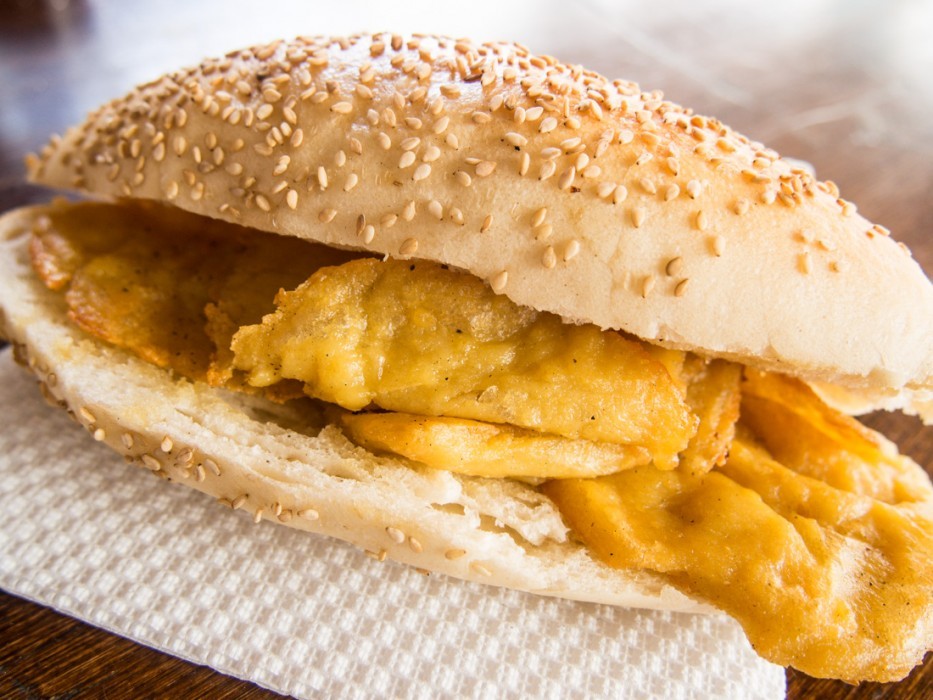 Mondello Beach near Palermo
Sometimes we'll take the afternoons off and go to the beach.
It's an easy 30 minute bus ride to Mondello, a beach town with a long curve of powdery golden sand and Caribbean-like clear turquoise waters, still warm enough to swim in in mid October.
It has a spectacular location between Monte Gallo and Monte Pellegrino and is the perfect place for a few hours relaxation.
It's popular, though. Italians like their beaches sociable and convenient, and on our first visit at the end of September the sand was crowded with sun beds and umbrellas.
We decided to embrace the Italian way and enjoy the comfort of a lounger for €4 each (after 2pm).
On our second visit in early October, it was a different scene. Italians decide their beach seasons by date, not weather, so despite the sun the beds were gone and the glorious stretch of sand was revealed.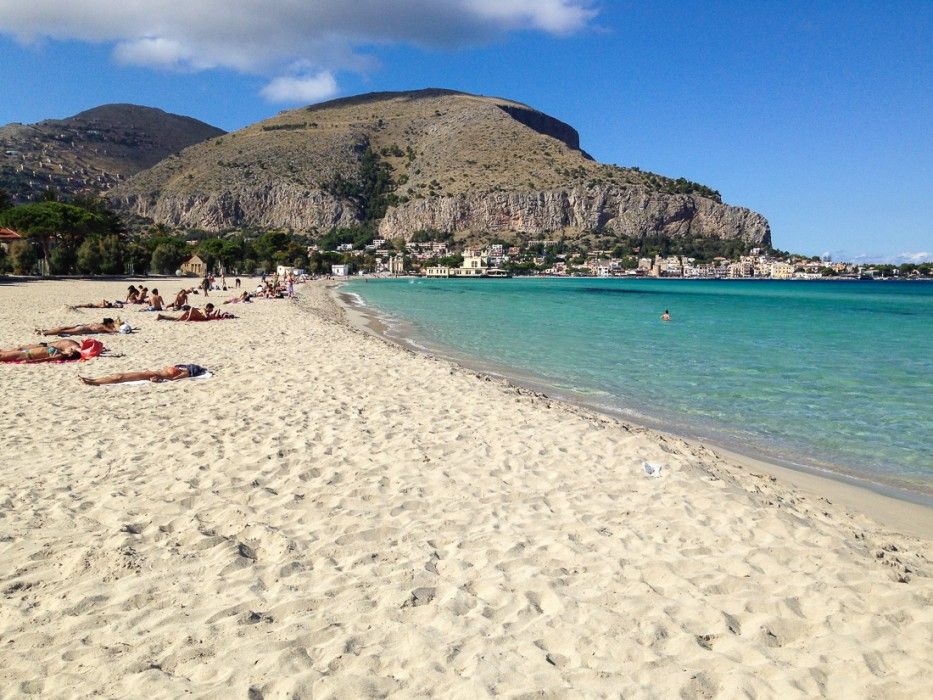 Exploring Palermo's Streets
If we don't take the afternoon off we try to finish work by 4 or 5pm and head out into the reawakening city.
There are many churches, museums and palaces to explore but we prefer to just wander though the maze of streets in the old town.
It has taken time to peel back Palermo's layers, to see past the busy streets and decaying buildings, to discover fountains and piazzas and century-old banyan trees in gardens, and surprises like a street of colourful hand painted carts and rickshaws, which we later discovered was the workshop of artist Franco Bertolino, the fifth generation of traditional Sicilian cart painters.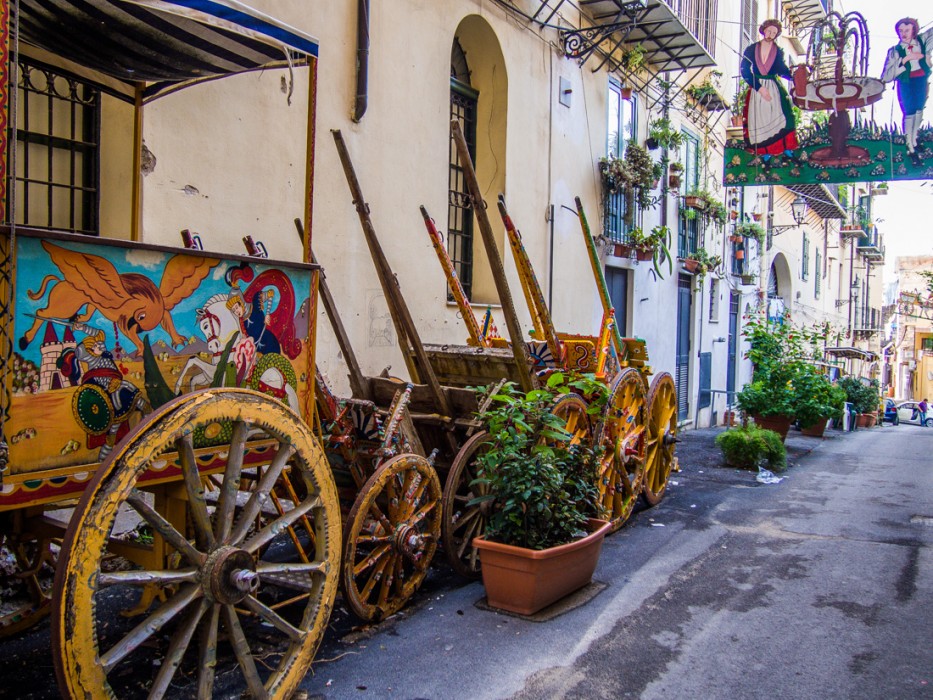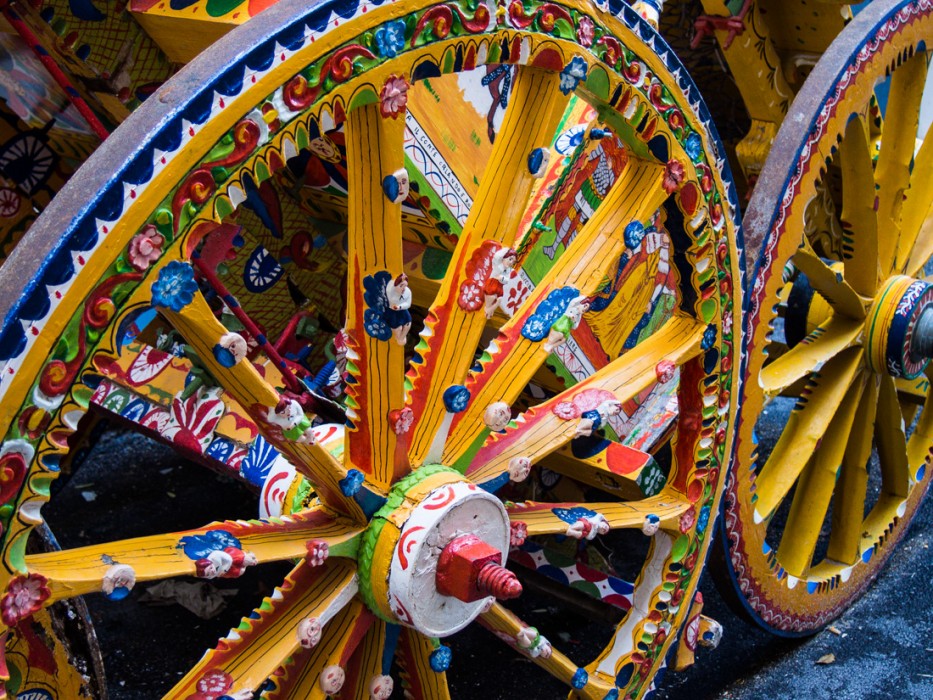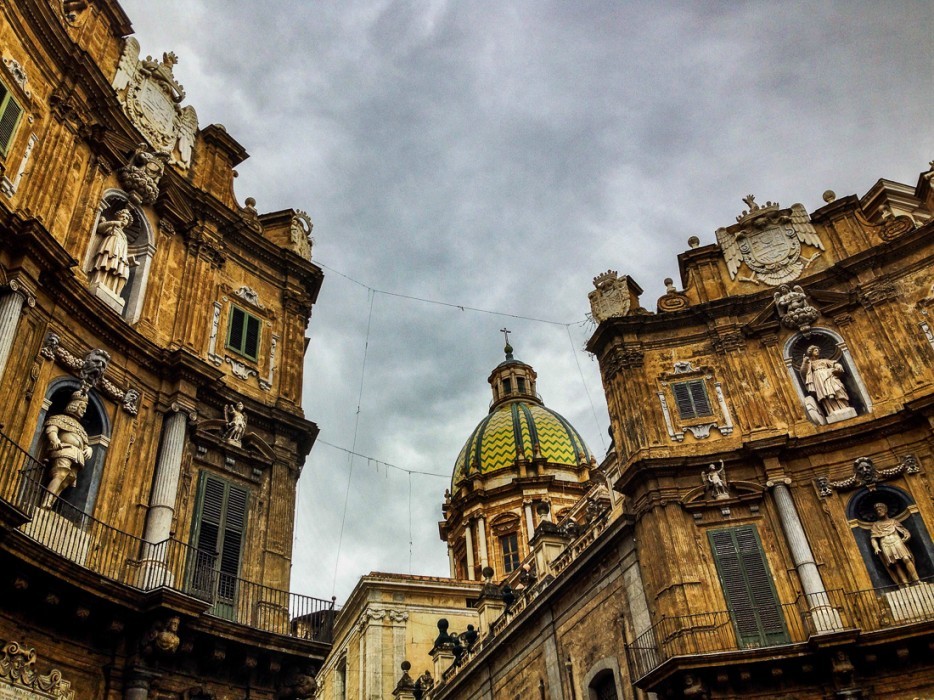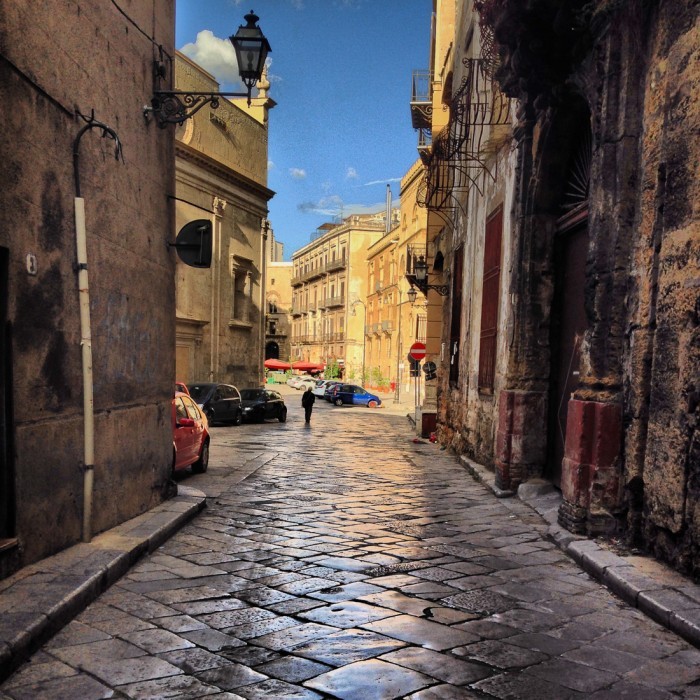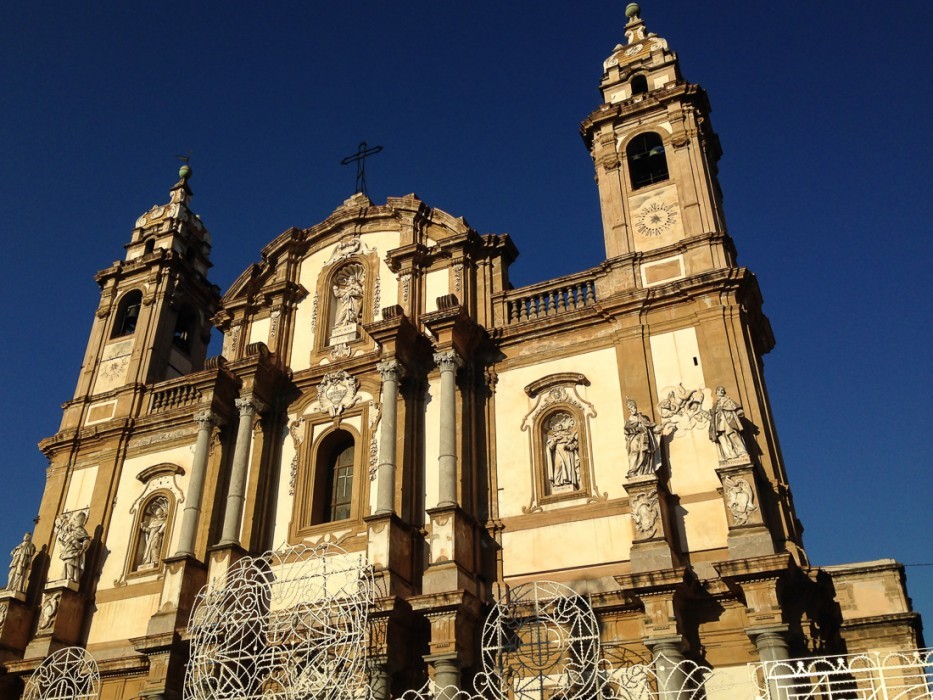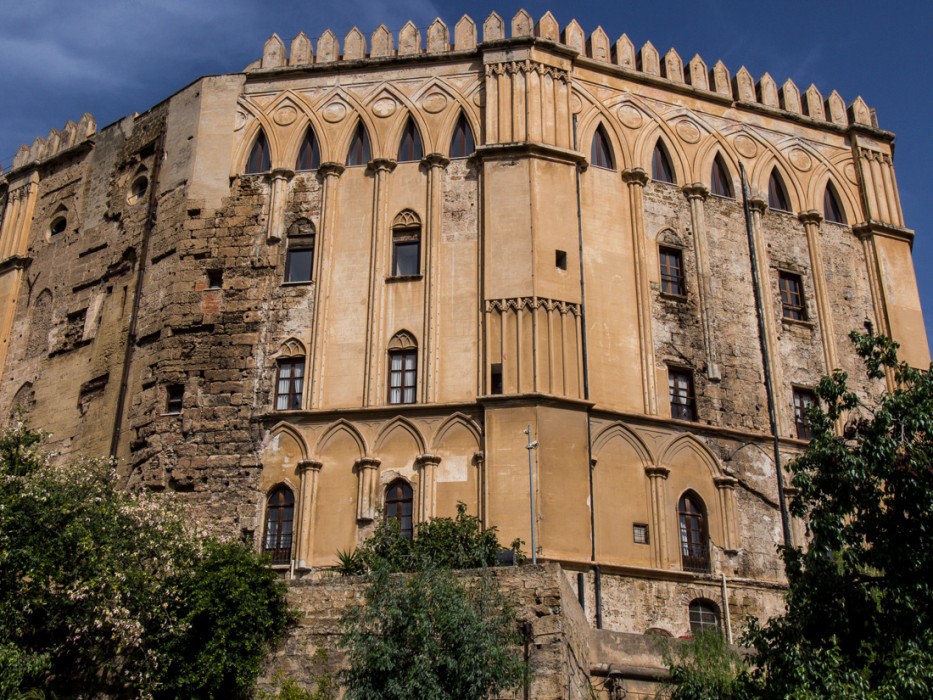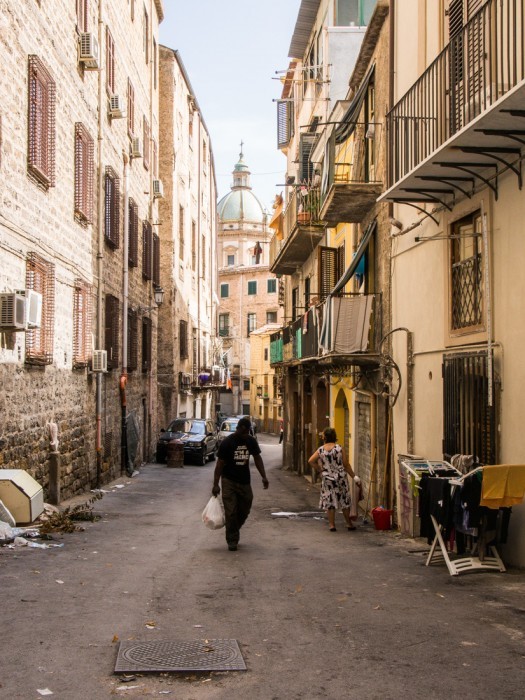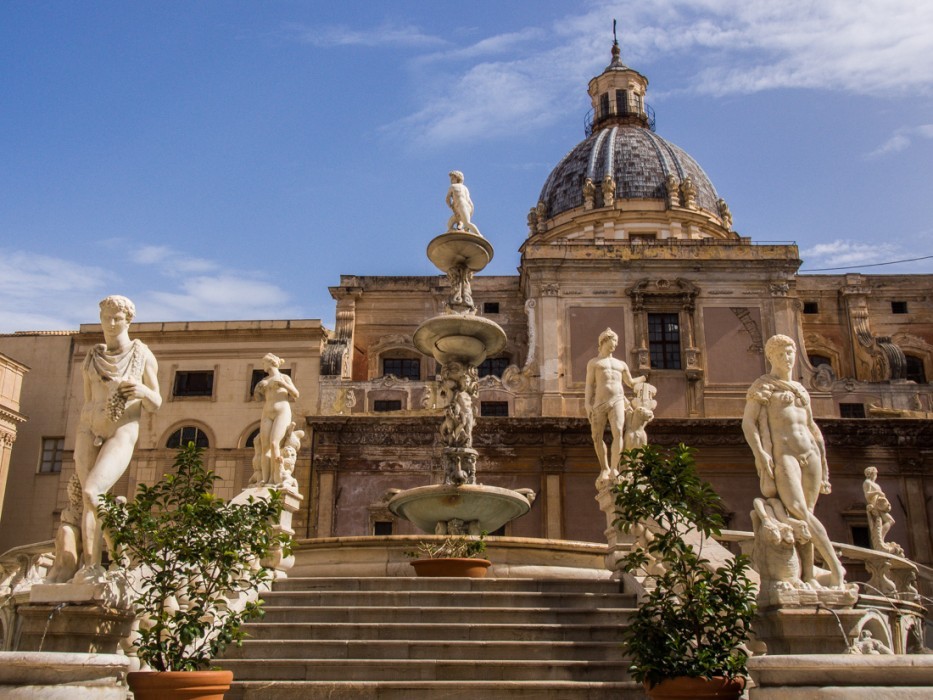 It was a shock to turn a corner and come across the apse of Palermo's immense Cathedral, with its Arabic geometric patterns and castle-like structure.
It's the most unusual Catholic church we've ever seen.
The mishmash of architectural styles reflects the city's history as since it was built by the Normans in 1185 many additions have been made over the centuries and it now blends Norman-Arab, Gothic, Spanish, Baroque, and Neo-classical styles.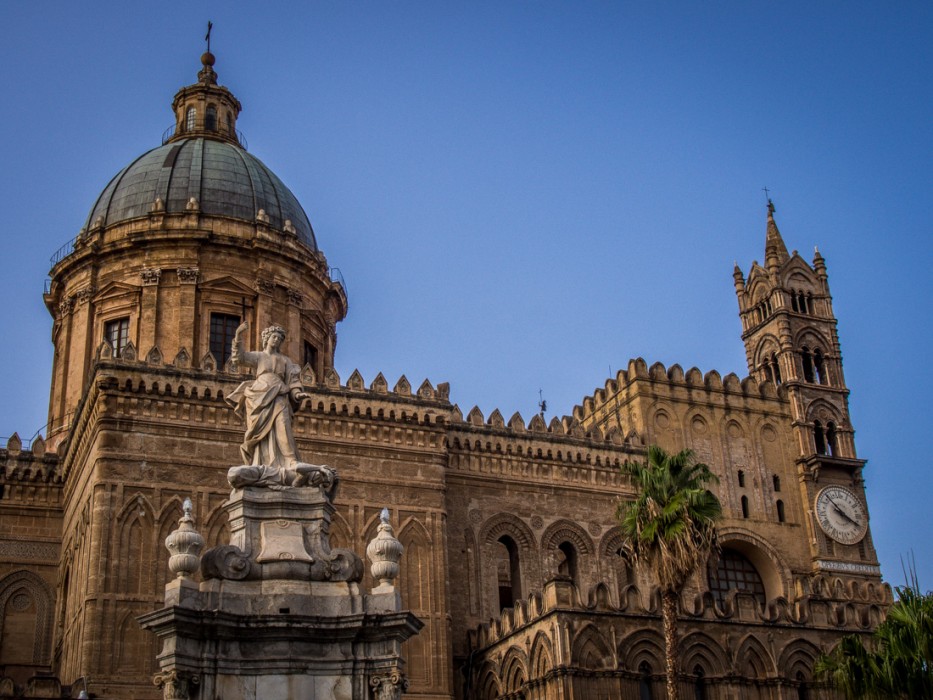 Dinner is eaten late here so to keep our British stomachs going we might have an afternoon gelato at Antico Caffé Spinnato, or occasionally an aperitivo.
Alcoholic drinks are always served with snacks in Italy so the nuts, crisps, olives, and other treats with our glass of wine help tide us over.
Final Thoughts on Palermo
Palermo isn't a city that you fall in love with at first sight, it takes time to get to know it, to see beyond the chaos, to walk its streets and find its hidden secrets.
We're glad we had a month here so we could begin to do that, a little every day.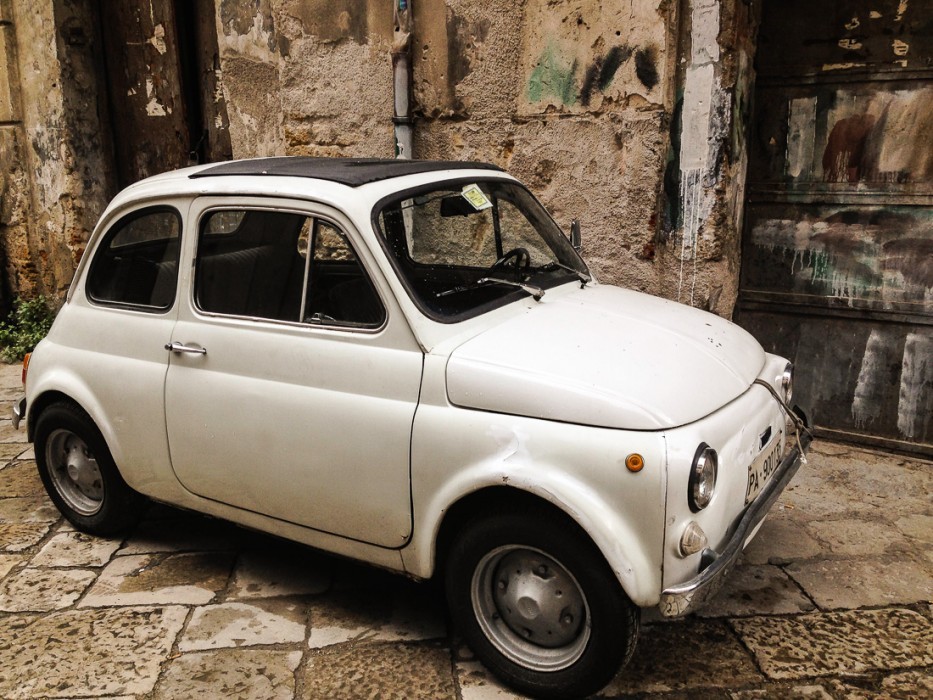 Our Palermo Apartment
We rented a one-bedroom apartment (no longer available) in a central location just outside the old town and a few minutes' walk from the Massimo and Politeama theatres.
Search for apartments in Palermo on Vrbo here.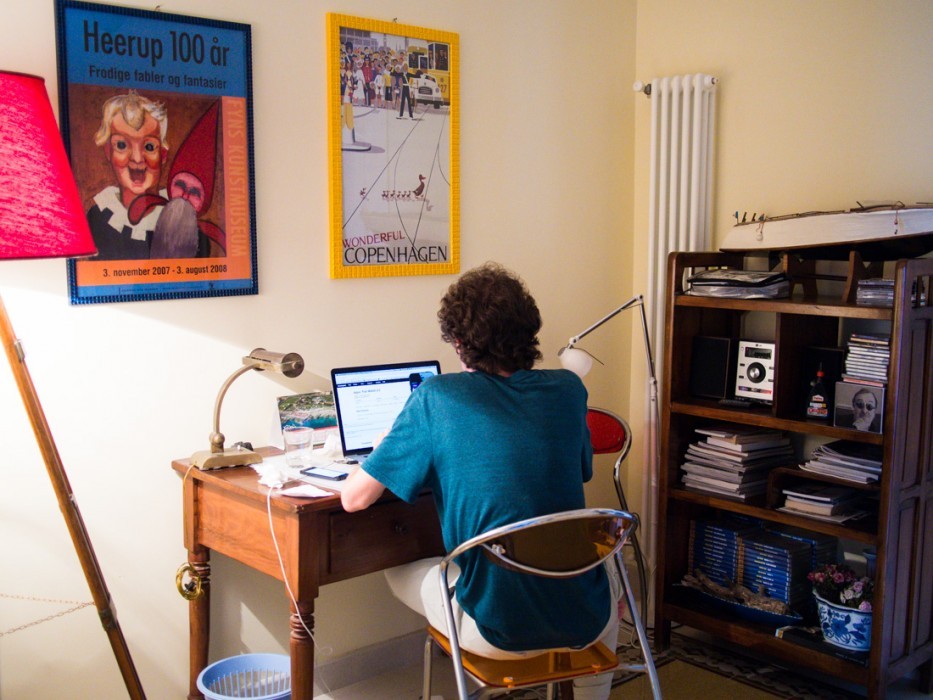 Sicily Tips
If you are exploring more of Sicily check out our picks for the best places to visit in Sicily, our food in Sicily guide, and our posts on the gorgeous Aeolian Islands Salina and Stromboli.