This page contains affiliate links. Please read our disclosure for more info.
Slovenia is an easy country for vegetarians and while we couldn't try many of the local dishes we ate very well. We were surprised by how delicious Slovenian food is and impressed by how common fresh, local, and often organic ingredients are. Combined with excellent, affordable local wine Slovenia is an underrated foodie destination.
A Slovenian local told us a story of being a language student in England where everyone was asked to make a dish from their home country. She suggested polenta but the Italians complained. Then goulash but the Hungarians claimed that as their own. She tried strudel but the Austrians weren't happy about that either. One of the reasons that Slovenian cuisine isn't better known around the world may be that it appears to be a mix of influences from neighbouring countries—Italy, Austria, Hungary and Croatia. But don't tell a Slovenian that gelato for example is Italian as they'll protest that it's been here just as long. They are proud of their cuisine and the blend of culinary styles is uniquely Slovenian.
Most Slovenians do understand the concept of vegetarianism, although less so in the countryside where you might have to explain what you can and can't eat. All the restaurants we visited had English speaking staff but if you do need it the Slovenian word for vegetarian is vegetarijanec, but just saying vege will be understood.
As vegetarians in Slovenia we mostly ate Italian influenced food like pasta and pizza. Although it sounds like Italian food in theory we found that the meals we ate weren't quite like anything we've eaten in Italy as they had a Slovenian twist. During our eight days in the country we were in the western side of the country, never too far from the Italian border, so the food on the eastern side might be different.
The other good news is that eating out is affordable, definitely less costly that western Europe. Main courses were usually around €6-7, although more like €10+ in Bled and in upmarket restaurants. Lunch is the main meal of the day and in Ljubljana in particular many places offer three course lunch menus for a total of €6-7. With wine from €2 for a glass you can have a great meal without spending a fortune. For an even cheaper meal there's always burek, falafel, pizza, or picnicking on the country's excellent seed filled bread and local cheeses.
Burek
This Balkan snack makes a very cheap and filling meal. Thin flaky filo pastry is layered with fillings—cheese (sirni) is the most common vegetarian filling, or cheese and spinach. You can find burek in bakeries and hole in the wall fast food places. This piece was only €1.80 and although we shared it for lunch we couldn't finish it—it was very dense and rather greasy.
Pizza
Like in Italy the cheapest restaurant meal you can find is pizza. At €6-7 euros each they are big enough to share for lunch. Pizza is very common and there are always vegetarian toppings available.
Soups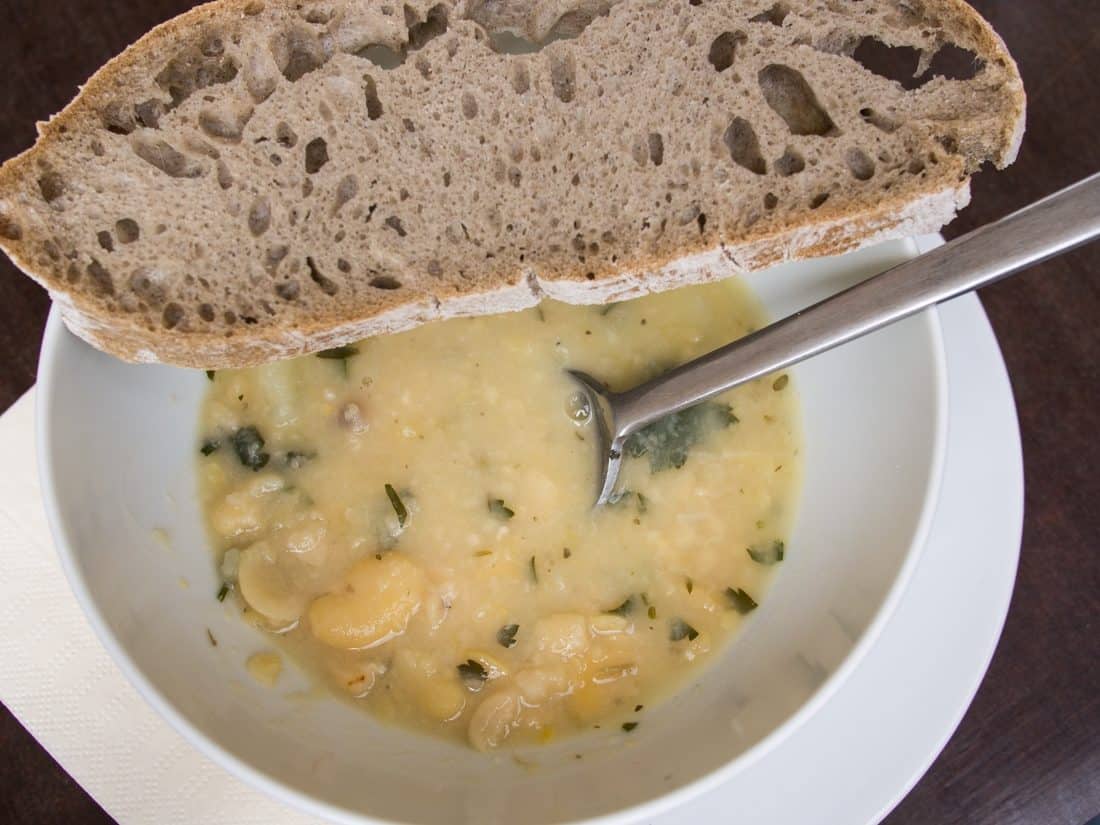 Slovenians love their soups and the lunch menus always include one. This is a fava bean soup with homemade buckwheat bread that we had on our Ljubljananjan food walk. During our stay we also had mushroom, leek and potato, and paprika soups.
Štruklji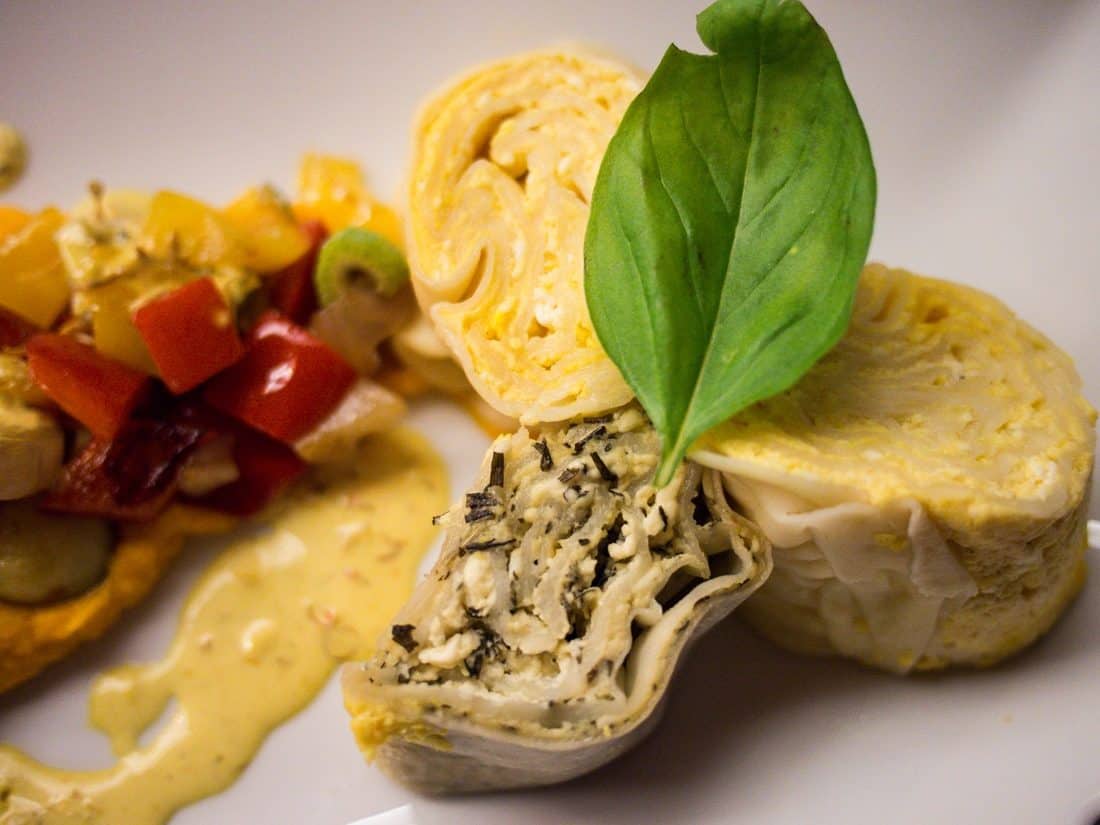 Štruklji is a traditional dish known all over Slovenia made of thin layers of dough rolled with different fillings both sweet and savoury. At Bled Castle restaurant the štruklji we ate were made with cottage cheese and served with roasted vegetables and mashed squash on the side.
I'm not sure these spinach pasta rolls we had at the Hotel Malovec restaurant in Divača are technically štruklji but it's a similar idea. These were earthier, filled with spinach, topped with truffles and served with mushrooms.
Žlikrofi and Ajdovi Krapi (Ravioli)
We ate a number of ravioli like dishes that are unique to Slovenia.
Žlikrofi are a traditional Slovenian dish from Idrija in western Slovenia. They are small dumplings filled with mashed potato and herbs and served with a range of sauces. They often contain bacon and are served with meat so they are not always vegetarian friendly, but we had a meat-free version at Valvas'or in Ljubljana served with morel mushrooms. The comforting pockets worked perfectly with the rich, earthy sauce.
Buckwheat ravioli (ajdovi krapi) are also common in Slovenia. At Restaurant 1906 in the Hotel Triglav at Bled our buckwheat pasta parcels were filled with potato and cottage cheese, and served with pickled beetroot, a vegetable cream sauce and walnuts.
We had another type of ravioli filled with cottage cheese and pistachio and served with fresh vegetables from the chef's garden on our Ljubljana food walk.
Mlinci
Mlinci are a type of pasta that are first baked on a hot plate until dry and then reconstituted by boiling in water for a minute. We tried mlinci at Majerija, our favourite restaurant in Slovenia in a converted farmhouse in the tiny village of Slap in the Vipava Valley wine region. The version we had was unique to the Vipava area made with a combination of different flours and served with summer vegetables and herbs from their garden. It was like a light lasagna and full of flavour.
Njoki (Gnocchi)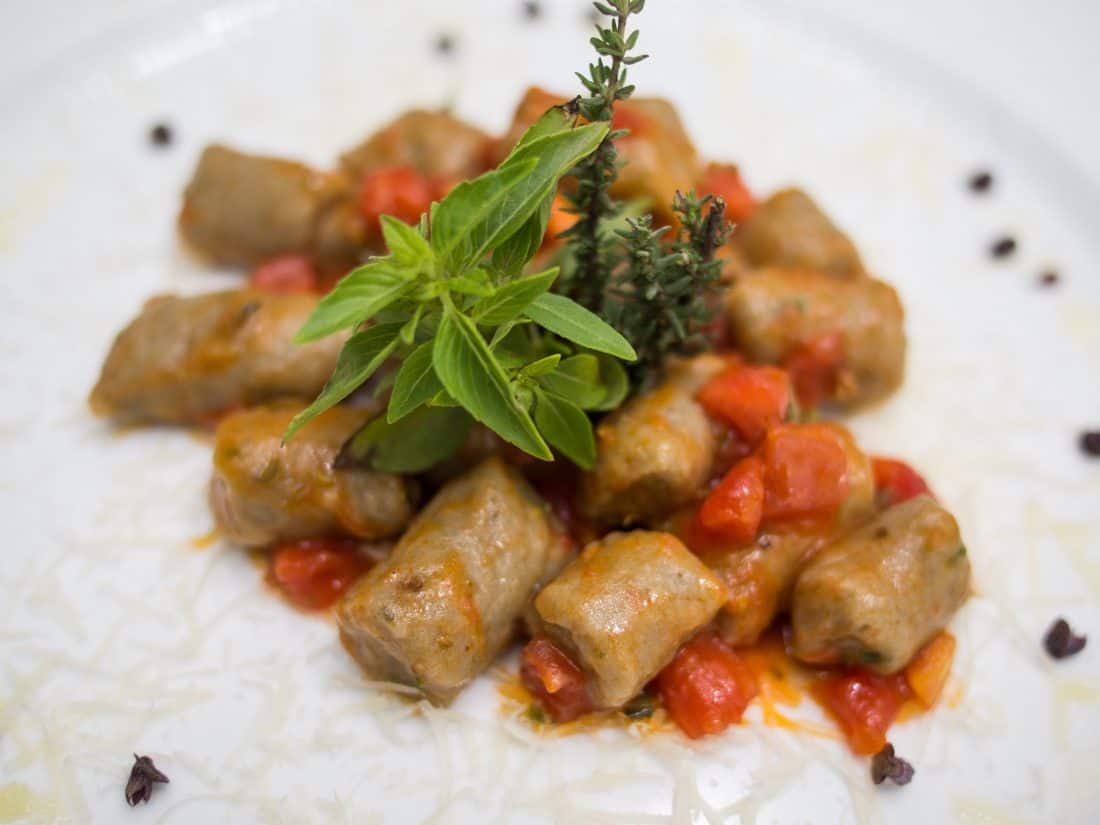 Italians aren't the only ones who eat gnocchi. In Slovenia these potato dumplings are called njoki. At Majerija we had eggplant gnocchi with a fresh tomato and herb sauce.
Risotto
Risottos are also common in Slovenia and sometimes vegetarian. We had a pesto and a vegetable risotto at Bled Castle restaurant and it was less saucy than an Italian version.
Other Tasty Things We Ate
It's hard to give a definitive list of vegetarian Slovenian food as we ate a wide range of different dishes, not all that were traditional Slovenian meals. Here's a few of the tasty meat-free eats we enjoyed.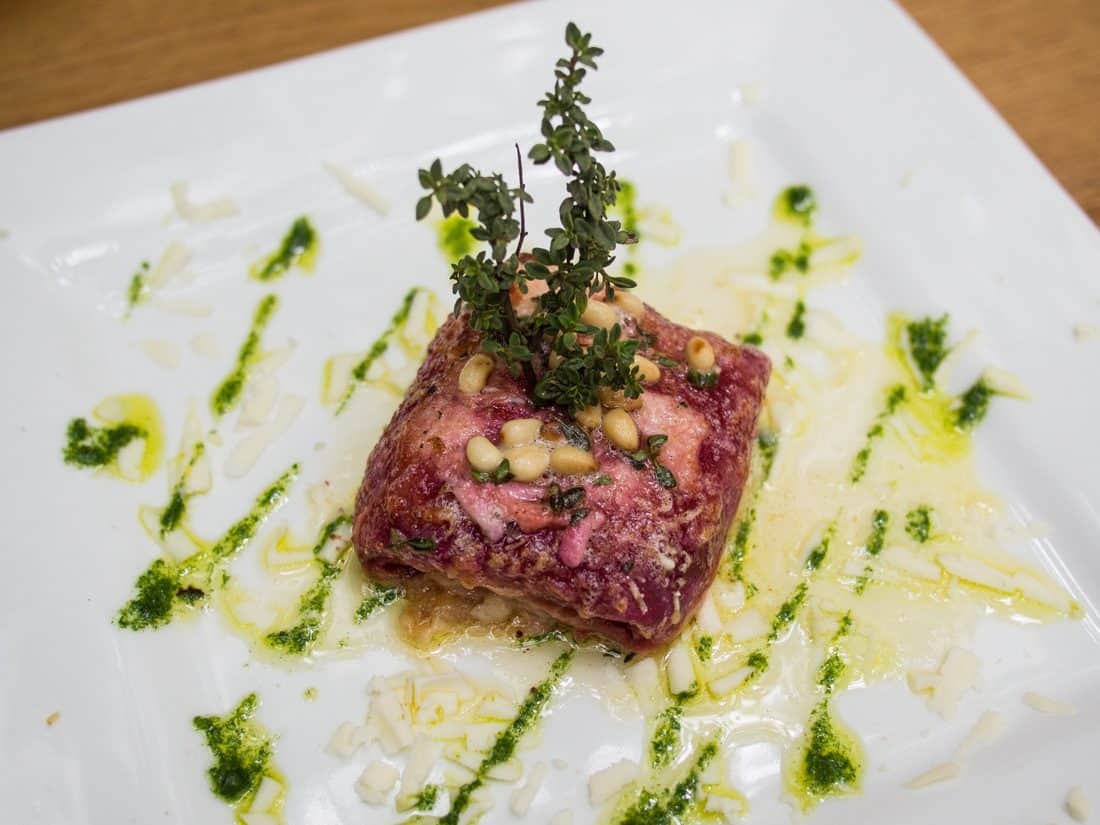 Beetroot pancake parcel topped with pine nuts and thyme and served with a pesto and cheese dressing at Majerija.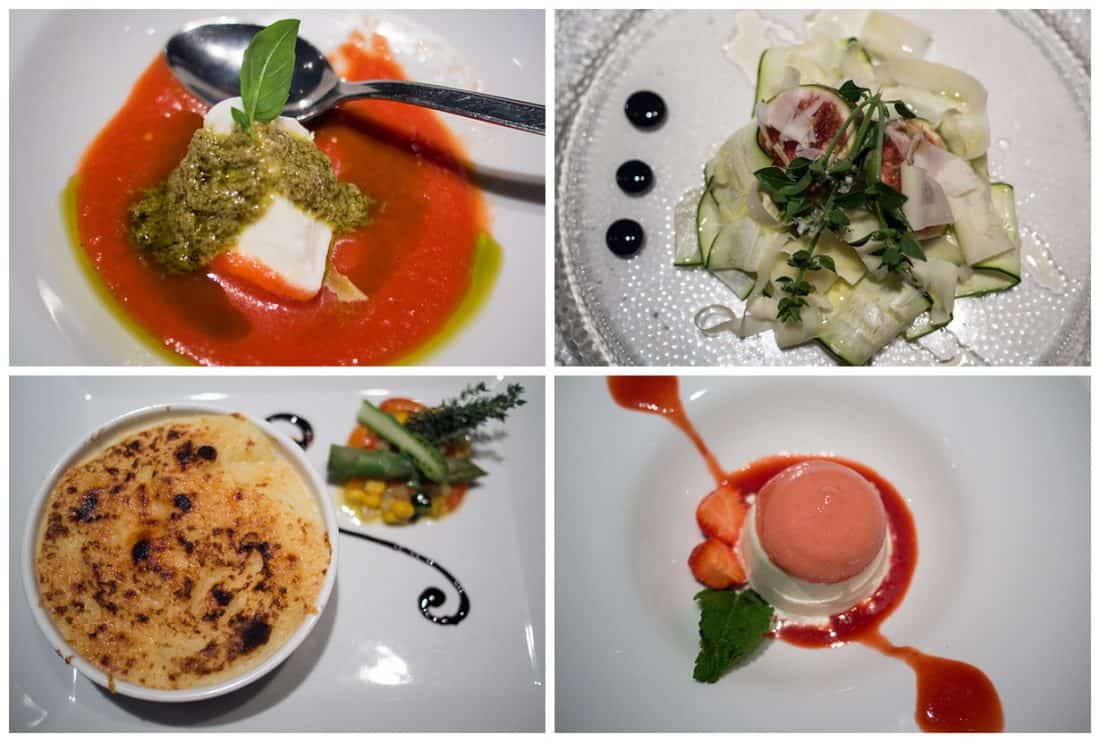 Multi-course meal at upmarket Valvas'or in Ljubljana. We arranged a vegetarian tasting menu in advance but they are also happy to adapt the menu. Following a welcome small bowl of rich gazpacho with creamy mozzarella and pesto, we enjoyed zucchini carpaccio with fresh figs and local cheese, žlikrofi (like ravioli, see above), a potato and vegetable gratin, and strawberry panna cotta.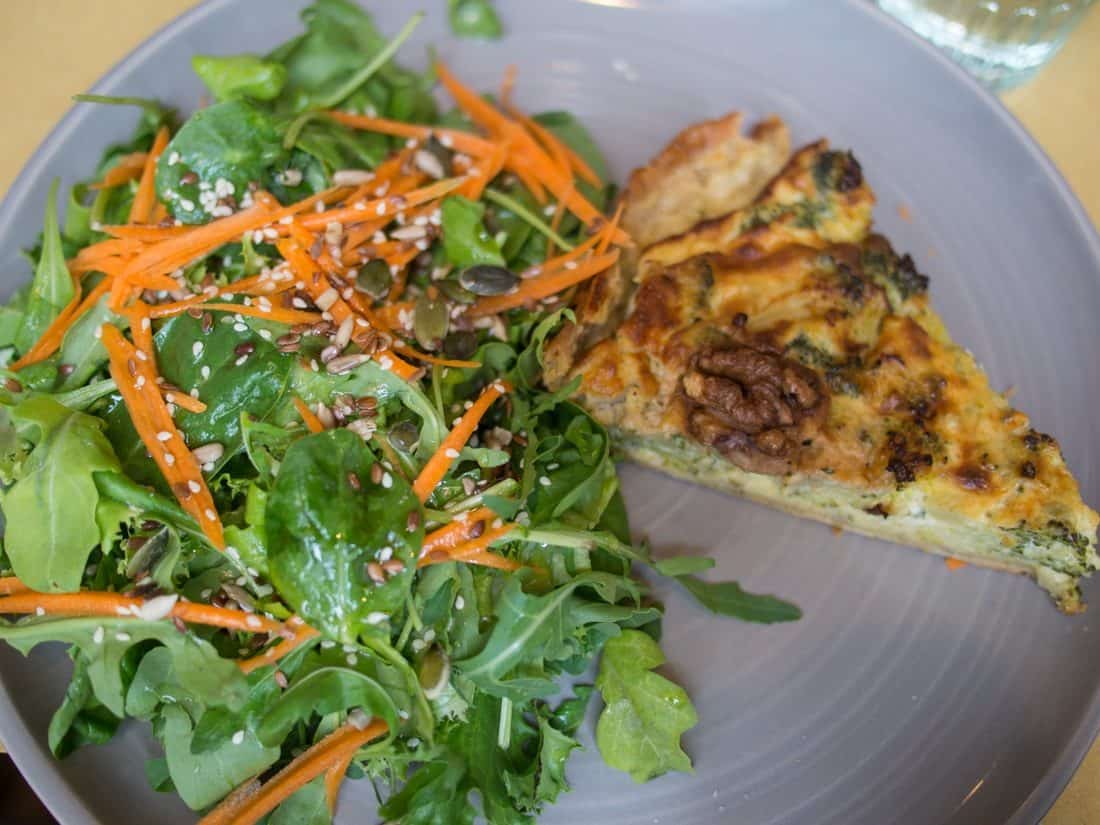 Broccoli quiche and salad at Basilika Bistro in Ljubljana—simple but inexpensive, fresh and flavourful. The menu here is mostly vegetarian and they have excellent desserts and reasonably priced local wine. There's more choice at lunch as they may run out of dishes by dinner.
Desserts
Kremna Rezina (Bled Cream Cake)
We tried this Bled specialty at Smon cafe. Bled cream cake is a decadent dessert with puff pastry filled with thick layers of cream and vanilla cream and dusted with icing sugar. Even though I don't usually like creamy desserts and prefer Slovenia's fruit strudels, it was really good.
Prekmurska Gibanica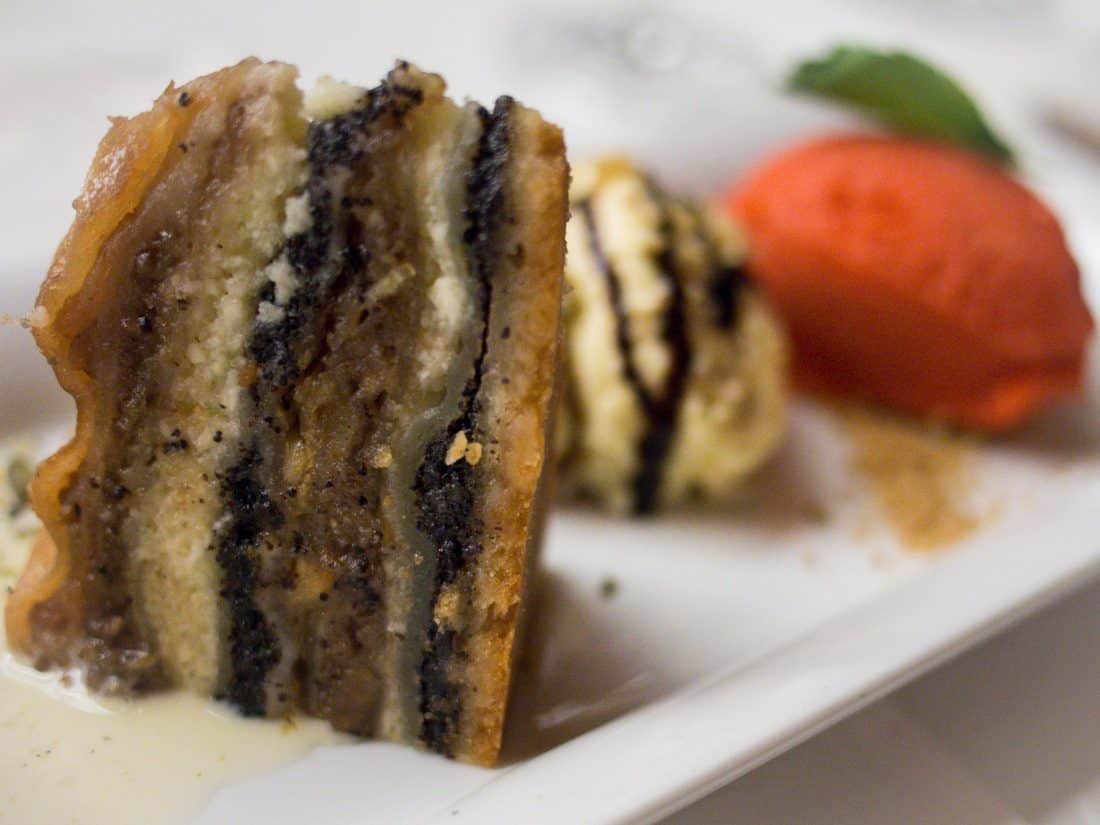 Prekmurska gibanica is Slovenia's national cake with layers of strudel dough, poppy seeds, cottage cheese, nuts and apples.
Grmada
Another Bled speciality Grmada is cream mixed with nuts, biscuit, and raisins.
Strudel
Strudel might be known as an Austrian dessert but it's common in Slovenia too and consists of layers of pastry filled with different types of fruit.
Gelato
Ice cream is sladoled in Slovenia and like its Italian neighbour is gelato. It's often made in-house at cafes and is an essential accompaniment for a wander around Ljubljana.
Wine
We were surprised by how good Slovenian wine is as we've never heard of it before. As the country is so small not much gets exported but you'll have plenty of opportunities to try it in Slovenia. As well as some excellent reds and whites we had our first experience of sparking red (odd but it grows on you) and orange wine (especially good with food).
To learn more about Slovenian wine head to one of the wine regions. We loved the Vipava Valley and did a wine tasting at the tourist office's wine tasting room.
Vegetarian Restaurants
There are quite a few vegetarian or almost vegetarian restaurants in Ljubljana. We did a vegetarian-themed food walk with Ljubljananjam and our guide Iva showed us all the places vegetarians can eat. There are lots of options if you know where to find them but as most are quite off the beaten track I would recommend going on a food walk at the beginning of your stay and you'll have a great list to visit. Ljubljananjam also have a list of Ljubljana vegetarian restaurants on their website.
It was easy to be vegetarian in Slovenia and we loved exploring its underrated cuisine. It turned out to be one of our Slovenia highlights and definitely added to our fantastic experience of exploring this beautiful Alpine country.
We only spent a week in Slovenia and are by no means experts on its cuisine so please let us know if you have any other ideas of vegetarian-friendly dishes.
If you are a travelling vegetarian don't miss our vegetarian survival guides to San Francisco, Mexico, Jordan, Burma, Chiang Mai, Thailand, Japan, Hong Kong, Argentina, Brazil, Paraguay, Bolivia, and Peru.