This page contains affiliate links. Please read our disclosure for more info.
San Francisco is the best city in the world for vegetarians. I've said that previously about Chiang Mai in Thailand which certainly is an excellent budget option, but on our third visit to San Francisco in July we were reminded what a gourmet heaven it is. It's an amazing place for anyone to eat. The city has easy access to quality, locally grown, organic ingredients. Its food scene is diverse with cultures from all over the world represented. And it has a population who loves to eat, and who cares about the quality of the ingredients they are consuming. Add to that a sizeable vegetarian community and world class chefs who cook creatively without meat, and it really is a vegetarian paradise.
In San Francisco you could eat at a different vegan restaurant every night for weeks before exhausting them all. You can find vegetarian restaurants that specialise in Thai, Mexican, and Japanese, as well as some of the best gourmet vegetarian restaurants in the world. If you widen the net to vegetarian-friendly restaurants it'd take you years to sample all the excellent meat-free food that the city has to offer. We gave it our best shot but we still have many more restaurants we want to try (we're happy for the excuse to return). While this list isn't comprehensive we've included our favourites which will provide more than enough options for most visitors to the city, ranging from cheap eats to special treats.
Vegetarian and Vegan Restaurants in San Francisco
Greens – Gourmet Vegetarian with a View
Greens is not only our favourite vegetarian restaurant in San Francisco, it's our favourite vegetarian restaurant anywhere in the world. First, there's the location—a large, bright space overlooking the boats and seals in the Marina and the Golden Gate Bridge just beyond. We always book a window seat at sunset and although this July it was too foggy, on a clear day the sunset is spectacular.
Then there's the food—the dishes are fairly simple, allowing the quality of the seasonal ingredients to shine through. The salads in San Francisco are the best we've had in the world, and Greens is no exception—on our latest visit we started with a wilted spinach salad with creamy goats cheese, beets and walnuts, along with moist yellow finn potato griddle cakes. For mains we had fire roasted poblano chill stuffed with quinoa, white corn, grilled onions, goats cheese and fresh tomato salsa, and farro risotto oozing with vegetables and grana padano cheese. Dessert was a rich flourless chocolate torte, perfectly paired with salted caramel ice cream and crunchy cocoa nibs. As always it was all delicious and flavourful, and manages to feel both comforting and healthy.
The whole Greens experience makes you feel special. The staff are unpretentious but know their stuff, and are happy to help you navigate the menu and wine list. When they heard it was our anniversary they even brought us a complimentary glass of sparkling rosé.
Greens is an expensive, special occasion place (mains are around $23) but it's worth every penny. You don't find this level of quality in many vegetarian restaurants around the world so we always take advantage when we can.
Greens is located at Fort Mason, Building A in the Marina
Millenium – Creative, Gourmet Vegan
Another special occasion place is gourmet vegan restaurant Millennium, by far the best vegan restaurant we've ever been to. While I find the dining room a bit dark and stuffy, the food is outstanding. Their menu is creative and complex with lots going on in every dish.
The wilted spinach and frisee salad with smoked tofu, roasted new potatoes, spring onions, olives, almonds, and sangiovese vinaigrette was amazing—substantial and very flavourful. Our other starter the cornmeal crusted risotto arancini were also excellent. Our favourite main was the arborio and pistachio crusted eggplant napoleon—a tomato and leek tagine with roasted eggplant, zucchini, butter beans, artichoke, and tofu-sage cheese, Israeli couscous, cardamom-chile zhug, and radiccio and frisee salad. There was so much going on in this dish that every mouthful was a flavour sensation, and it somehow all worked harmoniously.
Millennium are famous for their desserts, which leave you amazed that they've been made without dairy. We had their signature Chocolate Almond Midnight, a decadent triple layer of almond cashew crust, mocha chocolate filling, and white chocolate mousse, served with raspberry sauce.
Like Greens, Millennium is pricey (mains are around $24) but they have a Sunday to Wednesday Frugal Foodie Menu which is a good deal at $42 for three courses with wine pairing for an extra $13. For vegans it's a rare and special treat to find gourmet food of this standard.
Millennium is located at 580 Geary Street in the Tenderloin
Gracias Madre – Vegan Mexican
The Mission is the place to go for Mexican food in San Francisco. In the past we've enjoyed the not very authentic but delicious giant burritos at places like Papalote. On this visit, after seven months in Mexico we didn't really feel like eating more Mexican food.
What did tempt us back to Mexican was Gracias Madre, an entirely vegan, organic Mexican restaurant that gave us the opportunity to try dishes we couldn't find meat-free south of the border.
Gracias Madre is pricey for a Mexican restaurant (starters $7-9, mains $13-16) but the portions are huge. We shared three antojitos and it was too much food. We loved the pozole, a traditional hominy stew with a nicely spicy red ancho chile broth, tortilla strips and avocado, which we'd never been able to try in Mexico. The sweet potato and caramelised onion quesadillas were also excellent and we were impressed by the chipotle "nacho cheese" sauce made from cashews on our papas al horno, roast potatoes.
Gracias Madre is located at 2211 Mission Street in the Mission
Cha-Ya – Vegan Japanese
Cha-Ya is a vegan Japanese restaurant in the Mission. It's a small, simple place with an extensive menu, and it's great not having to worry about fish broth or any other hidden ingredients.
We had the vegetable tofu curry soup with soba noodles ($11), agadashi tofu, and some sushi rolls. It was all good and healthy, but as portions are huge we couldn't order as much variety as we would have liked. I wish they offered set meals like they did at vegetarian restaurants in Japan for a fully balanced shojin ryori meal.
Cha-Ya is located at 762 Valencia Street in the Mission. It's cash only.
Udupi Palace – Vegetarian South Indian
We visited Udupi Palace for the dosas, and they didn't disappoint. The rice and lentil pancakes were huge and tasty with lots of different fillings on offer but I still think the classic masala dosa (with spiced potato, $8.50) can't be beaten. We also had a special starter of idli in a tasty spicy sauce which was really good.
There are also plenty of cheap Indian restaurants in the Tenderloin which all have vegetarian options (we liked Lahore Karahi and heard good things about Chutney).
Udupi Palace is located at 1007 Valencia Street in the Mission
Thai Idea – Vegetarian Thai
Thai Idea is a small vegetarian Thai restaurant that is surprisingly stylish considering its location in the sketchy Tenderloin neighbourhood. We had pad thai and massaman curry, and both were packed full of vegetables and tofu, and beautifully presented. Dishes are around $10 and and were so big we had enough leftovers for dinner the next day.
Thai Idea is located at 710 Polk Street in the Tenderloin
Vegetarian-Friendly Restaurants in San Francisco
The Plant Cafe – Organic Salads, Veggie Burgers & More
The Plant Cafe is a casual place where you order at the counter. Their menu is not entirely vegetarian but there are plenty of vegetarian and vegan options, and everything is organic and uses fresh, local produce. The salads are excellent—you can make your own or choose one of theirs. The dino kale salad is healthy and satisfying with dino kale, red quinoa, cherry tomatoes, avocado, carrots, cucumbers, toasted almonds, and arugula, all tossed in a lemon cumin vinaigrette. Their Plant burger is vegetarian and very good, made from lentils, mushrooms, beets, cashews and bulgur wheat (although we prefer the one at Roam below), and they have main dishes like their good spicy red thai curry.
At around $10 a dish it's not the cheapest cafe type place but the quality is high and it's cheaper than eating in a restaurant. They have a big smoothie menu but at $6.75 I think they're overpriced. Plant became our go-to for a quick, healthy meal.
We often went to The Plant Cafe in the Marina at 3352 Steiner. They have a number of other locations including Terminal 2 at the airport (it's the only time we have ever enjoyed a meal at an airport).
Burmese Kitchen – Burmese
Burmese Kitchen is a vegetarian friendly Burmese restaurant in the Tenderloin. It's reasonably priced ($6-7 a dish) with quick service and a good vegetarian selection. We had tea leaf salad, which was good and crunchy but not as strong as it is in Asia. The rainbow salad is a tasty mix of different noodles and vegetables, and the mixed fried plate included delicious light Burmese fried tofu, samosas, and Burmese falafel with spicy tamarind sauce.
Burmese Kitchen is located at 452 Larkin Street in the Tenderloin
Moya – Ethiopian
There are lots of Ethiopian restaurants in the Bay Area and they are all vegetarian friendly. We heard the best were in Oakland but we ran out of time and went to Moya in SOMA instead, and were really happy with our first Ethiopian restaurant experience.
Like most Ethiopian restaurants this informal modern cafe offers a veggie sampler—at $15 it was more than enough for the two of us. Four stews and two salads are served family style on a large injera, the spongy, slightly sour Ethiopian flatbread. You rip off a bit of injera and use it to scoop up the mildly spiced and delicious stews. The sampler included misir wot (red lentils), kik alicha (yellow peas), gomen (collard greens), and atkilti wot (mixed vegetables). If you had to choose just one go for the misir wot, but it'd be a shame to miss out on the sampler.
Moya is located at 121 9th Street in SOMA
Roam Artisan Burgers – Veggie Burgers
We tried three veggie burgers in San Francisco including Plant and Umami Burger, and we enjoyed them all but Roam was our favourite. They use sustainable meats for their burgers and also offer an organic house made veggie burger. Their choice of unusual toppings sets them apart and there are plenty of vegetarian combos or you can create your own. Our favourite was the Tejano with pepper jack, jalapeño relish, avocado, tomato, crunchy white corn strips and herb ranch. The French & Fries is also fun with truffle parmesan fries, gruyere, avocado, caramelised onions, watercress, and mustard.
Most burgers are $8.25 so it was actually the cheapest veggie burger we sampled. Fries are $2.99, and they have artisan house made sodas in interesting flavours like seasonal blackberry and caramelised pineapple.
Roam Artisan Burgers is located at 1785 Union Street in the Marina and they have another branch at 1923 Fillmore Street in Lower Pacific Heights.
Saigon Sandwich – Bargain Vietnamese Sandwiches
Saigon Sandwiches is a tiny hole in the wall takeaway joint in the Tenderloin with a small menu of banh mi, Vietnamese sandwiches, including a tofu option. The tofu is fried in a tasty sauce and served with shredded carrot, onion, coriander, and chiles on crispy French bread—delicious! They are huge and unless you are really hungry big enough to share. At $3.75 each this must be one of the cheapest meals in the city.
Saigon Sandwich is located at 560 Larkin Street in the Tenderloin
Pho 2000 -Vietnamese Noodle Soup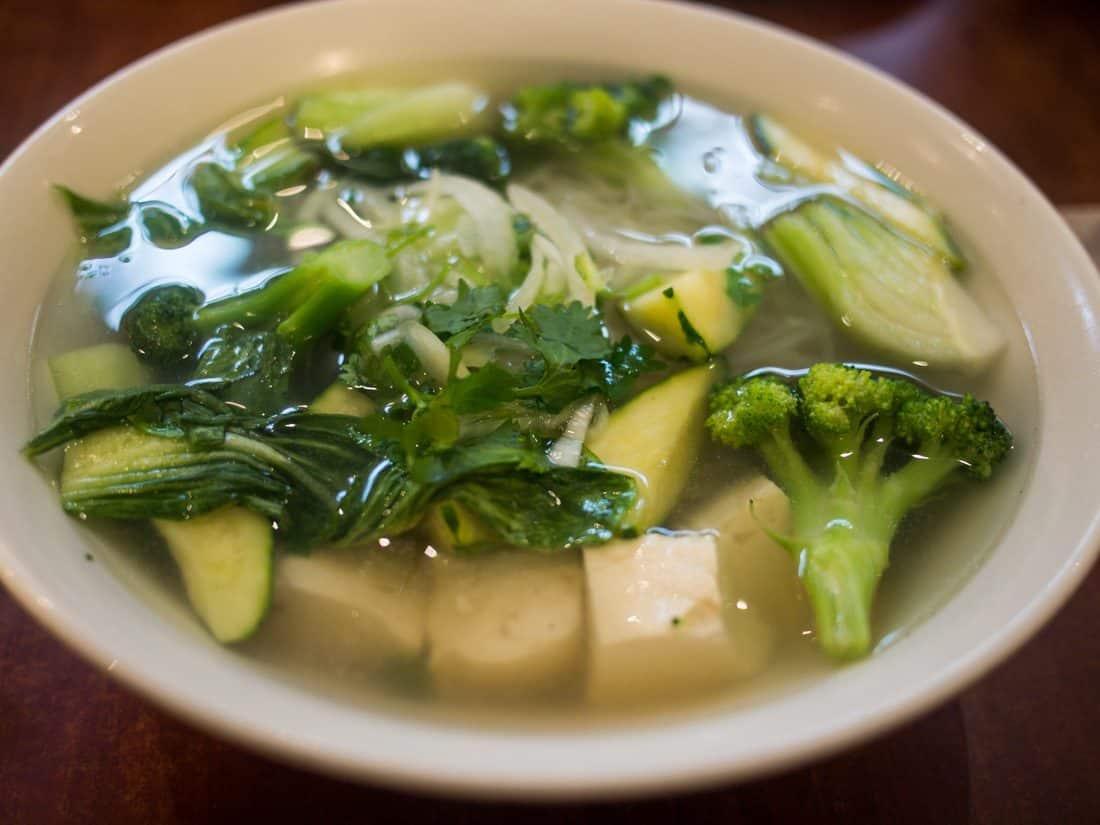 Another cheap Vietnamese place in the Tenderloin, Pho 2000 is as you'd expect is a great place to go for rice noodle soup. We chose it because it's one of the few pho joints that offers a vegetarian option. The small pho chay is $6.49 and is actually huge. It was packed full of tofu, vegetables and noodles, and was especially good once we'd added chile sauce and herbs.
Pho 2000 is located at 637 Larkin Street in the Tenderloin. It's cash only.
Off the Grid – Food Trucks
Off the Grid is a food truck gathering in the Marina on Friday nights. 30 trucks offer a huge variety of gourmet eats including Japanese, Vietnamese, Filipino, Malay, Nepali, Mexican, Korean, and more. It's very popular so get there early (it starts at 5pm) as queues are often long and it can get chilly down by the waterfront. Not every truck has a great vegetarian selection but there's still plenty to choose from.
The Chairman truck is one of the most popular, and rightly so. Their gua bao, bun sandwiches, are a Taiwanese snack and were a revelation. We had a steamed gua bao with crispy miso cured tofu, baby choy sum (a leafy green), and garlic-tofu mayo served on a soft fluffy bun. It was simple and remarkably flavourful. We immediately wanted another one, but couldn't face the queue again. Even if you don't make it to Off the Grid it's worth tracking The Chairman down around the city.
We also ate a Mexican Indian fusion burrito from Curry Up Now, a hearty combo of rice, chickpeas, vegan samosa, chutneys and pico de gallo. Old World Food Truck makes European Jewish soul food and we enjoyed their cheese and potato pierogi, small soft dumplings topped with caraway sour cream, pepper relish, and fried onion.
We went to the Off the Grid market in Fort Mason in the Marina. There is also a market in the Presidio on Sunday afternoons and smaller gatherings throughout the Bay Area
Other Good Vegetarian Options in San Francisco
Ferry Building – Go on Tuesdays, Thursdays or Saturday mornings for the farmer's market or any day to visit the gourmet shops like Cowgirl Creamery cheeses.
Betelnut – This Asian fusion restaurant in the Marina is based on Asian side street beer houses, or pejiu wu that serve fresh "street food". It has a small vegan menu (ask for it) and they are also happy to adapt other items on the menu for you. The service was great and everything we ate was tasty and creative, not your usual Chinese. The stand outs were the kale salad with asian pears, cucumbers, avocado, and lime-mustard dressing, and the black pepper egg noodles which we had with mushrooms and green beans instead of boar.
Umami Burger – When Roam in the Marina was too crowded we went to this chain. They only have one vegetarian burger but the Earth burger made from mushrooms and edamame and topped with truffled ricotta, cipollini onions and slow roasted tomatoes was really good. It was expensive though at $12 without fries or salad and we found the sweet potato fries too sweet.
Split Pea Seduction – This popular takeaway lunch place downtown has a daily changing menu which always features at least one vegetarian soup, salad, sandwich and crostata (pastry). It's not your average sandwich joint and the food is creative, delicious, and fresh. We had a grilled aubergine and goats cheese sandwich with salsa verde, mint, and capers, and a squash bread pudding panzanella salad.
Vegetarian Restaurants in Oakland and Berkeley
The rest of the Bay Area is just as vegetarian friendly as San Francisco and we found some good options just a short BART ride away.
Encuentro, Oakland – A vegetarian wine bar that offers a creative selection of small plates from local, organic ingredients. We love this place and it's worth visiting Oakland just to eat here. See our full review.
Souley Vegan, Oakland – Vegan soul food, need I say more? See our full review.
Cheeseboard Pizza Collective, Berkeley – A popular, casual pizza place that offers one pizza that's always vegetarian and changes each day. We had the delicious fresh corn, onion, zucchini, feta, and mozzarella with garlic olive oil, cilantro, and a wedge of lime. Try their tasty green salsa on the side. It's $2.50 a slice and they also have a salad of the day. Expect to queue but it does move quickly. There's also a cheese shop and bakery next door.
As you can see there are a huge amount of vegetarian and vegan tasty eats in San Francisco and the Bay Area. It's a pleasure to spend time in a city where vegetarian food is both easily found and taken to the next level, and where local, organic, sustainable and artisanal are words used to describe almost everything we ate. If you are a vegetarian we'd definitely recommend you visit, but take a fat wallet as although you can find cheap eats some of the best places are worth the splurge.
San Francisco Vegetarian Restaurants Map
We've created a map marking all the vegetarian restaurants in San Francisco that we have mentioned in this post. Click on the blue markers for more information about the vegetarian restaurants and the red ones for the veggie-friendly places.
Bonus Tip: We used Yelp a lot in San Francisco where it seems that every restaurant and cafe is extensively reviewed by users. The app is particularly handy as you can just type "vegetarian restaurant" or "sandwich" and it'll tell you the nearest places to you with comprehensive reviews and menus.