This page contains affiliate links. Please read our disclosure for more info.
Is there any better city in the world for food than San Francisco? The combination of easy access to quality produce from diverse climates; a population who cares about organic, healthy, fresh food; creative chefs; and many vegetarian options makes it the perfect city for us to eat.
The number of excellent restaurants to choose from is overwhelming but the best place for a foodie in San Francisco to start is the mother lode of food, the Ferry Building.
Despite its innocuous-sounding name the Ferry Building is a mecca for foodies with everyone from the city's best chefs to food loving tourists flocking here.
It's most famous for the farmer's market that runs three times a week, but the building itself also has a range of permanent gourmet shops and restaurants.
You can find everything from heirloom tomatoes to French macarons, artisanal cheese, rare mushrooms, gluten-free cupcakes, and much more.
The farmer's market outside the Ferry Building runs on Tuesday, Thursday and Saturday mornings. We had heard that Saturdays are super crowded, but on our first visit just after the 10am opening on a Tuesday the crowds were light.
We started by roaming the fresh produce stalls representing organic farms from nearby Marin and Sonoma County.
Most stalls have a speciality—berries, multiple varieties of peaches and nectarines, peppers of every colour, an array of greens, heirloom tomatoes in shades of yellow and red, and unusual ingredients like purple potatoes, lemon cucumbers, and squash blossoms.
You can sample many items and the yellow nectarines were some of the juiciest and most flavourful we've ever tried so we couldn't resist taking home a few.
This is the danger of the Ferry Building. Everything is so good that you want it all, but sadly we just didn't have the stomach space or a fat enough wallet.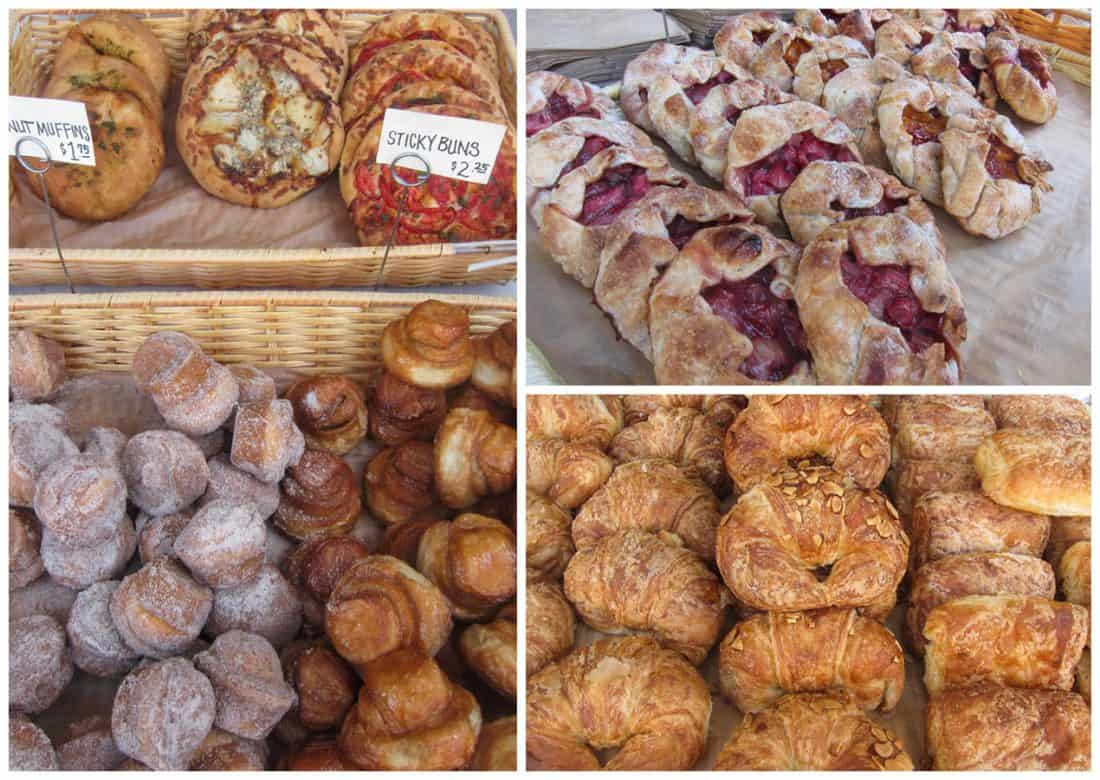 The farmer's market isn't just fresh produce. Renowned Blue Bottle coffee has a stand and the Downtown Bakery offered free samples of their wonderful pain au chocolat and tomato and asiago cheese focaccia (visiting their store later was one of our favourite activities in Sonoma County).
You'll find dried fruit and nuts, freshly made hummus and other dips, Indian samosas, as well as hot food stalls selling tamales, pizza, noodles, and Jewish deli sandwiches.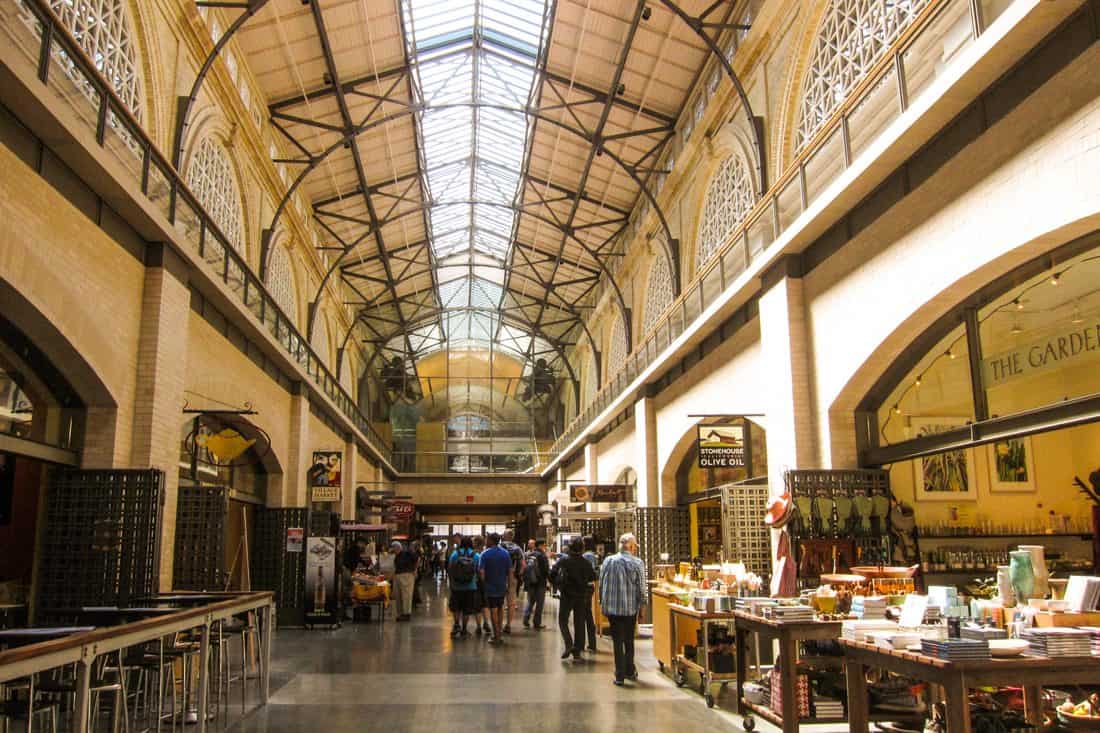 When we'd bought more fruit and veg than we needed considering we weren't planning to cook in San Francisco, we moved inside the Ferry Building for more foodie goodness.
It's a bright and airy space with high ceilings and lots of gourmet shops selling bread, cheese, olive oil, chocolate, mushrooms, wine, meat, cakes, juices, honey, empanadas, and so much more. There are a number of restaurants as well.
Some of our favourites were:
Cowgirl Creamery makes organic artisan cheeses locally as well as selling a wide range of international cheeses. The staff are happy to give you tastings and talk you through the options.
We loved their Mt Tam, a super creamy, gooey, brie-like ball of heaven; Red Hawk, which is an aged, more pungent version of Mt Tam; Wagon Wheel a mild, firmer cheese good for melting and eminently eatable with anything; and a green chile chèvre.
We also loved a Swiss cheese called Heublumen, named hay flower as it is rubbed in alpine grasses.
Cowgirl also have the Sidekick cafe next door where you can get their grilled cheese sandwich of the day—ours was Wagon Wheel and Fiore Sardo with roasted red pepper and walnut spread. Delicious, and perfectly paired with their pickles. We spent a fortune at Cowgirl but it is completely worth it if you love cheese.
Acme is conveniently located next door to Cowgirl so you can pick up one of their excellent loaves to go with your cheese and eat it on a bench outside the building overlooking the Bay Bridge.
Miette is a pastry shop inspired by the patisseries of Paris. Everything we ate here was wonderful—a rich, moist, chocolatey cupcake; melt in the mouth, lemony shortbread; and the macarons were a revelation.
I didn't think I liked them but the lavender and chocolate macaron we tried was so good—fudgy but light with a subtle hint of lavender. They are the brownies of the cookie world.
Recchiuti is a fancy chocolate shop. We bought three of the handmade chocolates and they were excellent but pricey.
Beekind sells local honeys including some interesting infusions. We bought some unusual but delicious chai infused honey.
We also enjoyed sampling olive oils at Stonehouse and McEvoy Ranch.
We loved the market and Ferry Building so much that we returned a few days later for the Thursday market.
There was less fresh produce but more hot food (Korean, burgers, sandwiches), and a few extra stalls like the Achadinha cheese company stall where we bought even more cheese.
Saturday is the biggest market of all but come early to avoid the crowds.
We don't believe in "must-sees" but if you've come to San Francisco to eat then you'll want to make a stop at the Ferry Building.
The amount of deliciousness on offer can be overwhelming so come with an empty stomach, a wallet full of cash, and a big bag to take home all the things that you will inevitably be tempted by.
The San Francisco Ferry Building is located along the Embarcadero at the end of Market Street, about a 20 minute walk from Union Square, or you can take the BART.
For more information about the vendors and the farmer's market see the Ferry Building website.