This page contains affiliate links. Please read our disclosure for more info.
In our Slow Travel Manifesto we said that one of our most enjoyable ways to explore a new place is to wander aimlessly and be open to what we might come across. In a big city this can be overwhelming and the best way to focus your exploration is to choose a specific neighbourhood.
Our favourite cities have distinct diverse neighbourhoods with their own characters, and we gravitate towards areas with independent businesses and restaurants, good food, an artistic creative vibe, beautiful architecture, or a village-like feel.
These are our favourite neighbourhoods around the world.
I was inspired to write this post because this week we are in our favourite city San Francisco. In a city made up of diverse neighbourhoods we have plenty to choose from but the Mission is the area we're always drawn back to. Mexican immigrants and hipsters create a vibrant mix of vintage clothing stores, political street art, cool independent cafes, and Mexican tortillerias. I've compiled a long "to eat" list for our two weeks in the city and Mission restaurants dominate. It has everything from giant burritos to vegetarian Japanese, Indian dosas, and gourmet ice-cream. Spending a month or two renting an apartment here is high on our travel wish list, once we can bring ourselves to pay the crazy rental costs.
Rome is an incredible city but the crowds can be overwhelming. That's not a problem in the gritty Testaccio neighbourhood where tourists rarely venture. We discovered the neighbourhood on a food tour and loved it so much that we returned a few months later to stay for four nights. It may not be as beautiful as other parts of the city but this is the place to come if you want to live like a modern Roman.
Our days revolved around food: beginning with cornetti and tiny cups of espresso standing shoulder to shoulder with locals at the counter of a local bar, we moved on to shop for lunch in the wonderful Testaccio market and gourmet delis, spent the afternoon licking gelato on a piazza bench alongside elderly gents, took in a contemporary art exhibition at the converted slaughterhouse before dinner, and then feasted on tonnarelli cacio e pepe in one of the excellent neighbourhood restaurants.
This is Rome after all and it's not lacking in history: you can visit Keats' grave, see the Monte Testaccio, made up of 53 million broken amphorae (food containers) from Roman times, and even most market stalls and restaurants date back generations.
Yes, Rome gets two neighbourhoods on the list. Trastevere is much more popular with visitors than Testaccio but we love wandering the narrow cobblestone streets where atmospheric crumbling buildings drip with ivy, balconies are enlivened with geraniums, and washing dangles below. Restaurant tables spill onto the streets and there's a festive atmosphere in summer. It's far quieter and more relaxed than chaotic central Rome but it's still in a great location and it's possible to walk to all the major sights.
Mong Kok is a densely packed neighbourhood of gritty tenement buildings, bustling markets, hotels rented by the hour, and Chinese medicine pharmacies alongside spangly electronics shops selling the latest gear. It's a place where Hong Kongers live, work and shop. The crowds are intense, the traffic frenetic, but it feels alive and vibrant. Mong Kok is particularly chaotic at night when the crowds descend and hundreds of neon signs light up the streets. Somehow we were energised rather than overwhelmed by the intensity and loved strolling the streets past food stalls and street performers.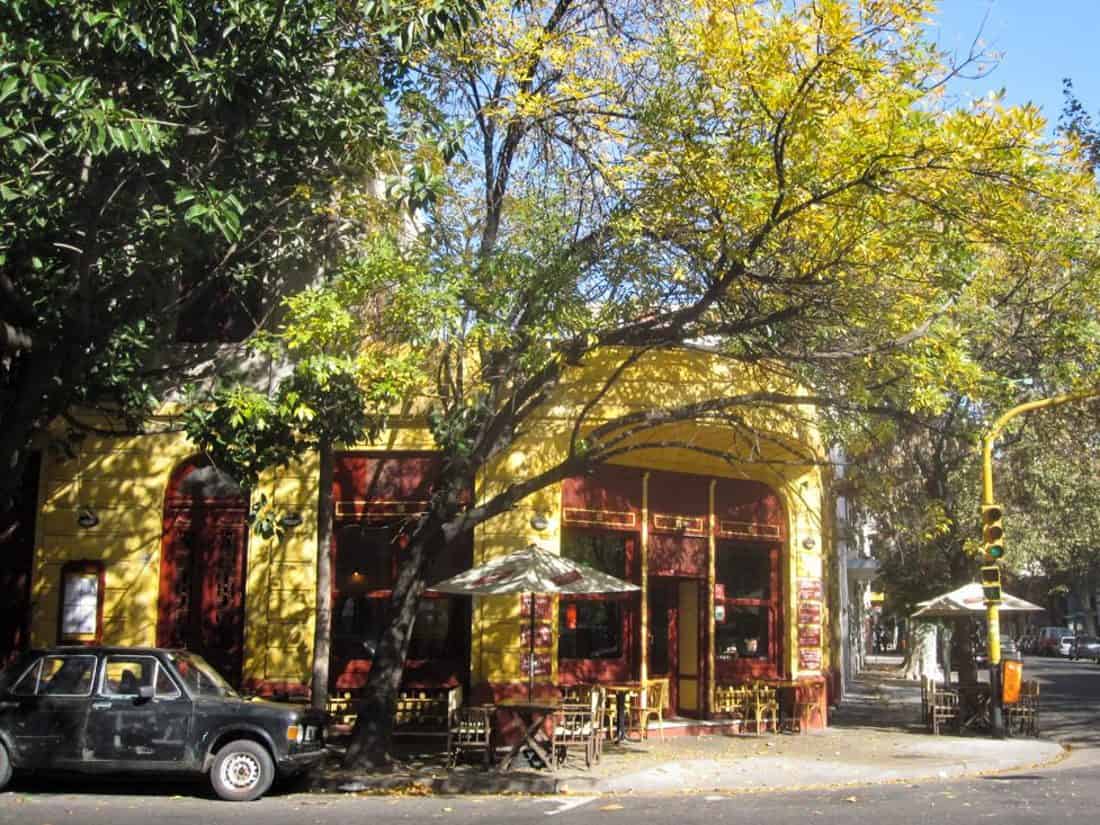 We weren't fans of Buenos Aires's busy commercial centre but it's surrounded by diverse barrios that are perfect for exploring on foot. We enjoyed our stay in the residential neighbourhood of Barrio Norte, but our favourite area was funky Palermo Viejo with its wide tree-lined streets, low-rise buildings, independent shops, pavement cafes, vegetarian restaurants, and creative vibe.
Alfama, Lisbon, Portugal
You feel like you've stepped back in time in Alfama, the oldest neighbourhood in Lisbon, with its winding maze of steep cobbled streets overlooking the Rio Tejo. Getting lost in the labyrinth you'll past magnificent churches, colourful tiled houses, and tiny neighbourhood eateries with the cheapest lunches in the city. At night the haunting sounds of heartbreaking Fado music drift from bars and elderly residents people watch from their balconies. Some parts have a gritty, decaying feel but it's a place where Lisboetas live not a tourist site and we loved joining them for our month in the city.
Nimmanhaemin, Chiang Mai, Thailand
The neighbourhood around Nimmanhaemin Road is the coolest area in Chiang Mai. It's near the university so attracts a young crowd of funkily dressed Thais who love to shop in the stylish boutiques, work on laptops in the many cafes, and eat at the varied range of international and Thai restaurants. It's becoming more popular with visitors, especially the many digital nomads and expats who have made Chiang Mai their temporary home, but there are far fewer tourists than in the old town. Nimmanhaemin also has a good selection of apartments and some of our favourite vegetarian restaurants.
Rio isn't just about the beaches. We chose to stay in the historic hilltop neighbourhood of Santa Teresa, home to artists and bohemians. The cobblestone streets and cafe lined squares have a European feel and it was so quiet and green that we didn't feel like we were in the centre of a big city. It's only a 10 minute walk to Lapa for some of Rio's best live music venues.
If the internet wasn't so limited in Cuba we would have extended our stay to live in Habana Vieja for a while. We loved this old part of the city with its many art galleries, leafy plazas, and crumbling colourful architecture. Traffic is limited to vintage American cars, bicycles, rickshaws, and the odd horse and cart, and instead people fill the streets. Salsa and son drifts from bars and old Cuban gents smoke cigars in doorways—it's classic Cuba.
Arashiyama, Kyoto, Japan
We found the concrete high-rises of downtown Kyoto unexciting but when you explore the neighbourhoods towards the mountains on the outskirts of the city you discover the traditional Japan of narrow stone streets, old wooden houses, monks in flowing robes, and the sounds of chanting and gongs from the many temples and shrines. Gion is the place to spot geishas and Higashiyama has many beautiful temples to explore, but Arashiyama is our top pick. Located a 20 minute train ride from the centre in the western hills it's one of the most traditional neighbourhoods where you can wander through bamboo groves, eat a fabulous Zen Buddhist meal in a temple, get up close to monkeys, and explore the quirkiest temple in Kyoto.