This page contains affiliate links. Please read our disclosure for more info.
We have spent two weeks in San Francisco and never visited Fisherman's Wharf, Alcatraz or ridden on a cable car. We've been lucky enough to stay with friends and have locals show us around their city, and the tourist attractions have never appealed. For us, San Francisco is all about the neighbourhoods – each one is distinct and a great place to wander, shop, cafe hop and sample the delicious food that makes us love this city so much.
Our favourite neighbourhood is The Mission. Traditionally an area populated by Mexican immigrants it's become popular with young hipsters in recent years. It's made an interesting and vibrant mix and now you'll find burrito joints and Latino delis alongside vintage clothes shops, independent bookstores and cool cafes. There's lots to discover and you could spend days wandering around and exploring the hidden corners.
We were struck by how colourful the neighbourhood is, largely due to the quality graffiti you find everywhere. Walking down 18th St we came across the striking Women's Building, a centre for non-profit organisations helping women that is completely covered with murals representing the strength of women.
You'll find wonderful graffiti all over the Mission but some of the best works can be found in two streets dedicated to street art: Clarion Alley (near Valencia and 17th) and Balmy Street (off 24th St).
The street art ranges from surreal to powerful, with the most political works found in Balmy Street where Mexican immigrants have been inspired by the murals of Diego Rivera.
While visiting Clarion Alley take a walk down Valencia Street for vintage clothes shopping, funky book shops and quirky finds like 826 Valencia. Founded by Dave Eggers this is a non-profit writing centre for young people but the pirate themed shop is fun for anyone to wander around. In the evenings visit volunteer-run Artists Television Access for experimental film screenings and exhibitions.
There's a huge range of food in The Mission from vegetarian Japanese to Salvadoran pupusas and Indian dosas, but you can't miss out on the classic experience of eating a giant burrito. There's an overwhelming number of burrito places to choose from, and everyone has their own favourite. We opted for modern Papalote, famed for their special salsa, but I would have preferred somewhere a little grittier. I don't think you can go wrong though – a burrito is one of the best filling cheap eats you can have in the city.
We've discovered that brunch is an event in the US and in San Francisco you'll have to be prepared to queue to get into the popular places on the weekends. We thought St Francis Fountain (2801 24th St) was worth the wait though. It's a classic style diner with a hipster twist that manages to keep both vegans and meat eaters happy with it's extensive breakfast menu.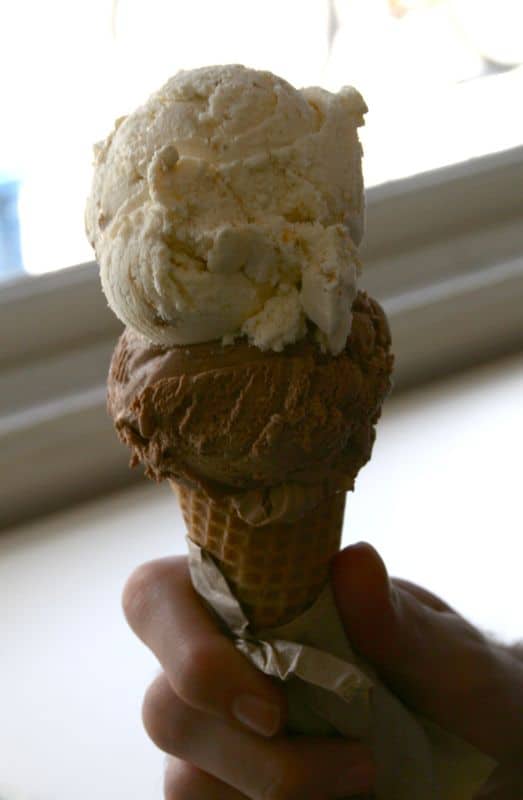 Another thing San Francisco does well (although it seems to do all food well) is ice cream and there are a couple of great unique spots in the Mission. I like to try unusual ice cream flavours (Simon on the other hand always goes for chocolate) but even I was a bit taken aback by Humphry Slocombe's (2790 Harrison St) unusual flavours. Could Peanut Butter Curry ice cream really be good? We ended up going for the safer Cinnamon Brittle and (of course) Malted Milk Chocolate. Mmm, this is seriously good ice-cream. The Bi-Rite Creamery (18th St & Dolores) is another inventive and delicious spot.