This page contains affiliate links. Please read our disclosure for more info.
We didn't have long in Seattle but even in a day you can visit some interesting attractions, all within walking distance in the compact downtown area. We recommend starting early and checking out some of these highlights.
Pike Place Market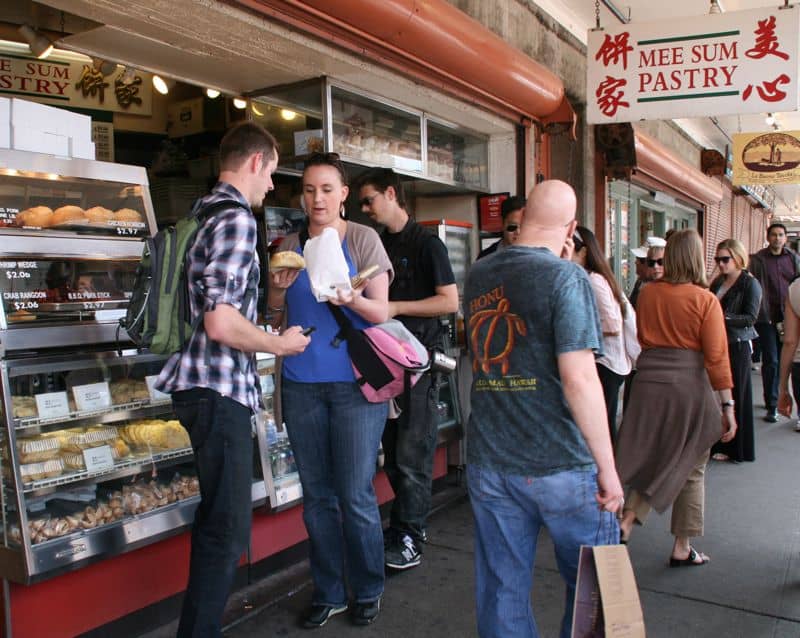 One of Seattle's most popular tourist attractions and deservedly so. This huge market isn't just for visitors – locals buy quality produce here too. We spent hours browsing the stalls and sampling the treats on offer: cabernet chocolate cherries, aged balsamic vinegar, wildflower honey, and marionberry jam. The vegetable stalls were overflowing with fresh and unusual produce – it made me long for a kitchen to try them all.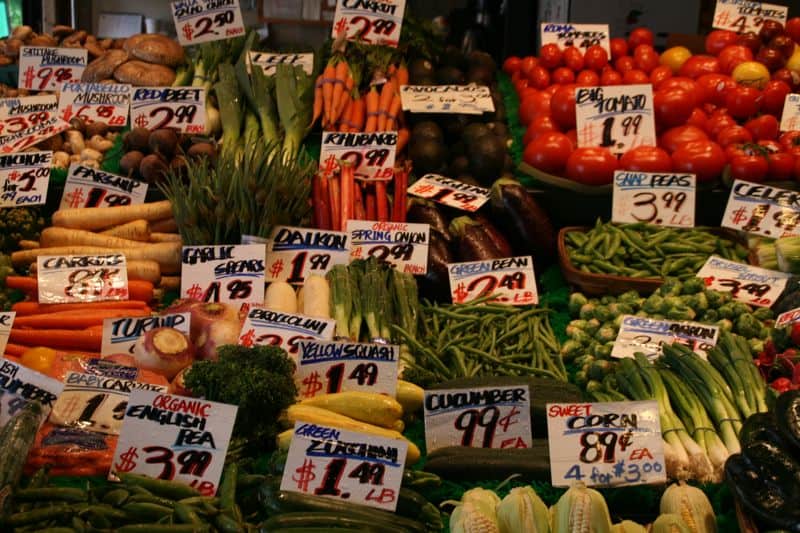 As well as market stalls selling fruit, vegetables, fish and locally grown treats you have a huge range of cooked food – we loved The Crumpet Shop and the Mac and Cheese at Beecher's Cheese Shop. The humbow at Mee Sum Pastry looked tasty too but they always ran out of the vegetarian ones before we got there. You could easily spend the day eating your way around the food stalls.
Olympic Sculpture Park
After stocking up with picnic food head down the steep steps of the Pike Hill Climb to the waterfront. It's about a 20 minute walk along the water to reach the Olympic Sculpture Park. It's not huge but on a sunny day it's a great place to enjoy the outdoor sculptures overlooking the water. Conveniently placed chairs make this a good spot for your picnic.
Experience Music Project/ Science Fiction Museum
We couldn't visit Seattle without somehow paying respects to the musical heritage of the city. With exhibitions on Nirvana and Jimi Hendrix the Experience Music Project seemed like the perfect choice – the Battlestar Gallactica exhibition was an added bonus (the music and science fiction combo is strange but ideal for Simon). It's a fantastic museum with detailed exhibitions, and best of all an interactive area. You can play real drums, guitar and keyboard in one of the rehearsal rooms and even record your efforts. After 16 months without playing his drums Simon was in heaven.
Tamarind Tree
Seattle has a large Asian population and there are many Chinese, Vietnamese and Japanese restaurants in the International District which combines Chinatown and Japantown. We heard the Vietnamese food is great in the city and decided on Tamarind Tree as it had excellent reviews and a decent vegetarian selection. It's a little tricky to find hidden in a car park but the interior is classy and the food delicious. We aren't huge tofu fans but this place converted us. The portions are big and at around $10 a main it's good value.
We'd have loved to have more time in Seattle and explore some of the interesting neighbourhoods like Freemont and Capitol Hill, but even with a day in Seattle you can get a taste of the city.
If you enjoyed this post, pin it!