This page contains affiliate links. Please read our disclosure for more info.
The Road Forks is one of our favourite travel blogs. Akila and Patrick guarantee a mouth-watering read as they travel, work and eat their way around the world. The fact that Akila is vegetarian is an added bonus for us and she's been the source of some great foodie tips. We are looking forward to following the next leg of their travels as they explore Europe with their two dogs.
1) How long have you been travelling and where have you been?
Almost 2 years. We've been through Australia, New Zealand, India, Thailand, Cambodia, Japan, China, most of southern Africa, and have been roadtripping through the United States for the last six months.
2) What made you decide to become digital nomads?
Wine. Really good wine, actually. We were two months into our trip, hanging out in the stunning Marlborough region of New Zealand, drinking crisp white wines that continue to make my mouth water, and, that evening, as I worked on my computer and Patrick did laundry, he said The Words: "I don't want this to end." I looked up from my laptop and said, "Me neither." It was pretty much as simple as that. Of course, once we made the decision, we had to figure out how to make it work, which is a whole different story.
3) How do you fund your travels?
Patrick works as a software architecture consultant for the software company he worked at before he left the United States and I do legal consulting for them as well as writing for other various freelance organizations.
4) Do you find it difficult to balance travel and work? How do you manage it?
Doesn't everyone? We have a pseudo-system where we basically attempt to schedule in 3 to 4 hours of work per day. But, truth be told, we get behind in our work and sometimes need to take whole days or weeks off just to work. Whenever we are back in the U.S., we work full-time, but when we are in international locations, we shorten our days to half-time work. It's hard, though. There are many, many days where we end up waking in the wee hours of the morning, cram in sightseeing and touring, and then stay up until late at night burning our eyes in front of our computers. We're getting better at it by slowing down our travel life and our work life but finding that balance is often excruciating.
5) What is the biggest challenge of nomadic life?
Finding fast Internet. We need access to the Internet on a daily basis and Patrick often has conference calls which he tries to take over Skype. Unfortunately, in much of the world, finding good Internet is as elusive as finding clothes for an American-sized guy in Thailand. We have used all sorts of devices but it can be incredibly frustrating to try and find good WiFi. We've raced all over town looking for internet, spent more time than we would like hunched over in coffee shops and McDonalds (which usually have free Internet), and fixed more than one hostel owner's badly set up Internet.
6) What are some of your favourite local dishes that you've eaten on your travels?
Oh wow, this is hard. Topping the list has to be tofu and sushi in Japan. Neither of us were prepared for the awesome intensity of the Japanese versions versus tofu and sushi we've had elsewhere in the world. Mango with sticky rice in Thailand and malva pudding from Cape Town are now two of my favorite desserts, and we both are madly in love with the hotpots and jiaozi in China. I better stop now —- this list could go on for a while . . . .
7) Which countries have been the best and worst for vegetarians?
Best: India, Italy, Thailand (assuming that you're very firm on telling them no fish sauce), and South Africa (much to my surprise, Africa has phenomenal vegetarian options — I was guaranteed at least two veggie options at every restaurant, even at the cheap roadside stands)
Worst: South Korea – I practically starved in South Korea and we ended up going to way more Western restaurants (such as Pizza Hut and Houlihan's) than anywhere else in the world.
8 ) People usually see pets as a barrier to international travel but you are planning to take your two dogs on an extended trip to Europe. How difficult are the logistics (flights, accommodation etc) of this?
Difficult to say the least. In addition to our usual requirements for accommodation (WiFi and clean room), we now need to find a place that is pet-friendly and, if possible, has an attached or nearby garden/park. We also have to figure out our dogs' quarantine restrictions which has been quite a hassle. But, after eleven months without them, we can't imagine doing it that way again. Yes, there are hassles and difficulties but all those hassles and difficulties are worth being with Chewy and Abby. If you want more information on traveling with pets, we've launched a brand new website focused on travel with pets called The Road Unleashed.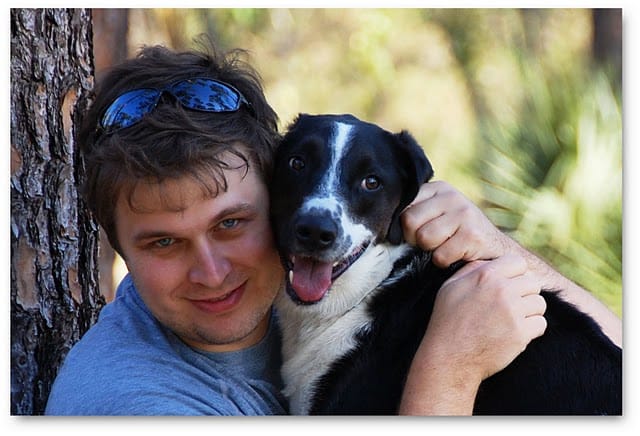 9) What are some of your favourite off the beaten track destinations?
Kampong Chnnang, Cambodia, with floating villages and completely outside of the raging tourism industry of Siem Reap and Phnom Penh. The entire country of Namibia is absolutely spectacular and quite off-the-beaten track; half the people we talk to about Namibia don't know where it's located on the map.
10) Where are you heading to next? Do you think you'll ever settle down in one place?
We leave next Friday (!) to drive up to Brooklyn and from there, we are taking the Queen Mary 2 transatlantic cruise for 7 days with Chewy and Abby. After that, we're in England for a month, Spain and France for a month, and Italy for 2 months. After that, we'll be somewhere in Europe roaming around. As far as settling down, anything's possible!
You can follow Akila and Patrick's travels at The Road Forks and The Road Unleashed or on Facebook and Twitter.
If you enjoyed this interview then read about other long term nomads Audrey & Dan, Benny, Earl, Kirsty, Nora, Anil, Cherie & Chris, Jess & Dani, Lainie & Miro and Anthony & Elise.