This page contains affiliate links. Please read our disclosure for more info.
Every month we interview different permanent travellers in our Nomadic Interviews series. I love that everyone has they own unique travel style, and that is particulary true this month with Cherie and Chris from Technomadia. They have spent the past four years driving around North America in their own trailer, and recently rented a house in the Caribbean. We can really see the attraction of having your own home on wheels and this interview was an interesting insight.
1) How long have you been travelling and where have you been?
We both grew up with a lot of travel in our lives. Chris actually spent several years as a kid growing up in the jungles of Indonesia, and then had a job prior to going full time nomadic that had him traveling the world. Cherie also had a considerable amount of travel growing up, and had solo trips in her teens to San Francisco, England and Russia.
Chris had intentions of embarking on a full time traveling lifestyle since college when he met Steve Roberts, the original technomad, in the mid-90s. But he had a career too good to give up. So when the career made the choice for him, he evicted himself from his San Francisco penthouse apartment and bought a tiny trailer. He set off on April 1, 2006.
Meanwhile, Cherie was running a small software development business out of her beachside home in Florida, and frequently embarked on personal travel while working remotely. It was shortly after Chris set off on his solo traveling adventure that we encountered each other online (on a Prius forum, no less), met in person and made the transition to aligning our lives together. It was May 2007 that we set off full time together.
Our travels together have been primarily US-based, roaming around in our little geeked out, solar powered travel trailer – serving as our home and office on wheels. However, we're just now finishing up a winter spent subletting a little jungle treehouse on the US Virgin Island of St. John. We have intentions of incorporating many modalities and destinations of travel in the future.
2) Did you plan to travel for so long? What made you stay on the road?
When we set off, we didn't have any intentions of stopping until it no longer felt right. Our aim was to create a lifestyle that would be sustainable for as long as we wanted it. So far, it's proved to be completely sustainable for us. Our careers have continued to blossom, our communities grown and we keep having amazing adventures.
We've really learned to tune into serendipity and let it be our guiding force.
3) How do you fund your travels?
Cherie still runs the same software development business she has since 1994 (which she took over from her father), and still works with many of the same clients. It's always been a home based business, so it wasn't much of a leap to take home & office on the road.
And together, we've combined our technical skills to take on some fun short term consulting projects ranging from helping develop launch strategies for products, intensive intellectual property research and more. Chris also continues some of his past tech journalism career and takes on some freelance writing gigs.
We've also been known to take on temporary jobs just for the fun of it – such as working a holiday season at one of Amazon.com's fulfillment centers packing boxes. It was a rush to be deep inside this world-changing company and having our fingers literally on the consumer pulse.
We've also developed and launched some travel mobile apps.
4) Do you find it difficult to balance travel and work? How do you manage it?
It can be a delicate balance sometimes. If we're moving around too quickly, we find it difficult to navigate both the physical transitions between places, exploring new locations and having energy left over to put in work hours. So we do generally prefer a more relaxed pace of travel that gives us time to experience it all. We don't always excel at it, however.
For the most part, we have our work life structured so that we work in intense bursts. When those come about, we'll find somewhere to be for an extended amount of time (a few weeks to a few months) to focus deeply on projects. Sure, we may go through periods of working 80-100 hour work weeks (each). But then we'll go months of only needing to work a few hours a week to maintain our projects. We've found this works really well for us.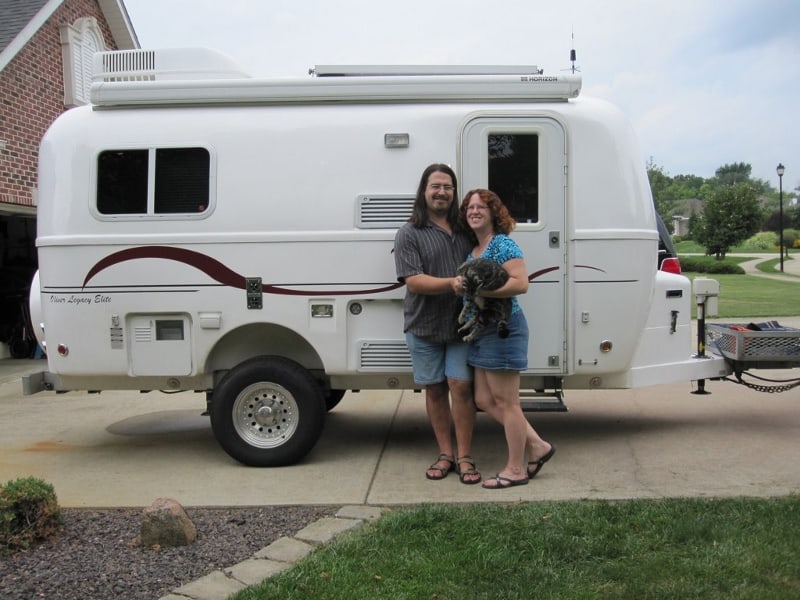 5) What are the advantages & disadvantages of travelling in a RV?
With an RV, you are always at home.. and always traveling. It's a great balance for us more homebodied nomadic types. You're always sleeping in the comfort of your own surroundings and bed, you're never having to pack a backpack and you have the convenience of cooking at home. When you arrive somewhere, you can put down the landing gear and set up an outdoor space as well. And if you decide you don't like the neighborhood, you just drive on down the road. It's relatively cheap to find RV parking in most spaces, ranging from free to the price of a typical apartment rental in most towns.
The downsides are that there can be times that the space can feel a bit confining when we're parked for a longer period of time. And not all RV parking options are optimal – we very much dislike most commercial RV parks that cram in rigs tightly next to each other. Another downside is that your travels tend to be limited by geography, as it can be difficult (but not impossible) to move into countries separated by bodies of water.
6) You have developed a number of iPhone apps. Would you recommend this as a source of location independent income?
Hahahaha.
There are nearly half a million apps in the iPhone App Store, and standing out takes a massive amount of marketing and/or pure luck. And while there are some tremendous success stories, they are definitely the exception to the rule.
The two apps we have in the store right now are both travel based apps that solve problems we ourselves encountered (State Lines tracks laws that change by state that affect travelers, and Coverage? shows overlaying cell phone coverage maps). We get a steady trickle of sales, averaging about $15/day from our apps. Not huge money, but not bad either. But it's certainly not enough to be our primary source of income (and nor did we set out for it to be).
If someone is a really skilled developer, has mad marketing skills and can crank out a good line of quality apps – it could very well be worth the effort to provide a sustainable source of income. But it may take a long while, developing a lot of apps, a strong and consistent marketing plan or a stroke of pure luck.
Basically, our recommendation to anyone considering developing apps is to look at it like buying a lottery ticket. Sure, you may get lucky – but more than likely you won't. Concentrate on creating something useful for yourself, and count anything else as icing on the cake.
That said.. we intend to continue producing apps that excite us. But we don't anticipate it'll ever be a significant income source for us.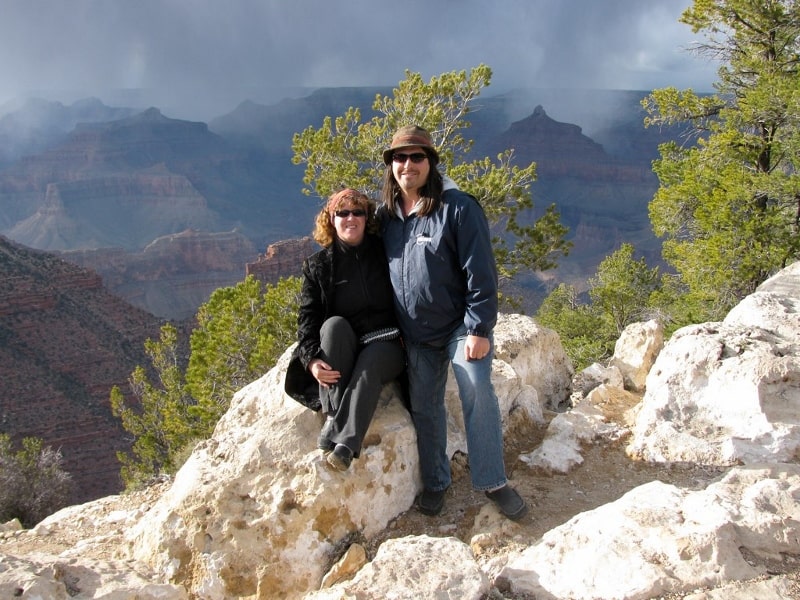 7) Tell us about the Camp Nomadia you hosted at Burning Man.
Chris has been going to Burning Man since 1999, and Cherie had her first burn in 2007 – right after we took off together. When you first arrive on the playa, everyone greets you with 'Welcome Home!'. That's something you really can't understand until you've been there. But even so, we realized we really WERE at home at Burning Man.
So, we thought it would be fun to create a neighborhood of other nomads, who were also really and truly at home that week. We wanted a camp where everyone was completely self-sufficient with no shared infrastructure to manage. Our first year with the camp was 2008, and we ran it for 2 years after that. In 2010, we had over 90 full time travelers camped with us, making Camp Nomadia likely one of the largest nomadic convergences. It was awesome!
This year, we haven't made a decision if we'll go to Burning Man or not. After so many years in a row of making it a priority and routing our year around it, we want to see what serendipity has in store for us. We've not yet heard if Camp Nomadia will come together or not for 2011.
8 ) What are some of your favourite off the beaten track destinations?
We're definitely loving St. John in the USVI right now. It's a little 19 square mile island in the Caribbean that is over half National Park, and only accessible by ferry boat. With a population of around 6000 people, it's a very chill island with limited resources. It's got a funky feel to it, and a community that co-exists well together. There's incredible snorkeling, sailing and hiking, and a pretty much constant tropical temperature all year round.
When we're RVing, we love finding unique camping spots. We love free camping on public lands with amazing views and within decent cellular data signal (thus why we created our Coverage? app to help us find those).
9) Where are you heading to next?
We actually have no clue! By the time this is published, we'll have left St. John and returned to where our RV is parked in Florida. For the month of April we'll bounce around Florida visiting family and friends.
From there, we haven't set any targets. We're considering everything from driving up to Alaska for the summer, planning some nomadic convergences across the US, selling the RV and getting backpacks to travel the world, getting a sailboat or taking temp jobs in Antarctica.
We trust that serendipity has something awesome in store for us, and we can't wait to find out what it is!
10) Do you think you'll ever settle down in one place?
We never say never. But we can say for sure that neither of us puts this option on our potential's list for the foreseeable future.
You can read about Cherie and Chris's travels at Technomadia, and follow them on Twitter and Facebook.
If you enjoyed this interview then read about other long term nomads Audrey & Dan, Benny, Earl, Kirsty, and Nora, Anil.