This page contains affiliate links. Please read our disclosure for more info.
We only spent 2.5 weeks in Panama and due to illness, travel fatigue and the relatively high travel costs we didn't explore very much. We even missed the Panama Canal! We do have a few highlights to share though.
Casco Viejo
We were both struck with bad colds during our five days in Panama City and did nothing much other than struggle out of bed for food now and again. It felt like an overwhelming city with busy highways, high rises and many American chains, and it was a difficult place to warm to. We did make one trip though, to the old part of the city Casco Viejo. We were too ill to walk around for long but it felt like a completely different city. We instantly liked the mix of crumbling but beautiful colonial buildings, vibrant street life and cool cafés.
If we had been able to stay in this area we would have liked Panama City a lot more. It's very pedestrian friendly unlike the rest of the city (that we saw anyway) and an atmospheric place to wander. There aren't many places to stay though and the few we found were already booked up. It's worth making reservations if you'd like to stay in this part of town.
Hibiscus Garden, near Santa Catalina
We needed a quiet beach break and decided on the Hibiscus Garden Hotel 10km outside of Santa Catalina, a small surf town on the Pacific Coast. The hotel had rave reviews on Trip Advisor, but we were a little disappointed at first. The $50 rooms were pleasant but seemed a little simple for the price, the black sand beach was not as attractive as we'd hoped and as we were in such an isolated location we realised we'd be racking up quite a bill in the restaurant.
It took a while for the charm of Hibiscus Garden to work on us but it soon did. It was blissfully quiet, we didn't have to worry about where we'd eat our next meal, the beach was wild and deserted with not a soul in sight and the sea was bath water warm. We decided not to fill our days with surfing and diving in nearby Santa Catalina, but instead lazed in hammocks and took long walks along the beach. A highlight was renting horses without a guide (a bargain at $15 for three hours) and galloping along the beach, stopping for a swim in the sea. Getting away from it all was just what we needed.
Red Frog Beach, Bocas del Toro
Bocas del Toro is a series of islands on Panama's Caribbean coast, near to the border with Costa Rica. The thing we didn't like about Bocas is that most of the affordable accommodation is in Bocas Town and you have to take day trips by bus or taxi boat to get to the beaches.
We are glad we made the effort (and spent $10 each on the return boat ride) to get to Red Frog Beach on Isla Bastimentos. It's one of the most popular day trips but the long wide stretch of golden sand makes it easy to find your own space. The sea is rather rough but Simon rented a boogie board ($5 an hour) and enjoyed the waves.
Catamaran Trip, Bocas del Toro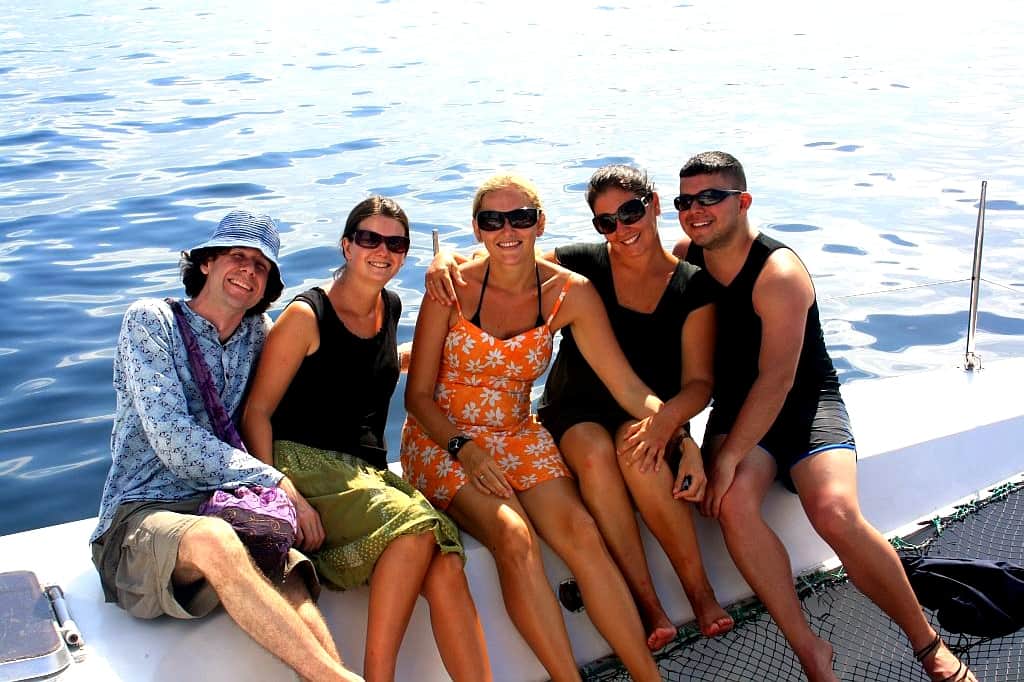 One of the best ways to explore Bocas is to take a boat trip to various snorkelling spots. We opted for a catamaran trip which was a bit more expensive than the others. Although we had a few issues with the trip, mainly the price ($44) and the fact we only had two snorkelling stops, one good, one not great, we are glad we went. A catamaran is a quiet, smooth ride so I had no sea sickness and we had plenty of space to spread out and chat with Dani and Jess from the Globetrotter Girls and Jaime from Breakaway Backpacker. It was a relaxing day and it felt great to be back by the water again after a year mostly inland in South America.
Hostal Hansi, Bocas del Toro
Sometimes it feels like the last six weeks have been a never ending hunt for decent, affordable accommodation. Maybe it's because we've hit peak season so many places have been booked up or it's that prices are higher in Colombia, Panama and Costa Rica, but it hasn't been easy.
The one exception was Hostal Hansi (thanks to the Globetrotter Girls for finding it for us!) . Even during Carnival we were able to get a room as they don't take reservations. This turned out to be ideal for us as we never know how long we'll be staying and they let us stay as long as we wanted without asking questions.
We have different requirements to the average backpacker. We need reliable WiFi, quiet, and a desk to work at. Hansi has all of this and more. The rooms are super clean with lots of hooks, shelves and hangers, a comfortable bed, cable TV and private bathroom with hot water. We even had our own balcony with table and chairs, so we could alternate between here and the tables in the quiet common area (both upstairs and downstairs).
Best of all, and unusual for hostels, the kitchen was very clean, well-equipped and had an allocated fridge space for each room. It never got too crowded so I actually managed to cook every meal for a week – rare for me as I hate cooking in hostels. Hansi is run by a friendly German woman and it shows – we were thankful for that German efficiency. There are very cute kittens too!
With all our accommodation traumas we were grateful to find a quiet place where we could feel at home. We stayed nine nights and were sad to leave. Our room cost $30 – it's hard to get a private double for much cheaper in Panama and compared to other places in town it's great value.