This page contains affiliate links. Please read our disclosure for more info.
Nora Dunn aka The Professional Hobo is the latest permanent traveller to answer our questions in our Nomadic Interviews series, and the first one who funds her travels completely through her writing. She has been on the road for four years and writes about travel and personal finance.
1) How long have you been travelling and where have you been?
I've been traveling full-time since 2007, and in the last four years, I've been to 15 countries.
2) Did you plan to travel for so long? What made you stay on the road?
I'm not entirely sure how long I planned to travel for when I started out. But I knew it would be for a long time; in order to completely free myself up for the journey, I sold everything I owned (including a thriving financial planning practice) in Canada and eliminated any requirements to return home at any time.
3) How do you fund your travels?
My full-time travels are completely financially sustainable! I keep my expenses low by often volunteering in trade for accommodation, and traveling slowly (sometimes staying months in one place). To cover the rest of my expenses, I have a location independent career as a writer; I write on the topics of travel, personal finance, and lifestyle design.
4) Becoming a professional travel writer is a dream for many people. How did you get into it?
A lot of hard work! When I started traveling, I set up a blog to stay in touch with family and friends. Soon thereafter it dawned on me that my writing talents (I've been a writer of sorts for most of my life) combined with an internet connection could lead to a stream of income. It took me a couple of years to build up a portfolio and reputation such that the income is decent and steady, and I've been lucky in that I have a niche combining personal finance with travel. Travel writing isn't nearly as glamourous as it may seem from the outside, but then again I still feel pretty lucky to have a rewarding location independent career.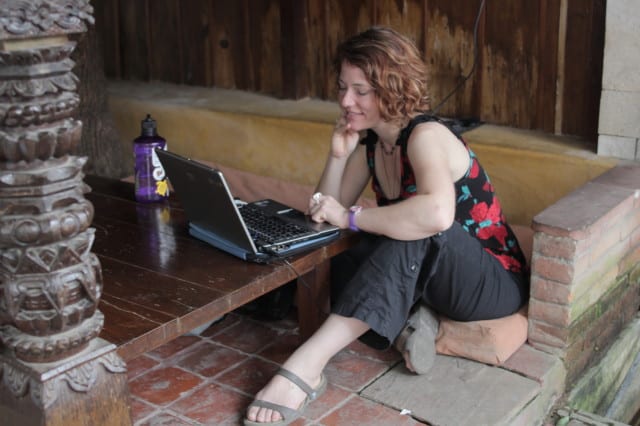 5) Do you find it difficult to balance travel and work? How do you manage it?
Absolutely it's difficult! In fact, balancing travel and work is one of the most difficult parts of my full-time travels. People don't understand that I have to spend a lot of time in front of the computer to get things done. As it is, I spend 2-4 hours per day on the computer – staying in touch with family and friends; researching, planning, and booking my travels; uploading posts and photos; and finally, writing. To get all that (some of which is personal) done in 14-28 hours per week is pretty incredible if you ask me! But it still requires lots of concentrated alone-time in front of a computer (and often with an internet connection), which means I'm not relaxing on a beach drinking fancy drinks all the time, as some people might envision.
6) You wrote an excellent post on travelling for less than $14,000 a year. What are your tips for travelling on a budget?
Full-time travel doesn't have to be as expensive as it might seem at the outset; in fact I believe that nine times out of 10, traveling is cheaper than living in one place. The mammoth article I wrote about traveling full-time for less than $14,000/year is chock full of tips to travel inexpensively; and I wrote that a few years ago – I've gleaned even more knowledge since then!
Some of my budget travel tips include:
– Travel slowly. The more you move, the more you pay.
– Volunteer in trade for your accommodation. This is a huge money-saver.
– Travel light. The less room you have in your bag, the less stuff you can buy. If I buy anything new, it has to replace something else in my bag. It means I don't buy much!
– Get to know the locals. You can often do this through volunteering, and it leads to hospitality and cultural exchange opportunities. In the whole of 2010 (a year in which I visited nine countries in an uncharacteristically fast pace), I spent no more than three weeks – cumulatively – in hostels. The rest of the time I was staying with locals or volunteering!
7) You spend a lot of your time working in exchange for food and accommodation. How do you find these opportunities?
I love work-exchange gigs, because they allow me to deepen my travel experience and immerse in a culture and location, staying up to a few months in one place. And the variety of work-exchange opportunities is huge; I've painted murals, designed marketing plans, milked goats, worked in kitchens, walked dogs, led eco-treks…the list goes on. There are a number of different subscription sites I like to use.
8 ) Tell us about your experiences volunteering in disaster relief in Asia and Australia.
One of the things I committed to doing when I started traveling was to do humanitarian work around the world. As a member of Rotary back in Canada, the credo of "service above self" served me well, and to be of assistance during times of need is an honour for me, and something that leads to amazing friendships and rewarding experiences.
As such, when I was in rural northern Thailand in May of 2008, Cyclone Nargis narrowly missed me and obliterated the neighbouring country of Burma, about 150kms from where I was staying. It felt trivial to continue on with my Asian backpacking itinerary, so I dropped everything to do something of assistance. What started as a simple plan to rent a truck, fill it with water, and drive it to the border for an aid worker to pick up, quickly exploded into a massive international fundraising effort, sparked by the assistance of local Chiang Mai residents and Rotary members and the help of the Royal Thai Air Force and a C130 Hercules cargo aircraft! It was a tiring debacle that lasted two weeks, but one in which almost $15,000 was raised to help the 2 million displaced and at-risk Burmese people affected by the cyclone.
Click here for more information on what happened.
Less than a year later in February of 2009, I was in Australia when the Victorian Bushfires raged through the area I was living in. As the worst natural disaster Australia has ever seen, it hit much closer to home for me than Cyclone Nargis; I was evacuated from the place I was living for a month while the fires raged in my backyard. Sleeping on various couches and floors with little more than the clothes on my back during this time, again it was time to snap into action and volunteer. I worked in the relief shed, accepting donations of goods from all over the country and in turn redistributing them to the fire survivors, many of whom were friends and people I knew. It was a traumatic time for many, and almost two years on the recovery efforts (both logistical and psychological) are still ongoing.
Click here for a blow-by-blow of that experience, including a diary of the events of Black Saturday itself.
9) What are some of your favourite off the beaten track destinations?
I have an aversion to the concept of getting "off the beaten track", since it's difficult to define exactly what "off the beaten track" is. Once somebody travels there and "discovers" it, is it even off the beaten track anymore?
Additionally, it's difficult to define favourite destinations in and of themselves, since I believe travel is so contextual.
Having said that, I'm currently writing this from a beautiful place called Mana Retreat in New Zealand, which is a recurring favourite place I like to volunteer. There's also a piece of my heart in rural Australia (where I lived for a while), Spain (where I hope to return and further explore), Nepal, and a lingering fondness for just about everywhere I haven't been yet.
10) Where are you heading to next? Do you think you'll ever settle down in one place?
On both counts, at the writing of this interview, I can't honestly answer either question. Although I have no qualms about the idea that full-time travel can become tiresome, I also travel slowly enough that I could maintain this pace without too much drama, staying for a few months in each place, and still not cover half the places in the world I'd like to see in my lifetime. Then again, if I were to look into my magic crystal ball, I would say that I'll eventually establish a home base somewhere; but travel is – and always will be – in my blood. It's just the scope of how I travel that will change.
As for where I'm heading next, there are a number of unseen puzzle pieces I'm waiting to fall into place before I make any decisions. In fact at the writing of this interview, I'm not even sure where I'll be in a few weeks, much less months! Such is the life – and freedom – of being The Professional Hobo. Every day I count my many blessings, and am thankful that I can follow my bliss – wherever in the world it takes me.
You can follow Nora's travels on her blog The Professional Hobo, on Twitter and on Facebook.
If you enjoyed this interview then read about other long term nomads Audrey & Dan, Benny, Earl, and Kirsty.