This page contains affiliate links. Please read our disclosure for more info.
We spent Christmas two years ago on the beach in Gokarna, India – a Hindu pilgrimage town with no signs of festive cheer whatsoever. So we were glad to see that our location this year – Medellin, Colombia takes the Christmas season seriously. Throughout December the city is lit up with colourful lights known as El Alumbrado Navideño.
Although we had seen lights decorating houses and a particularly impressive display in Parque Lleras near our apartment, we heard the best exhibit was along the river. We had no idea where to go exactly, so a few days before Christmas we asked a taxi driver to take us to the best place to see the Alumbrados. After warning us three times to be careful with our camera he dropped us off amongst an immense crowd of paisas (locals of the city).
We hadn't expected it to be such a full on party. The highway was shut to traffic so people could walk beside the river and enjoy the spectacle. The river itself was full of spinning lights squirting out water, but the main attraction was a series of displays that people could wander through.
Each told a traditional children's Christmas tale, although we weren't familiar with all of them, like the odd tale of a little girl who was afraid of Santa so blocked the chimney and left him a note to leave her presents on the roof.
The crowds were huge, music was blaring and there were hundreds of food stands. They stretched on endlessly selling popcorn, beer, fresh sugar cane juice, toffee apples, and a full range of meat-based Colombian junk food. The amount of people was a bit overwhelming but it was a unique experience to wander amongst the gaudy displays with Colombian families.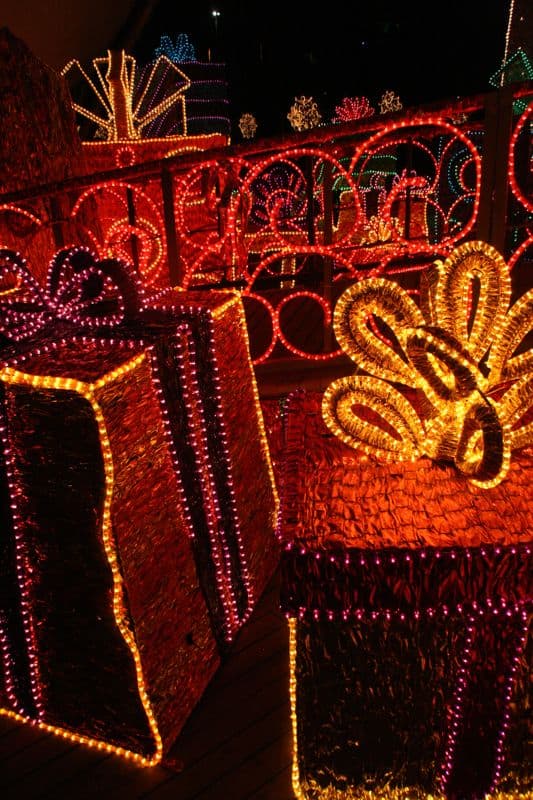 Some of the tales represented included Hans Christian Anderson's The Little Matchstick Girl where we walked through a sea of matches.
Charles Dickens' A Christmas Carol included a huge ominous Ghost of Christmas Yet To Come, and a cheery, enlightened Scrooge at the end of the display.
If you are in Medellin in December you should definitely head down and check out the Alumbrado display.
Our Christmas Day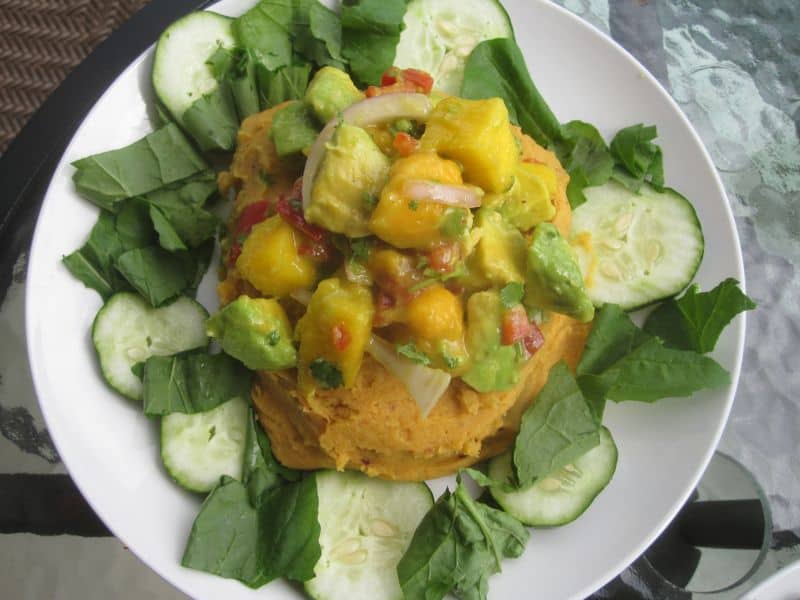 With the temperature in the mid 20s, no Christmas tree, no presents and no oven for a proper roast dinner is was quite hard to feel festive on Christmas Day in our Medellin apartment. Still, we made an effort to listen to cheesy Christmas music, watch Christmas films, talk to our family on skype and eat too many sweets.
Christmas lunch was a rather unconventional vegetarian version of Peruvian causa. We tried to recreate the dish we enjoyed so much at AlmaZen: avocado, mango, and onion salad in a tangy lime and chili dressing on a bed of spiced mashed potatoes. Not a traditional Christmas meal, but a tasty tropical alternative eaten in the sun on our balcony. We even went for a swim in the afternoon.
Another great thing about the Christmas season in Medellin is free entrance to museums and parks, so we'll be taking advantage of this before the offer finishes in January.
We hope you all had a fantastic Christmas wherever you are.