This page contains affiliate links. Please read our disclosure for more info.
It's a pleasure to interview the awesome Globetrotter Girls this month. We were lucky enough to hang out with Dani and Jess for a few days in Panama last month and we'll be meeting up again in Vancouver in June. They have been digital nomads for a year, managing to pack in tons of cool travel experiences with full time work. We've loved reading their Central America tips and they have us drooling over their vegetarian food finds.
1) How long have you been travelling and where have you been?
It has been almost exactly one year since we packed up and left London, where we had been living together for three years. Our 'trip' began on 30 April 2010. We started off in Las Vegas, then we drove through California and Arizona for 2 months. Our next stop was Mexico, which we absolutely loved, and then we made our way south through all of Central America. At the moment we are in Europe, traveling in Germany, Italy and Spain, before heading to Canada where we will spend 11 weeks this summer.
2) What made you decide to become digital nomads?
We were getting pretty settled but had the feeling we hadn't seen enough of the world yet to completely settle down. We had been thinking about going traveling long term for a while, and came to a point where we said: if we don't do it now, we'll never do it. Living for a holiday, exploring India during a three-week vacation or fitting in all of South America in a month-long trip just isn't enough for us.
This is why we decided to become 'digital nomads' and spend as much time in each place as we want. There was no way to know if this major life change would be a success, but the lifestyle was worth the risk. Working and travelling is definitely tough, but we make it work.
3) How do you fund your travels?
We work while we travel, or we travel while we work. However you look at it, we both have a monthly income. I am freelance travel writer and regularly write travel & tourism newsletters and articles, and Dani works on Human Resource related research projects for her former employer. Our website has also started to attract advertisers, and while this is extra pocket money that we never counted on, every little bit helps! Our savings account is relatively empty, but we have been able to start paying back big chunks of our university loans – a definite plus! In case our current gigs don't pan out, we've got back up plans – I used to be an English teacher and Dani is an awesome bartender, so we're pretty sure that we can make the nomadism work for a while either way!
4) How did you find work as a freelance travel writer?
I had been writing freelance for a year before we set off on our trip. I started off writing one travel newsletter for a company, and from there acquired clients who required travel content and social media work. With that small bit of financial stability and eight hours a day pounding out travel stories, my writing improved enough to start pitching publications as a travel writer. It is tough going, as many publications have stopped accepting work from new freelancers, while others pay far too little for the amount of blood, sweat and tears involved in writing a good story. When I find time to pitch, I get the occasional travel story published, but it is the more corporate-related clients I enjoy writing for the most, as the financial stability makes travel planning much easier!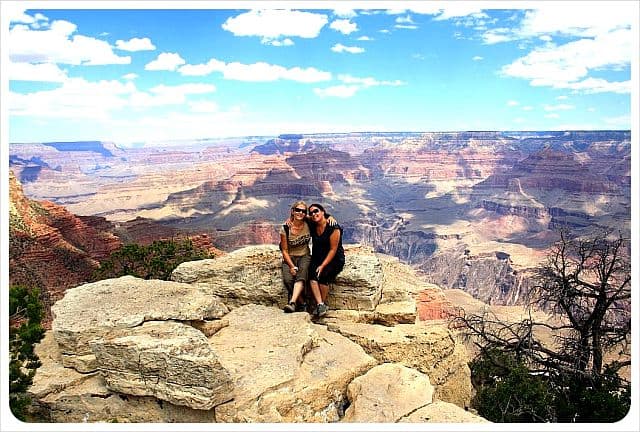 5) Do you find it difficult to balance travel and work? How do you manage it?
It is definitely not easy to balance travel and work. We are the type of couple who works hard and plays hard, so after 11 months through the US, Mexico and Central America we were running pretty ragged. We had not stayed anywhere longer than four weeks since leaving London – one month in Playa del Carmen, Mexico last summer. Not only do you have to balance the travel/sightseeing and the work, but also all the travel planning that goes in to maintaining the digital nomad lifestyle.
We have gotten better at the balance recently. We get up earlier than most travelers who don't work as they go, working both before and after days out. We also plan in full working days each week, and on these days we end up working 12 or more hours to get everything done. It's all worth it in the end when it's a Tuesday afternoon at 3pm and we're on a boat in the Caribbean sipping rum, knowing that everyone back home is still in the office.
In the future, we have made a pledge to ourselves to slow down, travel slower and stay in one place longer in order to find time to relax and recuperate more than we did during the first year of our travels.
6) You've had a number of house sitting assignments. What are the advantages of house sitting and what are your tips for finding a placement?
We love housesitting!!! We signed up to various housesitting websites. Registration usually involves paying a nominal membership fee, which is completely worth it in the end, as you save hundreds, if not thousands of dollars/pesos/pounds on accommodation during each housesit.
Each day we receive daily updates on available housesits in the areas we have chosen, and as soon as we see one that fits our schedule and abilities, we apply. Three times out of four we don't get the housesit, but we still manage to get them regularly. So far, we have three housesits in Germany, Italy and Canada this year that will total over three months of free rent, plus peaceful and comfortable living arrangements in exchange for taking care of the house, cats and/or dogs.
The key to securing housesits is to develop a well-written, honest profile, have an excellent cover letter and references are also absolutely essential. The more references we get, the easier it has gotten for us to score a housesit. If you have the chance to housesit for friends or relatives who can give you a reference, it is definitely helpful in the beginning.
7) What is the best food you've eaten on your travels?
Impossible question, but thanks for the chance to rave about food! :-) Mexican food rocks, especially street food options like potato tacos and Dani fell in love with huevos motuleños, a typical breakfast originated in the town of Motul on Mexico's Yucatán. It is made with eggs on tortillas with black beans and cheese, topped with peas, plantains, and spicy salsa. I love gallo pinto. You can say it's just rice and beans, but somehow the special spices convert this into a national breakfast dish for both Costa Rica and Nicaragua. It would seem that we really like breakfast…
8 ) What are some of your favourite off the beaten track destinations?
Todos Santos Cuchumatan, a village in the North Western highlands of Guatemala, which is inhabited solely by indigenous Maya, was a destination we'll never forget. Not many tourists make the difficult journey there and you could feel that the people don't see foreigners very often. The Corn Islands, two tiny Caribbean islands that belong to Nicaragua, were also a great experience.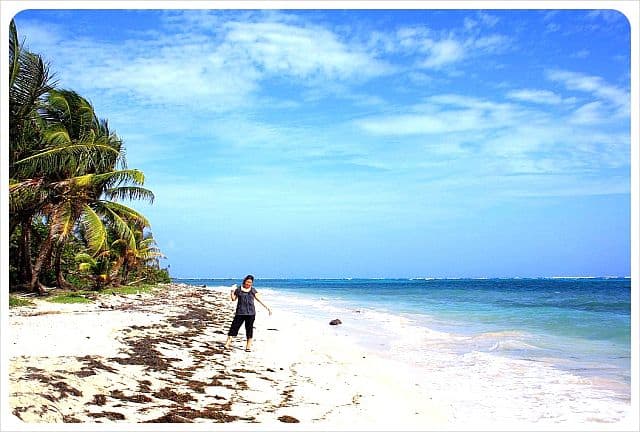 9) Have you found it difficult to travel in Central America as a lesbian couple?
Except for once in Belize, where we were insulted by some Garifuna guys, we were never directly offended by anyone. We applied a sort of one-foot-in/one-foot-out of the closet mentality though, as liberal attitudes toward homosexuality are super limited. It has not been difficult, but maybe being a straight couple would have been easier. We are certainly relieved at the moment to be running around hand in hand in Europe again, that is for sure.
10) Where are you heading to next? Do you think you'll ever settle down in one place?
We're spending the next couple of weeks in Italy, visiting family and friends in Germany after that, and then we are going on our first cruise! It's a Mediterranean cruise starting in Spain. After that, we will fly to Vancouver for TBEX, followed by a 3-week cross country road trip with Ayngelina from Bacon is Magic and then a six-week housesit in Canada. We are in the midst of planning another road trip through the Southern U.S. before spending some time with friends and family in Chicago. By late October we'll be heading to Buenos Aires, and from there we'll continue to explore Latin America.
As much as we love the digital nomadism, we'll definitely settle into a more stabile lifestyle one day. Once we've seen most of the world, we'd ideally like to spend half of the year in Europe and the other half in one of the warmer places we like best, like Mexico's Riviera Maya.
You can follow Dani and Jessica's adventures at Globetrotter Girls and on Facebook and Twitter.
If you enjoyed this interview then read about other long term nomads Audrey & Dan, Benny, Earl, Kirsty, Nora, Anil, and Cherie & Chris.