This page contains affiliate links. Please read our disclosure for more info.
The opportunity to ride in a Costa Rican cabalgata wasn't something I could turn down. I was nervous though. I didn't know quite what to expect: would it be a huge parade of horses through the town, or a gallop in the countryside with the local cowboys?
It didn't help that we had a particularly disastrous trail ride the day before, with one of the other equestrian interns falling off during a canter when her stirrup fell off, and I ended up in a ditch when my horse spooked at a truck (luckily I stayed on). A mass horse ride had a lot of unknowns and a lot of potential for things to go wrong. Still, I was doing it.
We started early getting the horses prettied up, then changed ourselves into non mud splattered clothes – it was obviously a special occasion. Five of us set off: Brenda the owner of the stables, her sister, niece and another intern. I was riding Zorba, the most dependable of the horses.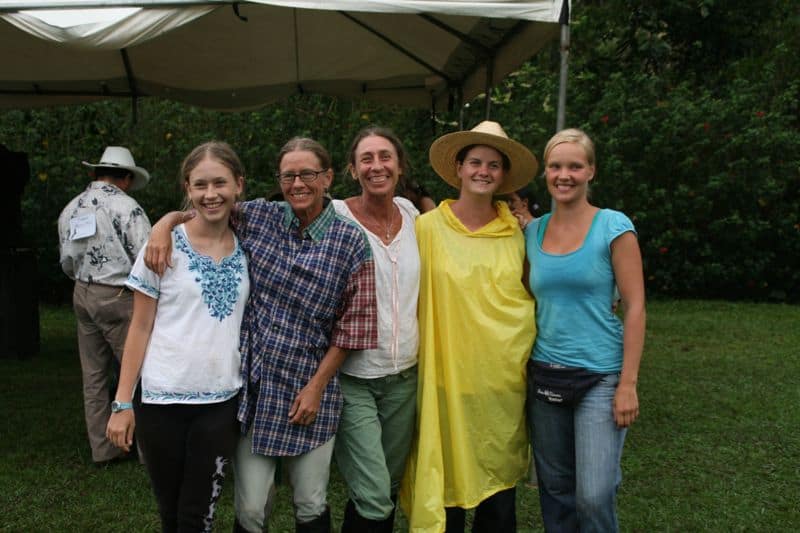 It took us about an hour to ride to the village where the event was taking place. We rode up with wonderful views of rolling green hills, past sugar cane and coffee plantations, the huge green leaves of banana plants, and a profusion of red, pink, purple and yellow flowers. Occasionally we'd pass simple two room houses painted in bright colours with yapping dogs and squawking parrots protesting our presence. On quiet stretches we'd gallop through the trees at a heart-racing pace.
Finally we arrive, entering a field where a marquee has been set up and folklorico is blaring. Our concerns about being late are unfounded. This is Costa Rica. There is hardly anyone here and only six riders have registered before us. We pay our fee – the event is a fund raiser for Maricruz Marin, a young girl with downs syndrome who has won a place as a cyclist in the Special Olympics and needs money to get to Europe.
So we tie our horses to trees and wait for more riders to arrive. We wander around the site checking out the other horses. They are all stallions, beautiful horses but not all treated well. Our heart ached for one particular horse who had his head tied down in an uncomfortable position. Costa Ricans like their horses to curve their heads downwards in an unnatural way. They think it looks beautiful, we think it's cruel.
The horses are ridden in a strange manner too – the prancing stallions raise their legs high and seem to trot on the spot or go sideways. Moving forward seems difficult for them. To our eyes it looks awkward.
After a long wait they finally decide to set off. Our cheering squad (the partners, children and other interns) arrive just in time bringing ponchos. We need them. Just as we set off it begins to rain. There are only about 12 of us, we are the only women amongst the cowboys and their stallions. I discover a problem: Zorba hates the stallions and every time they ride near us he tries to kick them or run off. It makes for a stressful ride.
After a few minutes it begins to pour. Our ponchos are no match for this volume of water. We follow the cowboys onto a busy road. What?! A freaking out horse, pouring rain, traffic and slippery tarmac. This was going to be fun.
Things don't improve much as we move off the highway and onto a quiet trail. The rain gets heavier. That doesn't seem possible. There's thunder and lightning. Rivers of mud stream down the trail. A couple of riders turn back but we keep going. I am soaked, miserable and nervous every time a horse comes near (despite trying to hide at the back the cowboys keep moving past us). Zorba still hates them.
At the top of the hill we have expansive views of the valley, well, what we can see through the clouds and sheets of rain. I am too busy trying to stay in control and in the saddle to appreciate it.
Thankfully after about 45 minutes we return. The cowboys stop for a drink at a bar so we return alone to the field for a victory lap. We survived. It may have been the most hellish ride I've ever had but it's a cultural experience after all.
Of course the rain stops as soon as we get back and the party begins. Many travellers complain it's hard to find the 'real', untouristy Costa Rica, but this is it. No-one speaks English here. Cowboys ride around showing off. Busty women in stilettos take their turn in the saddle. Lunch is huge chunks of pork, or yucca, lettuce and crisps for us vegetarians. We win a cowboy hat in the raffle.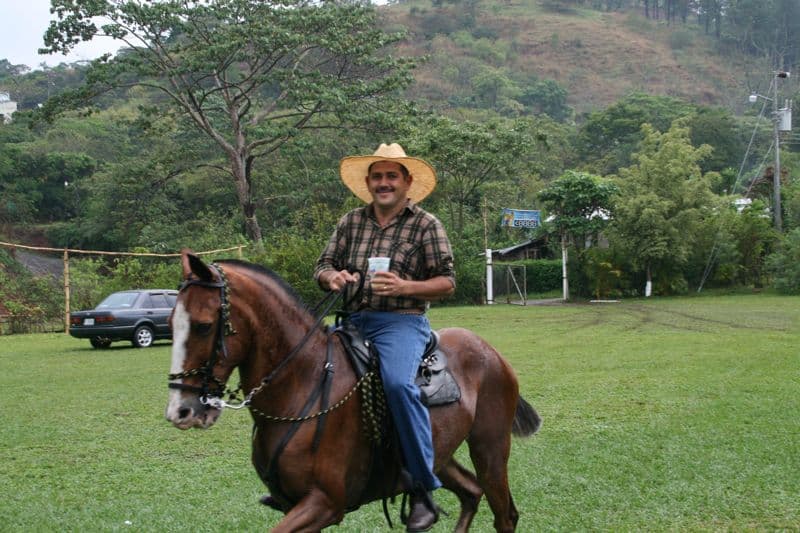 The ride back to the farm feels long despite the horses racing to get back to dinner. It's a beautiful ride though – the valley views are even more spectacular heading down. I arrive back utterly exhausted but content. I survived a genuine Costa Rican cabalgata.