This page contains affiliate links. Please read our disclosure for more info.
While browsing the work exchange opportunities on HelpX one really stood out: the chance to be an equestrian intern in a rural, untouristy part of Costa Rica. We'd get to ride every day, learn about horse care and best of all, the horses at Establos San Rafael looked really well cared for – something that can't be said everywhere in Latin America.
It was definitely a unique experience. We loved the middle of nowhere location amongst the forest covered green hills of Puriscal; our cute, rustic cabin; the welcoming American family who run the farm; and of course the horses. The nine horses were beautiful, friendly and hadn't had their unique personalities beaten out of them. We learned so much from Brenda the owner, both about riding and the natural horsemanship techniques they practice.
It certainly wasn't easy though. I'm not used to manual labour, and this plus early starts and riding once or twice a day took a toll. I felt constantly tired, muddy and even after 11 days my body didn't stop aching. It was worth it though and I can see how some interns stay for months.
Here's a look at an average day of an equestrian intern.
7am
After waking up to birdsong in our cabin amongst the trees, we begin the morning stable routine. We feed the horses dry concentrate and hay, and refill their water buckets. The hardest job is cleaning out the stables: I really feel my muscles complain when raking and shovelling at this time in the morning.
We check over the horses and apply medicine to any injuries. We let the two stallions out of their stables to roam for the morning. Elderly Congo is half blind and a gentle giant, but Augustus is quite a handful.
8.30am
Everyone helps themselves to breakfast at Brenda's house. Afterwards we relax (or check in online for the digital nomads amongst us), maybe playing with the pet rescued toucan Toulouse who likes to nibble on your fingers.
10am
The morning activity varies. Sometimes we'll do a trail ride through tall sugar cane fields and up the hills for beautiful views of the surrounding countryside.
Otherwise we might just relax, or play Parelli natural horsemanship games where we mimic horse body language to create a better relationship with them, and communicate with no or minimal force. When it works you can get a horse to come to you just by looking at their hindquarters. The funniest game is Yo Yo where we try to make a horse's mad face to get him to move back out of our space.
12pm
The stallions are brought into their stables and the other horses are let out to roam around the property. It's not unusual to see a horse peering in the kitchen window.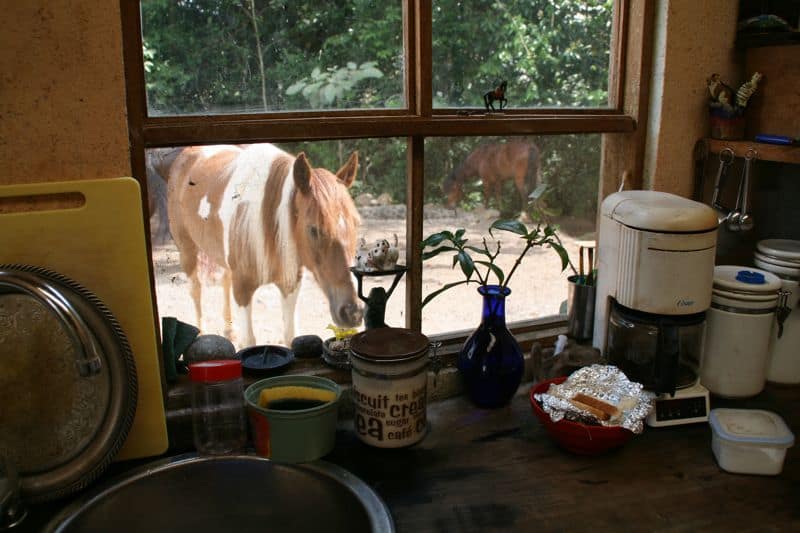 12.30pm
Lunch is usually rice, beans and salad. We take a break afterwards to avoid the hot part of the day. One day we visited a local farming family's trapiche (sugar cane mill) to see sugar being made and sample the freshly created product. We also took a look at their pig farm, a depressing experience that reminded me why I'm vegetarian.
3pm
Usually in the afternoon we have a riding lesson with Brenda, or practice riding in the ring by ourselves. First we get the horses ready by brushing them, and picking the mud out of their feet. With the clay-like mud around here we can be sweating before we even start riding!
The lesson could cover the basics for beginners, or focus on dressage or jumping for advanced riders. I jumped for the first time in over 10 years and it was great fun.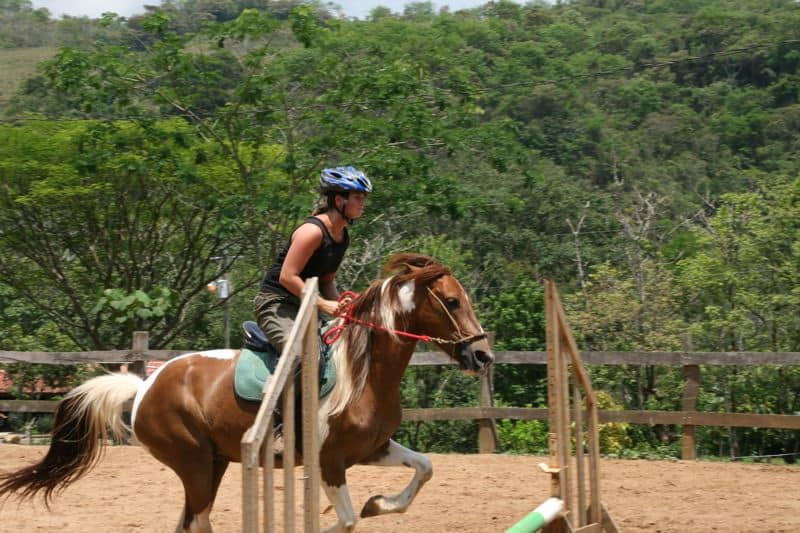 On a few lucky occasions we saw wild toucans in the trees next to the riding ring. It was an aim of mine for Costa Rica that I'd almost given up on so I was very happy to see the incredible looking birds.
5.30pm
We bring the horses into the stables, feed and water them, and clean out the stalls. This is an easier job than the mornings as we just remove the wet stuff.
6pm
A much needed shower and then head to the main house for dinner.
9pm
We usually have an early night, exhausted after a day full of stable work and riding. The night is alive with the sounds of cicadas and frogs. As we walk up to our cabin by torchlight we have to avoid the fat toads leaping around the farm.
A few times we meet up with Brenda's sister Elizabeth and her family who run Barking Horse Farm next door and get out the musical instruments. When Simon was feeling energetic he would take aerial dance lessons from the kids, hanging from the ceiling on a long piece of fabric.
Our last night was spent singing around the bonfire under the stars: a perfect way to end our stay.
How to Become an Equestrian Intern
If you are interested in being an equestrian intern have a look at the Establos San Rafael website. It costs $20 a day including accommodation, all meals and riding. Although work exchange programmes are usually free I think it's worth it as the cost of riding is high. No previous horse experience is necessary.
You can also volunteer at Barking Horse Farm next door as a horse intern focusing on natural horsemanship rather than traditional riding, or if horses aren't your thing you can help on the farm.
The stables are located about 1.5 hours from San Jose. You take a bus to Puriscal and then a $10 taxi or bus to San Rafael Abajo. It's a great opportunity to explore an untouristy part of Costa Rica.
For more photos of our time at Establos San Rafael see our Facebook page.