This page contains affiliate links. Please read our disclosure for more info.
Trastevere is one of the prettiest neighbourhoods in Rome with its narrow cobblestone streets, colourful buildings dripping with ivy, and balconies enlivened with geraniums.
Trastevere is reasonably quiet (at least by day), relaxed, and has far less traffic than other parts of chaotic Rome.
It feels more like a small town than a capital city. Yet, it has a convenient location with the historic centre, Vatican, and Colosseum all within a 30-minute walk.
This makes Trastevere one of the best places to stay in Rome, especially for first-time visitors.
Over the years the secret is out about the area and at times there seem to be more foreigners than Romans. It is now a popular spot for restaurant and bar hopping.
Despite this, it's still possible to escape the crowds and the further you get from the river, the quieter it is. As with many cities in Italy, wandering down side streets is rewarded.
In this Trastevere guide, you'll find our top tips on the best things to do in Trastevere, as well as where to eat and stay, and how to get there.
I've also included tour ideas for those who would like to learn more with local guides.
At the end, there is a handy Trastevere map with everything mentioned.
Contents
Best Things to Do in Trastevere Rome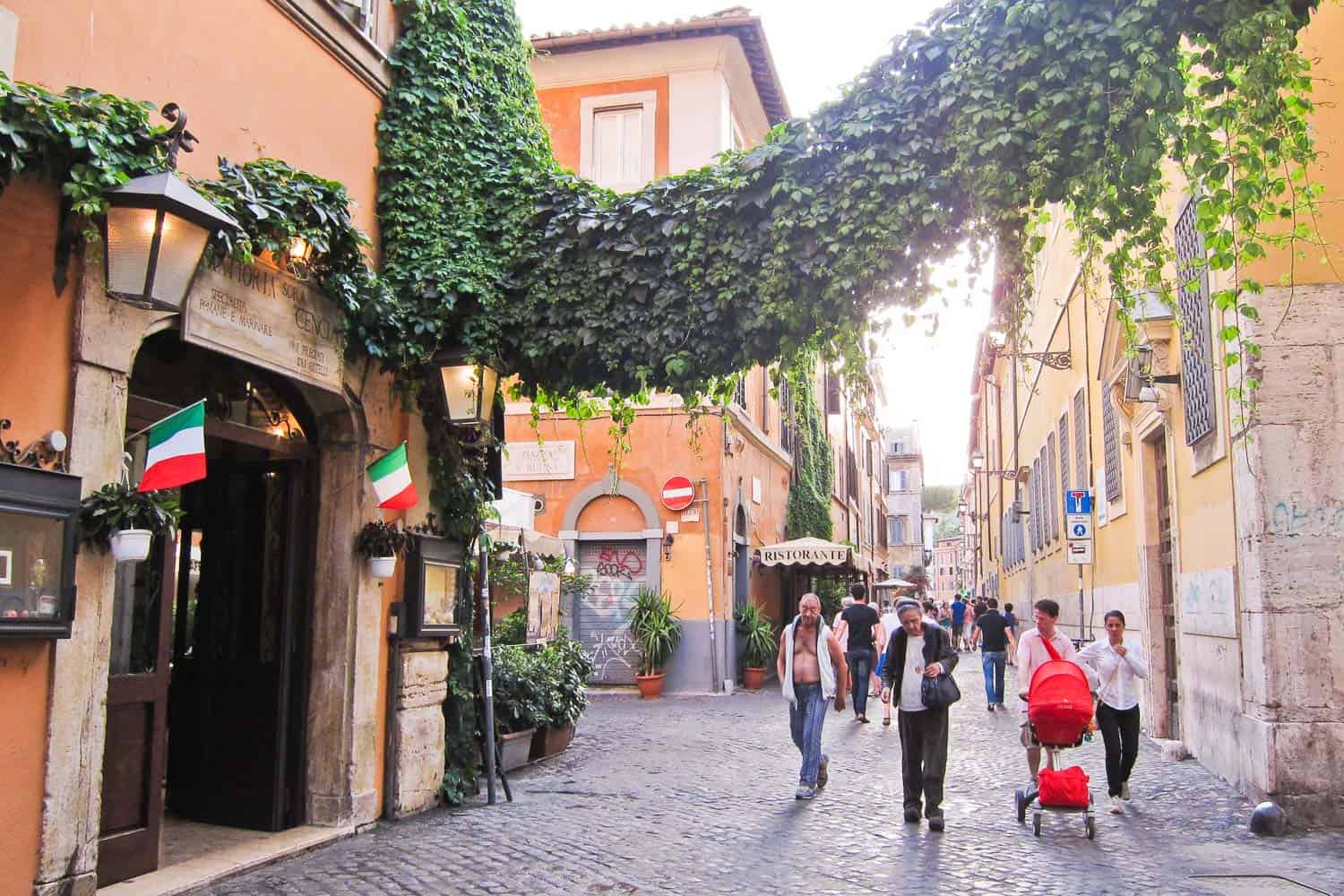 There aren't many famous sights in Trastevere. The neighbourhood is more about strolling the streets, people-watching in piazzas, meeting friends for dinner or a drink.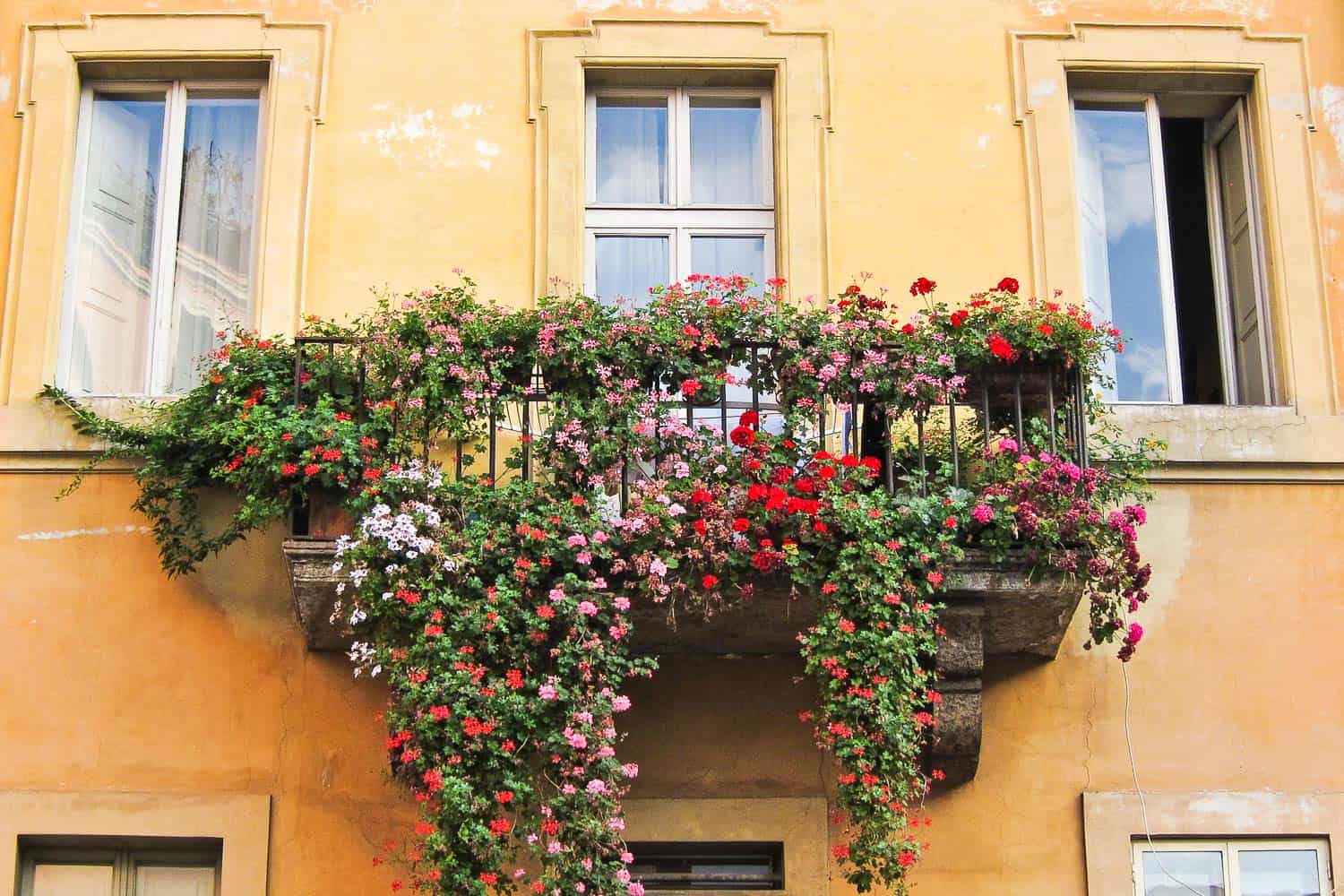 In summer, restaurant tables spill out onto the streets and the atmosphere is festive.
There are some worthwhile attractions, though—these things to do in Trastevere are often overlooked by visitors and aren't usually crowded.
1) Visit Basilica of Santa Maria in Trastevere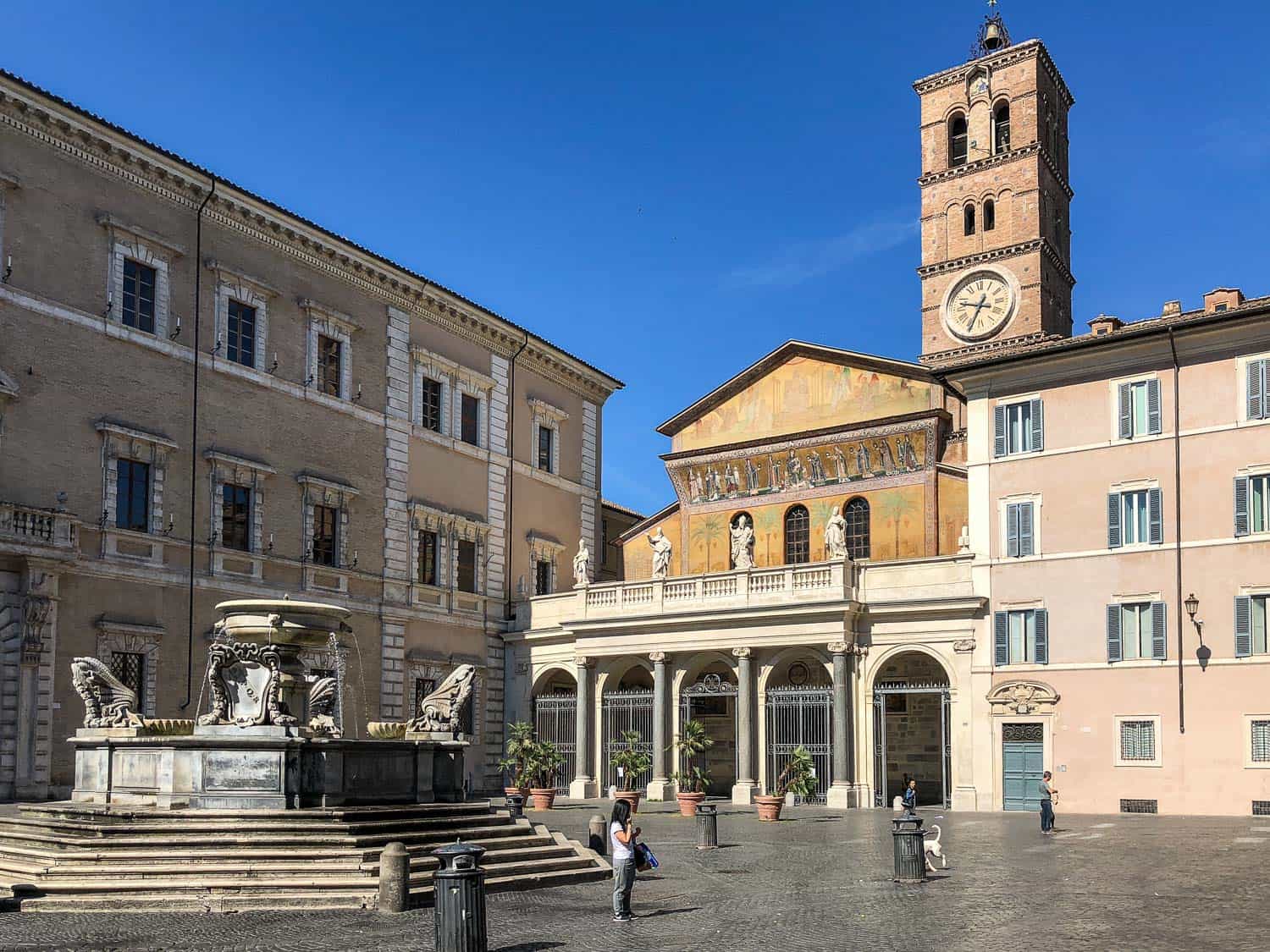 The lovely Piazza Santa Maria is at the heart of the Trastevere neighbourhood and is home to a beautiful church that's one of the oldest in Rome.
It dates back to the 3rd century, but the bell tower and golden facade were added in the 12th century.
It's worth visiting inside to see the glittering 12th-century mosaics.
Details: Basilica of Santa Maria in Trastevere is on Piazza Santa Maria in Trastevere. Entrance is free and open daily from 7.30am – 9pm.
Suggested Tours: This interesting Underground Trastevere Guided Walking Tour includes Santa Maria.
2) See Stunning Frescoes at Villa Farnesina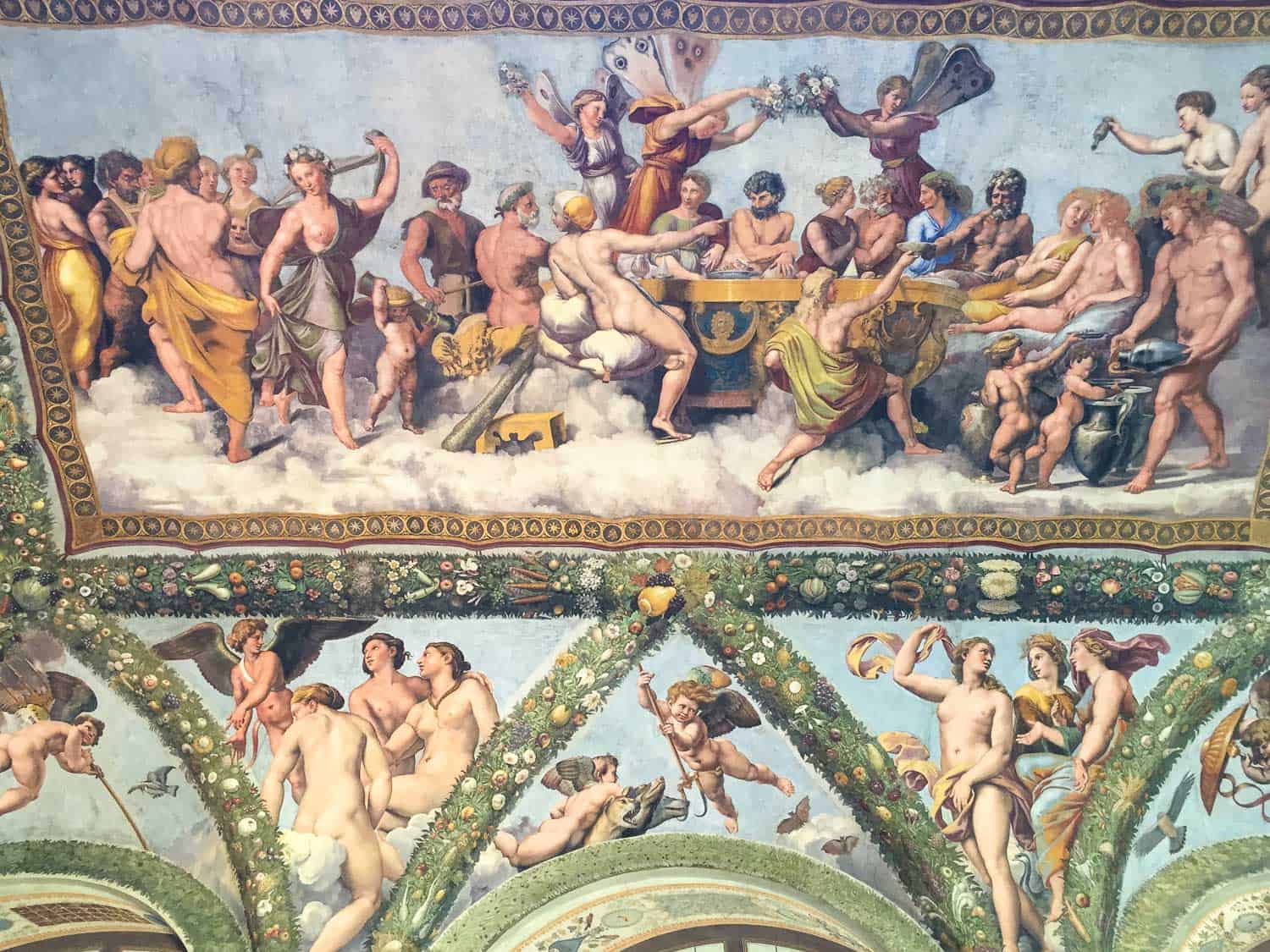 We wandered past Villa Farnesina a few times during our stay in Trastevere and decided to visit on a whim.
We were amazed to find a stunning Renaissance villa with ceilings covered in Raphael frescoes.
Best of all, we had it almost to ourselves. It's one of the most overlooked gems in Rome and one of the best places in Trastevere for art lovers.
The mansion was built in 1506 for a Sienese banker and was later owned by the Farnese family (hence the name).
As well as the beautiful ceiling frescoes, look out for the trompe-l'œil in the Hall of Perspectives where an optical illusion is created showing the city of Rome through imitation columns.
Details: Villa Farnesina is at Via della Lungara, 230. Entrance is €16 adults/ €10 children over 10 years old. Open Tuesdays to Sundays 10am – 7pm. Closed Mondays.
Suggested Tours: This private tour includes the villa and more of the neighbourhood.
3) Wander Around the Baroque Palazzo Corsini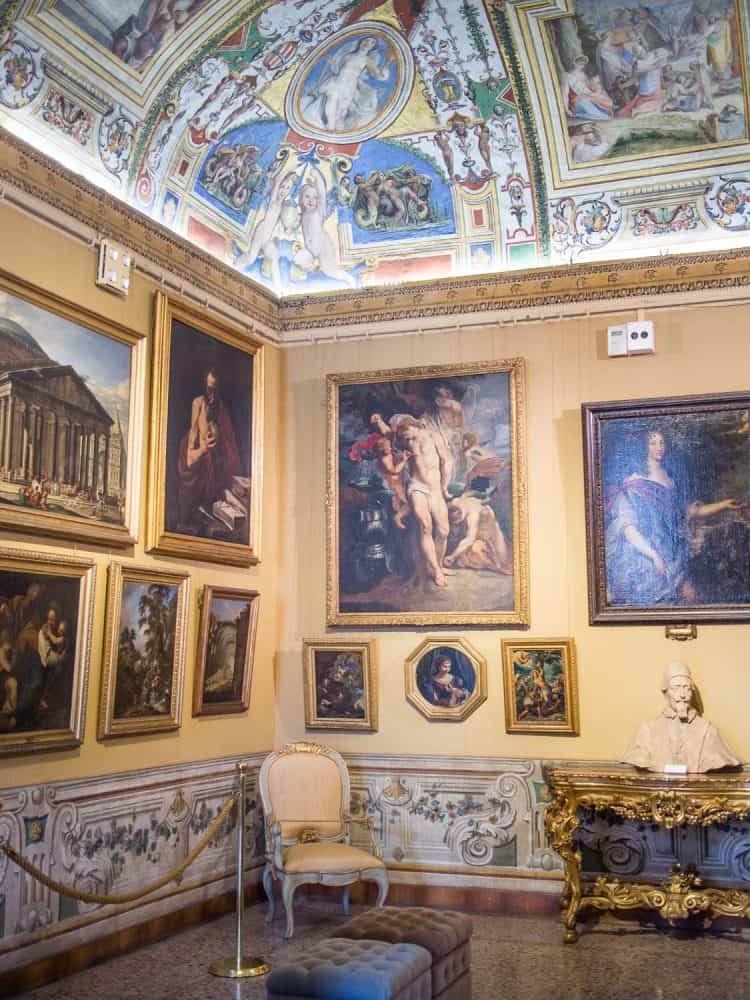 Opposite Villa Farnesina is Palazzo Corsini, a grand Baroque palace that now houses a small Renaissance and Baroque art collection.
We're not serious art buffs and didn't recognise any of the artists, but it was a pleasant place to wander, especially as there was only one other person there.
While I don't think it's a must-see, tickets have a combined entrance with Palazzo Barberini in the centre, which is well worth visiting for its extensive collection including some stunning Caravaggio paintings. It made our list of the best untouristy things to do in Rome.
Details: Palazzo Corsini is at Via della Lungara, 10. Combined entrance with Palazzo Barberini is €15 adults/ free for children (valid for 20 days). Open Tuesday to Sunday from 10am – 7pm. Closed Mondays.
Suggested Tours: Learn more about the work on display on this Private Corsini Palace and Gallery Tour led by an Art Historian.
4) Find Some Peace in Orto Botanico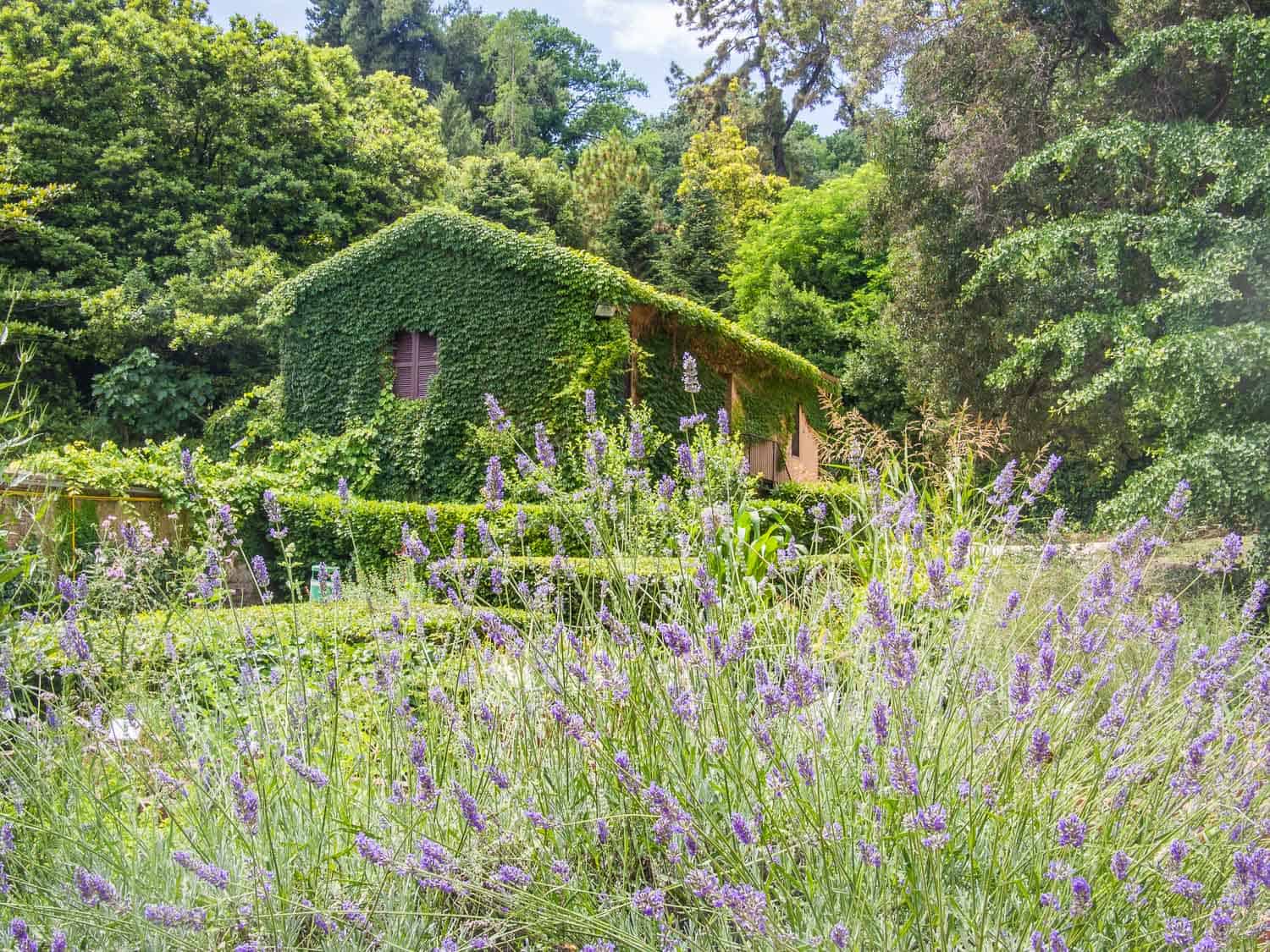 Trastevere's botanical garden is another hidden gem behind Palazzo Corsini.
It's a peaceful retreat from the city on the lower slopes of Janiculum Hill and is a lovely place to wander amongst the palms and pines.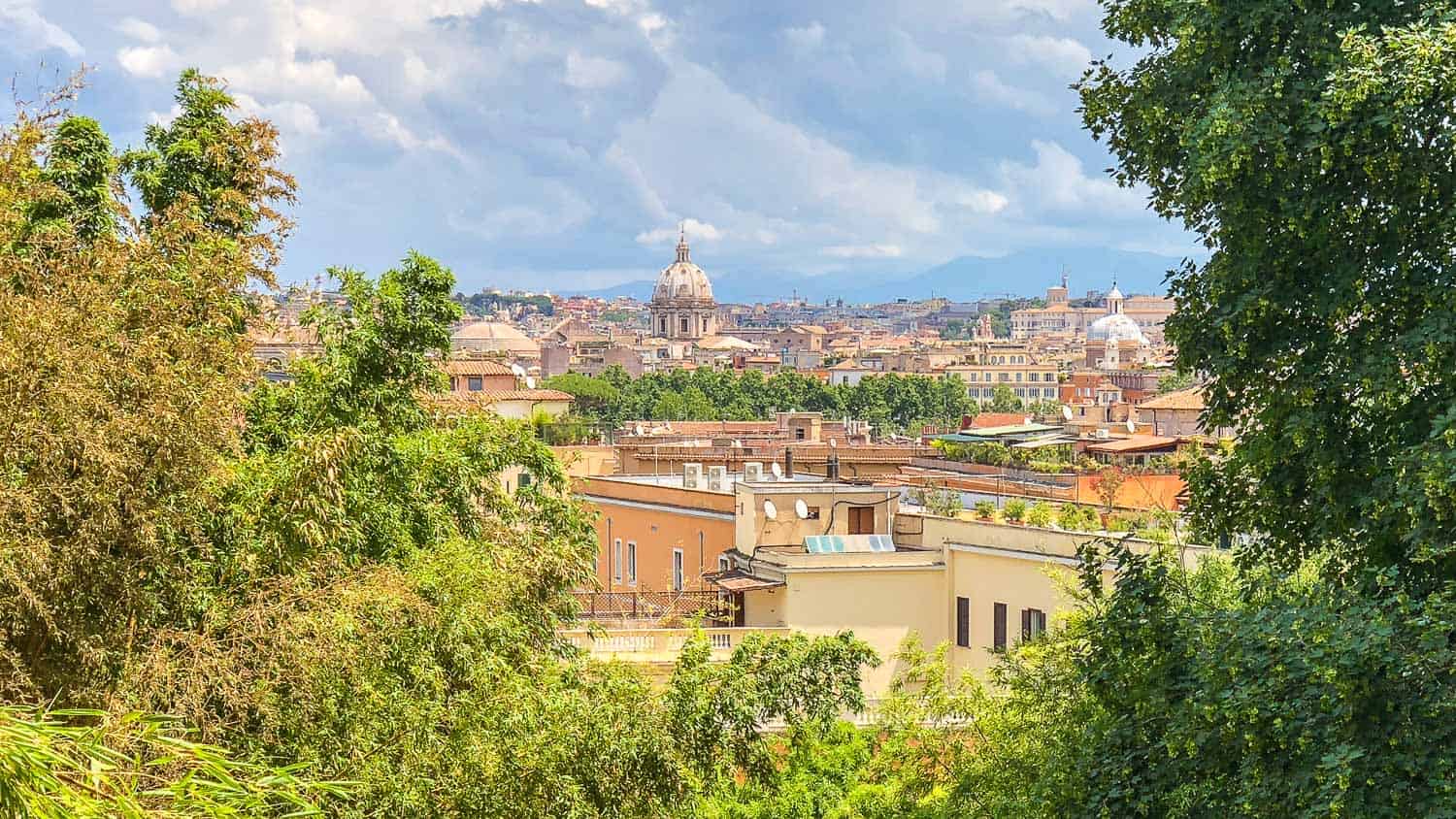 It's at its best in spring (the rose garden had withered in June), but there was still plenty to explore including a sensory herb garden, medicinal plants, carnivorous plants, and tropical greenhouse.
Don't miss walking up the hill to the Japanese garden with a small bamboo grove, rock garden, waterfall, and view of the city.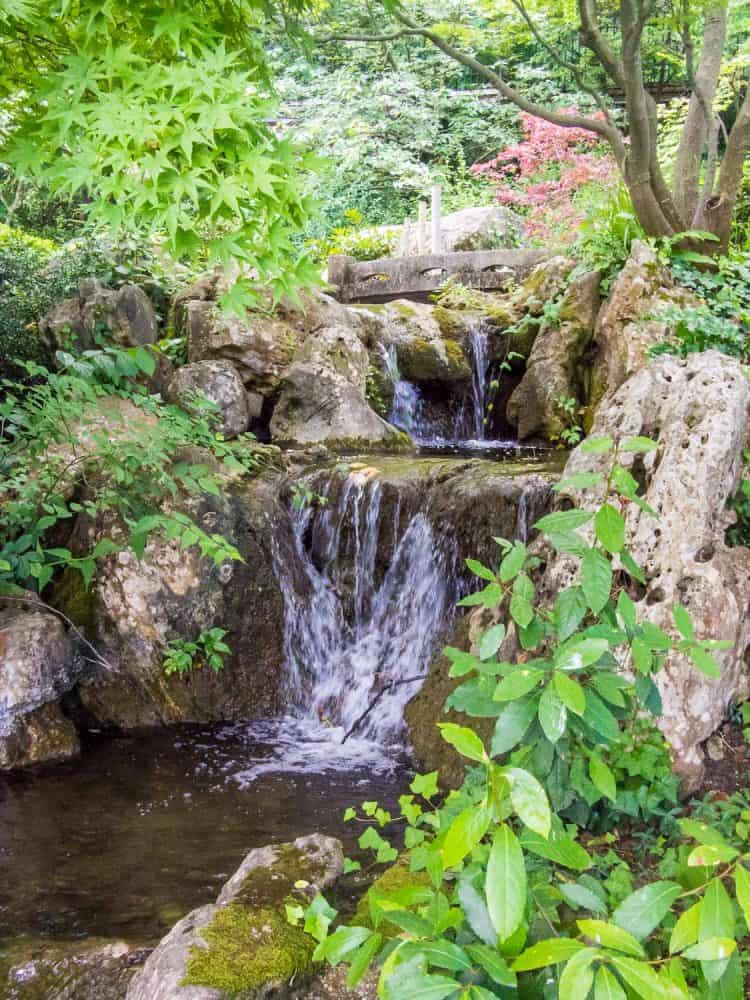 Details: Orto Botanico is at Largo Cristina di Svezia, 24. Entrance is €4. Open daily 9am – 4.30pm.
Looking for more ideas for a break from the hectic city? Check out these 14 Rome Day Trips for inspiration.
5) Shop at San Cosimato Market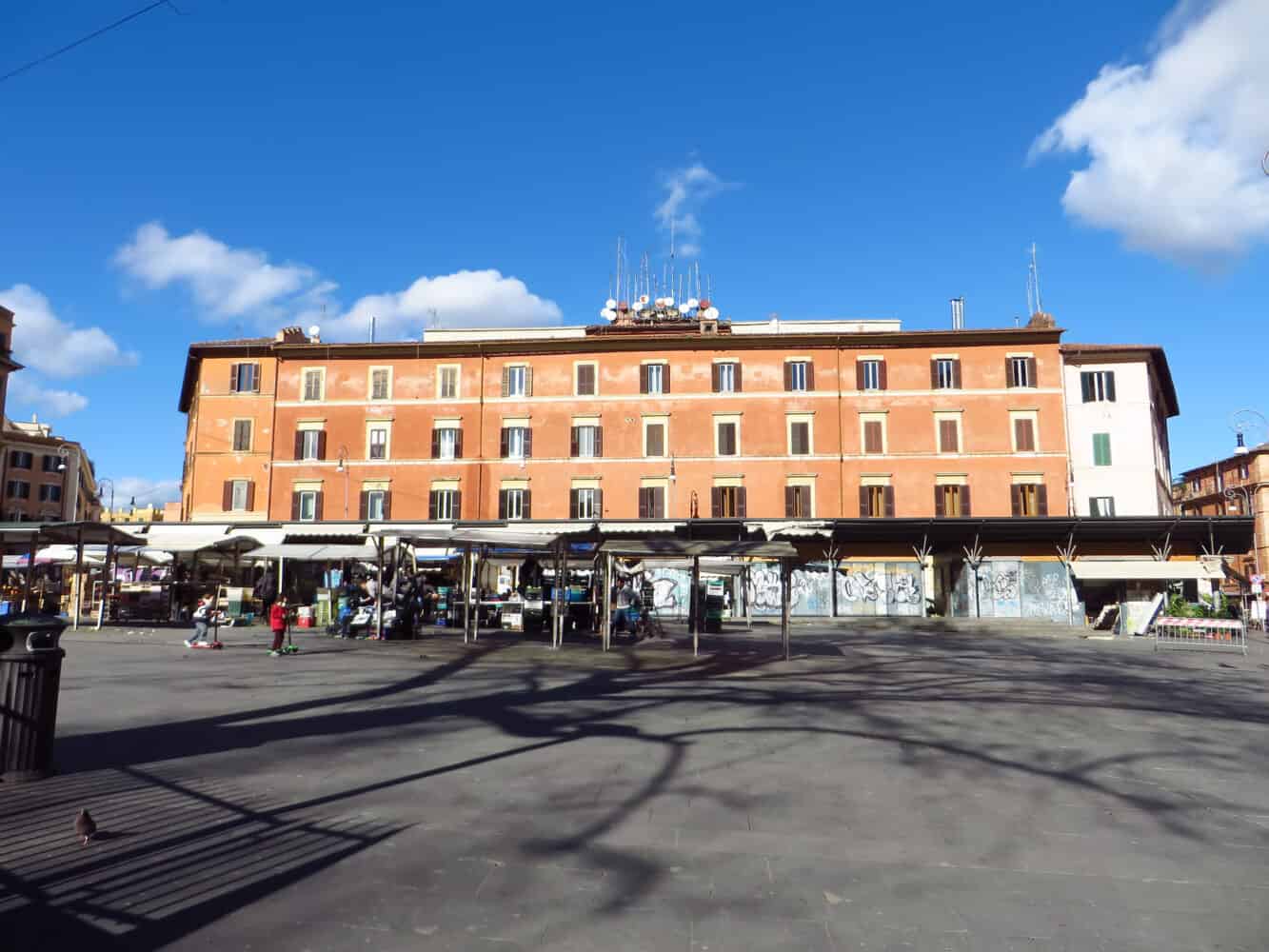 If you are self-catering or like wandering Italian markets (always a worthwhile activity), San Cosimato is Trastevere's main market.
In the centre of the piazza are fruit and vegetable stalls while around the edges are permanent stalls selling fish, meat, pasta, and even books.
More than a place to shop, it's a gathering place for the neighbourhood's locals from young to old.
If you like markets, be sure to visit Testaccio Market in the nearby less touristy neighbourhood.
Details: The Mercato di San Cosimato is at Piazza di San Cosimato. Open Mondays to Saturdays 6am – 1.30pm. Closed Sundays.
Suggested Tours: Why not combine a Trastevere Food Tour with Pasta Making? This class includes a visit to the market.
6) Watch the Sunset from Janiculum Hill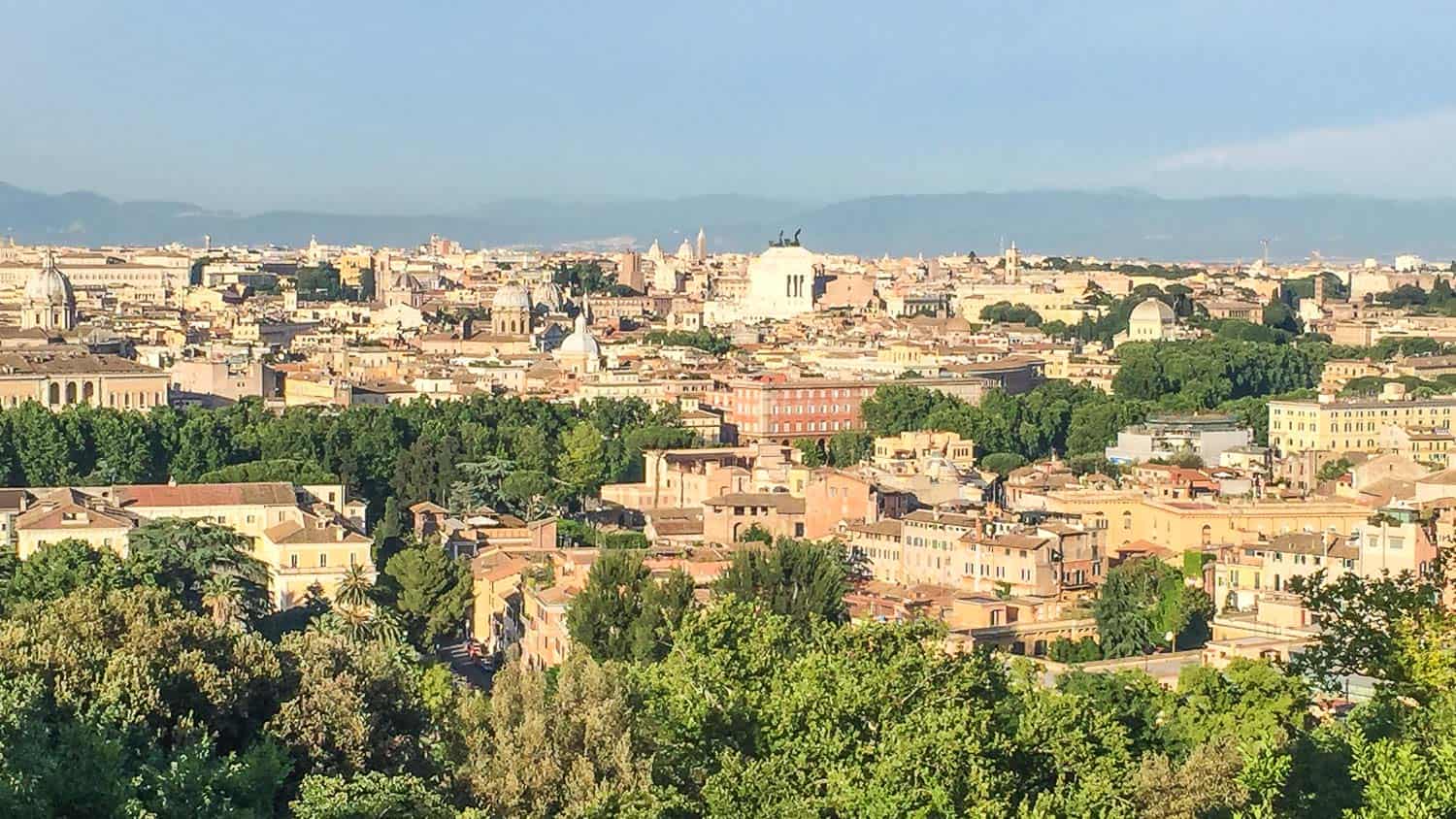 Janiculum Hill (Gianicolo in Italian) is just above Trastevere and has one of the best views in Rome—you can see most of the city's main sights.
It's particularly lovely at sunset and there's a stand where you can get a drink.
It's about a 15-minute walk from the centre of Trastevere to Piazza Giuseppe Garibaldi at the top of the hill.
On the way up look out for Bramante's Tempietto in the Church of San Pietro in Montorio and the monumental Baroque fountain, Fontana dell'Acqua Paola.
Details: The Janiculum Terrace is at Piazza Giuseppe Garibaldi.
Suggested Tours: Feeling energetic? This Roman Views E-Bike Tour looks great and takes you over three Rome hills including Janiculum for amazing views.
7) Explore Tiber Island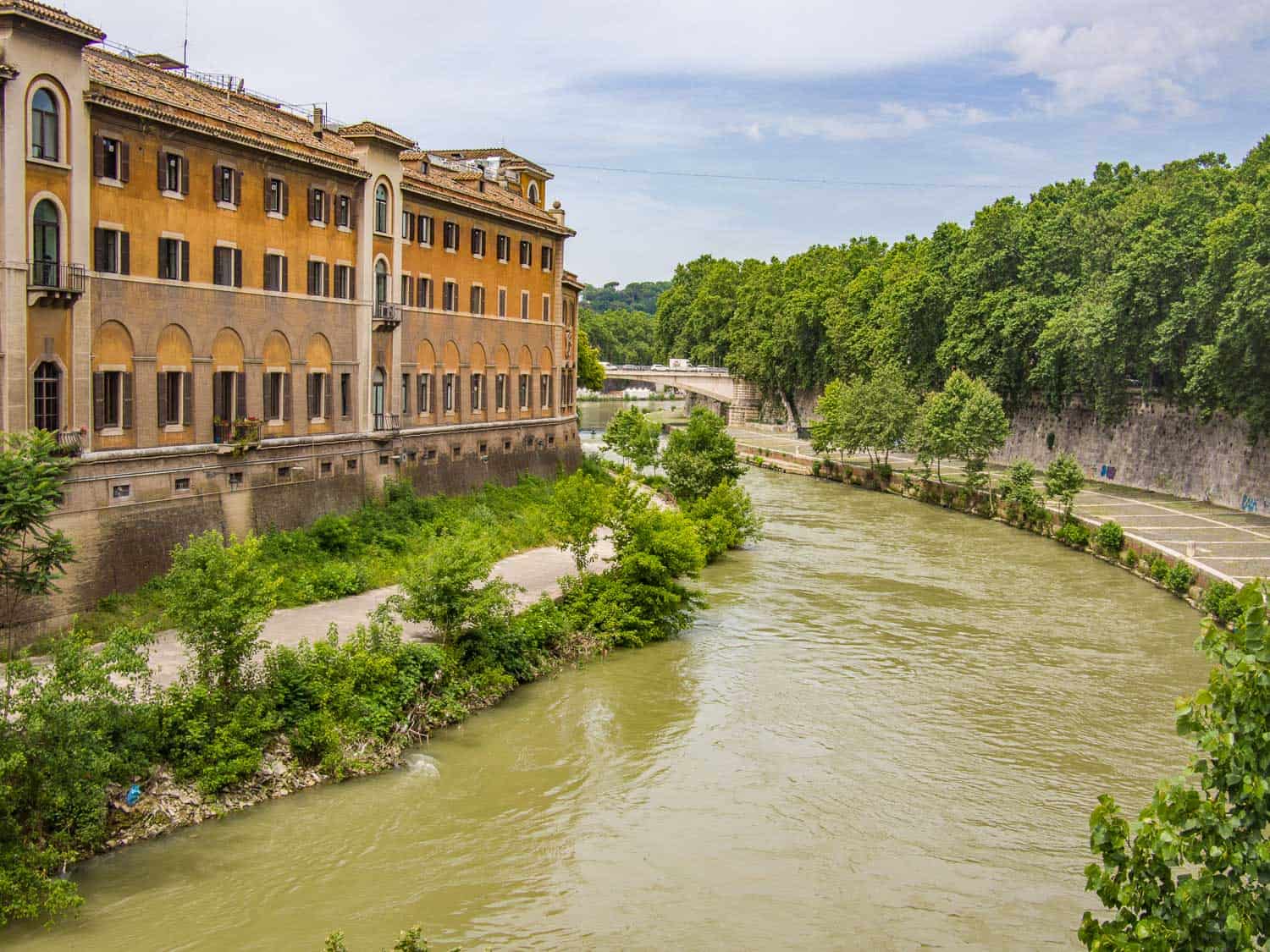 Trastevere is divided from the historic centre of Rome by the Tiber river, whose banks are a great place for a traffic-free run or cycle.
The Ponte Cestio bridge connects Trastevere to the tiny Tiber Island in the river.
The island is wonderfully picturesque and looks like a medieval hill town with its old bridges and church.
It was once the site of an ancient temple to Aesculapius, the Greek god of medicine, and is still considered a place of healing—there's a working hospital.
There's not a lot to see on the island but do take the time to walk through it on your way from Trastevere to the Jewish Ghetto on the other side.
During the summer the island hosts the Isola del Cinema film festival.
There are also temporary bars and restaurants along the banks of the river in the summer.
Suggested Tours: Explore Tiber Island from a unique perspective on this Urban Rafting in the Heart of Rome Tour including pizza afterwards for all your hard work!
8) Take a Walk in Villa Doria Pamphili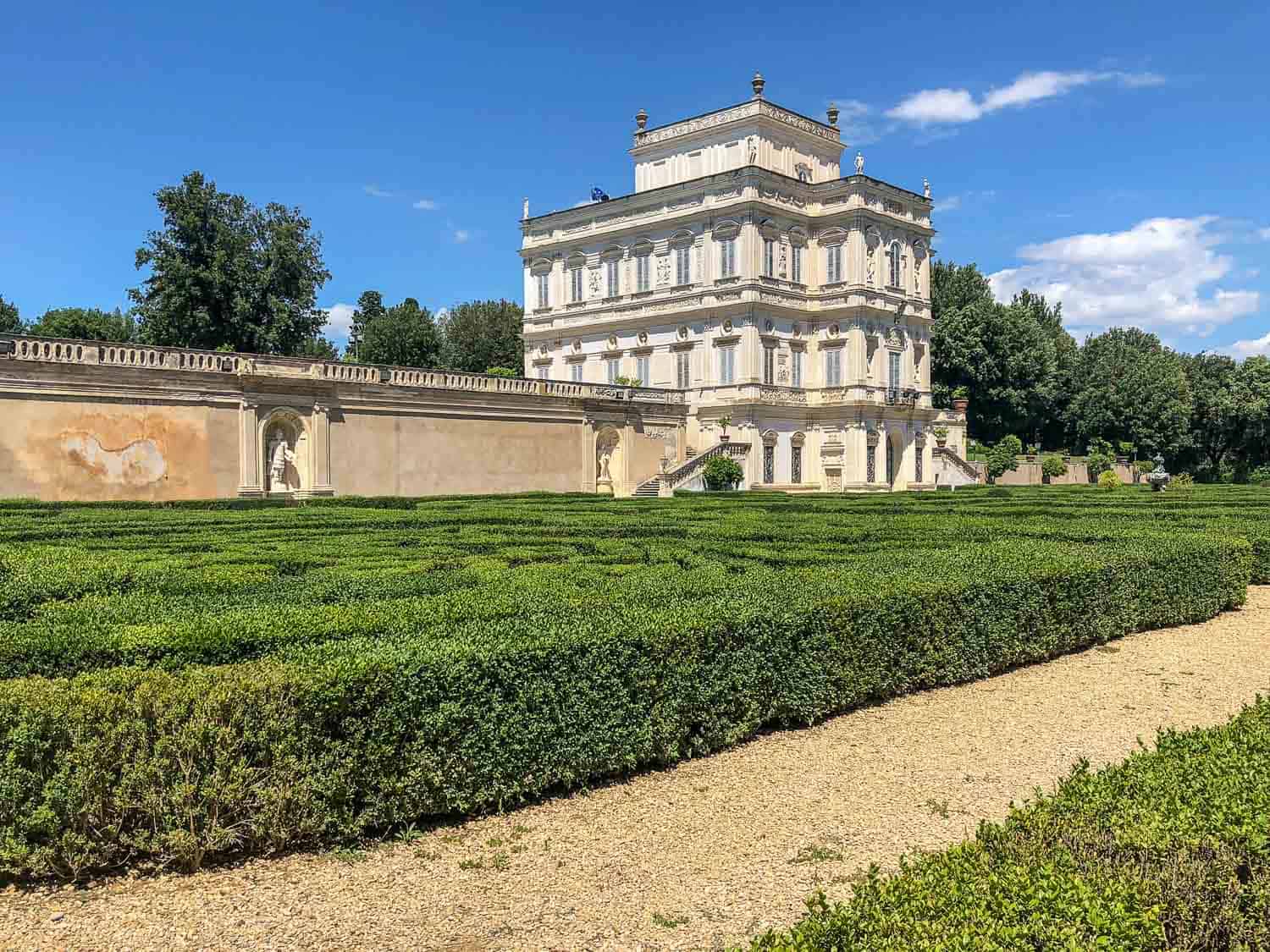 Villa Doria Pamphili is in the Monteverde neighbourhood, but as it's only a 20-minute walk from Trastevere, it's well worth visiting when you need an escape from the crowds.
This huge park is perfect for a run, walk, or picnic. Some sections are more manicured, like a typical city park, while others feel like the countryside with woods and meadows of long grass.
There's also a church, the grand Villino Algardi which you can admire from the outside, and a small lake.
It's my favourite park in Rome. I loved lying in the long grass admiring the umbrella pines above—so relaxing and peaceful.
Details: Villa Doria Pamphili is off Via di S. Pancrazio. Open daily from 7am until sunset.
Where to Eat in Trastevere Rome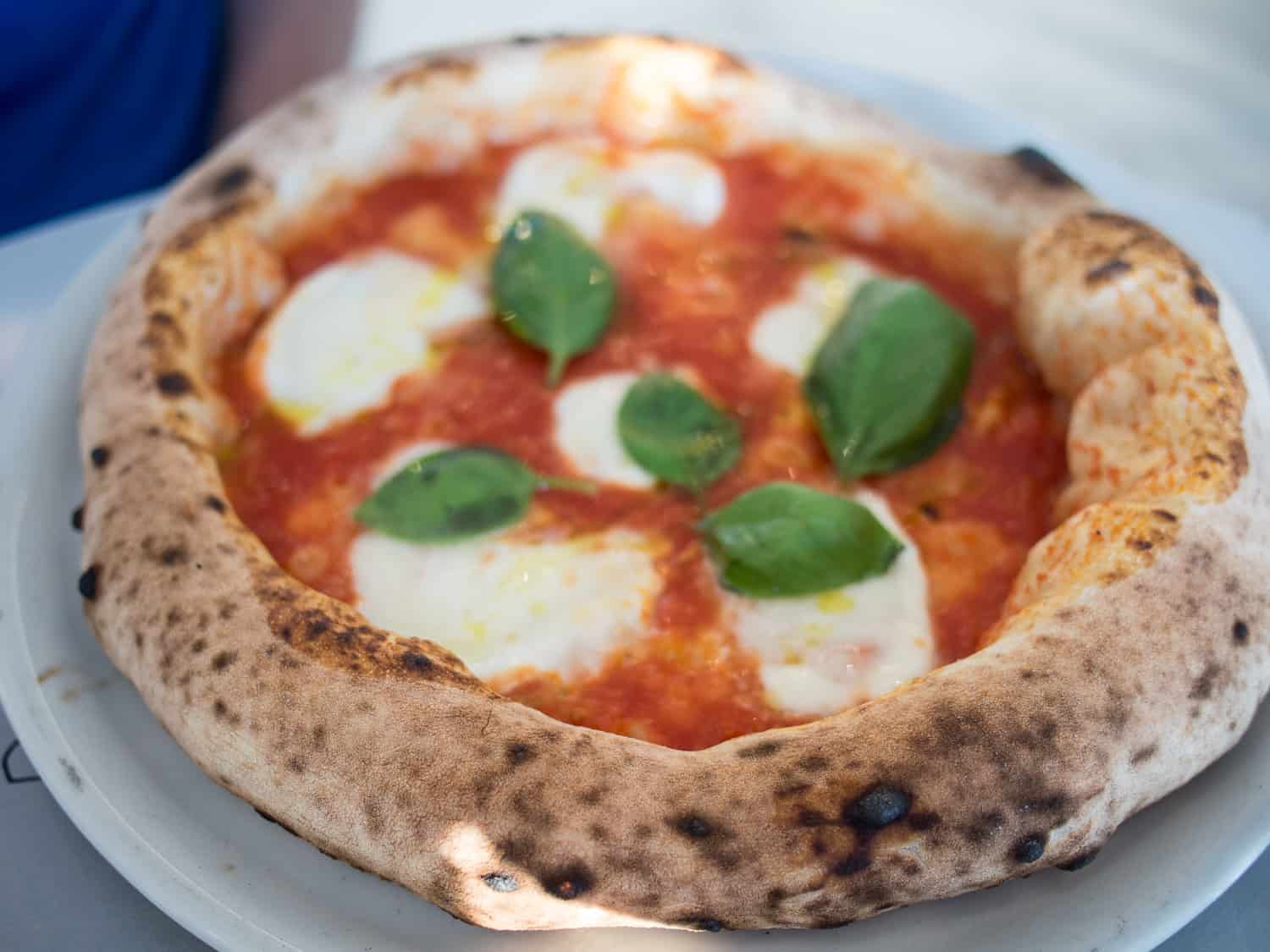 A great way to explore Trastevere's food scene and learn more about Italian food culture is on the Trastevere food tour with Eating Italy.
We loved their Testaccio food tour and would like to try their evening or daytime Trastevere walk.
It's also worth walking over the river to some excellent restaurants in Testaccio.
These are some of our favourite Trastevere restaurants:
Trastevere Restaurants and Pizzerias
Pizzeria di Marmi (Viale di Trastevere 53–59) – The best pizza in Trastevere with delicious Roman-style thin crust pizzas. Get there early (it opens at 6.30pm) or expect to queue. Tables are crammed together so it's not the place for a romantic meal.
Seu Pizza Illuminati (Via Angelo Bargoni, 10 – 18) – This trendy pizzeria is more stylish (and expensive) than the typical Roman pizza place and does thicker Neopolitan style pizzas with puffy crusts. Choose from classic toppings or more creative versions like The 3 Ps—pesto, potato and smoked provolone.
Sette Oche in Altalena (Via die Salumi 36) – It may be touristy but the pasta is good and there's outside seating. We appreciated the number of vegetarian options including tonnarelli cacio e pepe (cheese and pepper), linguine al limone (lemon and goats cheese), and ravioli alla Norma (aubergine and tomato).
La Tavernaccia da Bruno (Via Giovanni da Castel Bolognese, 63) – Tasty pasta and melanzana alla parmigiana in a friendly trattoria in the less-touristy southern part of Trastevere.
Zi'Mberto (Piazza della Malva) – The service was a bit gruff and chaotic, but we enjoyed the pasta and the outside seating on the piazza.
Cheap Eats and Bars
Gelato and Sweet Treats
See our Eating in Italy etiquette guide so you can avoid making mistakes like turning up for dinner at 6pm or ordering a cappuccino after lunch.
Where to Stay in Trastevere Rome
As I said in the introduction Trastevere has become a popular area to stay in.
Definitely don't expect to be the only tourists around—for that, we recommend the Testaccio neighbourhood where we stayed for a month on our last Rome visit.
Trastevere is closer to the historic centre, though, and there is a wider range of accommodation.
Here are some suggestions on where to stay in Trastevere:
Apartments
Renting an apartment is a good option in Trastevere as there aren't many hotels—it's what we usually do.
Search for apartments in Trastevere on Vrbo.
B&Bs and Hotels
If you'd prefer to stay in a Trastevere hotel or B&B here are some excellent options:
Casa Mia In Trastevere – Spacious, stylish, modern rooms in the perfect location near Piazza di Santa Maria in Trastevere and just across the river from the historic centre. Great value for Rome.
Tree Charme – A charming small hotel in the ideal riverside location with lovely rooms.
Grand Hotel Gianicolo – Located on the top of Gianicolo Hill for impressive views, this hotel also has an outdoor swimming pool perfect for the hot summers.
Domus Monamì Luxury Suites – Set in a historical building, rooms in this guest house are elegantly decorated.
Search for more hotels in Trastevere here.
How to Get to Trastevere Italy
Trastevere is very walkable and the historic centre is only a 10–20 minute walk away.
The Vatican and Colosseum are about a 30-minute walk away. You can also take the bus or tram—we use Google Maps for routes.
Tram 8 runs from Trastevere train station along Viale di Trastevere to Piazza Venezia near the Roman Forum.
From Rome Fiumicino airport (FCO) take the train (30 minutes, €8) to Trastevere station. From there you can walk or take the bus or tram to your hotel.
From Rome Ciampino airport (CIA) you can get one of the airport coaches to Termini train station and then the bus from there.
The set price for an airport taxi is €48 to/from Fiumicino and €30 to/from Ciampino.
Trastevere, Rome Map
Is Trastevere Worth Visiting?
It may not be off the beaten track any longer, but it's still well worth visiting or even staying in Trastevere.
It's a beautiful neighbourhood with some interesting, uncrowded things to do, and it's more relaxed than the busy centre.
I hope this guide has given you some ideas on what to do in Trastevere. What are your favourite things to do in Trastevere? Leave a comment below.
More Rome Posts
If you enjoyed this post, pin it for later!