Rome's Colosseum, Sistine Chapel and Pantheon are all extraordinary creations, but there's more to Rome than the tourist attractions.
If you only visit the major sites, you'll spend more time fighting through tour groups than enjoying the atmosphere of the city.
Luckily there's so much incredible art and history in Rome that it's easy to escape the crowds by getting off the beaten path and visiting less well-known attractions.
Below I share our favourite unusual things to do in Rome divided by area so you can plan your time efficiently.
In each section, I have included our favourite places to eat and suggested places to stay in the neighbourhood.
For those of you who prefer to explore with a guide, I have included tours where relevant.
You'll also find a map at the bottom of the post with all these alternative Rome attractions.
Contents
Our Top Picks: Unique Things to Do in Rome
If you have limited time, here are our favourite unique things to do in Rome:
Outdoors: Appian Way
Art Gallery: Palazzo Doria Pamphilj
Roman Ruin: Baths of Caracalla (with VR headset)
Church: Basilica of St Paul Outside the Walls
Historic Centre
The Centro Storico or historic centre is the heart of Rome and where you'll find many of the famous piazzas, fountains, and churches.
The popular sights get very busy but avoiding the tour groups is possible with these alternative things to do in Rome.
1) Early Morning Walk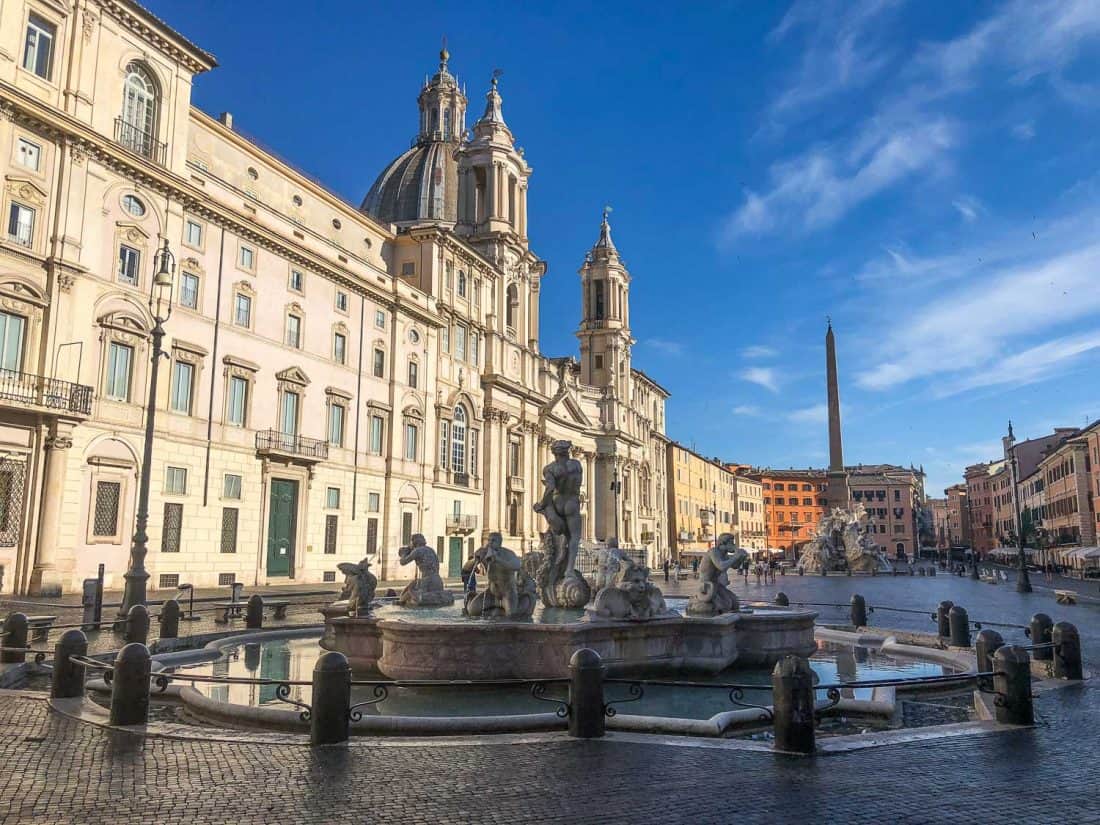 My number one tip to escape the crowds in Rome is to get up early.
The historic centre is stunning and you won't want to miss it, but the crowds and traffic can be stressful.
At 7 am though, especially on a Sunday, you'll have it almost to yourself and can really enjoy the beauty.
Start with the Trevi Fountain as it's the most crowded spot.
There were already 50 people at the famous fountain when we arrived at 7.15am, but there was space to sit and take selfies whereas later in the day it is swarming with hundreds of people.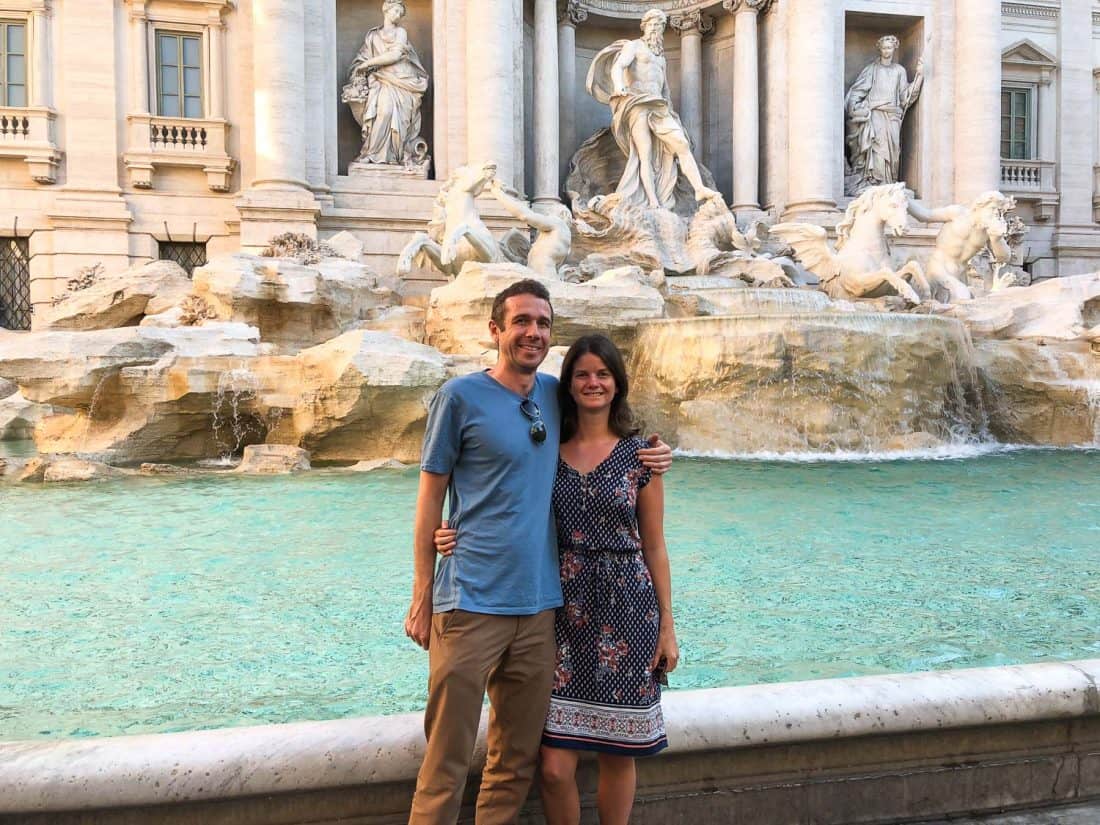 Continue your walk past the Pantheon (it doesn't open until 9 am on Sundays) to my favourite square, Piazza Navona, where you can admire the gorgeous fountains without anyone else around.
From here wander to the market square of Campo de Fiori and head down a side street just off it to seek out Arco degli Acetari, a hidden courtyard of picturesque houses.
If you are feeling hungry by now, walk down Via dei Giubbonari, past the cute little piazza Largo dei Librari, to Via dei Chiavari where you can buy freshly baked pizza bianca from Antico Forno Roscioli (it opens at 8.30am on Sundays, 7 am on weekdays).
By now most Rome attractions and museums will be opening so you can visit one of those or continue to wander.
2) Teatro Marcello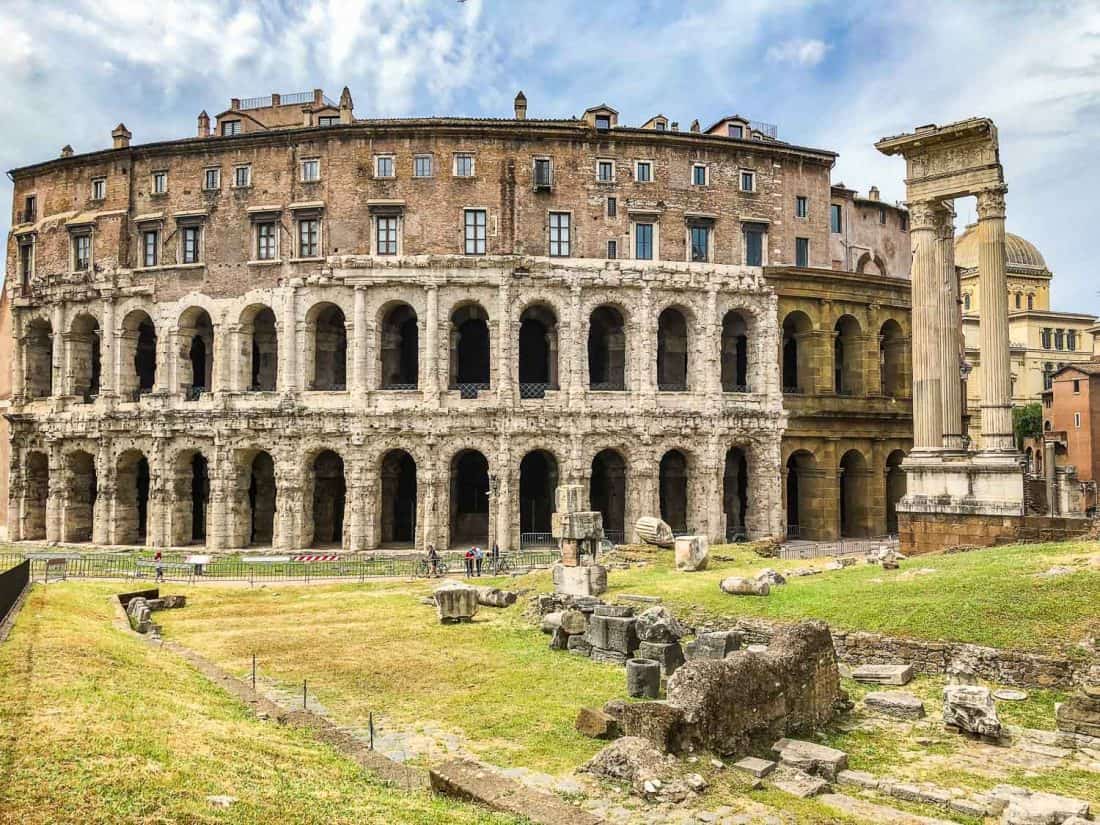 Teatro Marcello isn't on most people's must-visit lists, which makes it all the more surprising when you stumble upon it as we did.
The beauty of Rome is that incredible ruins are everywhere—you'll find ancient history at every turn.
First-time visitors may mistake Teatro Marcello for the Colosseum.
It was originally a 20,000-seat Roman amphitheater completed in 12 BC, but in the 16th century a palazzo, which now contains exclusive apartments, was built on top. It's interesting to see the layers of history.
It's never very busy and you can walk through the crumbling blocks and columns next to it for free. There are also summer concerts here.
3) Palazzo Doria Pamphilj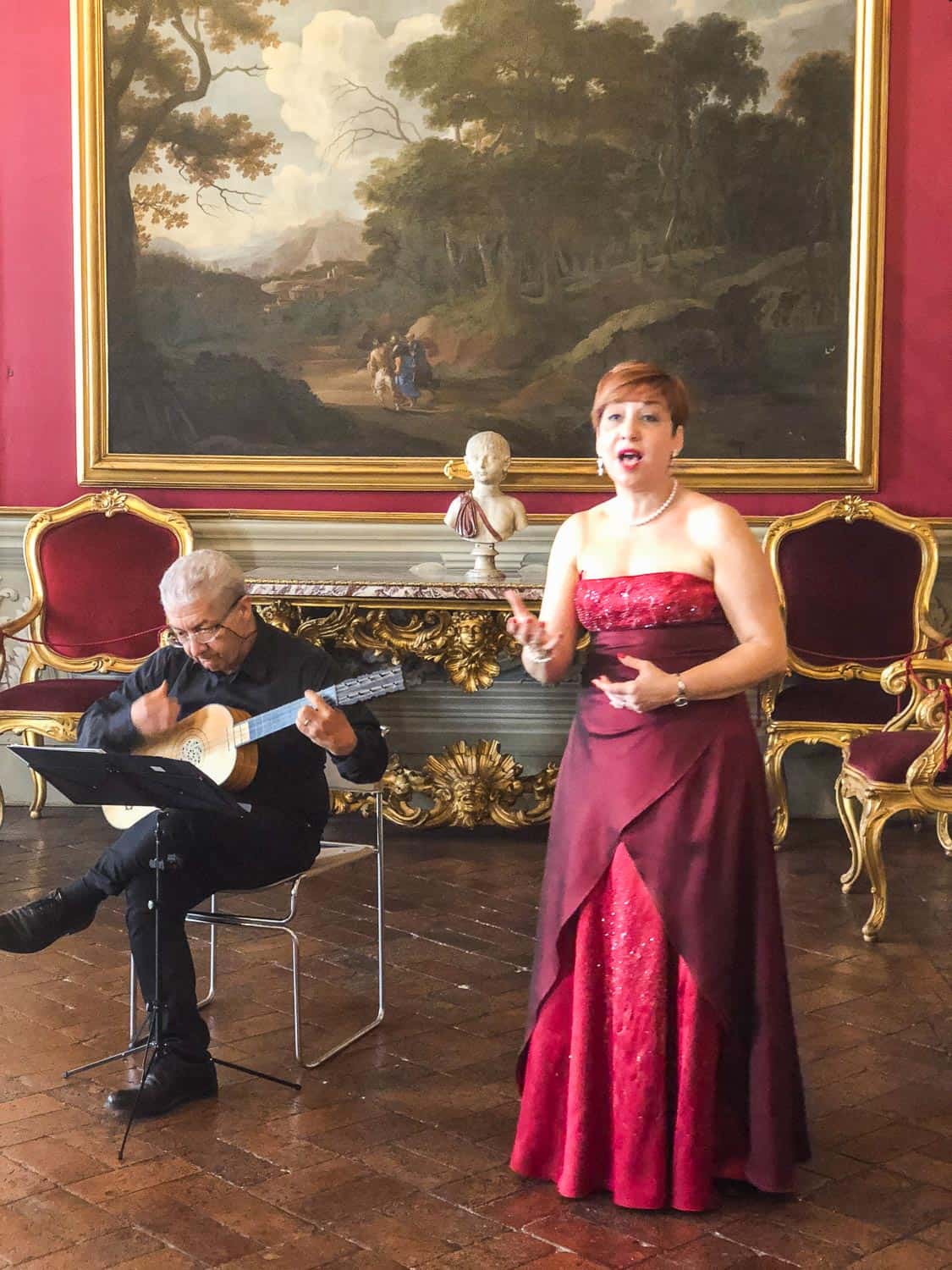 Palazzo Doria Pamphilj is a grand private family palace dating back to the 1600s when a member of the family, Innocent X, was pope.
The magnificent rooms are covered in paintings as they were back then and the ceilings are decorated with frescoes.
The collection includes paintings by master artists such as Caravaggio, Caracci, and Velaquez, as well as a Bernini statue of Pope Innocent.
The extravagant Gallery of the Mirrors is similar to the one at Versailles.
The museum doesn't get busy and their audio guide (included in the price) is excellent.
We visited the museum on a music tour with Roma Opera Omnia which interspersed music performances with discussions of the art.
It was magical to hear an incredible soprano and Baroque guitarist perform in rooms such as the ballroom where the Pamphilj family's guests would have danced to similar music hundreds of years ago. It's one of the most memorable and unique things to do in Rome.
4) Palazzo Barberini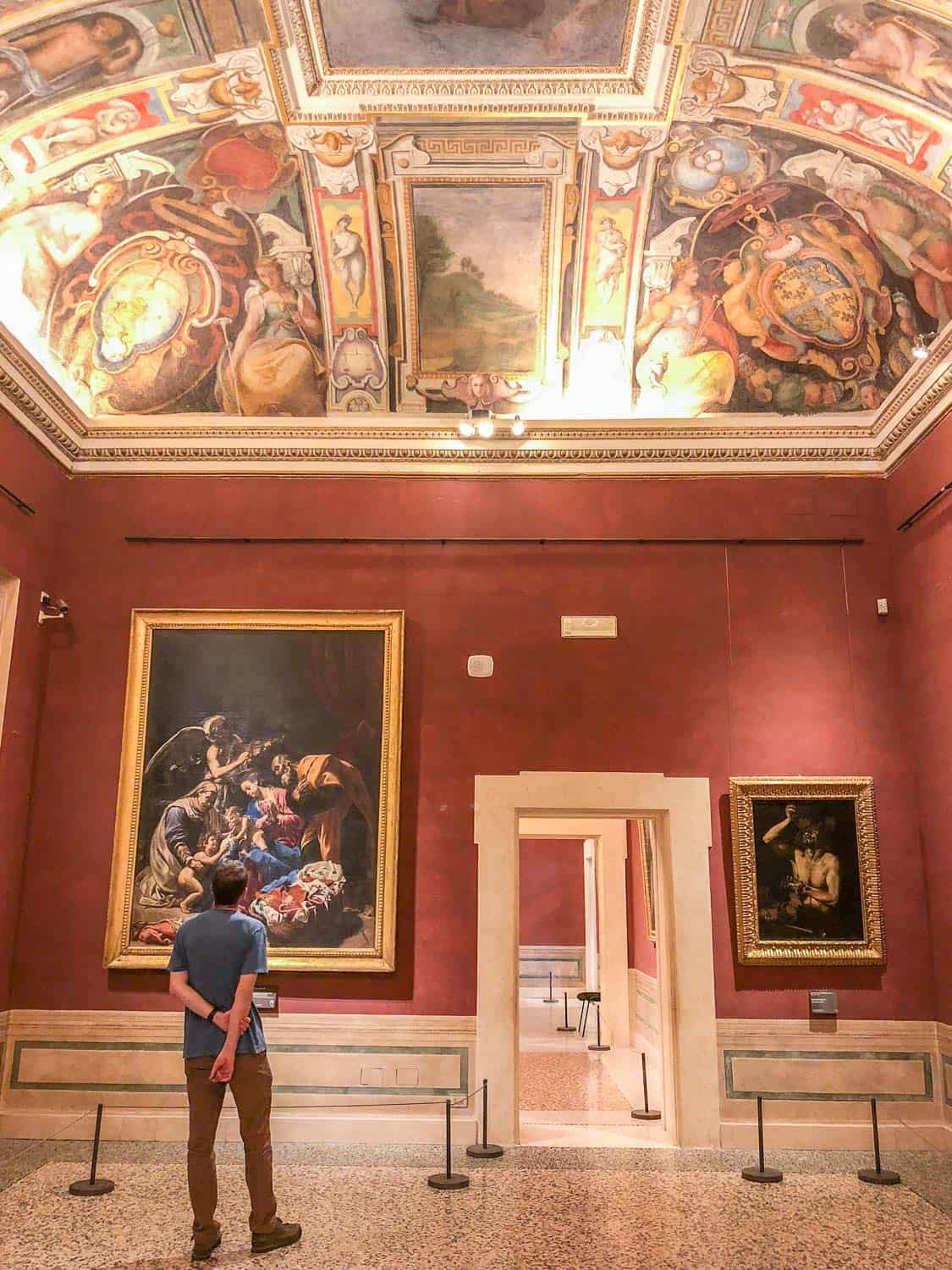 Do you want one of Caravaggio's best works to yourself?
Go to Palazzo Barberini at 9 am. It's one of Rome's best secrets.
This huge palace is home to the Galleria Nazionale d'Arte Antica which includes artwork by Caravaggio, Raphael, Bernini, Filippo Lippi, Piero di Cosimo and many more.
For some reason, this gallery is overlooked and we had it completely to ourselves.
The ground floor houses older art from the 1200s-1400s. We preferred the first floor (the piano nobile where the family would have lived) with its stunning frescos and Renaissance and Baroque paintings.
The highlight is undoubtedly Caravaggio's mesmerising Judith Beheading Holofernes—we couldn't believe there was no one else around.
Other highlights of the palace are the grand staircases designed by Bernini and Borromini and the secret garden behind the building (which you don't need a ticket for).
5) Galleria Sciarra
We stumbled upon this hidden Art Nouveau courtyard on our way to the Trevi Fountain, which shows that it's possible to get off the beaten path in Rome without straying far from the top attractions.
Galleria Sciarra was built in the late 19th century for the wealthy Sciarra family and was originally due to be a shopping mall but instead became the headquarters of their magazine.
It now houses offices and it's well worth wandering through to admire the vaulted glass ceiling and colourful frescoes celebrating women in different fashions.
6) Le Domus Romane di Palazzo Valentini
There are plenty of Roman ruins to visit in the city, but what makes Le Domus Romane unique is its use of multimedia technology.
Access is by tour only which takes place on a glass floor above the ruins of two Roman villas from the 1st–4th centuries AD.
The building above, Palazzo Valentini, is a 15th century Renaissance villa which was built on top.
These would have been very grand private residences, and the tour includes the hot and cold baths and some beautiful mosaics.
Light, music, visuals, and audio are used to explain what you are seeing and show what the houses would have looked like in Roman times. Although the technology feels slightly dated, it does help bring the ruins to life.
The tour ends with a (rather long) video that explains the bas-reliefs on Trajan's column, which stands outside, and how they tell the story of Emperor Trajan's defeat of Dacia (Romania).
7) Eitch Borromini Rooftop Bar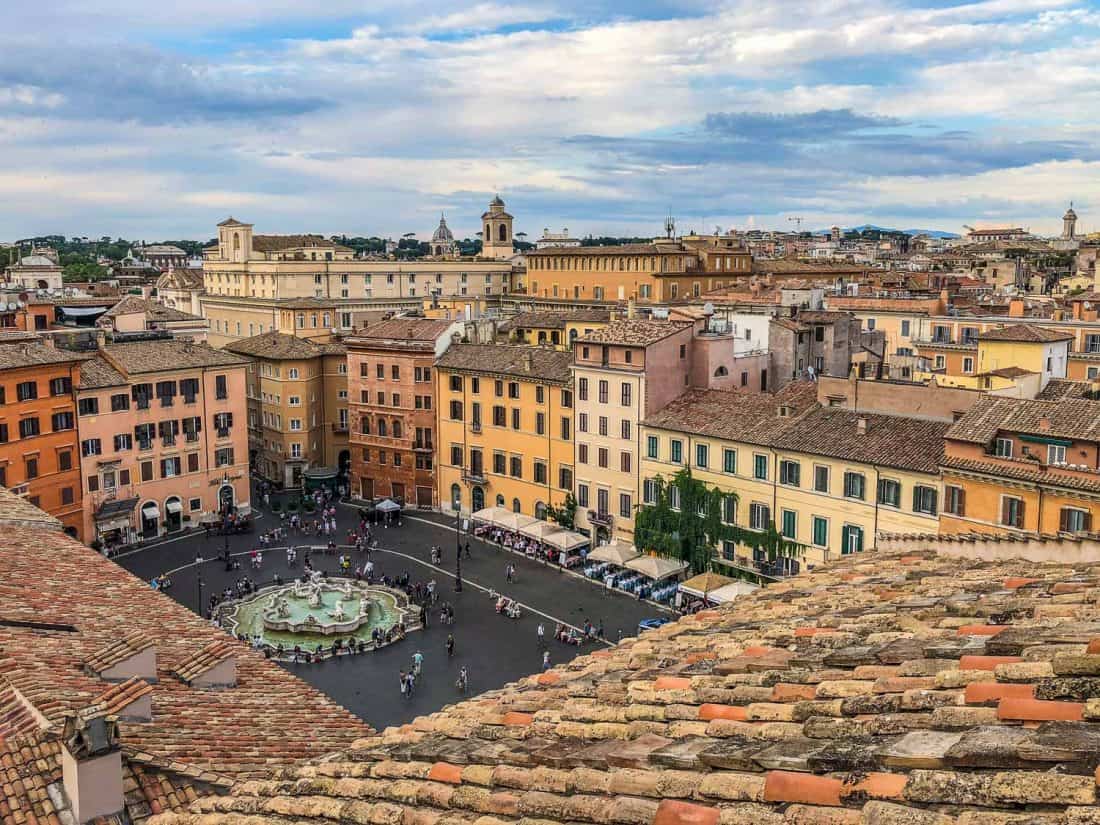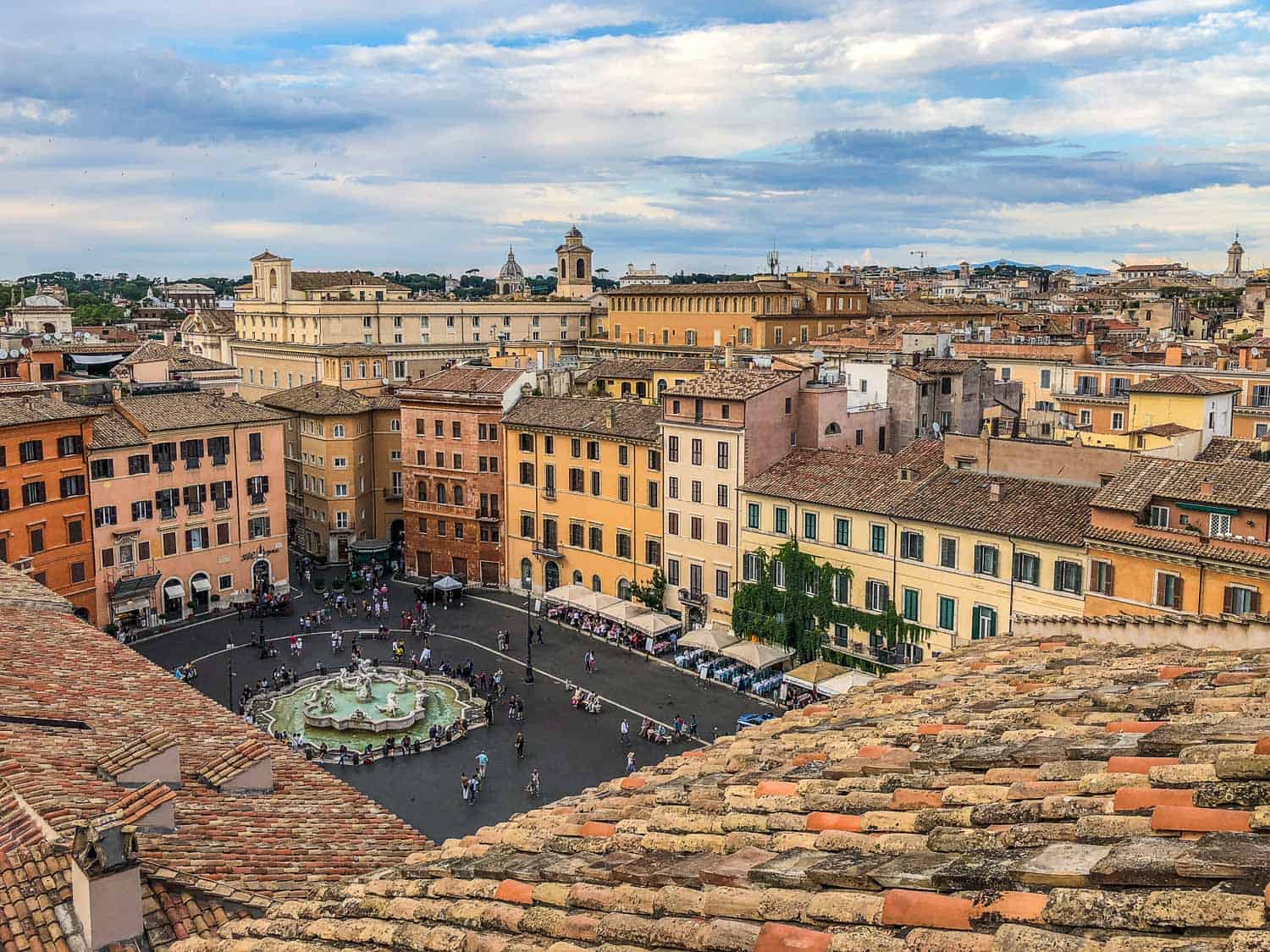 While you won't have this rooftop bar to yourself, numbers are limited (you must book a table) and it's not somewhere most visitors know about.
The Eitch Borromini is a luxury hotel overlooking Piazza Navona and the terrace bar has stunning 360º views of the city including St Peter's, the Pantheon, and Piazza Venezia.
It would be especially lovely at sunset although it was cloudy on the day we visited.
Drinks are expensive (€15 for a glass of Prosecco or wine, €25 for cocktails), but the views are so special that it's worth it.
You can also enjoy opera concerts at the bar, which we plan to do on our next visit.
8) Capuchin Crypt
We have mixed feelings about the Capuchin Crypt. It's certainly one of the most unusual things to do in Rome, but it's also very disturbing.
The crypt lies beneath the Church of Santa Maria della Concezione which was once the home of Capuchin friars.
When they moved here they brought the remains of the deceased friars with them, but rather than simply burying them, they decorated a series of tiny chapels with the bones.
The chapels contain the skeletons of small friars in robes with thousands of bones arranged around them in arches and decorative details.
They are divided by body part—skulls, pelvises, and shoulder blades all collected together. Even the light fixtures above us in the corridor were made from bones.
We've never seen anything like it. It's not like Otranto's Cathedral where bones are displayed in remembrance of the Christian martyrs who died resisting the Turks.
At the Capuchin Crypt the remains have been used to create art out of death—it's almost beautiful if you don't think about what it's made from.
But we couldn't help asking ourselves—what kind of people joyfully played with bones to create this place?
Our issue is with the presentation of the museum—it's treated as a holy place with religious music playing and photos and talking banned.
But to us, it seemed anti-religious and thought they should acknowledge how disturbing the place is. Instead, the Catholic order insists it's a reminder of our mortality.
The small museum before the chapels features the Caravaggio painting St Francis in Meditation, but we'd just seen the original at Palazzo Barberini—this is a very good copy.
Should you visit? That's up to you—it is a unique and macabre place, but I don't recommend it for anyone of a sensitive disposition.
9) Galleria Spada
We were the only visitors in this small art gallery of 16th and 17th century art in a Renaissance palace.
The most interesting part is the forced perspective gallery by Francesco Borromini in the courtyard.
The gallery of arches is only nine meters long, but an optical illusion makes it look much longer and the sculpture at the end larger.
It's not a must-see, but it's worth stopping by if you have some extra time and want to escape the crowds.
Where to Eat in the Historic Centre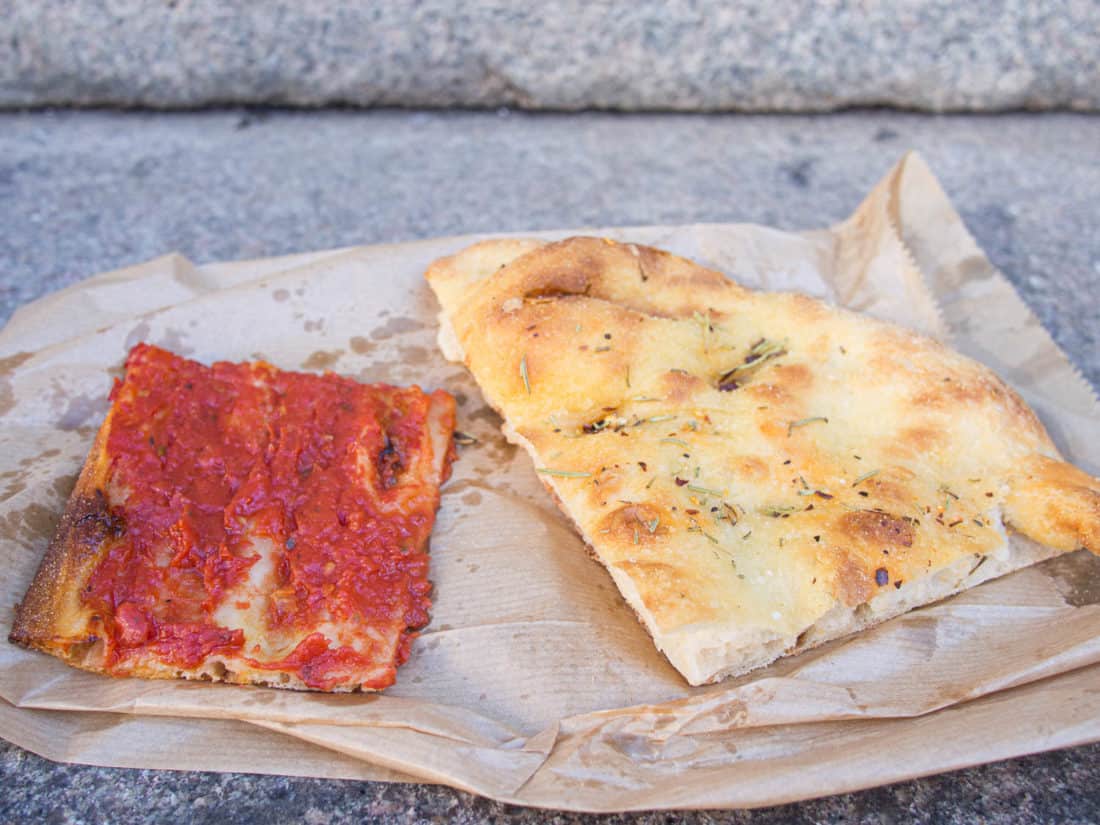 For a Quick Snack
Don't miss Antico Forno Roscioli for the best pizza bianca in the city—fresh out of the oven and sprinkled with sea salt and rosemary, it's absolutely delicious.
The suppli (rice balls) at Supplizio are another typical Roman snack.
For a Full Meal
The absolute best place we've eaten in the centre is Armando Al Pantheon. It's remarkable that a restaurant so close to a major attraction has managed to maintain its quality since the 1960s.
Everything we ate there was delicious including the melanzana alla parmigiana (eggplant parmesan) to start, the spaghetti cacio e pepe (a lighter version than the ones we ate in Testaccio), and the spaghetti verde with rocket, pecorino and lemon—so simple but so good. You need to book a month in advance.
If you didn't manage to get a reservation at Armando, L'Orso 80 is touristy, but it's a good option if you are craving vegetables.
Their 15-dish antipasti plate of grilled vegetables and beans costs €15 and was enough for us to share for lunch (it does usually include one meat dish, so ask for it without if you're vegetarian).
If you are very hungry, order the 2-person antipasti and watch your table fill with bowls of vegetables, beans, cheese, and prosciutto.
For a Coffee and Break
Avoid the touristy cafes near Piazza Navona and instead head to Barnum Cafe, a rather hipster cafe with vintage furniture and comfy couches (and you're not charged extra to sit down!).
The coffee and fresh juices are excellent, and I've heard good things about the cocktails and food.
For something more classically Roman, the Chiostro del Bramante is a cafe above an art museum with balcony seating looking down on lovely fresco-covered cloisters.
It's a peaceful retreat from the tourist chaos nearby. Inside the lounge, there's a window with a view of a Raphael fresco in the church next door (sadly we missed this).
For Gelato
Avoid the awful touristy places (you don't want unnaturally bright colours or puffy gelato spilling over the tub) and seek out real gelato made with natural ingredients.
My favourite is Fatamorgana, but Gelateria del Teatro and Gelateria dei Gracchi are also excellent.
Where to Stay in the Historic Centre
We usually stay in the neighbourhoods of Trastevere (closer to the centre) or Testaccio (further away but less touristy), but on a short visit, you'll be close to everything if you stay in the historic centre.
On our next trip, we plan to treat ourselves to a stay at the luxurious Eitch Borromini on Piazza Navona which has elegant rooms and an amazing rooftop terrace with 360º views. Check prices here.
More affordable options in the centre with excellent reviews include Maison Giulia, Campo de Fiori Prestige Rooms, and Colonna Suite Del Corso.
Search for more hotels and B&Bs in Rome's historic centre here.
Colosseum Area
The Colosseum is a 20-minute walk from the centre of Rome and the area gets very crowded with visitors to the famous Roman amphitheatre.
There are a few other Roman ruins nearby that most people don't know about including one of the most cool things to do in Rome.
10) Baths of Caracalla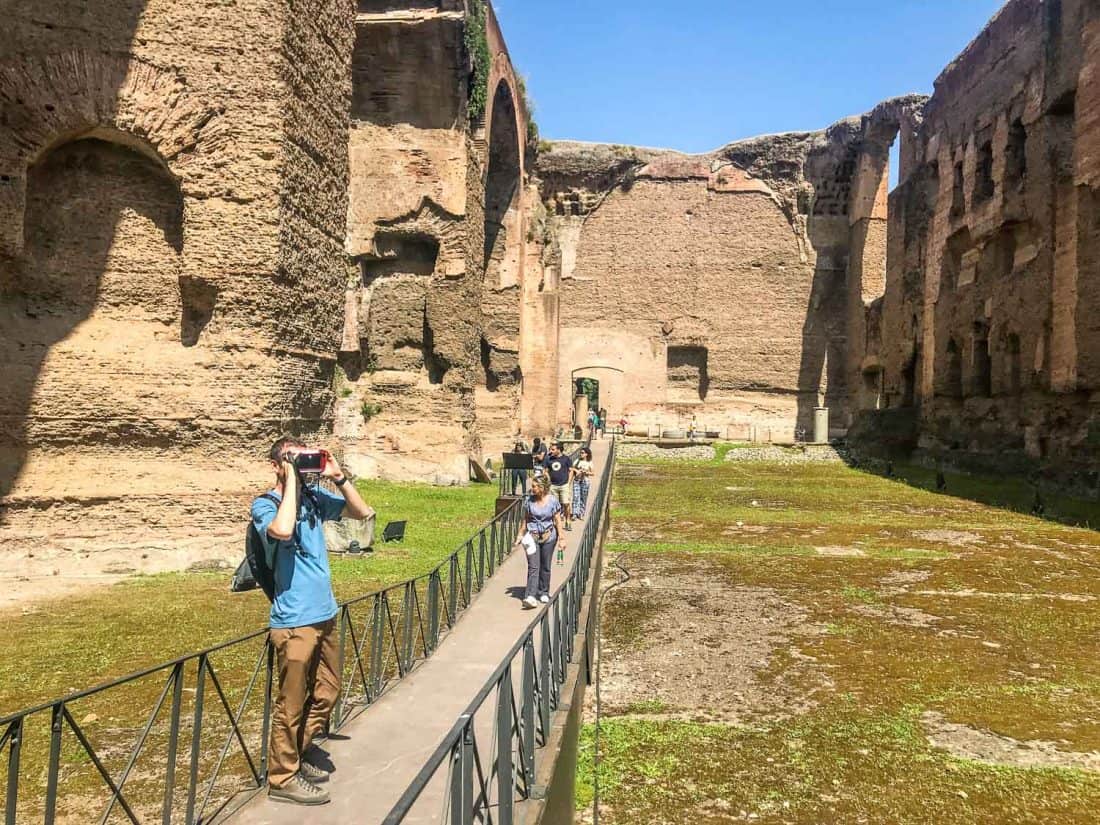 The Baths of Caracalla were only the second largest public baths in Rome, a fact that astonished us as they are absolutely huge.
They were inaugurated in 216 AD by the Emperor Caracalla and became the most spectacular thermal complex in ancient times.
The site includes hot and cold baths, gym, library, cafes, and an Olympic size swimming pool where people lounged at the edges and played games (you can still see the notches in the stone).
The gardens are also a lovely place for a stroll or a picnic on the grass. In the summer, concerts take place here.
What we loved most about these ruins is the use of Virtual Reality. You have to pay extra for a VR headset, but it's well worth it as you can see what the buildings and pools would have looked like in Roman times and appreciate the scale and grandeur of this luxurious complex.
You could combine a visit to the Baths with the Appian Way (see below) which is 15 minutes away on Bus 118.
11) Domus Aurea (Golden House)
The Domus Aurea or Golden House was an immense villa complex of 80 hectares built by Emperor Nero after the great fire of 64 AD which destroyed most of the city.
The ruins only opened to visitors in the last few years and as it's still a working archaeological site it feels more adventurous than a typical ruin visit—you even have to wear a hard hat.
It's still very much a work in progress as the ruins of this once grand villa now lie underground. It's cold inside so take an extra layer.
Emperor Trajan used it as a foundation for his public baths, sealing windows and doors and filling some spaces with dirt.
Entrance is by group tour only. Tours are led by an archaeologist and use video and virtual reality to show what the villa would have looked like with its decorative walls and beautiful views of the countryside.
Most of the art was removed when Trajan built on it, but you can see some small sections of mosaics.
The frescoed walls are well preserved (Renaissance artists clambered down here for inspiration), but they are covered in dirt and won't be cleaned until the leaking roof has been fixed—it will be splendid once the work is complete.
One of the most impressive spaces is a large octagonal room with an oculus in the ceiling to let in light—it predated the Pantheon and was used as a private art gallery.
Where to Eat Near the Colosseum
Instead of eating in this touristy area, I recommend heading to the nearby neighbourhood of Monti, only a 10-minute walk from Domus Aurea. There are plenty of places to eat in the area—we liked La Taverna dei Fori Imperiali.
85Bio Monti looks like a great option for a quick lunchtime sandwich or salad and Aromaticus Monti serves up colourful plant-based plates in a greenery-filled space.
Where to Stay Near the Colosseum
I wouldn't stay in this area as it's always so crowded. If you do want to, the Colosseum Palace Star has views of the Colosseum from its spacious rooms and gets fantastic reviews.
Another option is to stay in the nearby Monti neighbourhood—Soggiorno Downtown is excellent value and only a 5-minute walk from the Colosseum.
Search for more hotels near the Colosseum here.
Aventine Hill
Aventine Hill is one of the seven hills Rome was built upon. It's a quiet, leafy residential neighbourhood with some worthwhile free attractions.
It's situated between the Testaccio neighbourhood and the Circus Maximus (and Colosseum beyond).
12) Aventine Keyhole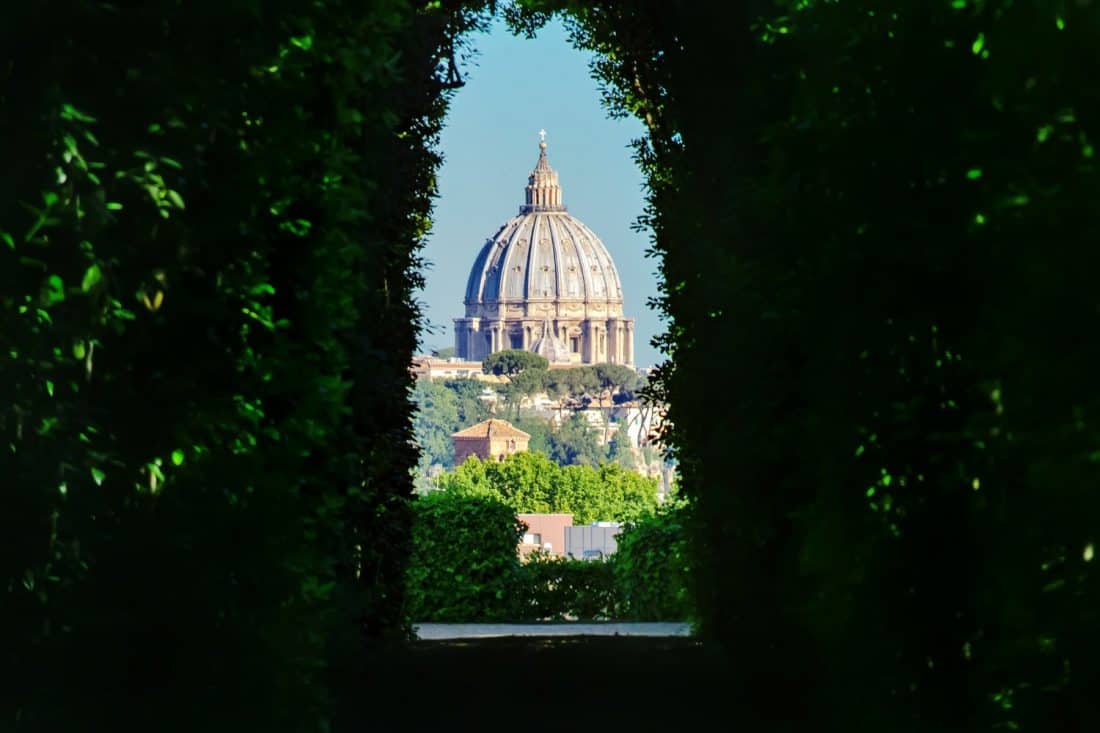 This is one of Rome's oddest attractions. A small keyhole in a nondescript door of the Knights of Malta property reveals a perfectly framed view of St Peter's Basilica through a shrubbery tunnel.
There can be a queue, so it's best to get here early.
13) Orange Garden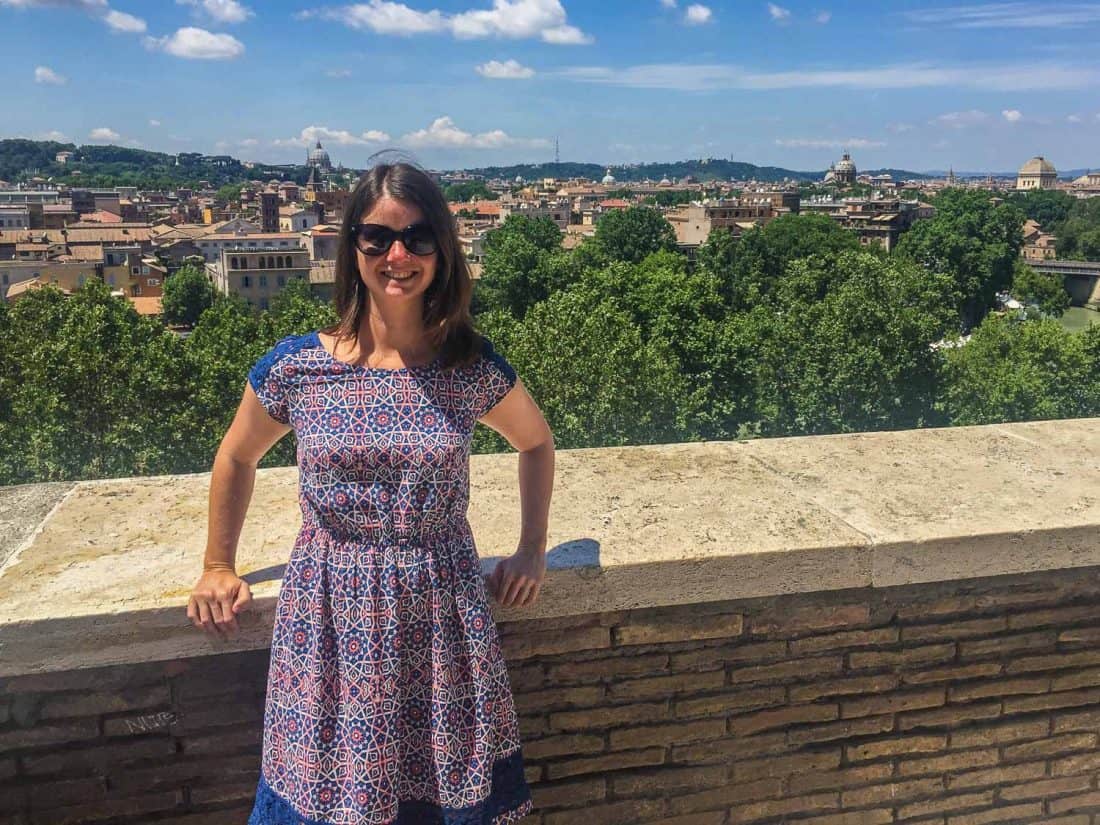 A little further on from the Keyhole is the Giardino degli Aranci or Orange Garden, a small, peaceful park with stunning views over Rome.
14) Rose Garden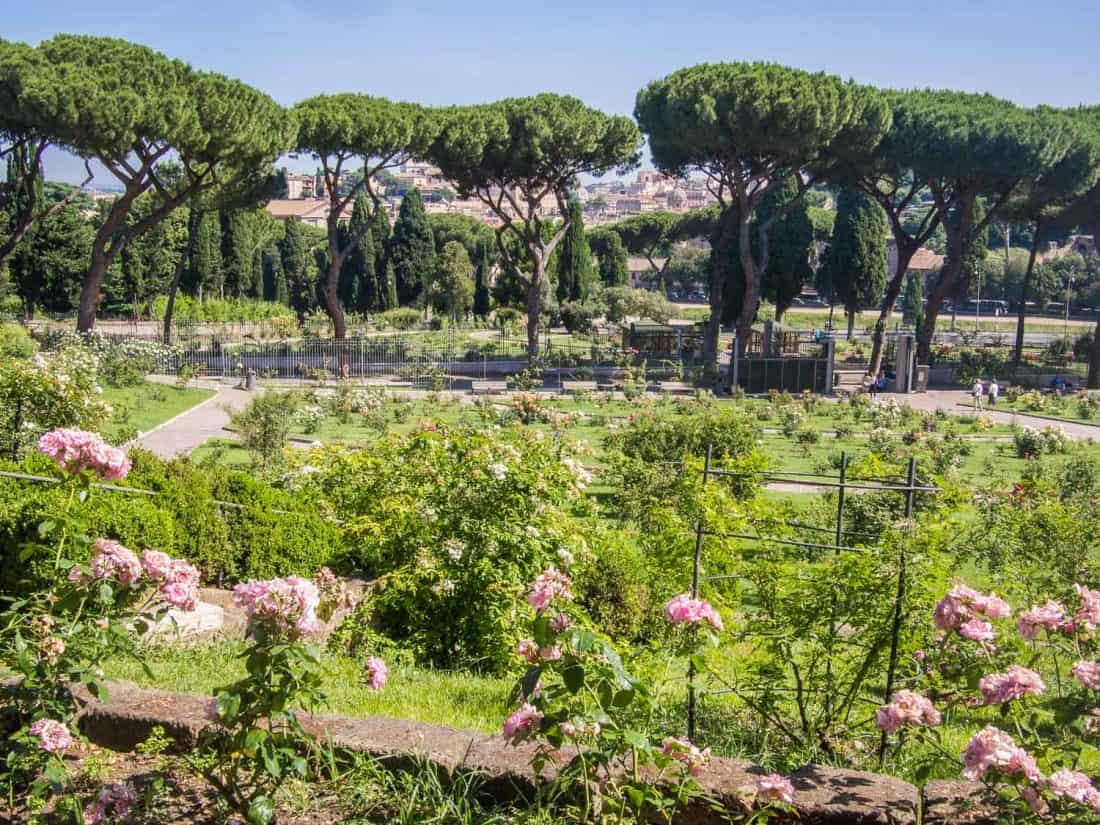 Continue on to the Roseto Comunale or Rose Garden, another tranquil retreat from the city with a beautiful display of roses and city views. It's close to the Circus Maximus.
Where to Eat and Stay in Aventine Hill
Aventine Hill is a quiet place to base yourself in Rome and you get more for your money here.
Good hotels in the area include Hotel Villa San Pio in a garden setting and the elegant Hotel San Anselmo.
There aren't many restaurants in this residential area so head down the hill to Testaccio.
Testaccio
Testaccio is our favourite neighbourhood in Rome and on our last visit, we spent a month there.
It's not the prettiest part of the city, but it's great for escaping the crowds and has local charm, fantastic food, and some quirky sights.
Exploring and eating your way around this area is one of the best non-touristy things to do in Rome.
See our Testaccio neighbourhood guide for more details including where to eat and stay.
15) Taste of Testaccio Food Tour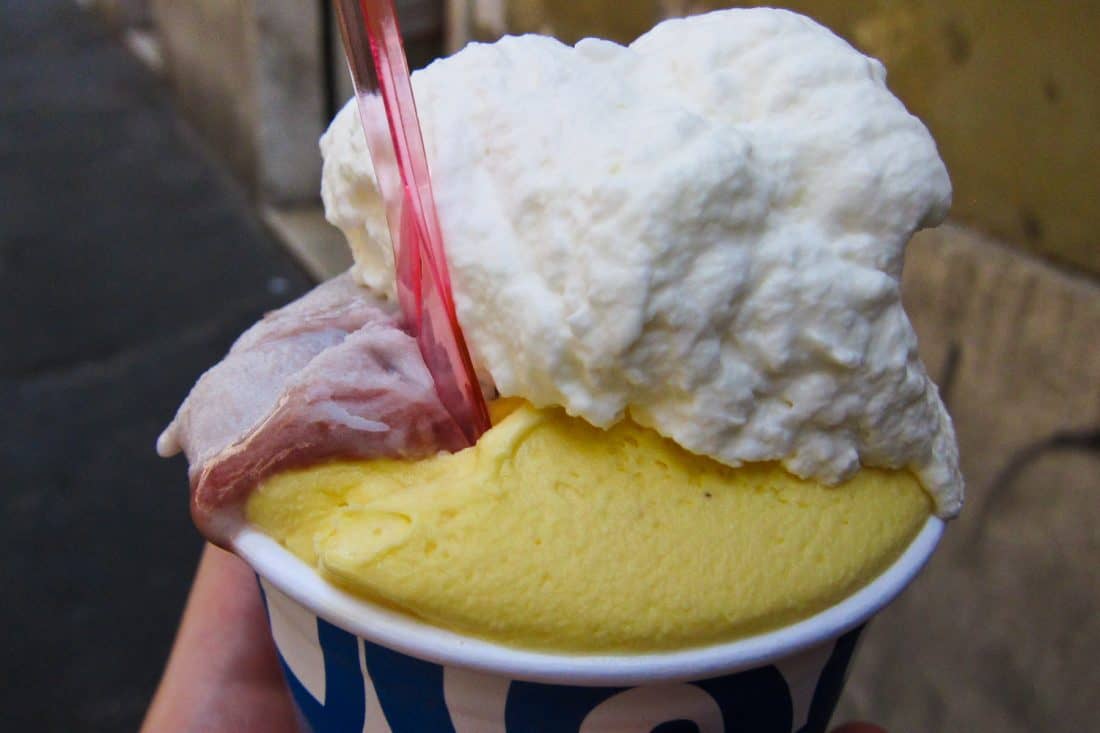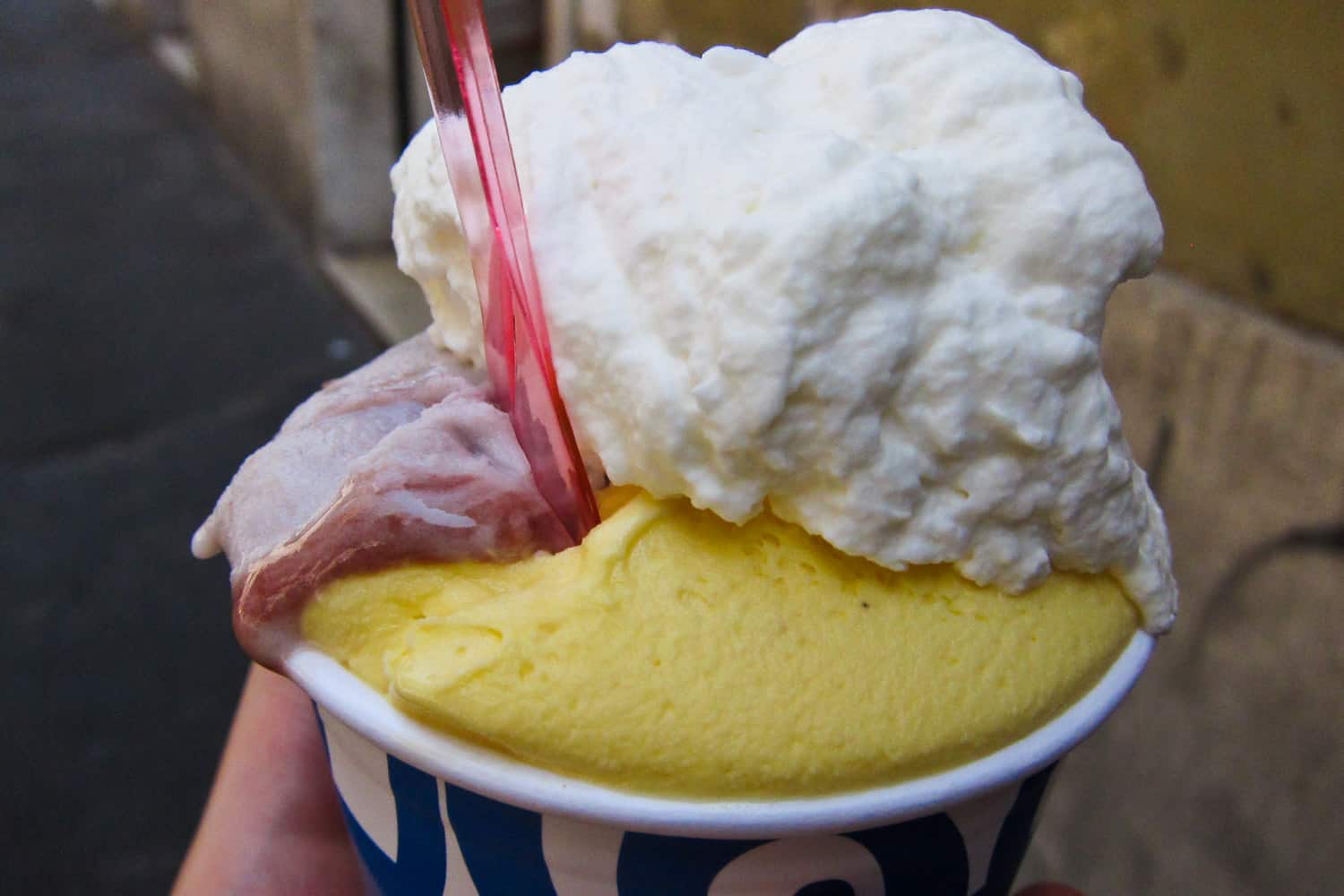 Eating Italy's Taste of Testaccio food tour is the best way to learn about the Testaccio neighbourhood and its history, all while eating delicious food from many different stops.
Read our Testaccio food tour review for more details about one of the most fun things to do in Rome.
16) Testaccio Market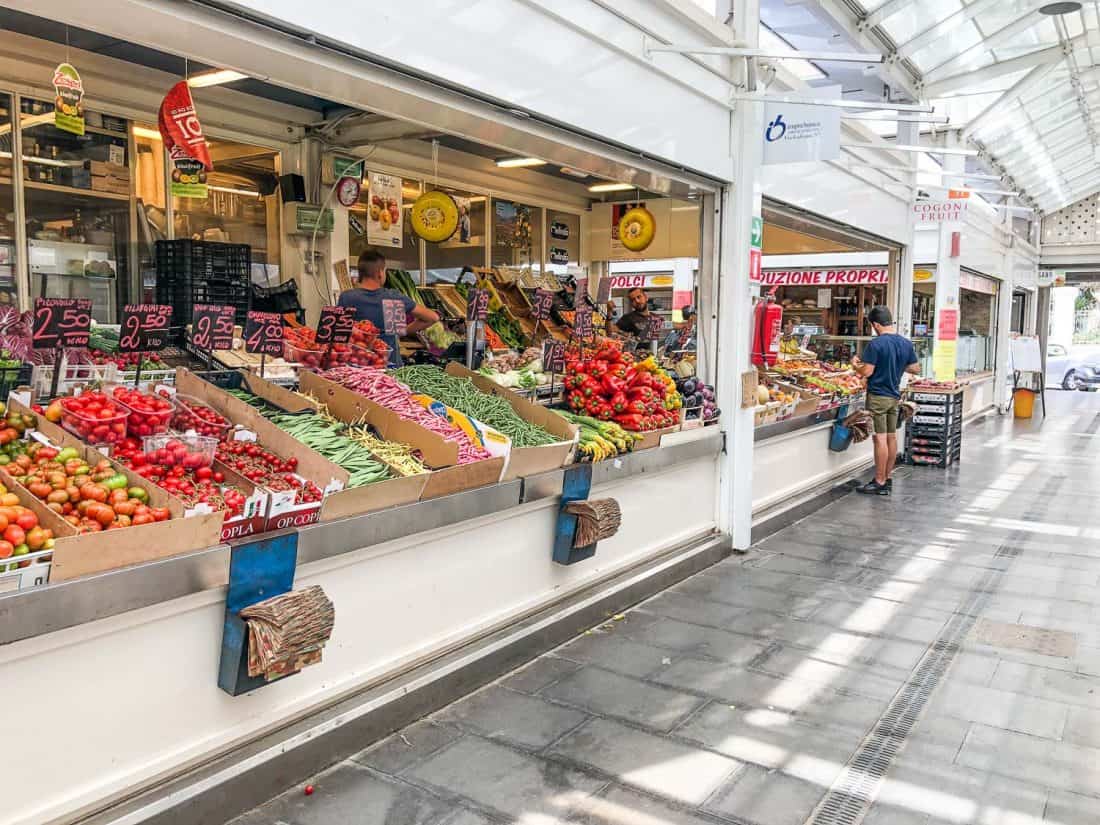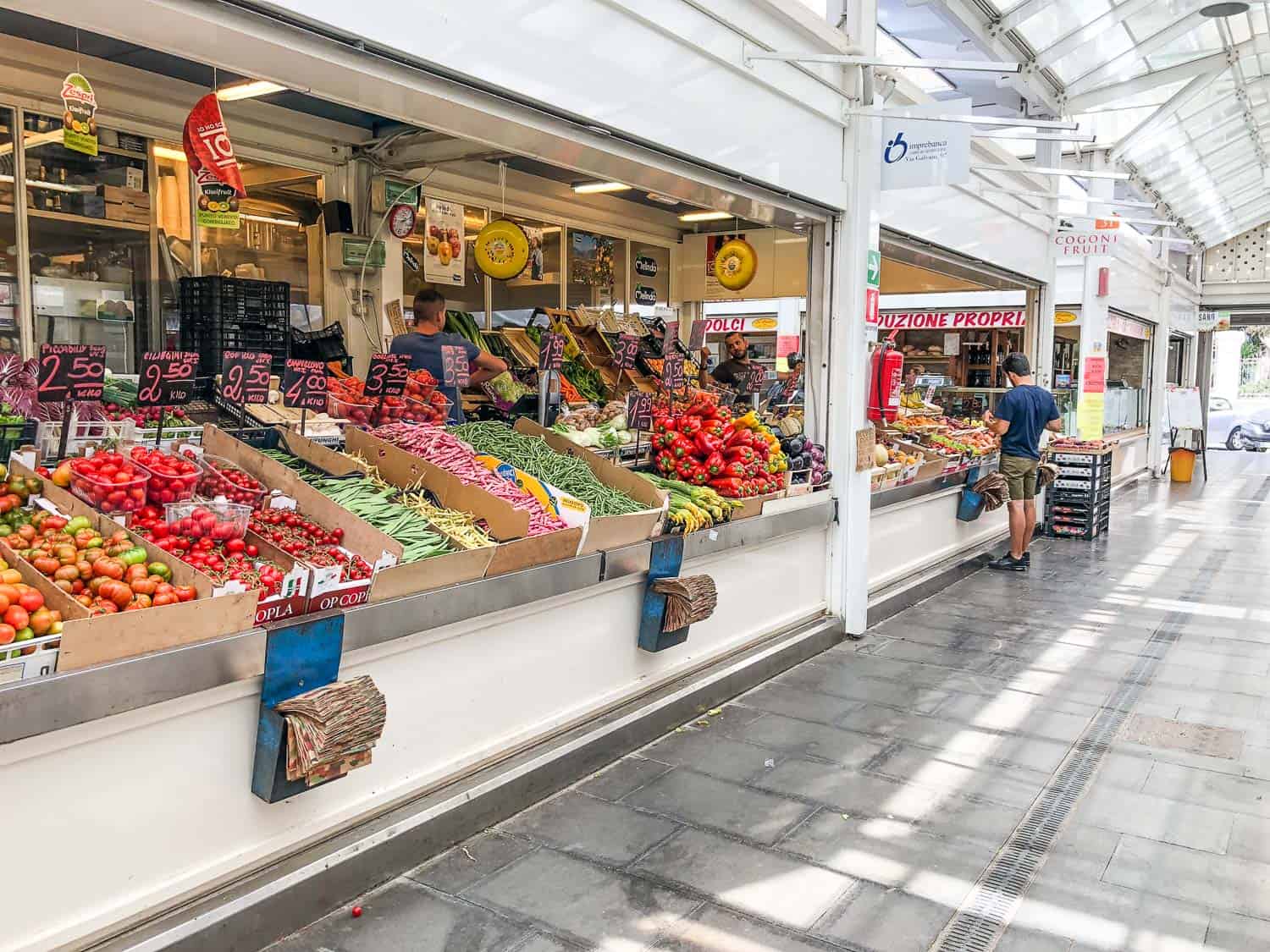 Testaccio Market is one of my favourite markets in the world with fantastic fresh produce stalls as well as lunch options ranging from pasta to sushi.
17) Pyramid of Cestius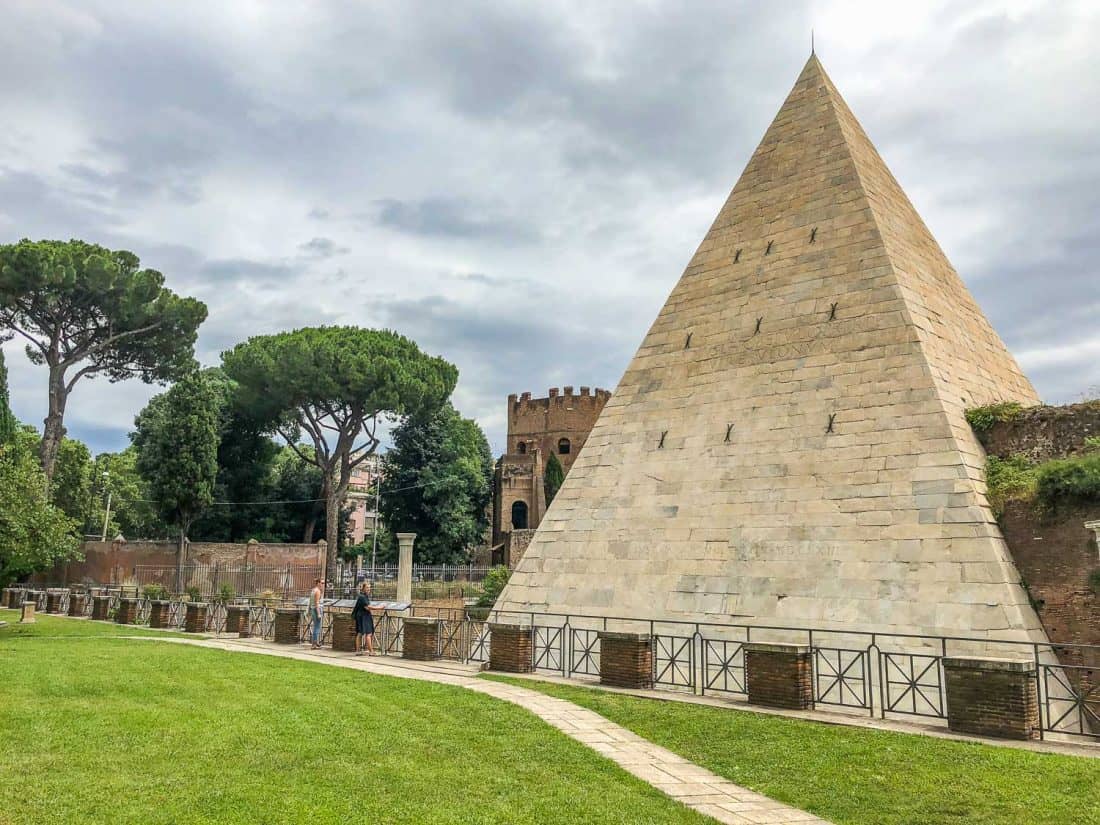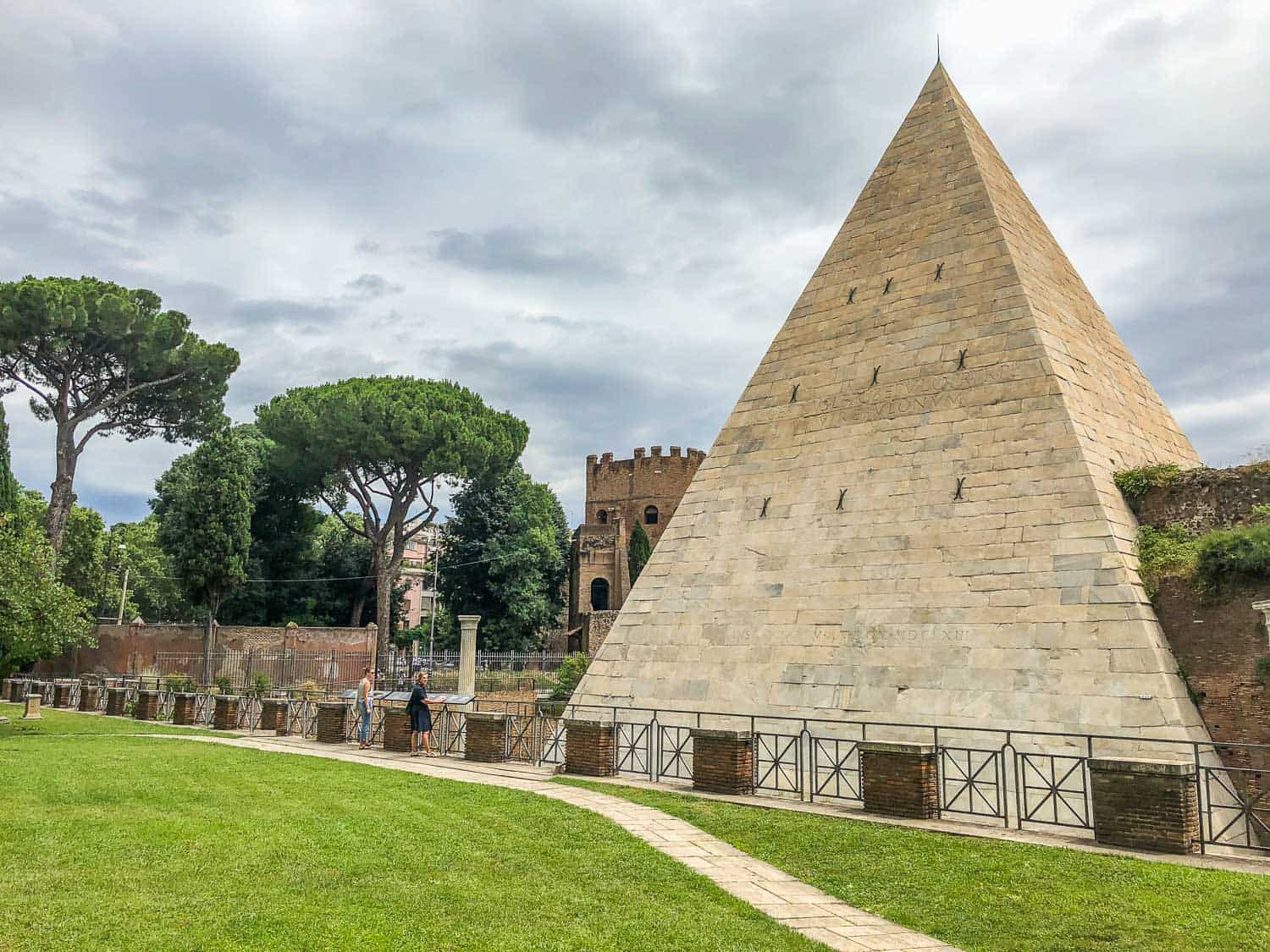 One of Testaccio's most surprising sights is a pyramid that was built in 12 BC as a burial tomb for the Roman praetor, Caius Cestius.
The best views of the pyramid are from the Non-Catholic Cemetery.
18) Non-Catholic Cemetery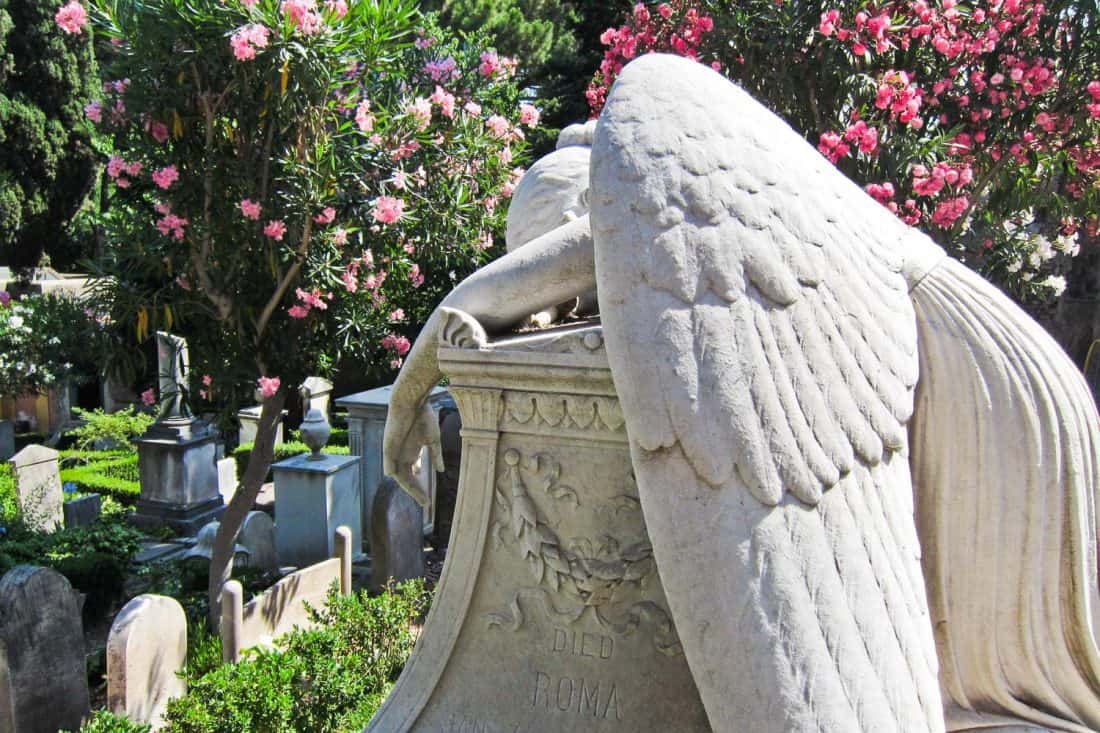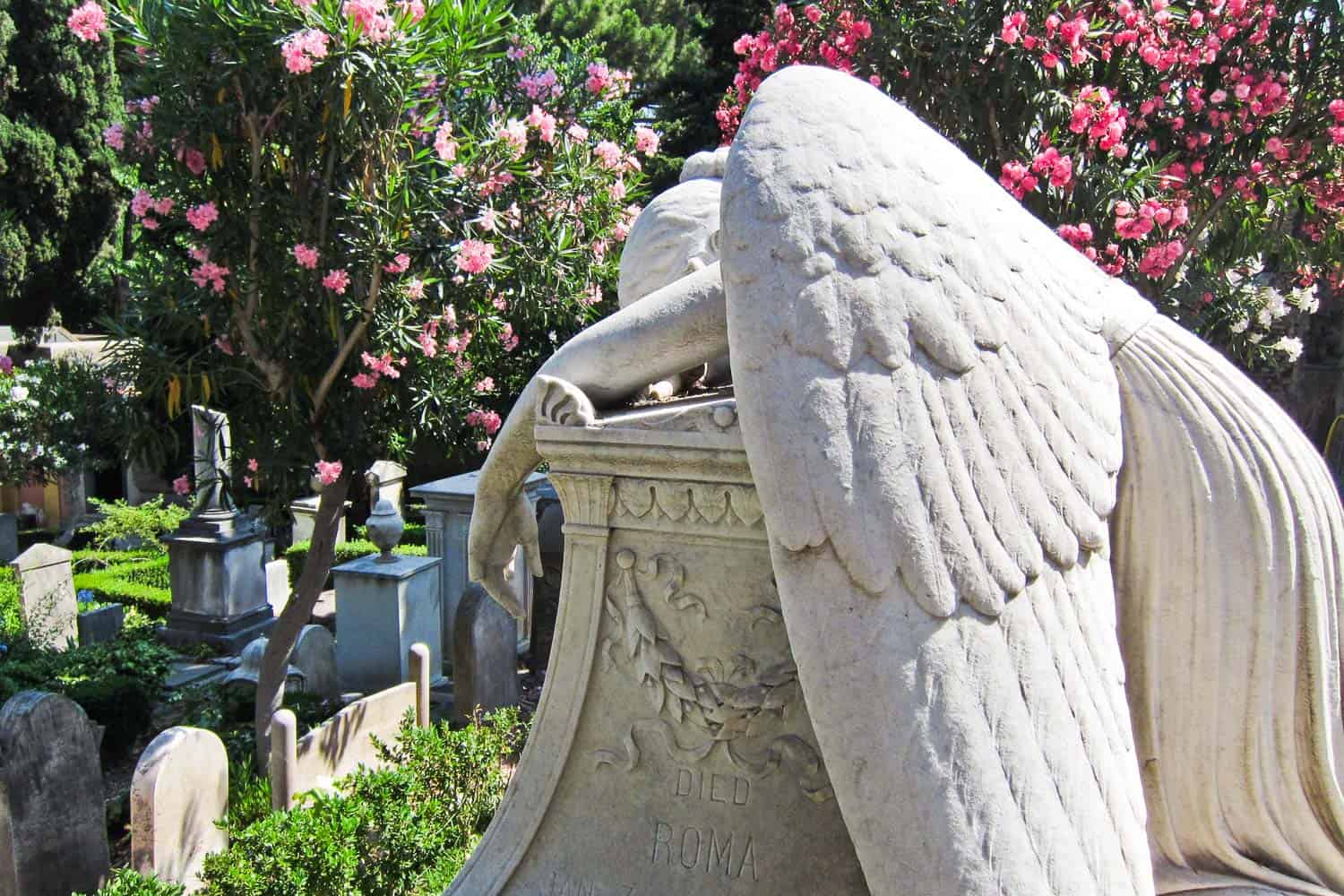 Keats, Shelley and Gregory Corso are among the famous people who were buried at this cemetery for non-Catholics. It's a peaceful, garden-like place for a stroll.
Ostiense
Ostiense is a gritty neighbourhood south of Testaccio with a few interesting sights.
19) Basilica of St Paul Outside the Walls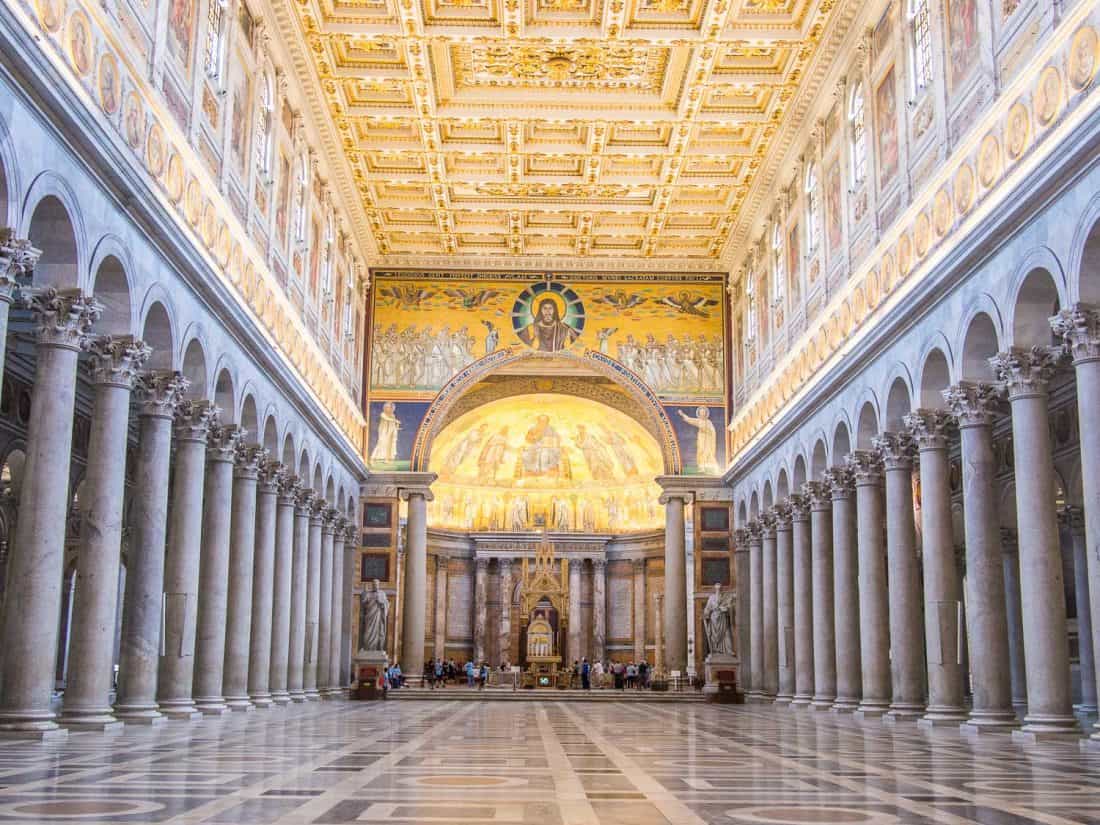 St Pauls is one of the four great basilicas of Rome and it is immense.
When the Apostle Paul was executed here in the 1st century AD, his followers erected a small shrine, which became a church a few centuries later. Over the centuries the church grew in size and splendour.
You enter through the striking atrium of columns with a view of the Basilica's facade of golden mosaics.
Inside the massive space are more marble columns and gold mosaics, as well as the remains of St Paul near the altar.
It's a stunning church and far less crowded than St Peters.
20) Centrale Montemartini
A 15-minute walk from St Paul Outside the Walls is this unique art gallery that's part of the Capitoline Museums.
Ancient Greek and Roman sculptures are displayed alongside giant diesel engines and steam turbines in a former power station from the early 1900s.
It was almost empty when we visited which only adds to the appeal of this hidden gem.
There's also a display of some beautiful mosaics and the railway carriages of Pope Pius IX, and when we visited, a special exhibition about the Etruscans and Egyptians.
21) Ostiense Street Art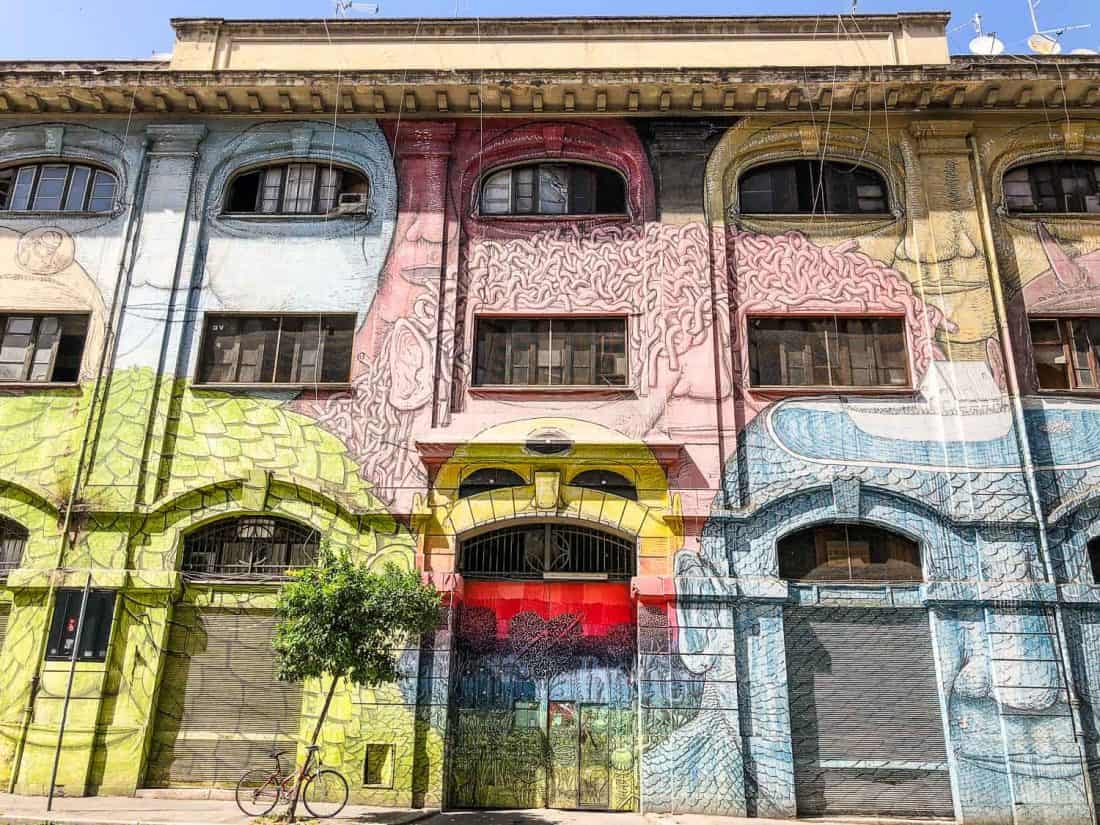 There's some fantastic large-scale street art in Ostiense.
To find the best spots you can take this Ostiense graffiti and modern street art walking tour or use this Rome Urban Art map for a self-guided walk.
Where to Eat and Stay in Ostiense
Pizzeria Ostiense is our favourite pizzeria in Rome, and it's conveniently located down the street from one of our favourite gelaterias, Gelateria La Romana.
The pizzeria is only open in the evening so during the day head to the massive Eataly complex for four floors of air-conditioned food shopping and restaurants. It's opposite the Ostiense train station.
I think Ostiense is a little far out to stay here, but it could be a good option if you are on a budget.
Search for apartments on Vrbo.
Trastevere and Monteverde
Trastevere is one of the prettiest neighbourhoods in Rome and it's just over the river from the historic centre.
In the evenings it can be crowded with tourists and locals strolling the cobbled streets and visiting restaurants and bars, but there are a few attractions to visit during the day that are usually quiet.
See our detailed Trastevere guide for more things to do and places to stay and eat.
22) Villa Farnesina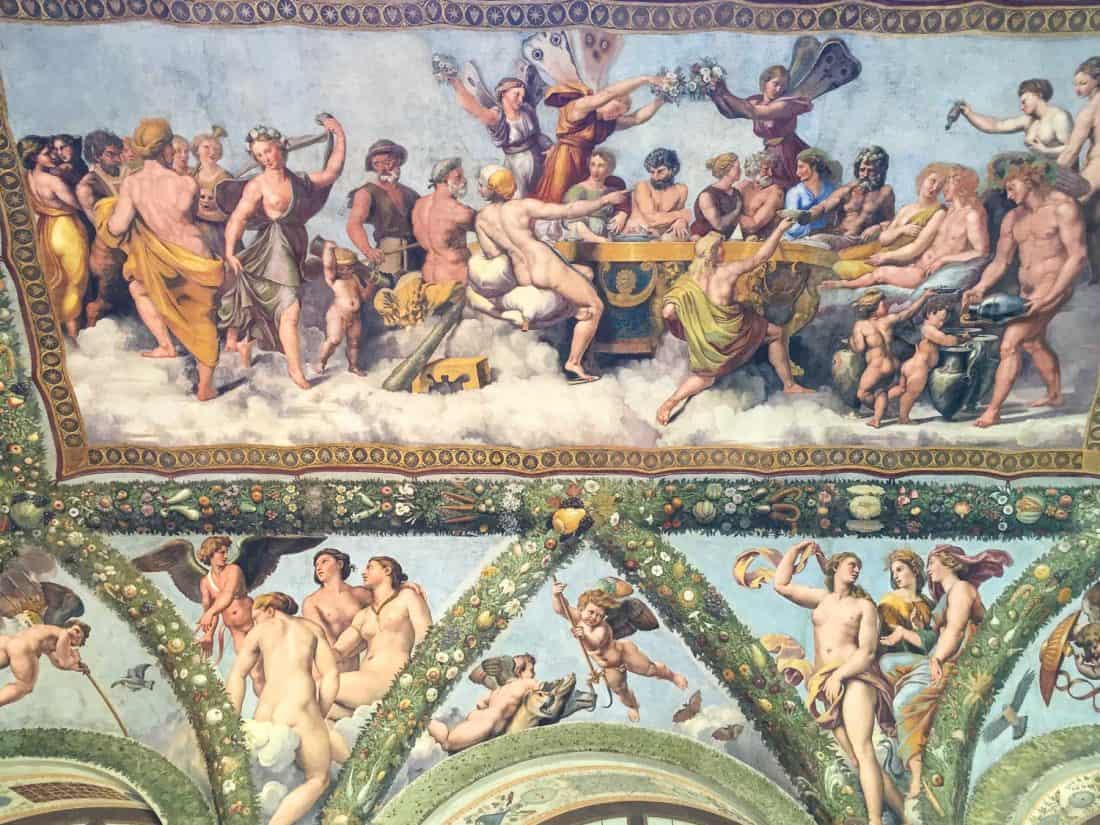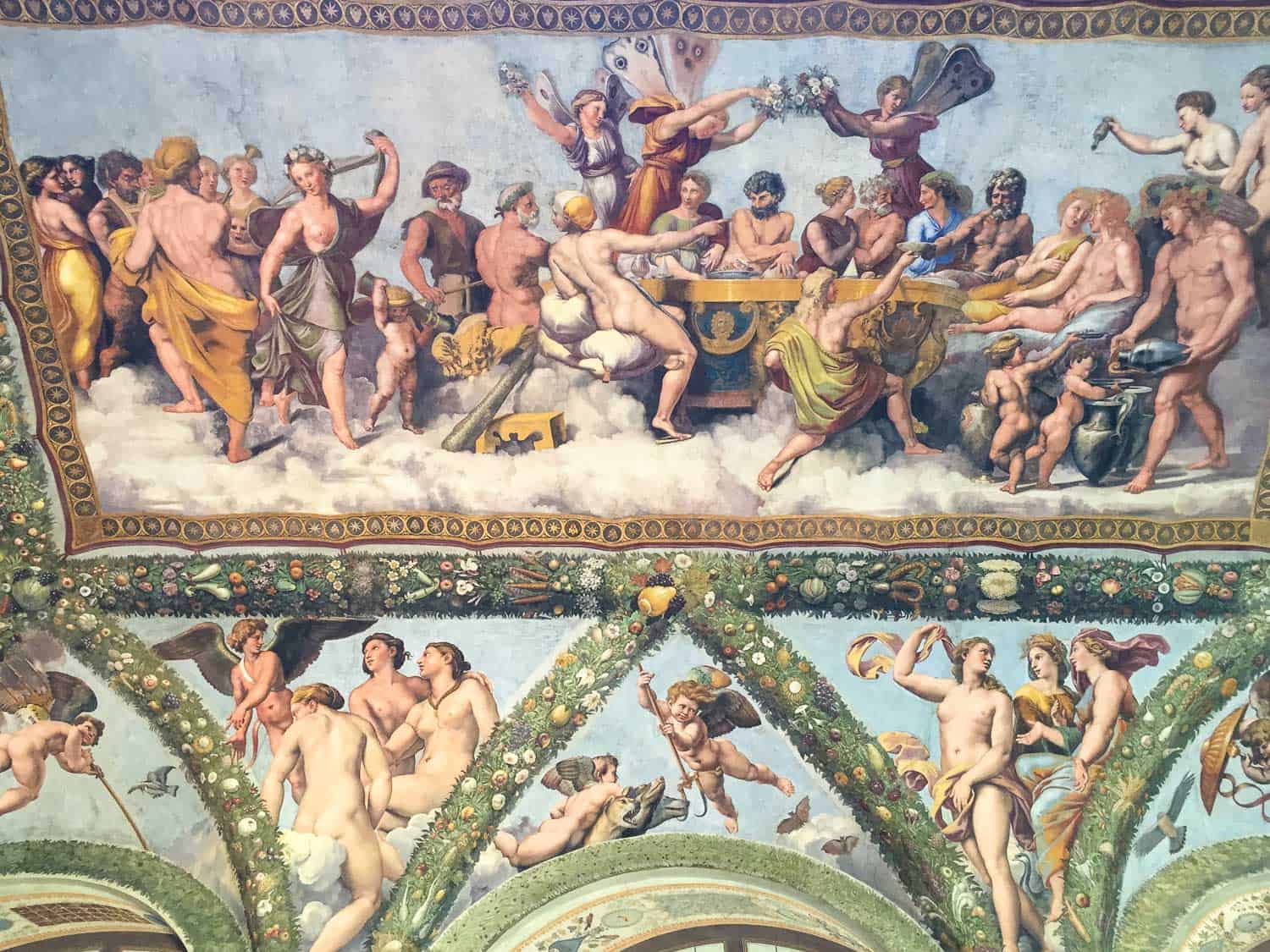 This grand Renaissance villa built in 1506 features ceilings covered in beautiful Raphael frescoes.
I can't understand how it's not busier.
23) Orto Botanico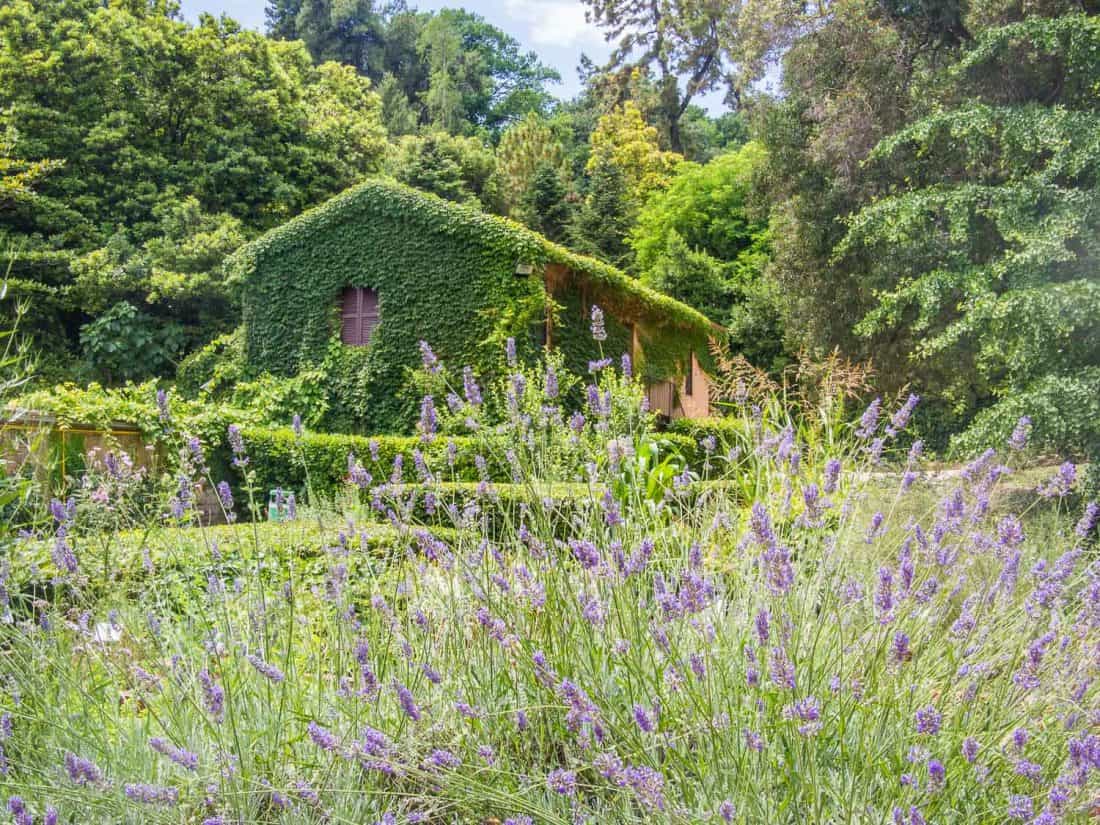 These botanical gardens are a peaceful retreat from the city and feature Japanese, herbal, and medicinal gardens as well as a lovely city view from the top of the hill.
24) Janiculum Hill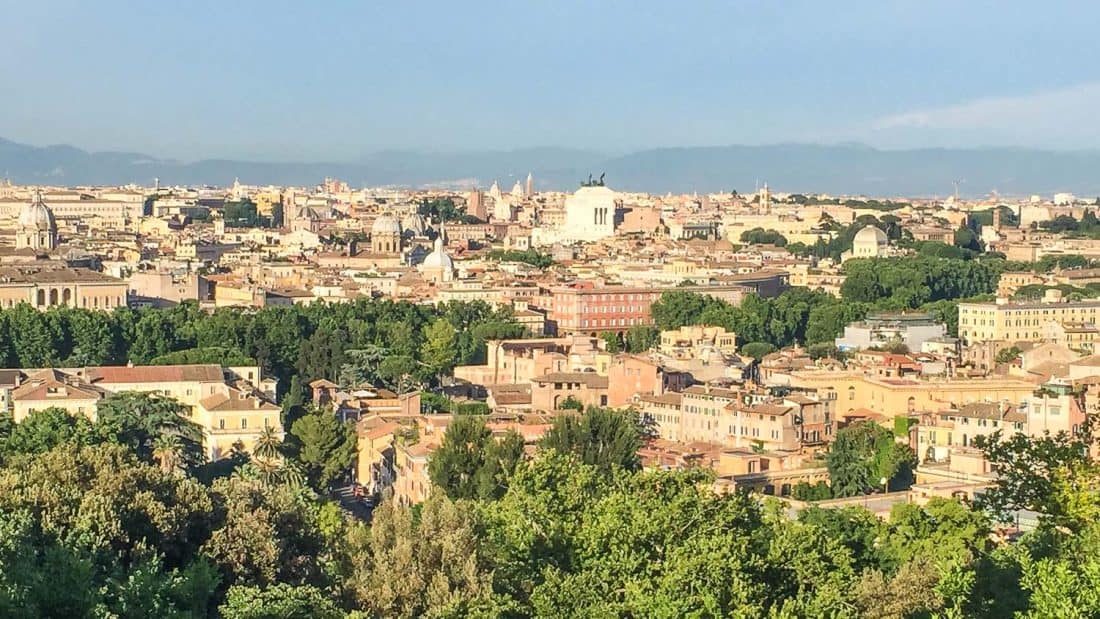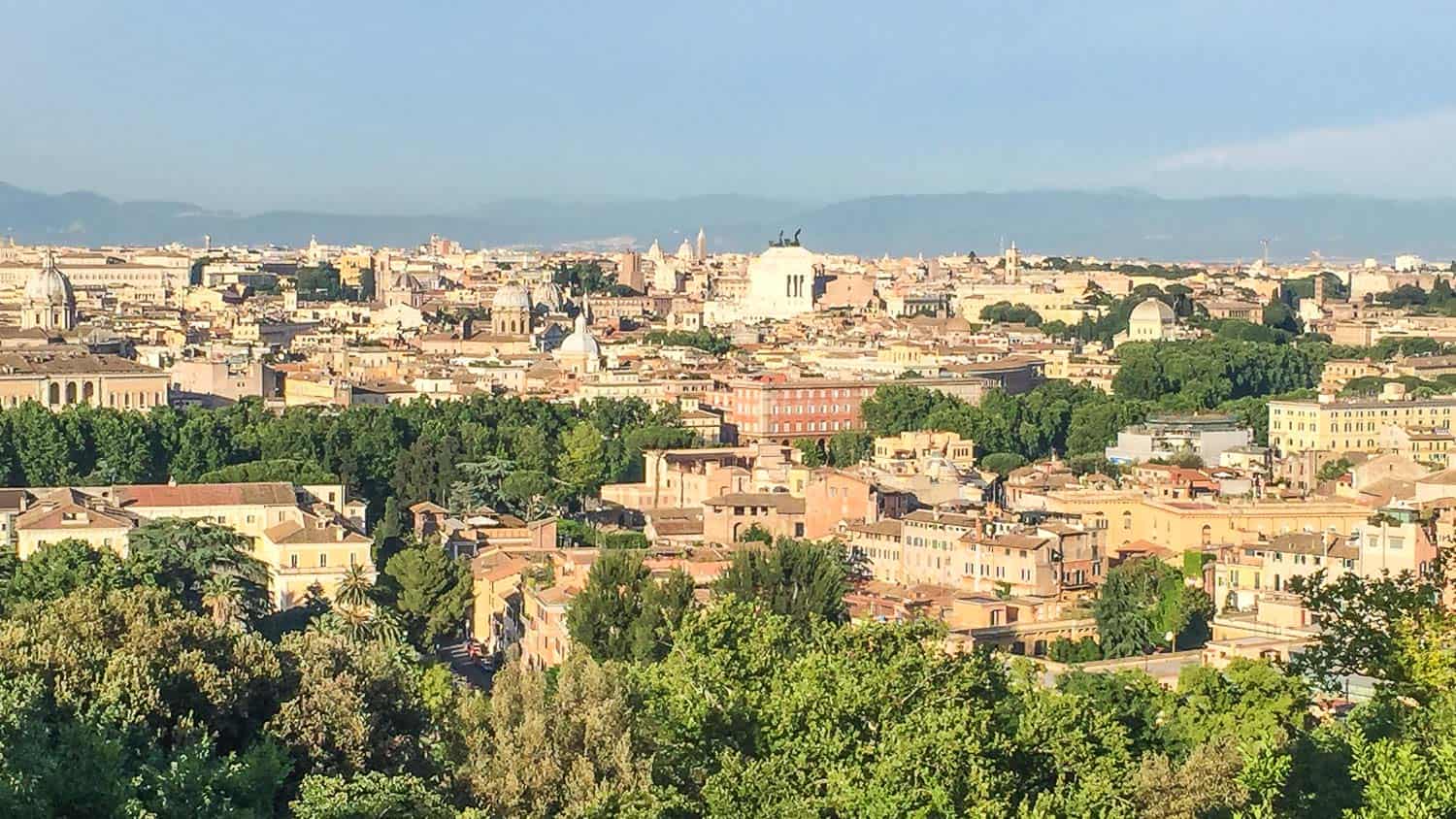 For the best view of Rome head up Janiculum Hill for sunset.
It's absolutely stunning and more of a local hangout than a tourist attraction.
25) Villa Doria Pamphili
I felt like I was in the countryside as I lay in a meadow of long grass and looked up at the umbrella pines in this large park on a hill in the Monteverde neighbourhood.
It's huge, peaceful, and the perfect escape from the crowds for a walk or picnic.
Other Areas of Rome
26) Appian Way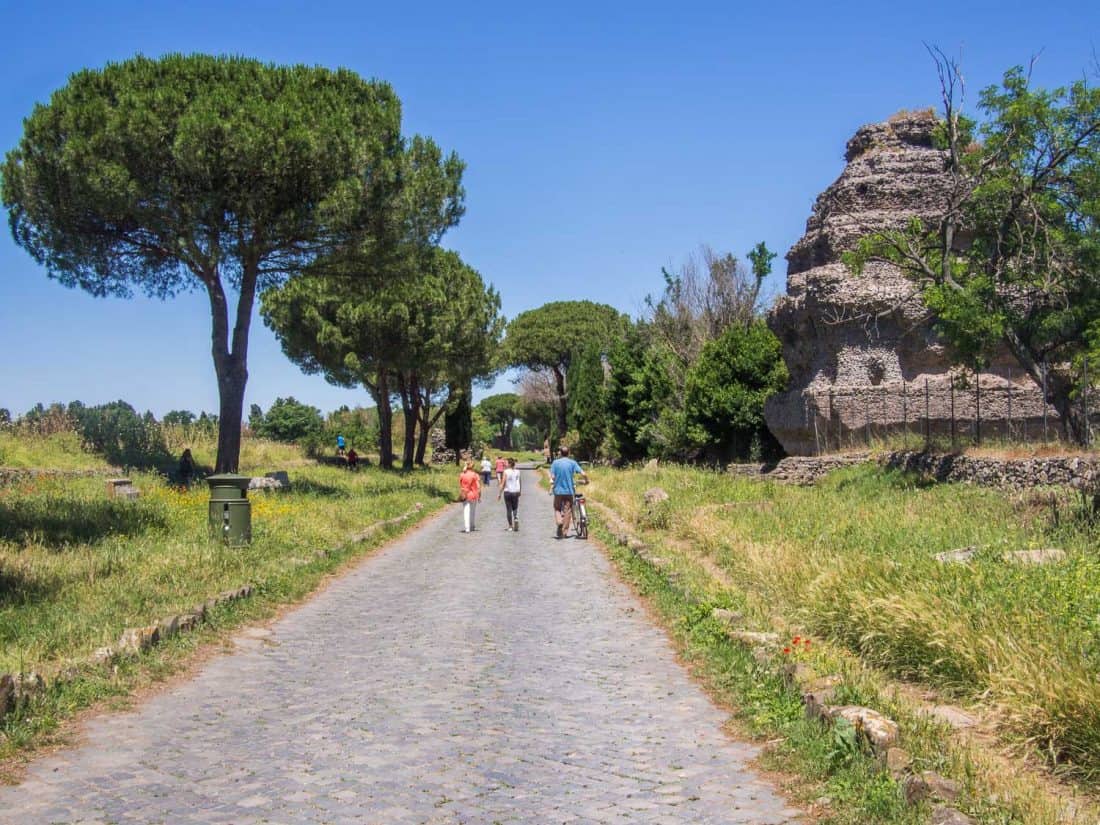 The Appian Way is one of the oldest and most important Roman roads and stretches all the way to Brindisi—some sections still have the original Roman cobblestones.
It's a lovely escape from the city, especially on Sundays when the road is closed to traffic.
The information centre is the obvious starting point—the bus stops here and you can also rent bikes.
The first section of the path has many sights including three catacomb complexes (see below), churches, and the ruins of the Roman Villa di Massenzio (free entry) with its chariot race track.
After visiting the Domitilla Catacombs and Villa di Massenzio, we continued down the Appian Way and soon reached a quieter section of the road.
This part feels like the countryside with meadows of long grass, fields of sheep with jangling bells, and tall cypress and umbrella pine trees lining the cobbled street.
We chose to cycle the Appian Way, which is a popular way to explore this very long road, but honestly, we wished we had just walked.
We don't cycle often and found the bumpy cobblestones uncomfortable.
The original sections feature massive stone slabs with deep cracks between them that were impossible to cycle over (although some professional-looking mountain bikers managed it).
Most people like us got off and walked, or cycled along the narrow dirt verge on the side of the road.
An e-bike may be easier (see tour below).
We made it about 7km down the road from the info centre (plus a slight detour to Domitilla) before turning back.
Where to Eat Along the Appian Way
There are a number of restaurants and cafes in the first section of the Appian Way.
We had lunch at Hostaria Antica Roma, a large and rather upmarket restaurant with extensive gardens.
The menu of the day wasn't long but they were able to cater for us vegetarians and we enjoyed our vegetarian antipasti and pasta.
If you eat meat, they specialise in recipes that have been around since Roman times.
For a more casual lunch, Il Giardino di Giulia e Fratelli next door has a lovely garden setting and does sandwiches as well as main dishes.
27) Domitilla Catacombs
The most visited catacombs on the Appian Way are the Catacombs of San Callisto, but we decided to visit the Domitilla Catacombs instead, which are slightly off the Appian Way.
Entrance is by guided tour only as it's possible to get lost in this 8 mile (12 km) network of narrow passageways with 27,000 tombs carved into the soft tufa rock.
Early Christians used the catacombs to bury their dead as there wasn't enough space above ground. The first tomb was created in 200 AD.
It was fascinating to explore this underground city of the dead, one of the most unusual things to see in Rome.
Bodies were placed directly in the tombs which were sealed with clay, although many were later opened by tomb raiders.
There are no bones here as most were stolen, and any remaining have been moved to another part of the catacombs to protect them.
28) Quartiere Coppede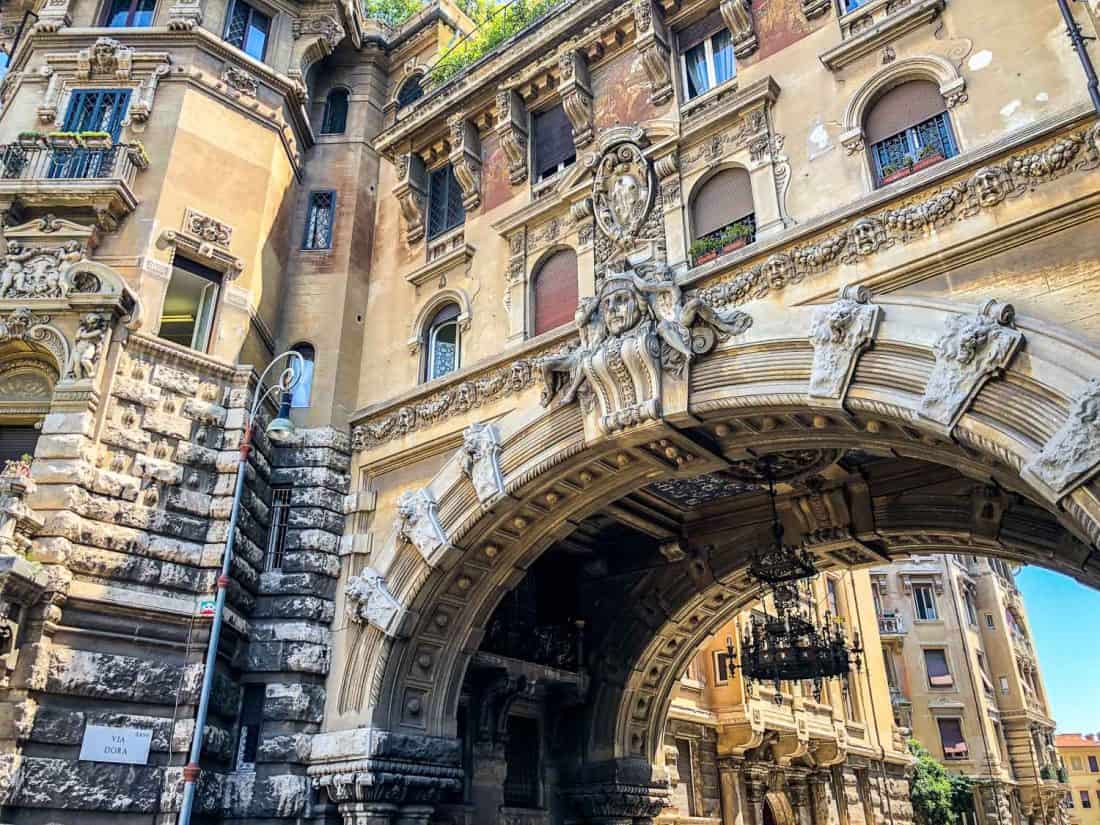 After a stroll through Borghese Park in the northern part of Rome, we took a detour to the Quartiere Coppede, a surprising area of flamboyant architecture in a residential neighbourhood.
There were no other tourists around as we admired the Art Nouveau buildings with intricate carved details. There are also elements of Greek, Baroque, Medieval and Gothic design.
The centre point is Piazza Mincio with its whimsical frog fountain and you can wander the quiet streets from there.
Afterwards, we had lunch at the Ops! vegan buffet, a 15-minute walk away on the way back to the centre. It's pretty tasty and worth visiting if you are vegan or craving vegetables.
29) EUR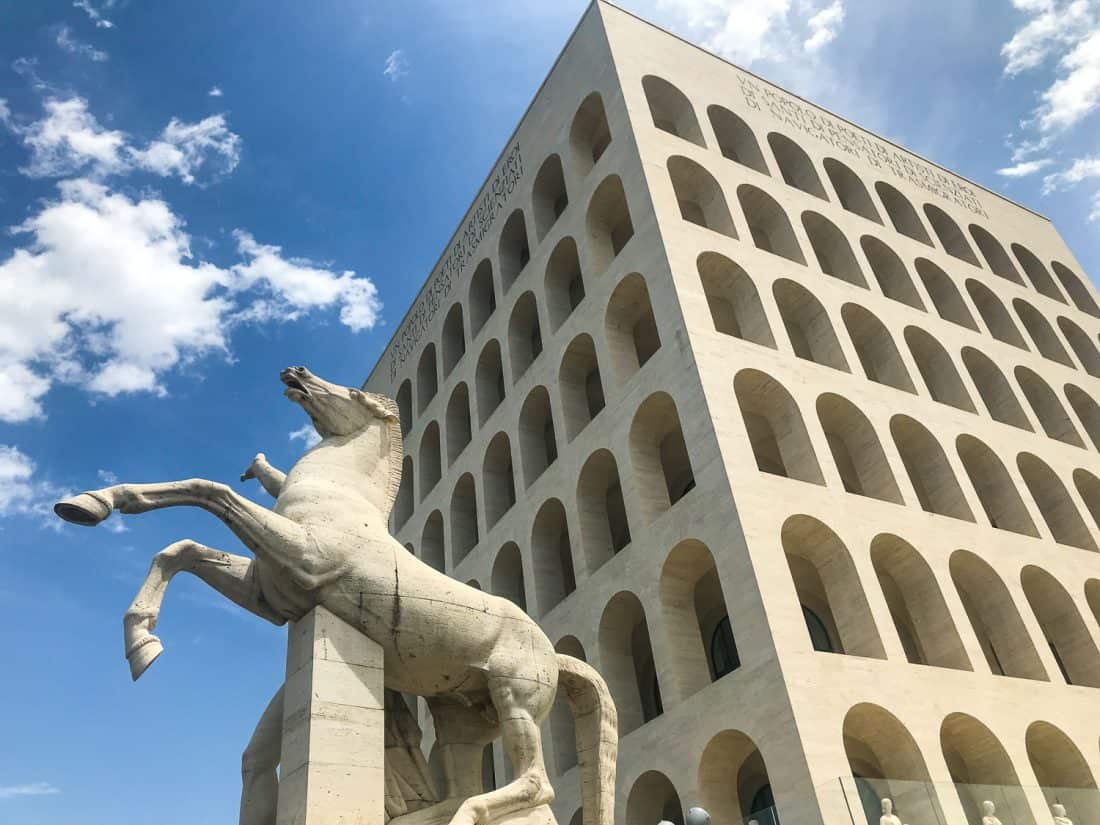 EUR (Esposizione Universale Roma) is a residential and business area in southern Rome that's very much off the beaten path and different from the rest of the city.
It was chosen in the 1930s as the site of the 1943 World Fair where Mussolini planned to celebrate 20 years of Fascism.
The Fair never happened because of WWII, but in the 1950s and 1960s the building work was completed and it became an out of town business district.
It's a pleasant leafy area with a small lake and some imposing Fascist architecture like the Palazzo della Civiltà Italiana.
It's not a high priority in Rome, but it's worth a visit if you are interested in modern architecture or, like us, need to go to the Apple store at the Euroma 2 mall.
Map of Unusual Things to Do in Rome
Rome Books to Read
These are my favourite books about Rome:
Can I Really Get Off the Beaten Track in Rome?
Yes absolutely! I hope this epic post has given you lots of ideas on how to get away from the crowds in Rome.
Have I missed your favourite Rome hidden gem? Let me know if you have any more suggestions!
More Rome Tips
If you enjoyed this post, pin it for later!