This page contains affiliate links. Please read our disclosure for more info.
Puglia's Gargano Peninsula is a mountainous area where you can walk in dense forests, scuba dive in the Adriatic Sea, and relax on beaches backed by white limestone cliffs.
The best base to explore the Gargano is Vieste, a pretty seaside town that sits on a white cliffed promontory jutting into the sea. It has a picturesque old town and a long sandy beach on each side.
We spent a week in Vieste in late May and explored the Gargano from there.
We rented a car and were able to reach attractions like the ancient forest Foresta Umbra, seaside town Peschici, and the medieval mountain village of Vico del Gargano within 30–40 minutes.
If you don't have a car, Vieste is one of the best places in the Gargano to visit by public transport, and you can also take the ferry to the beautiful Tremiti Islands.
Vieste has a huge range of accommodation including B&Bs, hotels, self-catering apartments, and campsites.
You can choose to stay in the centre and be able to walk to restaurants and shops, on one of the nearby beaches, or up in the pine-covered hills above town, as we did at the lovely Residence Maresol, for a quieter and more rural experience.
Contents
Video: Puglia Inspiration
Things to Do in Vieste, Italy
Wander Vieste Old Town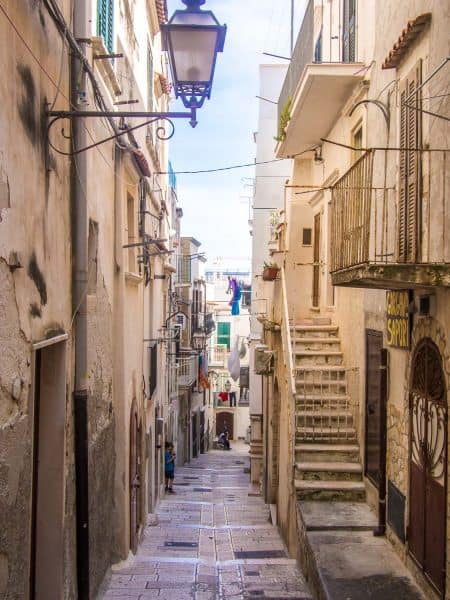 Vieste old town is an atmospheric maze of steep staircases and alleyways with washing dangling from the simple white houses.
It's the perfect place to just wander, but there are a few sights including the 11th-century Cathedral of Santa Maria Assunta, built in Puglia's Romanesque style.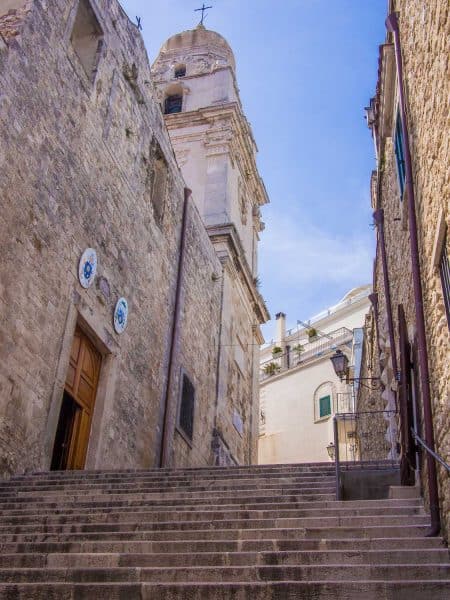 A more gruesome landmark is the Chianca Amara (Bitter Stone) a historic site on Via Cimaglia next to the Cathedral where thousands of people were beheaded when the Turks invaded in the 16th century.
If you want to learn more about the town's history, book a guided walking tour of Vieste.
Enjoy a Sea View Walk
One of our favourite things to do in Vieste was walk around the edge of the town for stunning views.
For a scenic walk start near the Norman castle—it's a military installation and closed to the public, but take the stairs to the left of the entrance down to reach a viewpoint overlooking Castello beach with its iconic Pizzomunno rock formation.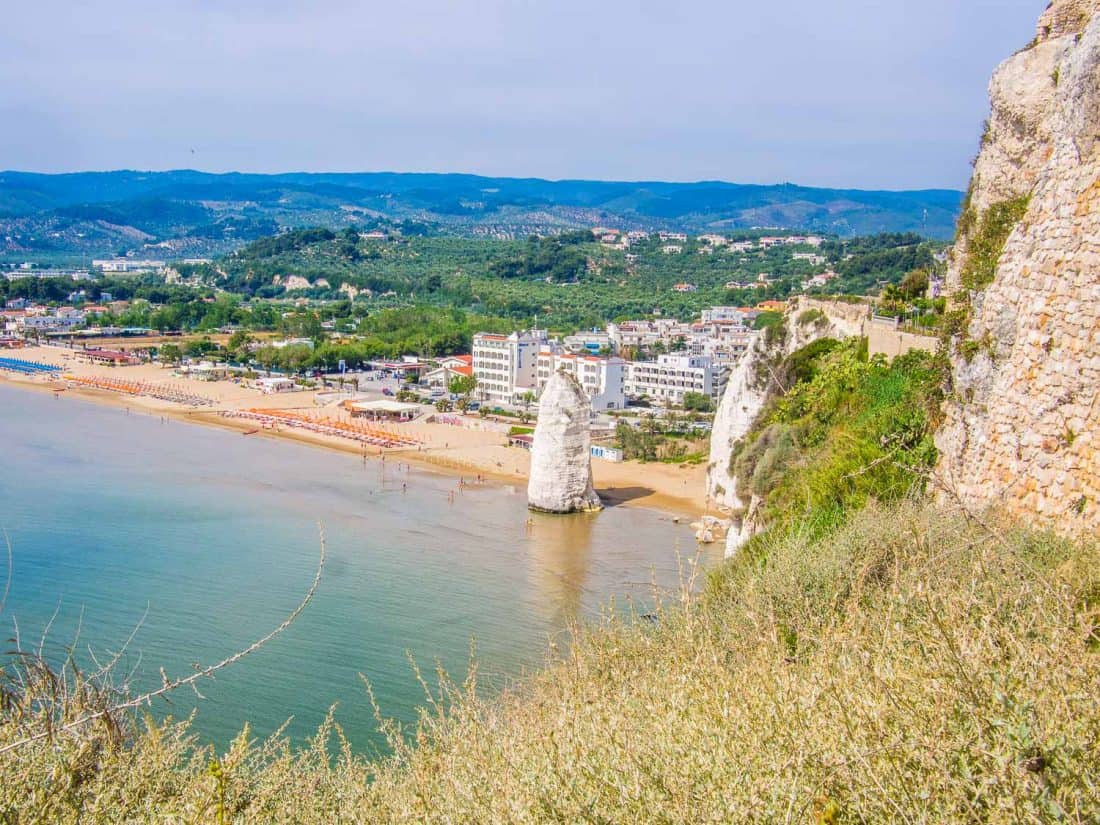 From the castle walk around the edge of the old town to the viewpoints of Belvedere Ripa (on Via Judeca) and Belvedere Piazza Seggio on either side of Hotel Seggio.
Here you can see the whitewashed houses of the old town perched on the rocky promontory.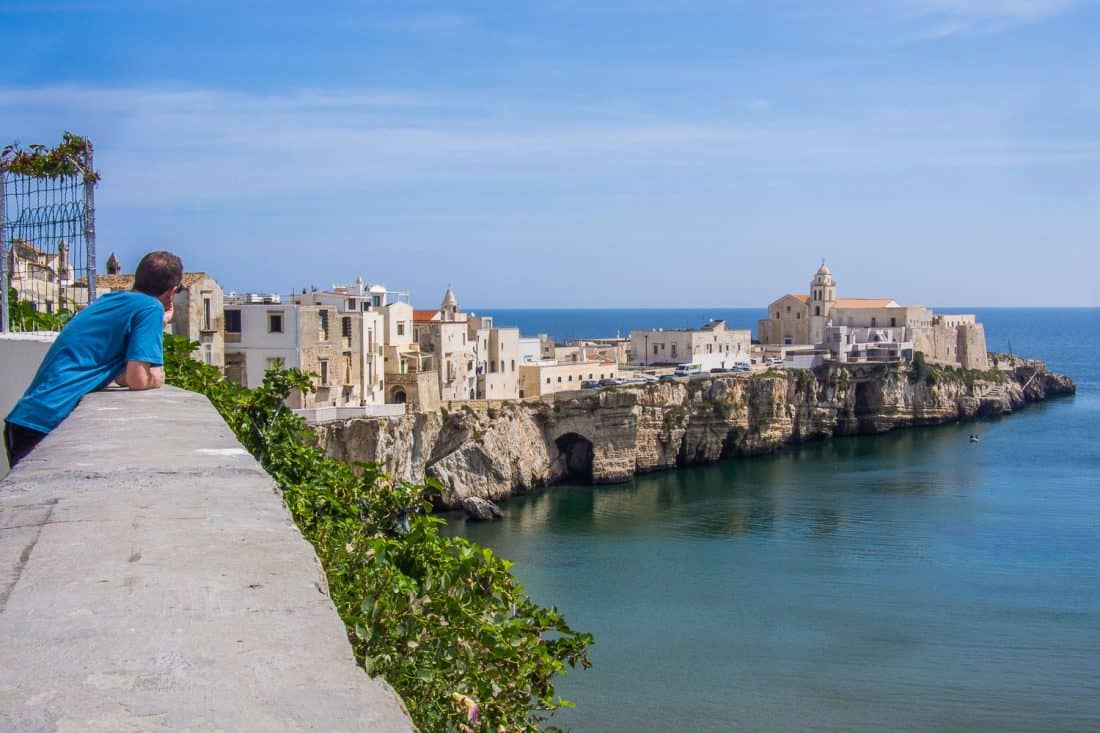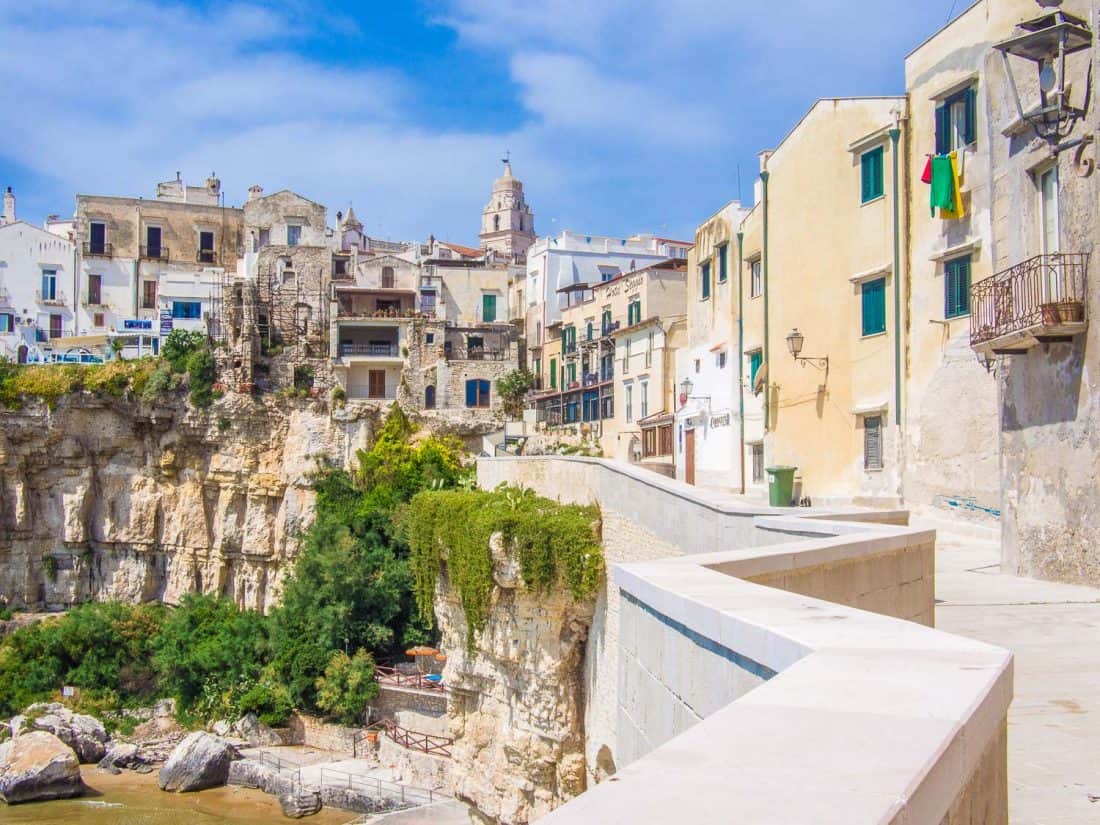 Continue to walk along Via Ripe, a path overlooking the sea, until you reach the furthest point at Punta San Francesco. Here there's the simple peach-coloured Church of San Francesco, dating back to 1438, and views of the lighthouse.
To the right of the church go down the stairs to see the trabucco, a wooden fishing platform, and for views back to town.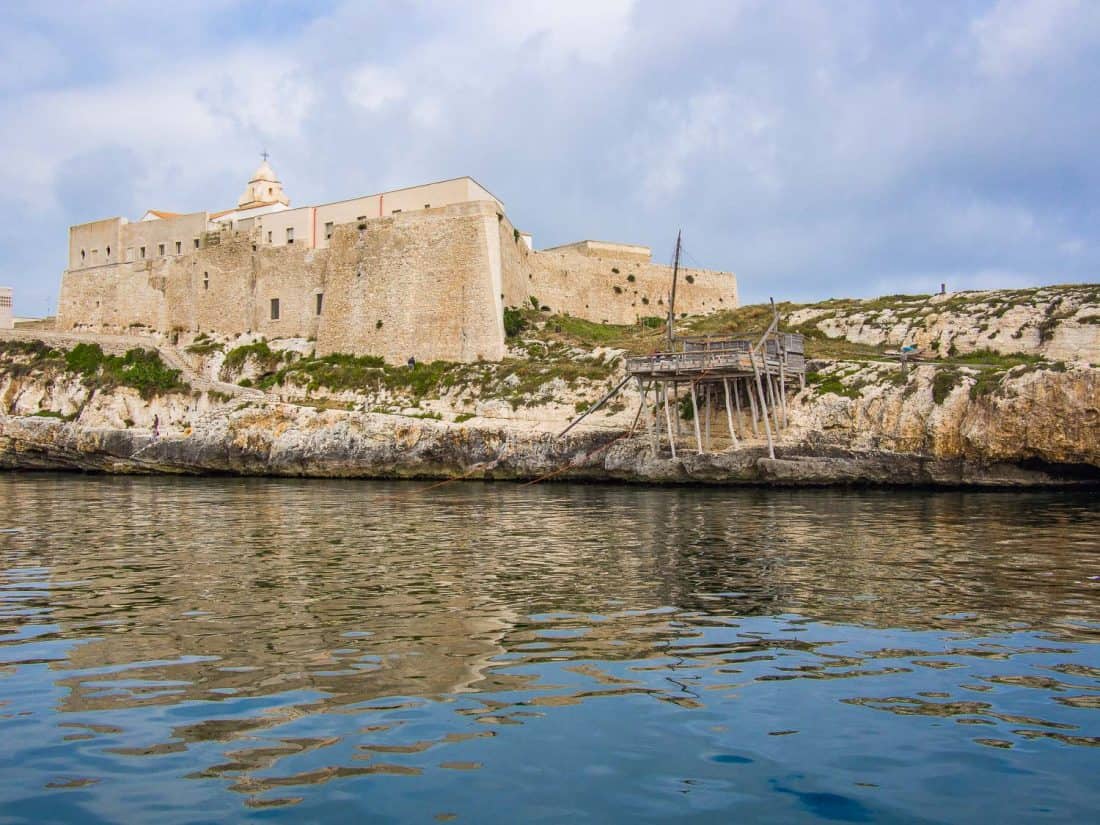 If you want a longer walk, you can continue to follow the sea along the other side of the headland and over to the modern part of town and the port.
On Via Pola there are some restaurants and bars with beautiful sea views. You'll also pass the Museo Malacologico, a museum of shells.
Relax on Vieste Beaches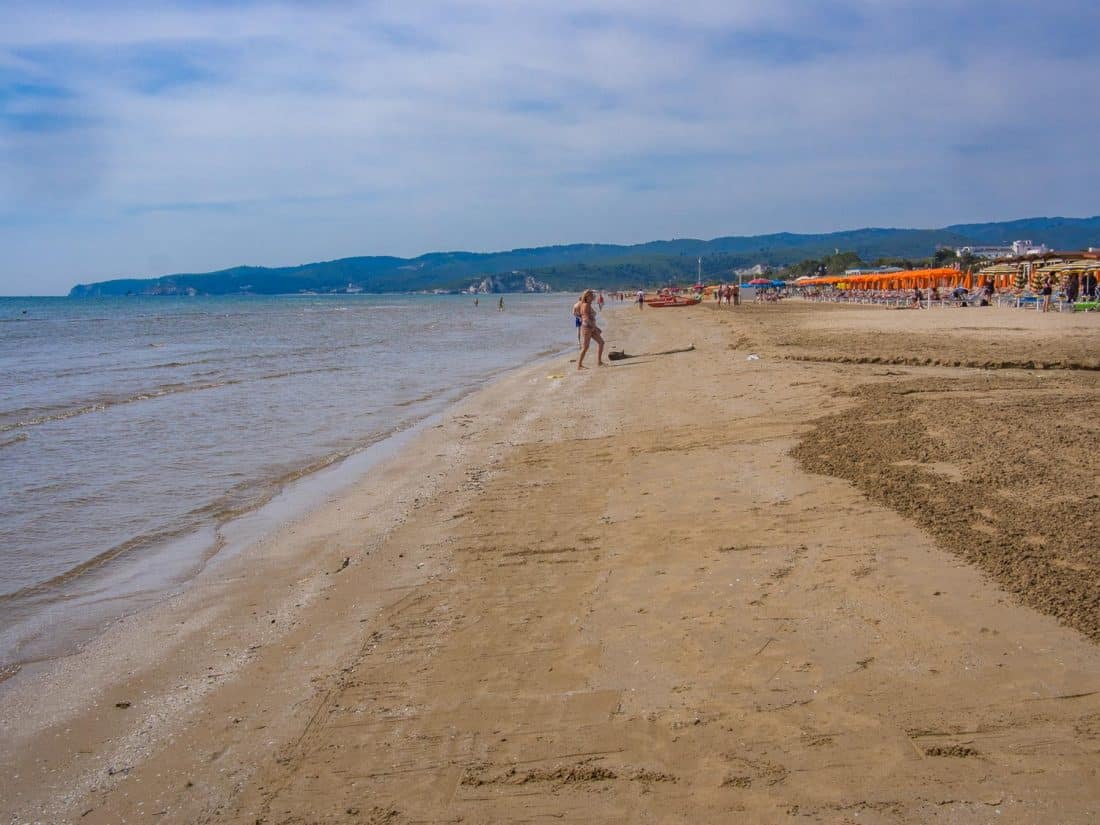 The beaches are the main reason people come to the Gargano, especially Italians in July and August when they get very crowded.
June and September are better times for enjoying the beaches in good weather without the crowds.
There are two beaches in walking distance of the centre of Vieste.
Spiaggia del Castello (Castle Beach) is south of town and is also known as Scialara Beach or Pizzomunno Beach after the towering white rock in front of the cliffs that Vieste is built upon.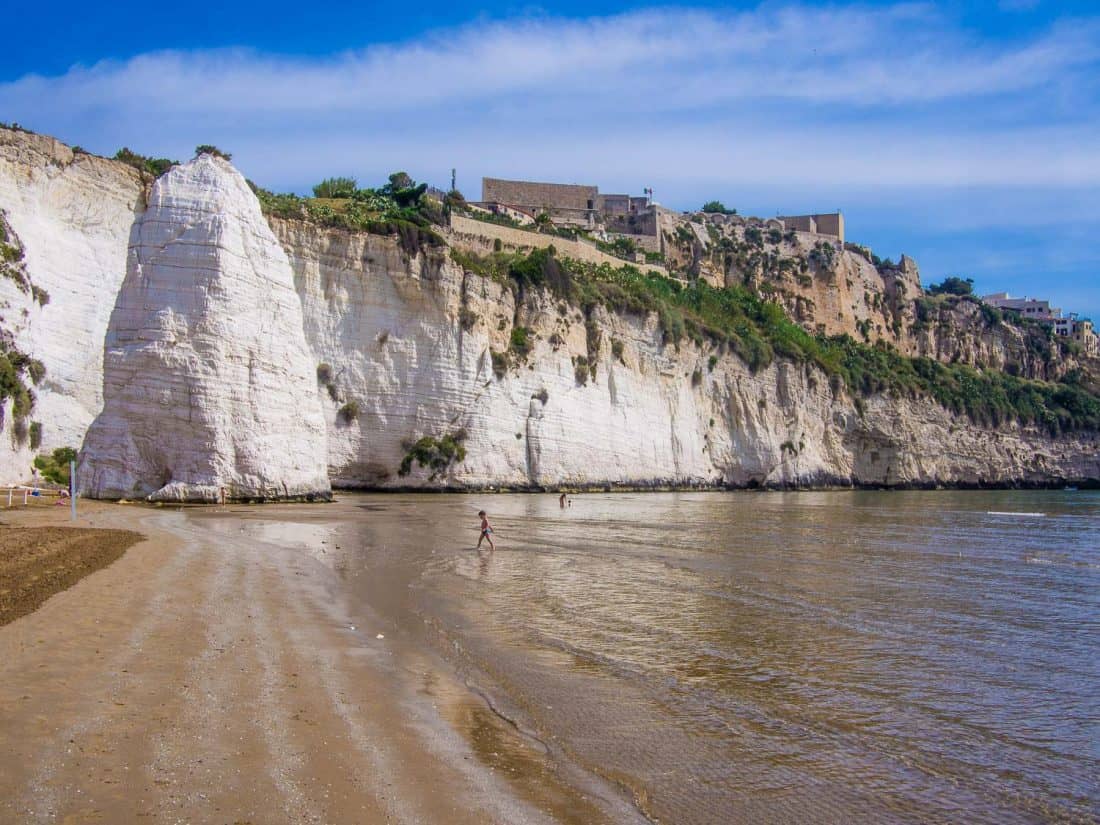 The golden sandy beach is 3km long, so it's good for walking or running (I ran here from our hotel on the hill above it).
There are many places to rent sunbeds and umbrellas with bars for a drink or meal or head to either end of the beach for free sections of sand. The sea is calm and it's popular with families.
On the north side of town is San Lorenzo Beach, also known as Spiaggia del Convento. It's another sandy beach with calm water and a few campsites and beach resorts.
If you have a car, there are many more beaches in the Gargano to explore—north to Peschici they tend to be sandier and south to Mattinata they are more likely to be pebbly with scenic cliff backdrops.
Pick up a map of the beaches from the tourist information office on Piazza Kennedy.
Take a Boat Trip to the Grottoes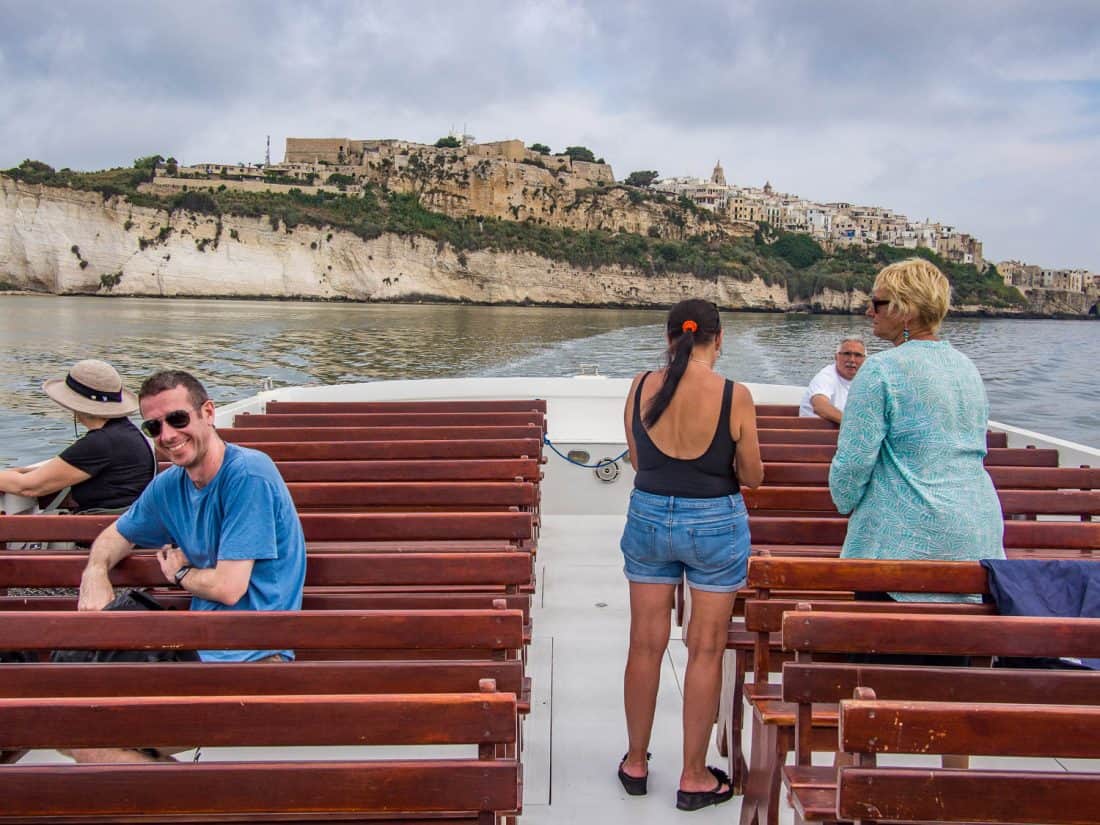 One of the most popular things to do in Vieste is a boat trip along the coast to Baia delle Zagare, one of the most scenic beaches in the Gargano with its dramatic sea stacks.
Along the way you can enjoy views of stunning white cliffs and beaches and sail inside sea caves where the water and rocks are surprisingly colourful.
In the summer there are breaks for swimming (in late May it was too cold for the Italians).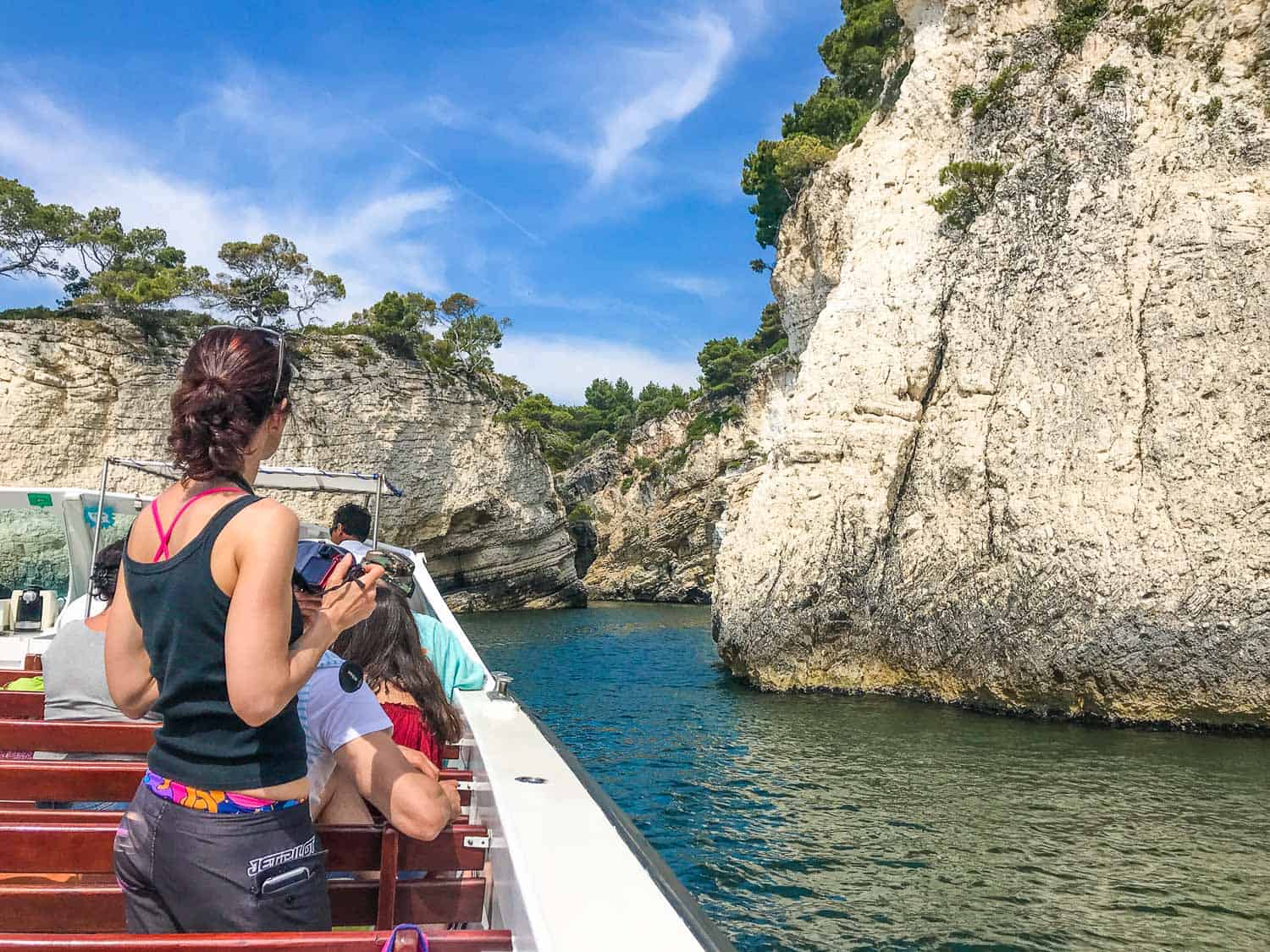 There are a number of companies offering similar boat trips at the Vieste Port—we went with Desiree.
The tours run from April to October and depart at 9.30am and 3pm. The trip lasts three hours and costs €25 per person.
We booked a day ahead, but in shoulder season the boat wasn't very full (in July and August booking is a good idea).
The boat has no shade so bring a hat and suncream. There's a toilet on board and you can buy coffee and water for €1 each.
Shop For Foodie Souvenirs
If you are self-catering or looking for foodie souvenirs, visit the vegetable market on Via Jenner for fresh produce, local olive oil, sun-dried tomatoes, olives, cheese, pasta and more—they are happy for you to sample before you buy.
La Massaia cheese shop (Viale XXIV Maggio, 9) is a good place to try local cheeses like Caciocavallo Podolico made from the milk of a rare breed of cow—ask the owner to show you his basement cheese cave. They also sell delicious fresh pasta for an easy meal if you have a kitchen.
Water Sports
From Vieste you can kitesurf, windsurf, scuba dive, jet ski or kayak.
At the port you can rent a boat which we'd like to do next time to explore the coast on our own.
Explore the Gargano Peninsula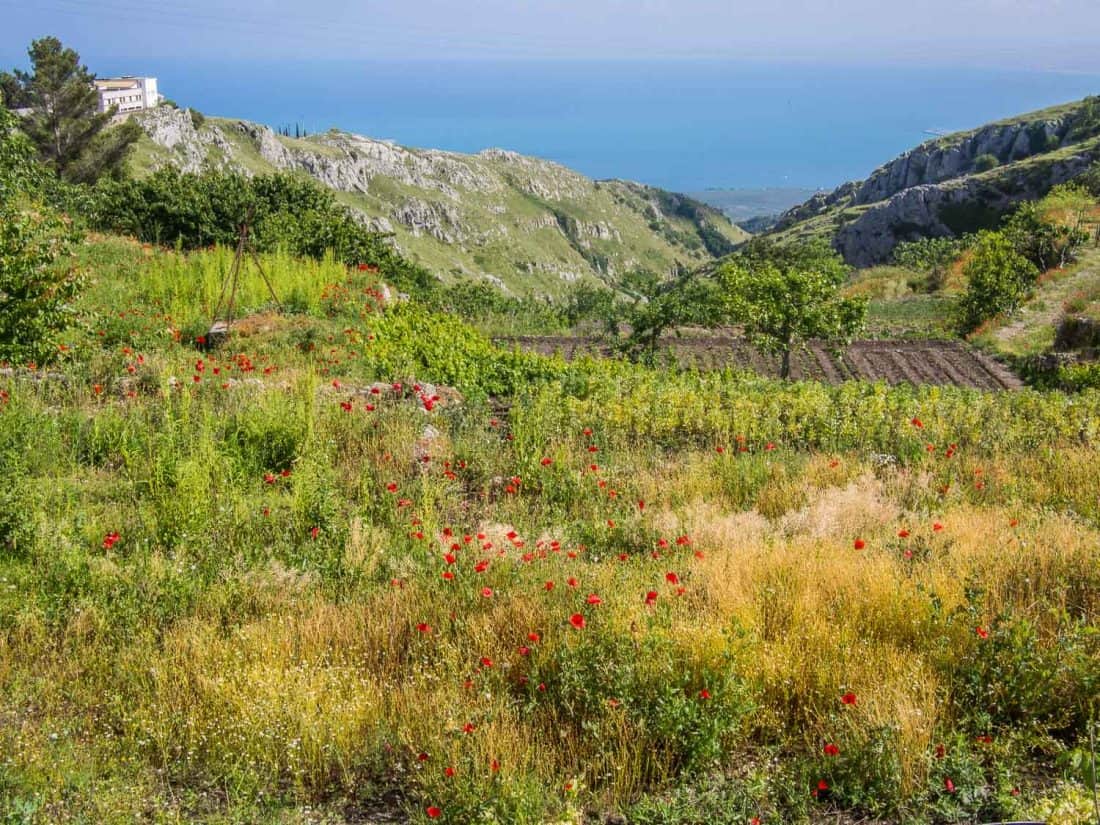 There are lots of beautiful places to visit in the Gargano from ancient forest to medieval villages as well as dozens of beaches.
It's much easier to get around if you have a car but some day trips are possible by public transport or tour.
Read our Gargano Italy travel guide for more details on the best destinations.
Sample Wine and Olive Oil
Next time we'd love to get out into the countryside near Vieste on these olive oil and wine tasting tours.
Where to Stay in Vieste, Puglia
Residence Maresol Review
We wanted to stay somewhere quieter with more of a countryside feel than the town centre, so we chose Residence B&B Maresol up a steep hill above Castello beach with its iconic Pizzomunno rock.
The hotel is surrounded by pine trees and has gorgeous sea views. It's just a seven-minute drive from the centre and close enough to the beach that I could run there (it's a steep climb back up though).
Hosts Giovanna and Francesco and their son are super friendly and happy to give tips on the area.
We stayed in a modern, bright one bedroom apartment with a comfortable bed, ensuite, small but well-equipped kitchen, and a large terrace with table, chairs, and sun loungers where we could enjoy the sea views.
The WiFi was better than we expected (we did request a room with good signal) and although it cut out a few times we were able to stream Netflix.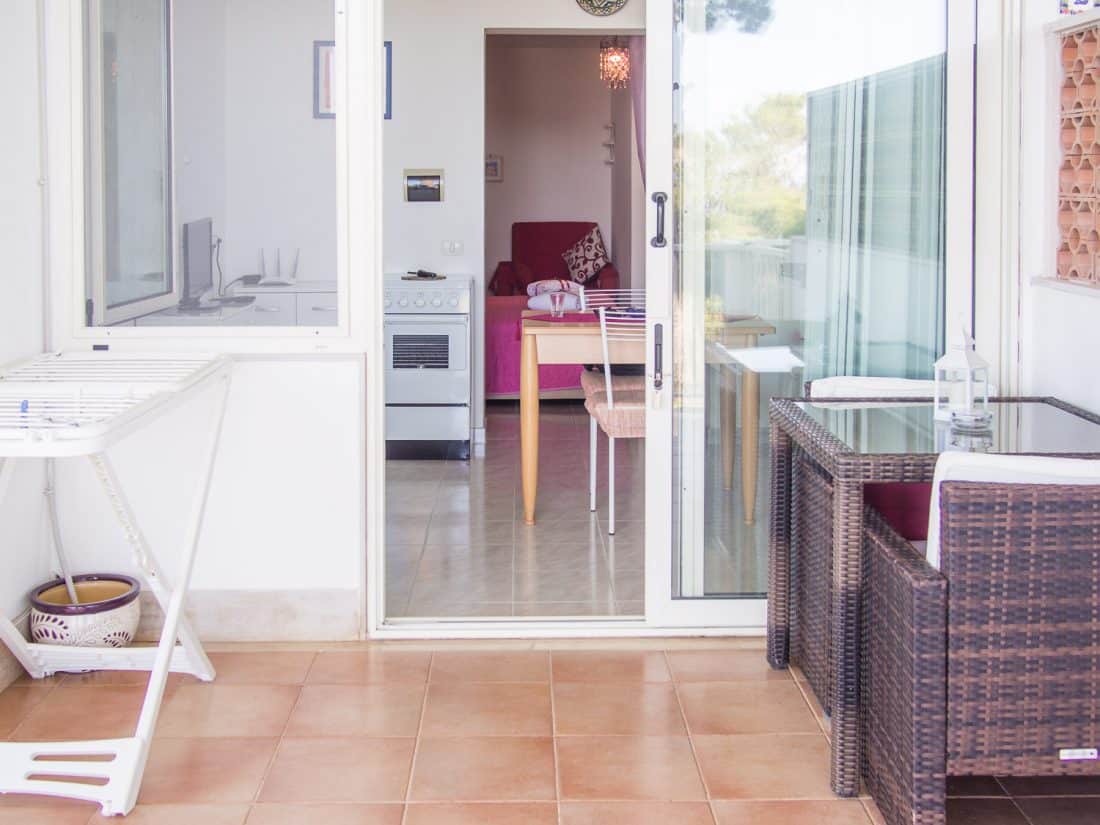 We enjoyed being able to cook and eat on our terrace so we didn't have to eat out every night. They can also order you a pizza which was very convenient, but it was the worst pizza we've eaten in Italy!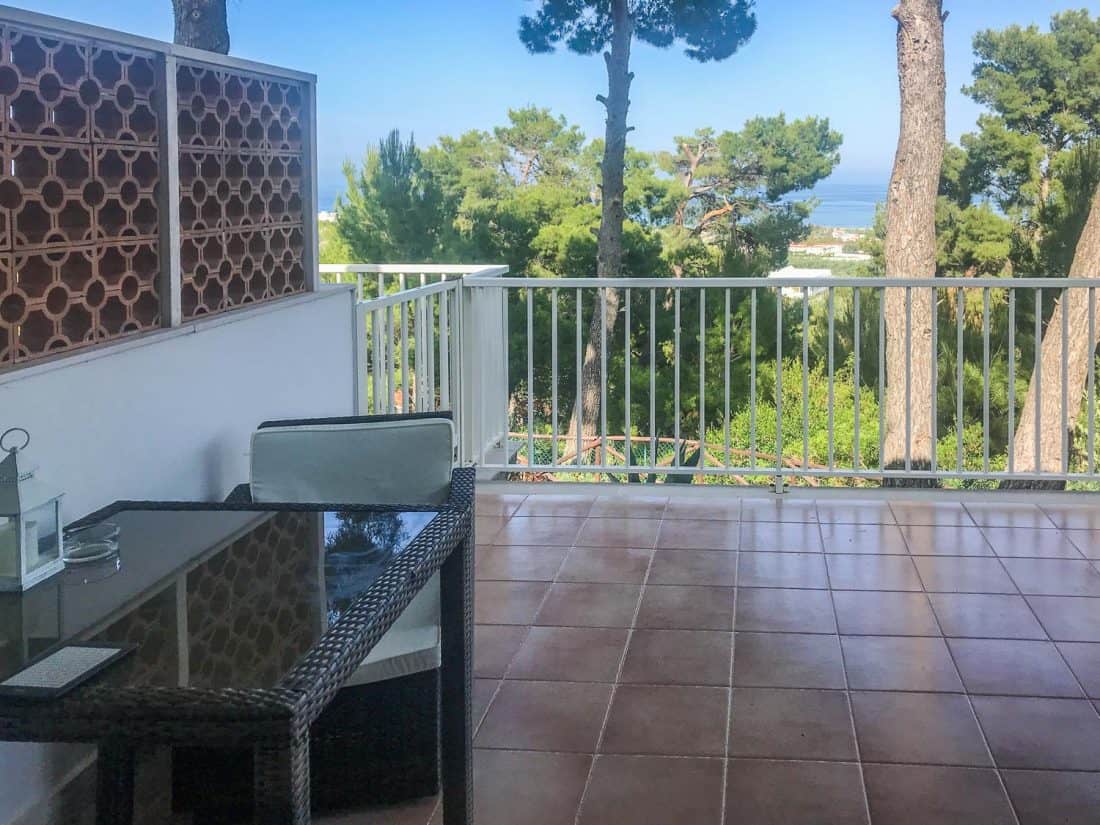 The only downside at Residence Maresol was that we could hear our neighbours on the terrace, so it's not entirely private. I would also have appreciated cushions on the plastic sun loungers.
They also have rooms without kitchens and can provide breakfast on the sun terrace with gorgeous views.
Residence Maresol is excellent value and we highly recommend it.
Check the latest prices for Residence Maresol here.
Vieste Hotels in the Centre
If you'd prefer to stay in the centre of Vieste, here are a few B&Bs and hotels in great locations walkable to everything.
Parking in the centre is difficult so ask your hotel for advice before you arrive.
Search for more hotels and B&Bs in Vieste here.
Vieste Restaurants
As you'd expect from a seaside town, restaurants in Vieste focus on fish. While they do offer vegetarian options, we chose to eat at agriturismo in the countryside instead.
These farms have simple restaurants and guest accommodation and focus more on food from the land—vegetables and meat—rather than seafood.
Away from the sea Puglia is very vegetarian-friendly—see our guide to Puglian food for dishes to try.
Countryside Restaurants Near Vieste
Agriturismo Chalet degli Ulivi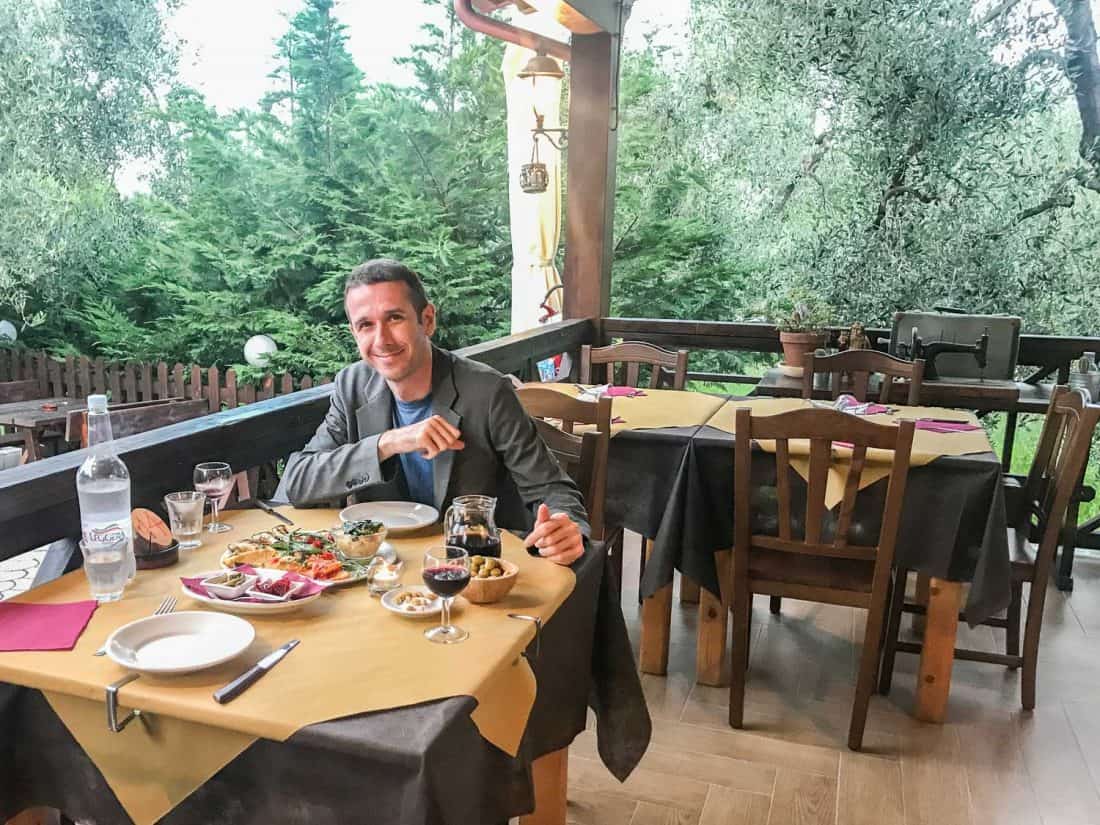 Agriturismo Chalet degli Ulivi has an outside terrace surrounded by their olive trees.
The highlight was the vegetable antipasti plate with lots of grilled and marinated vegetables, frittata, bruschetta, and the Puglian classic fava e cicoria (mashed fava beans with bitter greens).
Afterwards we shared their primo of the day (the classic orecchiette pasta with tomato sauce), a margherita pizza, and homemade chocolate fondant.
At only €35 for all that food plus half a liter of house wine and complimentary limoncello, it was very good value.
Chalet degli Ulivi opens every day from 7.45 pm. It's up in the hills close to Residence Maresol, a 10-minute drive from the centre of Vieste.
Country House Tavernola
For an unforgettable experience and enormous amounts of food, head to Country House Tavernola.
This farmhouse feels like it's in the middle of nowhere and is surrounded by olive tree covered hills with pigs, ducks, chickens, dogs, and goats running around.
It's a shame there's no terrace to enjoy the views—just a rustic indoor dining area.
I recommend booking in advance—the son is responsive to messages on their Facebook page—as they seemed taken back by our appearance and we were the only guests all night.
Mattia still managed to cook us up a feast and through the evening, she, her husband and their son all came out to chat to us.
We weren't given a menu, just asked if we wanted antipasti, and in Puglia the answer to that question is always yes.
We have enjoyed many large antipasti plates in the region, but nothing had prepared us for the comically large portions at Country House Tavernola.
The plates just kept on coming and each one was piled high with food—bread and olives, marinated vegetables, bruschetta, cheeses, fried zucchini and potato chips, baked potatoes with cheese, zucchini frittata, focaccia with cheese…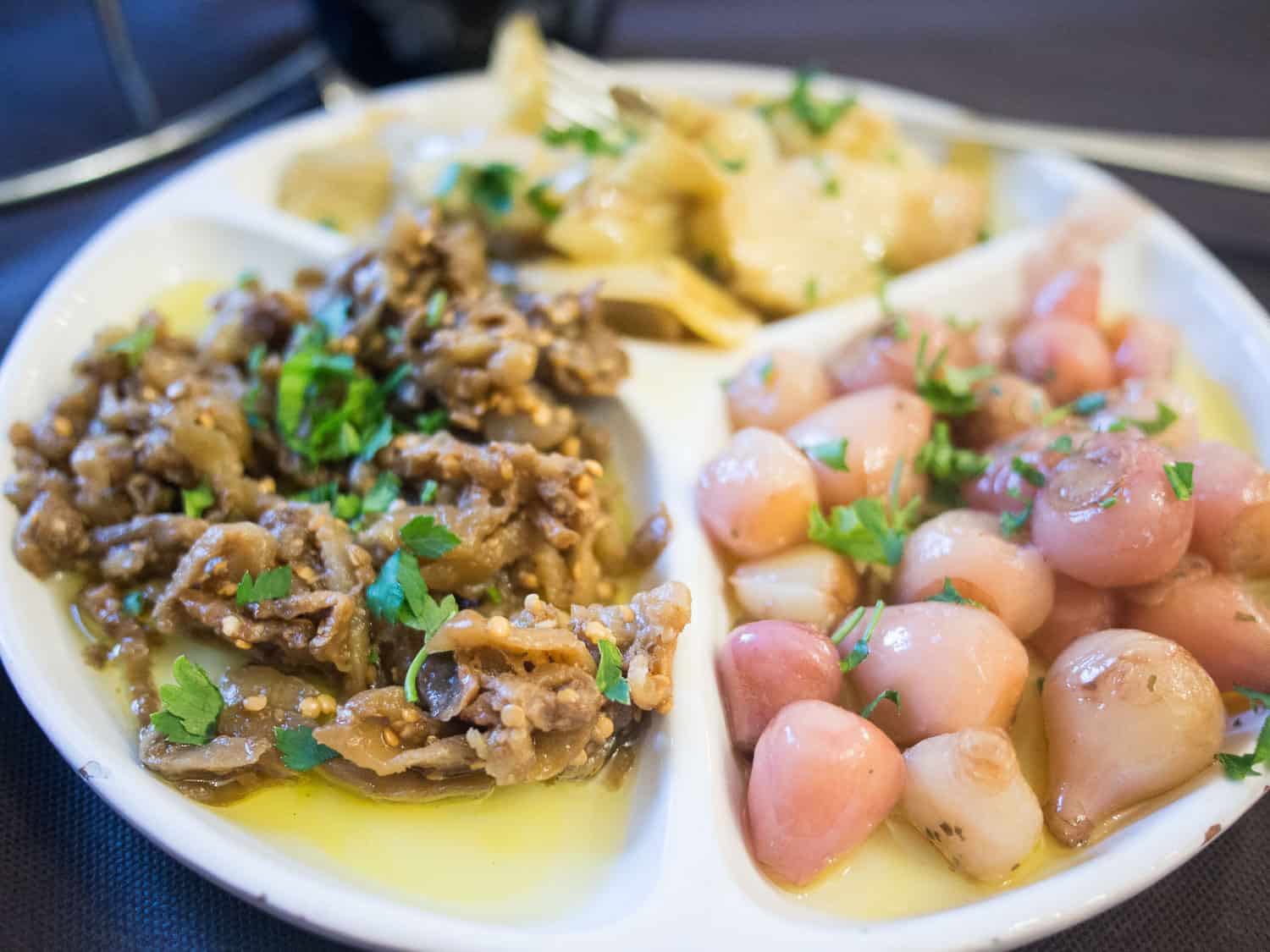 It was all good, simple home-cooking, but although we have big appetites, we had to send back more than half of what was brought to us and we didn't have space for pasta.
We did manage to squeeze in some of their excellent homemade ricotta and fruits of the forest tart—it's worth saving space for dessert.
At the end of the meal they brought us five bottles of homemade digestivi—fennel flower, laurel, cinnamon, almond, and prickly pear (our favourite)—and left us to help ourselves.
All this food was excellent value at €25 per person including wine, water, coffee and cover charge, but as we rolled away, we did find ourselves wishing the portions hadn't been quite so excessive.
Country House Tavernola is open 7–10pm every day except Monday. Call or message them on Facebook to book a table. It's a 15-minute drive from central Vieste.
Restaurants in Vieste Centre
Pizzeria Notte e Di
The only place we ate in the centre of Vieste was this friendly takeaway pizza place with a few outdoor tables on the street.
The pizza was decent and inexpensive, and it's a good place to try the local speciality paposcia—big focaccia sandwiches—which we had stuffed with vegetables and mozzarella.
Pizzeria Notte e Di is located in the modern part of Vieste at Viale XXIV Maggio, 26. It's open for lunch and dinner.
Cornetteria Chianca Amara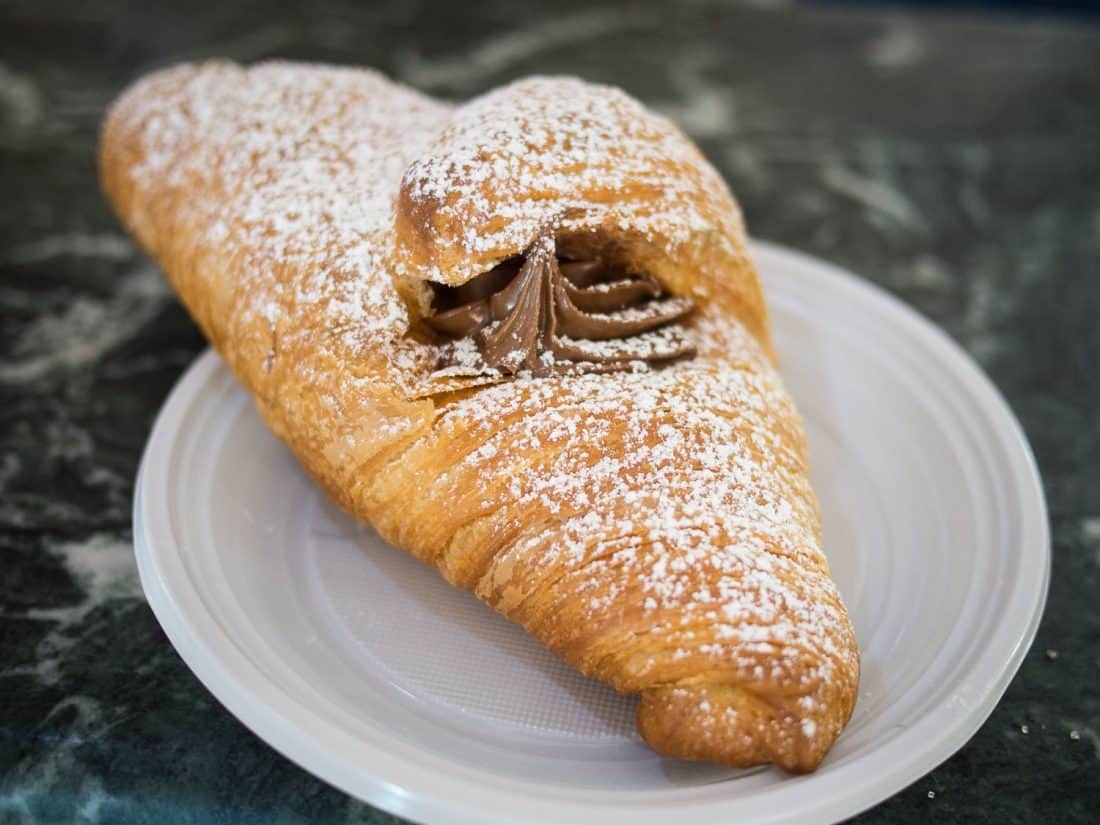 In the heart of the old town is this little shop selling a wide range of biscotti (cookies) and cornetti (Italian croissants). The cornetti are huge and you can have them stuffed with cream, nutella, or various jams.
Cornetteria Chianca Amara is at Via Cimaglia, 4. In high season they are open all day from 9 am until 3 am.
How to Get to Vieste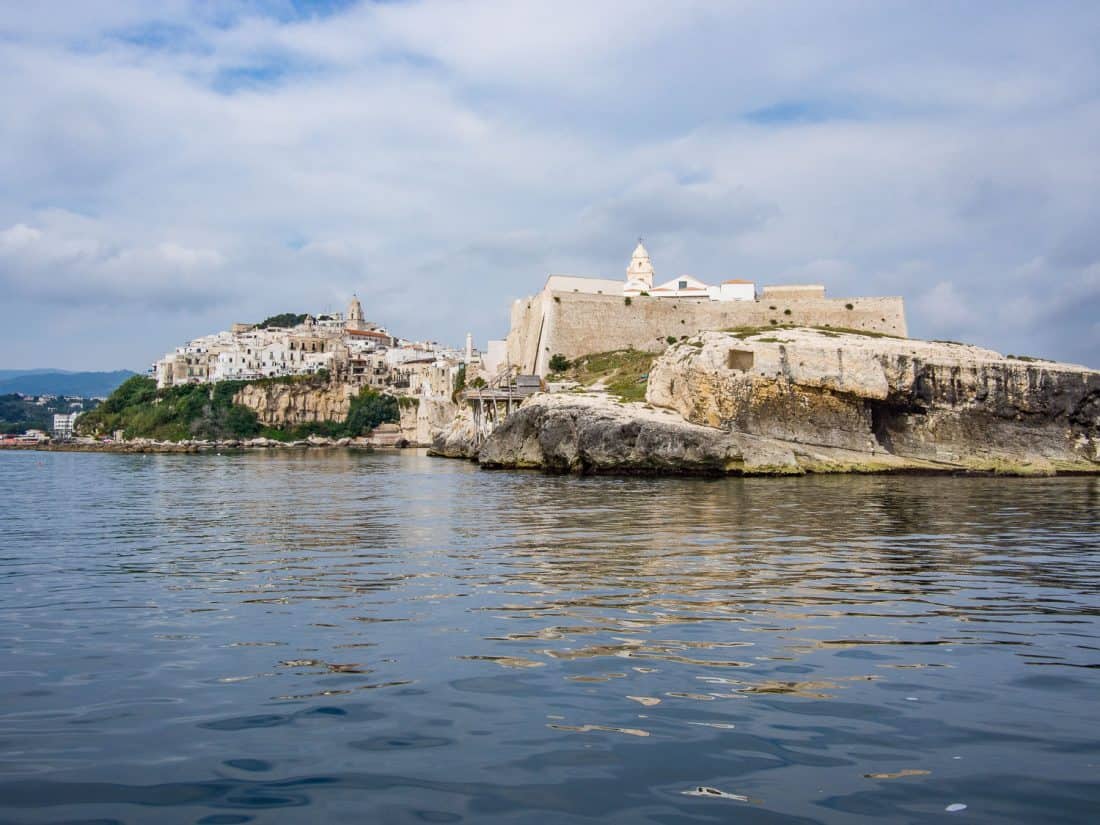 Vieste by Car
If you want to explore the Gargano, I highly recommend renting a car as public transport is limited and slow.
If your trip is over 10 days you could combine Vieste with these other beautiful places to visit in Puglia.
For our two-week Puglia road trip, we rented a car one way from Lecce (in the far south of Puglia) and dropped it off after the Gargano in Foggia (a 1 hour 40 minute drive from Vieste) where we caught the three-hour train to Rome.
I use Rental Cars to search for cheap car rentals.
In central Vieste you have to pay for parking almost everywhere from mid-May to mid-September (another advantage of staying slightly out of town).
It costs €1 an hour along the beach and €2 an hour in the centre—make sure you carry change for the machines.
The nearest international airport to Vieste is Bari (BRI), a 2.5-hour drive away. You can rent cars at the airport.
Search for the cheapest flight deals on Kiwi.
Vieste by Public Transport
You can reach Vieste by public transport and this is a decent option if you don't want to visit many other places in the Gargano.
The Pugliaairbus runs from Bari airport to Vieste from June to September. It takes about three hours and costs €20 one way.
SITA bus 744 runs from Foggia to Vieste in 2 hours 45 mins. You can check timetables on the SITA Sud website (Italian only)—choose Puglia where it says "SELEZIONA LA TUA REGIONE".
To Peschici the Ferrovia del Gargano bus takes 45 mins.
From Vieste you can take the ferry to the beautiful Tremiti Islands from July to mid-September. The Navigazione Libera del Golfo ferry takes 1.5 hours and costs €22 in high season.
Vieste Italy Map
Is Vieste Worth Visiting?
Yes, Vieste is definitely worth visiting. Vieste is a lovely seaside town that's not very well known to non-Italians. It's a great base to explore the Gargano Peninsula for a trip that can combine beaches, historic towns, forests, mountains, and food.
Other Italy Posts
If you are looking for other seaside destinations in Italy, we recommend Rapallo and the Italian Riviera, Procida Island near Naples, hiking the Path of the Gods on the Amalfi Coast, Salina and Stromboli volcano in the Aeolian islands, and Western Sicily.
If you enjoyed this post, pin for later!