Puglia's beaches are some of the best in Italy from the dramatic rocky coastline of the Adriatic Sea to the white sand and turquoise waters of the Ionian Coast.
You can combine days relaxing on the beach with evenings wandering charming coastal towns and dining in picturesque piazzas.
Italy has a distinctive beach culture so in this post, I share my tips for making the most of a beach holiday, as well as our picks for the best beaches in Puglia after spending months in the region.
You'll find a map near the end with all these Puglia beaches from Gargano in the north to Salento in the south.
Contents
Best Time for a Puglia Beach Holiday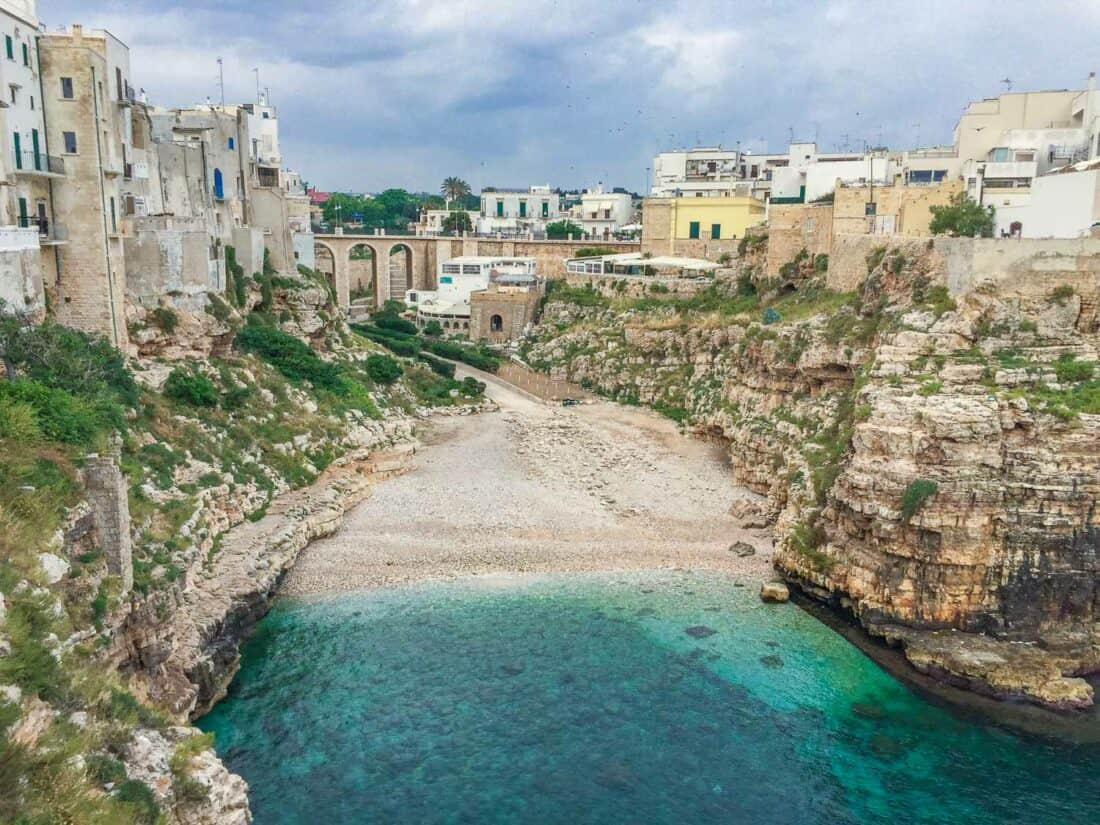 Which month you visit this southern Italian region will make a huge difference to your experience of the beaches in Puglia.
In May, you'll find long stretches of empty sand, whereas in August, the same stretch will be unrecognisable covered in sun loungers and umbrellas.
If you want empty beaches and warm weather, visit in May, early June, late September, and October. Beach clubs and even restaurants in the beach towns may be closed, though.
If you want a vibrant atmosphere, umbrella and sun lounger rentals, and the hottest weather (30ºC+), visit in July and August. Do not expect to see much sand and you really just have to embrace the crowds.
There are lots of beach parties at this time of year (especially near Gallipoli), but you can also avoid them. Most beaches are family-friendly.
By far the busiest time of year is mid-August, the week before and after the 15 August, which is the Ferragosto holiday in Italy. Most of the country heads to the beach at this time of year.
We noticed a big difference at the Salento beaches from early to mid-August—from very crowded to absolute madness. It's also hard to get into restaurants and rent sun beds without reservations in mid-August.
The sweet spot is early or late in the summer. Early June and mid-September are the best times to visit Puglia beaches for warm weather, some atmosphere (beach towns are ghost towns in the off-season), but not too many people. Chair and umbrella rentals are cheaper then, too.
If you do visit in the height of summer and aren't a fan of packed beaches, you can still have an enjoyable trip by heading to the beach early.
We usually arrived at the beaches before 8am and had to leave at 10am when the crowds became too intense. Around sunset is also pleasant (although not empty).
In the middle of the day, you can rest or explore Puglia's inland towns, which are often really quiet. Renting a villa with a pool is also a good idea (check Vrbo for holiday rentals).
A Guide to Italian Lidos (Beach Clubs)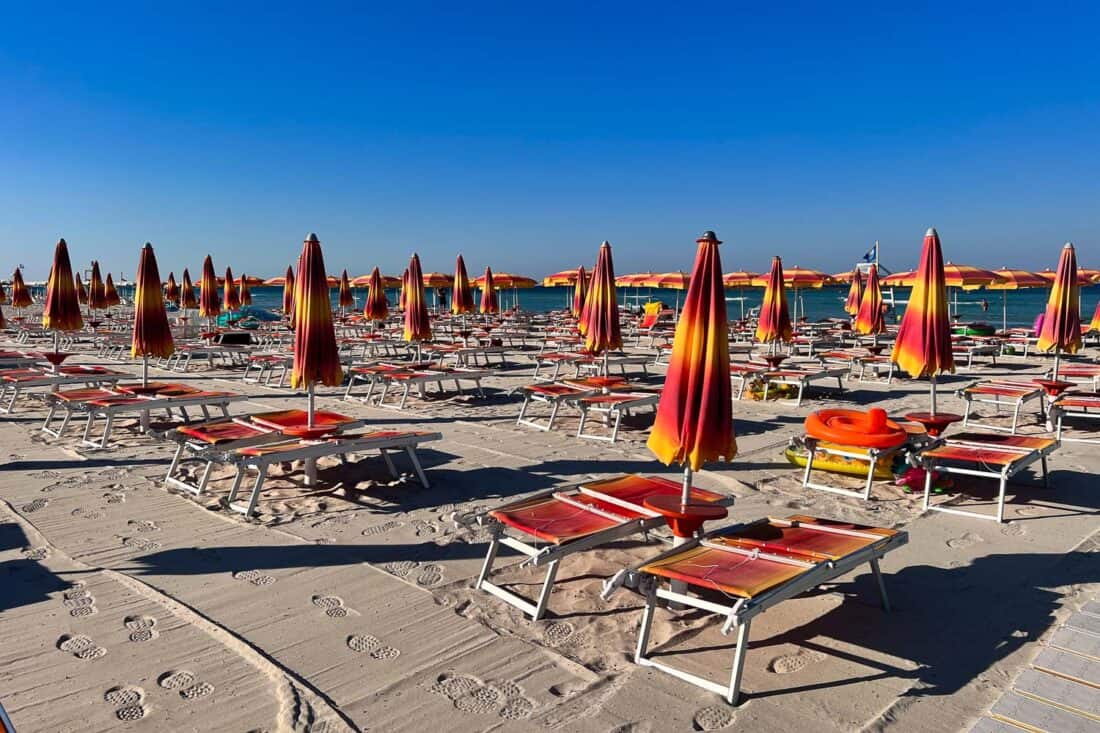 Your first time on the Italian coast in summer may come as a shock as you find endless rows of beach chairs and umbrellas covering up the sand (or sometimes perched on rocks).
These belong to the privately run lidos or beach clubs (also called bagni or stabilimenti balneari in Italian) that are a massive part of the Italian beach scene.
As well as umbrella and deckchair or sun lounger rentals, they usually have toilets, showers, and a bar/cafe.
Most of them are fairly simple with chairs crammed together to make the most of the space. There are some luxury lidos, though, with more comfortable loungers, space from your neighbours, and food and drinks delivered to your chair.
Despite resisting lidos for most of our Puglia beach trips, we did splurge on a fancy one in Torre Lapillo (see below) and it was worth it for a comfortable, relaxing day at the beach at the busiest time of year.
An umbrella and two loungers in a Puglia lido usually cost €20-30 for a day (you can't rent for shorter periods). Luxury lidos can cost €200 or more for two people in peak season!
It costs more the closer your chair is to the sea (some lidos have 10+ rows!).
Do you have to book lidos in Puglia?
In August, yes, you'll usually need to book in advance to get a spot at a lido. In July, you might be lucky if you arrive early.
It really depends on the beach club, though, as some seem to cater more to casual visitors, whereas others are booked up by Italians for the week, month, or even season.
To get an idea of the beach clubs available in Puglia, check out Spiaggie.it, which also allows you to book online (we haven't used it ourselves).
Do you have to use a lido on Puglia beaches?
No, Italian beaches are public and they must have free sections (spiaggia libera). One end of the beach may be free or you might find free sections between the beach clubs.
It's easy enough to find the free sections as they'll be the parts without identical umbrellas (each lido has a different colour scheme). Free beaches do get very busy in summer, though.
Occasionally, you'll find independent vendors renting chairs and umbrellas on the free sections (we found this at Pescoluse Beach).
We liked this as it was cheaper than the lidos and it was easier to get a front-row spot by arriving early (the lidos may book up). The downside is no facilities.
Tips for Visiting Puglia Beaches
Rent a Car
Public transport isn't great in Puglia and it's much easier to reach the beaches with your own car.
We use Rental Cars to find the best deals. If you are flying into Puglia, you can collect a car at Bari or Brindisi airports.
You will have to pay for parking at the beach from June to September, and it usually costs €5-10 a day.
Some beach towns have metered street parking, but many parking lots are privately run by the lidos. You can park at a lido even if you don't want to rent an umbrella from them.
Carry cash (ideally coins for machines) as most of the car parks don't take cards.
Arrive Early
Italians take beach going seriously in summer! If they are visiting the free beaches, they'll arrive early, come well-equipped, and stay all day.
In July and August, you'll also need to arrive early to get a good spot in the free sections. That means before 9am, but preferably before 8am.
If you don't want an early start, book loungers at a lido in advance.
Parking will be hard to find after 10am in high season, though.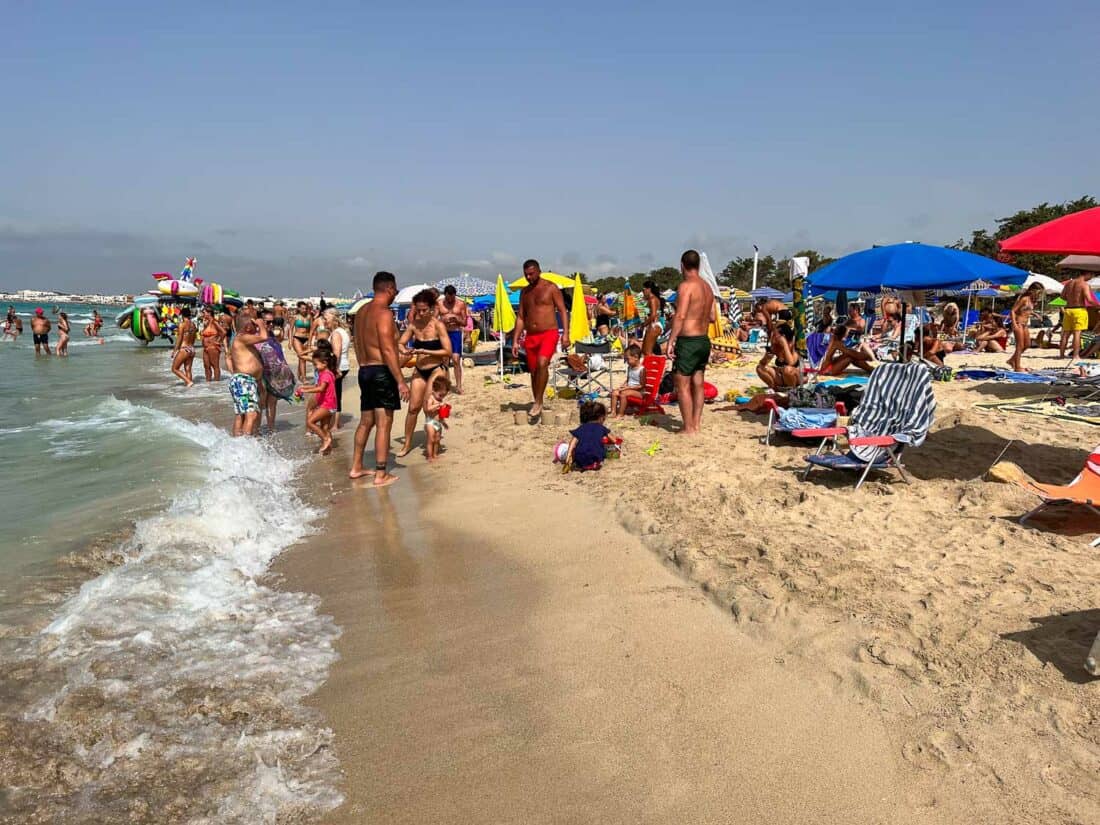 Come Prepared
If you aren't using lidos, it's best to buy an umbrella as there's no shade on the beaches.
If you are visiting the rocky beaches on the Adriatic, you might also appreciate beach chairs and water shoes.
Beach towns in Puglia usually have shops selling beach gear or try the larger supermarkets. I bought a snorkel set for €16 from the Conrad supermarket.
Some beaches have roaming vendors selling beach clothes and inflatables.
Bringing plenty of water and a picnic lunch is a good idea, although some beaches are close to facilities in towns. Or you can use the lido restaurants even if you aren't renting a bed (waits might be long so try to go early).
Our Top Picks
For Beach Days: Torre San Giovanni, Pescoluse, Torre Lapillo
For a Swim with a View: Lama Monachile, Castro Marina, Il Ciolo
For a Hike and Snorkel: Porto Selvaggio
Prettiest Seaside Towns with Sandy Beaches: Monopoli, Otranto, Gallipoli, Vieste
Best Beaches in Puglia: Near Bari and Ostuni
The Valle d'Itria is the central part of Puglia that's popular for its whitewashed hill towns, olive groves, and iconic trulli houses.
There are also plenty of beaches along the Adriatic Coast here.
See our post on the best places to visit in Puglia for more ideas on exploring the region.
1) Pane e Pomodoro Beach, Bari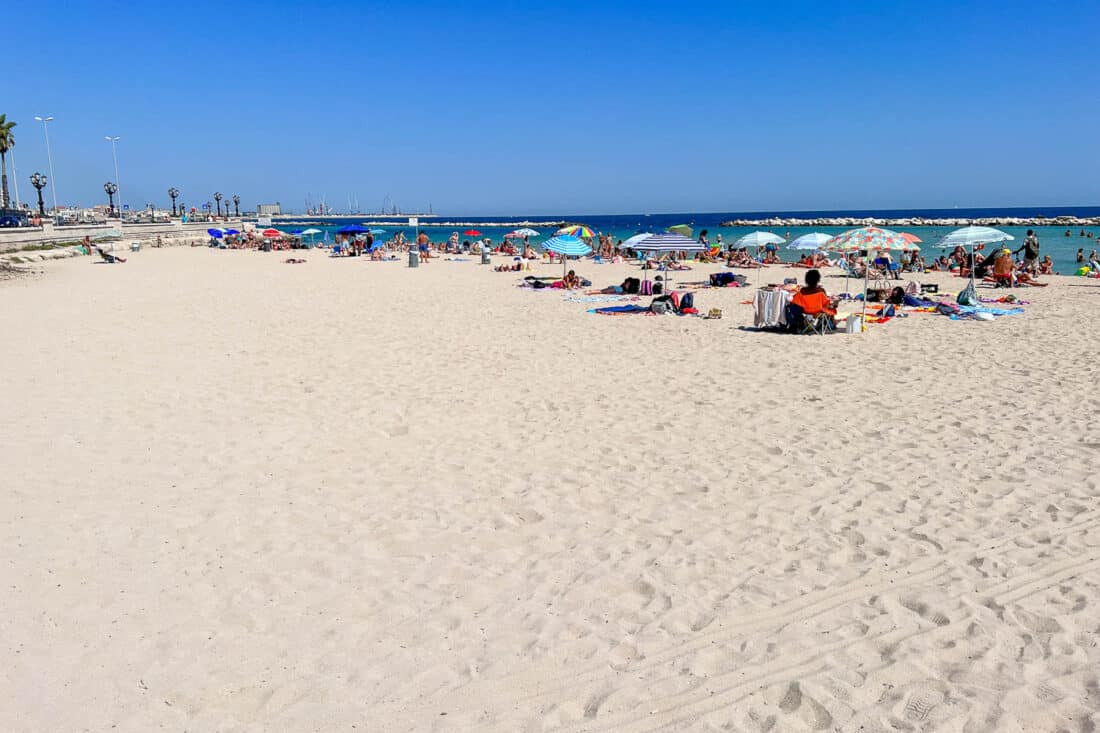 If you are starting your trip in Bari and want to jump in the Adriatic as soon as possible, head to Pane e Pomodoro (Bread and Tomato) Beach.
This small city beach is not the most beautiful in the region, and it's next to a road, but it's conveniently located just a 30-minute walk (along the lovely lungomare/promenade) or a quick drive from Bari's wonderful old town.
There's no lido here so it's entirely free (bring your own umbrella) and you can see the powdery white sand. The shallow clear water is perfect for a dip.
Expect it to get very busy on summer weekends.
See our guide to the best things to do in Bari for more tips on the city (including our favourite pizza in Puglia).
2) Lama Monachile, Polignano a Mare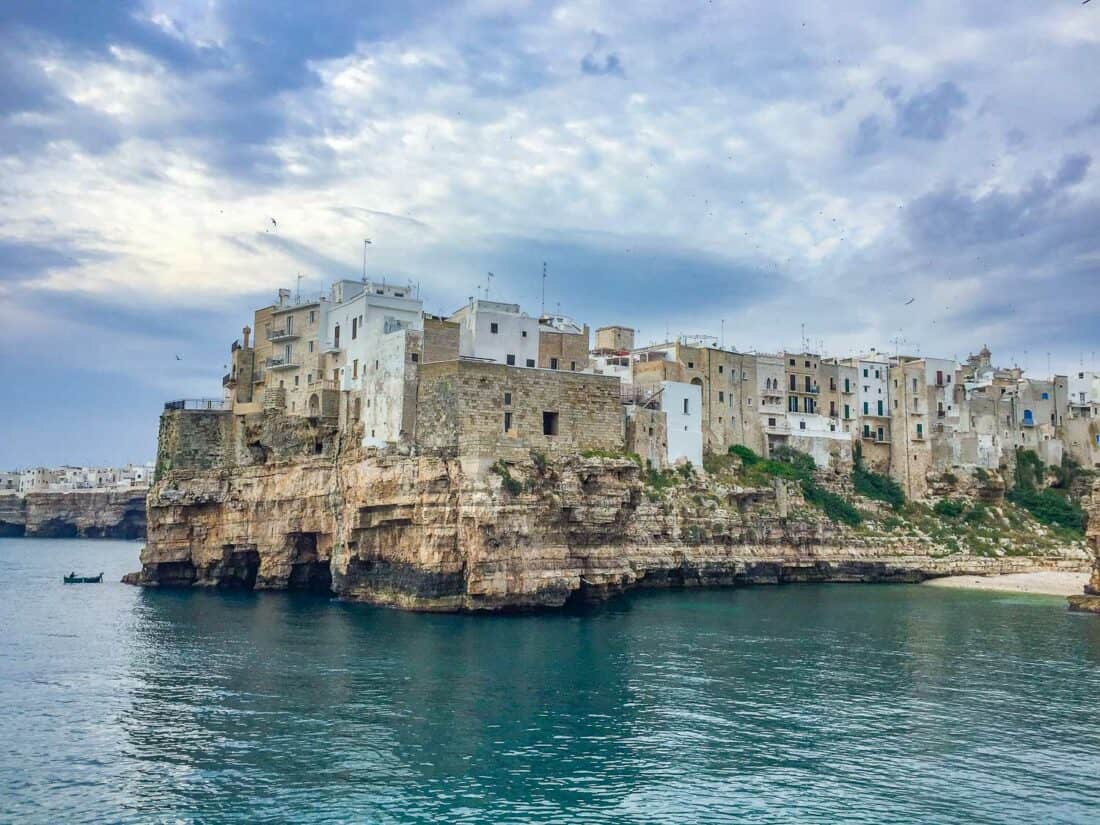 Polignano a Mare is one of the most spectacular coastal towns in Puglia perched on a craggy rock overlooking the sea.
Lama Monachile (also known as Cala Porto) is a tiny, pebbly cove beneath a bridge in the old town. It's very picturesque surrounded by rugged cliffs with clear emerald water.
On our cloudy visit in May, Polignano's beach wasn't very busy, but in summer, you'll barely be able to see the white pebbles with all the people.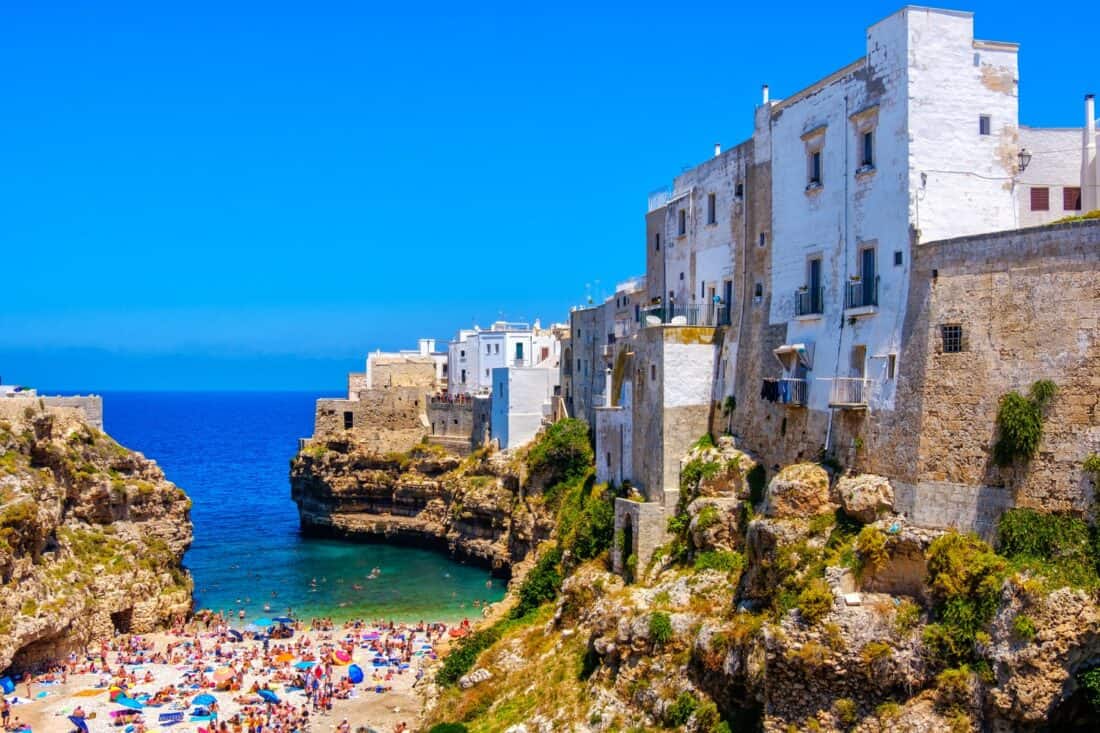 There's no lido here, and I think it's best for a quick dip while visiting this lovely town, rather than spending a whole day here.
3) Cala Porta Vecchia, Monopoli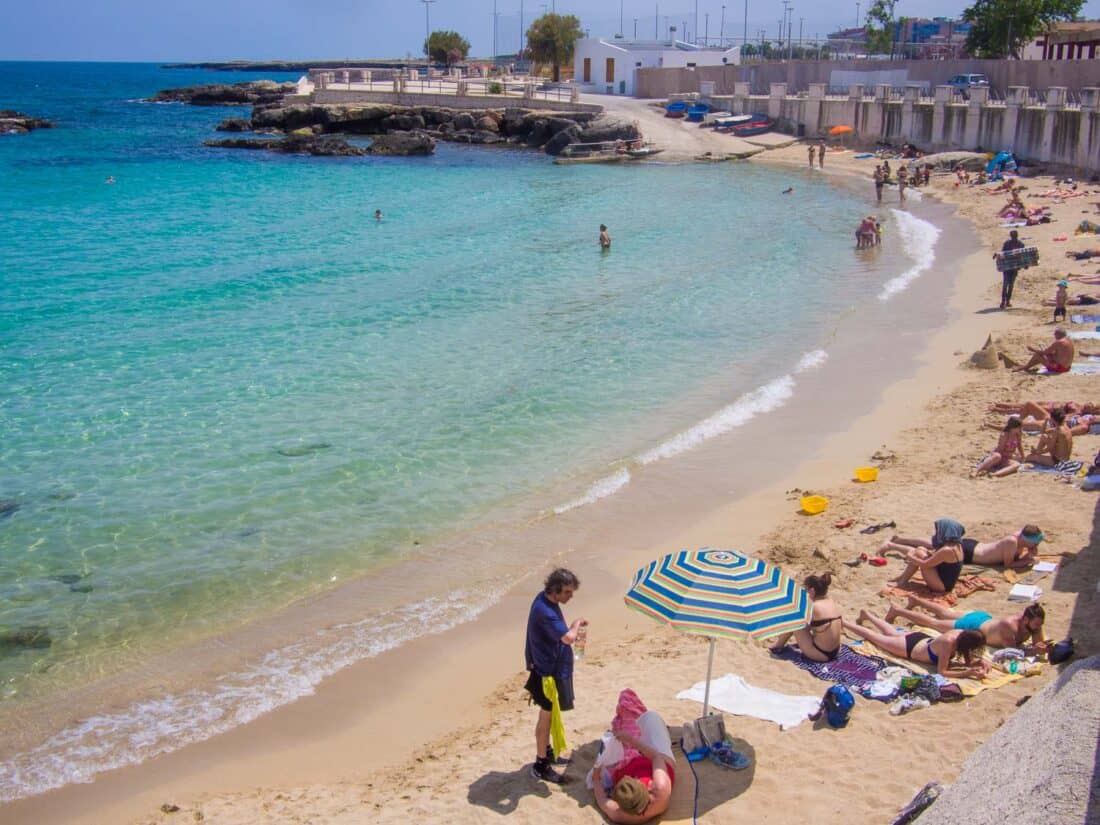 Just down the coast from Polignano is Monopoli, another charming seaside town.
Cala Porta Vecchia is its small beach beneath 16th-century walls, with golden sand on one side and rocks on the other. It's free with no lidos.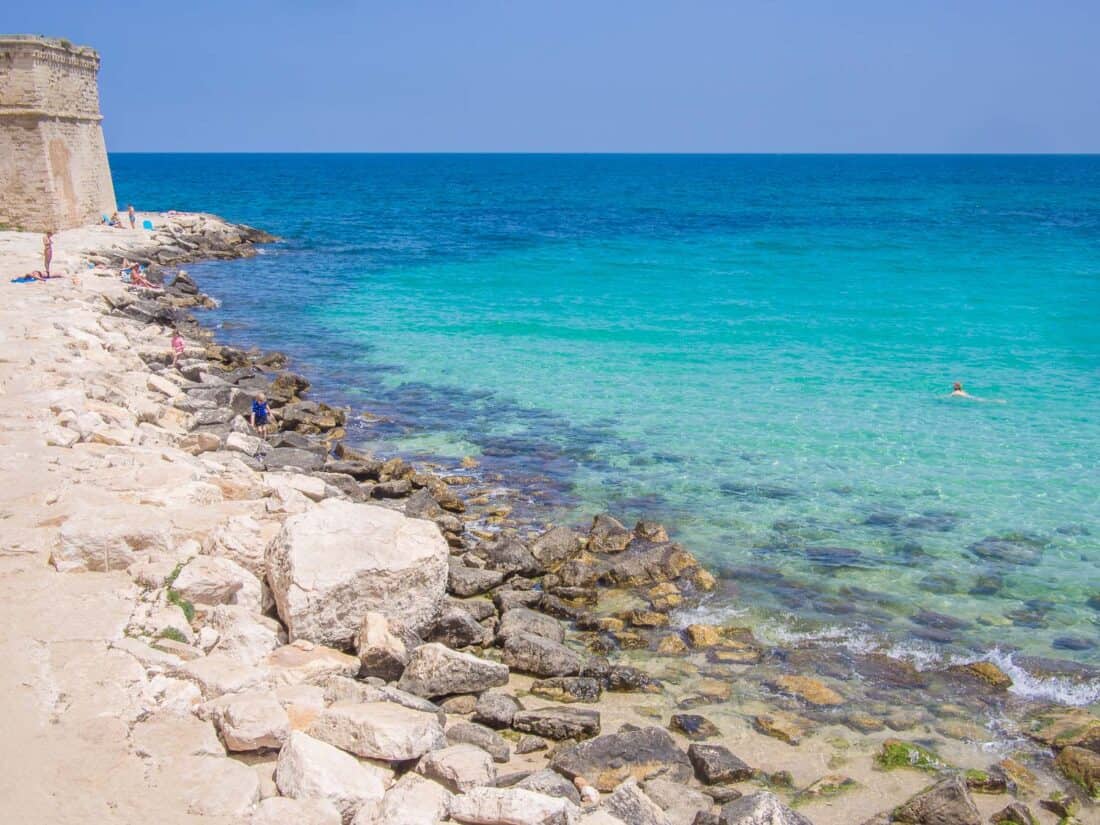 Again, I wouldn't spend all day here, but the turquoise water is inviting for a dip and Monopoli is well worth a visit.
4) Lido Morelli, Ostuni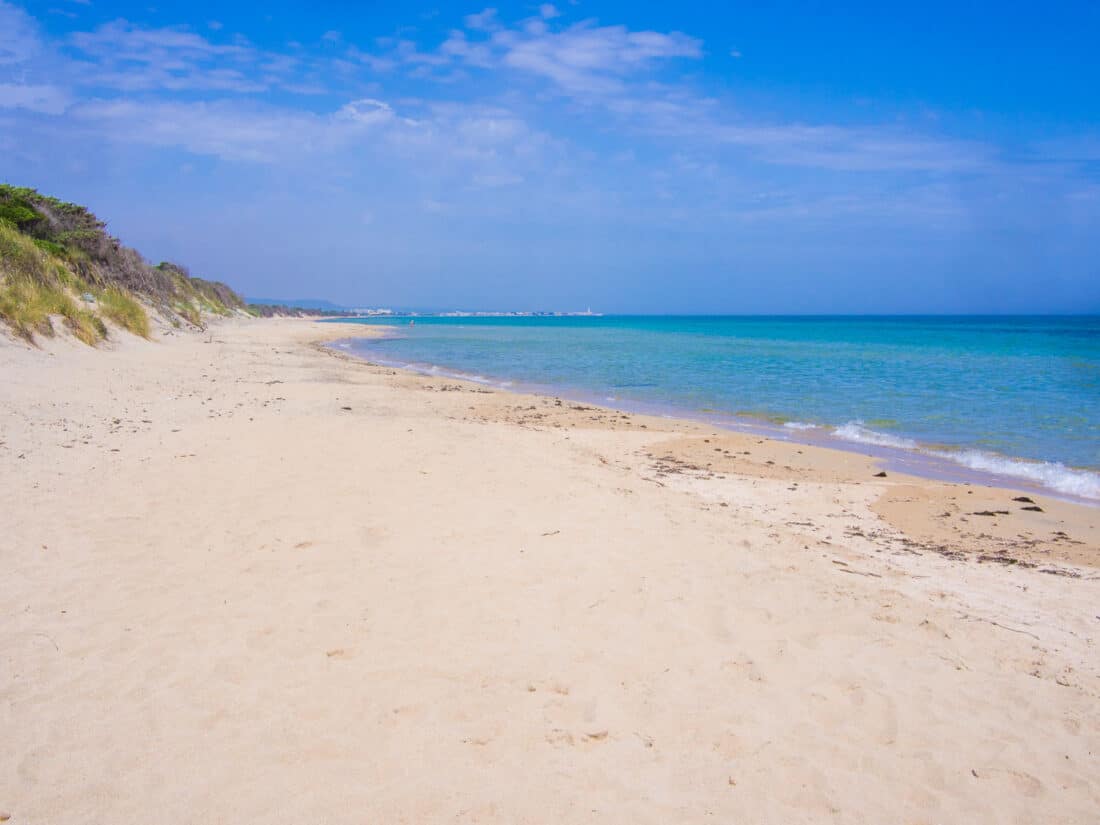 A 15-minute drive from the gorgeous hill town of Ostuni is a long stretch of white sand beaches that are part of the Parco Naturale Regionale Dune Costiere (Coastal Dunes Regional Natural Park).
There's a mix of lidos and free beach. We've been to the free section next to Lido Morelli a few times.
With golden sand, clear shallow water, and sandy dunes, this is one of the best beaches near Ostuni.
Your experience will depend on when you visit. In May, we didn't have to pay for parking, there were a few beds for rent, but mostly it was a long stretch of empty sand.
In July, we paid €7 to park at Lido Morelli but decided against paying €30 for an umbrella and two sun loungers, as they were too close together and we didn't want to stay all day.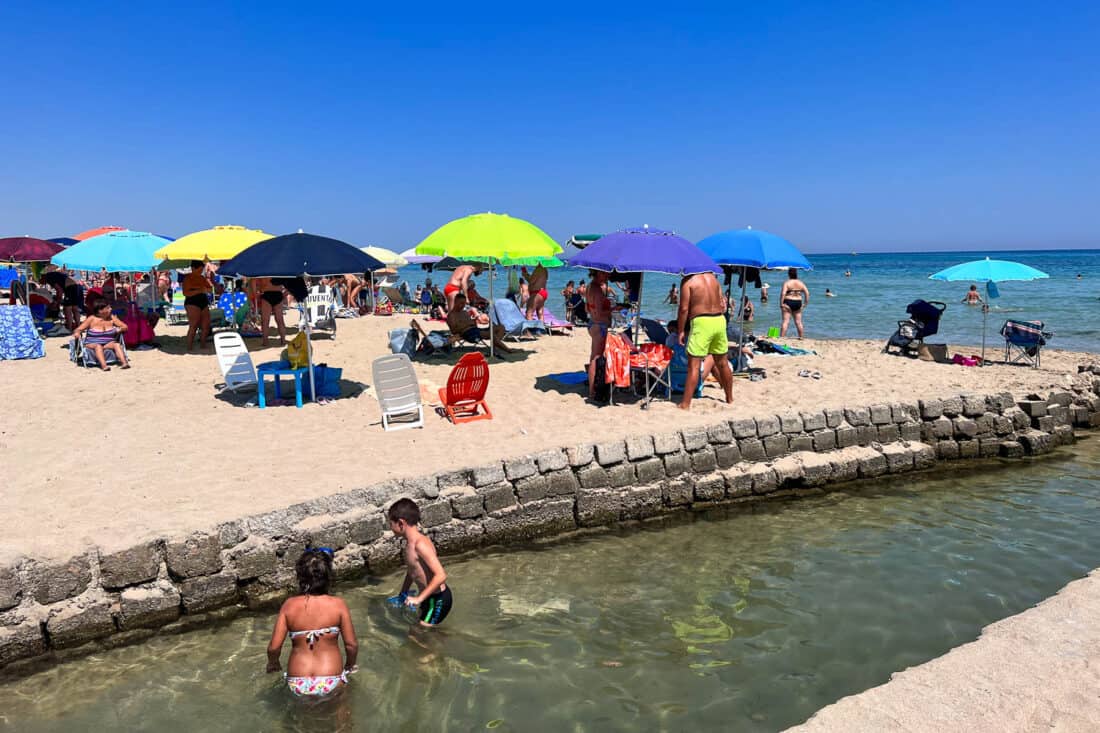 We set up our towel in the extensive free section to the right of it, but it was extremely busy and we couldn't stay long without any shade. We still enjoyed floating in the warm sea.
Another beach near Ostuni we wanted to visit is Torre Guaceto. This is supposed to be more unspoilt, but in July and August, you have to park in the northern car park and take a trolley bus to the beach (a 4-minute journey but queues can be long).
Best Beaches in Salento Puglia
The Salento Peninsula in the far south is the ultimate Puglia beach holiday destination.
You are never too far from one of the coasts. The Ionian Coast is flatter with shallow turquoise sea and the best sandy beaches in Puglia.
The Adriatic Coast has more striking scenery with sea cliffs, rocky beaches, and a deeper blue-green sea.
See our Salento Puglia travel guide for lots more tips on the area including untouristy towns to visit to escape the summer beach crowds.
5) Torre Lapillo, Porto Cesareo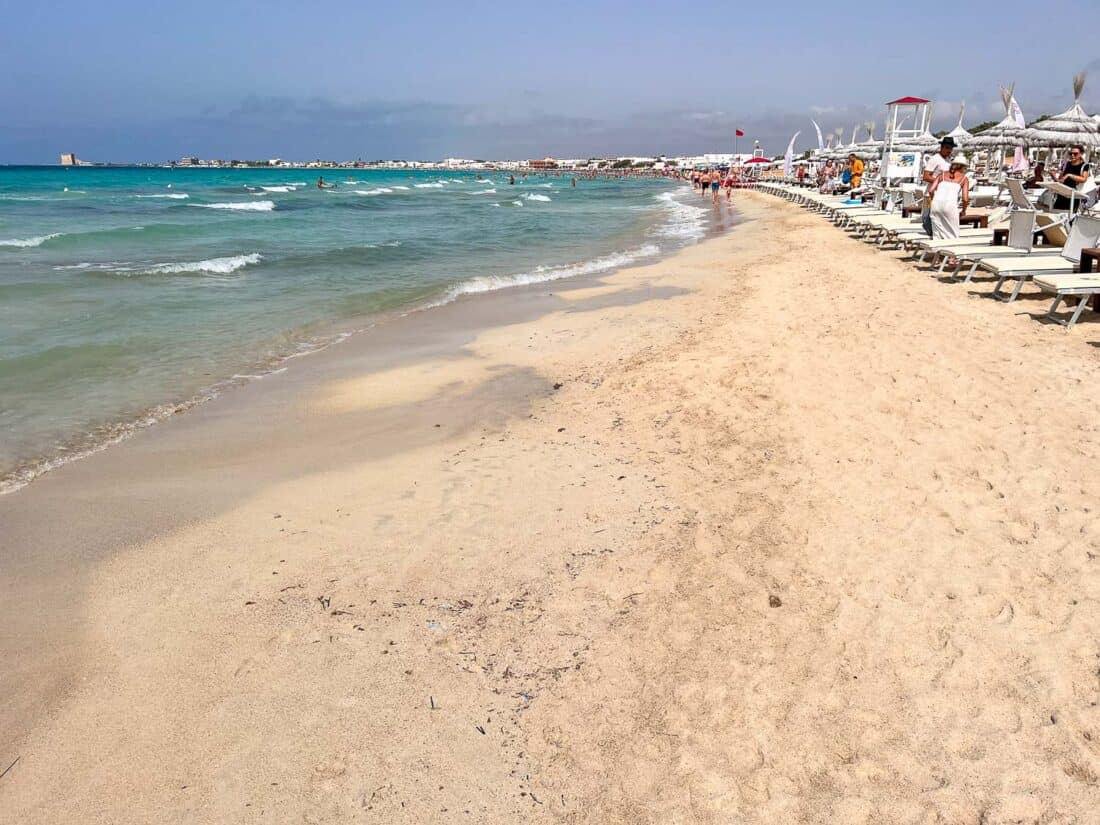 Porto Cesareo on the Ionian Coast is a popular destination with Italians for a Puglia beach holiday. The town itself doesn't have much of a beach, but just north you'll find beautiful Torre Lapillo and Punta Prosciutto.
We spent the day at Torre Lapillo, a 4km stretch of soft white sand between the towers of Torre Chianca and Torre Lapillo.
The aquamarine water is usually calm, but we visited on a windy, wavy day. The sea was still excellent for swimming, shallow enough to hang out in, but you don't have to go too far out to swim.
The northern end of Torre Lapillo is backed by the town and some holiday rentals and has a large stretch of free beach.
The southern half is backed by dunes and this is where you'll find the many beach clubs with free sections in between.
We visited in peak season—mid-August. We knew the free section would be busy (and it was packed even at 9am), and we couldn't get a spot at one of the cheaper lidos, so we splurged on the luxury beach club, Bahia del Sol Porto Cesareo.
The price tag was high (€220 for our Bahia Luxury package in the third row), but it was worth it for a relaxing day at the busiest time of year.
We had much more space than at the other lidos or free beach, and we were very comfortable with our padded sun loungers, umbrella, table and chairs, and trunk to store our gear.
On our package, we were able to use our fee as credit towards parking (€10), showers (€1 – yep, you have to pay extra!), towel rental (€12), and food and drink delivered to our seats.
This is what made the experience worthwhile as we could indulge with breakfast, drinks, lunch, and even a bottle of champagne.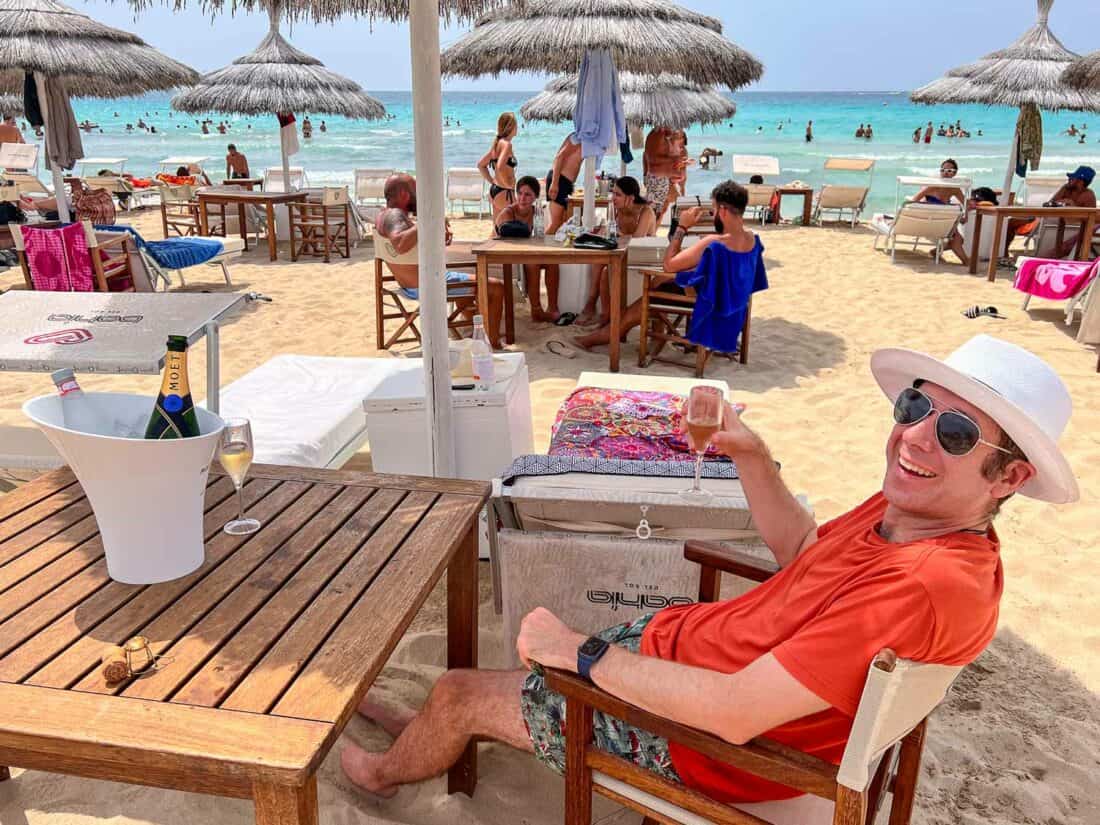 The price tag means that Bahia del Sol attracts more couples than families and we only saw one child.
There are a variety of packages depending on where you sit and what's included. You can book online on the Bahia Porto Cesareo website. They release bookings a week or two in advance and do sell out.
Although we could barely see the sand on our visit, I think in the off-season Torre Lapillo would be one of the most beautiful beaches in Puglia.
6) Porto Selvaggio, Nardò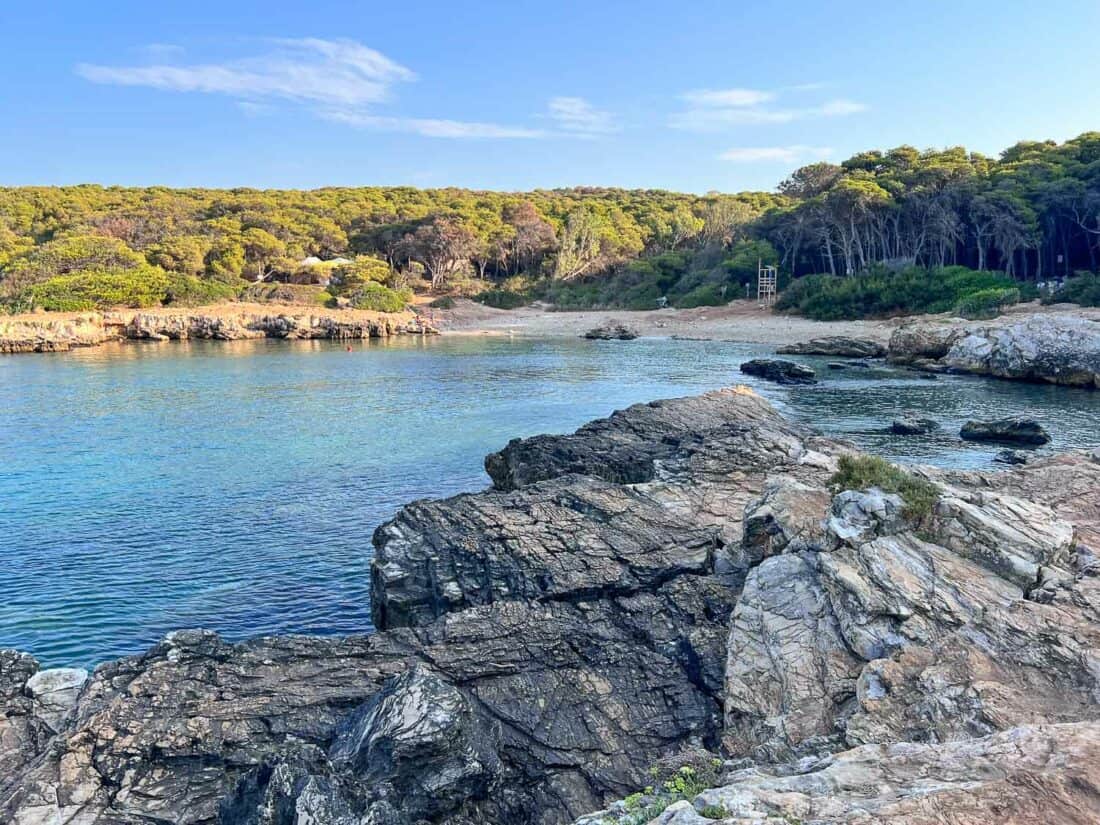 Unlike most of the beaches on the Ionian Coast, Porto Selvaggio is a small pebbly cove in a nature reserve.
There are no beach clubs and minimal facilities, but that's part of the attraction, as is the walk through the pine forest to get there.
Although you can still expect crowds in summer, Porto Selvaggio is worth visiting if you are looking for a more natural setting.
See our guide to Porto Selvaggio Beach for details on how to get there and what to expect.
7) Spiaggia della Purità, Gallipoli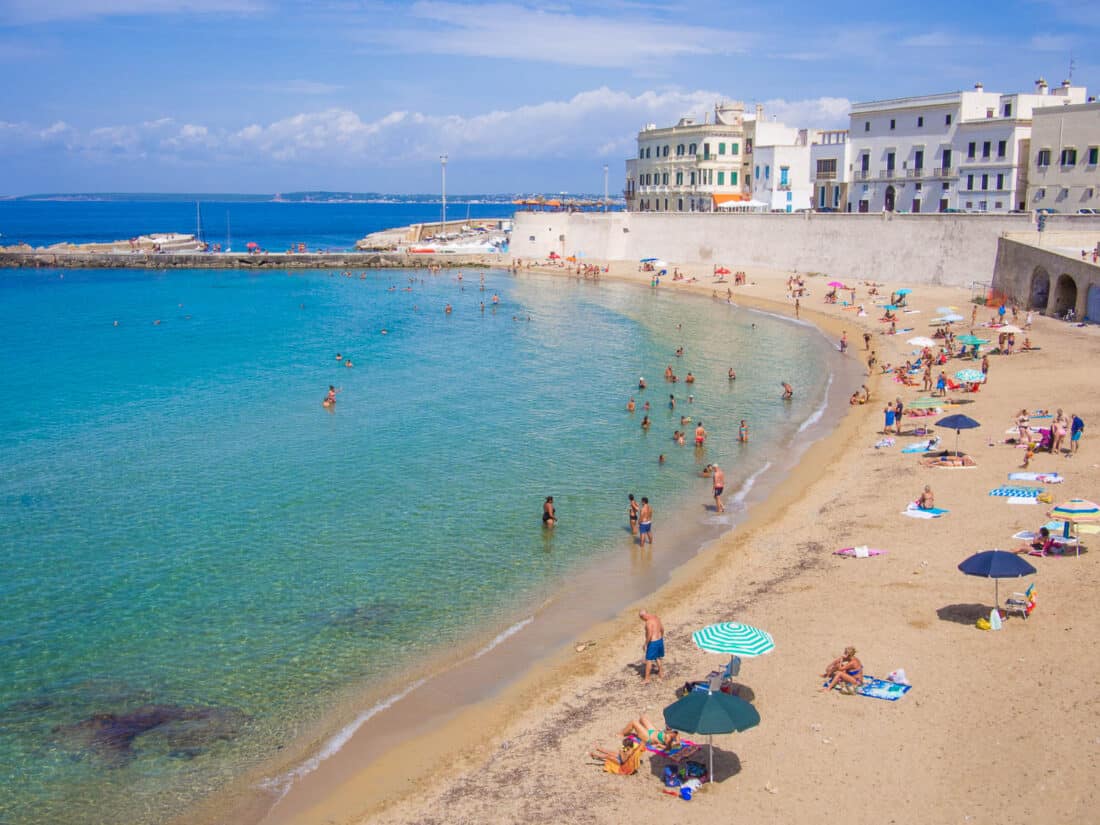 Spiaggia della Purità (Purity Beach) is a city beach in Gallipoli's old town. I wouldn't go out of your way to spend the day there, but if you are staying in Gallipoli, you can't beat the convenience.
The crescent of golden sand has a picturesque setting beneath the old town's walls and the shallow sea is calm and clear.
The whole beach is free, but you can usually rent umbrellas and chairs.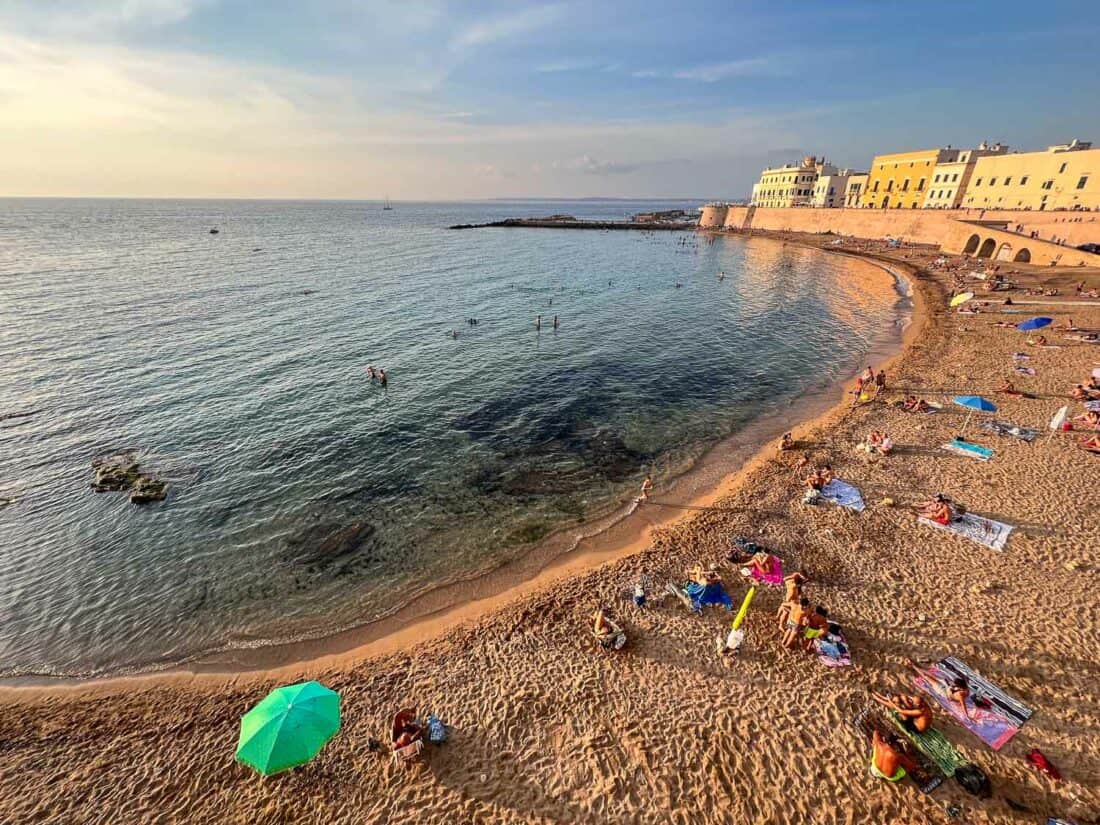 This is a beautiful spot to see the sunset, although we preferred to do so with a drink at one of the bars on the city walls overlooking the beach.
8) Punta Pizzo, Gallipoli
Just south of Gallipoli is a string of popular beaches. Baia Verde is the most famous, especially with young people, and is often compared to Ibiza for its summer beach parties and nightclubs.
If, like us, you're looking for a quieter experience, keep going south to Punta Pizzo, which has a more peaceful setting in a nature reserve of dunes and pine forest.
Of course, this is Italy, and just because it's a protected area, doesn't mean you are free of beach clubs.
Lido Pizzo takes up about half of the beach, but don't expect to get a sun lounger. Season passes seem popular here because it was fully booked for all of August, despite most of the chairs being empty.
We parked at the Lido Pizzo car park (€6 cash), but unfortunately, it doesn't open until 9am so we couldn't get an early start. We also had to queue in a line of cars for 10 minutes to get in.
From the car park, it's a 10-minute walk past the rows of sun beds to the free beach. Compared to other beaches we visited in the area, the free section stayed quieter for longer.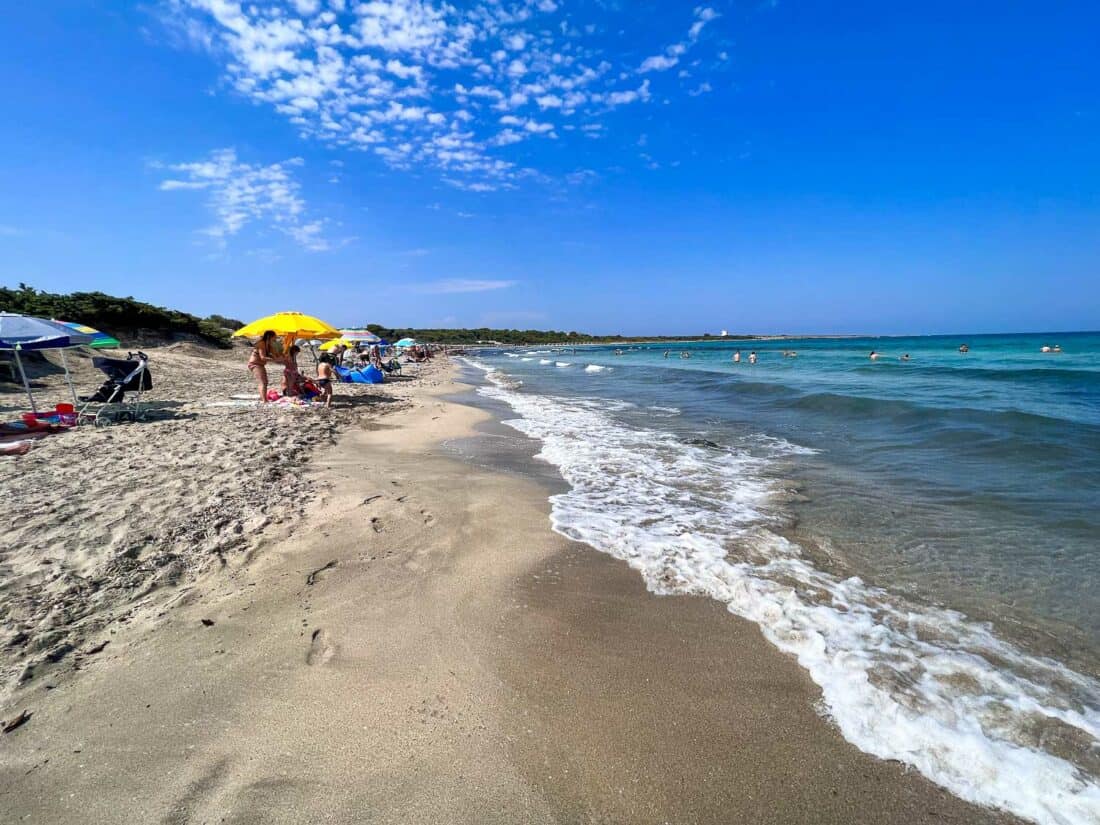 Unfortunately, we found Punta Pizzo a bit disappointing because of the huge amounts of seaweed that washed up on shore and turned the sea an unappealing brown.
We were actually glad we hadn't managed to book a sun lounger, as we were able to choose a spot that was clearest and enjoyed swimming in the lovely blue sea.
Overall, we preferred Torre Lapillo and the beaches further south, but perhaps we were unlucky with the seaweed.
Another option at the other end of Punta Pizzo is Punta della Suina, a mix of small sandy and rocky coves that is supposed to be very pretty.
9) Torre San Giovanni, Ugento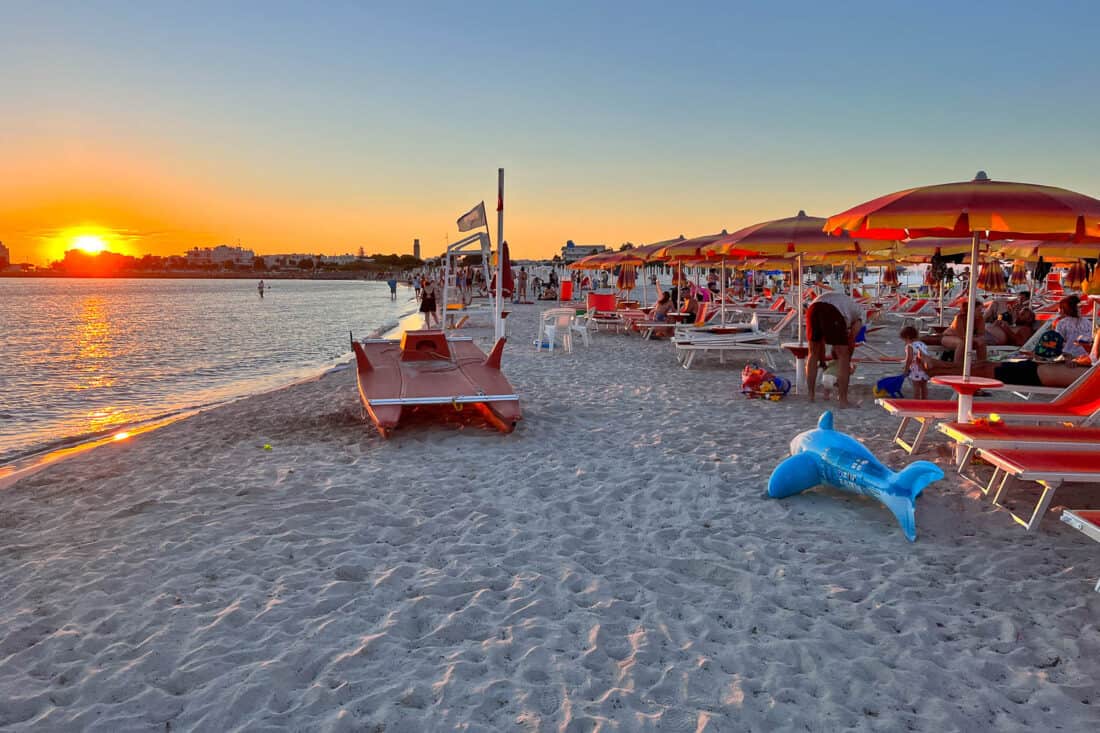 Torre San Giovanni is another of Salento's rather nondescript beach towns. It's not an unpleasant place, but it lacks a historic centre and the charm of towns like Gallipoli and Castro.
In the centre of town the beach is rocky, but just south is one of the best beaches in Salento. This long stretch of fine white sand is an excellent option for a beach day.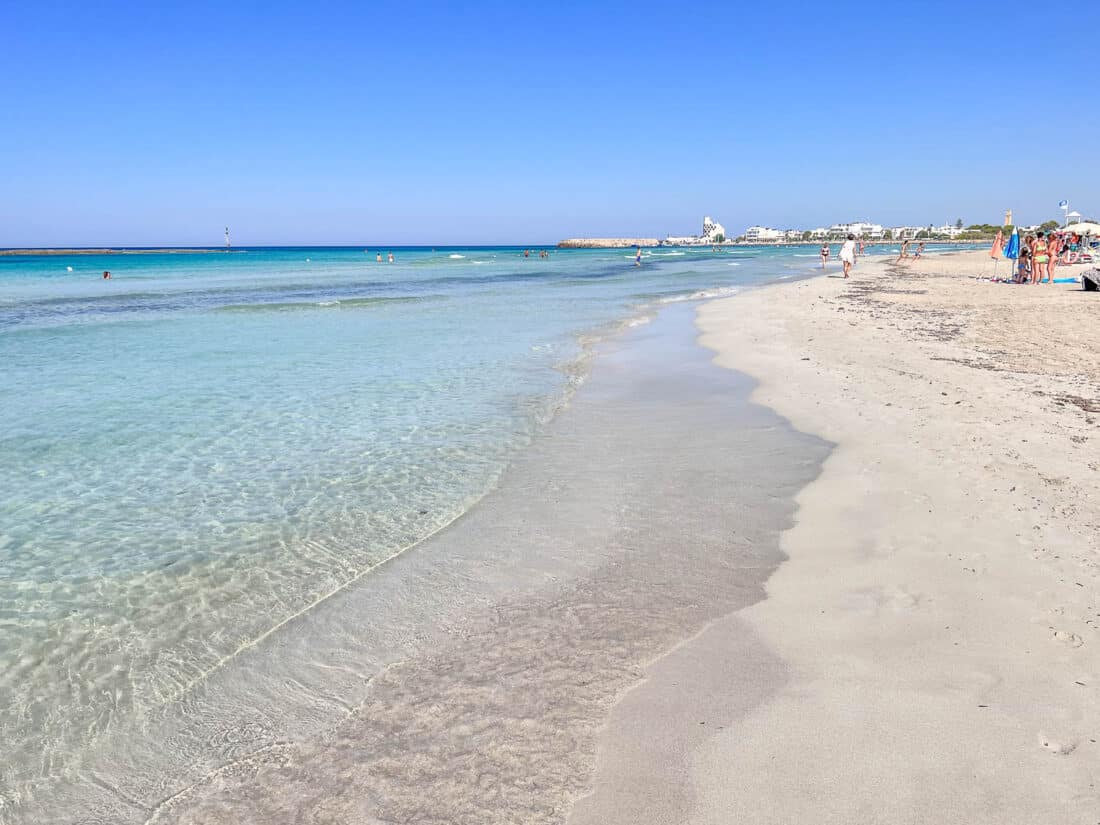 Numerous beach clubs dominate the beach with free sections in-between.
We usually park at the first one, Lido Oasis Degli Angeli (they charged us €4 for two hours), and walk down to find a quieter free spot. We like the area backed by dunes just before Lido Isola Beach.
We found Torre San Giovanni quieter than more well-known beaches like Torre Lapillo and Spiaggia di Pescoluse, but it has that same crystal clear turquoise sea.
It's even shallower here, which is great for kids, although you have to walk quite far out to swim.
After your beach day, the promenade in the centre of town is a pleasant place for an evening stroll.
We enjoyed aperitivo at Vespera Bar right on the water with perfect sunset views. Across the road, A Puccia Salentina has affordable and tasty pizza and puccia (sandwiches).
10) Pescoluse Beach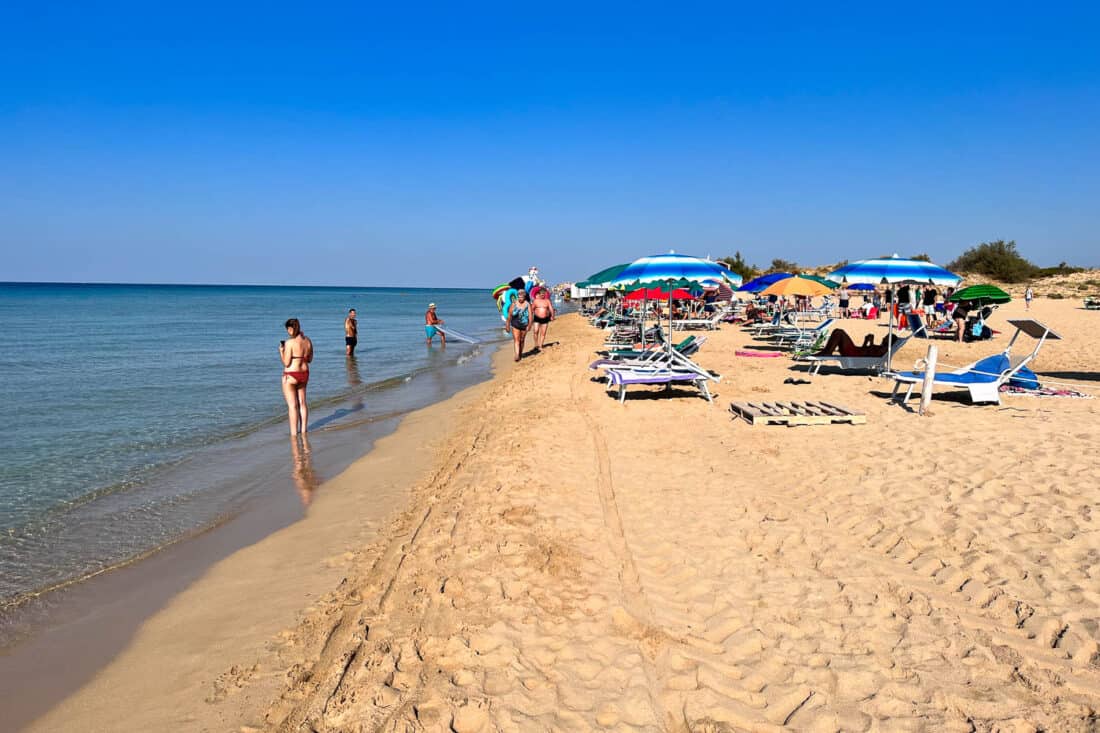 The beach in Marina di Pescoluse is one of the most famous beaches in Salento, quite possibly because of its nickname, the Maldives of Salento.
And yes, it does have that wonderful transparent aquamarine sea, but honestly, no more so than many of the beaches on the Ionian Coast.
It's still a beautiful beach with soft golden sand and dunes that make it feel further from the town than it is.
Arriving early, parking was easy on the street (€4 all day from the machine) outside Martinucci Pescoluse (which disappointingly didn't open until 4pm), but it was full when we left at 11am.
It's a short walk onto the beach from the road.
Pescoluse Beach is very popular, and even at 8.30am in August, there were plenty of people around. By 10am it was way too busy for us.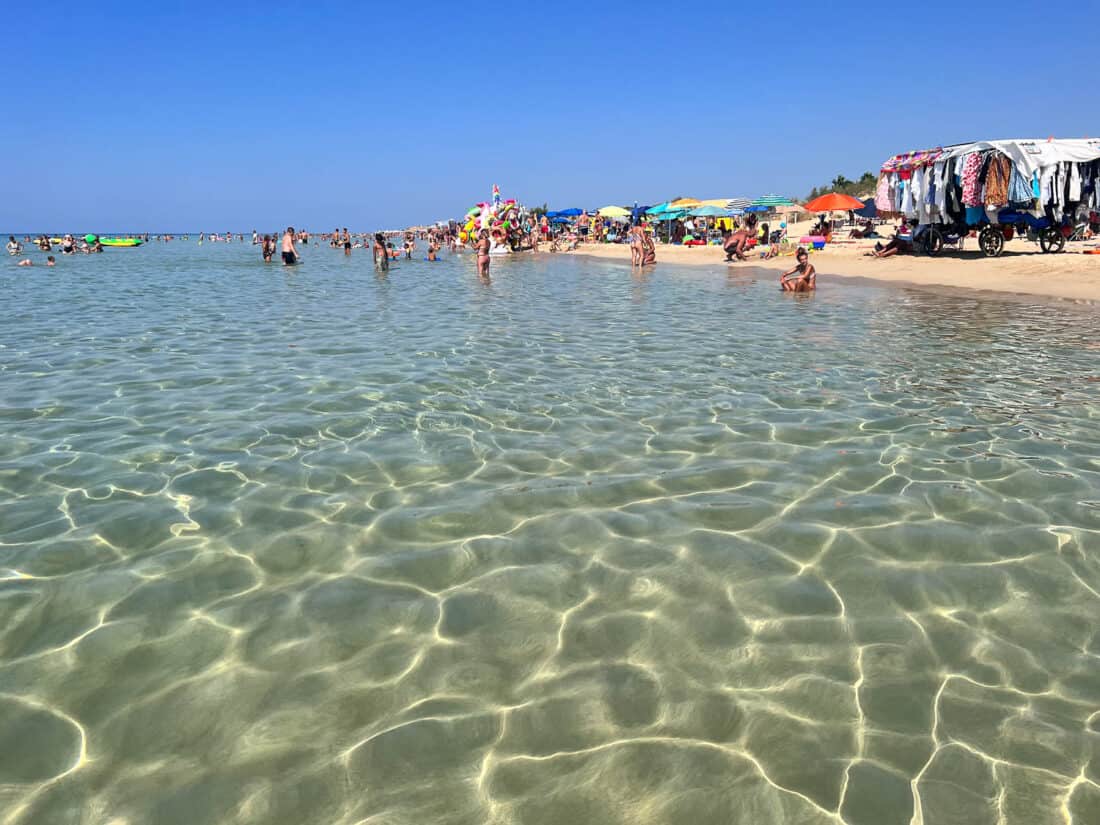 One of the advantages of Pescoluse is that most of the beach is free with only a few lidos at the far end (including fancy Le Cinque Vere).
There were informal vendors renting sun beds and umbrellas (€18), though, and we were able to get a front-row spot by walking further down.
There is also a place to rent pedalos, and mobile vendors sell inflatables and beach wear.
If you'd prefer a lido, we passed plenty just outside town (between Torre Pali and Pescoluse) such as Seychelles del Salento. They all seemed to charge €20 for two sun loungers, an umbrella, and parking, which is as cheap as it gets.
11) Il Ciolo, Gagliano del Capo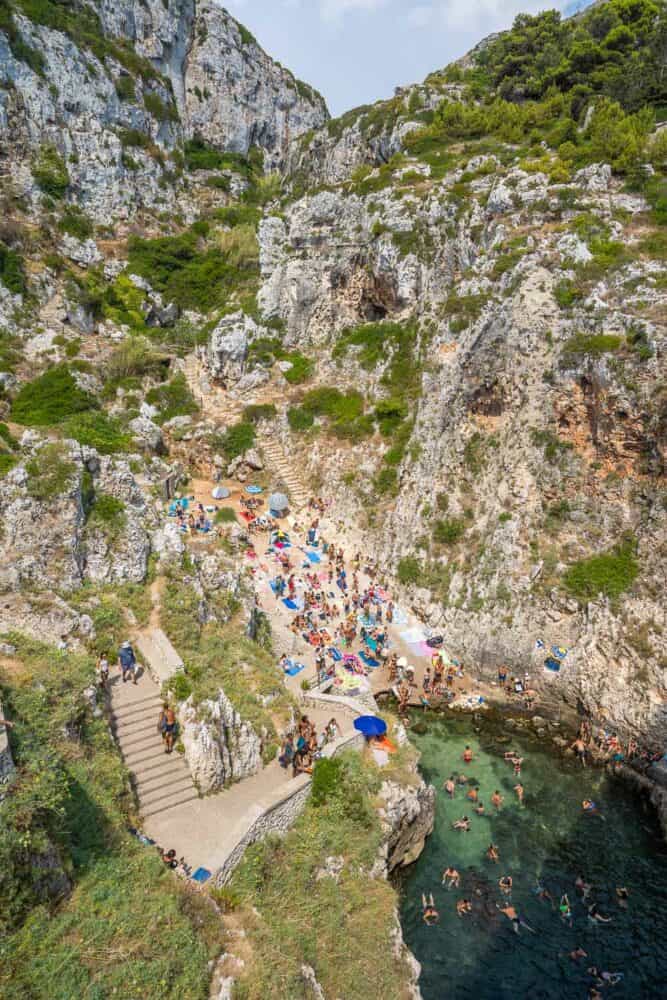 Moving on to the Adriatic Coast past Puglia's southernmost tip, the long sandy beaches are gone for now, but the coastline is still beautiful.
One of Puglia's most stunning drives is the coastal route from Santa Maria di Leuca up to Otranto.
There are some lovely stops on the way and one of the best for a swim is Il Ciolo.
This tiny rocky cove has a spectacular location in a ravine beneath a bridge and limestone cliffs with crystal-clear green water.
Some local kids climb up the rocks to make scarily high jumps into the water.
A few cafes serve food and drinks nearby, and there are hiking trails along the coast. Parking is free on the road, but it fills up.
Il Ciolo is best enjoyed early or in off-season. In August, it was packed.
12) Castro Marina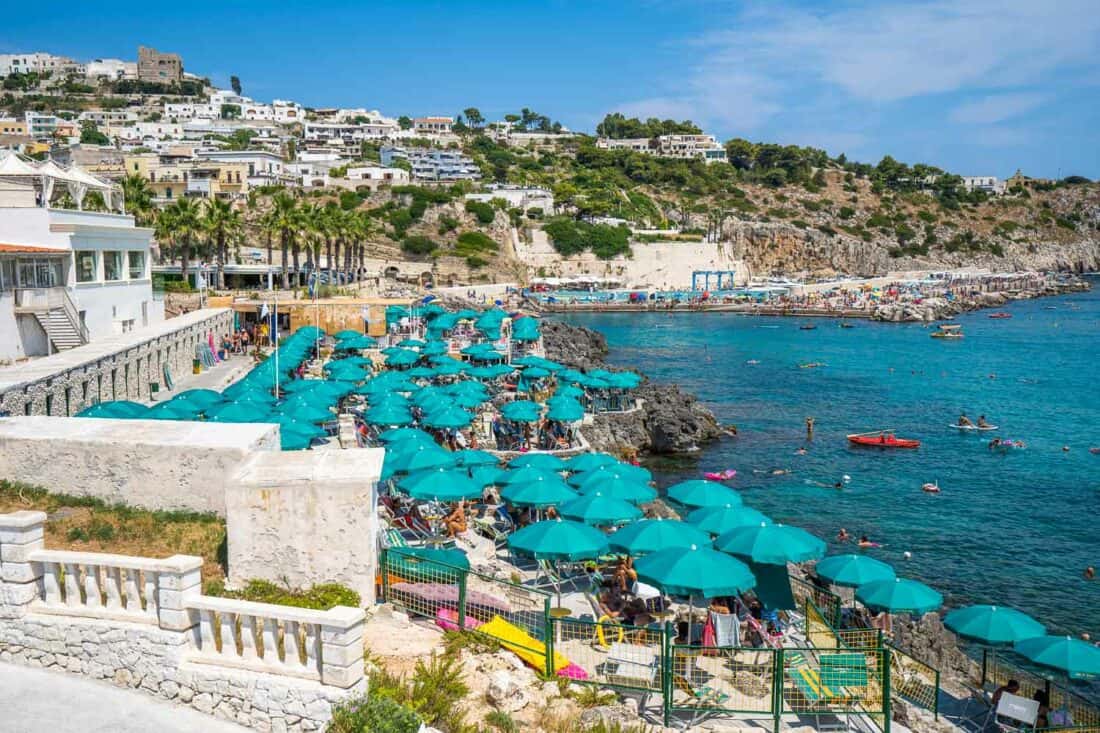 Castro Marina doesn't have a real beach, but the rocks of this pretty bay are a popular spot for sunbathing and swimming, and lidos manage to squeeze deck chairs onto the rocky platforms.
We loved swimming in the crystalline water with the view of Castro's castle above. There's decent snorkelling, too.
Castro is one of my favourite coastal towns in Puglia but is often overlooked. See my Castro Italy travel guide for more details.
13) Otranto Beach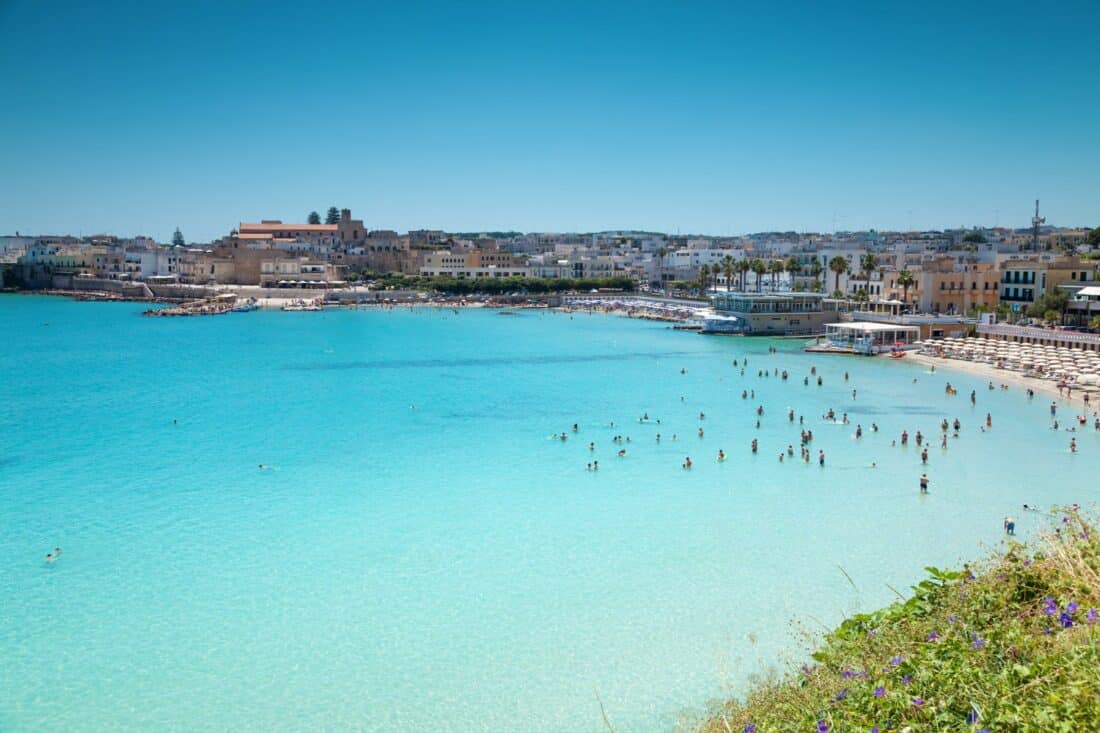 From Otranto north, the beaches become sandy again.
Like Gallipoli's beach, the free beach in the centre of Otranto has the benefit of convenience as you can combine a dip in the turquoise sea with wandering the beautiful old town.
Out of season, the beach is quiet, but it fills up with umbrellas in summer.
For some of the best beaches in Puglia, you are better off driving north to Alimini Beach, Baia dei Turchi and Torre dell'Orso.
14) Torre dell'Orso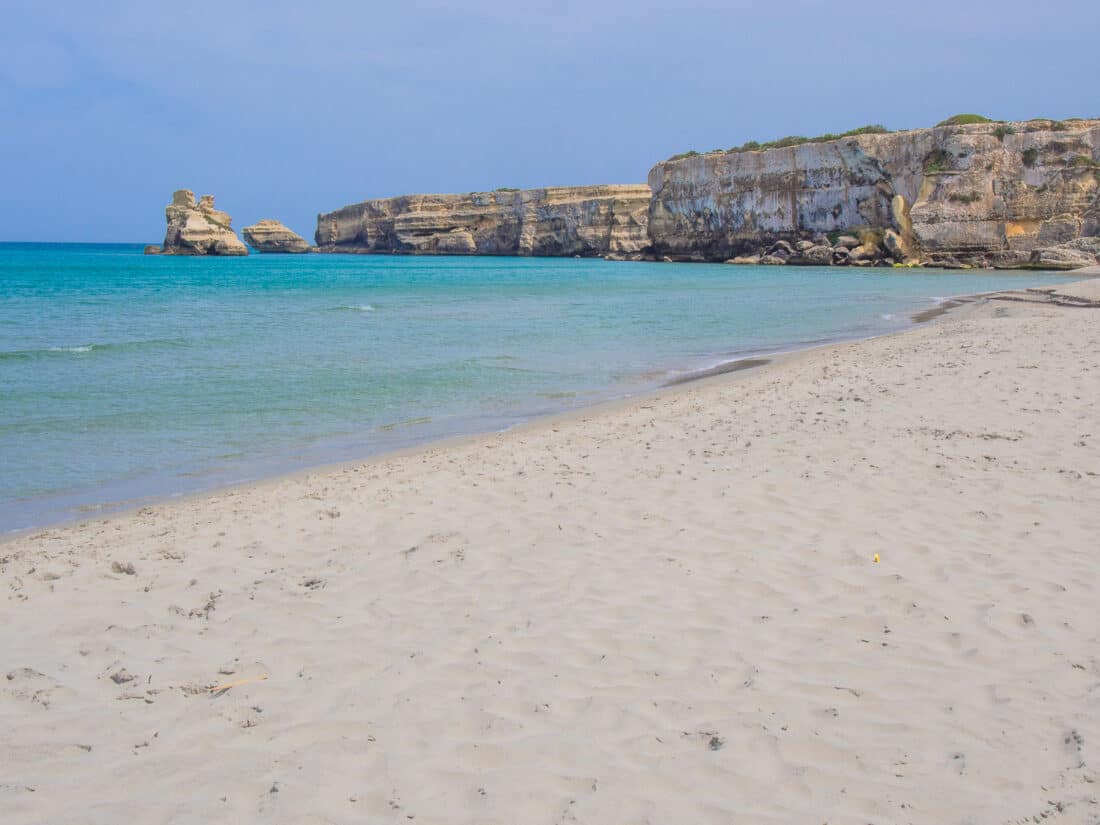 20 minutes north of Otranto is Torre dell'Orso, a 1km crescent of powdery white sand with gorgeous turquoise sea.
It's in a modern beach town with scenic cliffs and rock formations at the southern end including the iconic sea stacks, Le Due Sorelle (The Two Sisters).
There's a mix of public beach and lidos, and like all Salento beaches has a very different feel in the quieter months.
When we visited in early May, the sand was mostly empty with just a few beds for rent. In summer at this popular beach, the umbrellas dominate.
15) Grotta della Poesia (Cave of Poetry)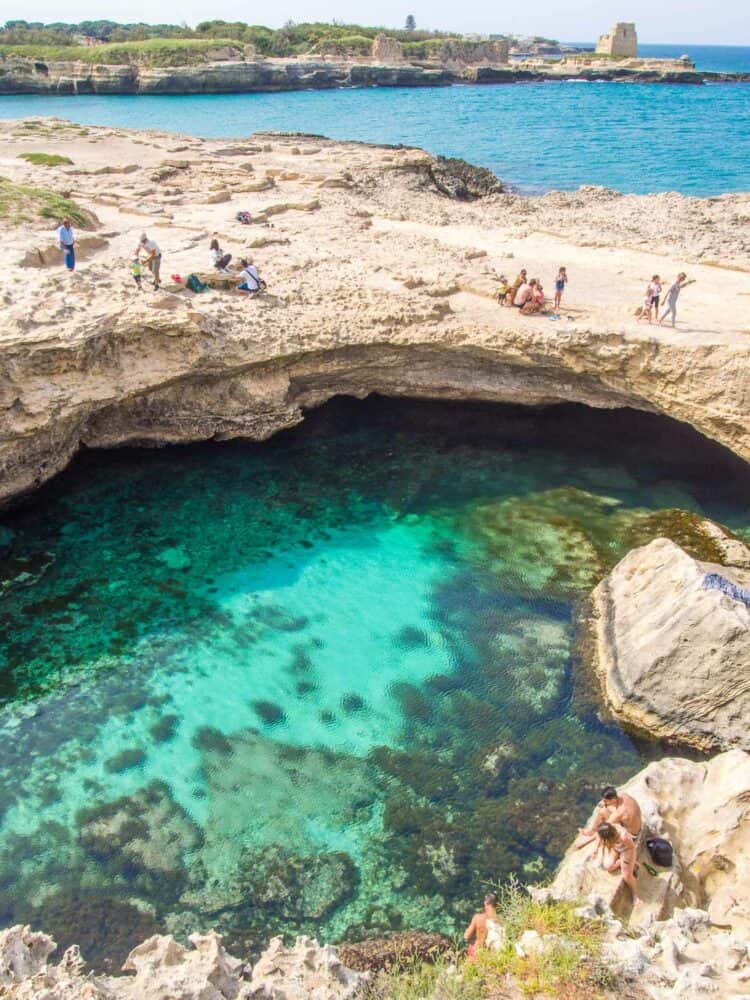 Just north of Torre dell'Orso is a popular swimming spot, the Grotta della Poesia or Cave of Poetry.
Legend has it that a beautiful princess used to bathe in the waters and poets came from all over the land to write about her, hence its name.
This natural swimming pool is in a hole in the limestone rock with inviting clear water and caves to swim through.
There are slippery steps carved into the rock to reach the water, or of course, you could jump in. Sea shoes would be useful.
In summer, many people sunbathe on the rocks surrounding the pool. There's no shade.
Entrance to Grotta della Poesia costs €3 and includes the archaeological site across the road. Parking is €1.80 an hour.
Best Puglia Beaches in Gargano
The Gargano Peninsula in the north of Puglia is often overlooked by international visitors, although it's a popular summer destination for Italians.
It has some of the best beaches in Puglia from long sandy stretches like those between Vieste and Peschici to pebble beaches under dramatic cliffs further south.
Our guide to Gargano Italy has more tips.
16) Spiaggia del Castello, Vieste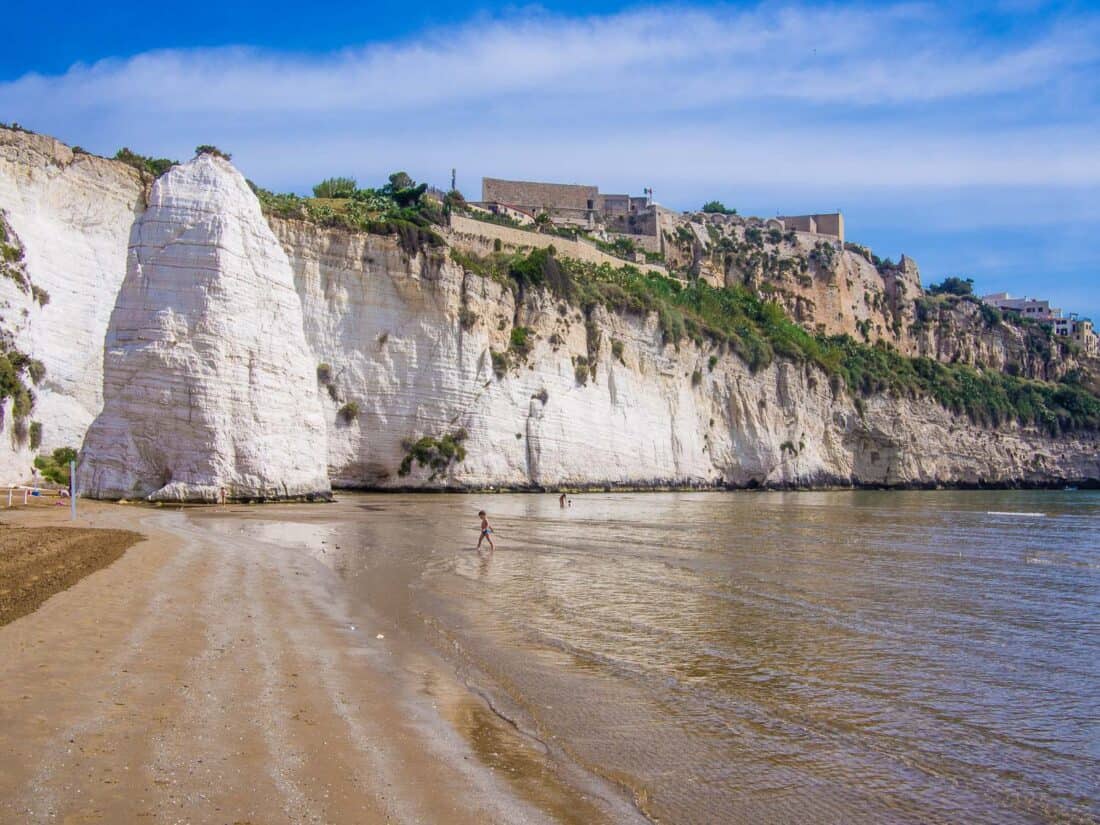 Spiaggia del Castello (Castle Beach) is south of Vieste and within walking distance of the centre of town.
Vieste makes a good base for exploring the Gargano peninsula so it's convenient to have a good beach so close.
Castle Beach is also known as Scialara Beach or Pizzomunno Beach after the towering white rock at the end. There's a wonderful view of the white cliffs that Vieste is built upon and the walls of the old town.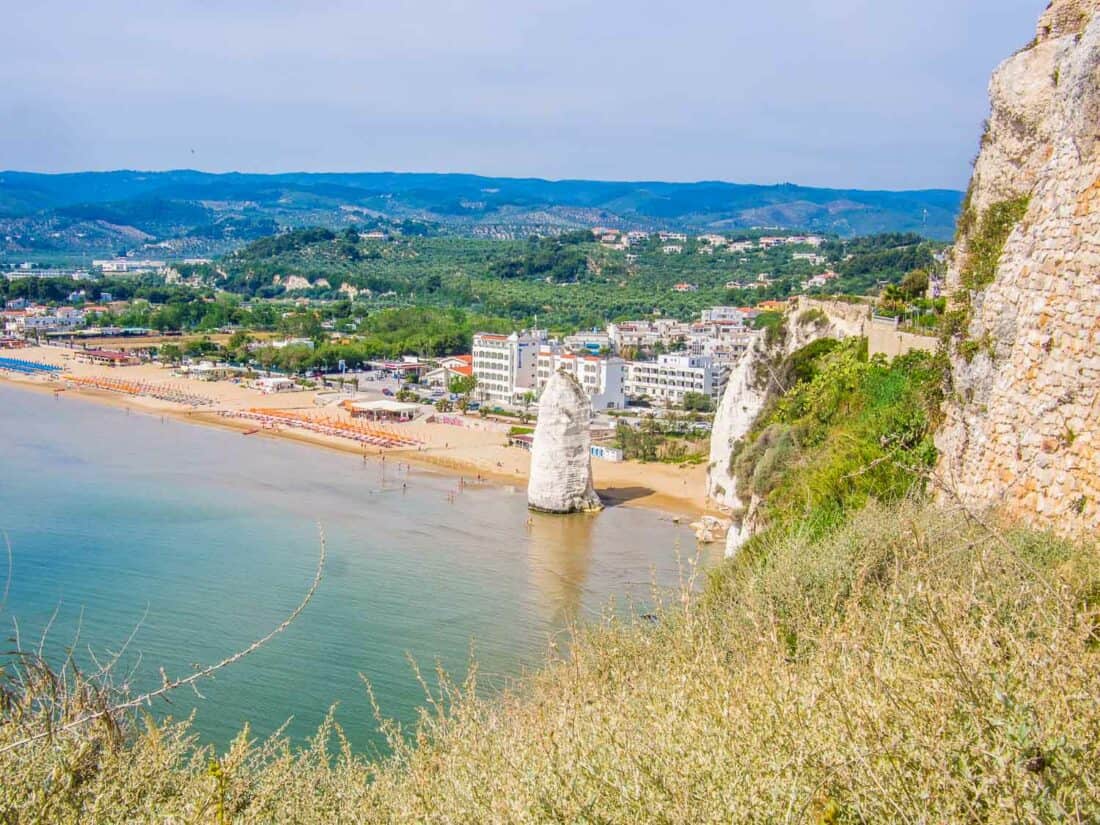 The golden sandy beach is 3km long and the sand is fairly firm, so it's good for walking or running.
There are many lidos with sun loungers to rent or either end of the beach has large free sections. The sea is calm and it's popular with families.
See our Vieste Italy travel guide for more details on this area.
17) Baia delle Zagare, Mattinata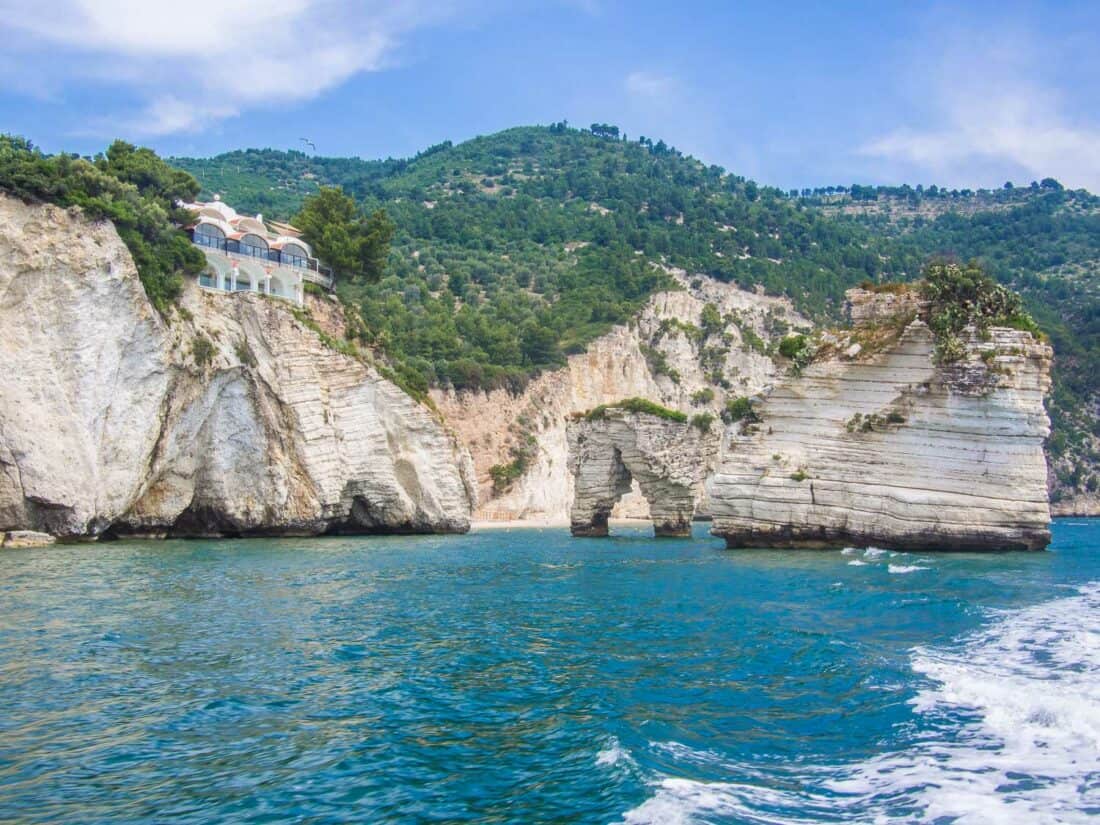 Baia delle Zagare is considered one of the most beautiful beaches in Puglia with its dramatic white cliffs and sea stacks.
It's not the easiest beach to reach, though. We saw it on a boat trip from Vieste, but the tour didn't include a stop at the beach.
To spend time at the beach, the easiest access is to stay at one of the hotels that have elevators down to the pebbly cove.
There is a free section of the beach, but the entrance is hard to find and will involve a hike.
On our boat trip, I thought the previous beach, Baia di Vignanotica, looked even more appealing. It's also located under white cliffs and will involve a walk down.
Best Beaches in Puglia Map
Final Thoughts on Puglia Beaches
As you can see there are many beautiful beaches in Puglia whether you are looking for a lazy day on a long stretch of sand or a quick dip in a scenic coastal town.
My biggest advice is to manage your expectations. If you visit in July and August, Italy's beaches will be extremely crowded and there's no way to avoid it unless you arrive at sunrise.
It's best to embrace it and try to enjoy the lively beach atmosphere.
If crowded beaches are definitely not for you, visit in the shoulder months of May and October when the lidos pack up and you'll find empty stretches of sand again.
More Puglia Posts
Salento
Elsewhere in Puglia
If you enjoyed this post, pin for later!