This page contains affiliate links. Please read our disclosure for more info.
Porto Selvaggio is one of the most popular beaches on the Salento Peninsula of Puglia. It's very different from the long stretches of white sand that the region is known for.
Porto Selvaggio Beach is part of the nature reserve, Parco Naturale Regionale di Porto Selvaggio. To reach the rocky beach and crystal clear sea, you have to walk through the pine forest.
This area is much less developed than most of the Salento coastline with no lidos (beach clubs) and minimal facilities.
It's perfect if you want to enjoy a beach in a more natural setting and swim, snorkel, kayak, and hike.
In this post, I explain how to get to Porto Selvaggio Beach, what to expect, and other tips to make the most of your visit.
Contents
How to Get to Porto Selvaggio Beach
Porto Selvaggio (which translates as Wild Port) is located in Puglia in southern Italy. The nearest major town is Nardò, a 10-minute drive inland.
It's on the Ionian Coast with Gallipoli 20 minutes south of Porto Selvaggio and Porto Cesareo 20 minutes north.
Lecce, the main city in the Salento, is 30 minutes northeast.
Public transport is limited. In summer (mid-June to early September), it is possible to reach Porto Selvaggio on bus 104 which runs from Lecce to Gallipoli via Porto Cesareo. Get off at the Ristorante Casablanca bus stop on SP286, which is close to the hiking trail to the beach.
The bus only runs every few hours, so I recommend driving to the beach if possible. See below for where to park.
My Salento Italy travel guide has more details on reaching the region.
Porto Selvaggio Parking
There are several access points to the Porto Selvaggio nature reserve and it can be confusing knowing where to park.
For the shortest walk to Porto Selvaggio Beach, you want to park near the Villa Tafuri entrance on the SP286 road which runs north to Porto Cesareo.
On Google Maps (see our map below), look for "Parcheggio più vicino alla spiaggia di Porto Selvaggio" (nearest parking to Porto Selvaggio Beach). This is a private parking lot in a field that charges €5 a day and is open from 8am – 7pm in summer (hours may vary).
When we arrived at 7.15am, the parking lot was closed, so we parked down the unpaved side street across the road. This is free, but there are only a few spots. Walk over the pedestrian crossing to get to the park entrance.
Do not park on the shoulder of the SP286 as this is not allowed and we saw someone get a parking ticket.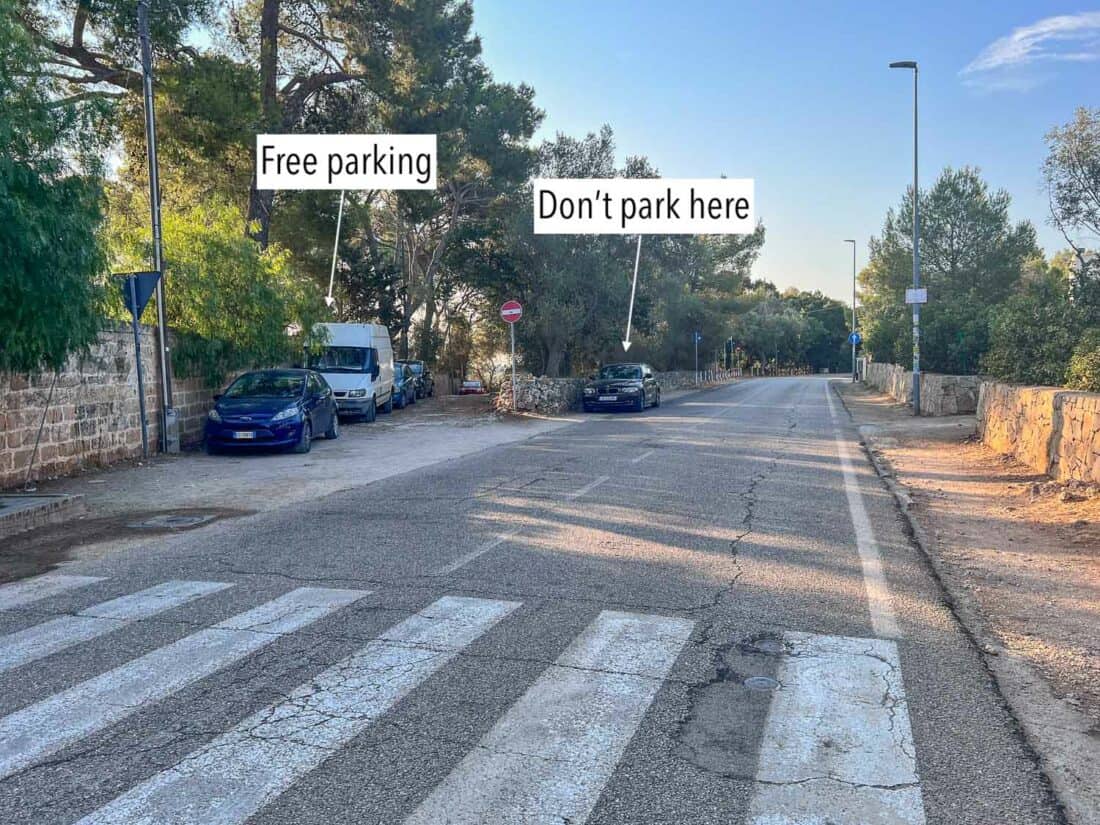 The Villa Tafuri entrance to the park is next to the parking lot and it's an easy 0.75km walk to the beach. It took us 10 minutes on the rocky path through the pine trees.
Around halfway down follow the sign pointing left for "Spiaggia" (Beach).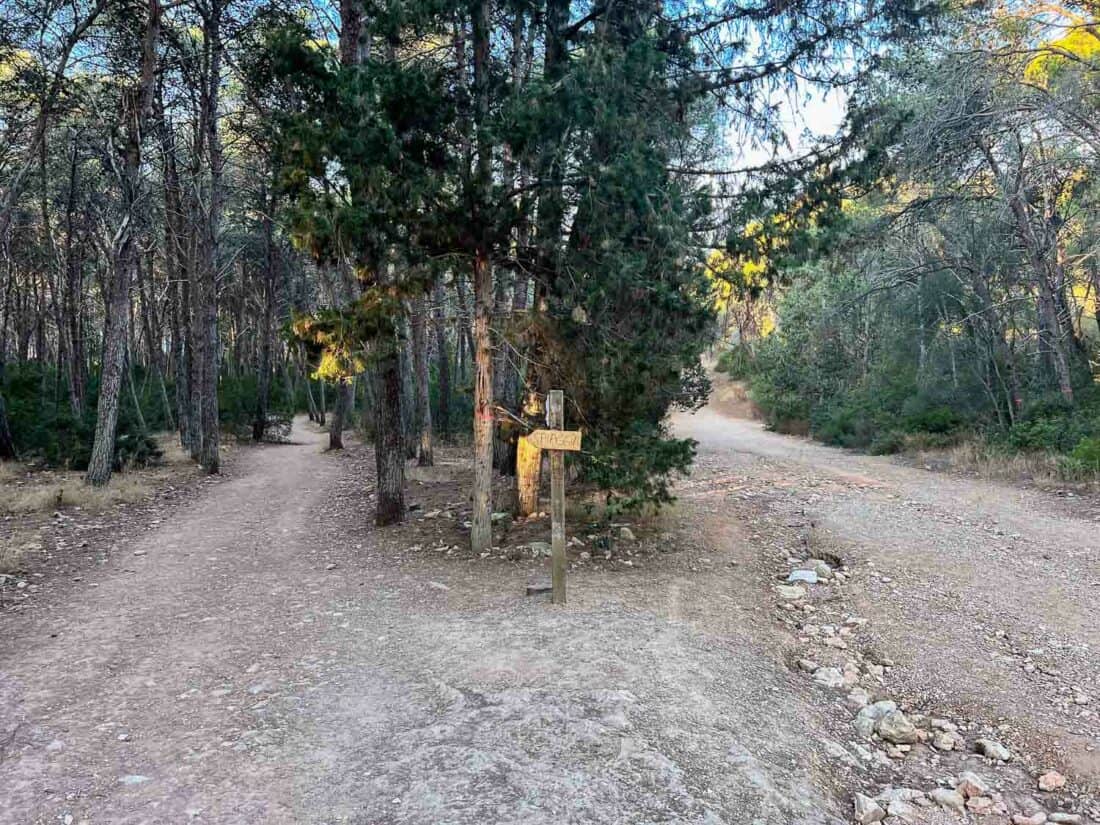 Decent shoes (not flip-flops) are best for the walk. Our Teva hiking sandals were fine. It's a bit harder on the way back as you'll be walking uphill.
If the parking lot is full, there's another one a few hundred metres further along the road (towards Porto Cesareo). It's marked on Google Maps as "Parcheggio Porto Selvaggio con sentiero veloce per il mare".
Alternatively, you can access Porto Selvaggio from the Torre Uluzzo entrance, where there's coin machine parking. It's a 1.7km walk to the beach from here—allow around 40 minutes each way.
Entrance to Parco Regionale Porto Selvaggio is free.
What to Expect at Porto Selvaggio Beach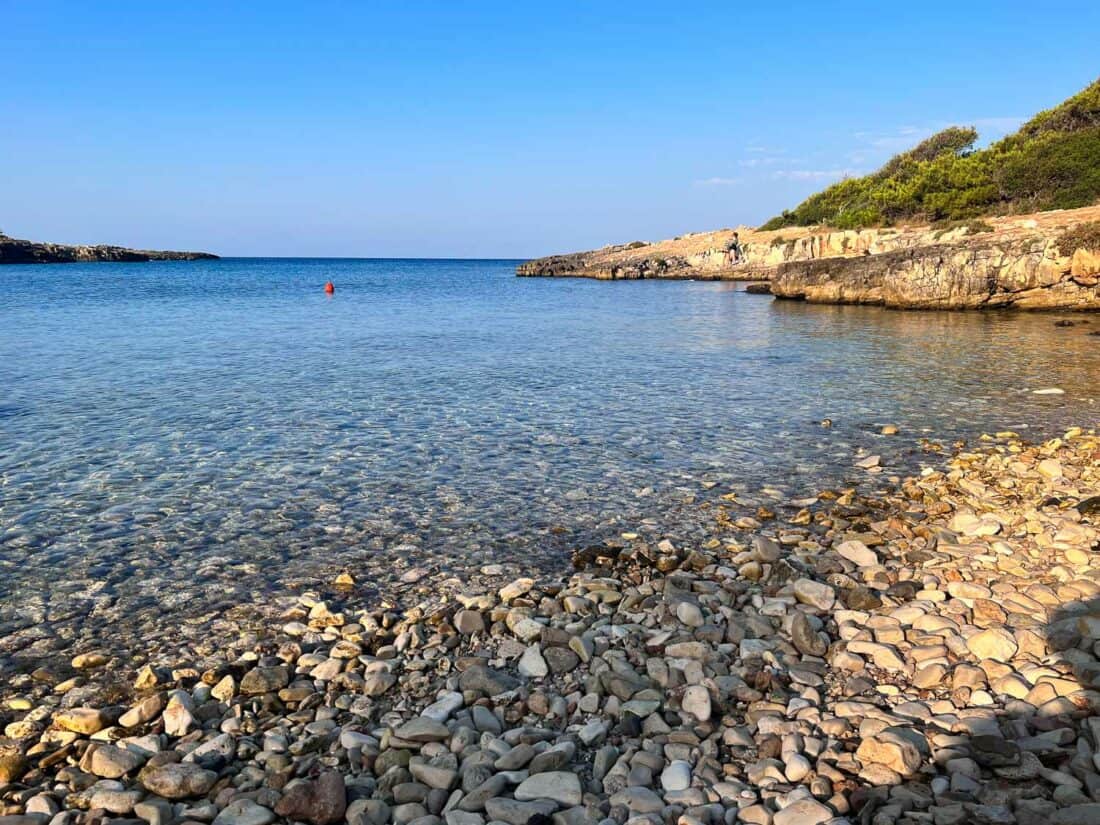 The trail through the pine forest will lead you to a bay where you'll find Spiaggia della Sorgente (also known as Spiaggia di Porto Selvaggio/ Porto Selvaggio Beach), the main beach in the park.
The pebble beach is small and fills up in summer. It's the easiest place to get into the crystal-clear water (unless you want to jump off the rocks).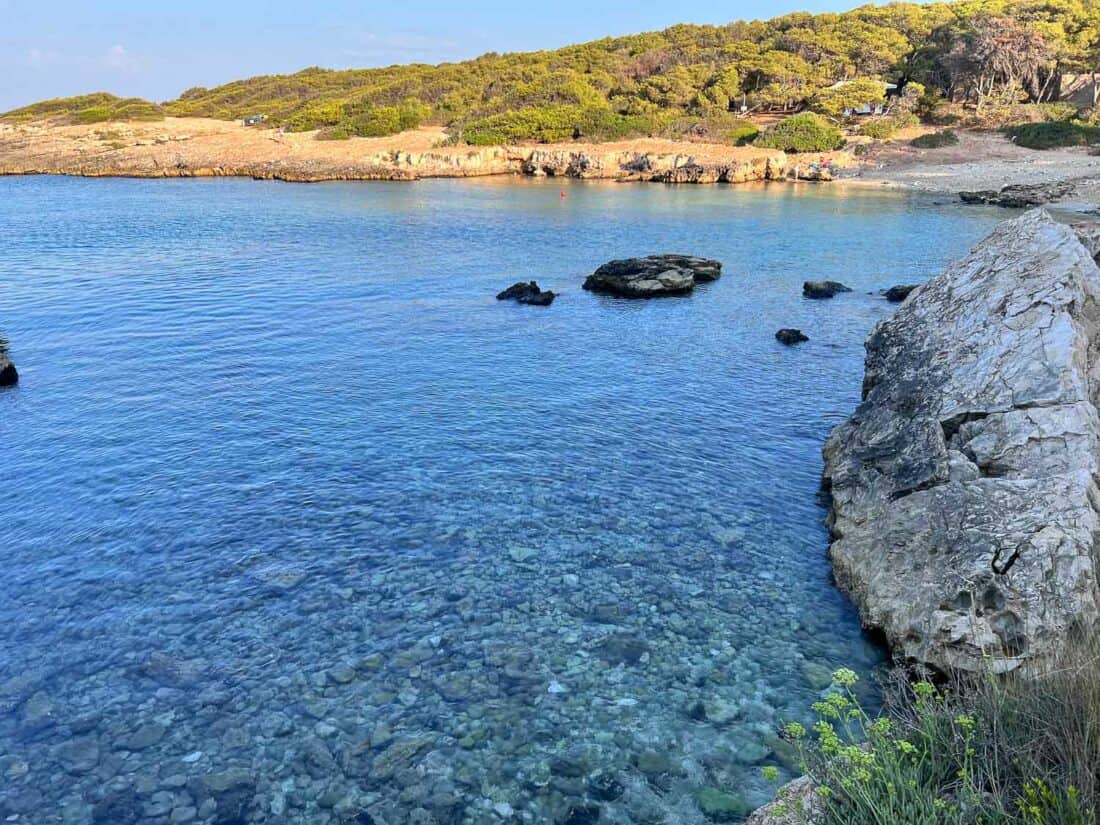 Water shoes would make access easier, but I managed on the pebbles without.
The aquamarine water is very inviting, but it is colder than other beaches in the area as fresh water enters the bay.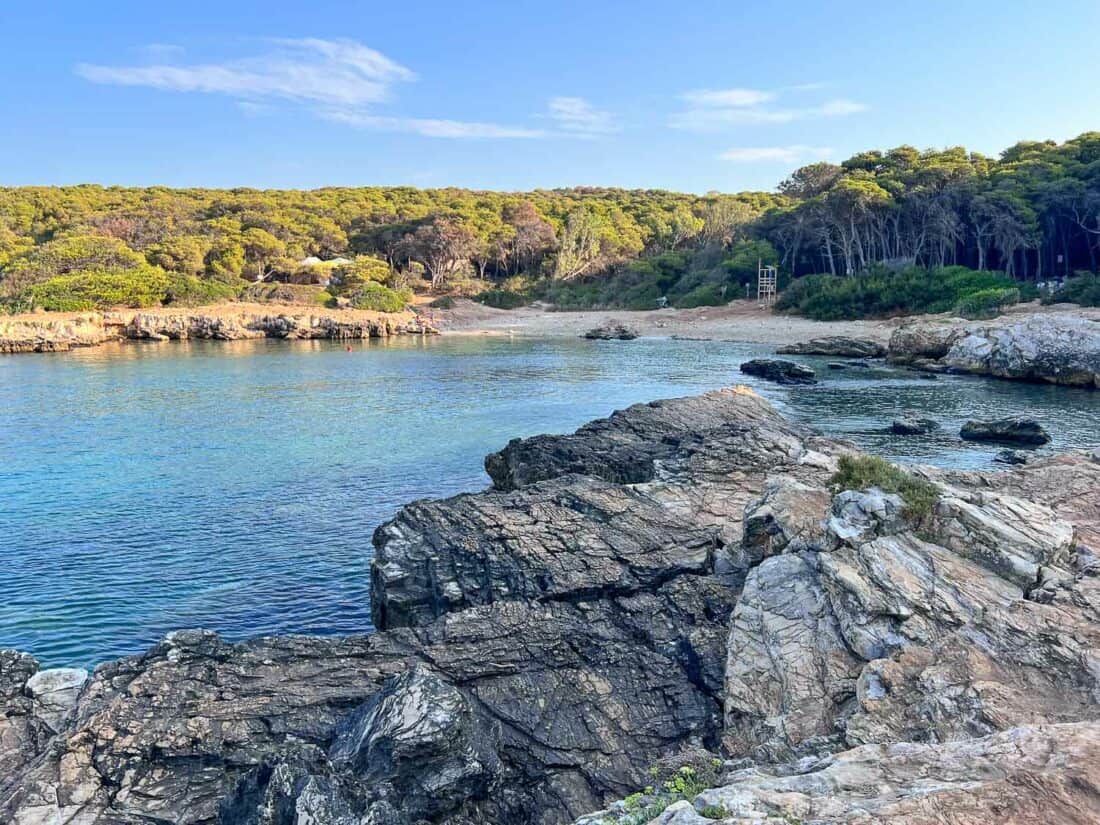 I headed in with my snorkel and saw plenty of fish.
The rugged coast is also dotted with caves carved into the limestone.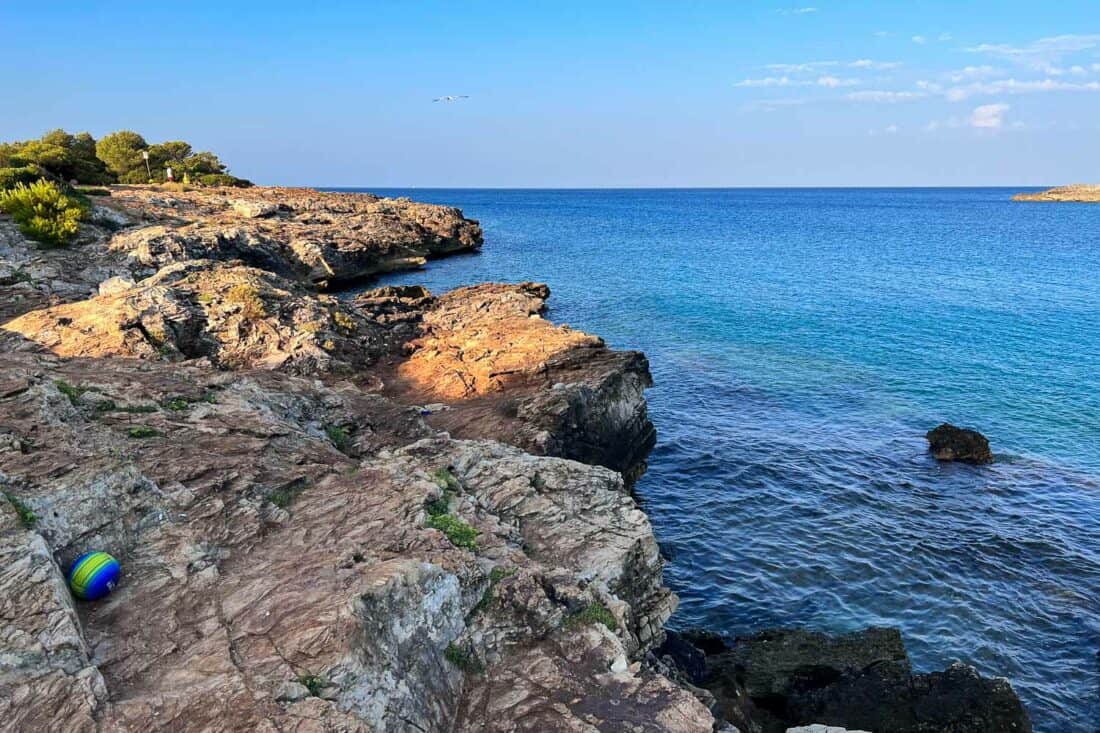 Unlike at most Salento beaches, there are no sun lounger rentals. You'll want to bring your own umbrella if you plan to stay all day as shade is limited unless you hide in the pines.
The only facilities at Porto Selvaggio Beach are a portable toilet, picnic tables amongst the pines, and a basic snack stand serving sandwiches and pizza slices (summer only).
Although this is a protected nature reserve, don't expect a wilderness experience at the main beach—Porto Selvaggio is extremely busy in July and August.
We arrived at 7.30am on a weekday in August and there were only a few others around, but it started filling up after 8am. Afternoons will be packed.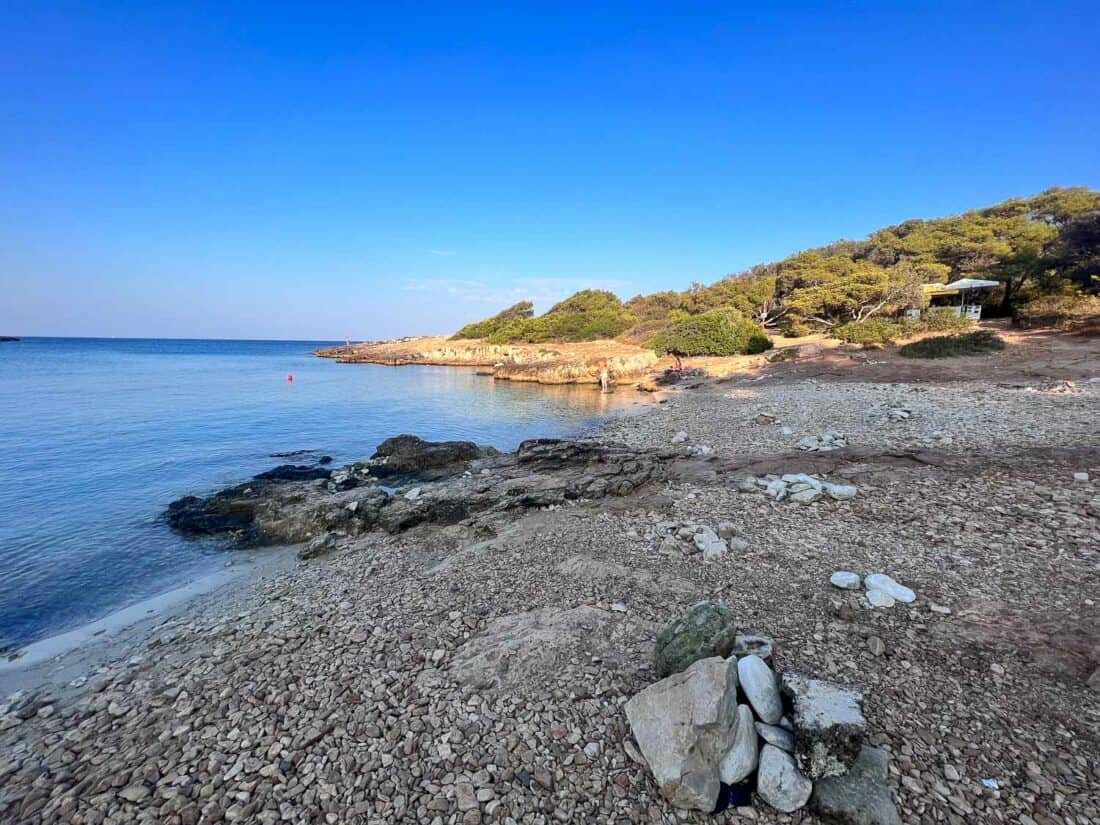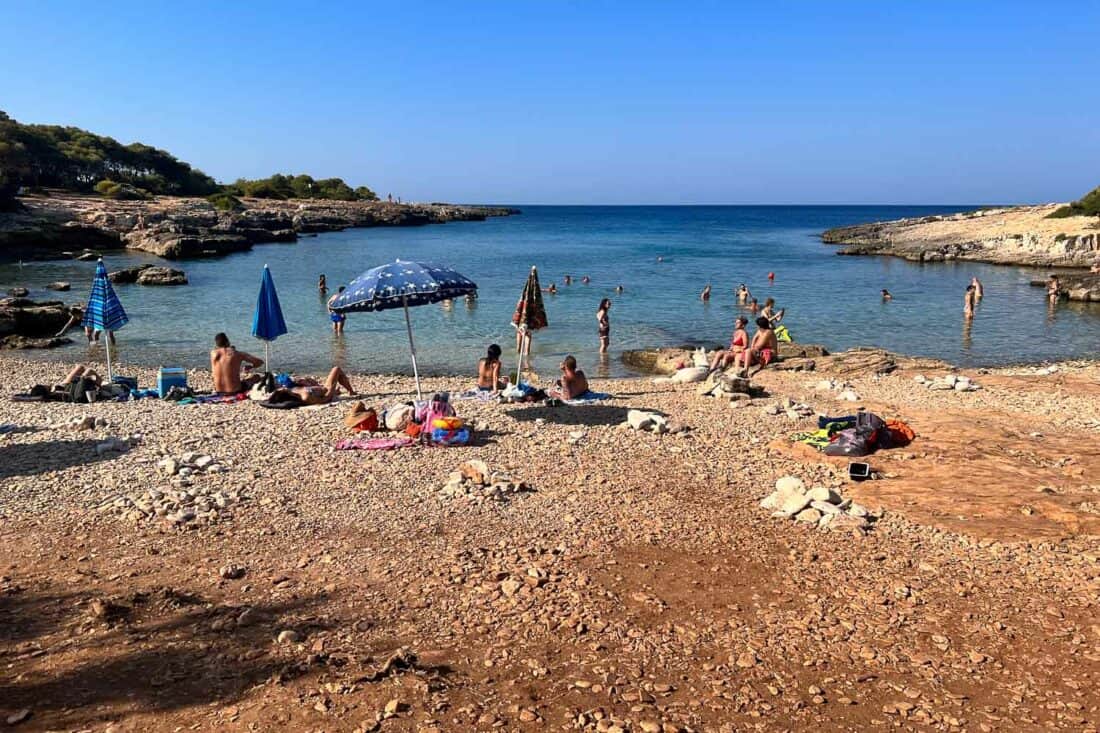 To avoid the crowds, visit in May, early June, late September, or October.
For a more tranquil experience, you could also avoid the beach, head in either direction along the coast, and set up on one of the rocky ledges in this large park.
Porto Selvaggio Hiking Trails
Porto Selvaggio is more than just a beach. There are many hiking trails (sentieri) through the forest if you'd like a longer walk. This is a good way to avoid the crowds.
See AllTrails for some of the route options.
This sign at Porto Selvaggio Beach says that the walk to Grotta del Cavallo (Horse's Cave) is 2100 metres and is medium-low difficulty. You can't access the cave but there are beautiful views on the way.
You could also walk to the tower at the southern end of the park, Torre Santa Maria dell'Alto, for a good view of the coast.
Porto Selvaggio Kayaking
If it hadn't been too hot for exertion on our August visit, I'd have loved to do this Porto Selvaggio sea kayak tour.
The three-hour tour is suitable for beginners. You'll kayak past the Tower of Santa Maria dell'Alto, explore hidden caves, and stop for a break at Porto Selvaggio Beach.
Check availability for the Porto Selvaggio kayak tour here.
Where to Stay Near Porto Selvaggio Puglia
Porto Selvaggio can be easily reached on a day trip from most places on the Salento Peninsula.
If you want to stay in an untouristy town with a beautiful historic centre, Nardò is just 10 minutes away.
Seaside Gallipoli is much busier, especially in summer, but the old town is picturesque and there are plenty of sandy beaches nearby.
Porto Cesareo is popular for beach holidays and you can even find rentals right on sandy Torre Lapillo beach.
There is some accommodation close to Porto Selvaggio. Despite its name, Porto Selvaggio Resort is not on the beach, but it's only a five-minute drive from the park. Reviews are mixed.
Other accommodation options within a short drive of Porto Selvaggio are Masseria Corsano, Dimora Villa Serena Porto Selvaggio, and Villa Gariga Apartments.
Porto Selvaggio Italy Map
Is Porto Selvaggio Worth Visiting?
Porto Selvaggio Beach is worth visiting for a more natural experience than the beach club-filled sandy beaches of the Salento.
As well as swimming and snorkelling in the limpid water, you can hike through the tranquil pine forest and along the rugged coast.
I wouldn't travel too far out of your way to visit, though, and make sure to manage your expectations—while trickier to access, Porto Selvaggio is not an undiscovered spot.
In July and August, I highly recommend getting an early start to avoid the crowds and heat.
And make sure to visit the charming town of Nardò after your beach trip.
More Puglia Posts
Salento
Elsewhere in Puglia
If you enjoyed this post, pin for later!