This page contains affiliate links. Please read our disclosure for more info.
Gargano Italy is one of the most scenic but overlooked parts of the southern Italian region of Puglia.
It feels very different from the more visited areas of the Valle d'Itria and Salento—greener and more mountainous with lush pine forests, olive groves, and a dramatic coastline of white limestone cliffs, colourful sea caves, and long sandy beaches.
Most of the area is part of the Gargano National Park, and aside from some seaside resorts, is unspoilt.
It's a popular summer spot for Italians, but in the off season, you can have the beaches, forests, and hill towns to yourself.
We spent a week on the Gargano Peninsula at the end of May with Vieste as our base.
Here are our picks for the best things to do in Gargano Italy plus how to get there and where to stay.
You'll find a Gargano map at the end of the post.
Contents
Where is Gargano Italy?
The Gargano Peninsula is in the southern Italian region of Puglia. It juts out into the Adriatic Sea and is called the spur in the heel of Italy's boot.
See our map below with all these suggestions of what to see in Gargano.
How Long to Spend in Gargano
The Gargano is more difficult to reach than other parts of Puglia, so if your time is limited and it's your first visit, I'd stick to these top places in Puglia.
The peninsula would make a great addition to Puglia trips of 10 days or more or for return visitors, like us, who want to see a different side of this special part of Italy.
You could easily spend a week on a beach holiday in Gargano, or if you like to explore at a relaxed pace. Most visitors will be able to see the Gargano highlights in three days.
I don't recommend visiting Gargano for less than three days as it is quite out of the way.
Best Places to Visit in Gargano Puglia
1) Vieste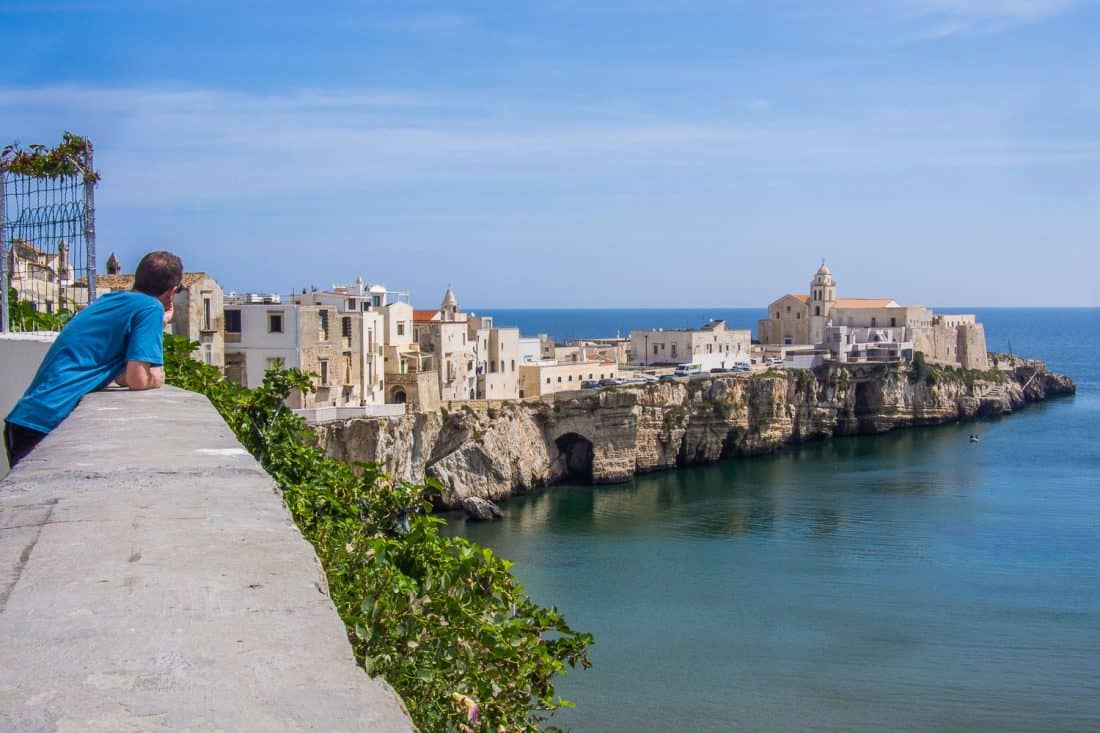 The scenic small town Vieste sits on a white cliffed peninsula jutting into the sea with long sandy beaches on each side.
The old town is an atmospheric maze of steep staircases with washing dangling from the simple white houses—it's perfect for wandering.
One of our favourite things to do was walk around the edge of the town for stunning sea views—start near the Norman castle then follow the seaside path to the church at Punta San Francesco where you can find one of the traditional wooden fishing platforms called trabucco.
If you want to learn more about the history of the town, take a private walking tour of Vieste.
Vieste is the ideal base for exploring the Gargano. It's on the furthest tip of the peninsula and has decent transport links including ferries to the Tremiti Islands.
There are good beaches within walking distance (and many more to explore by car), and you can take boat trips to explore the coast (see below).
You can choose to stay in the centre or a short drive away in the countryside as we did.
Read our travel guide to the best things to do in Vieste Italy including tips on where to eat and how to get around.
Where to Stay in Vieste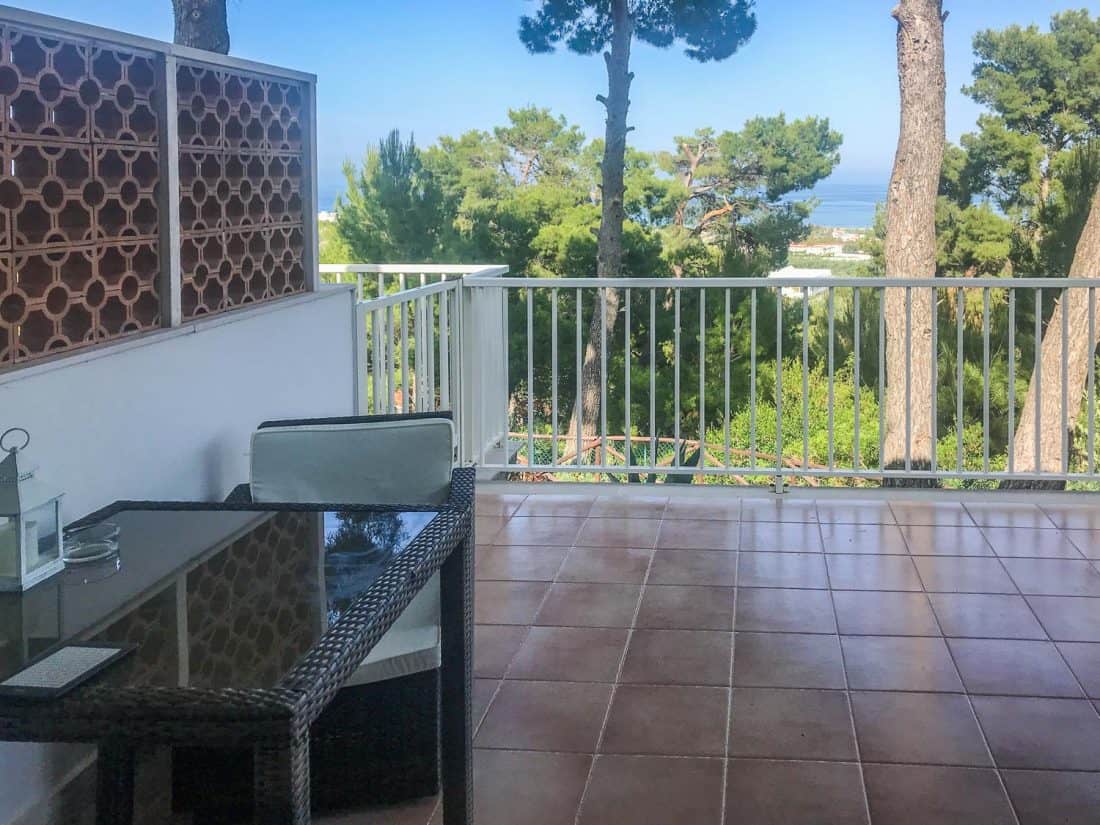 We stayed at the wonderful Residence Maresol in the pine tree covered hills above Castello Beach.
It's only a seven-minute drive from the centre but feels very peaceful and has beautiful sea views. The owners are a friendly family who goes out of their way to make your stay the best possible.
They have both rooms and apartments and can offer breakfast. In May our comfortable one bedroom apartment was excellent value, and we enjoyed being able to cook and eat on our terrace.
Check the latest prices for Residence Maresol here.
If you'd prefer to stay in the centre of Vieste (best if you don't have a car), there are plenty of options.
Search for hotels and B&Bs in Vieste here.
Where to Eat in Vieste
See our Vieste travel guide for our favourite places to eat including some off-the-beaten-track farms in the nearby countryside for excellent fresh produce with local olive oil (great for vegetarians).
2) Gargano Coast and Sea Caves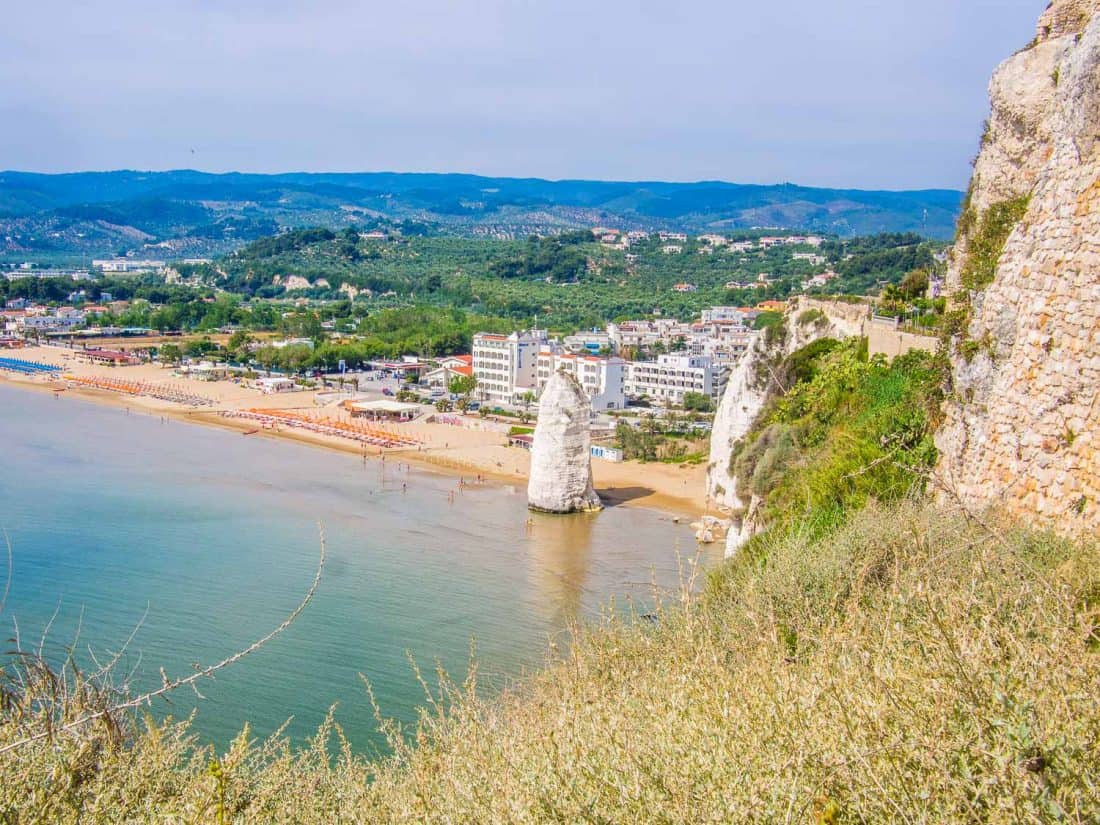 North from Vieste to Peschici and south to Mattinata there are dozens of Gargano beaches to explore—sandy and pebbly, long stretches and hidden coves, some empty and others with sunbeds and cafes and watersports.
You can explore these by car, bicycle (if you don't mind hills), or boat.
The sandiest beaches are between Vieste and Peschici while those further south are pebbly, often with dramatic cliff backdrops.
One of the easiest ways to explore the Gargano coast is on a group boat trip from Vieste to Mattinata.
It's one of the best things to do in Gargano to appreciate the rugged coast of white and grey cliffs with pine trees growing at improbable angles from their sides.
Along the way you can enjoy views of the trabucchi (wooden fishing platforms), beaches, natural rock towers and arches, as well as sail inside the sea caves with their coloured rocks and pools.
Usually there are swimming breaks, but in late May it was too cold for the Italians, and the weather turned cloudy on our trip anyway.
The furthest point on the tour is Baia delle Zagare with its iconic sea stacks and elevators down to the beach from an expensive hotel.
I thought the previous beach, Baia di Vignanotica backed by white cliffs looked more appealing.
The trip is a good way to scout out the beaches you'd like to return to.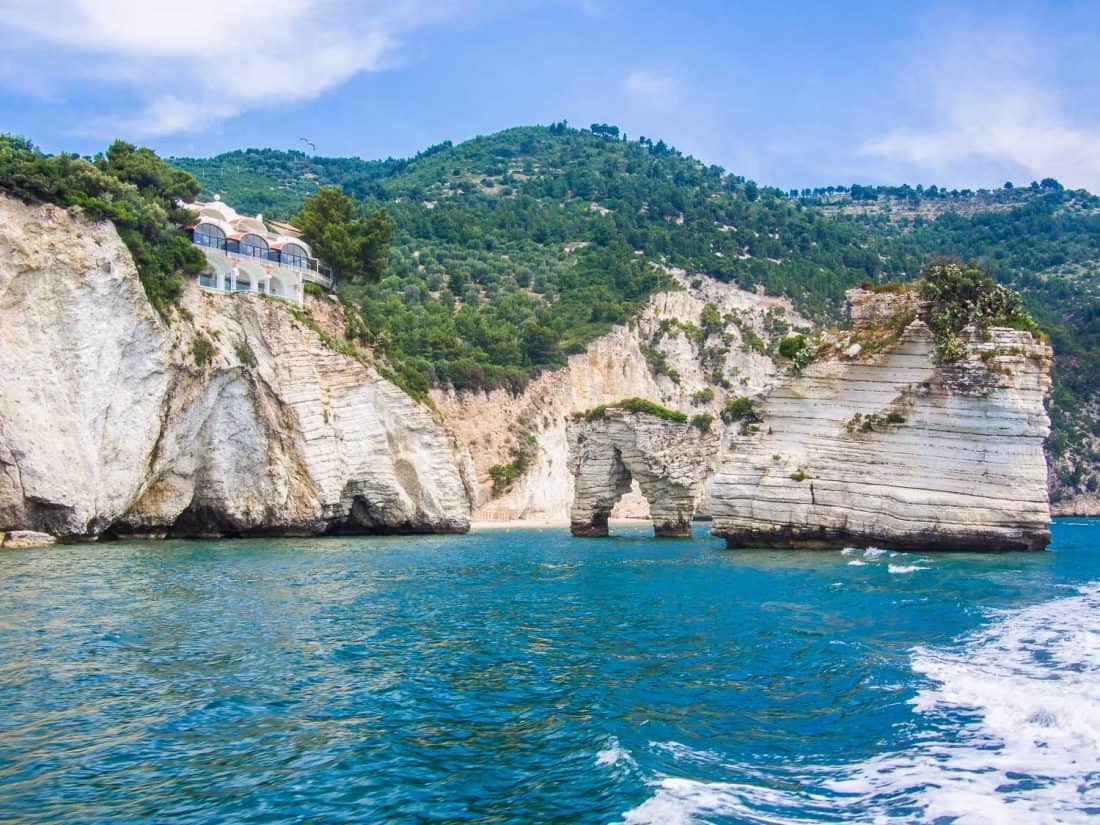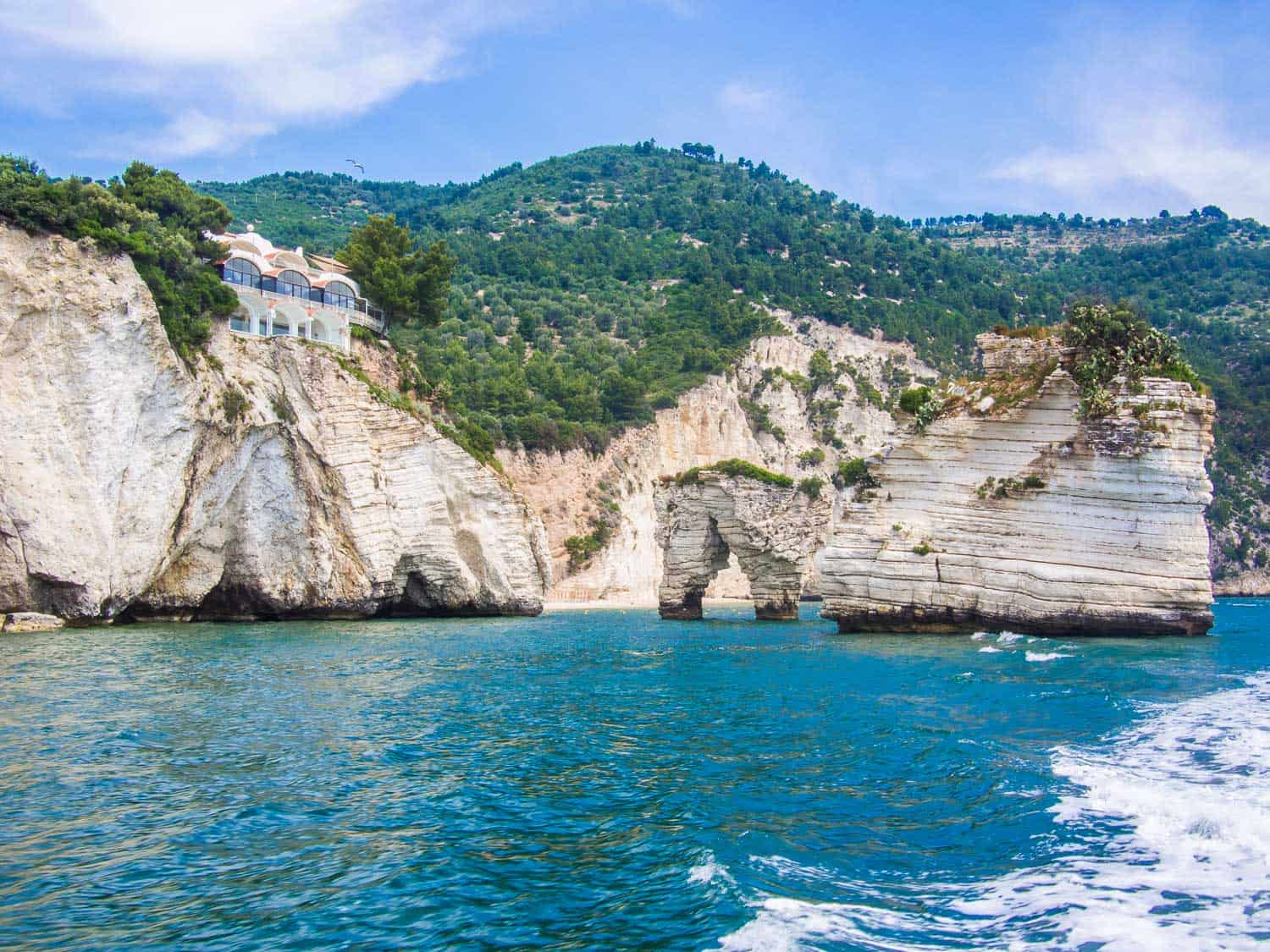 You can arrange boat trips from the Vieste port. There are a number of companies that offer similar trips—we went with Desiree.
The tours last three hours and are scheduled for 9.30am and 3 pm (they recommend arriving 30 minutes early) and cost €25 per person.
Next time we'd be tempted to hire a private boat in Vieste to explore the Gargano coast alone. The downside of this is that we wouldn't have known where the grottoes were (or trusted our navigational skills to get in and out).
3) Monte Sant'Angelo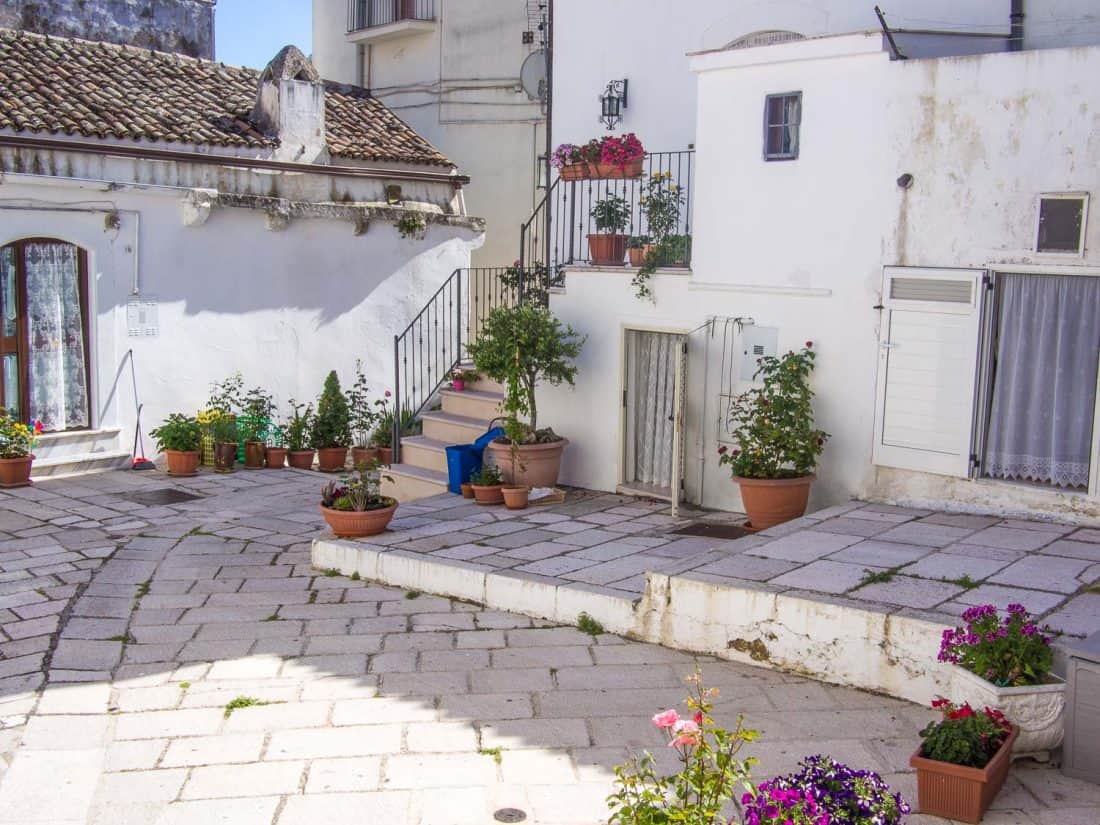 One of the best things about the Gargano is its diversity. As well as the beautiful coastline, you can head inland into the mountains, which are a novelty after exploring the rest of the rather flat region of Puglia.
Monte Sant'Angelo is the most picturesque mountain town to visit. We stopped here on the way to the Gargano from Polignano a Mare, but you could also visit as a day trip from Vieste or even stay overnight for a different experience.
The drive here is up a very steep twisty road from the coast. In late spring the hillsides were lush and green with wildflowers growing by the side of the road.
We parked just outside the town and had a magnificent view of fields of poppies and olive trees and the sea far down below.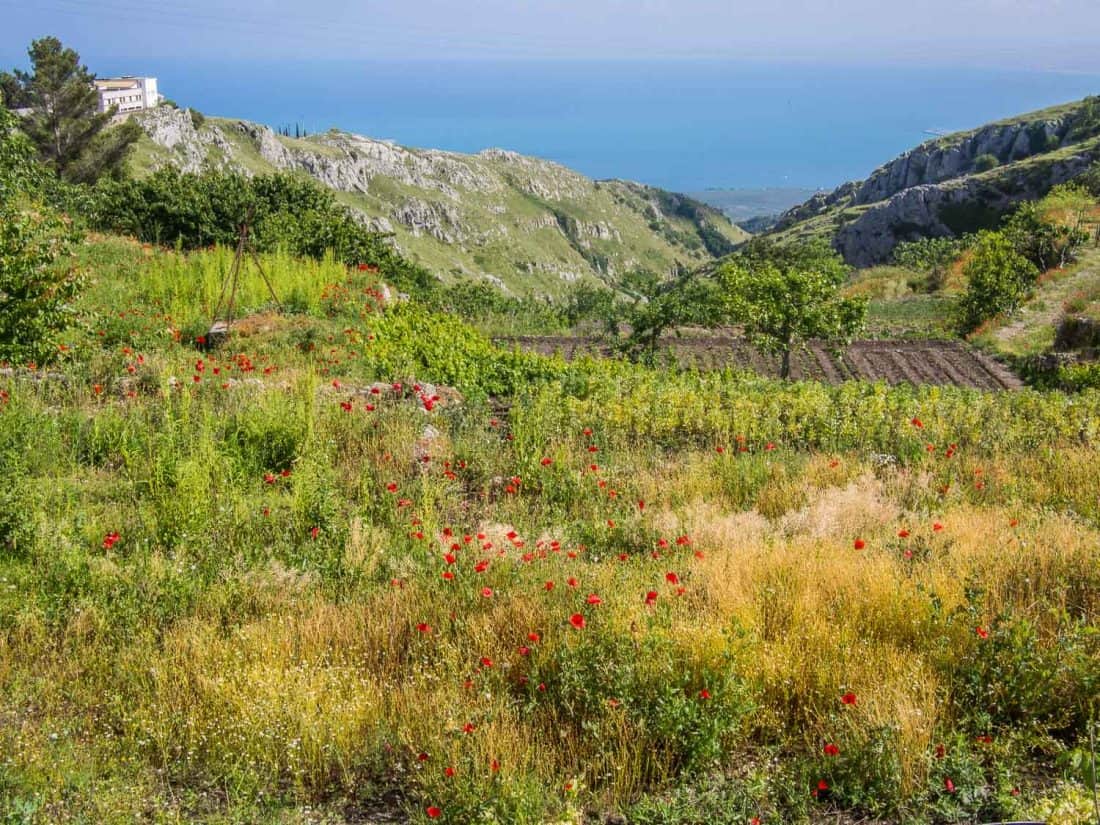 The most attractive and oldest part of this medieval town is the neighbourhood of Junno where you can get happily lost in the maze of cobbled alleyways and staircases through the white houses and tiny piazzas decorated with flower boxes.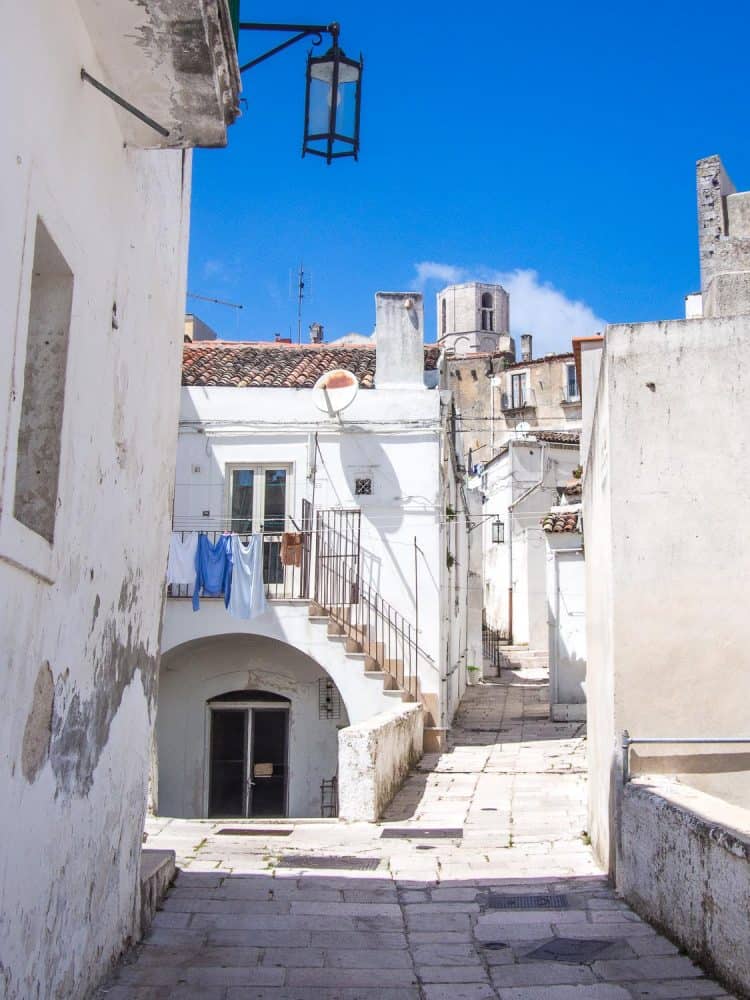 At first it didn't seem like there were any other tourists around, but we found them at Monte Sant'Angelo's main attraction—the Sanctuary of San Michele Arcangelo known for its sacred cave church and a UNESCO World Heritage site for representing the heritage of Lombards in Italy.
It's a Catholic pilgrimage site as the Archangel Michael is said to have appeared here to the Bishop of Siponto in 490 AD.
Entry is free but it closes from 12.30pm to 2.30pm so time your visit right.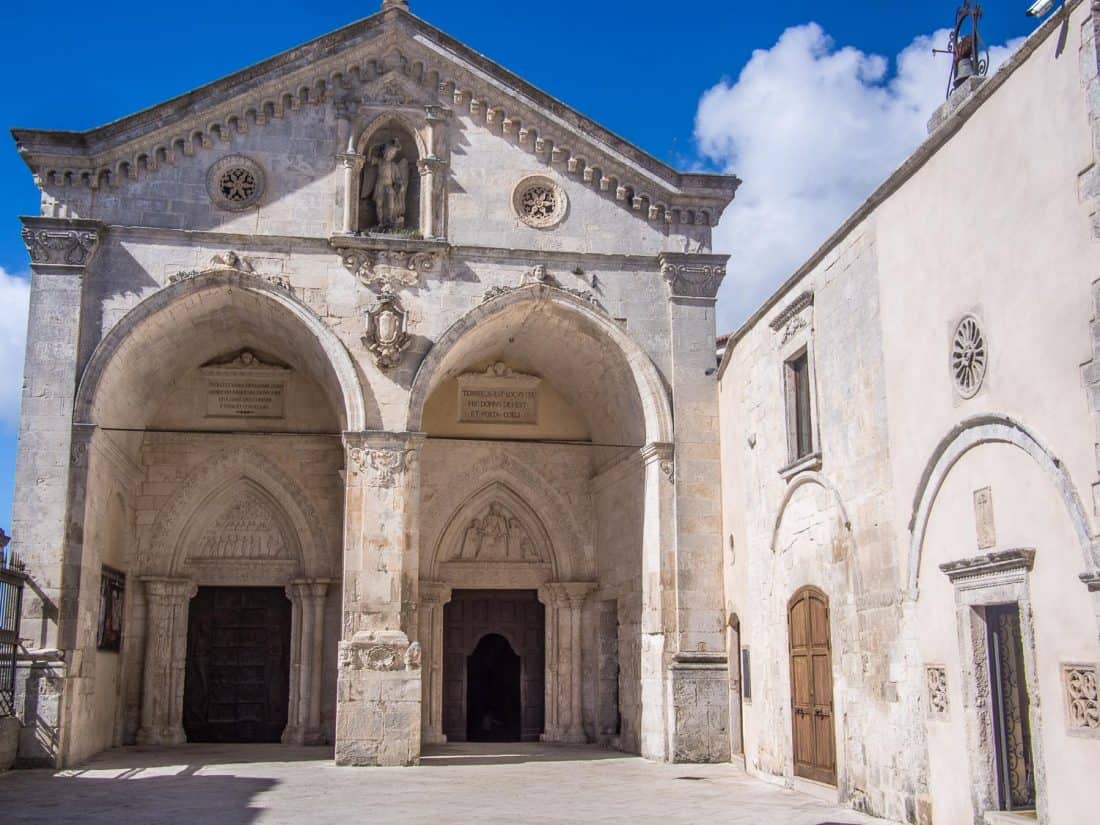 If you are interested in Catholic sights, you can also visit the shrine of Padre Pio, a well-known Italian saint who died in 1968, in San Giovanni Rotondo, a 30-minute drive from Monte Sant'Angelo.
Other sights in Monte Sant'Angelo include the Norman Castle and some churches. 8km away is the Abbey of Santa Maria di Pulsano perched on a rocky spur overlooking the sea.
Where to Eat in Monte Sant'Angelo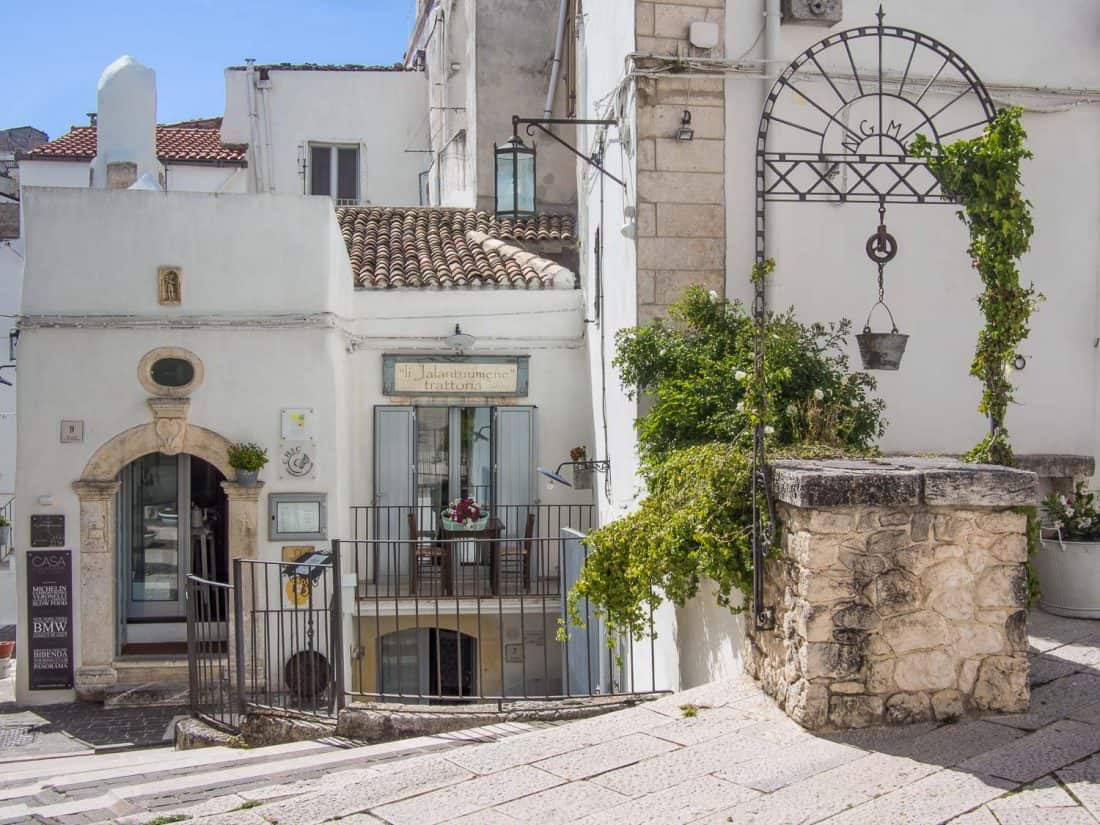 I'll admit that most of our time in Monte Sant'Angelo was taken up with a long, leisurely lunch at Li Jalantuumene, a small restaurant run by exuberant chef Gege Mangano.
The food was a creative take on regional fare, and Gege was happy to adapt dishes for us vegetarians as well as serve half portions so we could try a few different pasta dishes.
Portions are fairly small so you will likely want more than one course, but that means you can try more.
Where to Stay in Monte Sant'Angelo
Search for hotels and B&Bs in Monte Sant'Angelo here.
4) Foresta Umbra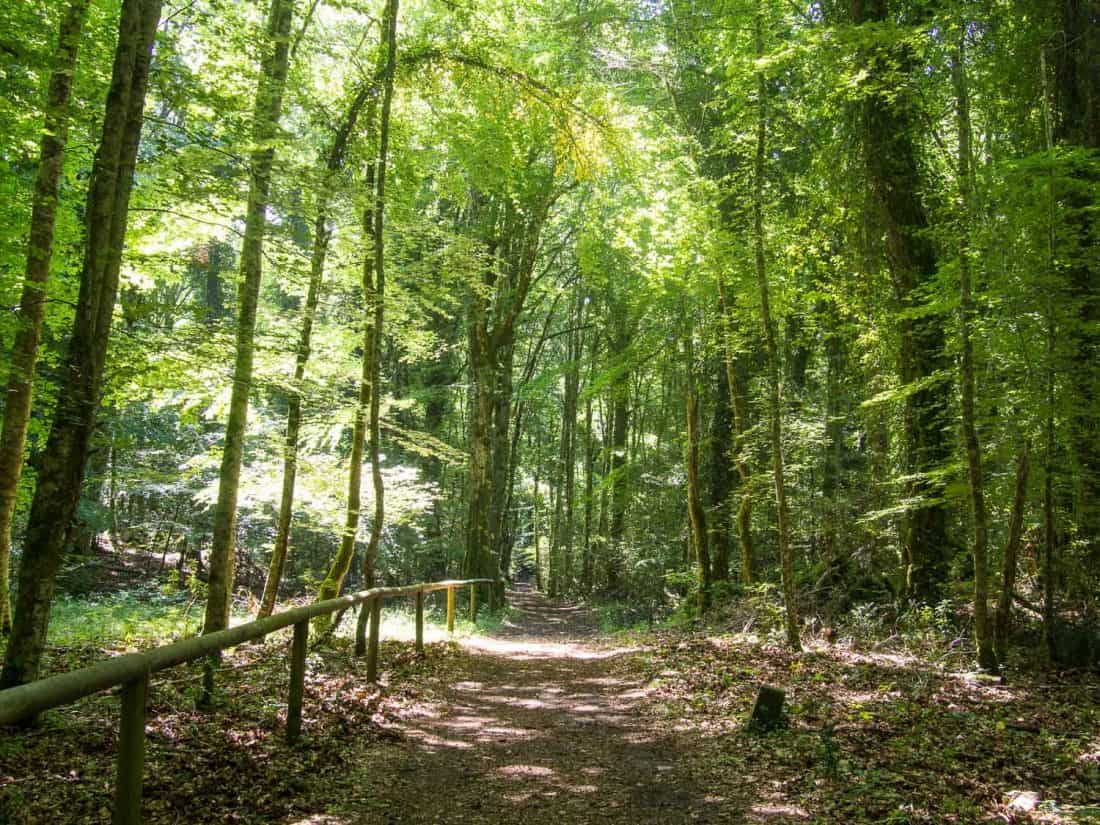 In the heart of Gargano National Park is Foresta Umbra (Forest of Shadows), the last remnant of Puglia's ancient forest of Aleppo pines, oaks, and beech trees.
This expansive nature reserve is only a 30-minute drive from Vieste, but as it's up in the mountains the temperature drops by 10ºC making it ideal for walking.
If you are lucky you might see roe deer, foxes, badgers, and many kinds of birds.
There are many trails through the forest but we found information lacking and it was rather confusing where to go.
There is a small information office and museum where we bought a rather unhelpful map (€2.50)—it didn't have much detail (and is in Italian only) but it did give us a rough idea of the walking routes. Most of the trails start near the restaurant.
We ended up doing a 1.5-hour easy walk by mixing various signposted trails. First, we walked the short distance from the road on trail 7 to a tiny lake (Laghetto D'Umbra) where turtles basked in the sun on branches peeking out of the water.
We then followed signs to Murgia (trail 9) which we walked along for a while before turning back and taking the fork to Falascone (trail 8) for a different route back.
Despite the confusing routes, it was a peaceful walk in the shade of the towering trees with only the sound of birdsong and rustling leaves. We didn't see anyone else until we returned to the lake.
Much longer hikes are possible—the longest listed on the map was Trail 4 which is 8.5km one way, but it starts from a different section of the park. Bike and 4WD tours are also available.
To get to the forest, search for Museo Naturalistico della Foresta Umbra on Google Maps. This will take you to the information centre.
If you don't want to buy a map (or visit the small museum), stop about 800 metres before at Trattoria Foresta Umbra.
You can park here, buy a drink or snack at the bar, use the toilet, or have a sit-down meal at lunchtime. It's a short walk from here to the lake and the start of the trails.
5) Peschici
Peschici is a seaside town perched on a craggy rock a 30-minute drive from Vieste.
There's a small historic centre of whitewashed houses where we wandered the winding streets up to the Norman castle (closed when we visited) with panoramic views of the coast.
There's a long sandy beach below the town, so it is another popular base in the Gargano.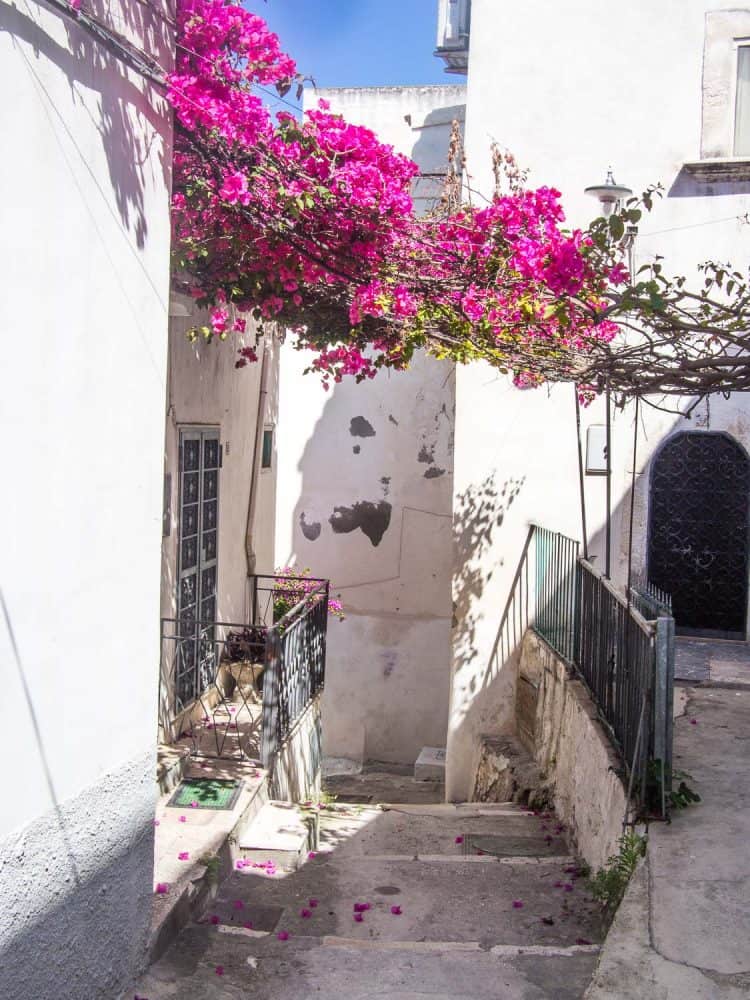 We didn't need very long to explore the town, but we combined it with a visit to Vico del Gargano inland.
You could also visit some of the nearby sandy beaches like Spiaggia di Calenelle, which looked beautiful from above, and Spiaggia di Zaiana.
Where to Eat in Peschici
We didn't eat in Peschici, but I've heard good things about Porta di Basso if you like fish. It's an elegant seafood restaurant up on a cliff with stunning sea views.
For a more rustic seafood experience, at Il Trabucco da Mimi you can eat on an old wooden fishing platform above the sea.
Where to Stay in Peschici
Peschici is a popular place to stay in the Gargano.
If you'd like to stay in the historic centre, Gli Orti di Malva B&B has spectacular sea views and the highly regarded Porta di Basso restaurant is onsite.
Il Peschiciano is a more budget-friendly B&B in the centre.
There are plenty of seafront hotels, self-catering apartments, and campsites in the area too.
Search for Peschici accommodation here.
6) Vico del Gargano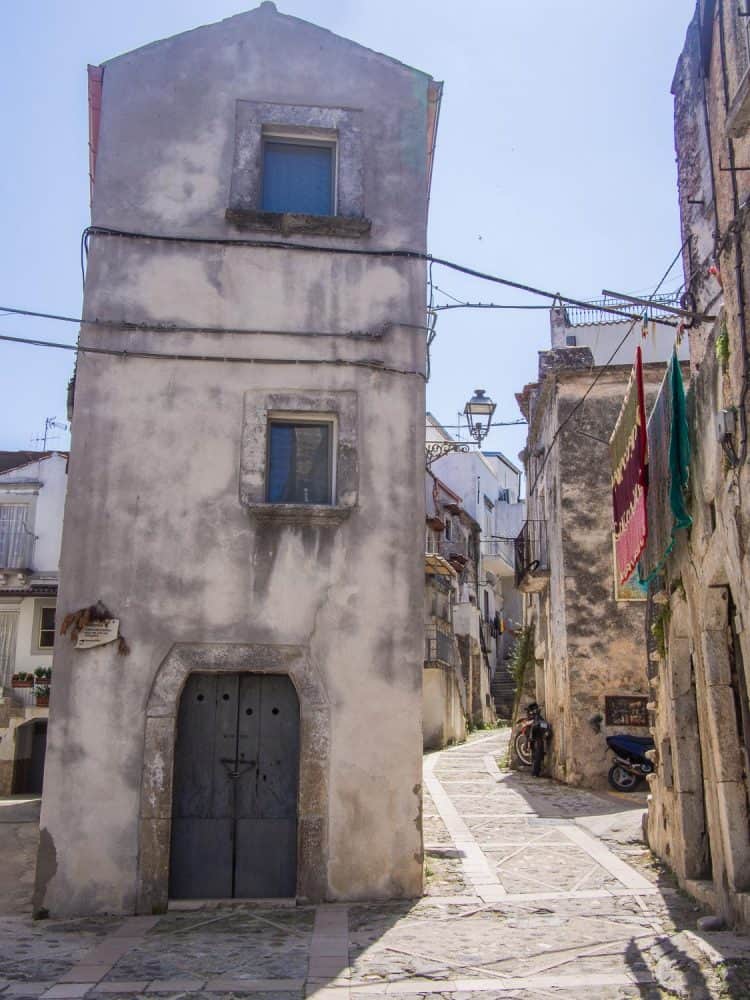 Vico del Gargano is a small hill town that's one of Italy's Most Beautiful Towns (Borghi Piú Belli d'Italia) but is often overlooked by visitors to the Gargano.
Although it's not as high as Monte Sant'Angelo, it was a nerve-wracking drive up the narrow winding road from Peschici.
The modern part of town is nondescript, but head into the historic centre for a 12th-century castle and an atmospheric maze of grey stone houses and narrow alleyways including the tiny Vicolo del Bacio (Kiss Alley).
There's not a lot to do, but it's a pleasant place to wander and has an off-the-beaten-track feel.
Where to Eat in Vico del Gargano
We planned to eat at Radici as it has great reviews and a vegetarian section on the menu, but it didn't open until 1 pm and we didn't want to wait that long (we couldn't find any picturesque bars to kill some time).
Radici has free town maps outside its doors, so it's worth picking one of those up when you arrive.
Where to Stay in Vico del Gargano
Vico del Gargano would be an untouristy, affordable base if you're more interested in the countryside than the sea (although it's only a 10-minute drive to the beach).
Case Vacanza Al Borgo Antico has inexpensive apartments in a restored ancient house in the centre.
B&B Donna Elena has elegant rooms in a stunning building dating back to 1600.
Search for more hotels and B&Bs in Vico del Gargano here.
7) Tremiti Islands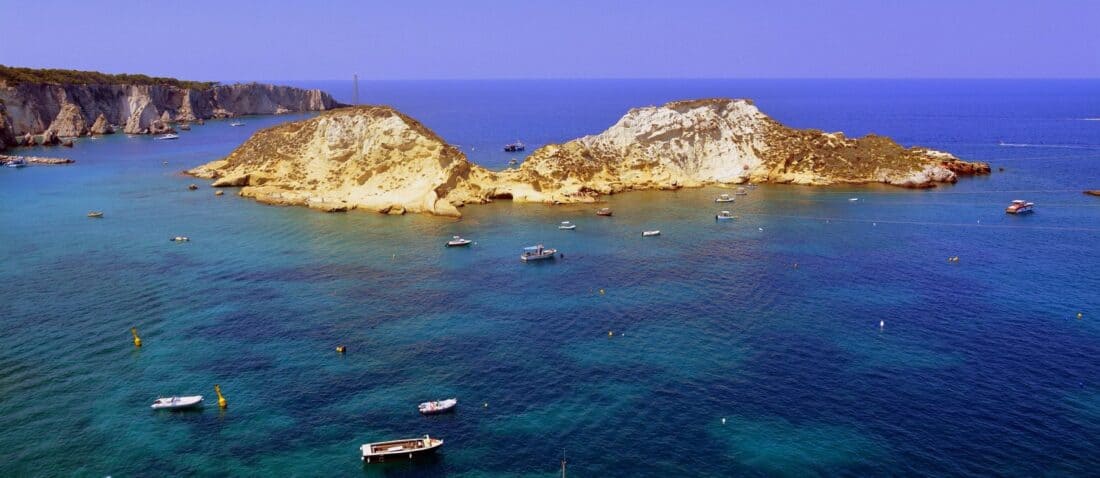 Image by Gianni Crestani from Pixabay.
We didn't make it to these final two Gargano destinations, but they are on our list for next time.
The Tremiti Islands are a picturesque archipelago of five tiny islands and a good place for swimming, scuba diving, walking, and boat trips to grottoes and coves.
San Domino is the largest and most naturally beautiful island and where you'll find the most accommodation. San Nicola is the only other inhabited island.
You can take the ferry from Vieste or Peschici but most only run from June to September. The journey from Vieste takes 1.5 hours so you could visit on a day trip or stay overnight.
The islands are best visited in June or September as they are very popular with Italians in July and August. Cars are not allowed on the islands.
You can also take a helicopter from Foggia with Alidaunia which is surprisingly affordable at €60 one way in high season—advance booking is essential.
8) Mattinata
Mattinata is a coastal town with beautiful beaches and a historic centre on a hillside surrounded by olive groves and forest.
It would make a great base for hikers as there are marked trails for walking and trail running. You can download a Puglia Promozione booklet called "Gargano Running & Trekking Park" about the trails.
How to Get to Gargano Italy
By Plane
The nearest international airport to the Gargano is Bari (BRI), a 2.5-hour drive from Vieste or 1 hour 45 minutes from Monte Sant'Angelo.
Bari is served by many budget airlines such as Ryanair, Wizzair, and Easyjet. I use Kiwi to find the cheapest flight deals. Bari is worth spending a night or two in.
The other Puglian airport Brindisi (BDS) is in the far south of the region, 300km away, and is a 3.5-hour drive from Vieste.
This would only be preferable over Bari airport if you wanted to combine your Gargano trip with places in southern Puglia such as Lecce and Ostuni.
If you are flying into another city in Italy (for example Rome), you could take the train to the nearest major station, Foggia, and travel on from there by rental car or bus.
How to Get Around Gargano
It's best to rent a car to get around the Gargano as public transport is limited. I use Rental Cars to search for the cheapest car rental deals.
Make sure you fill up on petrol before you start the drive through the Gargano. The steep hills burn through fuel and we had a nerve-racking journey arriving in Vieste on empty. The last petrol station we passed was in Monte Sant'Angelo.
As the roads are so windy, I'd also recommend arriving in daylight hours if possible, and allow extra time for the journey as the road is slow if you get stuck behind anyone.
On our last trip we rented a car one way from Lecce (in the far south of Puglia) to Foggia, which is a 1 hour 40 minute drive from Vieste.
After our Gargano travels, we left the car in Foggia and took the 3-hour train to Rome (book tickets in advance on Trenitalia).
If you have time to kill before your train, we recommend a meal at Osteria del Grano Arso which is close to the station, has longer than usual opening hours (they serve lunch from 11.30am), and they make their own bread and pasta from dark Grano Arso flour.
Public Transport in the Gargano
You could visit Gargano by public transport, but you'll be limited where you can go, and you'll need to be patient as it's not very frequent, fast or reliable.
The Puglia AirBus runs from Bari airport to Monte Sant'Angelo, Mattinata, Vieste and Peschici from June to September. It takes about three hours to Vieste and there are only a few departures each day.
SITA Sud runs buses around the Gargano including from Bari and Foggia to Mattinata, Monte Sant'Angelo, and Vieste. You can check timetables on their website (Italian only)—choose Puglia as the region.
For trains/buses to Peschici on the local network, see the Ferrovie del Gargano website.
When to Visit the Gargano Peninsula
April and May are the best times to see wildflowers, while June and September are best for beach time without the crowds.
It can be warm enough for the beach in May and October too. At the end of May, when we visited, it was sunny and pleasantly hot with daytime temperatures in the mid-20s Celsius, but we did have a few cloudy days.
July and August are by far the busiest months when Italians descend on the beaches—it will be lively but hot, crowded, and expensive.
Gargano Italy Map
More Puglia Tips
Read our other Puglia posts to help you plan your trip to the region.
Gargano
General Puglia Tips
Central Puglia
Salento Peninsula
If you enjoyed this post, pin it for later!