This page contains affiliate links. Please read our disclosure for more info.
In the deep south of Italy, in the heel of the country's boot, is the region of Puglia.
We first visited years ago and fell in love with its sleepy whitewashed villages, unique trulli (conical stone huts) amongst a sea of olive trees, endless plates of vegetarian-friendly antipasti, and the crystal clear sea.
We couldn't get those gooey balls of burrata cheese and labyrinth towns out of our heads and we've since returned multiple times. Puglia had just as much impact on us during repeat visits.
Instead of just following the well-worn Venice-Florence-Rome route when you visit Italy, we encourage you to head further south and explore Puglia.
Why visit Puglia? Here are some compelling reasons:
1) Avoid the Crowds
We love Tuscany and Venice and Rome, but these rightfully popular tourist destinations can get very crowded.
It has always been a summer destination for Italians who flock to the beautiful Puglia beaches in August, but foreigners have only begun visiting in recent years.
Tourism may be growing but you'll still find far fewer visitors here than in other parts of the country, so you can navigate the streets without fighting through tour groups and you'll benefit from lower prices.
It's also the ideal destination to practice your Italian. Not many people speak fluent English and they are very supportive of your attempts to speak Italian and are happy for you to fumble along.
2) Food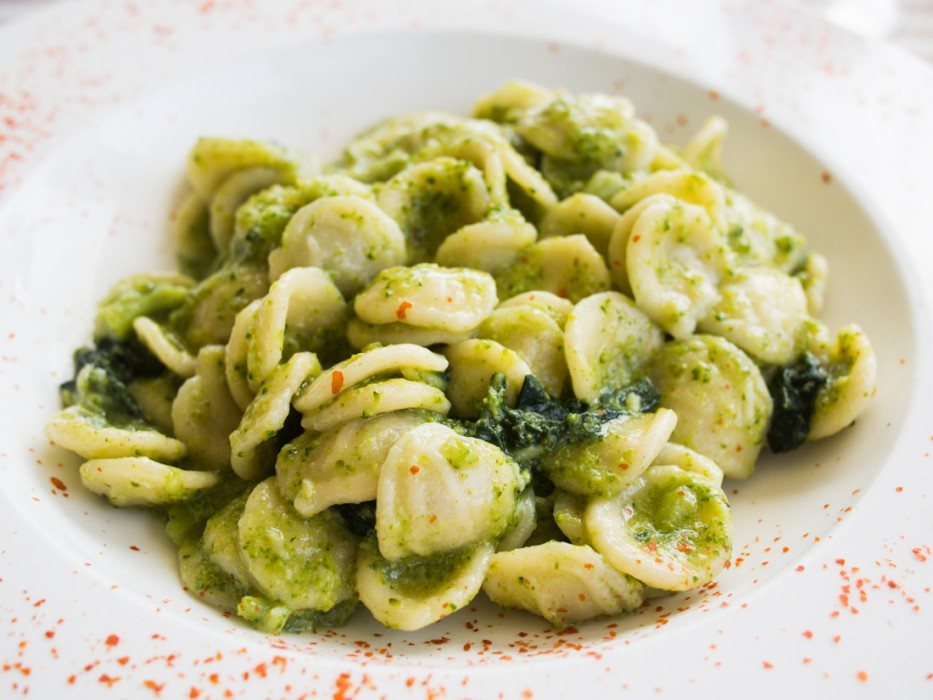 Puglia food is our favourite in Italy, and as a country we visit regularly just to eat, that's saying a lot.
It's the most vegetarian-friendly part of the country because of its history of poverty—as locals couldn't afford meat they developed an innovative use of vegetables.
As one of the most sunny and fertile areas of Italy the vegetables served are seasonal, fresh, and bursting with flavour.
The antipasti stand out for us. Platters of marinated and grilled vegetables, cheeses like the wonderfully oozy burrata, and other tasty treats are served as a starter but are often enough for a meal.
But that won't stop your host serving you three more courses, including a big plate of orecchiette (little ears) pasta, painstakingly made by hand.
3) People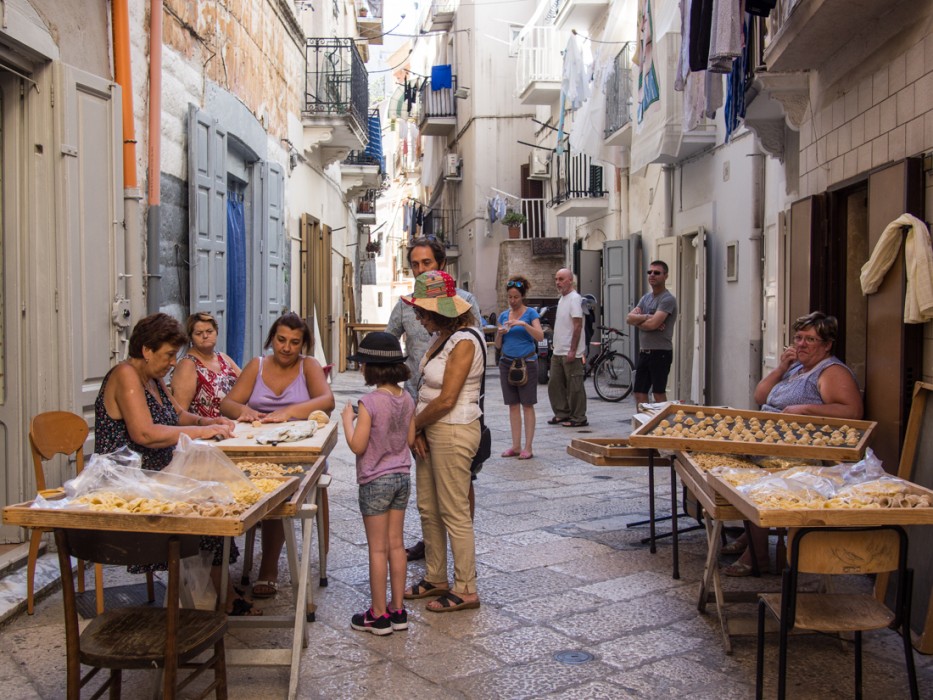 Things move at a slower pace in the steamy south and people will always make time for you. It's the warmth of the people that stays with us the most.
The welcoming hosts at the masserie (farmhouses) where we stayed who invited us to dinner with their friends; the bubbly enthusiasm of our teacher at a cooking class in Lecce, keen to teach us about local cuisine; our guide whose passion for the region's history made even us appreciate churches; the youthful vendor at Ostuni market who not only didn't mind us taking photos and asking questions but happily gave us free samples.
Everyone we met was welcoming and proud of their region, keen to teach us about it and help us however they could.
4) Beautiful Towns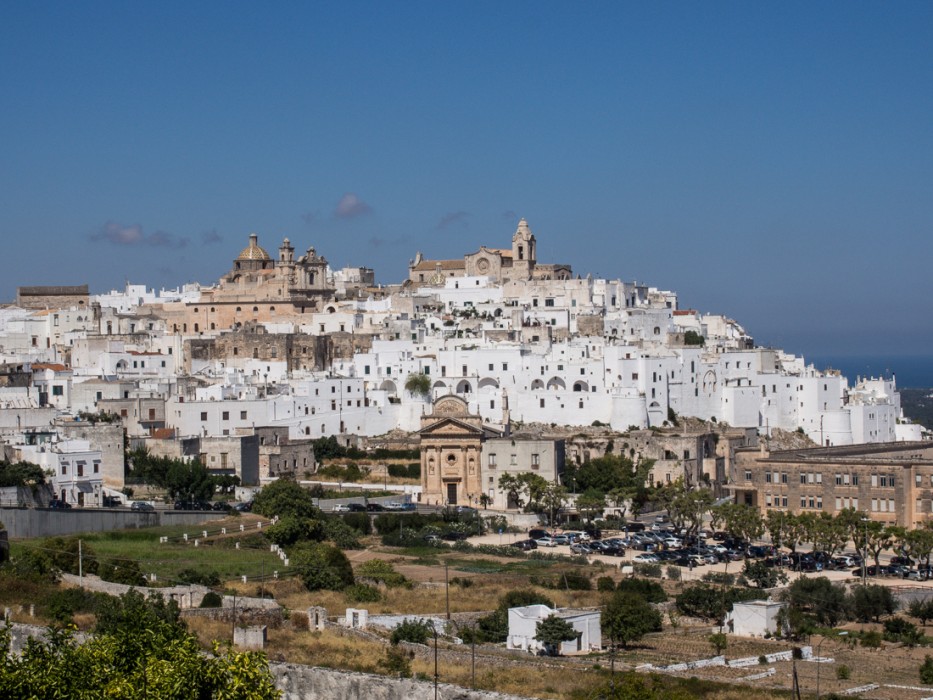 Puglia has plenty of gorgeous towns ideal for aimless wandering including the hobbit-like trulli of Alberobello, the labyrinth whitewashed streets of Locorotondo and Ostuni, the elegant seaside towns of Otranto and Gallipolli, and the golden ornate baroque of Lecce.
Everywhere you'll find cobbled streets, balconies adorned with pink and red geraniums, stalls overflowing with cherry tomatoes, peaches, and bunches of bright red chiles, hidden piazzas, and many many churches dating back centuries.
Outside of busy August none of the towns are overcrowded and it's easy to find a quiet alleyway to get lost in.
Check out our guide to the best Puglia towns.
5) Wine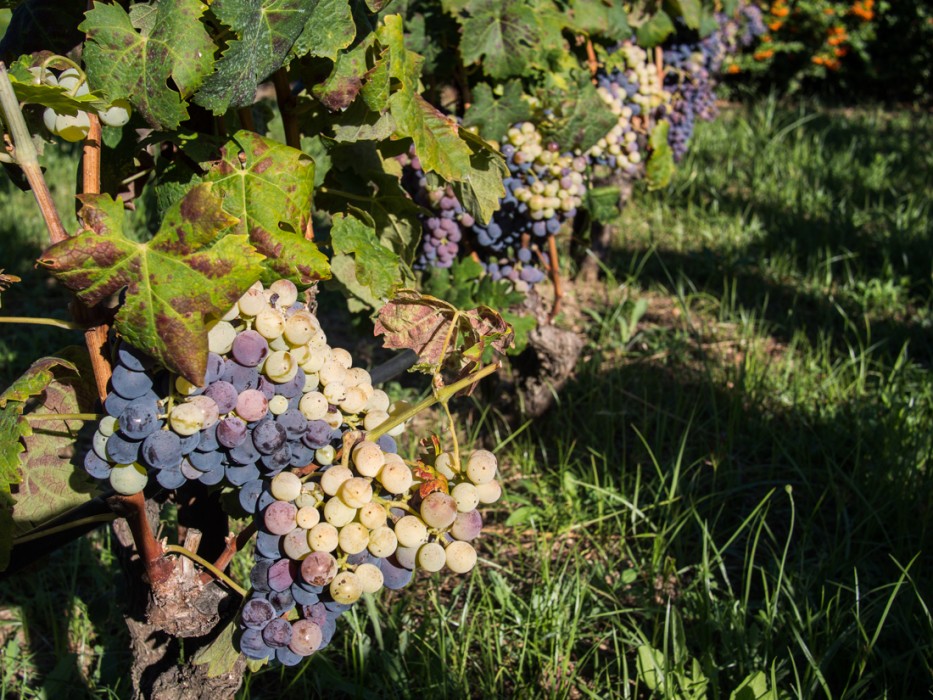 It might not be as well-known as Tuscan wine but Puglia produces 20% of the wine made in Italy.
In the past it didn't have a good reputation as high quality wine but that's changed in the last few decades and there are now many wineries that rival those of North Italy.
Salice Salentino and Primitivo red wines are most known internationally but there is much more to Puglian wines—as Italy's longest region the wine produced is very varied.
We visited the Rivera winery run by three generations of the De Corato family who were pioneers in raising the quality of local wines in the 1950s.
At their winery near Castel del Monte we toured the impressive cellars which combine historic buildings with efficient modern techniques, and tasted some of their wines.
We particularly enjoyed the rosé wines in Puglia, perfect with lunch on a hot day, and the Pungirosa at Rivera was especially good, made from the native bombino nero grapes, unusual because amongst the bunches of purple grapes some stay green.
We also loved Il Falcone, a full-bodied ruby red made with a mix of a local variety Nero di Troia and Montepulciano.
6) Olive Oil
Puglia is a mostly flat landscape and everywhere you look you see olive trees.
The Valle d'Itria in the centre of the region has the highest concentration of olive trees in Italy, and one of the highest in the world—there are 60 million of them.
Even more impressive many of the trees are over a thousand years old, one is even known to be 2700 years old, and they are still producing olive oil.
We visited a 2000-year-old olive tree and tasted the amazing oil during our stay at the organic olive farm Masseria Il Frantoio.
Of course, the excellent olive oil is liberally applied to most local dishes and we can't get enough of the green tinged liquid gold.
7) History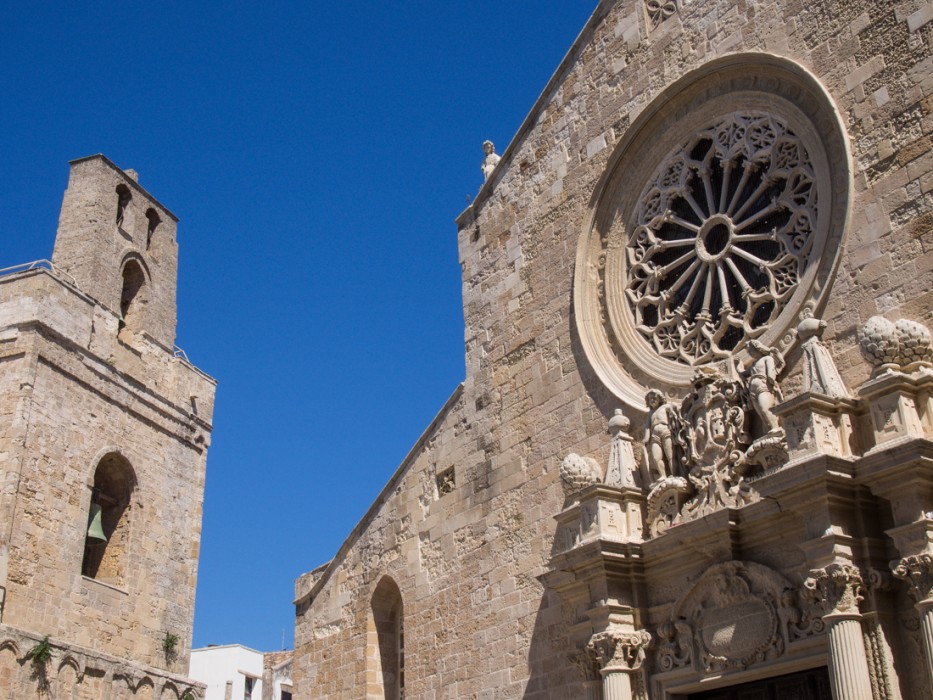 Puglia's strategic position in the Mediterranean between the east and the west has meant a turbulent history of invasions.
The resulting influences from the Greeks, Romans, Byzantines, Normans, Turks and Spanish are still evident in the region.
You'll find Romanesque churches, medieval castles, 12th century mosaic floors, 17th century underground olive oil mills, and exuberant Baroque cathedrals.
8) Traditions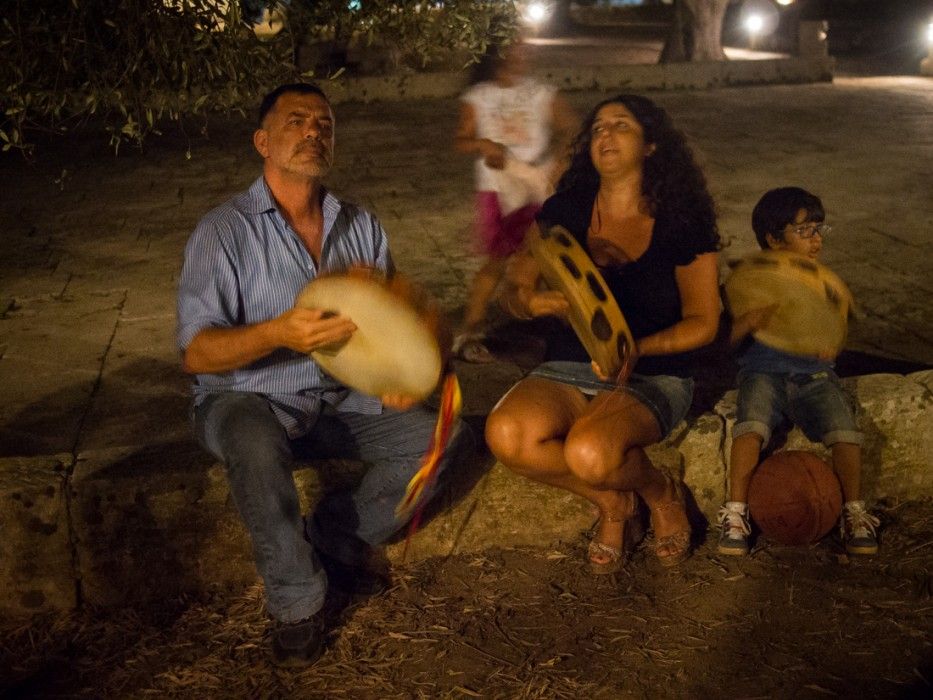 Every region in Italy has a strong identity and in Puglia we particularly felt the local pride, not only on a regional level but every area and even town has its own food and traditions.
This felt especially strong in the Salento peninsula at the very bottom of the region, where many dishes we ate were described not as Pugliese but Salentino, or even specific to a particular town.
The Salento also has the interesting tradition of the Grecìa Salentino, an area of 11 towns where Greek traditions from immigrants many years ago are still kept alive.
You'll find them in the language Griko, a dialect based on Old Greek which is still spoken by older generations, in the food, and in pizzica, a folk dance accompanied by frenetic tambourine.
9) Masserie
The highlight of our stay in Puglia was the opportunity to stay in masserie, or fortified farmhouses that offer guest accommodation.
It's fascinating to be able to stay on working farms that produce their own olive oil, wine, vegetables and cheeses, and to meet the owners who often join guests for long home-cooked dinners made using products from the farms.
Accommodation ranges from simple apartments to luxury suites and even trulli (the iconic circular stone huts), and most are in peaceful settings in the countryside.
You'll need a car and some can be difficult to find but it's worth it for such a unique experience and the opportunity to enjoy the warm hospitality of Puglian people.
Our favourite masseria is olive farm Masseria Il Frantoio near Ostuni.
10) Sea & Sun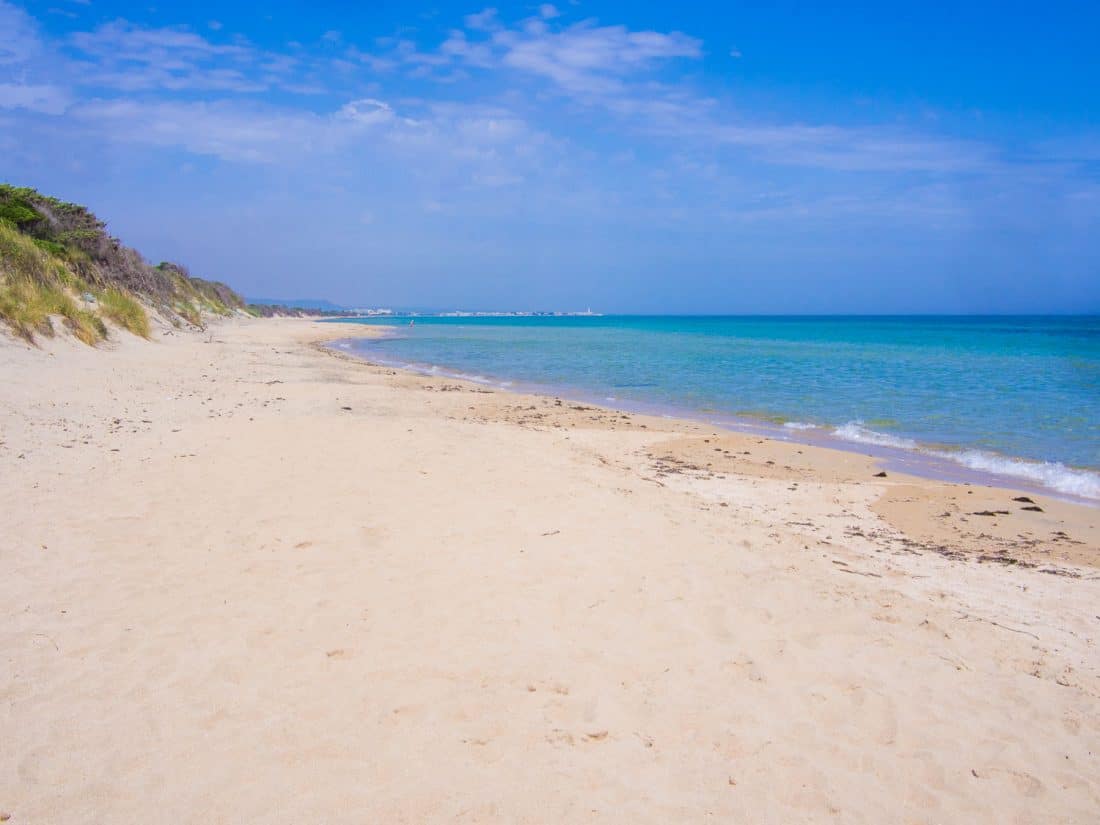 Puglia has 800 kms of coastline and some of the best beaches in Italy with powdery sand and crystal clear water.
Even towns like Otranto and Gallipolli have lovely beaches in the centre with inviting shallow turquoise water.
The beaches get crowded in summer, but because Puglia has warmer weather than northern Italy, you can visit off-season and still swim in the sea well into October.
See our post on the best places to visit in Puglia for more details on this wonderful region.