This page contains affiliate links. Please read our disclosure for more info.
Masseria Il Frantoio is the best place we've stayed in Puglia. In fact, it's the best place we've stayed in all of Italy.
This 500-year-old organic olive farm is a magical place with thousand-year-old olive trees, an enchanting flower-filled courtyard, and epic multi-course dinners made with produce from the farm.
We love the feeling of peace and immersion in nature as well as the palpable sense of history.
The masseria (farmhouse on a country estate) was owned by the same family for 500 years before they left in the 1970s.
The farm was abandoned for twenty years before the current owners, Armando and Rosalba, who wanted to escape 9–5 life in the city, discovered it in the 1990s and converted it into one of Italy's first agriturismo—a working farm that offers guest accommodation.
The grounds are extensive with thousands of olive trees and many other crops and gardens.
It feels remote yet is just a 10-minute drive from Ostuni, one of the most beautiful towns in Puglia.
After a brief visit to Masseria Il Frantoio to tour the olive groves we immediately regretted we weren't staying (or eating) there. It stuck in our minds and we returned on another trip for a two-night stay.
It lived up to our expectations and we spent a blissful few days relaxing and eating, without leaving the property once.
In this Masseria Il Frantoio review, I share why we love it so much plus an honest look at its downsides.
Contents
The Farm
On your first day make sure you take the free pre-dinner tour of the property to learn more about its history and discover its many areas.
Grounds
The masseria is set on 72 hectares (178 acres) with thousands of ancient olive trees, one an incredible 2000 years old. Other crops include fruit and carob trees and extensive vegetable plots.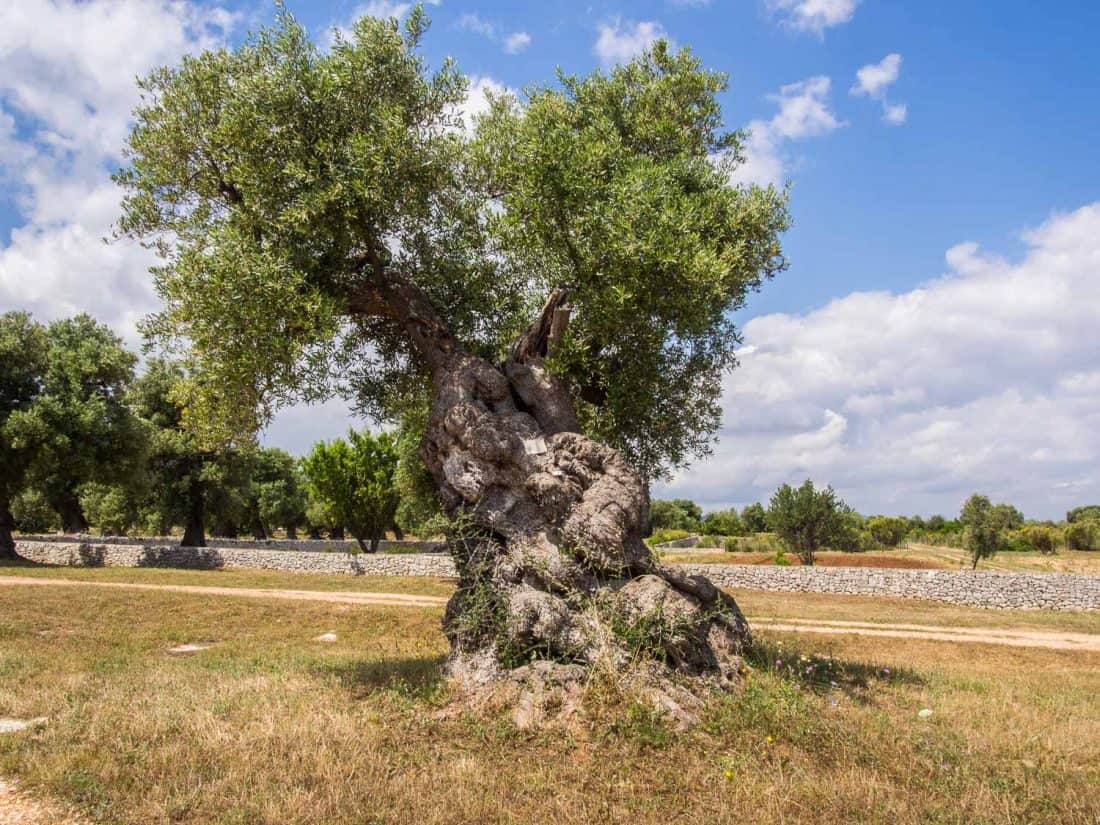 We loved being able to go for walks and runs on the paths between the trees without needing to leave the property.
I also did yoga in a quiet corner of the farm in the shade of an olive tree with the sound of birds and smell of wild herbs—glorious!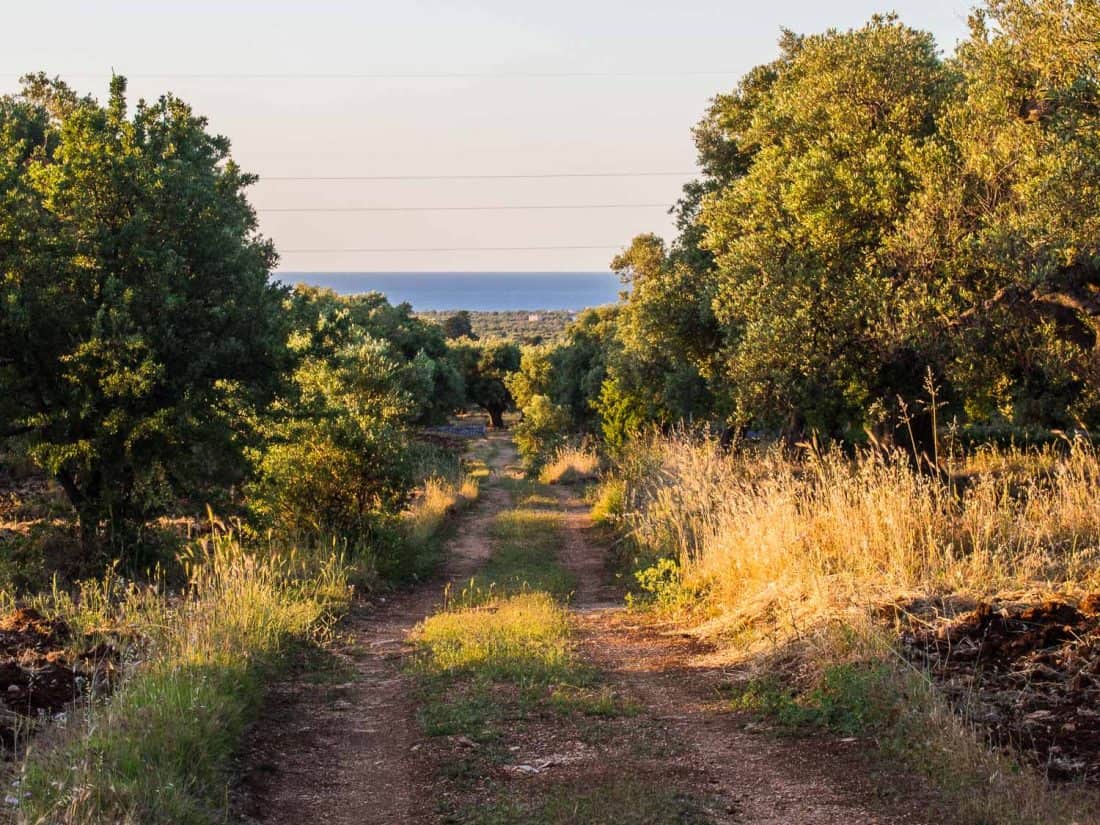 Courtyard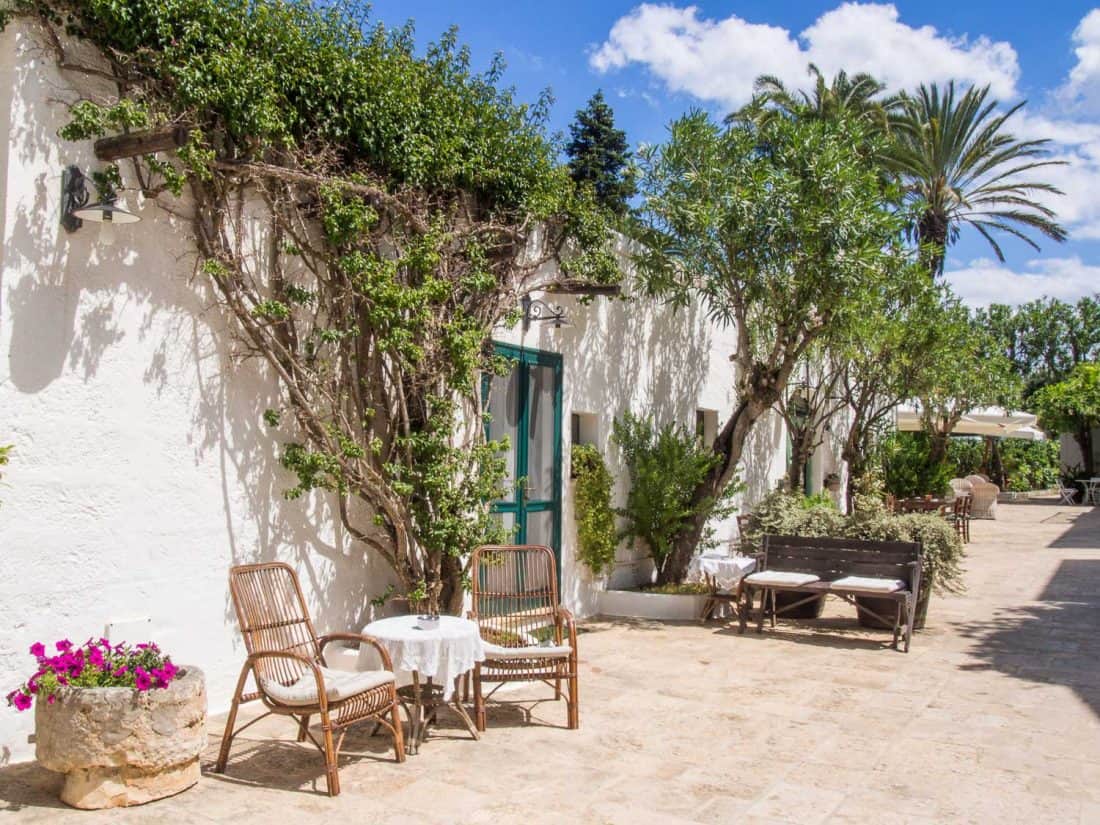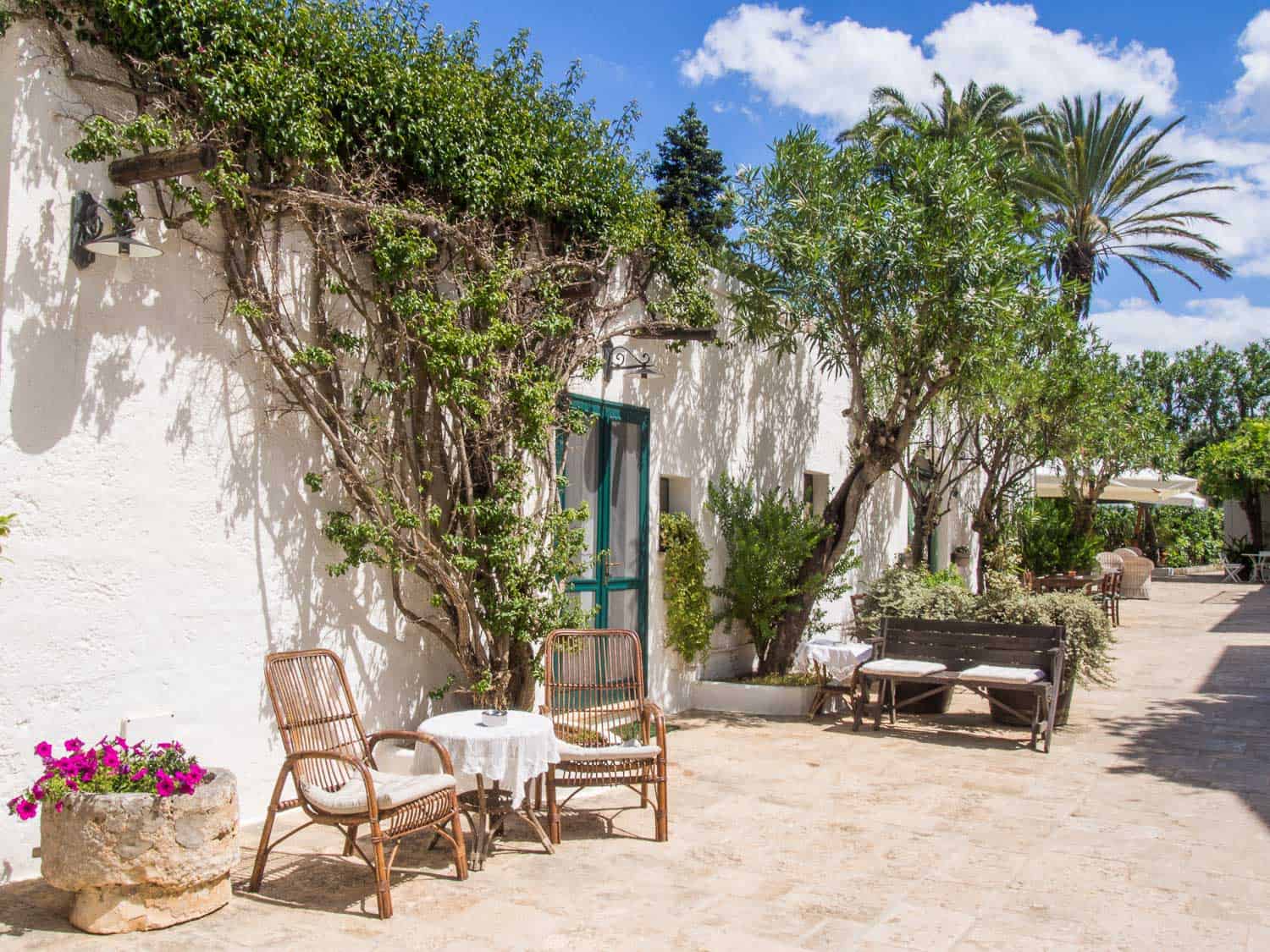 The courtyard is the focal point of the masseria and it's a delightful place full of colourful wisteria, dangling vines, cacti, palm trees, and vibrant pots of geraniums.
The stark white buildings shine in the sunlight in contrast with the blue skies by day, while at night the courtyard glitters with fairy lights and candles.
There's comfortable seating where you can enjoy your welcome drink or a pre-dinner aperitivo.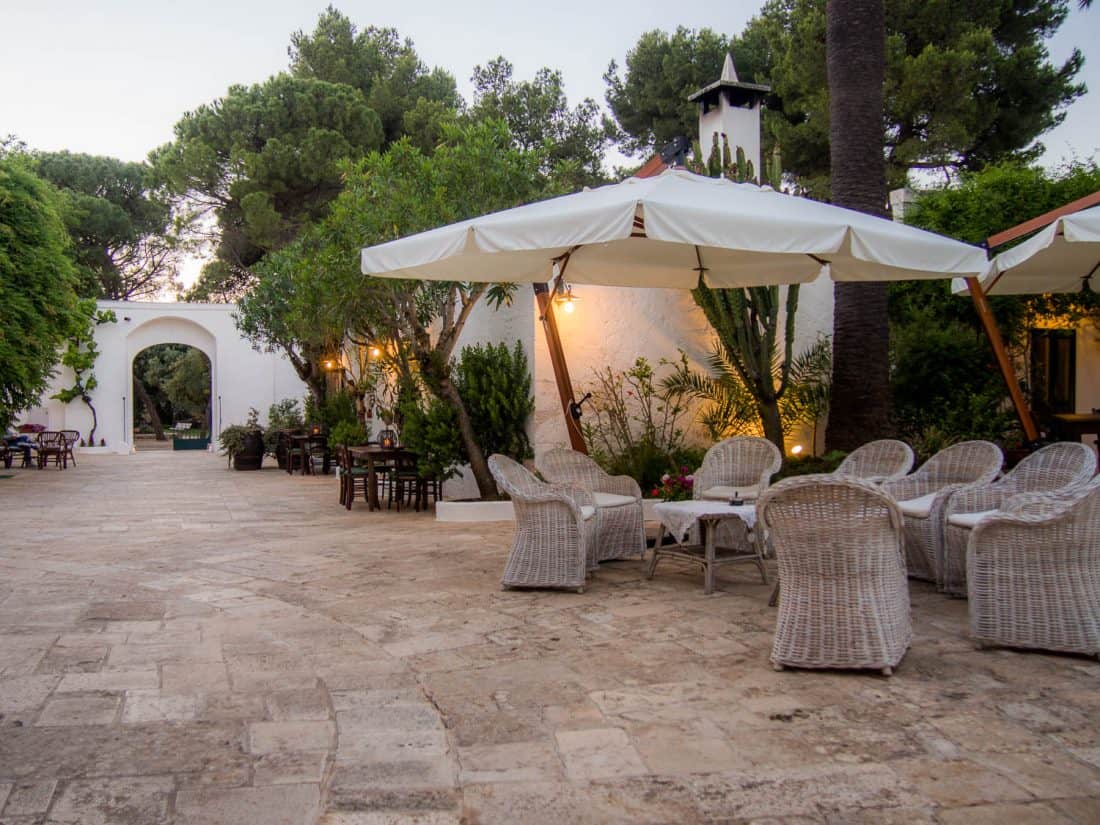 The buildings surrounding the courtyard show the progression through history as the original family added to it.
The simple building with a sloping roof is from the 1500s (when the area still had rain), while from the 1600s the roofs became flat (no rain to worry about anymore ).
In the 1700s the main house was built and is much more grand with columns and a balcony.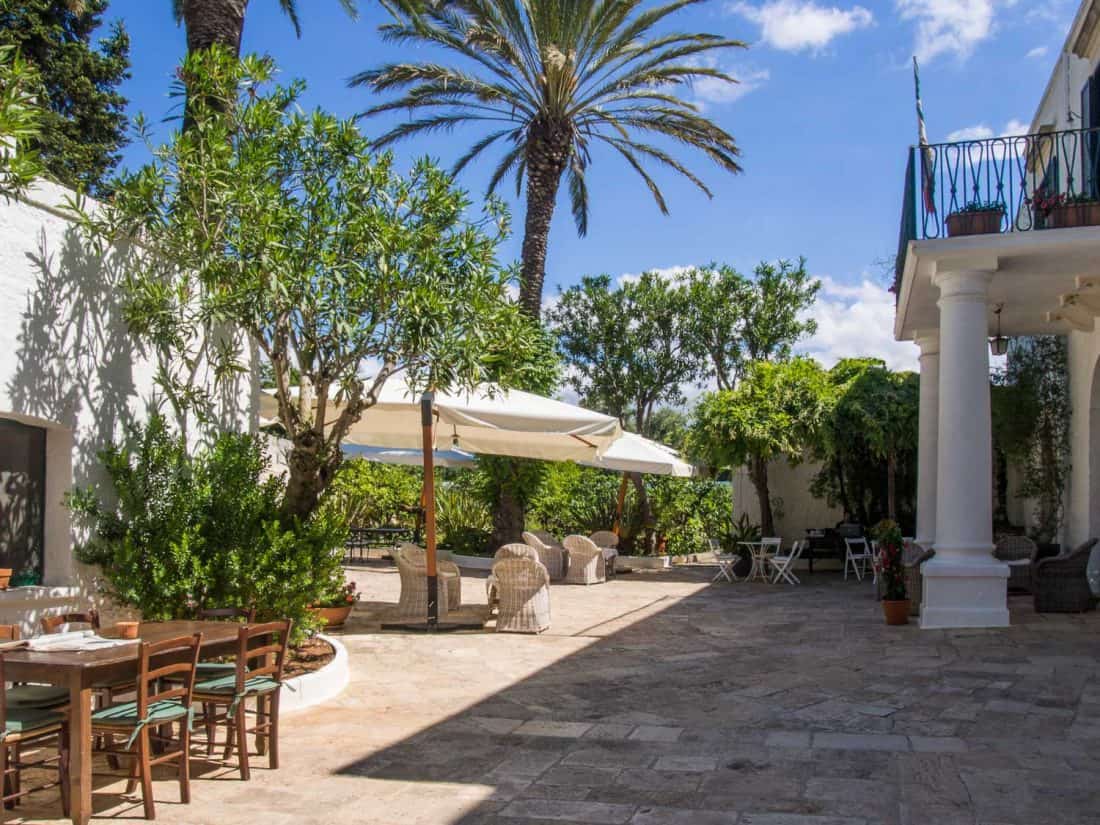 There's also a 17th-century chapel, an ancient olive press in a natural cave, and a cosy lounge with couches and a fireplace.
Gardens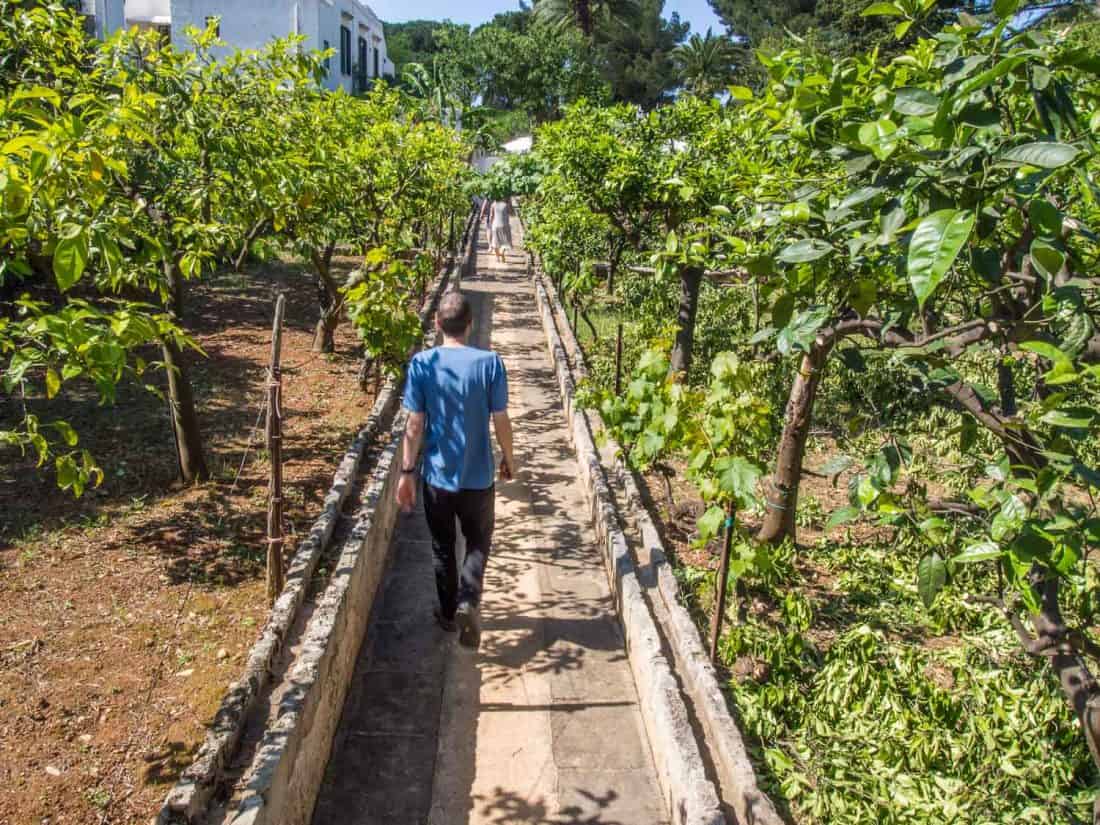 Next to the courtyard are two gardens that cleverly use natural climate control.
The Italian garden is elevated to take advantage of the breeze and is shaded with pines and palms, so it's 5ºC cooler than the courtyard. Outside the kitchen is a large herb garden.
The walled citrus orchard or Arabic garden is 5ºC warmer than the courtyard as it's protected from the wind creating the ideal conditions to grow oranges and lemons and even a banana tree.
Swimming Pool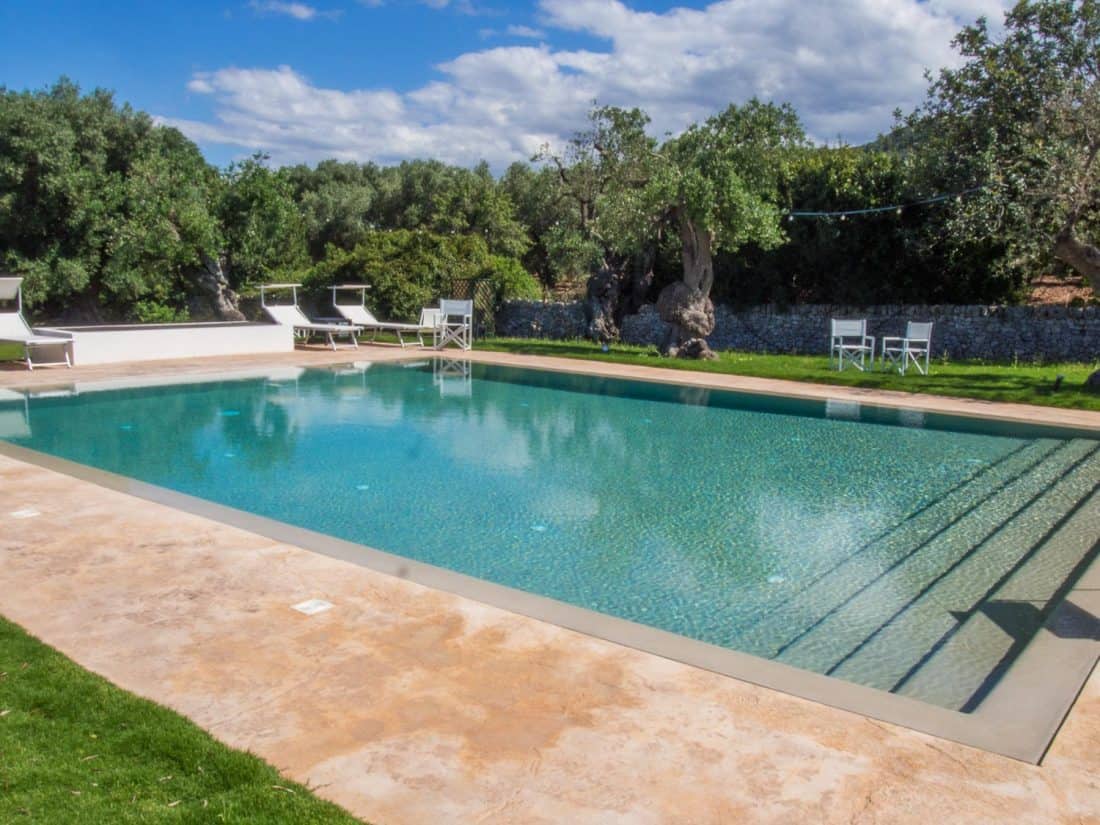 Walking through the Arabic garden you reach the olive groves where there's a children's playground and beyond that a large pool.
We spent our days relaxing here on the loungers and helping ourselves to drinks and delicious slices of tomato focaccia from the self-service honesty bar. It was never very busy.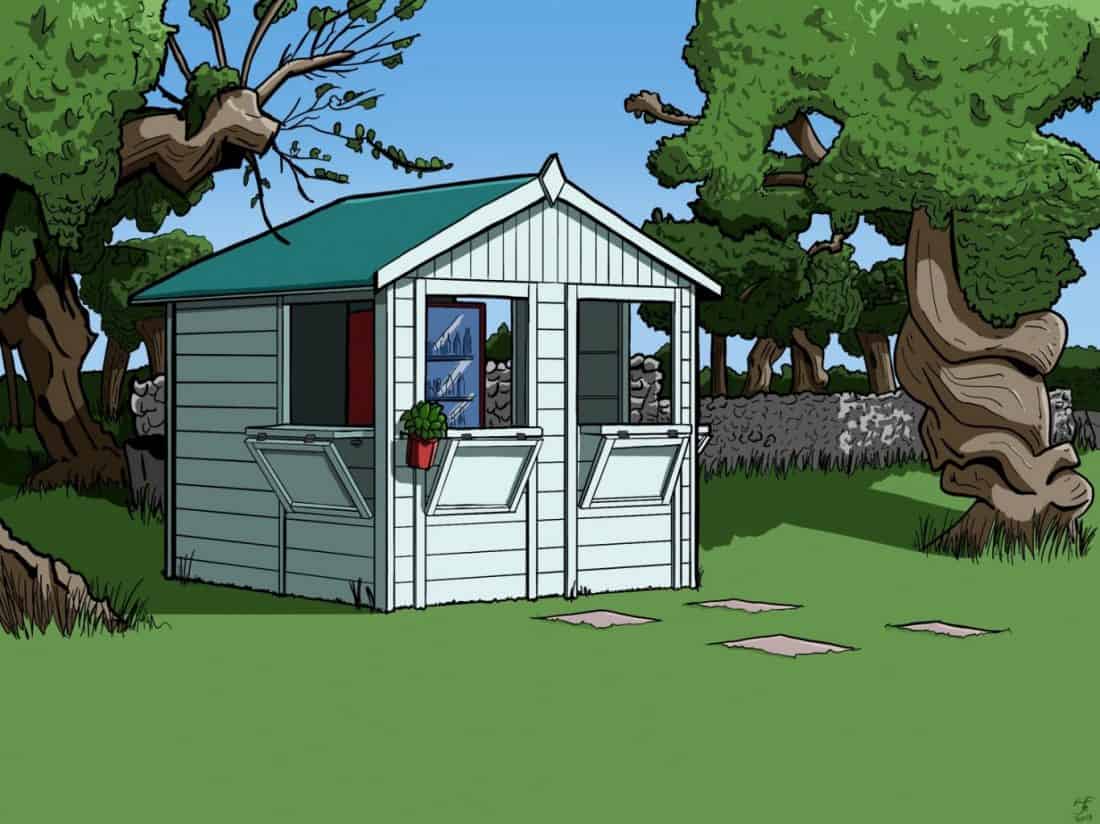 Rooms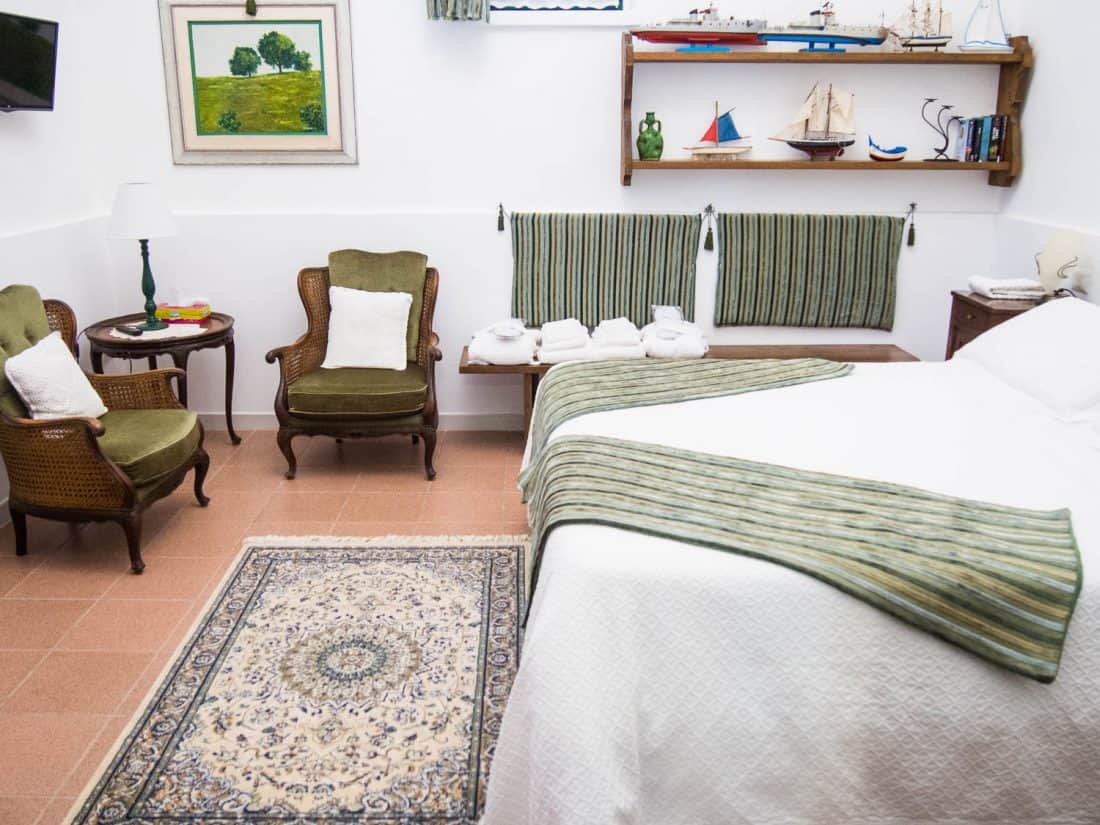 The original buildings at Masseria Il Frantoio have been lovingly restored and converted to 16 guest rooms in various parts of the property, all of which are different.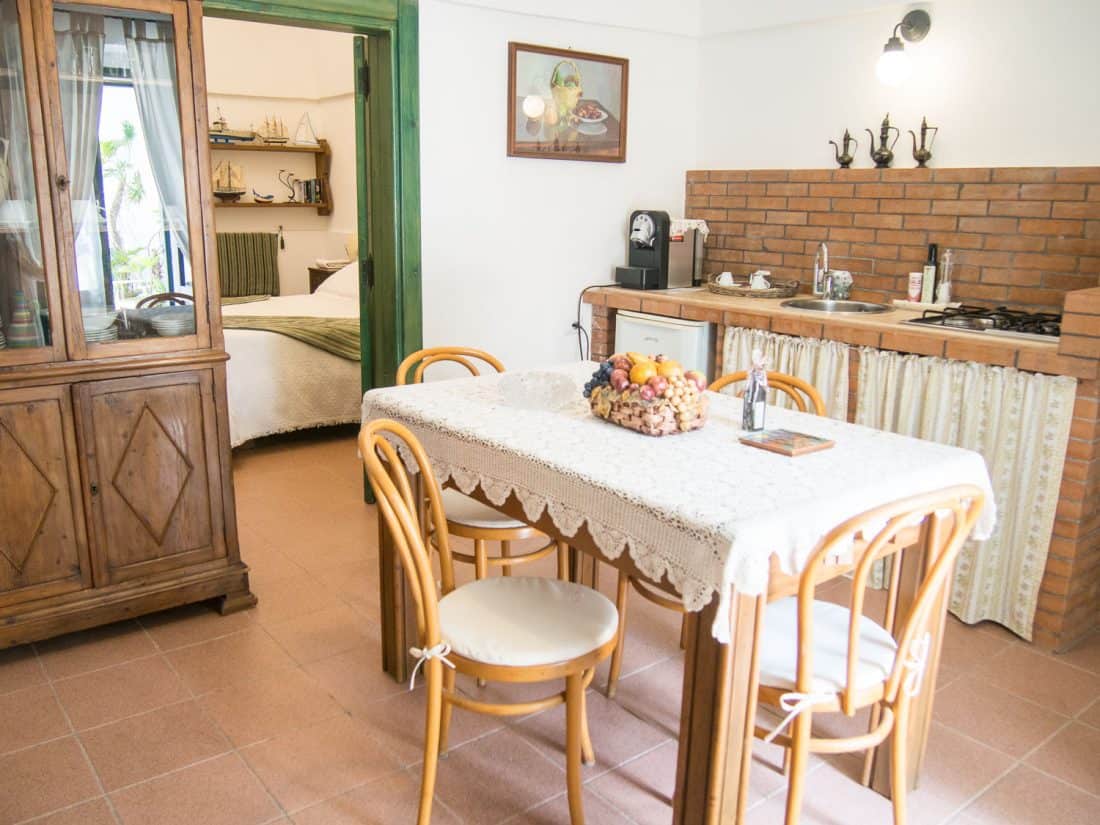 We booked a superior room and were surprised that our room in one of the old buildings off the courtyard came with a kitchen.
It was decorated in traditional Italian style with white walls, simple wood furniture, and vintage armchairs but with modern amenities.
We had a TV, air conditioning, espresso machine, and WiFi that worked surprisingly well.
The bed was more comfortable than the average Italian bed and there was plenty of storage.
Outside our room were a table and chairs.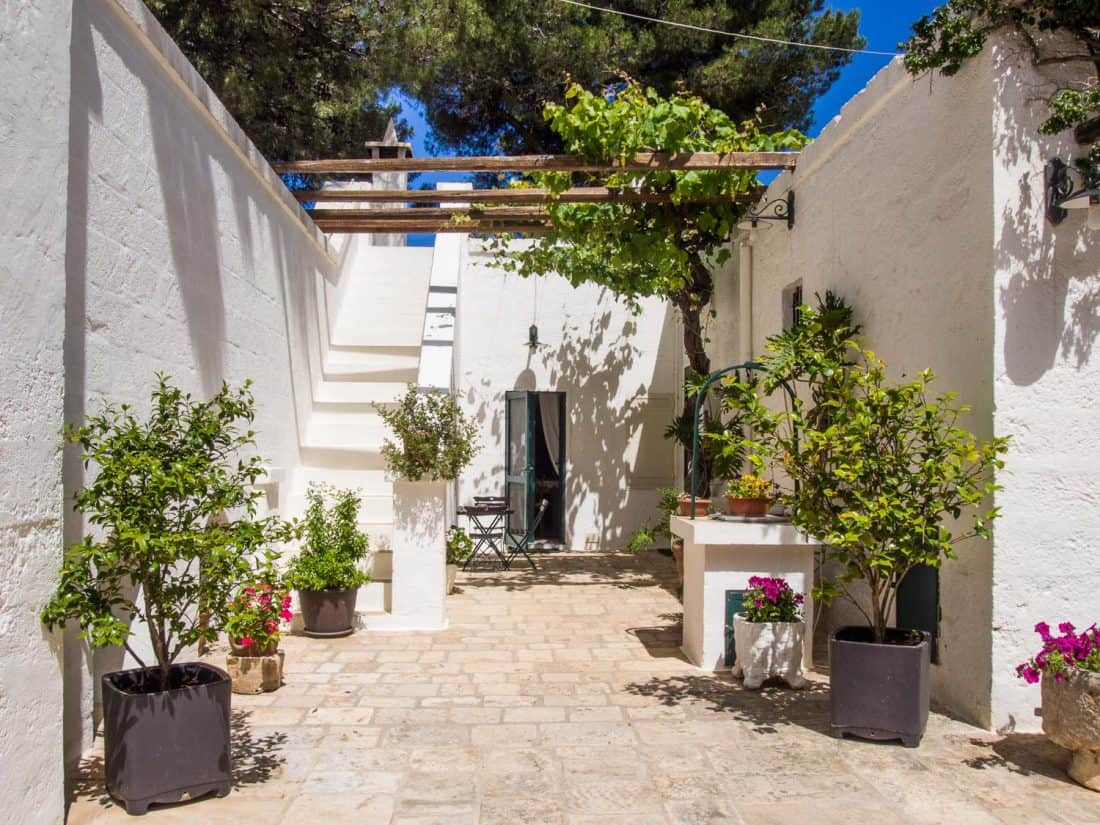 The bathroom featured a good hot shower and olive oil soap. Bathrobes and plenty of towels are provided.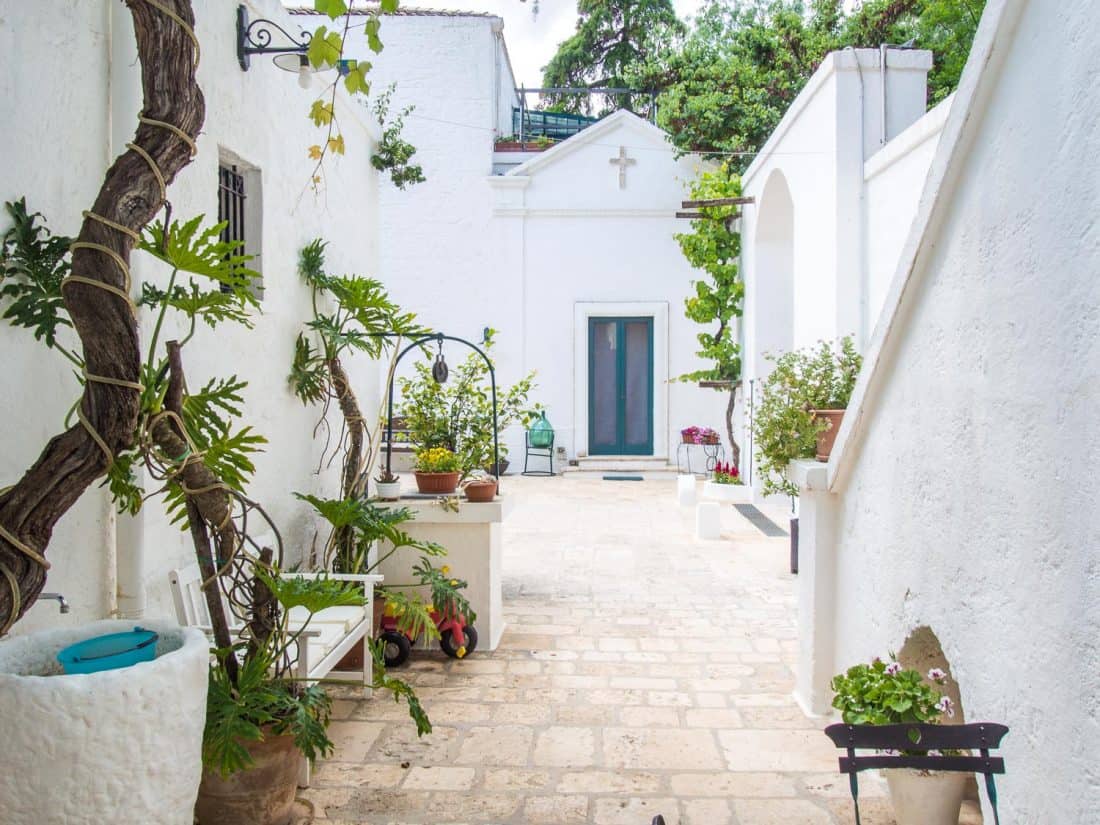 Food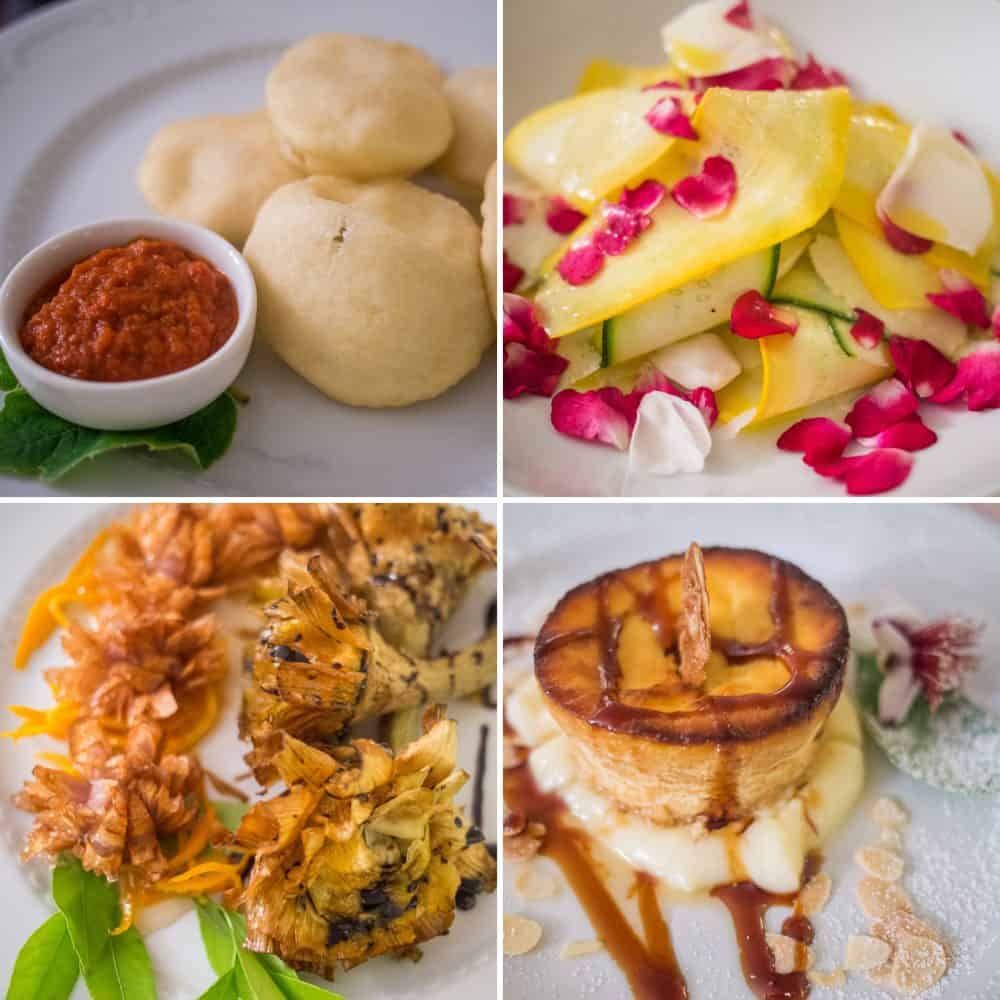 As with most agriturismo, breakfast and dinner are provided at the farm.
The only option for lunch is to help yourself to a snack from the honesty bar by the pool—focaccia, nuts, taralli, or fruit.
If you don't want to leave the property (we didn't) then bring your own supplies for lunch.
Dinner
Dinners are a real highlight at Masseria Il Frantoio. They take place in the beautiful dining room with vaulted stone ceiling or in the hot summer months outside in the courtyard.
You must book in advance for either the six-course 'A Trip to Tradition' tasting menu (€70 per person) or the eight-course 'A Journey to Tradition' tasting menu (€80 per person) including two or three different wines (with free-flowing refills), water, coffee, and digestivo.
I highly recommend going for the full eight-course experience one night—it is spectacular.
They don't have chefs in the kitchen. Meals are cooked by a local Italian mamma using almost all organic ingredients from the farm—the dairy, meat, fish, and wine are sourced from producers with similar values.
Everything is seasonal and the meals are always a surprise (let them know in advance of any dietary requirements).
Six of our eight courses were vegetarian as Puglian cuisine uses a lot of vegetables, and they replaced the fish courses with vegetarian options for us.
Our meal in May included:
Bread with a selection of their olive oils for tasting.
Pizzelle (fried bread dough) with tomato sauce – This may have been our favourite thing! The pizzelle are delectable and the sauce was perfect.
Carrot and beetroot flan.
Melanzana parmigiana (eggplant/aubergine with tomato and parmesan) – My favourite Italian dish cooked perfectly.
Zucchini rolls made with black chickpea flour.
Homemade wholemeal pasta with cardoncelli mushrooms and "Occhipinti" beans from Sarconi.
Fried artichokes and lampascioni (Puglian onions) served with a special sweet wine.
Crunchy zucchini salad with almonds and rose petals.
Ricotta tart made with Strega liquor.
Our meal ended with the choice of 35 of their homemade rosoli, liqueurs infused with natural ingredients.
Flavours including mulberry, fennel, bitter orange, and pomegranate—our favourite was olive leaf.
Everything was absolutely delicious and however full we got we were excited to see what would come next. It was a very leisurely meal of over three hours.
We also loved the wines (white, rose and red) they paired with the meal. Simon declared the Teresa Manara 2014 Chardonnay the best white he's ever tried.
Service was excellent. The staff explained each dish and even showed us some of the unusual ingredients like black chickpeas.
Our wine glasses were constantly being refilled.
We enjoyed our dinner so much that the next night we signed up for the six-course meal, which was again wonderful.
Breakfast
Breakfast is a large spread of freshly baked cakes, biscuits, and bread along with cheese, meat, frittata, homemade jams and honey, fruit, and cereal.
Unusually for Italy you can also order eggs. One morning we were brought delicious tiny hot sandwiches filled with mozzarella and tomato.
Homemade Products
You can buy their extra virgin olive oil, rosoli, jams, honey, tomato sauce, almonds, and taralli.
The oil is very good value—our favourite was the punchy Leccina and we bought a bottle to take with us.
If you like any of the wines you had with dinner you can also buy them.
Location
Masseria Il Frantoio is located a 10-minute drive from beautiful Ostuni and 15 minutes from the beaches of the Dune Costiere regional park.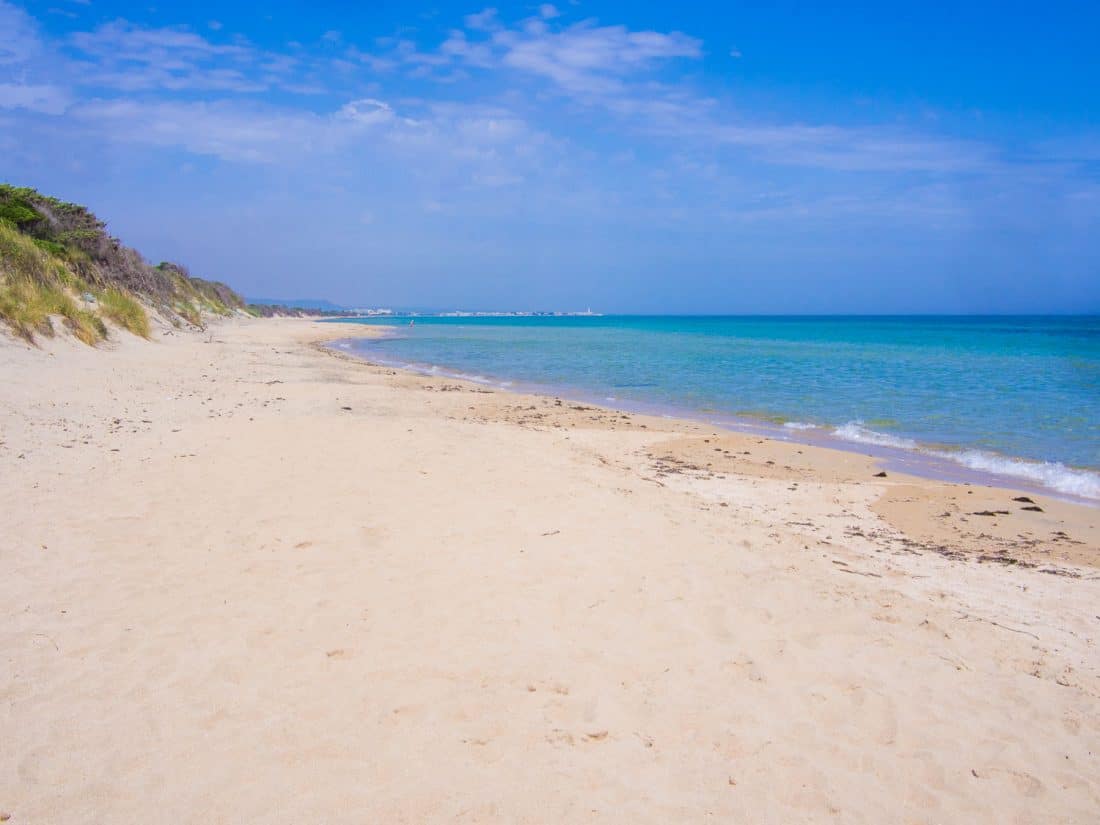 It's also only a 20–30 minute drive to some of our favourite towns in Puglia including Cisternino, Locorotondo, Martina Franca, Monopoli and Polignano a Mare.
It's a 40-minute drive to the trulli town of Alberobello and just over an hour to Lecce.
The nearest airport is in Brindisi, 35 minutes away or Bari airport is just over an hour away.
Il Frantoio would make a good base for exploring Puglia.
As it was over our usual budget we spent our two days there just relaxing and enjoying the property, then moved to a cheaper place in the Valle d'Itria to visit other towns.
Ideally you need a car, but the hotel can arrange transfers from the airport or Ostuni train station and drivers to take you on day trips. They also have bikes available.
The Google Maps location is correct so we found it easy to find.
Masseria Il Frantoio Highs and Lows
Highs
Beautiful, peaceful location on a working organic olive farm
500-year-old farmhouse and real sense of history
Delicious multi-course dinners made with produce from the farm
Many areas to relax
Lovely pool with honesty bar
Friendly staff and gregarious owner
Interesting tours of the property
Comfortable rooms
Wonderful olive oil and other homemade products
Lows
Rooms are fairly simple for the price. Don't expect ultra-luxury.
Drinking water is provided in the rooms for free, but I wish they used glass or reusable bottles rather than plastic.
Soft drinks in the room and honesty bar are expensive (€3.50 at the time of our visit), so bring your own.
Pool loungers aren't padded.
Recommended For
Couples and friends looking for a peaceful retreat with superb food in the Puglian countryside. It would also be a stunning location for a wedding.
Costs
Classic double rooms cost from €157 in the low season and €310 in the summer. Rates include breakfast, WiFi, and a guided tour of the property. A larger Superior room costs around €20 more.
Click here to check current prices and availability at Masseria Il Frantoio.
Masseria Il Frantoio Review Summary
Our stay at Masseria Il Frantoio was a blissful escape from reality.
We were immersed in nature and history without having to give up modern comforts, and the food was the best we've eaten in Italy.
We left feeling full, content, and totally relaxed.
It's a magical place and we already want to return—and convince everyone we knew that they should visit too.
More Puglia Tips
Salento