This page contains affiliate links. Please read our disclosure for more info.
The Amalfi Coast is one of the most beautiful parts of Italy, but it's also one of the most crowded and expensive. We decided to find out if it's possible to experience a quieter side of the dramatic coast without spending a fortune.
It seemed like the best way to do this was on foot. There are many trails carved into the cliffs of the Amalfi Coast and we chose the most famous—the Sentiero degli Dei or Path of the Gods, along a mountain ridge high above the sea.
The hike was stunning, and we also discovered an off-the-beaten-path village where we stayed for a fraction of the price of more popular towns like Positano.
In this post, I share everything you need to know about the Path of the Gods hike including a map, transport details, what to bring, and where to stay.
Contents
Italy Travel Restrictions in 2023
Since May 2022, a Green Pass (showing proof of vaccination or a negative test) is no longer required in Italy.
Masks are also not required.
I still highly recommend purchasing travel insurance that covers COVID-19 medical expenses. SafetyWing Insurance is an excellent budget option, especially for travellers on longer trips and families (as children under 10 are free). It's available worldwide.
Or if you need cancellation cover, Heymondo travel insurance is another great option that we've used for our Italy trip.
What is the Path of the Gods?
The Path of the Gods (or Sentiero degli Dei in Italian) is a clifftop trail above the Amalfi Coast.
The main section of the hike is 6.5 km (4 miles) between the small villages of Bomerano (in Agerola) and Nocelle (above Positano).
There are beautiful views of the sea and coastal towns below along the way.
Both these villages are above the sea, so there isn't a huge change of elevation between them.
The hike is of moderate difficulty. If you are an experienced hiker, you'll find it easy, and if you are reasonably fit, you'll be fine.
The hike becomes more difficult if you start or finish in the coastal towns of Praiano (below Bomerano) or Positano (below Nocelle).
These towns are connected to the trail by steep staircases of over 1500 steps. You can avoid these sections (as we did) and I share transport tips below.
The trail is easy to follow and you don't need a guide.
That said, if you are staying in Sorrento you might want to join this small-group Path of the Gods tour from Sorrento. Otherwise, it'll take you at least two hours on two buses to get to the start of the hike.
Video: Italy Travel Inspiration
Consider combining a trip to the Amalfi Coast with our favourite Italian region, Puglia. This video shows the best places to visit.
Path of the Gods Map
San Lazzaro: Our Quiet, Affordable Base on the Amalfi Coast
Accommodation is the biggest challenge for an affordable Amalfi Coast trip, so I turned to Airbnb and used the map view to find rooms close to the hiking trail.
Praiano and Positano were way too expensive, but I was amazed to find a lovely room with private bathroom on AirBnB in the village of San Lazzaro for just €65. When everything on the coast was well over €100 ($118), it seemed too good to be true (UPDATE: it seems it was too good to be true, as it's now no longer available).
I couldn't find out much about the village—other than it's in Agerola, a collection of villages that includes Bomerano where the hike starts—but we find it's hard to go wrong in Italy.
We made the right decision. San Lazzaro may not be as attractive as the famous towns in the area, but it has an understated Italian charm.
Instead of souvenir shops and tourist menus, we enjoyed morning cornetti and evening aperitivo with locals.
It's not the place to come for beaches, but there are views of the sea far down below and plenty of hikes nearby.
Prices are much lower than the popular destinations—at the family-run Trattoria Da Gigino we paid €5 for tasty pasta dishes and even at the fancier Leonardo's pizzas were €3-4.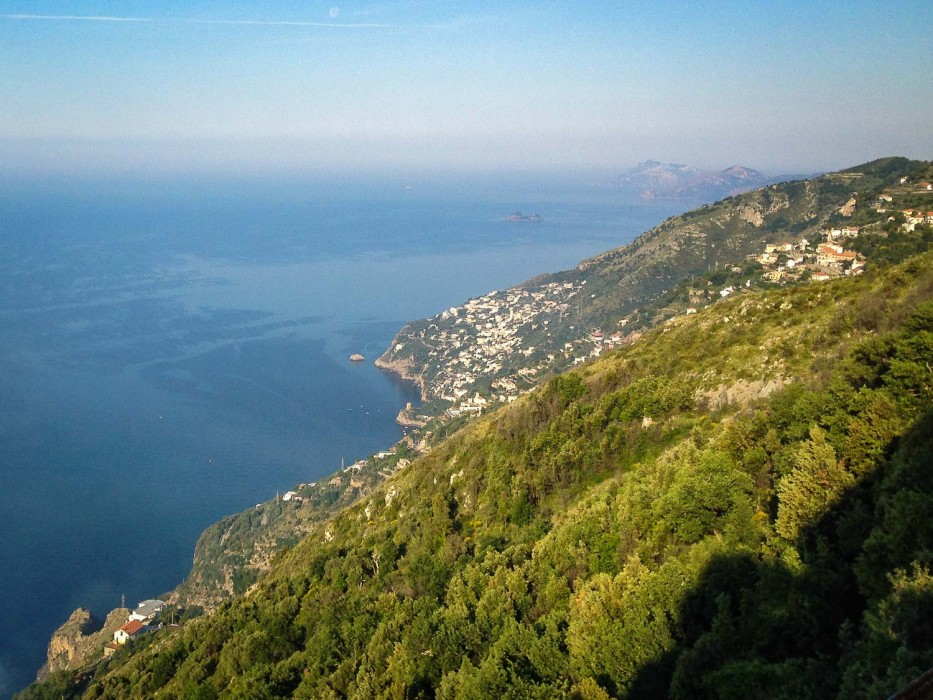 San Lazzaro is not the most convenient location for exploring the coast—buses are infrequent and it takes an hour to get down to Amalfi where you can change for other places like Ravello and Positano.
But it is only a 15-minute bus ride from the start of the Path of the Gods in Bomerano.
Bomerano is an even better location for the hike and still affordable—B&B A 2 Passi Dagli Dei is only 100 metres from the start of the hike and the lovely rooms are inexpensive and highly rated.
Hiking the Path of the Gods from Bomerano to Nocelle
To avoid the crowds and heat we set out early—taking the 6.50am bus from San Lazzaro to Bomerano.
We had a cornetto (croissant) breakfast in a bar in Bomerano's piazza before setting out on the trail at 7.30am.
At first, mist obscured the views of the sea, but it was still a gorgeous hike past towering limestone mountains, colourful wildflowers, and ancient abandoned stone houses, and through forests and meadows of long grass.
Farmers grow vines on terraces carved into the hillside and still use donkeys for transport along the narrow pathways.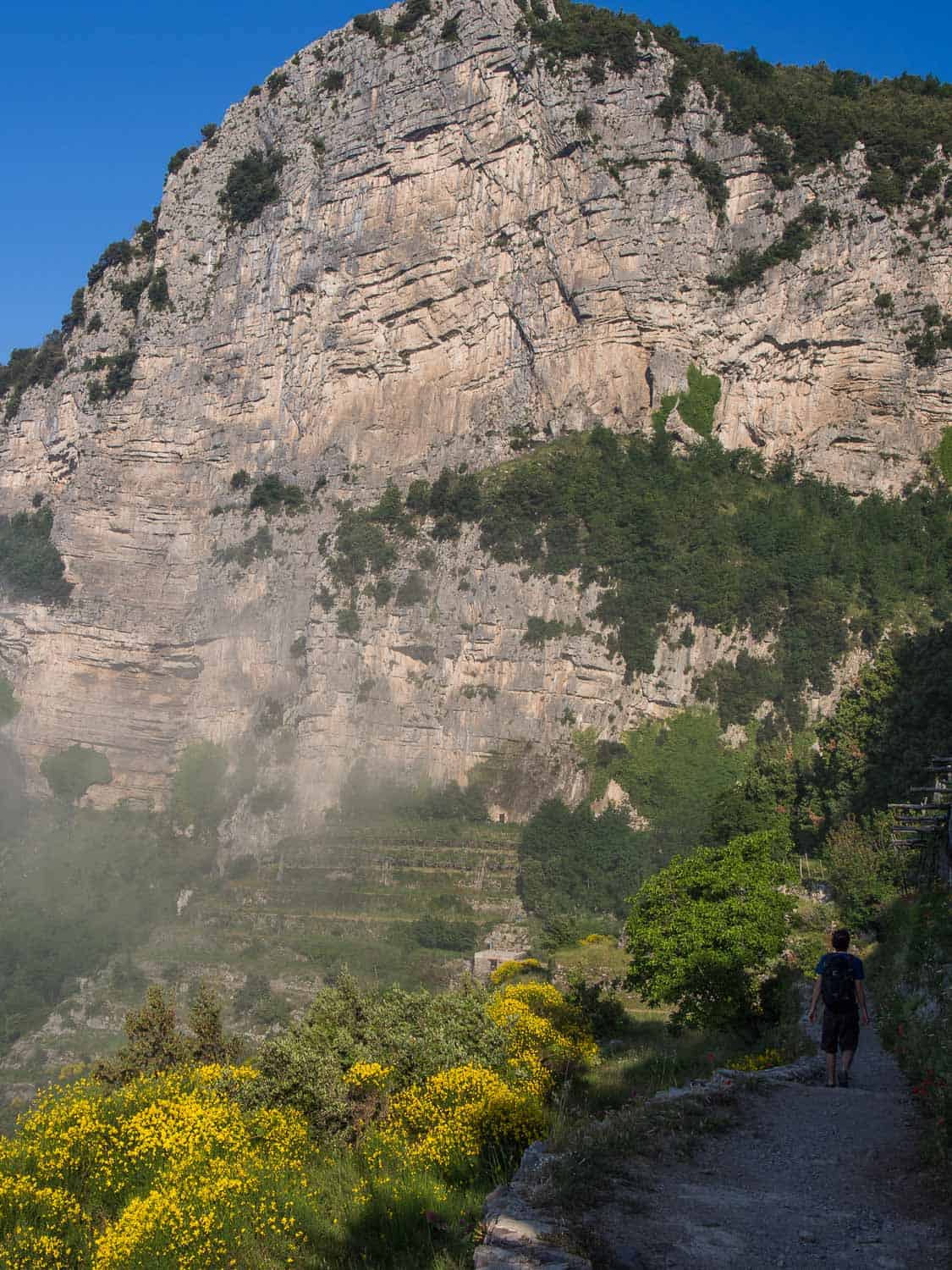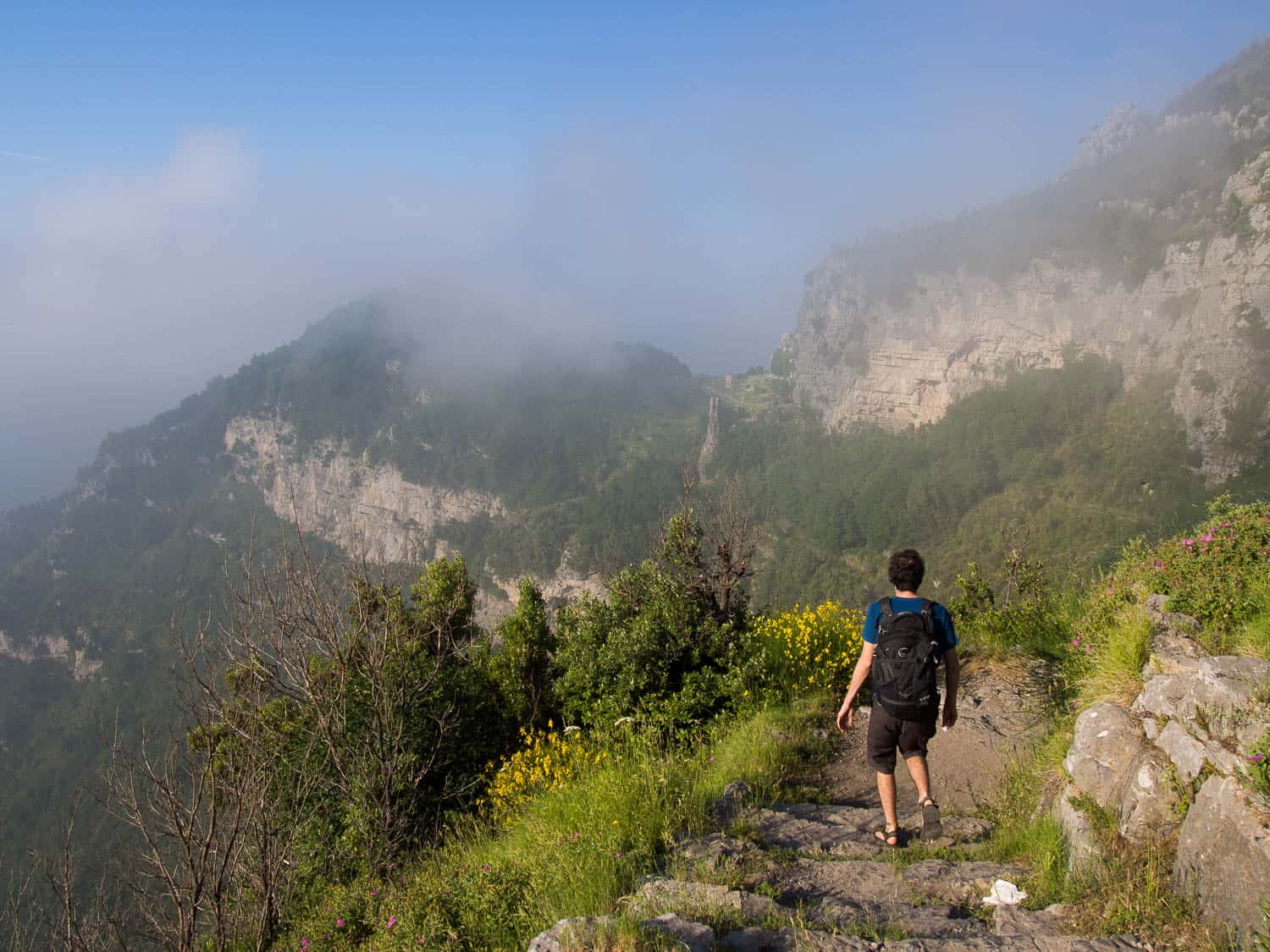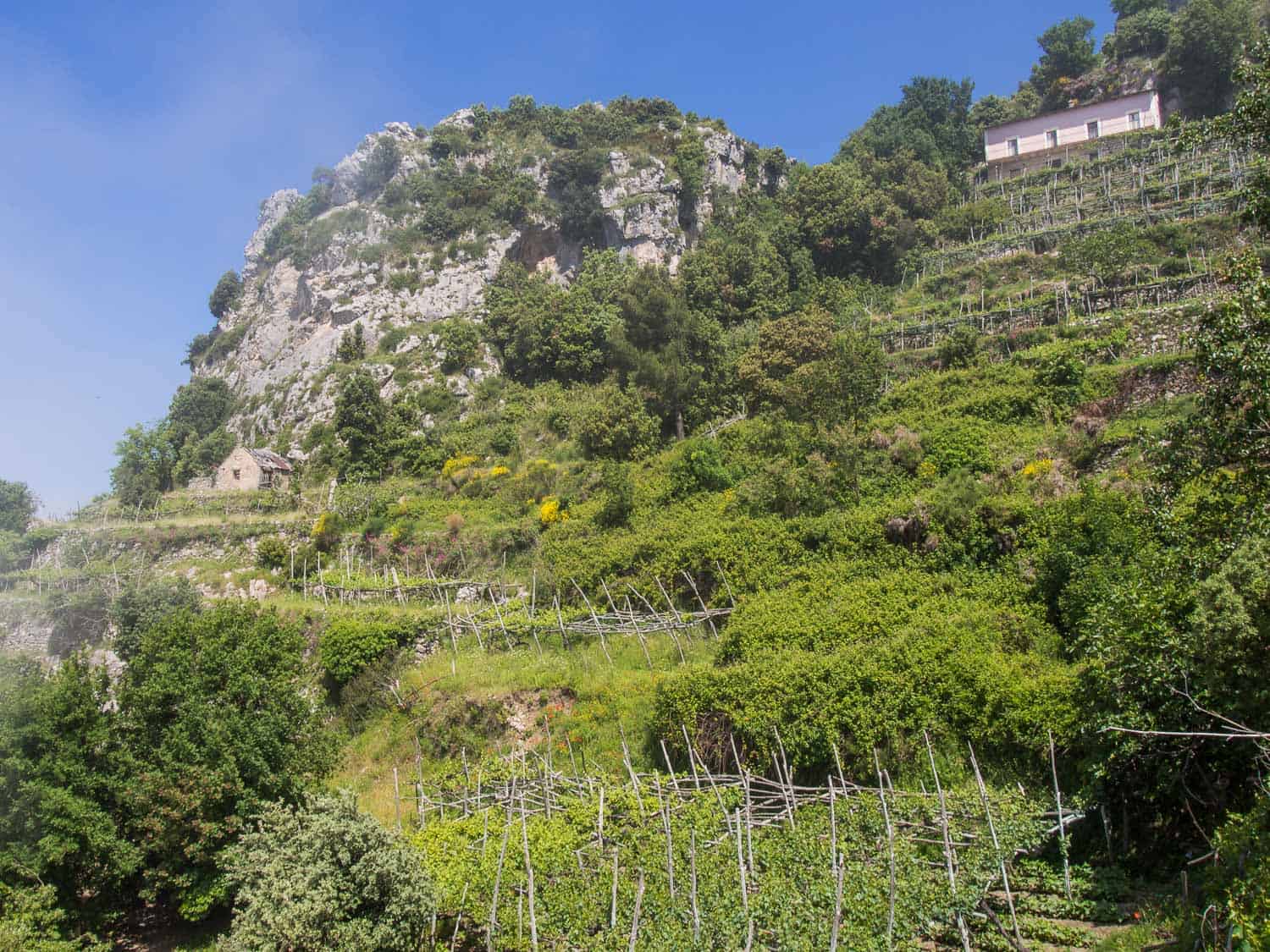 Eventually, the mist burned away and the deep blue sea revealed itself far below, with views of Positano, its houses clinging to the cliff.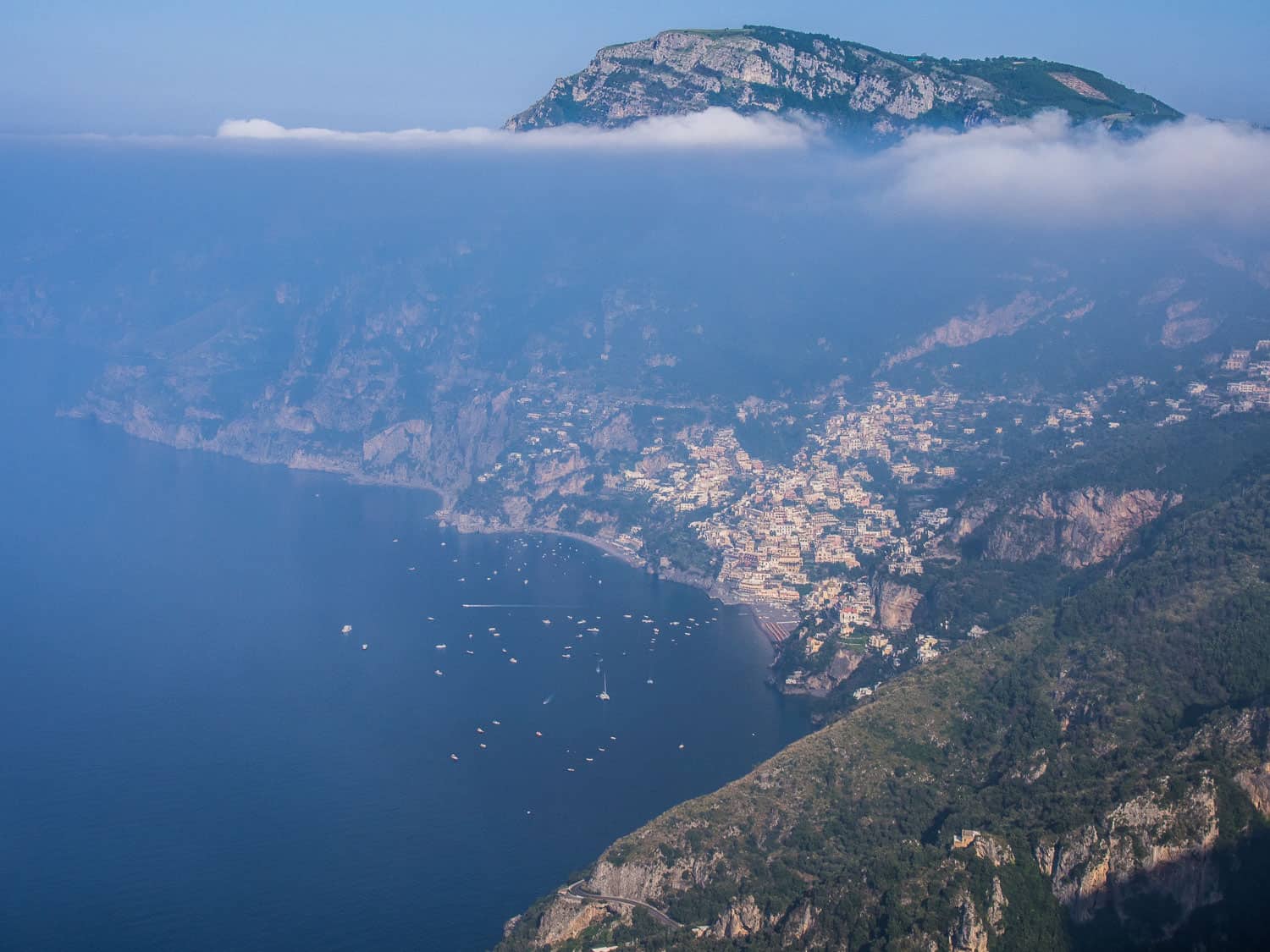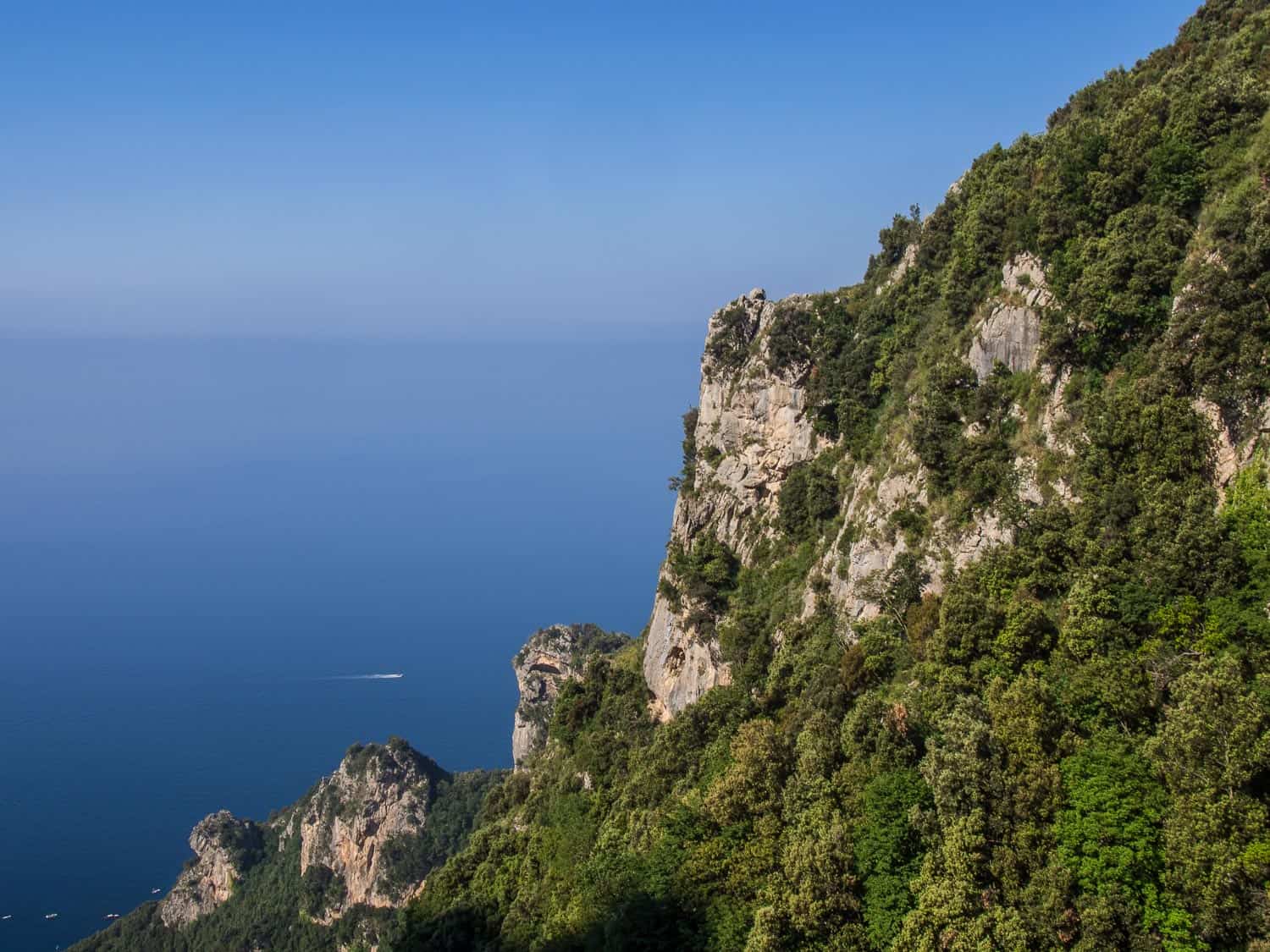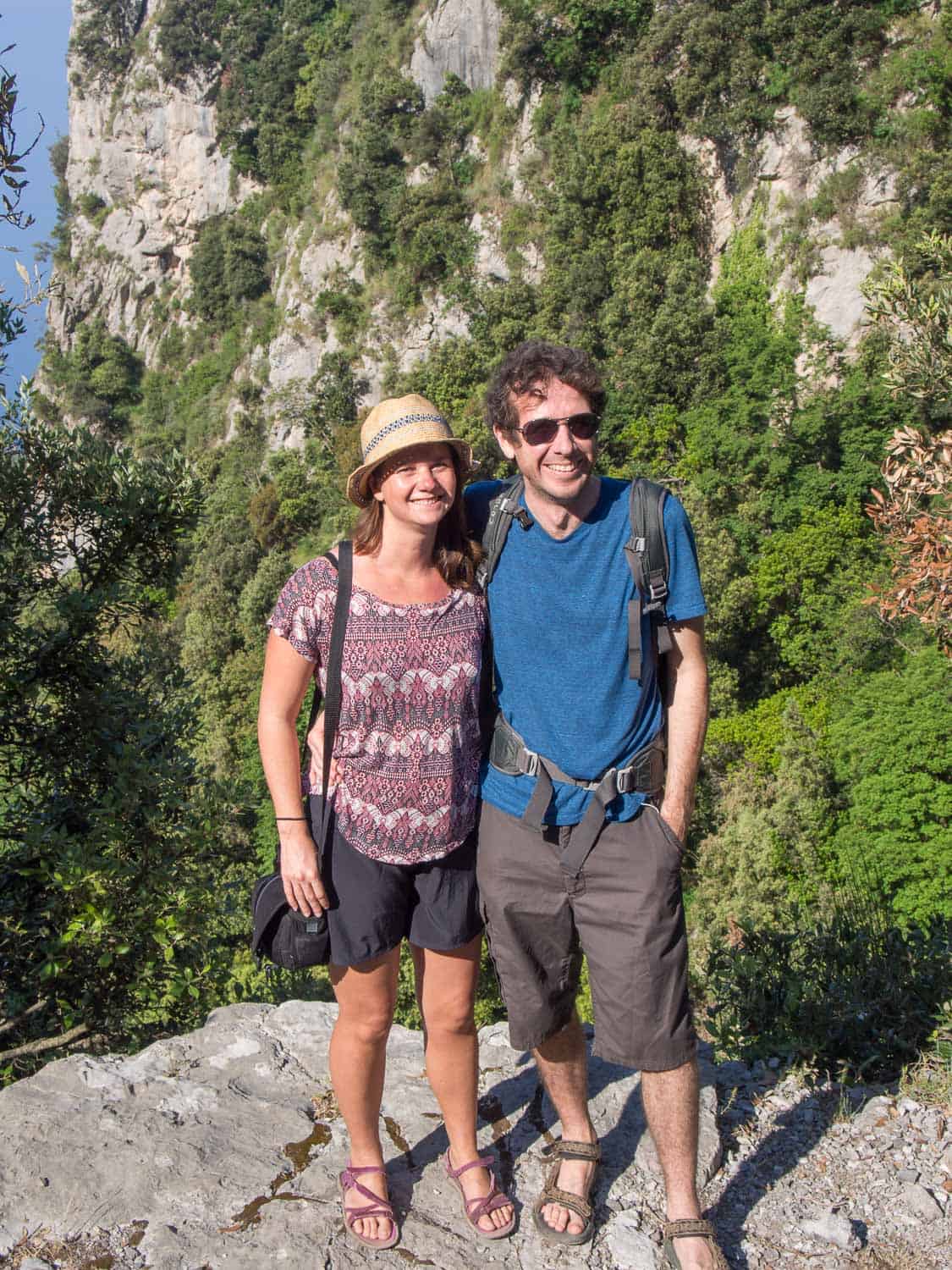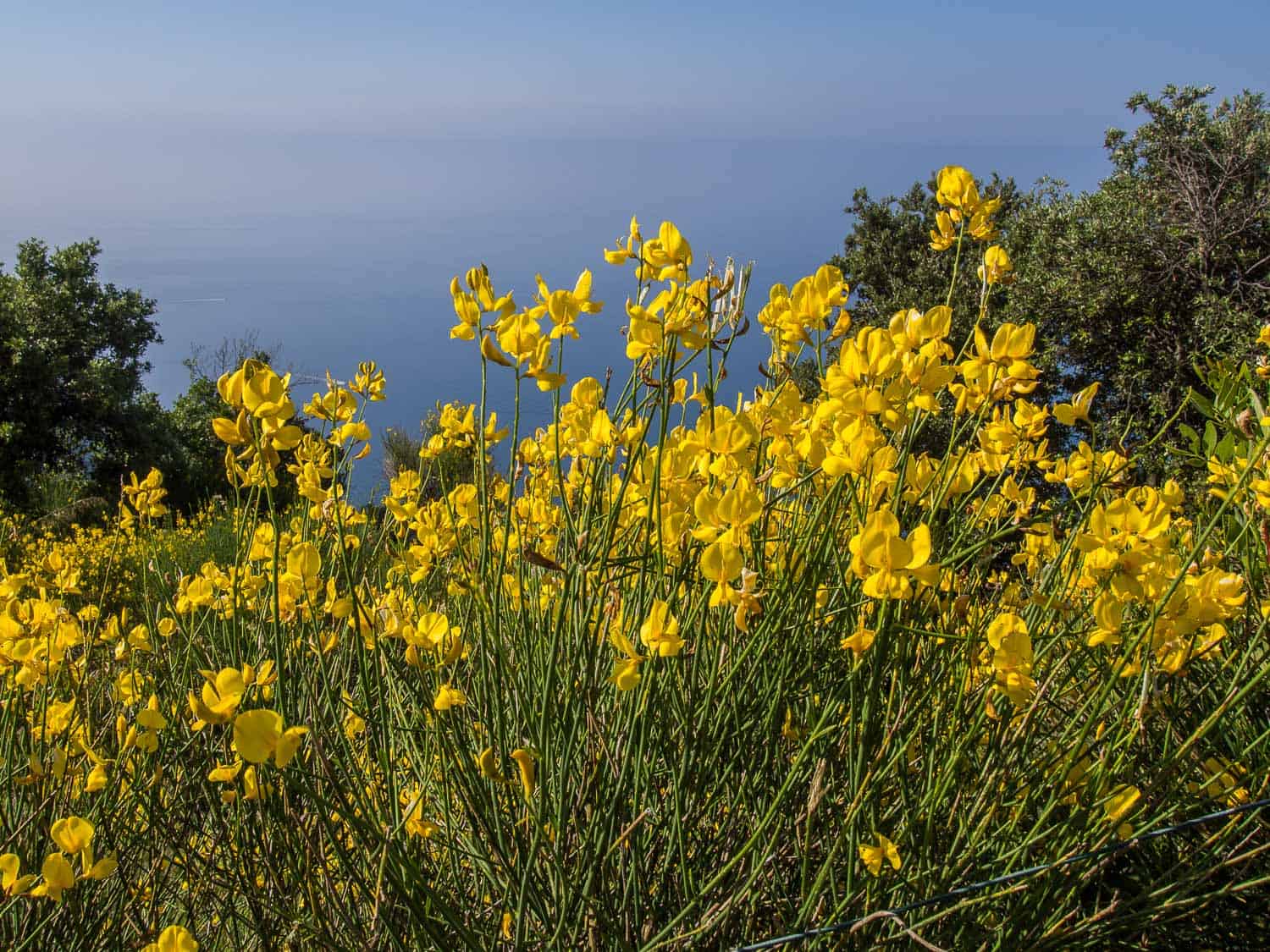 What surprised us most was how peaceful the trail was. It took us 1 hour 45 mins to get to Nocelle and we didn't see anyone else until the last 15 minutes—all that beauty, all to ourselves!
Nocelle is a tiny village and we couldn't find an open bar to have a drink and rest.
There are public toilets by the church downhill (in Piazza Santa Croce), and on the terrace outside we discovered that Lemon Point was opening.
This cute stall sells fresh lemonade from local lemons—just what we needed.
Hiking the Path of the Gods from Nocelle to Bomerano
In Nocelle there are signs to continue the trail down steep stairs to Positano (or you can take a bus).
As we'd have had to take two buses from there to get back to San Lazzaro, we decided to walk back to Bomerano instead.
At 10am the Path of the Gods was much busier, and as we were facing into the sun, much hotter.
The trail is a mix of up and downhill sections, and it felt a little steeper on the way back, but that could have been because we were more tired.
We're glad we made the return journey as we got a different perspective on the trail and saw things we hadn't noticed before.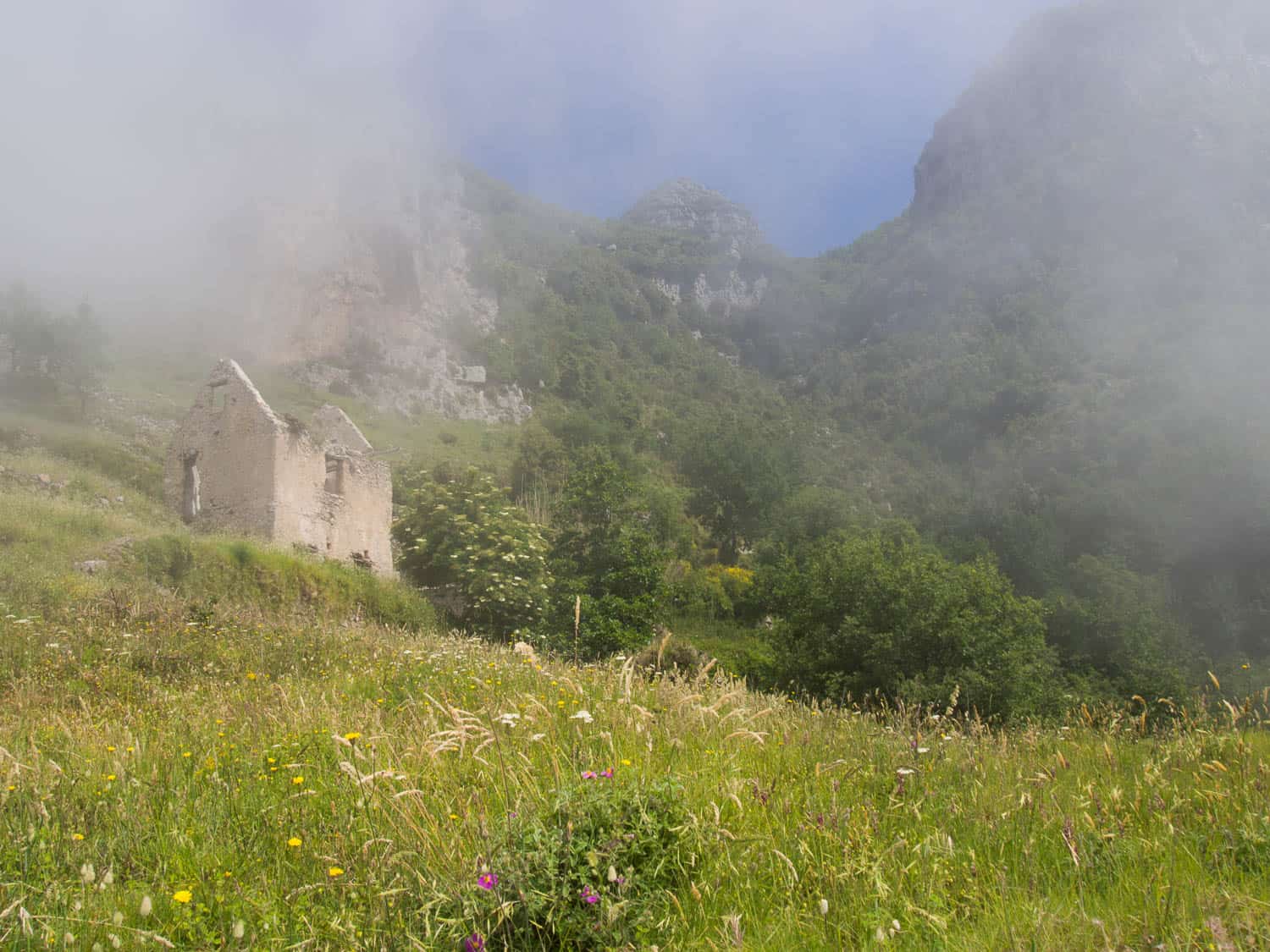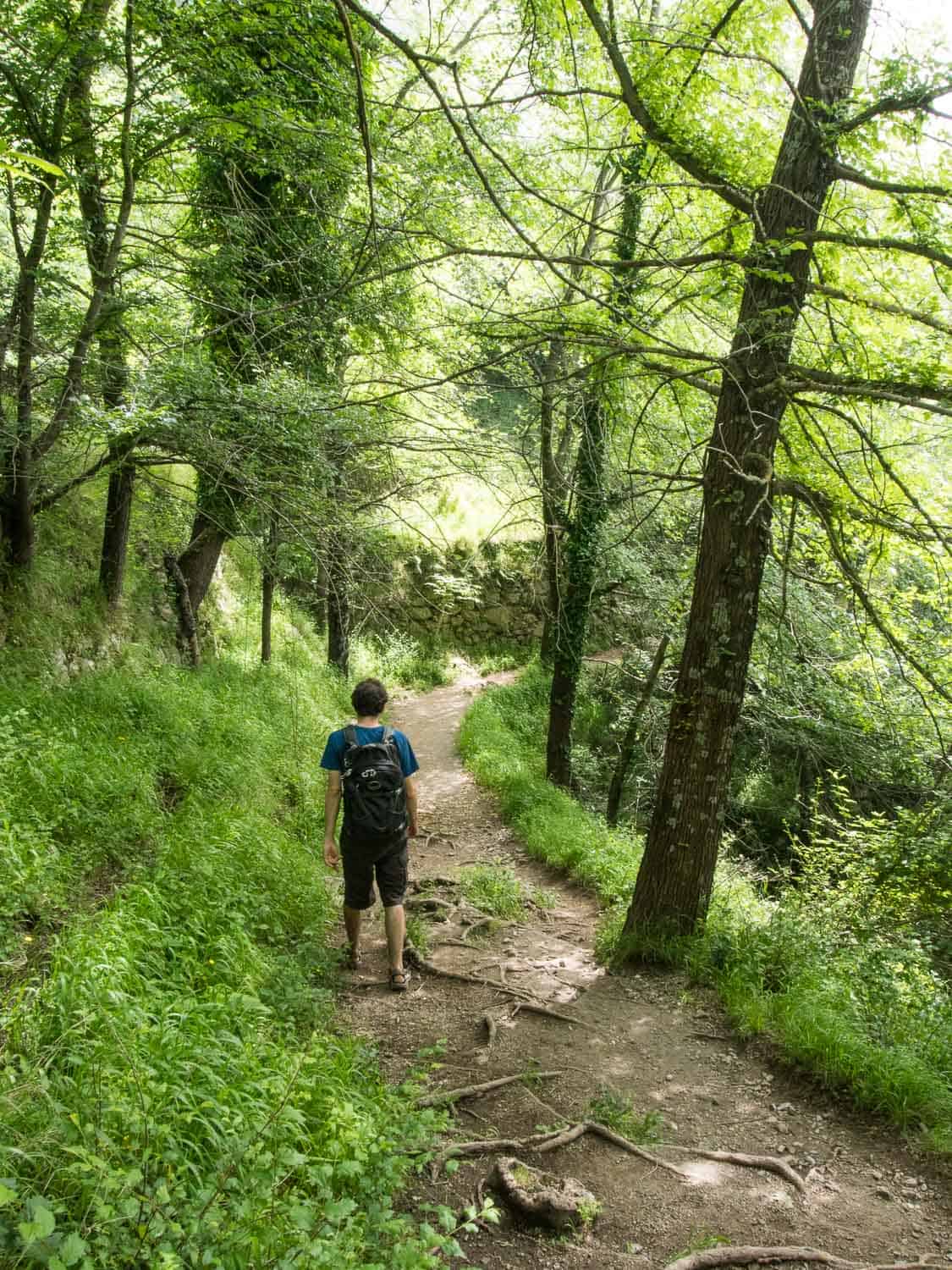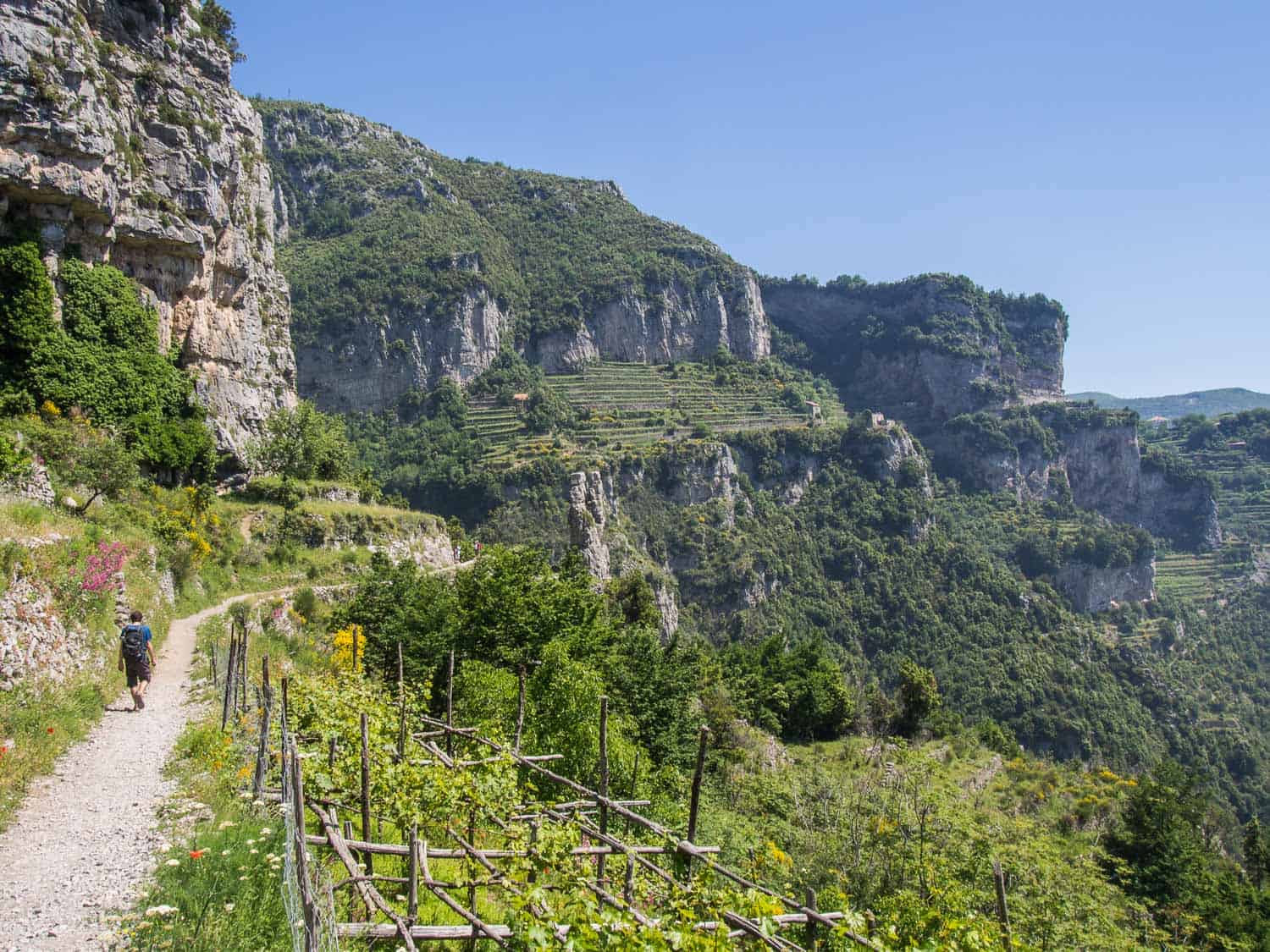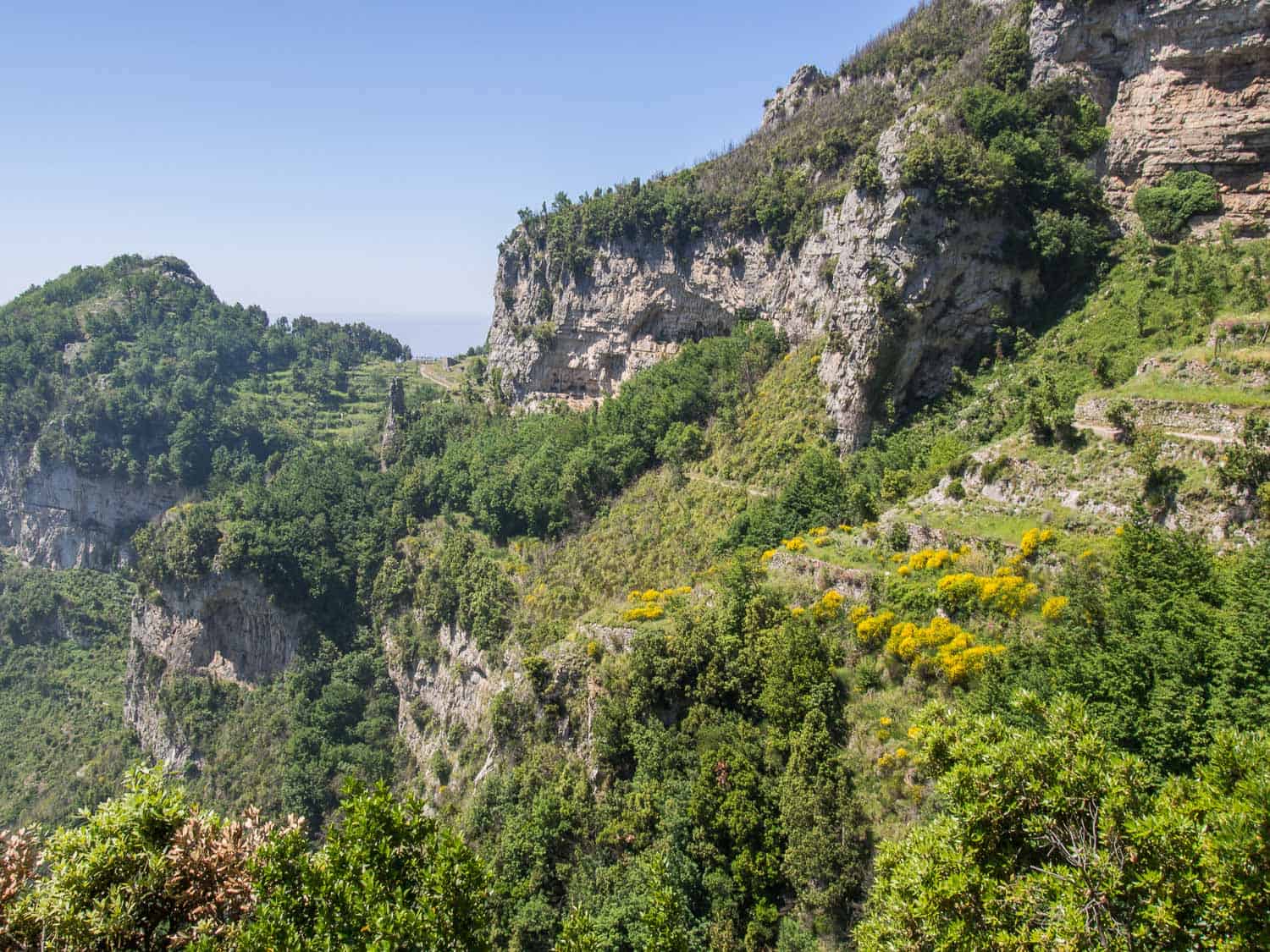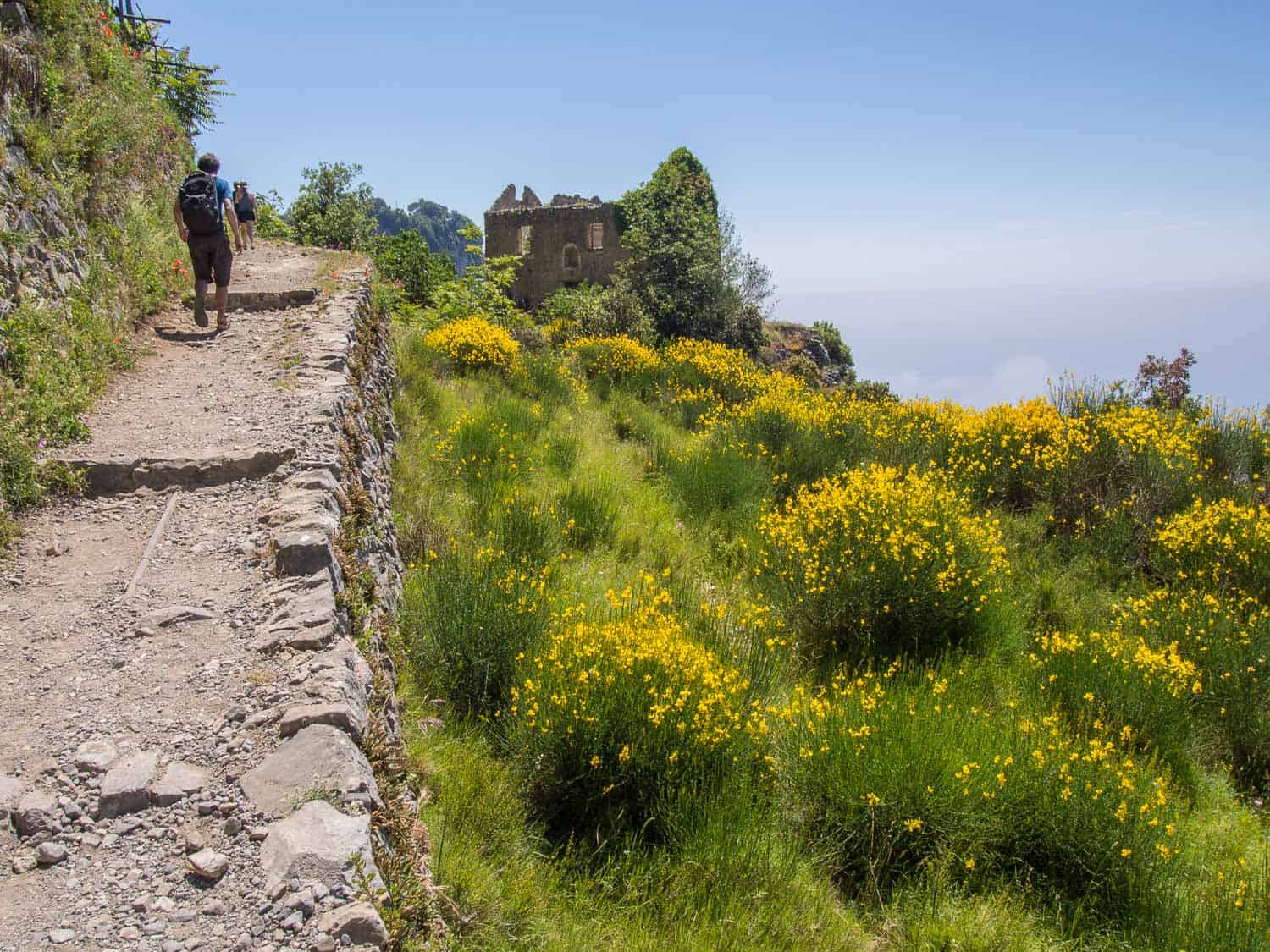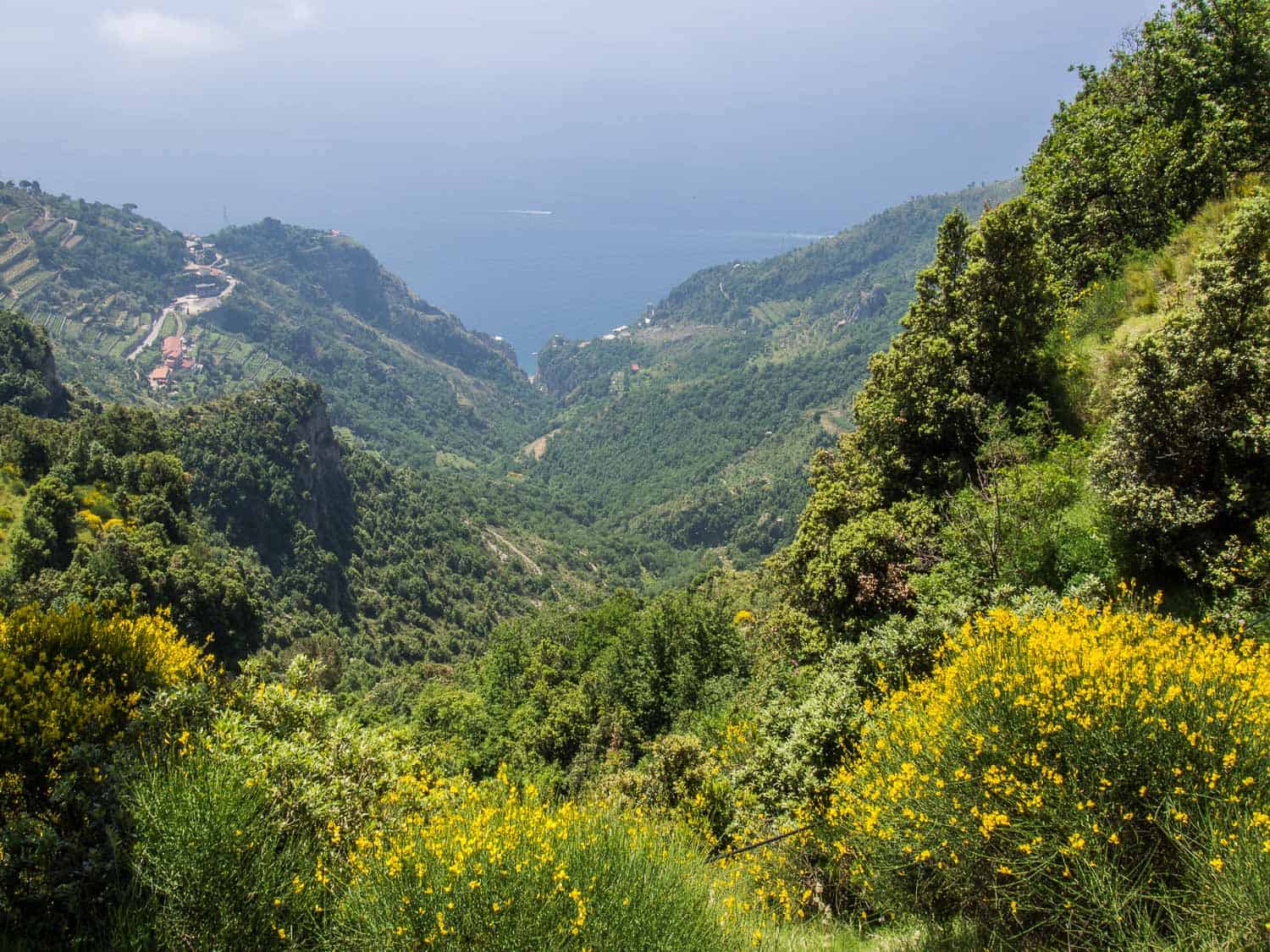 Back in Bomerano, we would have had to wait 1.5 hours for the bus to San Lazzaro, so we decided to walk instead, which took us 40 minutes along a fairly quiet road.
Then it was time for a big lunch of pasta and wine and a well-deserved siesta.
Path of the Gods Tips
Hike Length and Details
You can start the Path of the Gods hike from Bomerano or Nocelle, or the coastal towns of Praiano or Positano (but be prepared for lots of stairs).
There are signs from Bomerano piazza to the start of the trail—here are some detailed visual instructions.
The trail is easy to follow—look out for the red and white lines that mark it along the way.
From Bomerano to Nocelle was 4 miles (6.5km) each way.
Allow around four hours to do the route as we did from Bomerano to Nocelle and back, which includes time for breaks. Or two hours for a one-way hike.
Allow around three hours if you hike one way from Bomerano to Positano.
We highly recommend getting an early start to avoid the heat and crowds. 7.30am from Bomerano was ideal.
Starting in Praiano
If you are staying in Praiano, it makes sense to start the trail from here. You won't miss any of the best bits of the hike by connecting to the Path of Gods from Praiano, but you do need to be fit.
To get to the trail from Praiano, you'll have a steep climb up 1900 steps which makes the hike much more strenuous, especially if it's hot (definitely start early!).
I've heard mixed reports on how long these stairs take—anywhere from 45 minutes to two hours depending on your fitness level.
Expect the total hike from Praiano to Nocelle to take from 2 hours 15 minutes to 3.5 hours. From Nocelle you could hike back or continue to Positano (see below) and take the bus back to Praiano.
Here are directions for starting the Path of the Gods in Praiano.
Path of the Gods from Positano
If you start the hike in Bomerano and want to finish in Positano, you have two options:
Walk down the 1700 steps from Nocelle to Positano (approximately 45 minutes), which most people report as surprisingly challenging and tough on your knees. The views are good, though. At the end of the stairs, you reach Arienzo then have to walk another 15 minutes along the road to the centre of Positano.
Take the bus from Nocelle to Positano.
There are a few options on how to hike the Path of the Gods from Positano if you are staying there:
Hike up the 1700 steps to Nocelle—only for the fit! Walk from there to Bomerano and either walk back or take the bus back via Amalfi.
Take the bus up to Nocelle and continue as above.
Take the bus or ferry to Amalfi and connect to the 5080 SITA bus to Bomerano. This takes at least two hours.
Drive to Bomerano (if you have a car), which takes about one hour, and walk to Nocelle and back.
Hire a taxi to drive you to Nocelle or Bomerano then walk back. This private transfer from Positano to Bomerano costs from €140.
See below for more details on getting around.
Path of the Gods from Sorrento
To get to the Path of the Gods hike from Sorrento you have to take the SITA bus to Amalfi and then change to another bus to Bomerano. This takes at least two hours.
Walk from Bomerano to Nocelle then walk or bus down to Positano. You can take the bus back to Sorrento from Positano.
It's easier to take this Path of the Gods tour from Sorrento which includes return trip minibus transfers and a guide for the hike.
What to Pack
It's a rocky, uneven trail so you need decent shoes. Most people wear hiking shoes or boots, but we were happy in hiking sandals—Simon always travels with Teva sandals, and I like the Teva Verra sandals, which are pretty enough for Italian cities but comfortable and grippy enough for hiking.
Take water and snacks. You can refill at a water tap near the beginning where the trail connects with the Praiano stairs, and also in Nocelle and Bomerano. We always travel with a lightweight, foldable 1 litre Vapur water bottle.
Pack sunglasses, sun hat, and suncream.
Don't forget travel insurance in case anything goes wrong. An affordable option available worldwide is SafetyWing or Heymondo has more comprehensive coverage including cancellation.
When to Hike the Path of the Gods
We visited in early June and had sunny days and 30ºC (86ºF) temperatures.
It was fine when we first started, but we did feel the heat after 10am. I would still recommend this time of year as good weather is likely and it's not as crowded as July or August.
Spring (April and May) and autumn (September and October) are the best times to hike the Path of the Gods. Spring is especially lovely as the wildflowers are in bloom.
I would avoid August if possible as this is when the Italian population heads to the coast.
You can hike the Path of the Gods in winter, but many hotels and restaurants close and the weather can be cool and rainy.
Getting Around the Amalfi Coast
Car
Renting a car is the most convenient way to get around, but it has some downsides. The roads are windy, very busy in high season, and parking is limited and expensive in popular towns (especially Positano).
There is plenty of free parking in Bomerano though (marked on Google Maps).
To make matters worse, as of 15 June 2022, traffic is limited at peak times on the main SS163 coast road between Positano and Vietri sul Mare.
The new rules do not apply to taxis, buses, and locals, but they do apply to rental cars. You can only drive the road on alternate days—vehicles with licence plates ending in odd numbers are allowed on odd number days and even numbers on even number days.
The restriction applies between 10am and 6pm on weekends in June, July, and September and every day in August. Easter will also be affected.
This makes driving around the Amalfi Coast much more complicated, so I recommend using public transport where possible.
If you do decide to rent a car, we usually use Rental Cars to find the best deals.
SITA Bus
We got around by bus (there are no trains along the Amalfi Coast), which is inexpensive but rather slow and with limited schedules.
In high season, buses can be crowded, but we had no problems with routes from San Lazzaro.
The local bus company is SITA and you need to buy bus tickets in advance from bars or small shops. It's best to buy them the day before as you'll want an early start for the hike.
Buses aren't very frequent so check the timetables here.
Mobility Amalfi Bus from Nocelle to Positano
There's a local bus from Nocelle to Positano if you don't want to walk down the stairs. These are run by Mobility Amalfi Coast (not SITA) and tickets can be purchased in advance or onboard (for a little extra).
They run about once an hour in high season and take around 25 minutes. You can find the latest timetable on their Facebook page.
Note that the 6.20am bus from Positano to Nocelle only runs on school days. The next bus at 7.10am would be an early enough start for the hike, though.
From Positano the bus departs from Piazza dei Mulini.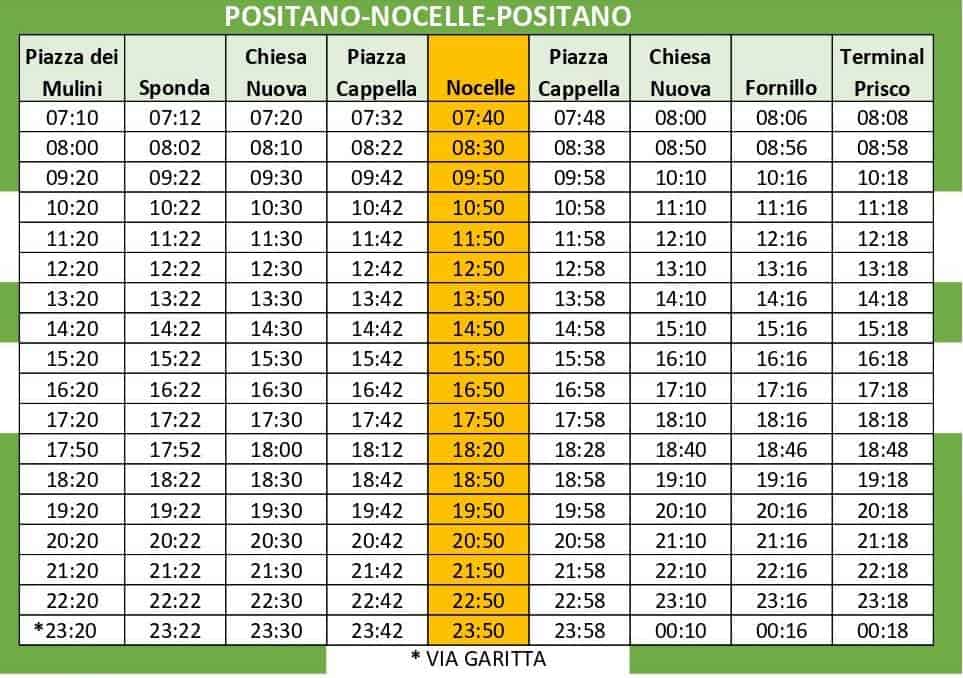 Ferry
You can also take ferries between the coastal towns (Sorrento, Positano, Amalfi and Salerno) from April to October. Check timetables at Travelmar.
The ferry from Positano to Amalfi takes 30 minutes and currently costs €9.
This would be an alternative way to reach Bomerano (switching to the 5080 SITA bus in Amalfi), but you wouldn't be able to get an early start as the first ferry is at 10am.
How to Get to San Lazzaro and Bomerano
If you decide to stay in Agerola, you can reach San Lazzaro and Bomerano by SITA bus from Naples (in the direction Agerola or Amalfi) which takes about two hours.
They aren't very frequent so check the timetable 5080 here (choose the region Campania in the drop-down menu in the top left).
In Naples, the bus leaves from near the train station outside the Ramada hotel.
We couldn't find anywhere to buy bus tickets as the sign at the bus stop listing bars where you could buy them was out of date and we ran out of time. The bus driver let us on anyway!
If you have a car, driving to San Lazzaro or Bomerano from Naples or further north is a viable option as you'll drive inland rather than on the coastal road so you'll avoid the high season traffic limits. You could then leave your car at the hotel and travel the coast by bus and ferry.
Accommodation for the Path of the Gods
San Lazzaro and Bomerano in Agerola
If you want to stay close to the start of the hike and are on a limited budget, Agerola (the collection of villages that includes San Lazzaro and Bomerano) is ideal.
In Bomerano, the highly-rated and affordable B&B A 2 Passi Dagli Dei is right at the start of the hike.
The rooms are comfortable and have air conditioning, a delicious breakfast served in the garden is included, and onsite parking is free (or it's close to the bus stop).
We stayed in a lovely Airbnb room with private bathroom which was clean, comfortable and excellent value (UPDATE: sadly, no longer available). From the centre of San Lazzaro you'll need to take a bus or walk 40 minutes to the start of the hike.
You can search on Booking.com for more accommodation options in Agerola.
Praiano
If you'd prefer to stay on the coast but within walking distance of the Path of Gods, you have the option of Praiano or Positano. Praiano is a quieter and more affordable option than Positano.
Casa Stella Marina and Il Corallo are two guesthouses with stylish rooms with balconies and sea views. They are near the start of the stairs up to the Path of Gods.
Less expensive options with sea view rooms are Hotel Villa Bellavista and Open Gate.
You can search for more hotels and B&Bs in Praiano here.
Positano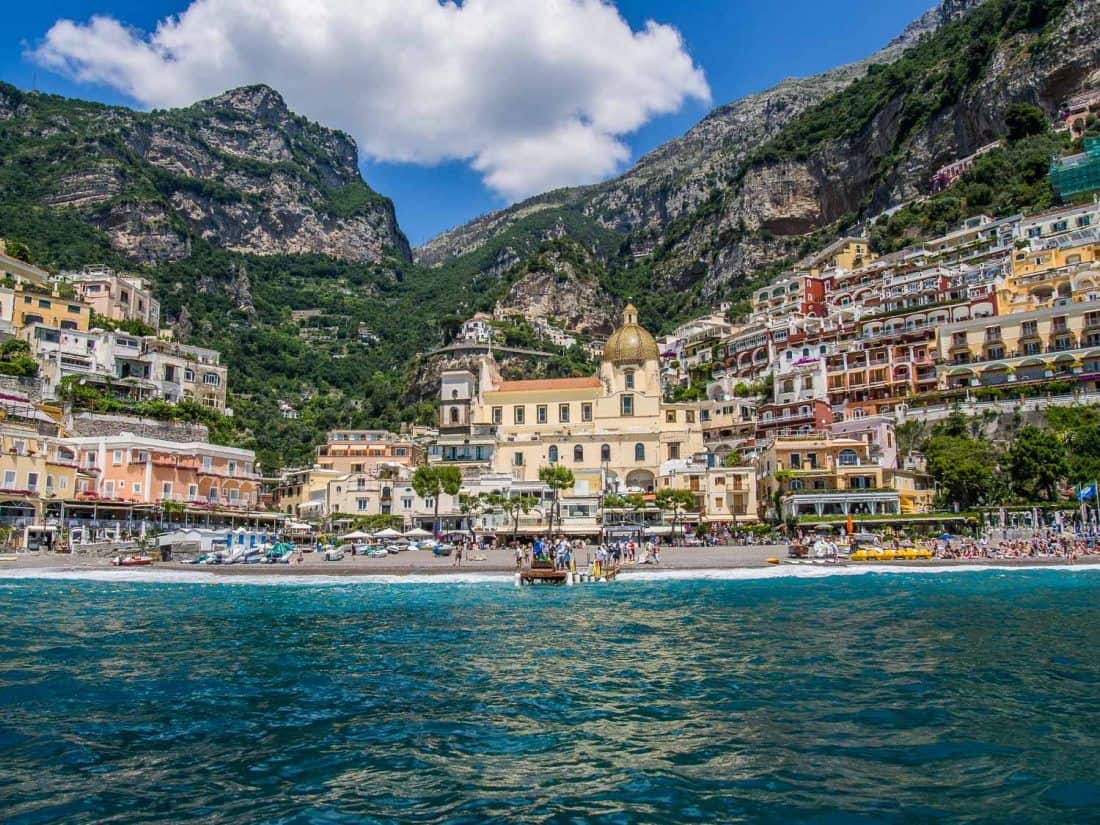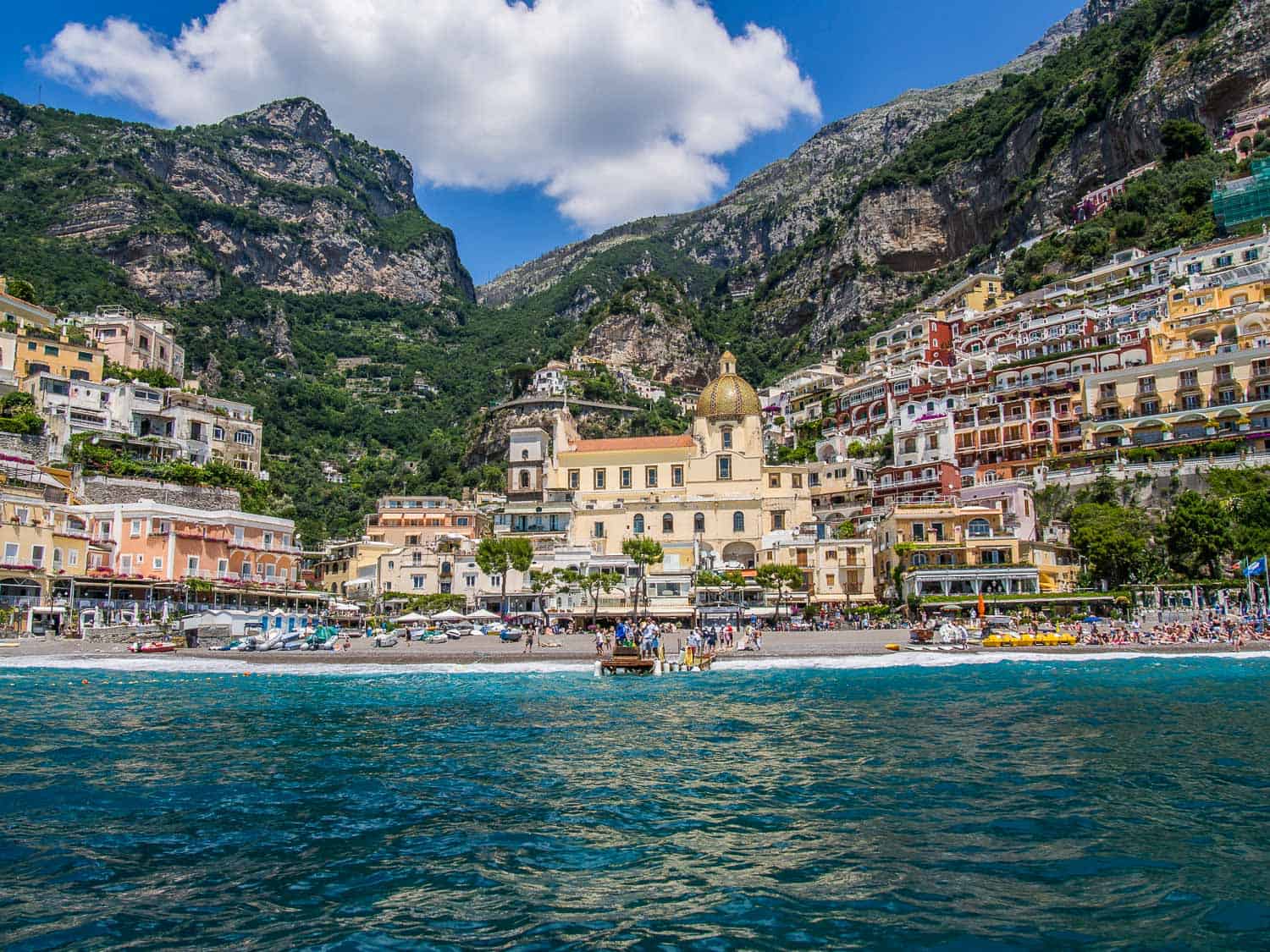 Positano is the busiest and most expensive place on the Amalfi Coast, and you'll have many steps to contend with as it's built on a hillside.
It is absolutely stunning, though.
Alcione Residence is centrally located and has gorgeous sea views from the rooms and terrace where breakfast is served.
A cheaper option is Villa Palumbo B&B, which has a central location and rooms with balconies and Positano views.
You can search for more hotels and B&Bs in Positano here.
Our Amalfi Coast Budget
We discovered that it is possible to escape the crowds and visit Amalfi on a budget—we spent €95 ($112) a day for two people including a nice ensuite room, bus transport, and three meals out a day.
Considering we couldn't get a hotel room for that in Positano, staying in San Lazzaro or Bomerano is remarkable value.
Is Path of the Gods Worth It?
Yes, Path of the Gods is definitely worth hiking. It's a beautiful trail that gives you a different perspective on the stunning Amalfi coastline.
If you start early, it's also a peaceful escape from the crowds. We highly recommend adding the hike to your Amalfi itinerary.
San Lazzaro is an unusual Amalfi base, but it's convenient for the trail and we loved having a quiet place to retreat to after visiting touristy towns like Amalfi and Ravello.
If you love to hike and are on a budget, it's worth considering staying in San Lazzaro or Bomerano.
More Italy Posts
Read our other posts to help you plan your Italy trip.
If you enjoyed this post, pin it!