This page contains affiliate links. Please read our disclosure for more info.
We weren't initially going to visit Maui on our Hawaii trip as we'd heard it was too overdeveloped and touristy.
While this is true in certain areas, it's also possible to get off the beaten path, and the island has so much to offer including gorgeous beaches, whales, turtles, snorkelling, waterfalls, hikes, volcanoes, bamboo forests, and some stunning scenery.
Maui isn't a huge island and you could explore everywhere on day trips from one base, but we really enjoyed spending a few nights in less-touristed areas.
For our Maui itinerary, we chose three places to stay, which enabled us to explore the island without any long exhausting day trips.
Most visitors to Maui stay in West or South Maui where the best beaches are. You definitely want to spend time here for some relaxation and activities like whale watching and snorkelling at Molokini Crater.
But I also think less-visited East Maui deserves more than just a day trip for the popular Road to Hana drive, and there's a lot to see in Upcountry (the centre of the island) too.
While we had 2 weeks in Maui, I've included suggestions below on how to adapt it for a 7 day Maui itinerary.
You will also find a handy map with everything mentioned.
Contents
Maui Travel Update 2023
Travel to West Maui should currently be avoided after the devastating wildfire in Lahaina in August 2023.
Governor Green now says that visitors are welcome elsewhere in Maui (such as the Kihei area in South Maui). If you choose to visit, please be mindful and respectful of the tragedy that everyone on the island has been impacted by.
Travel to other islands in Hawaii is unaffected.
If you'd like to donate money to support Maui's recovery, consider the Hawaii Community Foundation's Maui Strong Fund.
For more information about the ongoing situation, see the Hawaii Tourism Authority website.
Video: The Best Maui Road Trip Itinerary
Maui Tips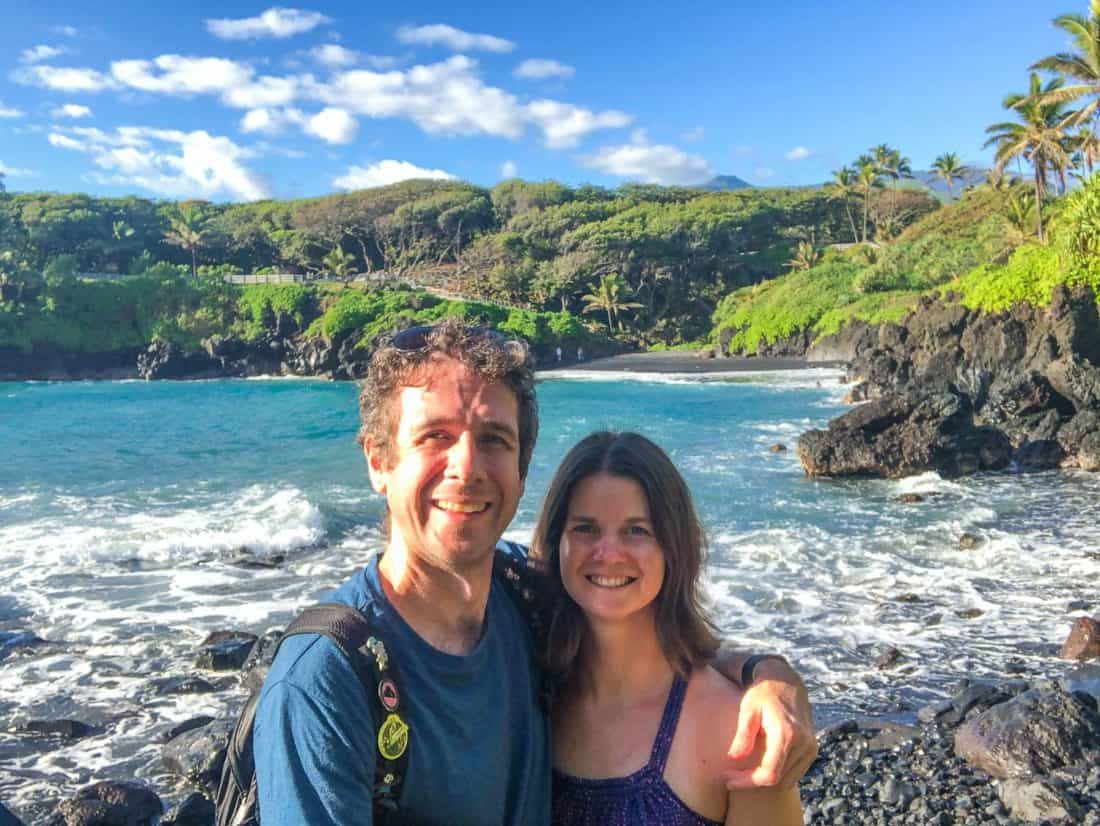 When to Visit Maui
If you want to see humpback whales in Maui (our trip with Makai Adventures was the best thing we did on the island), the best time to visit is from January to March, although you may be able to see a few from November to May.
Prices are higher in the winter, though, so for lower rates visit in the spring (April and May) and fall (September to early November).
It can be rainier and cooler (70ºF at worst) in the winter. In late January/early February, we had a mix of hot sunny days and cloudy, windy days with some rain.
How to Get Around Maui
You'll need to rent a car to make the most of your time on the island.
We used Rental Cars to search for the best deal and ended up renting with Thrifty. We just chose the cheapest economy car and it was fine.
There is high demand for car rentals in Hawaii at the moment, so book as far in advance as you can. You could also try car-sharing apps like Turo.
Trips to Book in Advance
Make sure you book your visit to Waianapanapa State Park (on the Road to Hana) up to 30 days in advance. The black sand beach is one of Maui's highlights.
To see the sunrise at Haleakalā National Park, you must make a reservation up to 60 days in advance. If you are entering the park after 7am, you don't need to book.
If you want to snorkel at Molokini Crater (details below), schedule it for early in your trip as it can be cancelled if it's windy, and this will allow you time to reschedule.
I also recommend booking a whale watching trip for early on too. They usually run even in bad weather (we got soaked but it was still wonderful!), but you might love it so much like us that you decide to go out on another trip.
Other Tips
Sign up for the Snorkel Store's snorkel report – You'll get an email around 8 am every day with information on snorkelling conditions and the best beaches to visit that day. They also have reasonable rental rates for snorkelling and beach gear.
Read some of these books about Hawaii – To learn more about Hawaii's fascinating culture and turbulent history, some are set on Maui.
Show respect – Obey all "no trespassing", "private property", or "no parking" signs you see.
Read our post – Planning a Trip to Hawaii: DOs and DON'Ts.
Our Maui Itinerary at a Glance
We arrived in Maui at 10 am on a short flight from Kauai, so we weren't too tired to drive the Road to Hana on our first day.
If you are arriving from the mainland US, it would make more sense to reverse this itinerary and start with the relaxing beach portion of your trip in West or South Maui and finish with overnight stays in Hana and then Upcountry (where you'll be closer to the airport).
We had plenty of downtime during our two weeks in Maui, so you could easily adapt this itinerary for 7 days in Maui.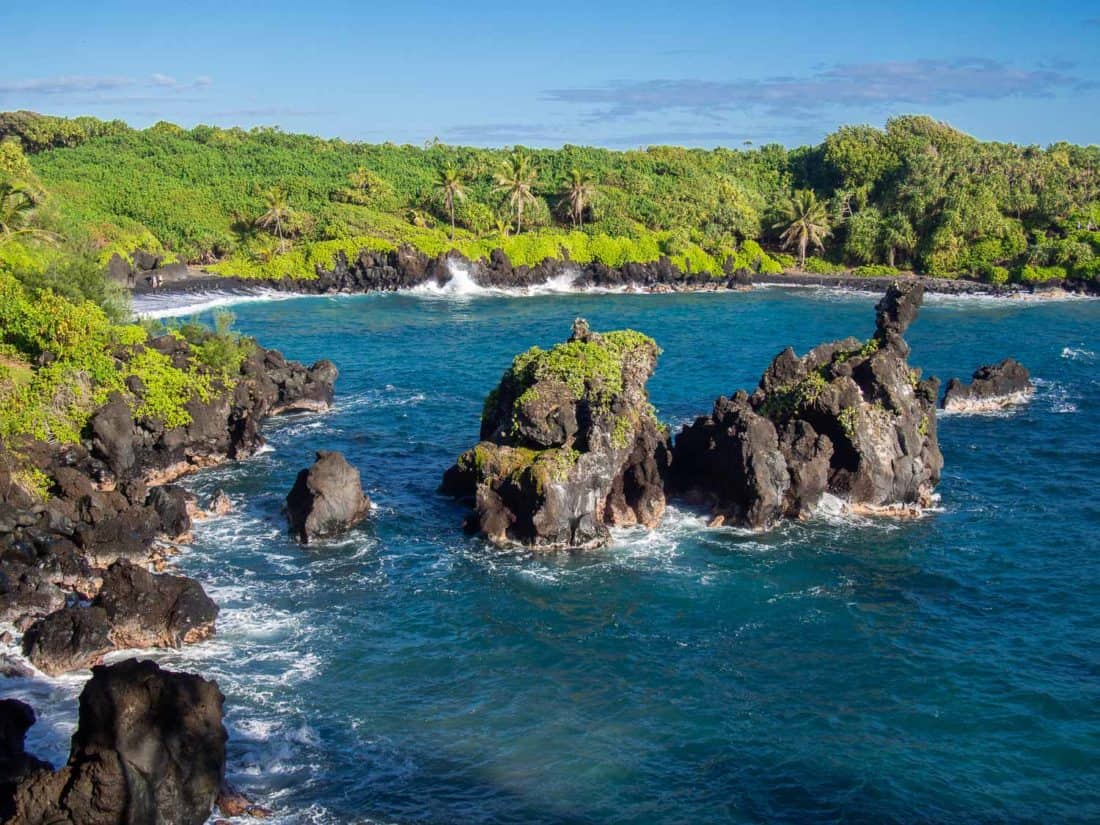 A 7 Day Maui Itinerary
Here's what I would recommend for one week in Maui:
West or South Maui – 5 nights
Hana – 1 night
Upcountry – 1 night
If you'll looking for a 5 day Maui itinerary, I would spend one night in Hana at the beginning or end of your trip and the other four nights in South or West Maui.
You'll still have time for the Road to Hana, sunrise at Haleakalā, and then choose the other activities you are most interested in from below.
Check out our detailed guide to what to do in Maui for more activity ideas.
If you are also visiting Hawaii's most populated island, see our detailed 7 Day Oahu itinerary.
Our Maui Road Trip Map
Note: The distances of each leg of our journey are taken from Google Maps (which we used for navigation) and the times are the actual time it took us including stops along the way.
Day 1 Kahului Airport to Hana (2 nights)
Distance: 50 miles
Time: 4 hours including breaks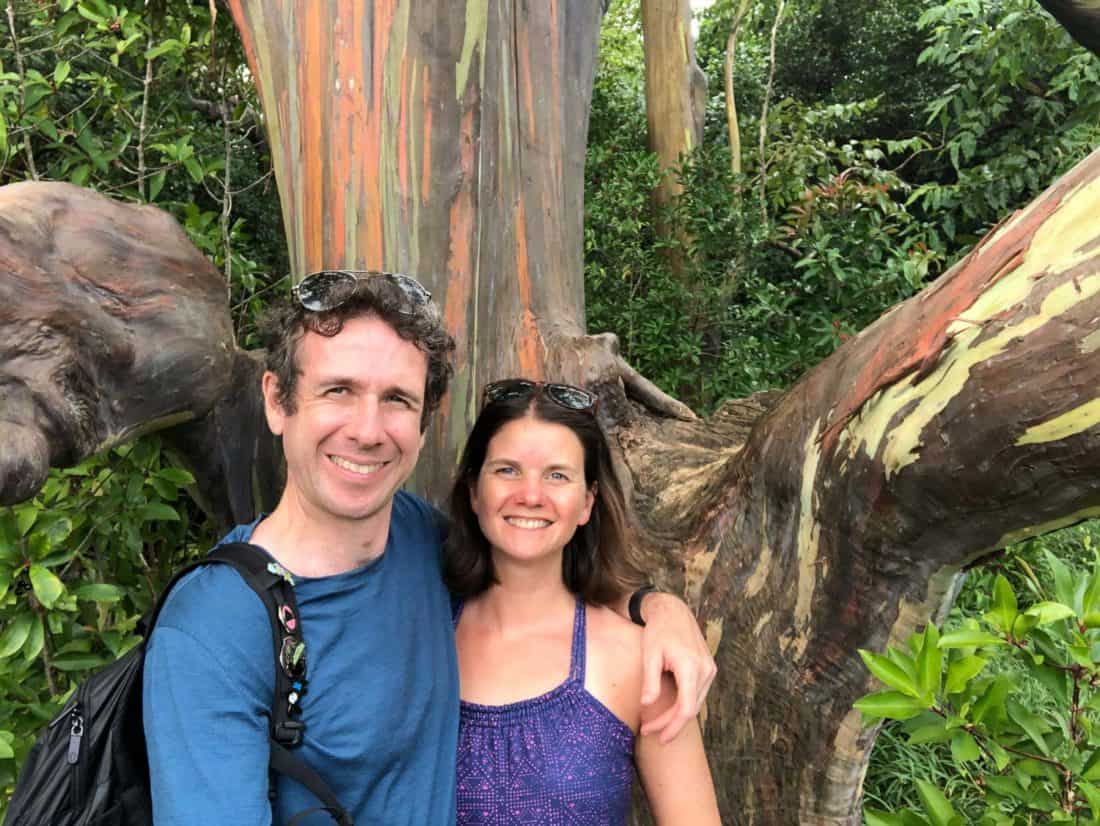 We arrived at the airport at 10 am and within an hour we had rented a car and were on our way.
On our first day we drove the Road to Hana, which is one of the best things to do in Maui.
This narrow, windy road through the rainforest passes waterfalls, beaches, gardens, and bamboo forests.
There are many places to stop to hike, swim, enjoy the view, or buy homemade treats from local snack stands.
Most visitors to Maui do the Road to Hana in one exhausting 12-hour day, but I think it's worth spending a night in Hana (ideally two as we did in this itinerary).
This allows you to enjoy the area at a more leisurely pace and avoid the crowds by visiting the most popular places near Hana early in the morning.
We first stopped in Paia to stock up on food at Mana Foods then visited the rainbow eucalyptus trees, the Ke'anae Arboretum for a short walk, the Ke'anae Peninsula for coastal views and banana bread, and Upper Waikani Falls.
We left the rest of the road's attractions for the next few days and arrived at our hotel by 3 pm where we relaxed for the afternoon then took a walk around the cute town in the early evening.
See my post on the best Road to Hana stops for more details about everywhere we visited in this area.
Where to Stay in Hana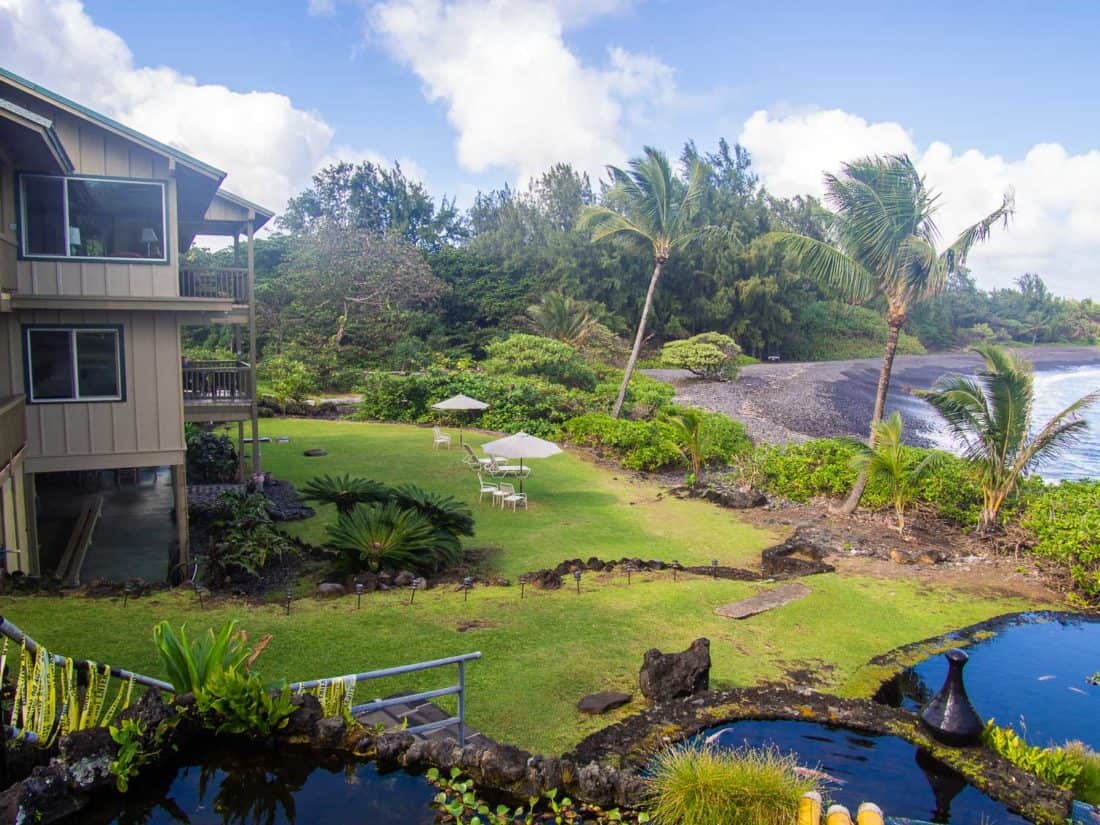 We stayed in studio condo #205 at Hana Kai Maui and it was our favourite place we stayed in Hawaii.
The condo was comfortable and well-equipped and had a fantastic view of the quiet black sand beach and ocean in front of the hotel.
Waking up to the sunrise over the ocean was magical. I highly recommend it.
There are a range of units from studio to two bedrooms. See the units and prices at Hana Kai on Vrbo here.
There's only one resort in town—the Hana Maui Resort. It looks beautiful but is very expensive.
Otherwise, it's just B&Bs and vacation rentals—search on Vrbo for the options. Make sure you book well in advance as accommodation is limited.
Where to Eat in Hana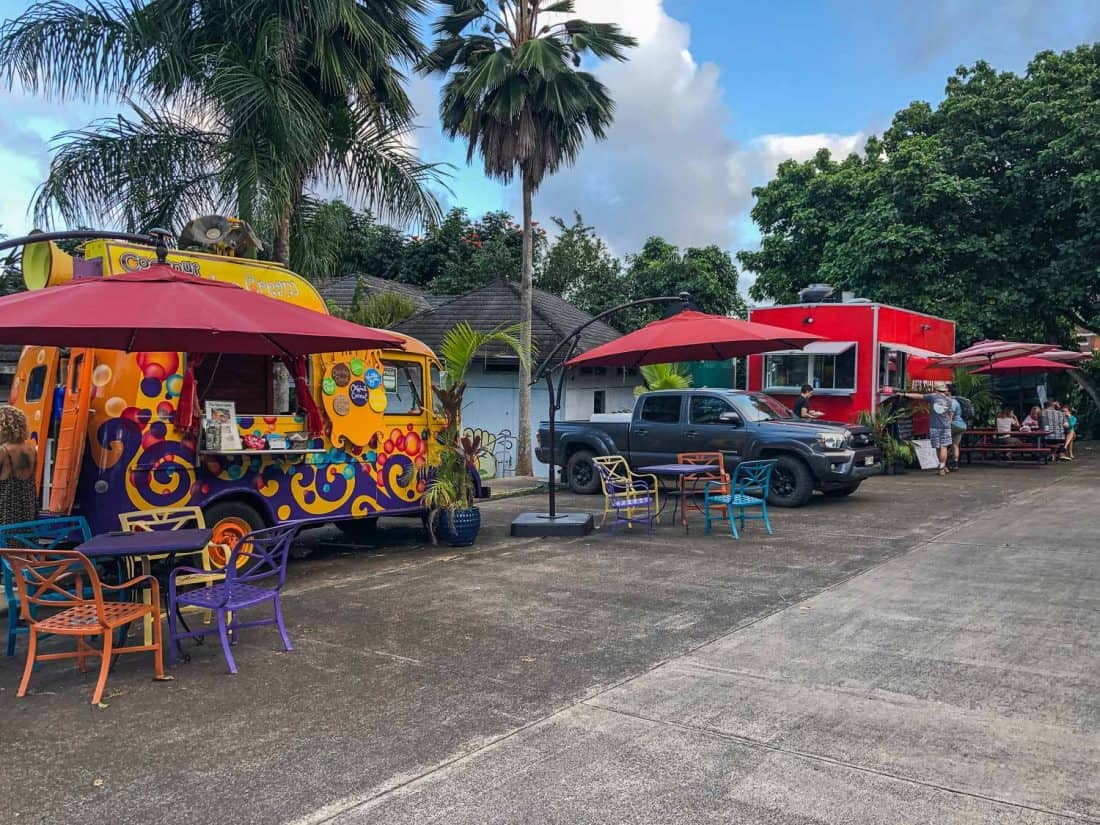 We heard that there was nowhere to eat in Hana in the evenings, so we brought food to self-cater.
We ended up only using it for breakfast and lunch as we couldn't resist the town's food trucks in the evenings.
We enjoyed our inexpensive meals at Ae's Thai Kitchen and The Surfing Burro which is unfortunately now closed. We finished with ice-cream at Coconut Glens.
These are all in the same area opposite Hana Ranch Restaurant.
There are a couple of restaurants open in the evening—Hana Ranch and The Restaurant at Hana Maui Resort—but they are pricey.
I think eating early (before 7 pm) at the food trucks is a better option.
We also loved the Hana Farms snack stand about 15 minutes before Hana near Wai'anapanapa State Park.
The banana bread and chocolate macadamia cookies are divine. They also sell coffee, sandwiches, and lots of foodie souvenirs.
Day 2 Hana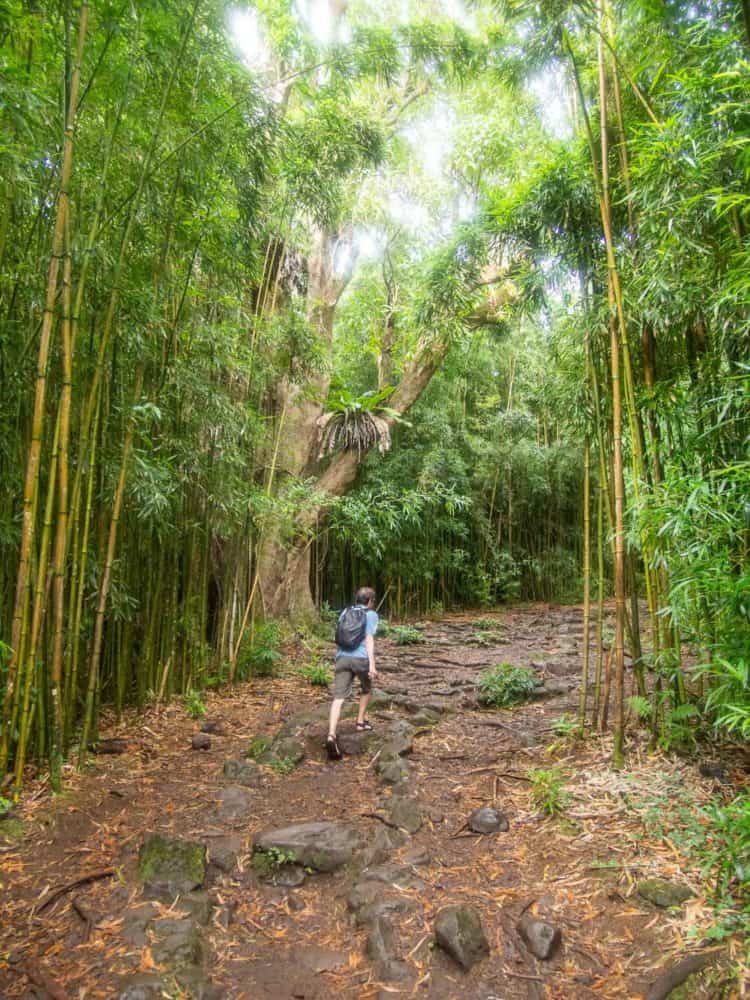 On our second day, we left at 7 am to visit the Kipahulu section of Haleakalā National Park (also called Oheo Gulch), a 35-minute drive past Hana.
Entrance costs $30 but includes the Haleakalā Summit and is valid for three days so you can use it when you get to Upcountry.
The Seven Sacred Pools here were a bit disappointing (you can no longer swim), but the Pipiwai Trail is a highlight of the Road to Hana.
As we arrived early, we had the first half of this four-mile out and back trail entirely to ourselves. In the afternoons it gets very crowded, so this is a major reason for staying in Hana.
The hike took us two hours and included a large bamboo grove, banyan tree, and ended at a 400ft waterfall.
On the way back to Hana we stopped at Wailua Falls, Koki Beach and Hamoa Beach.
Day 3 Hana to Makawao (2 nights)
Distance: 58 miles
Time: 4.5 hours including breaks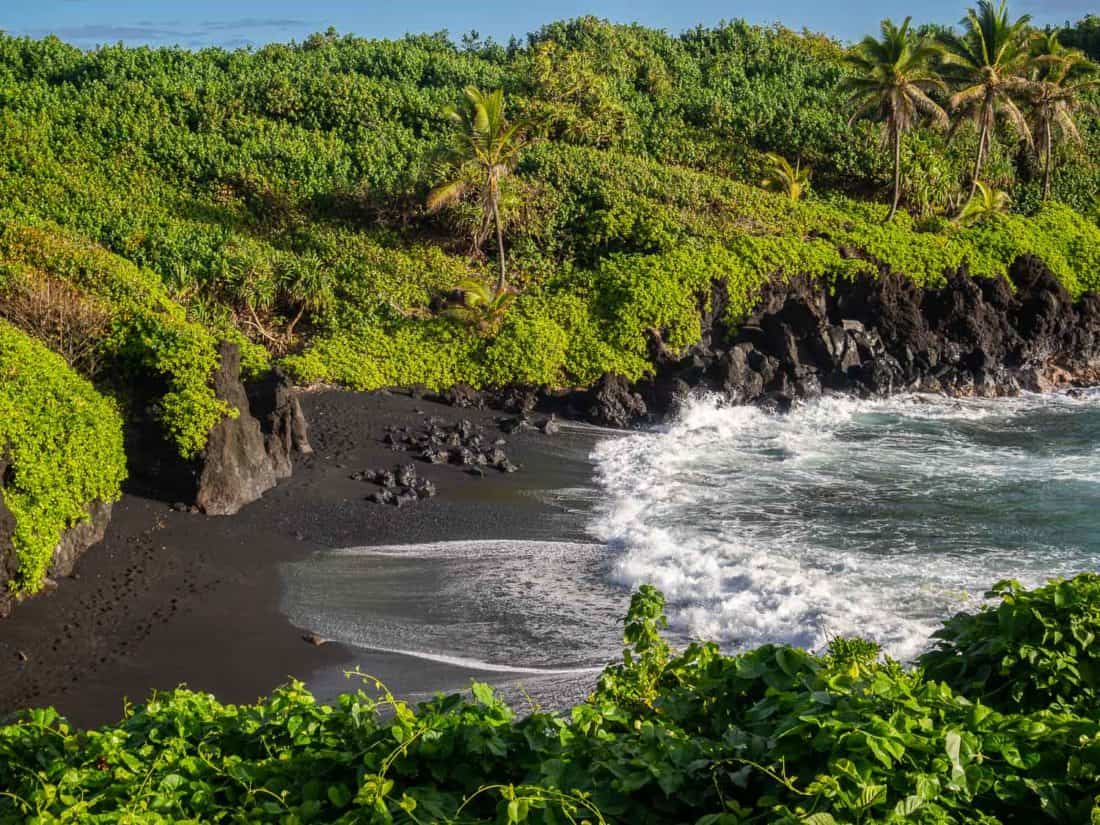 Before we checked out, we left at 8.15am to visit Wai'anapanapa State Park, a 15-minute drive before Hana.
This is one of the most popular stops on the Road to Hana, but early in the morning there were only a few others around.
Note that reservations for the park are now required. You must book for a specific time slot on the Go Wai'anapanapa website up to 30 days in advance. You must purchase both an entrance ticket ($5 per person) and parking voucher ($10 per vehicle).
We spent an hour visiting the beautiful black sand beach, sea cave, blowhole, and walking along the coastal trails.
Back at our hotel we checked out at 10.30am and drove past Hana on what is known as the Back Road to Hana.
This road has a bad reputation, and there is a bumpy unpaved section, but after that it turns into a smooth and empty road.
The scenery is very different on this side of the island—drier and more open with ocean views. I think it's worth doing.
We didn't find the road too challenging, but if you are not used to driving on unpaved roads then it's best to avoid it. We have heard reports of people who didn't enjoy the drive.
Our first stop was just past Oheo Gulch at Charles Lindbergh's Grave. It's not a must-do unless you are a big fan of the aviator, but it's located in the lush gardens of the scenic Palapala Ho'omau Church which overlooks the ocean.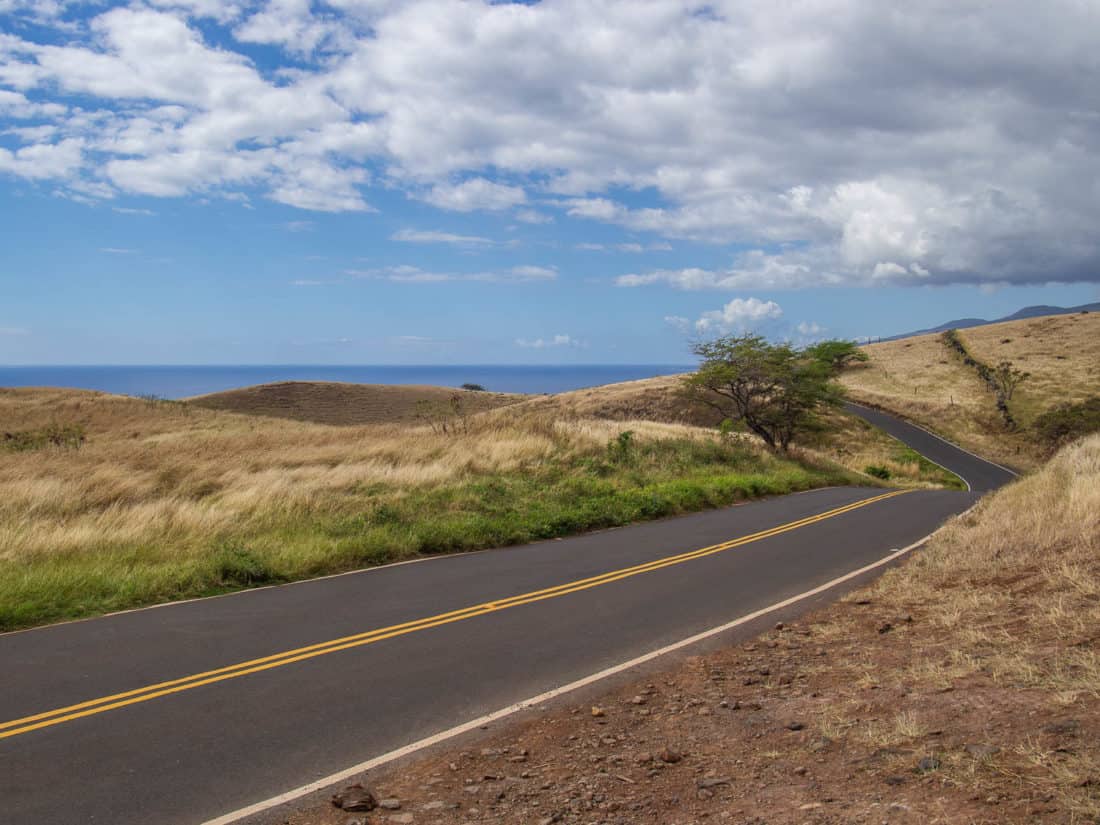 We continued along the coast past black pebble beaches and rolling brown hills, before beginning the climb up into the centre of the island.
This central area at higher elevations is known as Upcountry and surrounds the island's highest peak, the Haleakalā volcano at 10,023 feet. It's colder up here so keep a sweater handy.
Our first stop in Upcountry (just over two hours from Hana) was MauiWine (currently open 11am – 5pm Tuesday to Sunday and it's best to book), a winery with lovely views and an outdoor tasting area.
We shared the tropical tasting ($12) which included three sweet pineapple wines and one white and snacked on goats cheese and crackers ($12).
Twenty minutes further down the road is Ali'i Kula Lavender Farm (entry is $3 for adults/ free for children, open 10am – 4pm Friday to Monday).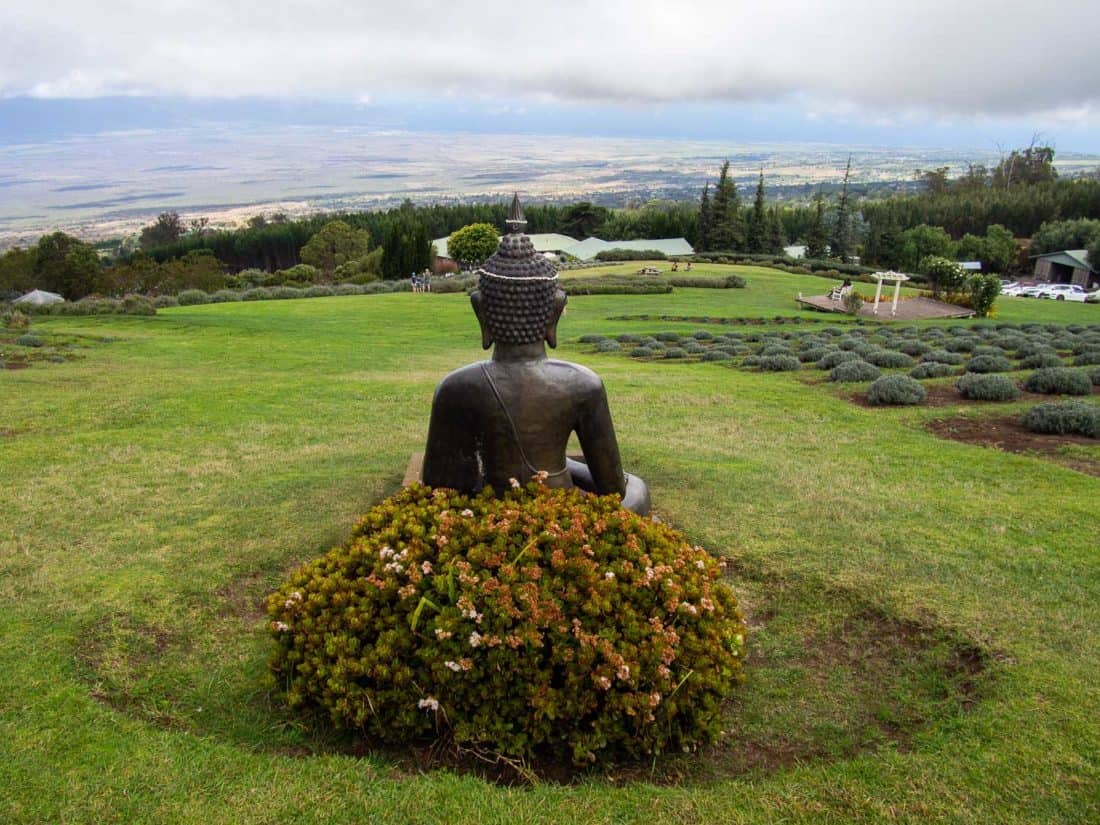 Don't expect the fields of Provence, but on the pretty grounds there are 45 varieties of lavender and views down to the ocean.
It was chilly when we visited, but on a sunny day it would be a lovely place to hang out. You can also buy souvenirs and tasty lavender scones and tea in the shop.
We were considering visiting the Surfing Goat Dairy Farm as well, but we felt too tired so continued 20 minutes further along to Makawao where we were staying.
Makawao is a cute little town with some early 20th-century shop fronts.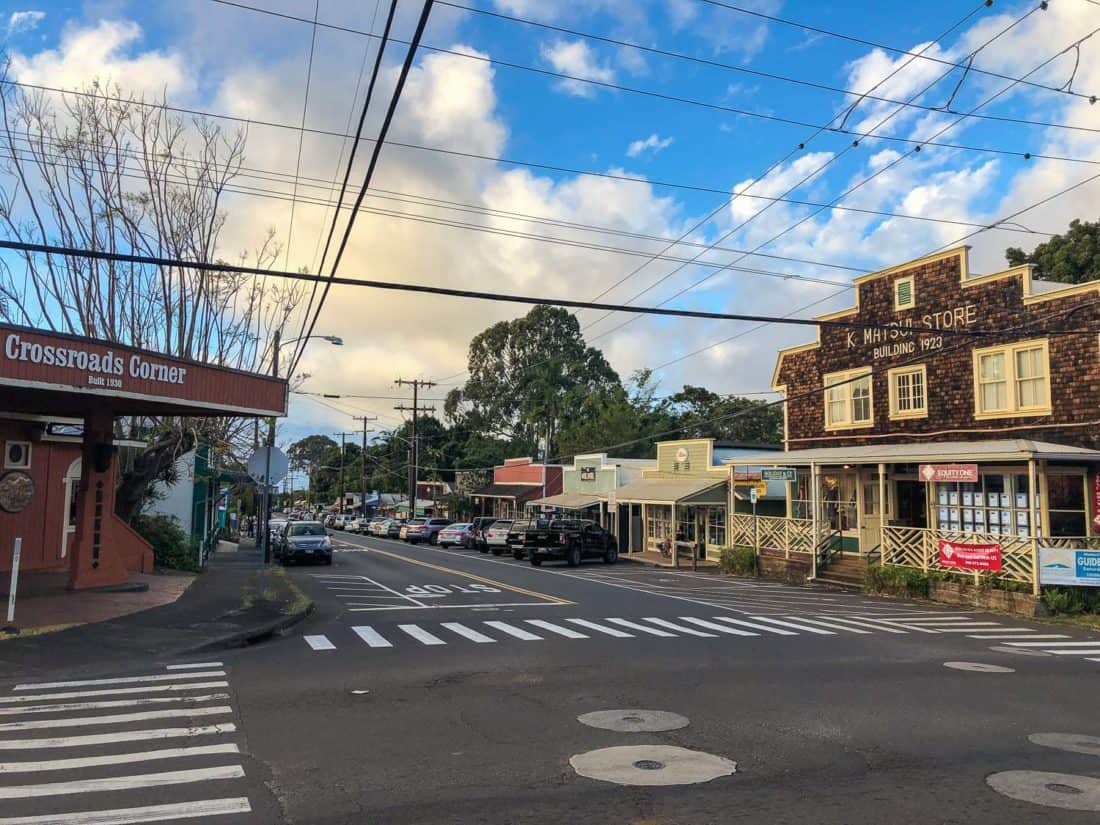 It's described as a Paniolo (Hawaiian Cowboy) town, but you won't see many cowboys around any more.
It does have a very local feel, though, and there are lots of unique shops and art galleries.
Where to Stay in Makawao
We rented an Airbnb room in someone's house close to the centre of Makawao. We enjoyed staying in a local residential neighbourhood that felt very different from the beach resorts.
The listing is no longer available, but you can search for vacation rentals in Makawao on Vrbo.
Accommodation is limited in Upcountry so book as far in advance as possible.
The closest place to stay for the Haleakalā National Park summit is Kula Lodge. The setting is beautiful, but the rooms look dated for the price.
Where to Eat in Makawao
Sip Me has good coffee including nitro cold brew.
The old-school Komoda Bakery is supposed to have the best donuts on the island, but they were sold out by the time we got there at 1 pm. It's best to go early.
We had dinner one night at Casanova Italian Restaurant. It was nice enough but quite pricey (as are all restaurants in Hawaii) and I wouldn't go out of your way to eat there. It's cheaper at lunch.
A better option for pizza is Flatbread in Paia, a 15-minute drive away.
On our second night we drove 10 minutes away to Hali'maile General Store. This is one of the best-rated restaurants on the island and was our one splurge meal on Maui. Reservations are essential for dinner.
The service was excellent, and they have a separate vegetarian menu, but I have mixed feelings about whether it's worth the high price.
We really enjoyed some of our dishes like the blackened tofu with wasabi greens and mashed potato and the Maui Gold pineapple upside down cake, but our $30 green curry was too mild and creamy for our tastes (we preferred the $11 version at the Hana food truck). If you are on a budget, I'd skip it, but otherwise, it's worth a visit and is cheaper at lunch.
Other restaurants we wanted to try in the Kula area were La Provence, Grandma's Coffeehouse, and Kula Bistro.
Day 4 Upcountry
Our main reason for staying overnight in Upcountry was to be close to Haleakalā National Park for sunrise at the crater.
Many people do this from the other side of the island, but it requires a very early start.
For sunrise, you must make reservations here up to 60 days in advance and it costs $1 per vehicle. If you miss those tickets, they release another batch two days in advance at 7 am HST.
It's a slow, windy drive up the mountain. Even staying in Makawao it took us over an hour—we left at 5.20am, arrived at the checkpoint at 6am (where you pay the $30 fee), and reached the visitor centre below the summit at 6.30am.
This was 25 minutes before sunrise, but they had already closed the road to the summit as the car park was full.
You need to arrive an hour before sunrise to get a place at the summit, but you can still get a good view at the visitor centre.
We knew it would be cold up there, so we wore many layers, jackets, hats, gloves, boots, and a blanket wrapped around us both.
The temperature was below freezing with a ferocious wind, though, and I was still painfully cold as we stared down into the crater and waited for the sun to come up.
It was a surreal feeling to be above the clouds, and the sunrise was pretty, but honestly, I was too cold to enjoy it.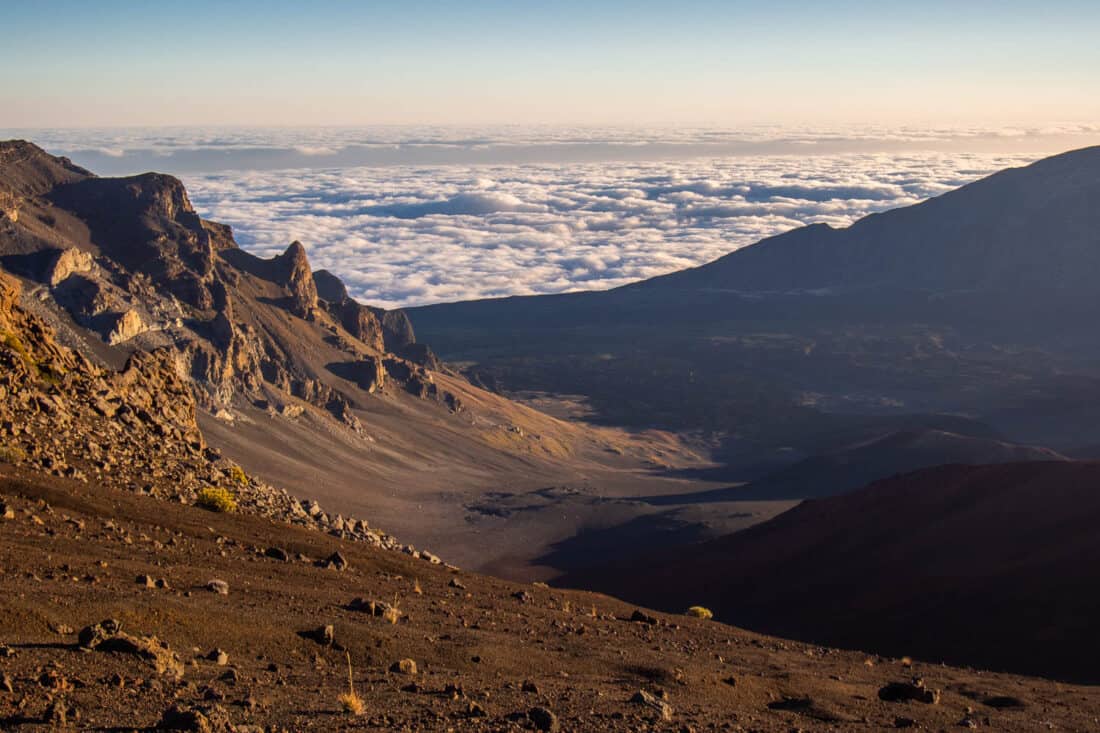 Afterwards, we attempted walking down the Sliding Sands (Keonehe'ehe'e) Trail which does have fantastic views as you descend into the crater, but the extreme wind sent us back.
I'm sure on a less windy day it would have been more enjoyable, but next time I'd go in the late afternoon instead to enjoy a hike before sunset. No reservations or early starts needed, and the colours of the crater would be better (in the morning you are looking into the sun).
At 8.30am we were back down the mountain and stopped at Kula Lodge for breakfast. We weren't the only ones with this idea and had to wait 10 minutes for a table—thankfully by the much-appreciated fireplace.
The restaurant has beautiful views, and we enjoyed our pancakes and french toast. Sunset here is also supposed to be good.
By 9.30am, we arrived at the Upcountry Farmers Market which takes place on Saturday mornings.
It was the biggest we visited in Hawaii with lots of fresh produce, sweet treats, and prepared food stalls with tempting vegetarian options like vegan miso ramen and Thai curry.
We almost wished we hadn't eaten breakfast already, but we did appreciate having a proper sit down and hot drink after the trauma of the summit.
We took it easy for the rest of the day—having a nap and then wandering the shops in Makawao.
You could manage with one night in Upcountry, but we didn't want to have to drive to the west coast and wait for an afternoon check-in after the early start.
Here are some more ideas on things to do in Upcountry, including a vodka tour and farm visit.
Day 5 Makawao to Kahana (10 nights)
Distance: 47 miles
Time: 4 hours including breaks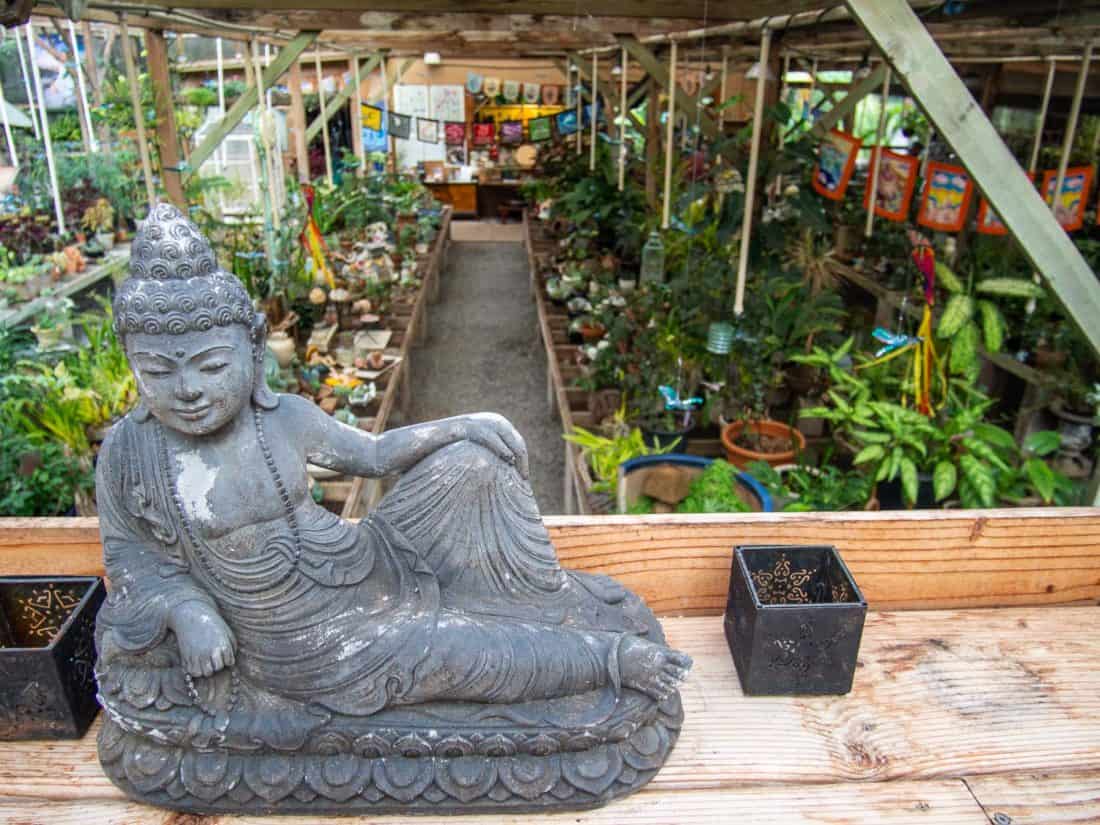 After a 10am check-out, we took a slow drive to the west side of the island as we couldn't check in until the afternoon.
Our first stop was the Sacred Garden of Maliko. This tranquil spot is not very busy or well known and entrance is free, so it's perfect for using up some time.
There's a huge nursery with lots of plants and seating areas where you can hang out, read books, or play chess. Outside there's a labyrinth where you can take a meditative walk.
We then drove to the Ho'okipa Lookout past Paia where you can watch surfers and windsurfers riding the huge waves. On the beach below we saw dozens of turtles.
In the cute hippy town of Paia, we had delicious pizza and salad at Flatbread followed by dessert at Ululani Shave Ice which is considered the best shave ice on Maui.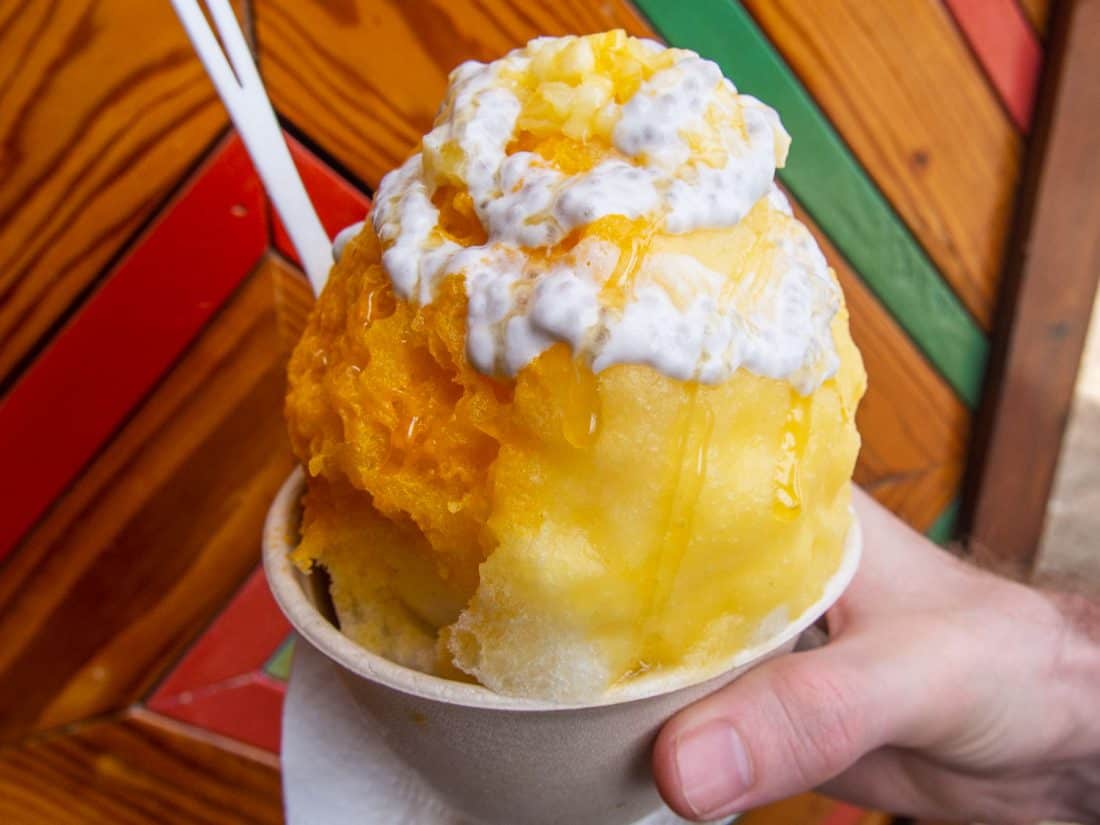 On our drive to the west coast we stopped at Papawai Point (aka Whale Lookout Point).
We had to wait a few minutes to get parked in the small lot, but we saw a few whales immediately. It would have been better with binoculars as they were quite far away.
Finally, we reached Kahana, our home for the next ten days. It's a quiet area of condos and a few shops and restaurants just north of the popular beach resort Kaanapali.
Anywhere along the coast in West or South Maui would be a good base for the beach portion of your trip. It's about an hour's drive between the two areas.
Where to Stay in West Maui
Kahana Reef Condos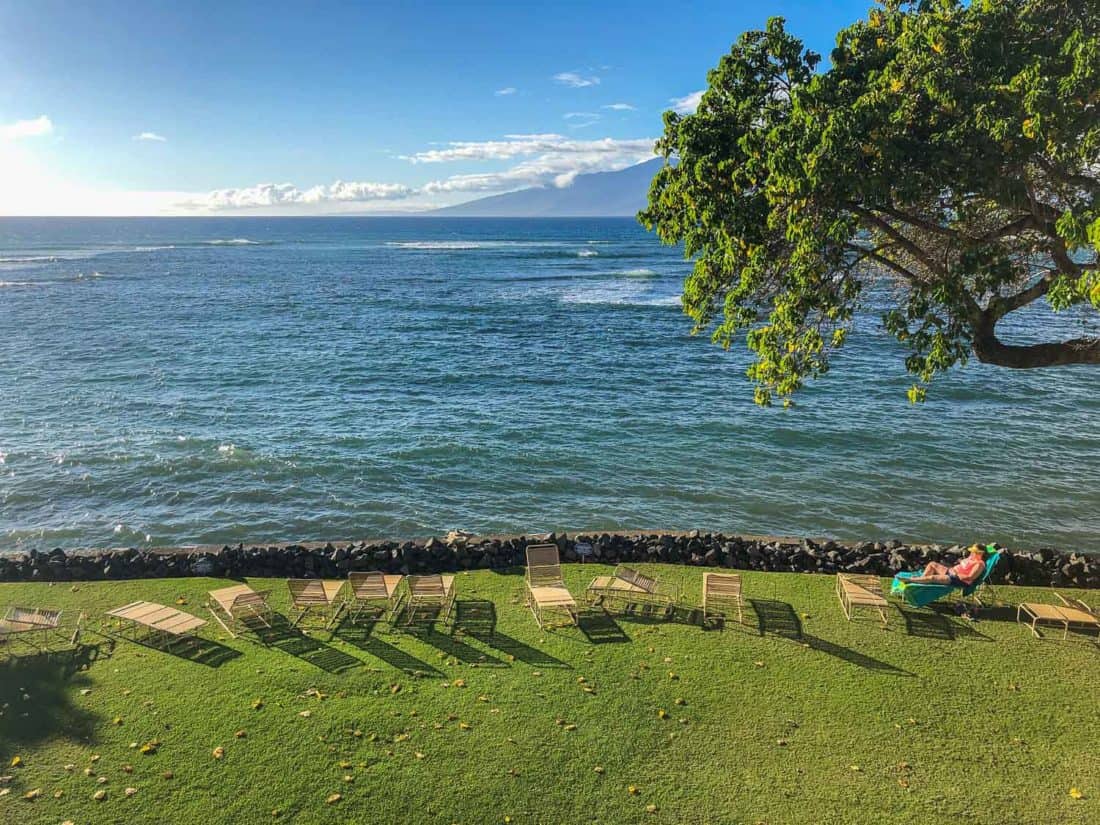 We stayed at Kahana Reef, an oceanfront condo building that's great value for Maui.
All condos have lanais with ocean views, and we even saw whales breaching. The sunsets are superb.
A small pool and large grassy area with sun loungers are located in front of the ocean.
There's a small beach to the right, but it's narrow and the water was a bit too murky for swimming. We did see a green Hawaiian sea turtle, though. There are excellent beaches a five-minute drive north and south.
All units are individually owned and decorated differently. We were in 314 on the third floor and liked being higher up. Our condo was comfortable and well-equipped.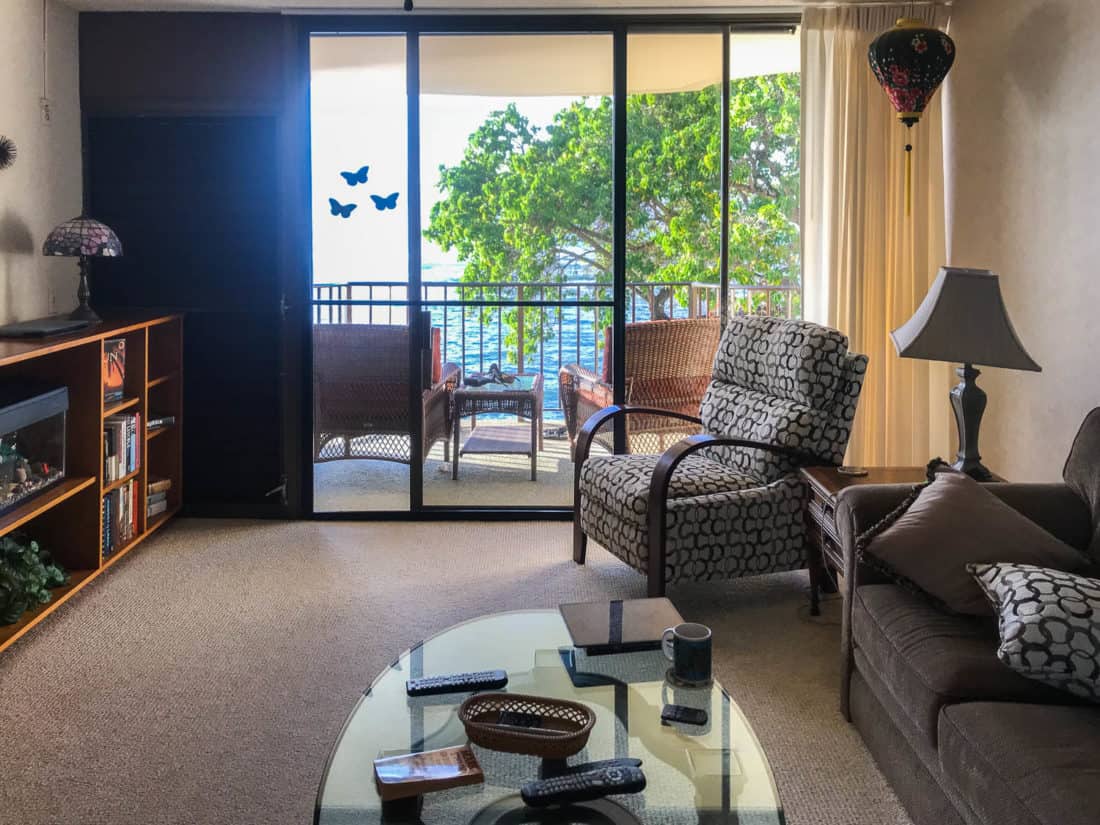 Browse a range of Kahana Reef units on Vrbo here.
Other Accommodation in West Maui
If you'd prefer to be right on the beach, search for resorts on Kaanapali Beach or just north on the quieter Airport Beach (our favourite).
The Westin Maui Resort & Spa is a popular option on Kaanapali Beach with five pools, a water slide, four restaurants, and lots of activities.
Aston Maui Kaanapali Villas is on our favourite part of Airport Beach and has both hotel rooms and apartments with kitchens. There are two pools, a gym and a spa.
Further north near the beautiful beaches at Napili Bay and Kapalua Bay would also be an excellent area to stay. There are lots of condos up here—search for options on Vrbo.
Where to Eat in West Maui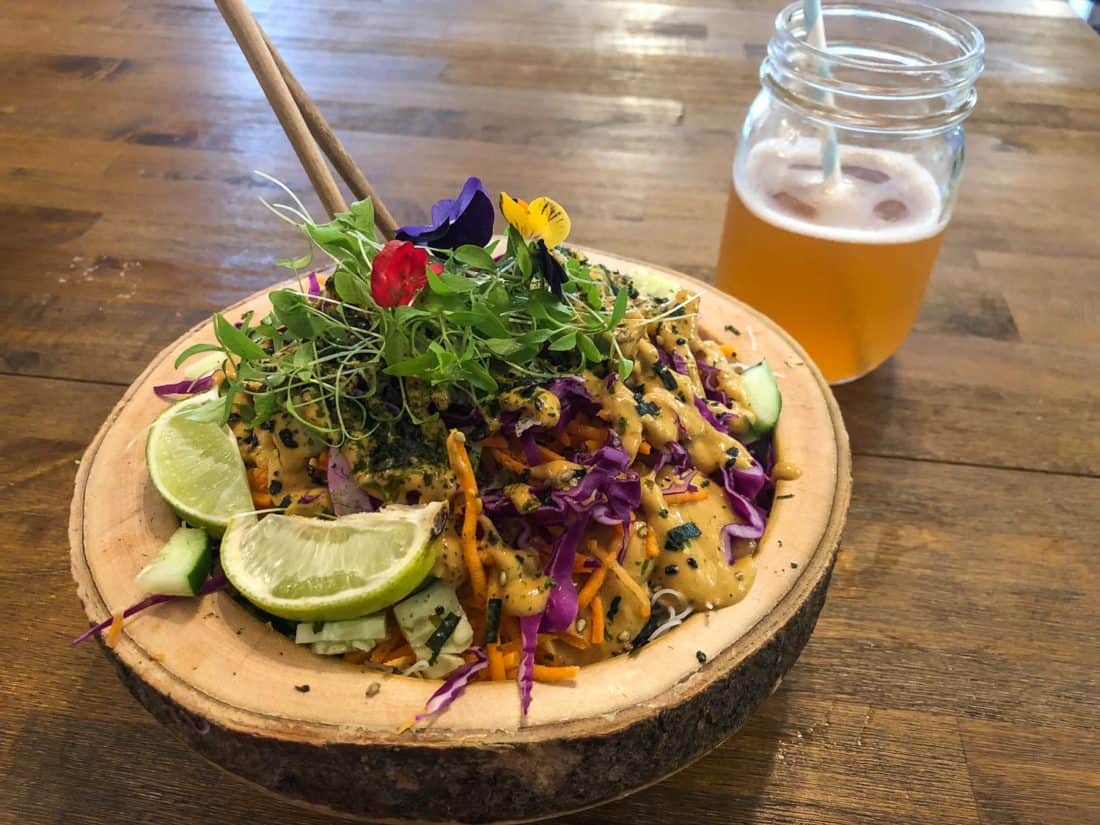 We mostly self-catered. The Napili Market is a five-minute drive north of Kahana and has a decent selection.
Farmers Market Maui is five minutes south and has better fresh produce as well as health food items and locally made salsa and hummus. On Monday, Tuesday, Thursday and Friday mornings, there's a farmers market outside.
Other places to eat that we recommend:
A'a Roots in Napili – A vegan cafe with delicious healthy bowls, salads, smoothies, and daily specials (like an Indian plate). You can get salads to take to the beach.
Maui Tacos in Napili – Good, quick, cheap Mexican with vegetarian options and a salsa bar.
China Boat in Kahana – Surprisingly decent Chinese food at reasonable prices. Currently, only mainly take out.
Maui Brewery in Kahana – Good beer and bar snacks like nachos and burgers.
Leoda's Kitchen and Pie Shop in Olowalu – Stop here on your way between the south and west coasts. The pies are delicious—we liked the macadamia chocolate and the apple crumble. We got takeout but you can also eat in.
Hula Grill on Kaanapali Beach – We didn't eat here but enjoyed the Premium Mai Tai. It would be a good place for sunset.
Day 6 – 14 Exploring West and South Maui
There are many things to do in West and South Maui and you can pick and choose what to do each day based on the weather and your energy levels.
Here were our favourite activities (all in the west except for the snorkelling trip):
Whale Watching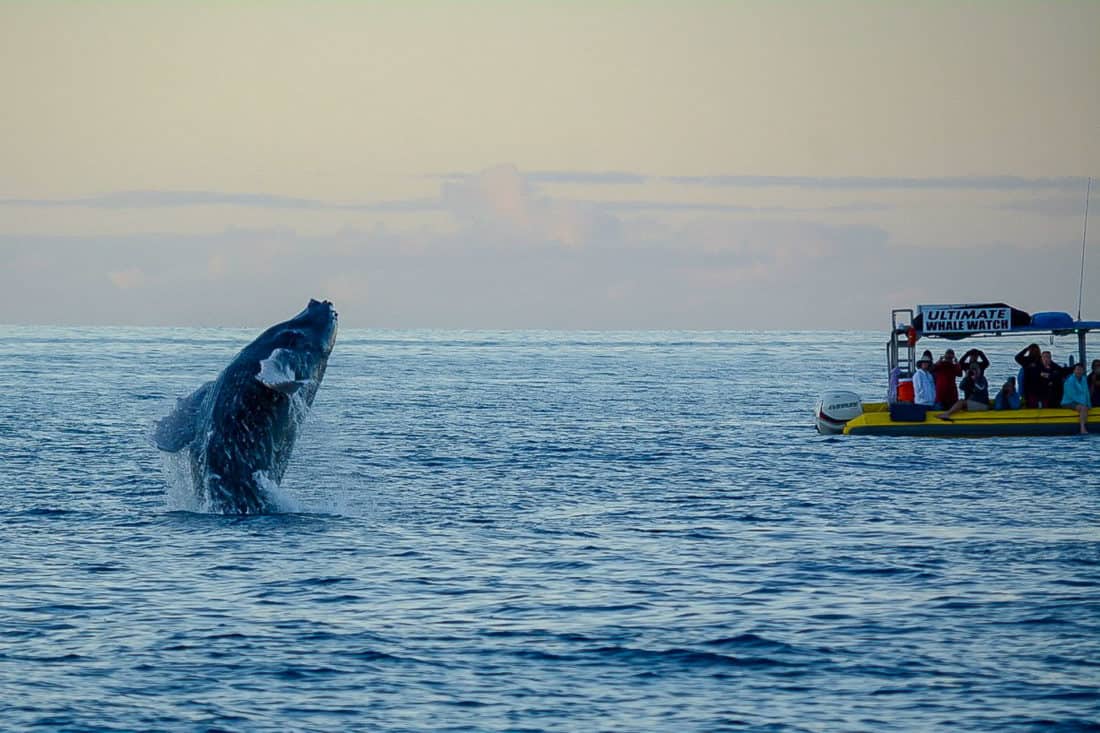 Our absolute favourite activity on Maui was taking a whale-watching boat trip from Lahaina.
Thousands of humpback whales travel from Alaska to Hawaii during the winter to mate, give birth, and nurse their young in the warm, shallow water.
Maui is the best place to see them—we did see some whales in Kauai but were blown away by how many we saw in Maui.
We chose a small-group boat trip with Makai Adventures and loved it so much we did the trip twice (you get 20% off repeat trips). I recommend the sunrise trip for beautiful light.
We couldn't believe how quickly and easily we saw whales on these trips. We saw dozens of them including many baby whales (which aren't so small), as well as adults breaching and tail slapping, and we even heard their otherworldly singing through a hydrophone.
They are magnificent creatures and we were in awe the whole trip.
At one point we stayed with a mother and calf for over an hour. We turned off the engine and sometimes they'd approach us, so we got really close.
The energetic baby was just a few weeks old but kept breaching (jumping out of the water) over and over again. The mother was over 50 feet long (and we were in a 37-foot boat!) and finally did a full breach herself along with her baby.
My camera had broken a few days before, but luckily we had a National Geographic naturalist on board, Jill Niederberger, who captured the moment.
Do not miss a whale watching trip if you're on Maui in the winter!
Check availability for a Makai Adventures whale watching trip here.
Kapalua Coastal Trail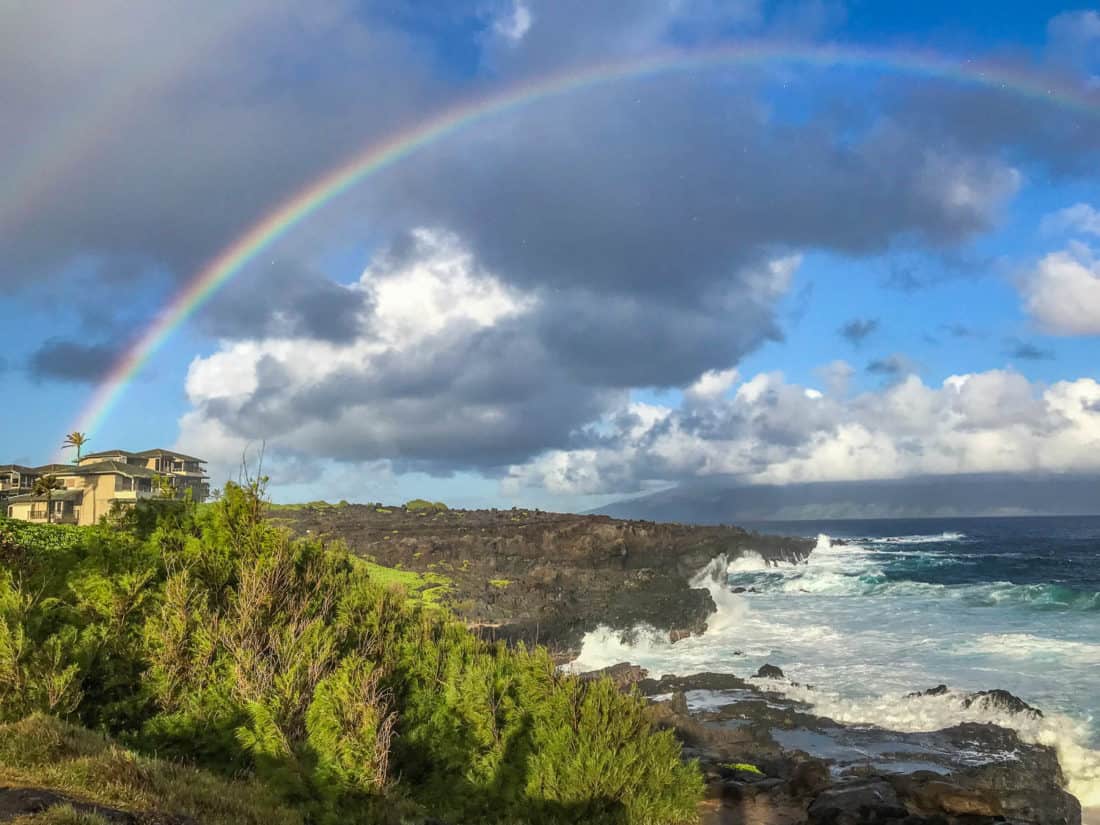 The Kapalua Coastal Trail is an easy, beautiful coastal walk in the northwest.
We started at Kapalua Beach parking and walked to DT Fleming Beach and back, which was 3.5 miles round trip and took us 1 hour 20 mins.
On a sunnier day than we had, you could take much longer and enjoy the beaches along the way. It's also lovely at sunset.
I liked running along here too, although it's best at sunrise before it gets too busy.
Kaanapali and Airport Beaches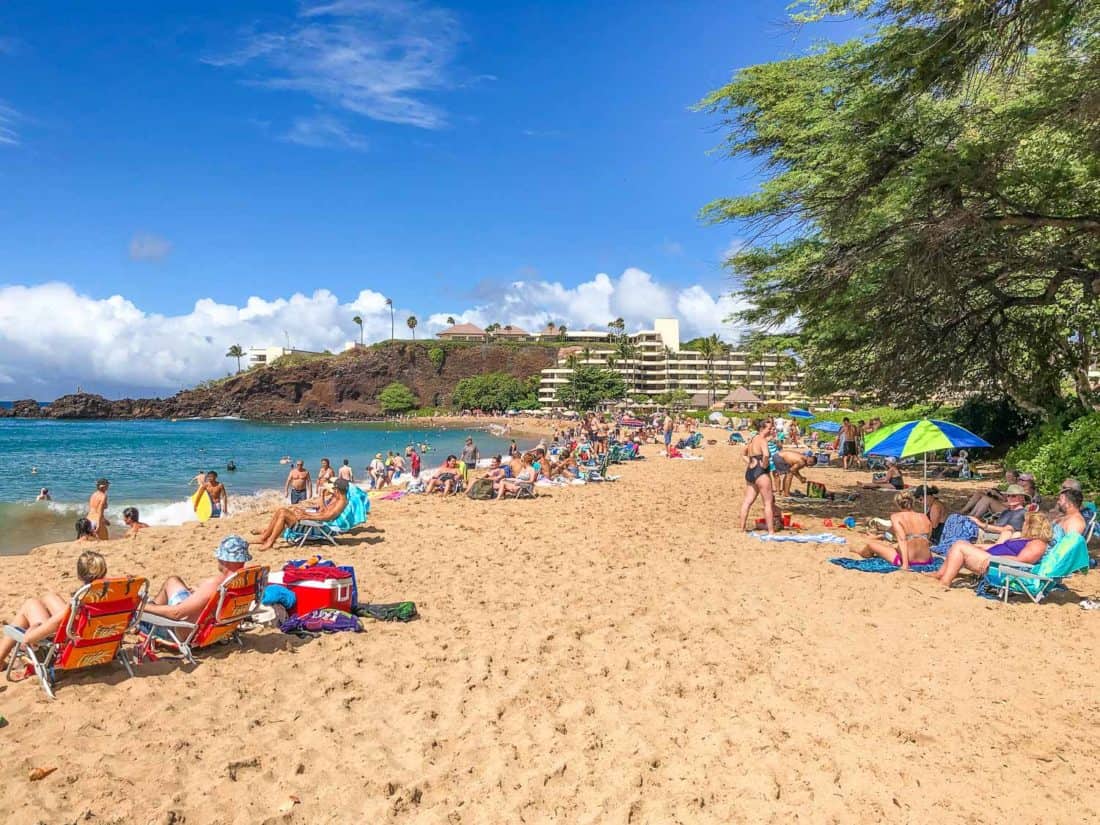 Kaanapali is the main beach on the west coast and there's a popular snorkelling spot called Black Rock. Parking is expensive here.
We found it too busy and preferred Airport Beach (aka Kahekili Beach) which is on the other side of the Sheraton.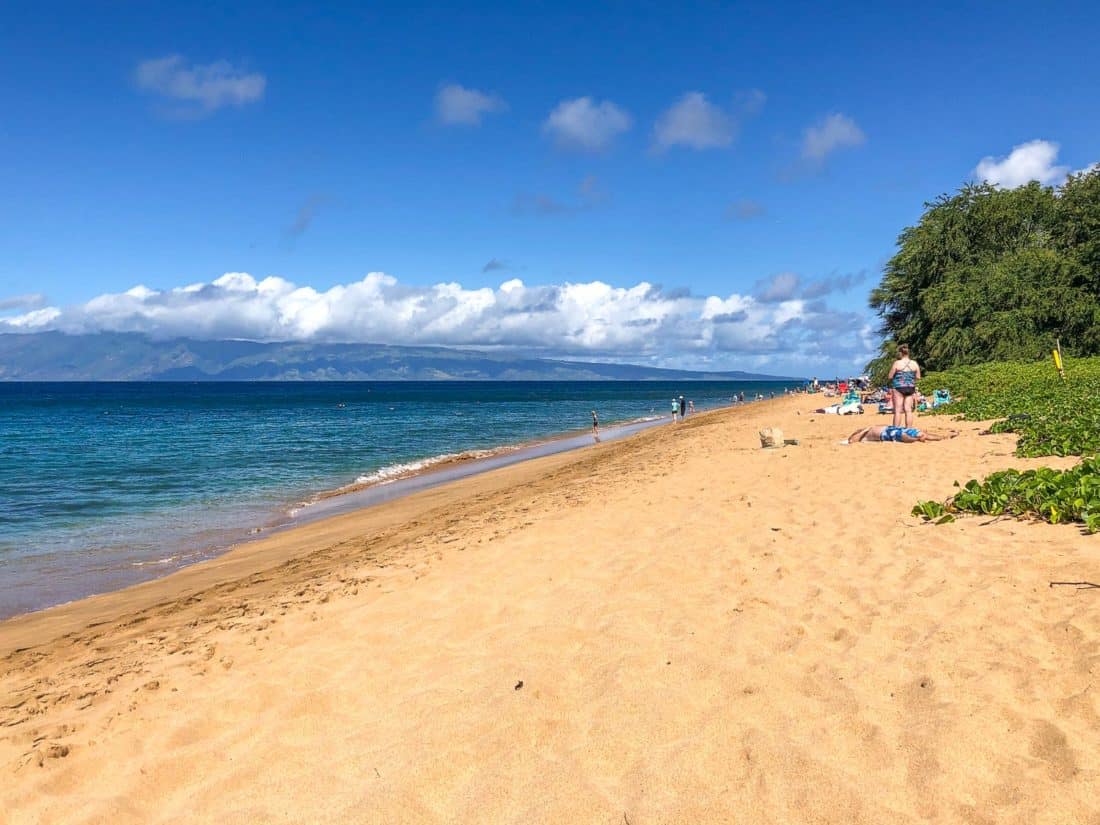 It's just as long and beautiful but less crowded, the ocean was calmer, and it's easier (and free) to park at Kahekili Beach Park (where there are toilets and other facilities).
We spent a few relaxing afternoons here and even saw whales.
Napili and Kapalua Bays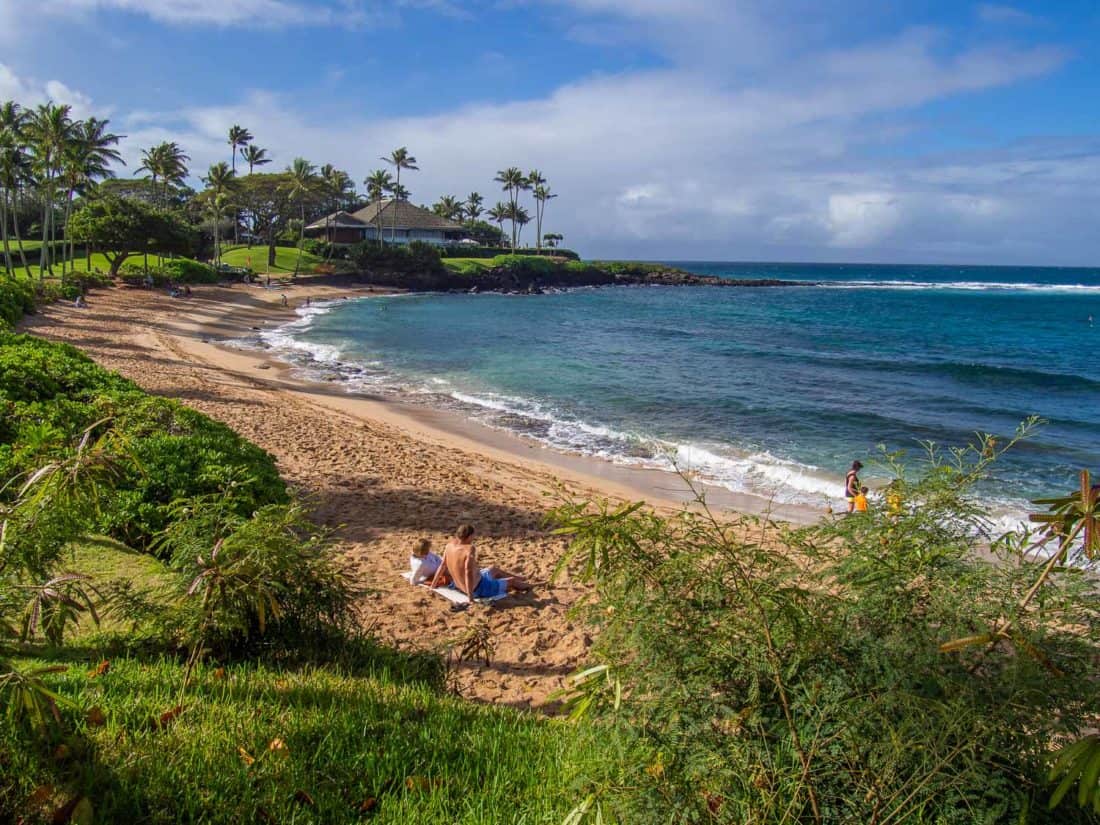 Two lovely small beaches usually with calm water for swimming.
Snorkelling at Molokini Crater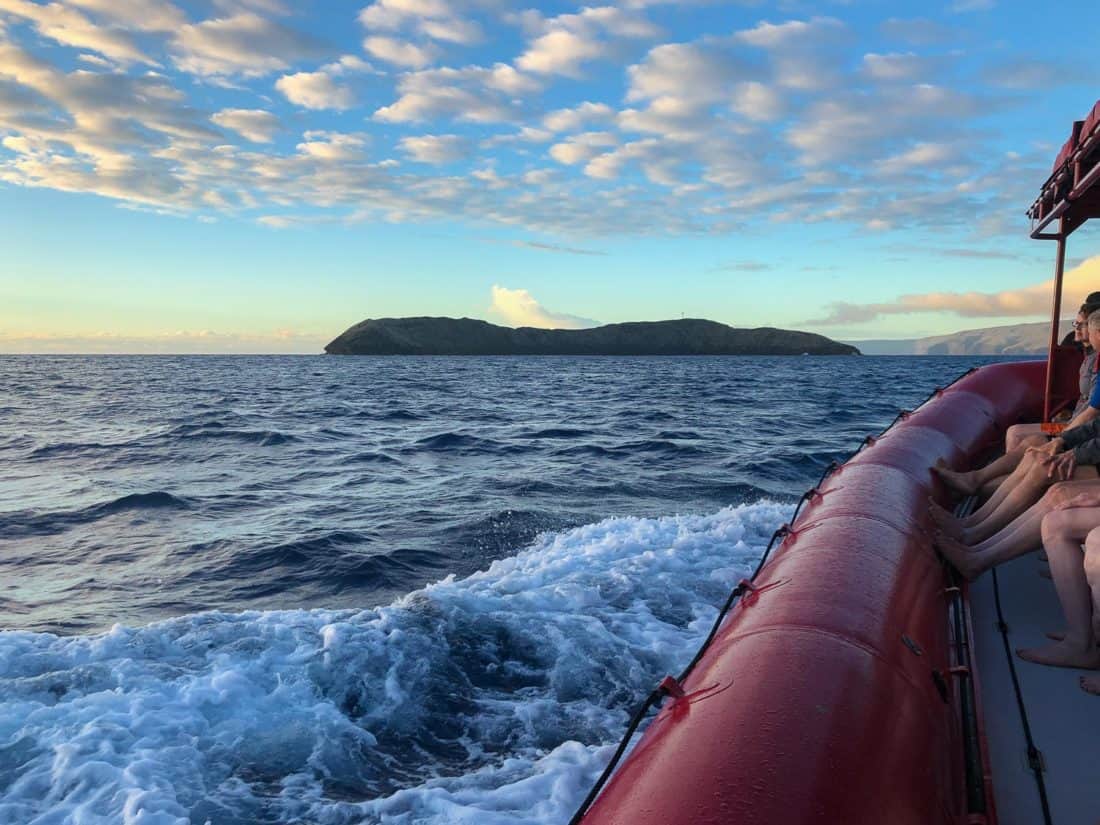 Our one activity in South Maui was a snorkelling trip to Molokini Crater which departs from Kihei.
Our first trip was cancelled (after we'd arrived) because of wind, so schedule this trip in early.
Molokini Crater is a partly submerged volcano and is a hugely popular snorkelling stop with up to 1000 visitors a day.
We chose to visit on a raft (up to 20 people) with Redline Rafting as they leave at 7am and are one of the first to arrive at the crater, so we snorkelled without the crowds.
The large boats looked crowded and I wouldn't have wanted to snorkel with 100+ other people.
Our trip included four snorkelling stops and lunch (make your own sandwiches) on the boat.
The first stop at Molokini Crater was the best—the visibility was good and we saw parrotfish, pipefish, bannerfish, and even a white-tipped reef shark. Best of all, we could hear the eerie sounds of whales singing under the water.
The back side of the crater was fun as there's an area called the elevator where the sea lifts you up and drops you down again without crashing you into the rocks.
The other snorkelling stops weren't as good and we didn't see any turtles as they often do.
We enjoyed the trip, and Redline Rafting was fantastic, but the snorkelling wasn't amazing.
If you haven't snorkelled before, you'll love it, but if you have done a lot of snorkelling (and are on a budget), you might want to skip it.
As the Redline rafts are quite bumpy (and there's no toilet), if you'd prefer a larger, more stable boat, check out the Molokini snorkel tour with Malolo Molokini Snorkeling Charters.
Summary
There are many more beaches, hikes and things to do that we didn't have time for in Maui, but this Maui itinerary covers the highlights of this beautiful island, and it gives us a great excuse to return!
More Hawaii Posts
Maui
General
Other Hawaii Islands
Enjoyed this post? Pin it for later!