This page contains affiliate links. Please read our disclosure for more info.
The Road to Hana is one of the best things to do in all of Hawaii.
This road trip along the north shore of Maui to the less visited eastern side takes place on a narrow winding road through lush rainforest.
Along the way you can stop at waterfalls, gardens, black, red and golden beaches, bamboo forests, and snack stands serving delicious homemade banana bread.
You can choose to be active and hike through the jungle to hidden waterfalls or stay close to your car and still see plenty.
You can drive the Road to Hana yourself in a rental car or take a private or group bus tour.
There are a huge number of potential Road to Hana stops and it's impossible to see them all in one or even two or three days, so it's important to plan a few priorities in advance.
The best stops are near Hana, so don't do too much in the early stages and end up exhausted when you reach the good stuff.
Most people drive the Road to Hana in one (very long) day, starting early (6am is best) and returning the same way they came.
A few people continue past Hana and return to West Maui via the Back Road to Hana (more on that below).
We did things differently and stayed in Hana for two nights, and I'm so glad we had more time in this beautiful area.
In this post, I'll share why I think you should stay in Hana, the best Road to Hana stops (with a map), and useful tips to make the most of the journey, whether you decide to do it in just one day or more.
Contents
How Long is the Road to Hana?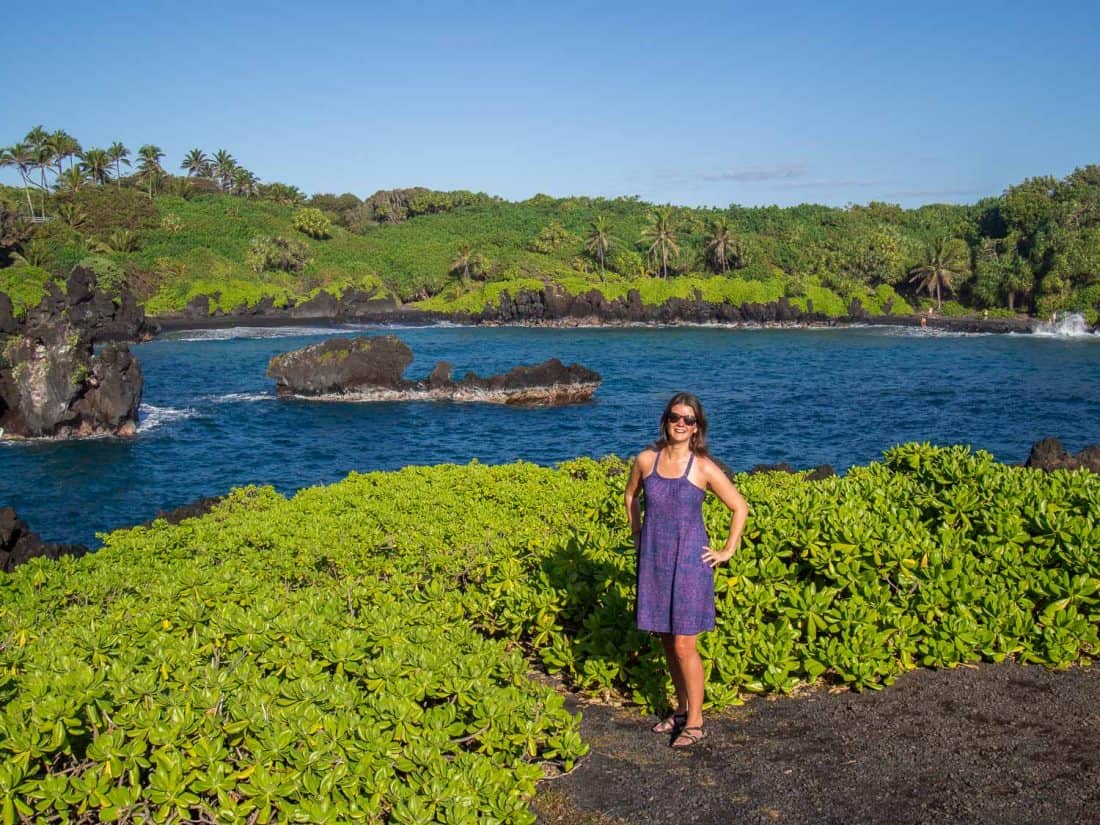 The Road to Hana (officially known as the Hana Highway) is 64.4 miles (103.6 km) long.
It includes Hawaii Routes 36 and 360 and connects Kahului (Maui's largest town and home of the airport) with the small town of Hana in East Maui.
The road takes two to three hours to drive without any stops as it's windy and narrow with many hairpin turns and one-lane bridges where you have to wait for oncoming traffic to pass.
It's best to take your time and drive slowly and carefully on the road. Use the pull outs to let faster drivers pass you.
With stops you can easily spend 12 hours on the return journey along the Road to Hana.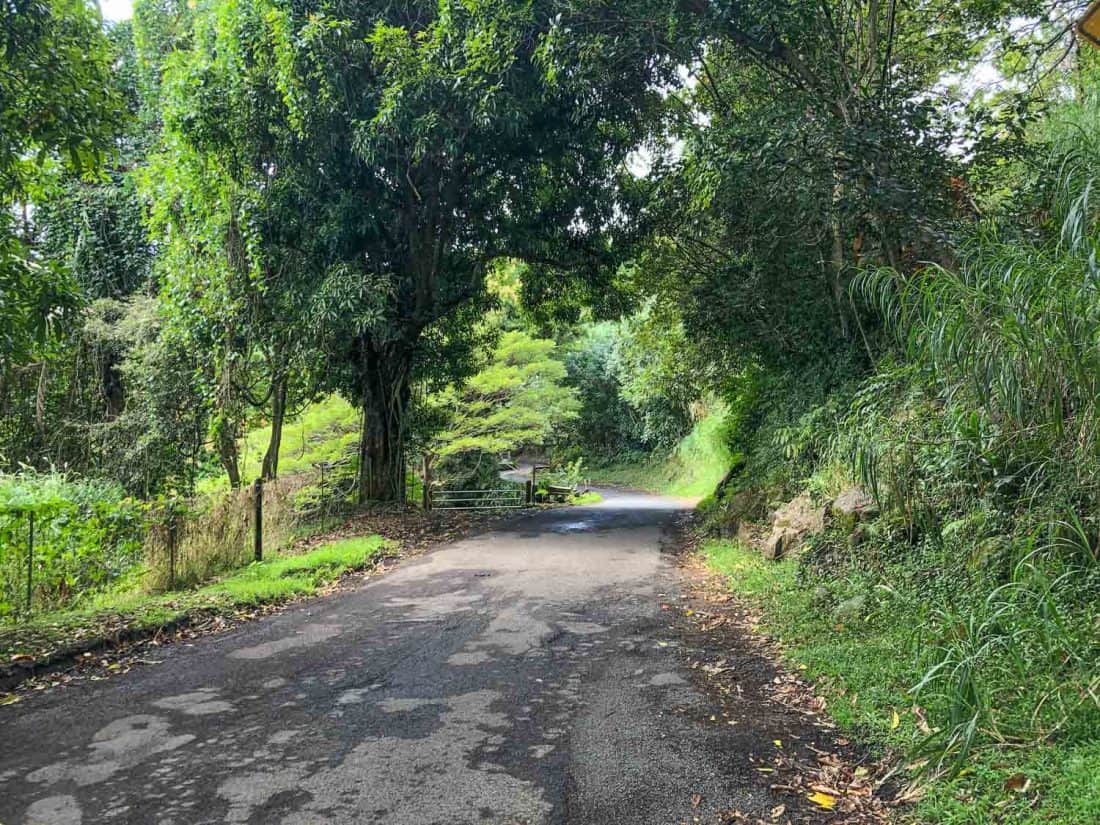 Despite the name, one of the major attractions on the Road to Hana is 10 miles past Hana.
The Pipiwai Trail in Haleakala National Park, where you can hike through a beautiful bamboo forest, is well worth adding to your itinerary and is a priority for many (including us).
The Seven Sacred Pools at Oheo Gulch are also located here.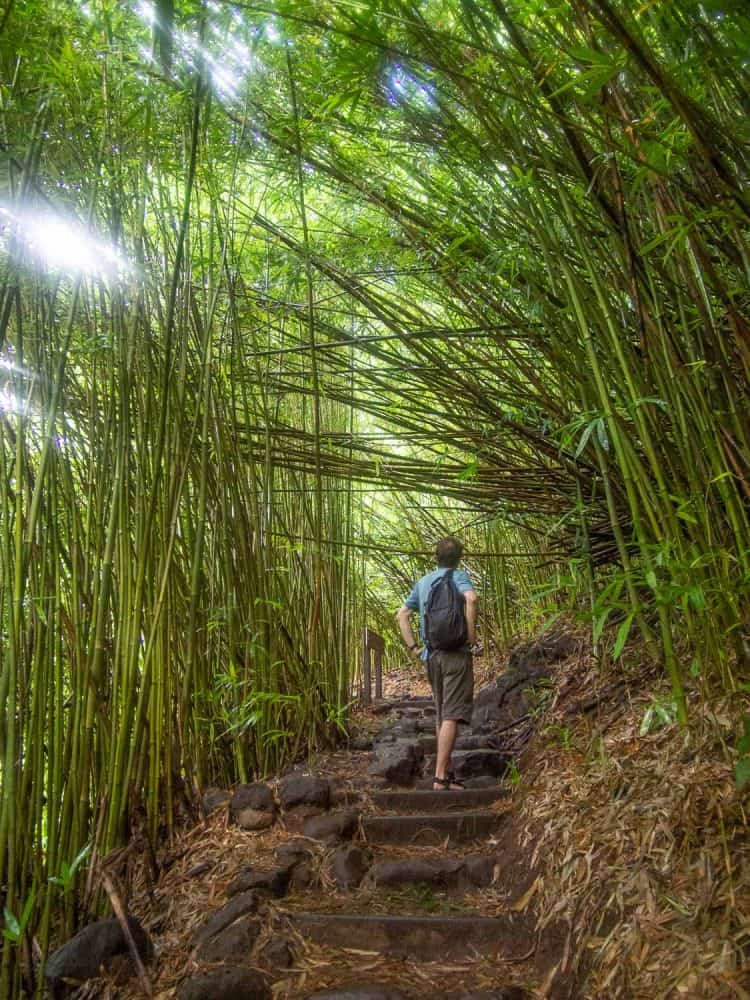 If you're making a day trip, you'll need to consider how long it will take you to get to the start in Paia from where you are staying.
From West and South Maui (where you'll likely spend most of your time on Maui) this will add an extra 30 to 60 minutes.
Read our Maui itinerary for ideas on how to include a stay in Hana during your time on the island.
Video: Best Road to Hana Stops
Watch our video for an overview of the best stops on the Road to Hana.
Why Stay in Hana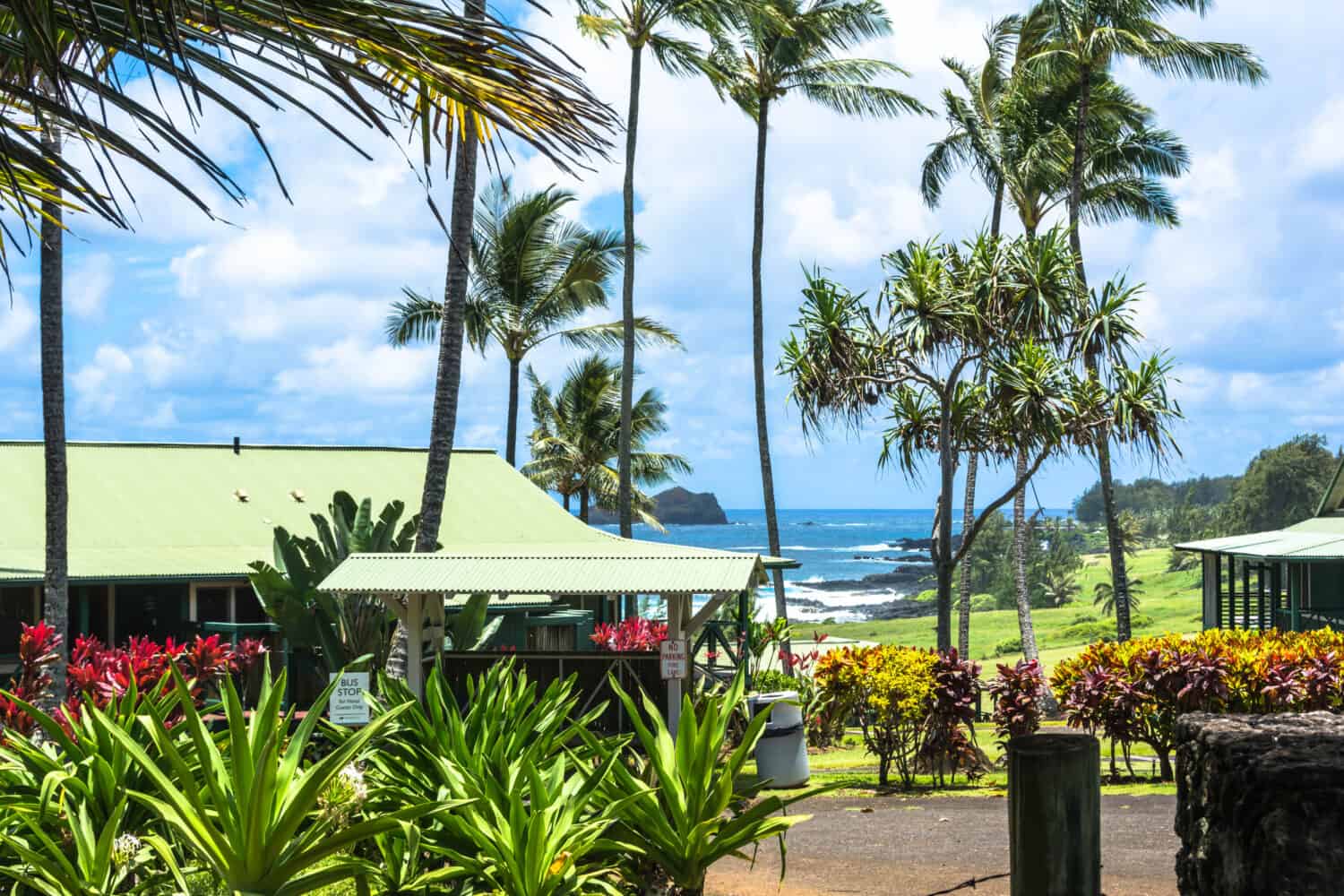 Everyone says the Road to Hana is all about the journey, not the destination, and recommends not even stopping in Hana as it's a boring small town.
I wholeheartedly disagree.
The Road to Hana is the most beautiful part of Maui, so why rush through it on an exhausting day trip?
Even staying in Hana for one night will give you time to explore at a more leisurely pace.
You'll also be close to two of the most popular attractions, so the next morning you can hike the Pipiwai Trail or visit the famous black sand beach at Wai'anapanapa State Park before the crowds arrive.
If you stay for two nights, you can visit both places early in the morning, as we did.
We had the first half of the Pipiwai Trail entirely to ourselves, and it was wonderfully peaceful (in the afternoon it's a very different experience).
People say Hana itself is dull, but we found it a lovely little town. It may not have any obvious attractions if you rush through, but I fell in love with it when taking a stroll in the late afternoon.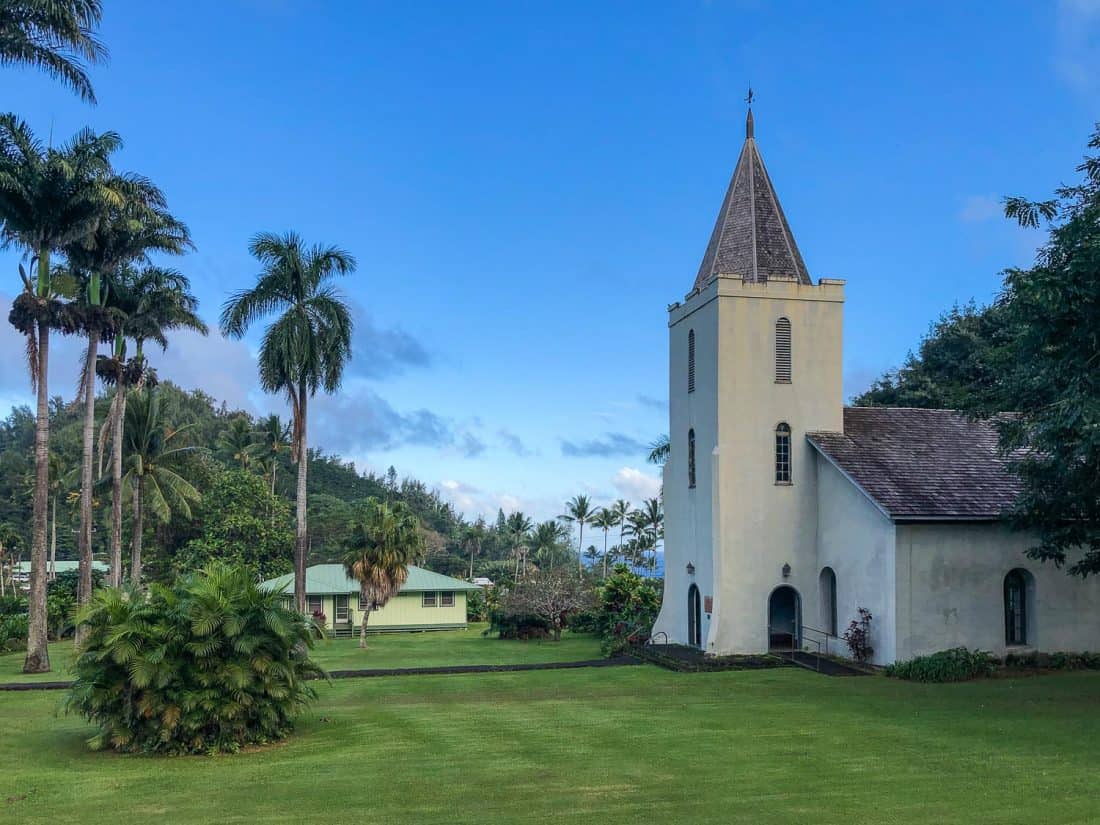 Hana is described as what Hawaii used to be like, and we found it the least Americanised place we visited with no big supermarkets, strip malls, or fast food restaurants.
It reminded us more of the relaxed pace of life and lushness of South Pacific villages.
The sleepy town between the mountains and the sea is green and pretty with wooden houses and grassy lawns full of banana trees and hibiscus plants.
We wandered past cows grazing in fields, wooden churches backed by mountains, and the school where kids played baseball while parents laughed and cheered on the sidelines. It was by far the most multi-cultural place we visited in Hawaii.
We'd heard that the town shuts down in the evenings so we brought food to self-cater, but we didn't need it as there's a great cluster of food trucks as well as a wonderfully quirky General Store.
There's so much to do in this beautiful area that we could have happily spent a week here, soaking up the relaxed atmosphere and visiting the nearby beaches and hikes.
If you want nightlife and shopping, Hana is not the place for you, but if you appreciate quieter places, it's well worth spending some of your time on Maui here.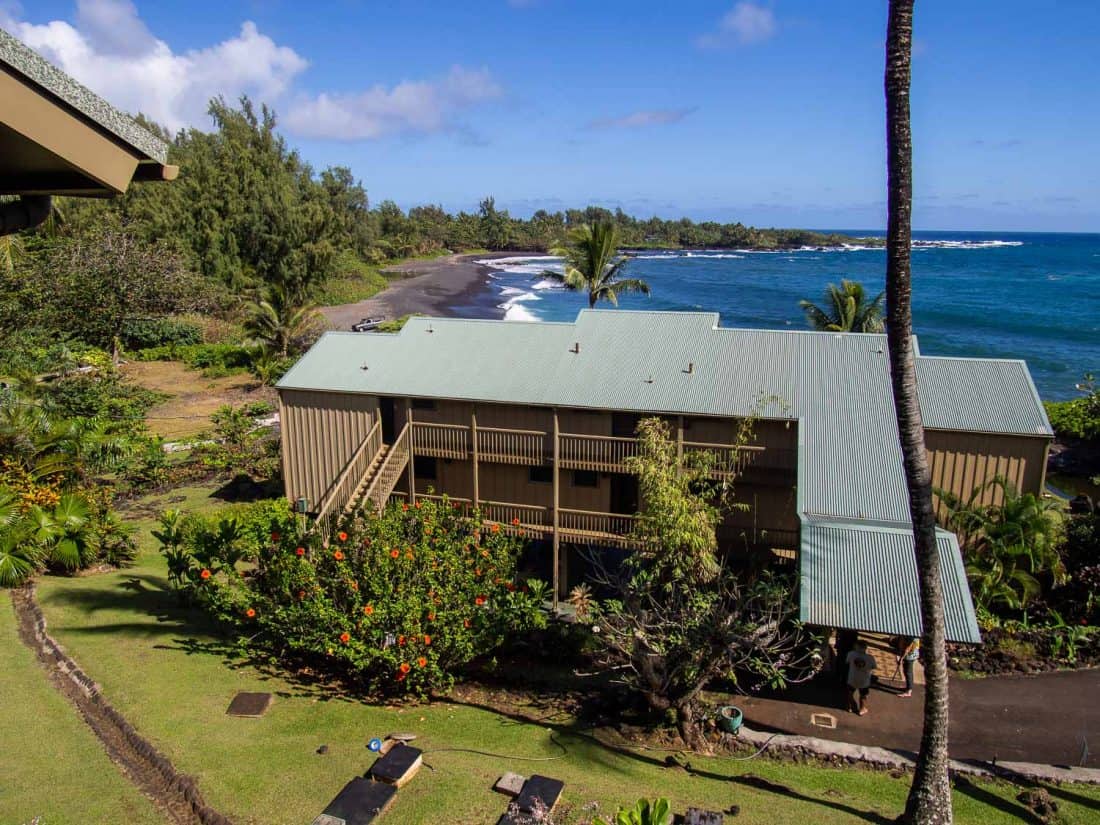 And I think everyone should consider spending a night in Hana, either at the beginning or end of your trip, to enjoy the Road to Hana without the crowds or rush.
We absolutely loved our condo at Hana Kai. You'll find more tips on where to stay in Hana (and food recommendations) near the end of this post.
Should You Self-Drive or Take a Road to Hana Tour?
If you want to stay overnight in Hana, you'll need to drive yourself.
If you'll be driving the Road to Hana in one day, you'll have the most flexibility to visit where you want with your own vehicle.
However, taking a guided tour is a good option if you are not a confident driver on narrow windy roads, want to save your energy for sightseeing, or want to learn more about the history and culture of the island.
This small group Road to Hana tour ($199) visits all the highlights and includes pick up from your hotel, breakfast and BBQ lunch, and time to swim at a beach or waterfall.
Or to choose your own itinerary, check out this private Road to Hana tour.
Road to Hana Tips
Make a Reservation for Wai'anapanapa State Park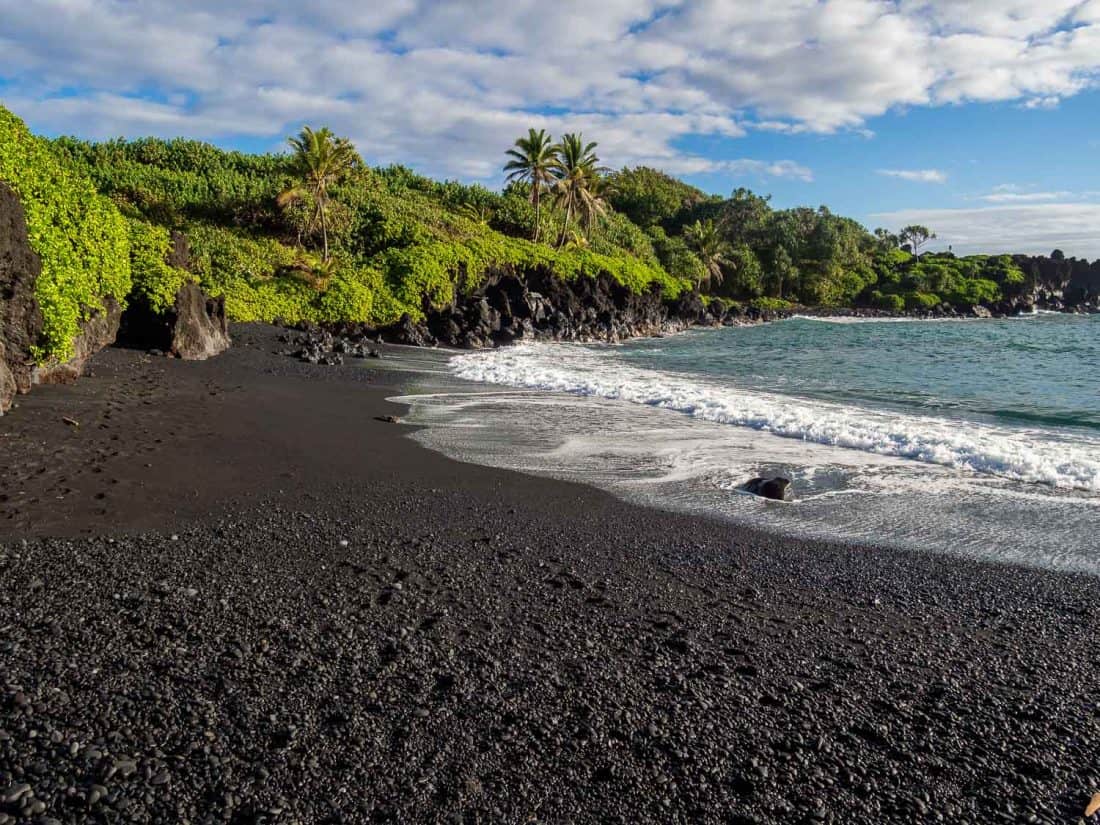 The black sand beach at Wai'anapanapa State Park is a Road to Hana must-see for most visitors. Reservations are required for the park unless you are a Hawaii resident.
You can make reservations up to 30 days in advance and no later than the day before your visit on the Go Wai'anapanapa website. You must purchase both an entrance ticket ($5 per person) and parking voucher ($10 per vehicle).
You need to specify a time slot when you book. I recommend the morning 7 am- 10 am time slot if you are staying in Hana as the park is quieter then.
You must leave at the end of the time slot unless you have booked multiple slots.
As visitor numbers are limited, it's best to book as early as you can.
App and Guidebook
There's no cell signal for most of the Road to Hana so you'll need to plan your navigation.
I recommend downloading the GyPSy app, which is a guided audio tour of the road.
It works offline, gives you information about the sights along the way, and most usefully on this narrow road, warns you of upcoming turnings to attractions (if you miss a turn it's difficult to find a place to turn around).
If you are keen to visit some off-the-beaten-track spots, I recommend the guidebook Maui Revealed which includes an extensive list of places to visit on the Road to Hana.
Luggage
If you decide to spend a night in Hana, you'll likely have your luggage with you in your car.
We were worried about this as we'd heard that car break-ins were common and we should never leave luggage unattended. I think it's fine as long as you practice caution.
Make sure everything is hidden out of sight in the trunk and don't open it along the route.
Keep your most important things (cash, passports, camera) with you. And stick to the more visited spots where there are plenty of other cars and people around.
If you turn up at a deserted parking area with broken glass on the ground, don't leave your vehicle there.
Food
It's not a bad idea to bring a picnic lunch, but there are a few simple food stalls along the way.
Best of all, there are many stands where you can buy homemade banana bread and other sweet treats.
Make sure you take advantage of these as you'll regret it later if you don't stock up. We've written about our favourites below.
What to Pack
Wear shoes suitable for hiking. Hiking sandals are ideal in the Hawaii heat although your feet may get muddy—I love my Teva Verra sandals and Simon has the Teva Hurricanes.
Bring water, sunscreen, insect repellant, and enough cash for the day (many stands don't take cards).
If you plan to swim at one of the waterfalls or beaches, bring a towel and wear your swimsuit under your clothes as there aren't many places to get changed.
Fill up your car with gas before you head off.
Respect the Locals
Hana is a traditional place and the number of tourists visiting can be overwhelming.
Please act respectfully and follow these rules:
Obey any "no trespassing", "private property", or "no parking" signs you see.
Let locals pass you on this narrow road—they will be driving a lot faster than you and may have work to get to.
Always choose a safe place to stop and take photos—don't stop on the road.
Don't leave litter or take any sand or rocks.
Don't honk in traffic—it's considered rude.
Should You Drive The Back Road to Hana?
The road past Hana and Oheo Gulch along the southeast coast of Maui is known as the Back Road to Hana.
Most people don't continue on this road as they've heard horror stories about its terrible condition.
This is out of date and most of the road is now paved, although there are some bumpy unpaved sections.
We were fine in a regular car, but if you are a nervous driver you probably want to skip it (but then you probably shouldn't drive the Road to Hana anyway).
If you are not used to driving on unpaved roads, it's also best to avoid it. We've had recent reports of people who found it a difficult and uncomfortable drive.
We also heard that driving this road voided your rental car agreement, but we didn't see anything like this in our contract.
If you are up for an adventurous drive and don't have time to stay in Hana as we did, consider driving the route in reverse, starting with the Back Road to Hana.
This way you'll get to the Pipiwai Trail first when you have the most energy. Our friends Tom and Jenny recommend this strategy.
A Multi-Day Road to Hana Itinerary
Below I have included the best Road to Hana stops in the order that most people will reach them driving from Paia to Hana (and slightly beyond).
If you have two nights in Hana, here's our Road to Hana itinerary which allowed us to visit the most popular places early in the morning.
Day 1
10 am – Arrive at the airport and rent a car.
11 am – Pick up a packed lunch at Mana Foods in Paia.
11.30am – Set off on the Road to Hana! We stopped at everywhere on the list below until Upper Waikani Falls and left the rest for the following days.
2.45pm – Arrive in Hana (3 hours 15 minutes from Paia with stops) and check-in to our condo at Hana Kai. We relaxed, wandered the town, and had a food truck dinner.
Day 2
7 am – Left for the Pipiwai Trail (a 35-minute drive past Hana) and visited the Seven Sacred Falls first.
8 am – Started the Pipiwai Trail hike which took two hours return.
10 am – Headed back to Hana with stops at Wailua Falls, Koki and Hamoa beaches.
5 pm – Out for a walk and food truck dinner.
Day 3
8.15am – Left for Wai'anapanapa State Park.
8.30am – Arrived at the park and walked along the coastal trails and black sand beach.
9.30am – Left the park and picked up coffee and baked goods at Hana Farms.
10.30am – Checked out of Hana Kai and drove the Back Road from Hana to Makawao in Upcountry where we continued with our Maui itinerary.
Our Top 4 Road to Hana Picks
If you only have one day you won't have time for all of the Road to Hana stops below.
Our highlights (marked with stars on the list) are:
Rainbow Eucalyptus Trees
Hana Farms Snack Stand
Wai'anapanapa State Park (black sand beach, reservation required)
Pipiwai Trail (one of the best Road to Hana hikes through bamboo forest)
Best Road to Hana Stops
For each stop, I have included the approximate Mile Marker (MM) where it is located on Route 360. Note that the mile markers change after Hana and count down from 51.
1) Paia and Ho'okipa Beach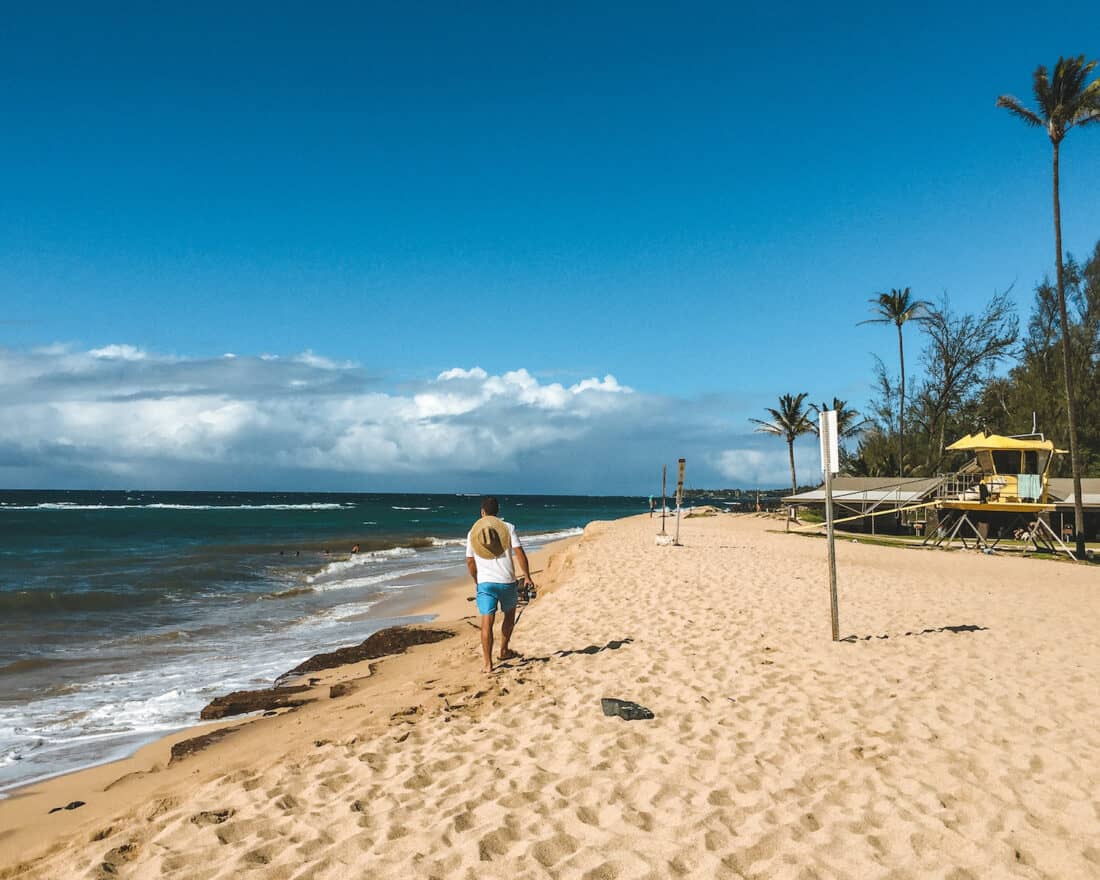 The hippy beach town of Paia is the first stop on the Road to Hana, but it's best to visit another time and prioritise more remote attractions.
The health food supermarket Mana Foods is an excellent place to stock up on snacks and lunch as it has a large salad and hot food bar.
Just past Paia is Ho'okipa Lookout where you can get a good view of surfers and windsurfers riding the huge waves and many turtles on the beach below.
2) Rainbow Eucalyptus Trees (MM 6.7)*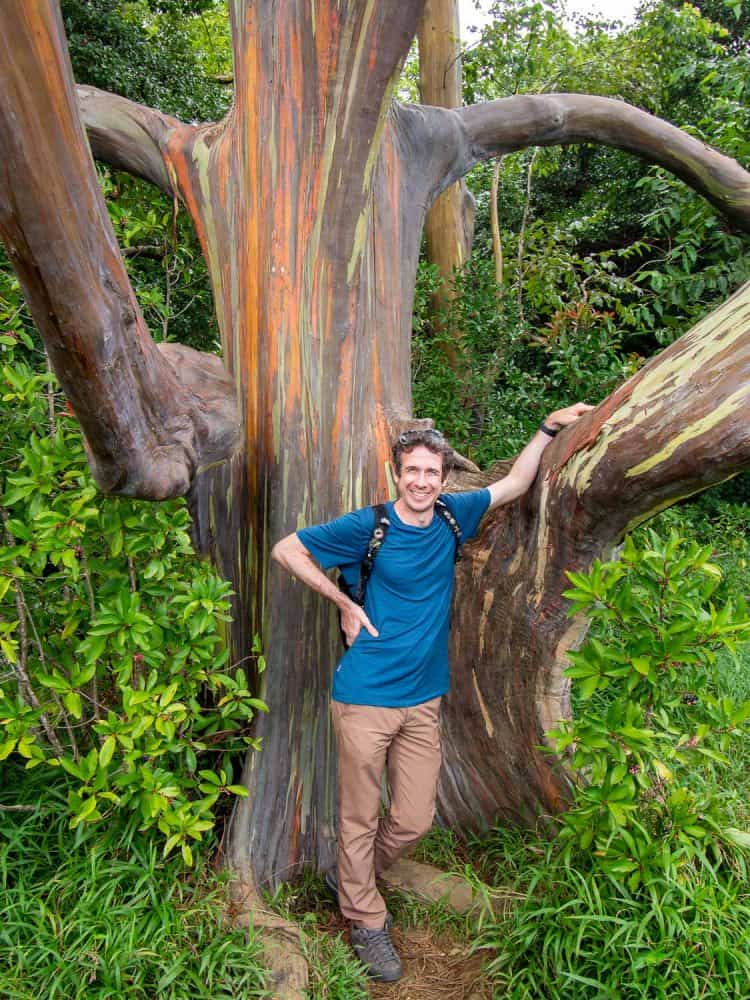 This isn't a well-known attraction, but it's definitely worth adding to your Road to Hana itinerary.
By the side of the road between mile markers 6 and 7 (about 30 minutes past Paia) is a cluster of beautiful rainbow eucalyptus trees.
You'll see them on the left and will need to drive a little further along to find a place to park.
These unusual trees have multi-coloured bark that peels off revealing new bark below in streaks of vibrant orange, green and blue. It's hard to believe they are real.
After you have wandered through the main grove by the road, follow a short trail up behind these to see a huge and even more beautiful rainbow eucalyptus.
Just beyond that you can also see a lovely ocean view.
Unfortunately, many people have carved their names into these trees—please don't do this!
3) Ke'anae Peninsula Viewpoint (MM 13)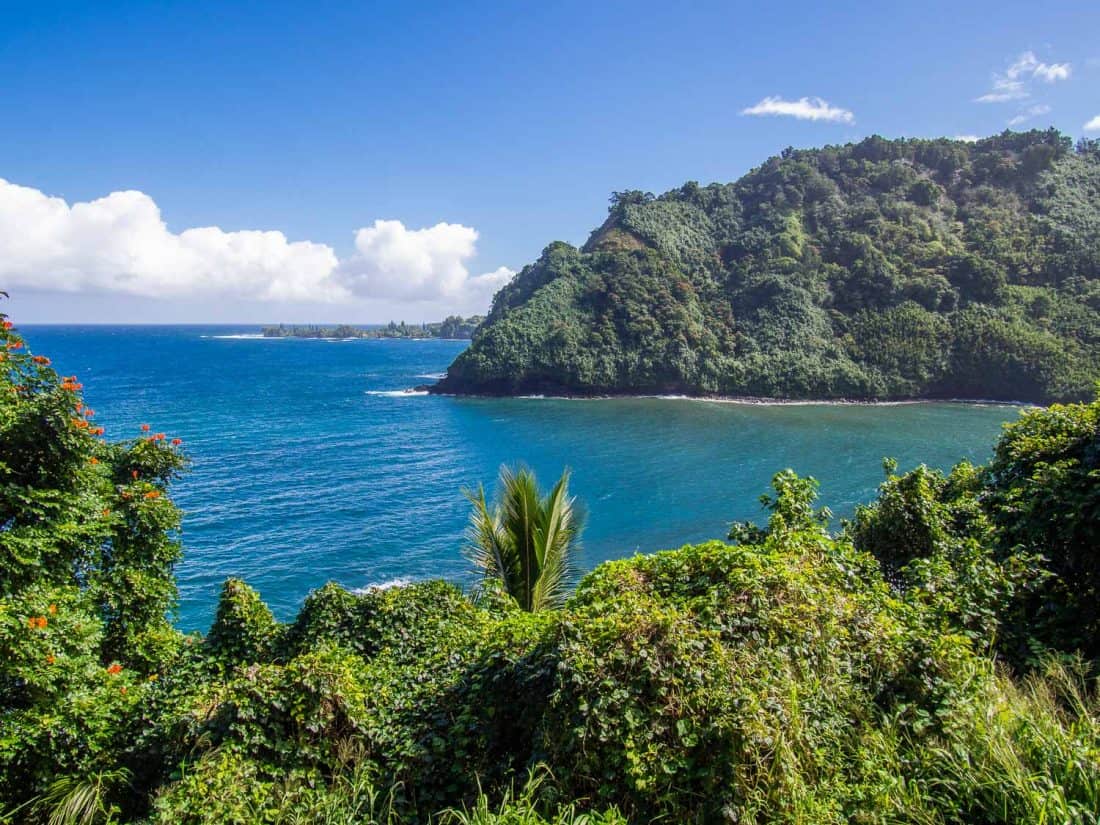 On your way to the next stop, look out for a pull off by the side of the road just past Kaumahina State Wayside Park where you can get a view of the Ke'anae Peninsula.
4) Ke'anae Arboretum (MM 16.7)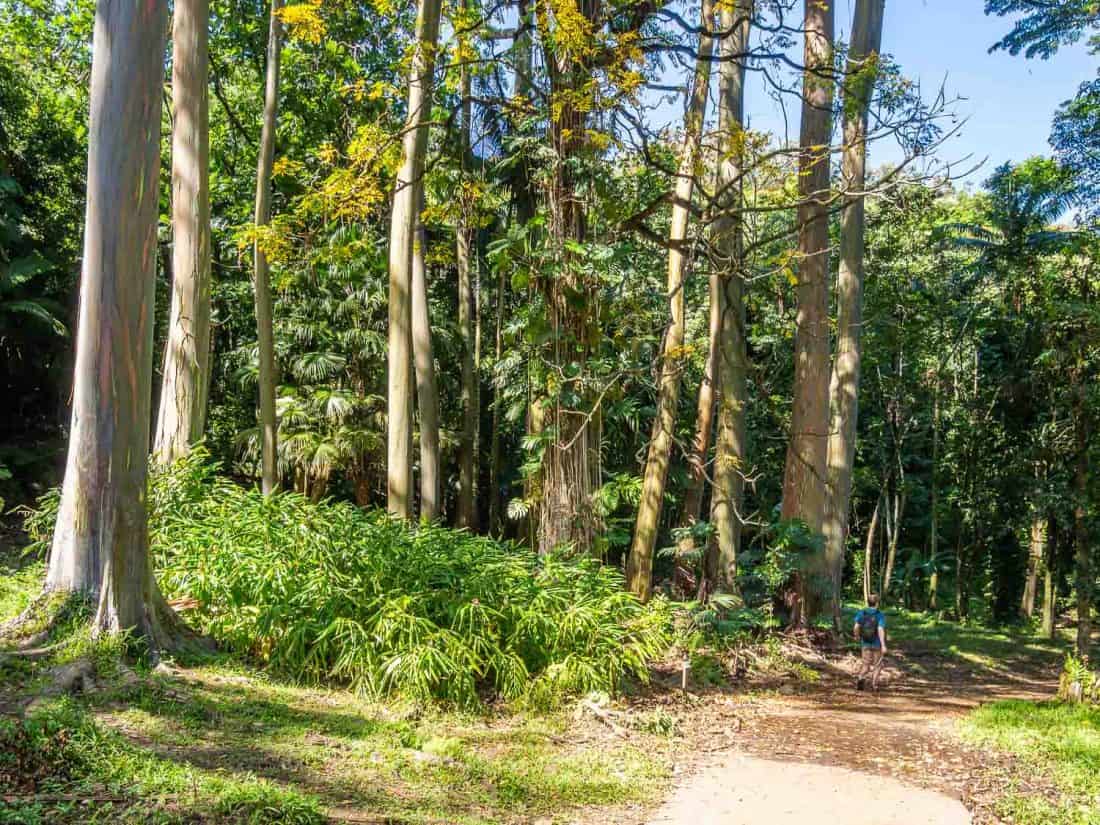 We chose to skip the Garden of Eden Arboretum ($20 adults/ $10 children) and visit the free Ke'anae Arboretum instead (30–40 minutes from the rainbow eucalyptus grove).
We enjoyed a pleasant 30-minute walk on the easy but sometimes muddy trail through a variety of trees.
If you missed the rainbow eucalyptus trees earlier, definitely stop here as you can see more of them.
There's also a banyan tree, papaya trees, and a taro field at the end of the trail.
If you've spent a lot of time in the tropics, it's nothing spectacular but it's a nice place to stretch your legs.
5) Ke'anae Peninsula and Aunty Sandy's Banana Bread (Turn off at MM 16.8)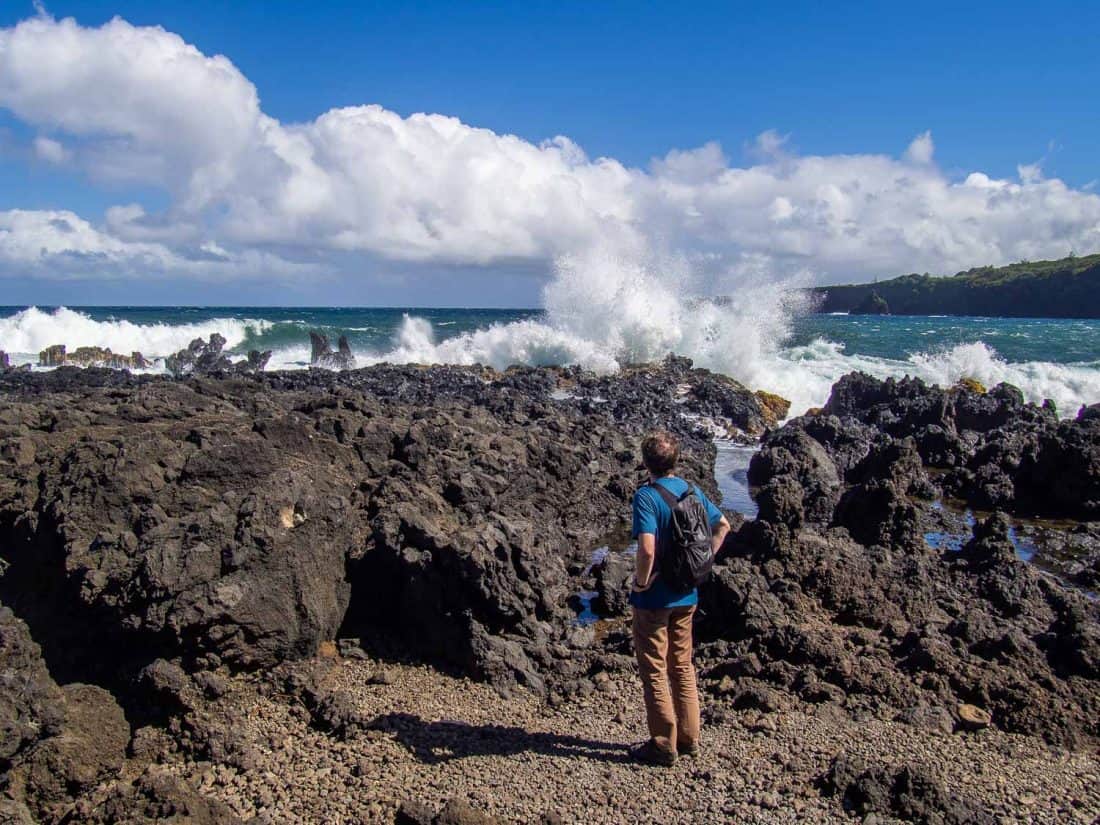 The Ke'anae Peninsula is a short diversion from the main road and the turnoff is just past the Ke'anae Arboretum on the left.
Drive to the end of the peninsula where you'll find a parking lot, baseball field, and public toilets.
There's a pretty view of the coastline and the waves crashing into the rocks.
Return the way you came and stop at the snack stand Aunty Sandy's for your first banana bread of the day.
Our loaf was warm and moist and was our favourite on the Road to Hana. You can also buy drinks, ice-cream, hot dogs, and sandwiches.
6) Halfway to Hana Snack Stand (Just past MM 17)
Back on the Hana Highway it's only a few minutes to Ching's Pond (just before MM 17) which is supposed to be a good place for a swim, but we missed the turnoff.
Just past this is the Halfway to Hana snack stand where we bought another loaf of banana bread.
It was good but not as good as Aunty Sandy's or another upcoming stand, so if you have a limited banana bread budget, you could skip it.
It took us 30 minutes to get from Ke'anae Arboretum to Halfway to Hana with the peninsula diversion.
7) Upper Waikani Falls (Between MM 19 & 20)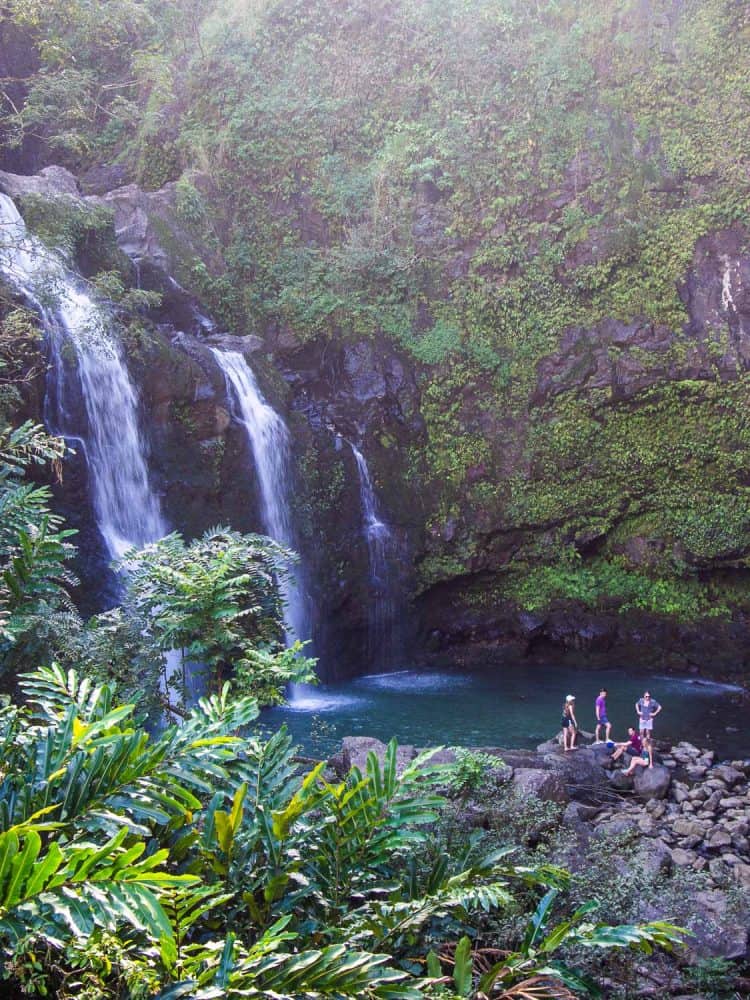 Five minutes past Halfway to Hana is Upper Waikani Falls (sometimes called Three Bears Falls).
There's no parking at the falls so drive about 800ft past to the parking area and walk back to the bridge for a view of the waterfall.
You can also walk down to the pool, but the short trail is steep and slippery. You can swim here.
This was our last stop for the day as we continued on to Hana and came back to explore the rest on another day.
If you start in the morning, you should still have plenty of time to continue with the next stops.
8) Coconut Glens Ice-Cream (MM 27.5)
Coconut Glens is an ice-cream truck that serves delicious dairy-free coconut ice-cream. They also have a truck in Hana which we visited later.
9) Nahiku Marketplace (MM 29)
If you want lunch at this point, stop at Nahiku Marketplace, a cluster of rustic food stands about 25 minutes past Upper Waikani Falls.
We didn't stop here but the food (Thai, tacos, barbecue) is supposed to be good, and you can also pick up locally made souvenirs like coconut candy.
10) Hana Lava Tube (Turn off past MM 31)
We'd planned to visit this lava tube just off the main road the following day but ran out of time.
Our friends loved it, though. It's $15 for a self-guided tour through a natural lava tunnel. Allow about 40 minutes.
11) Hana Farms Snack Stand (Just past MM 31)*
If you only have time for one snack stand, this one just before Wai'anapanapa State Park was our favourite.
Hana Farms has an array of baked goods, foodie souvenirs (like a tasty pineapple lime hot sauce), as well as coffee and sandwiches.
The banana bread here is great and comes in a few varieties—the chocolate chip banana bread is particularly decadent.
We still dream about the delicious chocolate macadamia nut cookies here—we shared one as it was humongous but later wished we'd stocked up.
12) Wai'anapanapa State Park and Black Sand Beach (MM 32)*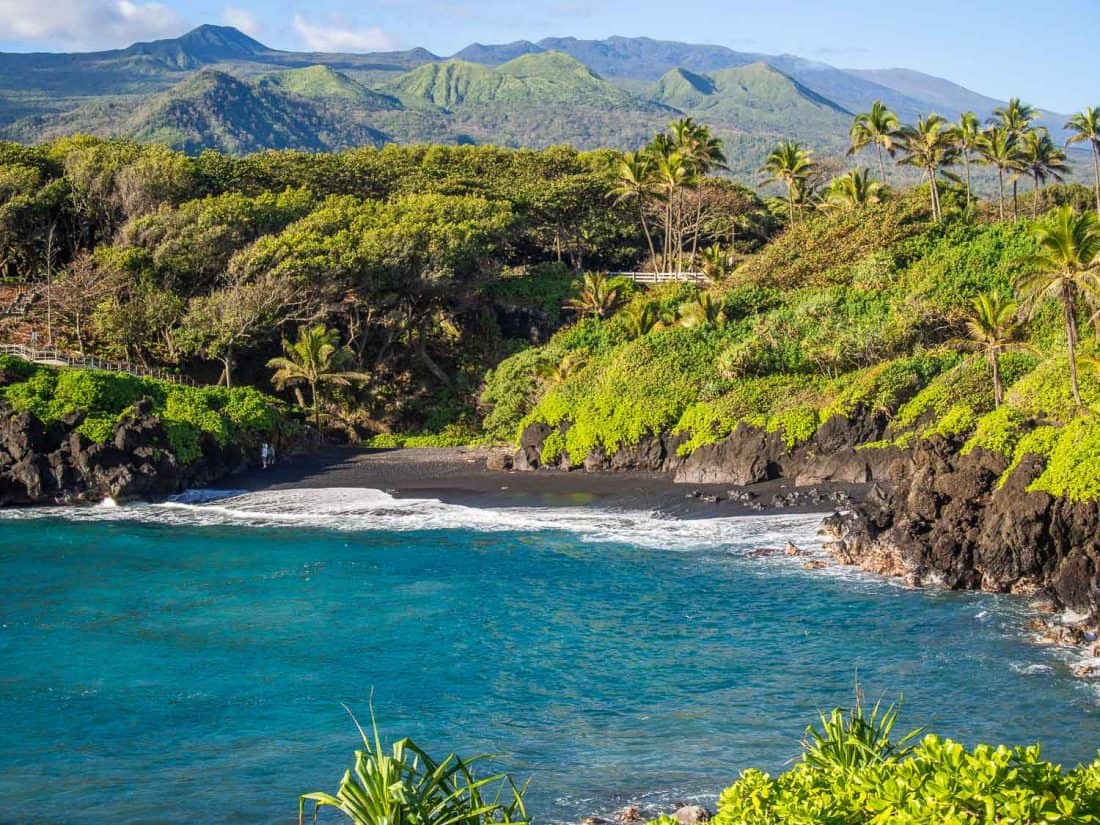 Wai'anapanapa State Park is probably the most popular stop on the Road to Hana and you won't want to miss it.
Note that you need advance reservations to visit the park—see the tips section above for more details.
It's famous for the beautiful black sand Pa'iloa Beach, and you can also walk along the coast for gorgeous views and visit a sea cave, blowhole, and lava fields.
The ocean is usually too rough for swimming.
I loved the contrast between the jet black sand, vibrant green hills and deep blue ocean.
We visited the park at 8.30am on our last day in Hana (it's only 10 minutes away) when the light was beautiful and there were only a few other people around (8 am would be even better).
We spent an hour here, but you could spend longer if you hike further along the coast.
You can camp here (permit required) so this would be a good budget place to stay on this side of the island.
13) Hana Town (MM 34)
Just ten minutes further on and you've finally reached Hana! As I wrote above, we loved Hana but if you only have one day I understand why people don't stop.
There aren't any real attractions, but it's worth stopping at the quirky old-school General Store where they sell everything from saws to beer to souvenirs (fresh food is limited).
For fresh fruit, there are lots of honesty fruit stands around Hana where you can help yourself (and leave cash behind) to locally grown passionfruit, apple bananas, pineapple, guava, papaya and more.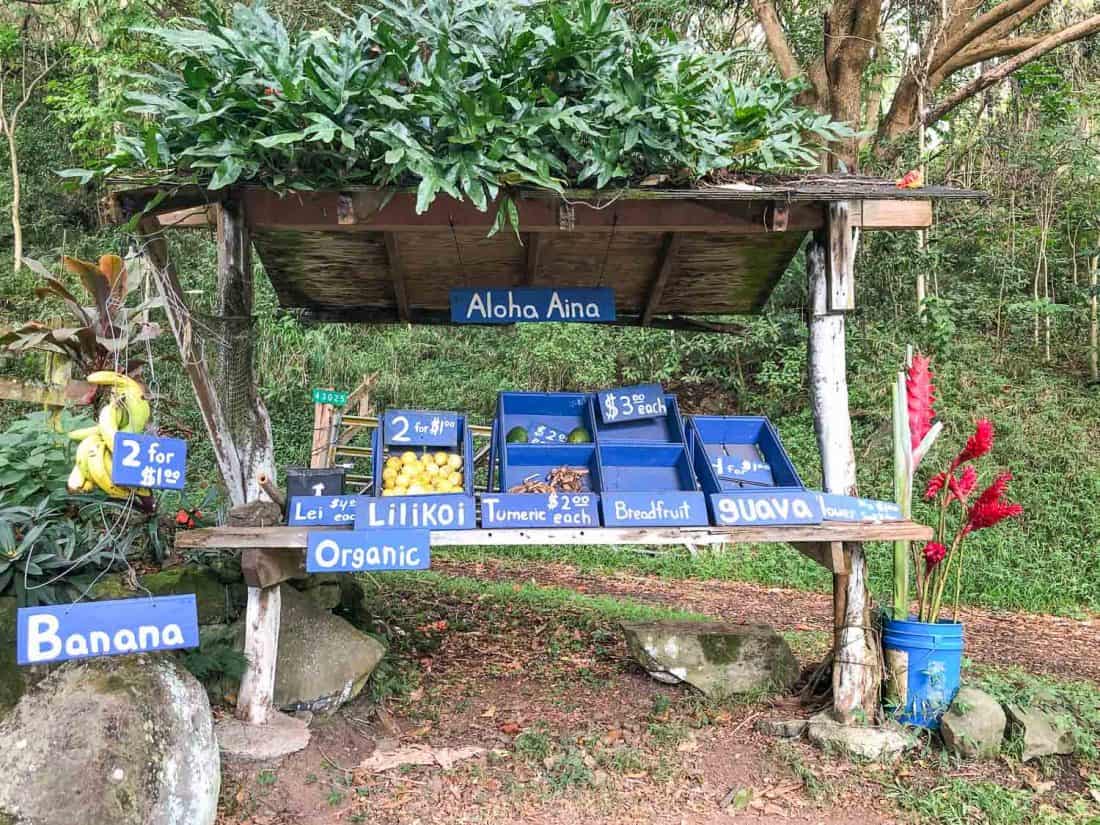 There are only a few restaurants in town, but opposite Hana Ranch there's an appealing cluster of food trucks with limited hours (the pizza place is Sundays only!).
We had some surprisingly good Thai at Ae's Thai Kitchen (11am –7pm daily) where most dishes can be made vegan.
On our second night, after delicious tacos at a food truck which unfortunately is no longer in operation, we finished our meal at the Coconut Glen's truck with tasty dairy-free coconut ice-cream.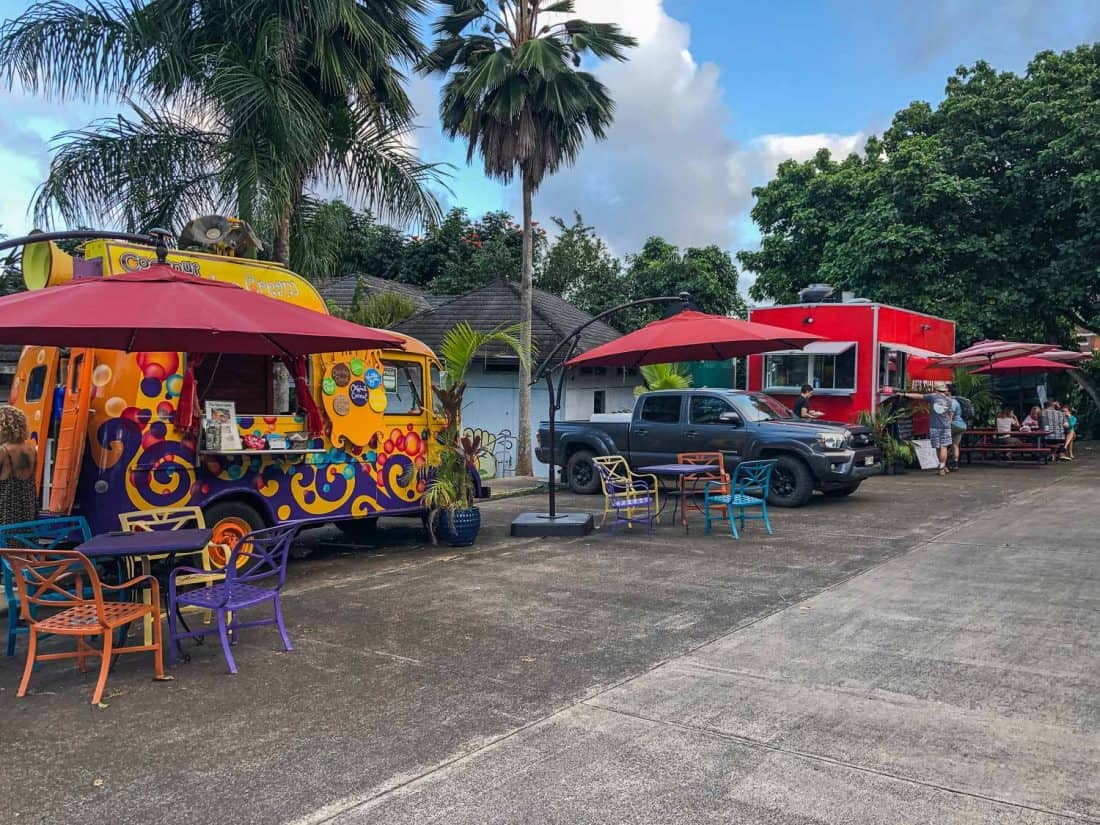 Other food trucks in Hana that we didn't try are Thai Food by Pranee and Braddah Hutts BBQ Grill which are both only open for lunch.
In the evenings it's best to eat at one of the trucks before 7pm; otherwise, Hana Ranch restaurant is open until 9pm. There's also a restaurant at the Hana Maui resort.
14) Koki and Hamoa Beaches (MM 50)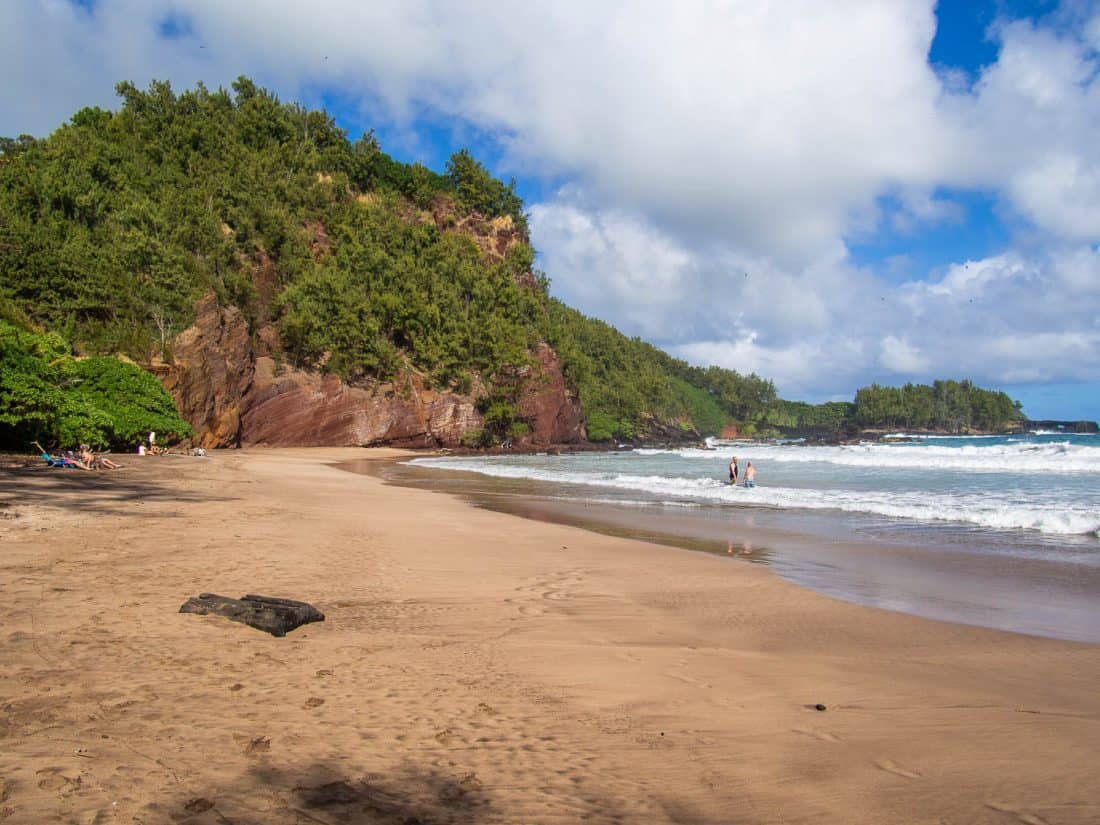 Just past Hana are two more beaches that are worth a quick stop and neither were busy in the morning.
You can drive a loop along the coast to them both then reconnect to the main road.
Koki Beach has brownish sand and a lovely red cliff backdrop, but there are signs warning against swimming.
Hamoa Beach has greyish sand and bright blue water. This would be a lovely place to hang out on days when it's suitable for swimming (it was too wavy when we visited). There are bathrooms here.
15) Wailua Falls (MM 45)
About 25 minutes past Hana is Wailua Falls, a pretty 80-foot waterfall that's framed by lush greenery.
There used to be a short steep trail to the pool for swimming but it is indefinitely closed now due to hazardous conditions.
Please don't attempt to ignore the warning signs and cross the fence as fines are possible.
From the parking area, you can still view the spectacular falls from above.
We visited just after 10am after hiking the Pipiwai Trail (on our way back to Hana) and there were only a few other people around.
16) Ohe'o Gulch and Pipiwai Trail (Bamboo Forest) (MM 42)*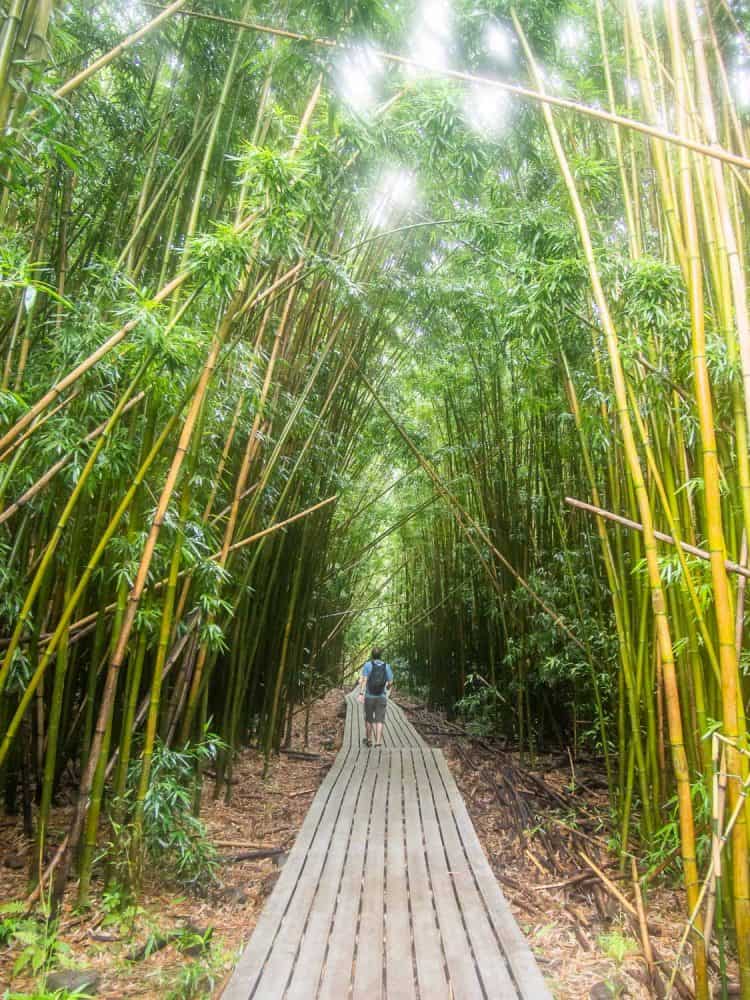 35 minutes past Hana on a rather bumpy potholed road is the Kipahulu section of Haleakala National Park, also called Ohe'o Gulch.
Many people come to visit the Seven Sacred Pools which is accessed along an easy 0.5-mile trail from the visitor centre.
Unfortunately, you can no longer swim here or get very close, and when we visited in January there wasn't much water, so it was rather a letdown.
I wouldn't bother coming out here unless you are planning to hike at least some of the Pipiwai Trail (which starts a short walk away).
The Pipiwai Trail is a four mile out and back hike through lush rainforest that took us two hours.
There are some uphill sections and it's uneven and muddy in places, but we didn't find it difficult.
Hiking sandals were perfect (although our feet got dirty) as it was hot and humid. Insect repellant is a good idea.
The highlight of the trail is the massive bamboo grove which starts about halfway through the outward section.
It's the most extensive and beautiful grove we've seen (and we've spent a lot of time in Japan). There's also a large banyan tree and some smaller waterfalls along the way.
At the end of the trail is the 400 ft waterfall Waimoku Falls which drops dramatically down a sheer cliff face in a jungle setting that gave it a Jurassic Park vibe.
From here you turn around and walk back the way you came.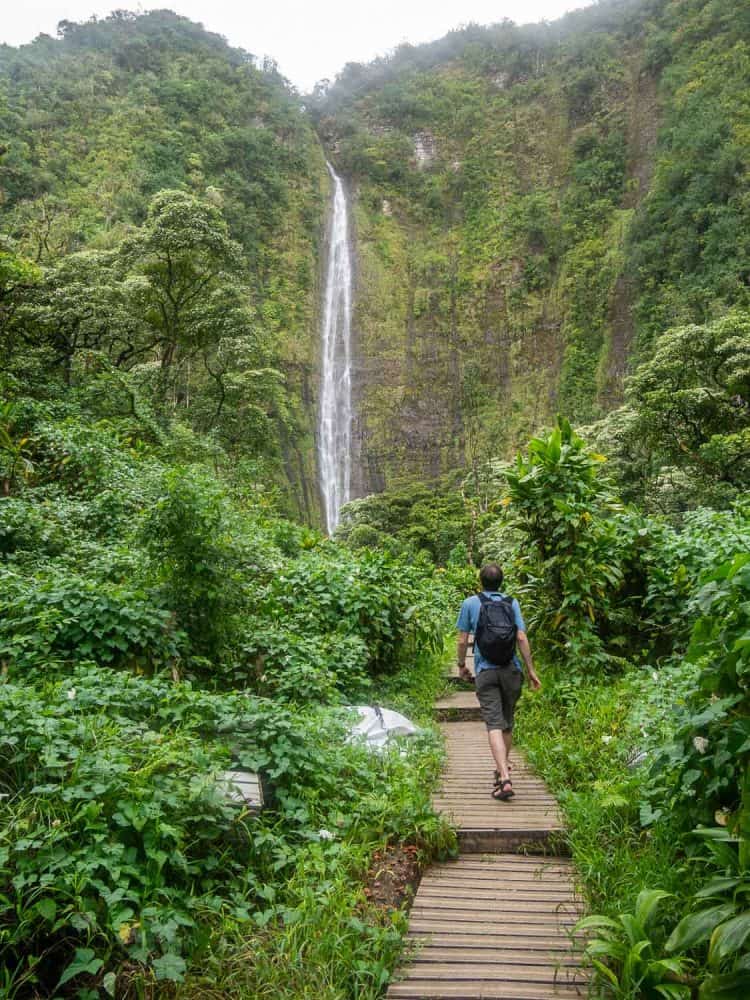 We started the hike at 8am (the benefit of staying in Hana) and didn't see a single person on the first half—it was so lovely and peaceful. On our way back we crossed paths with about 20 people.
Entrance to Haleakala National Park is $30 (valid for three days) and includes access to the Summit area of the park in Upcountry where you can see the sunrise above the volcano.
America the Beautiful annual passes are valid here and worth considering if you are visiting three or more National Parks in a year (perhaps including Volcano NP on the Big Island).
This is most people's final stop on the Road to Hana and they turn around here and drive back the way they came. I recommend continuing on to Upcountry.
The Back Road from Hana to Upcountry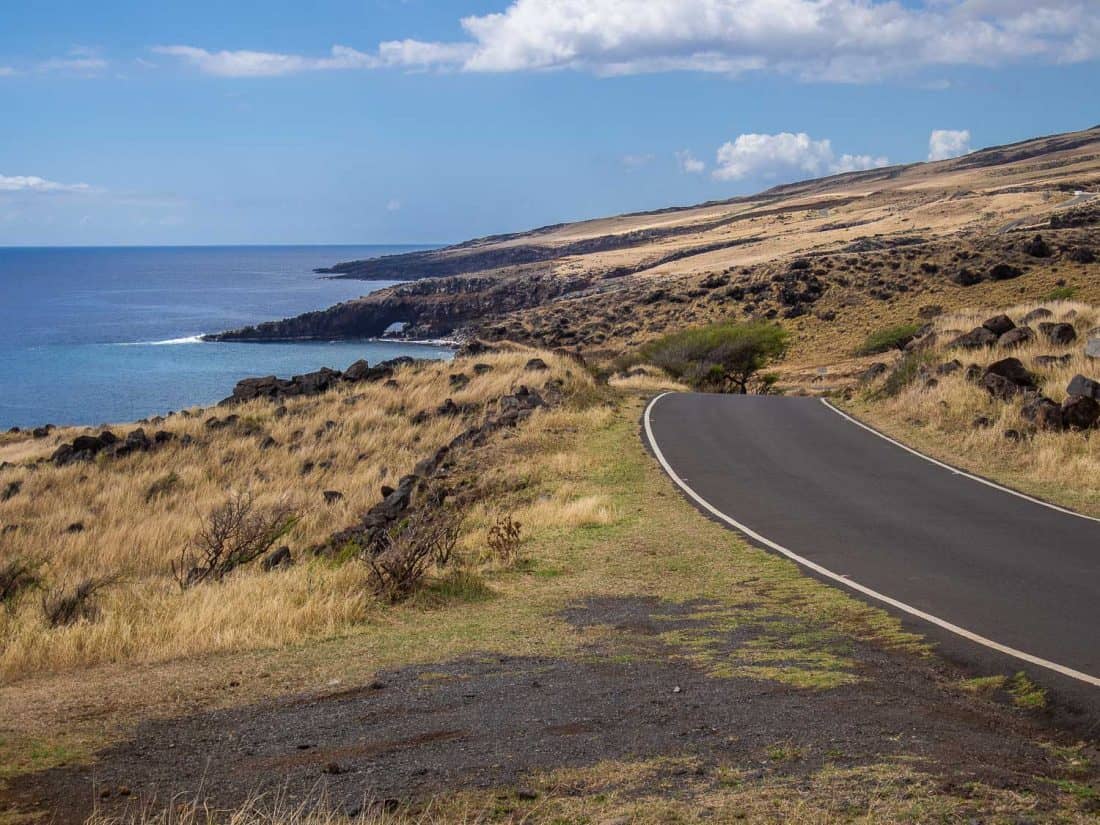 After our two nights in Hana, we continued and drove the Back Road to Hana to Upcountry where we stayed in Makawao.
The road was not as bad as the horror stories we'd heard. There is a bumpy unpaved section but it didn't last long and then it's a smooth road the rest of the way.
The scenery is very different on this side of the island with long golden grasses, brown rolling hills, and ocean views. It's very quiet.
Where to Stay in Hana
I hope I've convinced you it's worth staying in Hana, at least for a night. Accommodation is limited so book as far in advance as possible.
There's one luxury resort in town, Hana Maui Resort by Hyatt (previously Travaasa Hana Resort).
The rooms look beautiful and there are plenty of activities on the extensive grounds, but it's very expensive (over $700).
Other than that it's mostly small B&Bs and cottages—search for options on VRBO—plus the one condo hotel where we stayed.
Hana Kai Oceanfront Condos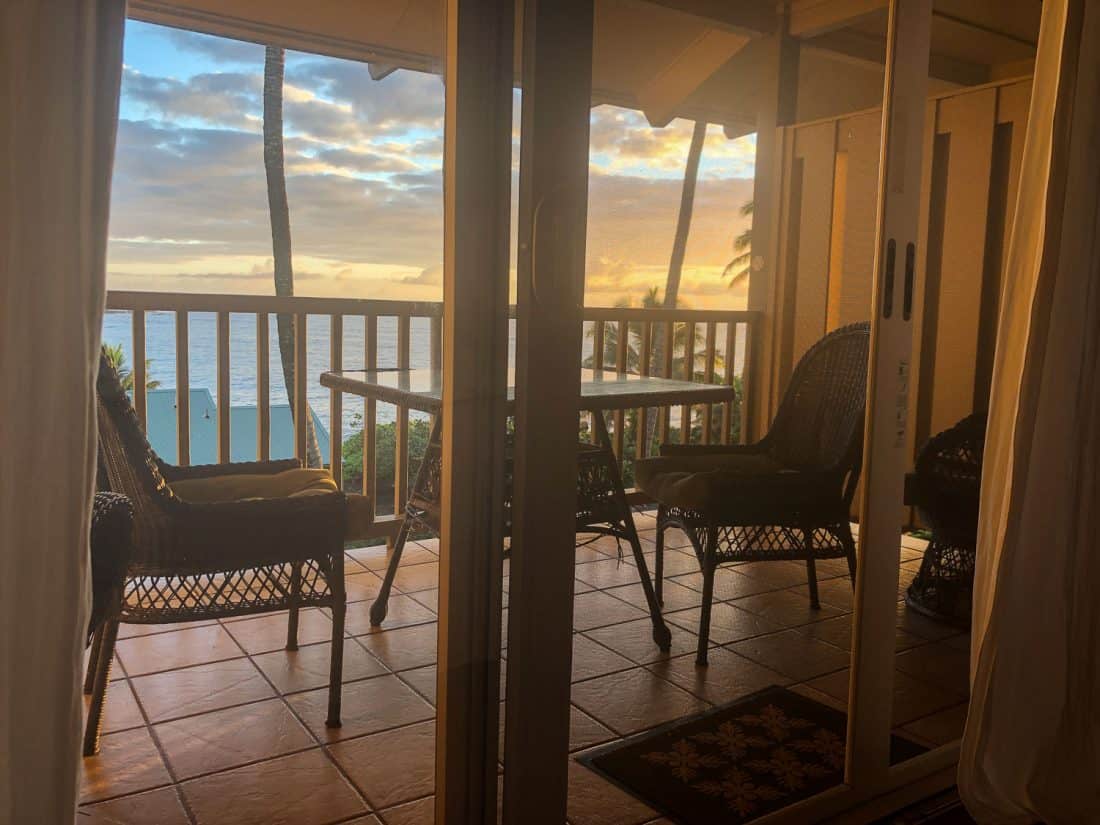 We stayed at Hana Kai Maui condos and absolutely loved it—it was our favourite place we stayed in Hawaii.
The location is superb overlooking an empty black sand beach. Most of the condos have ocean views and you hear nothing but the crashing of waves and the buzz of cicadas.
Waking up to the sunrise over the ocean was glorious. It's a short walk to the food trucks in town.
We stayed in Condo #205, a studio apartment on the upper floor of the second building back.
Although it wasn't oceanfront, we could see over the lower building to the beach and ocean. Whenever I can see the ocean from my bed it makes me happy!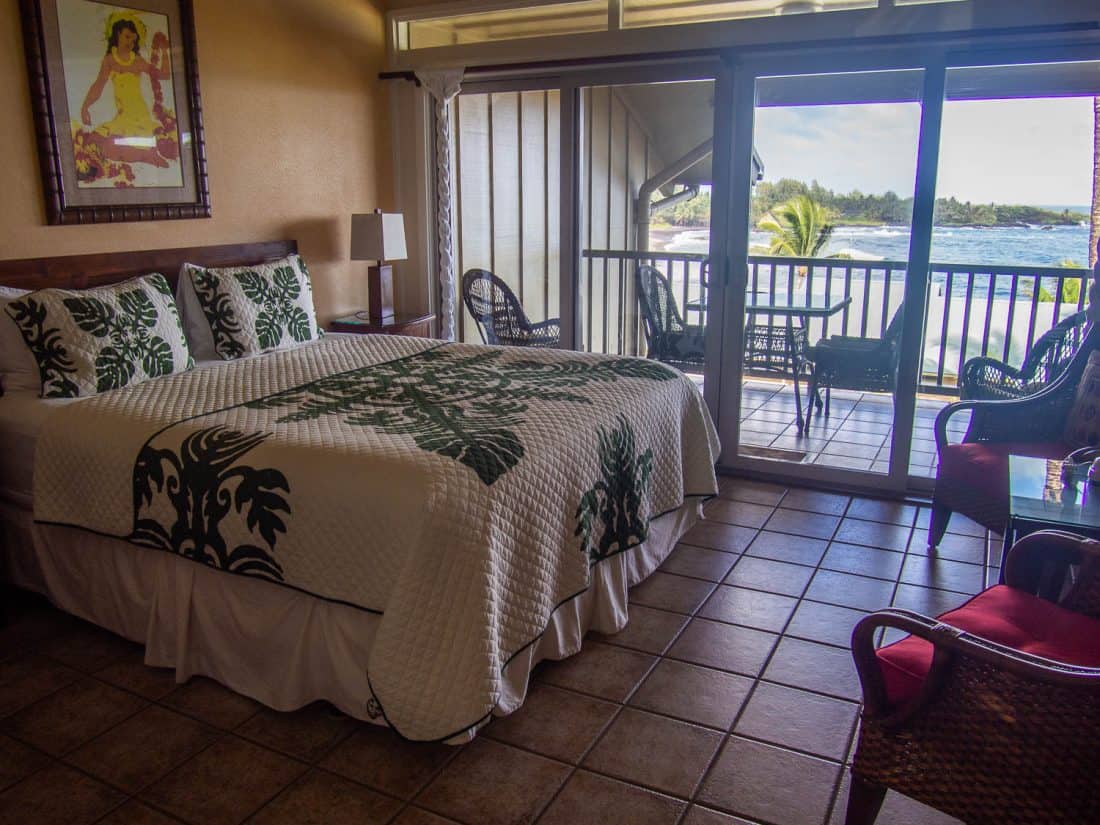 The condo has a high ceiling, lots of light from the sliding doors that lead to a lanai, a comfortable bed, armchairs, and a surprisingly well-equipped kitchen.
There's no air conditioning but the fan and breezes from the screened door were plenty.
Hana Kai is the perfect place to relax after driving the Road to Hana and is well located for many of the major attractions.
I highly recommend it and would love to go back myself (and stay a week!).
We paid $360 a night including taxes in high season. There are cheaper units available.
Browse the range of options at Hana Kai on VRBO.
Camping
There's a campsite at Wai'anapanapa State Park, a 10-minute drive from Hana, that would be a budget place to stay in a gorgeous location.
Basic one-bedroom cabins (that sleep six) cost $100 per night (two-night minimum) or bring your own tent and pay $30 per night.
You can make reservations on the Wai'anapanapa State Park website—you must get a permit in advance and print it out. Arrive before 6pm.
There's also a campsite at Kipahulu which would be convenient for hiking the Pipiwai Trail but a bit far from any restaurants or shops. Reservations are not required.
You can rent tents and camping gear from Maui Vacation Equipment Rentals.
Is Road to Hana Worth It?
The Road to Hana is undoubtedly a Maui highlight, and even if you only have one day, I highly recommend it.
But if you can, do consider staying in Hana for a taste of Old Hawaii and a chance to experience this beautiful area at a slower pace.
More Hawaii Posts
Maui
General
Other Hawaii Islands
Enjoyed this post? Pin it!