This page contains affiliate links. Please read our disclosure for more info.
Kauai is the most beautiful Hawaii island with lush green mountains, dramatic coastline, cascading waterfalls, and of course, gorgeous, golden beaches.
Whether you like to while away your days catching up on the latest beach read, have children to entertain, or prefer to spend most of your time in the water, you won't have a hard time finding your ideal Kauai beach.
In this post you'll find our tips on the best beaches in Kauai no matter your preferences, as well as suggestions from other travel bloggers.
At the top we've summarised the best places for specific beach activities such as snorkelling, swimming, and surfing. Bear in mind this can change throughout the year—the ocean is calmer in summer and rougher in winter, especially on the North Shore.
Below that we share more detailed information on each beach including tips about the best places to stay.
There's a Kauai beaches map with all these recommendations near the end of the post.
Please note that if you intend to beach hop around the different shores, you really need a rental car to make the most of your stay.
Contents
Video: Explore Kauai
Find the Right Kauai Beach for You
Best Snorkelling in Kauai
Ke'e Beach
Tunnels Beach
Pua Poa Beach
Hideaways Beach
Best Beaches in Kauai for Swimming
Ke'e Beach
Kiahuna Beach
Lydgate Beach Park
Best Surfing Beaches in Kauai
Tunnels Beach
Hanalei Bay (Summer for beginners, winter for pros)
Kiahuna Beach (Beginners)
Kekaha Beach (Pros only)
Best Family Beaches in Kauai
Hanalei Bay (particularly in the summer by the pier)
Anini Beach
Lydgate Beach Park
Kalapaki Beach
Poipu Beach
Glass Beach (For beachcombing)
Best Kauai Beaches for Secluded Lazy Days
Secret Beach
Kiahuna Beach
Polihale Beach
Are There Black Sand Beaches in Kauai?
No, there are no black sand beaches in Kauai. The closest you'll find is in Waimea on the west coast where the beaches are a dark brown.
Most Kauai beaches have beautiful golden sand.
For a stunning black sand beach in Hawaii, head to Wai'anapanapa State Park on the Road to Hana in Maui.
Best Base for Kauai Beach Hopping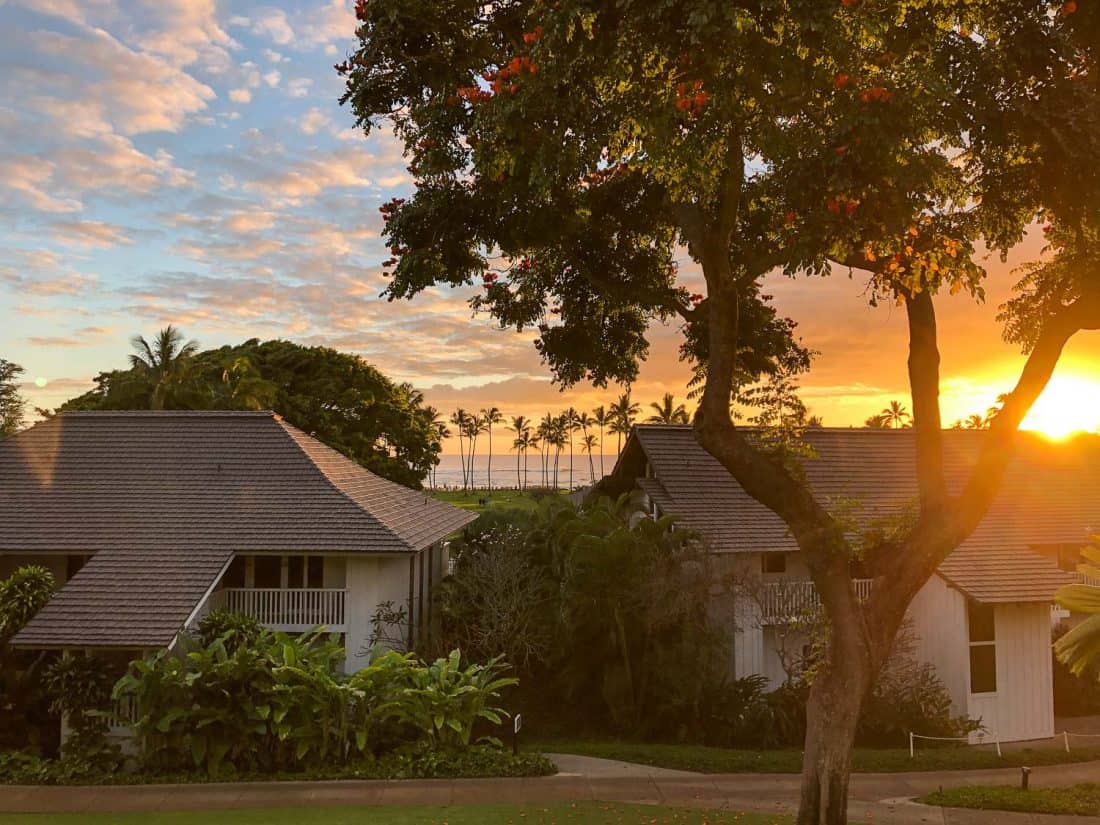 Kauai isn't too big—you can drive from one side to the other in a few hours—so you could base yourself in one location and travel to your chosen day trip.
However, we wanted to avoid long drives and have the best of both worlds, so we split our stays between the South and North Shores where you'll find the best beaches of Kauai.
We stayed at Kiahuna Plantation Resort in Poipu and Hanalei Bay Resort in Princeville.
You can find more of our tips on the best places to stay in Kauai here.
For a more detailed guide to the island, read our post on the best things to do in Kauai.
Best Beaches in Kauai: North Shore
1) Ke'e Beach
Contributed by JJ Haglund from The Minivan Bucket List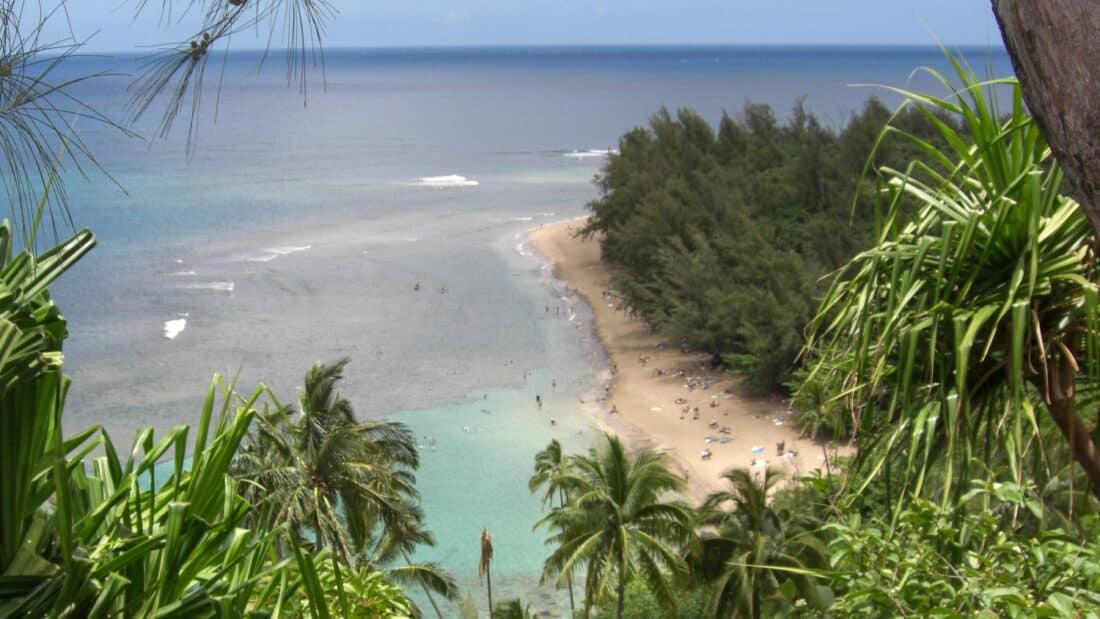 The beaches on Kauai's North Shore are best known for their picturesque views of the famous Na Pali Coast.
The 17 miles of sheer cliffs make that part of the island inaccessible by car. If you drive west along the Kuhio Highway to its furthest point, you will arrive at one of the top beaches in Kauai – Ke'e Beach.
In the winter, the waves are large, and the surf is dangerous. The best time to go is during the summer when the weather is sunnier and the waves are almost non-existent.
A coral reef buffers the beach, so it is ideal for swimming and snorkelling.
What also makes this beach special is that it is also the start of the Kalalau Trail. The whole trail is 11 miles each way, but you don't need to hike the entire thing.
You can walk the first two miles to see incredible vistas of the Na Pali Coast, or if you're feeling adventurous, you can continue another two miles upriver to the stunning Hanakapiai Falls. This walk there and back is a rigorous 8 miles so remember to bring your walking shoes!
Ke'e Beach is part of the Haena State Park, so it costs $5 per person for the entrance fee plus $10 per vehicle for parking. All non-Hawaii resident visitors are now required to purchase reservations in advance. There are toilets, showers, and lifeguards on site.
The combination of the beach and the stunning coastal trail make for a truly bucket list-worthy experience.
I would highly recommend viewing the rugged coast from above on a thrilling doors-off helicopter tour. It was hands down one of the best experiences on our Kauai trip
2) Tunnels Beach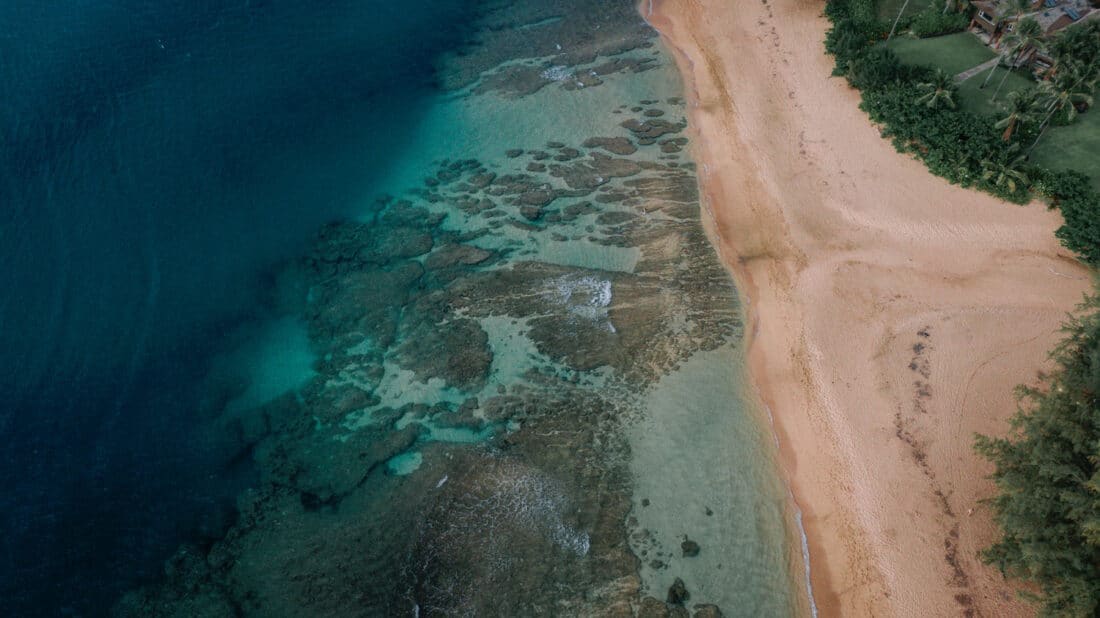 A picture-perfect beach with clear aqua waters, this is the place to come for those who want an active day out at one of the best beaches in Kauai for snorkelling (in summer).
Tunnels Beach has an expansive reef that is great to snorkel for both beginners and experienced. Just make sure if you are a beginner to stay close to the shore as the outer reef has a steep drop-off and occasional strong currents.
The experience is made more special by the underwater caverns formed by lava tubes that give the beach its name.
As the beach faces the open ocean, it is subject to trade winds, particularly to the right. Therefore, surfing, windsurfing and kite surfing are all ideal here.
There are lifeguards posted. Make sure to check the daily weather conditions before you head out with gear.
Parking can be limited, so either rise early to grab a spot or park at Haena Beach Park, a short walk away. You can also find toilets at Haena Beach Park.
Where to Stay: To avoid parking headaches, you could also stay at Hanalei Colony Resort and take advantage of their free shuttle service to nearby beaches.
3) Hanalei Bay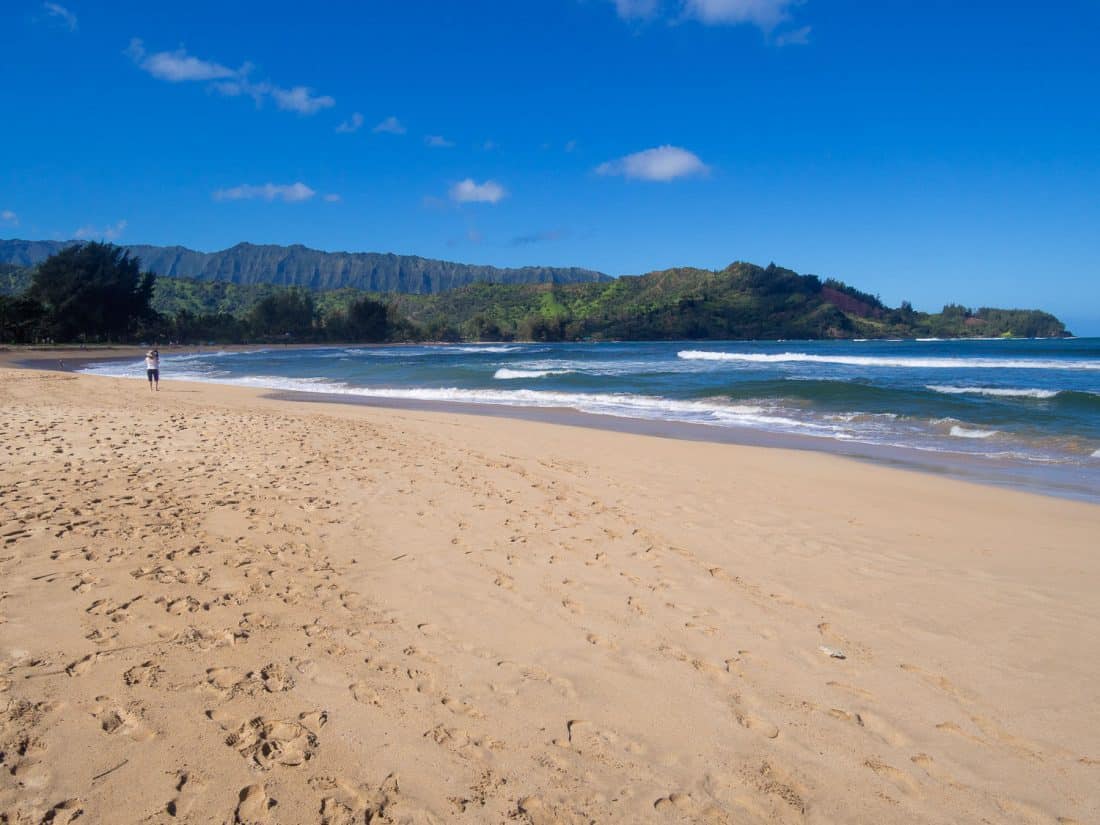 Hanalei is a small, peaceful surfer town that was our favourite in Kauai.
During the day, it feels sleepy with cute shops and galleries to spend an enjoyable lazy day.
It also has a delicious food truck scene, with several popular trucks closing when they run out of fresh ingredients. We had a tasty coconut veggie curry at Cafe Tumeric, and a refreshing passionfruit and coconut shave ice at Wishing Well Shave Ice.
The town is in the middle of Hanalei Bay, the largest bay on the North Shore and one of the most beautiful beaches in Kauai. It consists of two miles of gorgeous soft sand, surrounded by picture-perfect lush green mountains.
The bay splits into three sections: Waioli Beach Park, Hanalei Beach Park, and Black Pot Beach. At Black Pot, you'll find the historical Hanalei Pier featured in the 1958 film South Pacific.
The bay is large enough and never feels crowded, with plenty of space for everyone to spread out.
The water is lovely and calm during the summer months, making it ideal for swimming and sailing. Also, try your hand at some SUP (Standup Paddleboarding) or kayaking. For families, the surf is the calmest for children near the pier.
This kayak and snorkelling tour that starts with exploring Hanalei River looks ideal for all the family.
The summer months are also best for beginner surfers. For surf lessons, check out these small group sessions with Hawaiian Surfing Adventures.
In the winter, the surf kicks higher for those more experienced. There are several lifeguard stations along the bay but do always check the current conditions.
We also enjoyed leisurely walks and watching the sunrise make its way over the bay.
Where to Stay: Another advantage of staying around Hanalei Bay is the lack of big hotels or resorts. However, this does mean that accommodation is limited to vacation rentals with high prices.

Staying in nearby Princeville is a good option as it's only 15-minutes away by car. We stayed in Hanalei Bay Resort, which offers self-catering condos combined with superb resort facilities. Check the latest prices here.
4) Pua Poa Beach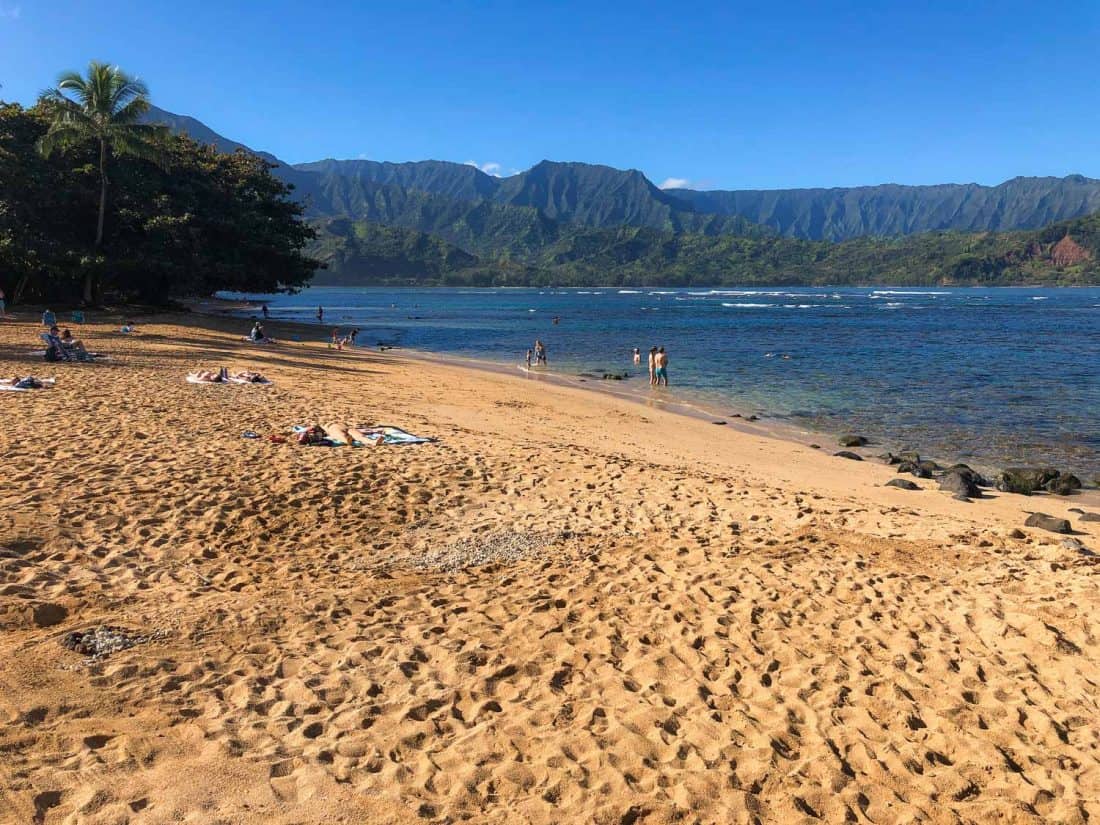 A small golden beach that conveniently sits in front of 1 Hotel Hanalei Bay (currently closed until 2022) and Hanalei Bay Resort.
It has excellent views of Bali Hai and a reef which means swimming is limited but provides snorkelling opportunities when the water is calm.
It can get pretty busy—if you head left, it's much quieter, and large trees provide shade.
No lifeguards are on this beach, so care is needed before venturing into the water.
5) Hideaways Beach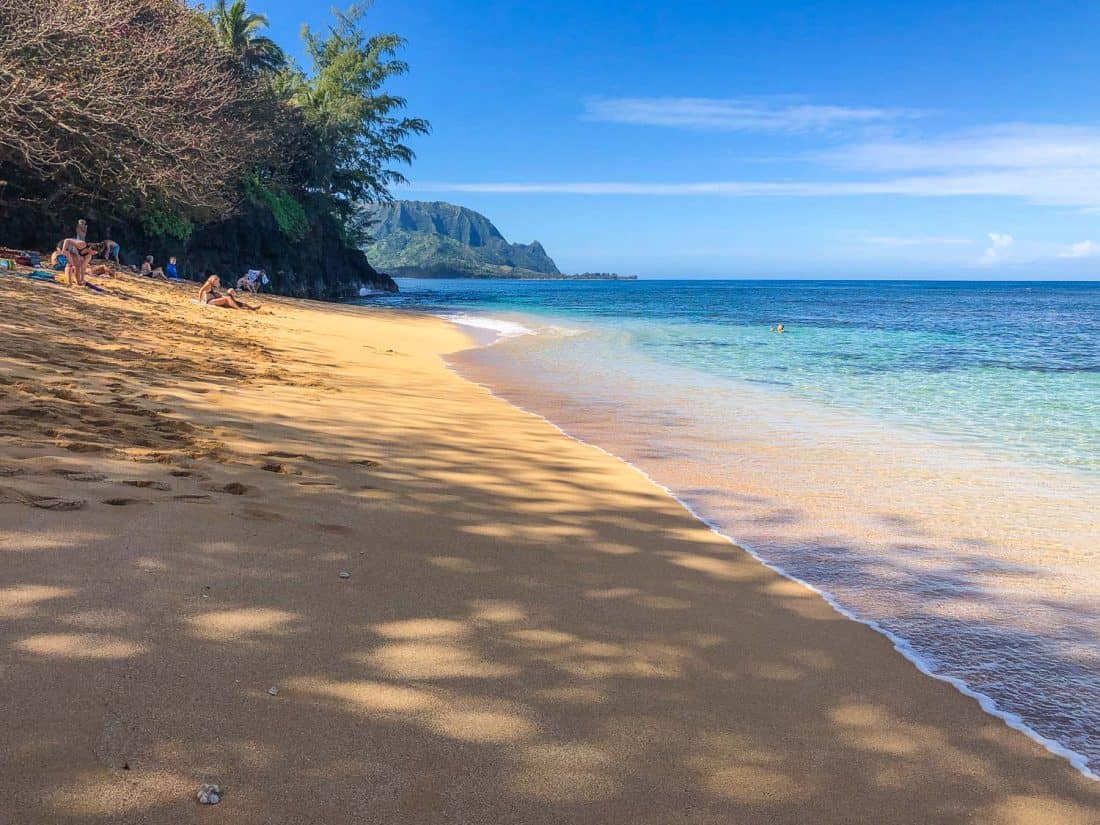 Situated on the other side of 1 Hotel Hanalei Bay (follow the narrow path by the tennis courts), this lovely little beach has calm, crystal clear waters and mountain views.
Despite the name, it's not much of a secret but does feel secluded as you can only reach it down a short but very steep muddy trail.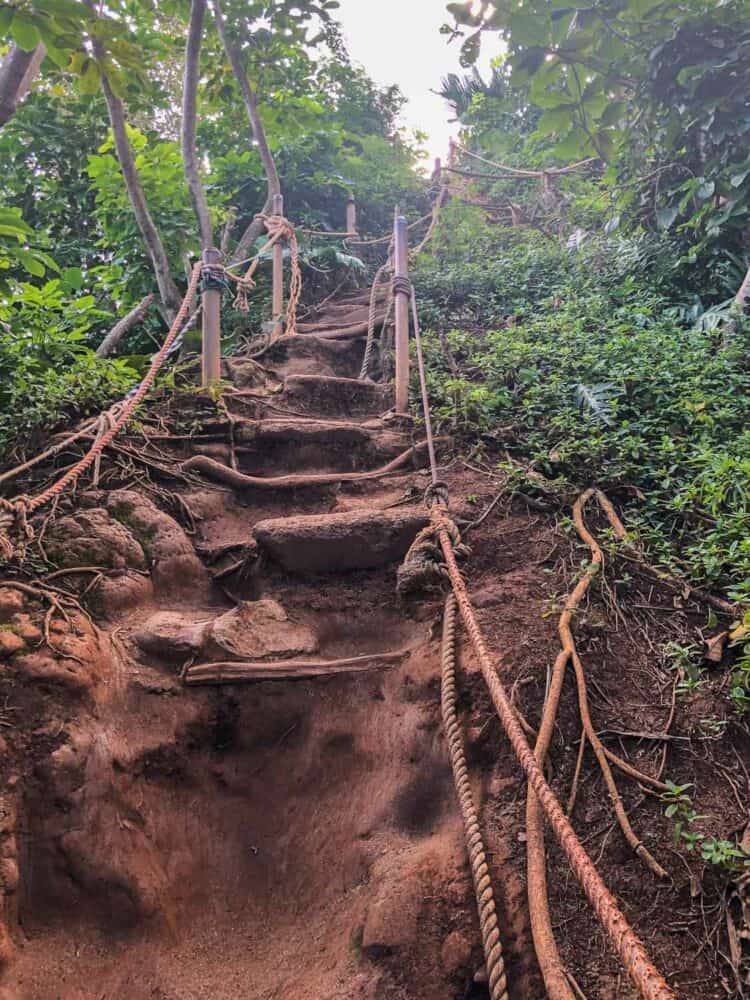 There is a rope to help with the descent but expect some climbing. This trail is not suitable for people with mobility issues or small children.
I would also recommend wearing hiking sandals for the trail and packing light to have your hands free.
It is definitely worth the journey as the crescent-shaped bay has gorgeous golden sand and is one of the prettiest beaches in Kauai. You may spot some turtles too!
It is suitable for snorkelling when the waters are calm and the giant trees mean plenty of shade.
Be aware that due to its location, there are no facilities at the beach.
6) Anini Beach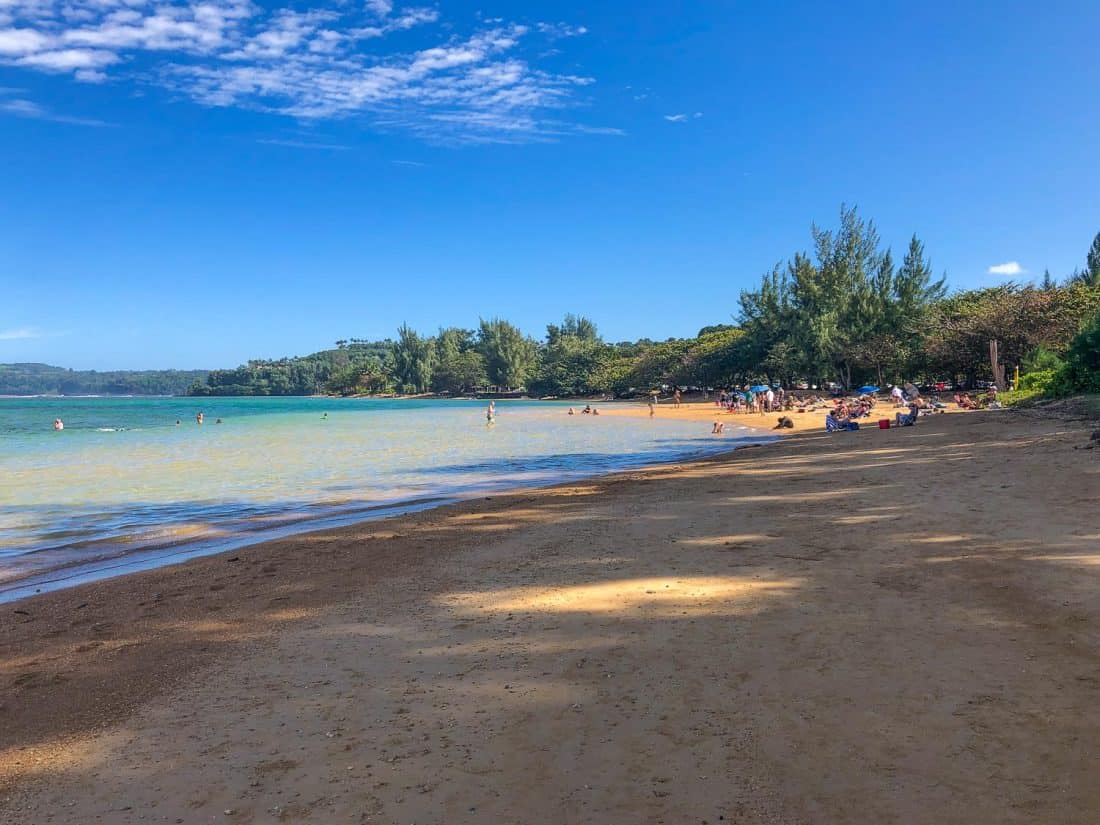 This popular beach is the safest on the North Shore all year round for swimming, with very calm waters protected by a long reef.
That plus plenty of shade, facilities and amenities makes this an ideal spot for families looking for a day in the sun.
It can get crowded, so this is not for those who like sparse and quiet beaches.
The vast reef means plenty of delightful snorkelling opportunities. Chances are you may spot the Humuhumunukunukuapua'a (Hawaii's state fish) amongst other tropical fish. However, take extra care when wading in as there are some sharp corals and rocks.
Anini Beach also allows camping with a permit.
7) Secret Beach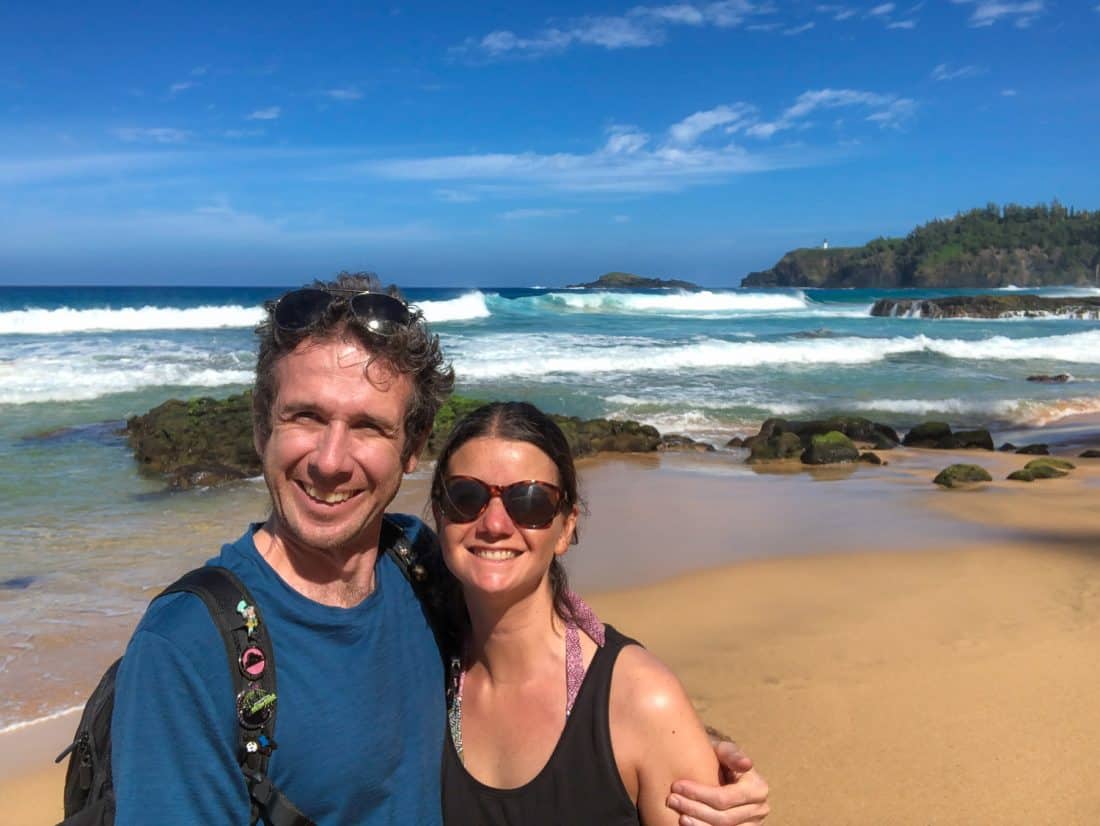 Another not so secret but picturesque beach that's well worth visiting. Secret Beach (officially known as Kauapea Beach) is much bigger than Hideaways, so there's lots of space to find a peaceful spot for yourself.
The beach isn't marked, so to find the start of the trail to the beach, turn onto Kalihiwai Road from Kuhio Highway, then turn right onto Secret Beach Road and follow it to the end.
There is no formal parking, but visitors leave their vehicles along the roadside.
The 10-minute trail is downhill—it is steep and uneven and can be slippery, so watch your step.
The beach has soft white sand and palm tree-lined sea cliffs towering over it. From here, you can also see Kilauea Lighthouse and Moku'ae'ae Island, a bird sanctuary. Along the west end, you will also find a 15ft waterfall that plunges into the sea.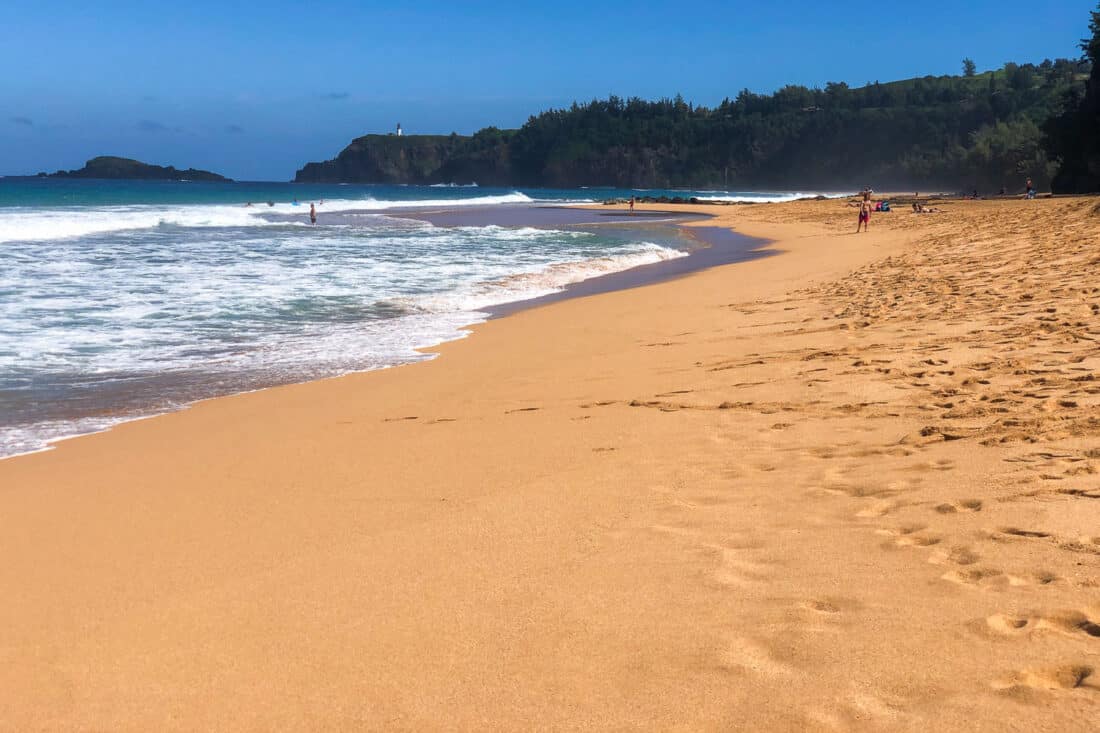 Swimming conditions can vary here. Even in the summer months, strong currents can be present, and there are no lifeguard stations. Do not swim here in the winter as it will be too dangerous.
Secret Beach is perfect for those wanting a lazy day of sunbathing and leisurely strolls.
As with Hideaways Beach, come prepared as there are no facilities.
Due to its seclusion, the beach has attracted nude sunbathers, particularly toward the east and west ends.
Best Beaches in Kauai: East Coast
8) Lydgate Beach Park
Located near the mouth of Wailua River, Lydgate just might claim the prize for best beach in Kauai for families.
The biggest draws are the two boulder protected lagoons at the northern end. One for adults, and one for children, the calm waters within are great for swimming.
While enclosed from the elements, crevices allow a variety of marine life to move through, making for lovely calm snorkelling opportunities. There is even a helpful sign for you to identify the different reef fish you may encounter.
After fun in the water, children have their pick of not one but two epic community-built playgrounds.
There are full facilities here too: lifeguards, toilets, showers and parking.
To round it off, Lydgate Beach sits on the Ke Ala Hele Makalae coastal trail, with a superb paved 2.5 mile stretch for cyclists and walkers. Eventually, the coastal path will stretch for 20 miles along the East Coast.
If you are craving even more activity, why not check out this Stand Up Paddle Board adventure through lush jungles and secret waterfalls around Wailua River.
9) Kalapaki Beach
Contributed by Marcie from Hawaii Travel with Kids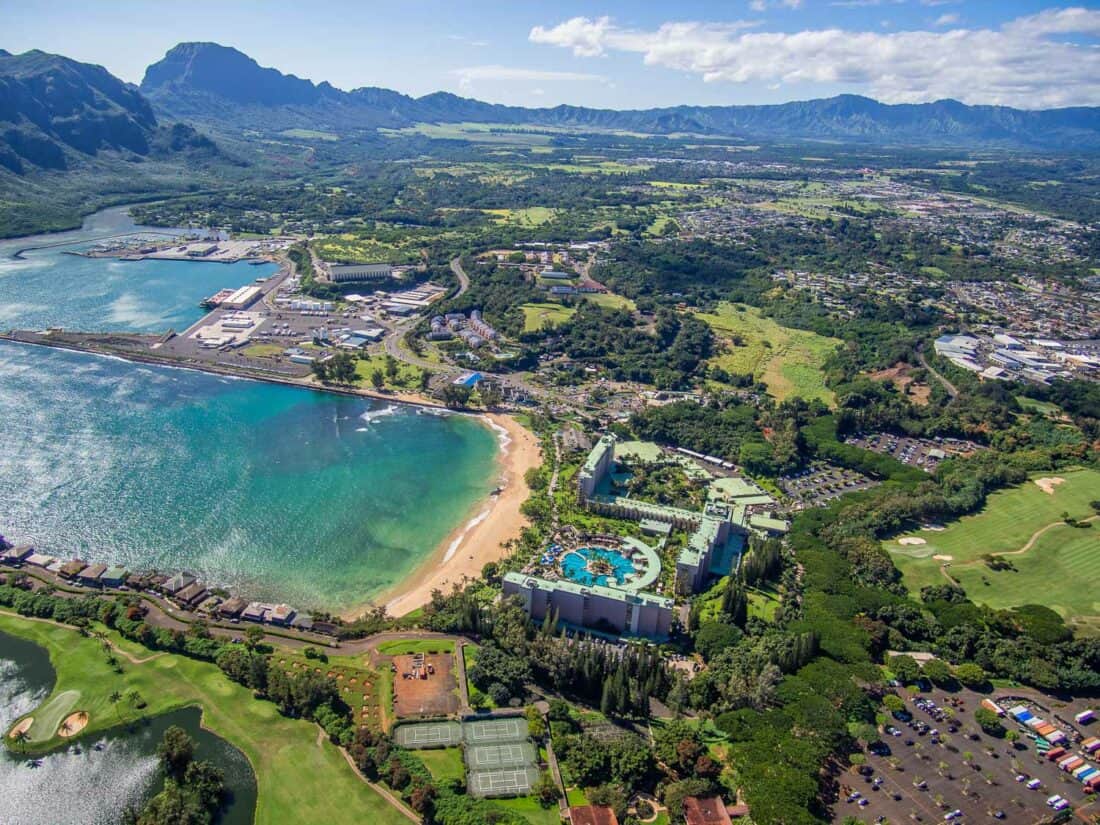 The beautiful Kalapaki Beach is one of the best beaches on the East Shore of Kauai.
The beach is in front of the Royal Sonesta Kauai (formerly the Kauai Marriott) in Lihue, Hawaii.
There is a small hotel car park right by the beach, or you can also find street parking nearby.
The beach is right on Kalapaki Bay, so the waves are mild and perfect for kids to swim.
It is also an ideal beach to snorkel, kayak, go stand up paddling, or simply float around on an oversized inflatable.
As it is a resort beach, there are several dining options available. The most popular is Duke's Kauai. They have a nice sit-down restaurant with views of the bay. They also have a Barefoot Bar that's great for families just taking a break from the beach.
In addition to playing in the water, this beach has a fantastic view of mountains, cruise ships, and even aeroplanes taking off and landing.
It is also within walking distance from several small shopping areas, other restaurants, and even an ice cream shop.
Where to Stay: The advantage of staying on the East Coast is its ideal location for day trips to the rest of Kauai. You will find affordable budget accommodation too. The disadvantage, however, is that it's the most developed commercial part of Kauai and lacks the stunning scenic views of the Na Pali coastline.

If affordable accommodation and a convenient base is important to you, check out Kauai Shores in Kapaa which is beachfront with a pool.
Best Beaches in Kauai: South Shore
10) Poipu Beach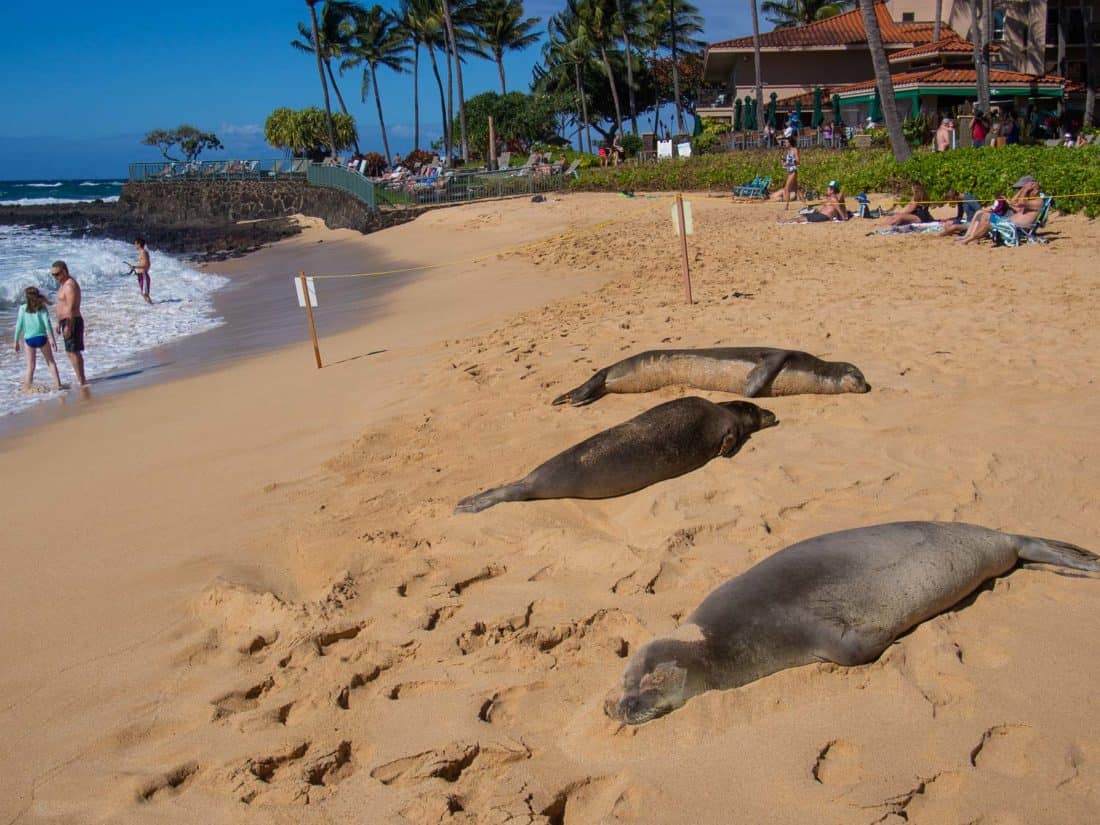 Split into two bays by Nukumoi Point, Poipu Beach is the main beach on the South Shore.
It is a well-visited crescent beach with lots of appeal for the whole family.
The rock formation at Nukumoi Point protects the beach from large waves and is the favoured napping place of endangered Hawaiian monk seals. You will often see giant turtles sleeping in the sand too.
These beautiful animals are protected by law, so please keep your distance and do not use flash photography.
The sheltered bays also create a shallow pool at the beach's eastern end, perfect for children to play in. Ideally, the lifeguards are based here too.
Behind the lifeguard tower is a large grassy area with picnic tables, toilets with showers and a playground.
The western end with gentle waves is ideal for beginner bodyboarders, and more experienced surfers can catch waves beyond Nukumoi Point.
Families can hire bodyboards here at Nukumoi Surf Co. right opposite the beach.
Why not seek additional thrills from above in this Eco-Friendly 8-Line Zipline Adventure where you will soar over three different valleys against a backdrop of breathtaking mountain views and ocean scenery.
11) Kiahuna Beach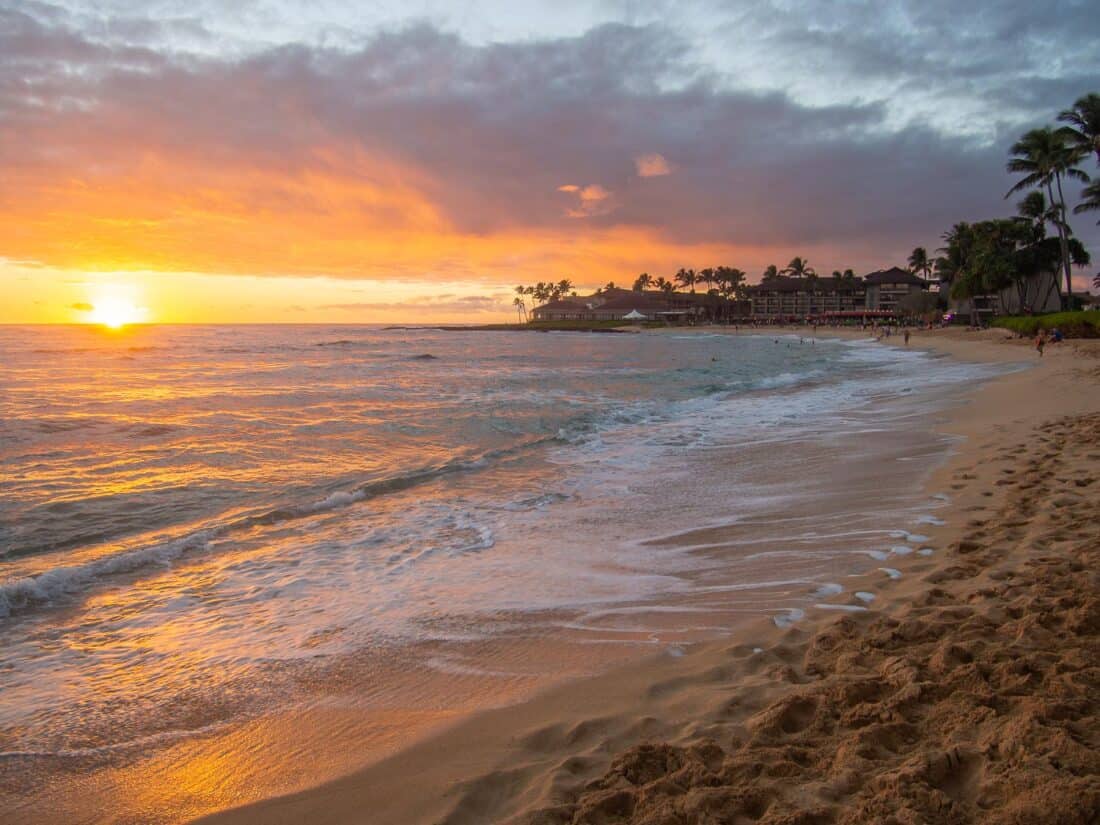 Those without small children might prefer to make their way to Kiahuna Beach, which sits right in front of the Sheraton Kauai Resort. It connects to Poipu Beach but is much quieter.
We stayed in a great condo at Kiahuna Plantation Resort, sitting right on the beach.
Kiahuna Beach is perfect for sunbathing, staring out at the idyllic view of palm trees lining the crescent shore.
A reef just out from the shore is ideal for snorkelling, and the waters generally stay lovely and calm for swimming.
The gentle wave action means this is also a good beach for beginner surf lessons. Book yours at Kauai Surf School.
Parking is limited to resort guests, so I recommend parking at Poipu Beach as it's only a short walk away.
There are no lifeguards based here, but there is a small toilet available.
12) Glass Beach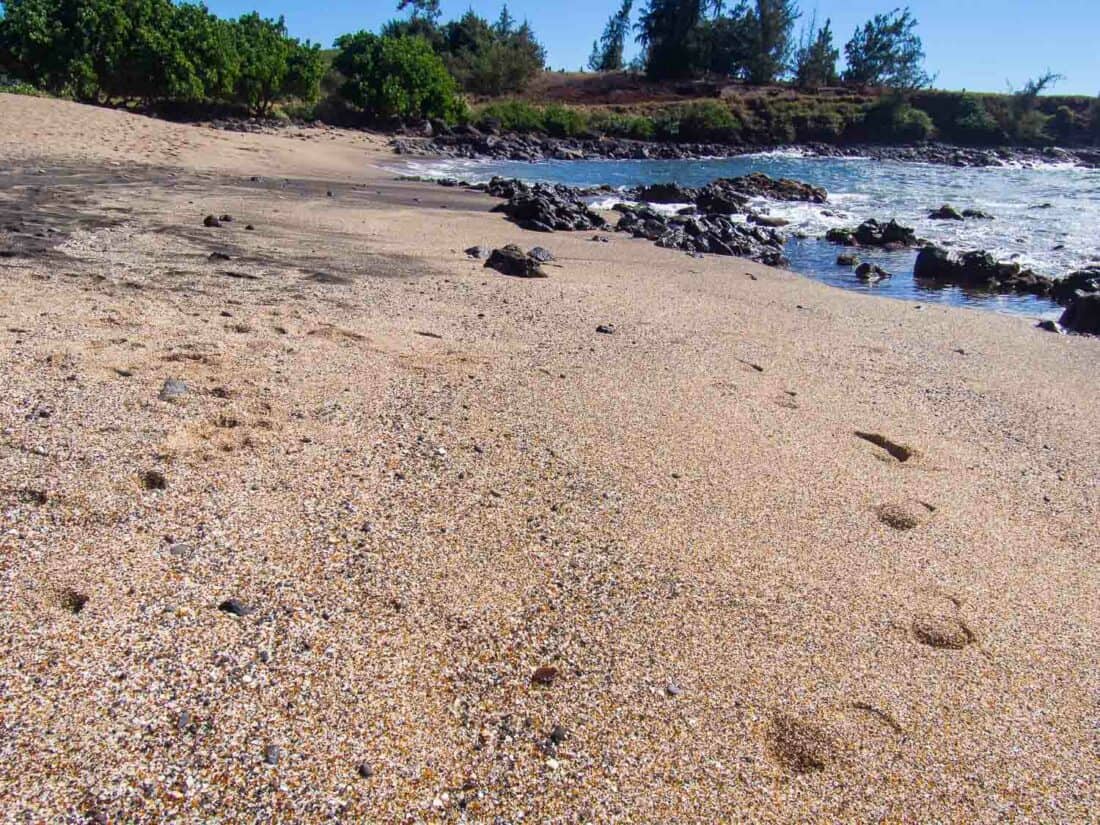 In an industrial area near Port Allen, you will find a unique place to explore. Glass Beach is not a destination for swimming or sunbathing. But, if you (or if you have little ones) love gems, you will enjoy sifting through the kaleidoscope of sea glass that washes up on this shore.
Unfortunately, years ago, this area was a popular dumping ground for all sorts of junk, from cars to glass bottles. However, over time the sea has transformed all the broken shards of glass into gorgeous smooth pebbles in a multitude of colours that cover the shoreline.
Furthermore, if you (very) carefully venture to the southern end of the beach to the lava beds, you will be rewarded with ocean-formed sculptures of rusted car parts fused with the lava rocks.
If you are in the area, Glass Beach is worth a quick detour. Drive on from the direction of Port Allen, then take a left on Aka Ula Road. You can park anywhere at the end of the dirt road with the beach a two-minute walk away.
Best Beaches in Kauai: West Coast
13) Kekaha Beach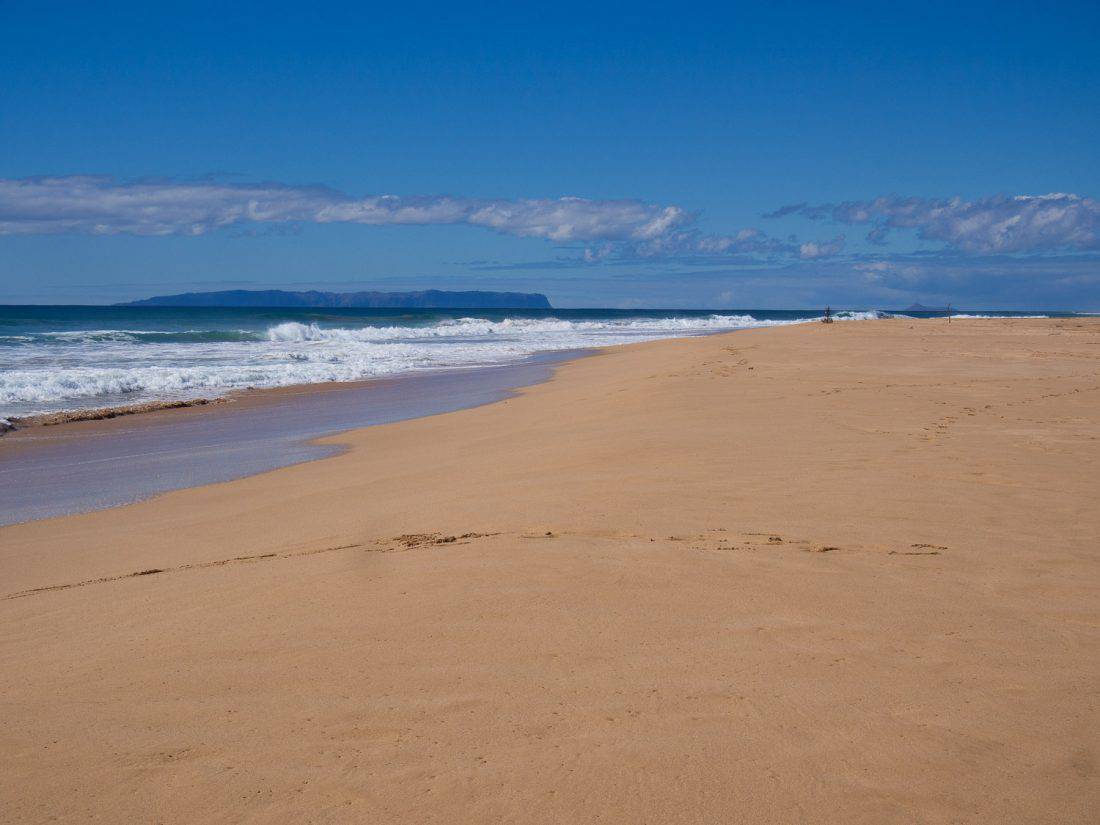 Experienced surfers will appreciate the wild nature of this long, expansive sandy beach.
The waves here are large and powerful, so it is dangerous to swim here, and only pros should think about venturing out on their board.
As it's so large and uncrowded, this beach is ideal for lazy walks and watching the sunset. We walked here after visiting Waimea Canyon. There's no shade on the beach.
You can park next to the beach, plus there are picnic tables and BBQ stations available.
14) Polihale Beach
Contributed by Sophie and Adam from We Dream of Travel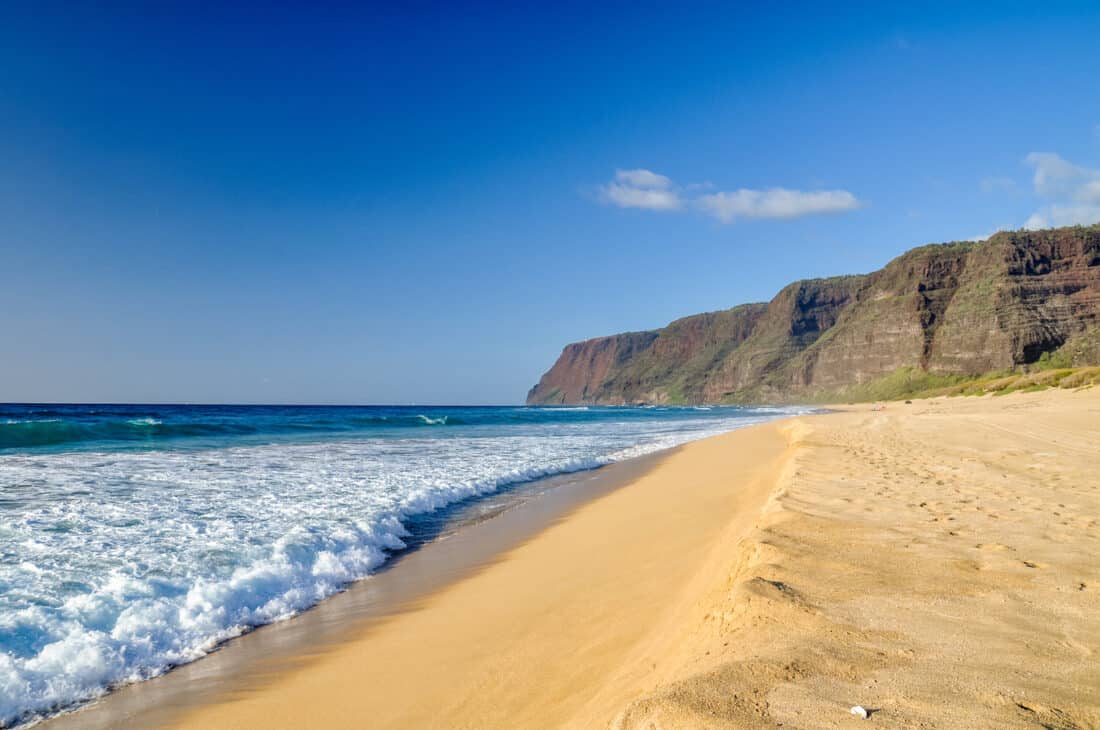 Tucked away on the island's western side is one of Kauai's most beautiful spots, Polihale Beach.
The wild coastline provides the longest stretch of beach in Kauai, stretching across 17 miles with sweeping dunes that reach up to 100 feet in height.
Down a five-mile rutted road, access to this beach is more challenging than many other Kauai beaches. Hiring a four-wheel drive is recommended, but it is worth noting that some rental companies will not permit taking their vehicles along the park access road.
However, the fact that the beach is hard to access makes it an essential stop on your Kauai itinerary to relax and avoid the crowds.
The picturesque setting makes this beach perfect for enjoying a picnic with views of the rugged Na Pali Coast, taking long walks along the beach and for soaking in the spectacular Kauai sunsets.
Polihale Beach is also a popular spot for beachcombing, shelling and shore fishing, particularly for local families.
However, swimming here can be dangerous due to strong currents. The only area suitable for safe swimming in the summer is Queen's Pond, a natural pool that forms during calm conditions protected by a reef.
Do note that as it is remote, there are no hotels or restaurants nearby. However, it does offer an excellent spot for camping, as well as restrooms and picnic benches. If you do wish to camp here, reservations are required.
Map of Kauai Beaches
Summary
Kauai, as you'd expect, is not short of gorgeous beaches to suit all itineraries.
The Kauai North Shore beaches have stunning views of the Na Pali coast, whilst on the South Shore, you can encounter turtles and seals.
Along the East Coast, you will find great family beaches, and on the West Coast, you can venture to wilder, quieter spots.
No matter what, you are guaranteed to fulfil your dream Hawaiian trip!
More Hawaii Posts
Kauai Tips
Enjoyed this post? Pin for later!