This page contains affiliate links. Please read our disclosure for more info.
We loved our stay on the beautiful Hawaiian island of Kauai, but it did take some planning.
It was confusing trying to decide which side of the island we should stay on, whether or not to divide our time between two areas, and which accommodation was worth the high price tag.
Hawaii was a dream trip for us, as it is for many people, and we wanted it to be perfect.
Happily, my research paid off and our plan for the island was ideal.
In this post, I share what I learned about where to stay in Kauai including a comparison of the different areas, reviews of the accommodation we stayed in, and suggestions for alternative places to stay in Kauai.
Contents
Video: The Best Places to Stay in Kauai
Watch our video for an overview of where to stay on Kauai.
Comparison of the Best Kauai Hotels
Here's a quick overview of some of the best Kauai hotels, resorts and condos. You'll find more detailed reviews below.
Choosing The Best Area to Stay in Kauai
The first decision to make when planning your trip is deciding which side of Kauai is the best to stay on.
Here's a comparison of each area from (roughly) the most to least popular:
South Shore (Poipu)
Sunnier and drier most of the year
Calmer, swimmable ocean in winter
Easily accessible beaches
Wide range of accommodation including some of the best hotels in Kauai (resorts and condos)
Convenient for helicopter tours from Lihue, boat trips from Port Allen, and Waimea Canyon
Seals and turtles on the beaches
Expensive
As we were visiting in winter (January), the South Shore was the area that was most recommended as it receives less rain than the North Shore.
In practice, we didn't find a difference in the weather between the two coasts and had little rain throughout our stay (just some cloudy days on both sides), but perhaps we were lucky.
The ocean was better for swimming on the South Shore, though, (some days were calmer than others and we still had waves), and we loved staying right on the beach (which wouldn't have been affordable for us in the north).
For many people, Poipu and the South Shore is the best area to stay in Kauai for convenience and calmer ocean swimming.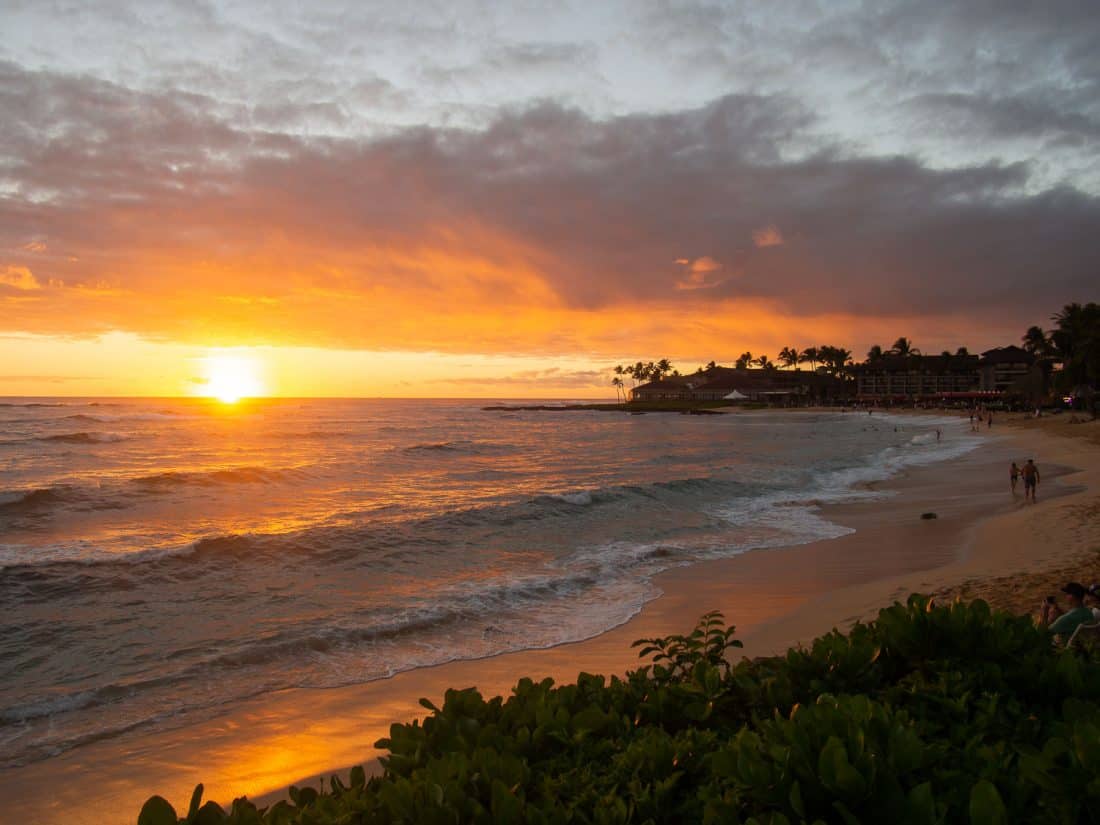 North Shore (Hanalei, Princeville)
Green and mountainous
Beaches have stunning mountain backdrops
Rainier in winter
Big waves in winter so most beaches aren't safe for swimming
Convenient for Napali Coast hiking (Kalalau Trail)
Boat trips do not run from the north in winter
Many beautiful beaches to explore
Hanalei is the best town on the island
Expensive (especially Hanalei)
Road closures are possible
The North Shore is the most beautiful part of the island and one of the best places to stay in Kauai.
We loved the mountain scenery, string of beautiful Kauai beaches, and cool town of Hanalei.
Accommodation choices are more limited and expensive in the north, though, and it was further from many of our favourite activities (helicopter tour, boat trip, Waimea Canyon).
Even though the road past Hanalei was closed during our visit so we couldn't visit many of the popular beaches or Napali Coast, we still had plenty to explore.
The road often has issues so check the latest news on the Hawaii Department of Transportation website.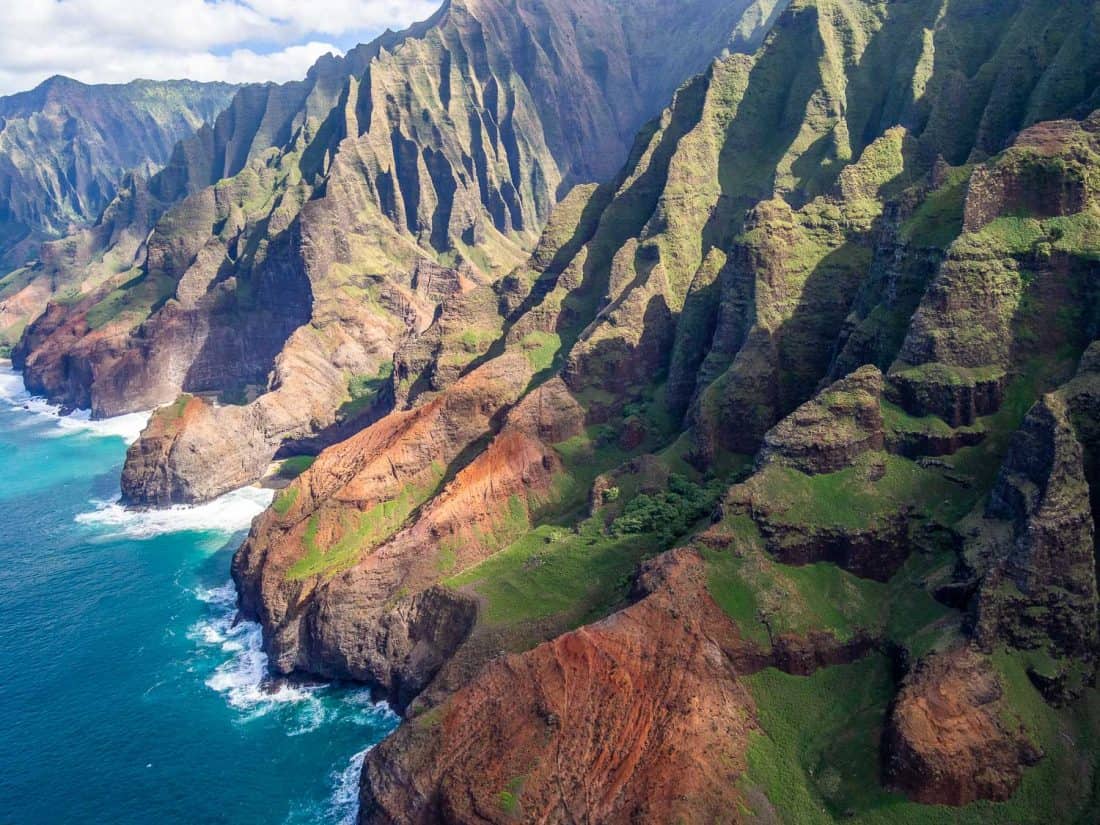 East Side (Kapaa, Wailua, Lihue)
Most populated area
Budget accommodation available
Convenient for North and South Shores
Wide range of restaurants and shopping
Close to historic sites, hikes, river kayaking, and waterfalls
Beaches not as attractive as in the north and south (but still nice!)
Traffic can be bad
We didn't spend much time in the east as it didn't feel as appealing to us as the north or south coasts.
But many people love to stay here as it's more affordable and convenient, especially if you can only choose one area as a base.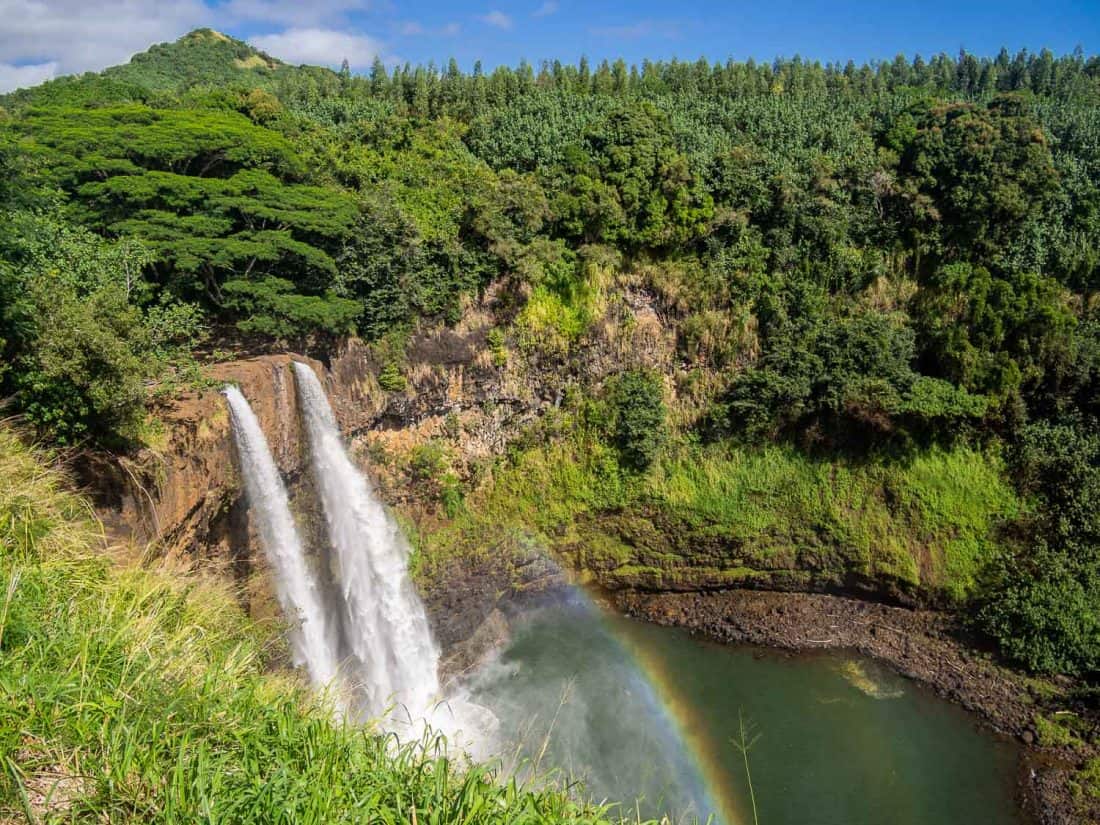 West Side (Waimea Canyon)
Remote and less developed
Quiet
Drier and more barren than the rest of the island
Beautiful canyon scenery
Off the beaten track beaches
Convenient access to hiking
Limited accommodation
Most people visit the west on a day trip rather than staying here, but if you are a keen hiker you might enjoy camping in Kokee State Park (just beyond Waimea Canyon). Advance reservations are necessary.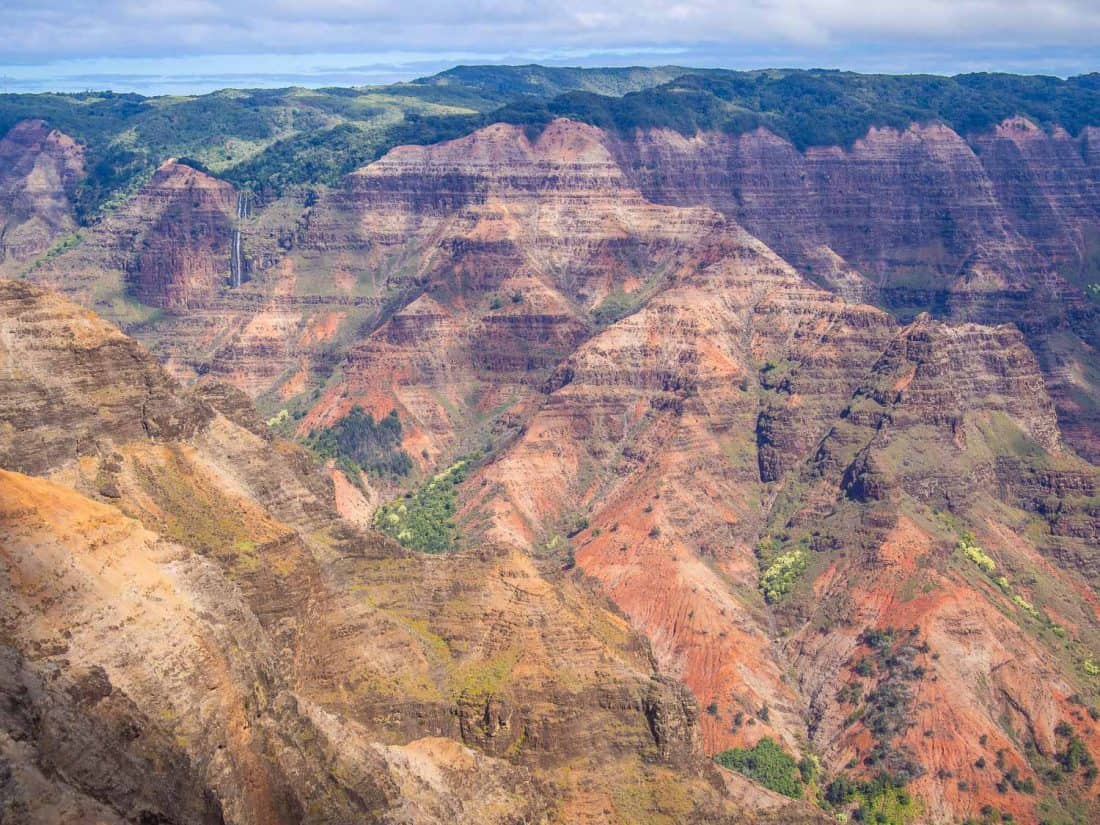 Should You Split Your Time Between Two Locations in Kauai?
Kauai isn't a huge island, and you can drive from one side to another in about two hours. You could choose to stay in one place and visit all the main attractions on day trips.
We wanted to avoid long drives, though, so we chose to divide our 11 days on Kauai between Poipu on the south shore (6 nights) and Princeville on the north shore (5 nights).
This plan worked out really well for us. We got to experience the best of both worlds and all our day trips were a manageable distance (the longest was an hour from Poipu to Waimea Canyon).
It is a bit inconvenient changing hotels, especially when there can be a six-hour gap between check-out and check-in times.
I recommend requesting late check-out and early check-in times when possible, buying a cheap cool bag from Longs to store any food, and exploring the east coast on the way.
You might also be able to use the hotel pool and facilities before or after checking in/out.
Despite the inconvenience, we felt we made the right decision and it would be hard to choose which coast we preferred.
If we'd stayed on the South Shore, we'd probably only have made one day trip to the North Shore, and it was worth having much longer to explore.
If the North Shore had been our one base, we'd have had to make multiple long day trips to some of our favourite activities.
If you have a week or more on Kauai, I recommend splitting your time between two locations, unless you are planning to spend most of your time relaxing at your resort rather than exploring the island.
Types and Prices of Kauai Hotels and Rentals
The most common types of Kauai accommodation are resorts (large hotels with pools, restaurants, and other facilities) and condo complexes (self-catering apartments, often with pools but fewer facilities).
You can also find budget hotels, B&Bs, and house rentals, but these are less common.
Luxury Resorts on Kauai
If you want the full luxury Hawaii experience, perhaps for a honeymoon or anniversary, you'll probably want to stay in a Kauai beach resort where everything is provided onsite and service is excellent.
Of the luxury resorts, the Grand Hyatt Kauai Resort in Poipu in the south is considered the best place to stay in Kauai.
In Princeville in the north, the new 5-star 1 Hotel Hanalei Bay is the most luxurious option with a focus on wellness and sustainability. It has the highest prices on Kauai.
For a high-end resort, you can expect to pay over $600 a night including taxes (and possibly over $1000 in high season).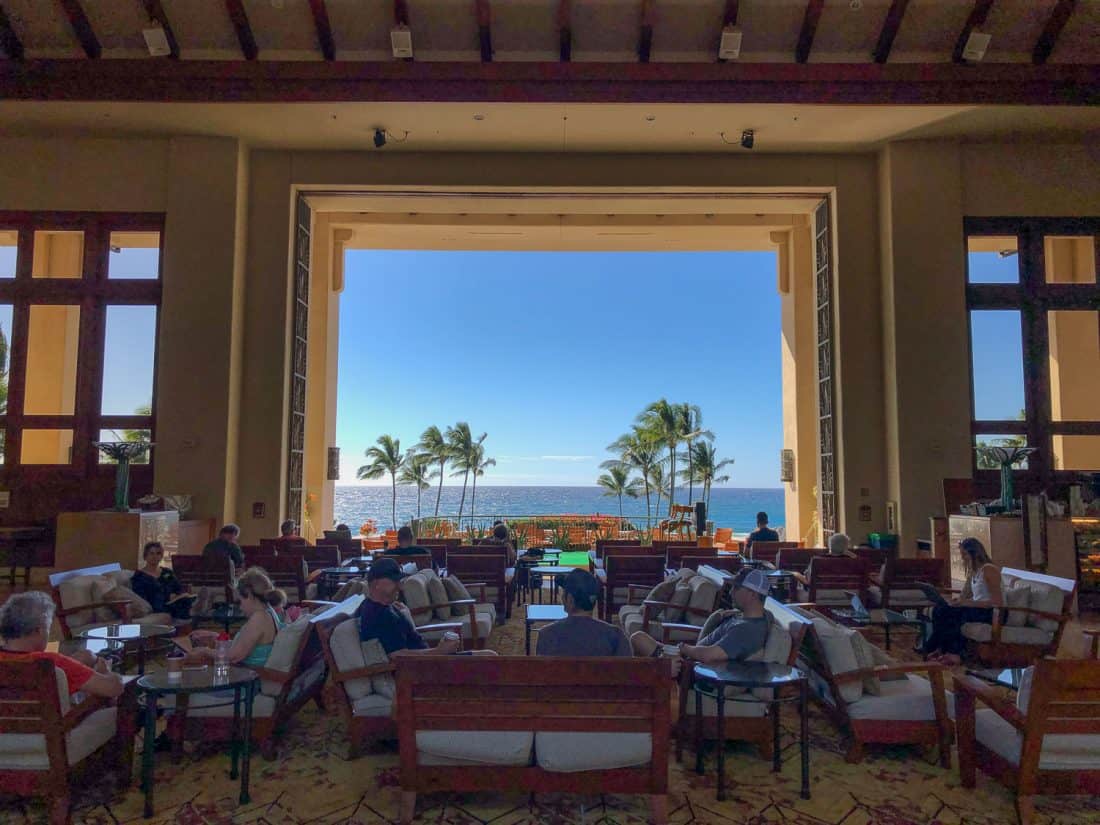 Kauai Condos
If you are on more of a budget (Kauai is not cheap!), condos are usually more affordable than resorts.
You'll also be able to save money on eating out, even if you only cook some of your own meals.
We liked having more space with a separate bedroom and living room, and condos often come with useful gear like beach chairs and umbrellas.
We stayed in two great condos, Kiahuna Plantation in the south and Hanalei Bay Resort in the north, and have written detailed reviews of them below.
For a beachfront condo, expect to pay $300–500 a night including extra fees.
Condos may have minimum stays of two or three nights.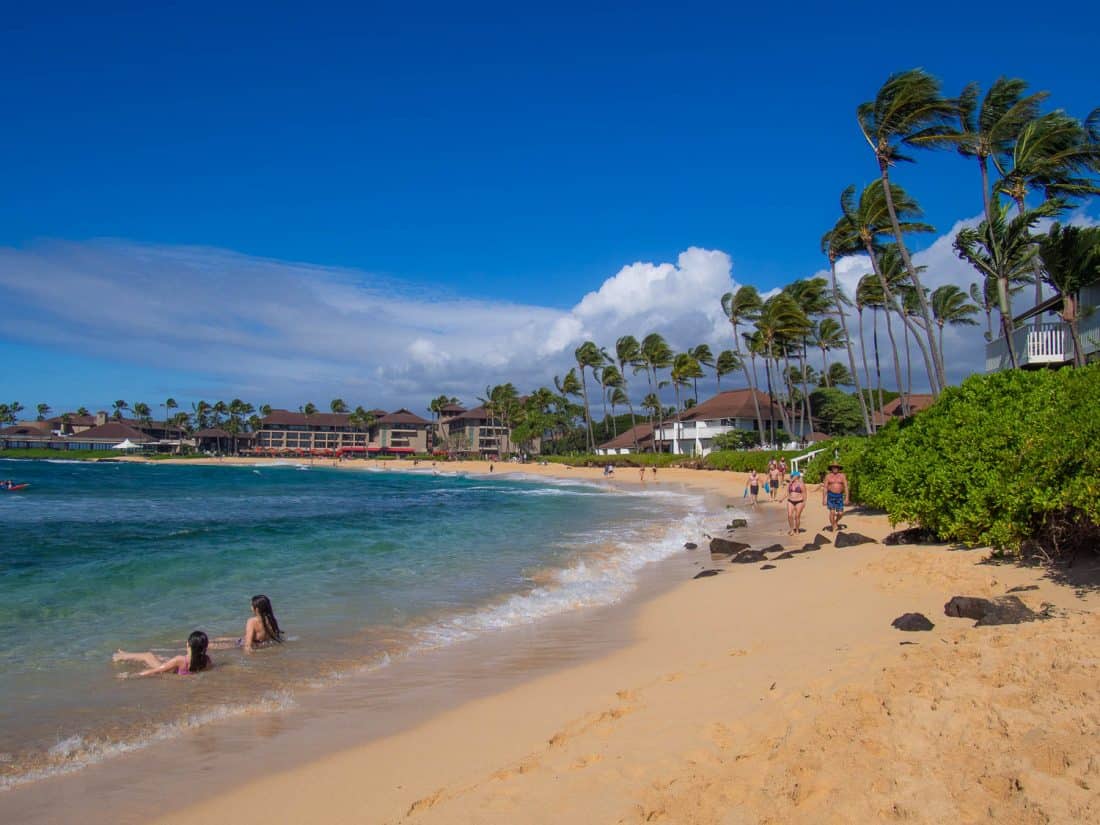 Budget Places to Stay on Kauai
The cheapest accommodation is on the East Coast where you can find budget hotels such as Kauai Palms Hotel near the airport for around $200 a night.
A budget beachfront option with pool is Kauai Shores in Kapaa with rooms from $300.
Vrbo condos in Kapaa are also excellent value—you'll pay much less for beachfront than you would in Poipu or Hanalei Bay.
Note that you'll pay higher rates for beachfront properties and even more for ocean views.
It was important to us to be in short walking distance of a beach, so we paid the premium for this, but chose units further back from the ocean.
Prices of Kauai accommodation vary widely depending on the time of year and how far in advance you book.
The cheapest months to travel are mid-April to early June and September to mid-December. Make sure you book as far in advance as possible in the high season.
How to Find Accommodation on Kauai
You can search Booking.com for a wide range of resorts, budget hotels, and condos on Kauai.
For condos and house rentals, Vrbo has the best selection.
Make sure to check the final price when comparing accommodation. Tax and sometimes resort fees, cleaning fees (for condos), and car parking may be added as extra charges to the quoted rates. This can really add up!
For example, a night at the Grand Hyatt Resort in November is listed as $533, but you need to add to that taxes ($41.09), resort fee ($53.08), and tourism fee ($54.63) for a total of $682.
At least self-parking is included in the resort fee, which is not always the case.
Where to Stay on the South Shore of Kauai
Poipu is the most popular area in south Kauai. There's a lovely beach, wide range of accommodation (although limited budget options), and plenty of restaurants and shops.
Kiahuna Plantation Resort, Poipu Review
We stayed in a condo at Kiahuna Plantation, which is right on beautiful Kiahuna Beach (a quieter extension of Poipu Beach).
Of everywhere we stayed in Hawaii, Kiahuna Plantation is the place we most want to return to for an extended stay.
We loved the location, beautiful grounds, and our comfortable condo with ocean view.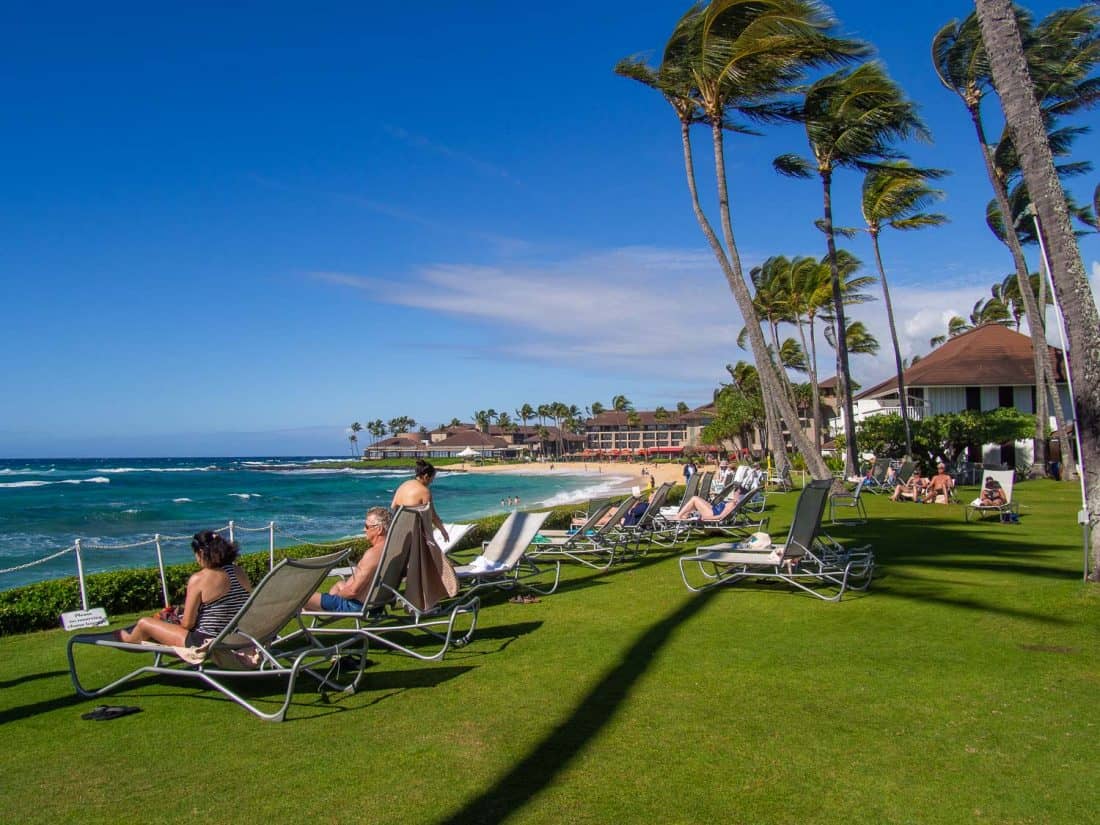 Condos
Kiahuna Plantation is a large complex of one and two bedroom condos in cottage-style buildings spread over 35 acres of lush lawns that reach to the beach.
Condos have different owners and agents, so they are all decorated differently, and it's a bit of a lottery which unit you'll get.
To avoid this you might want to book a specific unit—check out a range of Kiahuna condos on Vrbo. We booked condo 106.
You pay more to be closer to the beach, but we were in the last row (on the 2nd floor of building 17) and still had an ocean view.
We did have some traffic noise as we were closer to the road, but mostly we found it a very peaceful place.
It took a couple of minutes to walk to the beach, but we could go barefoot over the lovely lawns.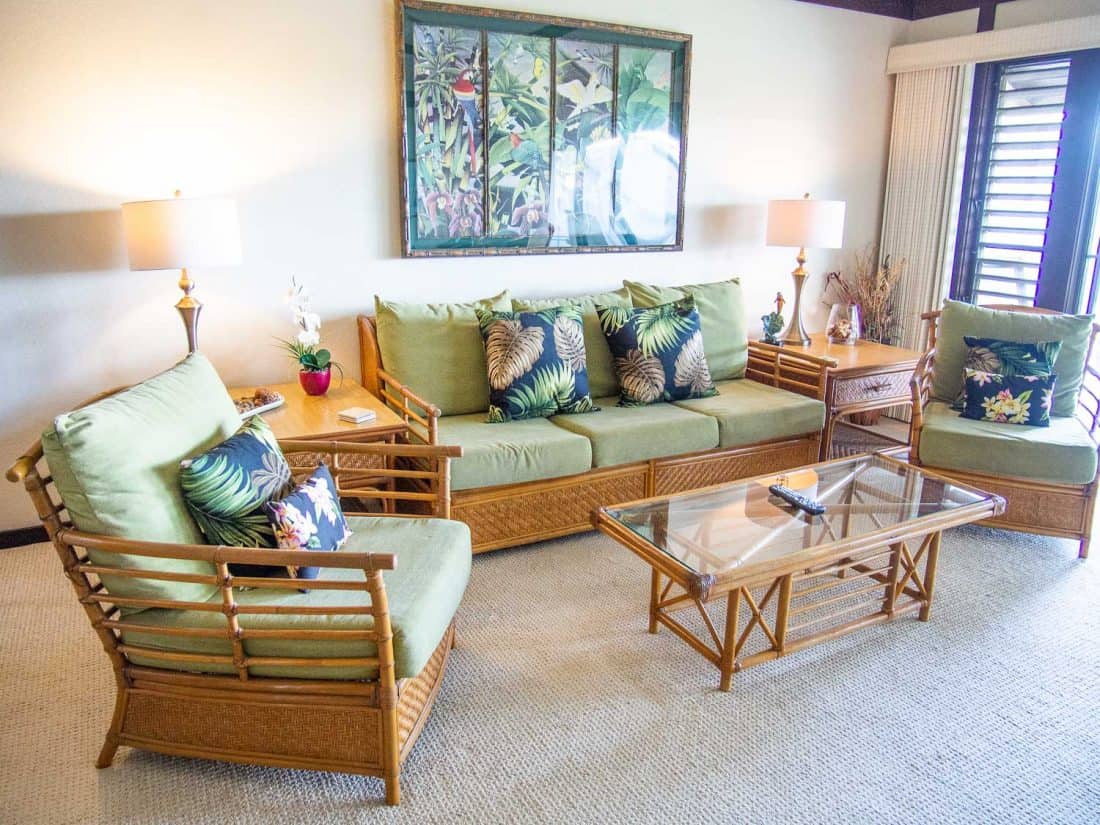 Our one bedroom condo was comfortable and well-equipped with good WiFi, a dishwasher, blender, rice cooker, beach chairs, and boogie board.
There's no A/C (as is common in Hawaii), but we didn't miss it as the condo stayed cool, and there are fans and screened doors to the lanai (balcony) that let in the breeze.
The bedroom is at the back and doesn't have much natural light or view, but the bed was comfy and there was plenty of storage. The bathroom was simple but fine.
The kitchen overlooks the living room which has a couch, dining table and chairs, and simple but homely tropical decor.
Sliding doors lead onto the lanai where there are another table and chairs and a couple of loungers for enjoying the ocean view.
While you can't see the sun sink below the horizon, the sky is beautiful when it lights up in shades of orange at sunset (see top photo).
We often saw birds and even a few whales jumping out of the ocean.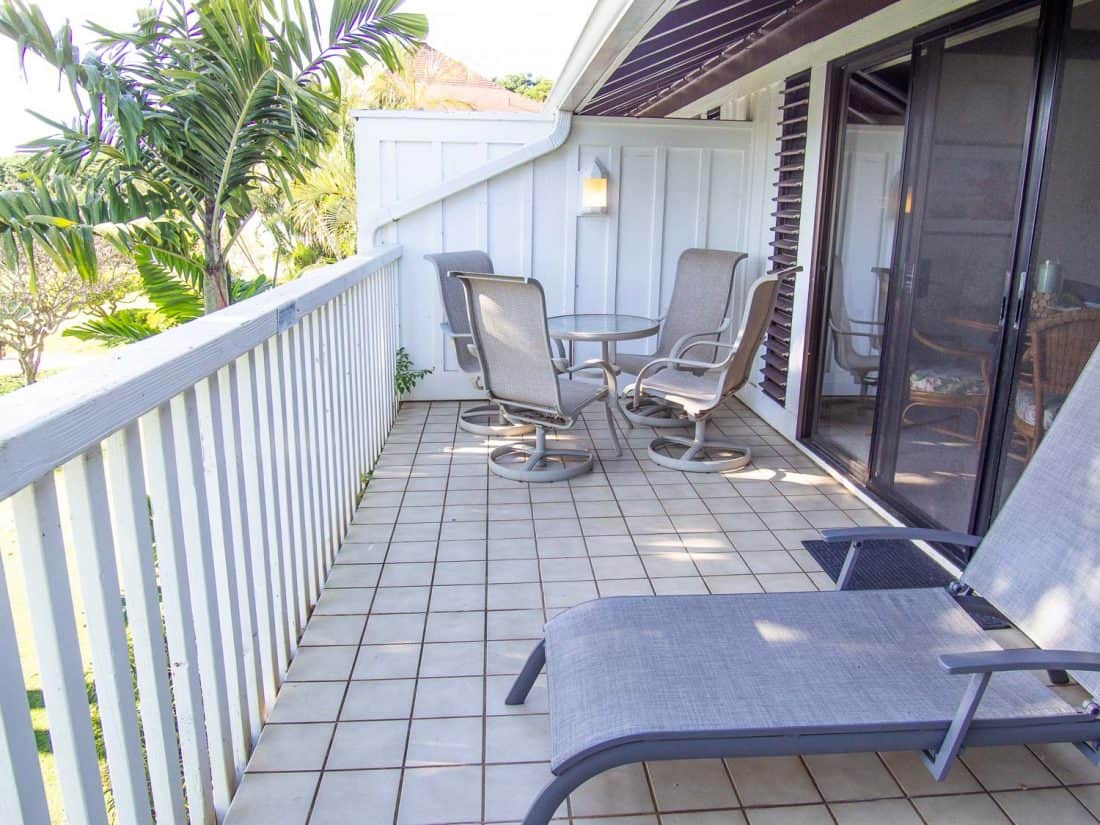 Facilities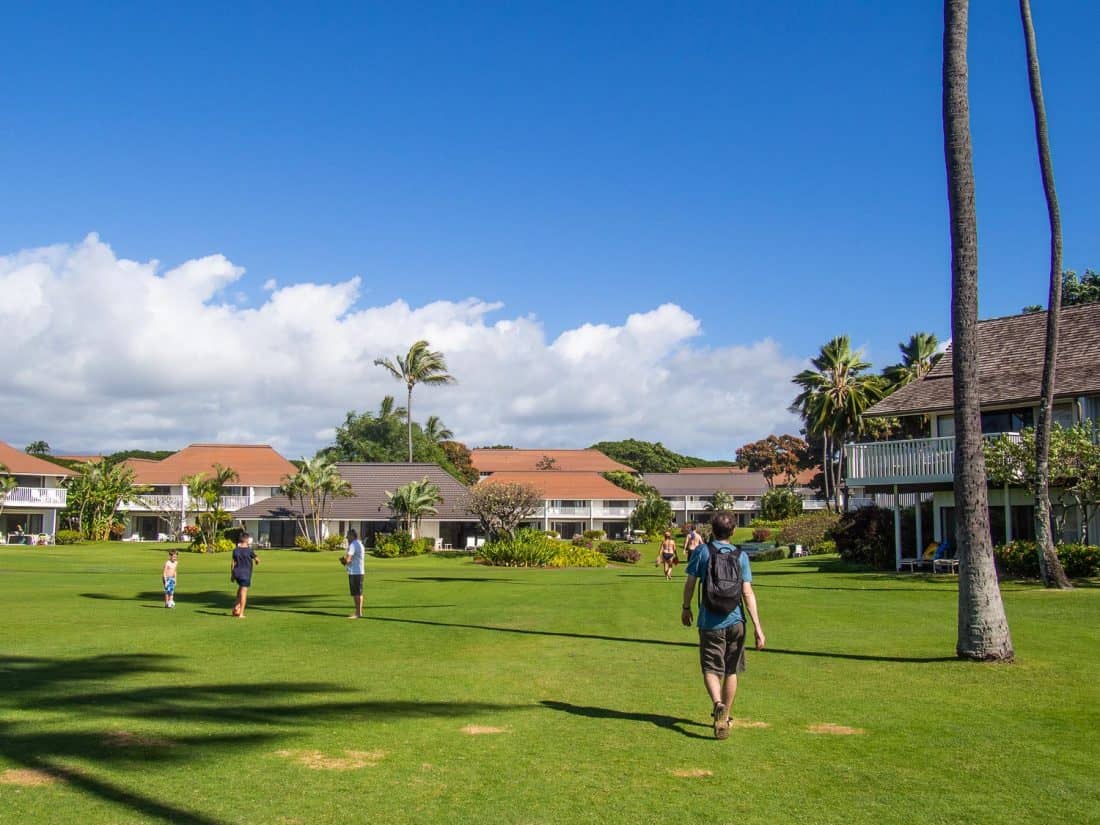 There's no swimming pool on site, but guests can use the resort style pool, gym and tennis courts at the Athletic Club across the road for free.
We never ended up using it as it was so convenient to head to the beach.
There was no washing machine in our unit, but the Kiahuna laundry room has plenty of machines and they take credit cards ($3 per wash or dry).
You can borrow beach towels and chairs for free from the hut by the beach.
There are a number of BBQs on the grounds. The beachfront ones are popular at sunset when everyone gathers at the loungers on the lawn overlooking the ocean.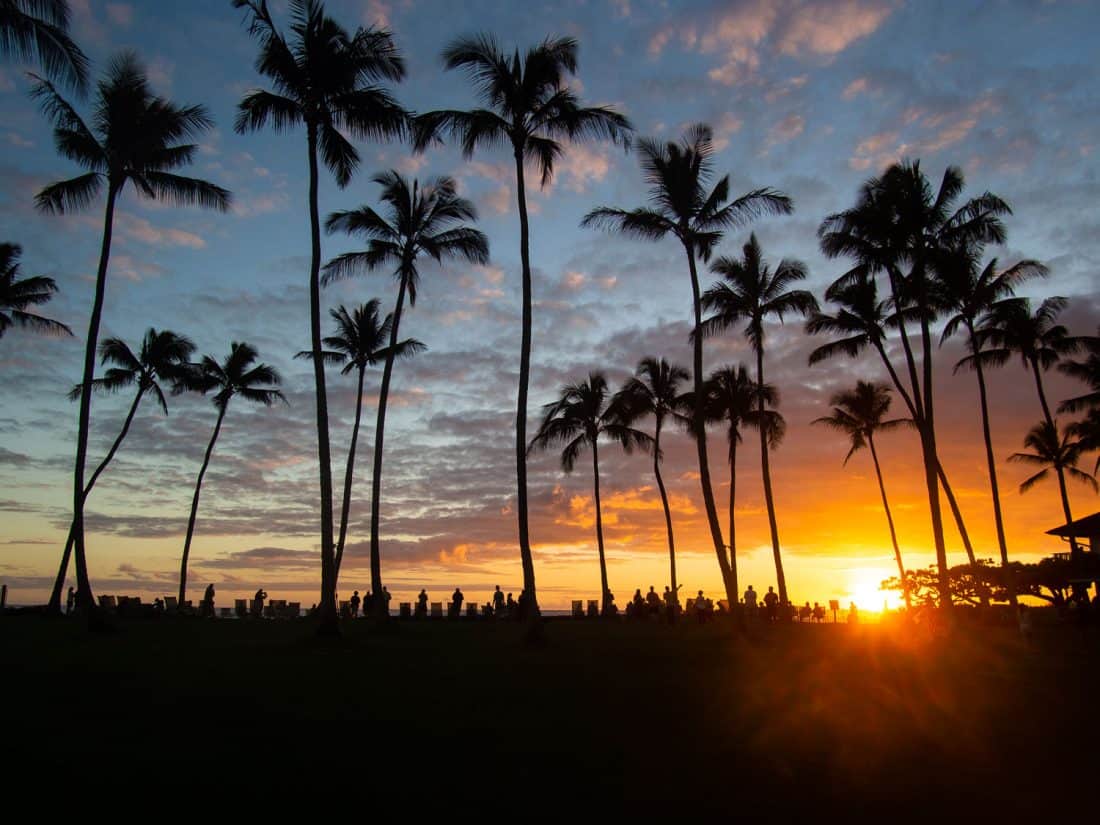 The Plantations Garden restaurant is on site, but the menu didn't look very exciting for vegetarians and we mostly self-catered.
Location
We loved the location right on Kiahuna (aka Sheraton) Beach, one of the best beaches in Kauai.
The beach is fairly narrow but has golden sand and is quieter than Poipu Beach around the corner.
We always found a quiet spot just outside our resort. Sunrises and sunsets are beautiful.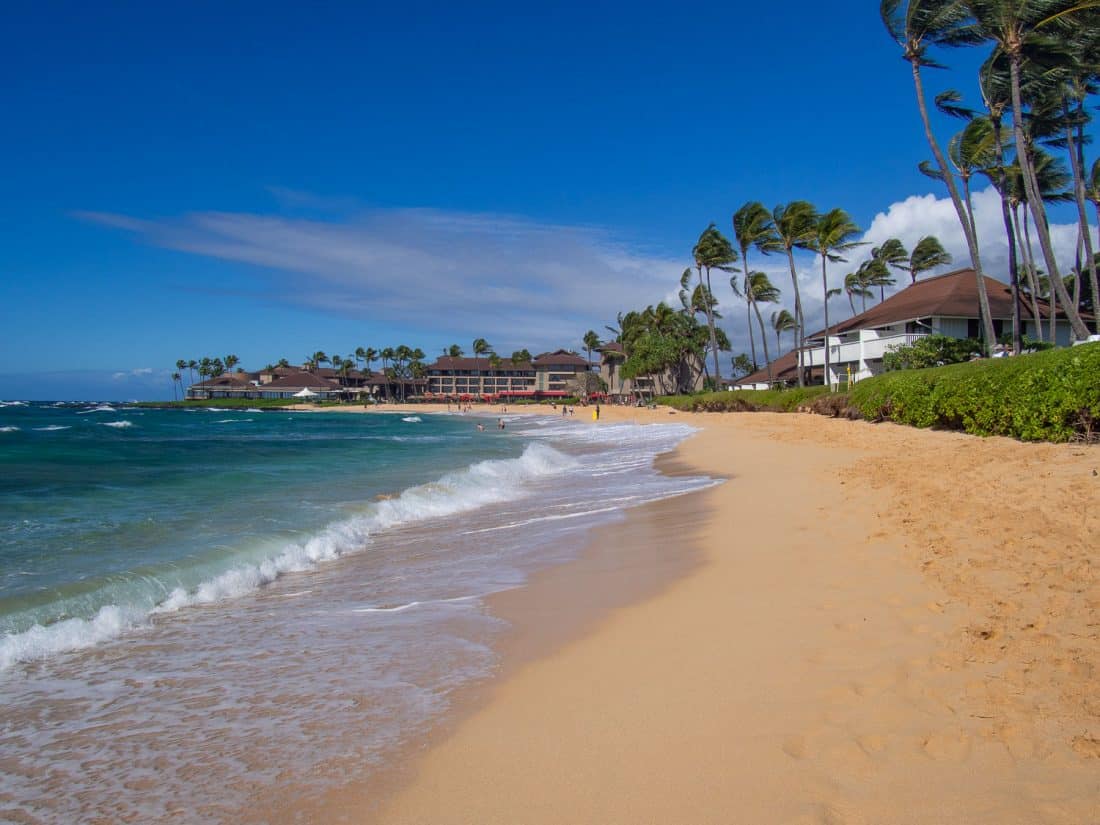 On some days the ocean was calm and on others, the waves were up and beginner surfers were out, but we still managed to swim.
There are some lovely coastal walks from here. Head left to Poipu Beach where you'll see monk seals and turtles. You can continue all the way to Shipwreck Beach and the beautiful Maha'ulepu Heritage Trail.
To the right, I loved to run on the sea path in front of the Sheraton resort and on to the Spouting Horn Blowhole about 3 miles away.
Poipu Shopping Village is across the road, so there are plenty of shops and restaurants in walking distance.
For a bigger grocery shop, we went to Big Save in Koloa, less than 10 minutes drive away.
The location was convenient for many of our favourite Kauai activities.
Details
We highly recommend Kiahuna if you are looking for a beachfront condo in a convenient location.
Check the latest prices of Kiahuna Plantation here.
Or browse specific Kiahuna units on Vrbo.
Other Poipu Hotels
Sheraton Kauai Resort
If you'd prefer a classic resort experience, the Sheraton Resort is right next to Kiahuna on the same beautiful beach as our condo and is one of the best places to stay in Kauai.
The ocean views are fabulous from many of the rooms as well as the pool, bar, and restaurant. We enjoyed a cocktail at their beachfront bar.
The pool isn't as impressive as the Grand Hyatt's and it gets crowded, but we prefer the beach and location at the Sheraton.
Check prices and reviews of the Sheraton here.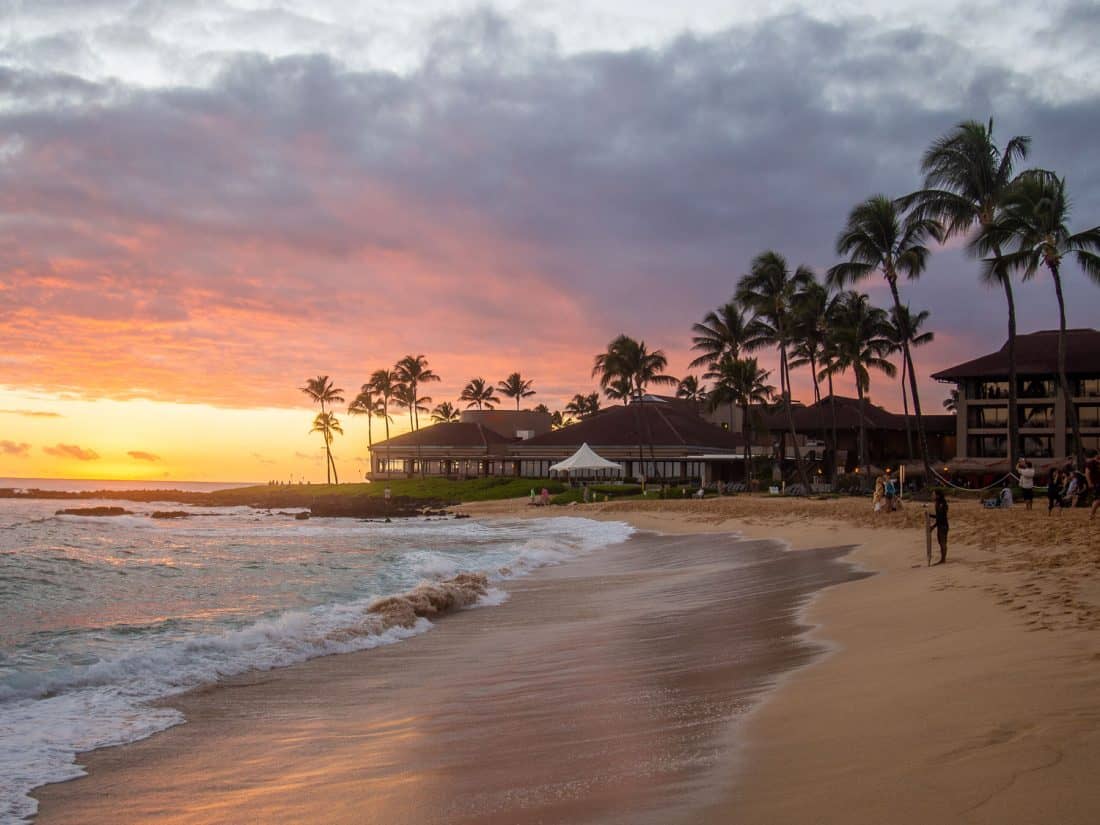 Grand Hyatt Resort
The Grand Hyatt Resort is considered by many to be the best place to stay in Kauai.
It's certainly one of the largest, most luxurious, and top rated resorts on the island.
We had breakfast here after our coastal hike and the grounds are stunning, especially the extensive pools including a lazy river, saltwater lagoon, and waterslide. It wasn't busy either.
There's also a spa, golf course, tennis courts, and horse riding stables.
The downside of this location is that Shipwreck Beach here isn't swimmable, and it's further from shops and restaurants.
You do have seven onsite restaurants, though.
For a special occasion, the Grand Hyatt is a top pick.
Check prices and reviews of the Grand Hyatt here.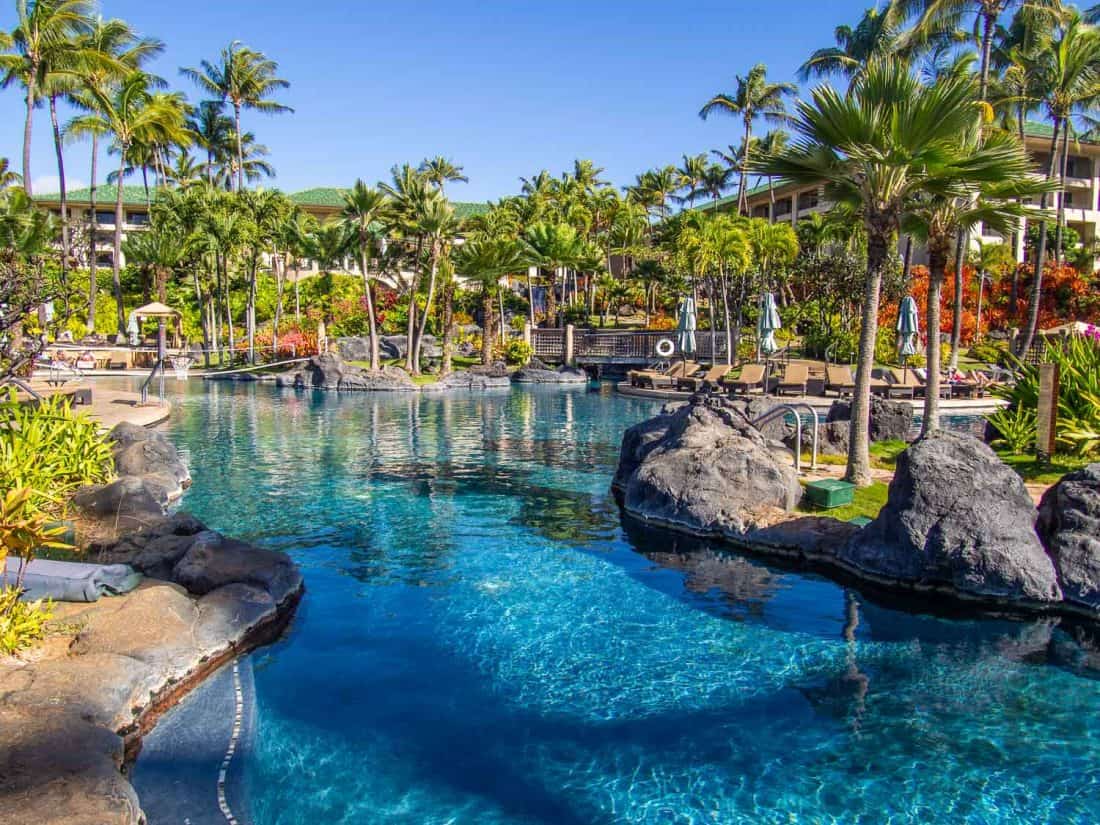 Koa Kea Hotel & Resort
Another stylish boutique resort with an oceanfront location between Kiahuna and Poipu beaches is Koa Kea Hotel & Resort.
We often walked through the resort on our beach walks and it looked lovely.
The pool and whirlpool have ocean views and there's also a pool bar, restaurant, spa, fitness room, and oceanfront yoga classes.
While it does overlook the ocean, the area directly in front of the resort is rocky, so for a sandy beach you have to walk a few minutes to either side.
Check reviews and prices for Koa Kea here.
Poipu Condos
If you are on a budget, options are limited in Poipu. I think Kiahuna Plantation (reviewed above) is one of the best options if you still want to be close to the beach.
You can also search for condos on Vrbo here as there are some affordable options especially if you stay further from the main Poipu Beach.
Where to Stay on the North Shore of Kauai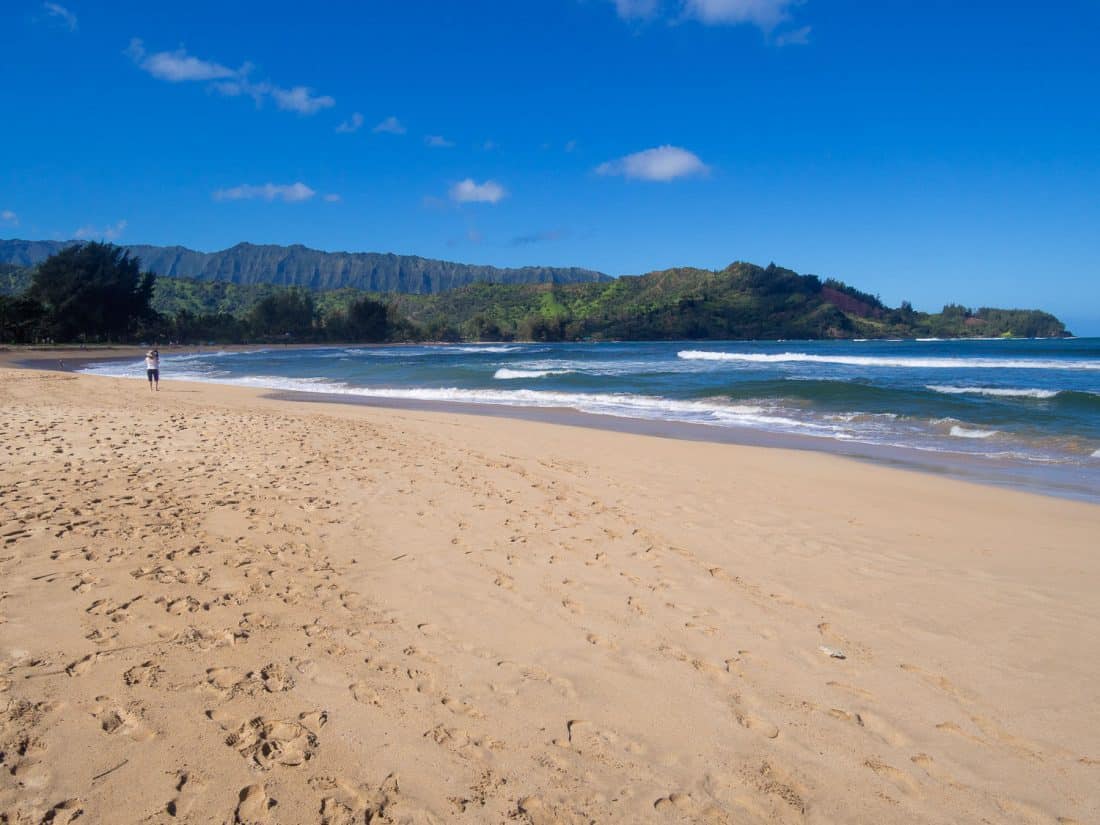 Hanalei is the most desirable place to stay on the North Shore. The small surfer town has a relaxed vibe, beautiful beach, and some delicious food trucks and restaurants.
Accommodation is limited, though, and there are no large hotels or resorts.
If you can afford and find availability for a Hanalei vacation rental (especially right on the beach!), go for it!
But most of us will end up in nearby Princeville (a 15-minute drive away).
Princeville is a planned community of upscale homes, a golf course, and a couple of resorts. It felt rather soulless and overly manicured to us.
On the plus side, there are beautiful views from the cliffside location, a few small but lovely beaches (down steep hills), and it's convenient for exploring the North Shore.
Hanalei Bay Resort, Princeville Review
Accommodation at Hanalei Bay Resort is in studio, one or two bedroom self-catering condos.
But it feels more like a typical resort with a large pool and many activities, and it was fun to have that experience for part of our stay.
The mountain views are stunning and you pay much less than at the famous resort next door.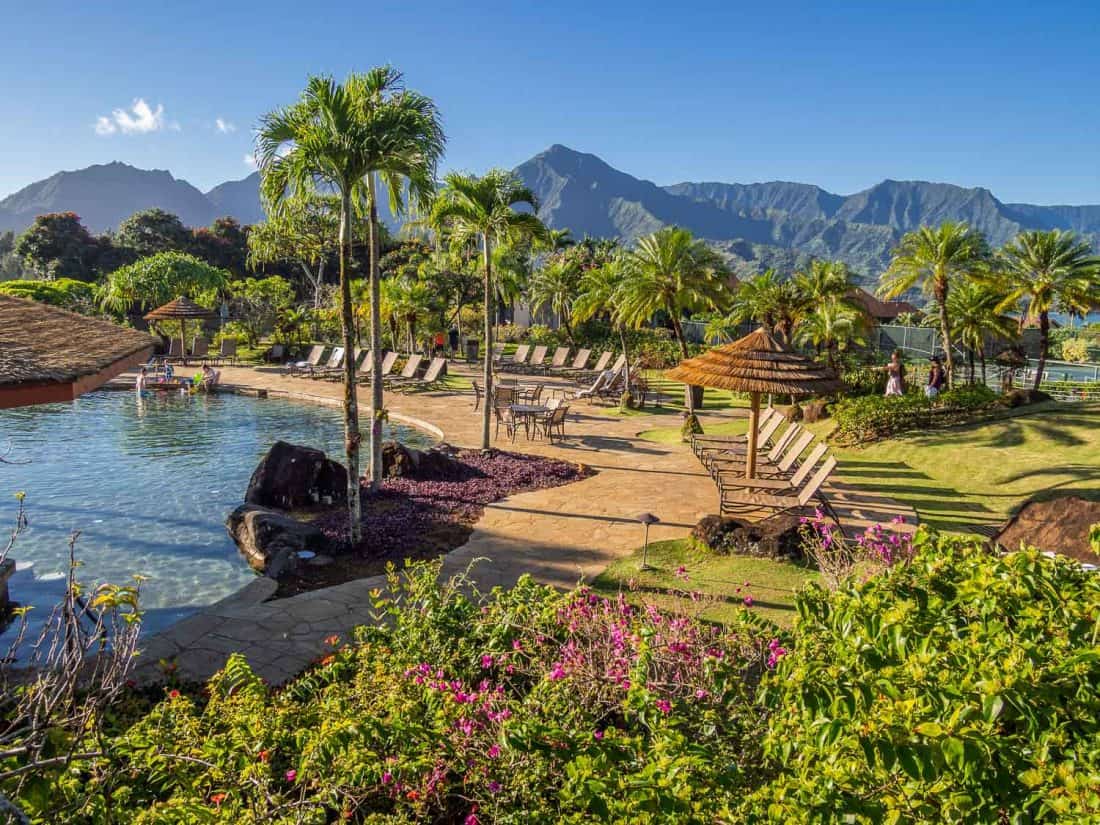 Condos
Our biggest disappointment at Hanalei Bay Resort was on arrival. Despite requesting an early check-in twice in advance, our room not only wasn't available before the 4 pm check-in time (which was fine), it was not fully ready until 5 pm.
We also found the decor of our one bedroom condo dated, and more like a hotel room than a home.
This depends on which unit you get as some have been updated. We had no choice when we booked, so you might want to check out individual units on Vrbo instead.
Despite not getting off to the best start, we ended up really enjoying our stay.
While our condo was nothing fancy, it was spacious, comfortable enough, and fairly well equipped.
It must have been a hotel previously as we had two connecting rooms—on one side was a large bedroom and bathroom, and on the other was a living room, kitchen, and bathroom.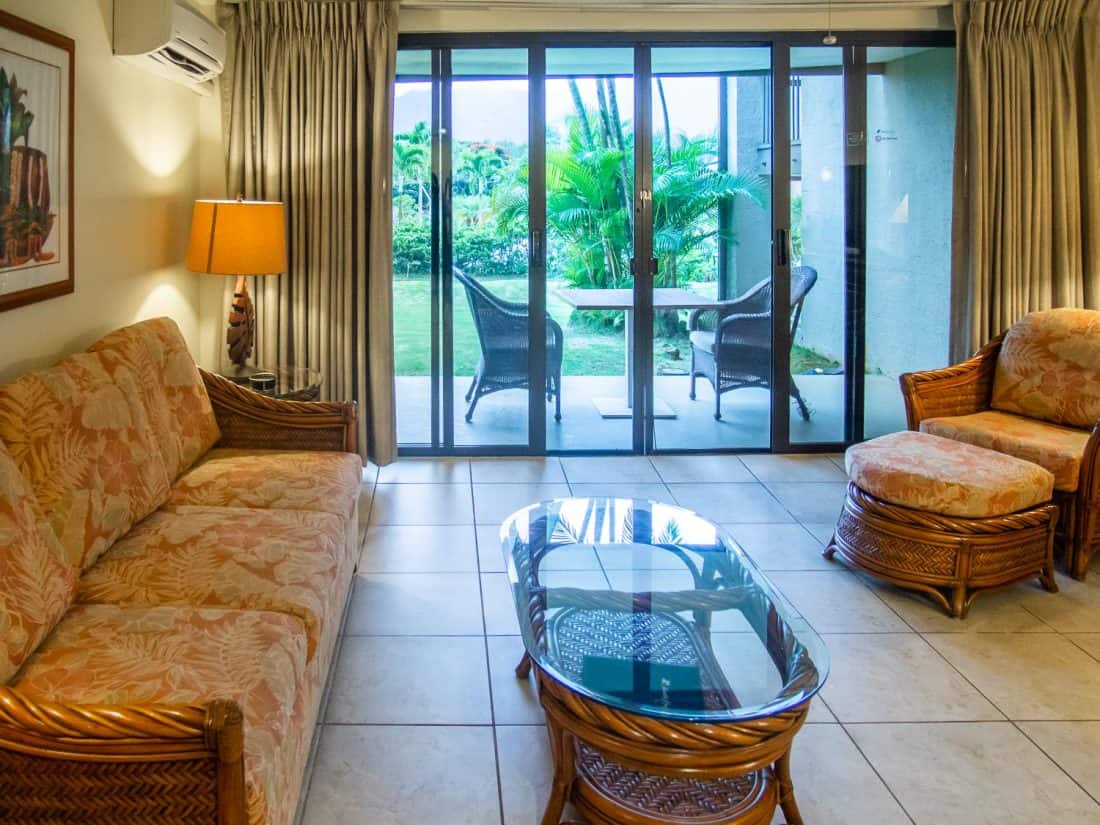 Unusually for Hawaii, we had air conditioning, although in January we never needed it and rarely used the ceiling fan either. The screened doors onto the lanai let in a breeze.
There was a table and chairs outside both the bedroom and living room but no sun loungers.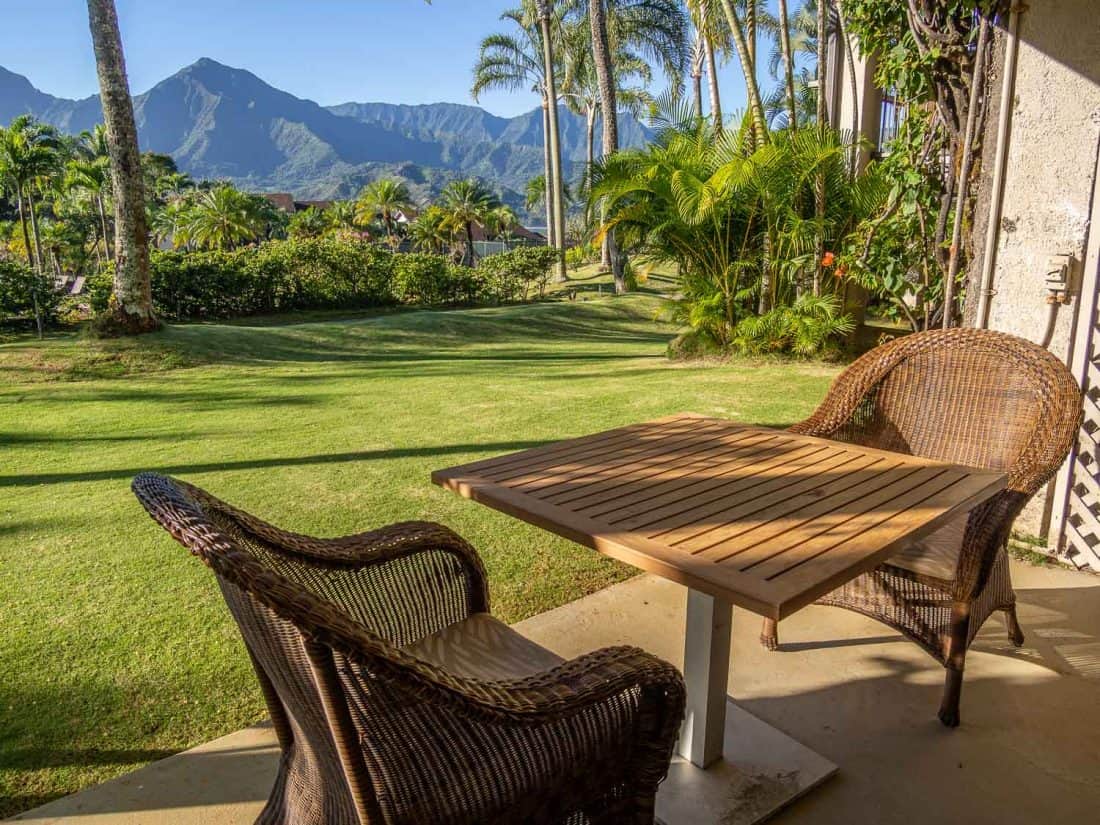 Our ground floor room in Bougainvillea was just a few minutes from the main pool.
We could see the mountains from our lanai, but the higher floor condos nearer the ocean would have much better views.
We could also hear the live music from the pool every afternoon and in the evenings from the main bar (but it stopped at 9 pm).
Facilities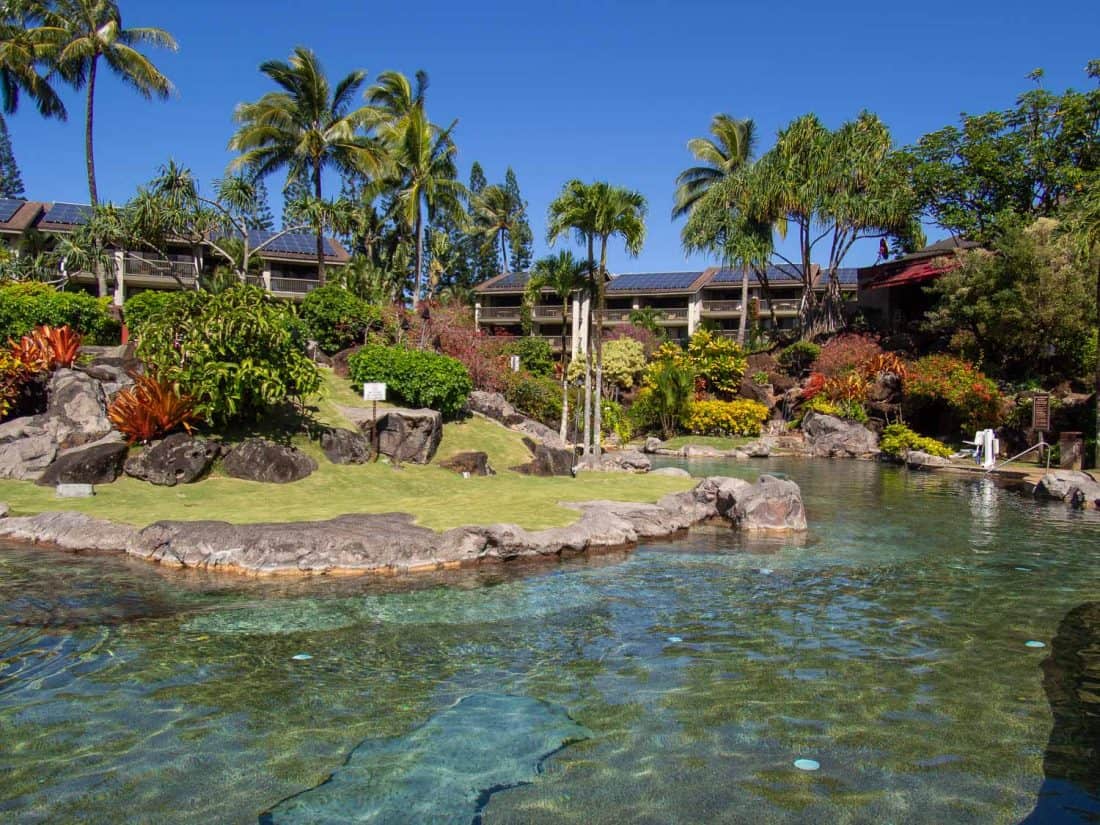 While our condo was nothing special, the grounds at Hanalei Bay Resort are gorgeous. Facilities include:
Beautiful large lagoon pool (chilly water in January but I still enjoyed swimming)
Ukulele swim-up bar where we enjoyed delicious cocktails every day! (Currently closed)
Large hot tub under a waterfall
Live music every afternoon by the pool from 4–6 pm
Happy Talk Bar that serves food from 3 pm and has live music from 6–9 pm. Closed Wednesdays.
Fire pit where you can watch the sunset
Small second pool
Gym
8 tennis courts
Beach gear rental
Daily activities including free Mai Tais on Mondays, free wine tasting, yoga, tennis clinics, hula lessons, and more.
Golf cart transport back from the beach if you don't want to walk up the hill
Laundry room (coins needed)
Small shop selling toiletries, soft drinks, and souvenirs but no real food. (Currently closed)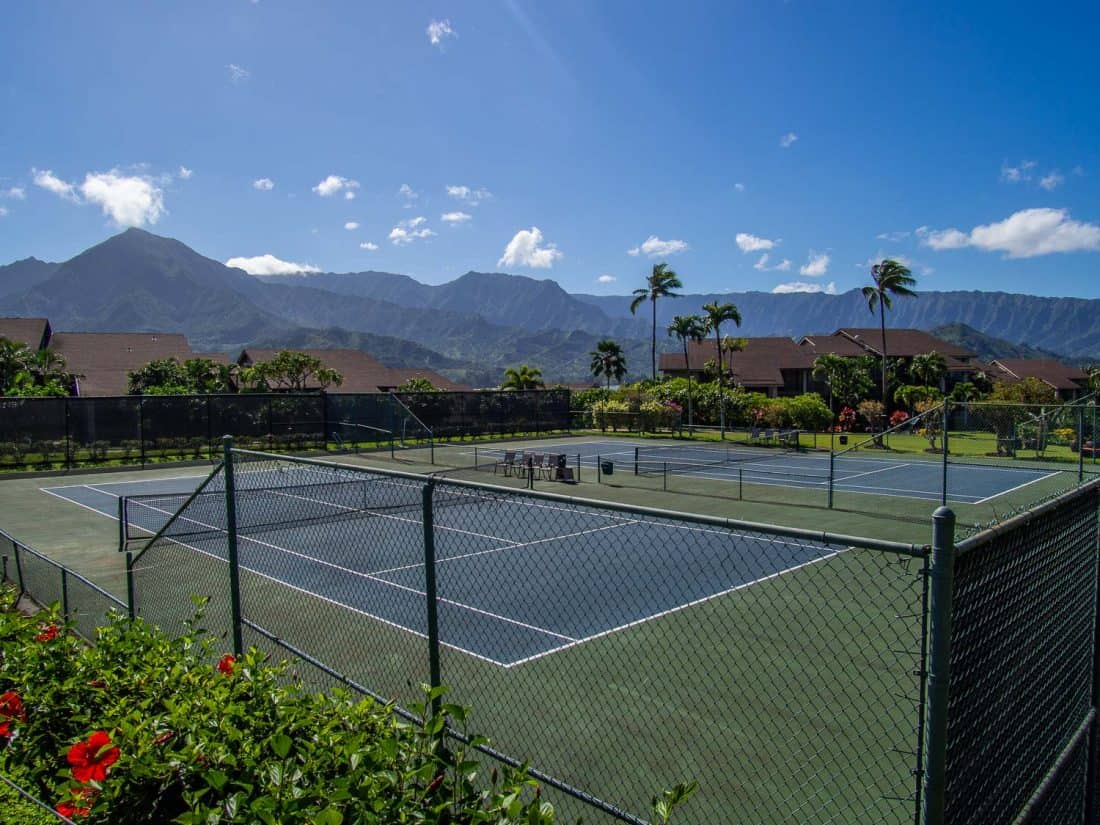 Location
The location of Hanalei Bay Resort is excellent, just a five-minute walk downhill to lovely Pua Poa Beach and a short drive to Hanalei.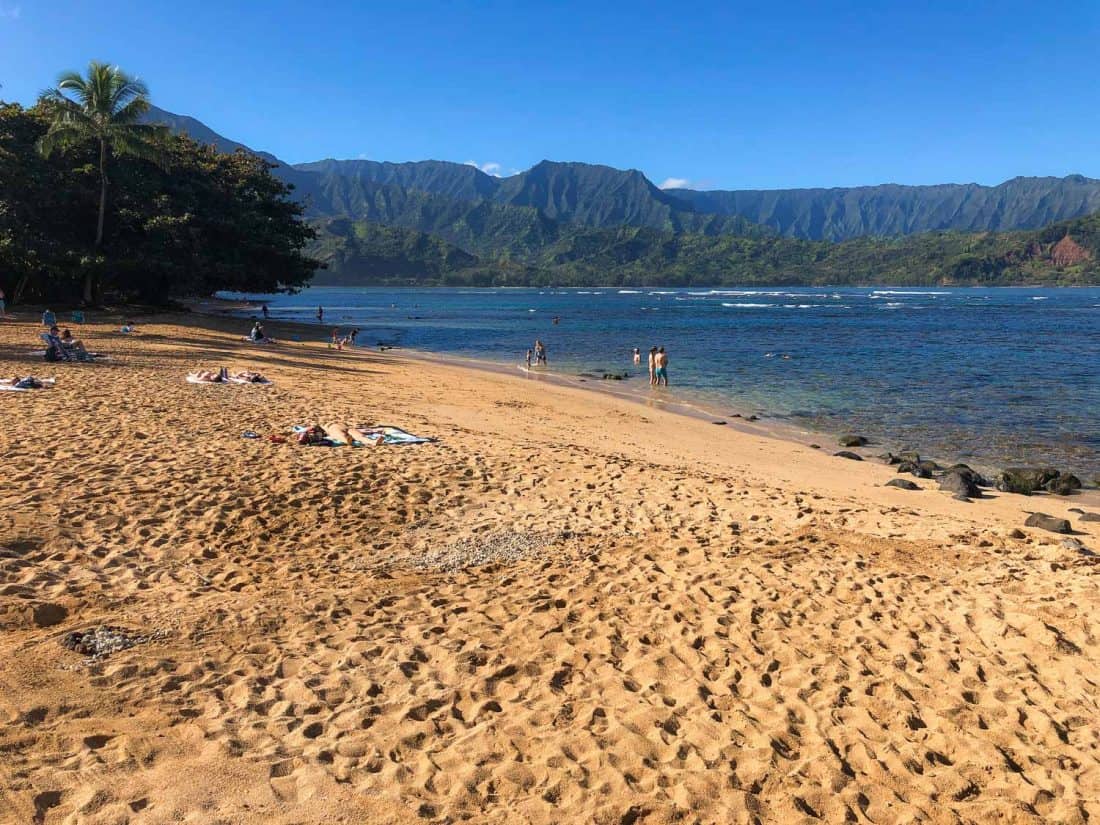 The path down to the beach is steep, but you can call for a golf cart back if necessary (we didn't need it).
It's the same beach that the 1 Hotel Hanalei Bay is on and we headed up to their bar for a sunset cocktail one night.
The main bay is quite small and can be a little busy, but if you continue around you can find quiet but shadier spots.
You can almost walk to Hanalei, but you get stuck by a river.
There's a reef here so the water is calm (experienced surfers head further out) and there's a sandy channel where you can swim.
It's also walking distance to the beautiful Hideaways Beach, which has calm turquoise water and snorkelling.
To get here, we walked down to Pua Poa Beach, up two elevators to the 1 Hotel reception, and out to the narrow path by their tennis courts. It's a short but very steep muddy trail down to the beach, but it's worth it.
There's a Foodland supermarket a short drive away in Princeville, but for restaurants you are better off heading to Hanalei.
There are no restaurants or shops in easy walking distance except for the onsite bar/restaurant and the pricey resort next door.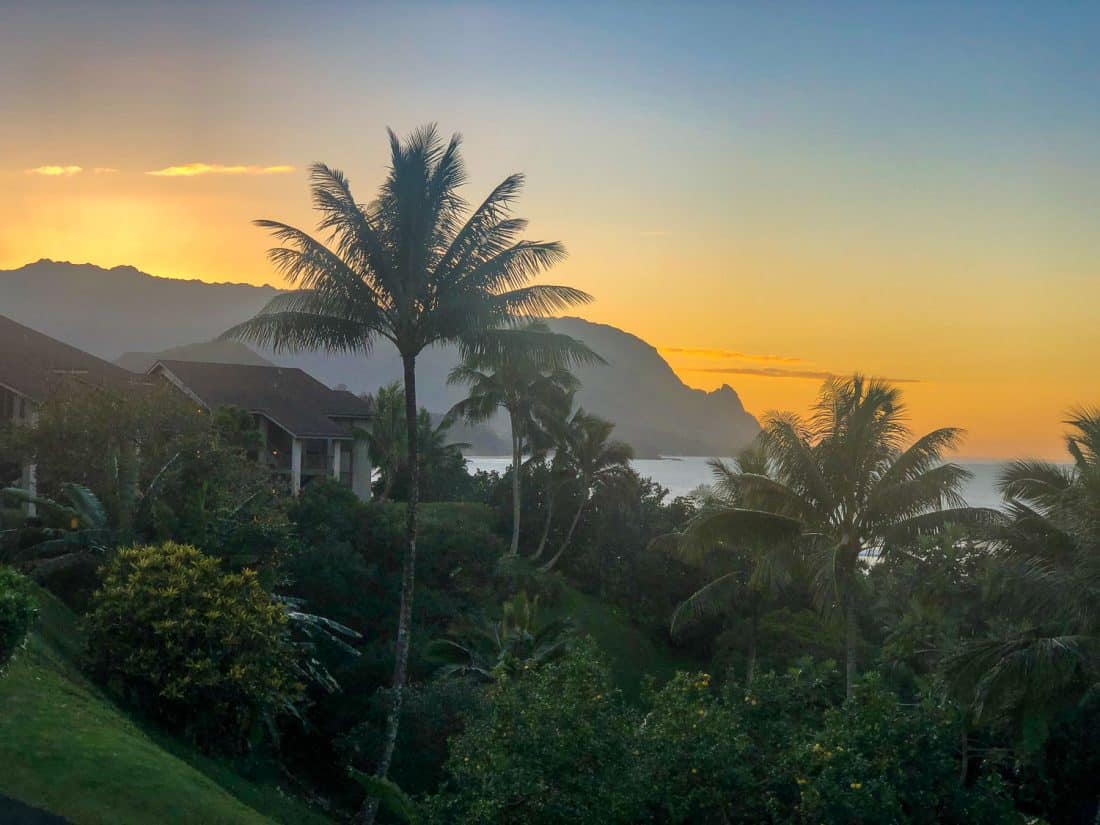 Details
Hanalei Bay Resort is ideal if you want a resort experience with the convenience of self-catering accommodation.
The grounds are stunning and it has the only swim-up bar in Kauai. Try to get an ocean view and updated unit if you can!
Check the latest prices of Hanalei Bay Resort here. Or browse specific units rented by owners on Vrbo.
Other Hanalei and Princeville Hotels
Condos in Princeville
Other condos in Princeville are not on the beach and don't have as much of a resort feel as Hanalei Bay Resort, but many have clifftop locations with stunning ocean views.
There are also some large houses in the golf course area, which are great for families or groups.
Vrbo is the best way to find condos and house rentals—there are both budget and luxury options including:
You can search for more Princeville condos on Vrbo here.
Vacation Rentals in Hanalei Bay
Accommodation in Hanalei Bay is limited and pricey. You'll pay more than in Princeville, but the easy access to a beautiful beach and charming town could be worth it.
Many vacation rentals in Hanalei have minimum stays of 3-5 nights. You'll regret it if you stay for less anyway!
The best option is to look for vacation rentals on Vrbo. Here are some fantastic places that are on our wish list:
Search on Vrbo for more vacation rentals in Hanalei.
1 Hotel Hanalei Bay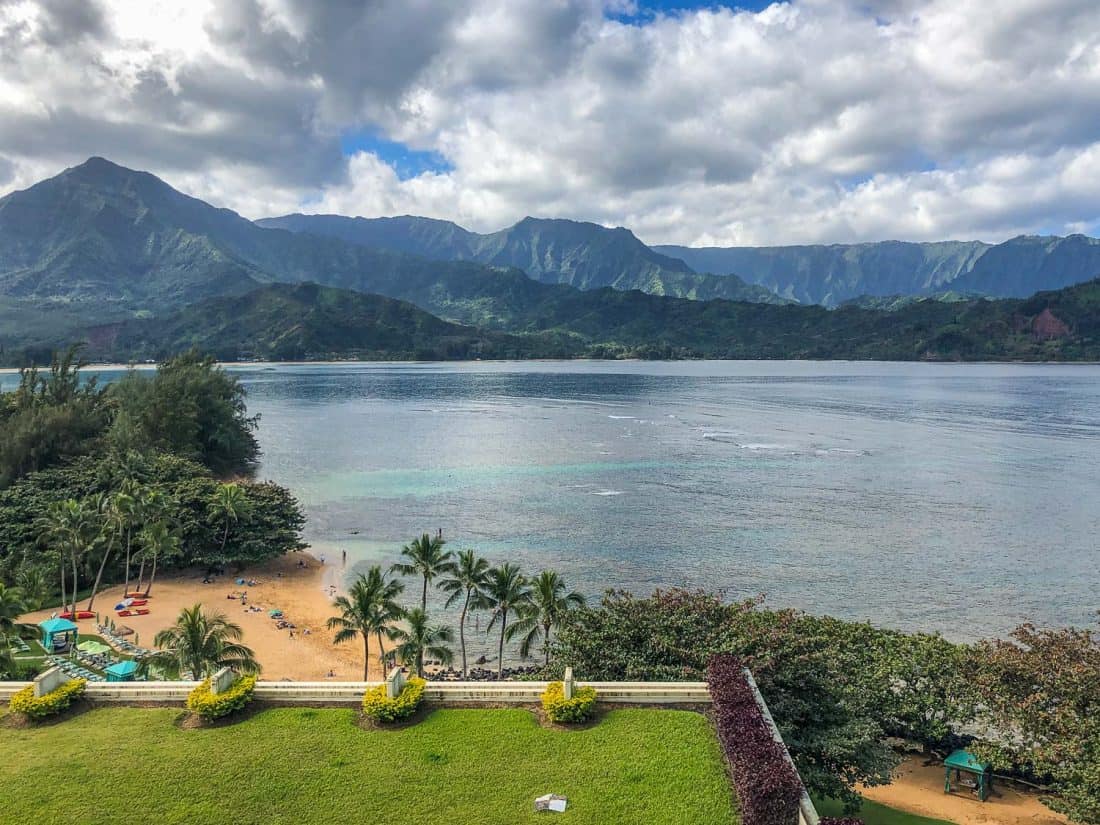 1 Hotel Hanalei Bay is one of the best resorts on Kauai for a luxury experience.
It was previously called Princeville Resort and reopened after major refurbishment in 2023 with a focus on wellness.
Stylish rooms feature sustainable design, and there's a spa and fitness classes.
The resort cascades down the side of a cliff and the views of Hanalei Bay are unbeatable.
There's a nice pool down by the beach, but it's not as impressive as the Grand Hyatt's extensive pools.
We visited the old hotel for a sunset cocktail at the bar high up in the resort (now called Welina Terrace), and it is beautiful. There are a number of other restaurants and bars onsite.
Check prices for 1 Hotel Hanalei here.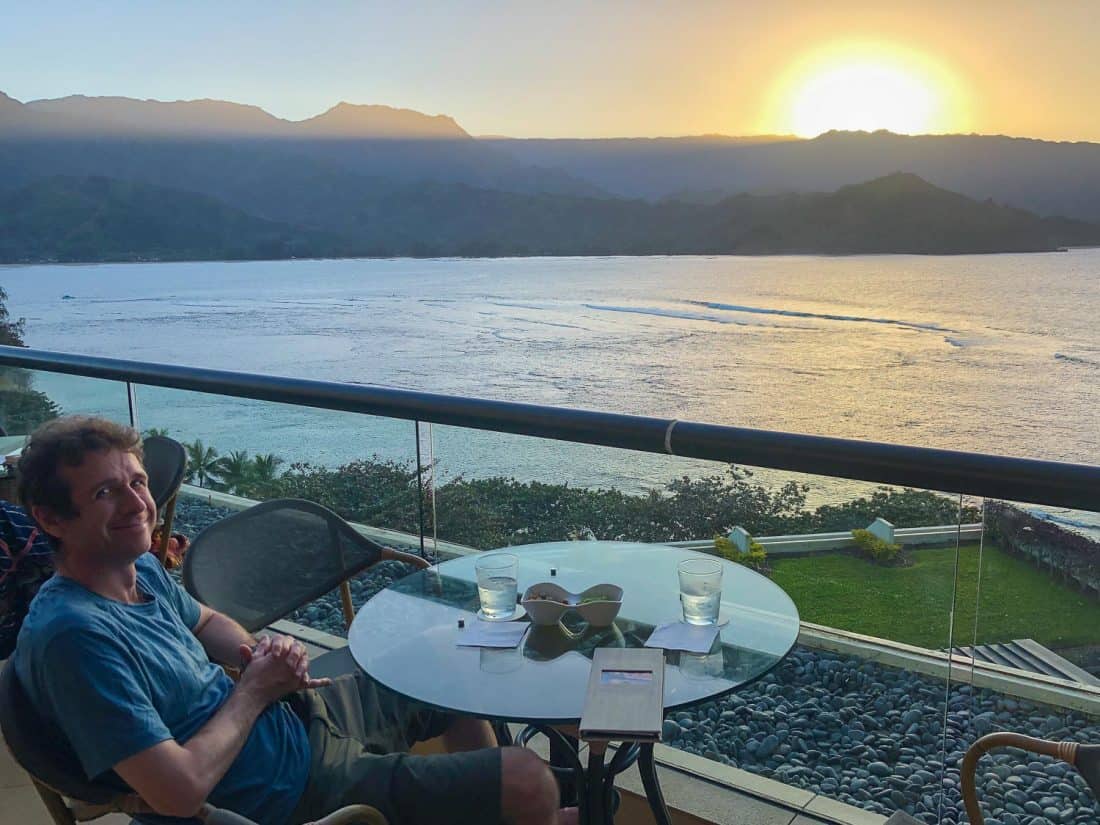 Map of Where to Stay in Kauai
Here's a map of the Kauai accommodation mentioned in this post. The green pins are for the places we stayed (detailed reviews above) and the blue pins are for others that look like great options.
For a more detailed map of recommended activities and restaurants, see our guide to the top things to do in Kauai.
Where to Stay on Kauai: Final Thoughts
When you are planning where to stay on Kauai the important thing is to decide what's important to you.
Hawaii is not cheap so unless money is no object, you'll have to decide what to prioritise: ocean views, beach access, fantastic pool, kitchen, onsite restaurants, access to sights or whatever you decide.
On the East Side, you'll get the best value for money, but you won't have the views of the North Shore or as easy access to sights as in the South.
You might also consider splitting your time between two areas to avoid long day trips as we did.
Wherever you stay in Kauai, you will have a wonderful time—it's a beautiful island and stunning beaches and scenic attractions are always only a short drive away.
More Hawaii Posts
Kauai Tips
Other Hawaii Posts
Enjoyed this post? Pin for later!