This page contains affiliate links. Please read our disclosure for more info.
I won't keep you guessing—a doors off helicopter tour of Kauai is 100% worth it and is the best thing we did on the island. In fact, it's one of our favourite ever travel experiences—it seriously blew our minds.
Kauai is one of the world's most beautiful islands and the best way to appreciate the dramatic scenery of The Garden Isle is from above.
It's the oldest Hawaiian island, and although it is volcanic in origin, the last eruption occurred millions of years ago, and since then erosion has shaped the craggy sea cliffs and the mountains have become covered in lush rainforest.
A helicopter trip is one of the top things to do in Kauai and we originally planned to take a regular Kauai helicopter tour (one with doors), but I kept reading rave reviews of the doors off helicopter rides.
At first I was reluctant—flying without anything between us and the ground far below seemed terrifying and wouldn't it be freezing and windy?
But there is one major advantage—an unobscured view for photos without having to deal with the reflections when shooting through glass.
We decided to get over our fear and go for the adventurous option.
There are only a few companies offering doors off helicopter trips on Kauai, and we decided on Jack Harter. We compare them to other Kauai helicopter tours below.
Note: Our trip was not sponsored (we paid our own way everywhere in Hawaii), we just really loved it.
Contents
Getting Onboard Our Kauai Helicopter Tour
After some agonising, we decided on a 2 pm Kauai helicopter tour (more on the best time to fly below).
Jack Harter's doors off helicopter trips are for 60–65 minutes (some company's "hour-long" tours are more like 50–55 minutes) and believe me, it goes by fast, and you'll want every extra minute in the air.
We checked in at the Jack Harter office where they discreetly weigh you, which determines which seat you'll be in. You'll also need to leave behind anything that could blow away (more tips on preparing for the trip at the end of the post).
From there it's a short minibus ride to their field at Lihue airport where we waited in an open-air seating area for our helicopter and had a security briefing.
One of the advantages of the open door helicopter is that they only seat four passengers plus the pilot, whereas the best doors-on helicopters (the Eco-Star) seat five passengers, so you could end up in the back middle seat which has the worst view (this happened to Simon on our Oahu doors off helicopter tour).
As we were lighter than the couple we were flying with, we were seated in the front with the pilot and they were in the back by themselves.
Neither option is bad—in the front you can see out the front window as well as the doorless sides, but one of you (Simon is this case) is crammed into the rather small middle seat and isn't next to a door (or lack of one).
In the back, both passengers get window seats, but you don't have the full frontal view. You don't have a choice anyway, so it's not worth worrying about where you end up.
Take Off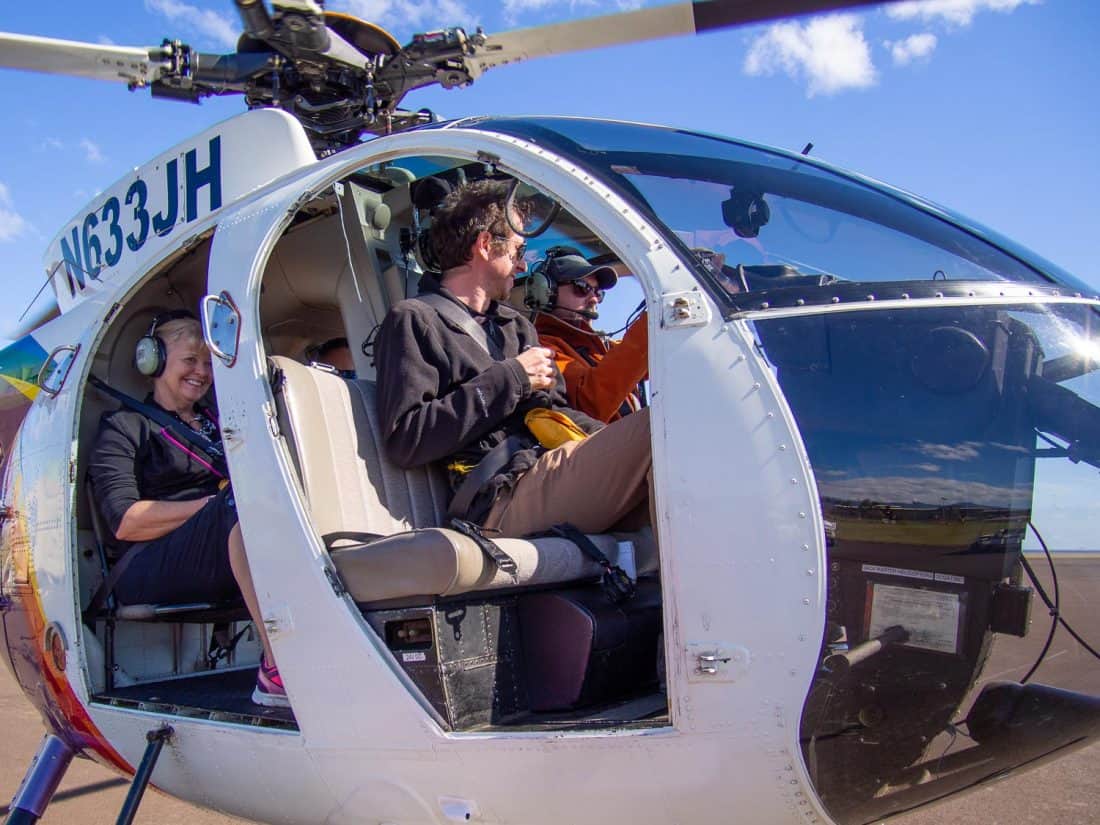 Once our helicopter had landed the crew helped us into our seats and buckled us up in our thankfully robust harnesses. We had two-way headphones which enabled us to talk to our pilot Ben and hear his commentary as we flew over the island.
Before we had time to think about what was happening, we rose gracefully straight up into the air.
It was unnerving at first having nothing between me and the earth below and I clung on to the loop above the door frame.
It's didn't take long to get used to it, though, and I soon felt at ease and got busy snapping photos of the extraordinary landscapes below us.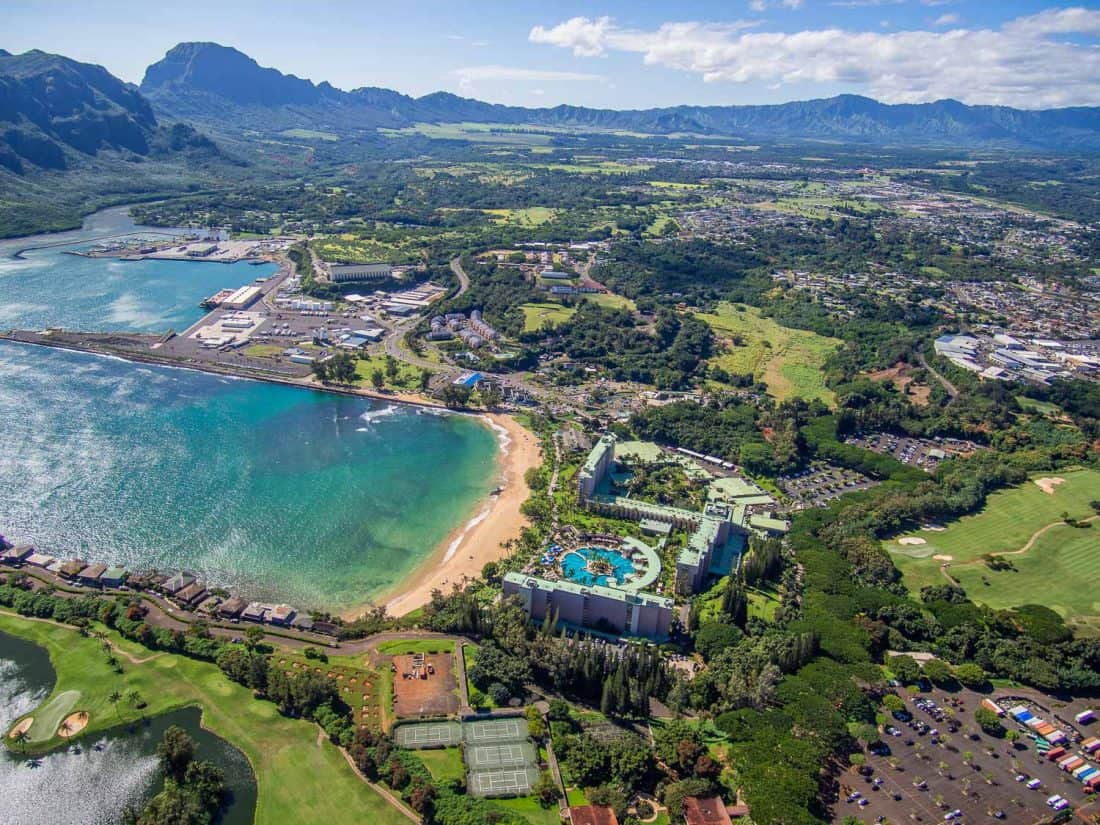 At first we flew over the golf courses and beaches of the resorts near the airport, before flying surprisingly close over the first of many lush green mountains.
The ride was smoother and warmer than I expected and the wind didn't bother me, although I could feel its power if I tried to lean my camera out beyond the doors.
Soon we left the more developed parts of the island and soared over vibrant mountains and farmland, the trees looking like tiny pieces of broccoli below us.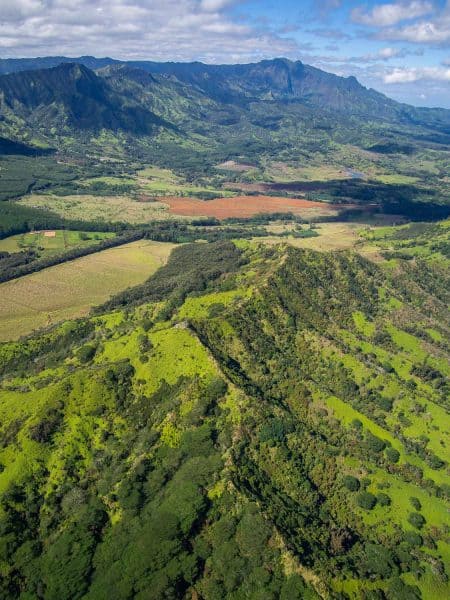 Jurassic Park Waterfall
Our trip took us around the entire island in a clockwise direction, and the first major sight was Manawaiopuna Falls which was featured in the Jurassic Park movie (it's where they land the helicopter).
It was clear why a helicopter ride is one of the top things to do in Kauai.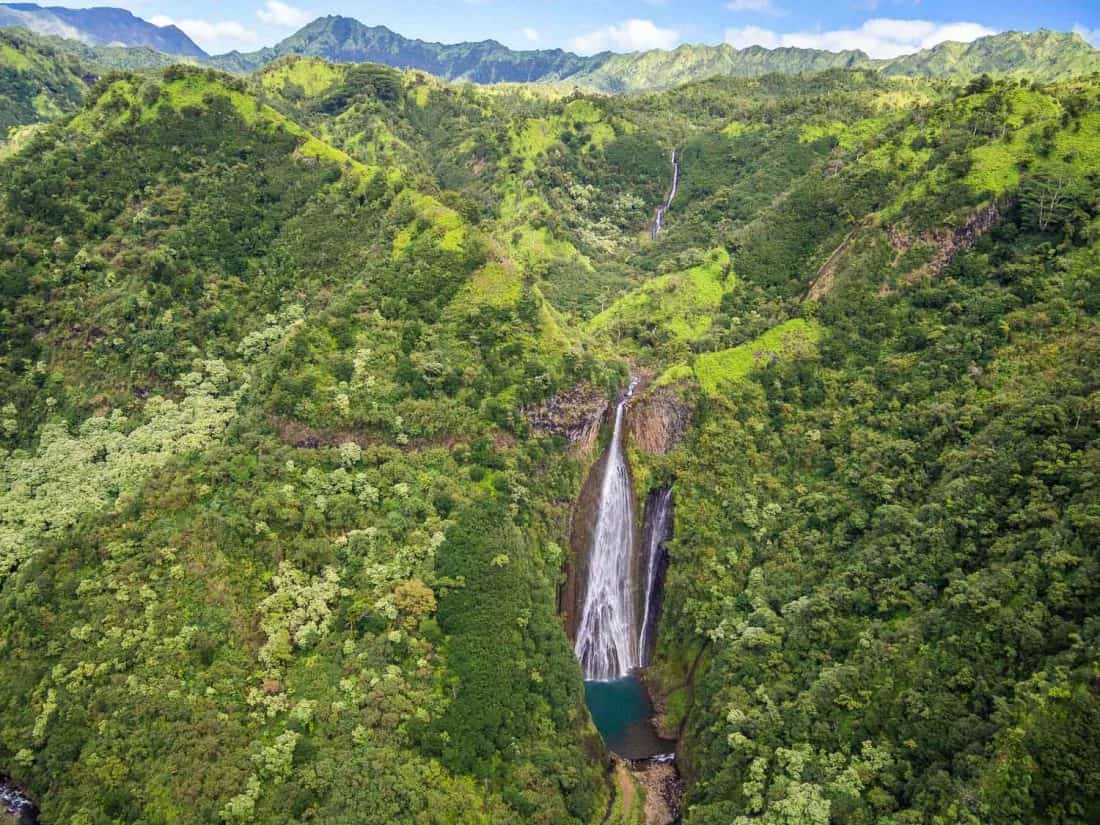 There's no way to reach the falls on foot or by road as it's on private land and surrounded by the rainforest covered mountains of the Hanapepe Valley.
The 400 ft (122m) falls are a stunning sight from above. Our pilot did a good job of circling around so that both sides got a good view.
Beyond we came across even more waterfalls—a series of six or more all plunging into blue pools surrounded by the verdant mountains. We'd never seen waterfalls from this angle before and it was a special sight.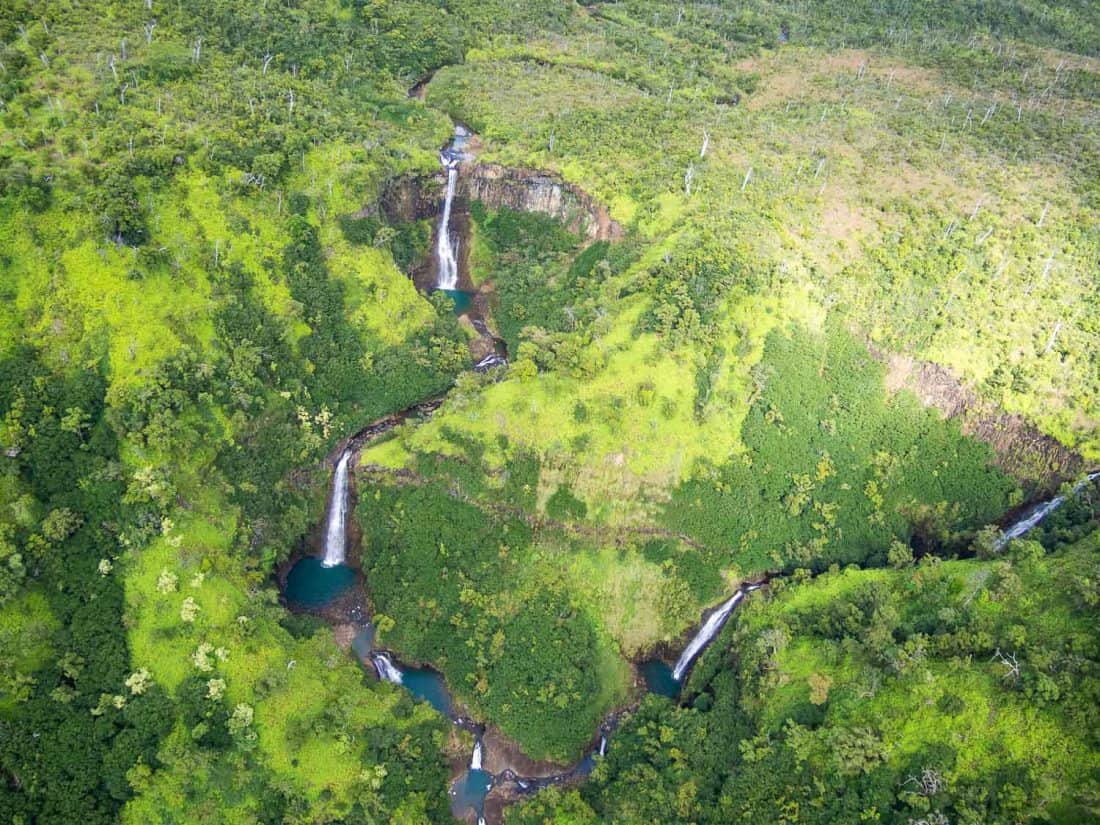 Olokele and Waimea Canyons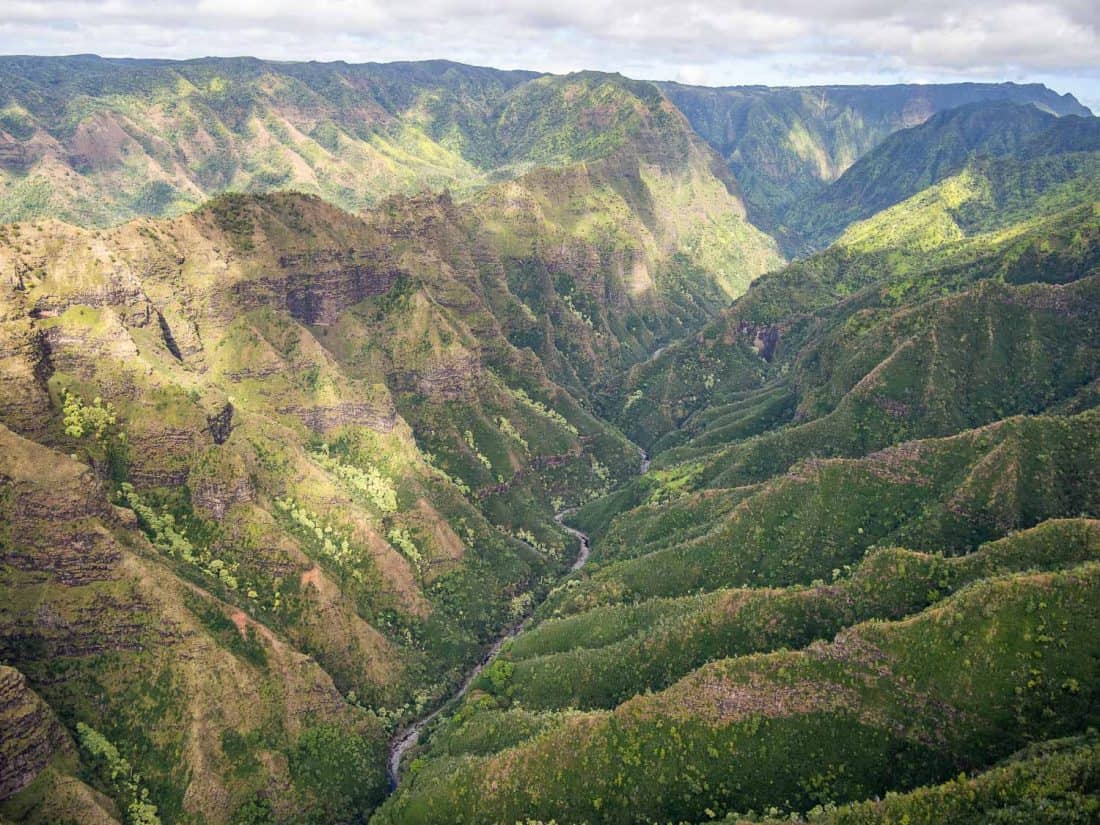 As we headed further west the landscape became drier, greens beginning to fade to brown as we flew through the Olokele Canyon.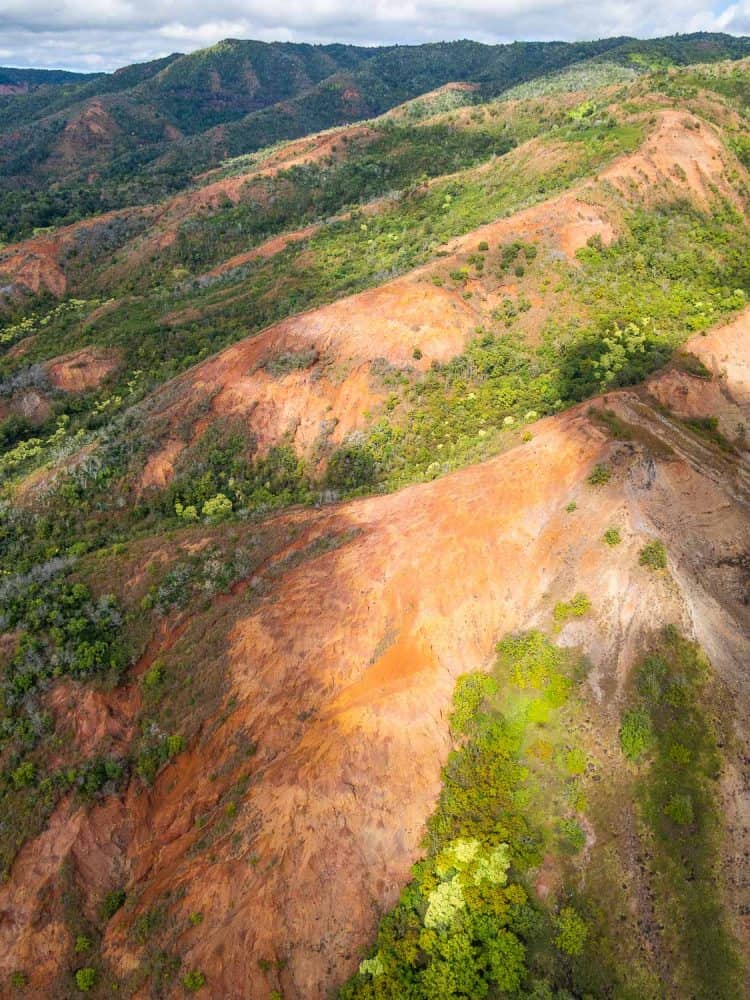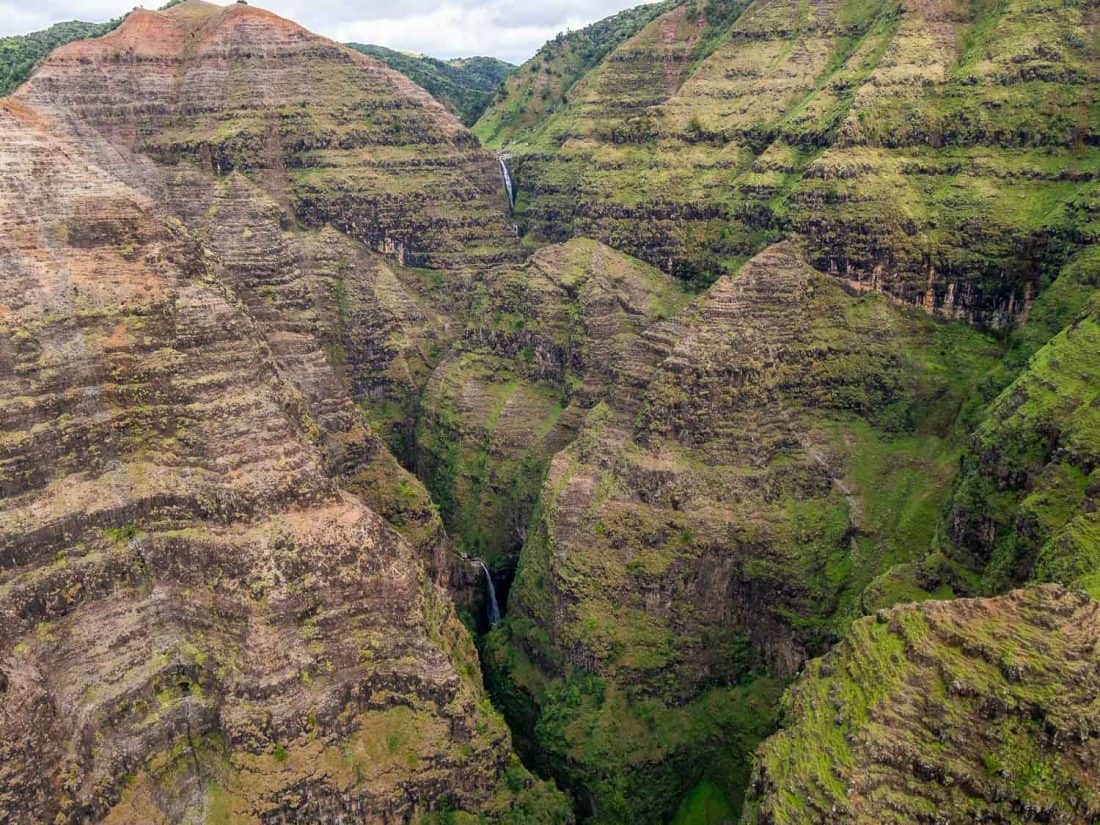 This merged into one of Kauai's highlights, the Waimea Canyon, known as the "Grand Canyon of the Pacific".
We'd visited Waimea by car a few days earlier and we loved flying down into the canyon that we'd only observed from distant viewpoints.
It was a more immersive experience and we could really appreciate its scale from above.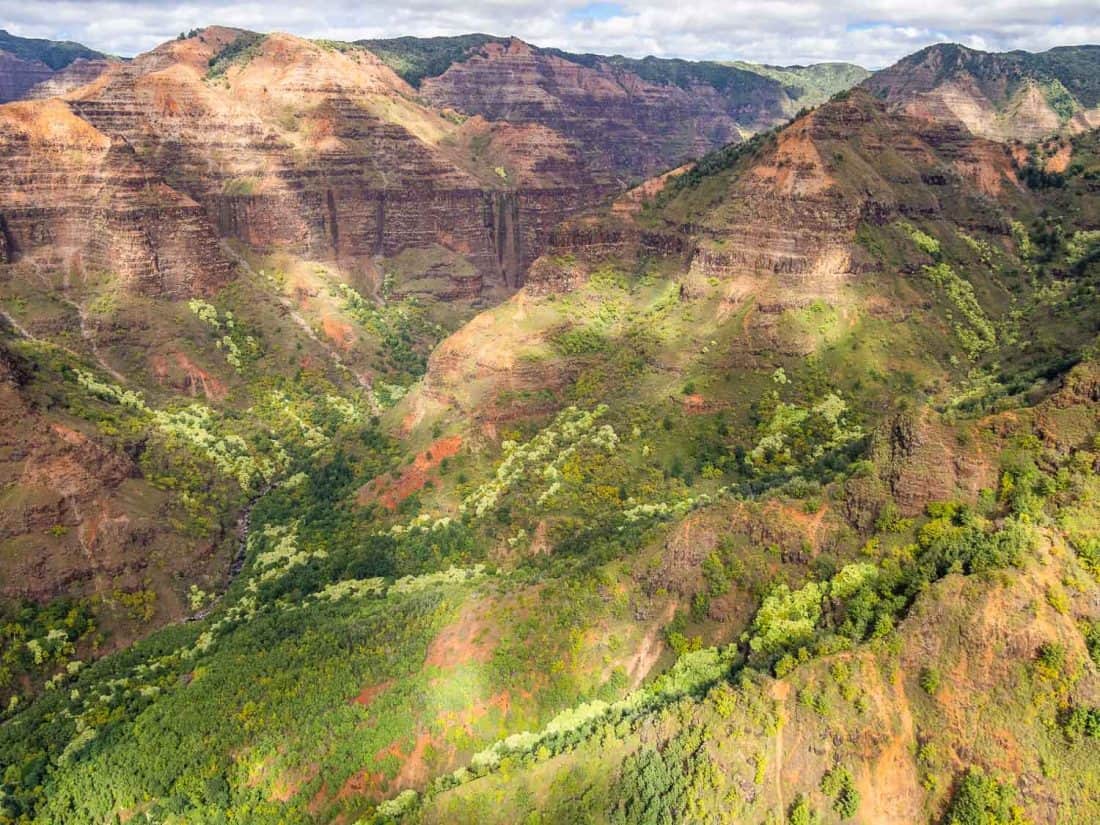 The canyon is immense at around 14 miles (23 km) long, 1 mile (1.6 km) wide, and up to 3,600 feet (1,100 metres) deep.
The orange and red earth contrasts with the bright green of clusters of trees growing down its rugged sides.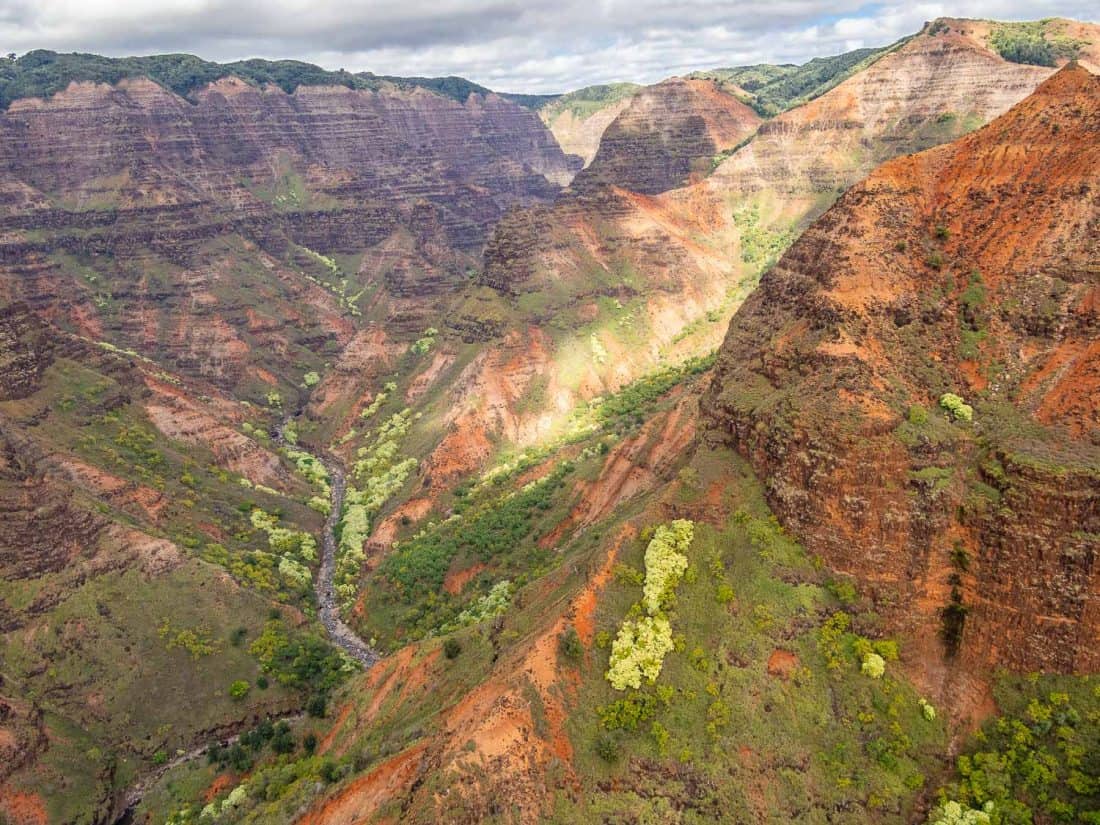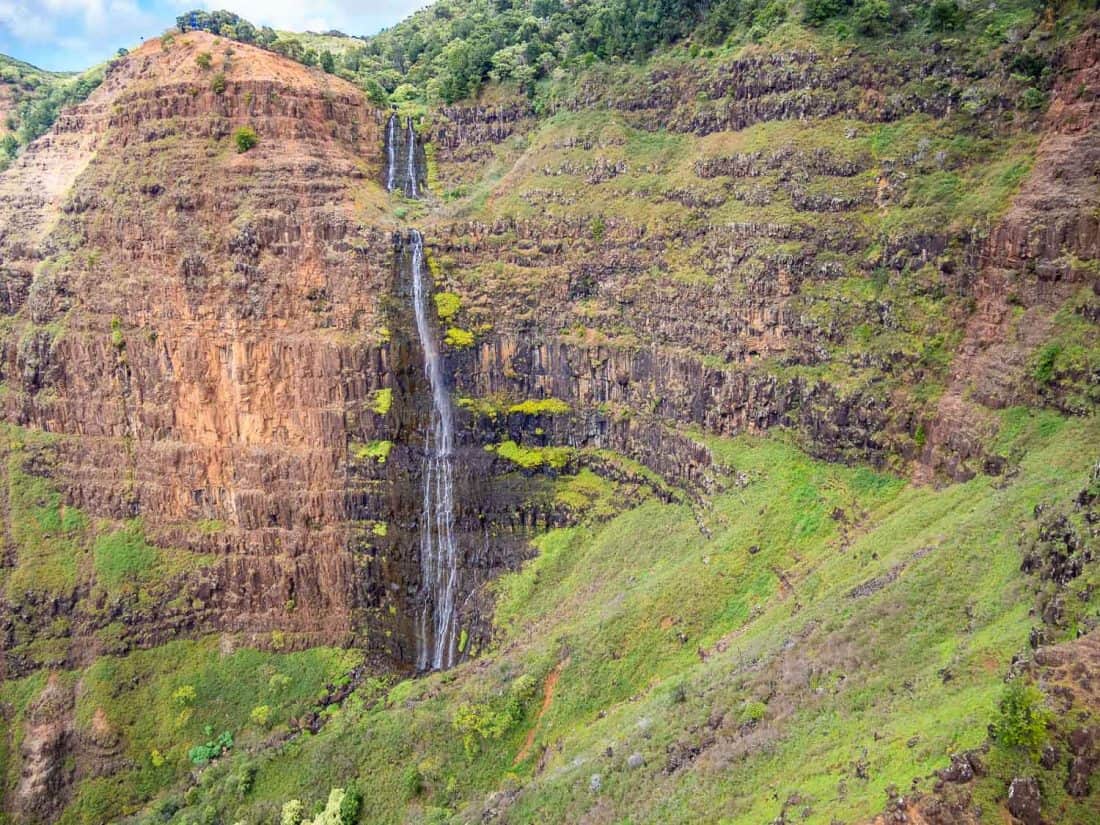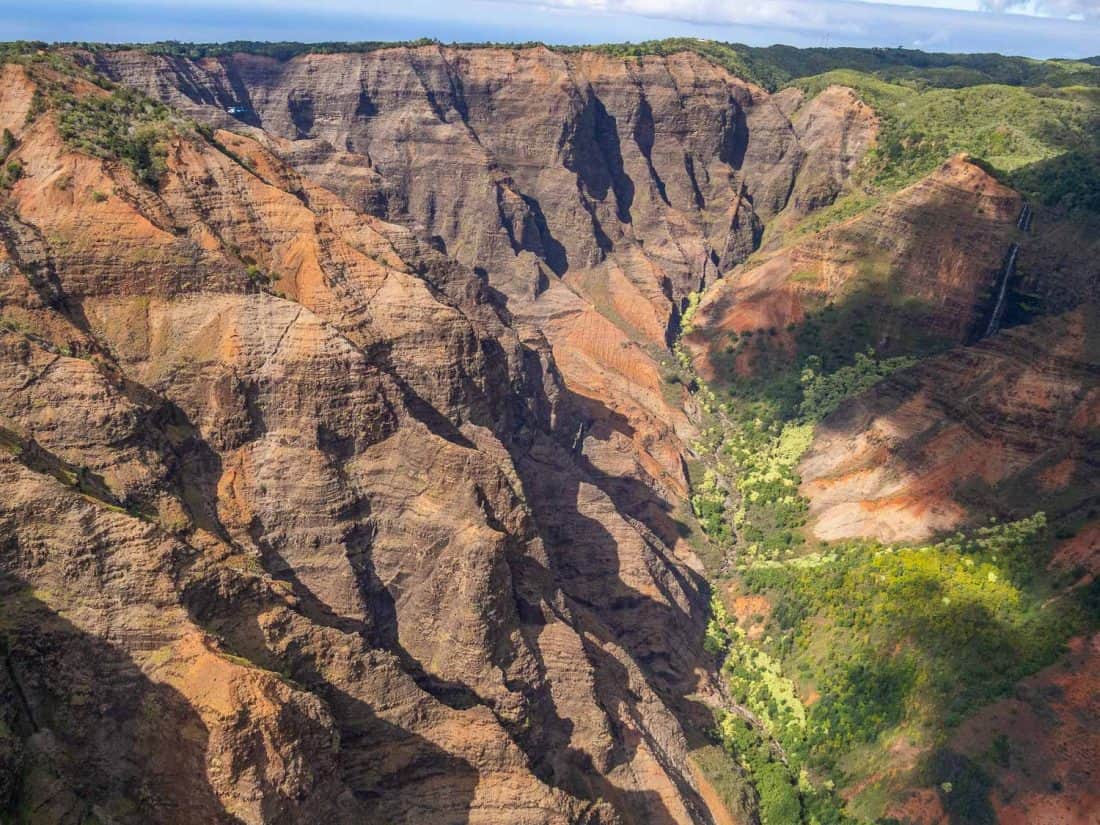 Na Pali Coast
Just when you think the scenery can't get any better, it does. The Na Pali coast is the most beautiful part of Kauai and is the highlight of the helicopter ride.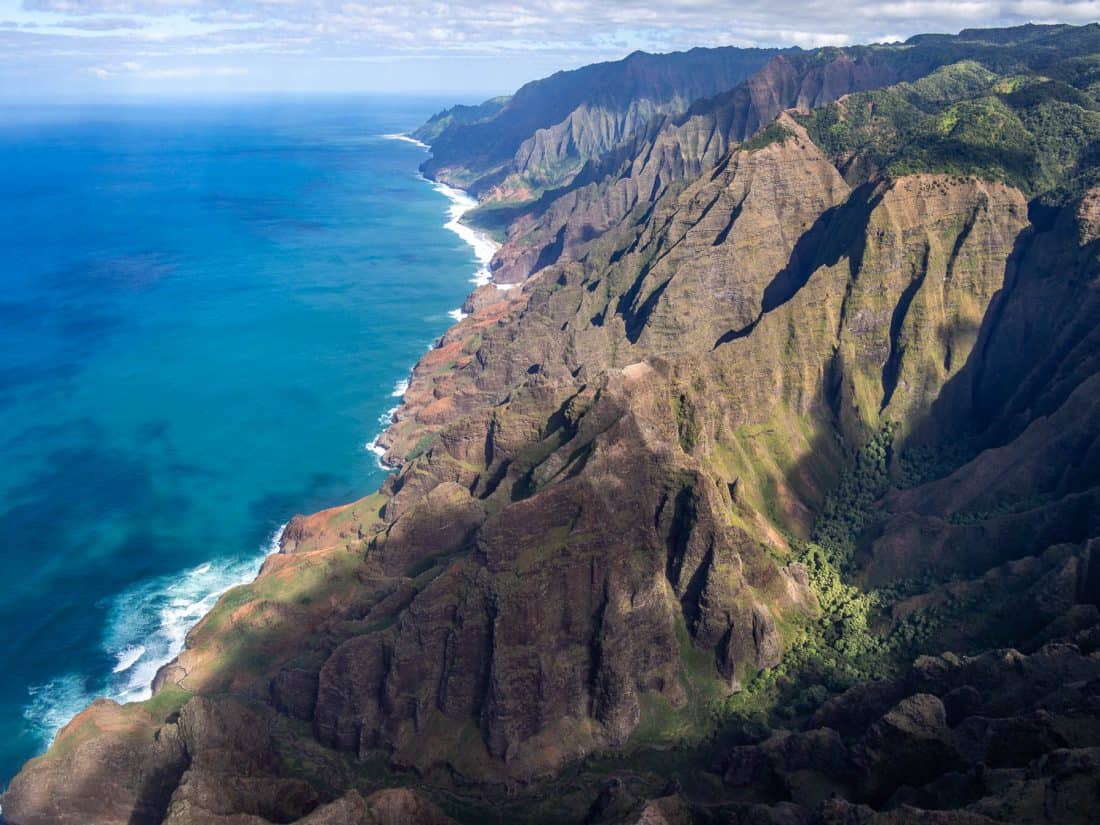 Na Pali means cliffs in Hawaiian and for 17 miles mammoth craggy sea cliffs soar above the ocean, some as much as 4,000 feet (1,200 m).
It's the most stunning coastline I've ever visited and seeing it from a helicopter is the best way to experience it.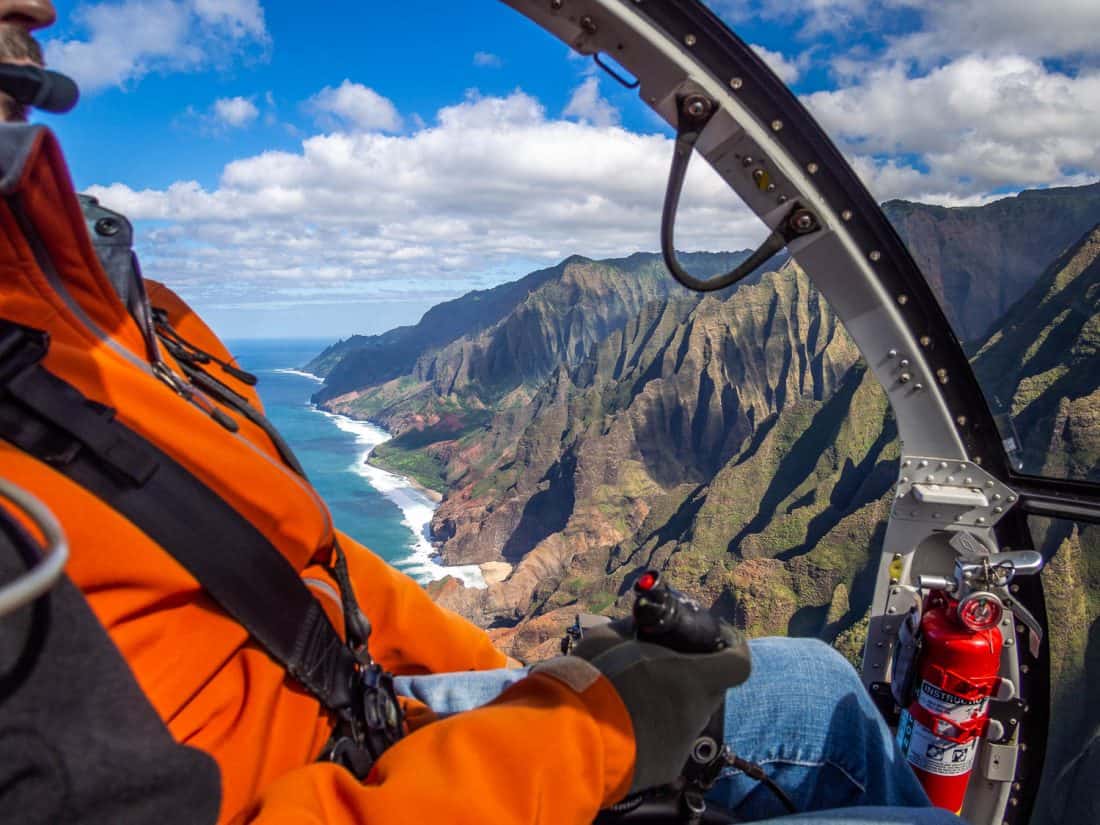 We also took a boat trip along the coast which was beautiful, and you can usually hike it along the strenuous Kalalau Trail, but the trail was closed when we visited after serious flooding and landslides. The trail has now reopened.
See Na Pali as many ways as you can, but by helicopter is something else.
We weaved in and out of the inlets, getting incredibly close to the massive jagged cliffs with their changing colours of greens and greys and oranges.
We soared above golden beaches and watched the enormous winter waves pound into the rocks.
It's a breathtaking place.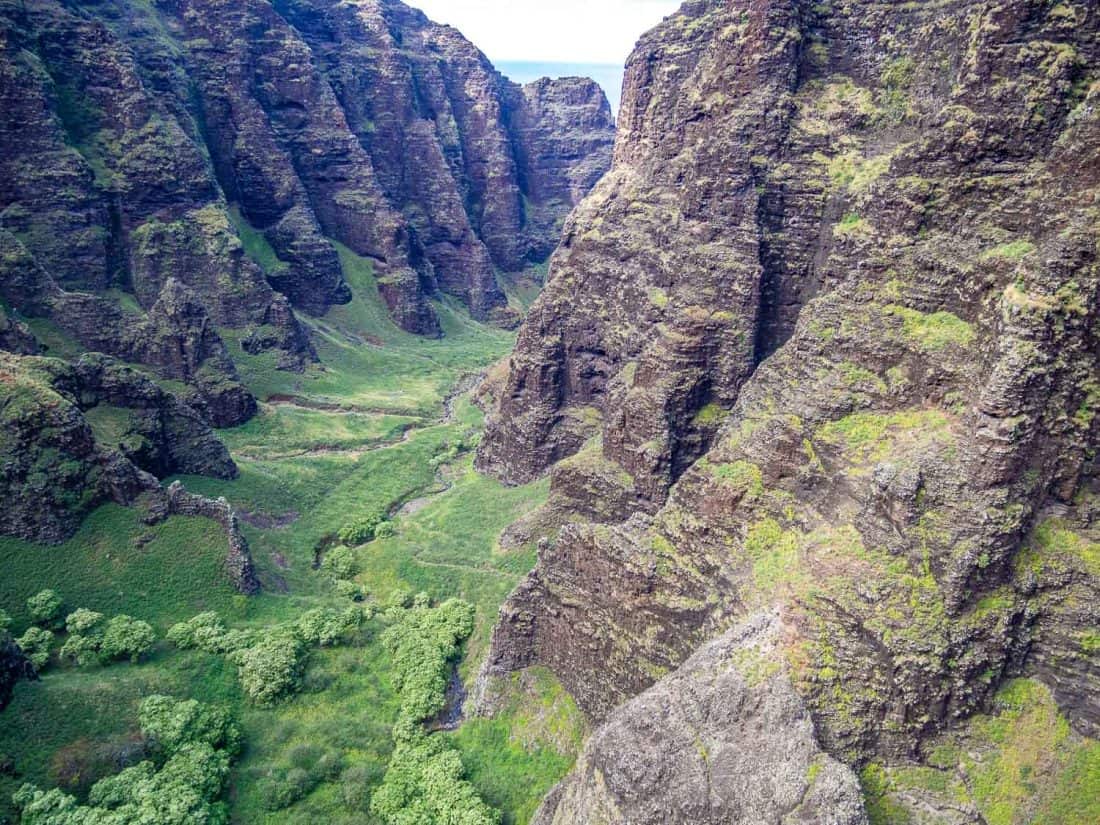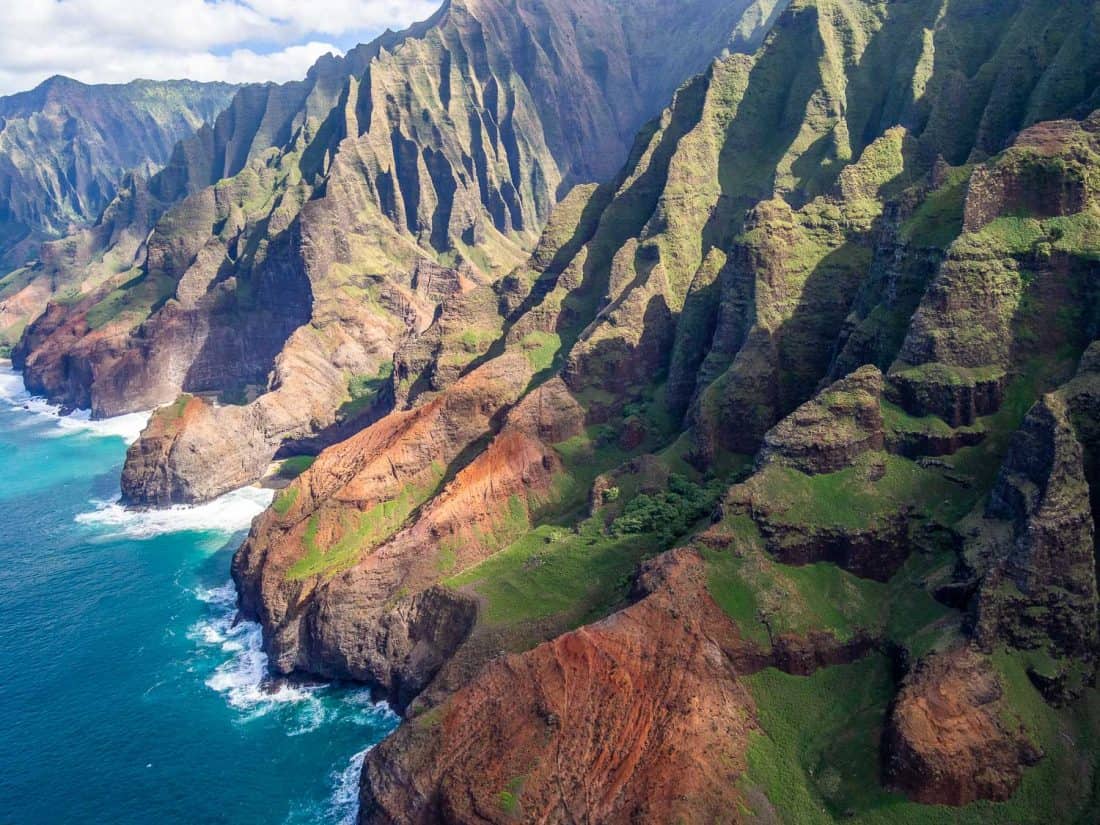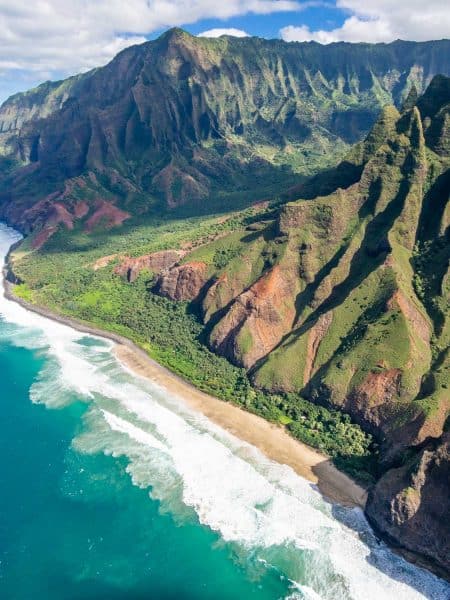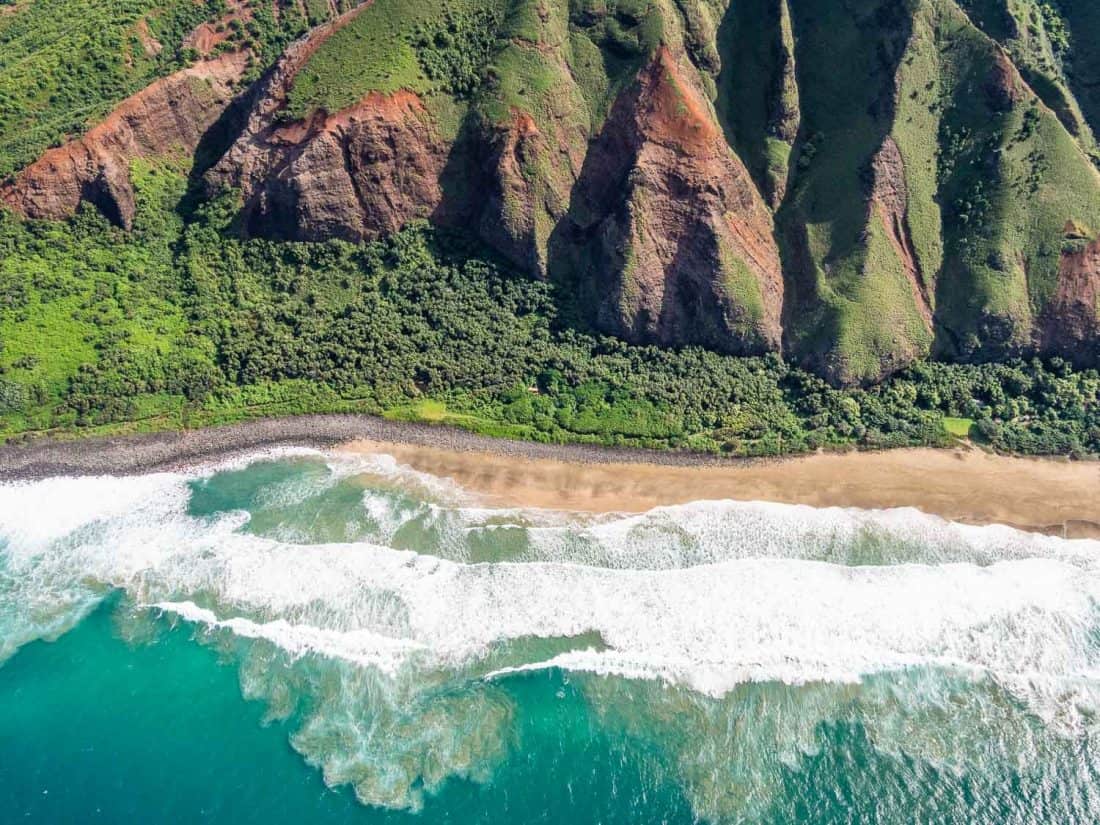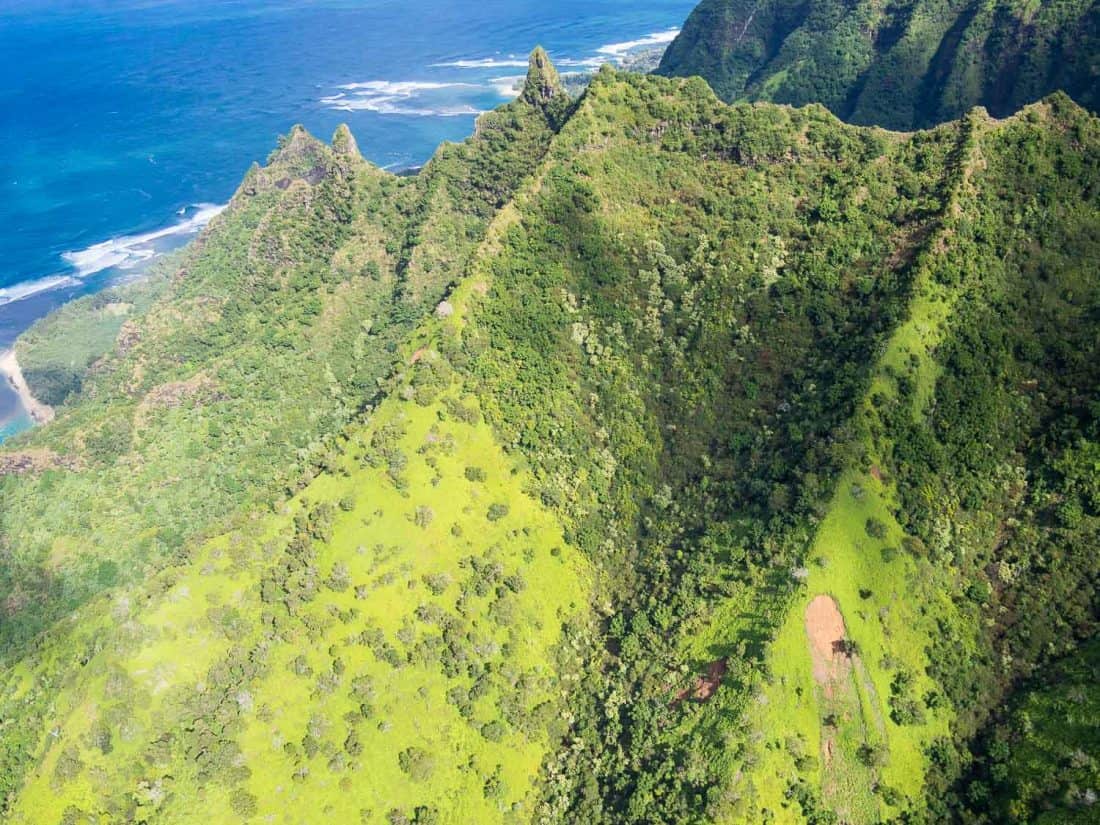 North Shore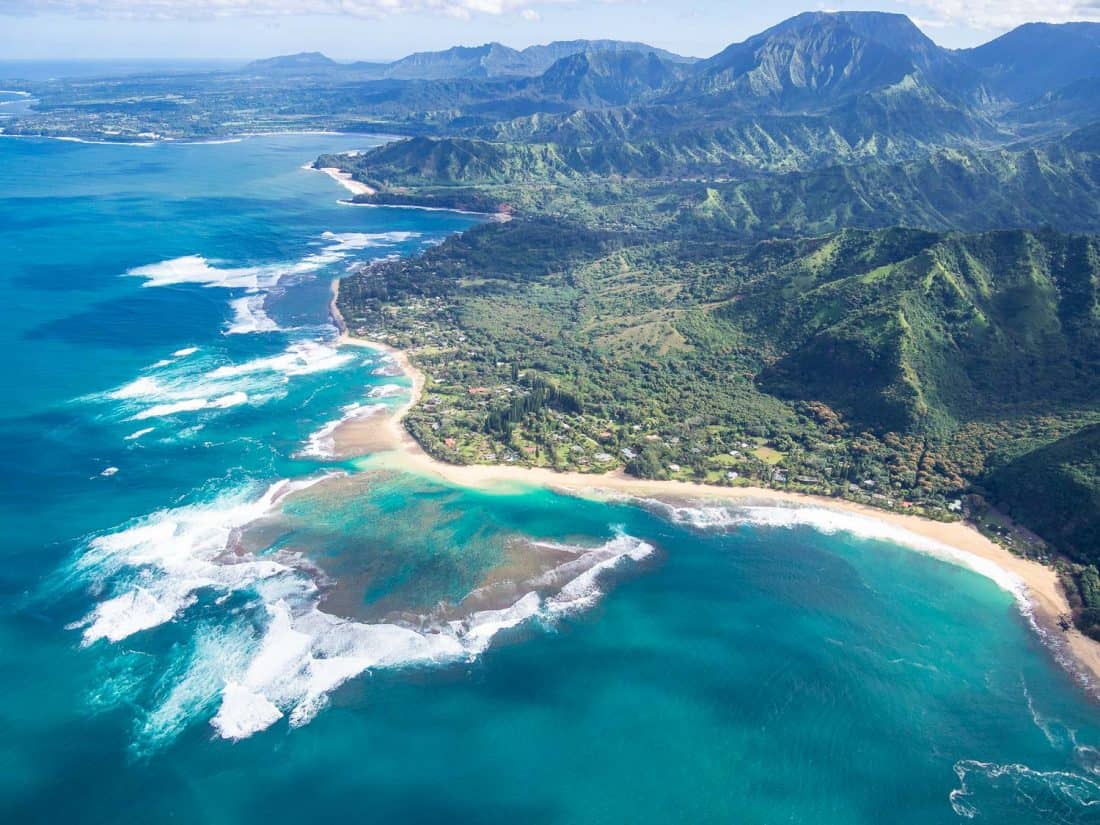 The whole of Kauai's North Shore is gorgeous.
Due to the landslides and road closures, we weren't able to travel by road beyond Hanalei, so it was wonderful to see the beaches from Ke'e to Hanalei from above. It just confirmed that we must come back.
Mount Waialeale
From the north coast we turned back inland to Mount Waialeale which rises to 5,243 feet (1,598 metres) at the centre of the island.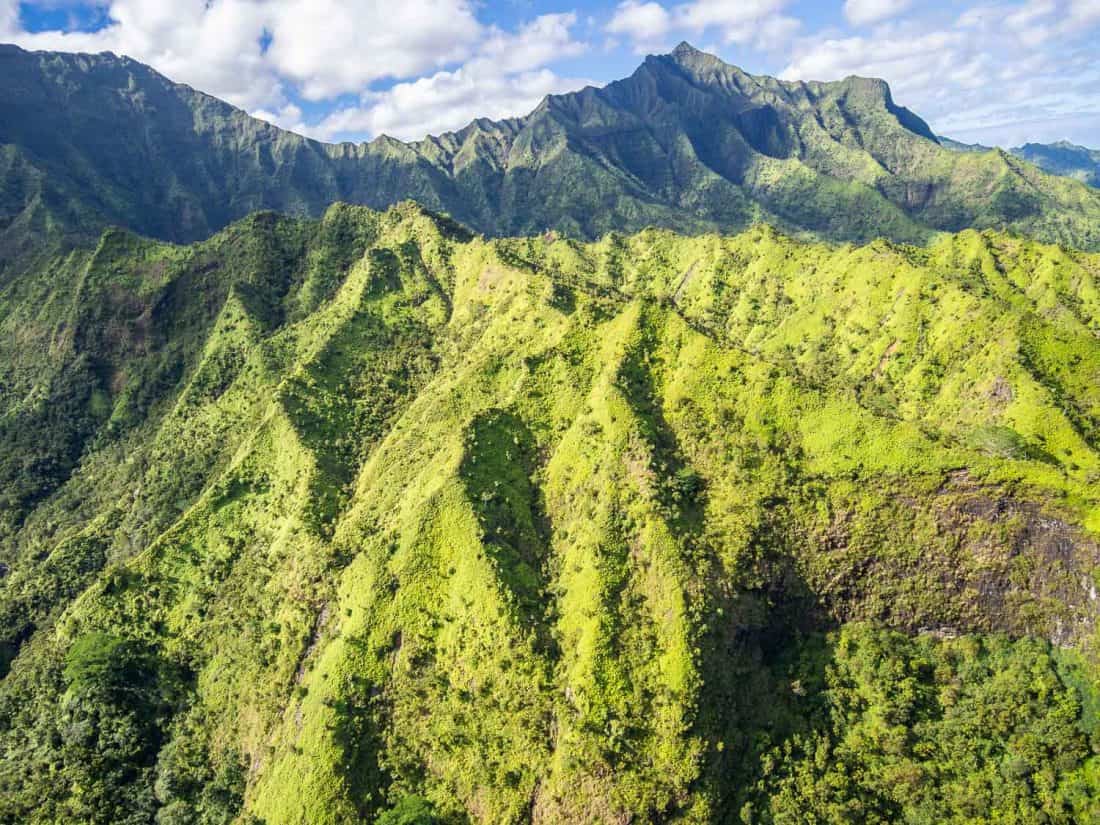 Most of Kauai is green, but Mount Waialeale turns the vibrancy slider up to max.
The summit is one of the wettest places on Earth, with an average of 450 inches (11,430 mm) of rain annually.
Every surface is covered in lush vegetation and waterfalls stream down its sides.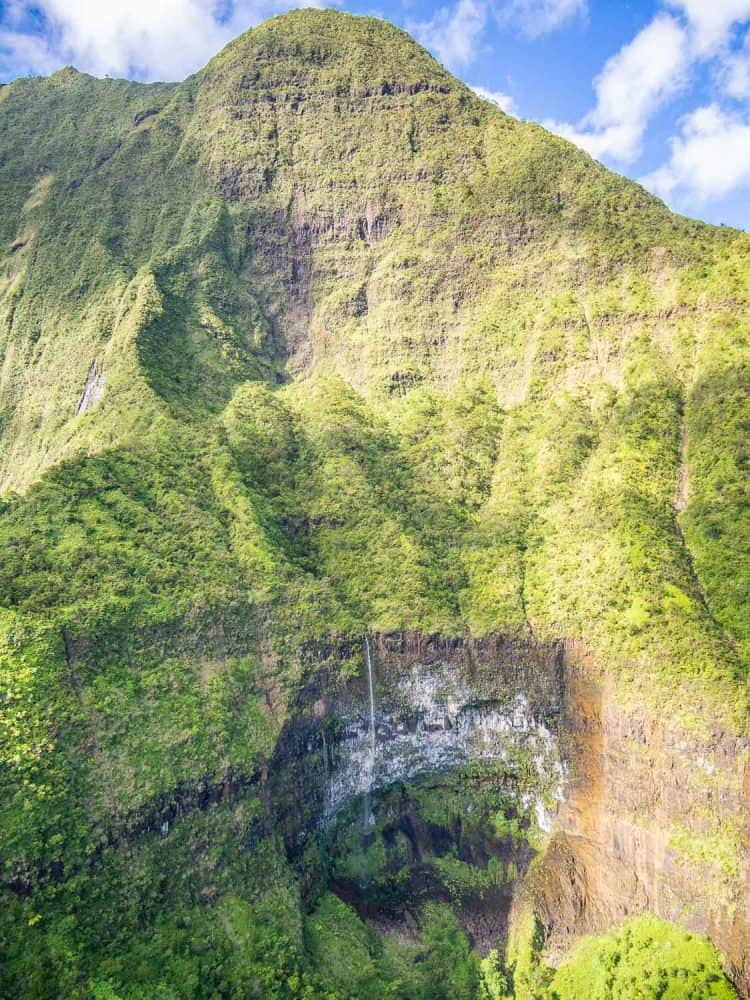 Wailua Falls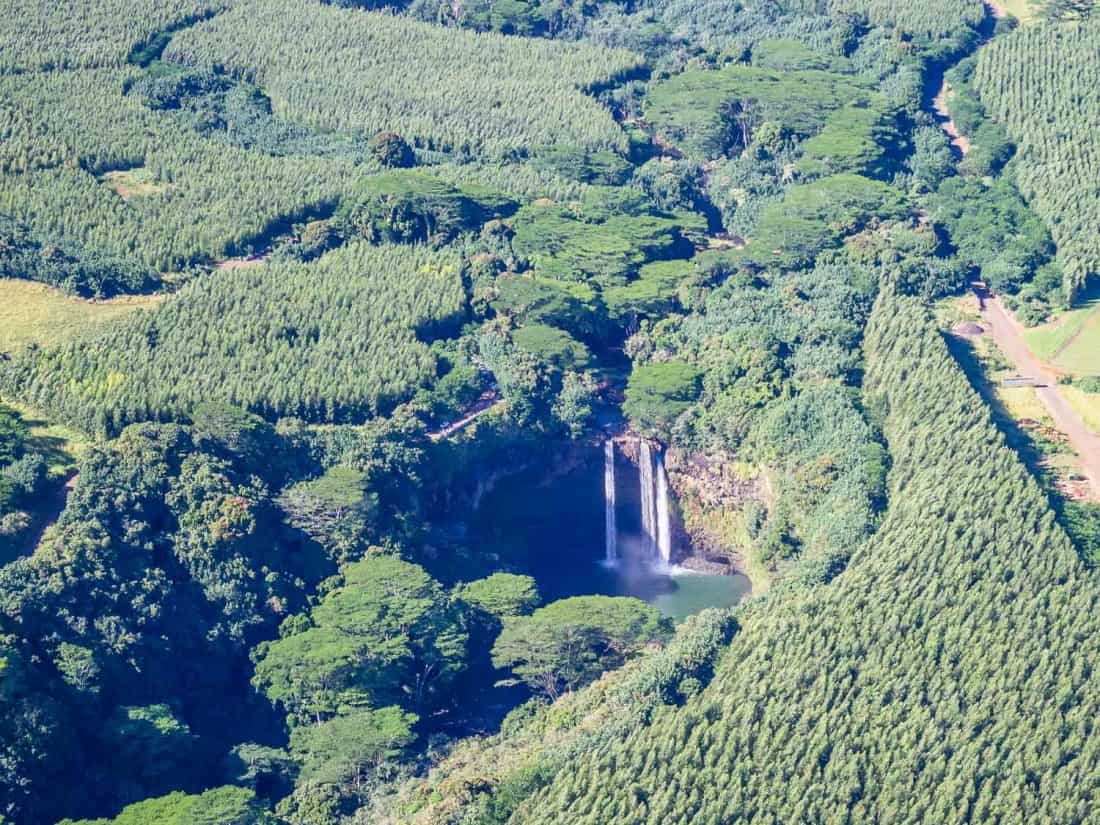 Finally, we returned to the eastern side of the island flying over farmland with cows that looked like teeny toys and the beautiful double waterfall of Wailua Falls, which we made sure we returned to by car later for a closer look.
Is a Doors Off Helicopter Tour on Kauai Worth It?
At over $300 per person, our Kauai helicopter tour was by far our most expensive activity in Hawaii, but it was also the most memorable and one of our favourite ever travel experiences.
The scenery is truly awe-inspiring and the diversity of landscapes makes this the best Hawaiian island to take a helicopter trip on.
From the farmland of the south coast to the cliffs of the North Shore, the dry red Waimea Canyon to the ultra-wet Mount Waialeale, it's all beautiful.
Are we glad we got over our fear and did the doors off helicopter tour? Absolutely!
The doors off experience wasn't as scary or cold as we feared and it made for a more adventurous, immersive, and photo-friendly experience. 60 minutes flew by and we could happily have stayed up longer.
I highly recommend saving up for a helicopter trip on Kauai. Hawaii is a long way from anywhere so while you're here you might as well make the most of it.
If you really can't afford it, there are plenty of other things to do in Kauai, most of which cost nothing.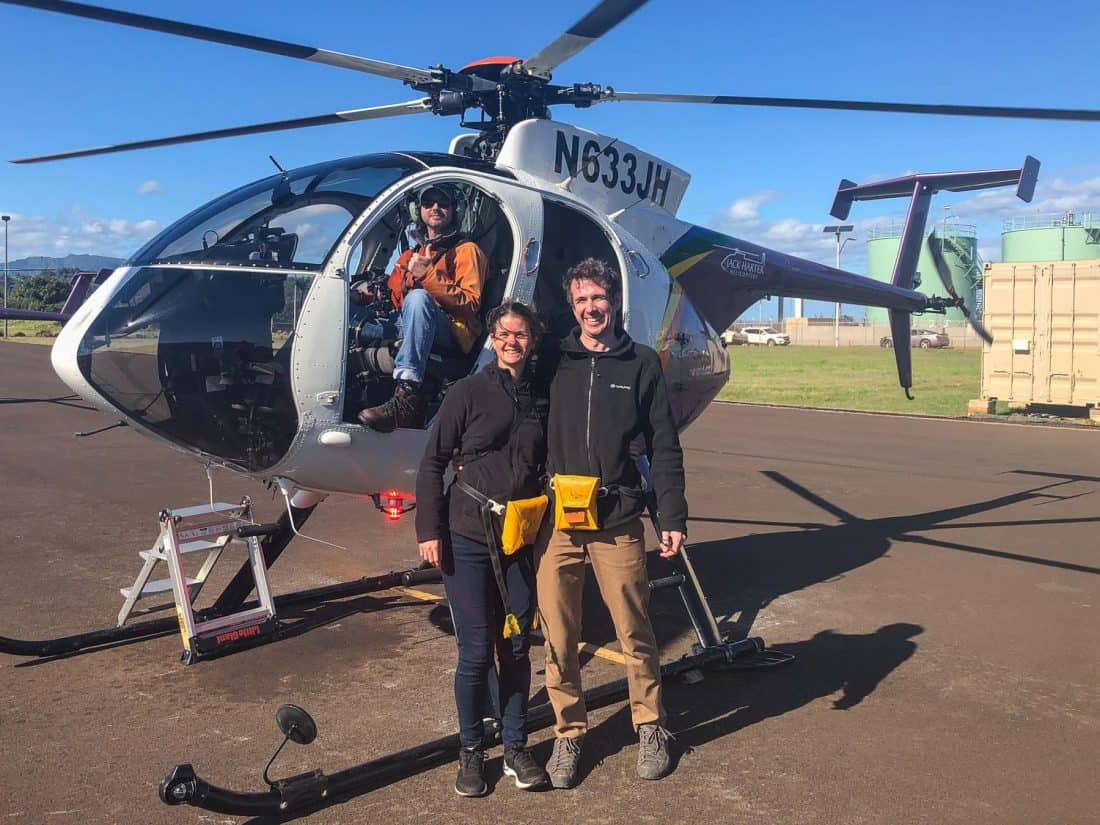 The Best Time of Day for a Helicopter Tour of Kauai
I agonised over the best time of day for our helicopter trip.
The morning is often recommended as it's usually calmer and less cloudy (especially in the winter when we visited), but the afternoon is better for light on the Na Pali coast as it's in shadow in the morning, as can be the canyons.
We chose the 2 pm trip and it turned out to be the right decision as the Na Pali coast looked stunning and the afternoon is warmer. It was actually cloudy the morning of our trip and brightened up in the afternoon, so it worked out well.
Overall I think you'll have an amazing time whenever you go. The weather is so changeable that every trip is different and has its pros and cons.
Some angles on our trip had beautiful lighting while at other times we were shooting into the sun. This will be the case at any time of day.
I recommend scheduling your ride near the beginning of your trip as they can be cancelled due to weather and you'll want time to reschedule.
Doors Off Helicopter Kauai Tips
Wear warm clothes — I wore jeans, t-shirt, cardigan, fleece, and running shoes and I was perfectly comfortable (and I feel the cold).
Leave any loose items in your car including hats and bags. For me this included my camera bag and lens cap.
Sunglasses are OK to wear, but I left mine behind as I was taking photos and didn't want to take them off.
Tie back long hair.
They have plastic ties you can use to secure your phone to your wrist.
For photography, a wide angle lens is best, use continuous shooting mode, and aim for a shutter speed of at least 1/1000 to avoid motion blur.
I often get travel sick, but I didn't have a problem on this flight. If you are worried, take medication like Dramamine an hour in advance.
Our Kauai Helicopter Trip Details
Jack Harter Helicopter Tour
A 60-65 minute doors off helicopter trip on a Hughes 500 with Jack Harter costs $359 per person.
We booked on the Jack Harter website, but it's rather outdated and we had to send credit card details to complete the reservation by email (phone or fax(!) is also fine). You can cancel up to 24 hours in advance.
They offer flights every hour or so throughout the day from 8.30am to 3.15pm. Our trip was at 2 pm in January. You need to check-in 45 minutes before your departure at their office at 4231 Ahukini Road in Lihue.
We were staying in Poipu just a 25-minute drive away. See my tips on where to stay in Kauai for a comparison of the different areas and resort reviews.
Other Helicopter Tours in Kauai
A more affordable doors off helicopter tour on Kauai is the Doors Off Helicopter Tour with Air Kauai. This is easier to book than Jack Harter as you can book instantly via Viator. They cost $318 per person, but their helicopters seat more people (six vs four).
Another option is Moana Loa, which is the same price as Jack Harter and their helicopters only seat 2-3 people.
They all get similarly excellent reviews, so I'm sure you'll have an amazing experience whichever you choose.
A Cheaper Alternative: Scenic Flights Over Kauai
If you'd prefer to take a small plane trip over Kauai instead of a helicopter, you can also save money.
The Wings Over Kauai 65-minute Grande Deluxe air tour costs $159 so is less than half the price of a helicopter trip of a similar length.
The planes accommodate 3-6 people and have windows, so it won't be as easy to get good photos as on the doors-off helicopters. They also don't fly as low as the helicopters, but the views are still stunning.
Wings Over Kauai have superb reviews with many people reporting the planes are quieter and smoother than helicopters and better for those who are prone to motion sickness. Another advantage is that every seat is a window seat.
As much as we loved our doors off helicopter, a plane ride is an excellent budget option for seeing Kauai from above. We'll have to try it next time!
Check availability for the Wings Over Kauai plane trip here.
More Hawaii Posts
Kauai Tips
Other Hawaii Tips
Liked this post? Pin it!