This page contains affiliate links. Please read our disclosure for more info.
Admiring Hawaii from above gives you a new perspective on these beautiful islands. Our Kauai helicopter trip was so spectacular that we couldn't resist taking another helicopter ride over Oahu.
Although Oahu is a much more populated island (home to the capital Honolulu and the popular beach resort, Waikiki), the natural scenery is still stunning.
We flew over volcanic craters, jagged green mountains, hidden waterfalls, and golden beaches.
The manmade attractions were also fascinating—the high-rise hotels of Waikiki, endless Dole pineapple fields, and the iconic Pearl Harbor and USS Arizona Memorial.
In this post, I'll share what to expect on an Oahu helicopter tour, which one you should choose (doors on or off?), and everything else you need to know.
Contents
Choosing a Honolulu Helicopter Tour
Various companies offer Oahu helicopter rides and most of them take off from Honolulu Airport, a 20-30 minute drive from Waikiki Beach (where you'll likely be staying).
We chose to go with Rainbow Helicopters because they have excellent reviews and offer the option to ride with doors on or off (for the same price).
While it might seem scary to ride doors off (we were certainly nervous our first time on our Kauai doors-off helicopter tour), I highly recommend it.
The views are even more incredible without glass between you and the environment and it's by far the best option for photographers.
If you are in a group that can't agree, it is possible to have the doors on in the front row (next to the pilot) and off in the back row.
Rainbow Helicopters offer flights from 30 to 60 minutes. Trust me, go for the 60-minute option, which loops around almost the entire island. It goes fast and you will not want the flight to end.
We took this exact 60-minute Oahu Helicopter Tour with Rainbow Helicopters and loved it.
Seating in the Helicopter
The helicopters seat six people—two people in the front (next to the pilot) and four in the back. This is definitely cosy and luckily, there were only four of us on our flight (one in the front and three in the back).
If you are with one other person, the likelihood is that only one of you will be seated next to the door.
You also have no choice on which side of the helicopter you sit, and the views are better on the left side as you travel counterclockwise around the island. Unfortunately, we were on the right side (in the back), facing out to the ocean.
We were worried at first, and there were some photo opportunities I missed, but the pilot did a good job of circling around at the major sights so we all got a good view.
If this bothers you, you can book a private tour instead (choose your date then select the private option). I would definitely consider this for next time, but it is a splurge.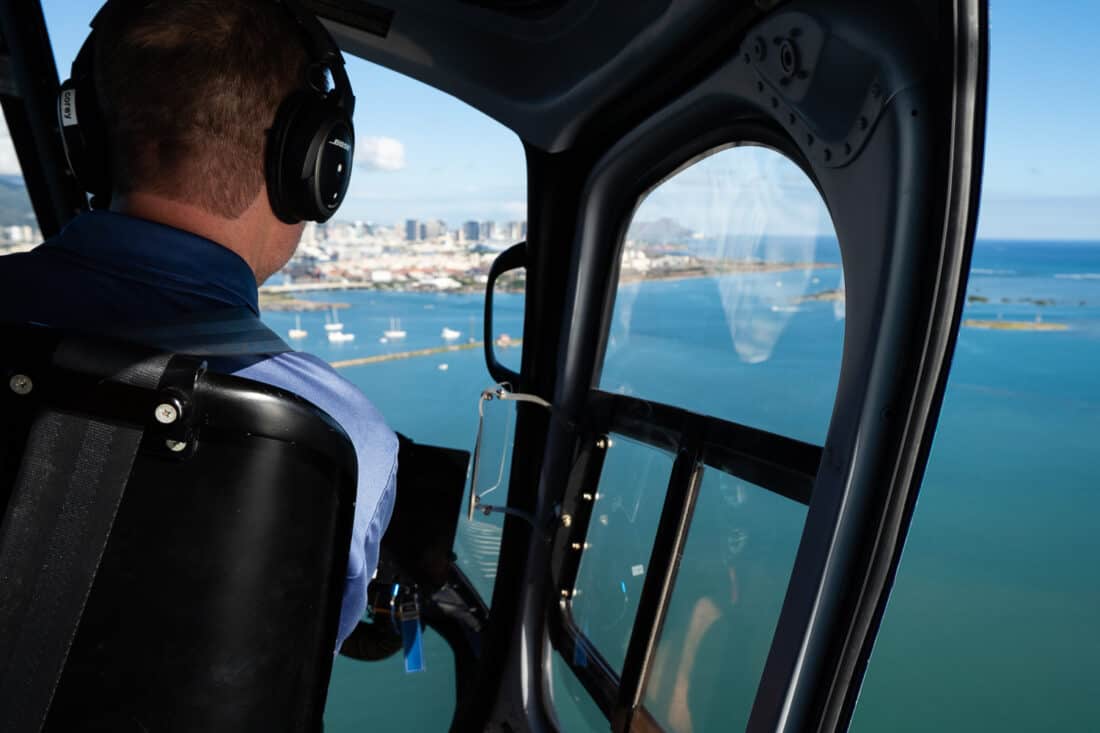 What to Expect on a Doors Off Helicopter Oahu Tour
Getting Onboard
Rainbow Helicopters require you to check in one hour before your flight, so we arrived at 4pm for our 5pm flight. We were given comprehensive instructions on exactly where to park and go.
When checking in, they discreetly weigh you (this determines where you'll be seated), and then take you to a small room where you watch a safety video.
You must leave all your belongings in a drawer in this room—only phones, cameras (no bags), and sunglasses are allowed on the flight. I share more tips on preparing for the trip below.
You'll be given a lifejacket, which is worn around your waist, a neck case for your phone, and, if you are sitting next to an open door, goggles to protect your eyes.
There are restrooms in this building.
With the one-hour check-in, we were worried we'd end up waiting around, but after our briefing, we were taken by golf cart to the helicopter and ended up flying 30 minutes early.
Before you get in the helicopter, the crew take photos of you in front of it.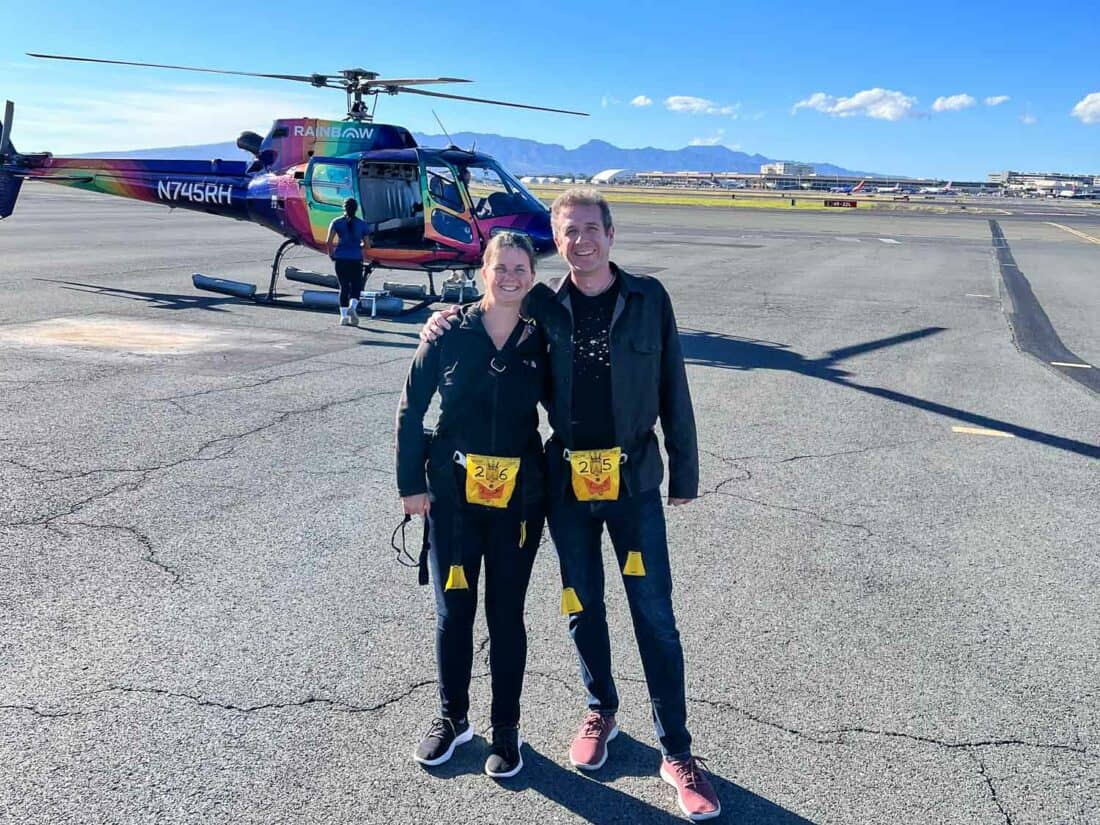 Take Off
The crew helped us into the helicopter and buckled us up in our robust harnesses.
We had two-way headphones, which enabled us to talk to our pilot and hear his commentary as we flew over the island.
Soon we took off gracefully straight up. It was unnerving at first to be next to an open door, but I soon got used to it and began enjoying the views below.
We headed towards Waikiki over the calm Ke'ehi Lagoon near Sand Island, and almost immediately, I saw a turtle swimming below!
We also flew over the tiny Mokauea Island, home to Oahu's last Hawaiian fishing village.
Waikiki and Diamond Head
Soon we reached the towers of Waikiki, where numerous hotels overlook its gorgeous (and crowded) beach.
Next was Diamond Head, one of Oahu's most iconic sights. Seen from Waikiki, it looks like a mountain, but from above, you can see that it's a volcanic crater.
The day before, we'd hiked to the top of Diamond Head, which is one of the most popular things to do in Oahu, and it was fascinating to see it from a different perspective.
We hadn't realised that the visitor centre (where we started the walk) was right in the middle of the crater.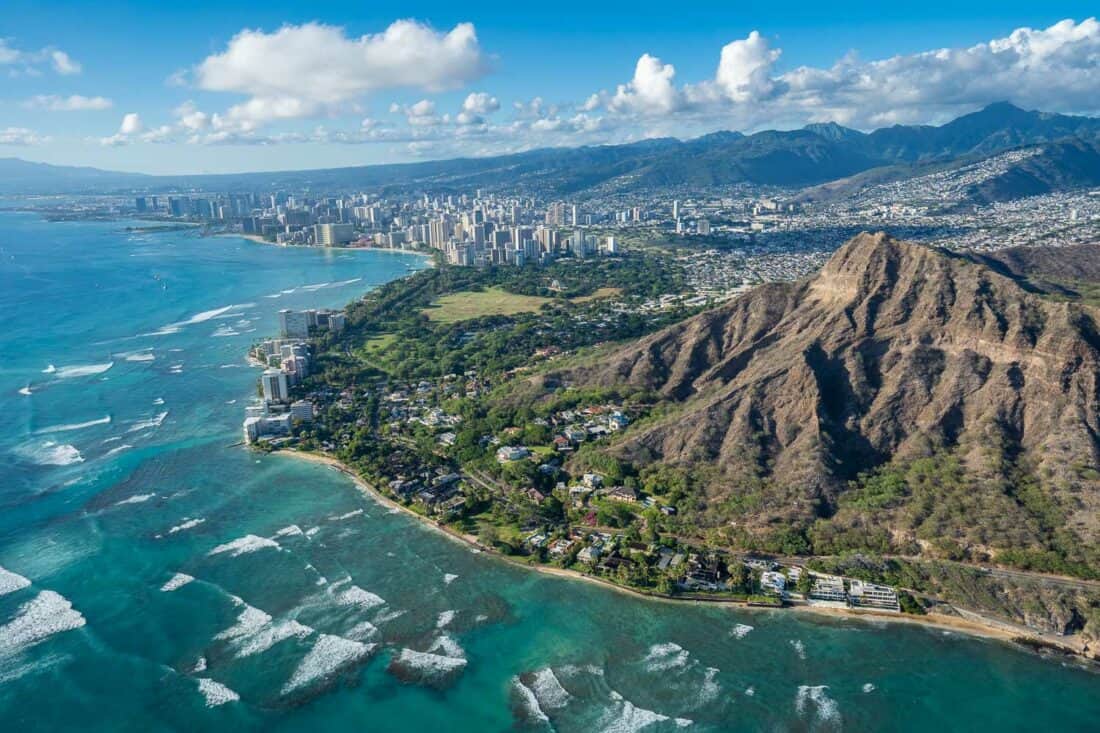 Southeast Coast of Oahu
Continuing on the southeast coast, we reached another impressive volcanic crater, Koko Crater.
It overlooks Hanauma Bay, where we enjoyed some of the best snorkelling on Oahu (note you must book 48 hours in advance). Again, it was fascinating to see some of our favourite spots from a new perspective.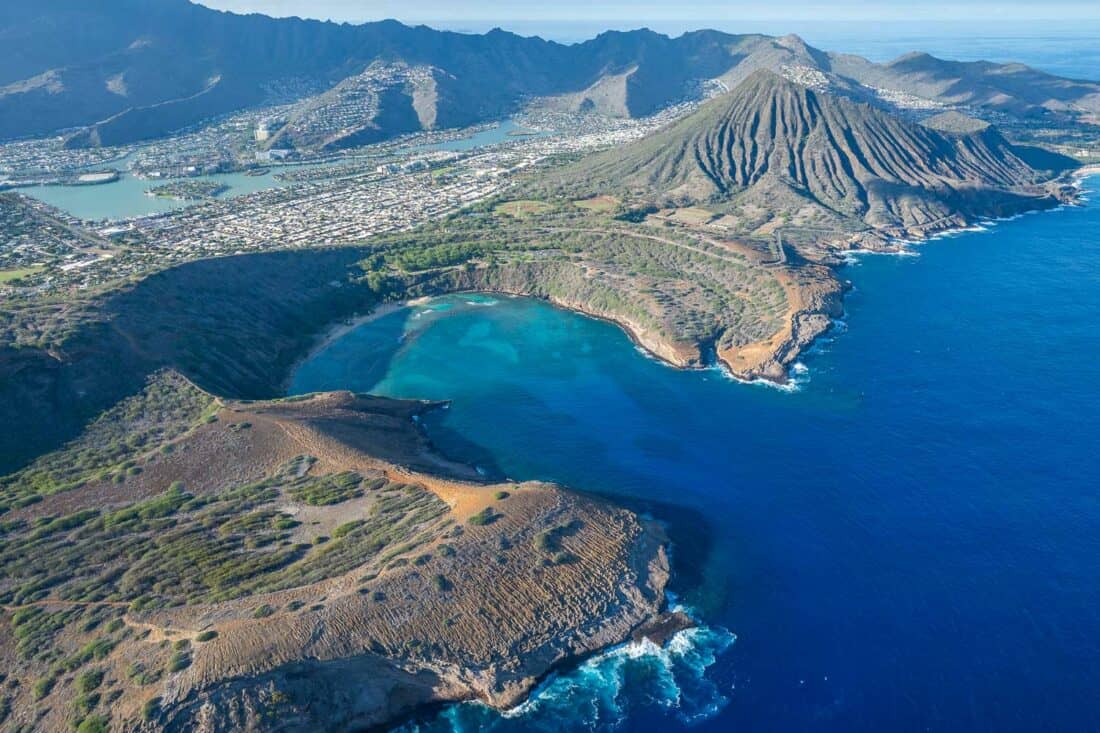 We'd driven along this arid coast just that morning and recognised places like the Lanai Lookout, Halona Blowhole, and Sandy Beach.
See our detailed Oahu itinerary for more tips.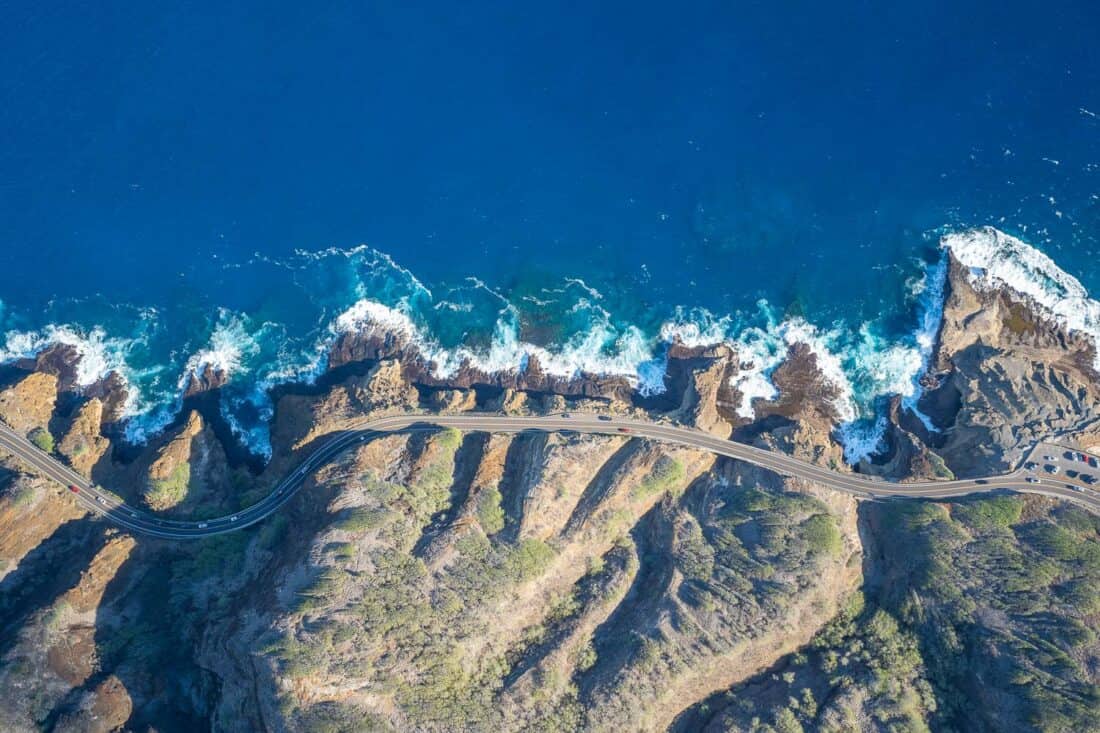 At the very end of the south coast is the Makapu'u Point Lighthouse, where we'd walked for stunning views.
It was even better from above looking down at the uninhabited islets, Mānana Island (also known as Rabbit Island) and Kāohikaipu Island.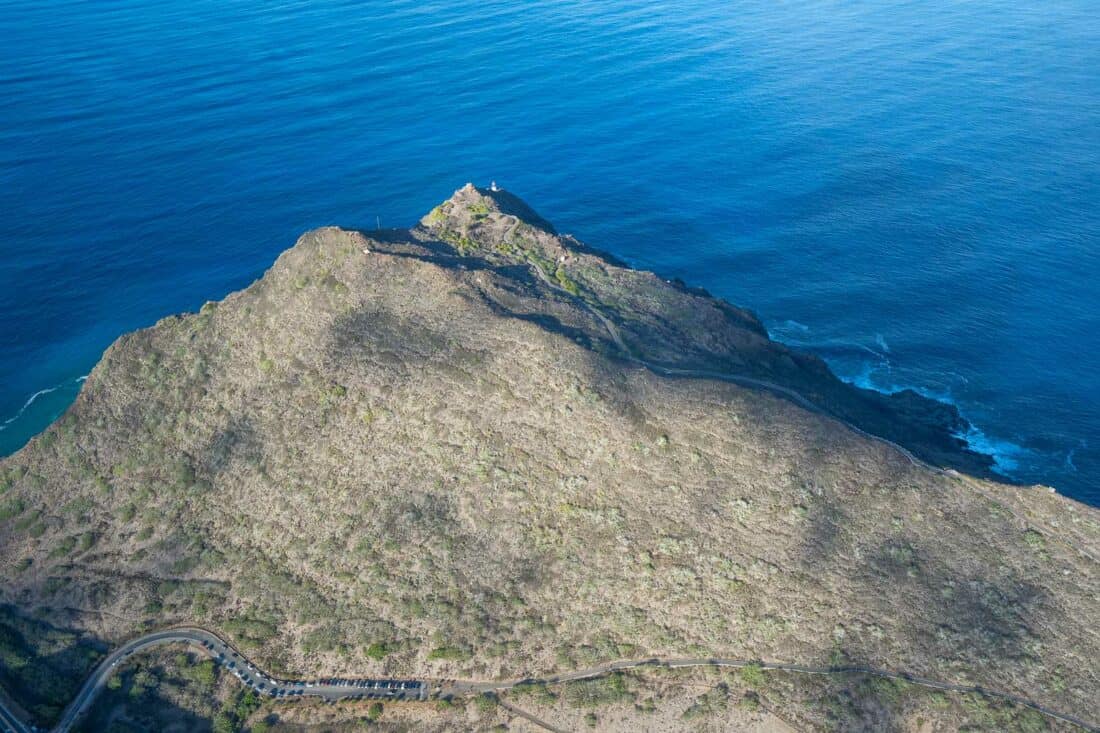 Windward Coast
Turning the corner up the Windward Coast, the scenery got even more spectacular.
This side of the island is lush and green, with the dramatic Koʻolau mountain range running the length of the east coast.
First, we flew over the long white stretch of Waimānalo Beach, one of my favourite beaches on Oahu, with its gorgeous mountain backdrop.
Olomana or the Three Peaks overlook Kailua town. There's a challenging trail you can do along these mountains.
We also flew over the Stairway to Heaven trail that leads up a narrow ridge. It's now closed as it's so dangerous, and it certainly did look scary.
The Kaneohe Sandbar looks stunning from above.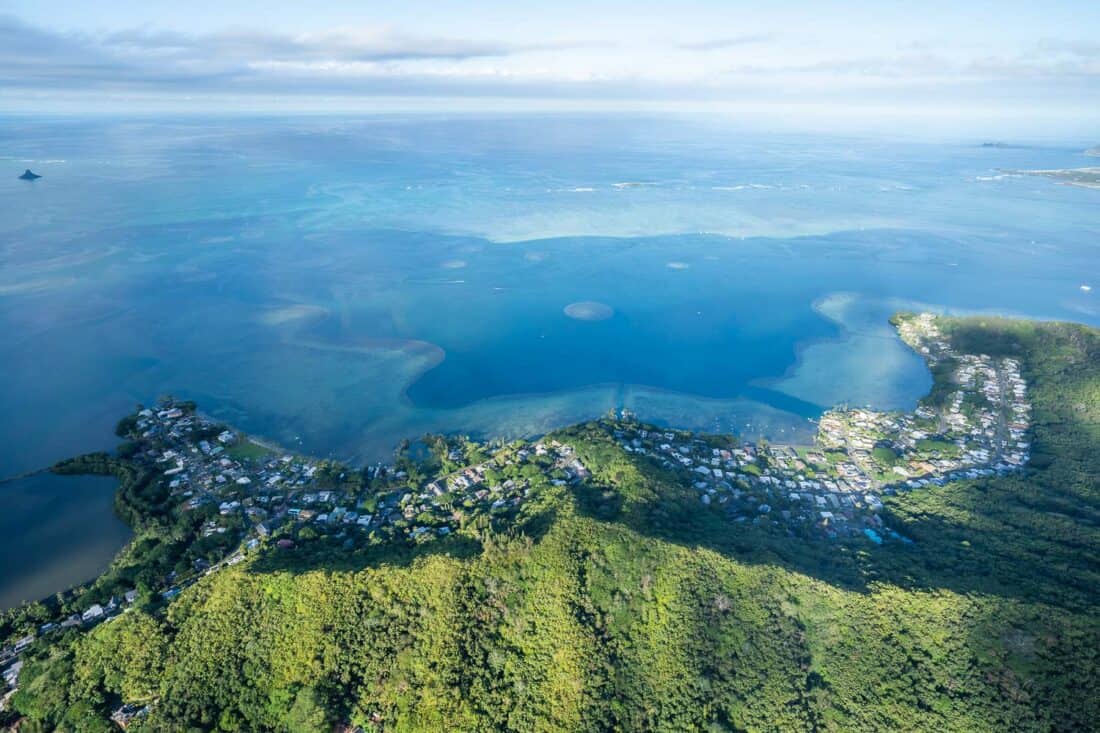 As does Mokoli'i Island (known as Chinaman's Hat) off the coast of the Kualoa Regional Park.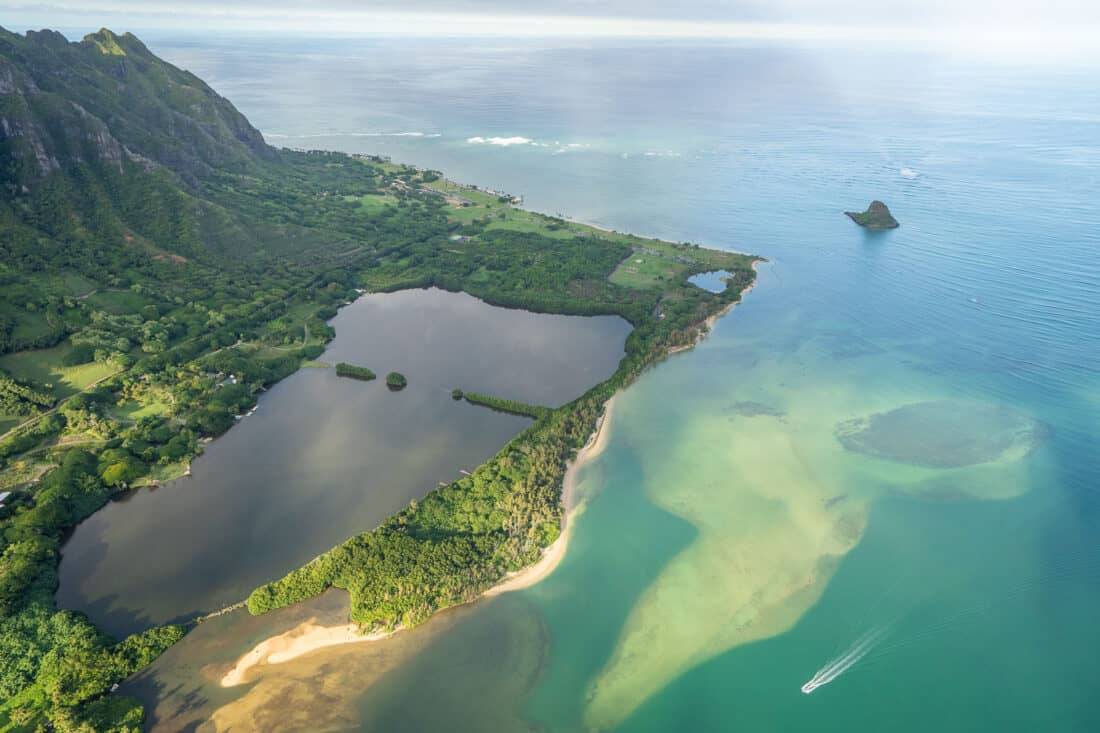 We got up close to the jagged mountains and flew over the famous Kualoa Ranch, where many movies, including Jurassic Park, were filmed.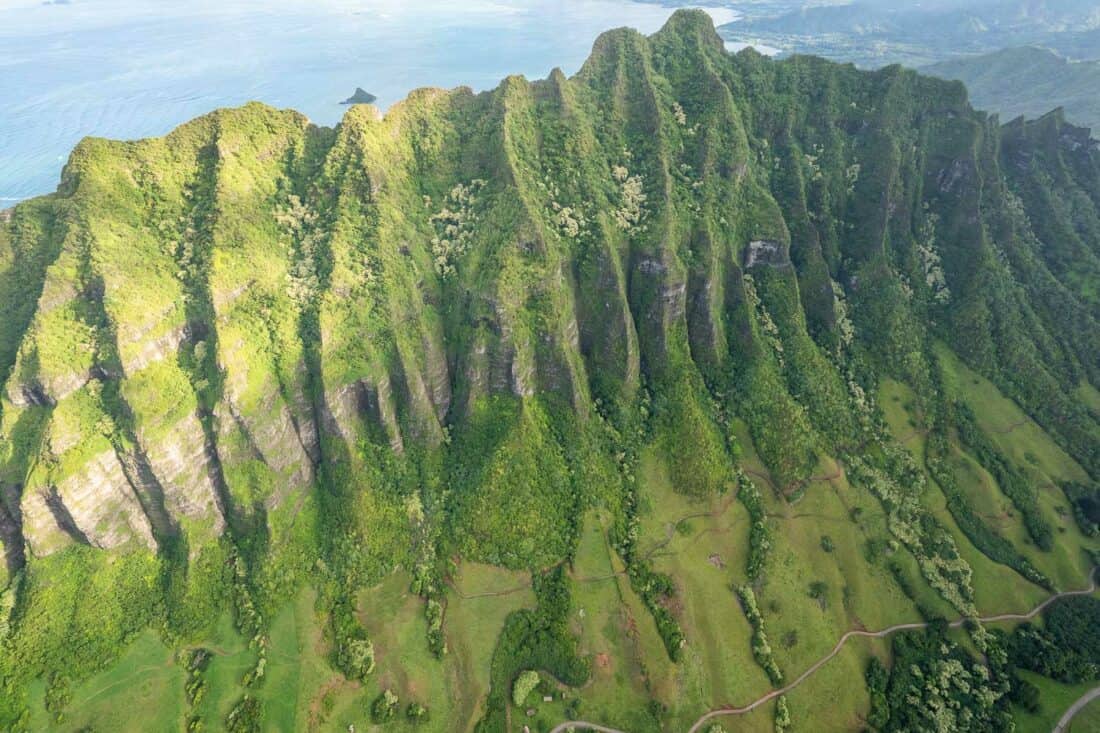 Further north, the waves got bigger and we passed more verdant peaks.
One of the best sights on an Oahu helicopter tour is Sacred Falls.
These tall waterfalls in a lush valley can only be seen from above. The hiking trail to the falls was closed after eight people were killed by falling rocks in 1999.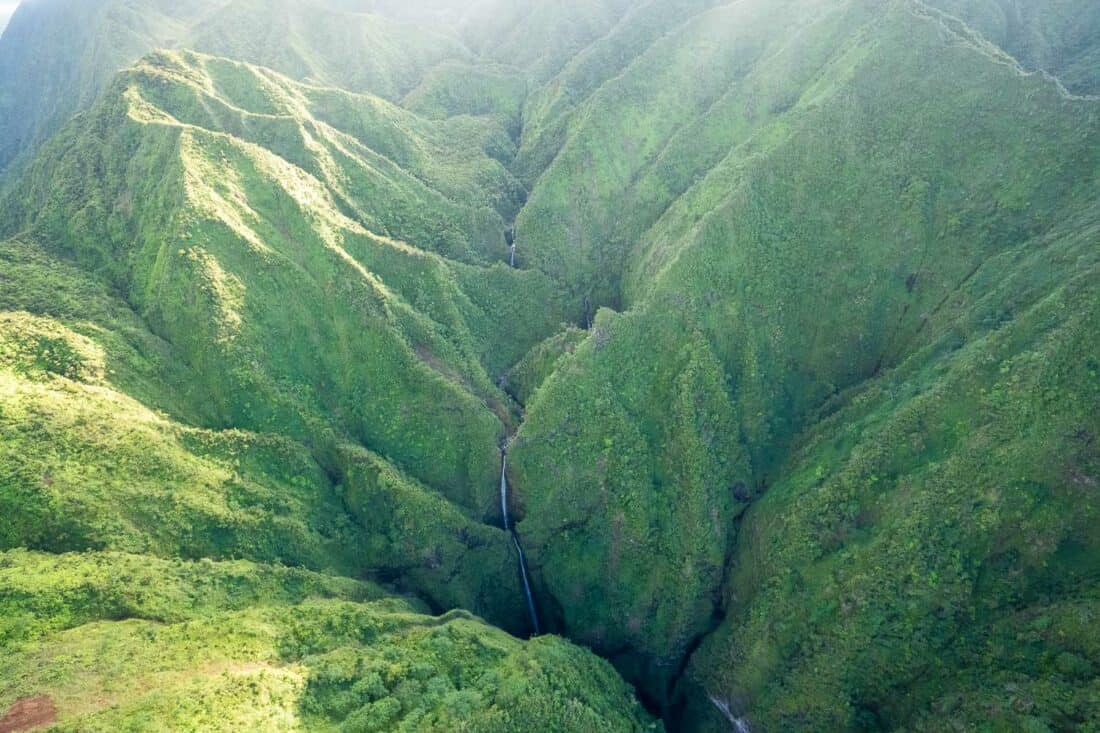 North Shore
The North Shore is a quieter, less developed part of Oahu that's famous for its huge surf breaks in winter.
Instantly, we saw how much wilder the surf looked (even in October) as we flew over Sunset Beach.
Waimea Bay is another gorgeous North Shore beach. The valley behind it is known for its botanical gardens and one of the best swimmable waterfalls on Oahu.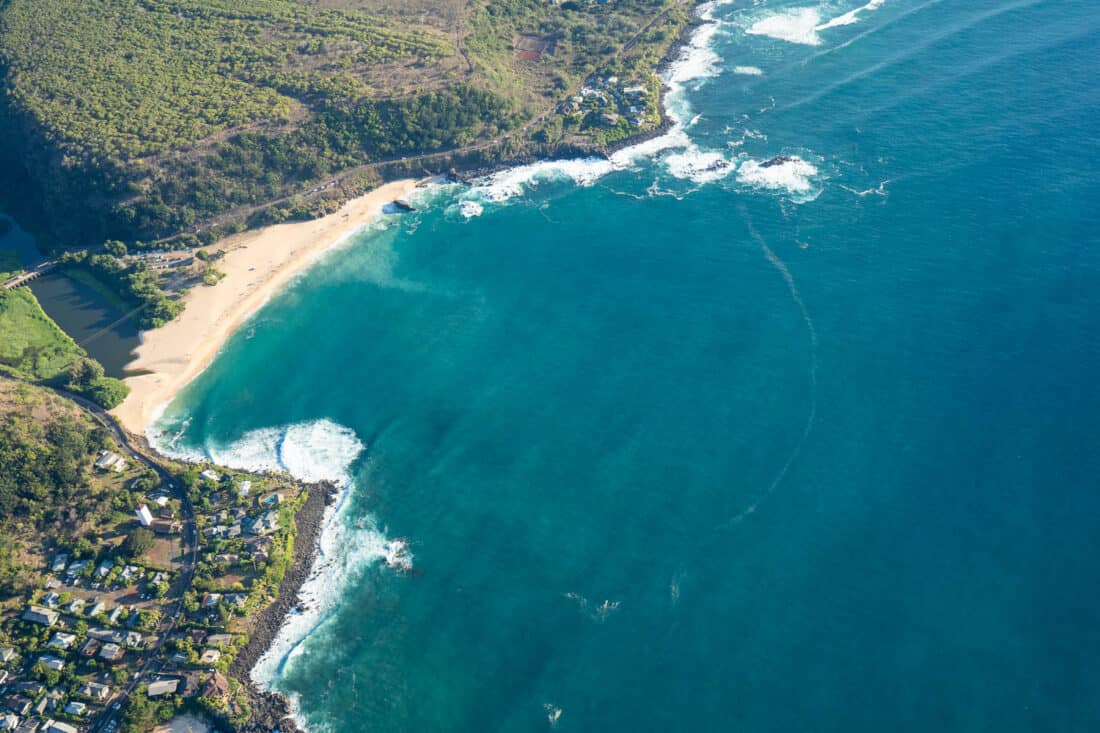 Climbing higher, we got a good view of this section of the North Shore, stretching from Turtle Bay Resort (which we absolutely loved when we later stayed here) on the far left, past Sunset Beach and Shark's Cove (a rocky snorkelling spot) to Waimea Bay.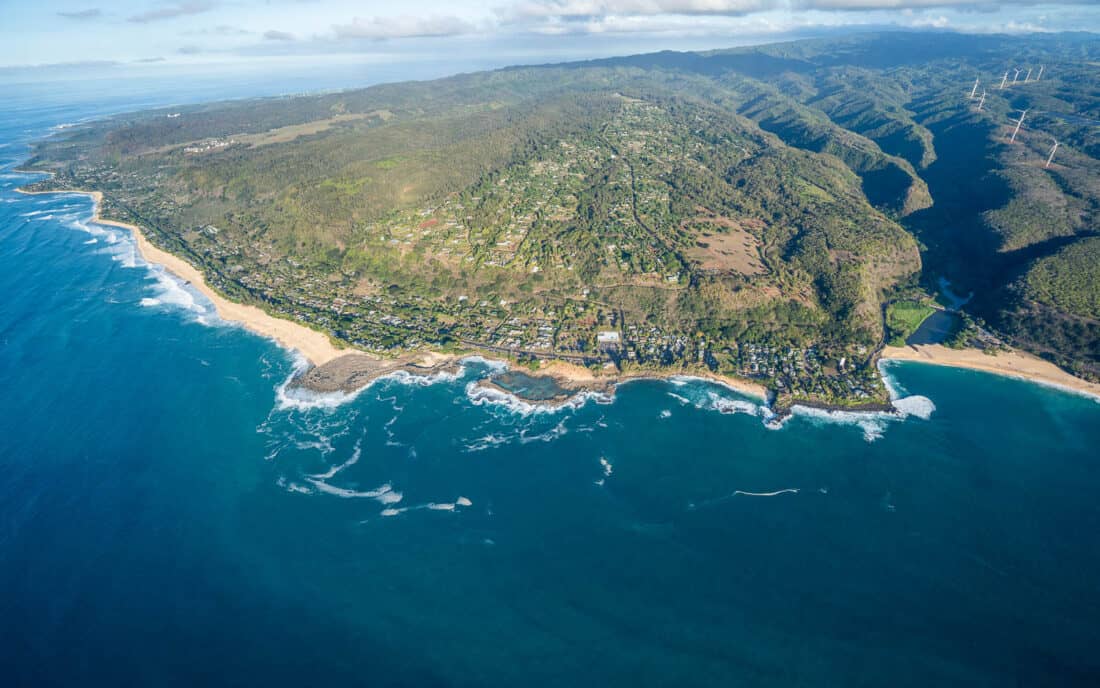 Dole Plantation
Although we saw the western tip of Oahu in the distance, we didn't travel all the way around the island. Instead, we cut inland through the flatter middle of Oahu.
The major sight here is the Dole Plantation, with its geometric fields of pineapples that seem to stretch on for miles.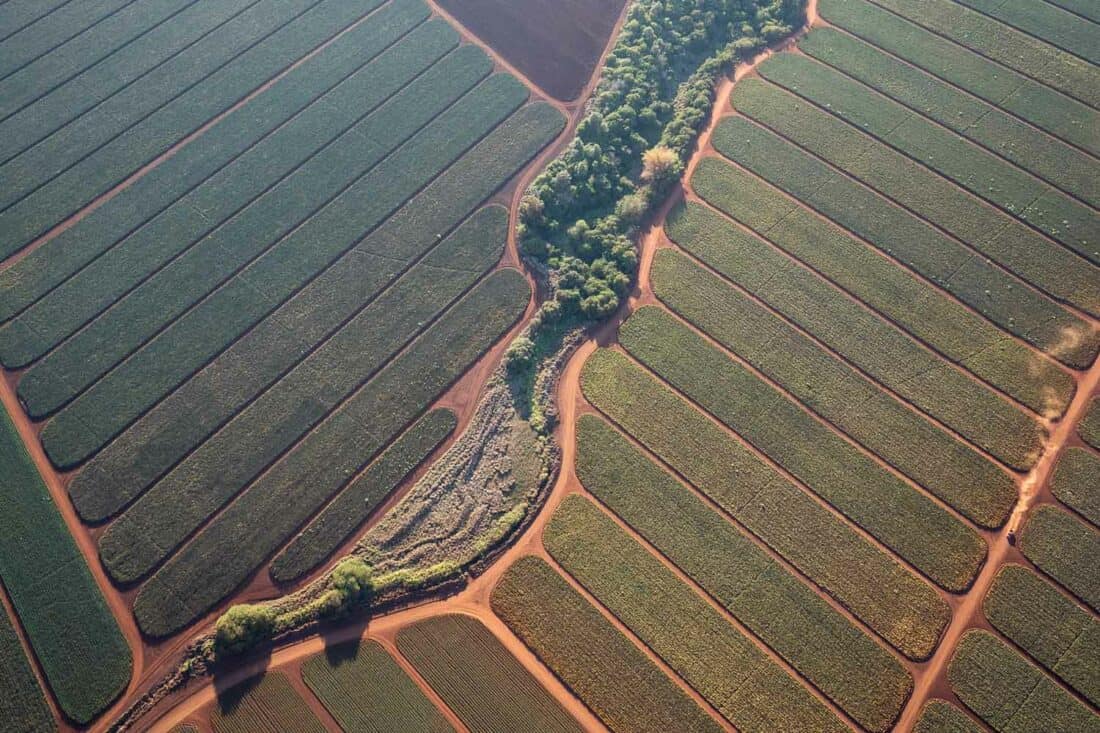 Pearl Harbor
Back on the south coast, we flew over the Pearl Harbor naval base, including the USS Arizona Memorial, which commemorates the lives lost in the 1941 attack.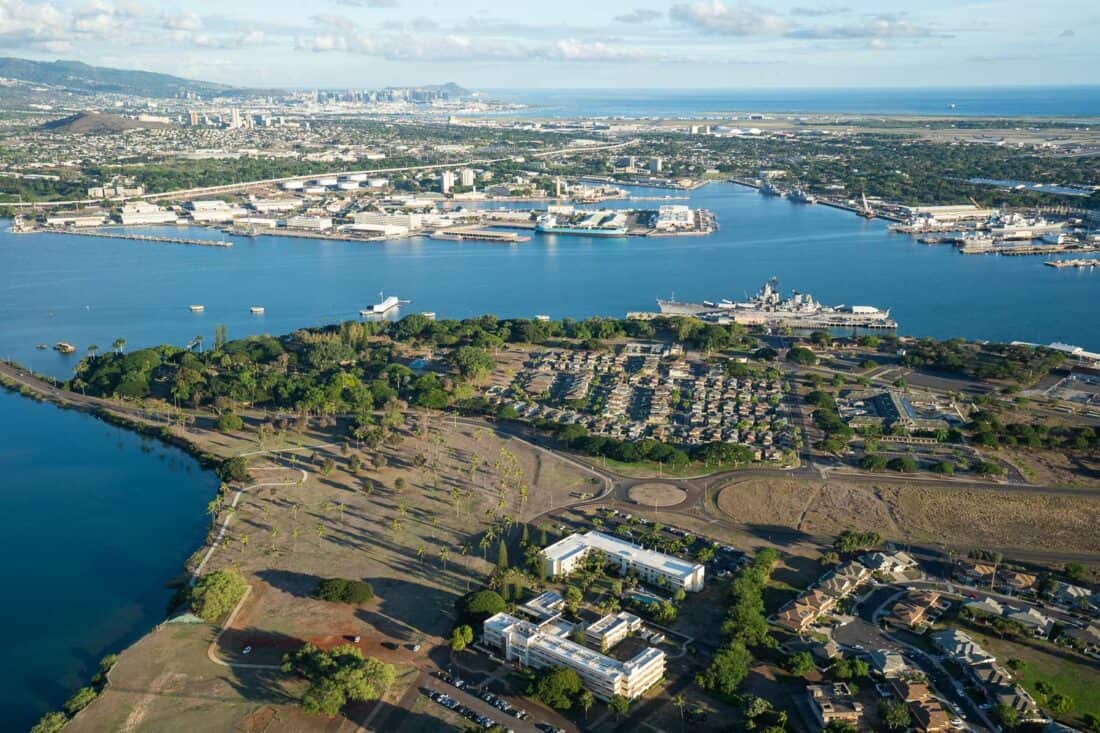 Is an Oahu Doors Off Helicopter Tour Worth It?
Our Honolulu helicopter ride was our most expensive activity on Oahu, but it was also the most memorable, and for us, it was well worth it.
The scenery is truly spectacular, and seeing Oahu from above gives you a unique perspective. You also get to see places like Sacred Falls and Stairway to Heaven that you can't visit any other way.
Our 60 minutes flew by and everyone got off the helicopter with huge grins on their faces.
If you can afford it, I highly recommend an Oahu helicopter trip. Definitely choose the doors-off option for the best photos and a more immersive experience.
Book your helicopter ride with Rainbow Helicopters here.
The only situation where I wouldn't recommend it is if you are also visiting Kauai, where the helicopter trips are even more incredible. I'd save it for Kauai if you can't afford both. See my post on our Kauai doors off helicopter ride for more details.
The Best Time of Day for a Helicopter Tour of Oahu
I tried to find a definitive answer to the best time for an Oahu helicopter tour and couldn't.
There are pros and cons to every time of day. The light is always going to be good in one direction and not so great in another.
We booked the last 5pm flight because it was easier to fit into our schedule, and we were hoping for some lovely golden hour light.
The light was beautiful facing east but we were heading into the sun when going west. Overall, I'm happy with the time we chose.
I wouldn't worry too much about it—just choose a time that works for you.
One factor that we did take into consideration was the traffic between Waikiki (where we were staying) and Honolulu Airport. We did our trip on a Sunday, so traffic was minimal and it was an easy 20-minute car ride.
On weekday rush hours (6.30am – 9am and 3pm – 6pm), you'll need to allow 40 minutes for the journey as traffic can be horrendous.
Ideally, schedule your flight for earlier in your trip in case of cancellation due to weather. That said, it was fun to see some of the places we'd already visited.
Doors Off Helicopter Oahu Tips
Wear warm clothes and closed-toe shoes — I wore jeans, a t-shirt, fleece, and running shoes, and I was perfectly comfortable. If you are next to the door, you must have long sleeves.
Don't take loose items – You can leave them in your car or in the building where you check-in. This includes wallets, keys, hats, bags, and even lens caps.
Sunglasses are OK to wear – But I left mine behind as I had to wear goggles sitting next to the open door (they also aren't great for photography).
Tie back long hair – I also wished I'd worn a headband as a few stray bits of hair came loose and went wild. It was annoying and a knotty mess afterwards.
Phone cases are provided – You can wear them around your neck to avoid the risk of dropping your phone. Photos are decent from phones but will be better from a camera.
If you have a camera – A wide-angle lens is best, use continuous shooting mode, and aim for a shutter speed of 1/1000 to avoid motion blur. For the photos in this post, I used a Sony A7III mirrorless camera and Sony 16-35mm f4 lens.
Travel sickness isn't an issue – I often get travel sick but I didn't have problems on either of my helicopter flights. If you are worried, take medication like Dramamine an hour in advance.
Tipping the pilot is expected – You can do this back at the check-in building after the flight. They provide envelopes if you want to leave cash, or you can tip by card at the desk. $10-20 per person is considered reasonable.
Oahu Helicopter Trip Details
The 60-minute Royal Crown of Oahu tour with Rainbow Helicopters costs $375 per person. We booked on Get Your Guide, which offers free cancellation up to 48 hours in advance.
It's the same price for doors on or off. Just select the option when booking.
You can also opt for a private trip, which costs $1126 total for two people or $2252 for four people. This is worth considering if you want a guaranteed window seat.
Rainbow Helicopters run flights every day most hours between 9am and 5pm.
You need to check in one hour before your flight at their office inside the Castle & Cooke Aviation building at Honolulu International Airport. They send instructions.
Book your Oahu helicopter trip here.
More Hawaii Posts
We share more of our Hawaii travel tips in these posts:
General
Oahu
Kauai
Maui