This page contains affiliate links. Please read our disclosure for more info.
This 7 day Oahu itinerary is the exact one we followed on our recent trip to the most visited Hawaiian island.
It was the perfect mix of adventure and relaxation. We divided our time between the popular beach resort Waikiki in the capital Honolulu and the quieter North Shore.
During our one week on Oahu, we surfed and snorkelled, swam with sharks and turtles, hiked up Diamond Head and through a rainforest, and admired the island from above on a doors-off helicopter ride.
And, of course, we spent plenty of time on the gorgeous beaches.
Here I share ideas for what to do in Oahu for a week plus the best places to stay, how to get around, and other useful tips. You'll also find a map of our Oahu road trip route.
Contents
Where to Stay for this Oahu Itinerary
Oahu is a fairly small island. It's only 44 miles long and 30 miles across, but traffic means that driving is a lot slower than you'd expect.
A 100-mile loop to the main sights takes at least 3.5 hours (without stops) but could be a lot longer if the roads are busy (which they often are).
It is doable to visit all the attractions on this Oahu itinerary using the capital city Honolulu as a base, but we're really glad we split our time between Honolulu and the North Shore.
It's worth considering time on the North Shore if you prefer quieter, less developed places or want to do a shark swim from Haleiwa, which is best early in the morning.
Where to Stay in Honolulu
The vast majority of visitors to Honolulu stay in Waikiki, a lively beach resort 20-40 minutes from Honolulu Airport (depending on traffic).
There are plenty of hotels—both budget and luxury—as well as vacation rentals. Importantly, it's one of the few areas on Oahu where vacation rentals are legal.
We spent the first four nights of this Oahu one week itinerary in Waikiki, which was the ideal base for exploring the southeast.
We stayed at this one-bedroom Airbnb condo in the Aston Waikiki Sunset (which also operates as a hotel with suites).
The building is dated, but our Airbnb was newly renovated, had fantastic ocean and Diamond Head views, and included free parking. It was only a five-minute walk to the beach.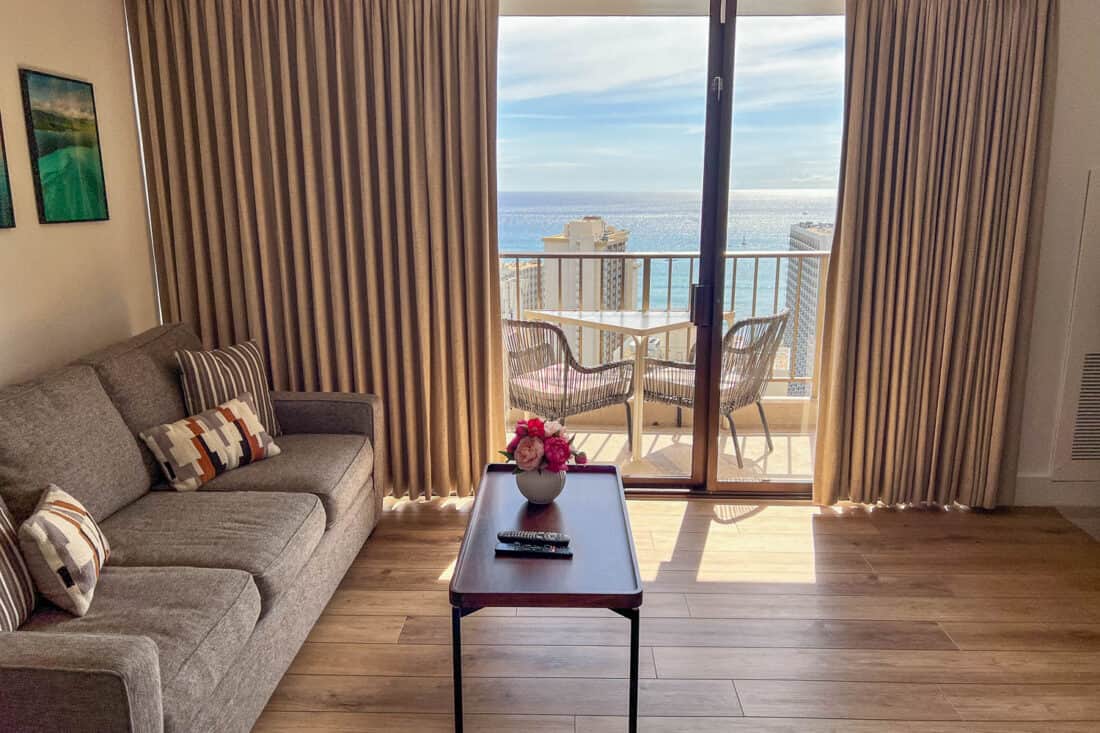 If you'd prefer a hotel room, the best luxury resorts in Waikiki are right on the beach including Moana Surfrider, The Royal Hawaiian, and Sheraton Waikiki.
They are pricey, so we decided to spend less in Waikiki (where we were busy exploring) and splurge on a nice resort on the North Shore, where you get more for your money.
Where to Stay on the North Shore
Oahu's North Shore is much less developed than Honolulu, so accommodation options are limited, especially since the ban on vacation rentals outside resort areas.
Turtle Bay Resort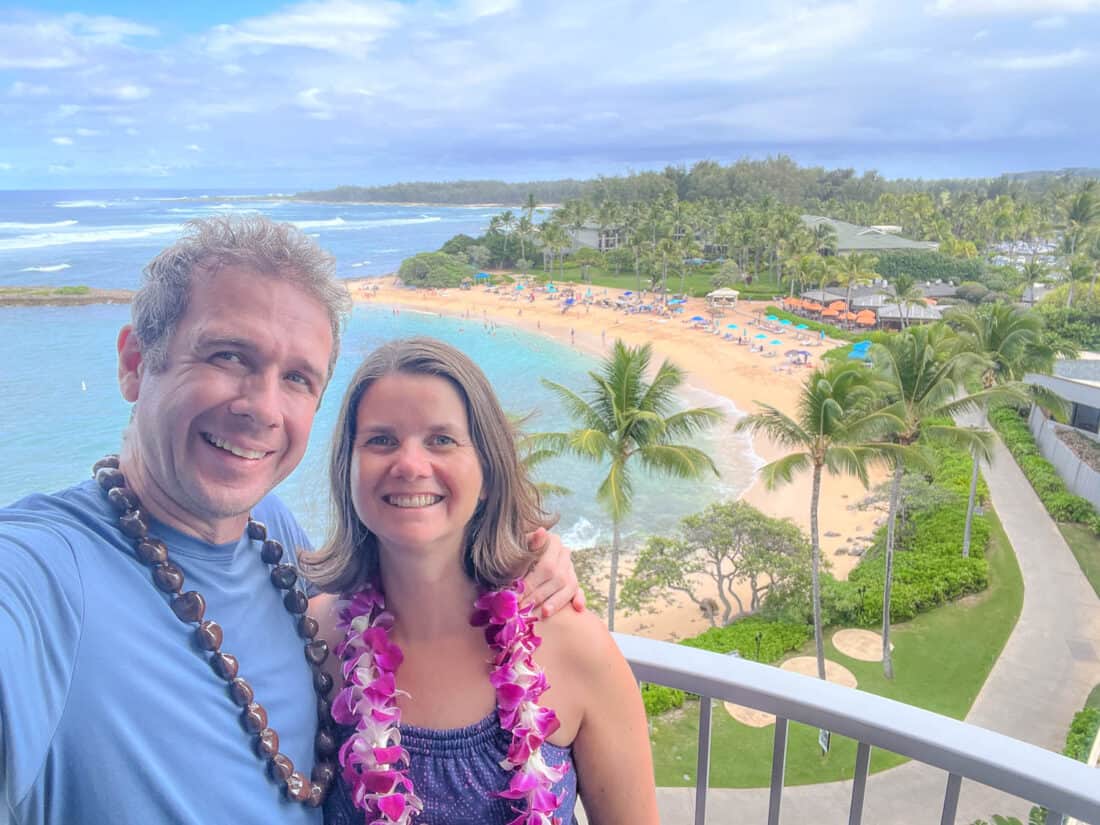 There are only two North Shore resorts, and we spent three nights at the largest, Turtle Bay Resort. We absolutely loved it and it's our favourite place we've stayed in all of Hawaii.
All the modern rooms have ocean views and balconies, and it's right on a beautiful beach. There are also hiking trails to many quiet beaches.
It's a large resort with plenty to do—two swimming pools, surf lessons, horse riding, golfing, and a range of activities. You could easily spend days never leaving the resort, but it's also a great location for exploring the North Shore.
Check prices for Turtle Bay here.
Courtyard by Marriott
The other resort on the North Shore is Courtyard by Marriott Oahu North Shore, next to the Polynesian Cultural Center.
It's more affordable than Turtle Bay but not as luxurious and is further from the best North Shore beaches. No alcohol is allowed as it's in Laie, a Mormon town.
How to Get Around Oahu
To follow this itinerary for Oahu, it's best to rent a car at Honolulu Airport on arrival. We used comparison sites like Rental Cars and Skyscanner to find the best deal.
We ended up renting the cheapest car with Hertz and had no wait to collect it.
Make sure you budget for parking fees as resorts charge $25-45 a day for parking.
Oahu Without a Car
If you really don't want to drive, you could base yourself in Waikiki and use a combination of taxis, tours, and the Waikiki Trolley hop-on hop-off bus to visit many of these places on Oahu.
Some tours to consider include:
Our 7 Day Oahu Itinerary at a Glance
Waikiki
Day 1: Arrive in Waikiki at 3pm – beachfront dinner and shopping.
Day 2: Manoa Falls hike, Pali Lookout, Kailua and Lanikai beaches.
Day 3: Diamond Head hike, KCC Farmer's Market, Waikiki Beach and stand-up paddle surf lesson.
Day 4: Hanauma Bay snorkelling, Halona Blowhole, Makapuʻu Lighthouse Trail, Waimānalo Beach, helicopter tour.
North Shore
Day 5: Move to Turtle Bay on North Shore via Windward Coast—Byodo-In Temple, Kualoa Regional Park Beach, Kahaku Farm.
Day 6: Shark swim, North Shore beaches, Waimea Valley waterfall swim.
Day 7: Turtle Bay resort day including hikes, beaches, snorkelling, surf lesson, pool time.
Day 8: Departure.
Our itinerary was moderately busy. We fit a lot into our week but still had some downtime. If you'd prefer more beach/relaxation time, just skip some of the activities.
You can easily move the days around to suit your schedule. I highly recommend visiting Waikiki before the North Shore if you are doing a split stay, though. It was nice to end with a more relaxed experience.
Oahu Experiences to Book in Advance
It's important to plan in advance as many activities book up fast. These are the things we did that require advance booking:
Diamond Head hike – Bookings open 30 days before on the Go Hawaii State Parks website.
Hanauma Bay snorkelling – You need to book two days in advance at exactly 7am HST (spots sell out in minutes) on the Parks and Recreation website. We booked on our first morning in Oahu. Note that the bay is closed on Mondays and Tuesdays.
Cage-free shark swimming – Depending on the time of year, you may be able to book a few days in advance, but to guarantee your chosen time (early morning is the calmest), book at least a month before with One Ocean Diving.
Oahu helicopter tour – Availability is usually pretty good but book a few weeks in advance with Rainbow Helicopters to be sure.
Private stand-up paddle surf lesson – A few weeks in advance to get your ideal time.
Restaurants – If there's an upmarket restaurant you want to visit, make sure to book. We only booked Beach House at Turtle Bay (as soon as I booked the hotel) as we mainly ate in casual places. Duke's in Waikiki gets booked out months in advance.
Other activities that we didn't do that require advance booking are:
USS Arizona Memorial in Pearl Harbor – Available eight weeks in advance at 3pm HST on the NPS website. You definitely want to book at least a month ahead. If not, more tickets are released 24 hours before.
Lauas – A few weeks in advance.
Kualoa Ranch tours such as the Hollywood Movie Sites or UTV Raptor Tour.
Oahu Road Trip Map
This map shows everywhere we visited during our one week in Oahu.
Our Oahu Hawaii Itinerary
Day 1: Arrive in Waikiki (4 nights)
After picking up our rental car at Honolulu Airport, it was an easy drive to Waikiki, where we checked into our Airbnb at Aston Waikiki Sunset at 3pm.
We were too tired to do much, but we were only a short walk from the iconic Waikiki Beach. This is the busiest beach in all of Hawaii, but the white sand, gentle turquoise waves, and Diamond Head view are gorgeous.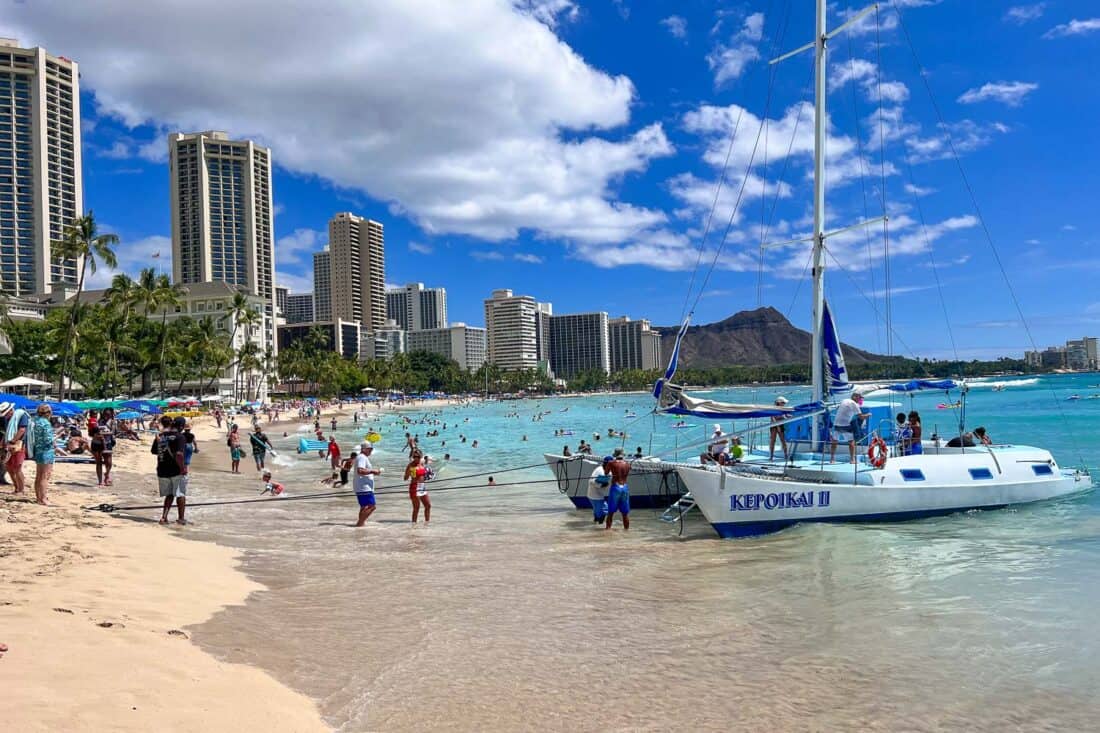 It's a lively scene with plenty going on and lots of shopping nearby. We headed to one of the ubiquitous ABC stores to stock up on insect repellent and reef-safe sunscreen.
We wandered on the sand to The Beach Bar at the Moana Surfrider Hotel for a Mai Tai cocktail and dinner. Veggie options are limited (as we found at all Hawaii resorts), but the Beyond plant-based burger was good.
You can't beat the location next to the beach under a huge banyan tree, and the live music added to the Hawaii vibes.
Back at our hotel, Hawaii Beach Time dropped off the snorkel gear we'd rented (later than planned), and we got an early night ready for an early start on our first full day.
If you are in Waikiki on a Wednesday, Friday or Saturday, you could also see the free Hawaiian hula and music show at 6.30pm next to the beach.
Day 2: Manoa Falls and Kailua
Book Hanauma Bay
We had to be up before 7am to book Hanauma Bay snorkelling—reservations must be made 48 hours in advance.
Luckily, an early start is easy coming from the US mainland—a good reason to schedule early morning activities for your first few days before your body adjusts to Hawaii time.
Hanauma Bay books up in minutes, so I made sure to have everything ready and refresh the page at exactly 7am. We managed to get tickets for our ideal time of 7am two days later.
Manoa Falls
At 7.30am we left for Manoa Falls, a 20-minute drive inland from Waikiki. The earlier you start this popular waterfall trail, the better.
It's a gorgeous walk through lush rainforest where some scenes from the Jurassic Park movies were filmed.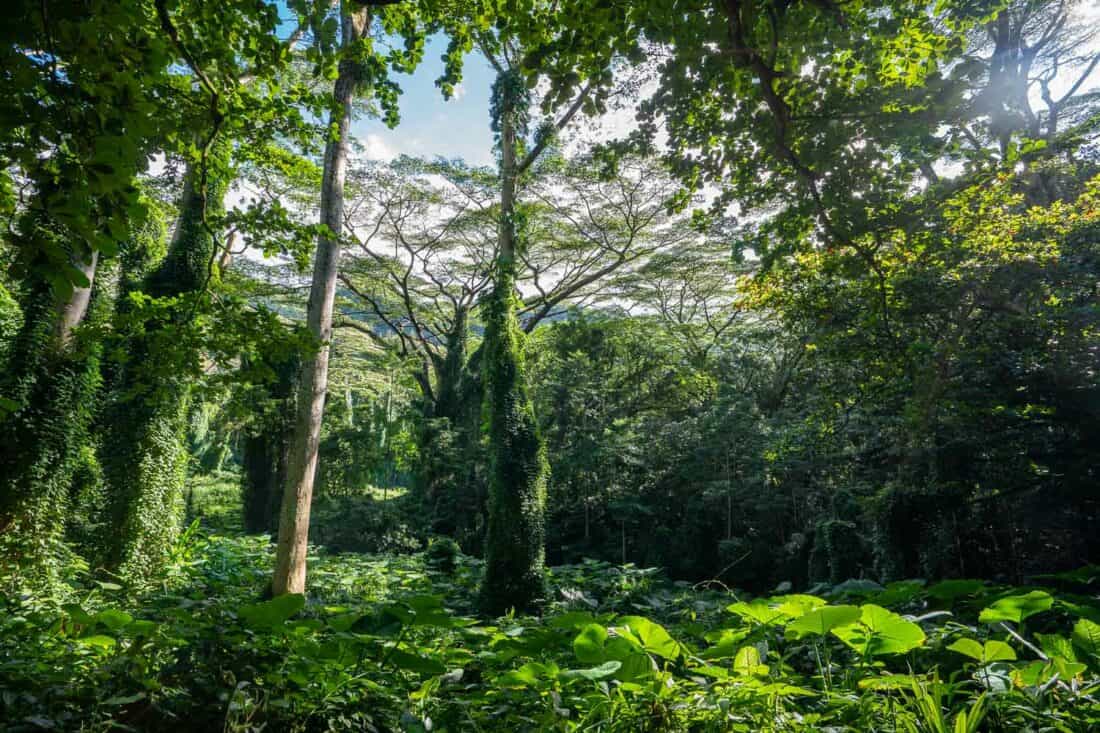 The two-mile out and back trail took us about an hour and was fairly easy, although we did feel the heat and humidity towards the end of the ascent up to the falls.
The waterfall itself was pretty but crowded. I definitely recommend the trail as it's easily accessible from Waikiki but feels far away from the city.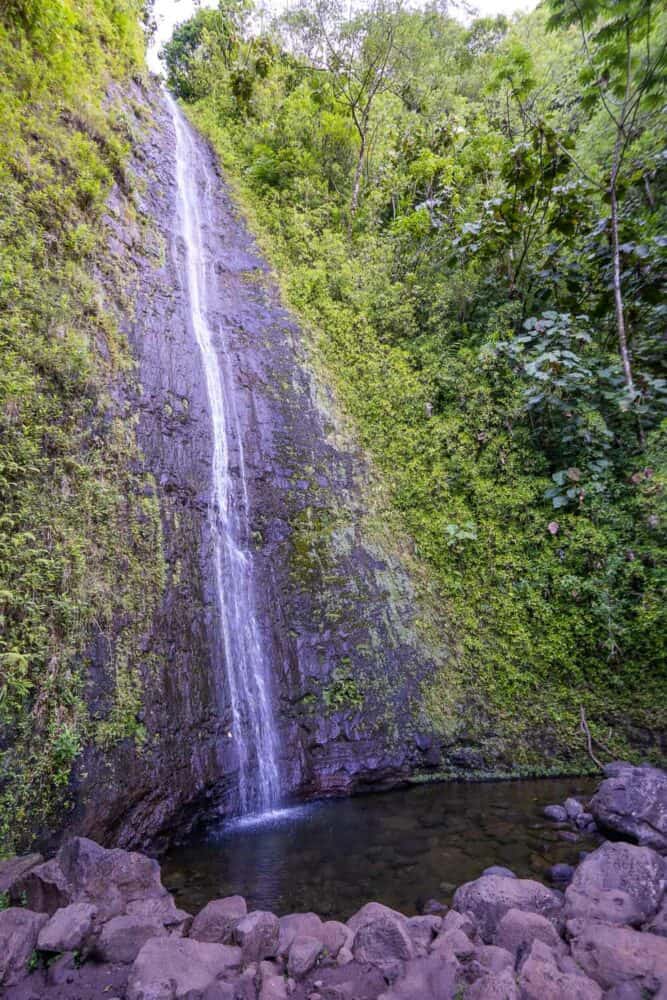 Nuʻuanu Pali Lookout
We left Manoa Falls at 9am and headed towards the Windward Coast (Oahu's east coast) on the beautiful Pali Highway that cuts through the Ko'olau Range.
It took us 25 minutes to reach the Nuʻuanu Pali Lookout, one of the best viewpoints in Oahu. The $7 parking fee may feel a bit steep for a quick stop, but it's worth it.
At 1200 feet, it's much colder and windier up here, so take a sweater or jacket. It was also raining when we visited, despite being dry on the coast.
The view of the Windward Coast is stunning, even in the rain—while the mountains were obscured by clouds we could still see the coast.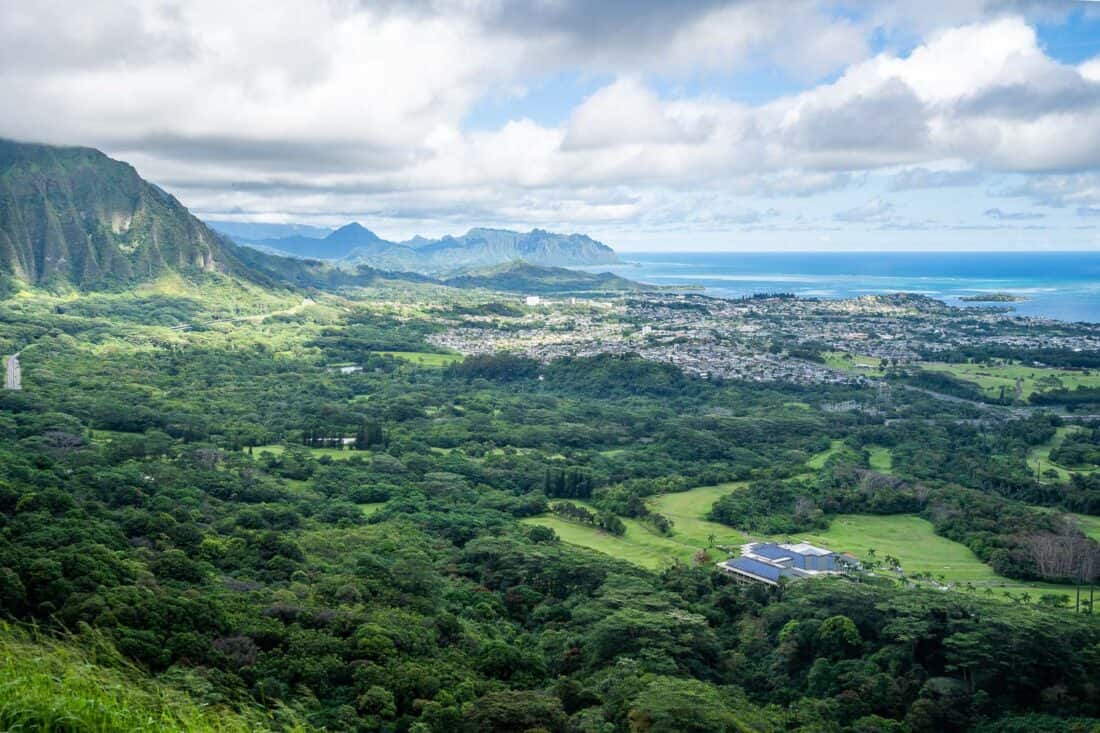 Kailua
20 minutes further on from the lookout is Kailua, a town on the Windward Coast with a beautiful beach and plenty of cafes and boutiques.
It has a much more relaxed vibe than Waikiki, and we considered staying here, but accommodation is limited.
We went for a walk on the 3-mile long white sand beach, with its stunning backdrop of the Ko'olau Range, followed by a tasty brunch at vegetarian cafe Beet Box Cafe.
Lanikai Beach
By 11am we were heading to Lanikai Beach, considered one of the most beautiful beaches on Oahu.
And it is beautiful, but parking is very difficult in this residential area five minutes from Kailua.
After circling the streets a few times without getting a spot, we drove back to Kailua, parked at the Kailua Beach boat ramp, and walked 10 minutes to Lanikai Beach.
I highly recommend cycling or walking from Kailua to avoid causing problems for Lanikai residents.
There are no facilities or shade on the beach, just a gorgeous stretch of white sand, turquoise water, and a view of two small islands (popular kayaking destinations). We saw a sea turtle, so it's worth bringing your snorkelling gear.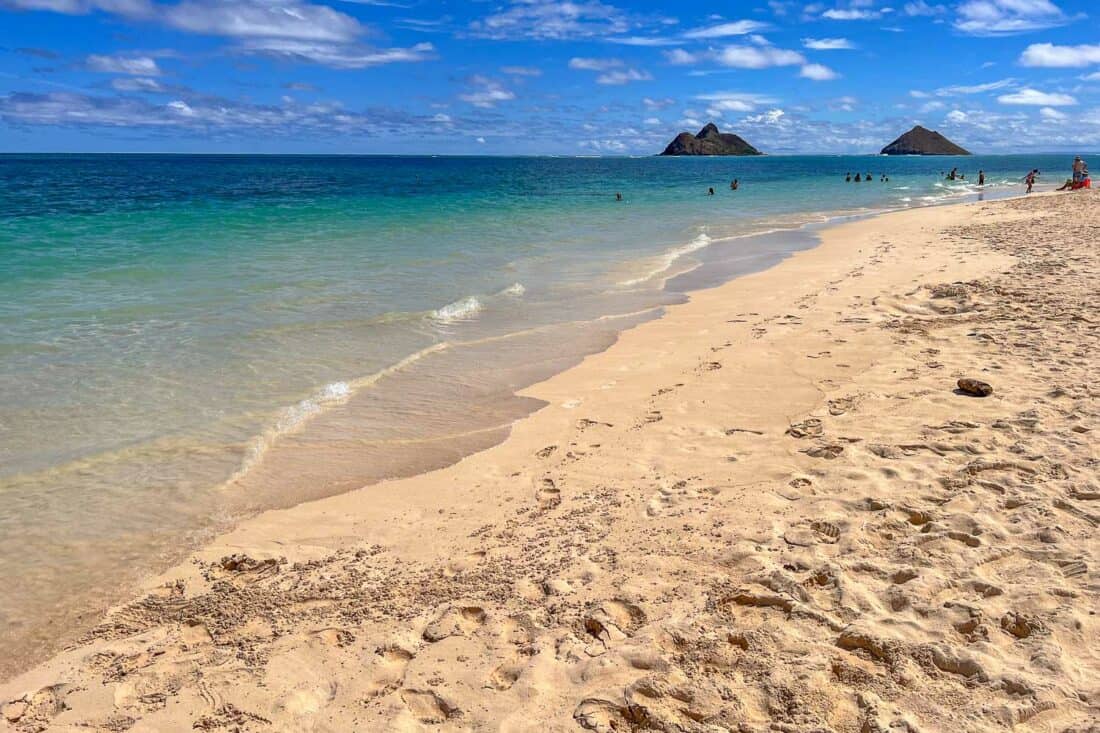 Honestly, we felt Kailua Beach Park was just as beautiful, a little quieter, and much easier to access.
After a few hours of relaxing beach time, we stopped in Kailua for shave ice at Island Snow (make sure to add a scoop of ice cream) and to stock up on groceries at Whole Foods (there are no real grocery stores in Waikiki).
If you have the energy, you could also visit nearby Oeno Winery and Ho'omaluhia Botanical Garden, but we headed back to our hotel at 3pm.
Waikiki is a 40-minute drive from Kailua back over the Pali Highway.
If you are very keen or have limited time, you could drive the coast road back to Waikiki via some of the stops we visited on Day 4.
Waikiki
Back in Waikiki, I rested while Simon did some shopping. The main shopping street is Kalakaua Avenue, parallel to the beach.
Don't miss International Market Place, a shopping mall focused around a huge banyan tree.
We had a casual dinner at Oahu Mexican Grill (OMG), which is our favourite spot in Waikiki for a quick meal.
It's a Chipotle-style Mexican where you choose your fillings for burritos, tacos, bowls, etc. The food is pretty tasty and inexpensive, they have good frozen margaritas, and you can sit by an open window with views of the beach and people-watch on the strip below.
I was also tempted to do this night stand-up paddle yoga class, but sadly didn't have the energy.
Day 3: Diamond Head and Waikiki
Diamond Head Summit Hike
Diamond Head is the most popular hike in Oahu and you must book at least a few weeks in advance. We booked the 6-8am slot for cooler temperatures, and left at 5.45am for the 15-minute drive from Waikiki.
The 1.6-mile return hike took us about an hour. It's a fairly steep climb to the summit, so it'll get your heart going, but it's not too challenging.
Except for the crowds. This is the busiest hike we've ever done, and you can't even go early to avoid the crowds—even at 6am, we were walking in a line of people up the hill.
Even worse is the summit, where everyone congregates, and the walk down when you've got people coming in both directions, which is a bit stressful on narrow sections like the metal stairs.
On the plus side, the views are stunning. We could see the sun rising over the east coast on our way up and from the top, Honolulu was lit in golden morning light.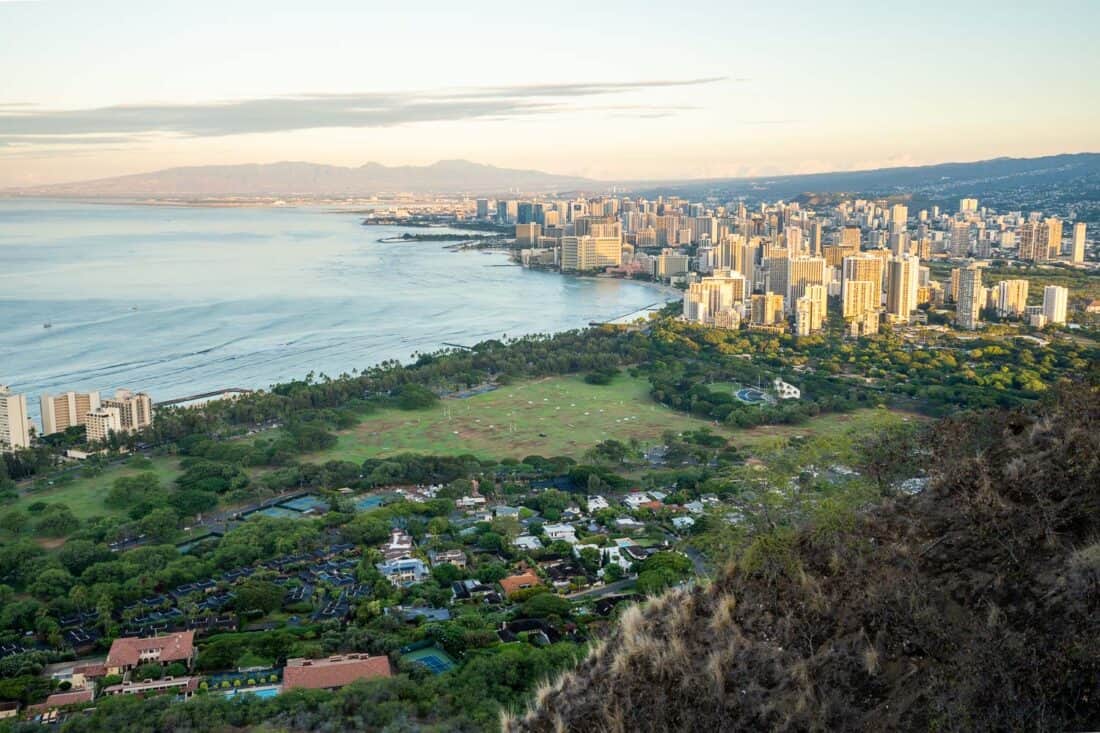 Most people love Diamond Head, but if a crowded hike is not your thing, you might want to skip it.
KCC Farmer's Market
As we were hiking Diamond Head on a Saturday, we were able to visit the nearby KCC Farmer's Market afterwards, which opens at 7.30am. Going at opening was ideal as it gets busier later in the morning.
Stalls sell fresh fruit and vegetables, flowers, honey, nuts, smoothies, and an array of prepared food. Vegan options included Vietnamese, Mexican, falafel, and plant-based hot dogs.
We had breakfast plans, so we just snacked on a delicious strawberry-filled mochi.
Barefoot Beach Cafe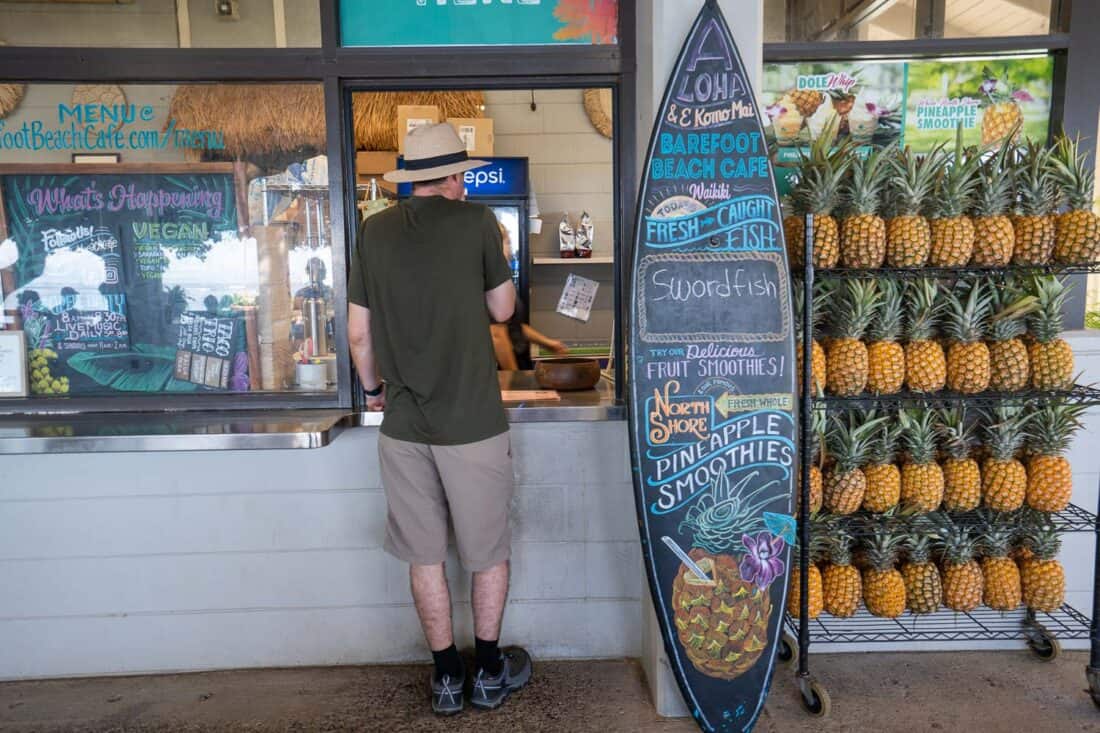 Back in Waikiki, at the quieter end by Queens Beach, we had breakfast at the outdoor Barefoot Beach Cafe, which has tables under shady trees overlooking the ocean.
Expect to queue to place your order at the counter, but it moves fairly quickly.
I love that they have vegan versions of Hawaiian classics like loco moco, but unfortunately, about half the vegan dishes were unavailable on our visit (and this seems to be common).
The food was decent if not outstanding, but we loved the pineapple smoothie in a whole pineapple, and the location is fantastic with a more chilled and local vibe than the beachfront resorts.
Waikiki Beach and SUP Lesson
After spending the rest of the morning resting at our hotel, we walked down to Waikiki Beach in the afternoon.
You can pay to rent umbrellas and sun beds on the beach, but we brought the chairs and umbrella our Airbnb provided.
The beach was hot and crowded on a Saturday afternoon, so we didn't enjoy it as much as the Windward Coast beaches.
But Waikiki Beach is the perfect place to learn to surf with gentle, beginner-friendly waves. Simon has rented a board here before, and I decided to give stand-up paddle surfing a try.
I booked a one-hour private SUP lesson with Waikiki Beach Services at the Royal Hawaiian. It was fun, exhausting, and challenging.
My teacher was friendly, but not quite as attentive as I'd have liked, and I ended up getting hit on the head by another surfer. That was the end of my surfing career!
Don't let my experience put you off, though. It does get crowded on the Waikiki waves, so I recommend trying surfing early in the morning, at quieter Queens Beach, or on the North Shore. Simon had an excellent lesson at Turtle Bay Resort on an empty beach.
On our way back to our hotel, we stopped for much-needed refreshments at Island Vintage (the Marriott branch on the main drag). The shave ice was our favourite on Oahu.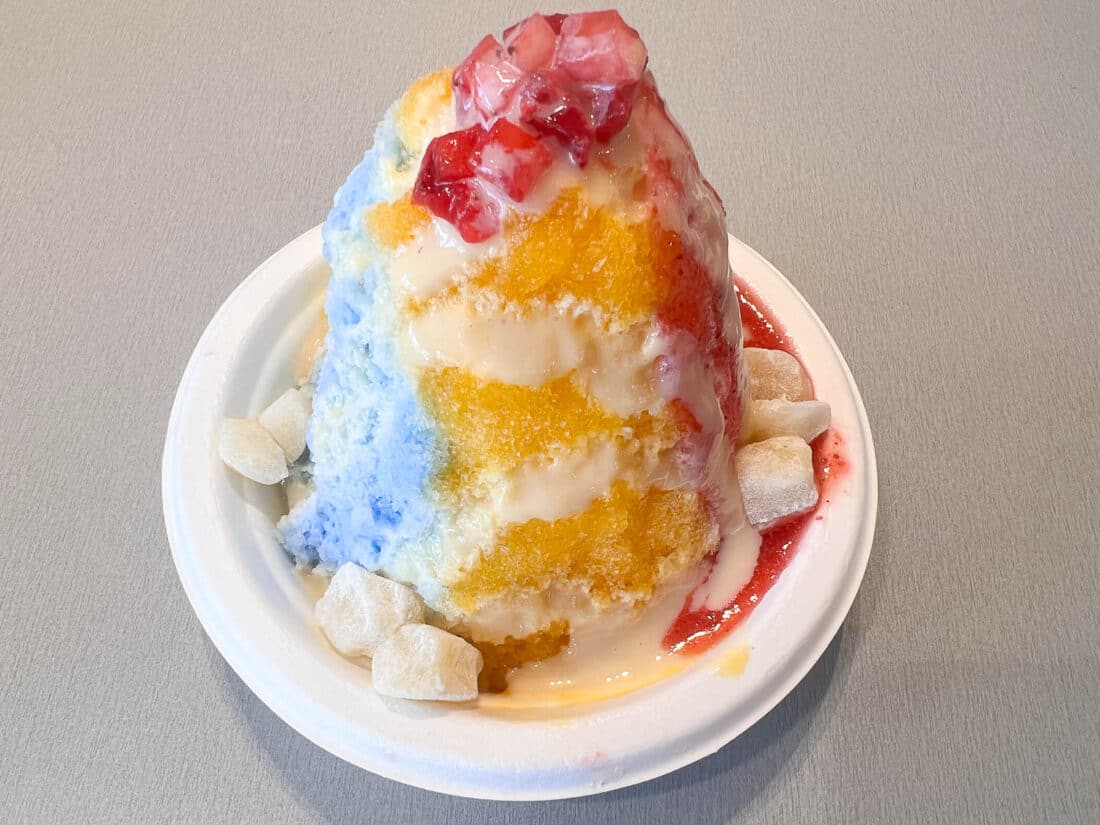 If visiting Pearl Harbour is important to you, you could add it to your Honolulu itinerary this afternoon instead of the beach.
Onoya Ramen Dinner
Most visitors want to eat dinner on Waikiki Beach (try to get a table at Duke's), but as veggie options were limited for us, we walked 15 minutes inland to Onoya Ramen.
At this simple local spot, we had our cheapest and tastiest meal in Waikiki. They have multiple vegan ramen options—the Fire was spicy but so good.
Day 4: Hanauma Bay and Southeast Oahu
Lanai Lookout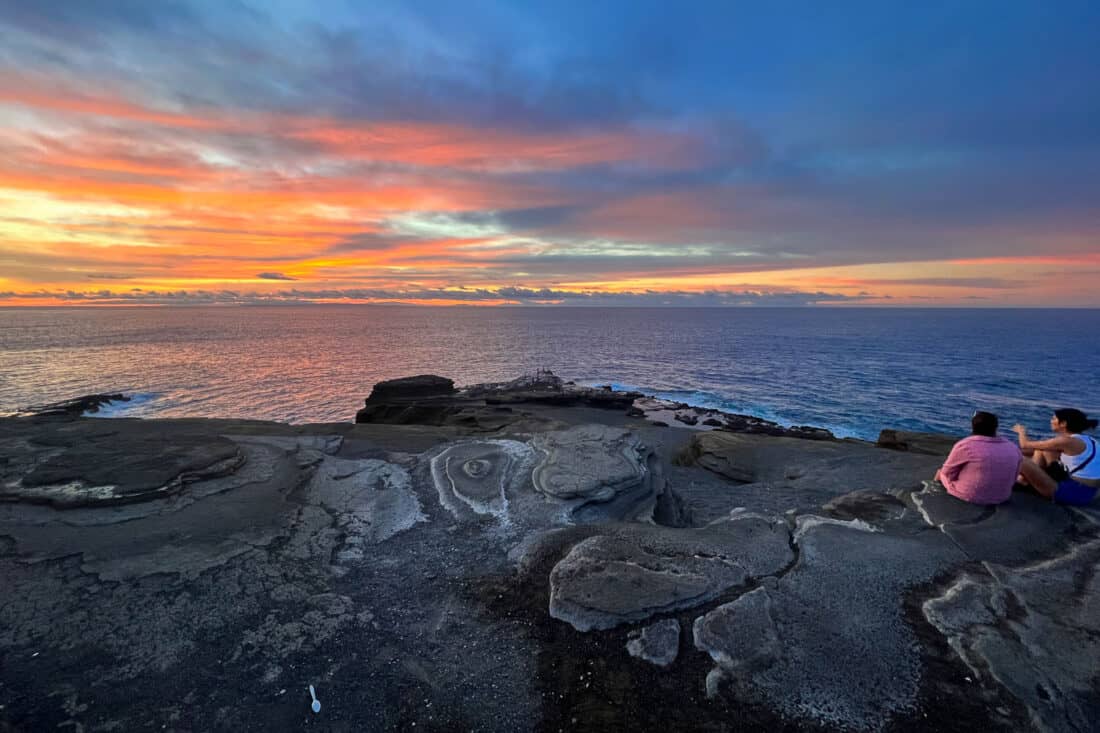 Yet another early start today as we left at 5.50am for the 25-minute drive to Hanauma Bay, where we'd booked a 7am snorkelling spot.
We knew parking filled up so we arrived early, but unfortunately, they don't let cars in until 6.45am. Rather than waiting in the queue of cars by the side of the road, we drove past to the Lanai Lookout.
The sunrise was beautiful as we looked out at the rocky coastline and Molokai Island across the water.
Hanauma Bay Snorkelling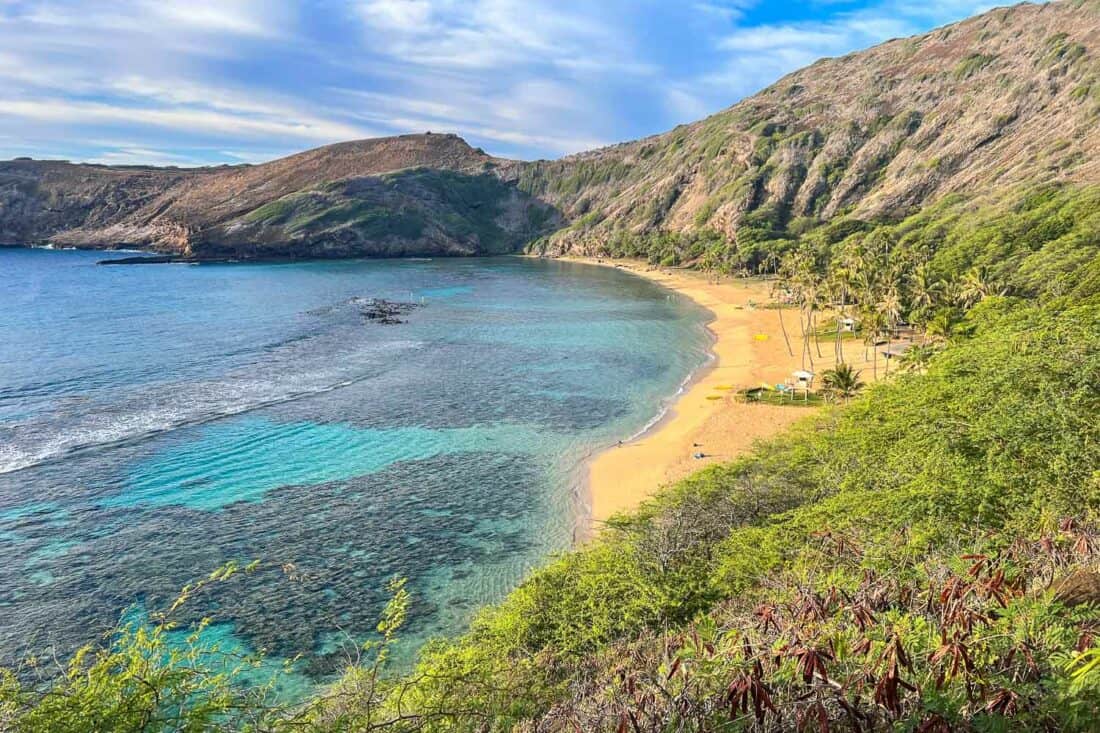 Once we were allowed into Hanauma Bay, we watched the compulsory video about protecting the reef (most importantly, don't touch or stand on anything) and walked five minutes down the hill to the beach.
We were glad we booked an early slot as it was much busier when we left at 9am.
Hanauma Bay is popular for a reason with a gorgeous location inside a volcanic cone. It's a protected marine reserve with plenty of fish to see.
We saw a 2-feet long bullethead parrotfish, a school of convict tang, butterfly fish, reef triggerfish, and many more. It was the best place we snorkelled in Oahu and worth jumping through all the hoops for.
There are good facilities here including showers so we could get changed for our next activities. Although it would be tempting to spend the whole day on the beach here if you brought an umbrella.
Halona Blowhole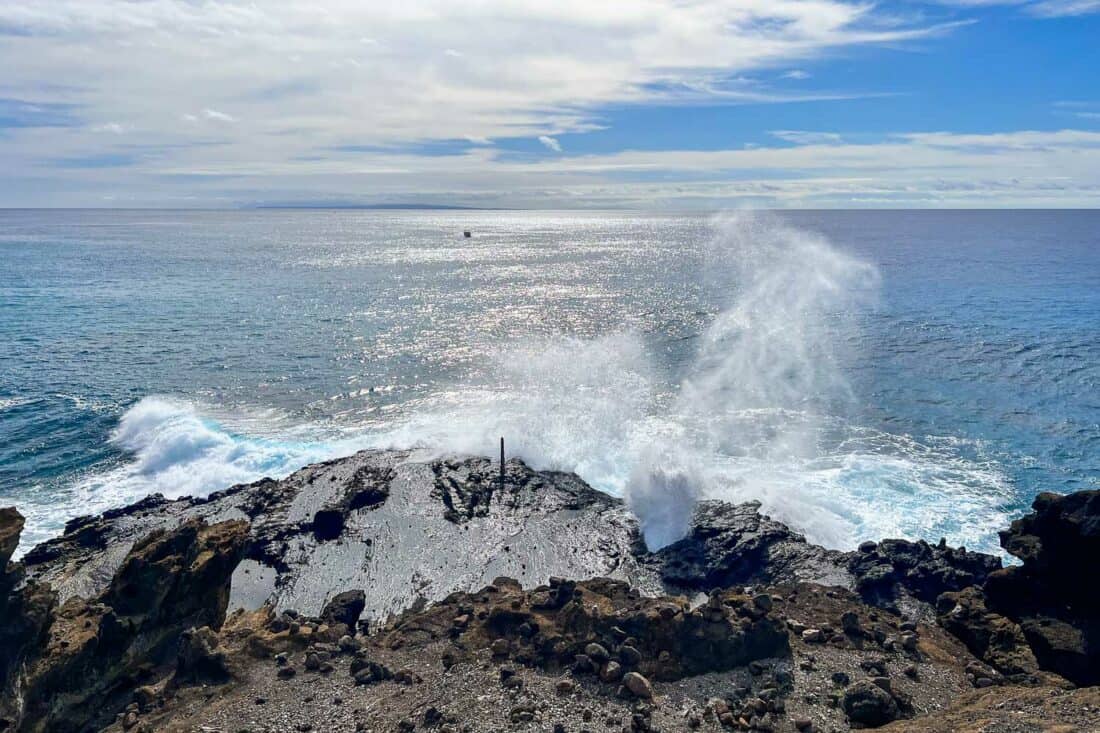 From Hanauma, we drove the scenic Kalaniana'ole Highway along the southeast coast. Halona Blowhole is only a 7-minute drive away and is an easy and worthwhile stop.
You can watch the surf crash into the rocky coastline and water spurt up through a lava tube formed by ancient volcanic eruptions.
It's fun to watch, and the view towards Sandy Beach is lovely. In winter you may even see whales.
You can also scramble down to pretty Halona Beach Cove, which was made famous by the kissing scene in 1953 movie From Here to Eternity. The surf is rough here but some people swim—I would advise caution (it's calmer in summer).
Makapuʻu Lighthouse Trail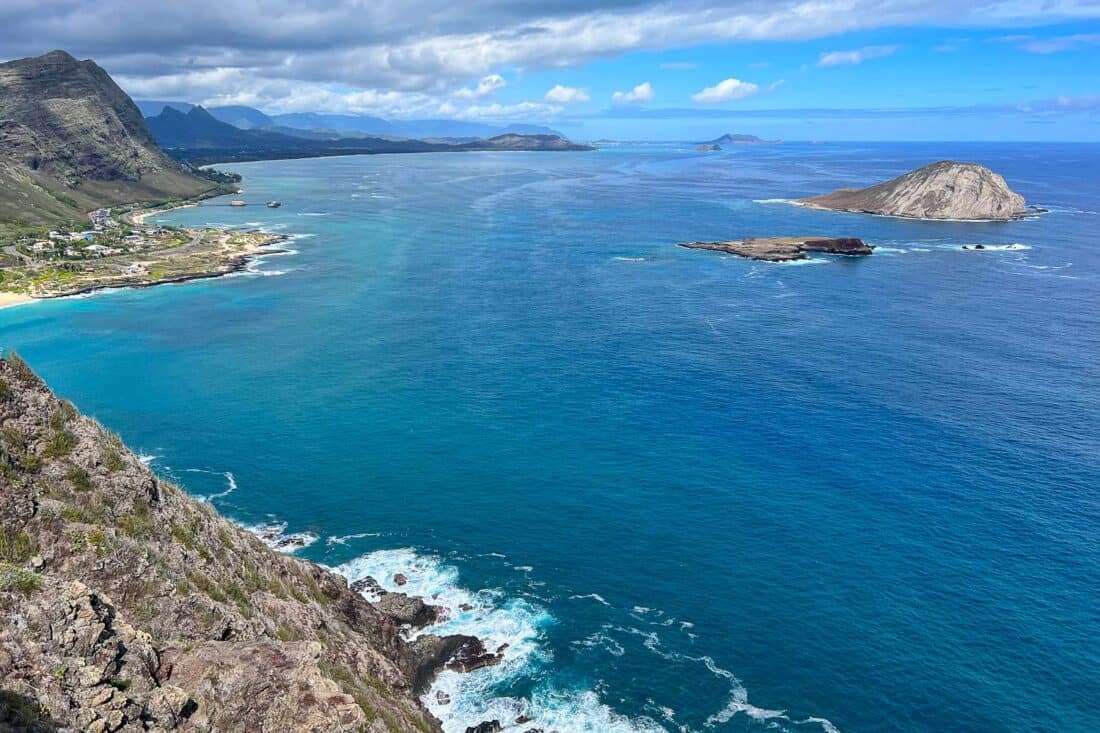 It was 9.30am by the time we reached Makapuʻu Lighthouse Trail at the southeast tip of the island.
The parking lot was already full but we managed to get a space when someone left.
The 2.5-mile out and back hike took us just under an hour. It's a fairly easy paved trail, but it's uphill all the way without any shade and it felt very hot.
Luckily, at the viewpoint you can pick up the breezes from the Windward Coast to cool down a bit. The coastal views are spectacular.
If you don't want to hike, there's a drive-up viewpoint, Makapuʻu Lookout, just past the entrance to the trail parking.
Waimānalo Beach Park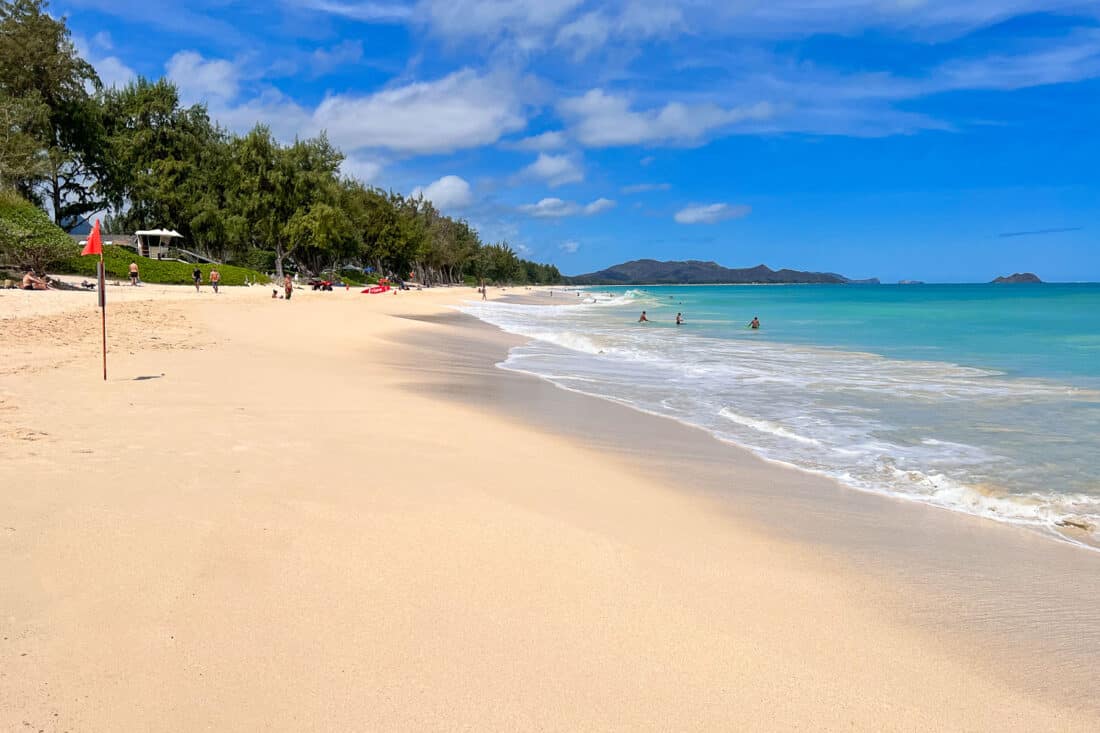 Less than 10 minutes from Makapuʻu up the Windward Coast is Waimānalo Beach Park. We arrived at 10.45am and spent a couple of hours relaxing on the beach (we'd brought a packed lunch).
This is one of my favourite beaches on Oahu. It's a local spot and much quieter (and easier to park at) than Lanikai and Kailua further up the coast. Even on a Sunday, it wasn't too busy.
The long beach features powdery pale gold sand, turquoise ocean, whispery Ironwood trees, and a stunning view of the Ko'olau mountains.
It was a 35-minute drive back along the coast to Waikiki. We made a stop at old-school Waiola Shave Ice on the way back. The ice was the finest we tried, but we didn't love the flavours or ice cream.
Doors Off Helicopter Tour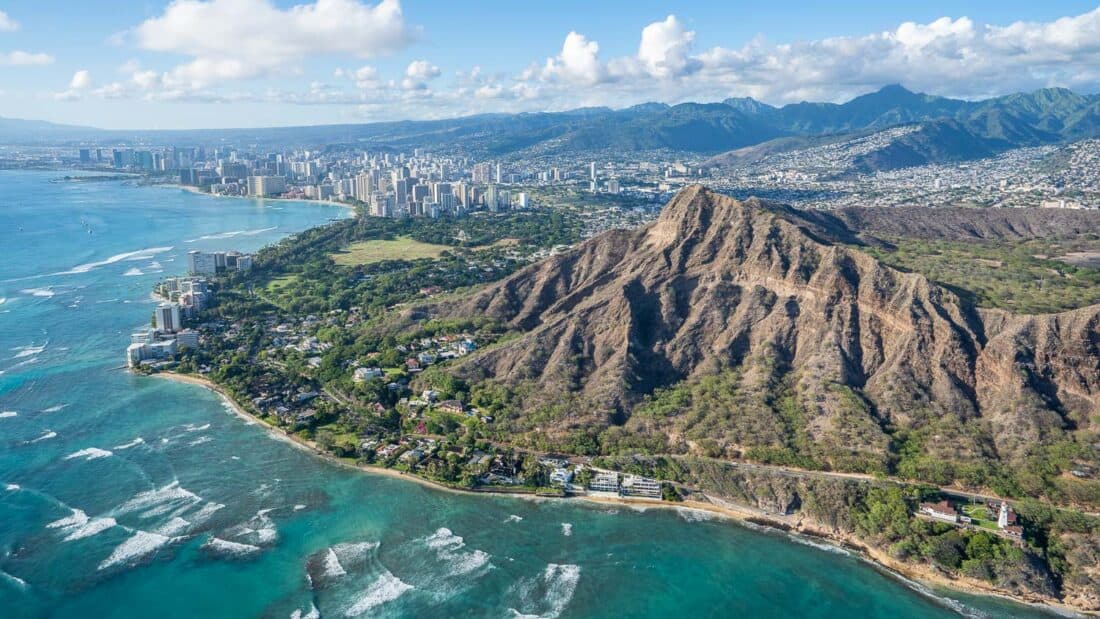 After a few hours resting at the hotel, we drove to the airport for our one-hour helicopter island tour with Rainbow Helicopters. We had to check-in at 4pm for our 5pm flight.
Despite being exhausted after a big day, we were energised as soon as our helicopter took flight. The views of Oahu from above are incredible.
It's a whole new perspective on the island, and it was fun to fly over places like Diamond Head, Hanauma Bay, Makapuʻu Lighthouse, and Waimānalo Beach that we'd already visited.
We also got up close to the mountains, saw a hidden waterfall, and got our first glimpse of the North Shore beaches and their famous waves.
It was our favourite activity on our Oahu travel itinerary and well worth the splurge.
Check availability for Rainbow Helicopters here or read our post about our doors off helicopter Oahu tour for more details.
Waikiki Dinner
Now we really were tired, so we had a quick dinner at casual Surf n Turf Tacos. Honestly, we wished we'd gone to OMG instead, where the food and view are better.
If you want a more Hawaii vacation vibe for your last night in Waikiki, on another trip we ate at Rumfire, the poolside bar at the Sheraton.
The food was average, and it doesn't feel as much on the beach as the Moana Surfrider bar, but it's easier to get a table, the sunset and Diamond Head views are great, and the tiki torches are fun.
Day 5: Windward Coast to North Shore (3 nights)
Today we moved from Waikiki to the North Shore via the Windward Coast.
You could also visit these places on a day trip from Waikiki (and add some activities from Day 6) if you choose not to stay on the North Shore.
Byodo-In Temple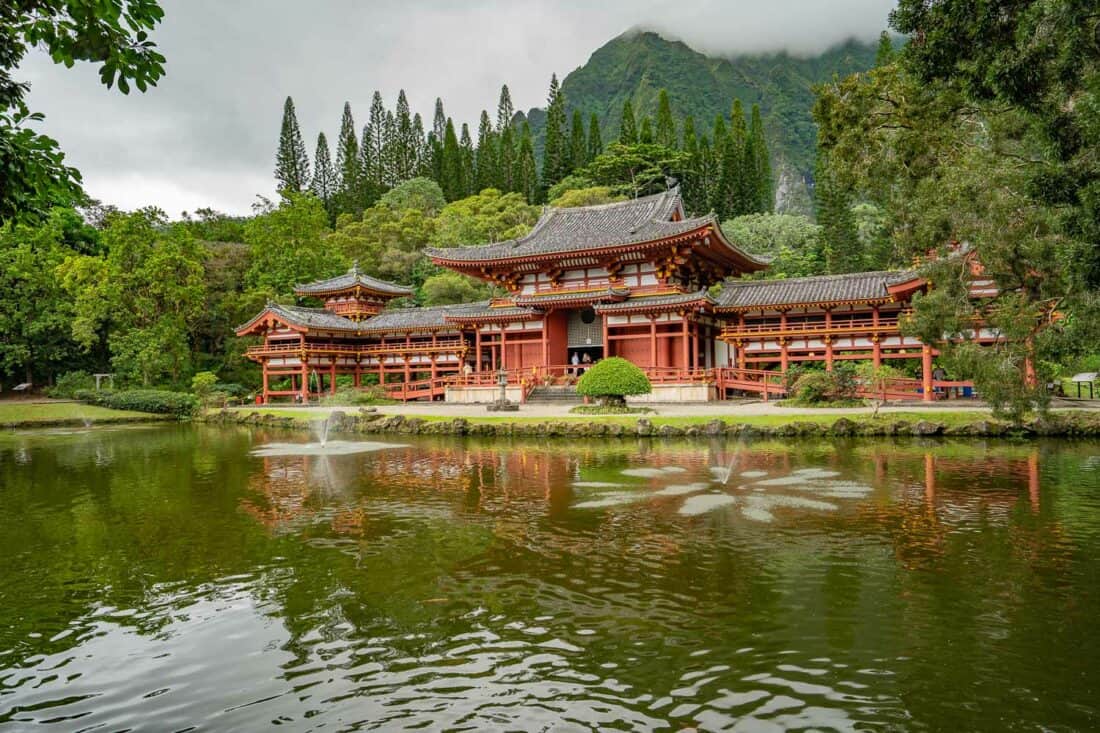 Byodo-In Temple is 40 minutes from Waikiki over the scenic Likelike Highway.
This large red temple is a replica of the one in Uji, Japan and was built in 1968 to commemorate 100 years since the first Japanese immigrants came to Hawaii.
It's a beautiful spot with a stunning mountain backdrop, a koi pond dense with fish and turtles, and classic Buddhist temple features like the large bell and giant Buddha statue.
Kualoa Regional Park Beach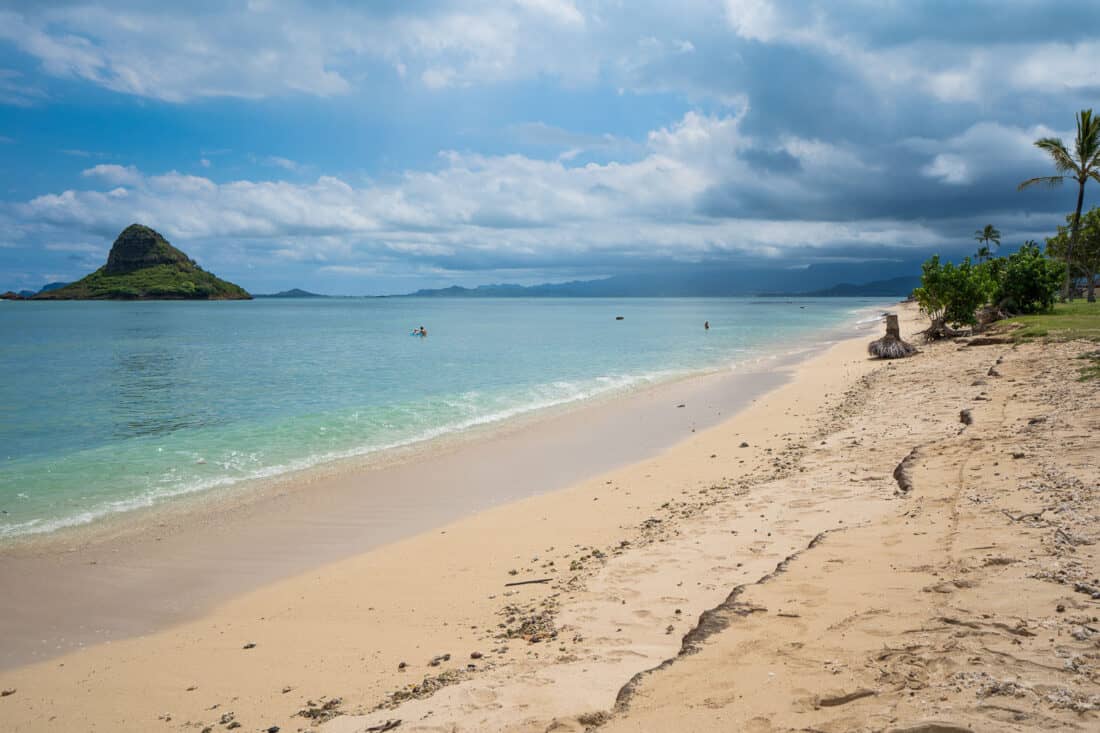 It's a gorgeous drive up the Windward Coast between the ocean and the mountains.
Our next stop was Kualoa Regional Park, 20 minutes from the temple. Although the beach here is on the tour bus route, they don't stay for long and the sand was almost empty.
It's a pleasant spot with picnic tables on a large lawn overlooking the narrow stretch of sand. There's a view of the mountains behind and offshore you can see the islet Mokoliʻi, also known as Chinaman's Hat.
The calm turquoise water looked very appealing, so this would make a good picnic and swim stop.
Kahana Bay Beach Park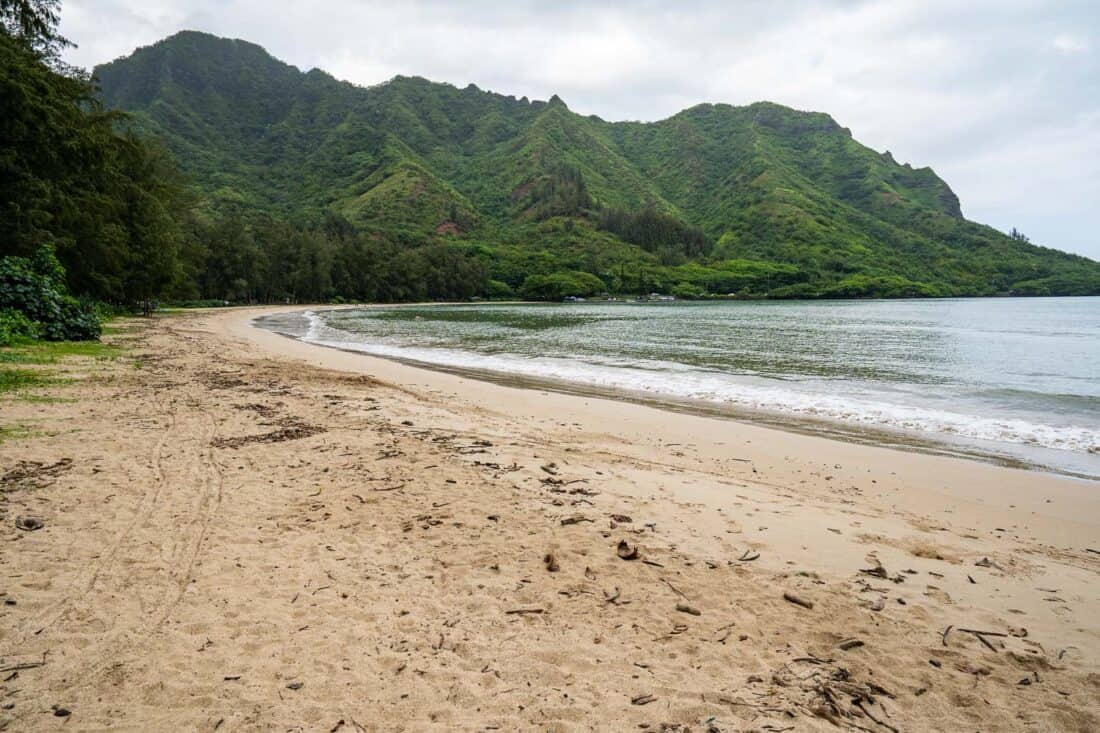 15 minutes up the road (with traffic) is this quiet, pretty bay. We didn't stay long as it was raining and supposedly it's not the best spot for swimming, but it's worth a stop.
The portaloos here are a bit smelly, so go at Kualoa instead.
Kahaku Farms
Kahaku in northeast Oahu is known for its food truck park (especially the shrimp). We were tempted by the veggie-friendly trucks like Raised by the Waves but decided on lunch at Kahaku Farms instead, which is just past the trucks.
They have outdoor tables in a lovely garden and a menu that features produce from their farm. The veggie wrap and farm pizza (more like a bruschetta) were delicious.
We also followed the short trail past their fruit and spice trees with signs so you know what you are looking at.
Turtle Bay Resort
At 2pm we checked into Turtle Bay Resort, which we quickly fell in love with.
The location is incredible and it feels a world away from Waikiki. See the Where to Stay section above for more details.
We spent the afternoon drinking cocktails by the pool, then had dinner at Beach House by Roy Yamaguchi.
The food was delicious (the rum pineapple cake was the best), but it was pricey and we were seated at the back without an ocean view. Bookings are essential, and make sure to request a table by the beach.
Day 6: North Shore Activities
The North Shore feels very different from the south. It's less developed, more relaxed, and it's still possible to find empty beaches.
It's famous for its winter surfing waves, so unless you are visiting in the summer, swimming probably won't be possible at most of the beaches.
Shark Swim
Swimming with sharks is a popular activity in Haleiwa, the North Shore's main town.
Sharks were originally attracted to fishing boats when scraps were chucked over the side. Boats no longer feed them, but the sharks are still drawn to the noise of the engine. It's a unique opportunity to see them up close!
If this seems terrifying, you can choose this caged shark swim (where you are in the cage), but once I learned there was a cage-free option, I couldn't resist.
We did our shark snorkel with One Ocean Diving, which focuses on conservation and was founded by shark expert Ocean Ramsey. They are very safety focused and have had zero incidents in over 20 years.
We booked the 7am swim as the ocean is calmer earlier in the morning and the conditions were perfect. We even saw a pod of dolphins on the 10-minute boat ride to the shark site.
As soon as we stopped the boat, we saw some Galapagos and Sandbar sharks close to the surface!
We then got in with our snorkels and hung to the rope on the side of the boat. We could see sharks far below us, but we took turns to free-dive down towards them for a better look.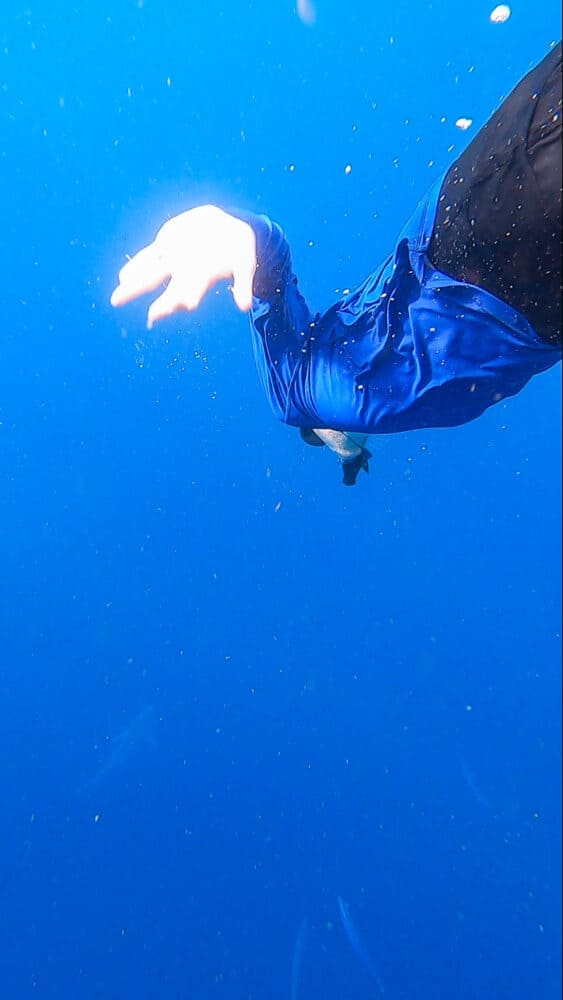 While we didn't get as close to the sharks as I would have liked (every trip is different when you are dealing with wildlife), it was still a unique experience that I recommend.
Book a shark swim with One Ocean Diving here.
Farm to Barn Breakfast
By 9am we were back in town in time for Farm to Barn Cafe to open. They have tables in a garden with mountain views and plenty of veggie options. The veggie burrito and juices were delicious.
Haleiwa is a cute town with low-rise wooden buildings and a casual surfer vibe.
There wasn't much open at this time in the morning, so we headed back to Turtle Bay via some classic North Shore stops (everything that follows is only a few minutes apart).
Papa'iloa Beach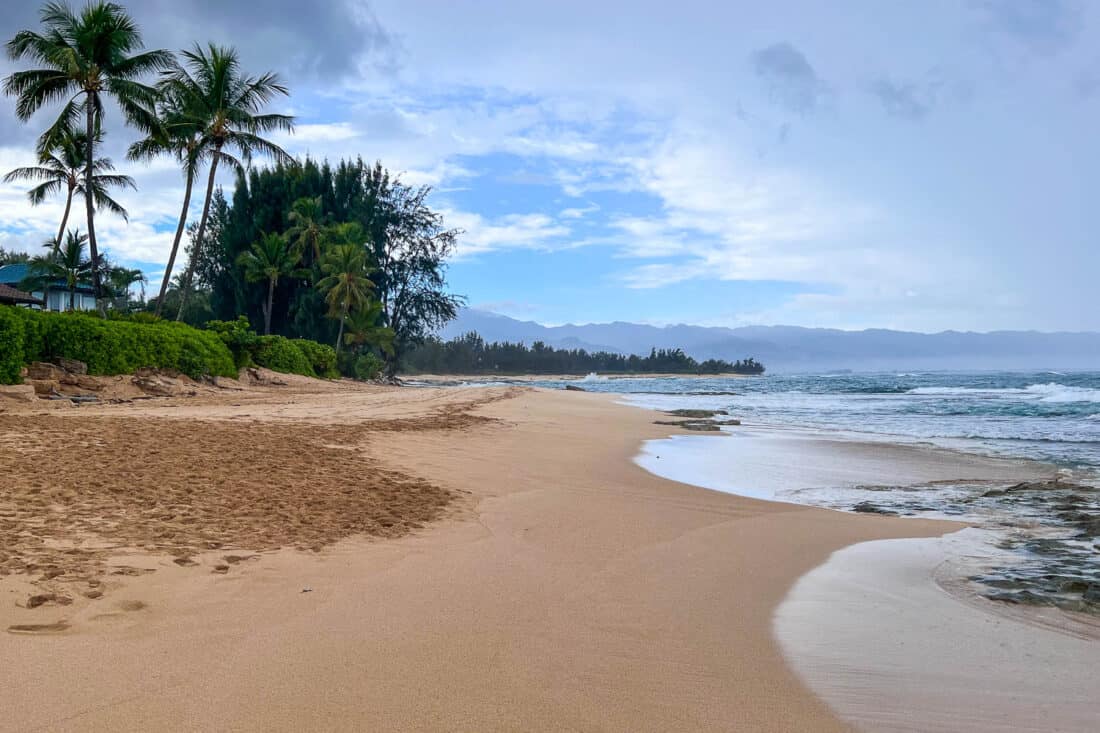 Papa'iloa is a less well-known beach in a residential area. There is a small parking area at the end of Papa'iloa Rd and you reach the beach down the alley across the road.
Despite visiting in the rain, I loved this beach. It feels secluded and peaceful and we even saw a turtle swimming in the ocean. This would be a fantastic place to relax in summer when the ocean is calmer.
Laniakea Beach aka Turtle Beach
We were slightly less impressed by this popular turtle spotting beach. It's busier, closer to the road, parking can be difficult (although we got a space), and we didn't see any turtles.
This is a popular snorkelling spot in summer but the surfers were out on our visit.
Waimea Valley and Waterfall Swim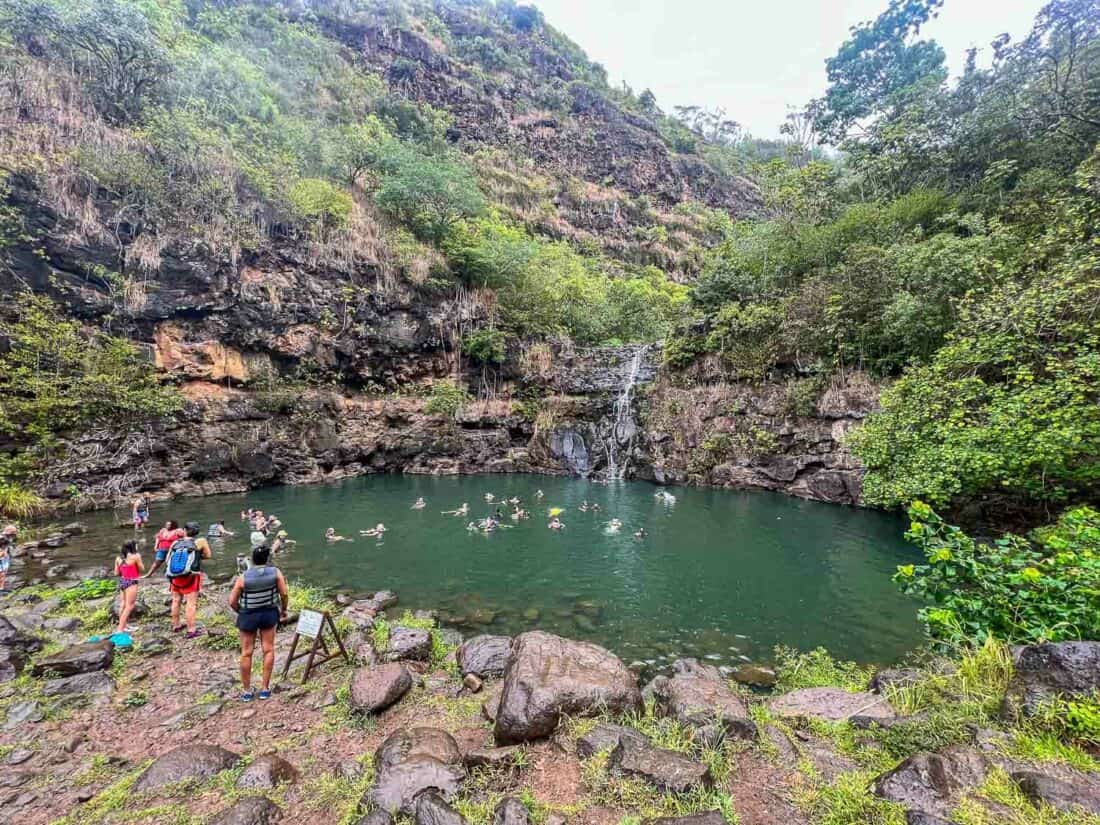 We didn't linger at the beaches due to the rain so reached Waimea Valley by 10am.
This botanical garden has a swimmable waterfall and is the most popular tourist attraction on the North Shore.
The easy walk through the lush valley to the falls is 1.5 miles round trip and took us about 20 minutes each way. There are plenty of side trails you can take too.
The waterfall is beautiful but the pools are very busy (lots of tour groups stop here) and you have to wear a lifejacket (provided free).
It's certainly not a wilderness experience, but if you want to swim in a waterfall this is the most accessible one on Oahu.
Waimea Beach
We actually stopped here on the way to the airport when we had better weather, but it makes sense to combine with Waimea Valley next door.
This is one of the most beautiful beaches on the North Shore with its wide bay of golden sand and a big rock people jump off.
You can snorkel in summer and surf in winter. In October, it was calmer than most of the beaches in this area.
Sharks Cove is another popular snorkelling spot nearby and is also best in summer.
Turtle Bay
We were back at our resort in time for lunch by the pool and a relaxing afternoon.
In the evening we did a sunset walk along the gorgeous coastline, had a casual dinner at the Off the Lip bar, followed by a star-lit jacuzzi and swim in the adult pool.
We were very much enjoying resort life.
Day 7: North Shore Relaxation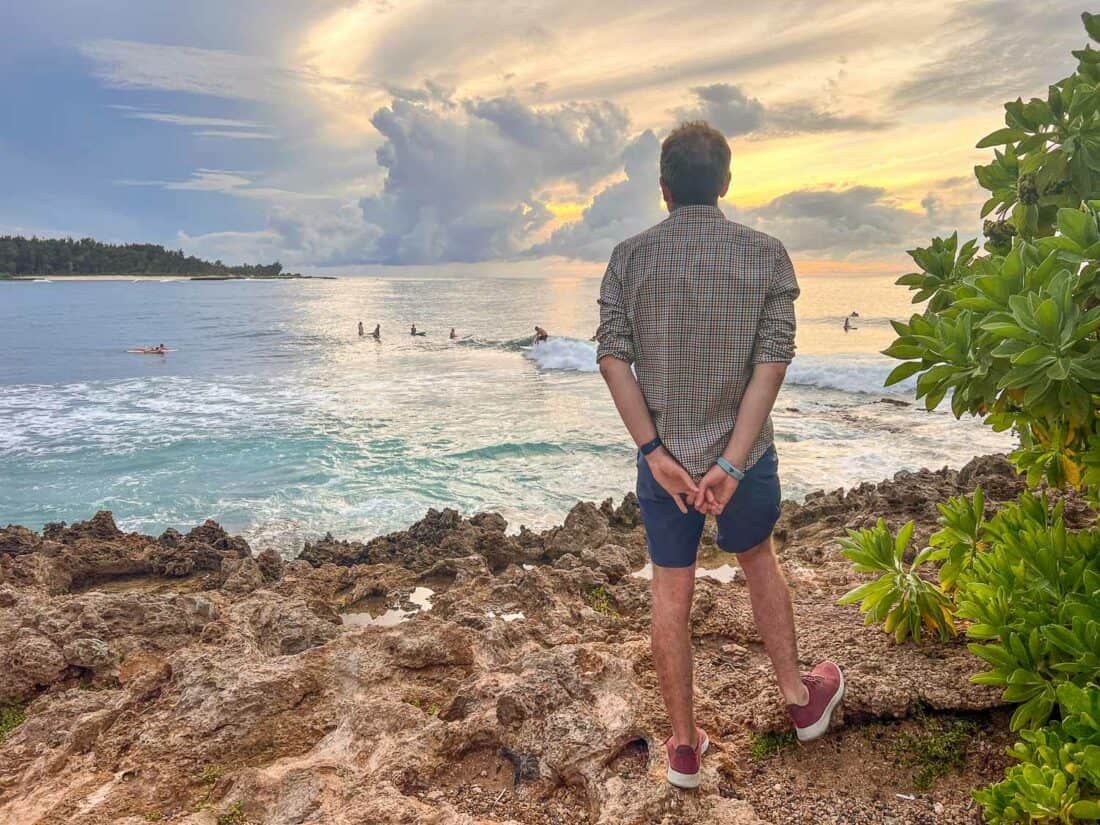 For our final full day on Oahu, we had a relaxing resort day at Turtle Bay.
Even if you aren't staying at Turtle Bay you can access the beaches, coastline walks, and restaurants. The main beach, Kulima Cove, is the most protected place for a swim when the surf is up elsewhere on the North Shore.
I started my day with a sunrise run along the coast to Kawela Bay, a gem of a beach that's secluded and has lots of turtles.
I couldn't resist jumping in for a swim but was sure to keep my distance from these protected animals.
I loved Kawela so much that after a room service breakfast, Simon and I walked back here for a snorkel. We only saw one turtle this time, but it's a lovely spot to hang out regardless.
Back in the main part of the resort, we got sunbeds on Kulima Cove (free for guests) and I went for a snorkel.
Simon signed up for a two-hour group surf lesson, which ended up being back at Kawela Bay. He loved the experience.
In the evening we watched the surfers at sunset then had dinner at Alaia.
Day 8: Departure
It was time to leave Oahu and it was a wrench to leave Turtle Bay—we could easily have spent a few more days there.
We drove back to the airport via the middle of the island past the Dole Plantation (you can visit but we skipped it).
There were long queues at airport security (inter-island flights join the same queue as longer flights), so we were glad we had allowed plenty of time. After a pizza lunch at Island Brews, we were on our way to the Big Island.
Is 7 Days in Oahu Enough?
7 days in Oahu is ideal for an introduction to the island. During our week we were able to see a lot and still have time for relaxing on beaches.
That said, we easily could have spent longer on Oahu. We didn't make it to the west coast, and there are more hikes and beaches we'd have loved to experience. We know we'll be back.
More Hawaii Posts
We've visited the four main islands of Hawaii and have lots of tips to share in these posts.
General
Oahu
Maui
Kauai
Big Island
If you enjoyed this post, pin it!