This page contains affiliate links. Please read our disclosure for more info.
Yes, planning a trip to Disney World on a budget is possible! It's never going to be the cheapest trip, but there are many ways you can save money on accommodation, transport, and food.
We've been to Disney World in Orlando, Florida three times as adults. The first two visits we were on a tight budget and stayed in off-site motels and packed sandwiches.
On our last trip we had more to spend and stayed in Disney World's cheapest resort hotel and ate in the parks at a mix of fast food and table service restaurants.
They have all been wonderful experiences, and below I compare the costs of staying on-site vs off-site, explain step by step how to plan a Disney vacation on a budget, and give tips on how to save money on every aspect of your stay.
Contents
2022 Update
Things are different at Disney World in 2022, although the parks are returning to normal and most attractions are open.
Restrictions are constantly changing but the main differences at the moment include:
You must make a reservation to visit a specific park using the Disney Park Pass Reservation System on their website. Check availability before you book your trip.
Masks are required indoors, on attractions, and on transportation, regardless of vaccination status.
FastPasses have been replaced with Genie+ and Lightning Lanes (see below).
Parades and some attractions are currently suspended.
Disney Dining Plans are currently unavailable (but it's generally cheaper not to use them anyway).
Get Inspired with Our Disney Video
How Much Does a Trip to Disney World Cost?
Disney Costs Staying Off-Site
The cheapest way to go to Disney World is by staying off-site in a cheap motel. We did this when visiting Disney as a couple in 2011 and 2015.
In 2015 we spent 10 nights in Orlando with six days in the four main Disney parks (Magic Kingdom, Animal Kingdom, Epcot, and Hollywood Studios) plus three days at the other Disney attractions (water parks and mini-golf).
We tried to be frugal and shopped at supermarkets for breakfast and lunch and ate dinners outside the parks as often as possible.
We spent a total of $2187 for two people which is $109 per person per day.
Here's how our off-site Disney World budget for two breaks down per person per day:
Motel (Rodeway Inn Maingate) $22
Park Tickets $44
Food (Groceries and Eating Out) $20
Car hire and parking $23
Disney Costs Staying On-Site in a Disney Value Resort
In November 2018, we stayed on-site in Disney's cheapest resort, All Star Music, for six nights including five full days in the main parks.
Other than some granola bars we brought with us, we ate all our meals in the Disney parks and also indulged in a couple of alcoholic drinks a day (which we mostly avoided on previous trips).
We spent a total of $2449 for two people which is $204 per person per day, nearly double what we spent staying off-site.
Here's how our on-site Disney World budget for two breaks down per person per day:
Hotel and Tickets $139.50
Food $39
Alcohol $17
Gifts and Souvenirs $9
The cost of the hotel and tickets was a package we booked direct from the Disney website for six nights which included a discount on tickets.
Transport is free for resort guests so we didn't rent a car. Note that Disney's Magical Express bus from the airport is no longer available, so transport to the parks will be an additional cost (the Mears shuttle is $32 roundtrip for adults or take an Uber/Lyft).
We booked our trip seven weeks in advance and had to pay a $200 deposit initially and the balance one month before.
I go into greater detail about the costs of different aspects of a Disney trip below.
Choose the Best Time to Visit Disney World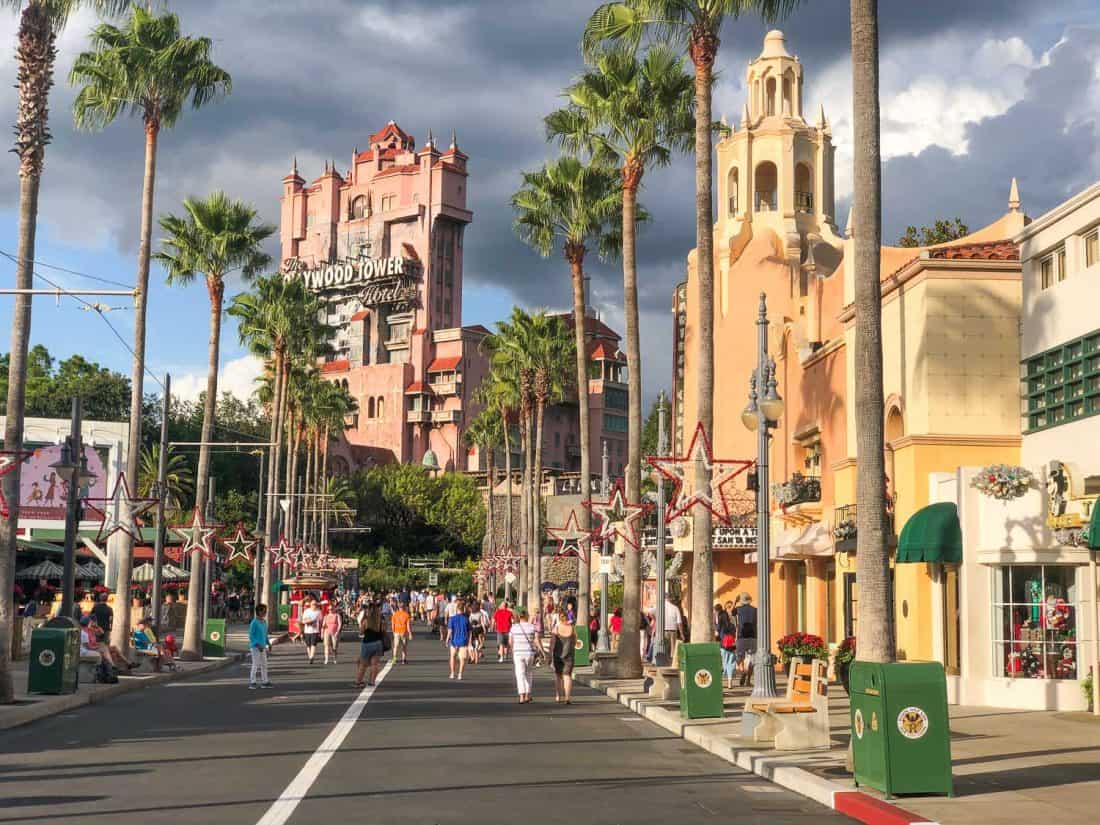 Choosing the best time to visit Disney World is an important decision. The best time to visit Disney on a budget is in the offseason when prices of accommodation, flights and park tickets are lower and the parks are less crowded. Late January and early February are usually the cheapest times to visit.
If at all possible, avoid school and public holidays. The busiest times are June to mid-August (especially around July 4), Christmas/ New Year, and Thanksgiving.
In recent years October has also become a busy month as the weather is ideal, and there are Halloween celebrations and the Epcot Food and Wine Festival, but I would still visit at this time of year.
Spring Break in April is another busy time, but we have visited twice in April just after Easter—it wasn't too crowded and the weather was hot.
Our last trip was in November, 10 days before Thanksgiving and it was fine, although it was busier on the Saturday before Thanksgiving (our last day). The weather was mostly hot (we could swim in the resort pool) with two surprisingly cool days (I had to buy a sweater in the park!).
I recommend having a rough idea of the time you can visit Disney and then checking this ranking of the best weeks to visit Disney.
Usually their top picks are in early November and early December (avoiding Thanksgiving).
You can also check crowd calendar predictions on Undercover Tourist.
2022 Update: Check park reservations are available
In 2022, you need a park reservation as well as a ticket to enter the parks. You must book for specific dates and popular dates are getting book up well in advance.
Before you plan your Disney vacation, check park reservations are available for your dates on the availability calendar on the Disney website.
How Long to Stay at Disney World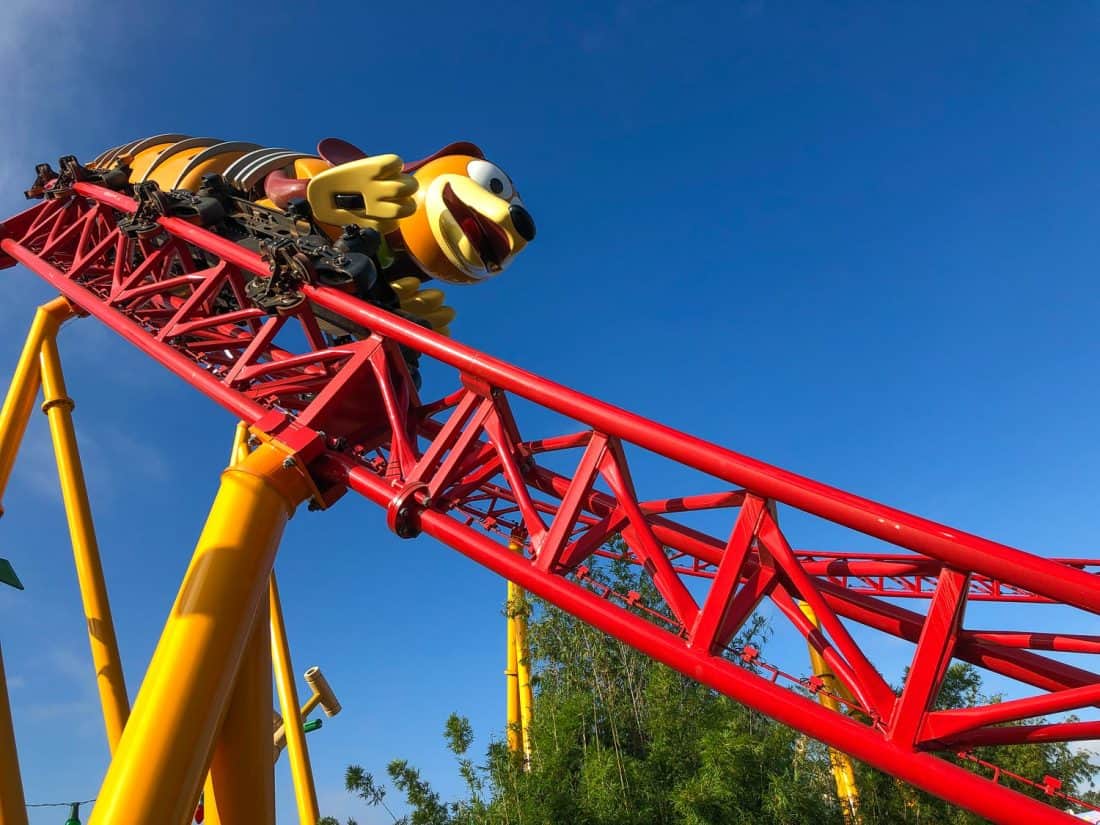 Four full days is our minimum for a trip to Disney as it allows us to have a day in each of the main parks.
If you are visiting Disney as part of a longer trip around Florida, you could choose just one or two parks to visit, but they all are very different. It's impossible for us to pick and doing more than one park in a day would be exhausting.
So even if you are planning a trip to Disney World on a budget, try to allow four full days if you can.
Six or seven full days (7–8 nights) would be even better as it allows you to revisit some of the parks, have a rest day, or visit the two water parks.
On our last trip, we stayed for six nights with five full park days and wished we'd had an extra day for a rest/water park day in the middle.
On our previous trip where we stayed off-site in a cheap motel we had 10 nights—six days in the main parks plus two days in the Disney water parks (Typhoon Lagoon and Blizzard Beach) and one day at Disney Springs (the shopping/restaurant area that doesn't require a ticket) and Disney's Winter Summerland mini-golf.
That was a bit much for me, but Simon the Disney fanatic loved it.
You might also want to allow a day or two to visit Universal Studios which is home to the wonderful Wizarding World of Harry Potter (we visited on a previous trip so just focused on Disney the last two times).
Accommodation: Staying in a Disney Resort Vs Off-Site
Your biggest decision when planning a trip to Disney World on a budget is whether to stay in an on-site Disney resort or cheaper accommodation outside the parks. We've done both and had great experiences either way.
Here are our thoughts on the differences.
Staying in a Disney Resort
Unfortunately, changes Disney made in the last few years have reduced the advantages for on-site guests, but there are still some.
Accommodation is more expensive (from $136 plus tax a night), but you can save on transport and tickets (if you book a package).
Free shuttle buses between resorts and parks so you don't need to rent a car or pay for parking. You now need to pay for transport from the airport though.
Resort guests can enter all parks 30 minutes early every day. This is especially useful for popular rides like Avatar at Animal Kingdom and the Star Wars rides at Hollywood Studios.
In addition, guests at Deluxe Resorts will be able to stay late at some parks on select days.
You can book Individual Lightning Lanes (paid line skipping for certain rides) at 7am (rather than park opening).
You can make restaurant reservations 60 days before you check-in plus up to 10 days of your trip (off-site guests don't get those extra 10 days). This is useful if you want to eat in a popular restaurant like Cinderella's Royal Table.
Packages purchased in park stores can be delivered to your resort.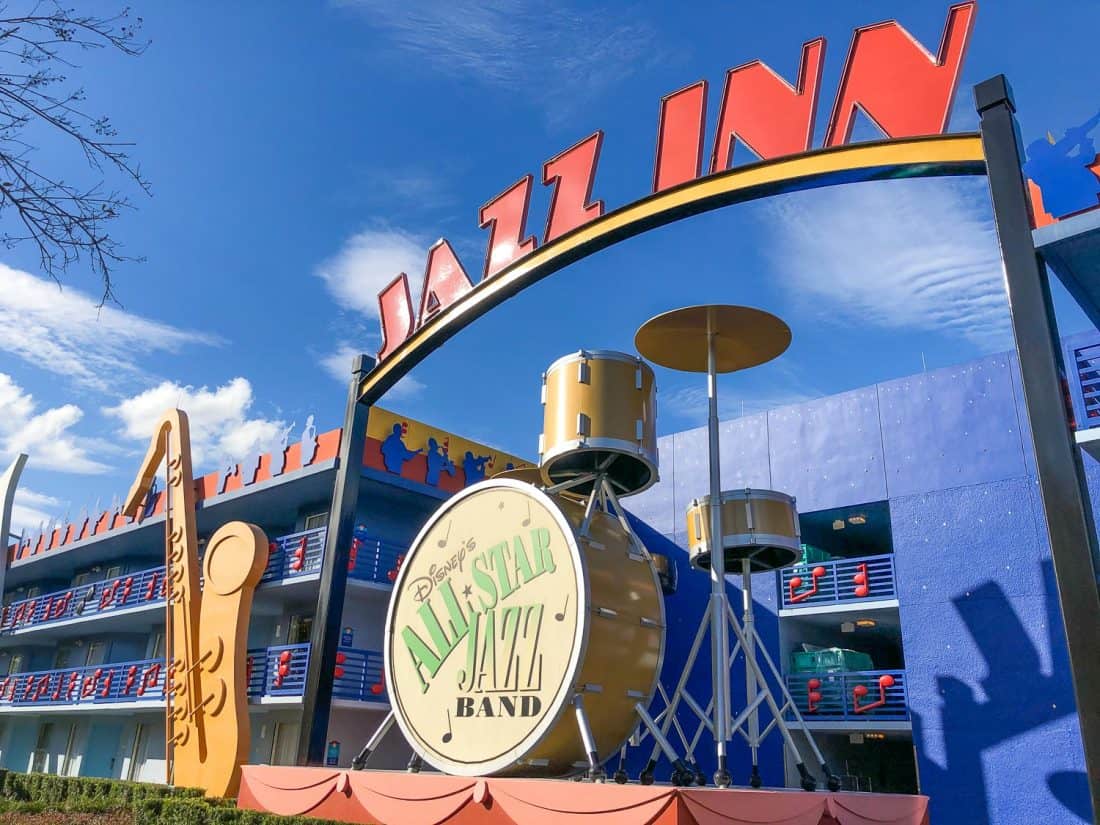 If you do decide to stay in a Disney resort, the cheapest options are Disney Value Resorts including the various All Star Resorts and Pop Century.
Pop Century is generally considered slightly better, but the cheapest one available when we booked was All Star Music, which has a standard rate of $161 plus tax per night. In low season there are discounted rates.
Our room at All Star Music was similar to the basic motel rooms we usually book off-site with two double beds, an ensuite bathroom, air conditioning, free wifi, TV, and a mini-fridge (but no kettle).
There are two pools on-site (with lots of noisy kids!) and we were a fair walk from the restaurant/reception/bus stops.
It took us 20–40 minutes to get from All Star Music to the parks including wait time for the bus which was never more than 15 minutes.
The restaurant is canteen style, and you can pick up snacks and baked goods for a quick breakfast.
Although our room and resort were basic, it worked well for us as we didn't spend much time in our room and only had time to use the pool once.
Staying Off-Site
Accommodation is much cheaper with motels available from $40 plus tax a night.
You need a car to get to the parks, so you'll need to pay for car rental or taxis/Ubers. If you are really on a budget, some motels offer free shuttles to Disney parks but hours will be limited.
Parking at Disney parks is expensive at $25 a day.
You'll be closer to inexpensive restaurants and grocery stores.
It's a good option if you want to visit lots of other attractions in Orlando.
We have stayed in cheap motels in Kissimmee just outside the parks twice before. Last time we stayed at Rodeway Inn Maingate which is in the ideal location just a 10 to 15-minute drive from the Disney parks.
The motel rooms are simple, but they are comfortable enough with two double beds, ensuite, and WiFi, and there's a pool.
We paid extra for a deluxe room with a microwave and fridge which is useful for saving money on food. Current rates are around $51 a night including taxes.
Other cheap motels in good locations are:
When you are booking a motel make sure you check the final price as the initial quoted price doesn't always include taxes or service/resort fees.
You can search for more cheap motels near Disney World here.
If you can afford it, stay at a Disney resort as we think the advantages are worth it.
But if you are on a tight budget, you can save money on food and accommodation by choosing a cheap motel off-site and still have a fantastic time.
Booking Cheap Flights
The cost of flights to Disney World will depend on where you are coming from and the time of year.
The nearest airport to Disney World is Orlando International Airport (MCO) which is served by many budget airlines such as Southwest, JetBlue, and Spirit.
If you are coming from Europe, Norwegian has inexpensive direct flights to Orlando from London, Paris, Oslo and Stockholm.
We paid extra to fly Premium with them from London and it was much more spacious and comfortable than economy at about the same rate as other airlines' economy.
To find the cheapest flights to Orlando search on Kiwi.
Booking Car Rental
If you are staying at a Disney Resort you don't need a car as you get free transport. If you want to do Disney on the cheapest budget possible, then it's likely you'll stay in an off-site motel and rent a car.
If you book in advance you can get cheap car rental deals—we've paid just £15 ($19) a day before. I usually find the best deals on Rental Cars and Kayak.
If you are from the UK, it's cheaper to buy a separate car hire excess policy than to pay the high rates to lower your excess direct with the rental company.
Disney Ticket Costs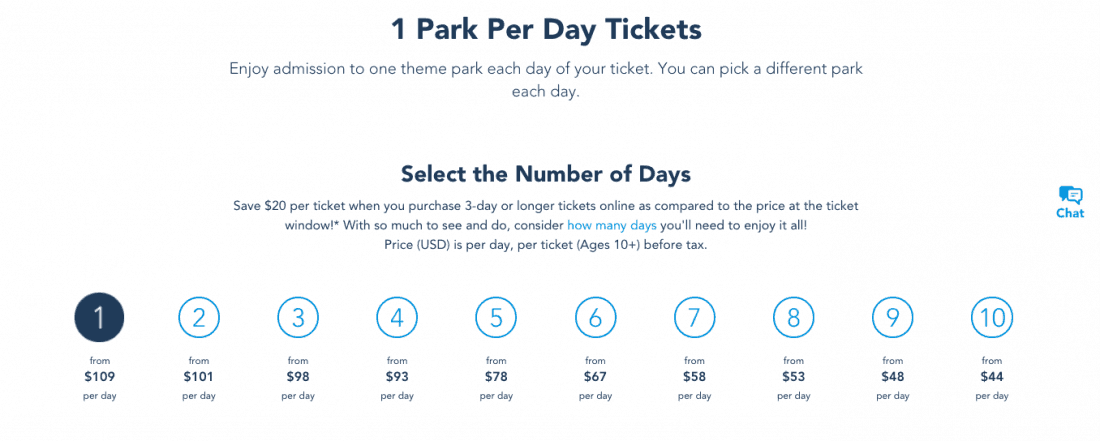 The cost of Disney park tickets depends on how many days you want to spend in the park. It's cheapest to buy a ticket that allows you to visit one park per day.
A one day ticket to Disney costs from $109 (+ tax) per day depending on the time of year. The cheapest tickets are in January, February, May, August and September. The highest ticket prices are at Christmas at $159 a day.
Kids under three don't need a ticket. Kids aged 3–9 only pay a few dollars less than adults.
Prices go down the more days you buy, and after four days it doesn't cost much more to add an extra day. A four-day ticket costs from $103 per day whereas a seven-day ticket is from $67 a day.
To do a similar trip to our last visit—in November 2021, a five-day ticket for two people would be $1104.50 including tax ($552 per person).
Park Hopper Tickets
You can buy a Park Hopper to visit multiple parks in one day, but this costs more and isn't usually worth it. If you want to visit the water parks, though, the Park Hopper Plus option could be cost-effective.
A five day Park Hopper Plus in November 2021 costs $664 incl tax, which is $112 more than a standard ticket, but you get five entries to the water parks and mini golf. Entrance to water parks is $73, so you'd have to visit at least two to make this worthwhile.
Genie+
In October 2021, Disney introduced the paid Genie+ service to replace the free FastPass system. It costs $15 plus tax per person per day and allows you to skip lines by choosing a time to ride certain attractions.
This is an extra cost that could be worthwhile for Magic Kingdom and Hollywood Studios. If you are on a tight budget, you can manage without by arriving early and/or staying late.
See my best Disney World rides post for more details on how this works.
Where to Buy Disney Tickets
It's best to buy your tickets on the Disney website (or with your accommodation if staying on-site) and create a My Disney Experience account.
Eating at Walt Disney World on a Budget
Our Food Costs at Disney
When we stayed off-site and self-catered or ate in cheap restaurants outside of Disney most of the time, we spent $20 per person per day on food.
When we stayed in a Disney resort and ate all our meals in the parks (except for some granola bars we brought with us), we spent $39 per person per day on food (plus an extra $17 on alcohol).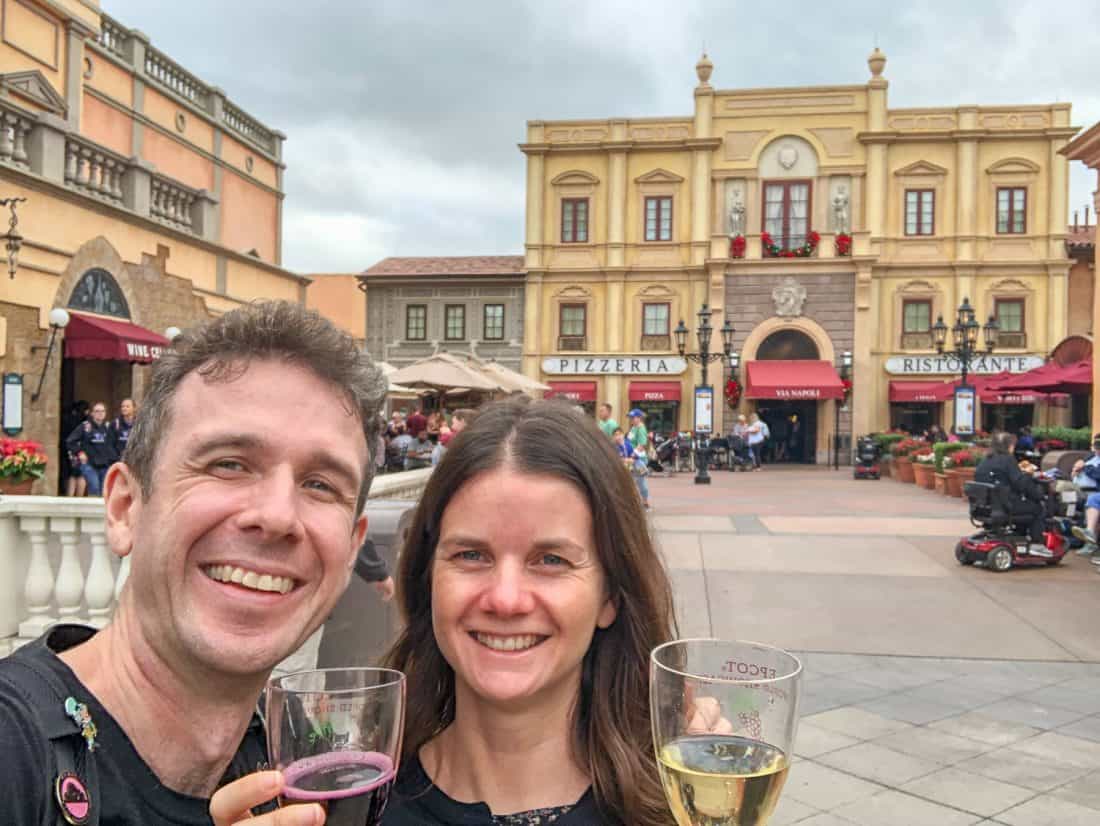 Self-Catering
Food at Disney World is expensive, so the best way to save money is to bring your own food into the parks (which is allowed).
When we stay off-site, we make sure we have a fridge in our room and shop at supermarkets for breakfast and lunch ingredients and take sandwiches and snacks into the parks.
You should also bring your own water bottle—we love the collapsible Vapur bottle—and fill up at the water fountains that are found everywhere.
If you are staying at a Disney resort and don't have a car, self-catering is more difficult as there are no supermarkets on-site (resort shops have basic items but they aren't cheap).
You could use a grocery delivery service like Garden Grocer or take an Uber to a supermarket, but both these options add to the cost. On our last visit we decided it was easier to eat in the parks.
Cheap Restaurants Outside of Disney
It's cheaper to eat dinner outside of the parks, which works well if you take a break in the afternoon then return to the parks after dinner (but you'll need a car).
In the past we used vouchers on Groupon or from our hotel to save on meals and ate at cheap restaurants like Cicis where the all you can eat pizza buffet costs just $7.99.
We also often ate at Earl of Sandwich at Disney Springs where a veggie sandwich costs $6.99. It's good for your first night as you get the Disney vibe but don't need a park ticket for the area. You can sometimes find coupons for here especially if you sign up for their newsletter.
Budget Disney Restaurants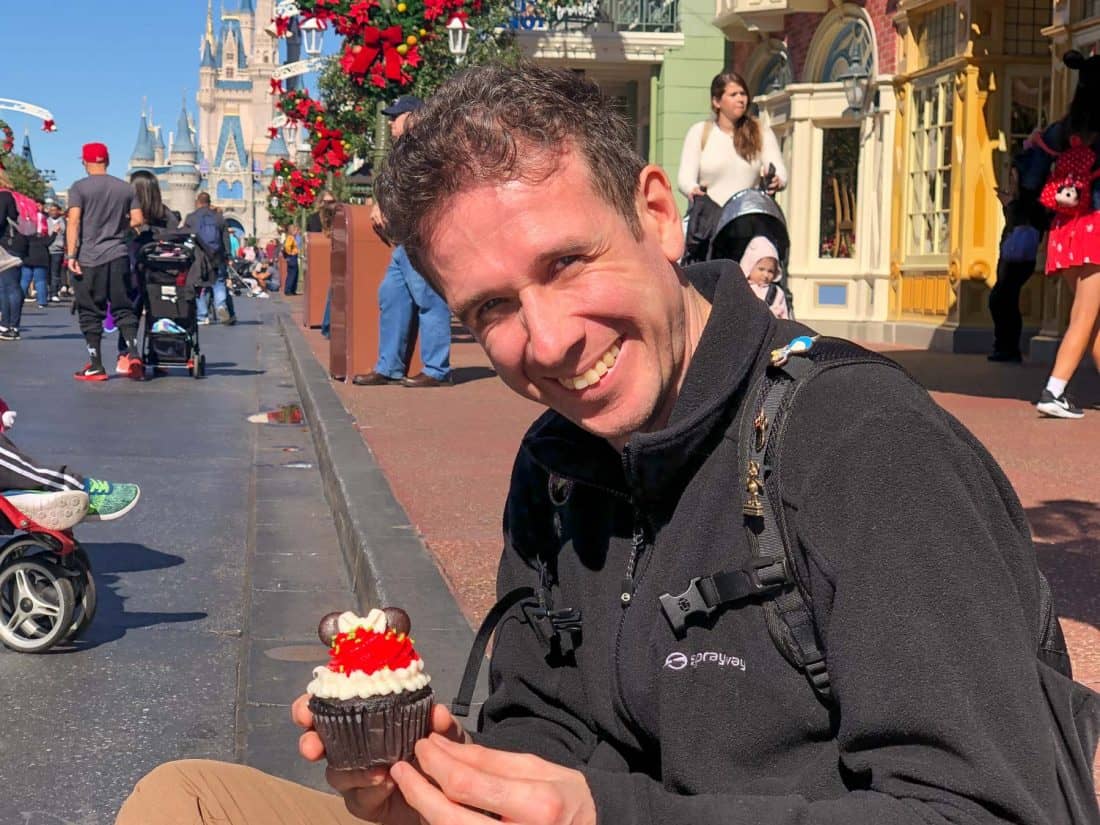 Even when we were on a tight budget, we ate a few meals in the Disney parks and allowed the occasional treat as it's part of the fun.
If you are staying on property, Disney offers Dining Plans—the cheapest Quick Service Dining Plan includes two quick-service meals and two snacks per person per night.
For an example 7-night booking I did, it cost $734.92 extra for two people which is $105 a day (not including tax). This is more than we spent paying our own way and we were able to have three table service meals as well.
The cheapest meals in the parks are at quick service places where you order and pick up your food from a counter. Table service restaurants are a lot more expensive and you also need to tip (18–20% is standard).
Here are some examples of what we spent on food (not including tax):
Lighthouse Sandwich at Columbia Harbour House in Magic Kingdom – $10.69
Veggie Rice Bowl at Peco Bills in Magic Kingdom – $9.99
Tofu Lettuce Wraps at Sci-Fi Dine-In at Hollywood Studios (table service) – $16
Plato Vegetariano at San Angel Inn at Epcot (table service) – $19
Iced Vanilla Latte – $5.69
Mickey pretzel with cheese sauce – $6.59
Pint of ale at UK pub in Epcot – $9.75
Ice cream cone – $5.49
Mickey cupcake – $5.19
Large cinnamon bun at Kusafiri in Animal Kingdom – $7.49
Apple slices – $2.79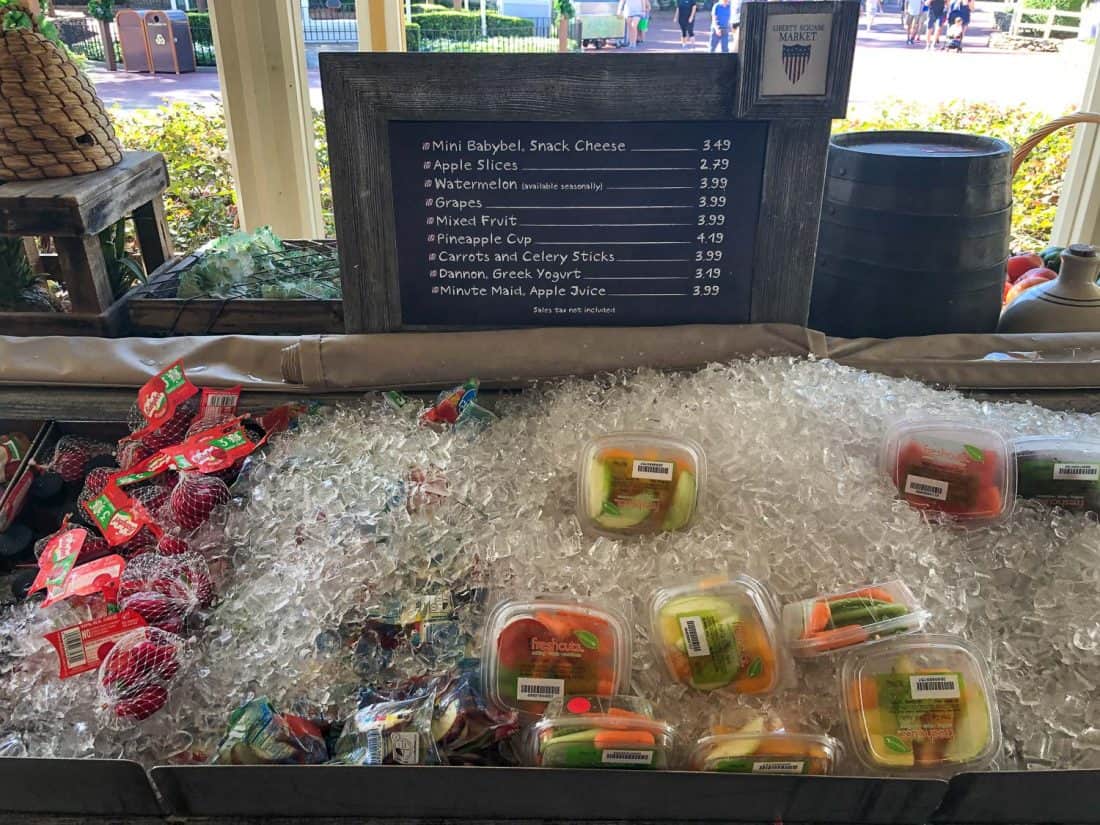 Peco Bills is a great option if you are on a budget at Disney because they have a free toppings bar, so you could share one main between two people and heap on the extras.
You can view all the Disney restaurant menus on the Disney website or app. You can also order meals on the app for some quick service restaurants which allows you to skip the queues.
The cheapest option at Disney resorts is ordering a pizza to your room or picking it up from the food court—a large cheese pizza cost $15.99 and lasted us two meals.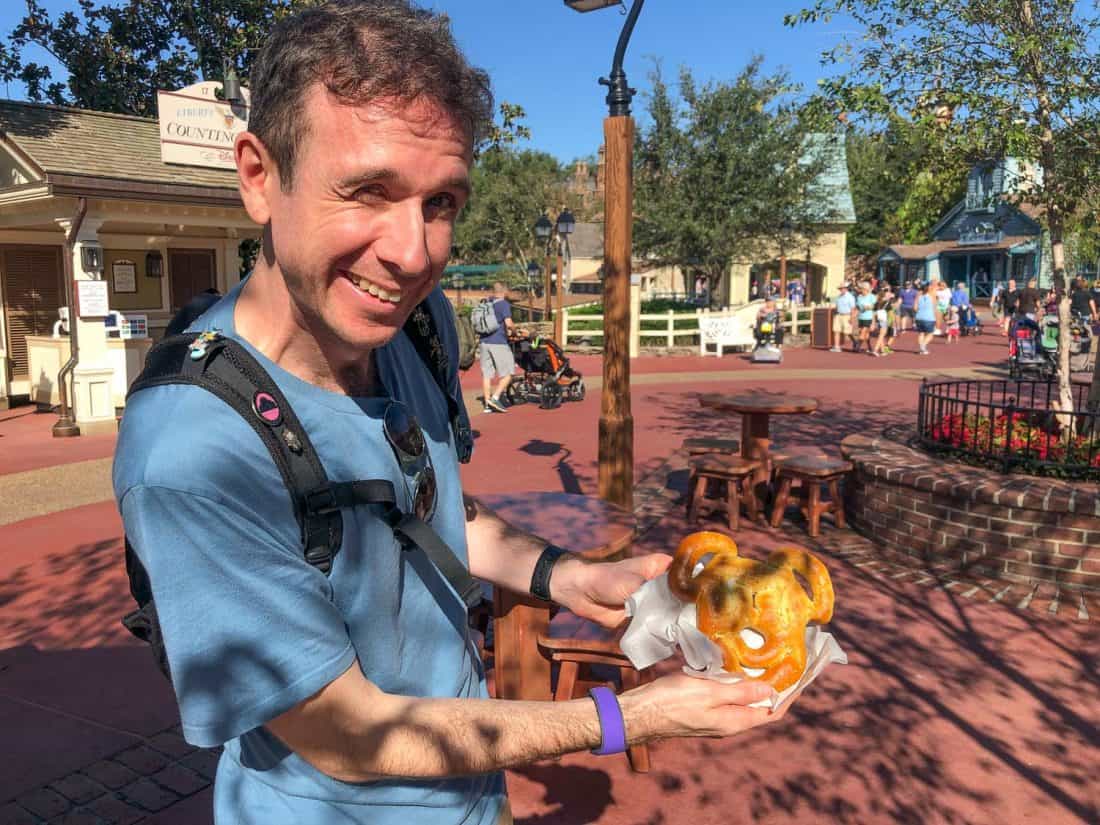 Plan Your Days
Once you've booked your accommodation and park tickets, it's time to plan your Disney schedule and decide which day you will visit each park. Being organized will help you avoid queues and save time.
Check the crowd calendar for the time you are visiting to get an idea of which days in which parks are busiest.
If you are a Deluxe resort guest, choose the days when there are Extended Evening Theme Park Hours if you want to stay late.
Check the park opening times and note fireworks, show and parade times. You don't want to visit Magic Kingdom when it closes at 6 pm if you want to see the fireworks.
Using the above information, decide which day you'll visit each park.
Choose your priority rides in each park—see our post on the best things to do at Disney World for ideas.
Decide if you want to eat at any table service restaurants (probably not if you're on a tight budget) and make reservations. Some popular restaurants book up as soon as reservations open 60 days in advance.
Save your schedule in your calendar—we use Google Calendar and can see our entries on the app on our phone even when offline.
Download the Disney World app. It makes checking wait times on the day easier.
On the day, consider purchasing Genie+ in the app and making ride selections from 7am.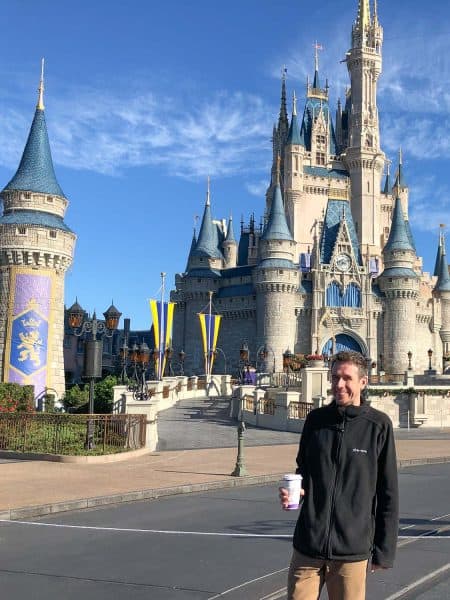 Summary
I hope you've found these tips useful for planning a trip to Disney World on a budget.
Whether you stay in a cheap motel off-site or at a value Disney resort, there are plenty of ways to save money and still enjoy a fantastic trip in the most magical place on earth!
If you enjoyed this post, pin it!