This page contains affiliate links. Please read our disclosure for more info.
Animal Kingdom is a unique theme park that combines exciting rides with real wildlife.
While it doesn't have as many rides as other Walt Disney World parks in Orlando, there are so many things to do at Animal Kingdom that it's easy to spend a day there.
It's a fantastic park for strolling and enjoying the atmosphere from street entertainers to animal sightings. It also has some of our favourite Disney food and one of the best bars.
In this post, we share our picks for the best rides at Animal Kingdom plus shows and other fun things to do for a wonderful day.
Contents
Animal Kingdom Tips and Tricks
Make a Park Reservation
Reservations are required to enter the park in 2023 and can be made on the Disney World website.
I recommend making a park reservation for each day of your trip when you buy your Disney tickets (ideally at least a month in advance).
Animal Kingdom is unlikely to book up, but it's worth doing to secure your plans. You can always change the reservations later.
The reservation system will end for most guests from January 9, 2024.
Download the My Disney Experience app
The Disney World app is useful to check ride wait and show times, make Genie+ selections, order food, and more.
Stay Onsite
If you stay in a Disney resort, you'll be able to enter every park 30 minutes before the official park opening.
This gives you a great head start for riding Avatar, our number one pick of the best things to do at Animal Kingdom.
Arrive Early
Animal Kingdom typically opens at 8am. If you have Early Entry, you can enter from 7.30am. I recommend arriving before then, ideally at 7am.
Occasionally, they'll let people in a little earlier, and either way, you'll be near the front of the line heading towards Avatar.
If you don't have Early Entry, arrive 30 minutes before official park opening.
With Early Entry, we were able to ride the top 5 rides in the first two hours of park opening. This takes some swift walking across the park and back, but you'll avoid long waits and can focus on the shows and low-wait attractions in the afternoon.
With these time-saving tips we rarely wait more than 15 minutes for any of these Disney Animal Kingdom attractions.
Genie+ Usually Isn't Necessary
If you can arrive early or stay for the last few hours, you won't need Genie+ as relatively few rides are included.
If you are park hopping to another park, or visiting at a very busy time (like a holiday weekend), you might want to consider it, though,
This paid line-skipping service is confusing so see our detailed guide where we discuss Is Disney Genie Plus Worth It?
Wear Quick-Drying Clothes
If you want to ride Kali River Rapids, be prepared to get soaked! We were glad we were wearing quick dry clothes so we didn't stay damp for long. See our carry on packing list for what we wear.
In the cooler months, a poncho is a good idea.
Be Prepared for the Heat
Animal Kingdom is the hottest of the four Walt Disney World parks as there are fewer indoor attractions and less shade.
If you are visiting in the summer months, be prepared for the heat with lightweight clothes, hats, and perhaps a cooling towel (we bought one in the park as we were so hot in September).
This is another reason to visit early so you can do as much as possible before it gets too hot, and then retreat to a show in the afternoon.
It's a good idea to check the weather forecast because if thunderstorms are expected in the afternoon (as they often are in the summer), many rides and shows close.
There are fewer indoor attractions at Animal Kingdom, so make sure you do your priority rides (like Kilimanjaro Safaris and Expedition Everest) in the morning.
Most Popular Rides at Animal Kingdom
These are the most popular Disney World Animal Kingdom rides with average wait times over the year:
Avatar Flight of Passage (98 minutes)
Na'vi River Journey (62 minutes)
Kilimanjaro Safaris (50 minutes)
Expedition Everest – Legend of the Forbidden Mountain (30 minutes)
Best Rides at Animal Kingdom
These are the Animal Kingdom must do rides that you won't want to miss.
1) Avatar Flight of Passage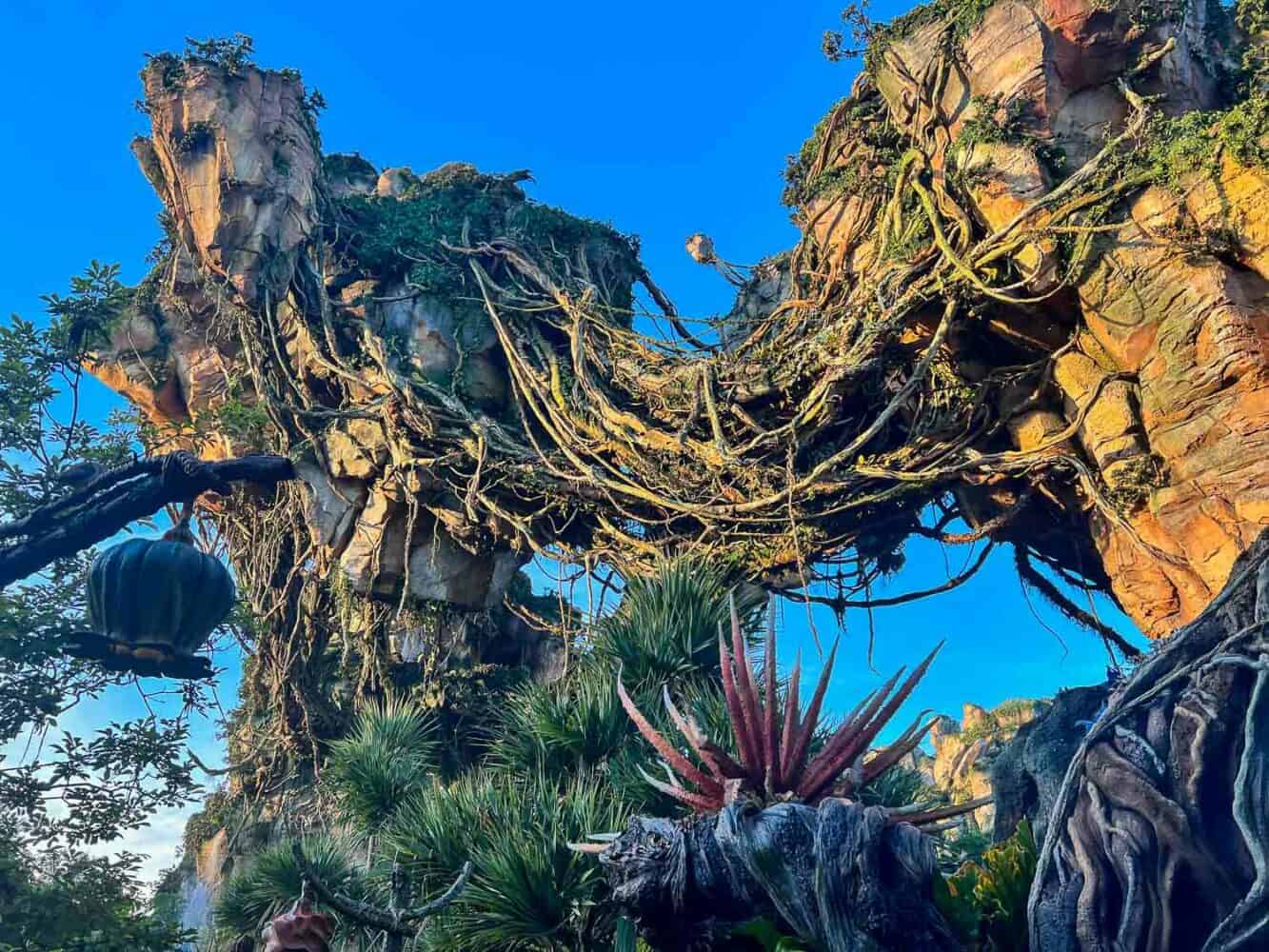 Type of Ride: Thrill Ride
Minimum Height: 44 inches (112cm)
Lightning Lane: Individual ($11-16)
Location: Pandora
Avatar Flight of Passage is absolutely one of the best Animal Kingdom rides (and in our top 3 in all Disney). It's a unique and beautiful attraction that transports you to another world.
Even the queue adds to the experience—from the lush forest outside to the pre-story where you create your own avatar.
On the 3D ride, you fly on the back of a dragon-like banshee and soar over the stunning world of Pandora through forests, down waterfalls, into caves, and over the ocean above a jumping whale-like Nalutsa.
The whole journey is incredibly immersive—stepping legs astride onto your individual creature, feeling it breathe beneath you, and observing the sights, sounds, and even smells of Pandora.
You don't need to be a fan of the Avatar movies to enjoy the ride, but I do think it's worth watching at least the first one for a greater appreciation.
Note that as this is a 3D simulator, motion sickness can be an issue. I am usually sensitive to 3D rides but haven't had a problem with this one. It helps to eat something light before riding.
Avatar is by far the most popular ride at Animal Kingdom. The best time to ride is at the start of Early Entry (for resort guests)—we only waited about 10 minutes on our last visit and most of that was walking through the lengthy queue.
If not, wait times will likely be shortest in the last 30 minutes of the day. If you want to be assured a spot on the ride, you could purchase an Individual Lightning Lane in the app.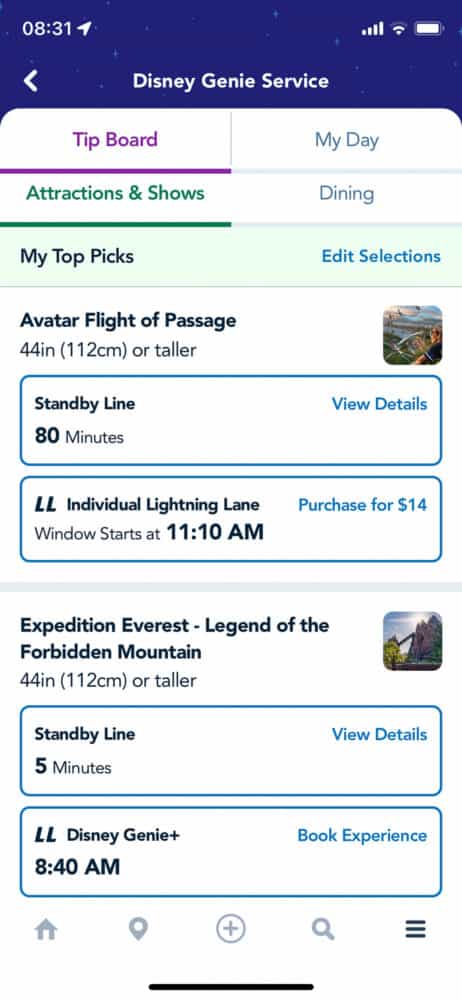 2) Na'vi River Journey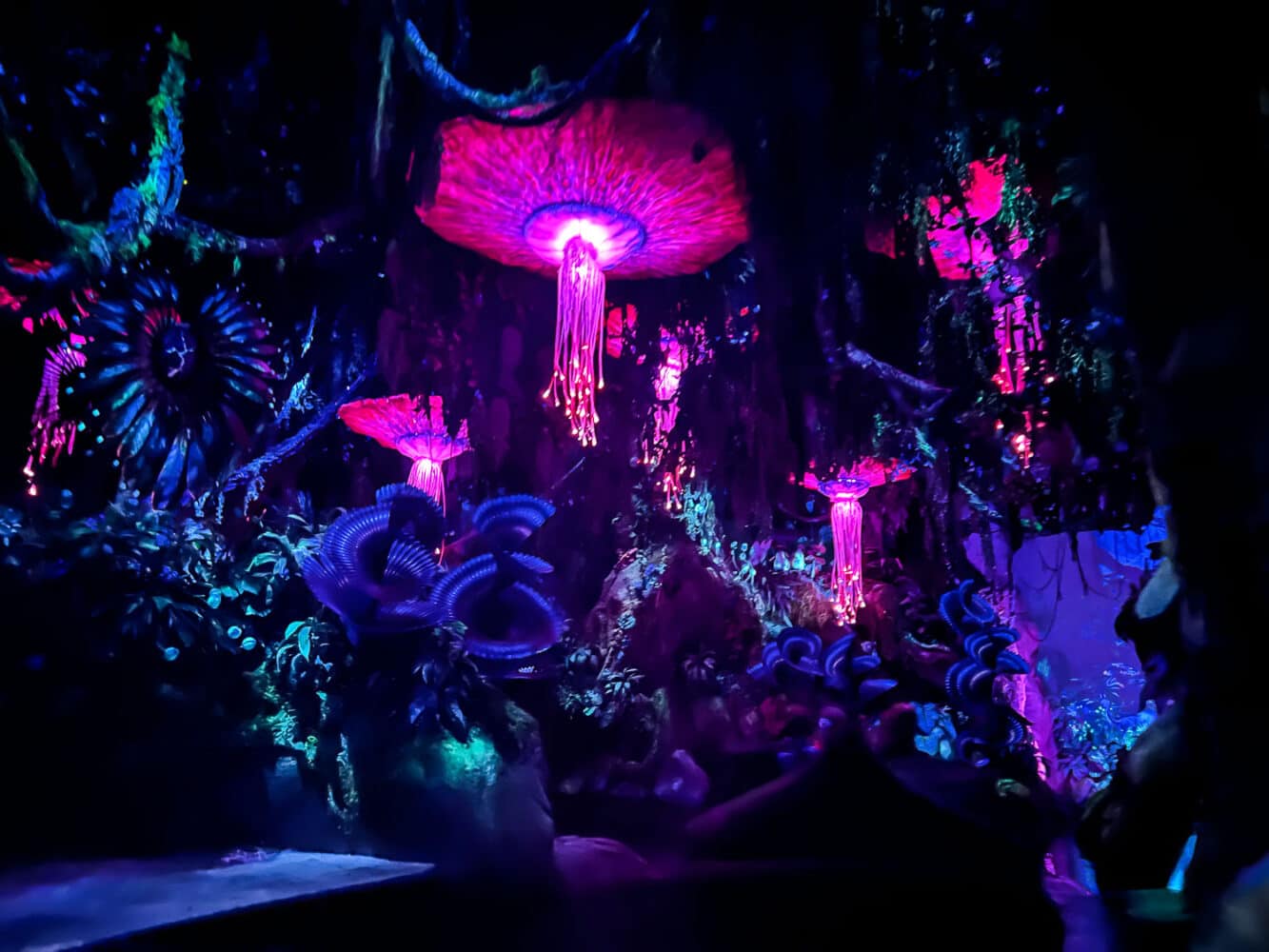 Type of Ride: Slow Dark Ride
Minimum Height: None
Lightning Lane: Genie+
Location: Pandora
The second ride in Pandora isn't as spectacular or thrilling as Avatar Flight of Passage, but I still consider it a must do in Animal Kingdom.
Na'vi River Journey is a gentle river ride in the dark through a bioluminescent rainforest. It's a gorgeous world alive with otherworldly plants and creatures to admire as well as the incredibly lifelike animatronic, the Na'vi Shaman of Songs.
It's such a relaxing ride that I always want to ride it again, but the lines tend to be long.
It's best ridden in Early Entry after Avatar—we walked straight on at 8.10am. Or save it until the end of the day, right before Avatar, or use Genie+ (it's the best first pick).
3) Kilimanjaro Safaris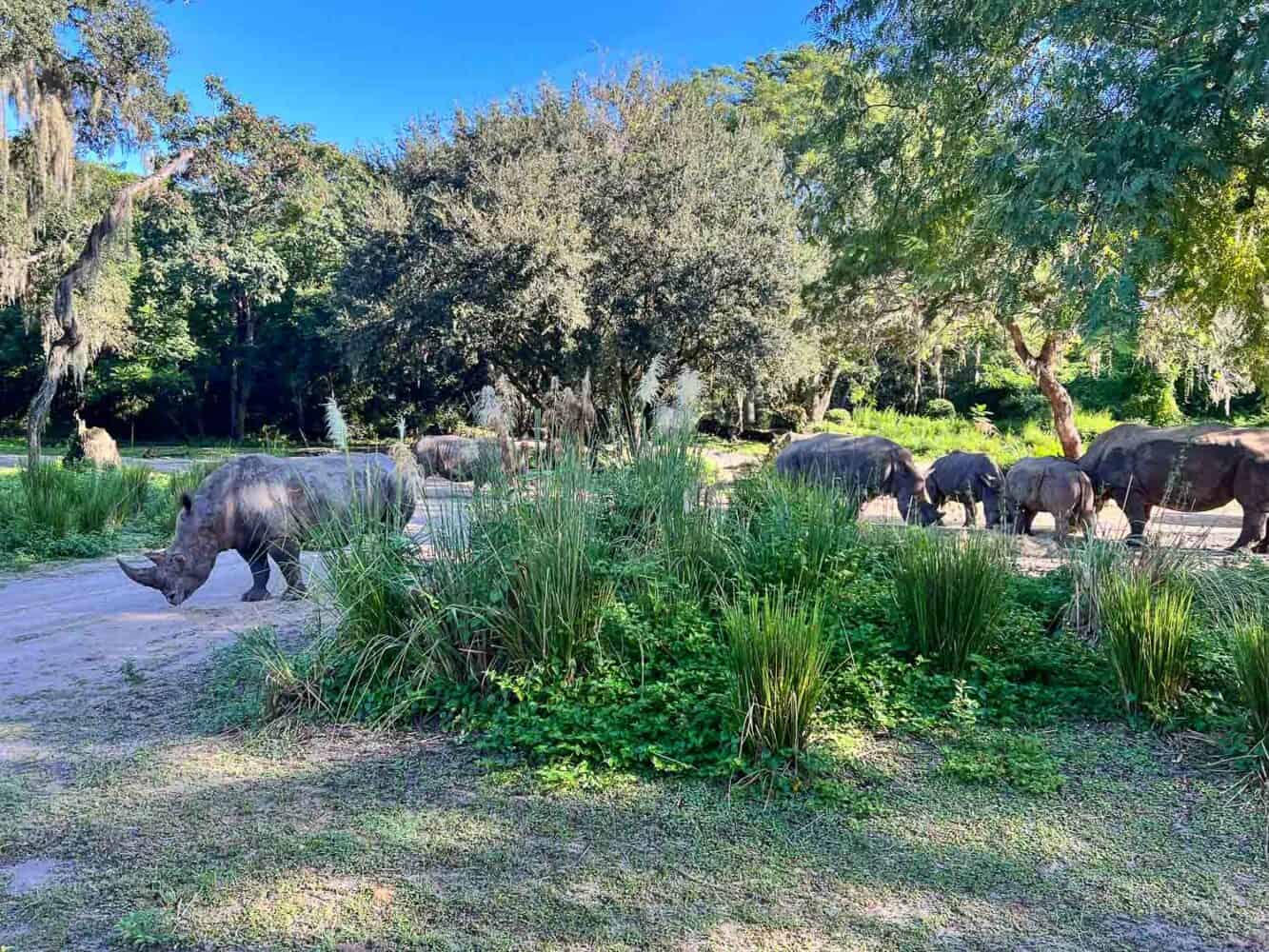 Type of Ride: Slow Ride
Minimum Height: None
Lightning Lane: Genie+
Location: Africa
Kilimanjaro Safaris is like a real safari trip. You board open-sided trucks for a bumpy 18-minute journey on muddy roads, through rivers, and over rickety bridges.
On the way your safari guide gives interesting facts about the animals roaming free in the savannah that you see along the way.
Every ride is different as this is real wildlife, but on our last trip, we saw a lot—kudu, a running ostrich, hippos, lions, cheetahs, elephants, warthogs, zebras, giraffe, rhinos with their calves, alligators, and a flamboyance of flamingos (a term we learnt on the ride!).
The animals are most active early or late in the day, and this is when lines are shorter, too. It's not open during Early Entry so ride soon after official park opening.
We always walk swiftly over here after riding the two Pandora rides (it takes us six minutes at a fast pace). Last time we waited 15 minutes at 8.30am. By 10am the line was up to 95 minutes.
4) Expedition Everest – Legend of the Forbidden Mountain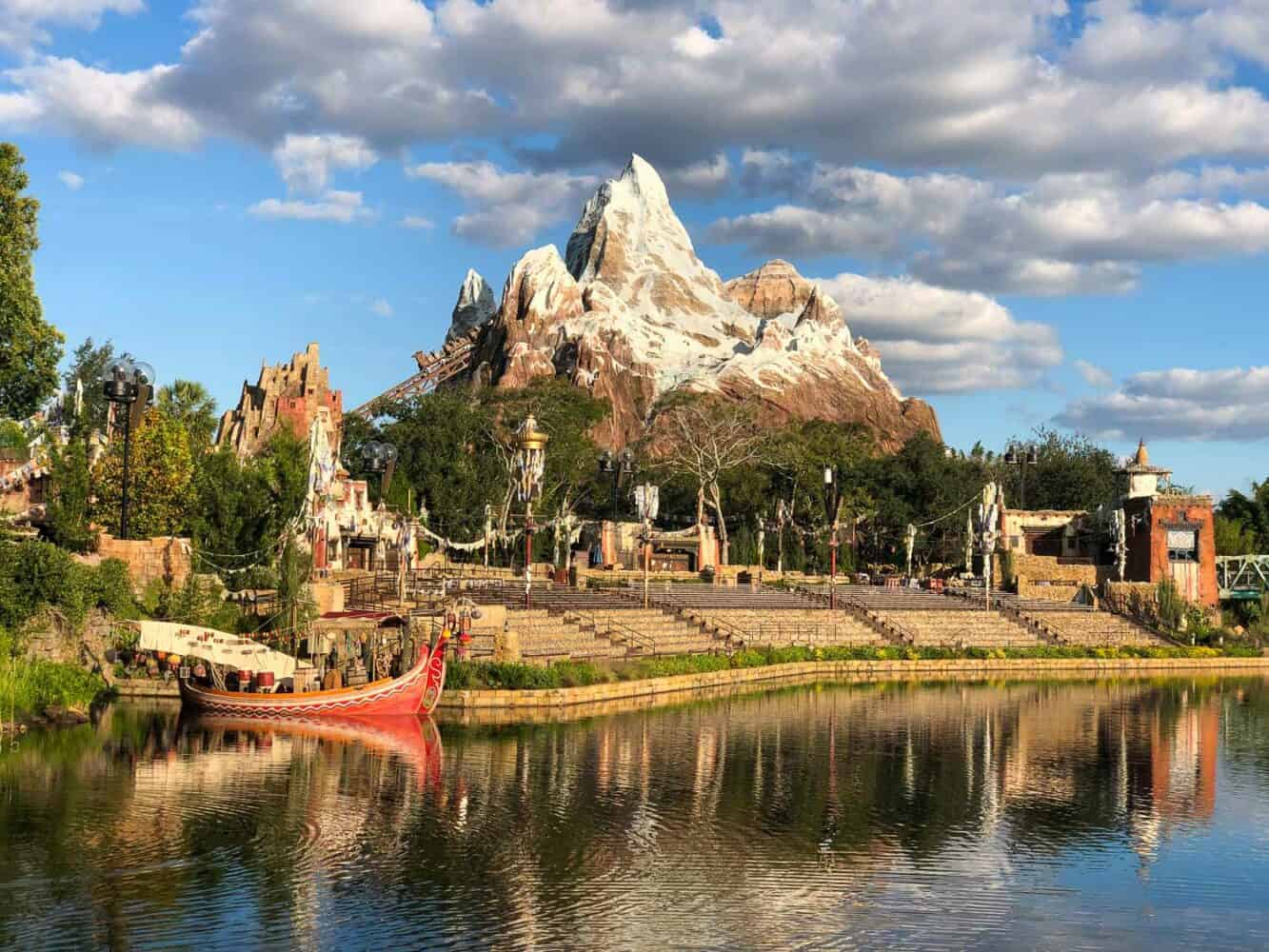 Type of Ride: Thrill Ride with Big Drops
Minimum Height: 44 inches (112cm)
Lightning Lane: Genie+
Location: Asia
Expedition Everest, the park's only roller coaster, is a fun one and definitely one of the best things to do in Animal Kingdom for thrill seekers.
You speed on a train through the Himalayan mountains trying to avoid the mythic Yeti. There are some big drops, a backwards section in the dark, and some fun surprises.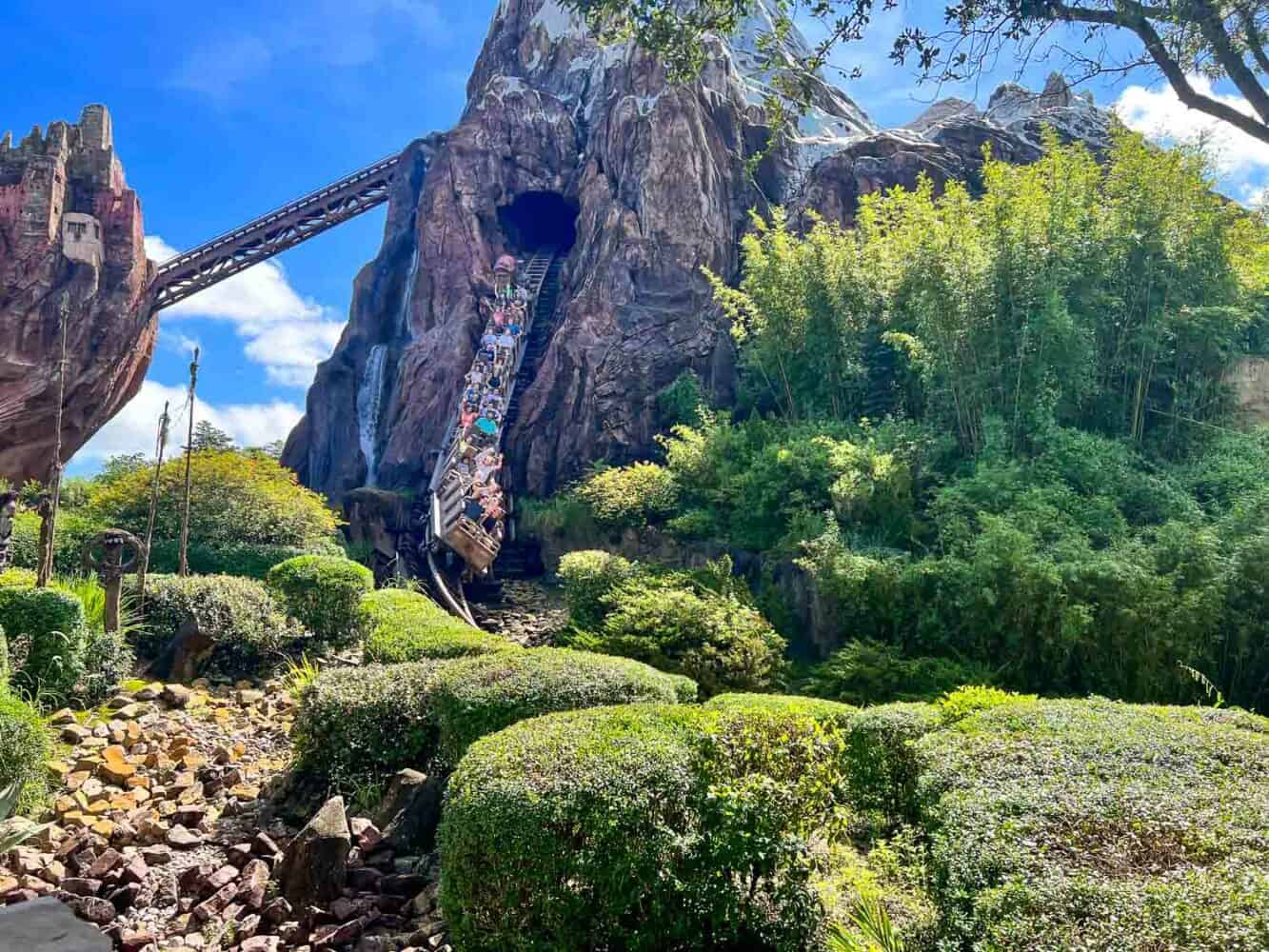 Even the queue is amazing. It's so detailed and reminded us of the expedition gear shops in Nepal.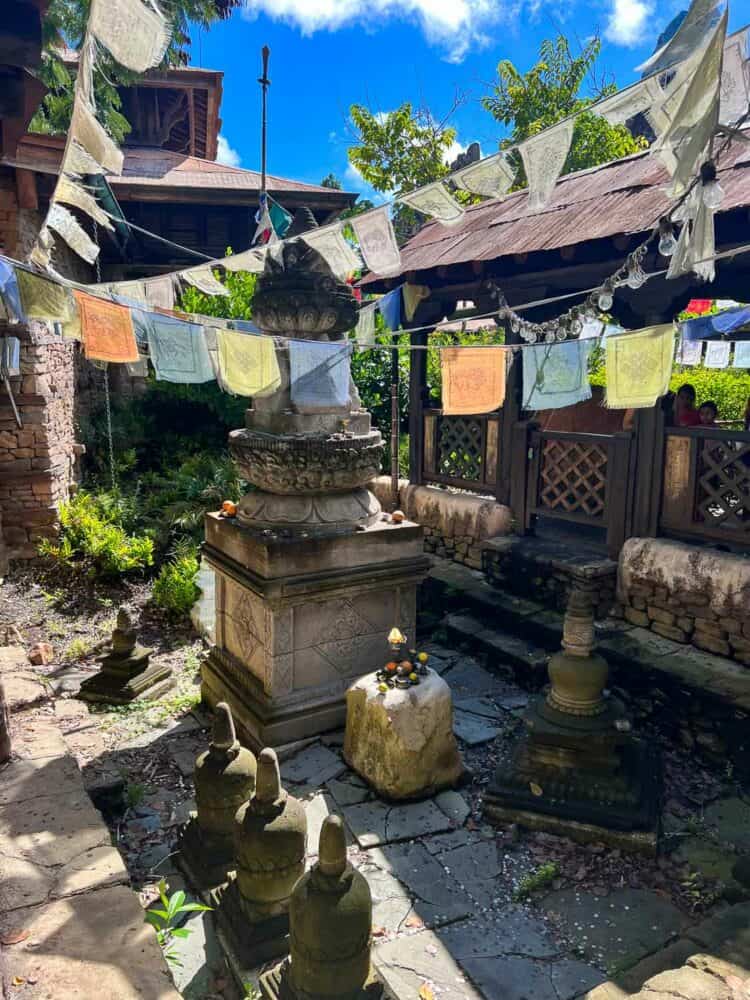 We usually ride Everest after the previous three rides, but wait times tend to fluctuate and are lower than those above. On our last visit, we opted for Kali River Rapids first then rode Everest at 11am with a 10-minute wait.
If lines are long, join the single rider queue, which is much quicker. Simon uses this to ride a couple of extra times by himself.
5) Kali River Rapids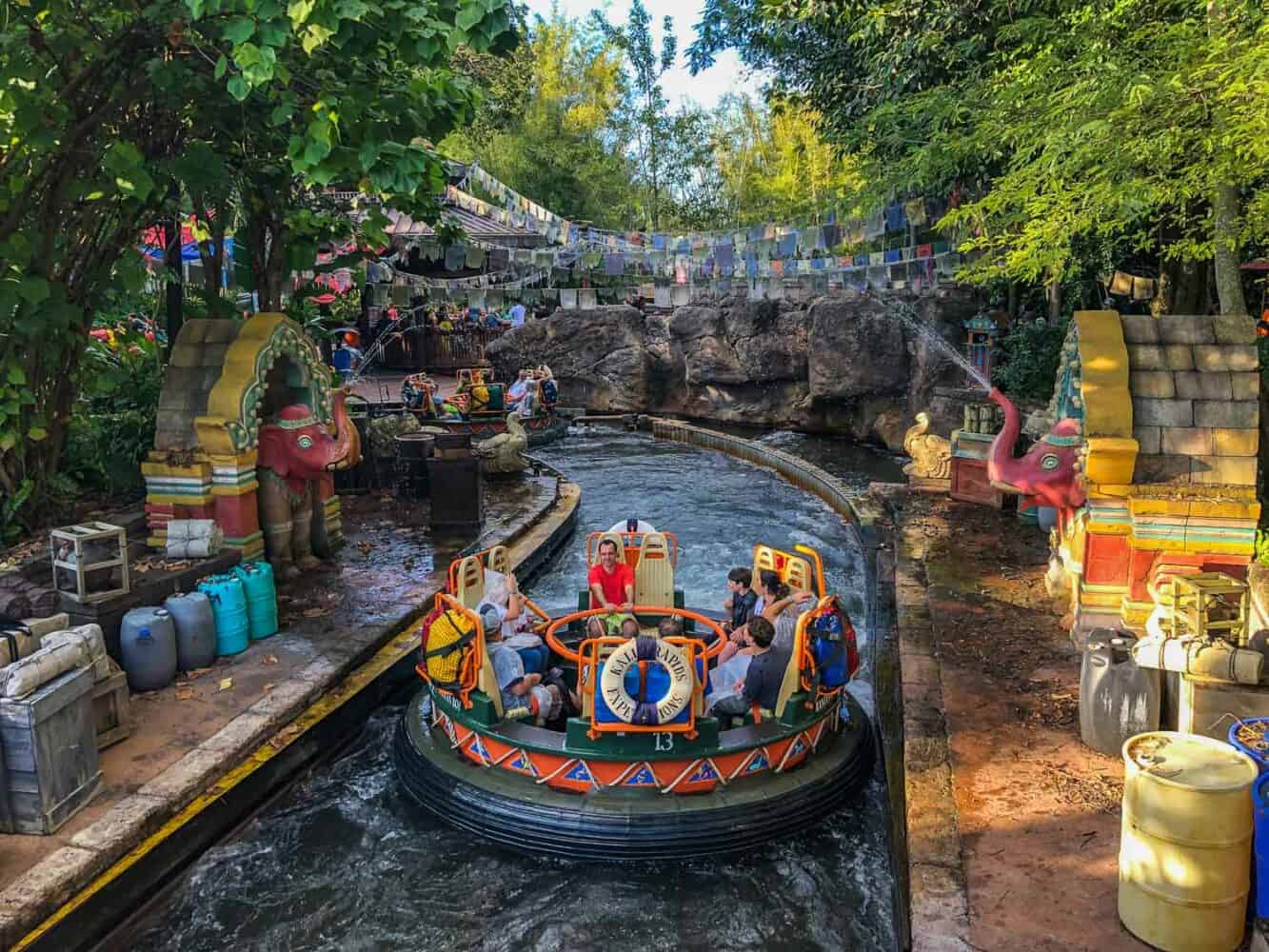 Type of Ride: Spinning Water Ride with Small Drops
Minimum Height: 38 inches (97cm)
Lightning Lane: Genie+
Location: Asia
Kali River Rapids is a whitewater rafting ride that's mostly gentle with a few fun drops.
The fear comes from whether you'll get wet (everyone will) or absolutely drenched (as at least one person per raft does). If you are worried, wear a poncho, but it's quite refreshing in the heat.
Watch out for the bridge at the end where people can squirt riders with elephants!
The ride is shorter than we'd like, so I wouldn't wait long for it, but lines should be reasonable in the morning. Ride it after the four rides above—at 9.20am we walked straight on.
It gets busy on hot afternoons—by 2pm, it was up to 65 minutes.
6) Dinosaur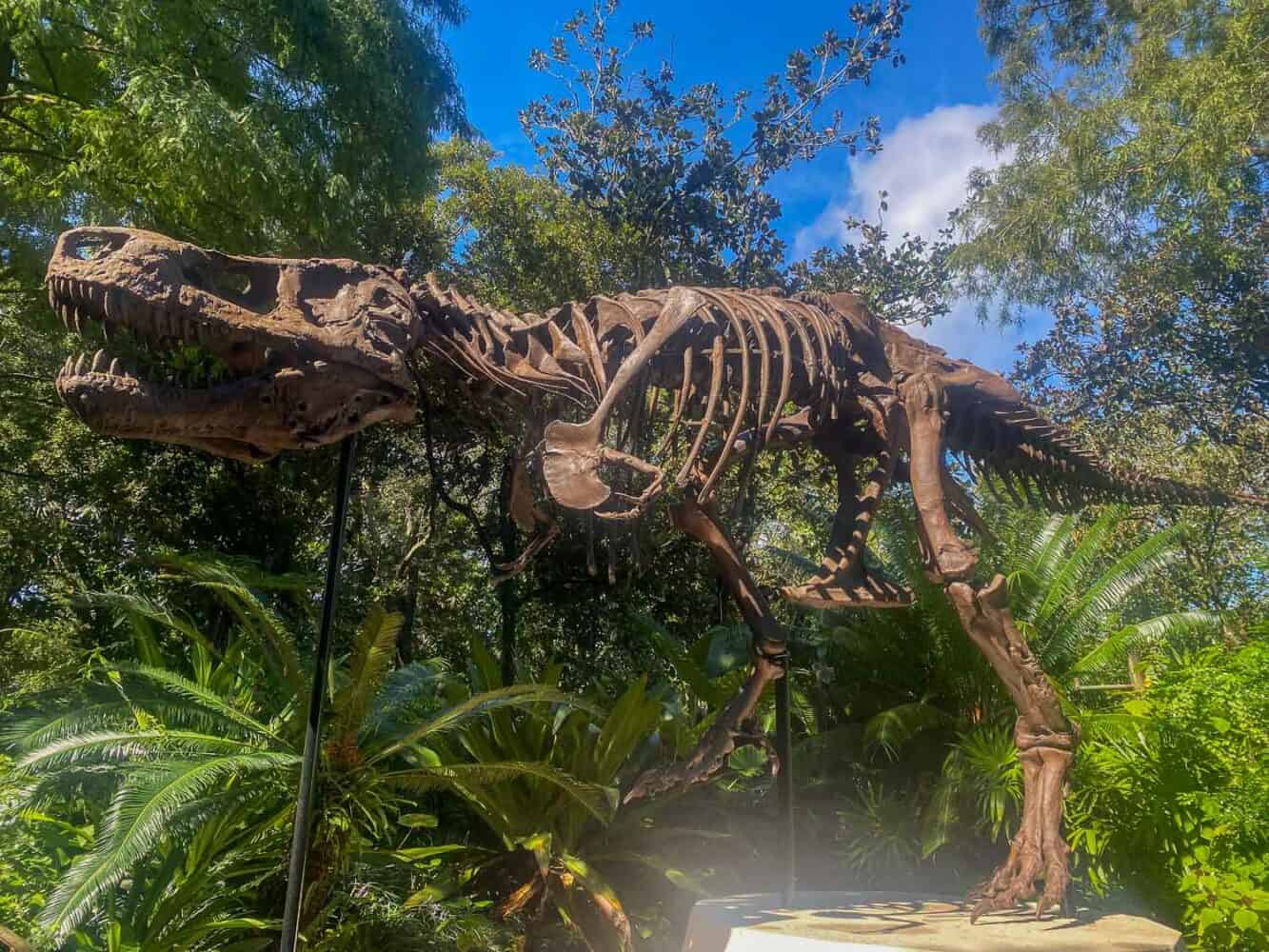 Type of Ride: Dark Scary Thrill Ride with Small Drops
Minimum Height: 40 inches (102cm)
Lightning Lane: Genie+
Location: DinoLand U.S.A
Dinosaur is an Animal Kingdom hidden gem that rarely has long waits.
You're on a mission to head back in time to rescue a dinosaur before a meteor strikes.
This bumpy indoor truck ride is quite scary as you drive in the dark past dinosaurs roaring at you.
I imagine the menacing dinosaurs could be terrifying to small kids, but older ones may find it as fun as we do.
You can ride Dinosaur at any time of day. Just wait for the lines to come down if they are long.
Best Shows at Animal Kingdom
Seeing a show or three at Animal Kingdom is a major part of the experience and there are some excellent options. Check the app for show times.
7) Festival of the Lion King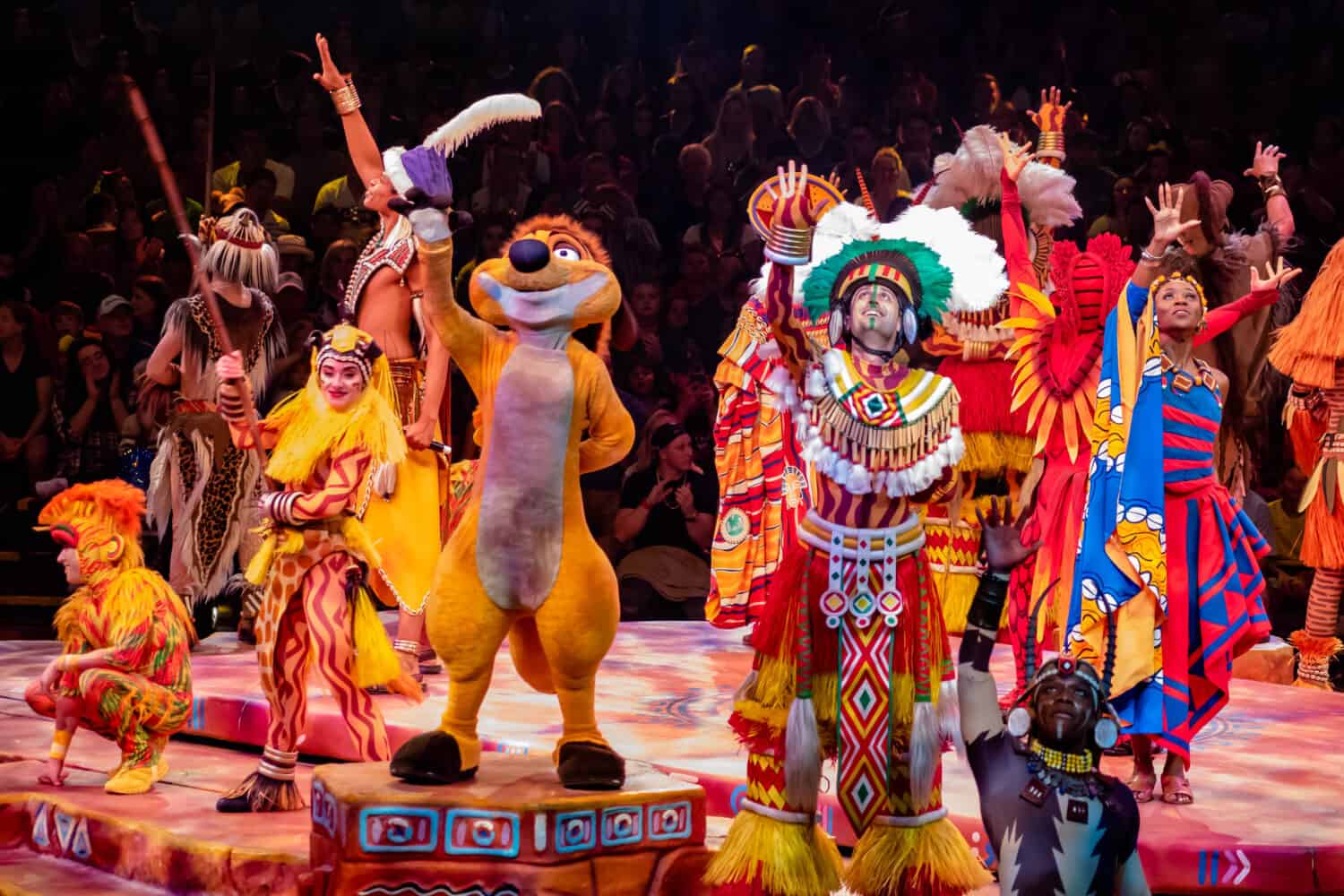 Festival of the Lion King is one of the most popular Animal Kingdom shows.
It's a colourful and joyous celebration of the classic animated film with music, dance, acrobats, and puppets.
At 40 minutes long in an air-conditioned theatre, it also makes a good break in the hottest part of the day.
Unfortunately, the line is outside in the sun and they don't let people in early. On our last visit, we didn't manage to get in for the 12pm performance as it was full. They were recommending people turn up 30 minutes early to secure their place—not fun in the heat.
The late afternoon show times are quieter so I recommend saving this for later in the day.
8) It's Tough to be a Bug!
It's Tough to be a Bug is one of the best attractions at Animal Kingdom.
The 3D show takes place in a theatre hidden inside the Tree of Life and runs throughout the day, so it's easier to get in than the other shows (see it at any time).
Inspired by the movie A Bug's Life, you discover what it's like to be a bug in this multi-sensory film and live performance. It's educational, fun, and a bit scary for some young kids.
9) Feathered Friends in Flight
At this 35-minute outdoor show, you join some of the park's animal trainers to learn about and witness up close a variety of free-flying birds.
It focuses on their natural characteristics rather than tricks learned from humans.
It's an impressive crowd-pleaser for all ages.
10) Finding Nemo: The Big Blue and Beyond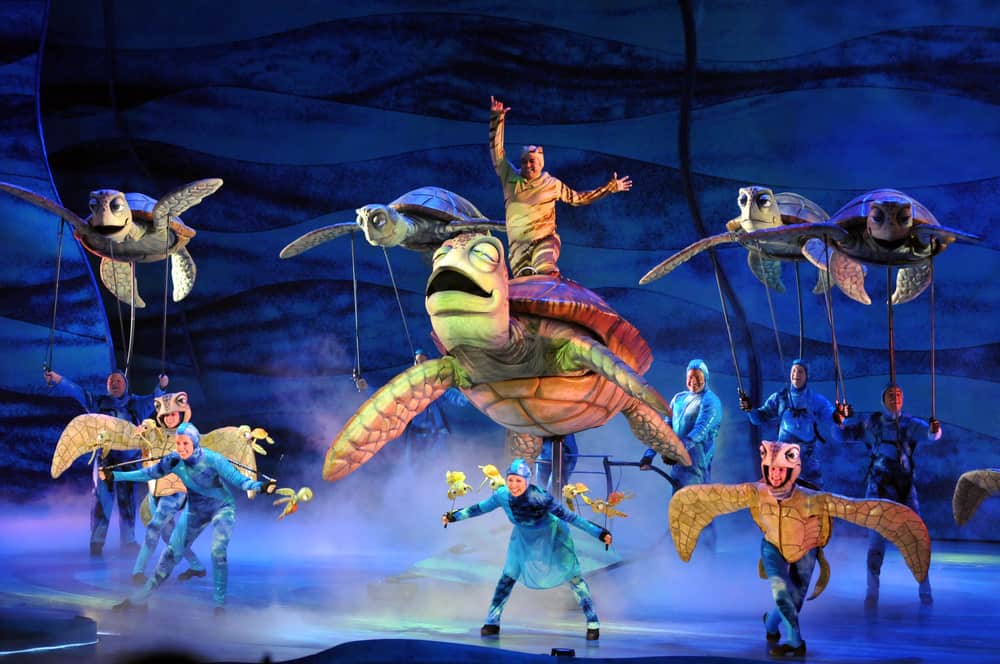 Finding Nemo is another popular Animal Kingdom musical show. It tells a condensed version of the story from the movie using actors with huge fish puppets.
It's colourful and entertaining but not a must see for us. It's a great option with kids, though, and it's easier to get into than The Lion King.
At 25 minutes and with air conditioning, it's good for a break from the heat, although the seats are rather uncomfortable benches.
Other Top Things to Do at Animal Kingdom
11) Trek the Maharajah Jungle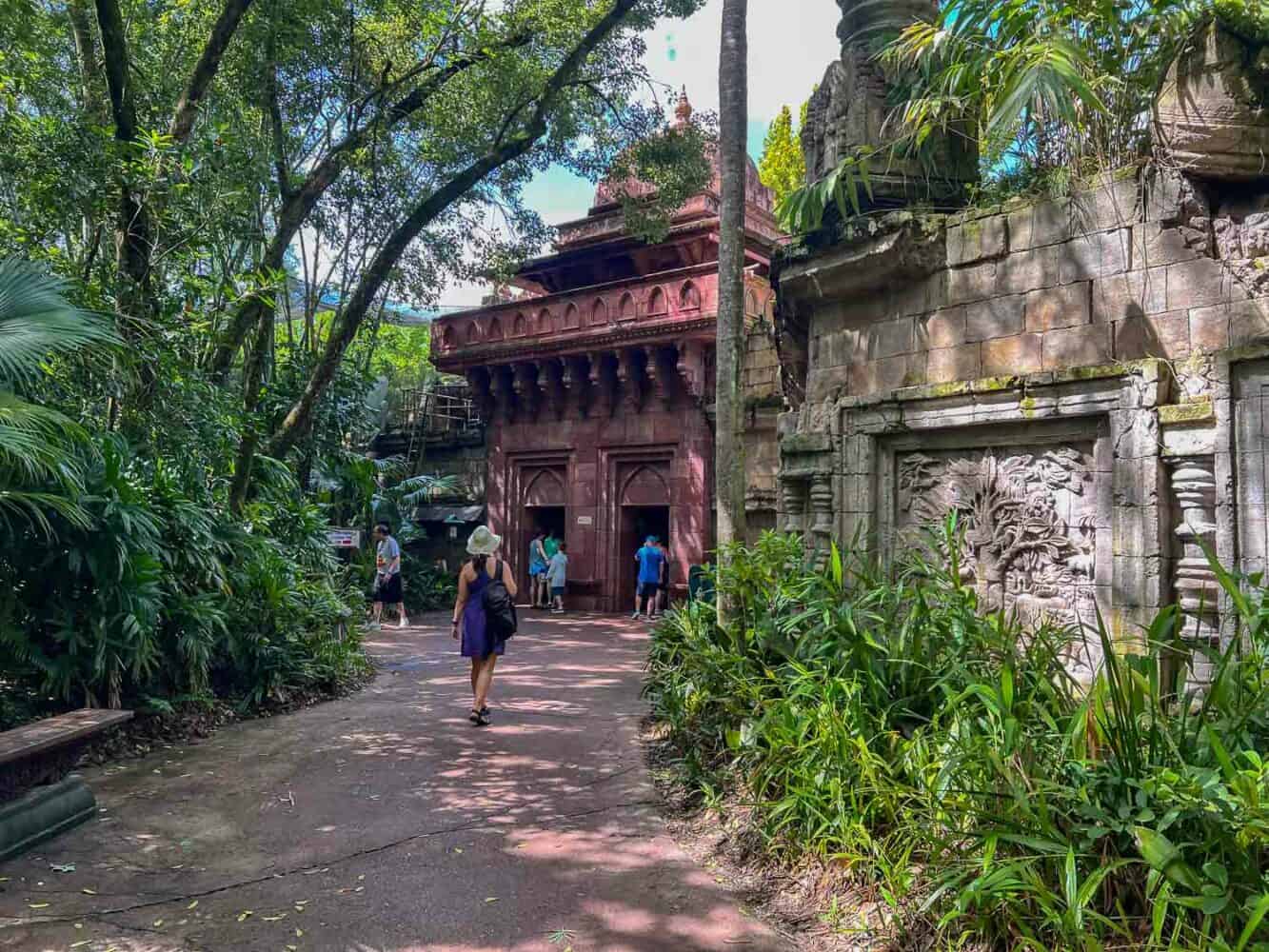 Once you've ridden the top Animal Kingdom rides, you can begin to explore the park at a more relaxed pace including the many wildlife trails.
If you only have time for one, go for the Maharajah Jungle Trek where you can see birds, bats, and tigers.
As well as getting up close to animals and learning about them from cast members, the walk-through attraction has a fantastic Asian-themed environment.
Note that animals are most active early and late in the day so you'll see more then. At midday on our summer visit, we saw much less than on previous trips, and the heat wasn't much fun.
12) Walk the Gorilla Falls Exploration Trail
The other major wildlife trail is Africa-themed and you can see gorillas and hippos.
13) See a Flock of Macaws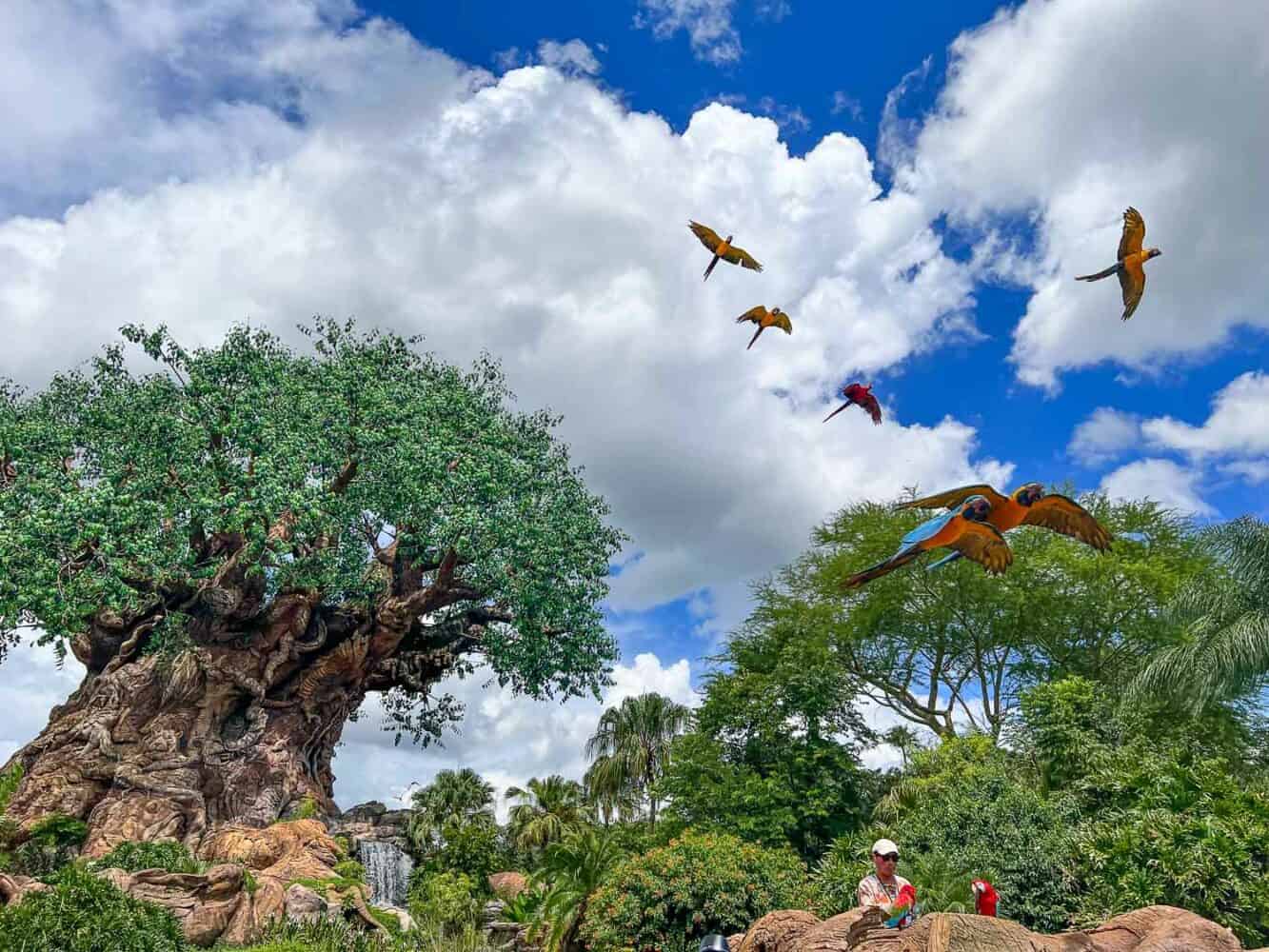 Winged Encounters is a short and informal bird show that takes place outside the Tree of Life. A flock of colourful South American macaws fly right over you and if some hang around, you can get a closer look.
There are no published times, so look out for it as you're walking past the tree or ask a cast member.
14) Enjoy a Drink at Nomad Lounge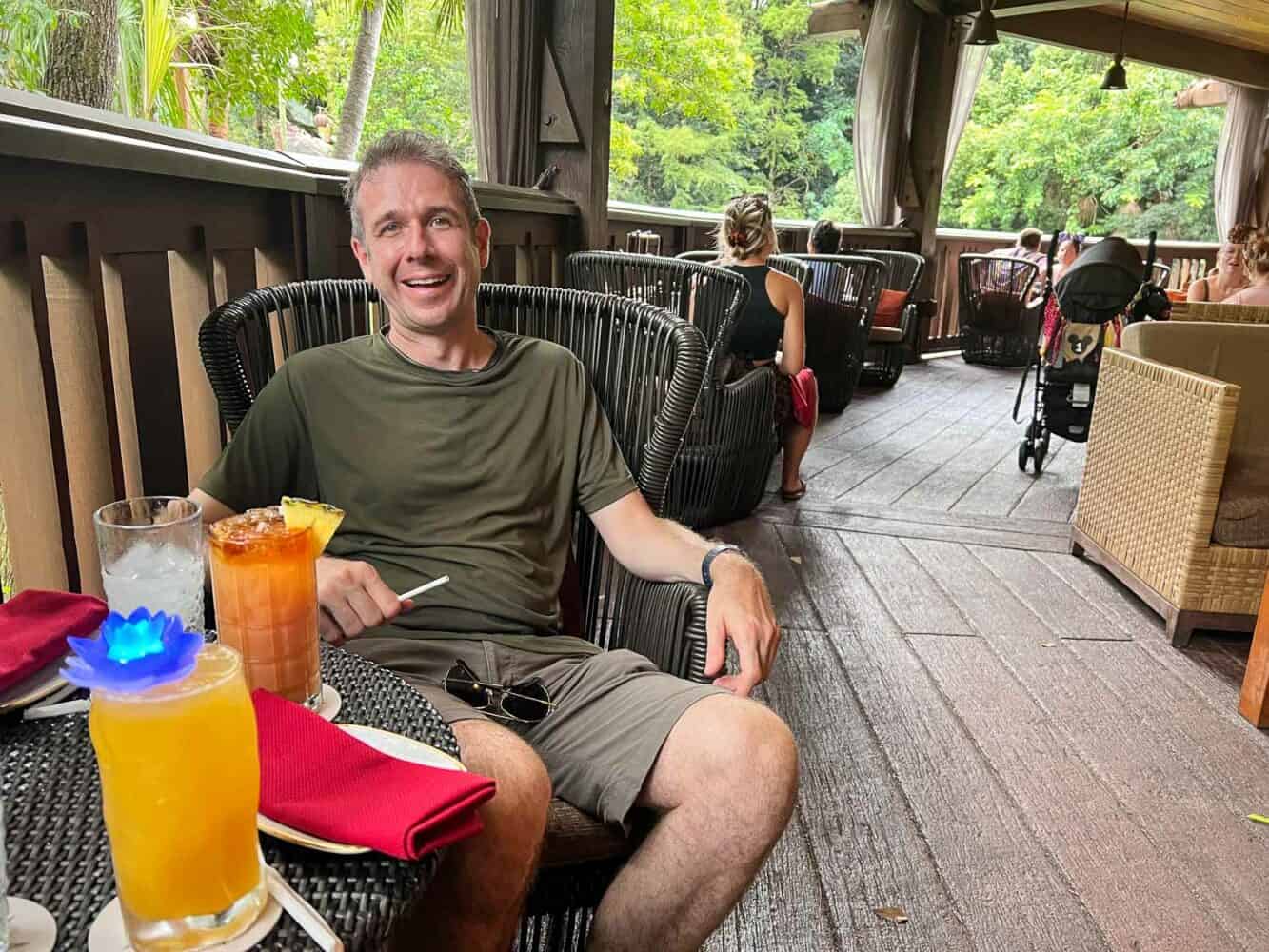 Nomad Lounge is the perfect place for adults to take a break in the afternoon. The bar has a safari lodge vibe with an outdoor terrace overlooking a river.
The menu of cocktails and light meals is inspired by world flavours. The bread service was delicious and featured Thai milk bread, Indian pappadam, and Brazilian pão de queijo, all accompanied by flavourful dips and chutneys. The gluten-free churros were a great way to end.
The cocktails are good too. My gin-based Annapurna Zing was fruity and refreshing and came with a lotus flower that lights up and changes colour. The Lamu Libation with three types of rum and tropical juices was even tastier.
Nomad Lounge is popular and you can't make a reservation. Check the app to see if a virtual waitlist is available (if not, check back later). You need to be in the vicinity of the bar to join and you'll be notified when your table is ready (our wait was 50 minutes at 1pm).
The bar is next to Animal Kingdom's fine dining table service restaurant, Tiffins, which has excellent reviews.
15) Eat Delicious Food
Animal Kingdom is one of the best Disney parks for food with global flavours that go beyond the standard burger theme park fare.
For breakfast (after we've ridden the top rides), we like to share one of the giant Mickey Mouse cinnamon rolls from Kusafiri Bakery.
For a more substantial meal, Satu'li Canteen is the best quick service option. Located in Pandora, the huge space has plenty of air-conditioned seating and they don't use disposable plates like most counter-service restaurants.
The bowls are healthy, flavourful, and customisable—you can choose the base, protein and sauce. The tofu bowl is excellent for vegetarians—we chose the potato hash for a more filling base.
You can order in the app for quicker pickup.
Another popular quick-service option is Flame Street BBQ. The outdoor seating is a downside in summer, but you can hear the nearby street performances and enjoy views of Everest.
Simon really enjoyed the Hot Link Smokehouse Sandwich made with plant-based sausage, but I prefer Satu'li. Skip the sugary cocktails, though, and wait for Nomad Lounge.
16) Wander Pandora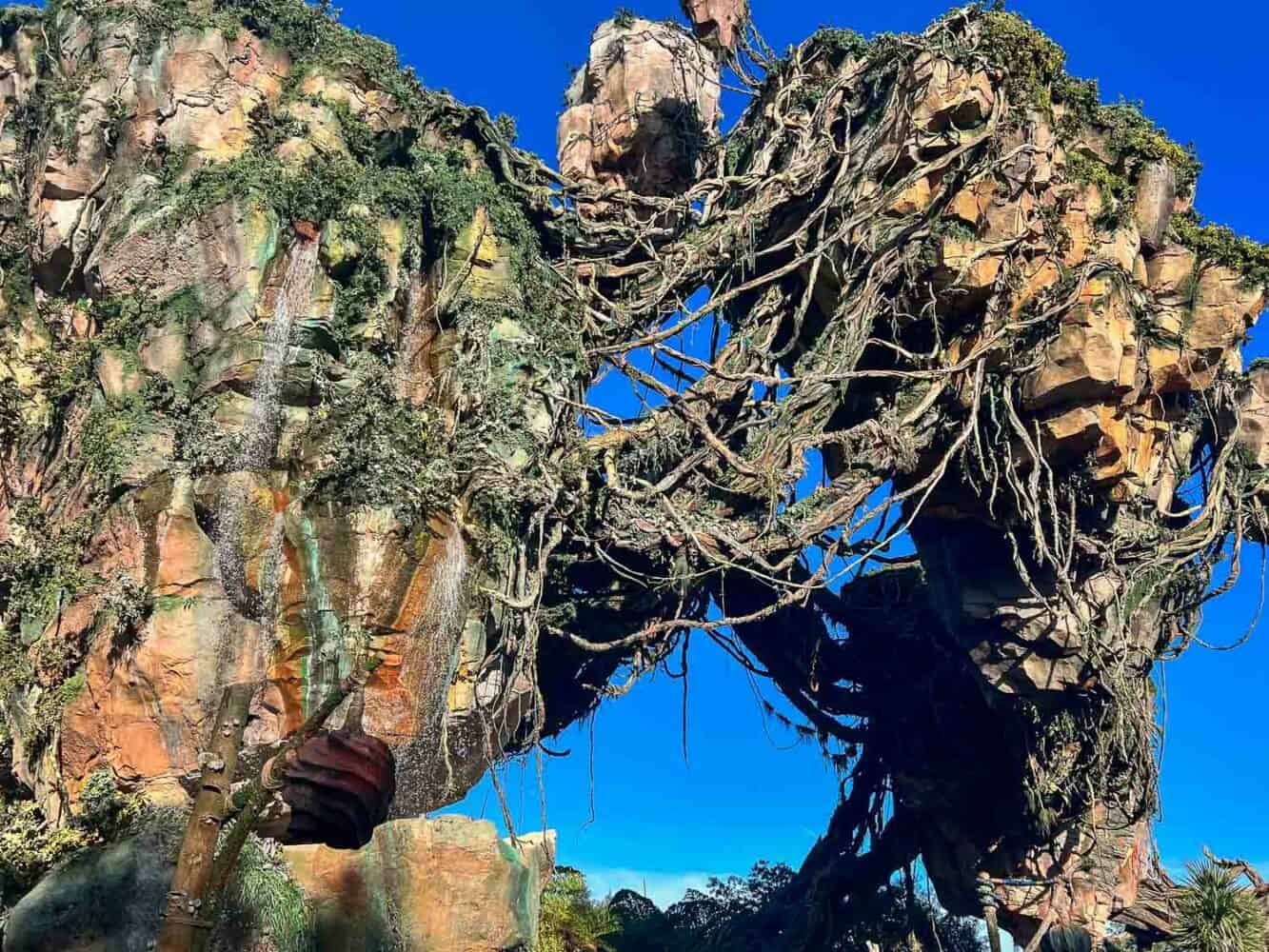 Pandora is a must see at Animal Kingdom both day and night.
Based on the Avatar movie, Pandora is a gorgeous, immersive world with floating mountains, gushing waterfalls, verdant forest, and intriguing plants.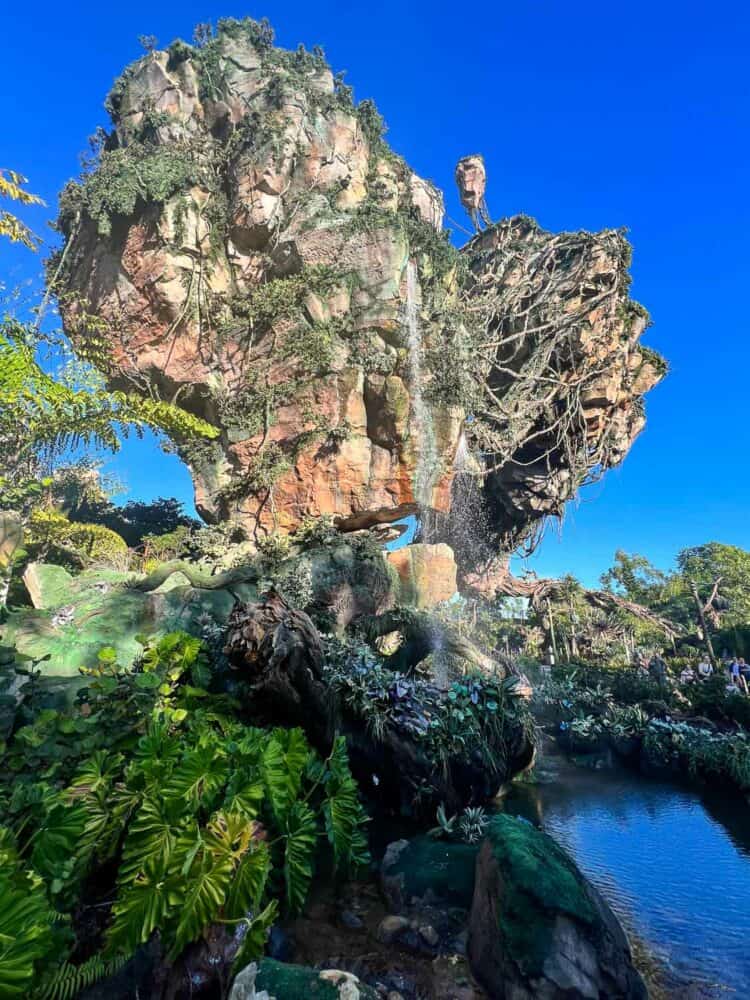 We love it in the early morning light and after dark when the flora glows for a totally different atmosphere.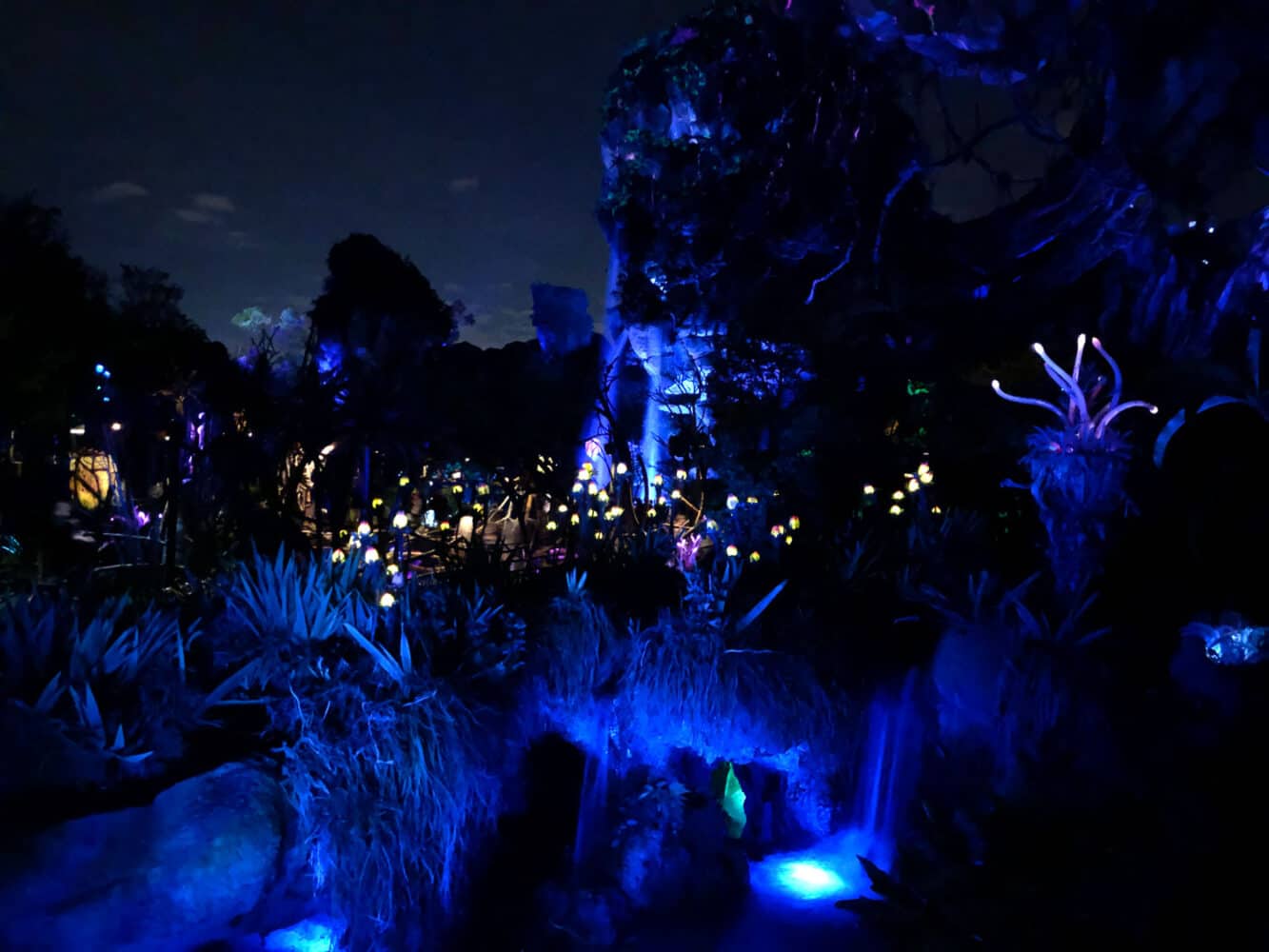 17) See the Tree of Life Awakening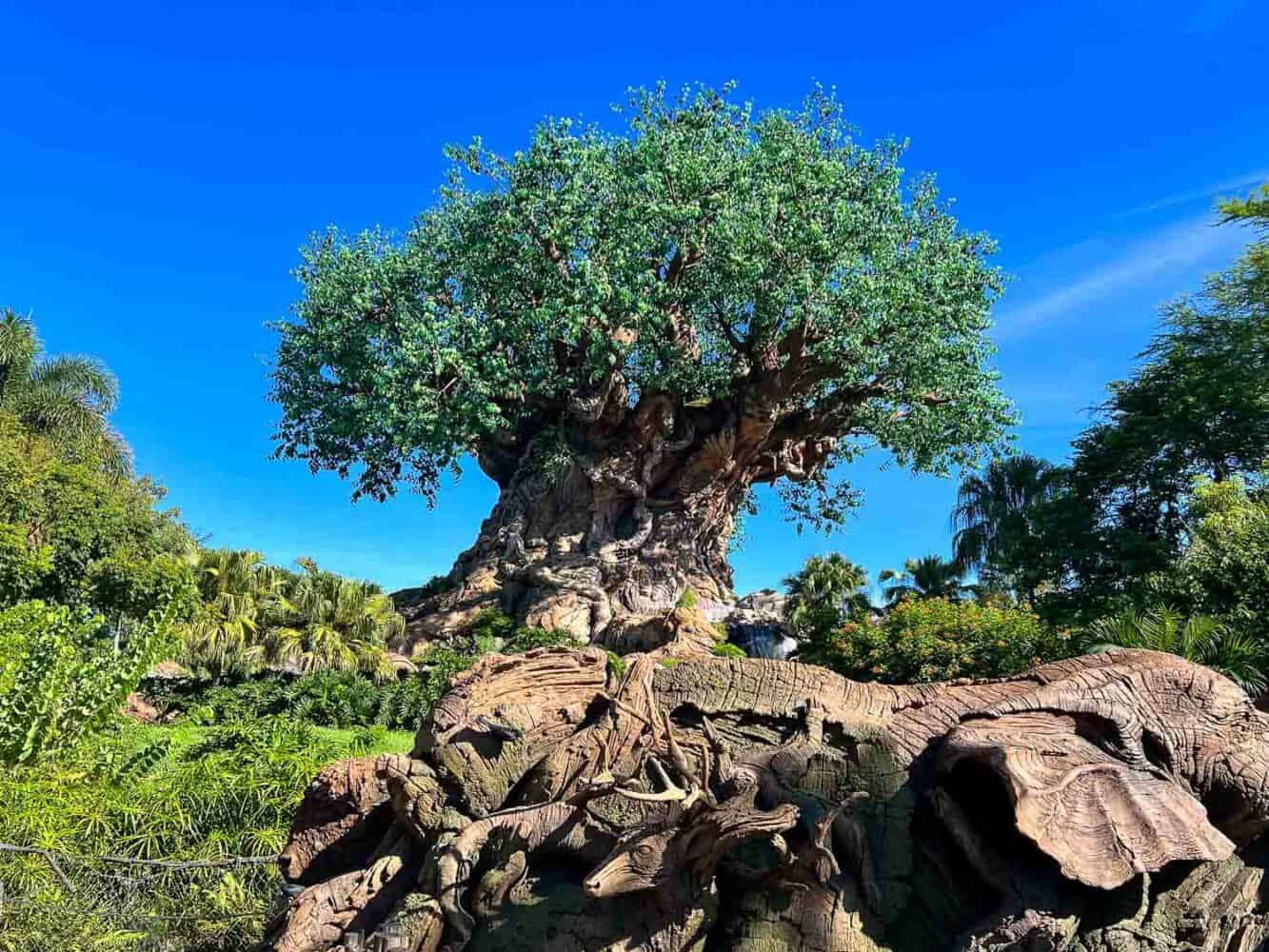 Every 10 minutes after dark you can watch Tree of Life Awakenings when the tree is illuminated with colours and animal projections. Make sure to see it on your way out of the park.
Note that you can only see the show from October to early March, as in the summer months, Animal Kingdom closes before dark (it closes earlier than other Disney World parks).
18) Spot Otters
Less well known than other Animal Kingdom attractions, the Discovery Island trails are near the Tree of Life and offer a peaceful respite from the busier parts of the park.
We saw flamingos, kangaroos, and best of all, in the Otto Grotto, otters swimming in the river and relaxing on the riverbank.
19) Ride the Wildlife Express Train
A train takes you from Africa to Rafiki's Planet Watch, home to a petting zoo and conservation station, where you can see vets and scientists at work.
It takes a while to get to this far corner of the park, so only do this if you have time once you've done everything else on your itinerary.
20) Meet Disney Pals
If you are travelling with kids, you may want to add character meet-and-greets to your Animal Kingdom list.
The most popular is Meet Favorite Disney Pals at Adventurers Outpost, where you can meet Mickey and Minnie Mouse dressed in their safari gear.
This has long waits, though, so it's best experienced early in the day or with Genie+.
21) Dig for Fossils in The Boneyard
If you have kids 10 and under, you'll want to stop at The Boneyard in DinoLand USA after riding Dinosaur.
In this fun play area, kids can explore the rope bridges, slides, and caves, as well as dig for dinosaur fossils.
TriceraTop Spin is another kid's ride in this area.
22) Eat at Sanaa in Animal Kingdom Lodge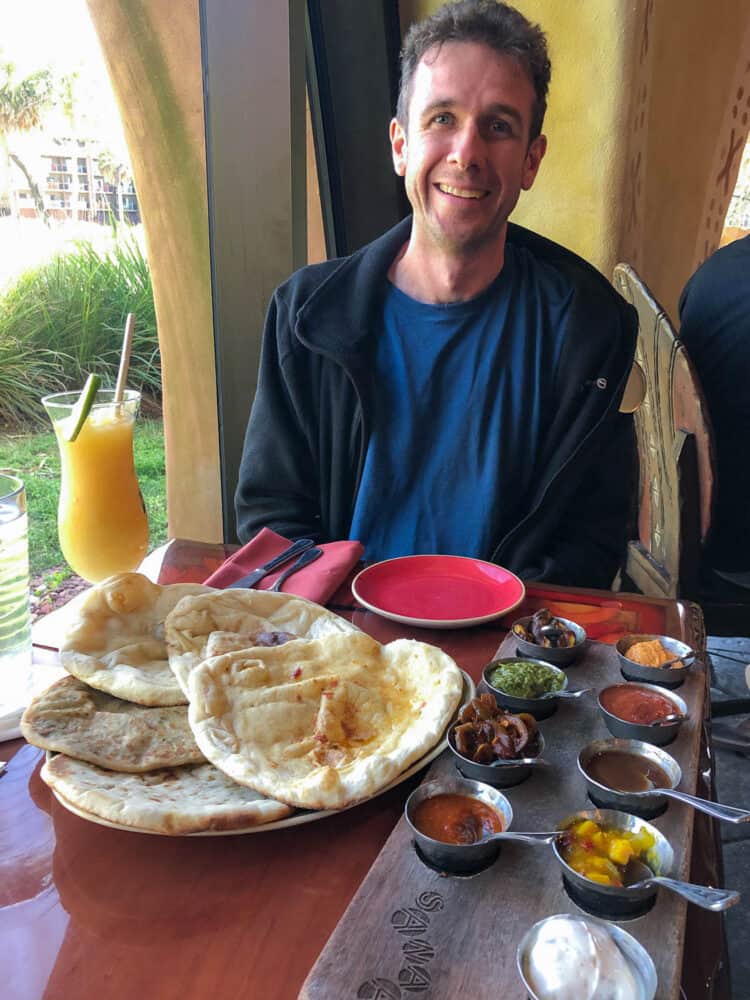 While the Animal Kingdom park has plenty of excellent dining options, there are even more fantastic restaurants at the nearby Animal Kingdom Lodge.
For Simon's birthday one year, we took the free Disney bus from the park to the lodge to eat at Sanaa, one of the most highly-rated Disney restaurants.
There are two selling points. The Indian food is delicious with plenty of veggie choices (the bread service is a highlight). And you can watch giraffes and zebras wandering below as you eat.
It's a unique experience that's worth the side trip. Reservations are highly recommended.
Is Animal Kingdom Worth Visiting?
Yes, Animal Kingdom is absolutely worth visiting! From the stunning Pandora world and exhilarating Avatar ride to the fun wildlife encounters and superb theming, the park offers something for everyone.
One day is enough for most visitors. You can easily spend a full day here, especially if you take a break at some of the excellent restaurants and bars.
I hope this guide has given you some ideas of what to do at Animal Kingdom. Let us know if you have any questions in the comments below.
Other Disney Posts
Plan your Disney trip in Orlando and beyond with our other guides:
Disney World Orlando
Elsewhere
If you enjoyed this post, pin for later!