This page contains affiliate links. Please read our disclosure for more info.
Epcot at Disney World Orlando is known as a park that focuses more on education than thrill rides, and while that is true, there are enough amazing things to do at Epcot to keep everyone happy.
It's home to our favourite Disney roller coaster, one of the best bars, a space station restaurant, plus shows, music, festivals and more. There's always something new to discover at Epcot.
Here we share our Epcot must do rides, attractions, and restaurants as well as tips to avoid long lines and make the most of your visit.
Contents
Epcot Tips and Tricks
Be Prepared to Walk
Epcot is huge—over double the size of Magic Kingdom—so it requires even more walking than the other Disney parks.
There are two main areas of Epcot. The front of the park (previously known as Future World) is where you'll find most of the best rides in Epcot as well as interesting exhibitions. It consists of World Discovery, World Celebration, and World Nature.
The other area is World Showcase, a 1.25-mile loop around a lagoon with pavilions representing 11 countries with shows, shops, restaurants, and three rides.
The longer walks can be a challenge in the summer heat, so we're less likely to zigzag back and forth across the park here.
Our preferred strategy is to start at the Remy ride (in France in World Showcase) during Early Entry, power walk across the park (about 10 minutes) to Test Track then do the other nearby rides in the morning.
We usually take a break in the middle of the day before exploring the World Showcase in the late afternoon and evening.
Make a Park Reservation
Reservations are required to enter Epcot in 2023 and can be made on the Disney website.
I recommend making a park reservation for each day of your trip when you buy your Disney tickets (ideally at least a month in advance).
Epcot is unlikely to book up, but it's worth doing to secure your plans.
The reservation system will end for most guests from January 9, 2024.
Download My Disney Experience app
The Disney app is useful to check ride wait and show times, make Genie+ selections, order food, and more.
Stay Onsite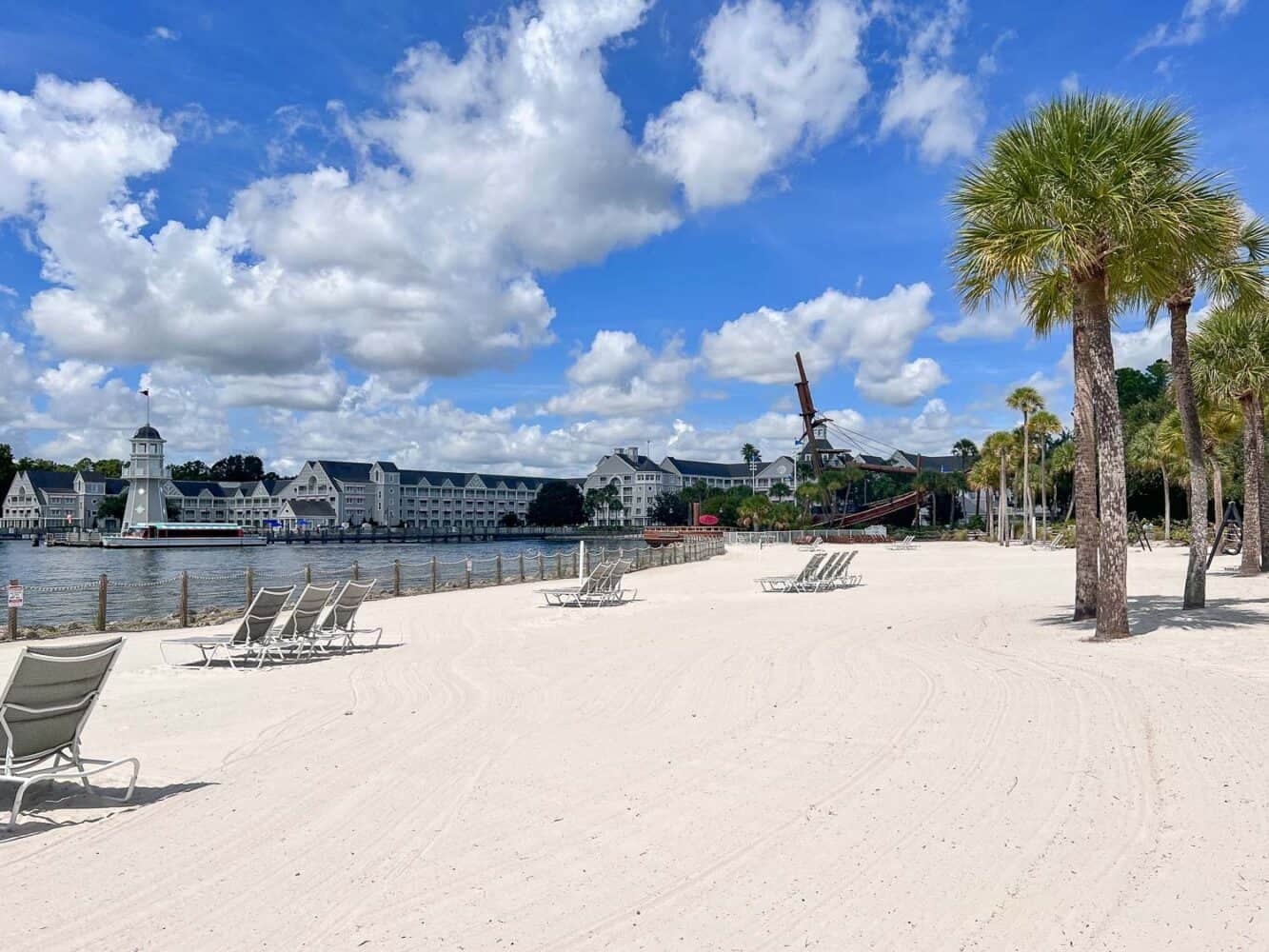 If you stay in a Disney resort, you'll be able to enter every park 30 minutes before official park opening.
This gives you a great head start for popular rides like Remy's Ratatouille Adventure and Test Track (we rode them both before the park had officially opened).
We love staying in the Crescent Lake resort area in walking distance of Epcot via the International Gateway (a back entrance to World Showcase)—perfect for riding Remy first thing.
On our last trip, we stayed at the Yacht Club and really enjoyed it, but it is expensive. The cheapest hotels within walking distance are the Swan Resort and Dolphin Resort, which are run by Marriott but have all the perks of a Disney deluxe hotel.
Staying so close made it easy to pop into Epcot for dinner after a day at another park (as long as you buy a Park Hopper ticket).
Arrive Early
The first hour of park opening is the quietest time of day, so it's well worth getting up early.
If you are staying onsite and have Early Entry, arrive at the park 30-40 minutes before Early Entry starts. At the International Gateway, they let us in 30 minutes early (i.e one hour before park opening) although you are then held in the areas outside the headline attractions. For Remy, we waited on the bridge outside France.
If you don't have Early Entry, arrive 30 minutes before official park opening.
Below you can see the three top Epcot rides. Lines at other attractions at Epcot are usually much lower, so once you've ridden these three you can experience the park at a more relaxed pace.
Genie+ Usually Isn't Necessary
There are only three headline Epcot attractions where the line-skipping service Genie+ would be useful, so you can manage without it by arriving early.
The exception might be if it's a very busy holiday period or you are park hopping. See our guide to Is Genie Plus worth it? for a detailed explanation of the complicated system.
What to Do at Epcot: Our Top Picks
If you have limited time, these are our absolute favourite things to do at Epcot:
Ride Guardians of the Galaxy, Disney's best roller coaster
Create your perfect car and speed around Test Track
Drink a margarita at La Cava del Tequila
Dine in a space station at Space 220
Stroll (and eat) around the World Showcase
Most Popular Rides at Epcot
The most popular and newest Epcot ride is Guardians of the Galaxy: Cosmic Rewind, but this doesn't have a standby line and can only be ridden by joining a virtual queue (see below).
These are the attractions at Epcot that have the longest lines with their average wait times over a year:
Remy's Ratatouille Adventure – 76 minutes
Frozen Ever After – 73 minutes
Test Track – 62 minutes
Soarin' Around the World – 37 minutes
Best Rides at Epcot
These are the Epcot must do rides that you won't want to miss.
1) Guardians of the Galaxy: Cosmic Rewind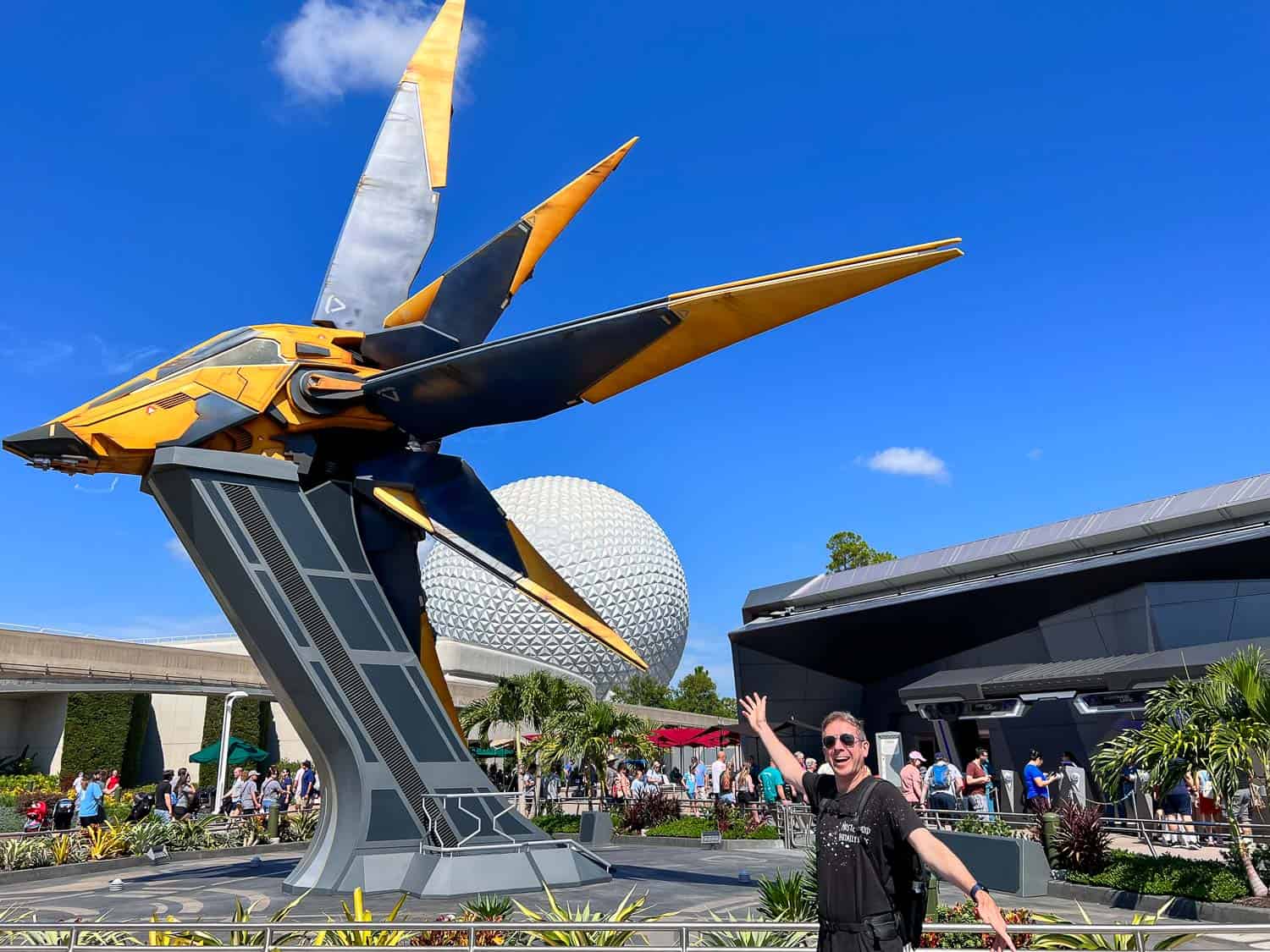 Type of Ride: Dark Thrill Ride
Minimum Height: 42 inches (107cm)
Lightning Lane: Individual ($14-17)
Location: World Discovery
Guardians of the Galaxy: Cosmic Rewind is the newest ride and definitely one of the best things to do in Epcot, especially for thrill-seekers.
The dark roller coaster is based on the popular Marvel movies and takes you on an intergalactic chase through space and time.
The whole experience is so well done starting with the interesting queue through the Galaxarium (compare Xandar and Earth's galaxies) and the pre-story featuring the Guardians characters with lots of humour and style.
The ride itself is one of the largest fully-enclosed coasters in the world. On each ride, you get a different Star-Lord-approved tune ("Everybody Wants to Rule the World" is our fave), which really adds to the pure fun of this joyful coaster.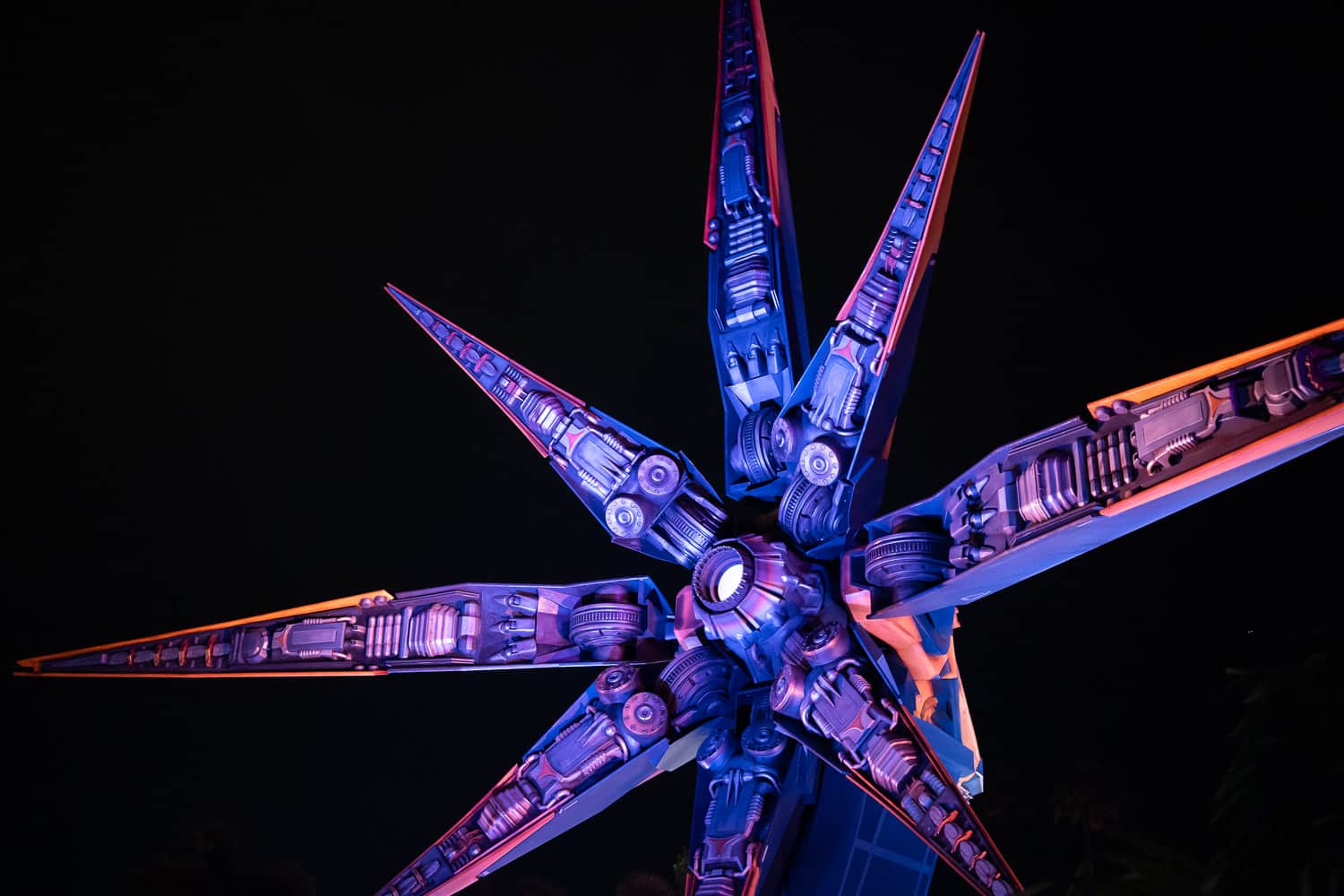 We always have huge grins on our faces the whole way around—starting with the unique reverse launch and continuing as we speed past the epic visuals that make this stand out from similar (now dated) rides like Space Mountain.
While it's a thrilling ride, it's smoother than most coasters and doesn't have any major drops or inversions, so it's suitable for most people.
You can't just turn up at Guardians of the Galaxy as there's no standby line. You must join the free virtual queue on the Disney app, which opens at 7am and 1pm each day.
There's also a 6pm time slot for guests staying in deluxe resorts on Extended Evening Hours days (currently Mondays). This is the only way to join the virtual queue twice in one day.
Once you've joined the queue, you'll be given a boarding group and notified via the app when it's time to ride (you'll have one hour to return). We found that the estimated ride time usually came down (on one extreme occasion a 6.30pm estimate came down to 2.30pm).
While the virtual queue has become easier to access (especially at 1pm), I still recommend joining as soon as the queue opens. Our guide to Genie Plus has tips on speed booking lighting lanes.
You could also pay for Individual Lightning Lane, but you'll only need this if you only have one day at Epcot and want to ride it twice (and really, you might!).
Bonus Tip: Head right when you enter the pre-story area to get out and on the ride more quickly.
2) Test Track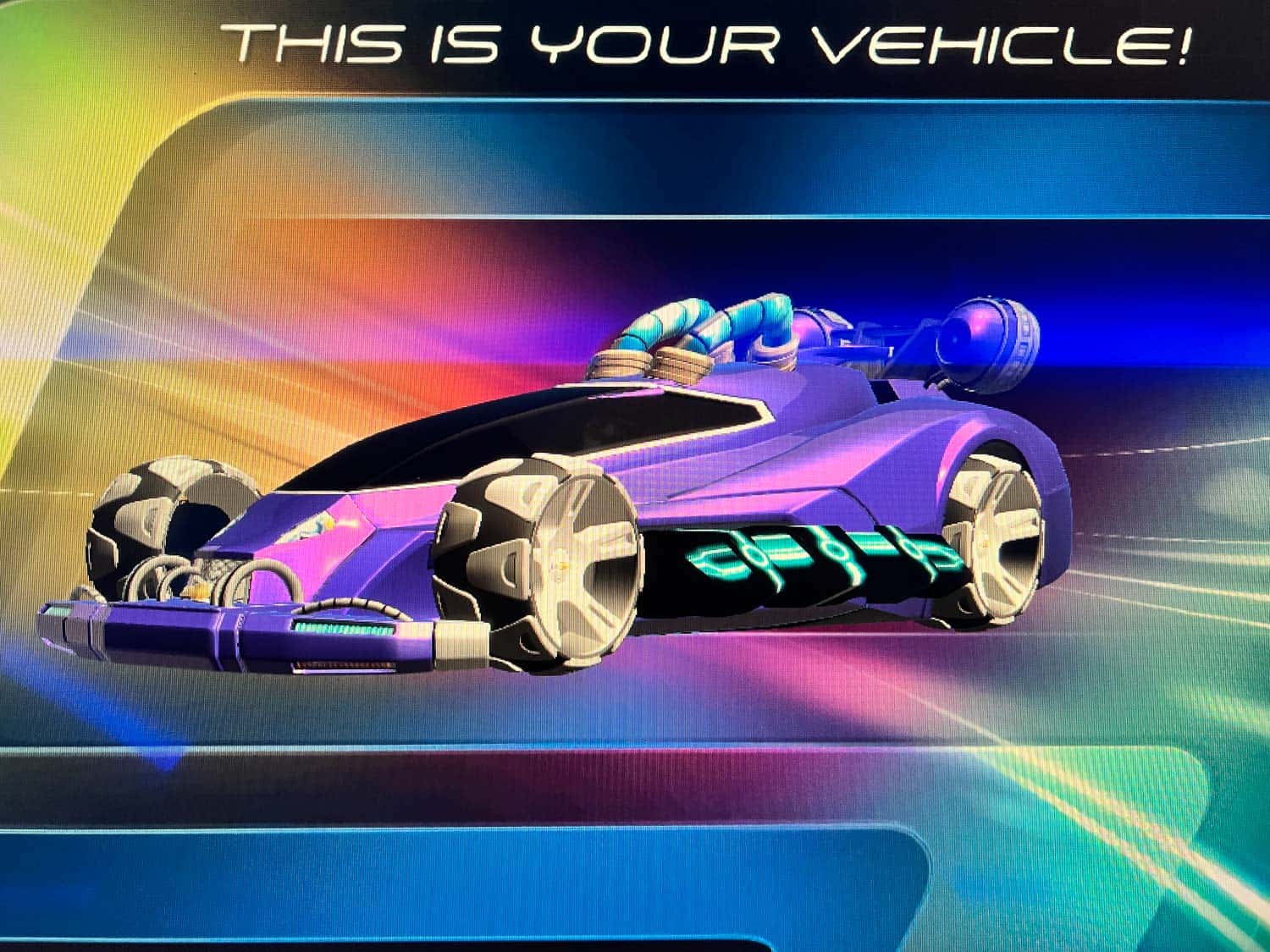 Type of Ride: Thrill Ride with Small Drops
Minimum Height: 40 inches (102cm)
Lightning Lane: Genie+
Location: World Discovery
Test Track is one of the most unique and best rides at Epcot where you design your own vehicle before taking it for a high-speed test ride.
During the design stage, you work with your group to choose the shape, colour and features of your car. Whether you prioritise power, efficiency, or responsiveness will affect your score as each aspect is tested on the track once you enter your vehicle.
The most fun part of the test is for power when you head outside to speed around the race track.
After the ride, there are more interactive activities such as making an ad for your car.
Test Track is popular so we head there early in the morning right after riding Remy. If you don't have Early Entry, ride times peak in the morning, so if lines are long, wait until late afternoon to ride.
There's a quicker single-rider line but you miss the design stage, so I'd only use it for a repeat ride.
3) Remy's Ratatouille Adventure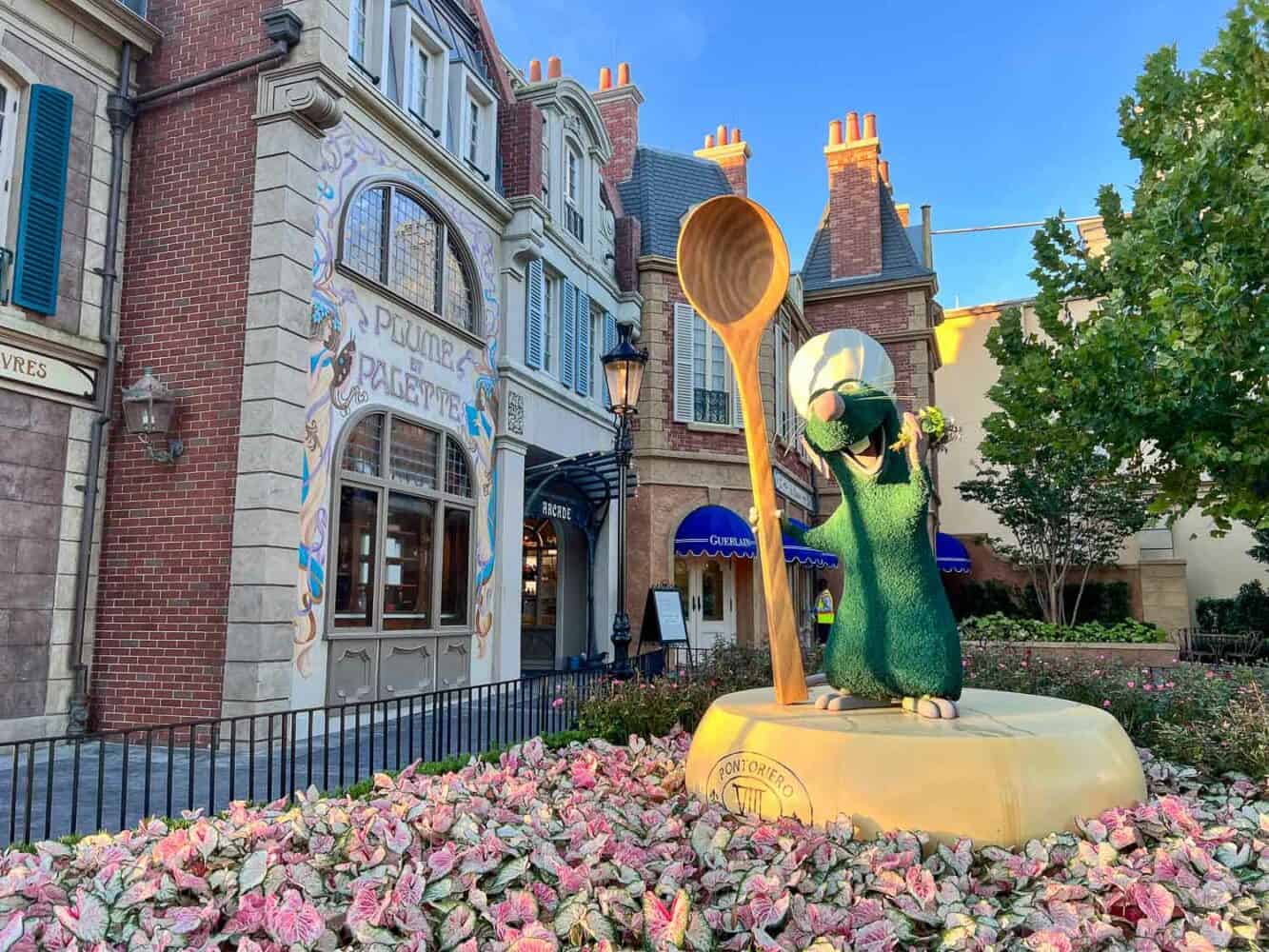 Type of Ride: Trackless Dark Ride
Minimum Height: None
Lightning Lane: Genie+
Location: World Showcase
Remy's Ratatouille Adventure is one of the top rides at Epcot. Located in the France Pavilion of World Showcase, this trackless 4D dark ride is based on the Ratatouille movie.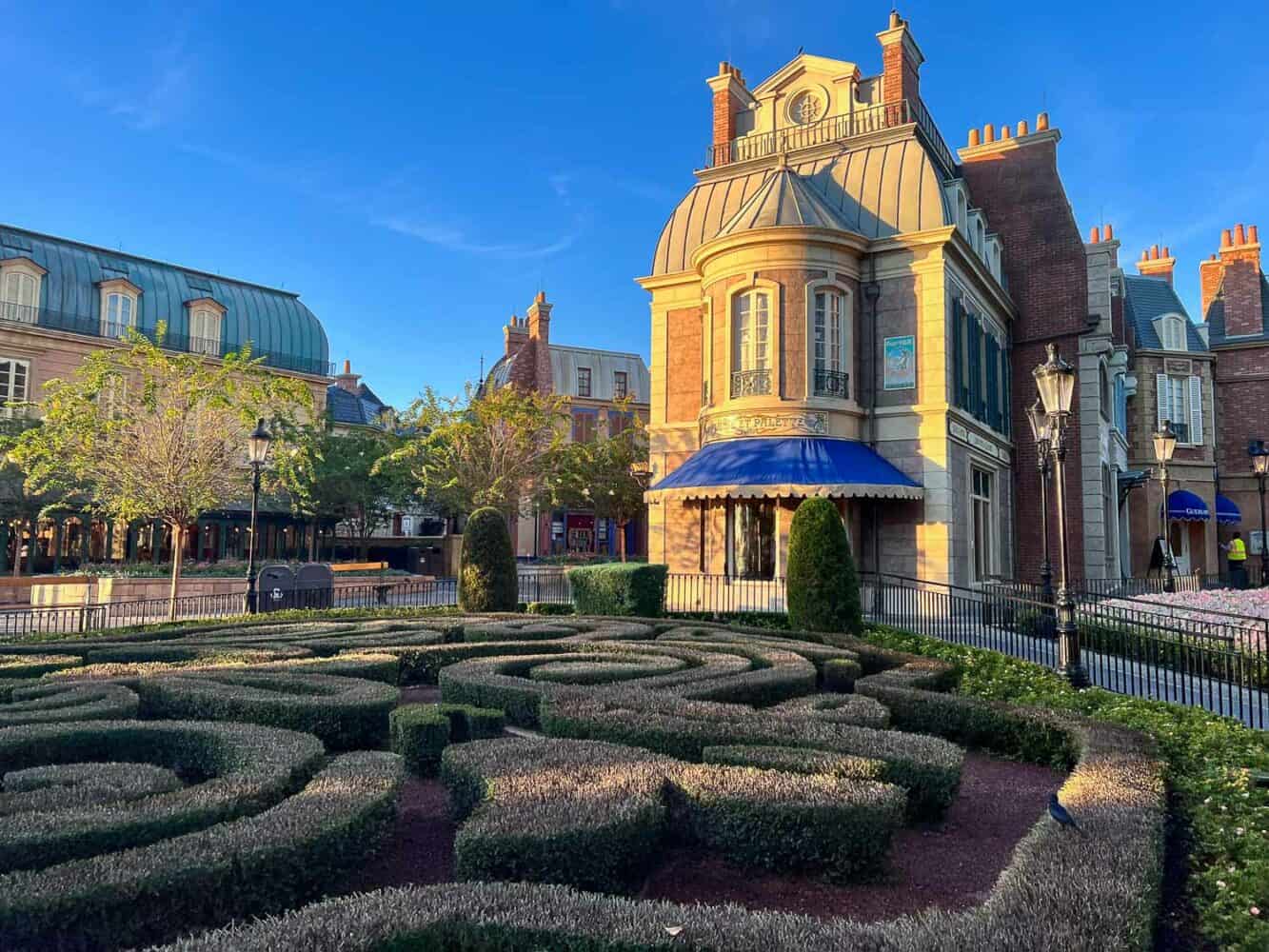 You feel like you've been shrunk to Chef Remy's rat size as you whizz around the bustling kitchen and restaurant in Paris. You even feel the heat from the oven and water splashing from a mop.
It's a lot of fun, although it ends sooner than we'd like. It's suitable for most guests, hence its popularity.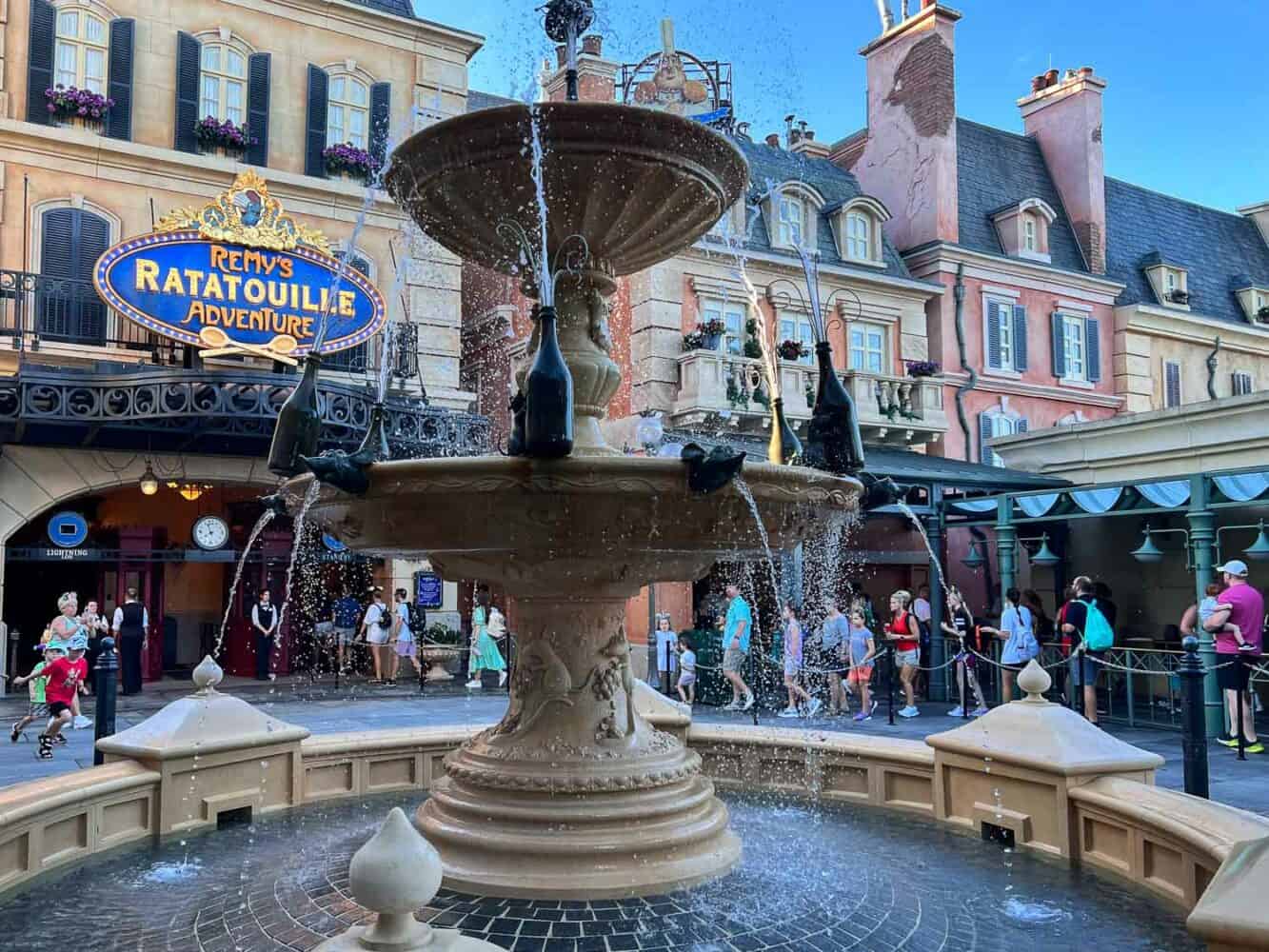 Lines are almost always long so it's best ridden first during Early Entry after entering through the International Gateway (which is much closer to the ride than the main entrance). Or if you have Genie+, make it your first selection.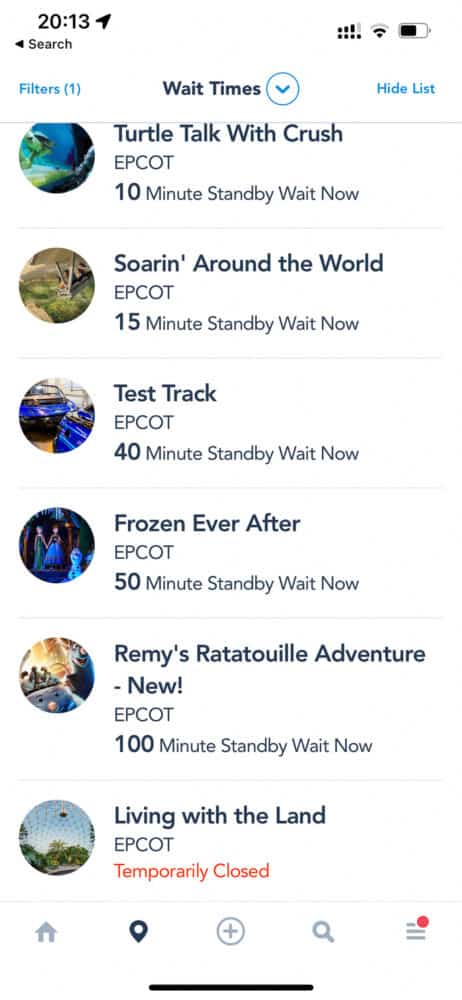 4) Soarin' Around the World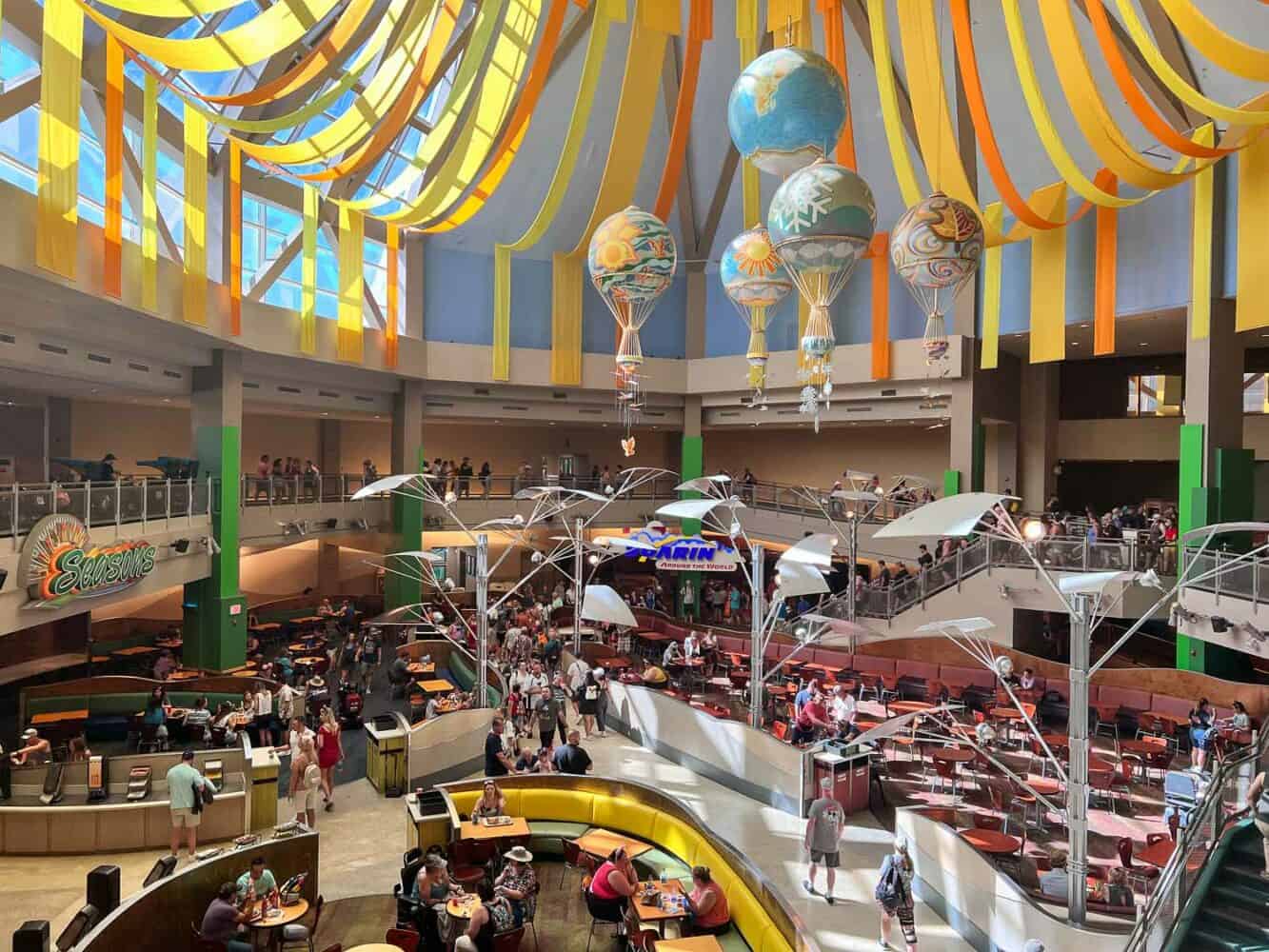 Type of Ride: Gentle Flight Simulator
Minimum Height: 40 inches (102cm)
Lightning Lane: Genie+
Location: World Nature
Soarin' is a relaxing hand-gliding ride where you soar above the world.
On the beautiful flight, you see (and even smell) famous sights like the Great Wall of China, Iguazu Falls, and Sydney Harbour, as well as animals like whales and elephants.
This gentle ride is suitable for most people and the lines don't tend to be long (save it for later if they are).
5) Mission: SPACE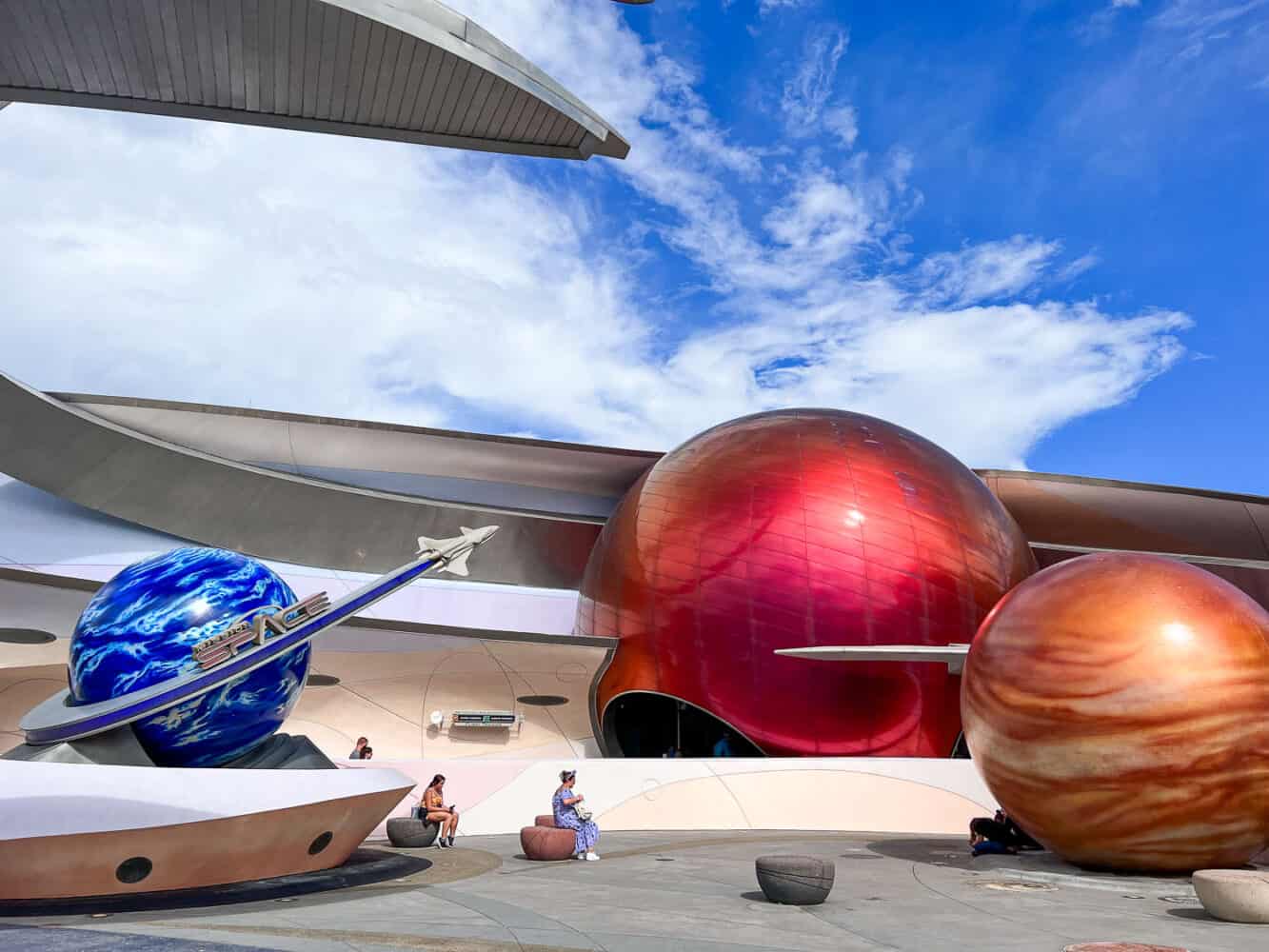 Type of Ride: Intense Flight Simulator
Minimum Height: 40 inches (102cm)
Lightning Lane: Genie+
Location: World Discovery
Mission: SPACE is a space shuttle simulator ideal for aspiring astronauts.
There are two simulators you can choose from. The Orange Mission is intense as you experience the real feel of a space launch as you rocket to Mars and dodge meteorites. The g-forces are incredibly realistic and unlike anything we've experienced before.
Unfortunately, it aggravates my motion sickness, so I now stick to the Green Mission, where you orbit the Earth, as it doesn't involve spinning.
It is a very small simulator, though (just four people), so it's not for the claustrophobic.
While the visuals are dated these days, it's still a worthwhile attraction and always easy to get on.
6) Frozen Ever After
Type of Ride: Dark Slow Ride with Small Drops
Minimum Height: None
Lightning Lane: Genie+
Location: World Showcase
Frozen Ever After is ranked higher on most lists of attractions at Epcot and it's one of the top three rides with long lines.
We like it but don't think it's worth a long wait. For Frozen fans, it's of course a must do.
This took over the old Norway ride and follows the same route. You slowly ride a Norwegian vessel through the wintery world of the popular movie with excellent animatronics of Elsa and co.
It's mostly gentle with a few fun drops and splashes.
This is best ridden early, late, or with Genie+.
If you are a Frozen devotee, you might also want to Meet Anna and Elsa at Royal Sommerhus.
7) Spaceship Earth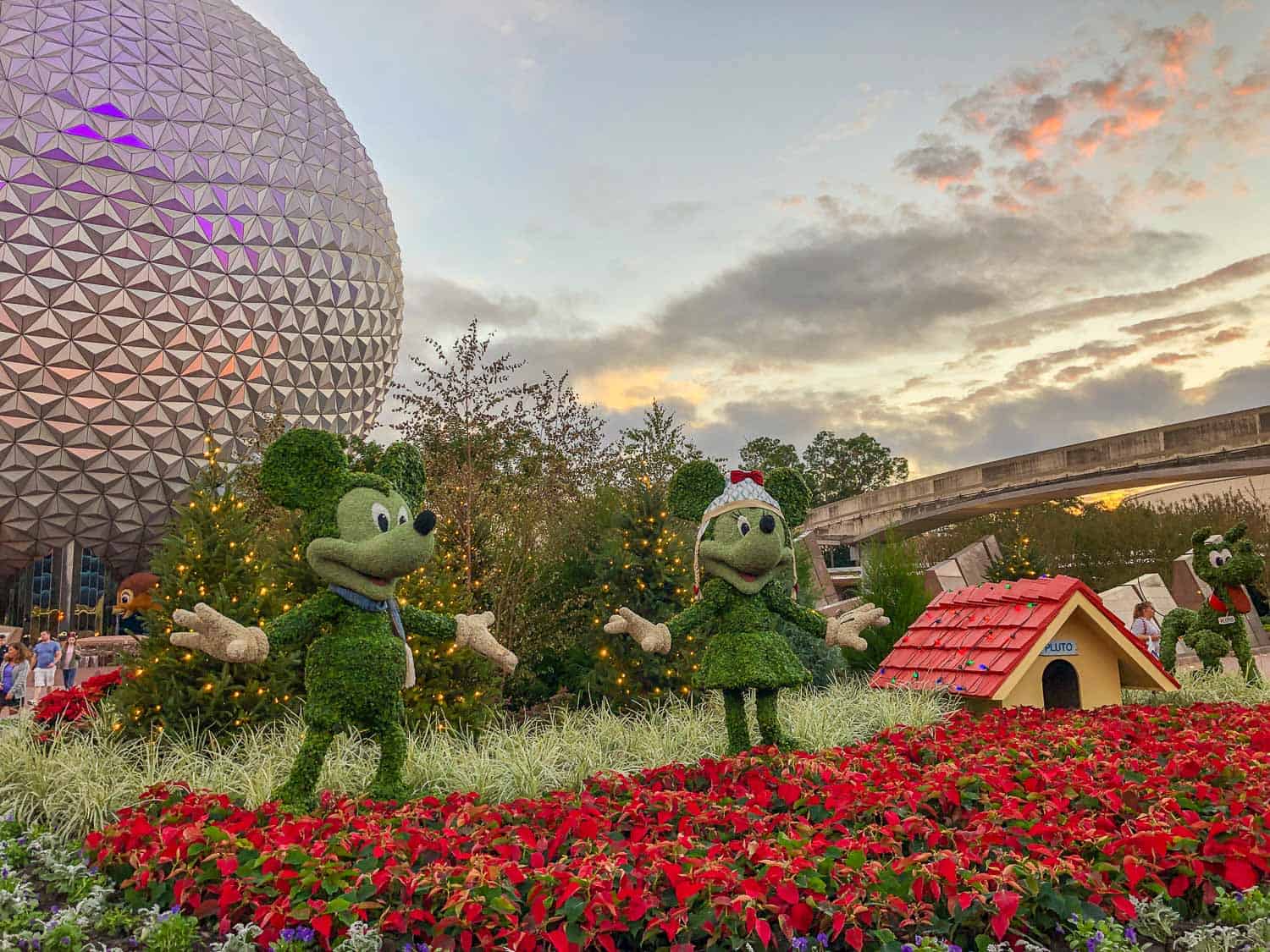 Type of Ride: Dark Slow Ride
Minimum Height: None
Lightning Lane: Genie+
Location: World Celebration
Spaceship Earth is an Epcot classic that takes place inside the iconic sphere.
This gentle journey takes you through the history of communication from the Stone Age to the computer age.
After the ride, there are interactive games and displays in Project Tomorrow.
Wait times peak in the late morning, so ride Spaceship Earth in the evening when it's quieter. Lines are rarely too long, though.
8) Living with the Land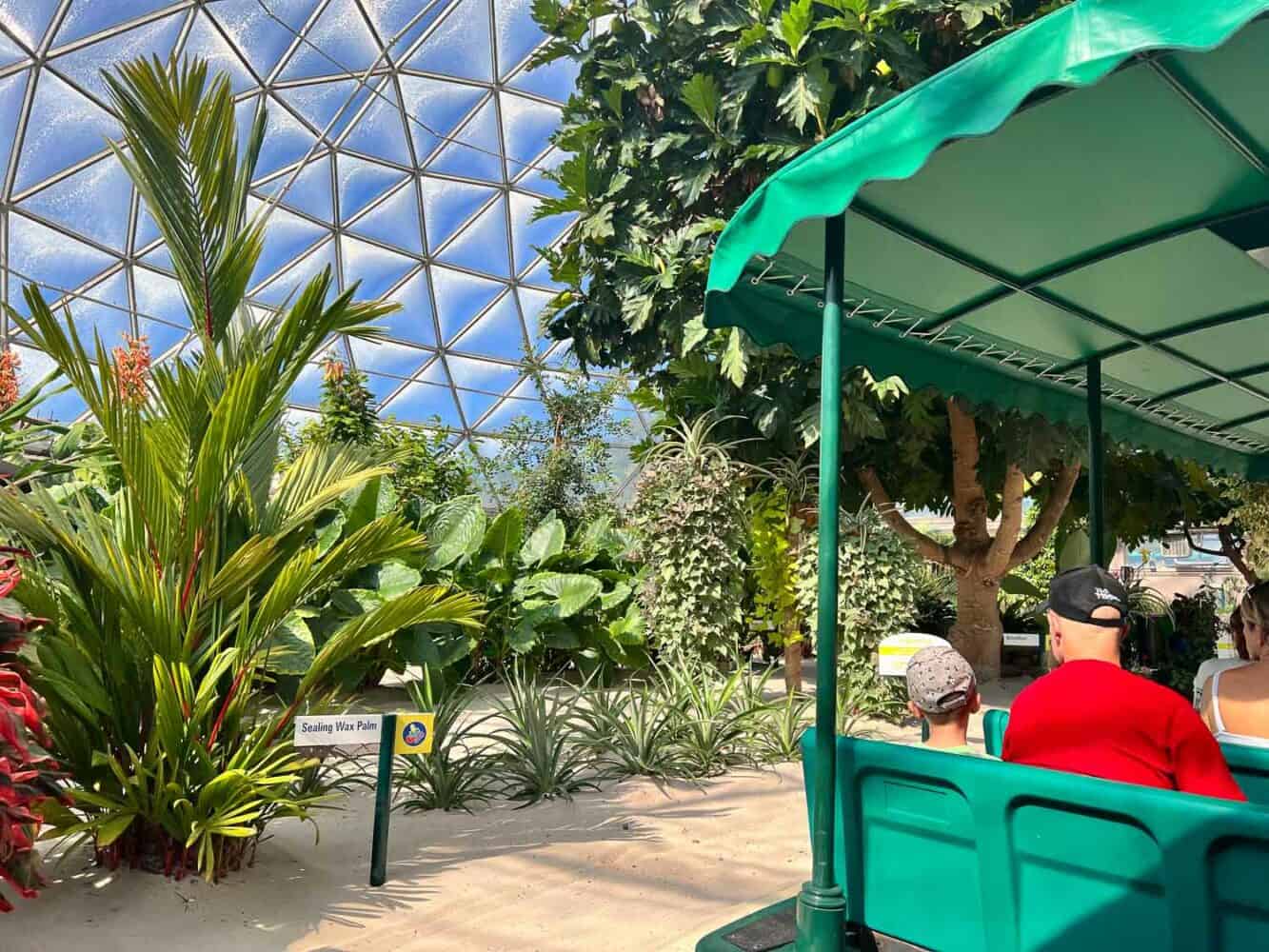 Type of Ride: Slow Ride
Minimum Height: None
Lightning Lane: Genie+
Location: World Nature
We always enjoy the gentle cruise on Living with the Land through Epcot's greenhouses where they grow food that's used in the parks and experiment with efficient growing methods.
Lines shouldn't be long. We ride this after Soarin' which is in the same pavilion, The Land.
9) The Seas with Nemo & Friends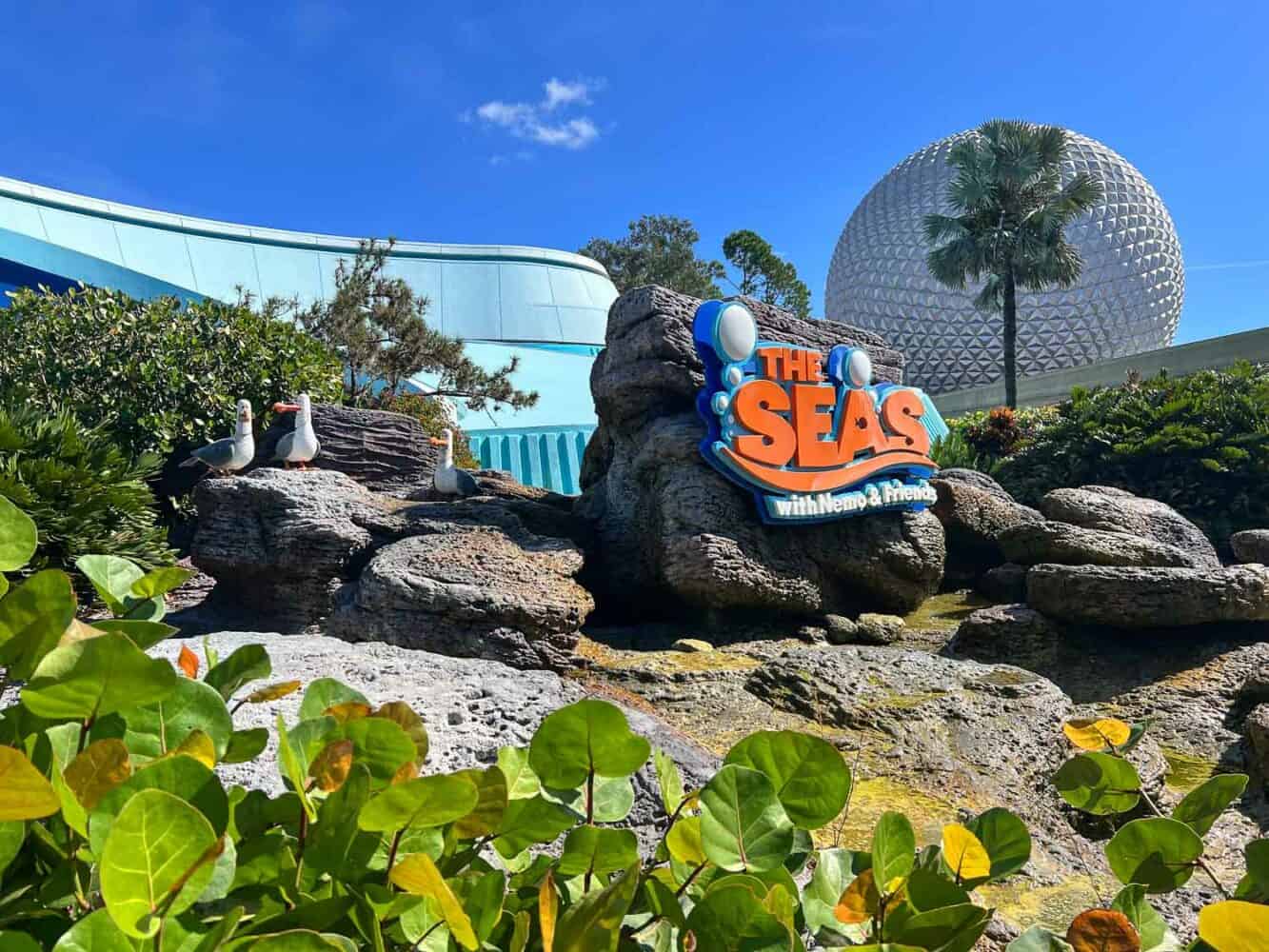 Type of Ride: Dark Slow Ride
Minimum Height: None
Lightning Lane: Genie+
Location: World Nature
The last two Epcot rides are less compelling for adults. Ride them if you have time, but they are skippable.
The Seas with Nemo & Friends is a cute shell boat ride through the Finding Nemo story. The characters are projected onto a real aquarium at the end, which you can visit after the ride to see clownfish, sharks, and more.
10) Journey into Imagination with Figment
Type of Ride: Dark Slow Ride
Minimum Height: None
Lightning Lane: Genie+
Location: World Celebration
A gentle dark ride highlighting the power of imagination with Figment the playful dragon.
Other Top Things to Do at Epcot
11) Dine in a Space Station at Space 220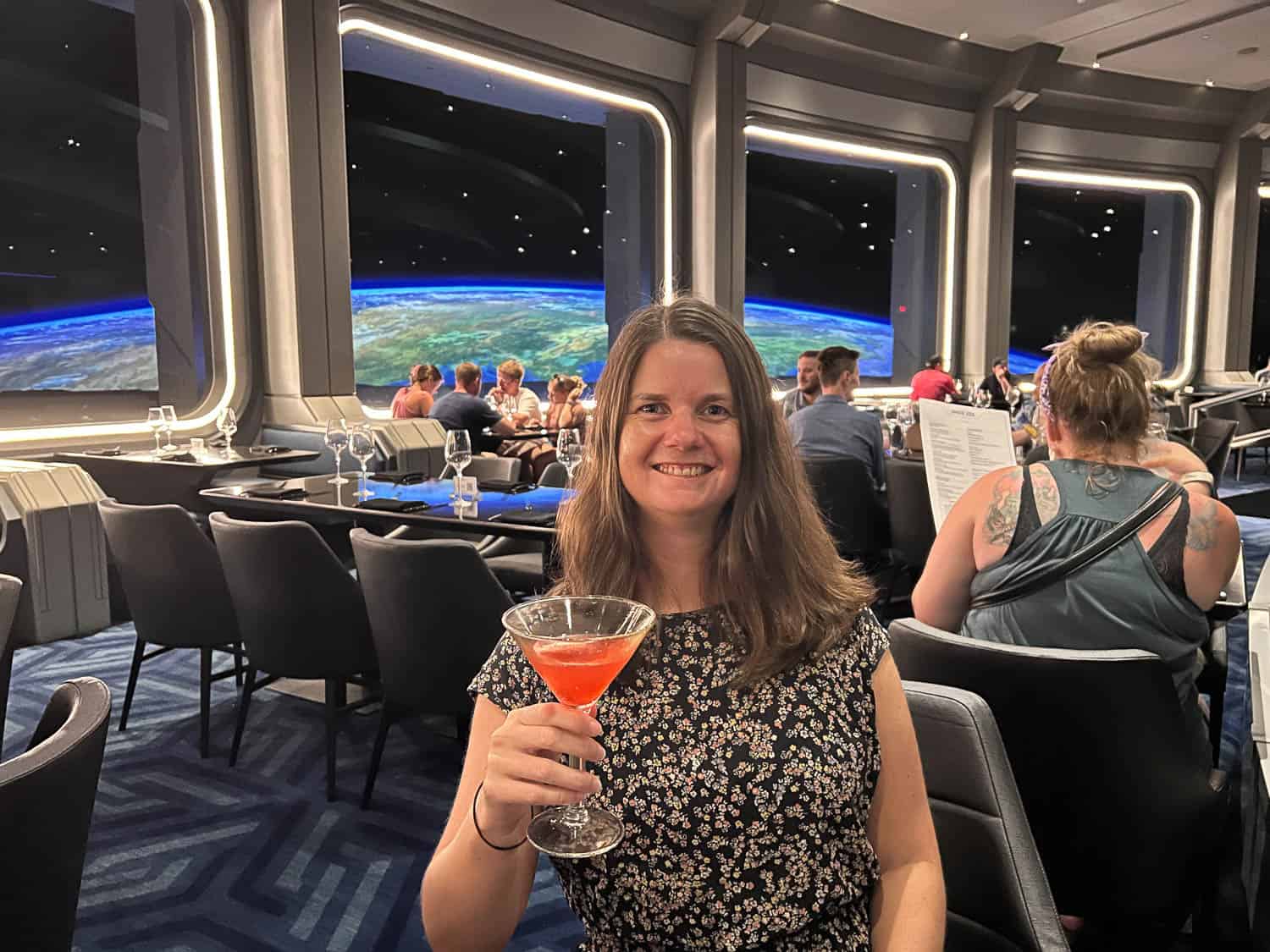 Epcot is one of the best Disney parks for food and there are lots of fantastic restaurants to choose from.
The most unique is Space 220, which is an experience as much as a meal, starting with a high-speed elevator ride to space.
You emerge in a space station and walk through a tunnel, past lettuce growing in a rotating cylinder, to the large dining room.
One side is dominated by the view of space with Earth below. It's always changing as spacecraft, astronauts, and even an astro dog fly by.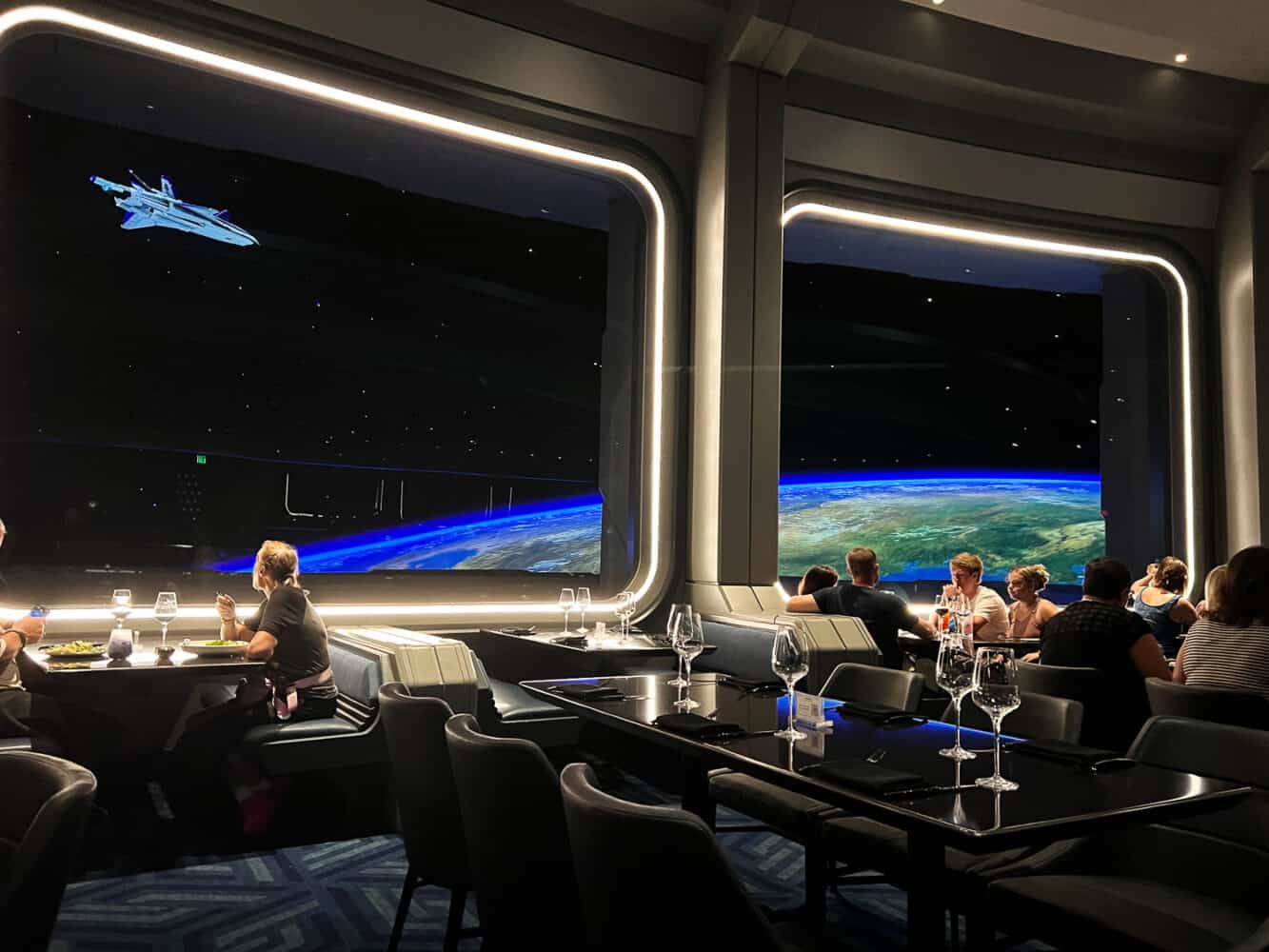 The restaurant is a lovely retreat from the park—literally like being in another world.
The food is also excellent. At Space 220 you have to order two courses at lunch or three courses at dinner. Our dinner took 90 minutes, so make sure to allow time.
The starters were the highlight for us. We shared the Big Bang Burrata (so light and refreshing) and the deep-fried Blue Moon Cauliflower.
Our vegan pasta main was tasty and huge. The desserts were also delicious including a very rich chocolate cheesecake.
The cocktails are fun. The server made my Atmospritz at the table—pouring the Aperol mix over a glass of cotton candy which melts away.
There are two downsides to Space 220. One is the price—dinner is $79 per person and with drinks, tax, and tip, we spent over $200 for two.
I think lunch is a better option as you only have to order two courses for $55. Three courses were too much for us anyway.
The other issue is getting a reservation. Even booking 66 days in advance, we could only get a 4pm dinner.
Reservations open 60 days ahead, but resort guests can book 60 days before checking into a Disney hotel, so they potentially get up to 10 extra days. Be sure to book as soon as you can (and for later in your trip if staying onsite).
We absolutely loved our time at Space 220 and think it's worth the splurge for a unique experience and good food, especially for space fans.
12) Enjoy an Epcot Festival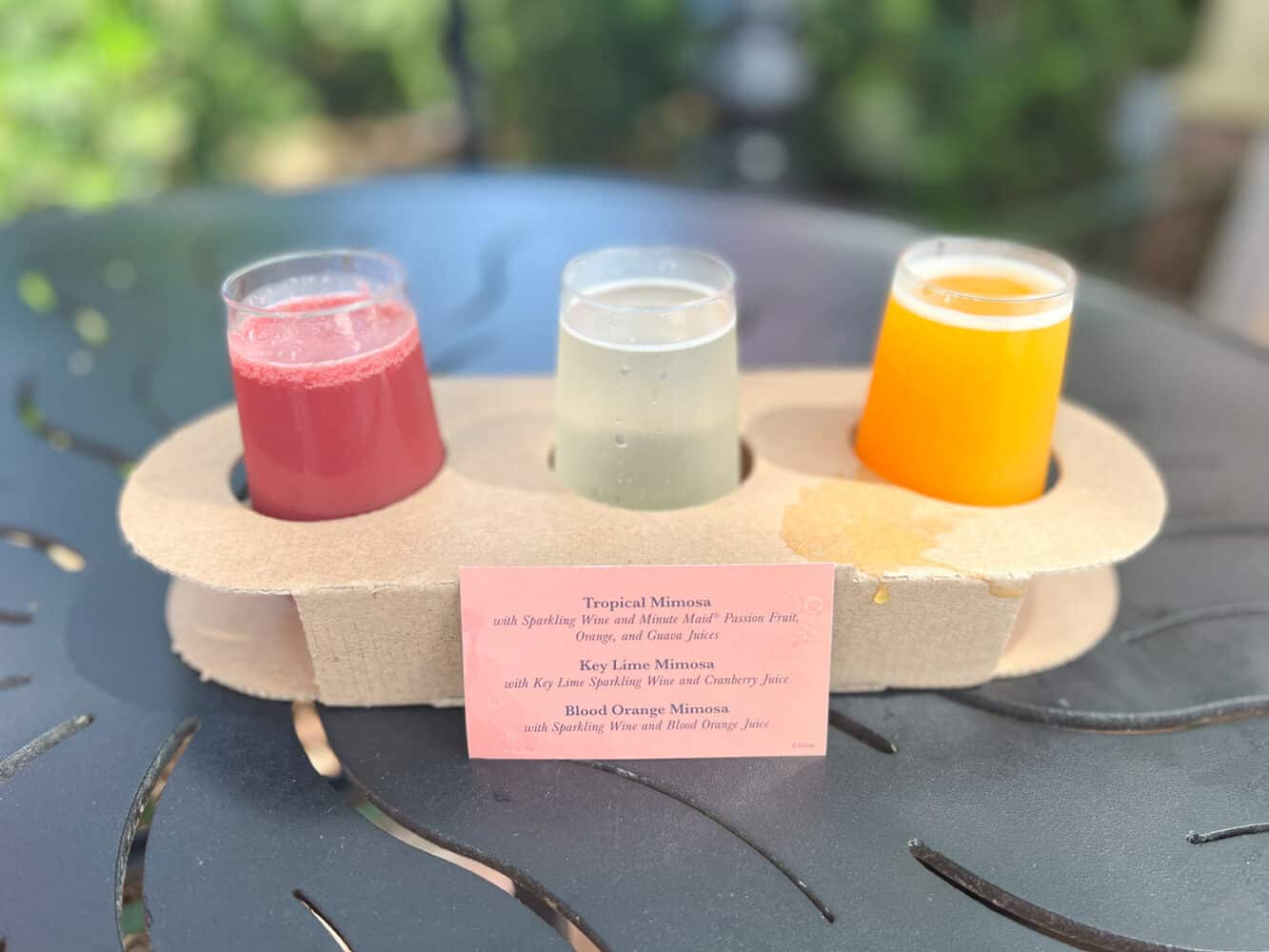 Epcot is famous for its seasonal festivals which involve special events, music, decorations, and food stalls.
These are the four major festivals with approximate dates. All feature special food booths with the most available during the Food & Wine Festival.
Epcot International Festival of the Arts – Mid-January to mid-February (meet artists and watch performers)
Epcot International Flower & Garden Festival – March to June (beautiful decorations)
Epcot International Food & Wine Festival – August to early November (our favourite with lots of food and drink stalls)
Epcot International Festival of the Holidays – Late November to December (candlelit processional and storytellers)
The chances are you'll be visiting during one of the festivals so make sure to look into the special events and food available.
During the Food & Wine Festival, we also enjoyed Eat to the Beat where a full stage is set up for free concerts by renowned bands (we saw Hoobastank).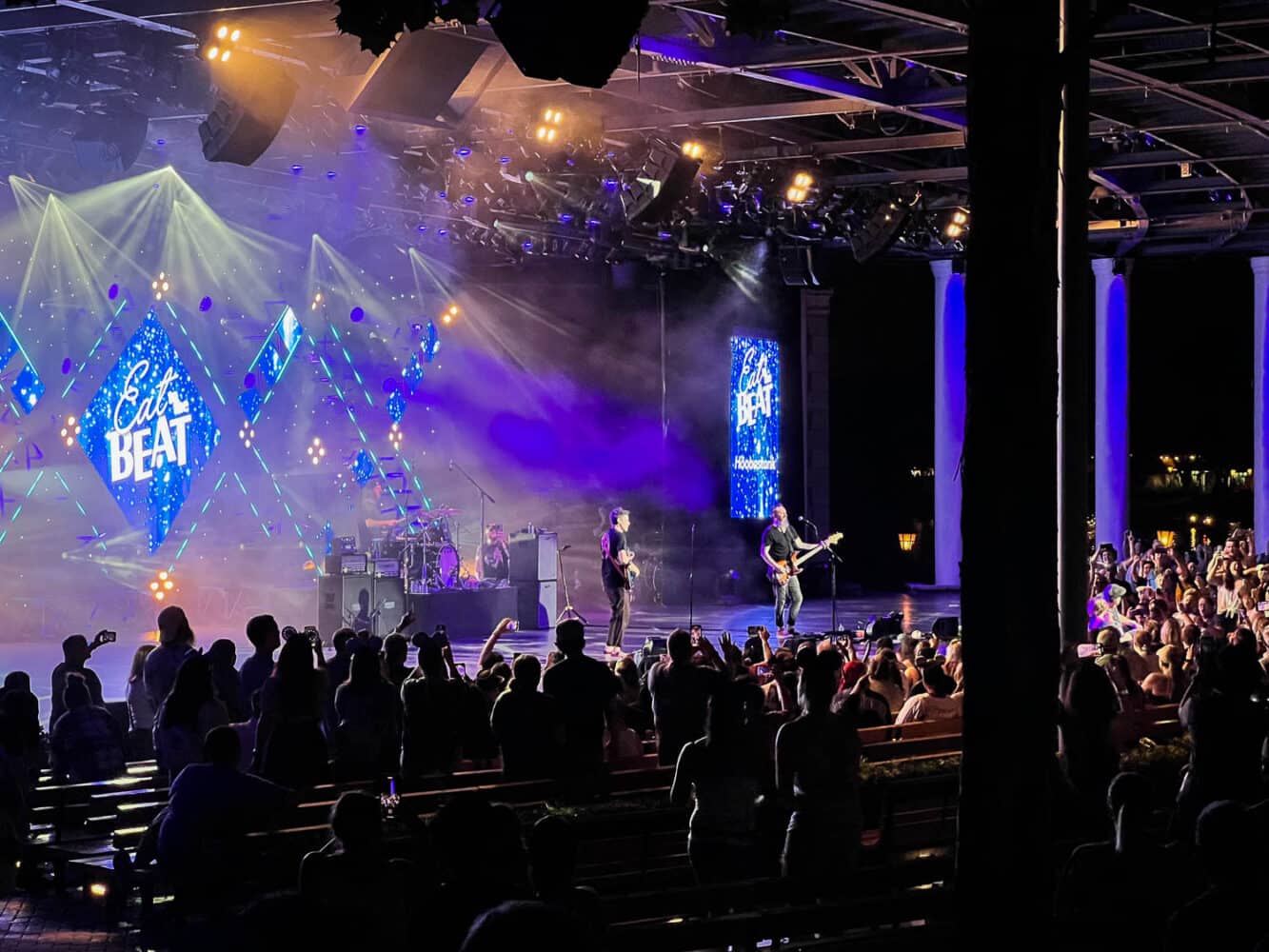 Note that weekend evenings are really busy at Epcot during Food & Wine (it's popular with locals), so visit on a weekday if possible.
13) Wander the World Showcase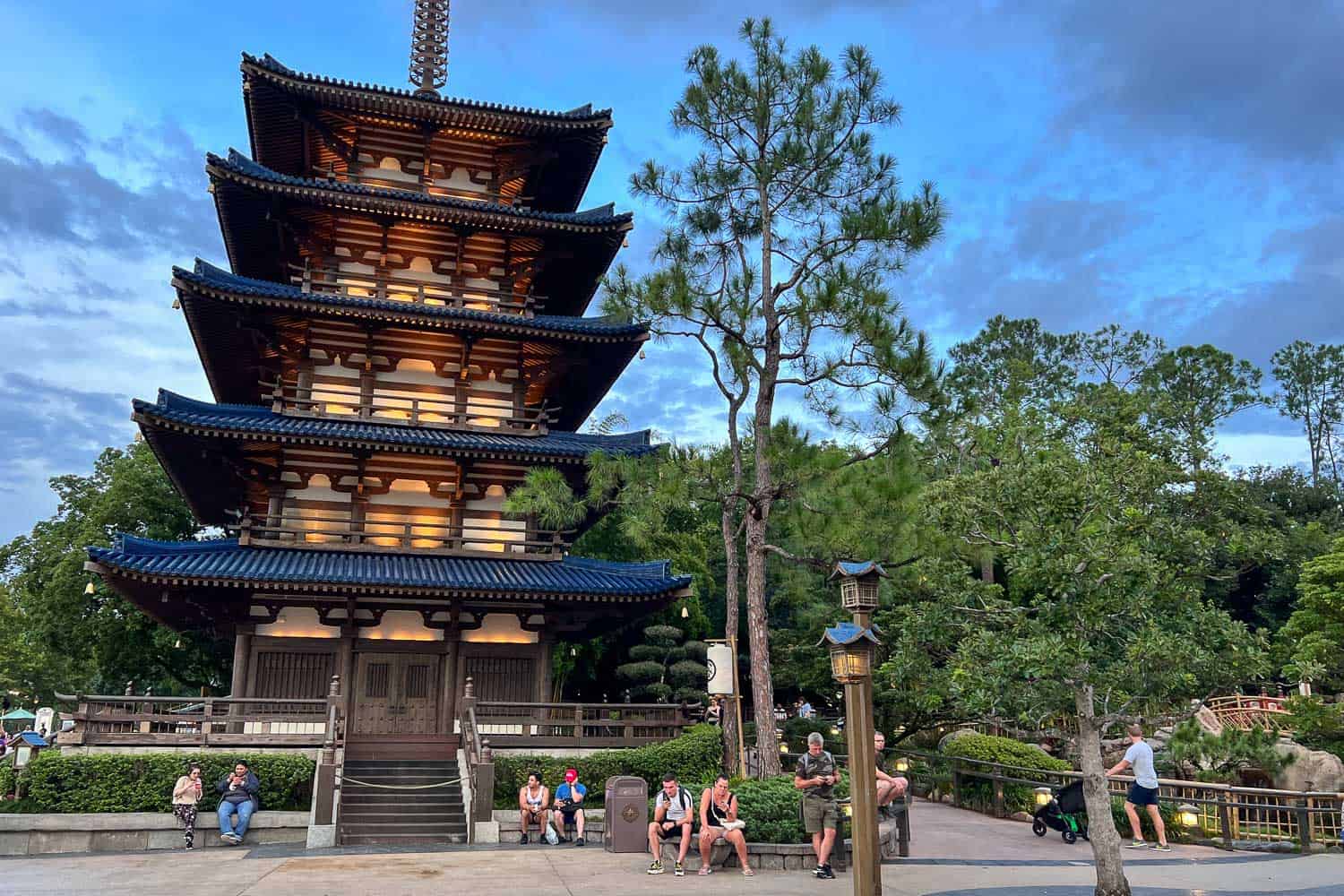 Once you've done the attractions at the front of the park, afternoons and evenings at Epcot are best spent in a leisurely stroll around the international pavilions of World Showcase.
You'll find stores, restaurants, live music, and a few shows and rides. You should walk through all 11 countries but some highlights include:
Mexico – Inside the pyramid, it is eternal night with a vibrant marketplace and volcano views. The Gran Fiesta dark ride is ok for a break.
Mariachi Cobre – This mariachi band from Jalisco performs at various times throughout the day on the streets of Mexico.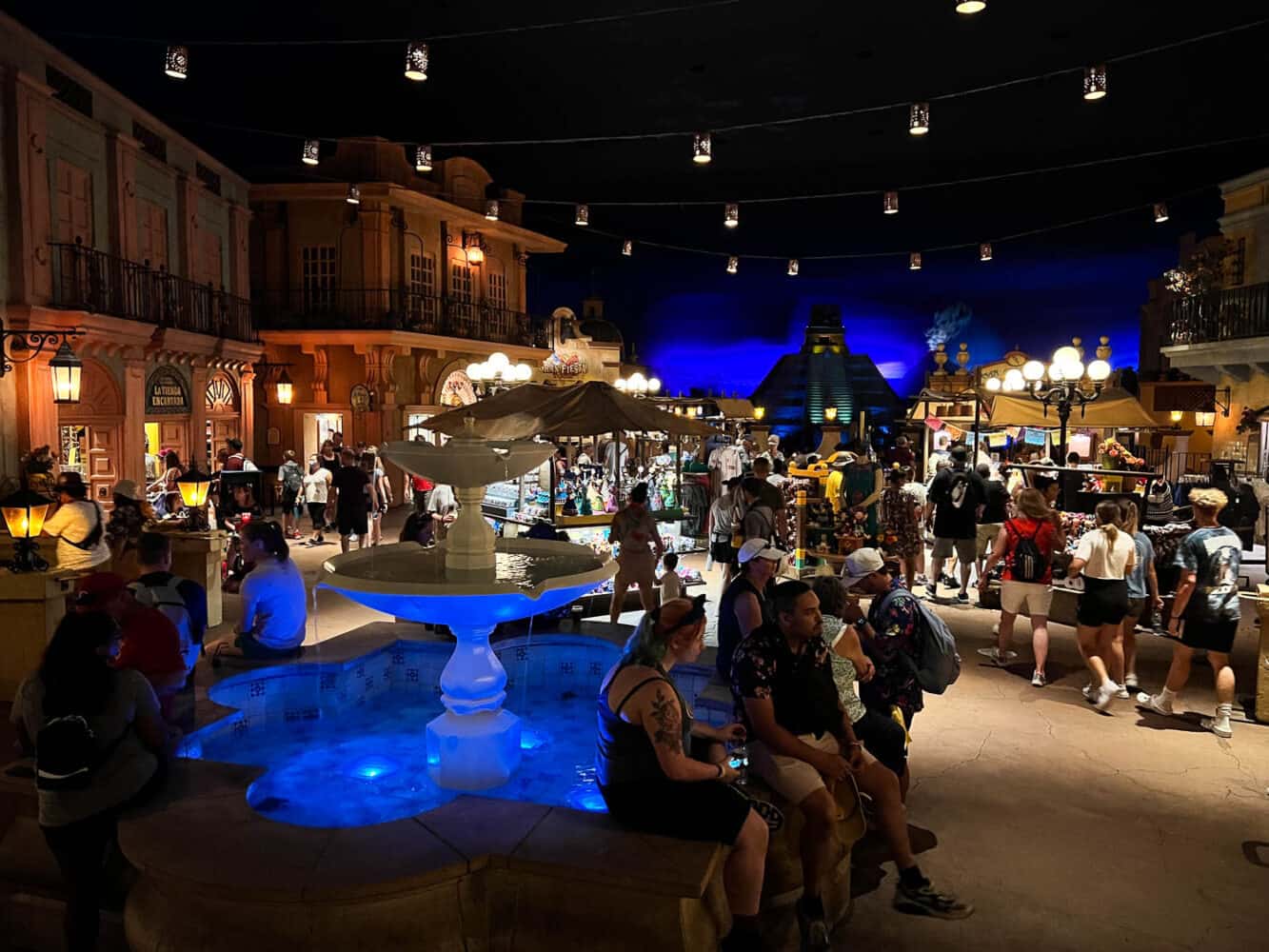 Japan – One of the prettiest pavilions with a temple, serene gardens, and the somewhat hidden Katsura Grill (we like the veg sushi). The large shop is great for souvenirs.
Matsuriza – Look out for these impressive taiko drummers in Japan.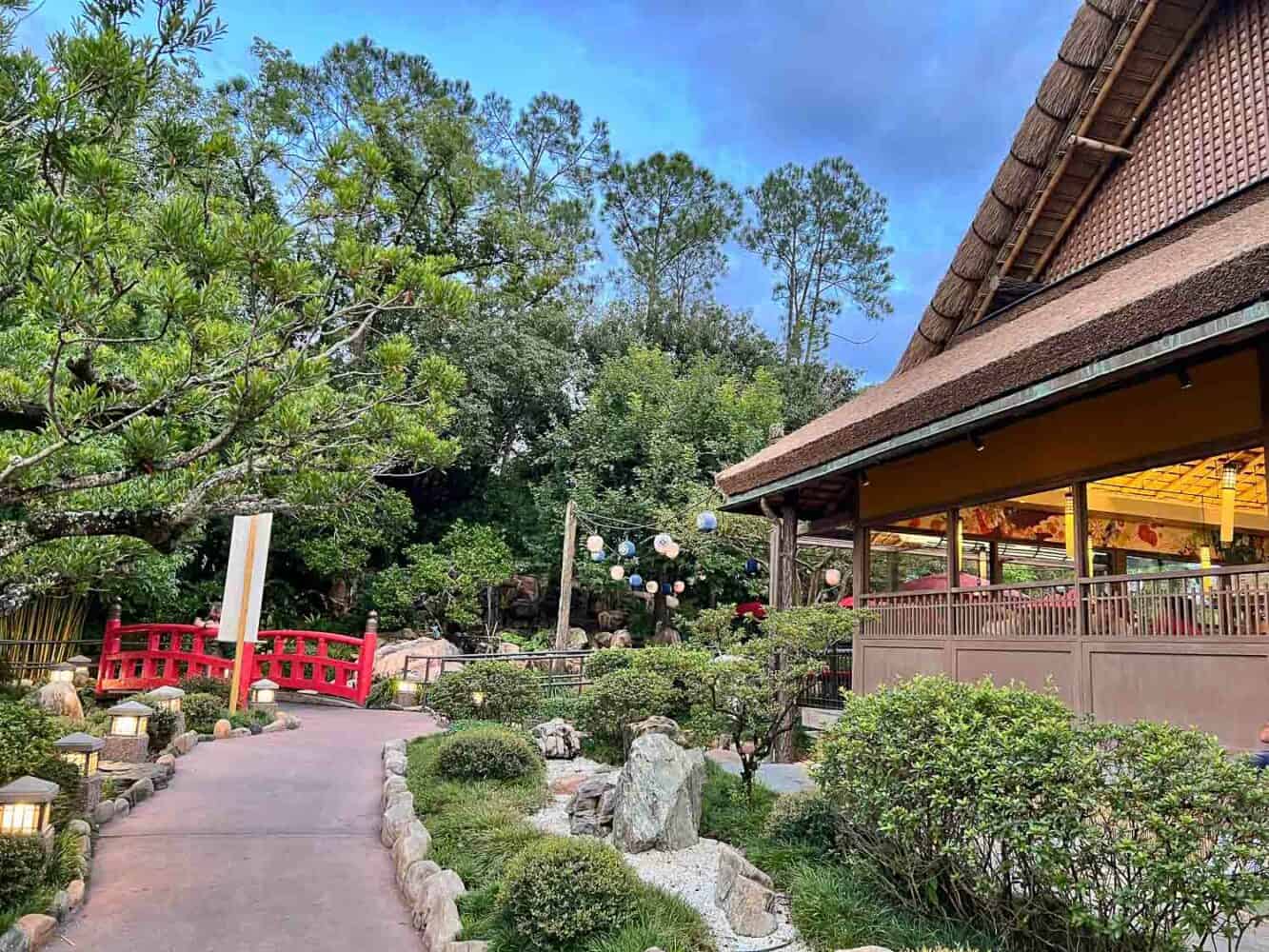 Morocco – Even on a busy weekend, we found a quiet retreat in a tiled courtyard with a fountain.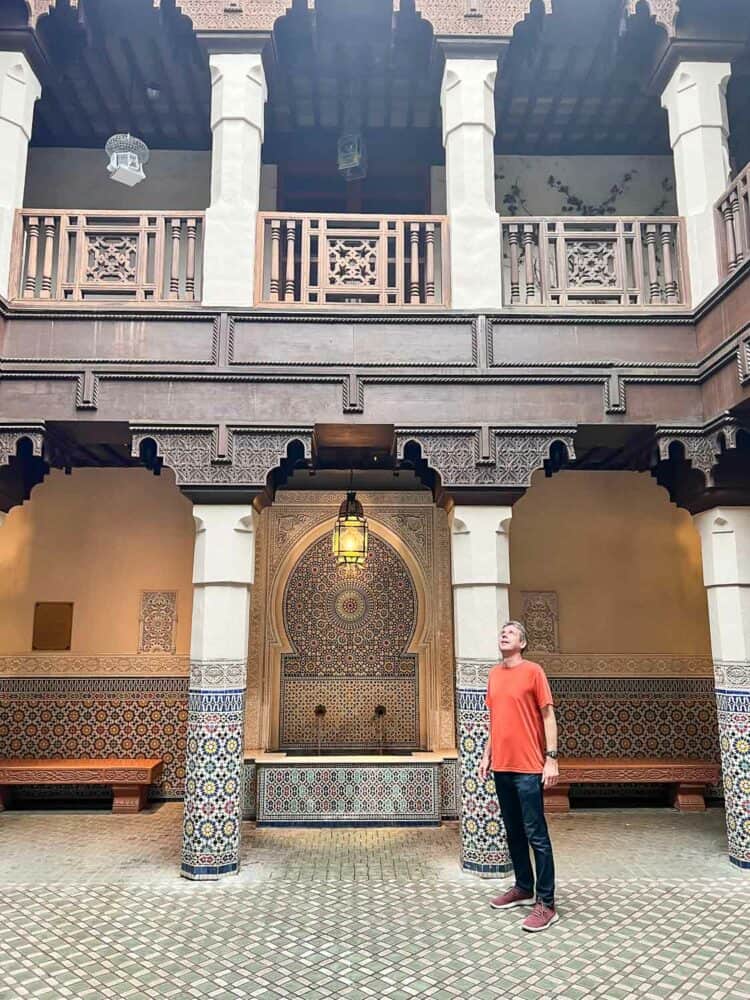 China – The lantern-lit streets look especially attractive at night.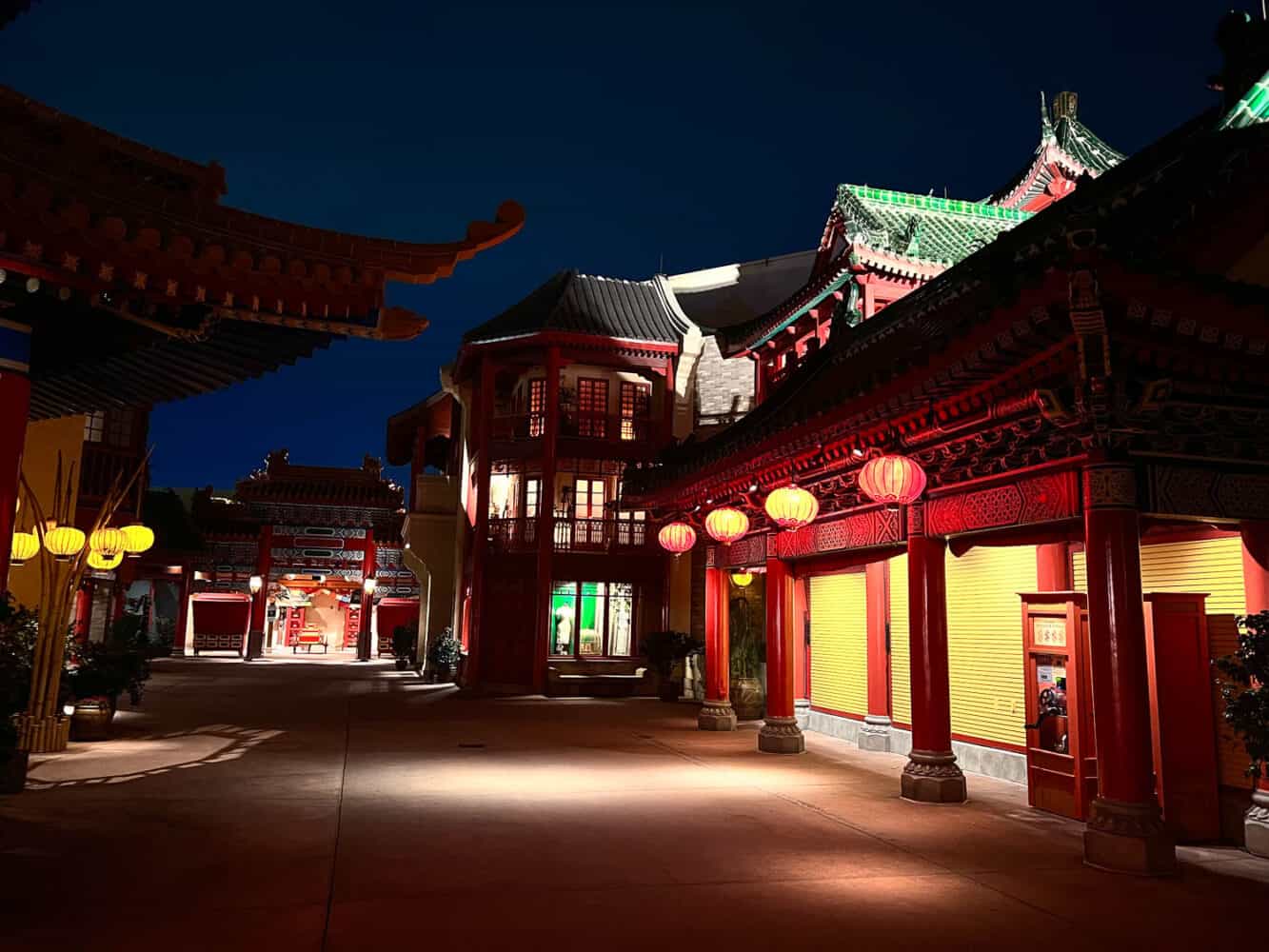 Wine Walk – This isn't always offered but when it is, it's a fun way to sample six wines from three bars in France, Italy, and Germany. The $32 price includes two souvenir acrylic glasses.
United Kingdom – Grab some fish and chips or a pint in the Rose & Crown.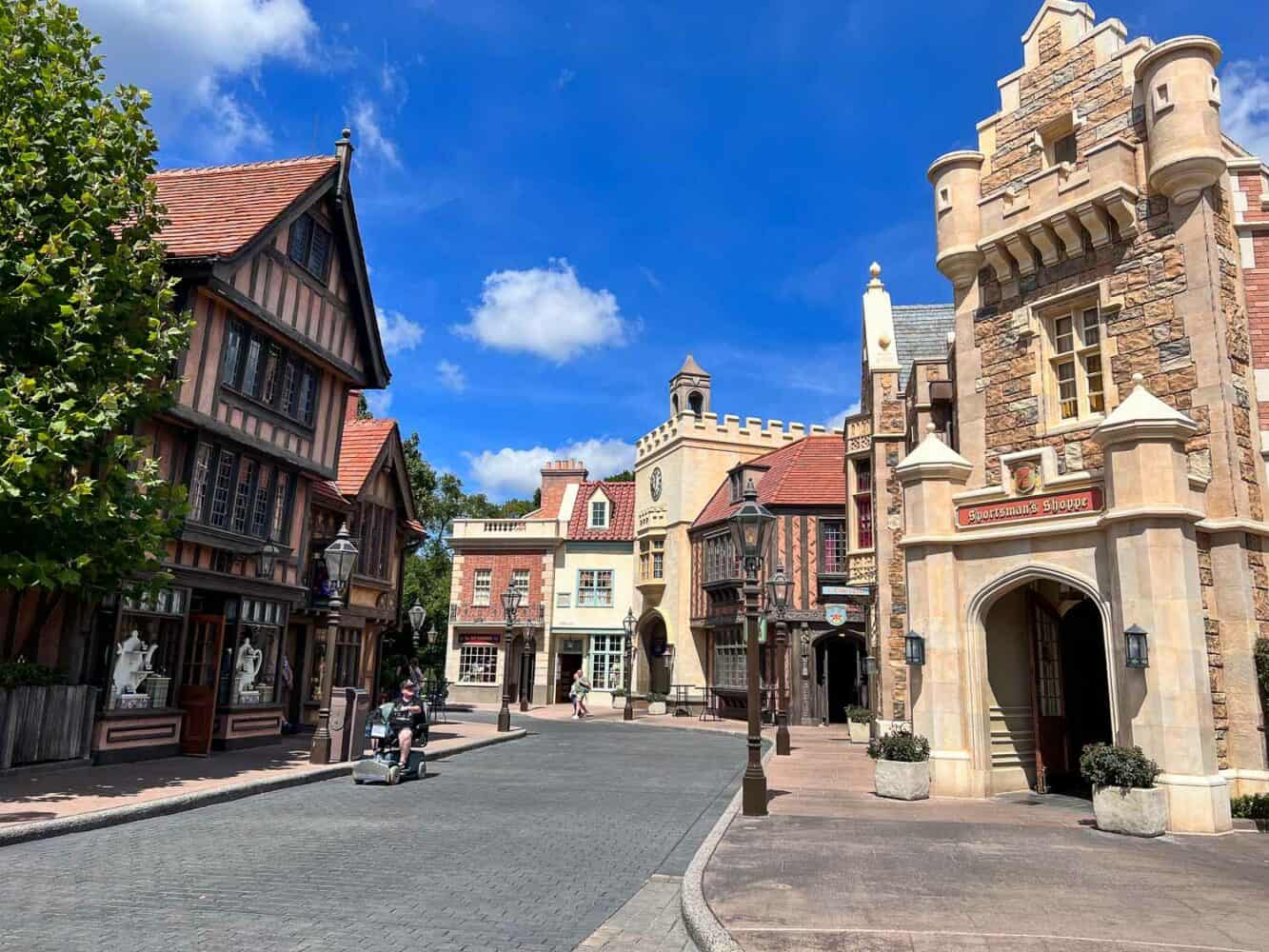 Plus we go into more detail about some of the best things to do at Epcot World Showcase below.
14) Drink at La Cava del Tequila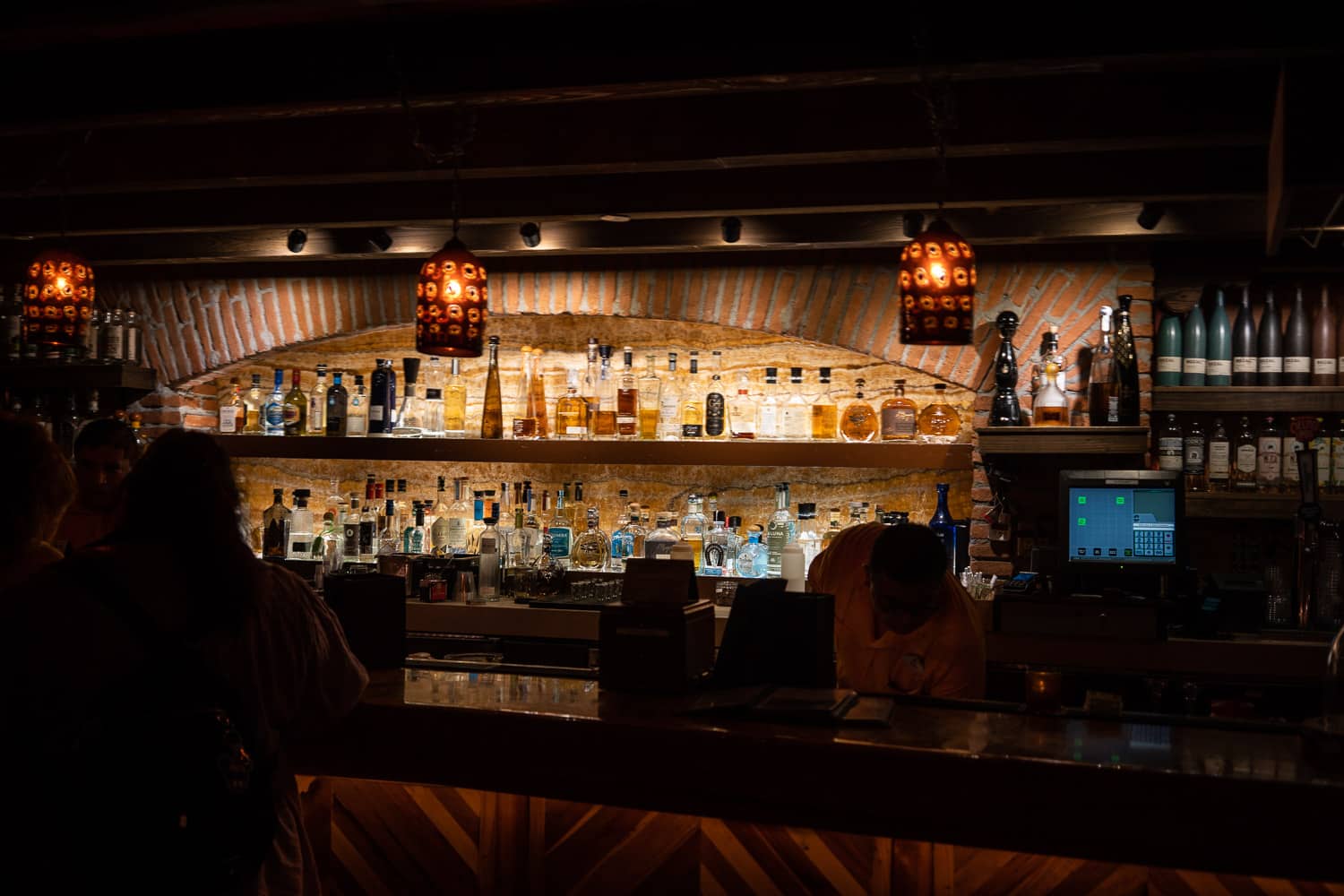 Located inside the Mexico pyramid, La Cava del Tequila is the best bar in Epcot (and second in Disney World only to Oga's Cantina at Hollywood Studios for us).
We couldn't believe we were at Disney in this cosy bar with an adults-only atmosphere (although kids are technically allowed).
The menu features an astonishing 200+ tequilas and mezcals as well as delicious margaritas (don't miss La Cava Avocado with fresh avocado).
The friendly servers are tequila experts from Mexico and one took a lot of time to help Simon select a mezcal. Astonishingly, the shot came with a side of grasshoppers—not something you'd expect at Disney!
As La Cava del Tequila is small and popular, there's always a long line (and no reservations), but it's well worth a wait. You can also get drinks to take away, but it's better to enjoy the atmosphere of the bar.
15) Dine with a Volcano View in Mexico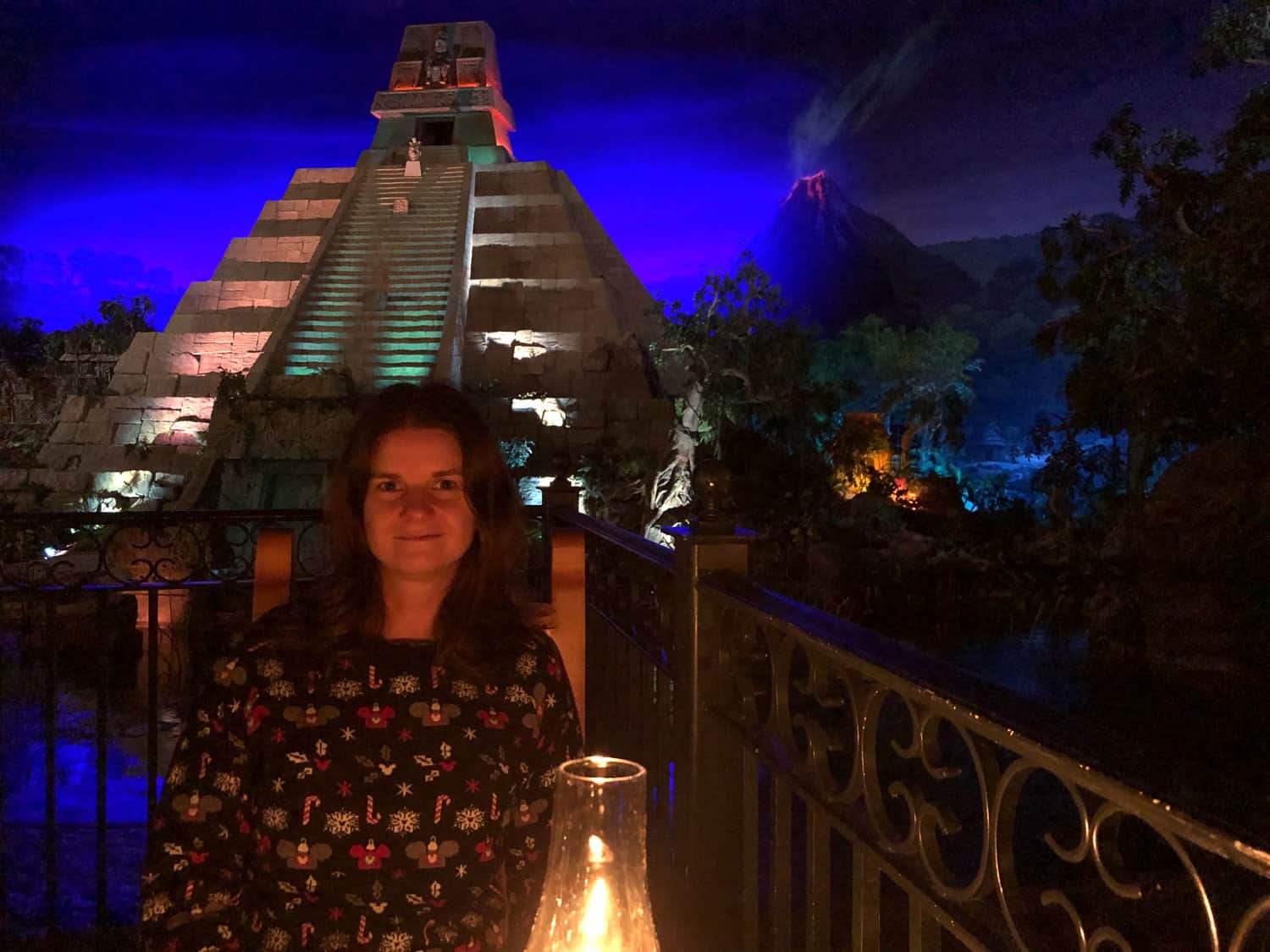 Another highlight within the Mexico pavilion is the table service restaurant, San Angel Inn.
Even in the middle of the day, you can enjoy a romantic candlelit meal overlooking the water with a view of Mayan ruins and a volcano.
The Mexican food is pretty good and the margaritas (from La Cava del Tequila menu) are a highlight.
This is one of the best themed restaurants at Epcot, so I recommend making a reservation.
16) Eat an Ice Cream from L'Artisan des Glaces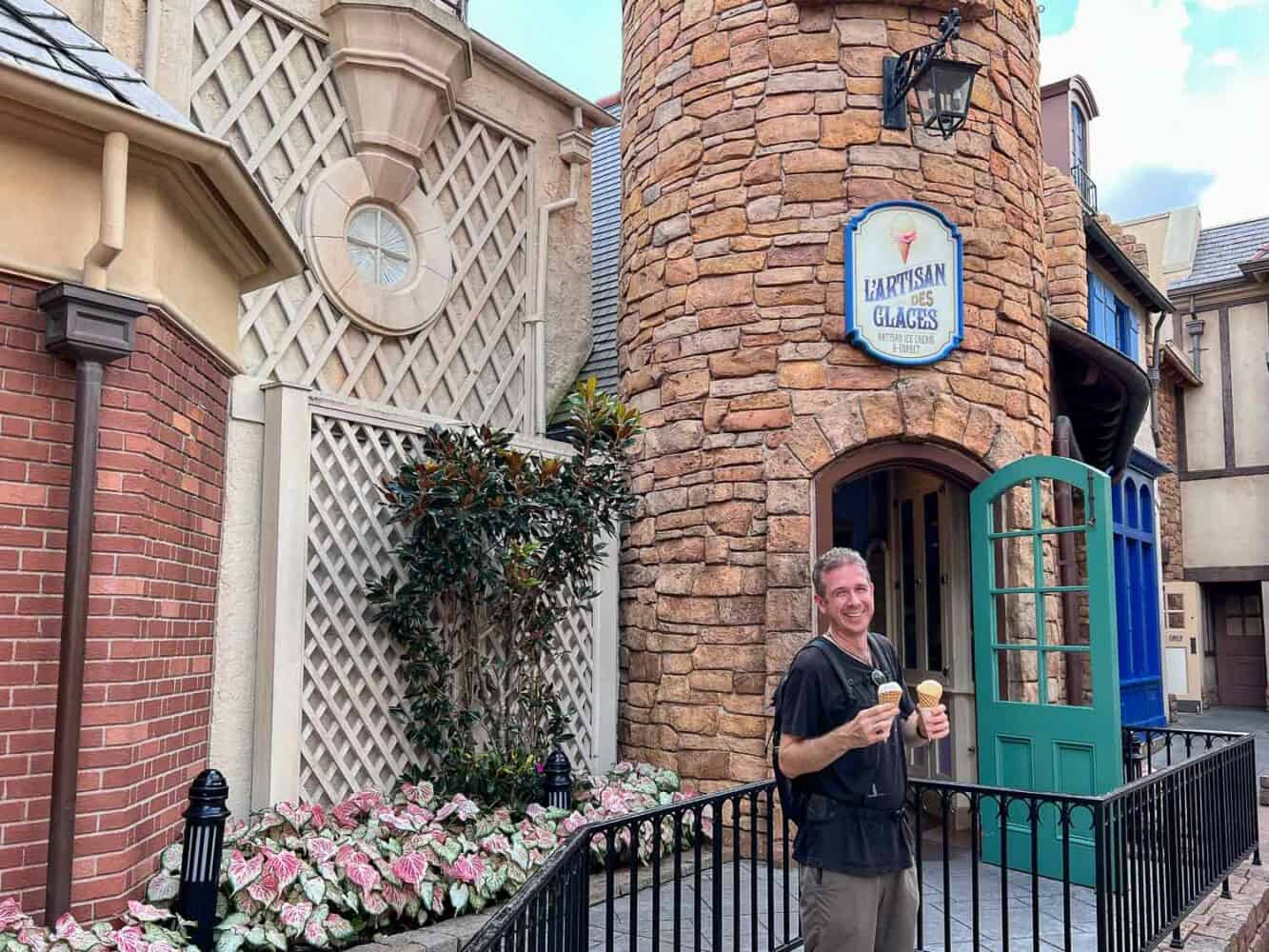 Our favourite sweet treat at Epcot is the delicious ice cream from L'Artisan des Glaces in France (surprisingly, it's better than the gelato at the Italy pavilion).
The salted caramel and white chocolate coconut flavours were both excellent.
17) See a World Showcase Show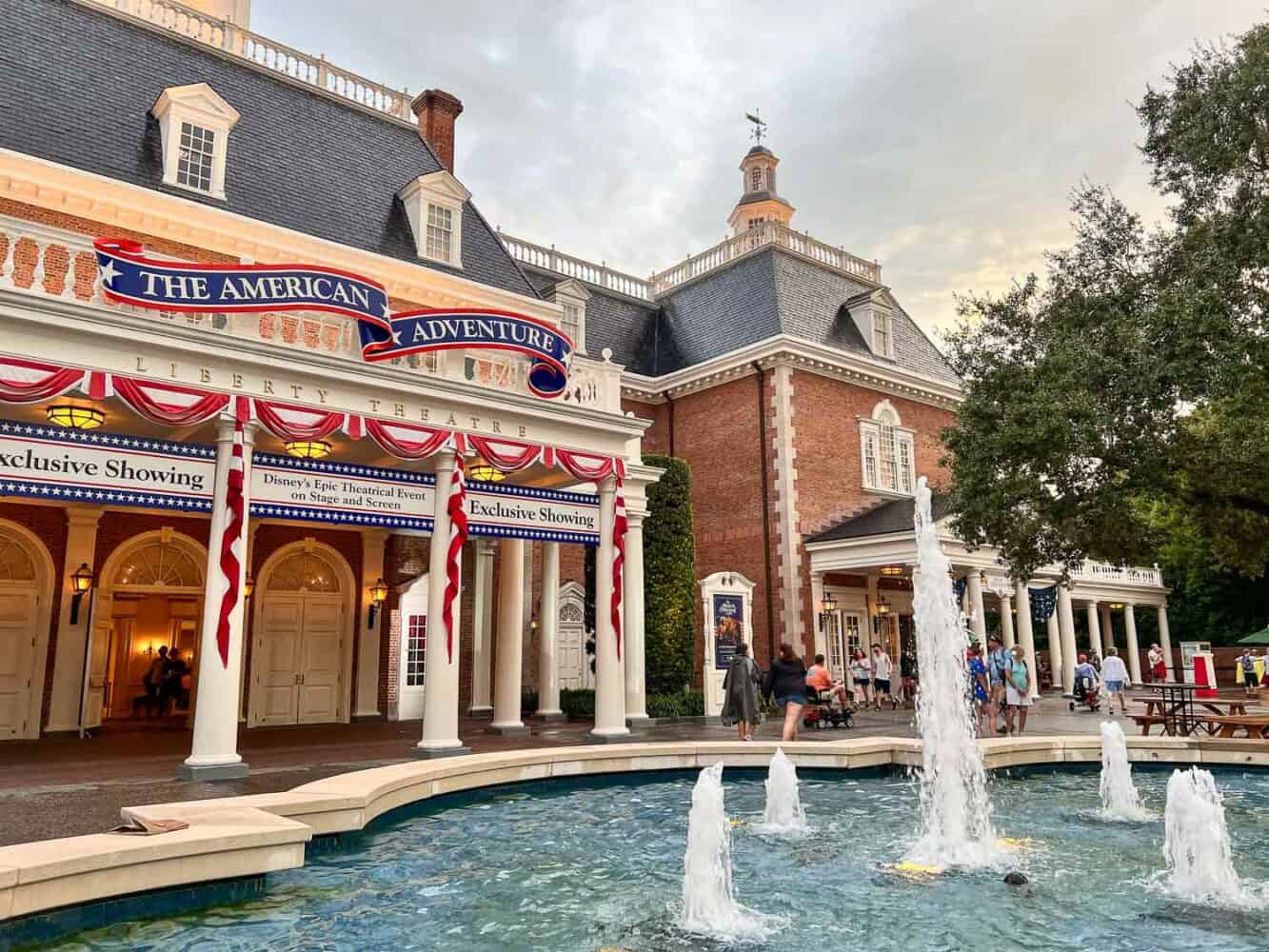 Several of the international pavilions host shows that highlight the glories of their country. Most of them are dated, but the scenery is beautiful and watching at least one show is a must see at Epcot.
Check show times in the app so you don't miss out.
Here are the shows in our order of preference.
The American Adventure Show – Unlike the other films, this is a 30-minute show with impressive animatronics that looks back at key moments in American history. It's very patriotic but well done.
Impressions de France – This was filmed in 1982, and the huge 200º curved screen is looking dated, but the views are gorgeous, and you really do feel like you are on a journey over France (almost like on Soarin'). It's 22 minutes and makes a good break. It only shows in the last two hours of the day.
Reflections of China – You don't sit down for this 360º movie so it's less good for a rest, but the countryside looks stunning.
Canada Far and Wide – Another standing 360º film with sweeping views of Canada's snowy mountains. It's usually closed during the Food & Wine Festival when it houses food booths.
18) Try Soft Drinks from Around the World at Club Cool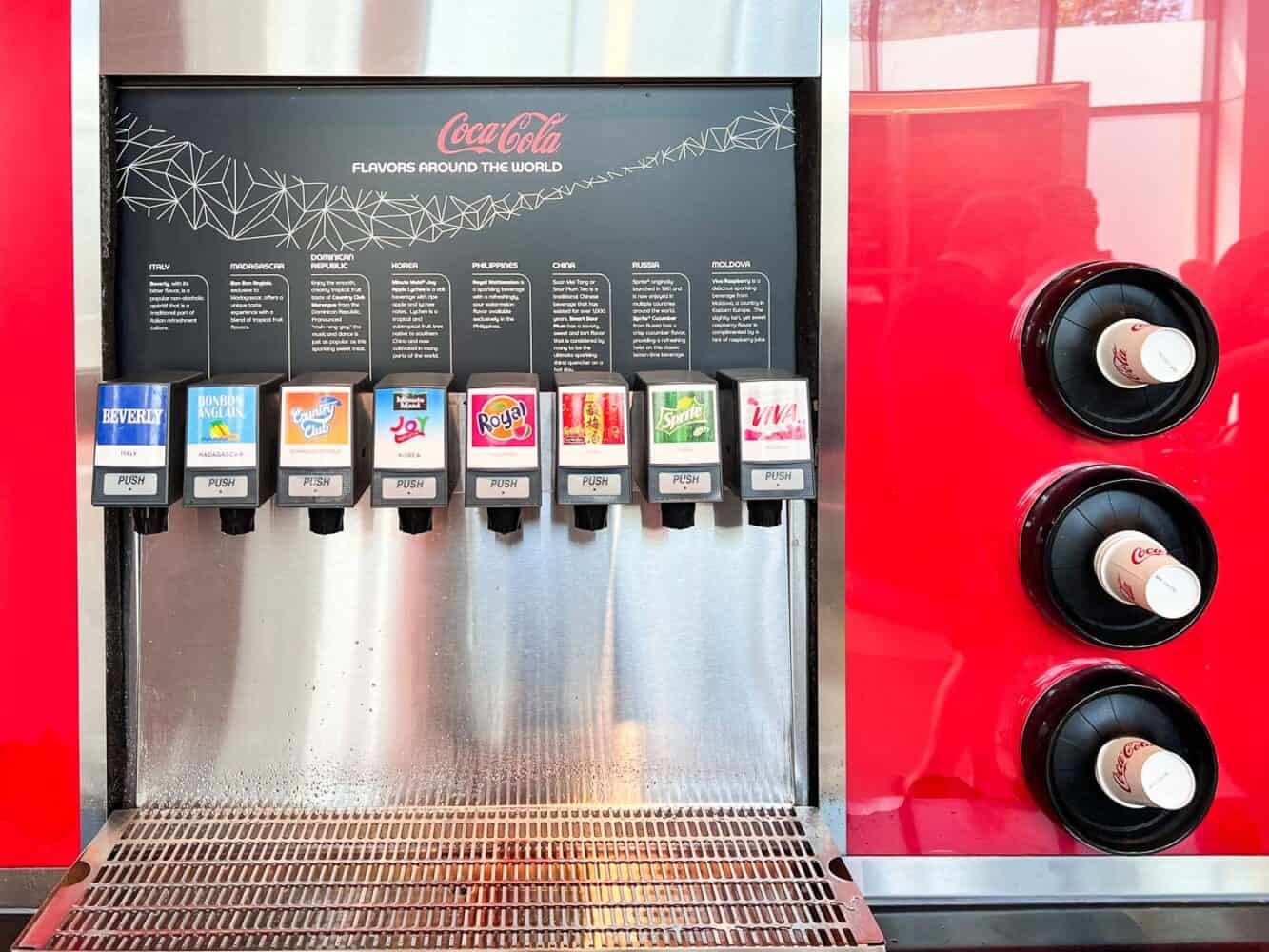 Back at the front of the park is the somewhat hidden Club Cool, where you can try free samples of an array of soft drinks. On our last visit, we enjoyed a Fanta Watermelon from the Philippines and Minute Maid Joy Apple Lychee from Korea.
It's good for a refreshing break during a morning of rides (it's close to Test Track and Mission: Space).
19) Laugh at Turtle Talk with Crush
Turtle Talk with Crush is low down our list of priorities for adults, but if you have time after riding everything at the front of the park, this 15-minute theatre show is worth a look.
It's aimed at kids, who can sit on the floor at the front and ask questions to Crush the Turtle (dude…) from Finding Nemo, who appears on the screen. The cute show is impressively managed and often funny.
20) End the Night with Fireworks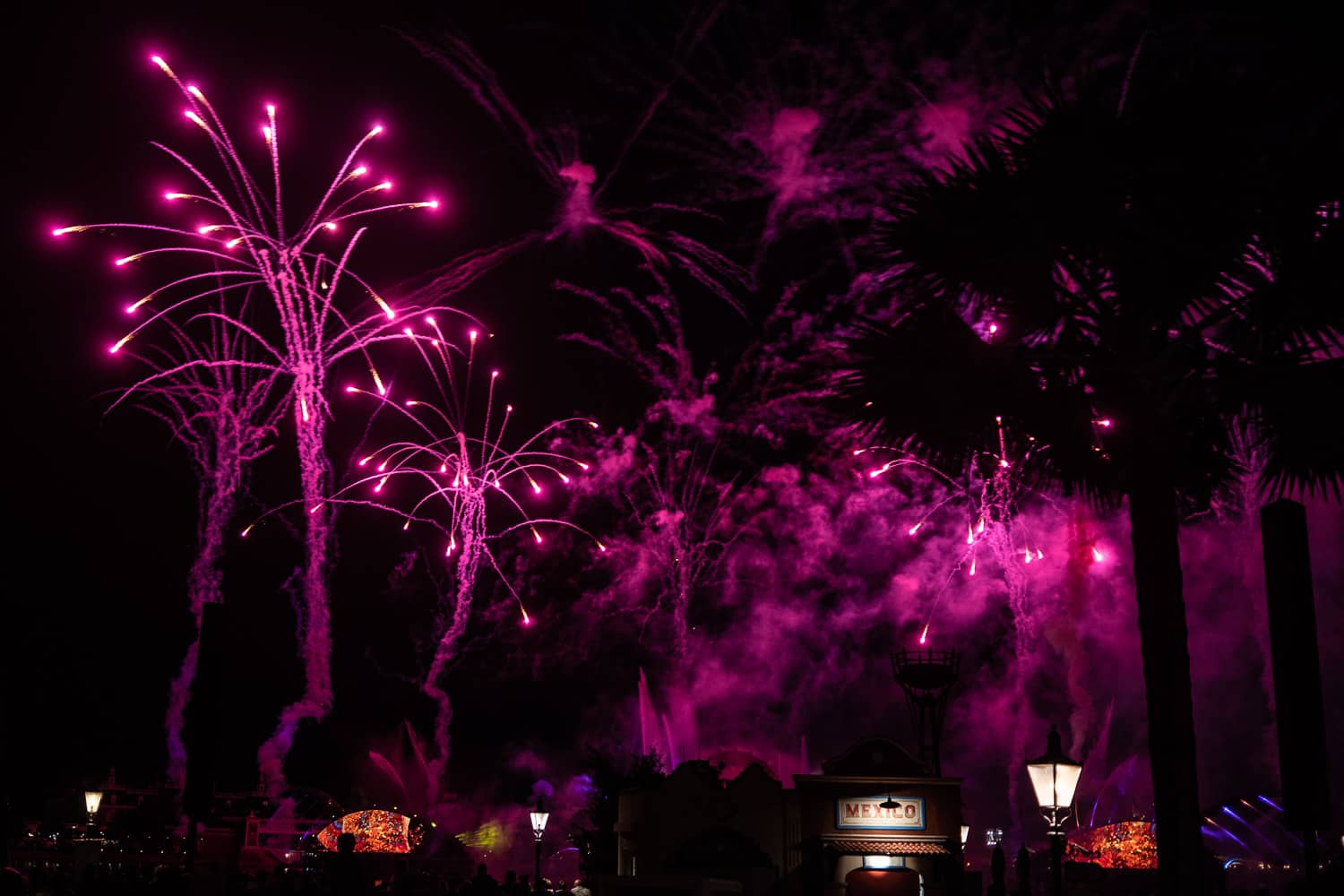 The classic way to end a night at Epcot is by watching the fireworks over the lagoon from one of the pavilions in World Showcase.
The current show is Epcot Forever before a new Disney100 evening spectacular launches later in 2023.
Whatever is showing, expect fireworks, lasers, light shows, special effects, and classic Disney tunes.
The bridge between France and the United Kingdom is a good spot, but we usually just watch from wherever we happen to be.
If you'd prefer to be seated, the Rose & Crown patio has an excellent view, but you'll have to make a reservation for a dining package (and it books up quickly).
Fireworks are usually at 9pm or 10pm, but check the app for that day's show time.
Is Epcot Worth Visiting?
Epcot is definitely worth visiting! It's very different from other theme parks with its mix of educational attractions and global pavilions, but it still has some of the best rides at Disney, especially Guardians of the Galaxy.
There are enough character interactions to keep kids happy, and plenty of delicious food and drinks for the adults. Add in the lively evening atmosphere and fun street entertainment and it's really a full-day park (at least).
I hope this guide has given you some ideas of what to do at Epcot for adults and kids. Let us know if you have any questions in the comments below.
Other Disney Posts
Plan your Disney trip in Orlando and beyond with our other guides:
Disney World Orlando
Elsewhere
If you enjoyed this post, pin for later!