This page contains affiliate links. Please read our disclosure for more info.
Tokyo Disney is top of our list whenever we visit Japan. The two theme parks aren't far from the centre of Tokyo and are easy to add to your itinerary.
Tokyo Disneyland is a classic Disney park similar to Magic Kingdom in Orlando or Disneyland California.
It features a fairytale castle, popular characters like Mickey Mouse, and much-loved rides like Space and Splash Mountains. There are a few unique attractions too.
Its sister park is Tokyo DisneySea, our personal favourite as it's unlike other Disney parks and is a little quieter and more adult-orientated.
Tokyo Disneyland is still a fantastic day out and ideally, you'd spent a day at each park. I don't recommend trying to visit both parks in one day.
In this post, we share the best Tokyo Disneyland rides, our one-day itinerary, and other tips to help you make the most of your stay and avoid the crowds.
Contents
Top Tip: Make sure to book your tickets in advance as they are no longer available at the gate and they can sell out. The easiest way to purchase for English speakers is to get an e-ticket from authorised partner Klook. Get your Tokyo Disneyland tickets here.
Top Tokyo Disneyland Rides and Attractions
1) Enchanted Tale of Beauty and the Beast
Enchanted Tale of Beauty and the Beast, the newest Tokyo Disneyland ride, opened in 2020 and is by far the most popular ride in the park.
We haven't ridden it yet, but we're looking forward to trying it on our next trip.
The trackless dark ride takes place in the Beast's Castle and even the details in the queue are beautiful.
You ride in magical teacups that spin and dance in rhythm to popular songs from Beauty and the Beast (including Be Our Guest) and glide through scenes from the animated film.
The ride has been praised for its impressive animatronics and masterful combination of storytelling and technology.
It's now one of the best rides at Tokyo Disneyland, and you won't want to miss it.
Disney Premier Access (see below) is available for Beauty and the Beast and may be worth paying for. If not, head here as soon as the park opens.
2) Space Mountain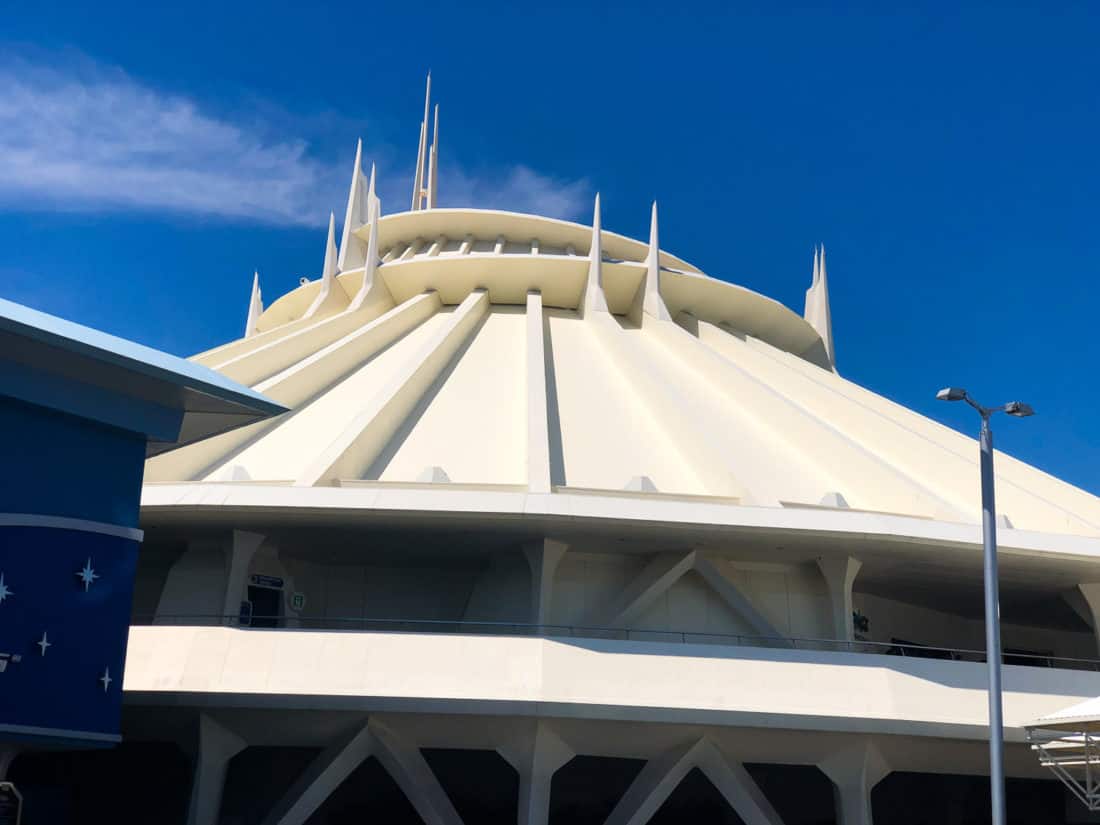 Space Mountain is the best roller coaster at Tokyo Disneyland. On this thrilling indoor ride you fly in the dark through the galaxy at high speeds with plenty of twists and turns.
There are no inversions or massive drops, but it's still intense and the darkness adds to the thrill—you never know what's coming next!
In the queue you'll find interactive games to keep you occupied.
Space Mountain is one of our favourites and is usually one of our first stops of the day (there's no better way to wake up!) before queues get too long.
3) Splash Mountain
We love cheerful Splash Mountain and think it's a Tokyo Disneyland must do! Especially now the ride has closed at Magic Kingdom and Disneyland California in the US.
This log flume ride is mostly gentle but ends with a thrilling drop over a waterfall. You get less wet on the Tokyo version than the old US rides, so it's worth doing even on colder days.
On this leisurely journey you follow the adventures of Br'er Rabbit with cute animatronic scenes and catchy songs.
Splash Mountain is very popular (especially when it's hot), so head there early or at the end of the night. You can also pay for Premier access.
Unfortunately, there's no longer a single rider queue.
4) Big Thunder Mountain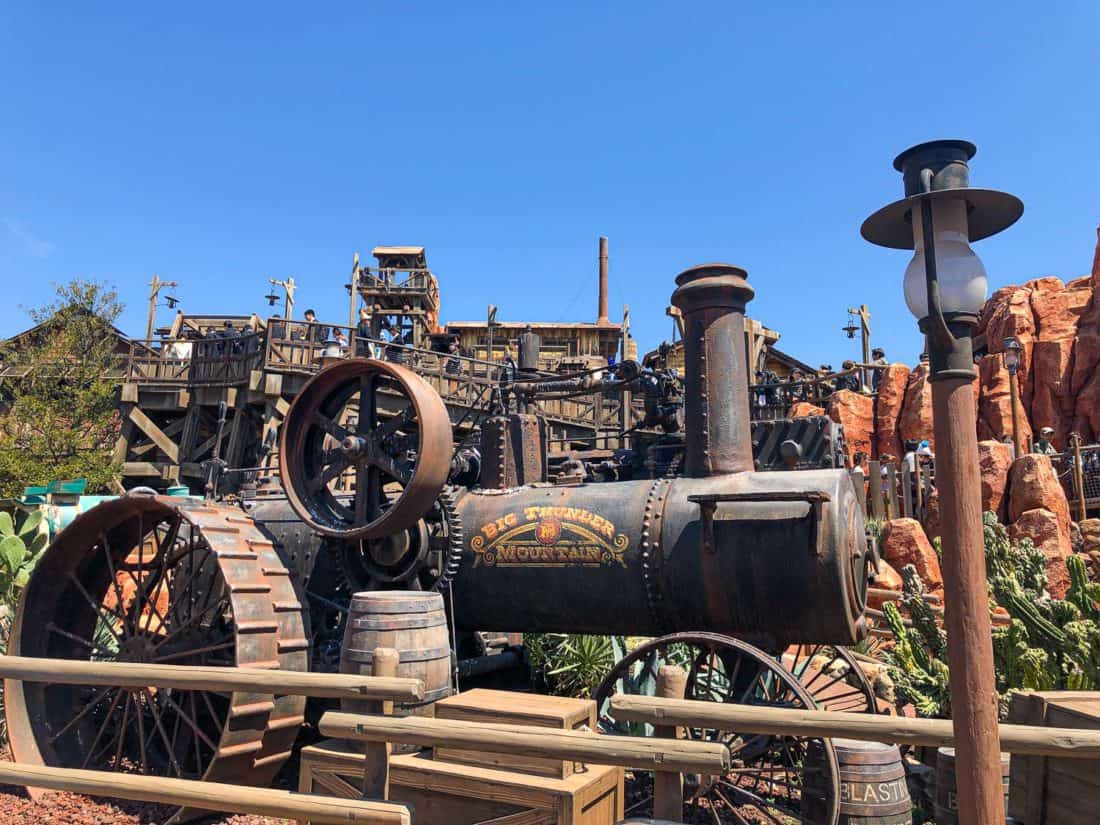 The third Tokyo Disneyland mountain ride is another classic.
Big Thunder Mountain is a fun ride on a runaway mine train with sudden drops and turns. It's not a scary roller coaster, but it is fast and we love the Wild West theming.
The journey takes you through an old gold mine and there are lots of humorous details to spot along the way.
It's worth riding during the day and at night if you can (but queues can be long).
5) Monsters, Inc. Ride & Go Seek!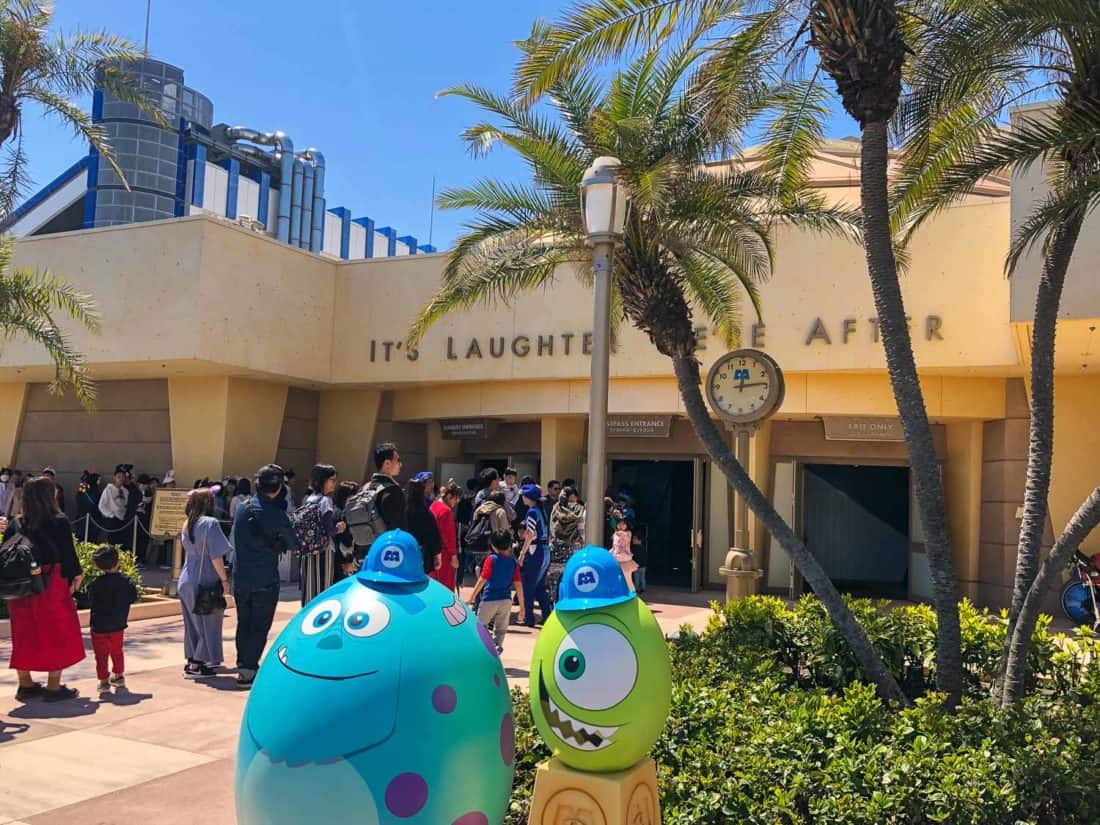 Monsters, Inc. Ride & Go Seek! can't be found at any other Disney park.
It's an interactive dark ride that takes place after the events in the movie Monsters, Inc.
Along with Boo, you are invited to play a game of hide and seek with flashlights.
You board a gentle moving tram and go off in search of monsters. When you spot a monster helmet, shine your flashlight on it and the monsters pop up. It's a fun and cute ride.
6) Pooh's Hunny Hunt
Pooh's Hunny Hunt is another ride unique to Tokyo Disneyland and is extremely popular.
Unfortunately, it was closed on our visit, but it's considered an excellent example of a Disney dark ride.
You travel on a hunny pot with a mind of its own and follow Winnie the Pooh on his search for honey in the richly detailed world of Hundred Acre Wood.
The ride is trackless which creates a more immersive experience as the cars engage with each other and the environment.
It's one of the most popular Disneyland Tokyo rides so try to ride it early.
7) Pirates of the Caribbean
A much-loved Disney ride around the world, Pirates of the Caribbean is a gentle indoor cruise.
You pass through scenes of a pirate raid from the bombardment of a fortress to debauchery after the victory. There are many elaborate details and quirky characters to notice along the way.
The films were inspired by this classic ride, which now features an animatronic figure of Captain Jack Sparrow.
Pirates isn't as busy as other top Tokyo Disneyland attractions, so you can ride it whenever you have the chance.
8) Haunted Mansion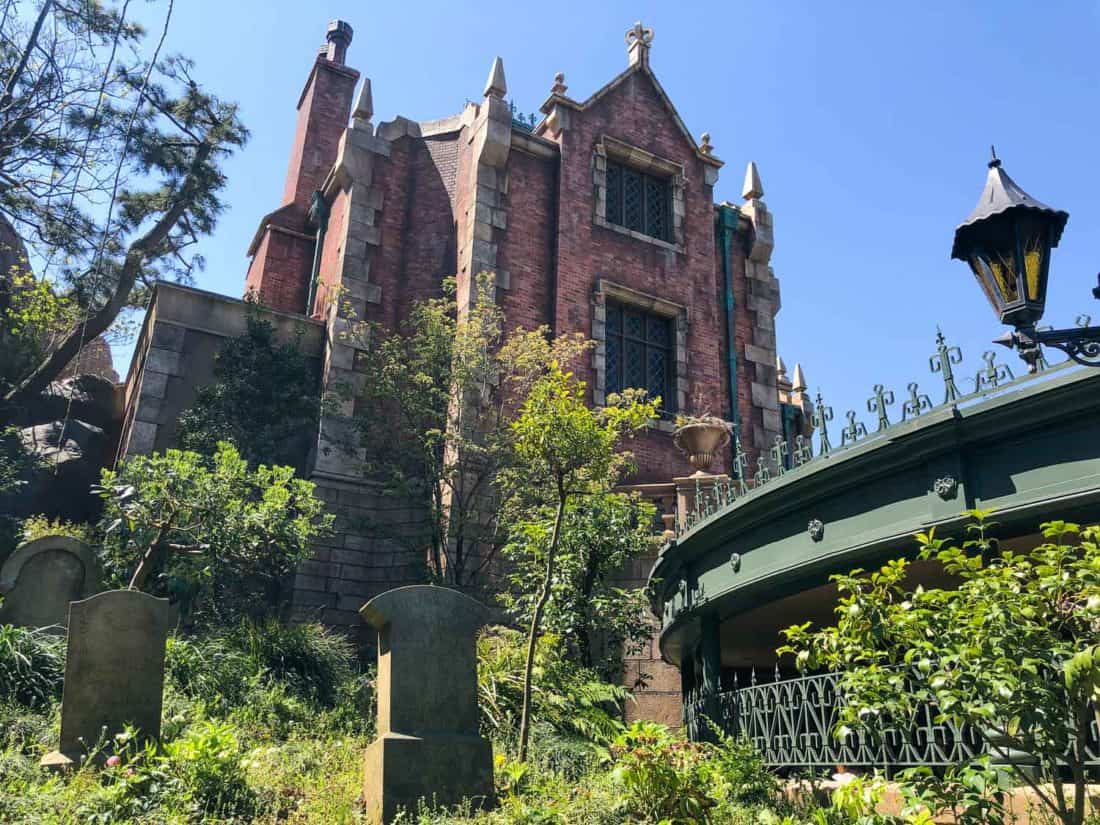 Another Disney classic, Haunted Mansion is an eerie ride through a Gothic mansion with 999 ghostly inhabitants.
It's a gentle experience with lots of interesting details and special effects to enjoy and is a nice change of pace from the roller coasters. It's not actually scary.
It's also much easier to get on than the above Tokyo Disney rides with shorter queues than most of the others on this list. The queue has some interesting details anyway.
During Halloween and Christmas, the ride is transformed into a special holiday version which is well worth doing (but it will be busier than usual).
9) Star Tours: The Adventures Continue
Star Tours is a flight motion simulator journey through space with 3D effects. It's the same as the Hollywood Studios ride in Florida.
There are multiple storylines so every time you ride it, it could be different.
Simon loves this one, but it aggravates my motion sickness.
This is one of the least popular attractions in Tokyo Disneyland so you should be able to get on without queueing too long, especially in the evenings.
10) Buzz Lightyear's Astro Blasters
Buzz Lightyear's Astro Blasters is an interactive dark ride based on the character from Toy Story.
You board a space cruiser (which you can spin) and blast away with your laser cannon at evil Emperor Zurg and his minions and try to rack up a higher score than your companions.
It's an enjoyable ride, but I don't think it's worth a long wait.
11) Western River Railroad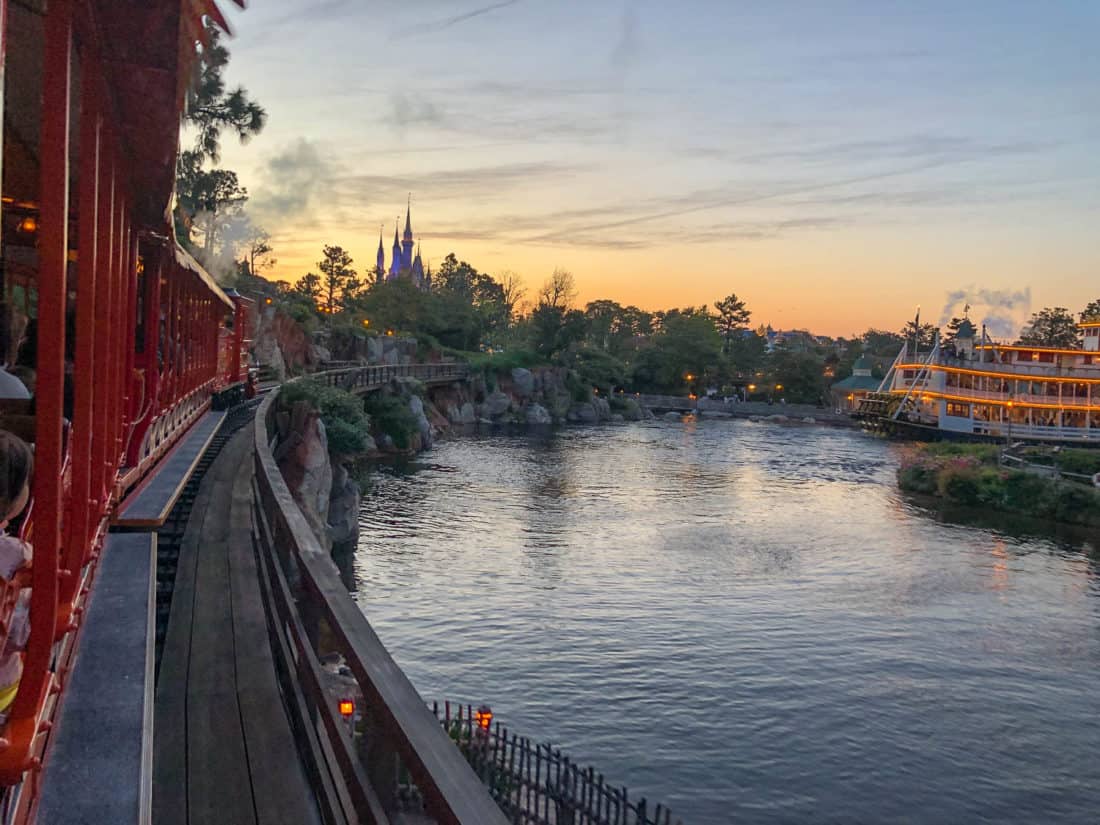 For a total change of pace, board the Western River Railroad. This isn't a must-do Tokyo Disney attraction, but we enjoy riding this steam train, especially when queues are long elsewhere in the park.
The train loops around Adventureland, Westernland, and Critter Country with fantastic views of the park and some cool hidden scenes. It even goes through Thunder Mountain.
It departs from and returns to Adventureland and you can't get off along the way (unlike in Magic Kingdom in the US).
12) Mark Twain Riverboat
Like the Railroad, the Mark Twain Riverboat is a gentle way to explore the park when all the rides are busy.
It takes you on a tour of the Rivers of America with superb views, especially at sunset.
13) Tom Sawyer Island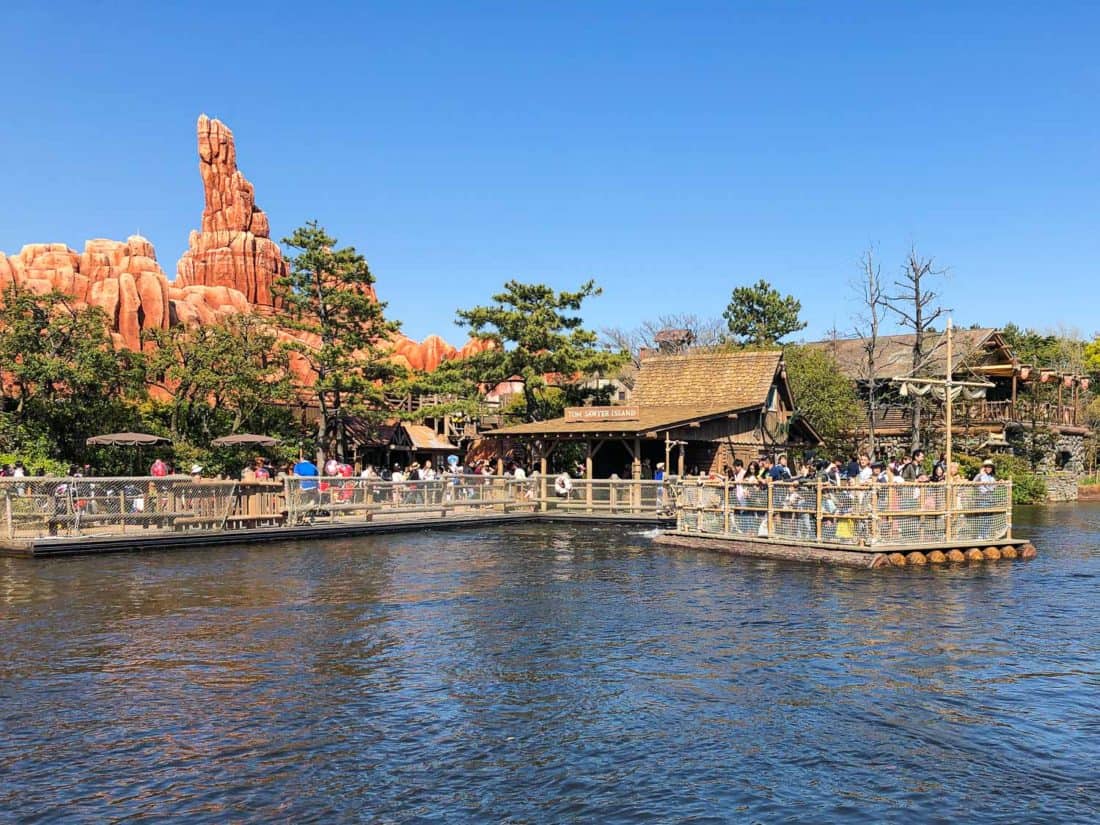 Although it's primarily a kids play area, even as adults we like taking the raft across the Rivers of America to Tom Sawyer Island.
The Tokyo version isn't as large or as quiet as the one in Magic Kingdom Orlando, but there are some fun attractions including a barrel bridge, fort, treehouse and caves.
Again, do this one when the crowds in the park are getting to you, as you'll likely find a quiet spot to relax. It closes at sunset so is best visited in the afternoon.
14) Jungle Cruise
Jungle Cruise is an outdoor boat ride through the jungle past animatronic animals and other suprises.
This is a popular Disney ride worldwide but mainly for the pun-tastic jokes your tour guide tells along the way. Of course, unless you speak Japanese, you won't understand any of them here.
It is still a fun, quirky ride, though, and worth doing if queues aren't too long.
Other Tokyo Disneyland Attractions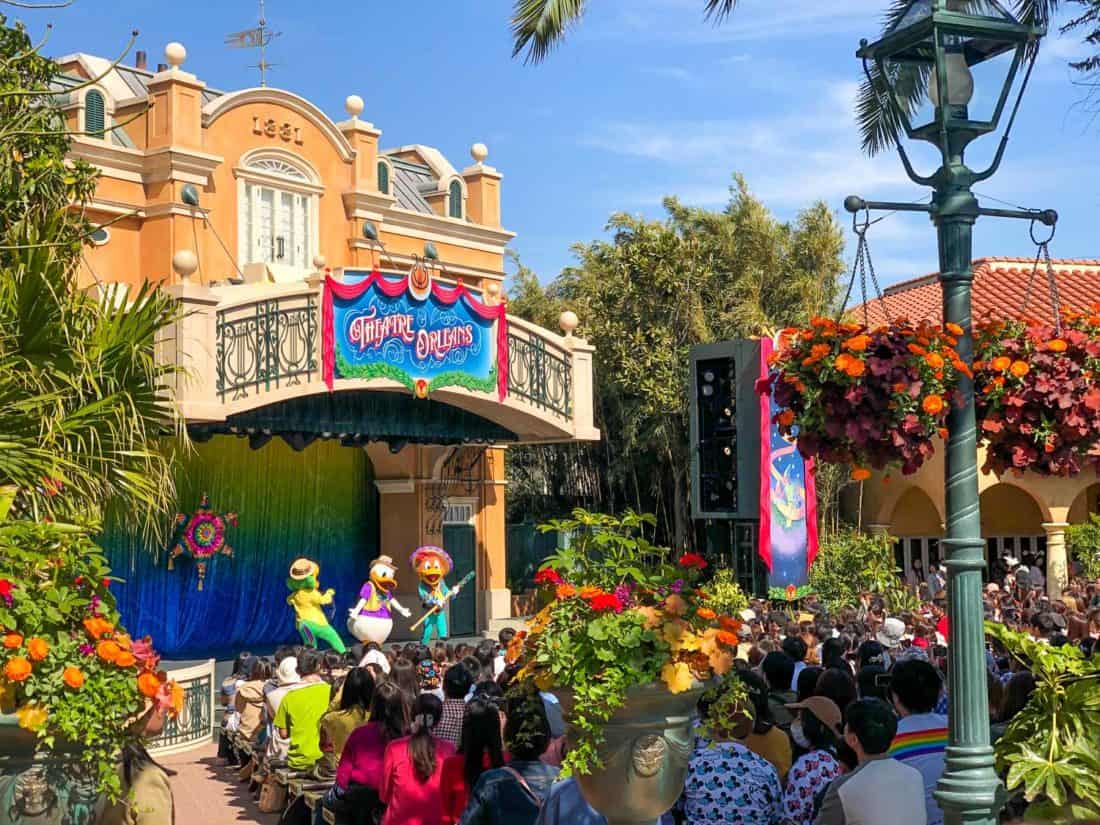 If you have extra time, here are some more Tokyo Disney attractions to consider. Pick up a leaflet on entry or check the app for the day's show and parade times.
Walk through Toontown – The area features rides for kids but it's a fun and colourful place for a wander.
Swiss Family Treehouse – A lowkey attraction where you climb up into a treehouse.
Beaver Brothers Explorer Canoes – You can do real canoeing along the river here! It closes at sunset.
Country Bear Theater – At Magic Kingdom we love this charming, hilarious show featuring singing bears. We didn't like it quite as much in Tokyo as half the songs are in Japanese, but there's no queue and it makes a good break. There are special shows at Christmas and in the summer (unlike at other Disney parks where these have been stopped).
The Enchanted Tiki Room: Stitch Presents "Aloha E Komo Mai!" – Another show with no queue that's good for a break. It features singing birds and is in Japanese.
Disney Harmony in Color Parade – A large character parade. The parades are extremely popular with the Japanese who sit on mats by the route an hour or more before the start. You can also pay for Premier Access to get a good spot.
Tokyo Disneyland Electrical Parade Dreamlights – The nighttime parade.
Sky Full of Colors – A fireworks show at the end of the night.
Club Mouse Beat – A lively musical show featuring Mickey and friends in an outdoor theatre. You need to make an Entry Request on the app to enter the free lottery for a seat.
Mickey's Magical Music World – Another musical show that requires an Entry Request. It takes place in the new Fantasyland Forest Theatre.
I also highly recommend allowing time to just wander and explore as there are always fun details to discover and decorations at different times of year.
At Easter we loved spotting the eggs everywhere including a Sheriff egg having an eggsistential crisis.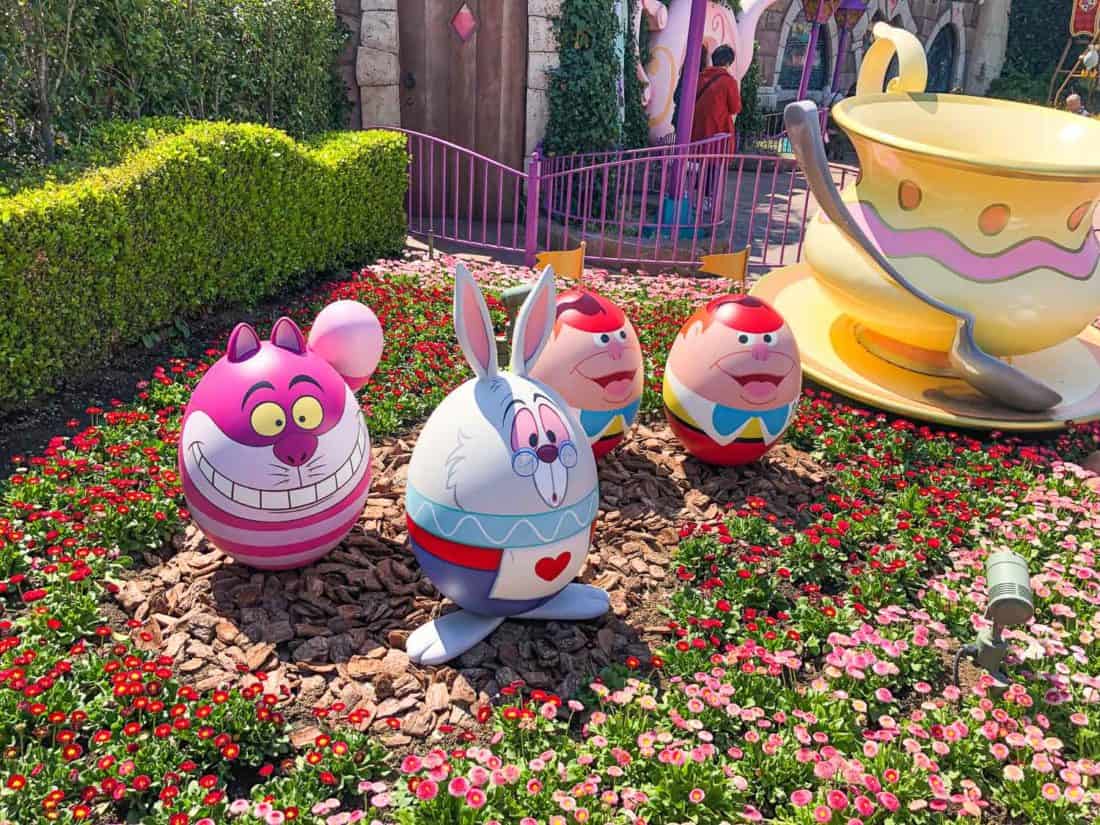 If you are also visiting Osaka, don't miss the amazing Harry Potter World and some intense roller coasters at Universal Studios Japan.
Tokyo Disneyland 1 Day Itinerary for Adults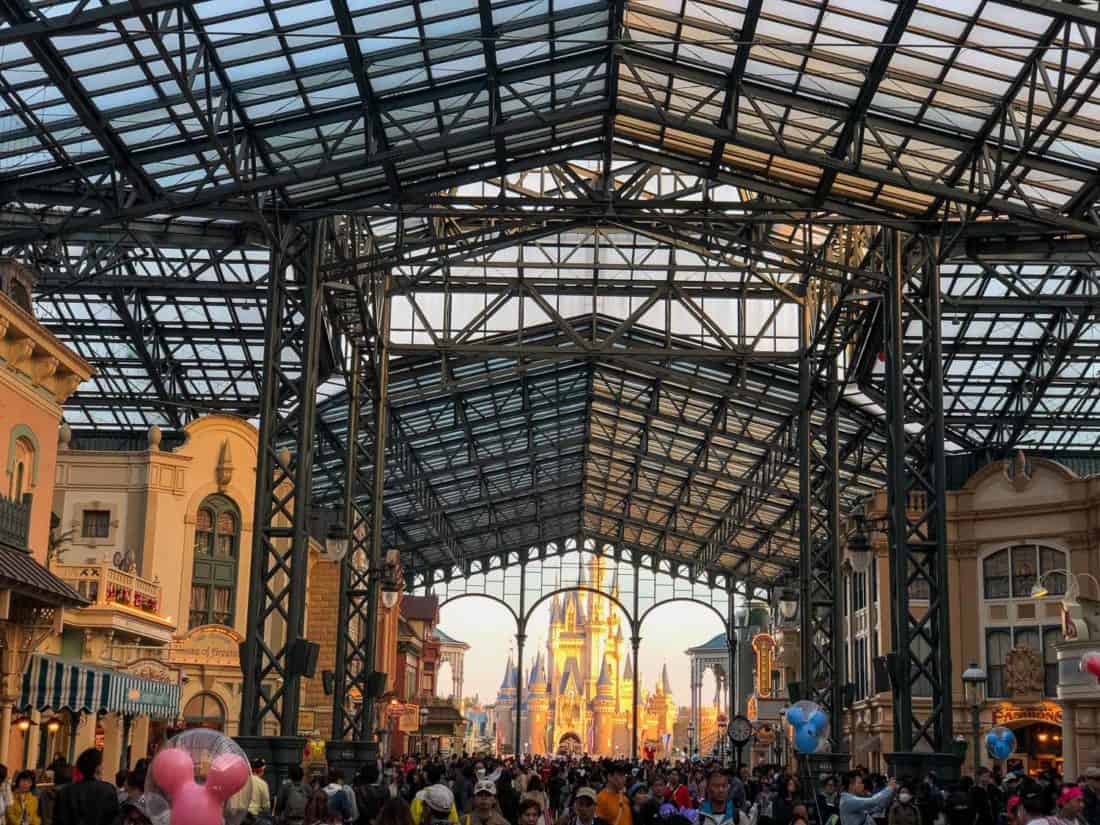 Here was our itinerary for Tokyo Disneyland on a medium traffic day in April when the park was open from 9am to 10pm.
Unfortunately, Fastpasses are no longer available but the Priority Pass is similar (available on the Disney app, see below for details).
8.35am – Shuttle bus from our hotel Hotel Mystays Maihama (or it's a 20-minute walk away).
8.50am – Arrived at Tokyo Disneyland. It was very busy and took us 10 minutes to get through bag check and 10 minutes through the main gate. Official hotel guests were walking right in as they get a 15-minute early entrance.
9.10am – Headed straight to Monsters, Inc and joined a long queue for a Fastpass. Ours was a 12.10pm return time, which meant we couldn't get another Fastpass before then.
9.25am – Queued for and rode Space Mountain (20-minute wait). We would have ridden Pooh first but it was closed.
9.50am – Entered the lottery next door for the Let's Party Gras show (currently closed), but we didn't win.
10am – Headed to the other side of the park and picked up some churros from Peco Bills on the way. We were planning to ride Splash or Thunder Mountain, but the queues were 35–45 minutes. We should have gone for it as they only got busier.
10.15am – Queued for and rode Haunted Mansion (20-minute wait).
10.45am – Walked through Toontown.
11am – Lunch at Plazma Rays and saw some of the Easter parade from the terrace (not the best view).
11.30am – Looked around Main Street and played in the Penny Arcade.
12.15pm – Used our Fastpass to ride Monsters, Inc. Everywhere very busy now.
12.30pm – Picked up a Thunder Mountain Fastpass with a return time of 3.40pm. (We didn't end up using it as we went back to our hotel for a break).
12.45pm – Watched Country Bear Jamboree. There was no queue, but a 10-minute wait for the show to start.
1.15pm – Ate mango soft-serve and took a raft over to Tom Sawyer Island.
2.30pm – Tried to get into the Let's Party Gras show without a lottery ticket, but it was already full 15 minutes before the start. People queue for an hour before to get in. We could see a bit of the show standing outside but didn't stay for long.
3–6pm – Took a break at our hotel as everywhere was so busy. We got a veggie burrito at Guzman y Gomez at the Ikispari shopping centre on the way back in.
6pm – Returned to the park but the queues were still really long. (Splash Mountain was 70 minutes and we regretted not riding it in the morning).
6.15pm – Rode the Western River Railroad and Mark Twain Riverboat as the sun was setting.
7pm – Picked up a Fastpass for Buzz Lightyear (9.20pm return time). Things got quieter as the parade started.
7.15pm – Queued for and rode Star Tours (10-minute wait).
7.40pm – Queued for and rode Big Thunder Mountain (15-minute wait).
8.30pm – Single Rider Queue (no longer available) for Splash Mountain (5-minute wait)
9.20pm – Used our Fastpass for Buzz Lightyear's Astro Blasters.
Tokyo Disneyland Tickets
Currently, you can only buy one-day Tokyo Disneyland tickets. There are no multi-day tickets available (except for a brief period in the summer), so if you'd like to visit both Tokyo Disneyland and DisneySea, you'll need to buy two separate one-day tickets.
I don't recommend trying to visit both parks in one day as there is too much to do in each and there are no park hopper tickets.
One-day Tokyo Disneyland tickets cost from 7900 yen ($56) depending on the date.
You must buy tickets online before your visit and choose a specific date. Tickets go on sale two months in advance and they can sell out.
The easiest way to buy tickets is from authorised partner Klook. You can book on their website or app then scan into the park directly with the QR code you are given.
Buy your Tokyo Disneyland tickets here.
You can also buy tickets from the Tokyo Disney website, but international credit cards often don't work.
You can also use Klook to book lots of cool things to do in Tokyo and get discounts on activities.
Priority Pass and Premier Access at Tokyo Disneyland
Tokyo Disney resort used to have a Fastpass system that allowed you to skip the queue at popular rides for free.
Fastpasses are no longer available and have been replaced by a paid service called Disney Premier Access and, as of July 2023, a free service called Priority Pass.
Priority Pass
Tokyo Disney introduced a free line skipping service in July 2023 called "Tokyo Disney Resort 40th Anniversary Priority Pass".
It's unclear how long this will be available but the anniversary celebrations continue until March 2024, so it's likely until at least then.
Priority Pass works in a similar way to the old Fastpass, but you must book your slot on the Tokyo Disney app once you've entered the park.
You can book one ride at a time. Once you've ridden it or after 120 minutes have passed, you can book your next attraction.
You can't choose a time and will be allocated the next available time (with a one-hour window to ride).
Rides available with 40th Anniversary Priority Pass are:
Monsters, Inc. Ride & Go Seek!
Pooh's Hunny Hunt
Big Thunder Mountain
Buzz Lightyear's Astro Blasters
Haunted Mansion
Space Mountain
Star Tours: The Adventures Continue
Disney Premier Access
Premier Access is a paid service for use on Enchanted Tale of Beauty and the Beast, Splash Mountain, The Happy Ride with Baymax, and the parades.
Disney Premier Access costs 1500 – 2000 yen ($11-15) per ride. You can select a specific time to ride and will skip most of the line. Once you've ridden you can purchase it for another attraction.
Buy access on the Tokyo Disney Resort app once you've entered the park. They can sell out so book as soon as you can.
You can also use the app to see ride wait times, make Entry Requests for shows (free but limited), and book restaurants.
Time-Saving Tips for Tokyo Disneyland
Tokyo Disneyland is the busiest Disney park we've visited and queues are so long that it's difficult to do all the major attractions in one day.
These are my top tips for reducing wait lines at Tokyo Disneyland:
Download the Tokyo Disney Resort app before your visit and have a look at the latest wait times.
Visit on a weekday and avoid national holidays.
Arrive 60 minutes before the park opens so you can be nearer the front of the queue.
Stay in a Disney resort for 15-minute early entry (but it's very expensive).
Focus on the most popular rides first: Beauty and the Beast (#1 priority), Pooh's Hunny Hunt, Splash Mountain, Monster's Inc.
Book Priority Pass rides on the app as soon as you enter the park (see above).
Leave the middle of the day for low-key attractions that don't get crowded. Or have a break at your hotel if you're staying nearby.
Try again in the last two hours of the day if queues are long. They may quiet down, especially during parades.
Purchase Disney Premier Access for Beauty and the Beast (see above).
Hotels Near Tokyo Disneyland
For the full Disney experience, I recommend staying in a hotel nearby and spending two days in the parks (one at DisneySea and one at Tokyo Disneyland).
You can then move to central Tokyo to explore the rest of the city (we love Shinjuku as a base).
We have visited Tokyo Disney both from central Tokyo and stayed in a nearby hotel and we much preferred staying nearby. Here's why:
Save travel time (about an hour from Shinjuku) and start the day more refreshed.
Avoid the busy morning commute (Tokyo trains get very crowded).
Be able to take a break in the afternoon (when the parks are busiest) and then stay late (when crowds ease off).
Staying nearby is especially worthwhile if you plan to spend two days and visit both parks.
Budget Hotel in Walking Distance
On our last trip we stayed at Hotel Mystays Maihama. It's one of the cheapest options in the area (we paid about 15,000 yen/$107) and we thought it was excellent value considering we could walk to DisneySea in 10 minutes and Disneyland in 20 minutes (there's also a free shuttle at certain times).
Rooms are nothing fancy but are clean and comfortable with a fridge, kettle, and desk. Breakfast is an extra cost so we bought snacks instead.
It's a 15-minute walk from the Ikispari shopping centre, where there are plenty of shops and restaurants, and Maihama Station.
Click here to search for more hotels near Tokyo Disneyland.
Disney Hotels
If you stay in an official Disney hotel, you'll benefit from "Happy Entry"—being allowed in the park 15 minutes before anyone else through a special entrance. Hotel prices are much higher, though.
Happy Entry is not available on your check-in day, but it is on your check-out day.
The only hotels that give you early entry to both parks are Disney Ambassador and Hotel MiraCosta (which is inside DisneySea).
The Disney Ambassador Hotel is in the Ikispari shopping centre, a short walk from Tokyo Disneyland (or there's a free shuttle).
The luxury Tokyo Disneyland Hotel is also in walking distance (the closest hotel to Disneyland) but it's more expensive. You only get Happy Entry to Tokyo Disneyland (not DisneySea).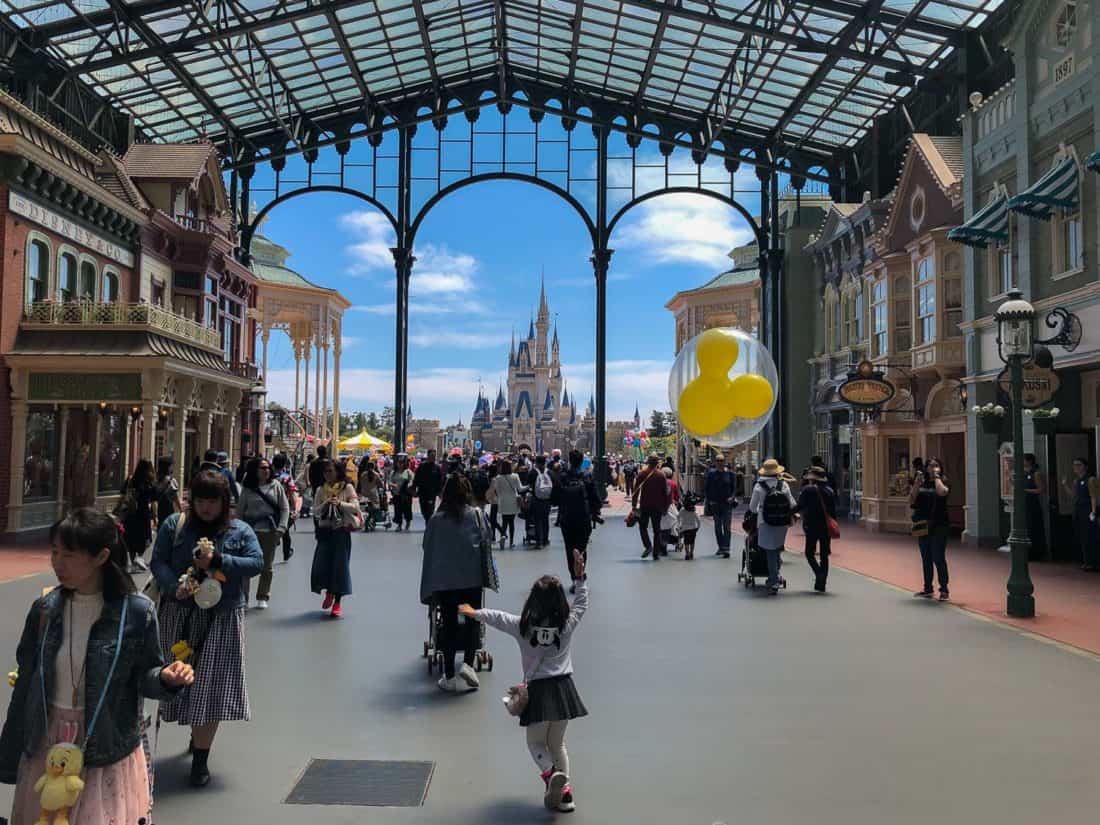 The Best Time to Visit Tokyo Disneyland
Avoid visiting Tokyo Disneyland on weekends or national holidays as it will be extremely busy.
Check this Tokyo Disney crowd calendar to find the quietest day to visit. Look for days that are yellow, green, or light blue. It's in Japanese but with Google Translate you should be able to figure it out.
Mid-January is the quietest time to visit but it will be cold and more rides than usual may be closed.
Late-April/early-May (Golden Week) and Christmas/ New Year are the busiest times of year.
If there's a ride you really want to do, check Disney's ride closure list to make sure it will be open. You can also see the Tokyo Disney calendar for park opening and show times.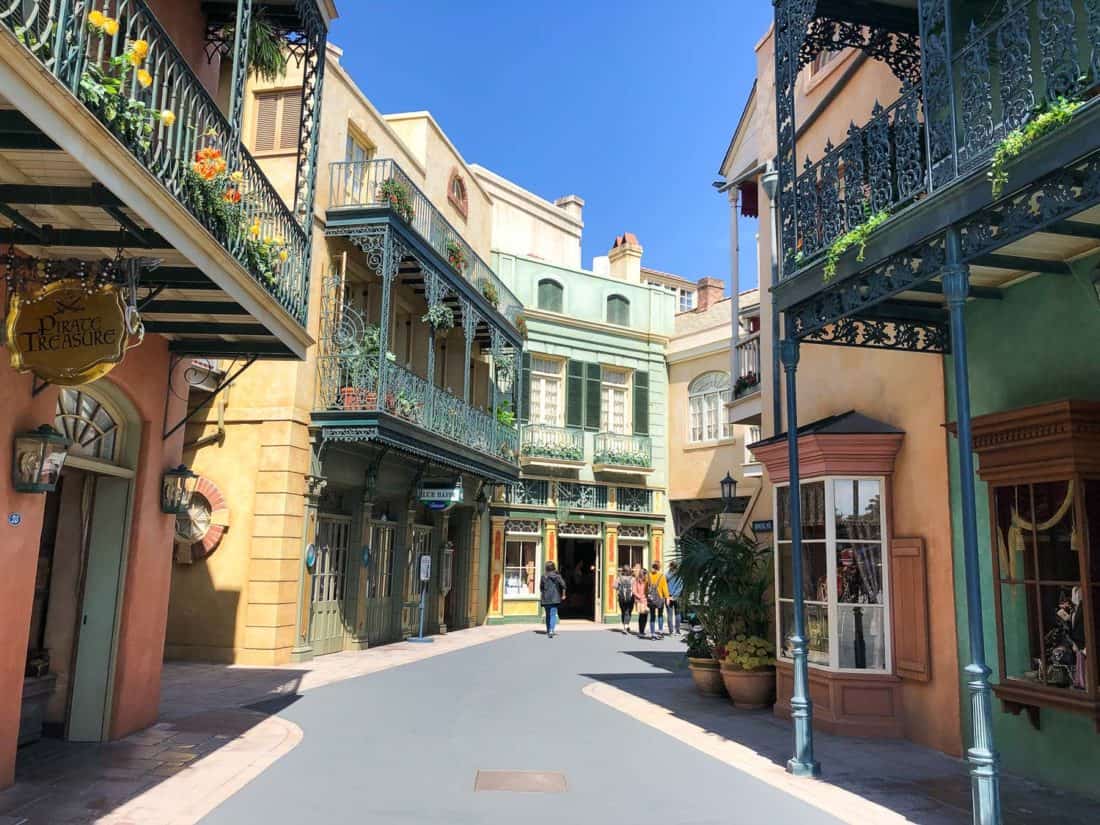 How to Get to Tokyo Disneyland
The nearest train station to Disney Japan is Maihama. From there you can walk to Tokyo Disneyland in about five minutes or take the Disney Resort Monorail (260 yen), which takes two minutes.
I'd allow about an hour to get from Shinjuku or Shibuya stations to Disneyland including transfer times and walking to the resort.
You can use the Navitime website or app to check train times. Trains will be very busy in the morning rush hour.
If you are spending a few days in Tokyo, I recommend getting a Suica or Pasmo card, which you can top up and use as a ticket for all trains in Tokyo.
Tokyo Station to Tokyo Disneyland
Take the JR Keiyo or JR Musashino line to Maihama. It takes about 15 minutes.
Shinjuku to Tokyo Disneyland
Take the JR Chuo rapid line from Shinjuku to Tokyo then change to the JR Keiyo or JR Musashino line to Maihama. It takes about 30 minutes.
Shibuya to Tokyo Disneyland
There are two options:
1) Take the JR Saikyo-Rinkai line to Shinkiba then change to the JR Keiyo line to Maihama. The Saikyo line technically ends at Osaki but some trains continue on the private Rinkai line to Shinkiba. This takes about 35 minutes.
This route is fastest but it has two downsides—trains don't run that frequently so you could have to wait 30 minutes between trains and it's more expensive than JR lines (720 yen vs 410 yen).
2) Take the JR Yamanote line to Tokyo Station then change to the JR Keiyo or JR Musashino line to Maihama. It takes about 45 minutes.
Vegetarian Food at Tokyo Disneyland
Vegetarian food at Tokyo Disneyland is very limited (fries and snacks will be your main options):
Eastside Cafe – A table service restaurant that requires a reservation. The only vegetarian option is pasta. This is now the only place that is officially listed as having vegetarian meals in the park.
Plazma Ray's Diner – They used to have a curry rice bowl but it has been replaced with a Bibimbap (plant-based meat & egg), which sounds vegetarian but chicken is listed in the allergens.
Sweetheart Cafe – Self-service baked goods, but it was very busy in the morning.
The Instagram account Vegan at Tokyo Disney Resort is the best source of up to date information including which snacks are vegan.
You can make reservations for table service restaurants on the day from 10am at the restaurant, but your choice of times will likely be limited. You can also book online on the Tokyo Disney website up to one month before.
You can find restaurant menus on the Tokyo Disney website, but they are in Japanese so you'll have to use Google Translate.
The best option for vegetarians is actually outside the park. Guzman y Gomez is a Mexican chain restaurant in the Ikispari shopping centre between Disneyland and Maihama train station.
You can order burritos, tacos, nachos and bowls with vegetables and guacamole. The frozen margaritas are good too. You order at the counter and service is quick.
On the 1st floor of the mall, there's also a supermarket with lots of imported items if you are looking for familiar snacks.
Although veggie choices are limited in the parks, there is plenty of delicious vegetarian food in Tokyo that you can try during the rest of your stay.
Is Tokyo Disneyland Worth Visiting?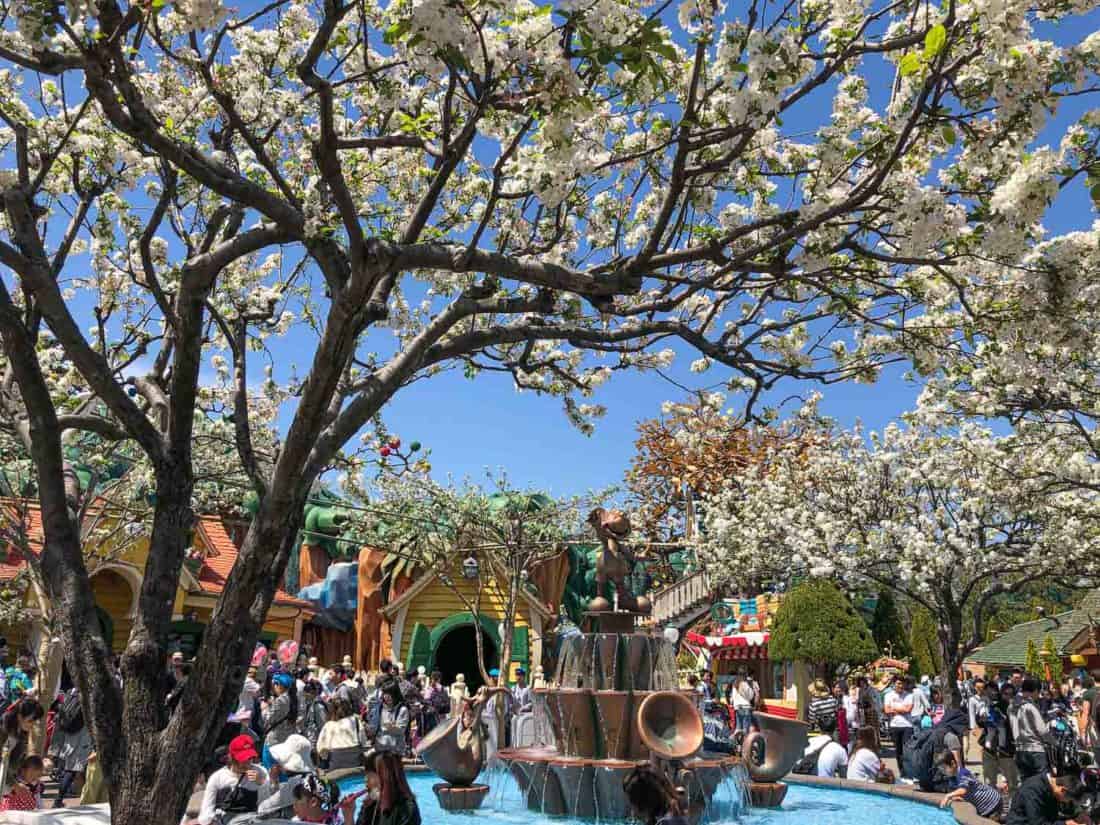 Yes, Tokyo Disneyland is worth visiting! It offers the quintessential Disney experience with Cinderella's Castle, classic rides like Space and Splash Mountain, and all the favourite characters.
It's a fun day out, but if you only have one spare day in Tokyo, I advise visiting DisneySea instead as it's unlike any other Disney park around the world.
Best of all, spend two days nearby and visit both parks!
For more tips on visiting Tokyo, see our post on the best things to do in Tokyo.
More Japan Posts
Our Tokyo Travel Guides
Other Japan Posts
Enjoyed this post? Pin it for later!