This page contains affiliate links. Please read our disclosure for more info.
As recent converts to the joys of Harry Potter (and theme park fans), we couldn't miss Universal Studios Japan on our visit to Osaka. While wandering through the magical Harry Potter World was the highlight of our day, we also rode the scariest rollercoaster we've ever been on and discovered many more fun attractions.
Universal Studios Japan is well worth a day if you are in Osaka. It's easily accessible from the city, and the large park (much bigger than Universal Singapore) has plenty to keep you busy all day.
Top Tip: Book your tickets in advance with official partner Voyagin to avoid long queues on the day. The park gets very busy (even in February when we visited) so it's worth paying extra for an Express Pass.
In this post we share the best Universal Studios Japan rides for adults and older kids as well as tips on avoiding queues, how to get there, the best place to buy tickets, and much more to make the most of your day.
Contents
Video: Japan Inspiration
Watch our video for ideas on other amazing things to do in Japan.
2021 Update
As of May 2021, Universal Studios Japan is closed due to the state of emergency in Osaka. Check the USJ website for the reopening date and restrictions when the park does reopen.
A new themed area of the park, Super Nintendo World opened at Universal Studios Japan in March 2021. It's now one of the most popular attractions in the park and access is by timed entry using the USJ app. You might want to pay for an Express Pass to guarantee entry. We look forward to trying it once Japan's borders reopen and travel is safe.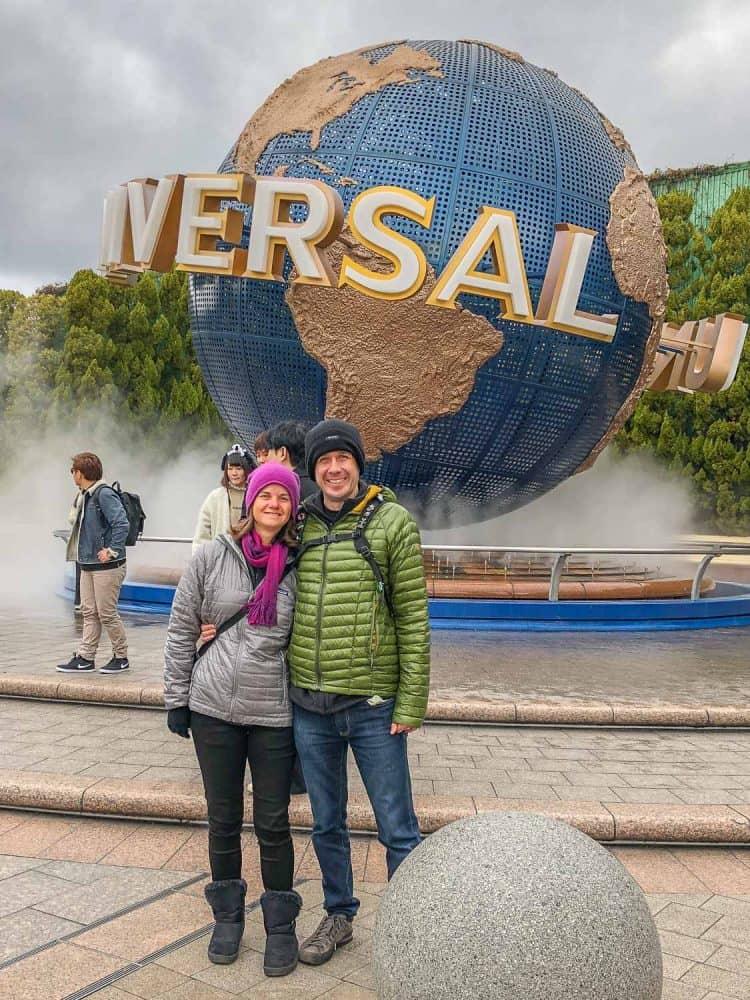 Top Universal Studios Japan Rides and Attractions
1) Exploring The Wizarding World of Harry Potter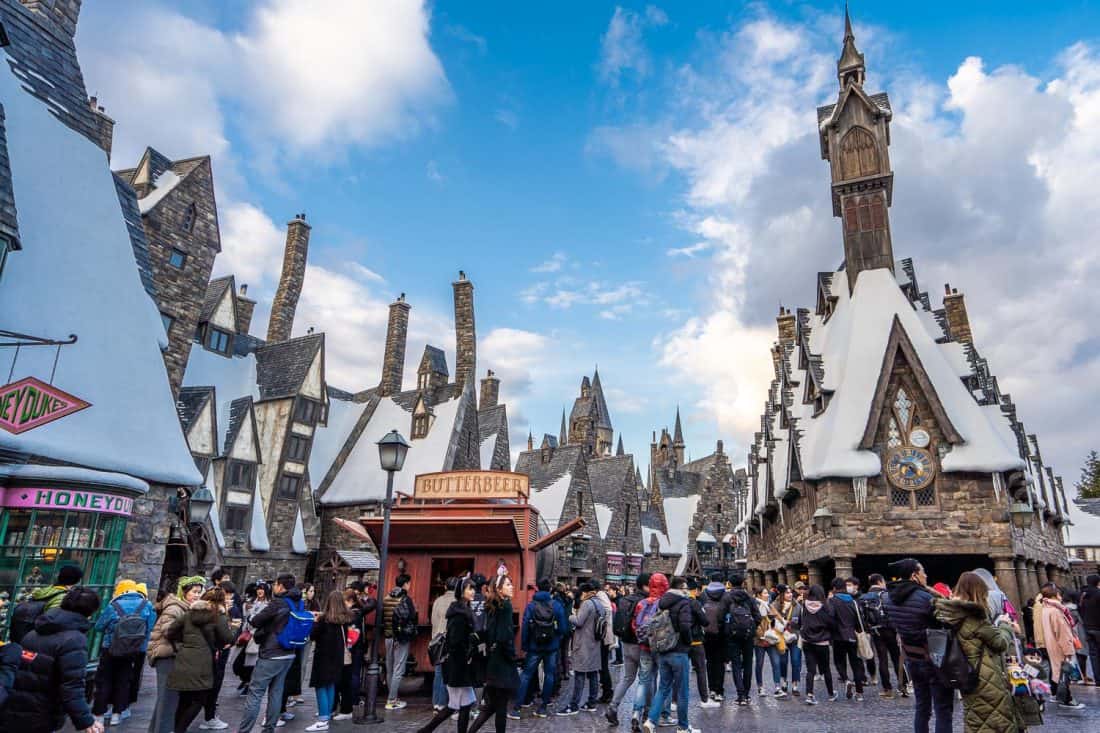 The Wizarding World of Harry Potter was our favourite area at Universal Studios Japan. To get there you walk down a long pathway lined with pine trees (past the car that Ron crashed!), so it feels separate from the rest of the park, like you are entering another world.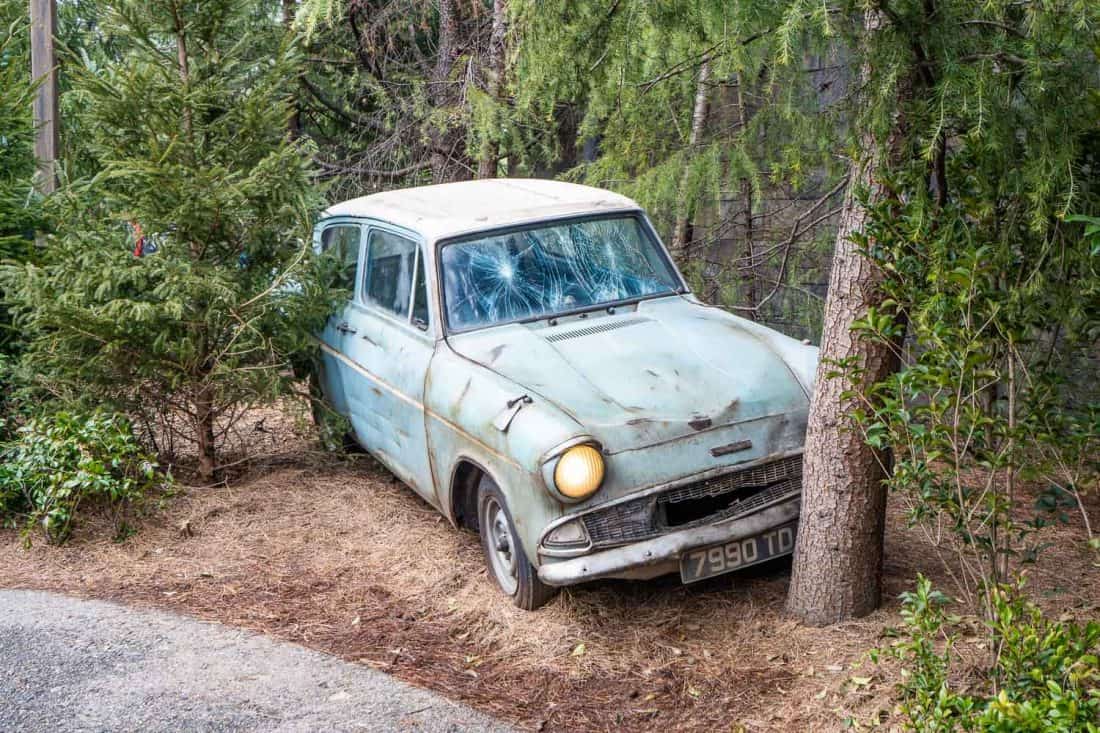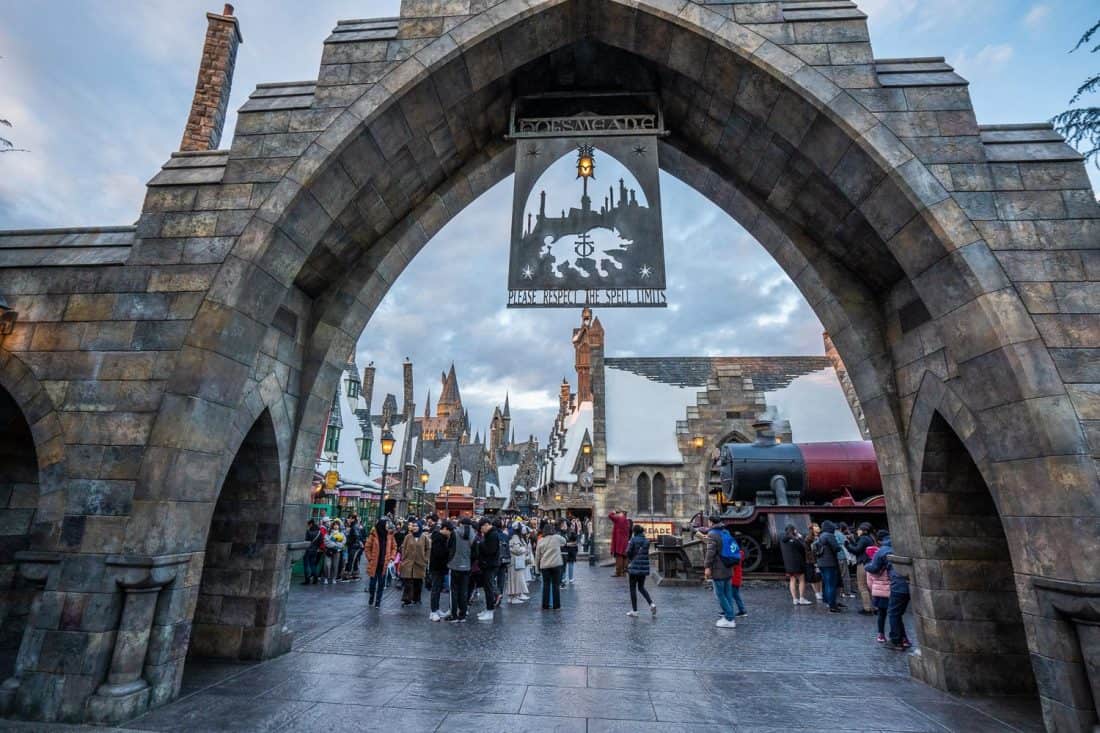 Even if you don't go on one of the two rides here, it's a joy to wander the snowy cobbled streets of a perfectly recreated Hogsmeade village.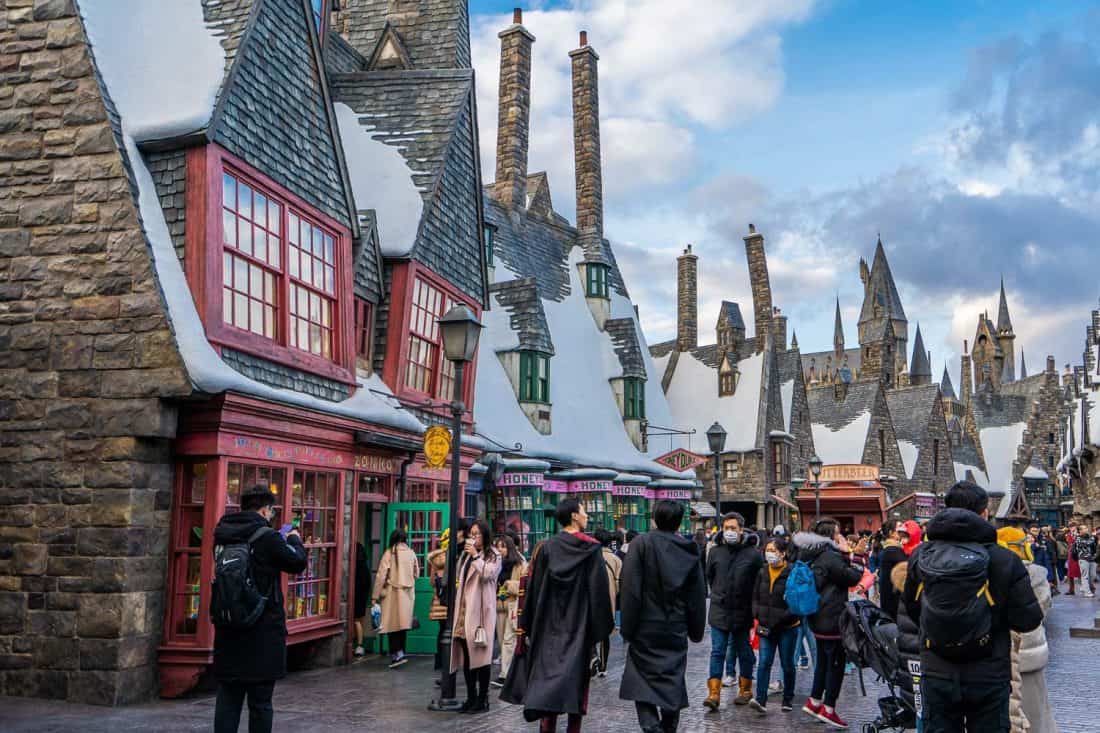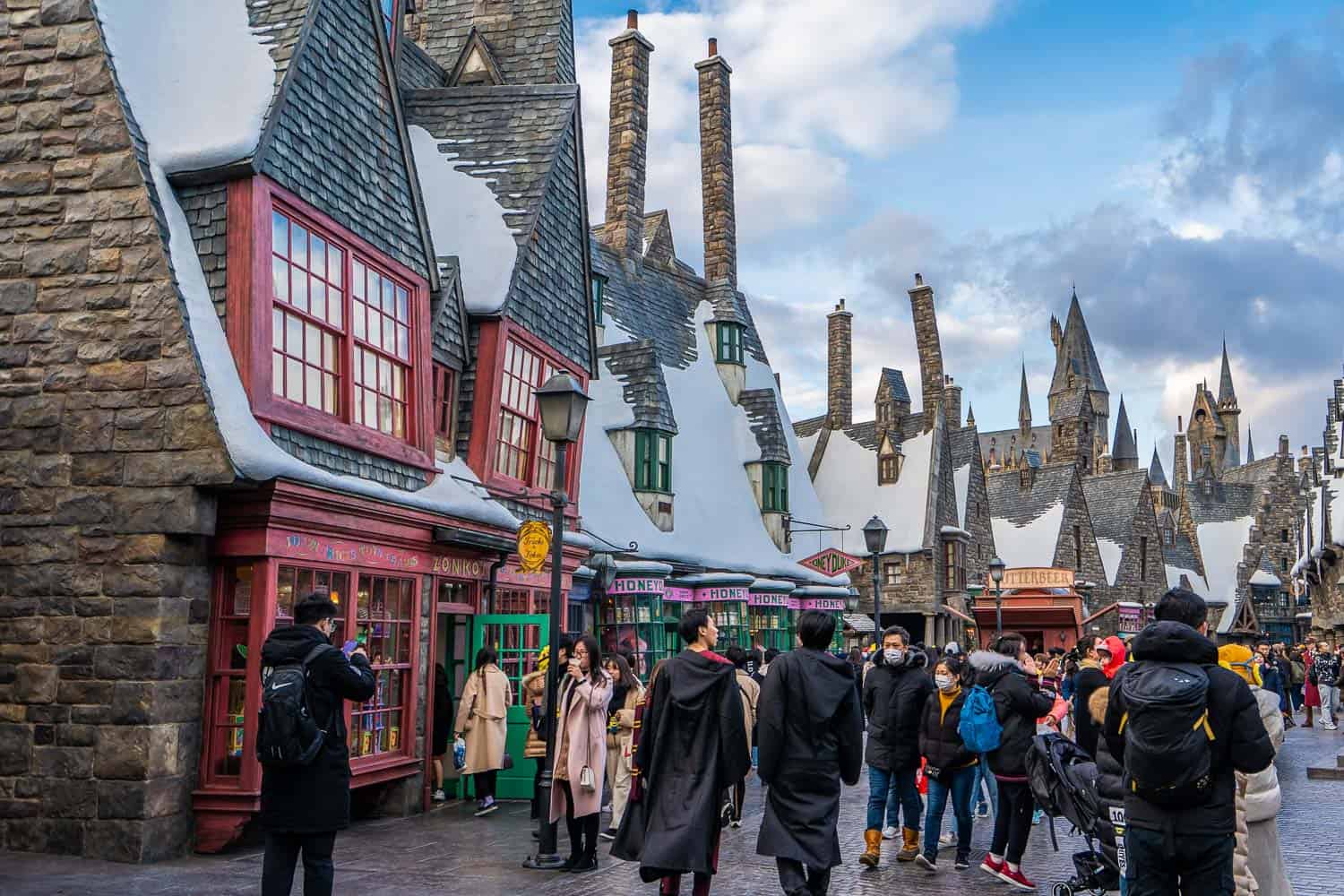 You can shop for wands at Ollivanders, jokes at Zonko's and sweets at Honeydukes and have a pint of butterbeer in the Hog's Head or Three Broomsticks. The warm butterbeer on a cold day was delicious (if very sweet).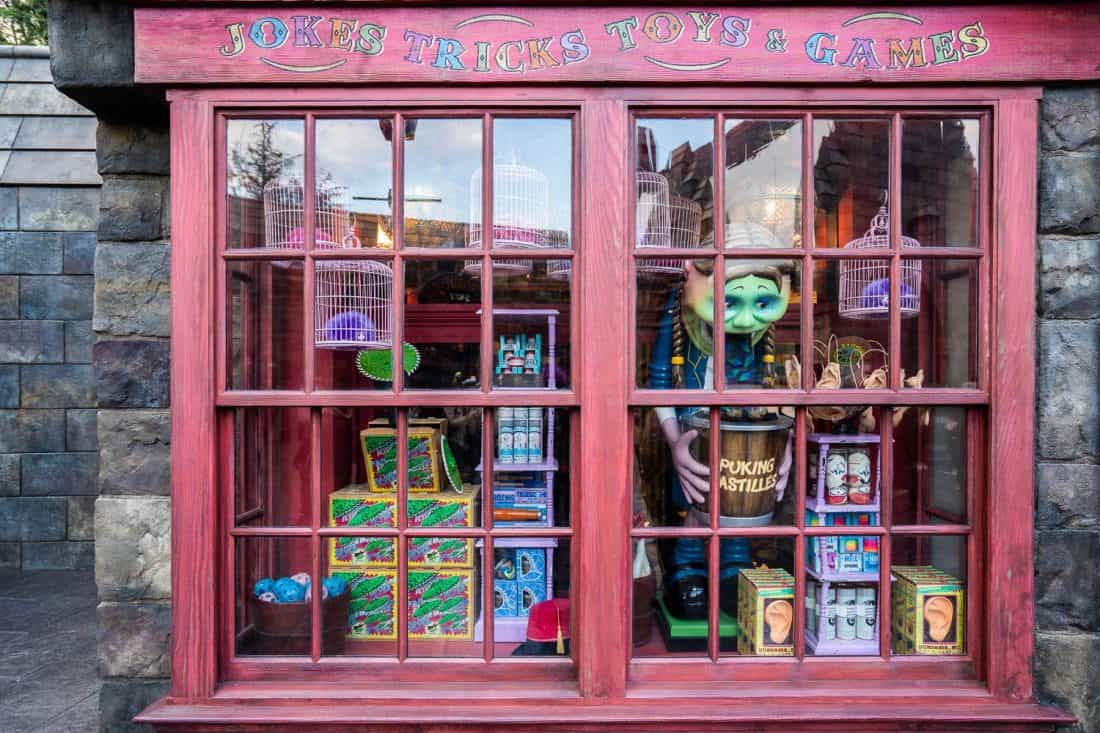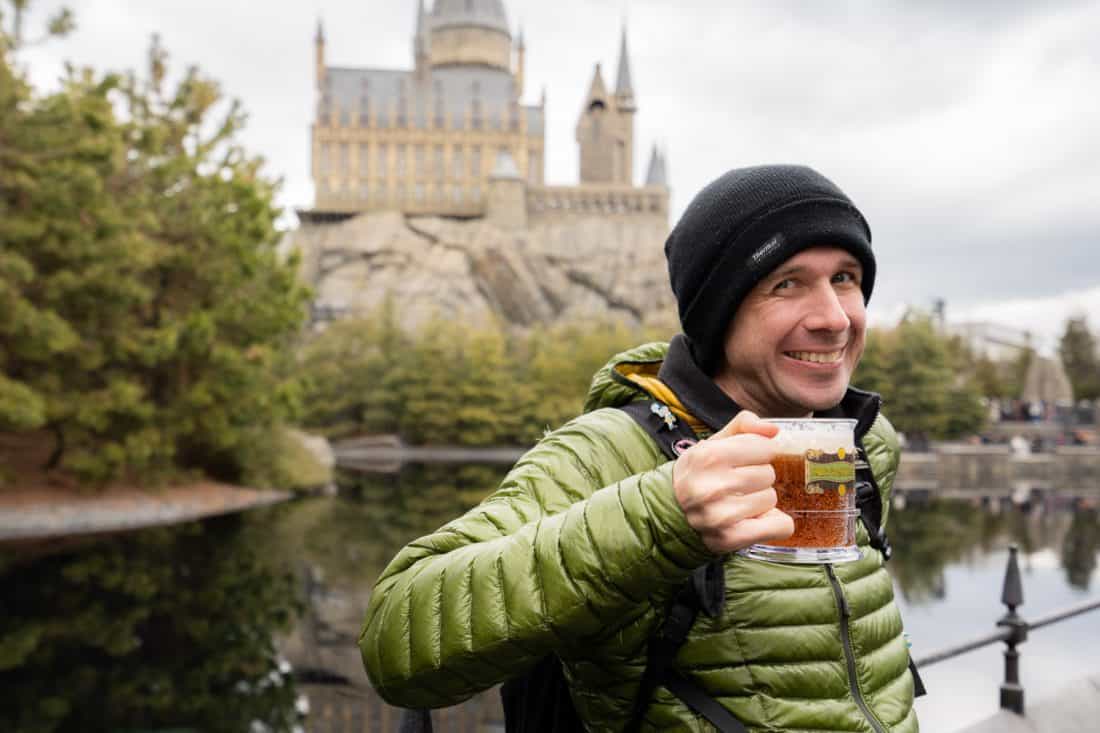 You can also take a photo next to the Hogwarts Express, see owls waiting to deliver mail in the owlery, and send letters with a Hogsmeade postmark in The Owl Post.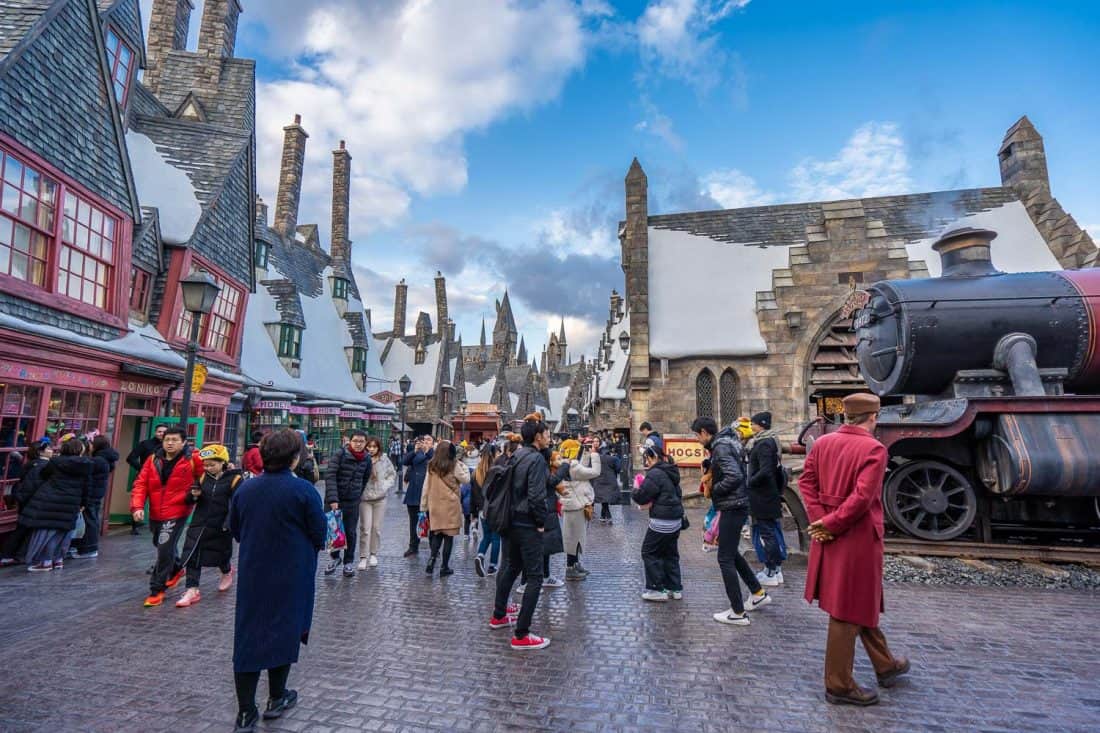 Most spectacular of all is Hogwarts Castle perched on rocks overlooking the village.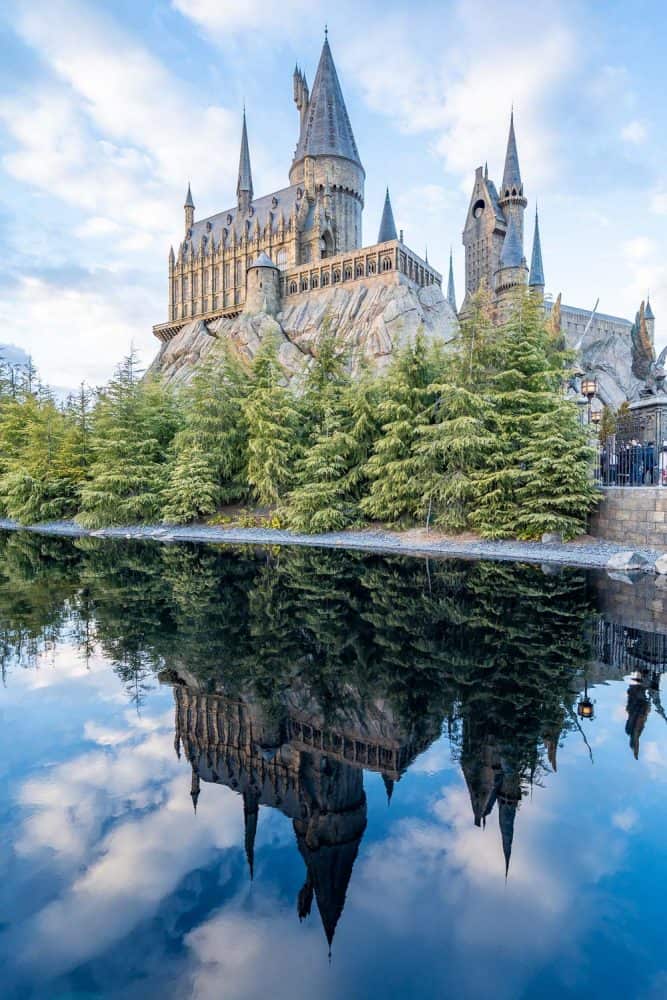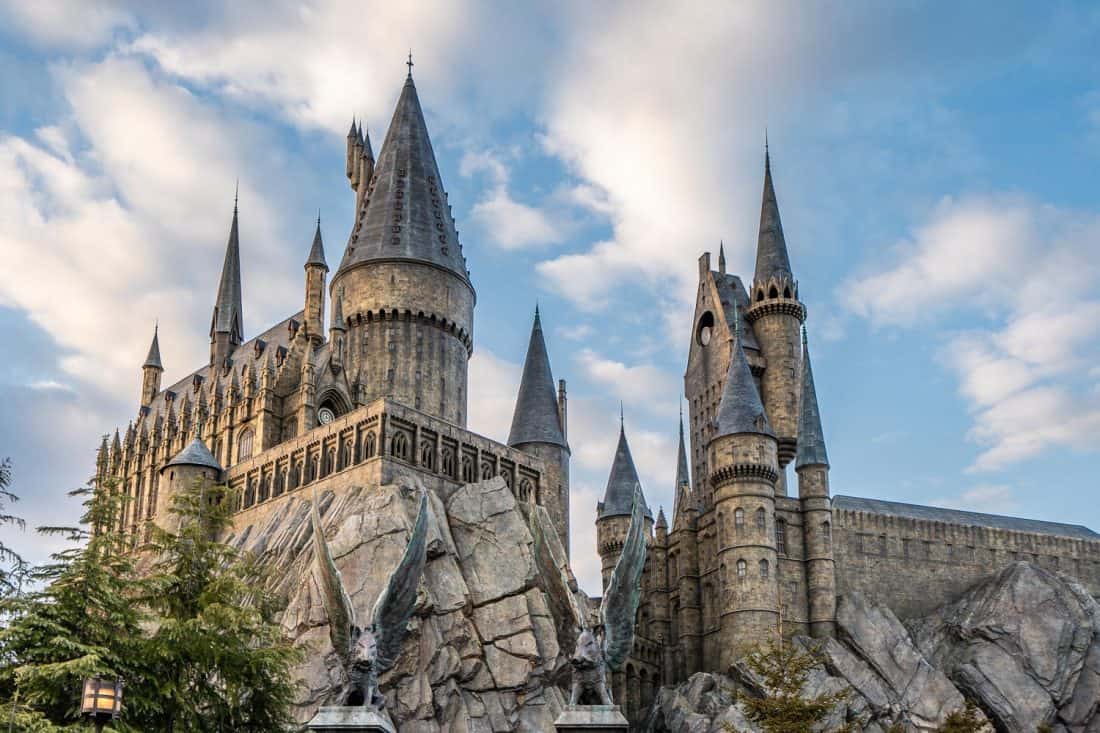 Note that Harry Potter World does get very busy and at peak times you'll need a timed entry ticket to visit. You can pick these up in the park for free but they can run out, so to be on the safe side, buy an Express Pass in advance. It's one of the top Japan attractions, so don't miss out!
Luckily this wasn't necessary in February (although it still felt crowded), and we were able to visit twice—it's particularly lovely at sunset.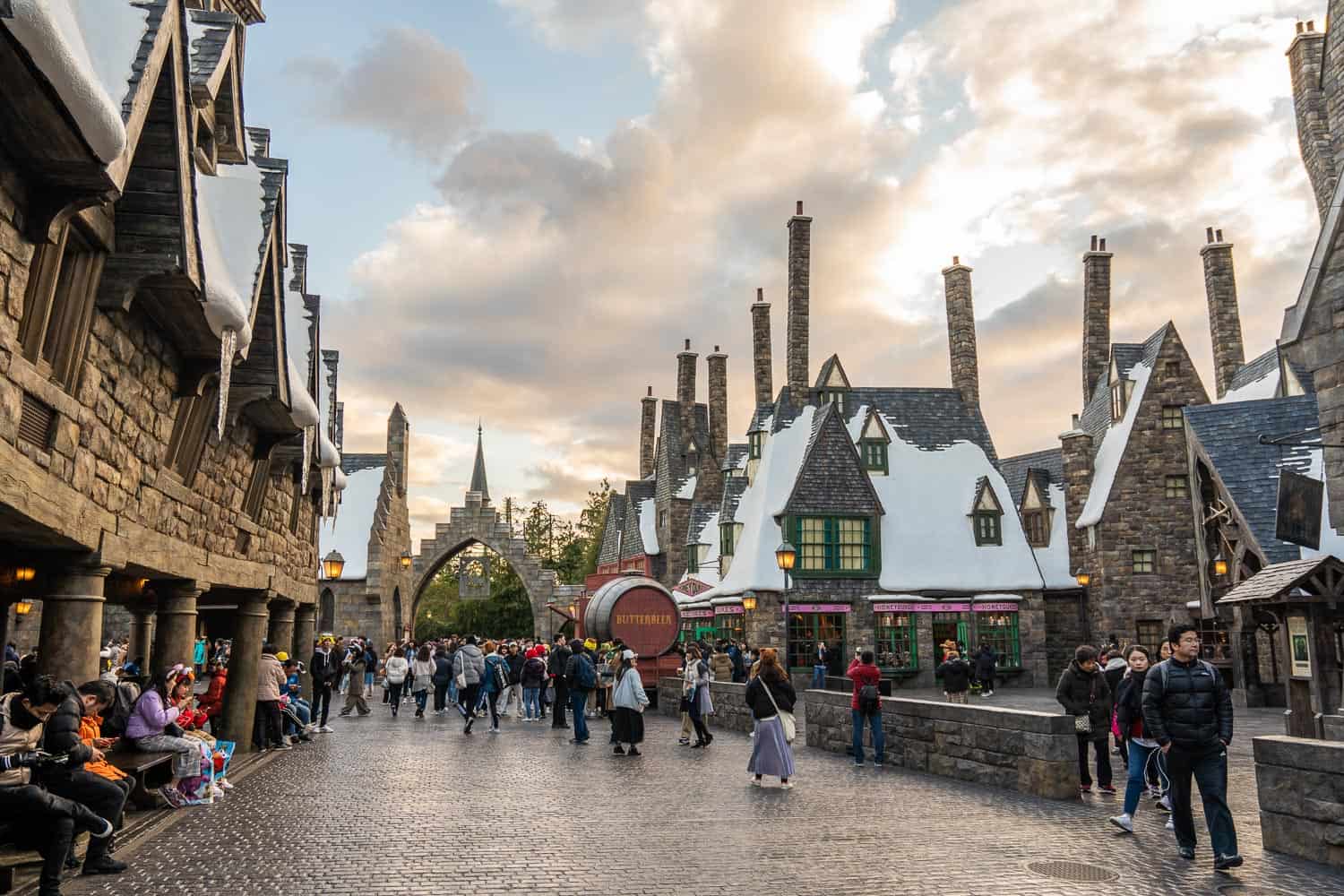 2) Harry Potter and the Forbidden Journey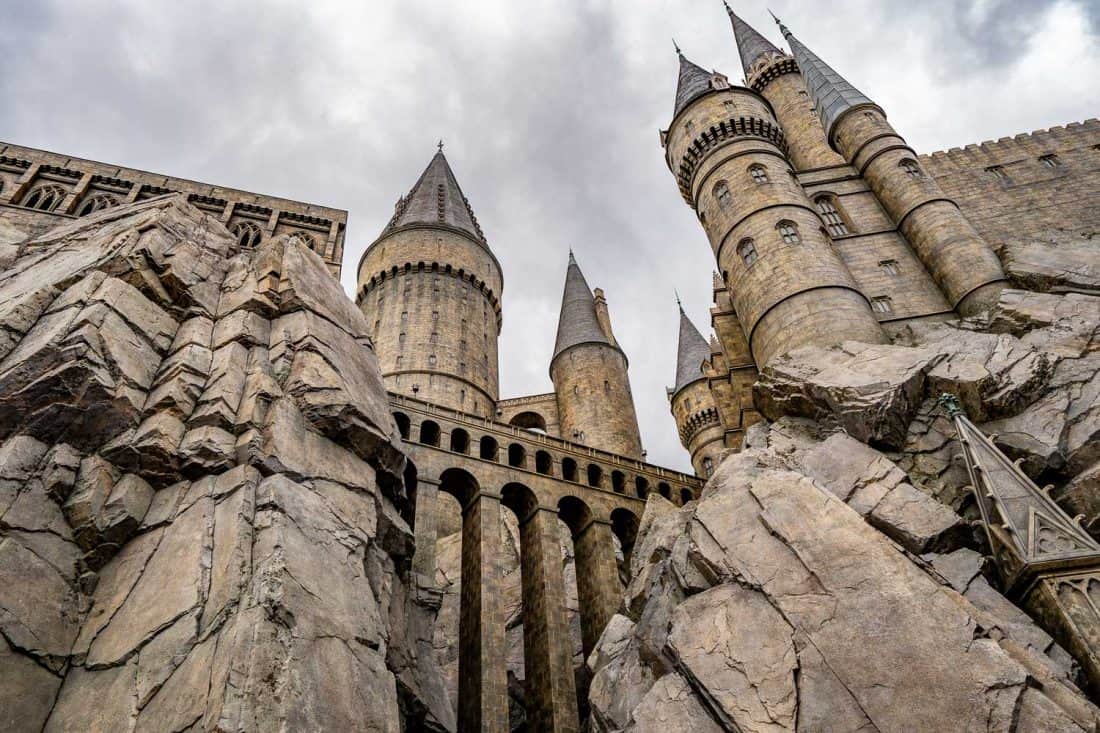 Harry Potter and the Forbidden Journey is the main attraction in The Wizarding World of Harry Potter and the most popular ride in the whole park. It takes place inside Hogwarts Castle, and I enjoyed the walk through the castle seeing Dumbledore's office, classrooms, and talking paintings (in Japanese!) as much as the ride itself.
It's a 3D ride but glasses aren't needed as you are immersed in the world of Hogwarts, taking part in a Quidditch game, feeling the heat of a dragon's fire on your face, and even getting spit at by giant spiders. It's an exhilarating experience with fantastic effects. It did trigger my motion sickness, but it was worth the nausea and I recovered quickly.
The other ride in Harry Potter World is Flight of the Hippogriff which is aimed at kids and didn't seem worth the 65-minute wait when we were there.
3) Wand Magic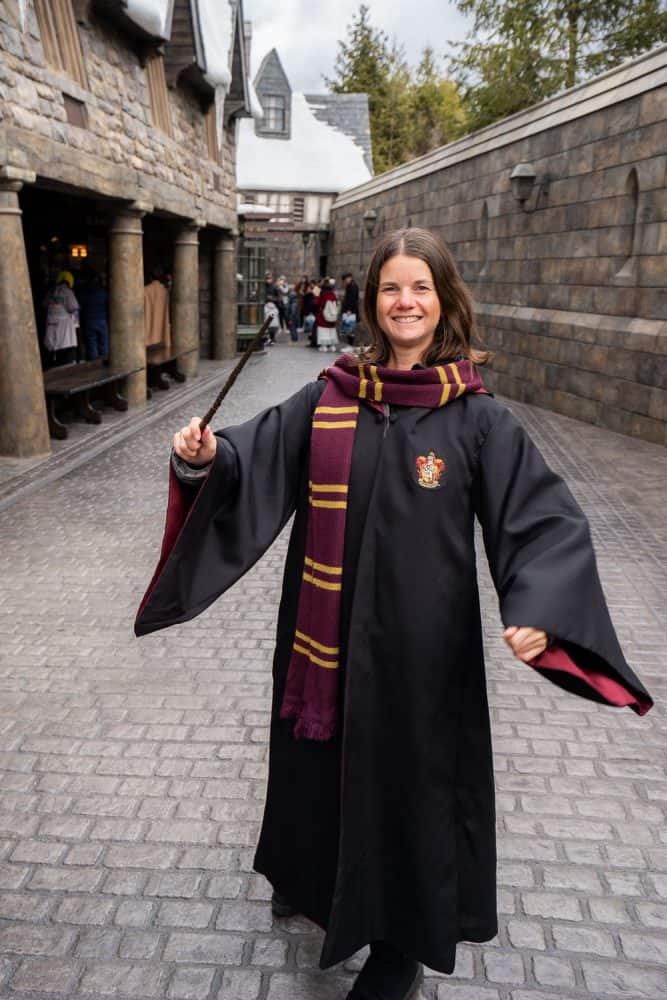 The other thing we loved doing in The Wizarding World of Harry Potter was Wand Magic where we cast our own spells!
This might not be for everyone as you first have to buy a magical wand from one of the stores, but for big Harry Potter fans it's worth it, and you end up with a beautifully created souvenir.
There are five points around the village where you can perform spells—you get a map with your wand and can also look for the bronze medallions on the floor that show the spell. There are teachers available to help you out.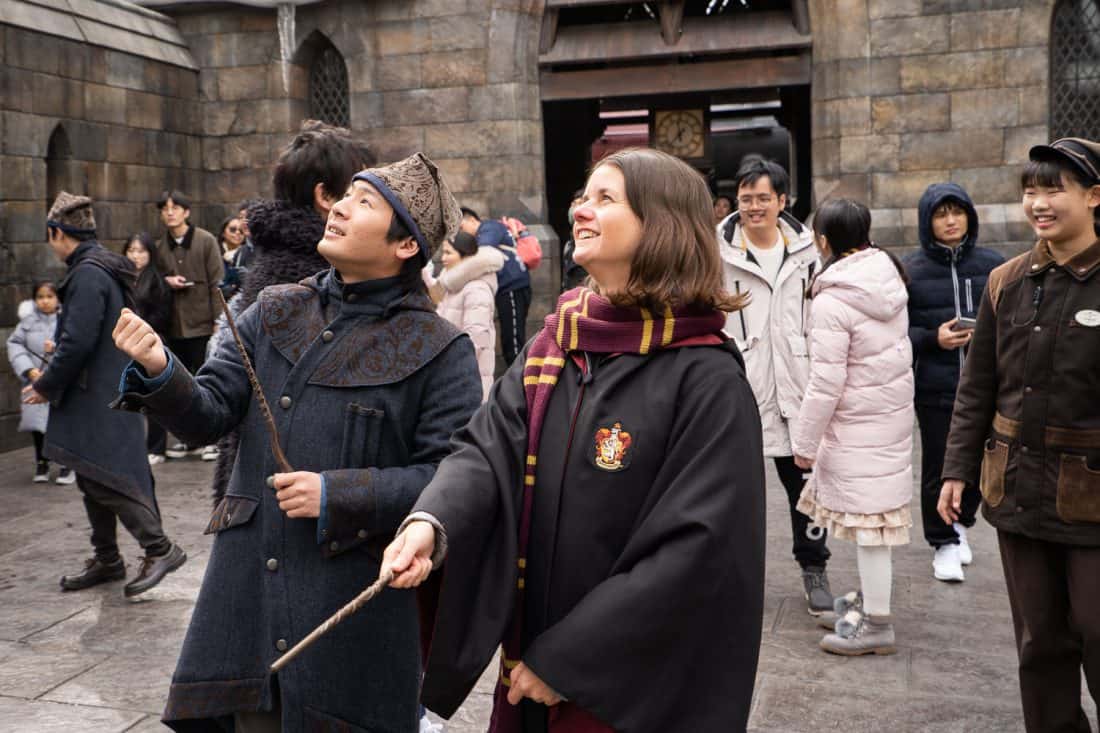 Armed with Hermione's wand, I used the Incendio spell to light a chimney (after an embarrassing number of failed attempts!) and another to make it snow down a back alley. It's a lot of fun and really added to the experience.
Of course, the most authentic place to purchase your wand is Ollivanders, but there's usually a 10–15 minute wait to get in. You can also buy the magic wands at other stores in the area. Make sure you get the special magic wand and not the regular wands which you can't use for spells.
To go the whole hog, you could also buy a Hogwarts gown and scarf from the stores, but this (including wand) would set you back about $250. The scarfs and wands are more reasonable than the gowns (Simon bought a Gryffindor scarf for about $40). As we were on a press trip they lent us a gown for the day.
4) Despicable Me Minion Mayhem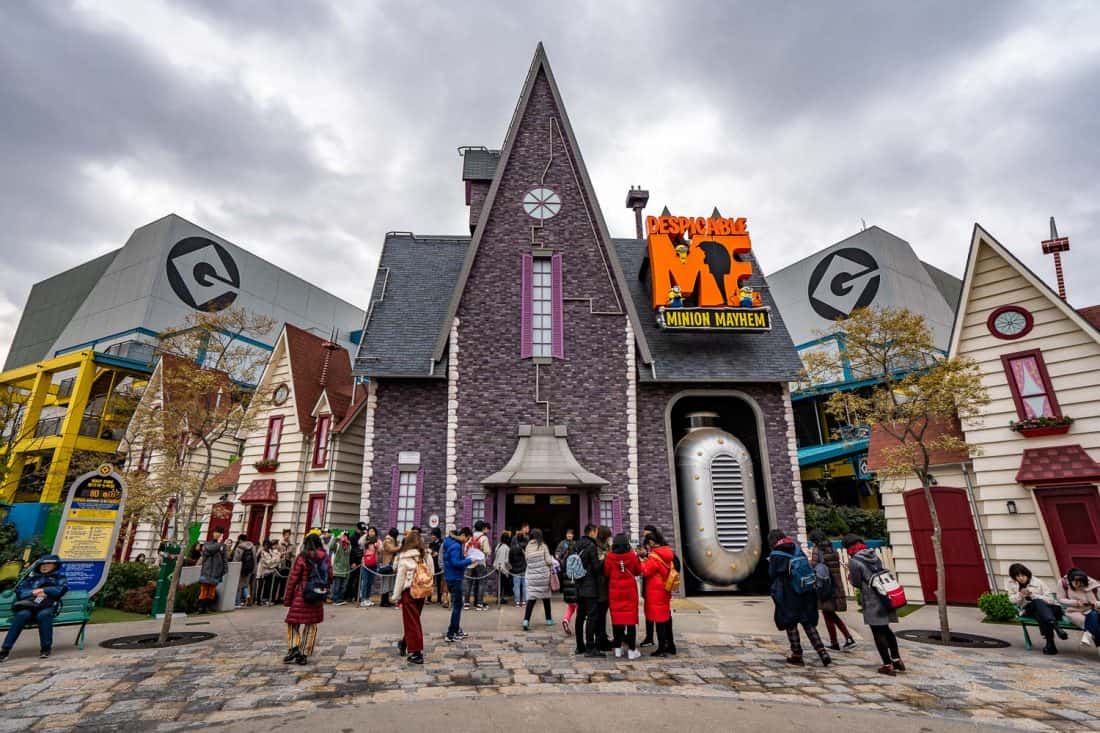 Despicable Me Minion Mayhem is the second most popular ride in the park and has long queues. This fairly new ride (opened in 2017) is located in the fun, colourful Minion Park and is another immersive 3D simulator ride without glasses using a giant dome screen.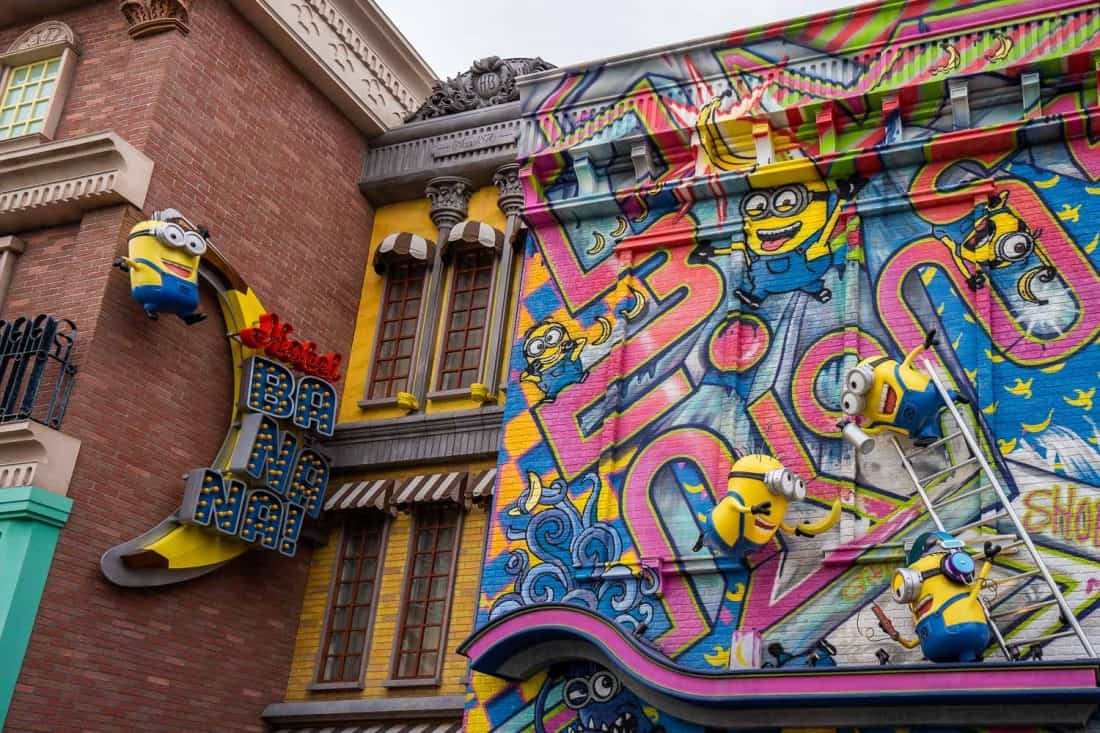 The whole experience is about 25 minutes as there's a long intro video (with English subtitles) that adds to the context. The ride itself is narrative heavy, and although we couldn't follow the Japanese, we got the general idea, and it's still a fun experience as you bounce around a giant factory on your way to becoming a Minion.
Unfortunately, this is another ride that's not great for those with motion sickness.
5) The Flying Dinosaur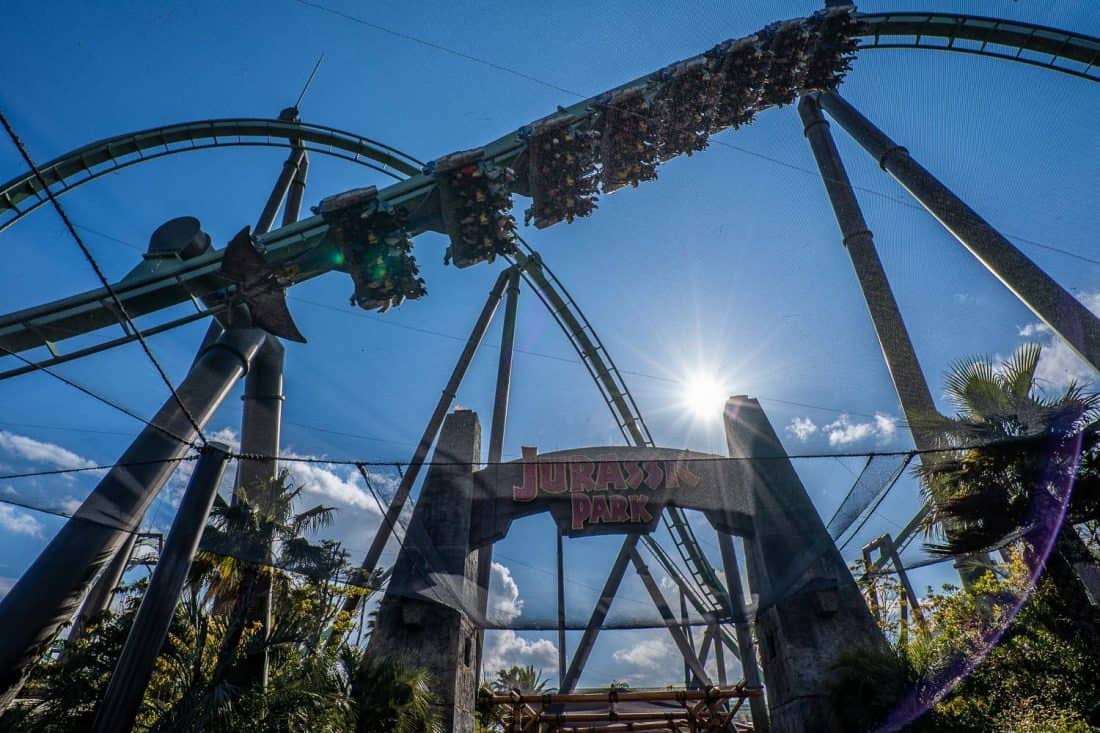 Oh my—The Flying Dinosaur is intense! It's the scariest rollercoaster we've ever been on, and it was brilliant fun!
It's located in Jurassic Park and the idea is that an out-of-control Pteranodon seizes you from behind and pulls you high into the sky. This means that once you've sat down, your seat is turned 90 degrees towards the floor so that you are facing straight down. There is nothing between your face and the ground far below!
The ride is so fast and disorientating that I don't remember exactly what happened, but it involved multiple 360º inversions, many twists and turns, and an underground section. It's a crazy, cool and unique ride that's not to be missed by thrill-seekers.
6) Hollywood Dream – The Ride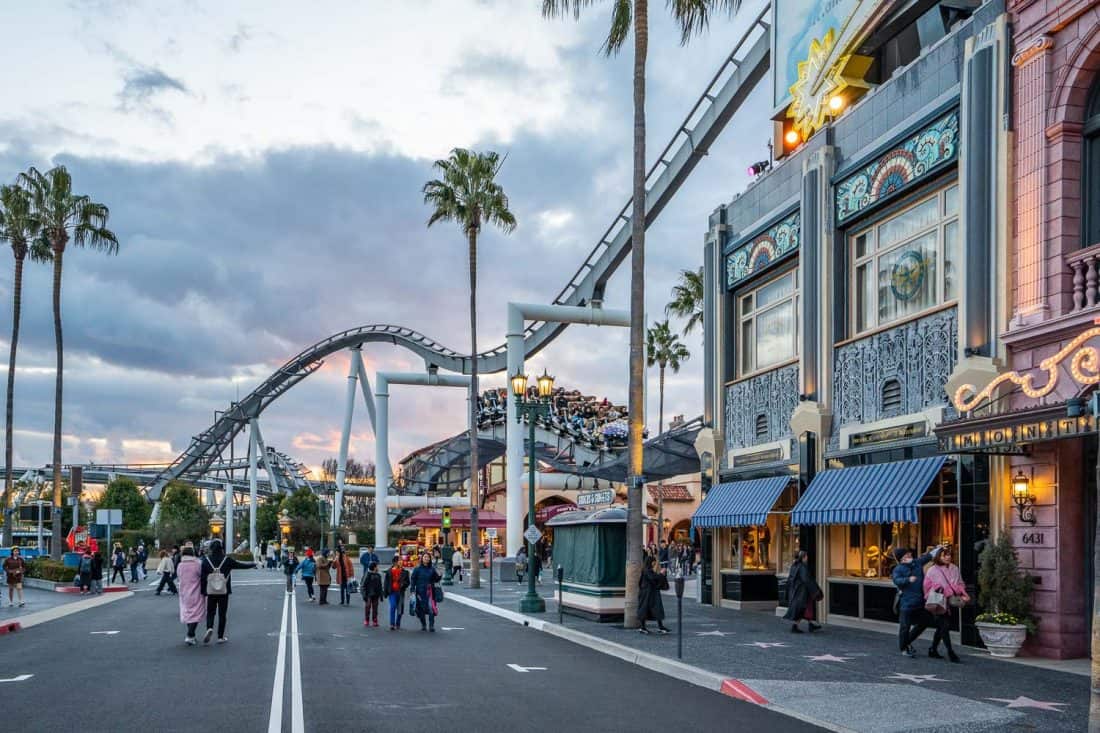 If you prefer your rollercoasters slightly less terrifying, then Hollywood Dream is for you. It's a smooth, non-inverting, high-speed coaster with some stomach dropping ramps and vertical drops.
I love that you can choose from one of five songs as your personal soundtrack—I went for Michael Jackson's Bad. It's a very fun ride.
You can also ride the same coaster backwards on Hollywood Dream – The Ride (Backdrop), but unfortunately it was closed when we visited.
7) The Amazing Adventures of Spider-Man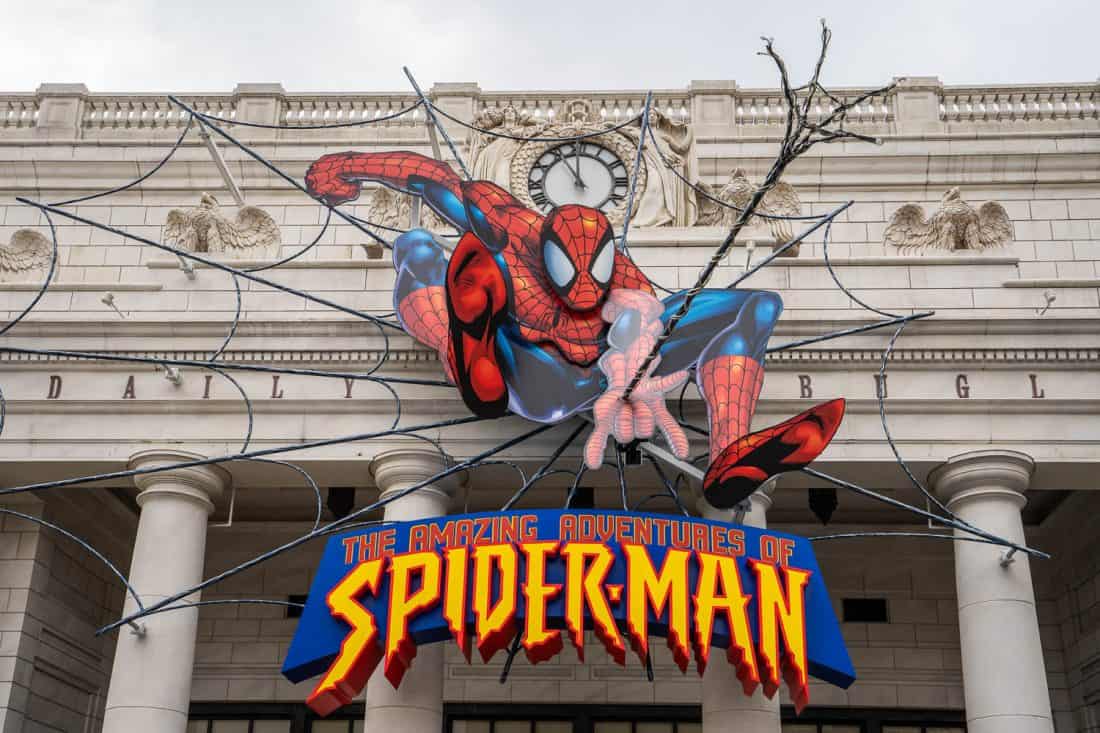 This award-winning attraction is a dark ride that combines a moving vehicle with 4K3D images (you wear glasses) and immersive elements where you feel the heat and water from the villains firing at you.
It can cause motion sickness, but if that doesn't affect you, you won't want to miss this one.
8) Jurassic Park – The Ride
Jurassic Park is a mostly gentle water ride through a park filled with dinosaurs. There's a huge and fun drop at the end where you may get wet (especially in the front row).
We bought ponchos (400 yen) just in case as we didn't want to risk getting wet on a cold day. There are also lockers available (100 yen which gets returned to you).
In winter this was one of the easiest rides to get on, but I imagine it's busier in the summer.
9) JAWS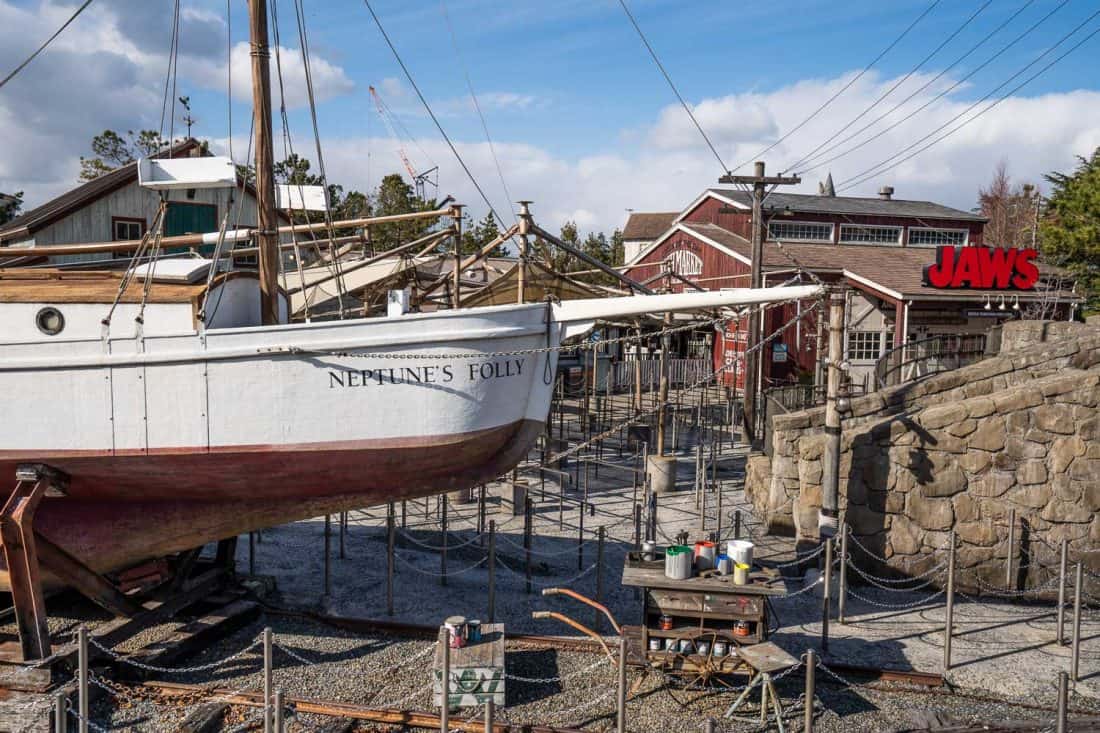 JAWS was temporarily closed when we visited, but we would have liked to have gone on this. What starts as a leisurely boat tour of Amity Harbour becomes more thrilling when a gigantic man-eating shark appears.
10) Space Fantasy
Space Fantasy is a spinning rollercoaster where you journey through space.
Universal Studios Japan Tickets
Universal Studios Japan is a very busy park throughout the year, so we highly recommend booking your tickets in advance to avoid the ticket queues on the day.
English speakers can't book on the official website, so you need to use one of their partner agencies like Voyagin (who we've used for other activities in the past).
A one day ticket costs from 7,400 yen ($66) with higher prices at peak times. You may also want to pay extra for an express pass (see below).
Check Universal Studios Japan ticket prices at Voyagin here.
Is a Universal Studios Japan Express Pass Worth It?
Even though we visited in the winter, Universal Studios Japan is probably the busiest theme park we've visited (yes, even busier than Disney). The park features many major attractions that you won't want to miss, but they all have very long queue times from as soon as the park opens.
You could get on a few rides quickly at the start of the day if you arrive early, but you won't be able to do everything without waits of at least an hour and usually much longer.
Unfortunately there isn't a free queue jump system like Disney's FastPass, so the only way to guarantee to get on everything without long waits is buying an Express Pass, which can cost more than the entrance ticket.
Express Passes can sell out, so it's best to purchase them in advance when you buy your ticket from Voyagin. They are usually available 2–3 months ahead.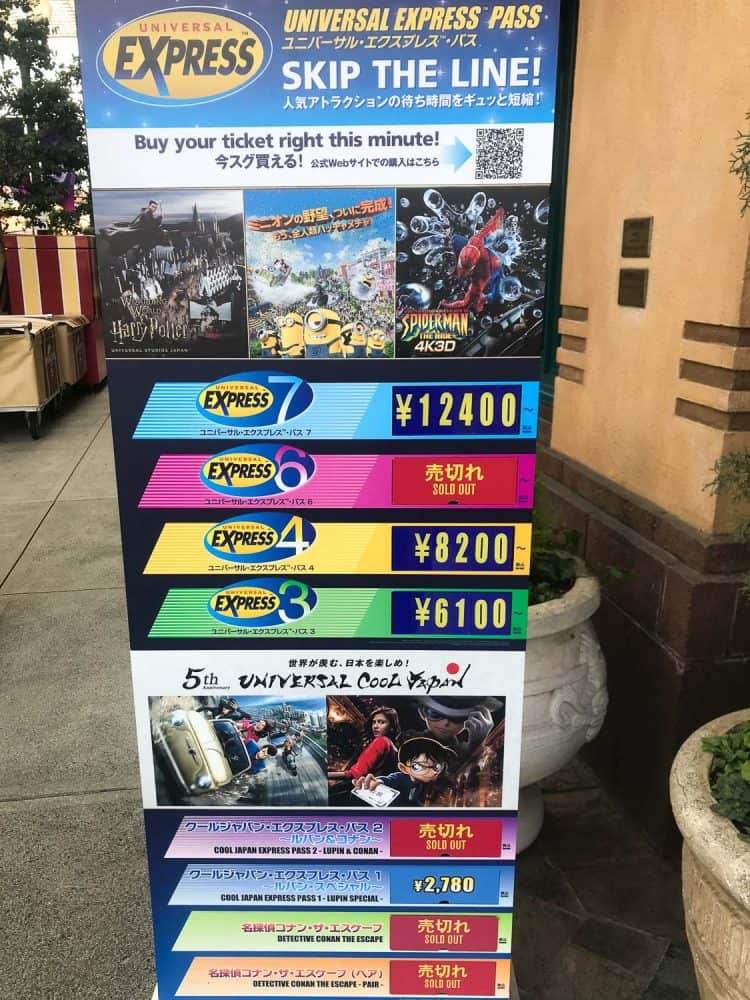 It's rather confusing as there are many different passes depending on which rides you can use them on and prices vary depending on the date. Make sure your pass at least includes Harry Potter and the Forbidden Journey.
The best pass is the "Express Pass 7 – The Flying Dinosaur" which includes all the major rides, but it costs at least 9500 yen ($85) and at peak times can be 19,250 yen ($173) or more.
A cheaper option from 8200 yen ($74) is the "Express Pass 4", but you have to choose between versions that include The Flying Dinosaur or the Minion ride.
Voyagin publishes this handy Express Pass demand spreadsheet with the prices of the various passes on different dates. This will also give you a good idea of the busiest days in the park which you should try to avoid.
Note that the Express Pass will give you timed entry for the most popular rides.
See the range of Express Passes on the Voyagin website here.
VIP Wristband and Harukas 300 Entrance
Instead of the Express Pass, you could buy the VIP Wristband for 3850 yen ($35) which gets you into the park slightly earlier through a special entrance.
You have to pick up the wristband from the Harukas 300 observatory one to five days before you visit Universal Studios Japan. It includes entry to Harukas 300 which is well worth visiting for stunning views over the city.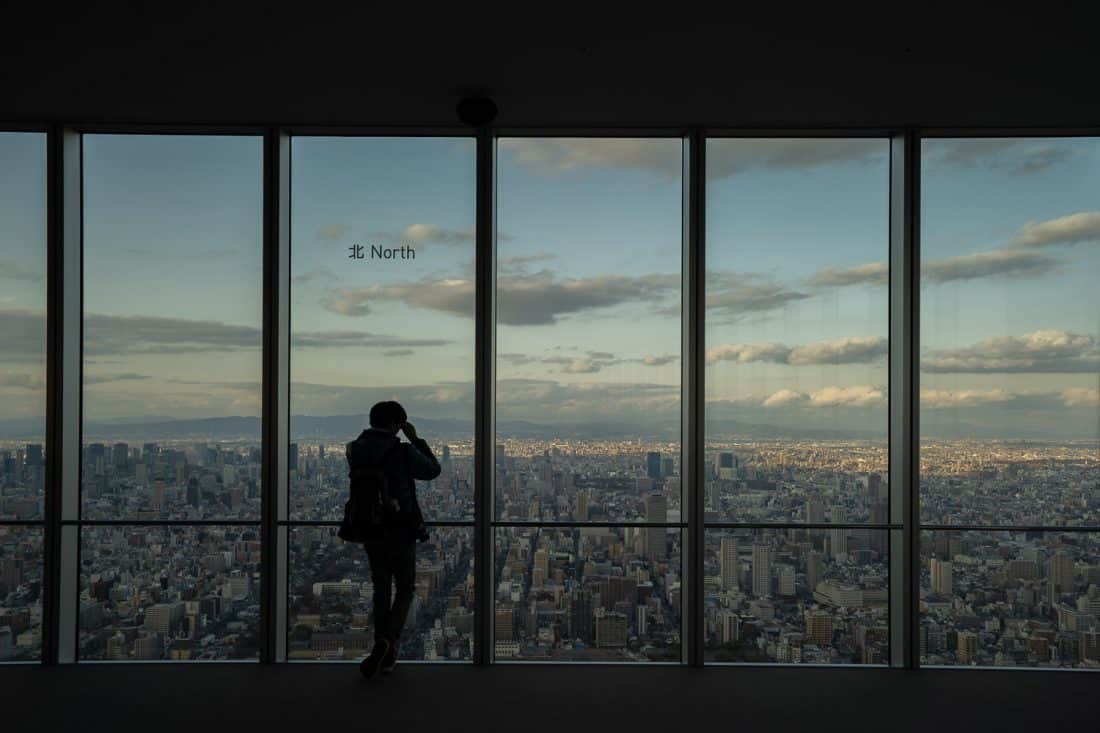 We recommend visiting Harukas 300 just before sunset so you can see the sunset as well as the city lit up at night and the light shows that take place in the evening. We enjoyed tasty pineapple soft serve ice cream topped with crunchy pineapple candy at the cafe and there's also a restaurant that looked lovely (not vegetarian-friendly though).
See our guide to visiting the Abeno Harukas 300 observatory.
Example Queue Times
If you're not sure whether an express pass is worth it or not, here are some queue times that we noted during our visit in February (off-season) when the park opened at 9 am:
10.15am Minion Ride – 80 minutes
11 am Spider Man – 50 minutes
12 pm Harry Potter – 120 minutes
12.15pm Flight of the Hippogriff – 65 minutes
12.30pm Hollywood Dream – 60 minutes
3 pm Flying Dinosaur – 190 minutes
3.30pm Jurassic Park – 30 minutes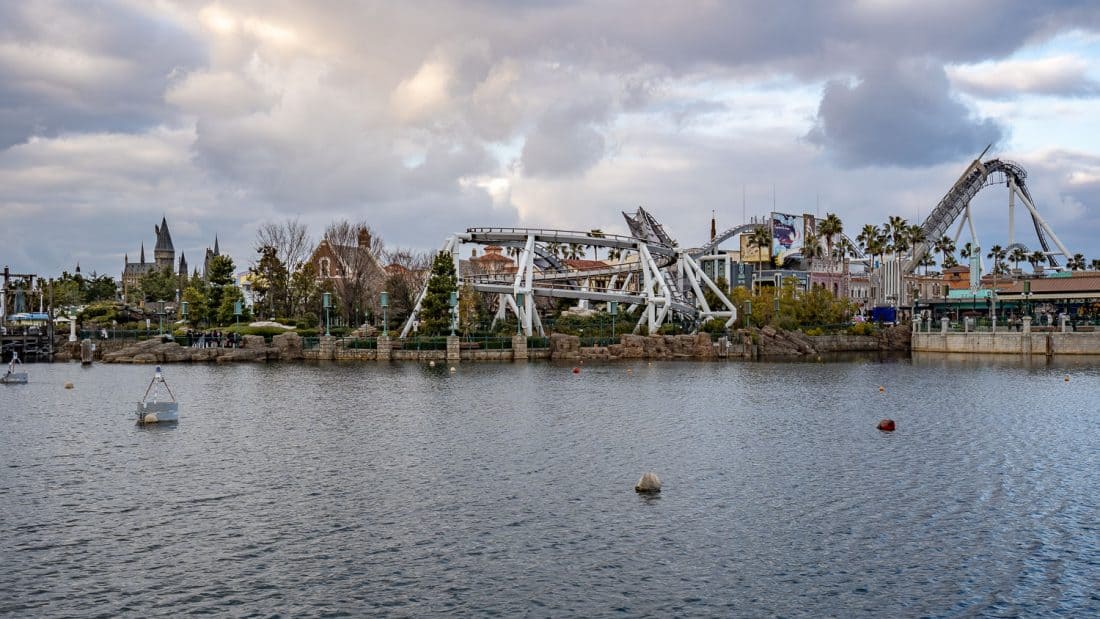 Universal Studios Japan Opening Hours
Universal Studios Japan usually opens from 8.30am or 9 am until 8 or 9 pm. See the calendar to check the hours (and ride closures) for the date you are visiting.
You should arrive at least 30 minutes before the official opening to get into the park as quickly as possible and head straight to either Harry Potter, the Flying Dinosaur or the Minion ride.
How to Get to Universal Studios Japan
It's easy to get to Universal Studios Japan by train from central Osaka and shouldn't take more than 30 minutes. Universal City Station is only a 5-minute walk from the park. To get here, you'll likely need to change at Nishikujo station and transfer to the JR Yumesaki Line (also known as JR Sakurajima Line).
For example, from Namba Station take the Hanshin Namba Line to Nishikujo then change there for Universal City Station. This will cost about 360 yen and you can use your ICOCA card which is the easiest way to pay for transport in Osaka.
You can use Google Maps or Hyperdia to find the route from your nearest station.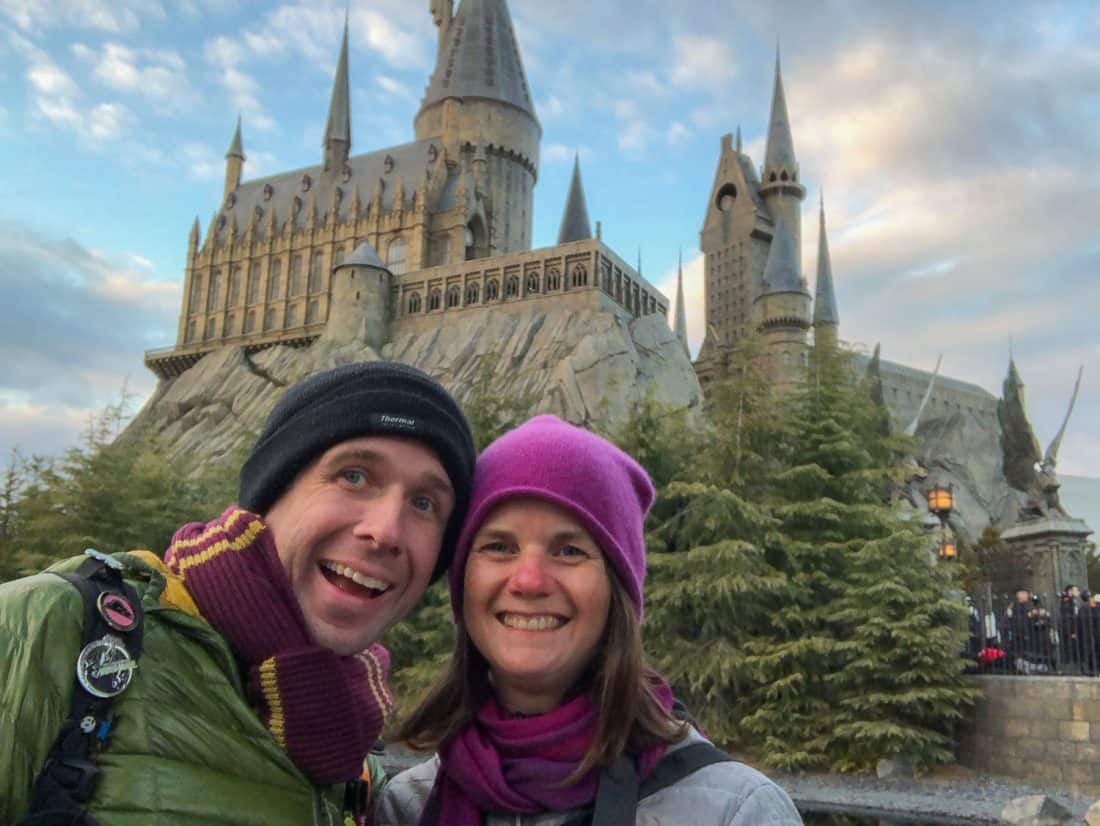 Hotels Near Universal Studios Japan
Universal Studios Japan is easily reachable from central Osaka, but if your trip is focused on the park it would be convenient to stay in one of these hotels just a few minutes walk away:
Food At Universal Studios Japan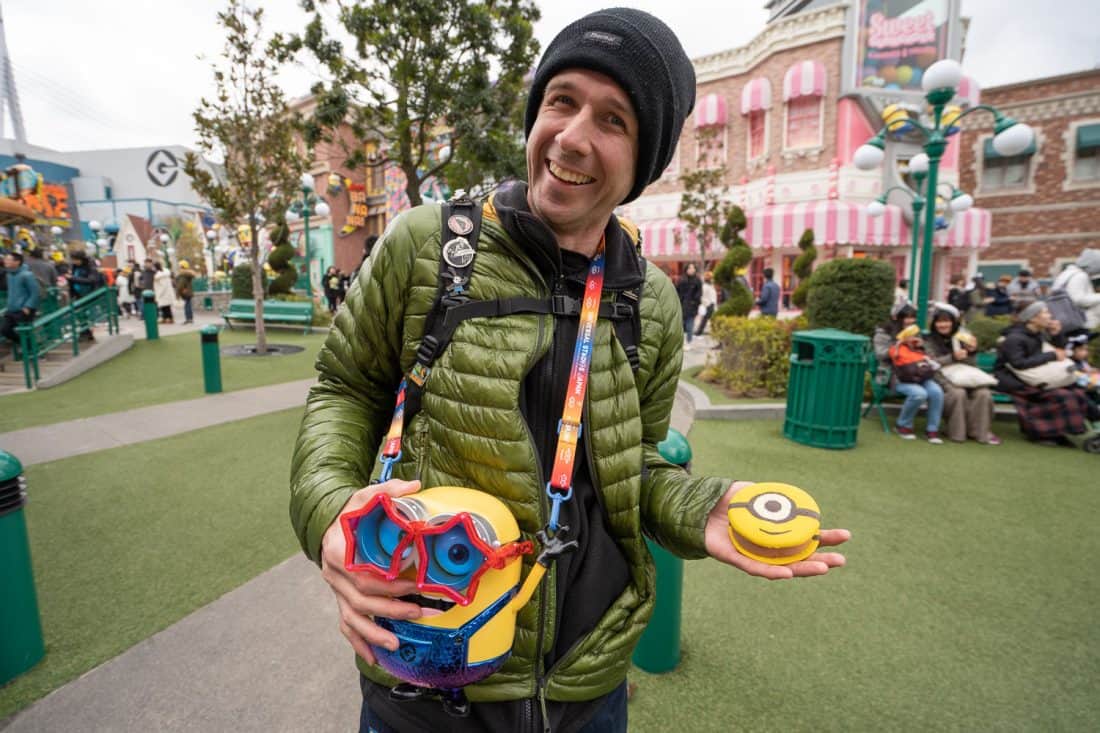 Bringing food and beverages into the park is prohibited, but it's unlikely they'll check your bag and it might be a good idea for vegetarians to bring a few rice balls as meat-free options are limited.
Vegetarians can enjoy plenty of sweet treats though. We loved:
Salted caramel banana popcorn from the POP-A-NANA stand in Minion Park. You can even buy a souvenir bucket.
Cookie sandwiches from Despicable Me! The Cookie Kitchen. The chocolate orange one was especially tasty (500 yen/$4.50).
Chocolate cakes at Beverly Hills Boulangerie. There are lots to choose from, but the chocolate fondant with a hot melting middle was delicious.
Butterbeer at Three Broomsticks. It's got to be done! The cold version is fizzier, but the warm one was better on a chilly day. You could probably share as it's very sweet. There are great views of the castle from the terrace out the back.
Savoury vegetarian options are much more limited:
The Fossil Fuel stand in Jurassic Park World has waffle style french fries with avocado and salsa topping for 500 yen ($4.50).
Azzurra di Capri, a table service restaurant, has a vegetarian pizza. Go early to get a table.
Three Broomsticks has a vegetarian menu, but you have to ask staff for it (and it took them a while to find it!). The vegetarian set menu includes salad, grilled corn on the cob, fries, warmed vegetables, and granola for 1750 yen ($16). They said they could also do a vegetable curry, but it would take 30 minutes.
Park Side Grille, a table service steak restaurant, is listed on the map as having a vegetarian menu, but there are no meat-free options on their regular menu so you would need to ask.
See our vegetarian Osaka guide for the best meat-free meals in the city as there are tons of options outside the park. On our way back to Shinsaibashi we stopped for vegan ramen at Matsuri which is near Noda station where we needed to change trains.
Shopping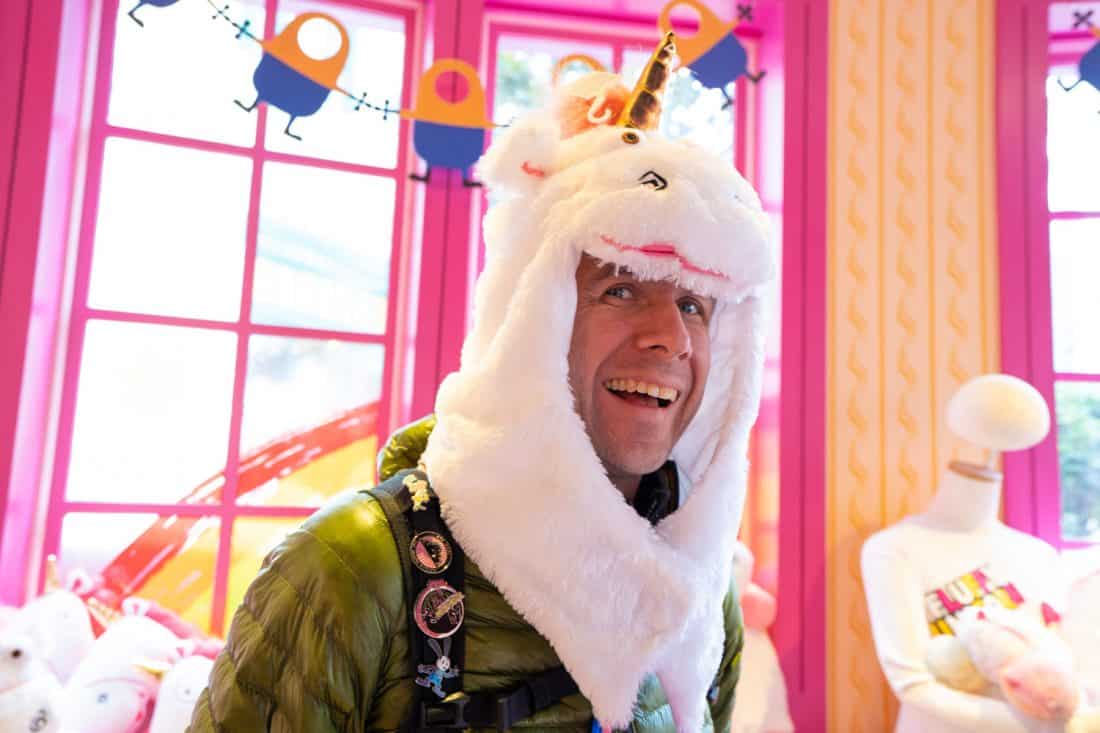 If you plan to do any shopping, bring your passport as you can then shop tax-free if you spend over 5000 yen.
There are many options for souvenirs in the park. Our favourites were in Harry Potter World and It's So Fluffy which is full of cute fluffy unicorns from Despicable Me.
Summary
Universal Studios Japan is a fun day out in Osaka with the magical Harry Potter World and some seriously thrilling rollercoasters and unique 3D simulators. It is a very popular park, so do make sure you avoid peak times, book tickets in advance, and either buy an Express Pass or prepare to queue.
If you are theme park nuts like us, you might also want to read our posts on our favourite Universal Studios Singapore rides and Tokyo DisneySea rides.
Many thanks to Universal Studios Japan and Voyagin who hosted us at the park.
If you enjoyed this post, pin it!