This page contains affiliate links. Please read our disclosure for more info.
We are huge Disney fans so we never miss a visit to Tokyo DisneySea when we're in Japan. It's our favourite Disney park in the world.
DisneySea rides are more adult-orientated than at its sister park Tokyo Disneyland, and there are many other attractions that are great to do without kids like have a cocktail in a 1920s lounge on a fancy cruise liner (yes, really!).
DisneySea is nautical themed with seven impressive ports inspired by both real places and ocean legends including American Waterfront, Mediterranean Harbor (which looks just like Italy!), and the unique Mysterious Island complete with erupting volcano.
This detailed Tokyo DisneySea review includes our favourite DisneySea rides, recommended one-day itinerary, and other tips to help you make the most of your stay and avoid the crowds.
Contents
Top Tip: Make sure to book your tickets in advance as they are no longer available at the gate and they do sell out. The easiest way to purchase for English speakers is to get an e-ticket from authorised partner Klook. Get your Tokyo DisneySea tickets here.
Top Tokyo DisneySea Rides and Attractions
These are the best Tokyo DisneySea rides ranked in order starting with our personal favourites. Your tastes may differ.
1) Soaring: Fantastic Flight
Soaring is a flight motion-simulator where you fly over the famous landscapes of the world.
We haven't ridden Soaring at DisneySea yet, but the video is similar to the Epcot attraction, which is one of our favourite rides.
It's so relaxing to soar over the world, legs dangling, feeling the breeze and smelling the scents of the various environments.
What makes the DisneySea version of Soaring unique is the immersive queue and impressive pre-show which takes you on a tour of the Museum of Fantastic Flight dedicated to humankind's dream of flying.
There are also additional scenes in the video featuring Tokyo.
As it's a fairly new DisneySea attraction (opened in 2019), Soaring is the most popular ride in the park. I recommend riding it as soon as the park opens or purchasing Disney Premier Access to skip the queue (more on that below).
Note that although it's a motion-simulator, the ride is very gentle and has never made me feel sick.
2) Tower of Terror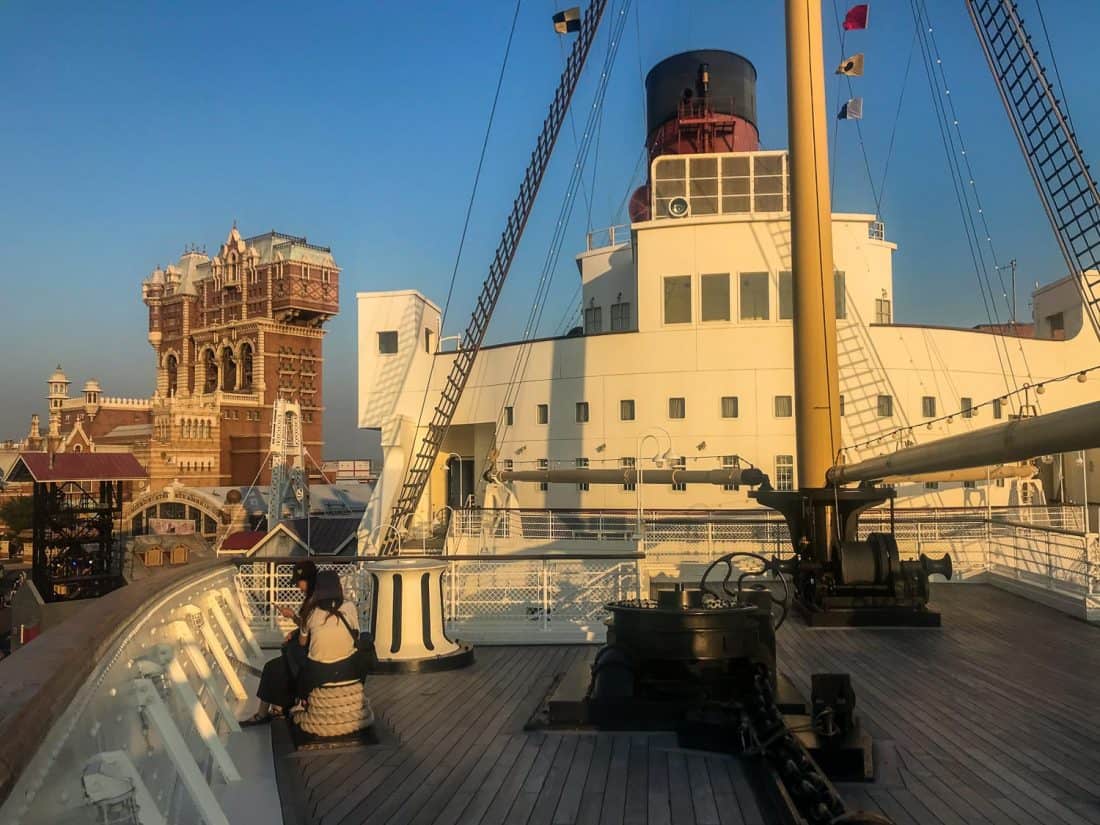 DisneySea's Tower of Terror is as wonderfully terrifying as the others in Disney parks around the world including Hollywood Studios.
The theming is different—Japan's Tower of Terror is an abandoned New York hotel in 1912—and the pre-ride story is in Japanese, but you can't beat the anticipation as you ride the elevator to the upper floors of the hotel and wait for the sudden plummet.
It's definitely one of the best Tokyo DisneySea rides.
In the winter months, look out for Tower of Terror Unlimited, which includes unusual fall patterns and extra drops to make it even scarier.
3) Journey to the Centre of the Earth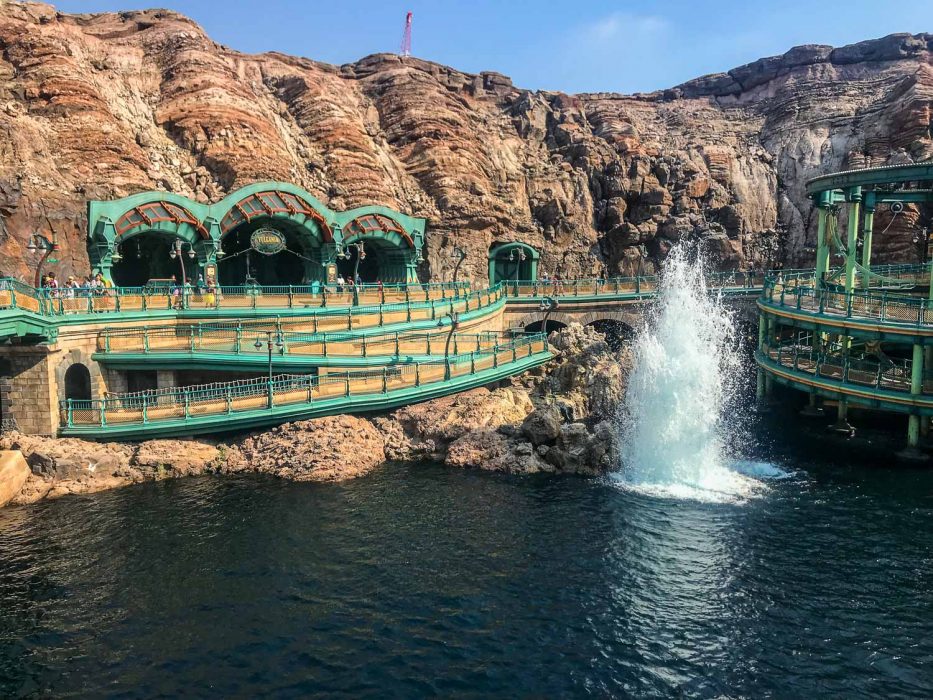 Within a volcano at the heart of the park, Mysterious Island is the most fantastical of the ports.
The main attraction is Journey to the Centre of the Earth, a dark thrill ride that takes you deep underground.
It's very atmospheric, even in the queue there's plenty to see, and the ride ends with a dramatic climax.
It's one of the best rides at DisneySea and can't be found at any other Disney park.
4) Indiana Jones Adventure: Temple of the Crystal Skull
This dark thrill ride is a simulated off-road journey through the Temple of the Crystal Skull. A fun ride with great theming and a Japanese Dr Jones.
This is a good ride to use the single-rider queue to save time if queues are long (which they usually are).
5) Raging Spirits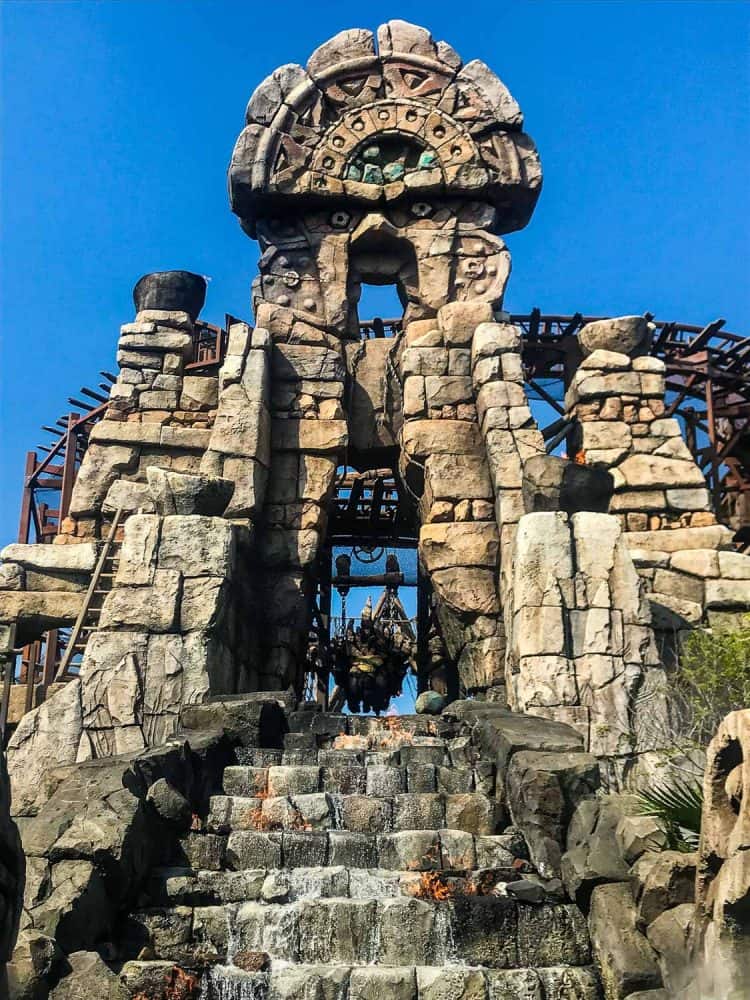 Raging Spirits is an outdoor roller coaster that's one of the few Disney rides to go upside down with a 360º inversion.
The theming isn't as great as on other attractions (although the fire and water feature is impressive), but it's fast and we love a loop.
Queues are often long for this so wait until the evening when it quiets down or use the single-rider queue.
6) 20,000 Leagues Under the Sea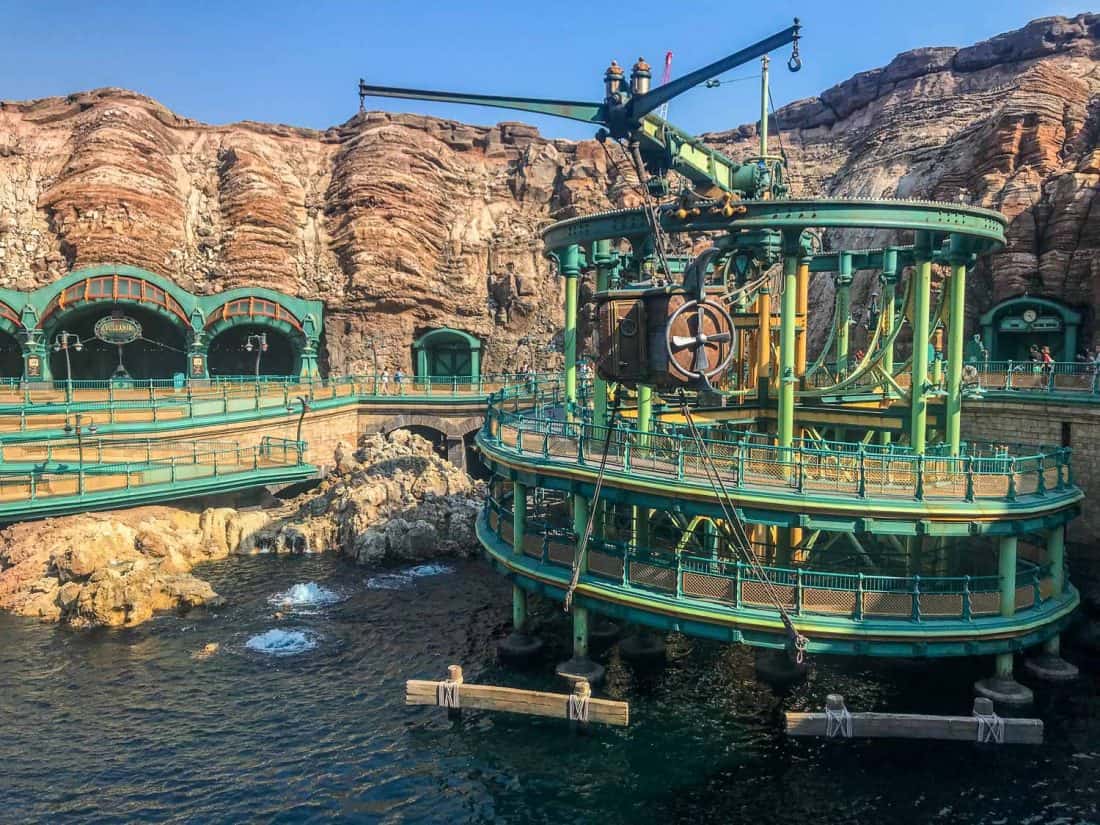 A dark ride on one of Captain Nemo's submarines deep below the sea in search of Atlantis. A beautiful and immersive ride.
It's usually quieter than the other major rides, so you should be able to get on later in the day without the queues being too long.
7) Big Band Beat Show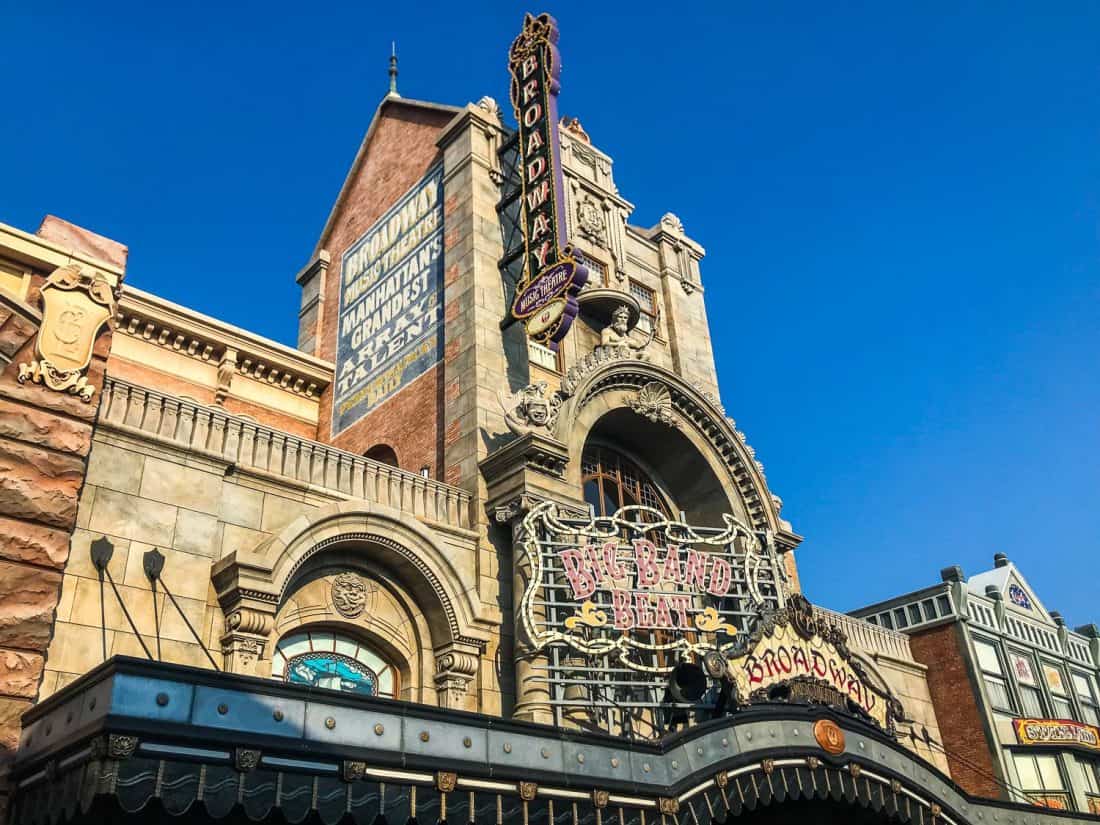 We love Big Band Beat! This 30-minute Broadway-style show features dancers and a live band playing swing and jazz tunes from the 1920s to 1940s.
The performers are professional, the dialogue is in English (we're in America after all), and the Broadway Music Theatre is a beautiful space with comfy seating.
It's perfect for taking a break during a busy park day (you'll see a few exhausted parents nodding off!).
To get tickets for Big Band Beat you need to make an Entry Request using the Tokyo Disney Resort app. Tickets are free but allocated by lottery. I recommend trying as soon as you enter the park.
If you don't win tickets, unreserved seats may be available (we managed to get some on our last visit).
Unreserved seats are limited so you'll need to turn up early. On a fairly quiet day in the park we started queuing at 2.50 pm for the 3.15 pm show and they let people in at 2.55 pm. By 3 pm the seats were full.
8) Popcorn
Popcorn at Disney Japan is a big deal! The Japanese love to buy DisneySea Tokyo popcorn buckets in fun designs that they wear around their necks and refill throughout the day.
There are stands all over the park with different seasonal flavours including curry (our favourite), Chinese chili (also delicious), black pepper, milk chocolate, caramel, tomato and herb, blueberry, and salt.
Buy some popcorn as soon as you feel a bit hungry as the queues become longer later in the day.
9) Fortress Explorations
Fortress Explorations is a hidden gem at DisneySea and a great escape from the crowds in the afternoon.
It's an interactive play area with ten exhibits within the fortress where you can study the planets and earth's rotation, operate cannons and nautical instruments, sail miniature galleons (100 yen fee), and more.
Don't miss the views of Mediterranean Harbor from the top.
10) Sinbad's Storybook Voyage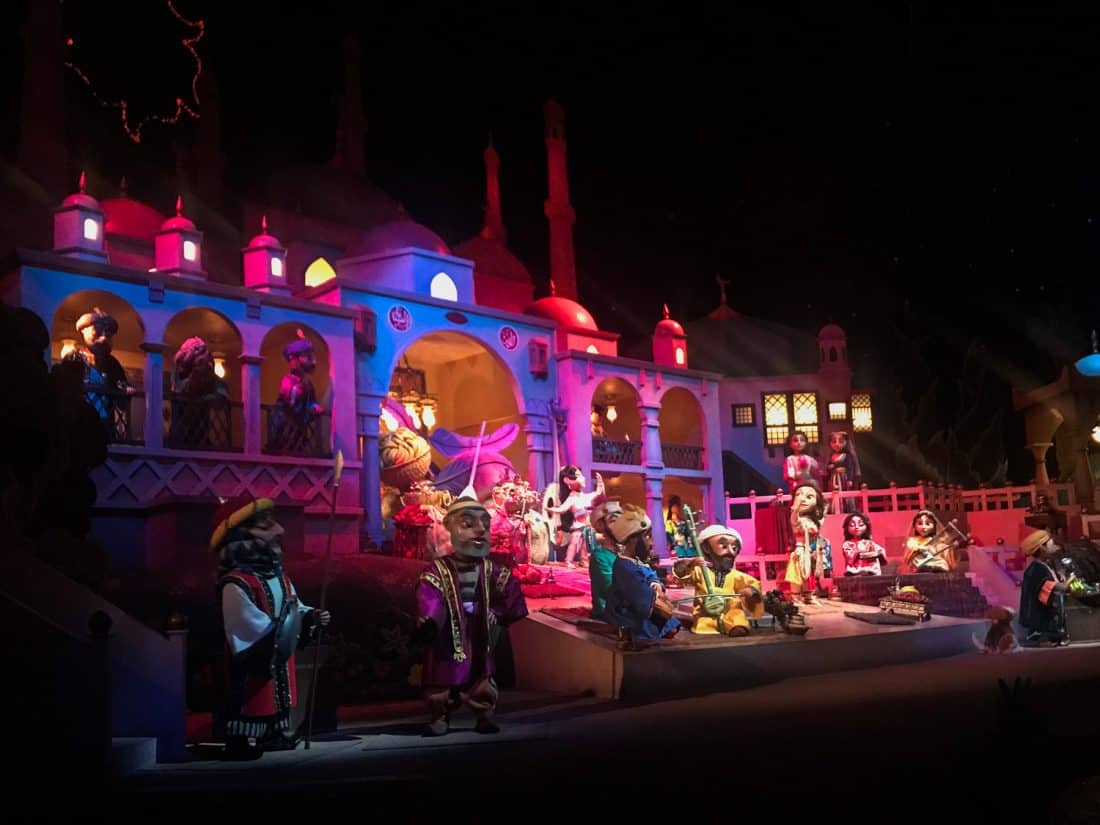 Sinbad's Storybook Voyage is a cross between Pirates of the Caribbean and It's a Small World.
It's a long, gentle dark ride on water as you sail pass Arabian scenes with Sinbad the sailor and tiger cub Chandu.
It's a relaxing, low-pressure ride with short queues so do it later in the day.
11) Lunch in Venice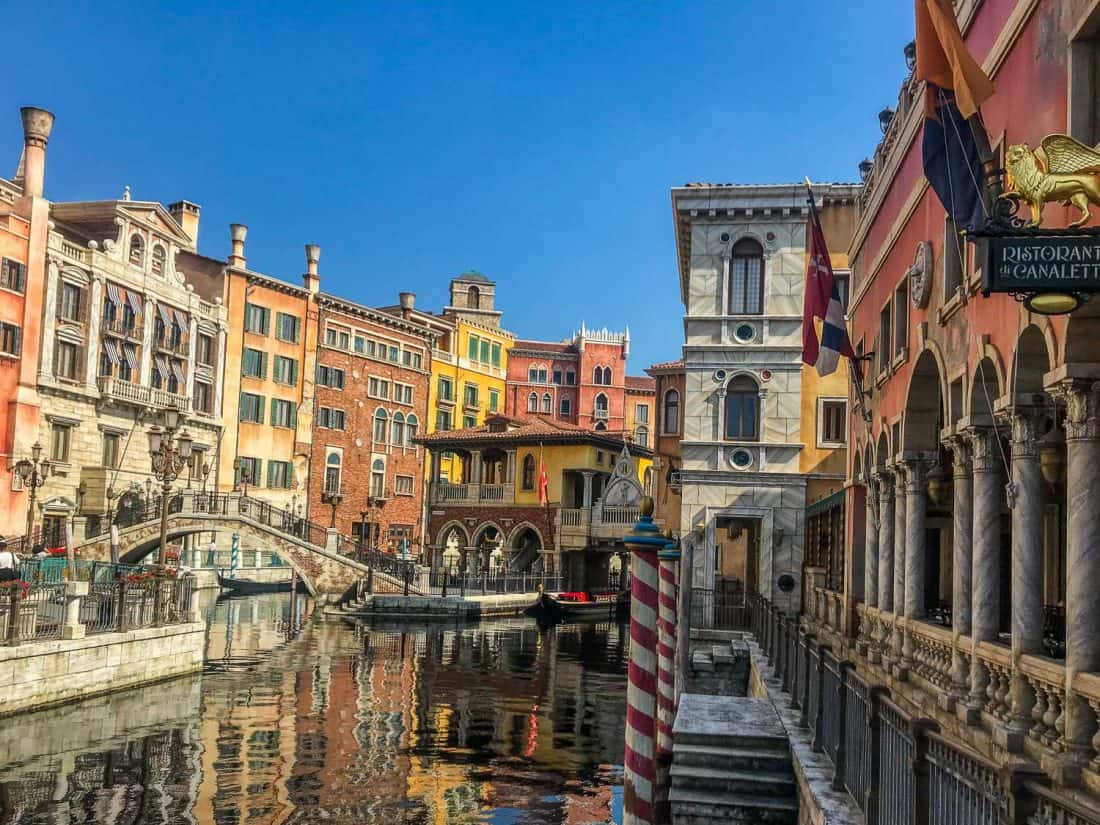 Ristorante di Canaletto is a surprisingly good Italian restaurant overlooking the Venice canals.
It's one of the only restaurants in DisneySea with vegetarian options. We love the pizza here and it makes a nice break in a busy day. Lunch is much cheaper than dinner.
It's popular so book priority seating on the Tokyo Disney website 30 days in advance.
You can also try turning up at the restaurant when it opens at 10am to see if they have any availability. It's best to be flexible with timings—we had to have lunch at 10.50 am on one visit and 1.40 pm on another.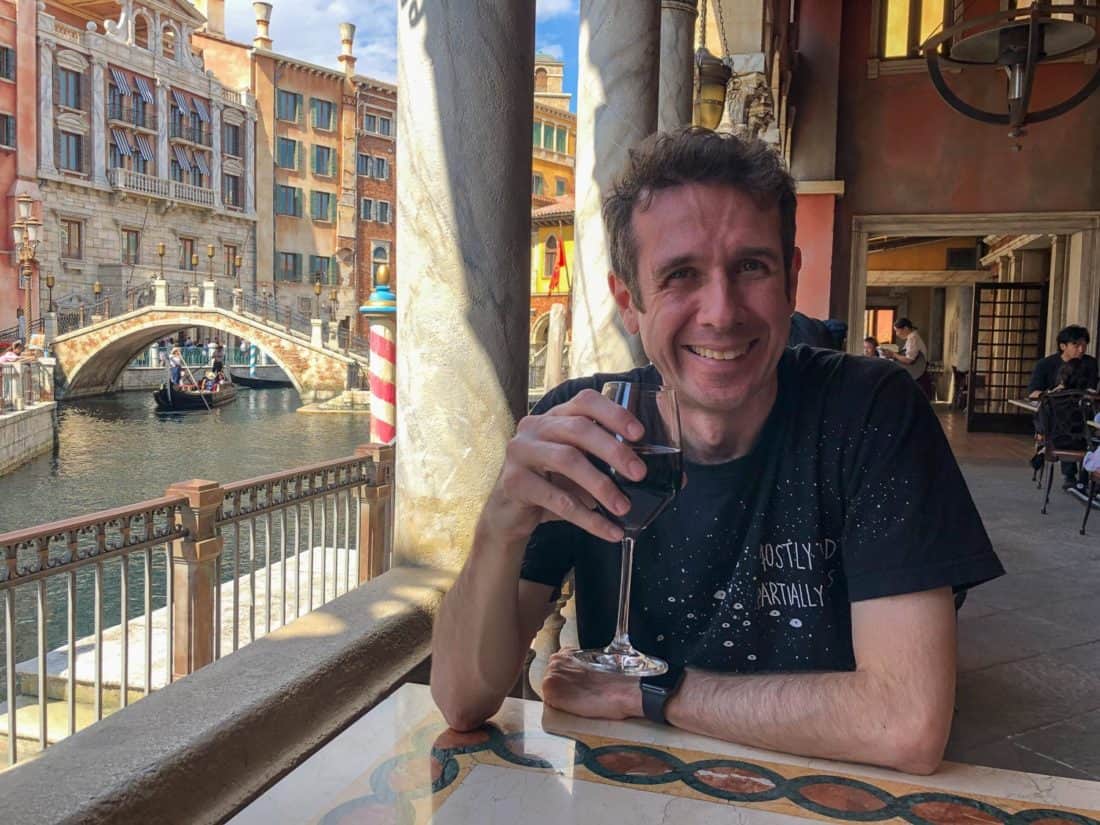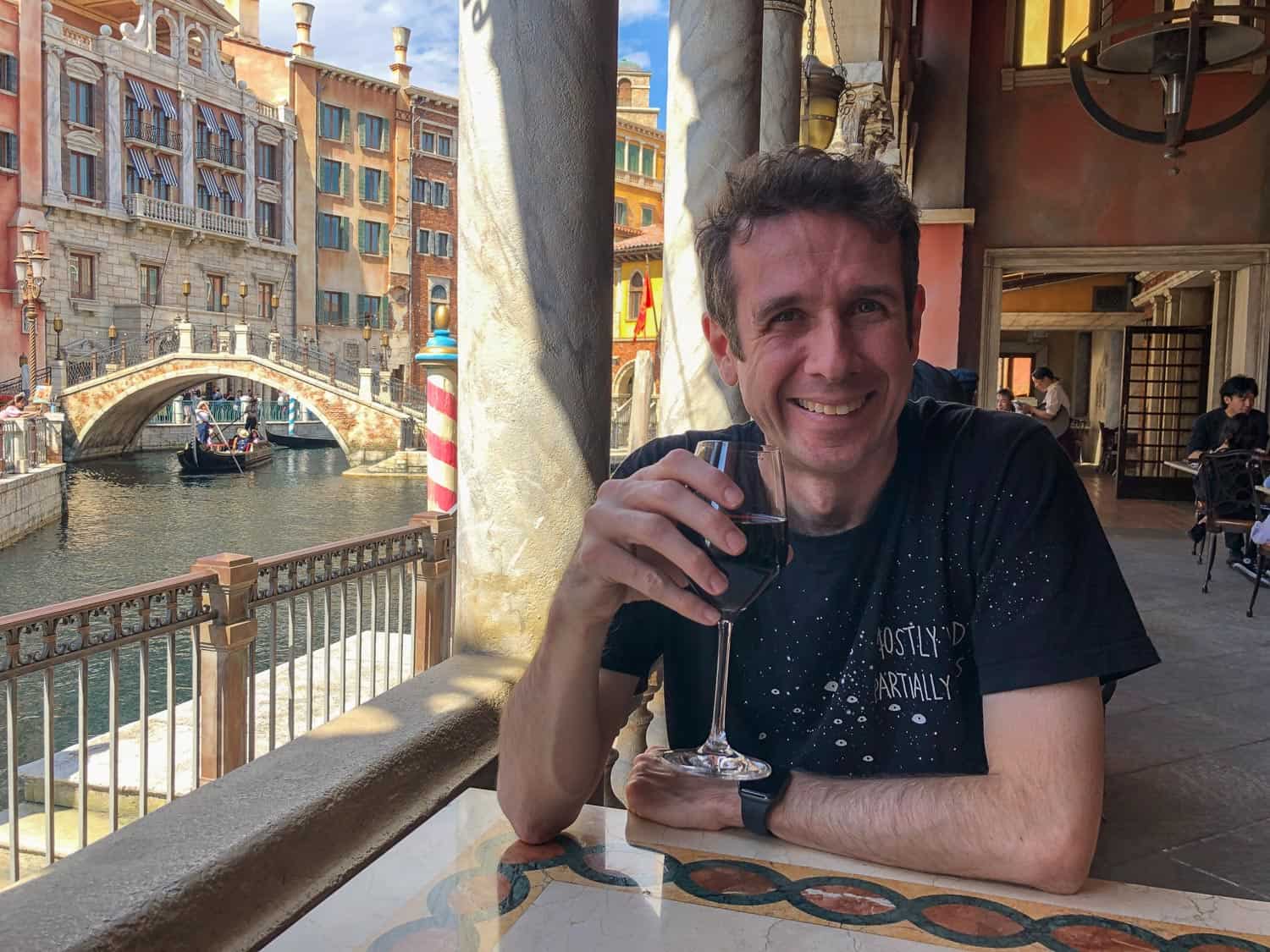 12) The Teddy Roosevelt Lounge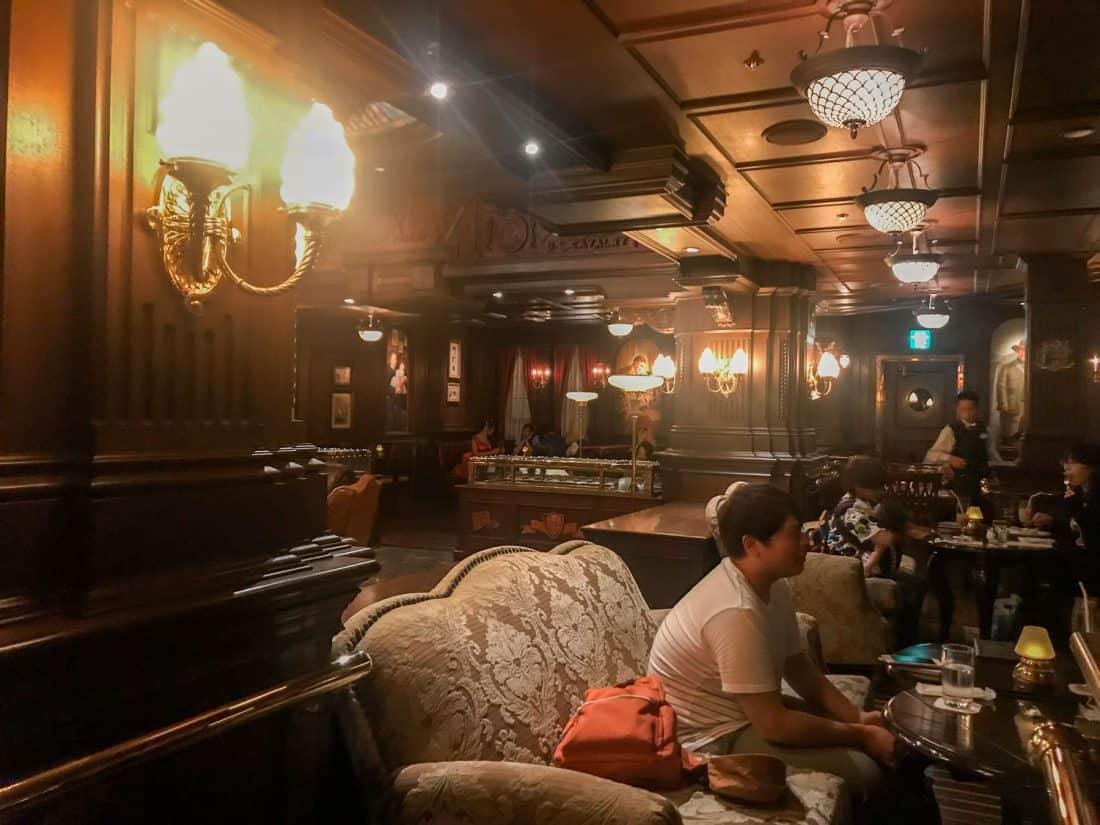 The Teddy Roosevelt Lounge is one of the best DisneySea attractions and is unlike anywhere else we've come across in a Disney park.
It's a 1920s themed bar aboard the S.S. Columbia cruise ship with amazing attention to detail that takes you back in time.
Relaxing on a couch here with a cocktail is the perfect retreat from the crowded park.
Food is available but it's not vegetarian-friendly.
There is usually a queue so it's best to go outside lunch and dinner times (although on a quiet day we did get in at 1 pm). You can also book priority seating 30 days in advance.
Afterwards, head up to to the upper deck for fantastic views of the park.
13) Toy Story Mania!
This is an indoor interactive game with Toy Story characters where you rack up points by shooting in carnival games. It uses 3D projection and special effects and is a lot of fun.
It's also insanely busy as the second most popular ride in the park after Soaring. Some consider it one of the best rides in Tokyo DisneySea, but I don't think it's worth waiting two hours for, so we usually skip it (we've ridden it at other Disney parks).
If you really want to ride it, head here first thing or pay for Disney Premier Access (see below).
14) Watch the Night Show
The perfect way to end your day at DisneySea is with a spectacular show on the water at Mediterranean Harbor.
Classic Disney characters sing your favourite songs with special effects using gigantic water screens, lasers, lights, and fire.
The latest show is called Believe! Sea of Dreams.
To watch the 30-minute performance, it's best to get a good spot at less 30 minutes in advance. Or you can pay 2500 yen for Premier Access (for a better viewing area).
Other Tokyo DisneySea Attractions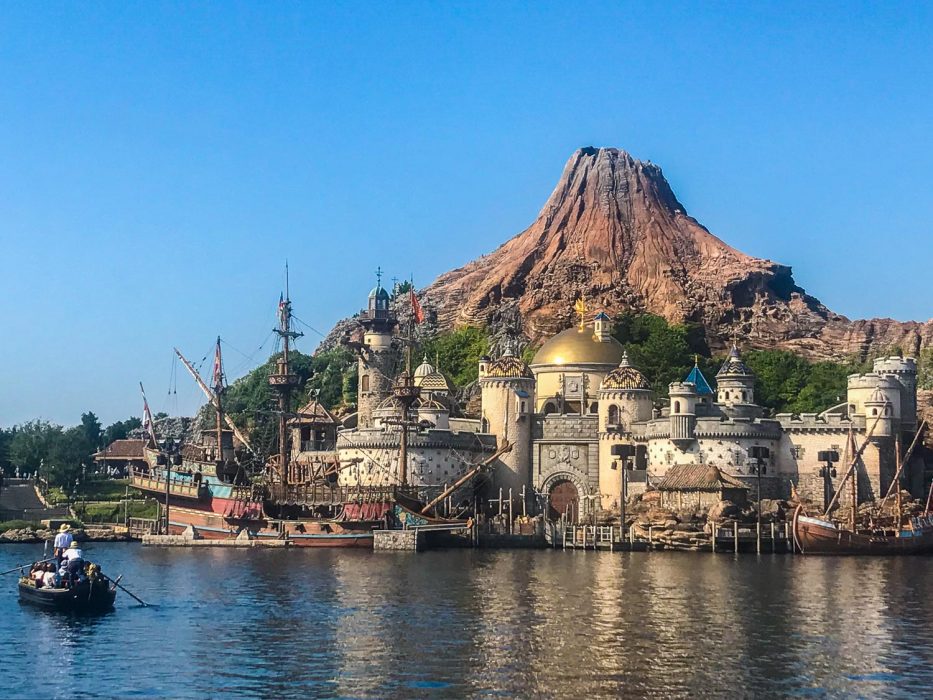 If you have the time, these DisneySea attractions are worth adding to your itinerary:
DisneySea Transit Steamer Line – A relaxing way to get around the park or just ride it and enjoy the view.
DisneySea Electric Railway – Same as the Steamer Line but by train instead of boat.
Venetian Gondolas – If the queue isn't too long, why not ride a gondola in the Venice canals?
Caravan Carousel – Take a gentle ride on the second level of the carousel and enjoy views of Arabian Coast lit up at night.
Aquatopia – A trackless water ride that's not terribly exciting, but if the queues are short it's worth popping on at night when the scenery is pretty.
Mermaid Lagoon – This indoor world is full of kid's rides, but it looks impressive and feels different from the rest of park. It's worth a quick stroll through.
Most importantly, make sure you take the time to wander and explore both during the day and at night (when it feels more mysterious).
There are many quiet hidden corners of the park and the theming is amazing throughout with so many details to appreciate.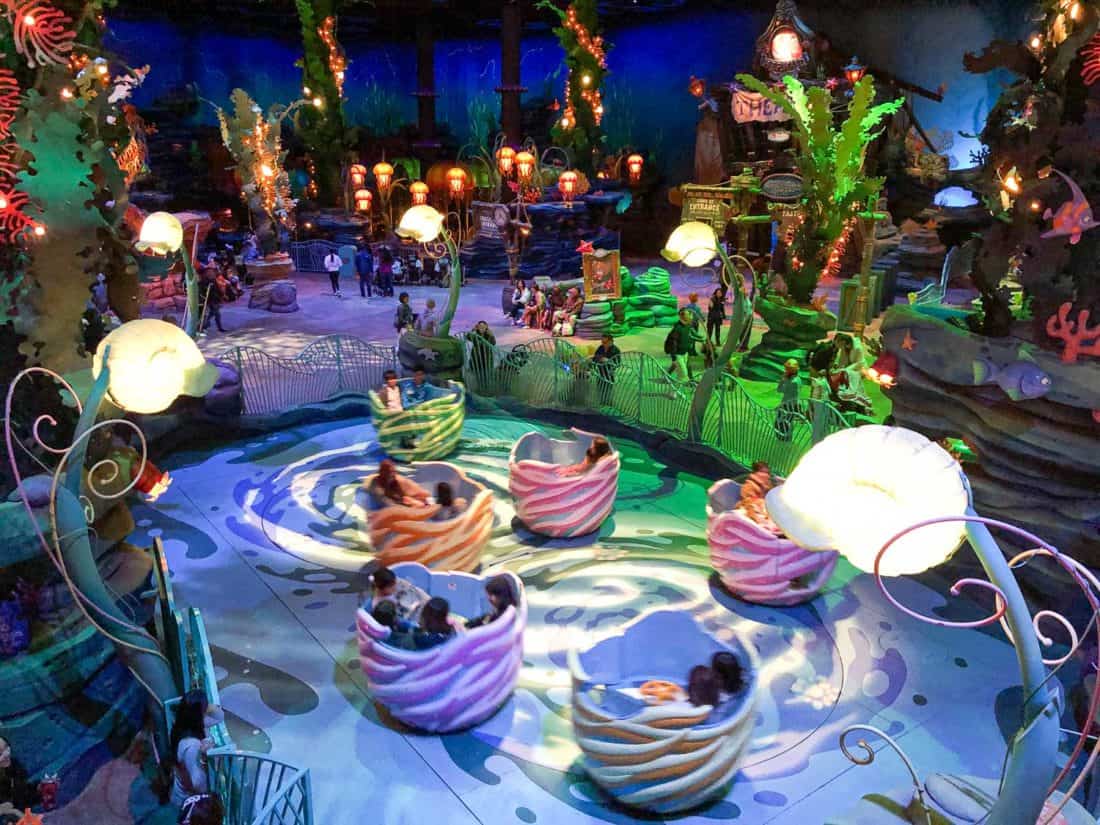 DisneySea 1 Day Itinerary for Adults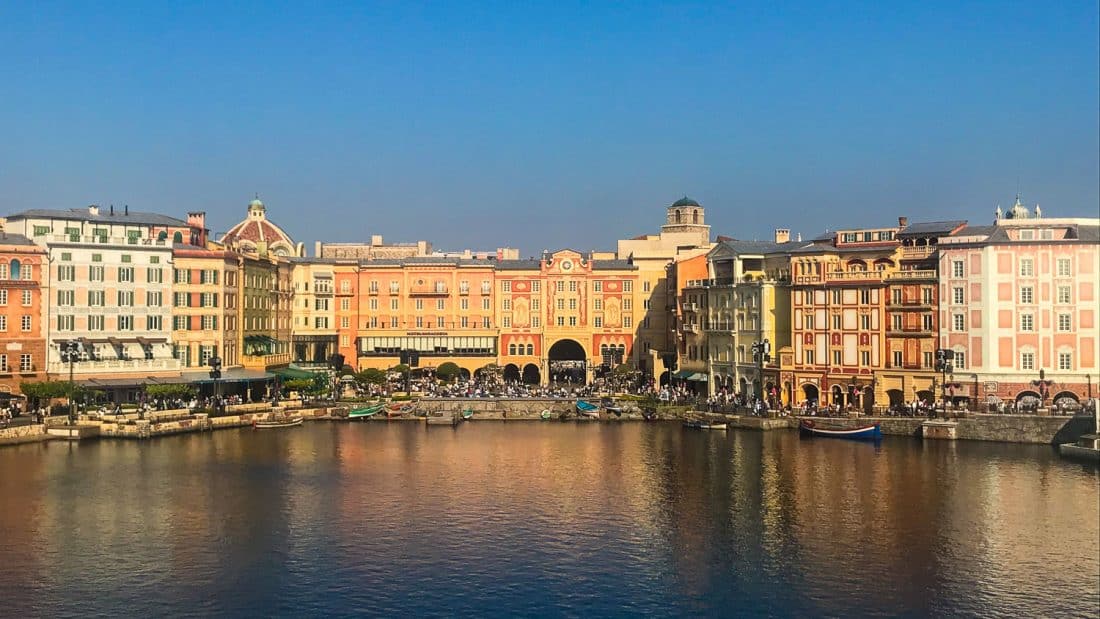 Disney Tokyo is usually very busy, so it's vital to have a plan of action if you don't want to waste your day in queues.
This was our itinerary when we visited on a medium busy day (a Tuesday after a National Holiday in October) when ride queues were over 90 minutes for most of the day.
Despite this we never queued for more than 20 minutes, but we were using Fastpasses, which are no longer available. Priority Pass has replaced it though—see below.
This strategy did mean quite a bit of rushing back and forth across the park in the morning, but the afternoon was more relaxed.
Make sure to buy your tickets online in advance.
Note that Soaring wasn't open when we visited. I now recommend riding that first thing (or paying for Premier) followed by Tower of Terror.
This is what we did on a day when the park was open from 8 am to 10 pm.
8.05 am – Entered park and picked up Fastpass for Tower of Terror (9.50 am return time).
8.25 am – Queued for and rode Journey to the Centre of the Earth (20-minute wait).
9 am – Indiana Jones and Raging Spirits queues were already too long (ride one if not), so we had a curry popcorn break and entered the Big Band Beat lottery and won!
9.50 am – Got Fastpass for Raging Spirits (10.30 am return time).
10 am – Made a lunch reservation at Ristorante di Canaletto.
10.10 am – Used Fastpass to ride Tower of Terror.
10.50 am – Lunch at Ristorante di Canaletto and missed our Raging Spirits Fastpass time as we could only get an early lunch reservation.
12 pm – Got another Fastpass for Raging Spirits (1.40 pm return time) and wandered around Arabian Coast.
1 pm – Out of Shadowlands show (now closed).
1.40 pm – Got Fastpass for Indiana Jones (6.30 pm return time!).
1.45 pm – Used Fastpass to ride Raging Spirits (15-minute wait).
2.10 pm – Queued for and rode Sinbad's Storybook Voyage (5-minute wait).
2.30 pm – Fortress Exploration.
3 pm – Big Band Beat show.
4 pm – Wandered around S.S. Columbia ship. The queue for the Teddy Roosevelt lounge was too long, so Simon had a (gross) frozen beer on the waterfront.
5 pm – Rode the Transit Steamer Line from American Waterfront to Lost River Delta as the sun set.
5.15 pm – Ate tortilla chips and dips at Miguel's El Dorado Cantina.
5.30 pm – Rode the Electric Railway back to American Waterfront and saw the park lit up just after sunset. (This doesn't really make sense as we then had to return to Lost River Delta).
6.30 pm – Used Fastpass to ride Indiana Jones.
6.45 pm – Rode Caravan Carousel (5-minute wait).
7 pm – Had a cocktail in Teddy Roosevelt Lounge (10-minute wait).
7.30 pm – Ate pizza at Zambini Brothers' Ristorante.
8 pm – Fantasmic! show (now Believe! Sea of Dreams)
8.30 pm – Fireworks were cancelled and ride queues were still long, so we headed for the train.
It was a long but amazing day!
Note: 20,000 Leagues Under the Sea was closed on this visit. I recommend riding it in late morning if queues aren't bad (they aren't usually).
On our last visit we followed a similar schedule but as we were staying nearby at Hotel Mystays Maihama we took a break from 4-6pm. I highly recommend staying nearby if you can as it was a much more relaxing day.
DisneySea Tickets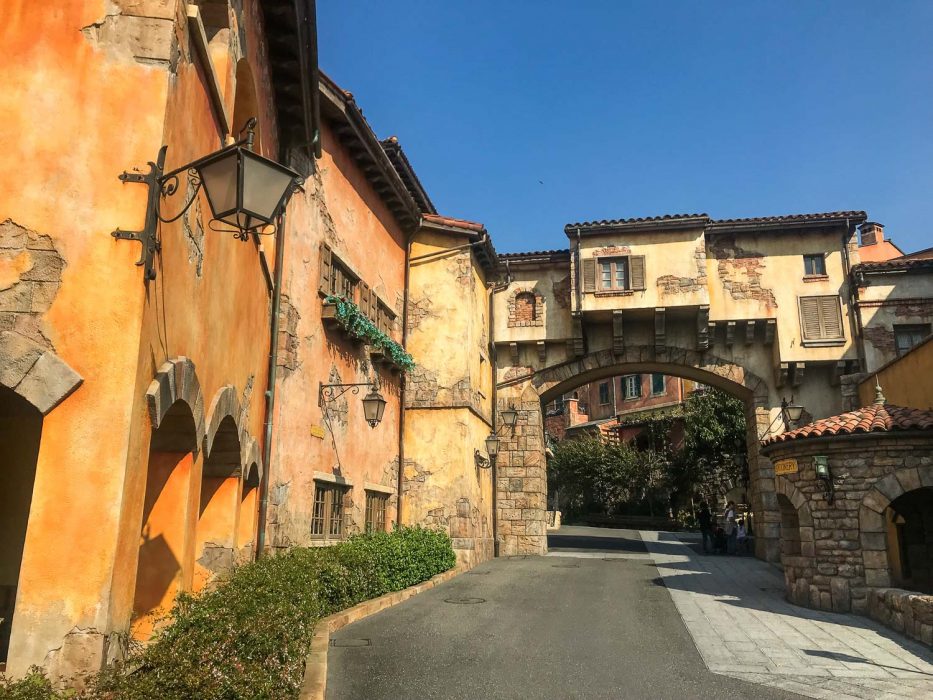 Currently, you can only buy one-day Tokyo DisneySea tickets. There are no multi-day tickets available (except for a brief period in summer), so if you'd like to visit both DisneySea and Tokyo Disneyland, you'll need to buy two separate one-day tickets.
I don't recommend trying to visit both parks in one day as there is too much to do in each and there are no park hopper tickets.
One-day DisneySea tickets cost from 7900 yen ($56) depending on the date.
You must buy tickets online before your visit and choose a specific date. Tickets go on sale two months in advance and they can sell out.
The easiest way to buy tickets is from authorised partner Klook. You can book on their website or app then scan into the park directly with the QR code you are given.
Buy your Tokyo DisneySea tickets here.
You can also buy tickets from the Tokyo Disney website, but international credit cards often don't work.
You can use Klook to book lots of fun things to do in Tokyo and get discounts on some attractions.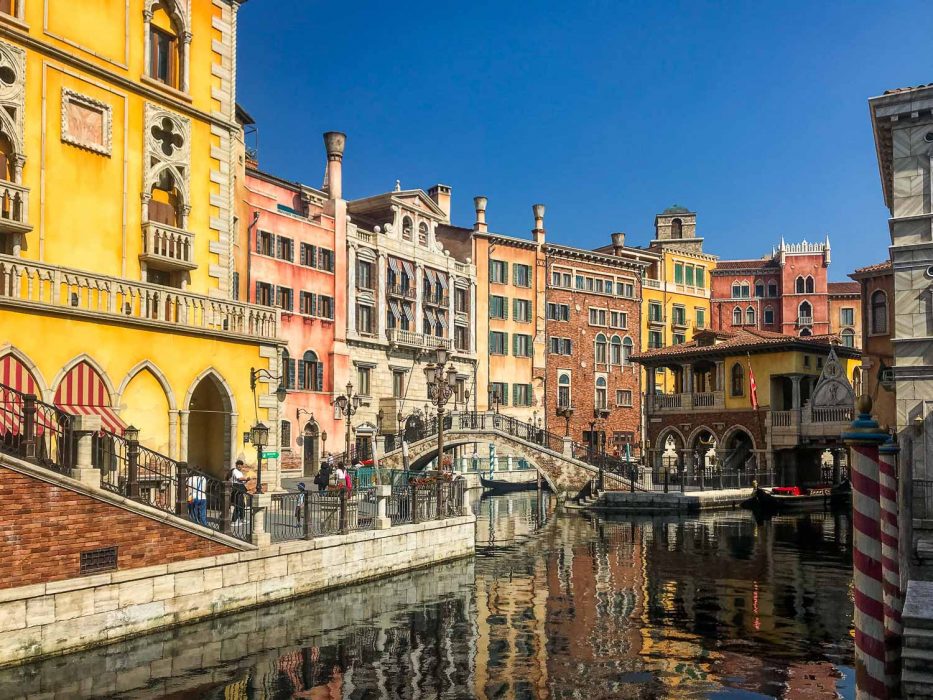 Priority Pass and Premier Access at Tokyo DisneySea
Tokyo Disney resort used to have a Fastpass system that allowed you to skip the queue at popular rides for free.
Fastpasses are no longer available and have been replaced by a paid service called Disney Premier Access and, as of July 2023, a free service called Priority Pass.
Priority Pass
Tokyo Disney introduced a free line skipping service in July 2023 called "Tokyo Disney Resort 40th Anniversary Priority Pass".
It's unclear how long this will be available but the anniversary celebrations continue until March 2024, so it's likely until at least then.
Priority Pass works in a similar way to the old Fastpass, but you must book your slot on the Tokyo Disney app once you've entered the park.
You can book one ride at a time. Once you've ridden it or after 120 minutes have passed, you can book your next attraction.
You can't choose a time and will be allocated the next available time (with a one-hour window to ride).
Rides available with 40th Anniversary Priority Pass are:
Indiana Jones Adventure: Temple of the Crystal Skull
Raging Spirits
20,000 Leagues Under the Sea
Nemo & Friends SeaRider
Turtle Talk
The Magic Lamp Theater
Unfortunately, Priority Pass is less useful at DisneySea than at Tokyo Disneyland and is only really needed for the first two rides on this list (plus Nemo if you really want to ride it).
Premier Access
Premier Access is a paid service for use on Soaring, Toy Story Mania, Tower of Terror, and Journey to the Center of the Earth (plus the nighttime show).
Disney Premier Access costs 1500 – 2000 yen ($11-15) per ride and you can only buy one at a time. You can select a specific time to ride. Once you've ridden, you can purchase Premier Access for another ride.
Buy access on the Tokyo Disney Resort app once you've arrived in the park. They can sell out so book as soon as you can.
You can also use the app to see ride wait times, make Entry Requests for shows (free but limited), and book restaurants.
Time-Saving Tips for Tokyo DisneySea
Here are my top tips for reducing wait times at Tokyo DisneySea:
Download the Tokyo Disney Resort app before your visit and have a look at the latest wait times.
Visit on a weekday and avoid national holidays.
Arrive 60 minutes before the park opens.
Stay in a Disney resort for 15-minute early entry (but it's very expensive).
Focus on the most popular rides first: Soaring, Toy Story Mania, Tower of Terror.
Book Priority Pass rides on the app as soon as you enter the park (see above).
Leave the middle of the day for low-key attractions that don't get crowded. Or have a break at your hotel if you're staying nearby.
Try again in the last two hours of the day if queues are long. They may quiet down.
Join the single-rider queue for Indiana Jones and Raging Spirits (but you won't be sitting next to your companion).
Purchase Disney Premier Access if necessary (see above).
Tokyo DisneySea Hotels
While it is possible to visit DisneySea from central Tokyo (we've done it twice), on our last trip we stayed near the parks and much preferred it.
We were able to avoid the busy morning rush hour (the trains get very crowded), arrive more rested, and take a break during the afternoon when the park is busiest.
Especially if you are planning to spend two days at Tokyo Disney (and visit both parks), I highly recommend staying nearby.
You can then move on to central Tokyo to explore the city (we think Shinjuku is the best area to stay in Tokyo).
Budget Hotel in Walking Distance
We stayed at Hotel Mystays Maihama which is the nearest budget hotel to the parks.
It's a 10-minute walk from DisneySea, so it was easy to arrive at the park early and take an afternoon break. It's actually closer to DisneySea than most of the official Disney hotels.
It's excellent value compared to the pricey Disney hotels (we paid about 15,000 yen/$107).
Our room was nothing fancy but was bright, comfortable, clean, and spacious for Tokyo. It was equipped with a fridge, kettle, and desk. Breakfast was not included in our rate so we bought snacks.
It's a 15-minute walk to the Ikispari shopping centre, where there are plenty of shops and restaurants, and Maihama Station. It's a 20-minute walk to Tokyo Disneyland or there's a free shuttle at certain times.
Check the latest prices of Hotel Mystays Maihama here.
5-Star Hotels Near Tokyo Disney
If you are looking for a more luxurious hotel near DisneySea, there are a few overlooking Tokyo Bay, but you'll need to take the monorail to the parks rather than walk.
Options include Hilton Tokyo Bay, Sheraton Grande Tokyo Bay Hotel and Hotel Okura Tokyo Bay.
Search for more hotels near DisneySea here.
Official Disney Hotels
The main advantage of staying in an official Disney hotel is getting into the park 15 minutes early. This will make it easier to get on popular rides like Soaring and Toy Story Mania.
You can currently only book Disney hotels three months in advance.
If you can afford it, stay in Hotel Miracosta which is actually inside DisneySea! You can't beat the convenience and can even watch the Harbor shows from some rooms. We've booked it for our next trip but you need to book exactly three months in advance as it sells out in minutes!
The more affordable Disney Ambassador Hotel would be my second choice (although it's still much more expensive than a non-Disney hotel).
It's in the Ikispari mall close to the station and is only a 5-minute walk to Tokyo Disneyland and about 15 minutes to DisneySea (or a shuttle is available).
Tokyo Disneyland Hotel is the closest hotel to Disneyland but is less convenient for DisneySea.
The new Toy Story Hotel looks cute and colourful, but it's a little further away than I'd like. That said it's opposite Bayside Station on the monorail loop and is only one stop from the parks.
The Best Time to Visit DisneySea
Avoid visiting DisneySea on weekends or national holidays as it will be extremely busy.
Check this Tokyo Disney crowd calendar to find the quietest day to visit. Look for days that are yellow, green, or light blue. It's in Japanese but with Google Translate you should be able to figure it out.
Mid-January is the quietest time to visit, but it will be cold and more rides than usual may be closed.
Late-April/early-May (Golden Week) is the busiest time of year and you'll definitely want to avoid it.
If there's a ride you really want to do, check Disney's ride closure list to make sure it will be open.
You can also see the Tokyo Disney calendar for park opening and show times.
Vegetarian Food at DisneySea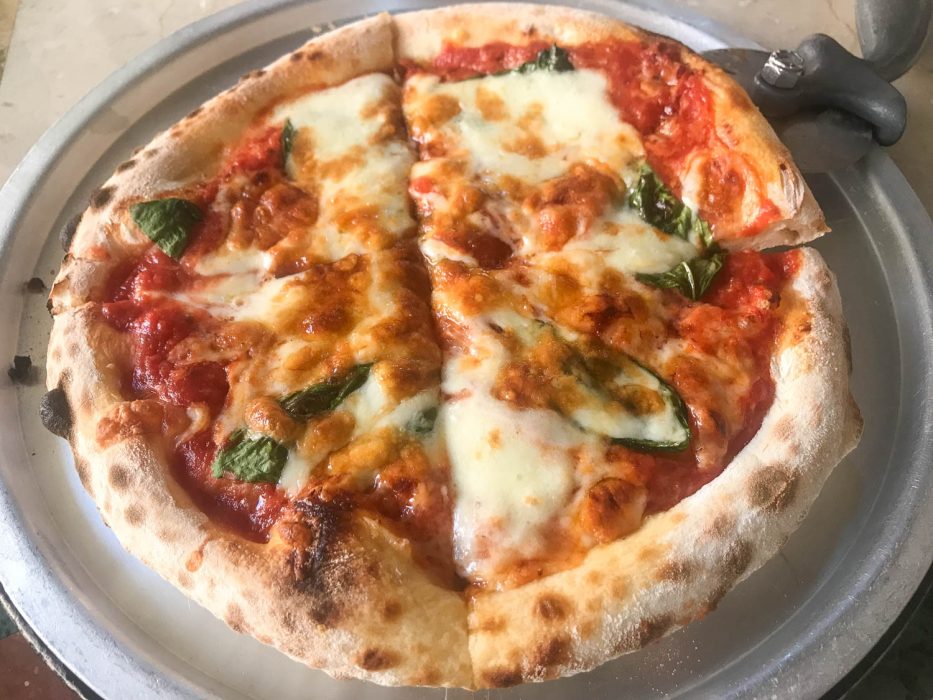 Vegetarian food is limited at DisneySea but there are a few enjoyable options (and it's better than Tokyo Disneyland):
Ristorante di Canaletto – The best option for a sit-down meal. Currently, the only vegetarian option is the tasty margherita pizza, but the menu does change. Reservations are needed.
Zambini Brothers' Ristorante – A cheaper counter service Italian with a cheese pizza. It is pretty tasty although not as good as at Canaletto. Try getting an outside seat upstairs for good views.
Casbah Food Court – The best budget option. They have a Japanese-style vegetable curry with rice and naan that's quite good (and vegan).
Miguel's El Dorado Cantina – Tortilla chips with guacamole is the only option.
Mamma Biscotti's Bakery – Pastries and cakes.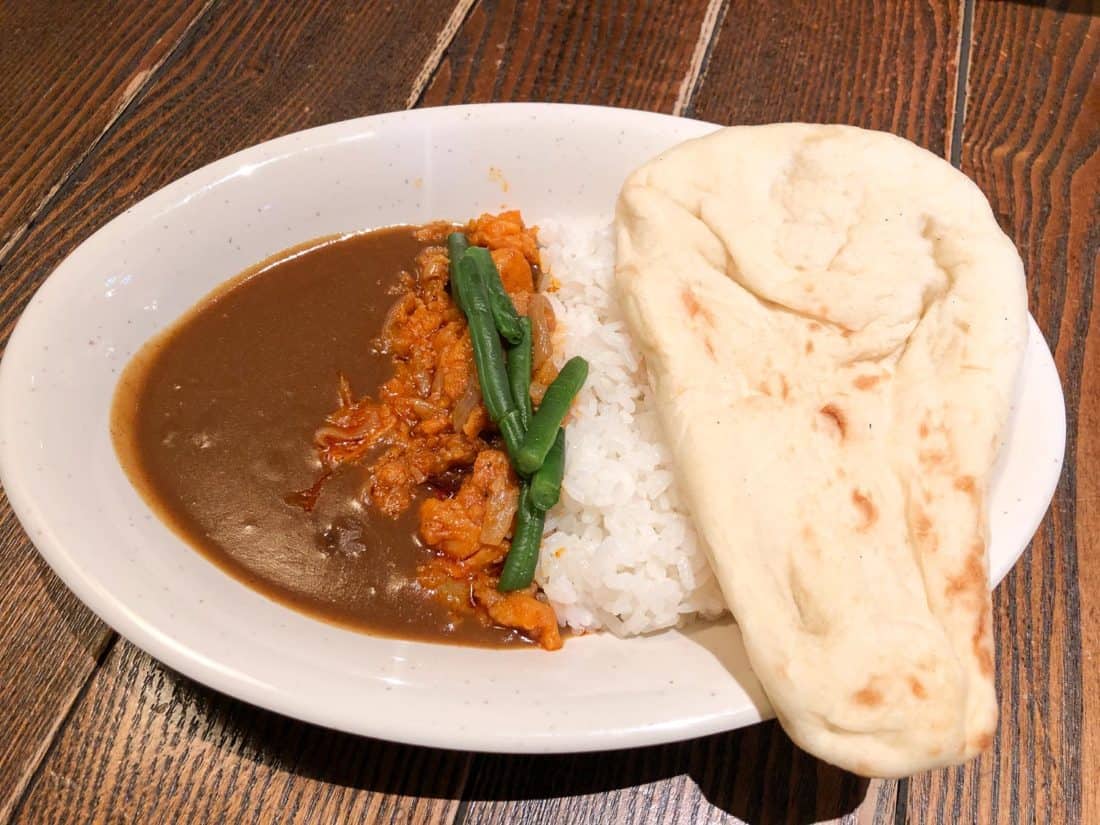 You can also try popcorn, churros, fruit, and ice-cream from the stands around the park. You might want to bring your own food, especially if you want something more than pizza or fries.
The Instagram account Vegan at Tokyo Disney Resort is the best source of up to date information including which snacks are vegan.
You can see all the Disney restaurant menus online. They are in Japanese so you'll need to use Google Translate.
You can make reservations for table service restaurants on the day from 10am at the restaurant, but your choice of times will likely be limited.
You can also book online on the Tokyo Disney website up to one month before, which I recommend if you want to eat at Ristorante di Canaletto.
Another good option outside the parks is Guzman y Gomez, a Mexican chain restaurant in the Ikispari shopping centre between Disneyland and Maihama Station. You can get vegetarian versions of all their dishes (burritos, nachos, tacos, etc.).
Although vegetarian Japanese dishes in DisneySea are limited, there is plenty of delicious vegetarian food in Tokyo that you can try during the rest of your stay.
Should You Visit Tokyo Disneyland or DisneySea?
If you only have one spare day in Tokyo we recommend DisneySea over Disneyland.
It's unlike any of the other parks in the world with incredible theming, whereas Tokyo Disneyland is a more traditional Disney like Disneyland California, Disneyland Paris and Magic Kingdom Orlando.
Attractions at DisneySea are more adult-orientated and you can even buy alcoholic drinks. We also find Disneyland to be even busier than DisneySea.
If you want to see all the classic Disney characters and Cinderella's Castle, then Disneyland is for you. See our guide to the best Tokyo Disneyland rides for tips on planning your day.
Best of all, if you have two days to spare in your Japan itinerary we recommend visiting both!
And, if you are a theme park fan, we also love Universal in Osaka which has the brilliant Wizarding World of Harry Potter, the new Super Nintendo World, and the scariest rollercoaster we've ever been on (the rides are more intense than at Disney).
Check out our favourite Universal Studios Japan rides.
How to Get to DisneySea
The nearest train station to Tokyo Disney is Maihama.
From Maihama station to DisneySea you can take the Disney Resort Monorail to DisneySea Station (260 yen) which takes 10 minutes or you can walk (as we did) in about 15 minutes.
Allow about an hour to get from Shinjuku or Shibuya stations to DisneySea including transfer times and walking to the resort.
You can use the Navitime website or app to check train times. Trains will be very busy in the morning rush hour.
If you are spending a few days in Tokyo, I recommend getting a Suica or Pasmo card, which you can top up and use as a ticket for all trains in Tokyo.
Tokyo Station to DisneySea
Take the JR Keiyo or JR Musashino line to Maihama. It takes about 15 minutes.
Shinjuku to DisneySea
Take the JR Chuo rapid line from Shinjuku to Tokyo then change to the JR Keiyo or JR Musashino line to Maihama. It takes about 30 minutes.
Shibuya to DisneySea
There are two options:
1) Take the JR Saikyo-Rinkai line to Shinkiba then change to the JR Keiyo line to Maihama. The Saikyo line technically ends at Osaki but some trains continue on the private Rinkai line to Shinkiba. This takes about 40 minutes.
We took this route to DisneySea as it's fastest, but it has two downsides—trains don't run that frequently so when we missed a train we had to wait 30 minutes for the next one, and it's more expensive than JR lines (720 yen vs 410 yen for the whole journey).
2) Take the JR Yamanote line to Tokyo Station then change to the JR Keiyo or JR Musashino line to Maihama. It takes about 45 minutes.
We took the second route on our way back as it was late and the trains on route 1 are infrequent.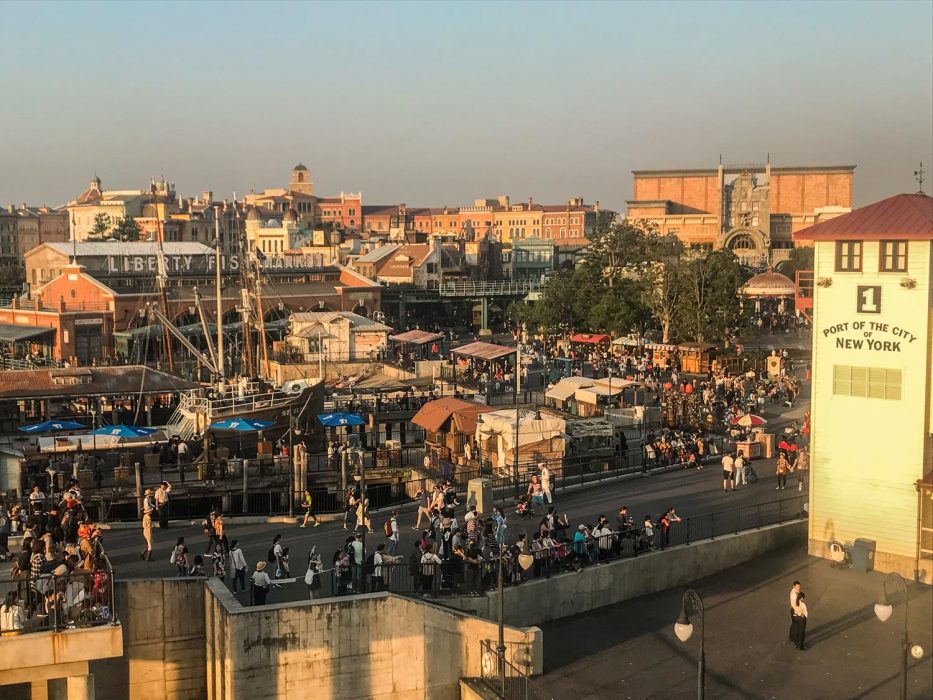 Is Tokyo DisneySea Worth Visiting?
DisneySea is one of our favourite things to do in Tokyo and we highly recommend it, especially if you are a Disney fan.
With excellent rides, impressive theming, and an incredible attention to detail it's a day of pure magical fun.
Are you a Disney fan? You might also enjoy our one-day adult itineraries for Disneyland California and Disneyland Paris and our picks for the best things to do at Disney World Orlando.
More Japan Posts
Our Tokyo Travel Guides
Other Japan Posts
If you enjoyed this post, pin it!