This page contains affiliate links. Please read our disclosure for more info.
Magic Kingdom is the most Disney of the four Walt Disney World parks in Orlando, Florida.
You'll find Cinderella Castle, Mickey Mouse, Disney princesses, and the most nostalgic rides many of us remember from our childhoods.
Magic Kingdom attractions tend to be more gentle than thrilling (although there are a few fun roller coasters including the new TRON ride), and there's plenty to do for both adults and children.
Simon and I loved the park as kids and continue to enjoy it on repeat visits as adults.
In this post, we share our picks for the best rides at Magic Kingdom plus how to skip the lines and other fun things to do for a magical day.
Contents
How to Skip Lines at Magic Kingdom
Disney is notorious for long lines, and Magic Kingdom is one of the most popular Disney parks in the world.
But with these time saving tips we rarely wait more than 15 minutes for any of these Magic Kingdom attractions.
Make a Park Reservation – Reservations are essential in 2023. I recommend booking your Disney tickets and making a park reservation for each day of your trip at least a month in advance. Magic Kingdom is the park that's most likely to book up at busy times. The reservation system will end for most guests from January 9, 2024.
Download My Disney Experience app – To check wait times, make Genie+ selections, order food, and more.
Purchase Genie+ – This paid line skipping service is best value at Magic Kingdom with 23 attractions included in the daily price of $15-35 (depending on demand). It's a confusing system so see our full guide which discusses Is Disney Genie Plus Worth It?
Stay Onsite – If you stay in a Disney resort, you'll be able to enter every park 30 minutes before official park opening. This gives you a great head start.
Arrive Early – Arrive 30 minutes before Early Entry starts as they let people into the park even earlier. You can then wait at the entrance to Tomorrowland or Fantasyland (the only areas open for Early Entry). Even if you don't have Early Entry, arrive 30 minutes before official opening. The first hour of the day is the quietest.
Visit on a Party Day – The park closes early (usually at 6pm) when there are paid events like Halloween and Christmas parties in the evenings. This puts people off so the park is really quiet on those days. Ideally, get a Park Hopper ticket and head to Hollywood Studios or Epcot in the evening, and visit Magic Kingdom on another evening to see the fireworks.
Spend Two Days Here – There are over 40 attractions at Magic Kingdom, so it's best spread over two days if possible, especially if you are visiting with small children.
Most Popular Rides at Magic Kingdom Orlando
The newest and most popular ride at Magic Kingdom is TRON, which opened in April 2023, but it has no standby line and can only be ridden by virtual queue (see below).
These are the Magic Kingdom rides that have the longest lines with average wait times over the year:
Seven Dwarfs Mine Train (79 minutes)
Peter Pan's Flight (67 minutes)
Jungle Cruise (61 minutes)
Space Mountain (49 minutes)
Haunted Mansion (43 minutes)
Big Thunder Mountain Railroad (41 minutes)
Interestingly (and controversially to some), none of the top three busiest rides are our favourites. We discuss them more below.
Best Rides at Magic Kingdom
These are what we think are the absolute best Magic Kingdom rides that you should not miss.
As adults without kids we have a different perspective from families, so if you are travelling with children, you should also check out the best Fantasyland rides below.
One major ride that's missing here is Splash Mountain. This log flume ride was our favourite attraction in the park, but it closed in January 2023.
It will reopen in late 2024 as Tiana's Bayou Adventure, based on The Princess and The Frog movie, and I'm sure it will again rise to the top of this Disney Magic Kingdom rides list.
1) TRON Lightcycle Run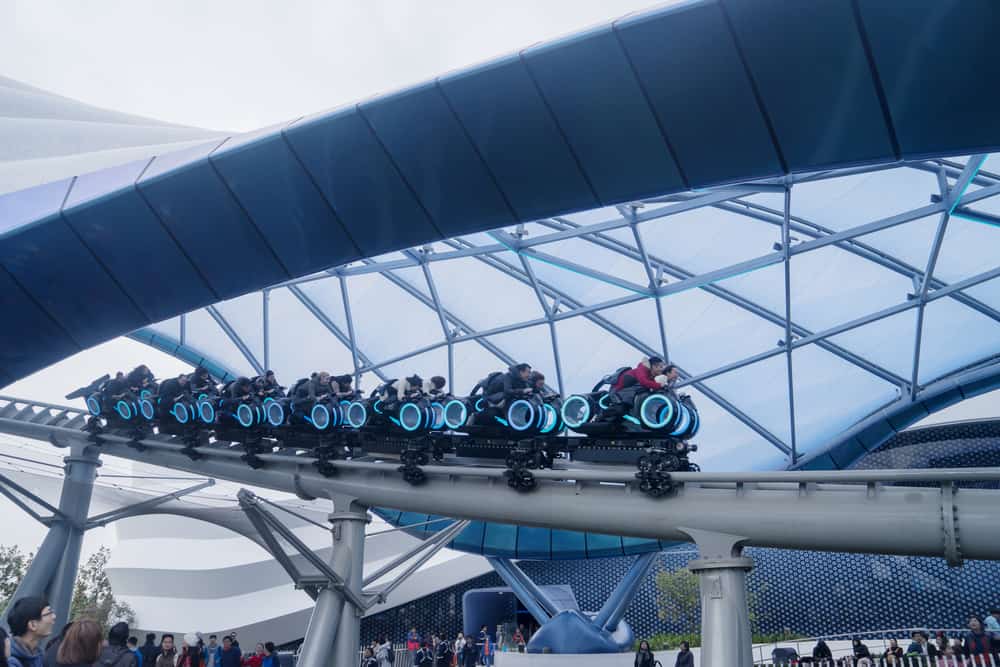 Type of Ride: Thrill Ride with Big Drops
Minimum Height: 48 inches (122cm)
Lightning Lane: Individual ($20)
Location: Tomorrowland
TRON Lightcycle Run is the park's newest ride and for many it's already one of the best things to do at Magic Kingdom. We haven't had a chance to ride it yet, but we can't wait!
TRON is a thrilling rollercoaster where you ride a motorbike around a high speed track. It's based on the Disney sci-fi film TRON: Legacy and is Disney's fastest coaster.
There's an outdoor section with amazing views of the park before you enter a huge dark warehouse to race other teams across the Grid through eight Energy Gates.
TRON can only be ridden by joining a free virtual queue in the Disney app at 7am and 1pm (plus 6pm on select Evening Hours days for Deluxe resort guests).
The queue sells out in seconds so you really need to be quick. See our guide to how to use Genie+ for speed booking tips. It's usually easier to get a spot in the 1pm queue if you miss out in the morning.
You'll be given a boarding group and will be notified via the app when it's time to ride. You'll then have one hour to get to TRON.
If you don't manage to secure a spot, you could pay for an Individual Lightning Lane, but due to demand for the new ride these are selling out fast.
Lockers are required for bags and loose items, but they are free and you pass them in the queue.
Note that larger guests may have issues fitting in the bike-style Lightcycles, but there are standard roller coaster cars (with lap bars) for those who need or prefer them. There's a test seat outside the ride so you can see if it works for you.
2) Space Mountain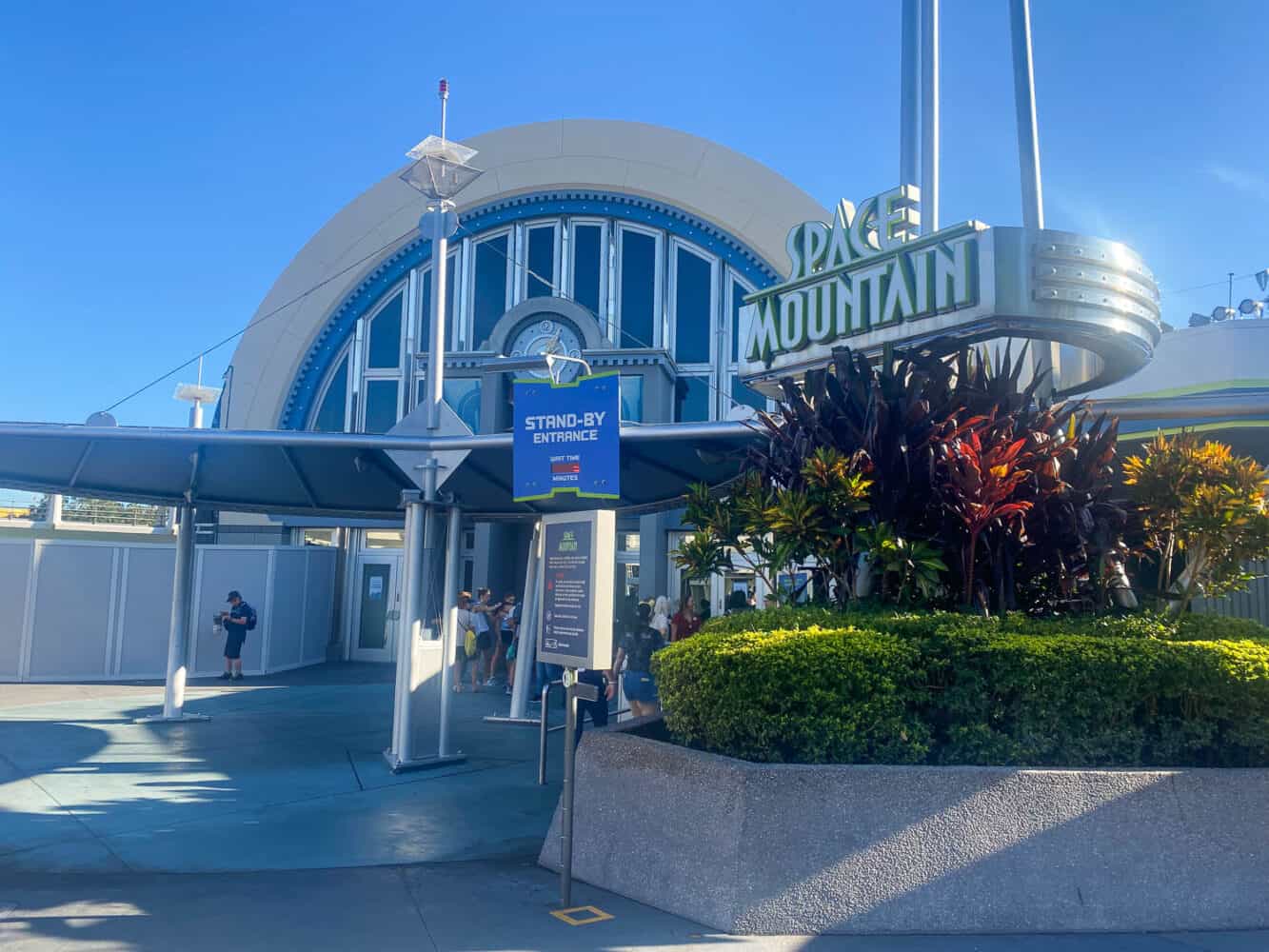 Type of Ride: Dark Thrill Ride with Big Drops
Minimum Height: 44 inches (112cm)
Lightning Lane: Genie+
Location: Tomorrowland
Before TRON opened, Space Mountain was the most thrilling ride in the park. While this high-speed indoor roller coaster in the dark feels rather dated these days, it's still a Magic Kingdom must do for us.
We love speeding in a rocket through outer space, hitting unexpected turns and plummeting down unseen drops. It's pure fun and Simon will ride it again and again.
Like all Disney World Magic Kingdom rides, it doesn't go upside down.
Seating is in a single row with three people per car and two cars joined together to make a rocket train. If you have a choice on a quiet day, riding at the front is the most fun.
Strangely, on our last visit, we found Space Mountain jerky in the mornings but smoother and faster as the day progresses.
We usually ride it first thing, but wait times tend to drop after Early Entry (when only Fantasyland and Tomorrowland are open). The end of the day can also be quiet. Otherwise, use Genie+.
The ride is inside a huge futuristic structure, and if you do have to wait, there are interactive games on the Play Disney Parks app to keep you occupied. When it's quiet, the walk to the start is the longest part of the experience.
If you enjoy roller coasters, you'll definitely want to ride Space Mountain.
3) Big Thunder Mountain Railroad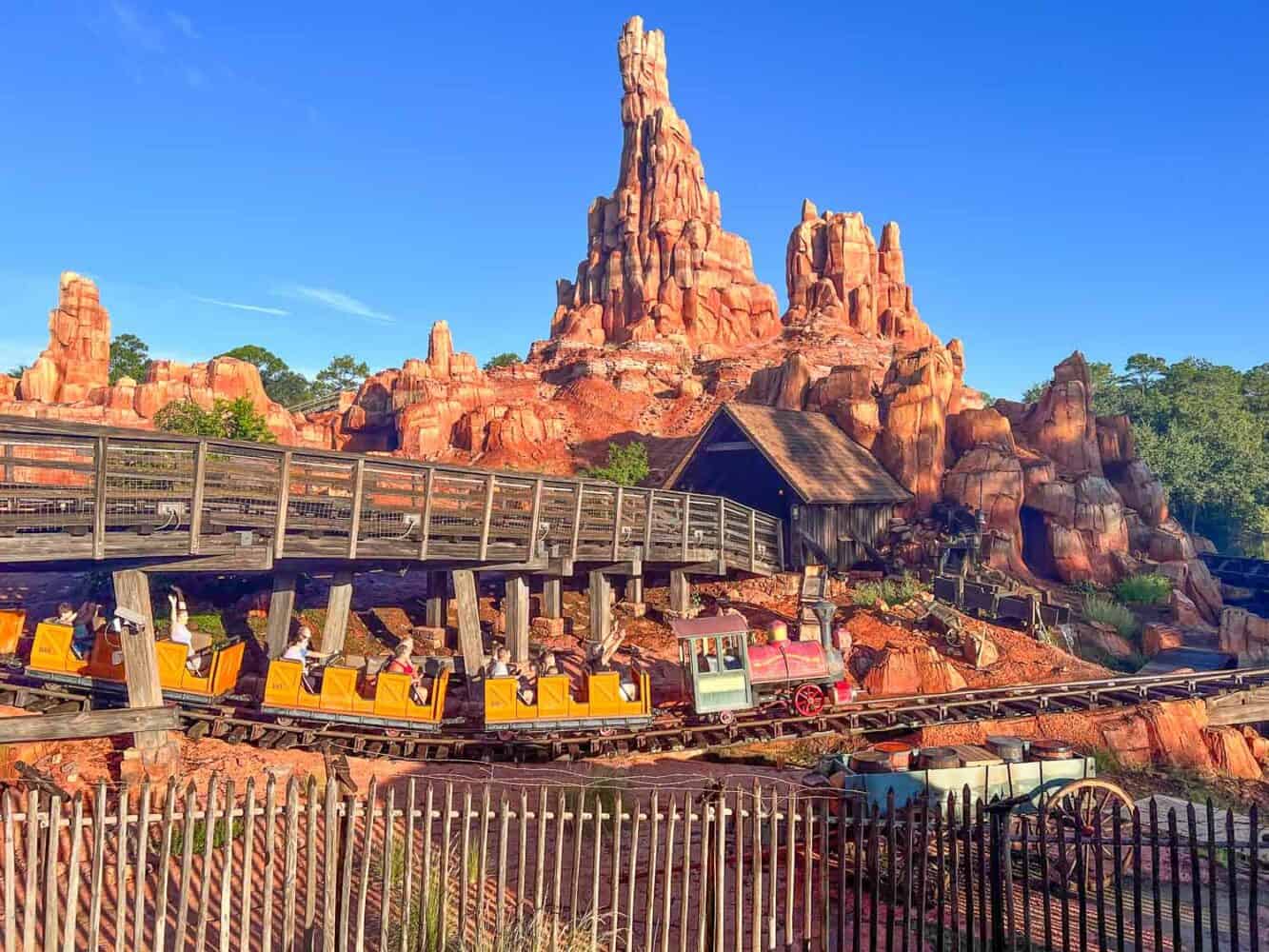 Type of Ride: Thrill Ride with Small Drops
Minimum Height: 40 inches (102cm)
Lightning Lane: Genie+
Location: Frontierland
Another of Magic Kingdom's mountain range, Big Thunder Mountain Railroad is a gentler roller coaster than Space Mountain but still one of the top rides at Magic Kingdom.
For us, the highlight is the Wild West themeing from the Gold Rush era. Your runaway mine train speeds through red canyons, dips into haunted gold mines, and rushes past the abandoned town of Tumbleweed. There are so many details to enjoy on the way.
We also love the views of the park from this mostly outdoor ride—Cinderella Castle looks especially good at night. It would be amazing during the fireworks.
As coasters go, this is a fairly tame one, but it's fast and there are some fun turns and small drops. It feels a bit jerky, especially compared to the newer Seven Dwarfs Mine Train.
This is another popular Magic Kingdom ride best ridden at the beginning or end of the day or with Genie+.
4) Pirates of the Caribbean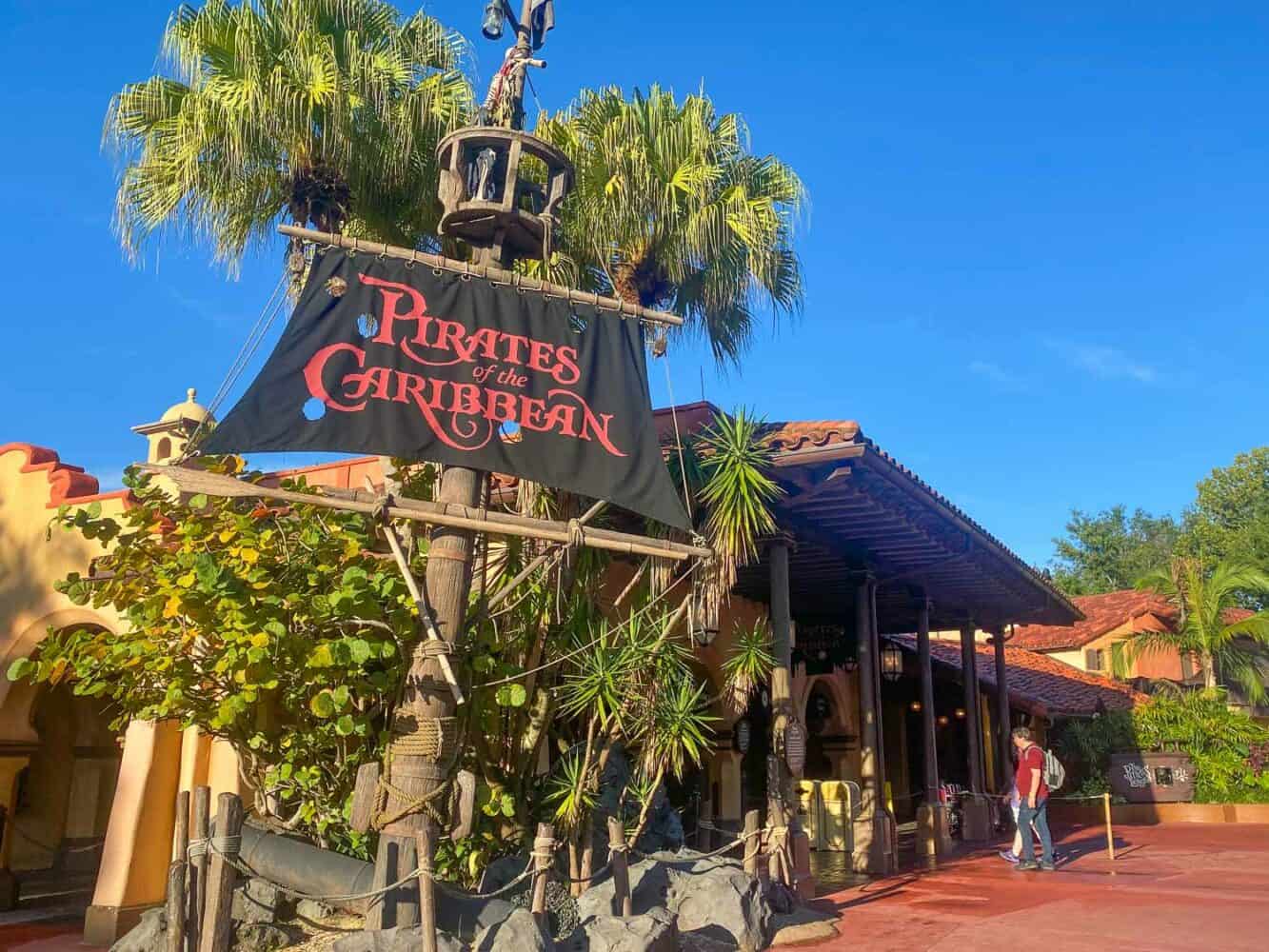 Type of Ride: Dark Slow Ride with Small Drops
Minimum Height: None
Lightning Lane: Genie+
Location: Adventureland
Magic Kingdom excels at dark rides that take you on gentle journeys into other worlds. These are suitable for all the family so there are plenty of things to do at Magic Kingdom even if you don't like roller coasters.
Pirates of the Caribbean is our favourite dark ride. This gentle boat trip takes you through scenes of a 17th century pirate raid from the bombardment of a fortress to debauchery after the victory.
There are many details to enjoy on the way and you'll find yourself humming "Yo ho, yo ho, a pirate's life for me" for the rest of the day.
This classic ride pre-dates the movies (which were inspired by the ride), but you can now see an animatronic figure of Captain Jack Sparrow.
There is a small waterfall drop but mostly this is a very relaxed ride suitable for all. You could get splashed but you won't get soaked.
Wait times fluctuate for Pirates of the Caribbean but are rarely long, so just wait until a quieter time or use Genie+ (but it isn't a priority).
5) Haunted Mansion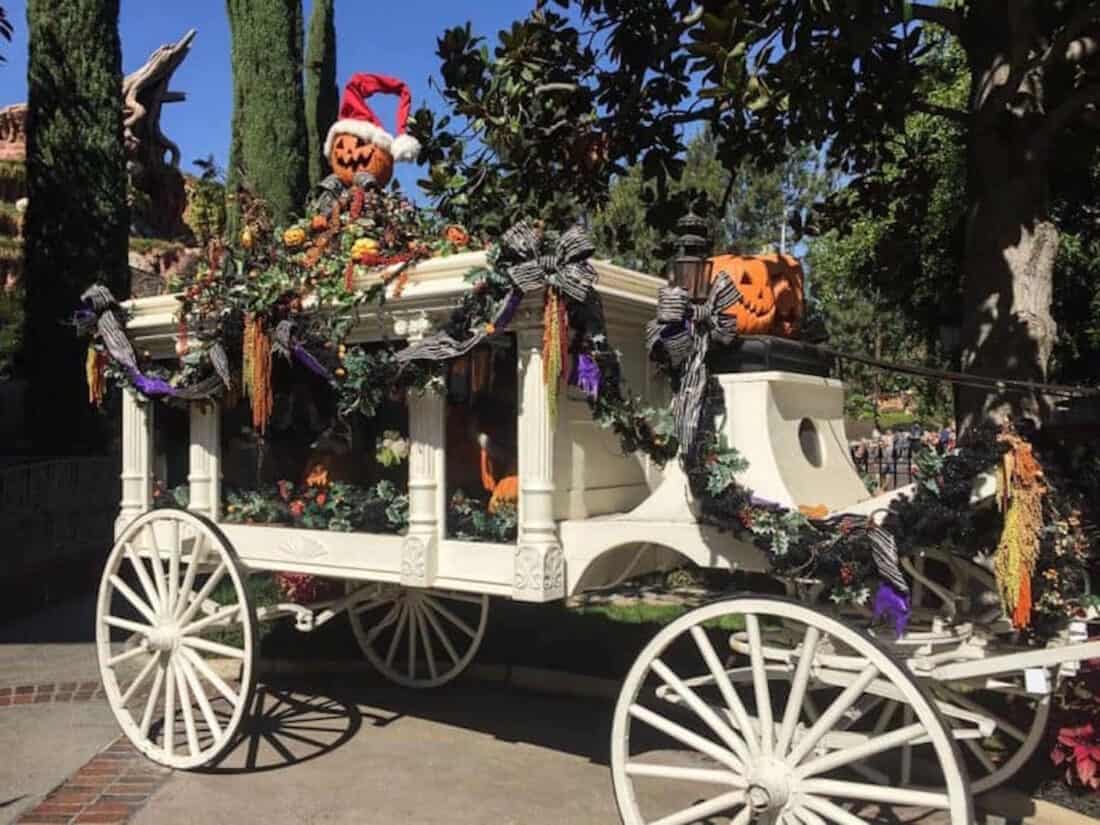 Type of Ride: Dark Slow Ride
Minimum Height: None
Lightning Lane: Genie+
Location: Liberty Square
Another classic dark ride at Magic Kingdom (and for many, their favourite) is Haunted Mansion.
Board a Doom Buggy for a slow ride through a labyrinth of haunted rooms full of ghosts and ghouls and otherworldly surprises.
While small children might find it scary, there's no gore and the ghosts are friendly. We find it more playful than frightening and love all the special effects.
Lines fluctuate but you shouldn't have to wait too long if you wait for a quieter time. Halloween season is the busiest so ride it earlier then.
A slightly longer wait here isn't a hardship as the line features interactive elements like a musical crypt.
6) Buzz Lightyear's Space Ranger Spin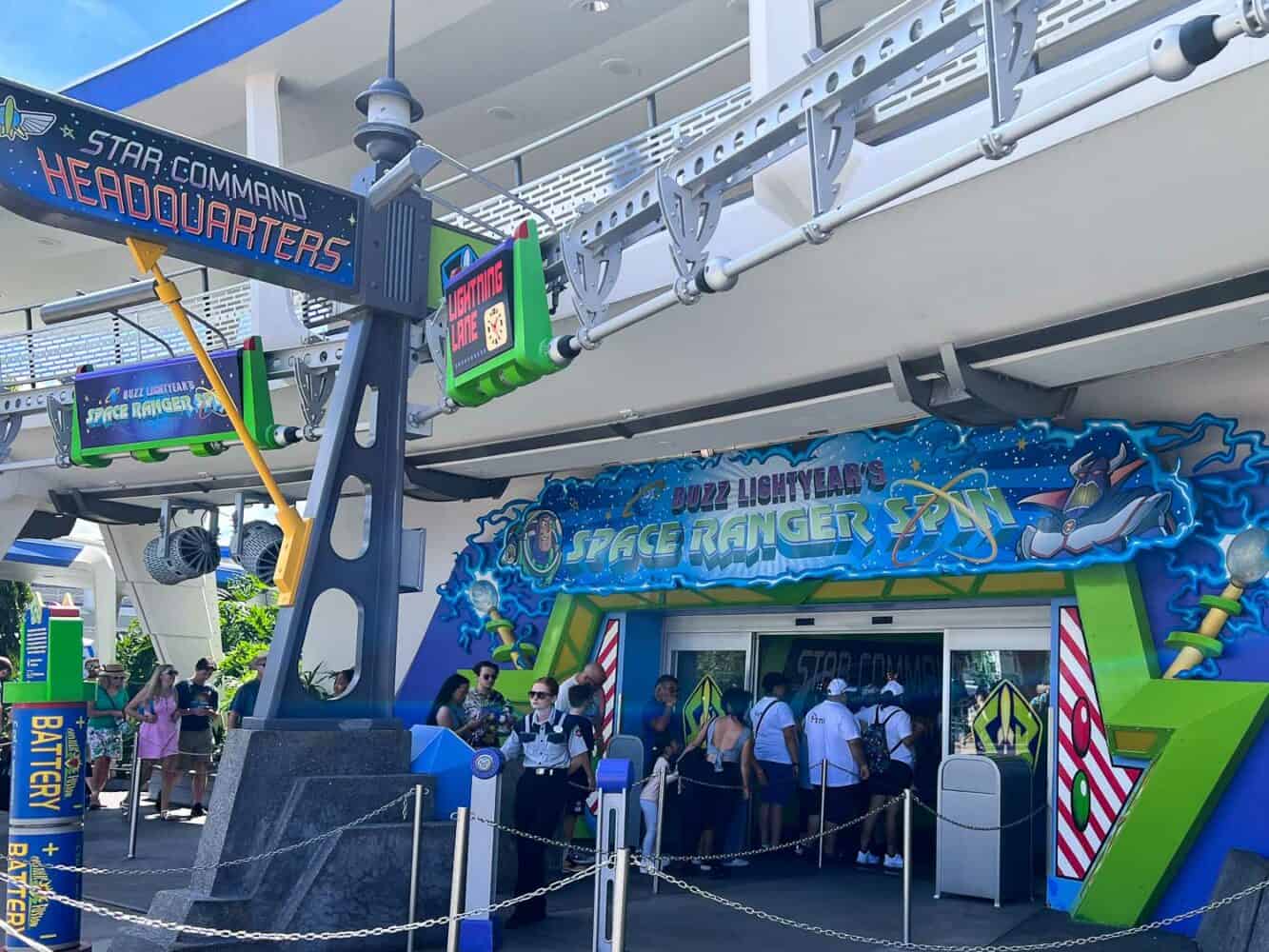 Type of Ride: Spinning Slow Ride
Minimum Height: None
Lightning Lane: Genie+
Location: Tomorrowland
Buzz Lightyear's Space Ranger Spin is an interactive ride that we always enjoy.
Seated in spinning cars armed with laser cannons, you ride past Toy Story scenes aiming your laser at the glowing Z targets.
The more you hit, the more points you gain. The competitive quality makes it immensely re-rideable.
Buzz Lightyear has more dated tech than Toy Story Mania at Hollywood Studios, and it's harder to aim here, but we still think it's worth doing if the lines aren't too long.
7) Jungle Cruise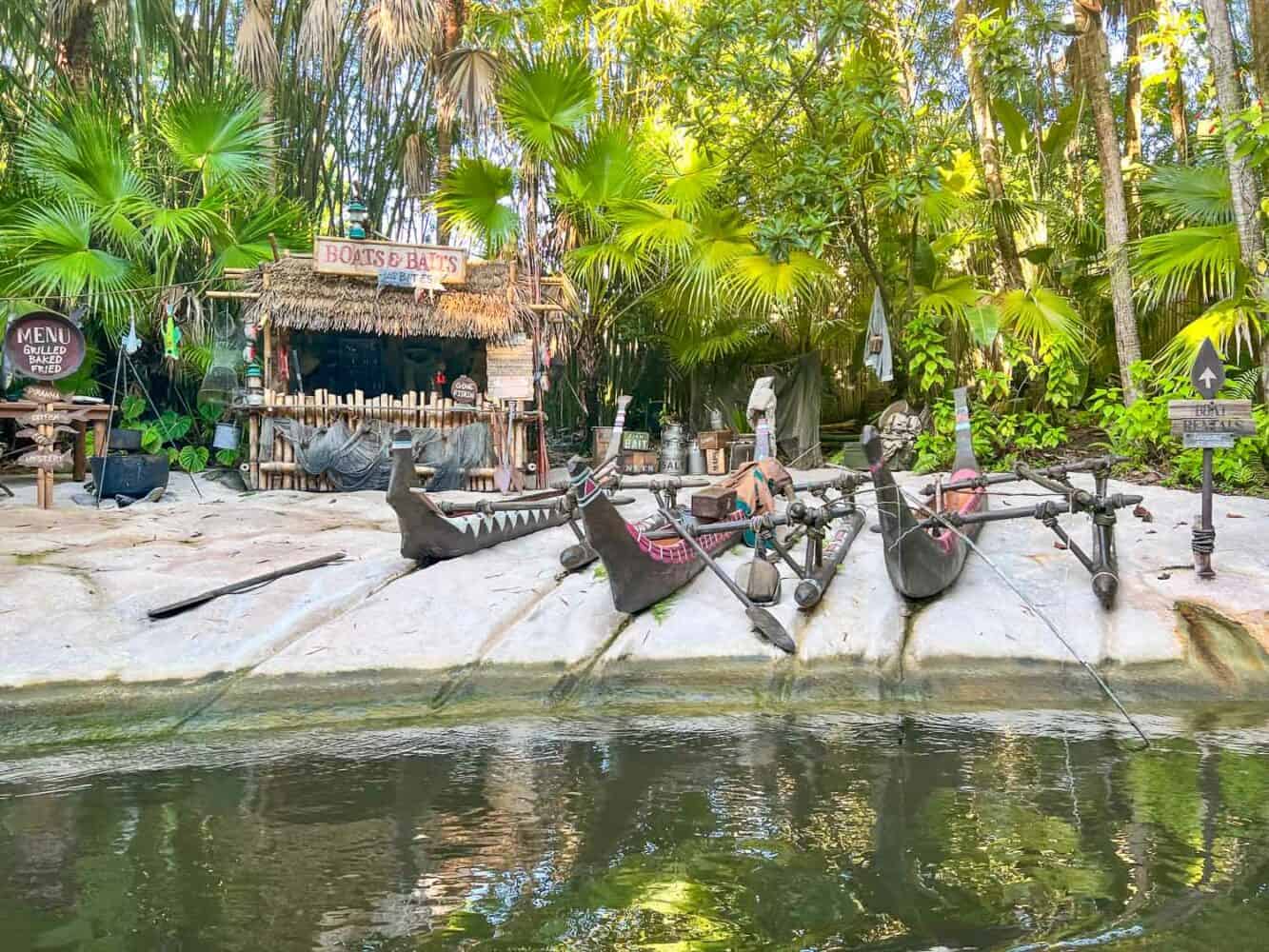 Type of Ride: Slow Ride
Minimum Height: None
Lightning Lane: Genie+
Location: Adventureland
Jungle Cruise is different from other Magic Kingdom rides. Yes, the outdoor boat trip takes you past animatronic characters and other interesting scenes like the other slow rides, but here you get commentary from your tour guide so every ride is unique.
Expect lots of dad jokes and puns as you sail past gorillas in Africa and elephants in Asia.
Your enjoyment of the ride will largely depend on how funny you find it, although it's still a relaxing river journey either way with lots to notice.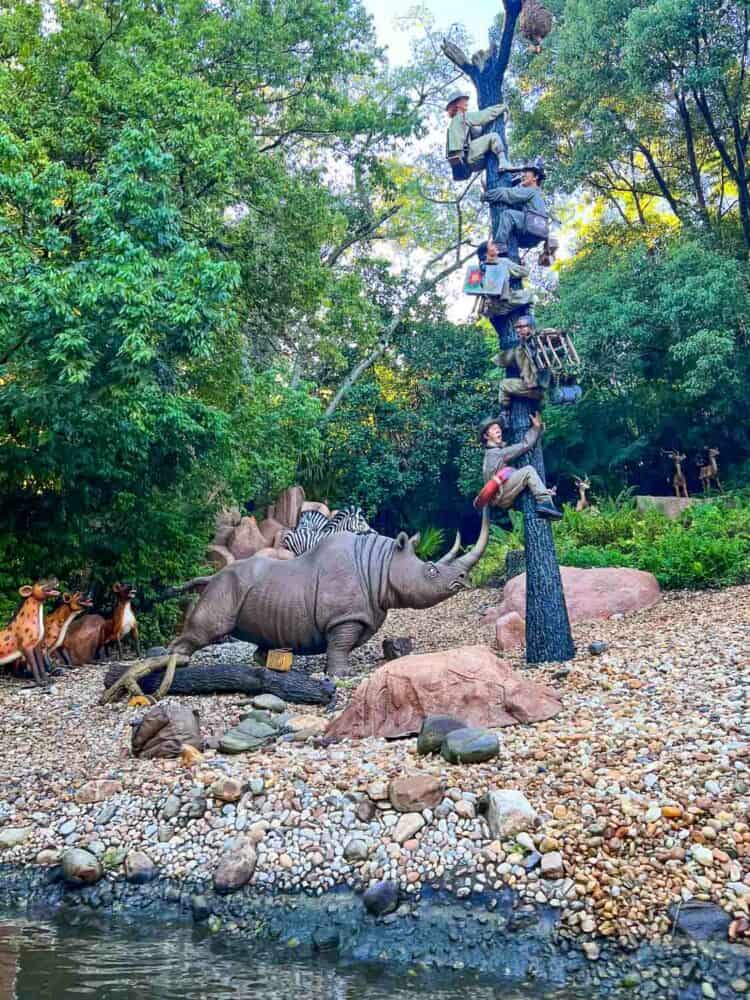 While it's not our favourite Magic Kingdom ride, we do think it's worth doing if waits aren't too long. This is the best Genie+ to select first as it often sells out.
You might also want to ride it at night for a different experience.
Top Fantasyland Rides at Magic Kingdom
Fantasyland is the area of Magic Kingdom where you'll find the most iconic Disney characters and kid-friendly attractions.
These are our picks for the best Fantasyland rides, but there are plenty more including a carrousel, teacups, spinning rides like Dumbo, and of course, the iconic "it's a small world" with its ride song you won't be able to forget.
If you are visiting with small children, you'll likely add more to your Magic Kingdom must do list than us.
8) Seven Dwarfs Mine Train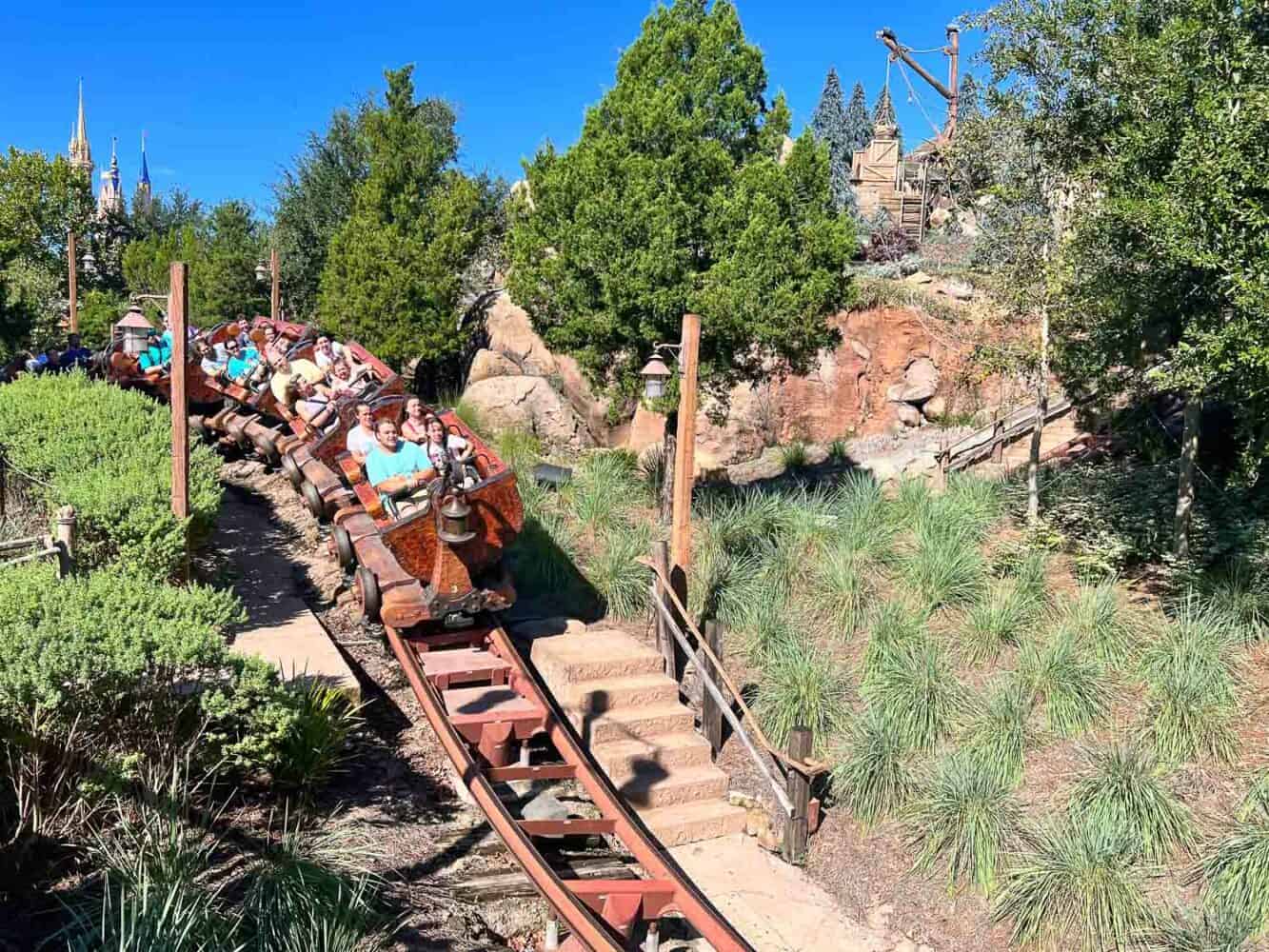 Type of Ride: Thrill Ride with Small Drops
Minimum Height: 38 inches (97cm)
Lightning Lane: Individual ($10-12)
Location: Fantasyland
Any other best Magic Kingdom rides list will have Seven Dwarfs Mine Train near the top. It's always the ride with the longest lines in the park and much beloved by many.
Honestly, we don't quite get the fuss. If the line was short, we'd ride it every time we visited the park, but getting on involves planning, a long wait, or paying for an Individual Lightning Lane, and it doesn't feel worth the effort for us.
On the plus side, it's the smoothest roller coaster in Magic Kingdom—similar to Thunder Mountain but much less jerky.
The design is great from fun interactive elements in the line like a musical fountain to the excellent animatronics on the dark ride section where you see the dwarfs mining jewels.
The outdoor coaster section is fun as you ride in mine carts with a cool tilting design, but it's rather tame. It's the ideal first roller coaster, though, which explains its popularity in Disney's most child-friendly park.
If you do want to ride Mine Train without long waits, head there first thing in Early Entry (but everyone else will be doing the same) or ride at the very end of the day.
9) Peter Pan's Flight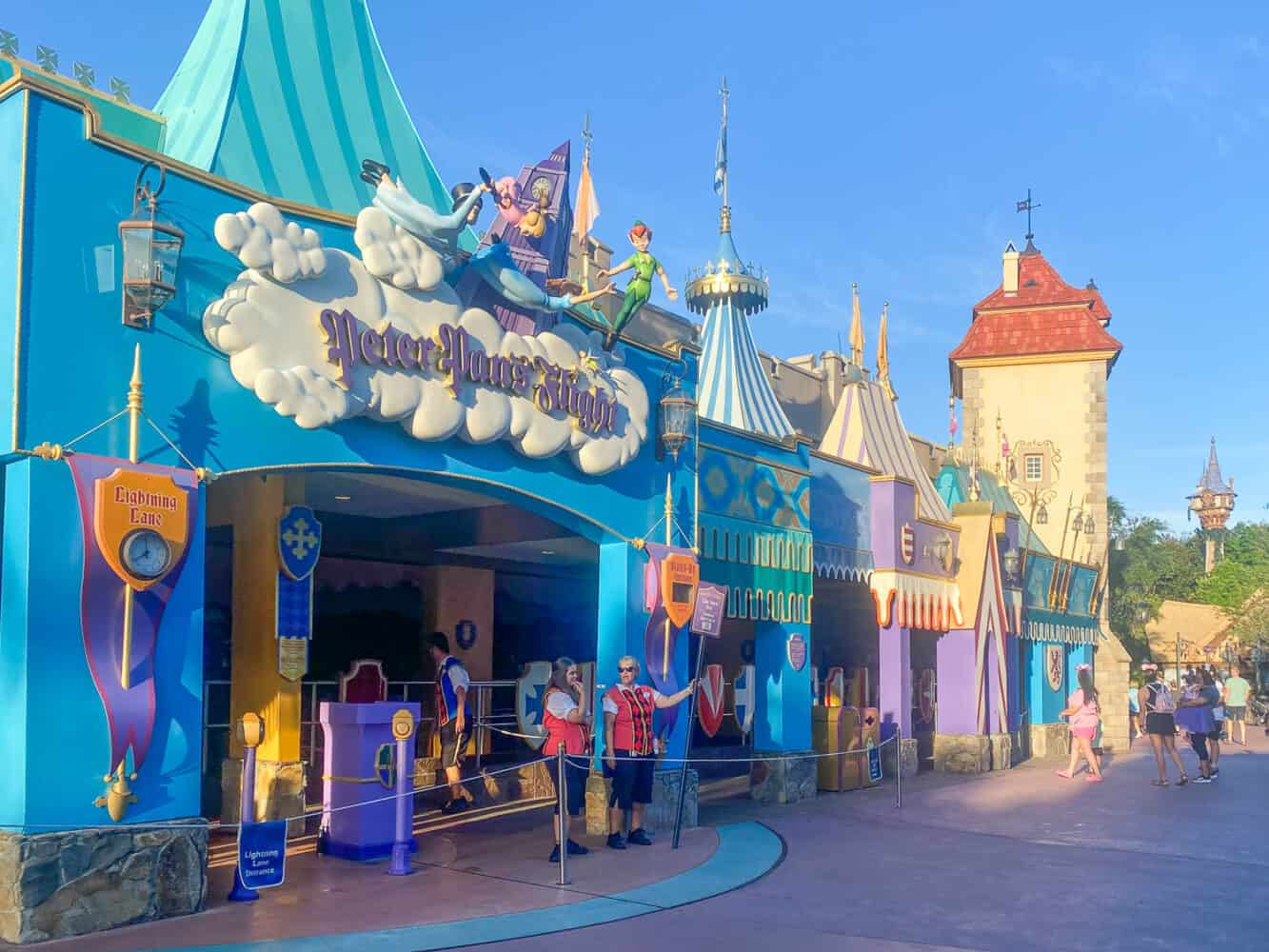 Type of Ride: Dark Slow Ride with Small Drops
Minimum Height: None
Lightning Lane: Genie+
Location: Fantasyland
As with Seven Dwarfs Mine Train, Peter Pan's Flight is one of the most popular Magic Kingdom rides that we don't think is worth the long waits.
This gentle dark ride is certainly cute as you fly in a magical pirate ship over scenes from the stories. See Big Ben in London lit up at night then venture to Never Land and watch Peter Pan fighting Captain Hook.
While it may be charming, the lines are almost always unreasonably long. If you are a Peter Pan fan, select this as one of your first Genie+ attractions to avoid a long wait.
10) The Many Adventures of Winnie the Pooh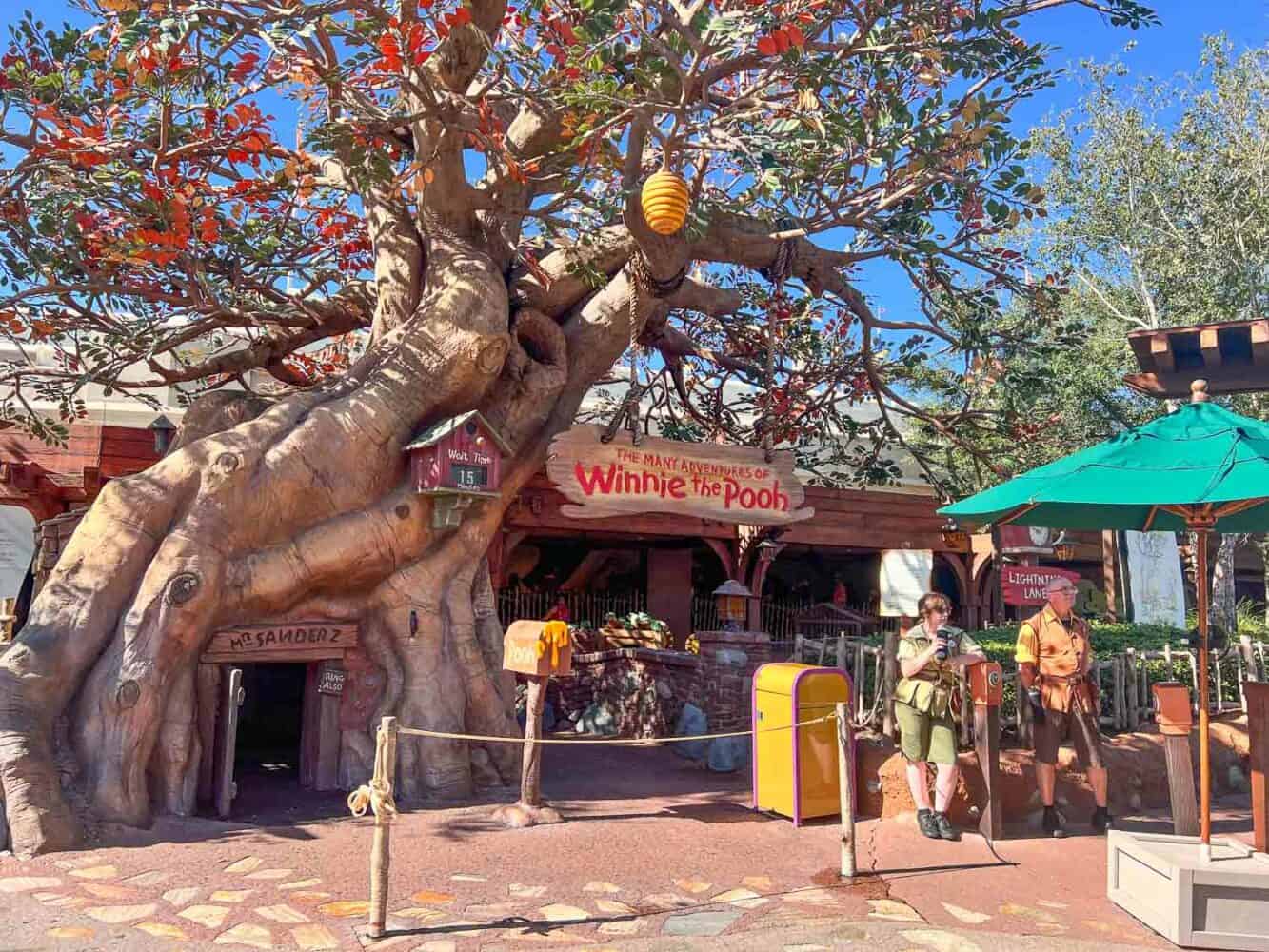 Type of Ride: Dark Slow Ride
Minimum Height: None
Lightning Lane: Genie+
Location: Fantasyland
Winnie the Pooh is another cute dark ride in a hunny pot through scenes from the classic tales.
If wait times are short (or you can score a Genie+ later in the day), it's worth riding, but I wouldn't queue for long.
Best Attractions at Magic Kingdom with Low Wait Times
It's the afternoon at Magic Kingdom—it's hot, you're tired, and wait lines are long on all the above rides. What do you do?
Ride one of these low-key Magic Kingdom attractions that rarely have long waits. Many of them are indoors and allow up to 20 minutes of blissfully air-conditioned rest time.
Even if you don't enjoy the attraction (although we love them), you'll appreciate the break, so make sure to add at least a few of these to your Magic Kingdom itinerary for a change of pace.
None of these have height restrictions or require Genie+.
11) Tomorrowland Transit Authority PeopleMover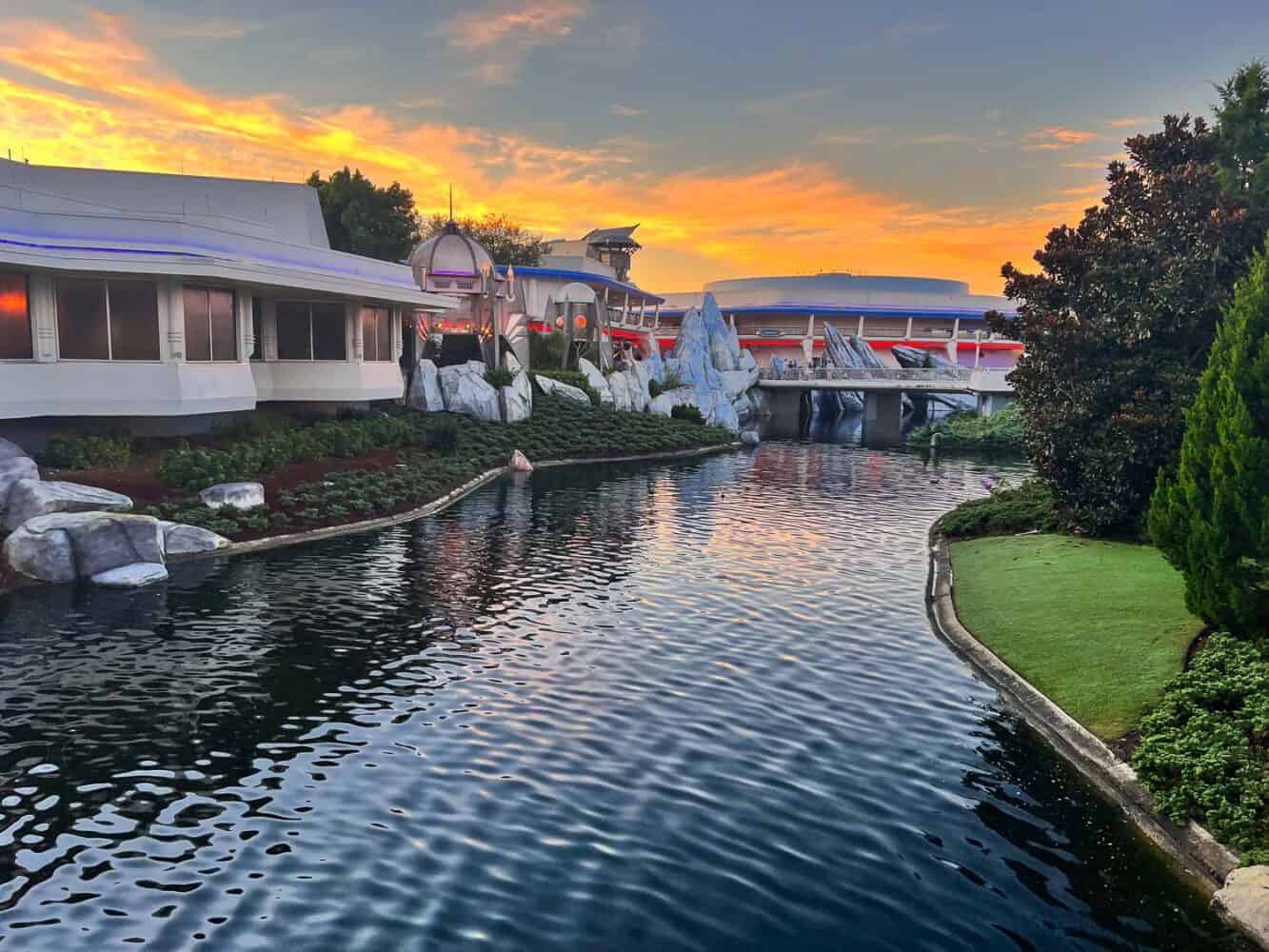 Tomorrowland Transit Authority PeopleMover ranks as one of the best attractions at Magic Kingdom for many hardcore Disney fans, but it flies under the radar for most first timers.
It's certainly not something you want to ride in the all-important first few hours of park opening, but it does have a lot of charm and is wonderfully easy to ride (if lines happen to be long, wait for them to go down).
This slow-moving elevated tram ride takes you on a 10-minute journey through Tomorrowland including behind the scenes at attractions like Space Mountain.
The views of the park are lovely including Cinderella Castle and Tomorrowland Speedway.
Our favourite time to ride the relaxing PeopleMover is at sunset, but it's also great at night when the park is lit up.
12) Tom Sawyer Island
Back when we visited Disney on a tight budget, we'd bring a packed lunch into the park and picnic on Tom Sawyer Island.
The island is reached by log rafts and feels like a wonderful escape from the busy park. You can wander down dirt trails, cross suspension bridges, explore forts and caves, and take a break on a bench to enjoy the view.
While it's a fun playground for kids, it's a nice change of pace for adults too.
The rafts stop running at dusk so this is best visited in the afternoon.
13) Swiss Family Treehouse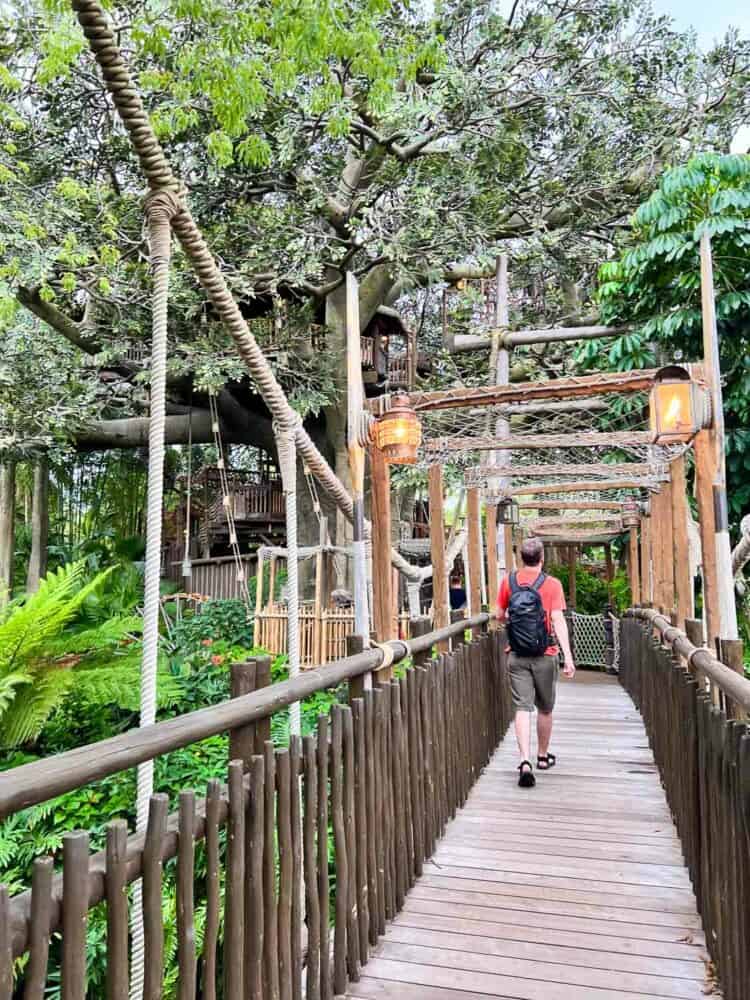 Swiss Family Treehouse is another unique Magic Kingdom attraction that never has a wait.
On this self-guided walk-though, you climb up the 116 stairs of the Robinson treehouse, home to a family who were shipwrecked on a deserted island.
You can explore the various rooms where they lived and the ingenious methods they created to survive—like a bucket pulley system to bring water to the house.
We love exploring all the details and enjoying the park views from the six-story-high summit.
14) Country Bear Jamboree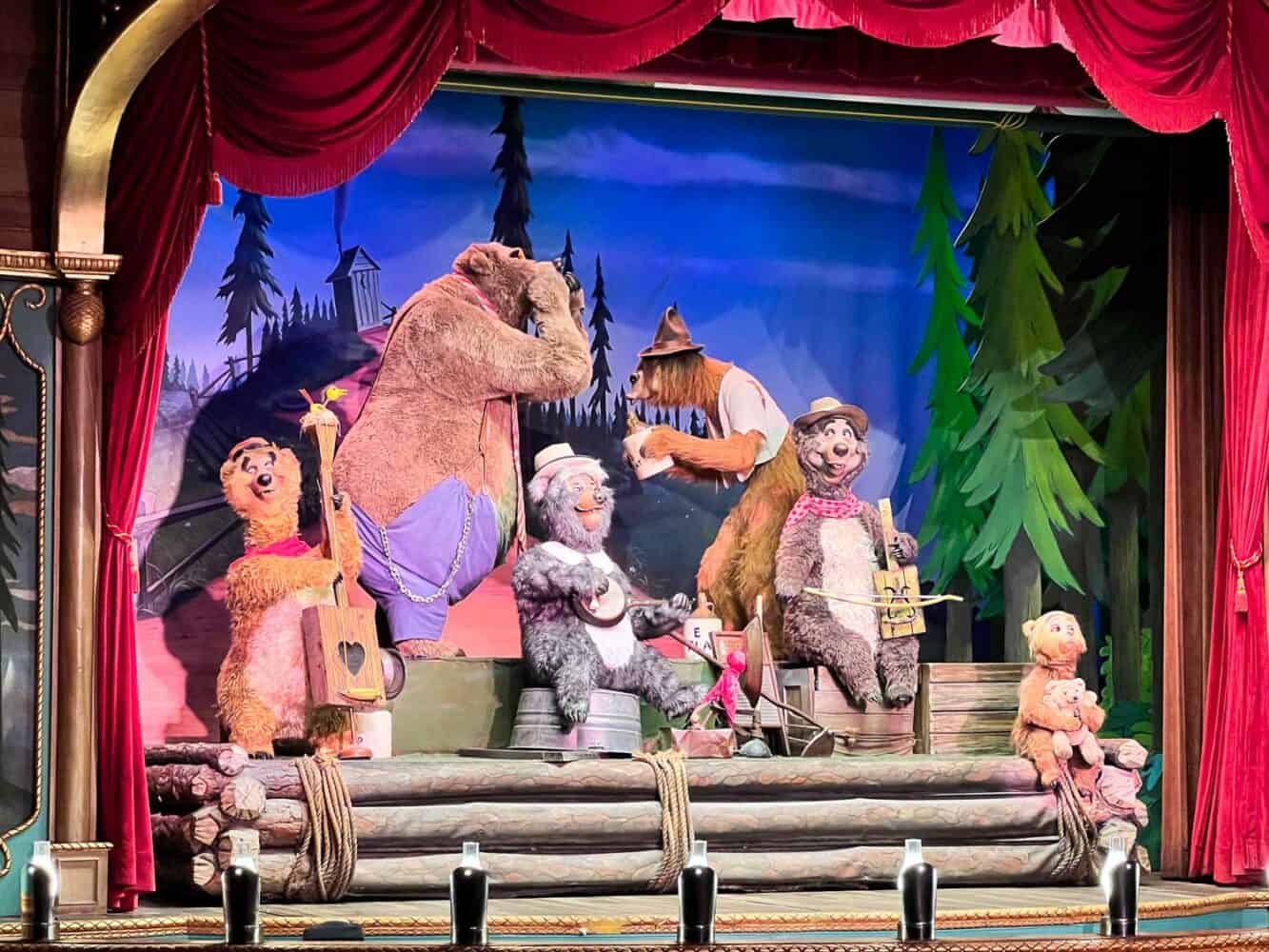 Our favourite break at Magic Kingdom is Country Bear Jamboree. And not just for the air conditioning—this 10-minute musical show is so fun!
An array of animatronic bears perform foot-stomping country songs that are hilariously racy ("the guys that turn me on, turn me down") and surprisingly dark in places.
It's an easy crowd-pleaser for all ages.
15) The Hall of Presidents
The Hall of Presidents makes an even better break as the show is 20 minutes long, the theatre seats are comfy, and of course, there's air con.
This is more serious than most Disney shows with an interesting look back through the US presidents with each represented by life-size animatronics.
The waiting area has an exhibition of presidential portraits and memorabilia.
Definitely one for patriots, but as foreigners we enjoy it too.
16) Mickey's PhilharMagic
Mickey's PhilharMagic is another air conditioned show that's ideal for the afternoons.
Donald Duck stars in this zany 3D musical show on a huge screen that features classic Disney songs like "Be Our Guest" and "I Just Can't Wait To Be King".
If you are visiting with kids, this should take priority over the shows above, but it's fun for all.
17) Liberty Square Riverboat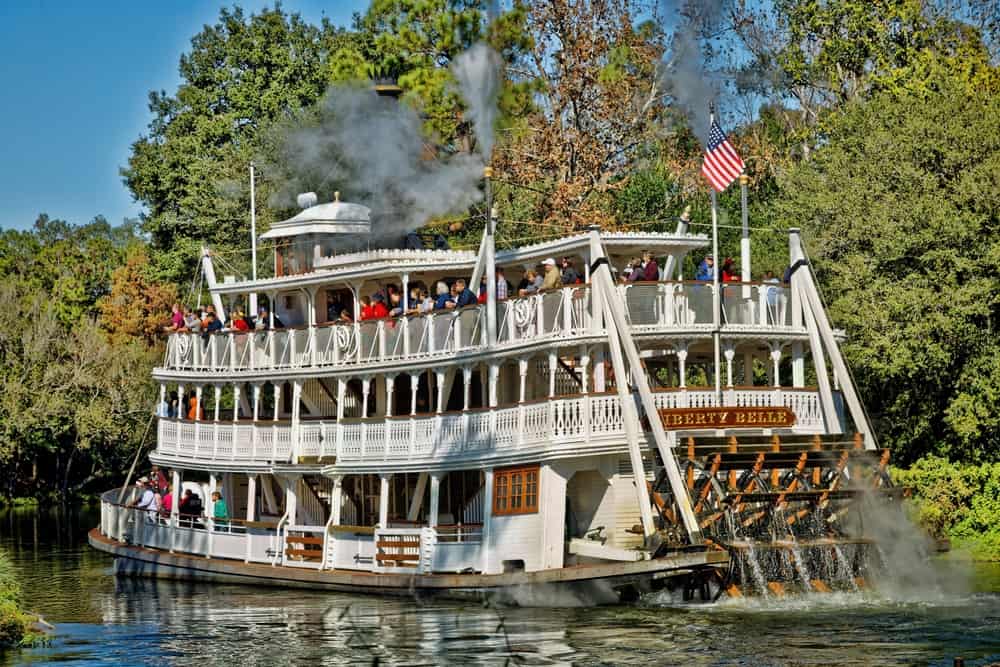 For a relaxing ride around Tom Sawyer Island, hop aboard the Liberty Square Riverboat, a steam-powered paddle wheeler.
On the 17-minute trip you can enjoy unique views of rides like Thunder Mountain as well as sights you can't see any other way.
This is another one that's great at sunset but you can ride at any time of day when you need a change of pace.
18) Walt Disney World Railroad
The Walt Disney World Railroad is the only Magic Kingdom attraction that can be used as transport around the park as there are three stops (Main Street, Fantasyland, and Frontierland) where you can get on and off.
We rarely use it like this, though—we prefer to enjoy the whole 20-minute loop around the park. As well as an enjoyable break, the vintage narrow-gauge steam train gives you an interesting perspective on the park.
Lines can occasionally be long, so wait until they go down to ride.
19) Walt Disney's Enchanted Tiki Room
The Tiki Room feels like classic Disney and makes a great break from the heat.
The lively show features animatronic birds dangling from the ceiling singing the horribly catchy tune "The Tiki Tiki Tiki Room".
20) Walt Disney's Carousel of Progress
The Carousel of Progress is a kind of hokey moving show. Your theatre seating moves to various scenes of an American family throughout the 20th century showing how their homes and gadgets change over the years.
It's an excellent break as you never have to wait long, it's 20 minutes long, and the theatre is comfortable and cool.
Walt Disney himself conceived the show for New York World's Fair in 1964-65.
Other Top Things to Do at Magic Kingdom
Take a Photo at Cinderella Castle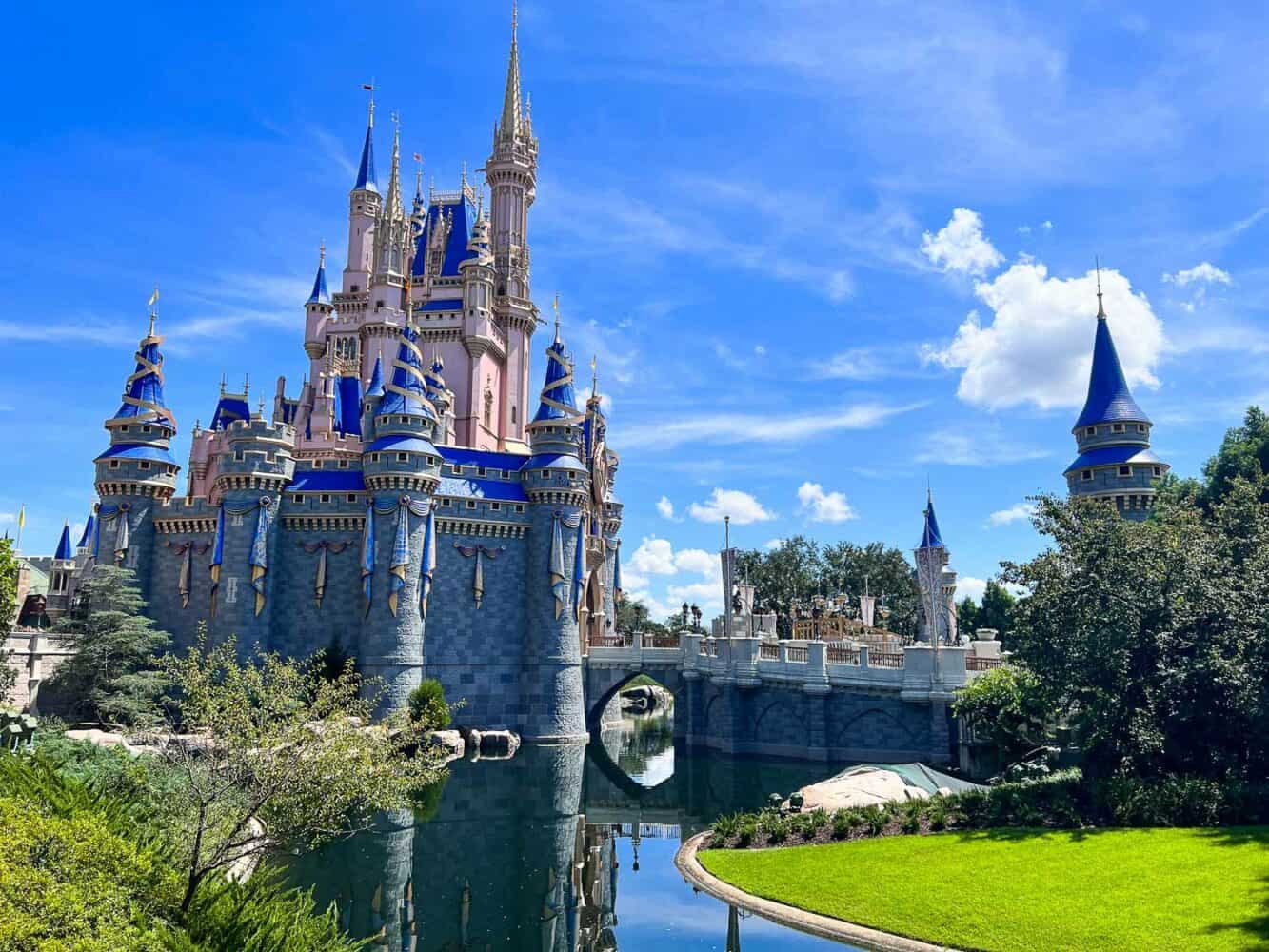 There's no more iconic image of Disney than Cinderella Castle. You'll see it as soon as you arrive in the park and walk down Main Street towards it.
When the park first opens, especially in Early Entry, is the best time to take a selfie without the crowds.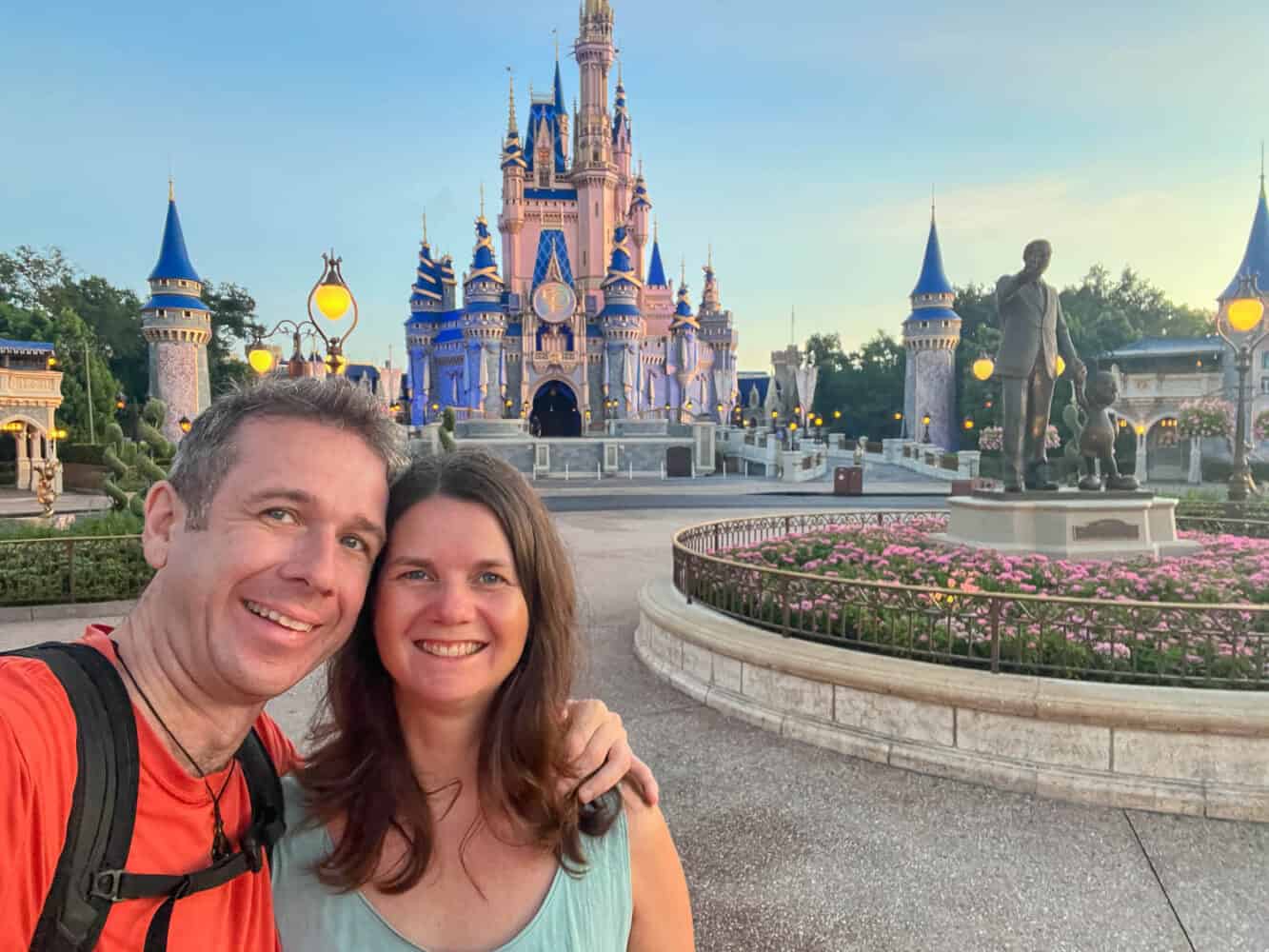 Admire the Fireworks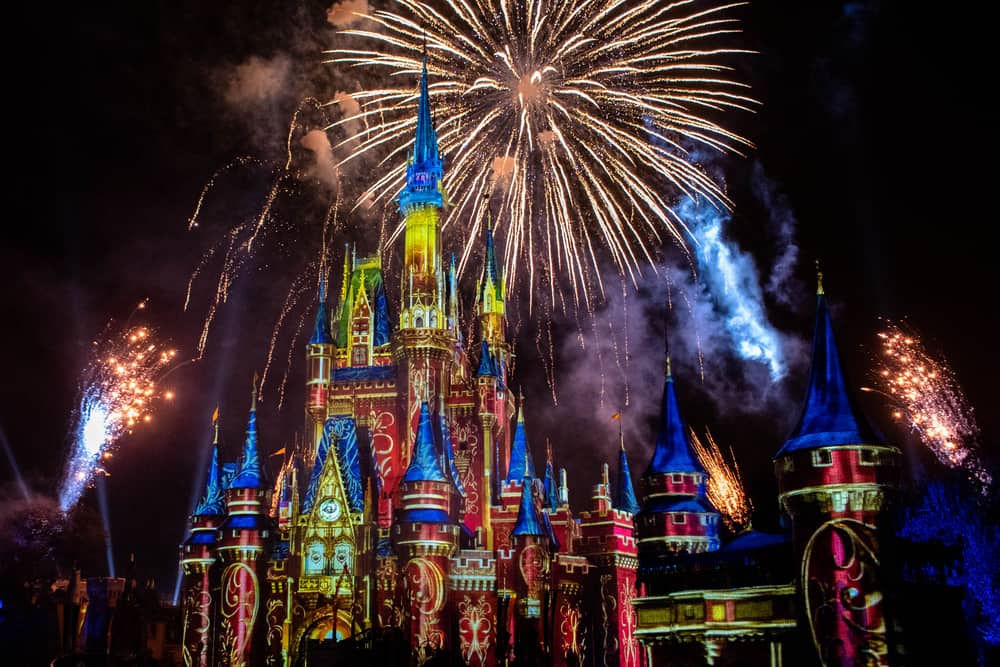 The classic way to end a day at Magic Kingdom is watching the fireworks.
Happily Ever After is the current evening show and features fireworks, lasers, Disney songs, and projections that transform the castle and Main Street.
It lasts 18 minutes and you'll want to secure a good spot early for the perfect view in front of Cinderella Castle. Check the My Disney Experience app for show times.
Snack on Tasty Treats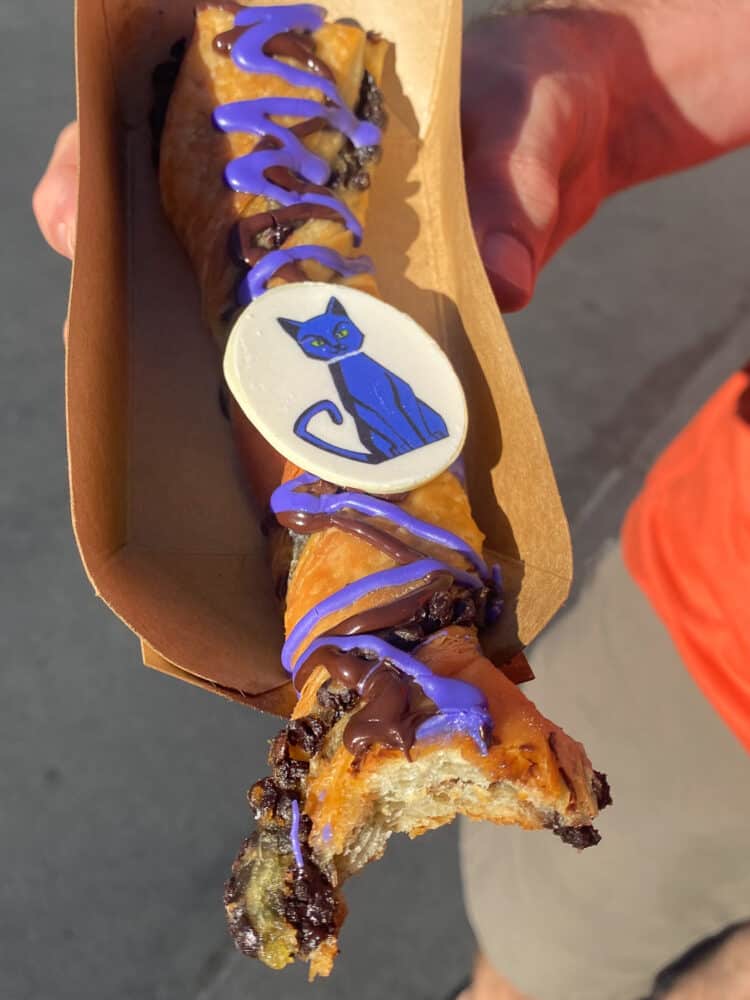 Dole Whip is the most famous Magic Kingdom snack and perfect for a hot afternoon. You'll find this pineapple soft serve ice cream at the Aloha Isle stand in Adventureland.
Our favourite sweet treat is a Binx Pastry Tail at the Cheshire Cafe kiosk in Fantasyland. This long flaky pastry is drizzled with chocolate sauce and decorated with a white chocolate button Binx. It's both cute and delicious.
Sadly, it's only available during Halloween season, but the rest of the year you can get a Cheshire Cat Tail, which is similar but lacks the button.
We're also partial to a Mickey cupcake from the old-fashioned candy store, Main Street Confectionery.
Eat at Skipper Canteen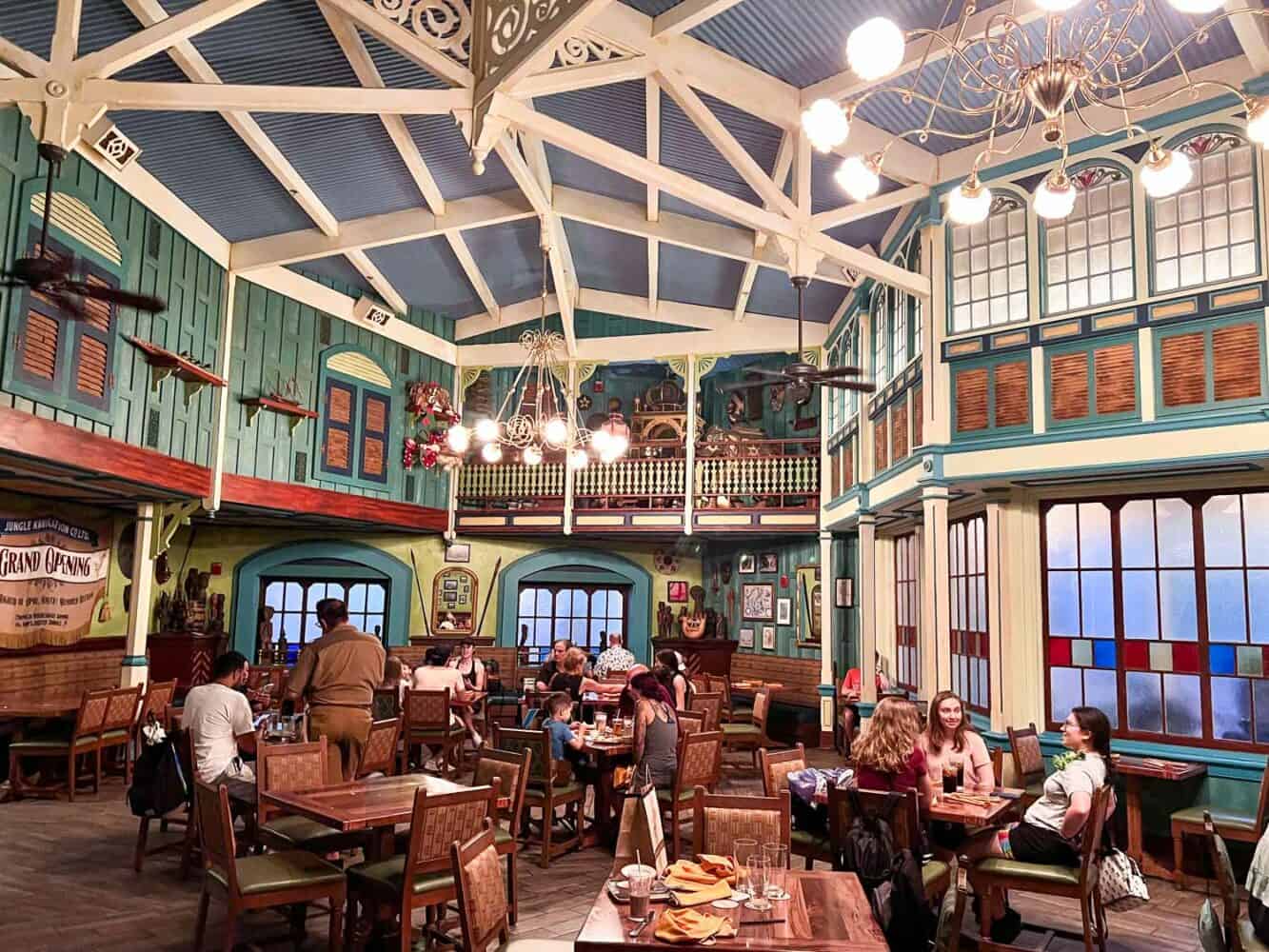 The most difficult advance dining reservations to get at Magic Kingdom are Be Our Guest (in Beast's Castle) and Cinderella's Royal Table (in Cinderella Castle). To secure a table you'll likely need to book 60 days in advance, and the set menus are pricey.
If you want a table service meal that doesn't require such advance planning, we recommend Skipper Canteen.
This Jungle Cruise themed restaurant has fun decor, joking servers, and an interesting menu that incorporates flavours from around the world.
The vegetarian options here are above average for Magic Kingdom, and we especially enjoyed the spicy Skipper Dan's Dan Dan Noodles (which can be made with tofu instead of pork). The veggie curry is also tasty.
For a more casual, quick-service meal, we like the veggie rice bowl at Pecos Bill Tall Tale Inn and plant-based hot dog at Casey's Corner (sit outside for a castle view and live pianist).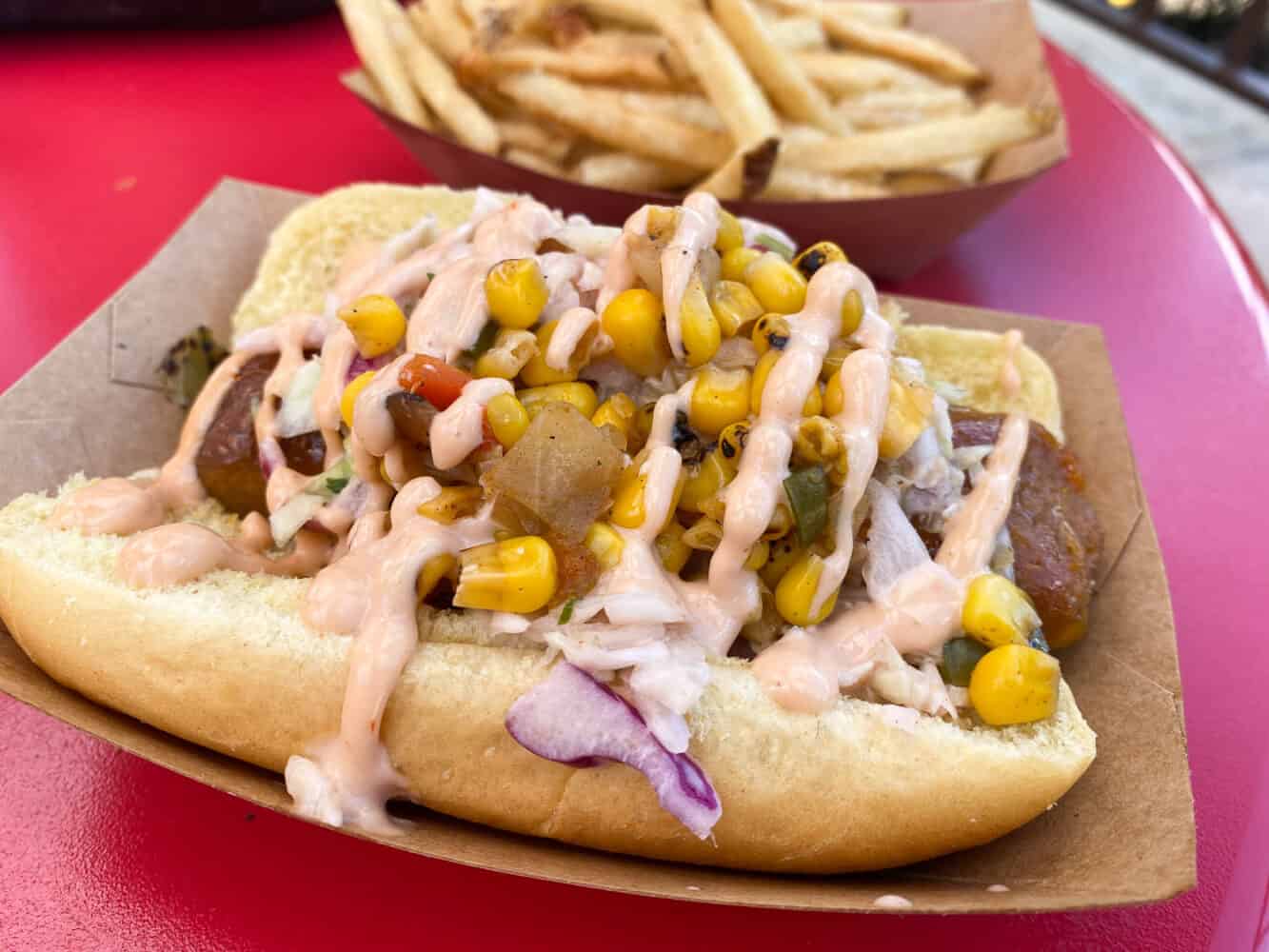 Watch a Parade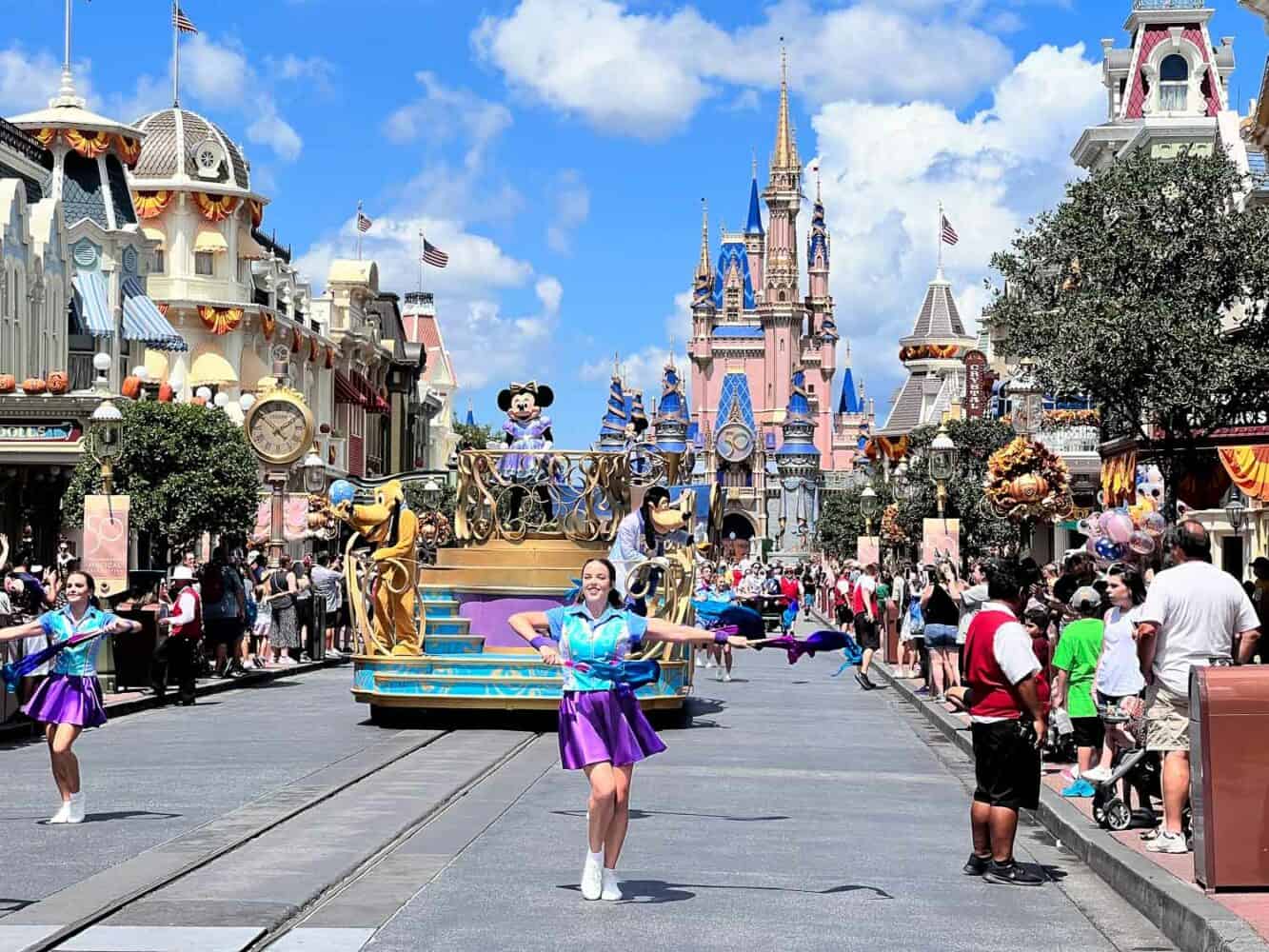 Magic Kingdom usually has a couple of parades each afternoon where you can watch floats of Disney characters roam the park with music and dancers.
The current parade is Disney Festival of Fantasy celebrating the characters of Fantasyland including an impressive fire-breathing Maleficient dragon. It starts in Frontierland and makes it way through Liberty Square to Main Street.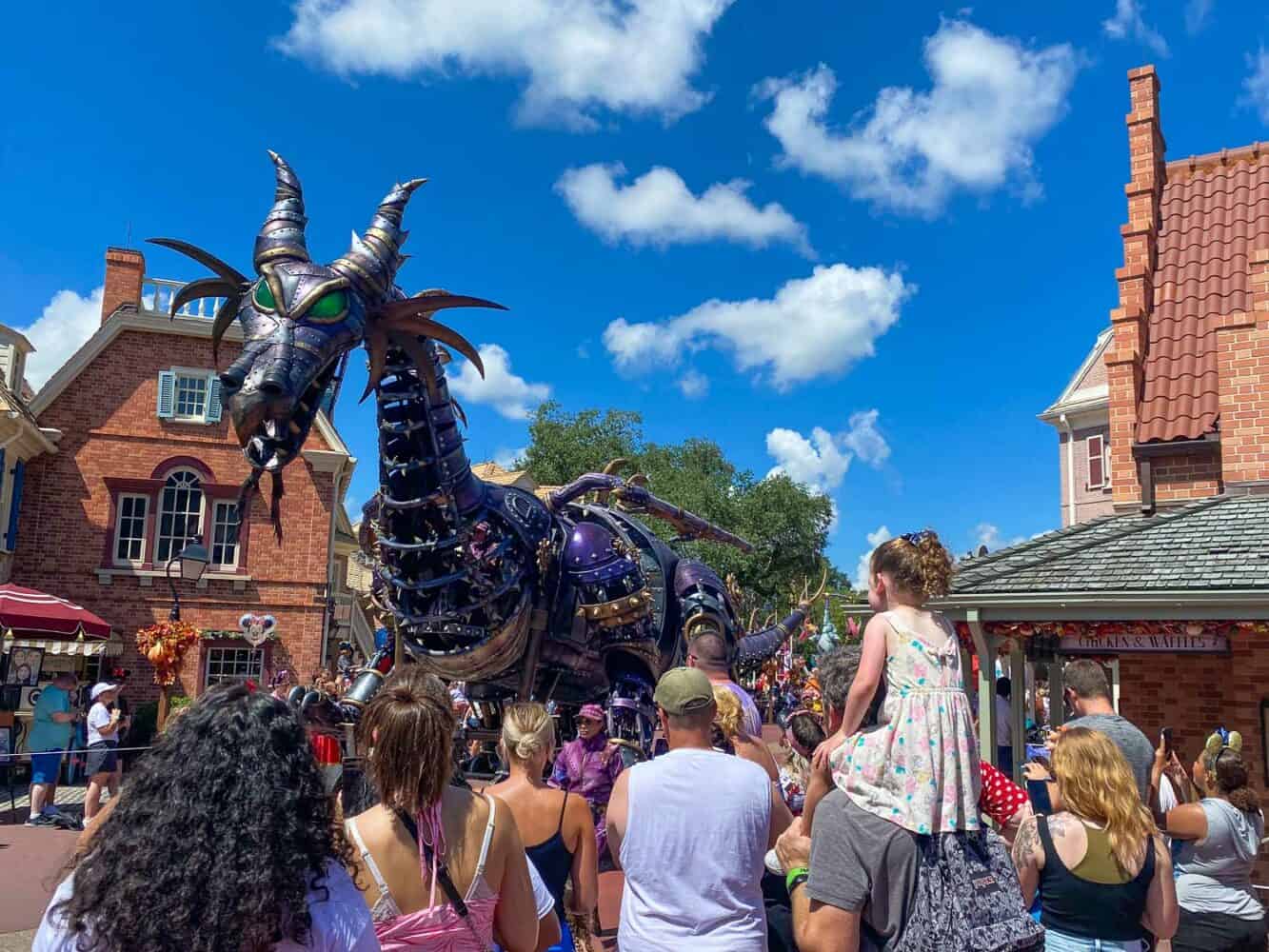 While some people arrive at least 30 minutes in advance for a good parade spot, we usually just catch it if we happen to walk past. For kids, this is more of a must-do.
You can also look out for the shorter cavalcades that take place throughout the day.
Meet the Characters
When I visited Magic Kingdom as a kid, getting a signature from my favourite Disney characters was a key part of the experience.
As adults this isn't something we want to spend time on, but if your kids (or you) want to meet Ariel, Tiana, Belle, Cinderella, Mickey, Winnie the Pooh and more, check out the character meet and greets in the app.
Wait times at typically long so you might want to use Genie+ for some of these. Ariel sells out first followed by Mickey Mouse at Town Square Theater.
Wander and Enjoy the Atmosphere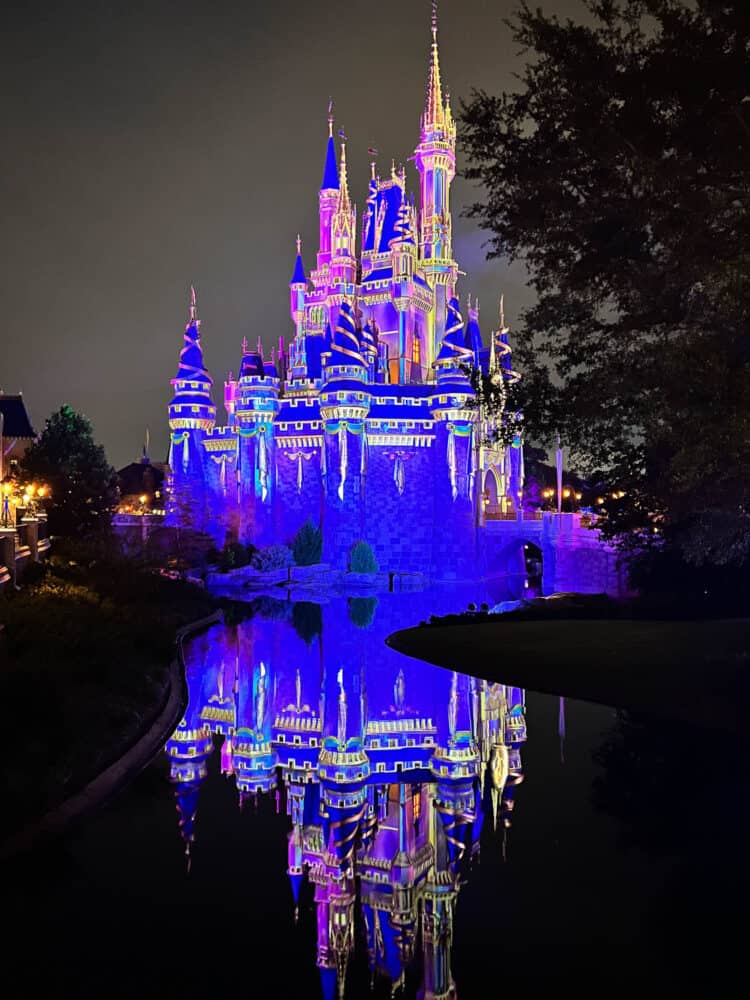 For us, the highlight of Magic Kingdom is the magical atmosphere and remarkable details in every themed land.
Make sure to allow time to wander and soak it all in by day and night. This is why it's helpful to spend two days at Magic Kingdom or at least one day and one evening (if you have a Park Hopper ticket).
Wandering is especially fun during seasonal events like Easter, Halloween, and Christmas when the park is decorated.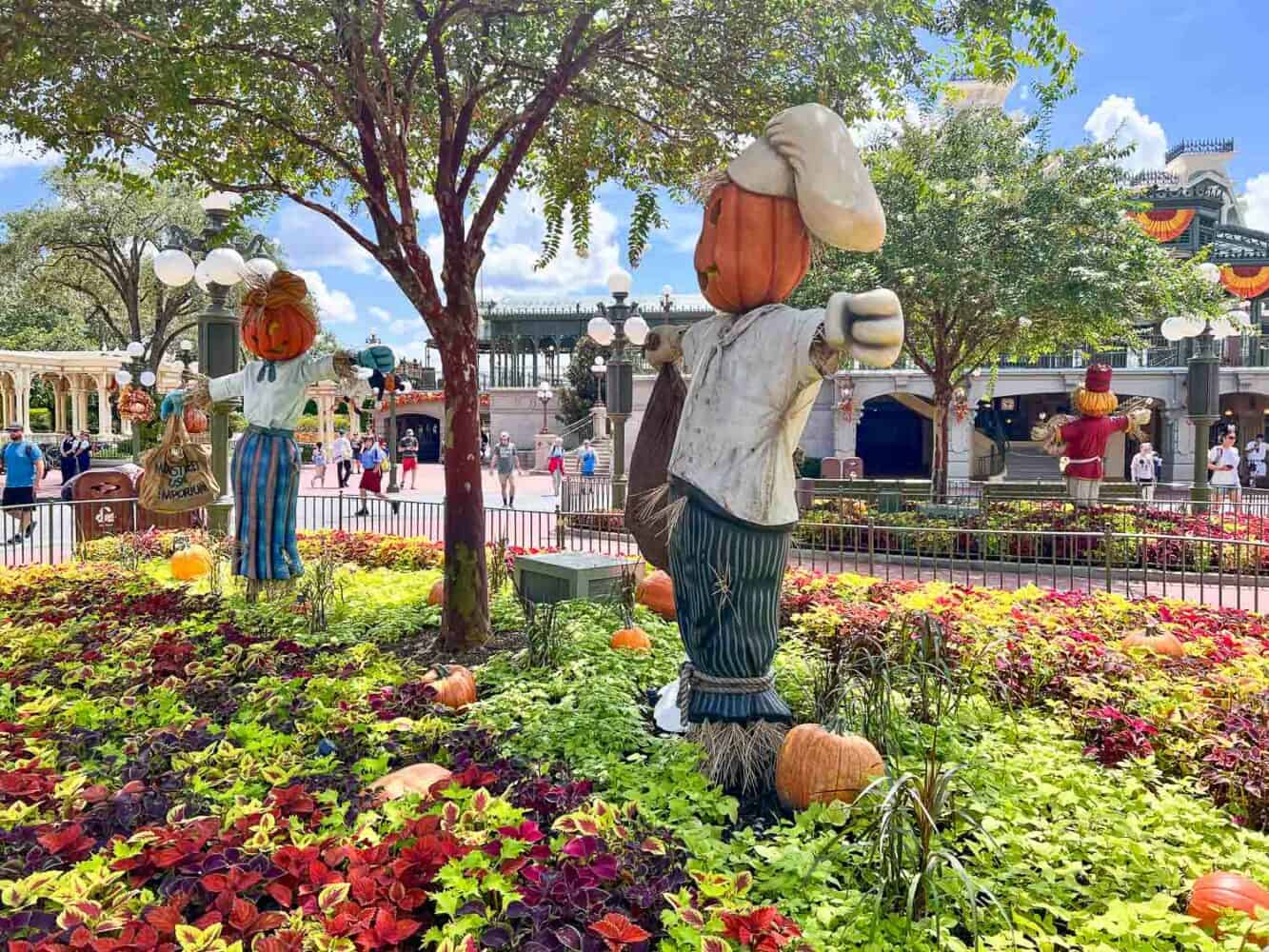 Take a Side Trip for a Cocktail at Trader Sam's Grog Grotto
You can't buy alcohol at Magic Kingdom except with a meal at table service restaurants. But the nearby Polynesian Resort has one of the best bars at Disney World and is well worth a side trip from Magic Kingdom.
You can get there by boat from the park, so it's an enjoyable journey, and it's fun to look around one of the best Disney deluxe resorts.
Trader Sam's is such a unique bar with its tiki decor, fun servers, and themed cocktails, some of which come with surprise results! The best one is Uh-Oa—a two-person fruity rum cocktail in a cool bowl.
It's justifiably popular so arrive early (it usually opens at 3pm) and expect to wait (they will text so when your table is ready so you can explore the resort in the meantime). Advance reservations aren't possible. Children are allowed until 8pm.
Is Magic Kingdom Worth Visiting?
Of course, Magic Kingdom is the most iconic Disney park and well worth visiting! It offers something for people of all ages from fun roller coasters to gentle dark rides and plenty of Disney nostalgia.
I recommend spending at least one full day at Magic Kingdom and preferably two if it's your first time, you have small children, and you want to do it all.
Other Disney Posts
Plan your Disney trip in Orlando and beyond with our other guides:
Disney World Orlando
Elsewhere
If you enjoyed this post, pin for later!