This page contains affiliate links. Please read our disclosure for more info.
Disneyland in California is the original Disney park, built in 1955. In 2001, they added another park next door, Disney California Adventure.
As huge Disney fans we had to visit when we were in Los Angeles, but we only had one day to visit.
Most people advise focusing on just one park—usually the classic Disneyland. This isn't a bad idea as there's so much to see (especially now Star Wars land has opened), but we decided to squeeze them both in.
We discovered that yes, it is possible to visit both Disneyland and California Adventure in one day. You won't see everything (although we hit all the highlights), but you'll have a lot of fun.
Sure, ideally you'd spend two days at Disney California so your visit is less rushed and you have more time to savour the Disney magic and revisit your favourite rides.
But if you only have one day, get yourself a Park Hopper ticket and visit them both.
In this post we share our tips for maximising your time in the parks and the Disneyland for adults one day itinerary that we followed.
Contents
Disneyland in 2023
Disneyland California has seen a lot of changes in the last few years but the parks are now fully reopen.
The main changes to be aware of are:
To enter the park you must have an admission ticket plus a theme park reservation for a specific date. Reservations can be made on their website—it's best to make them when you buy your ticket and book as far in advance as possible.
Park Hopper tickets are available, but you can only visit the second park after 11am. That works fine with the Disney California two park itinerary below. Choose Disneyland as your first park (you don't need a reservation for your second park).
FastPasses and MaxPass have been replaced by the Genie+ service (see below).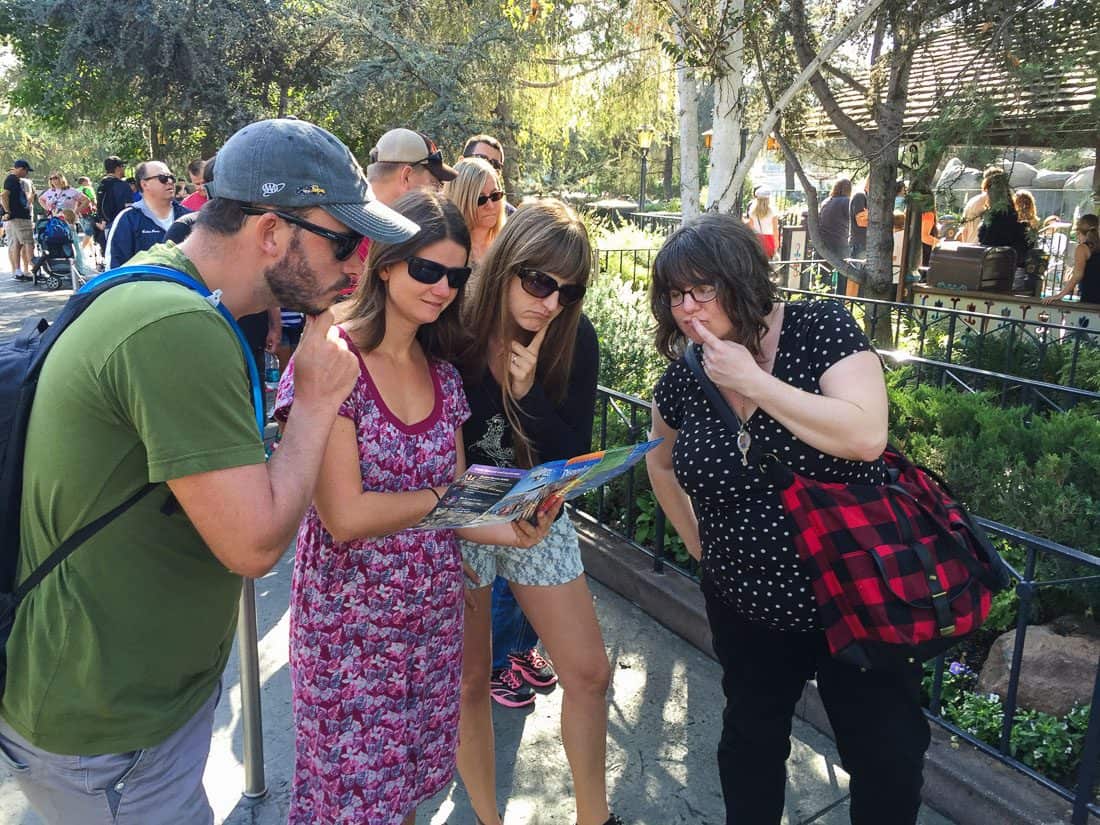 Video: One Day Disneyland Itinerary for Adults
Time-Saving Disneyland Tips
To make the most of your time at Disney California, here are our top tips:
Visit mid-week in the off-season to avoid long queues. We visited on a Tuesday at the end of October when the parks were open from 10am to 8pm (a quiet day) and didn't queue for more than 20 minutes all day. Check the Disneyland opening hours—days with shorter opening hours are when Disney predicts fewer visitors. The Undercover Tourist recommends the best and worst times of year to visit.
Arrive at least an hour before the parks open to get parked (you may need to take a shuttle from the car park) and be ready queuing at the gate. The morning is the quietest and best time for popular rides.
Stay in a Disney hotel to get 30 minutes early entry to the parks.
Get each person in your group to pick a few must-do rides and focus on those first.
Download the Disneyland app to check wait times (and decide which ride to do next), pre-order meals, see maps and more.
Start in Disneyland and visit California Adventure in the afternoon. Our friends who stayed in Disneyland said the park felt crowded and full of exhausted, crying kids in the afternoon—we didn't see any of that in California Adventure which has more adult-orientated rides.
Use the single rider line – We were able to skip huge queues by using the single rider line. Although we couldn't sit next to each other we always rode in the same car.
Pay for Genie+ to save time queueing (see below).
Skip Queues with Lightning Lanes and Genie+
In December 2021, Lightning Lanes were introduced at Disneyland to replace the old FastPass and MaxPass systems.
Lightning Lanes are a way to skip the queue by choosing the next available time to go on popular Disneyland rides.
Genie Plus at Disneyland
Access to Lightning Lanes is primarily via a paid service called Genie+ which you can buy from the Disneyland app for $25-30 per person per day (price varies by date) or as an add-on when you buy your ticket.
19 attractions across the two parks are available. In our Disneyland itinerary below you can see which rides are included with Genie+.
Ride reservations can be made on the app. They can only be made once you are in the park, and you can only book one at a time.
As soon as you tap into the ride (or after two hours), you can select your next ride.
We didn't use Genie+ for this Disneyland and California Adventure itinerary as it wasn't available then (we used FastPass), but we will use it on our next visit.
Unless you are visiting on a very quiet day, it's worth paying in order to experience more rides and spend less time queuing.
Genie+ also includes unlimited PhotoPass downloads.
See our Disney Genie Plus review for more details on the confusing service. While the post focuses on Disney World Orlando, the system in Disneyland California is very similar.
Individual Lightning Lanes at Disneyland
Three of the most popular rides—Star Wars: Rise of the Resistance, Mickey & Minnie's Runaway Railway, and Radiator Springs Racers—are not included in the Genie+ bundle.
Instead, line-skipping for these is priced individually. The cost varies depending on demand from $12-25.
Like Genie+ rides, these can be purchased in the app once you are in the park. You can pay for a maximum of two rides a day.
Wheelchair Access for Disneyland Rides
All these Disneyland and California Adventure rides are accessible for guests in wheelchairs or ECVs (Electric Conveyance Vehicles), but many require transfer from a wheelchair to the ride vehicle.
On the Disneyland website, you can see this list of services for guests with mobility disabilities which shows which rides are accessible for wheelchair users.
This guide lists the best wheelchair-accessible rides at Disneyland which don't require riders to leave their wheelchairs.
Wheelchairs and ECVs can be hired at both parks on a first-come, first-served basis.
Disneyland and California Adventure One Day Itinerary
This was our itinerary for visiting Disneyland and California Adventure in one day.
This was before the Star Wars: Galaxy's Edge land opened in Disneyland.
If you want to ride the popular Star Wars: Rise of the Resistance in this area (which you really do), it's best to head there as soon as the park opens (or pay for Individual Lightning Lane access).
Millennium Falcon is another Star Wars ride that is generally quieter in the evening or it's included in Genie+. After dark is an atmospheric time to explore Galaxy's Edge.
Disneyland's newest ride is Mickey & Minnie's Runaway Railway. It's a fun, family-friendly ride that you could ride after Rise of Resistance or pay for Individual Lightning Lane access.
Disneyland 10am-3.30pm
Disneyland is the original park, a magical fantasy world where you'll find characters like Mickey Mouse. It's similar to Magic Kingdom at Disney World in Florida with a few different rides.
Space Mountain
Our first stop was Space Mountain. There's no better way to start the day than on this high-speed roller coaster that twists and turns in the dark. It's the most thrilling ride at Disneyland.
We didn't wait long at the beginning of the day, but if queues are long, Space Mountain is included in Genie+.
Matterhorn Bobsleds
Our goal was to ride all four mountain rides (Space, Thunder, Splash, Matterhorn). Although Matterhorn isn't the best of the roller coasters—it felt a little dated and jolty—the queue was short so it was worth jumping on as we walked over to the other side of the park.
It's included in Genie+ but this probably isn't a priority.
Big Thunder Mountain Railroad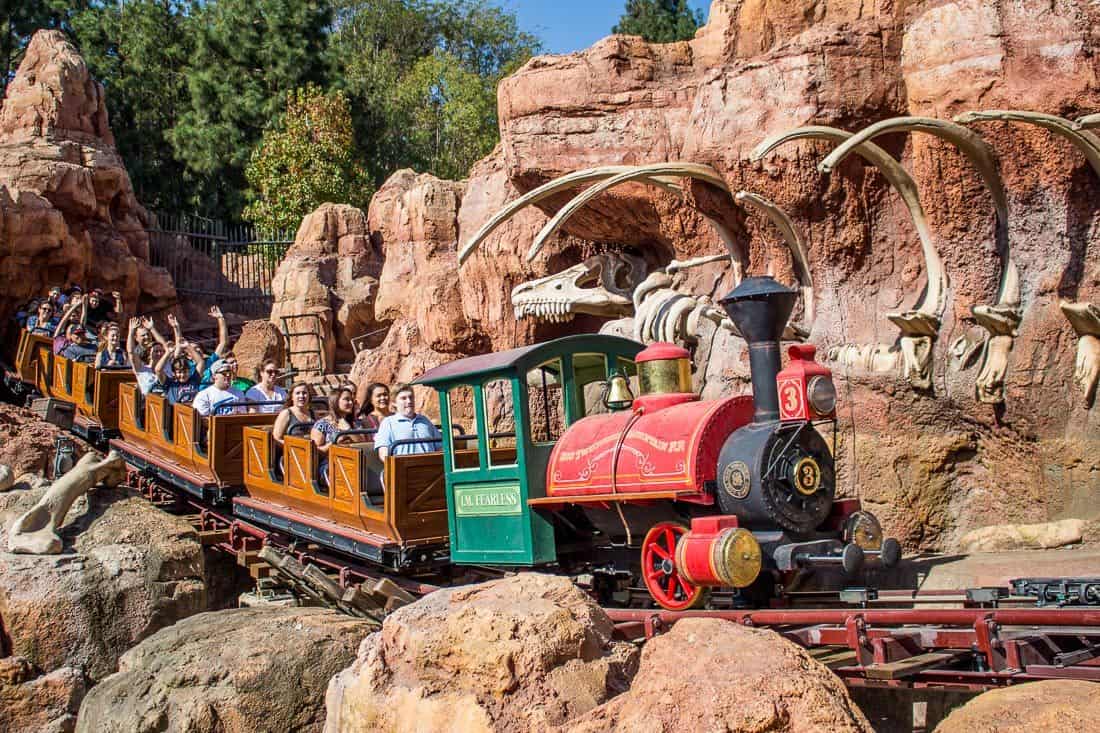 Thunder Mountain was much better—fast, great Wild West theming, and with views of the park.
It was still early enough that we didn't have to wait very long. It is included in Genie+ if necessary.
Haunted Mansion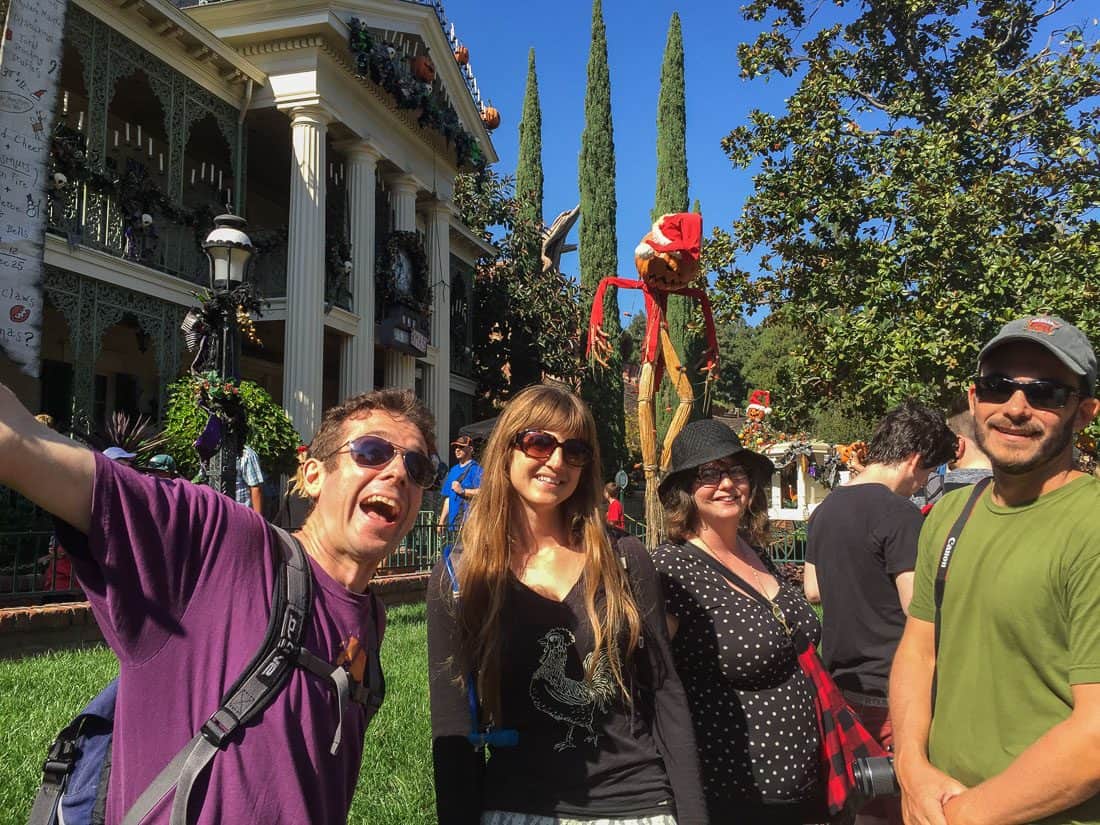 We were visiting a few days before Halloween so Haunted Mansion, which gets a Halloween makeover with characters from The Nightmare Before Christmas, was unsurprisingly popular.
This was probably our longest queue, but it was only 20 minutes and there's lots to entertain you while you wait.
This could be a good use of a Genie+ selection if the ride is important to you.
The ride is a slow tour in the dark through an eerie mansion inhabited by 999 ghosts. It's not actually scary but it is very well done.
Tom Sawyer Island (12.30pm)
It was time for lunch so we took a boat over to Tom Sawyer Island where we could picnic away from the crowds.
The island is a fun place to wander for a change of pace.
Pirates of the Caribbean
A long, gentle boat ride through the world of pirates. The song is catchy, the details incredible, and you'll notice something new each time you ride.
Indiana Jones Adventure (2pm)
Indiana Jones is a fast ride through a cursed temple facing dangers like a giant boulder rolling straight towards you.
It's included in Genie+.
Enchanted Tiki Room
We were feeling a little tired so took a break in the nearby Tiki Room.
This musical show featuring animatronic birds isn't a must-see, but it's quirky and very Disney. Or just a good place for a rest.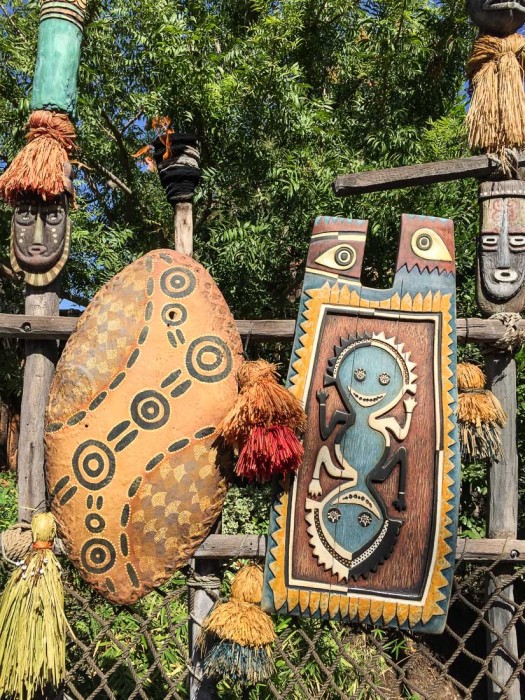 Splash Mountain (Closed)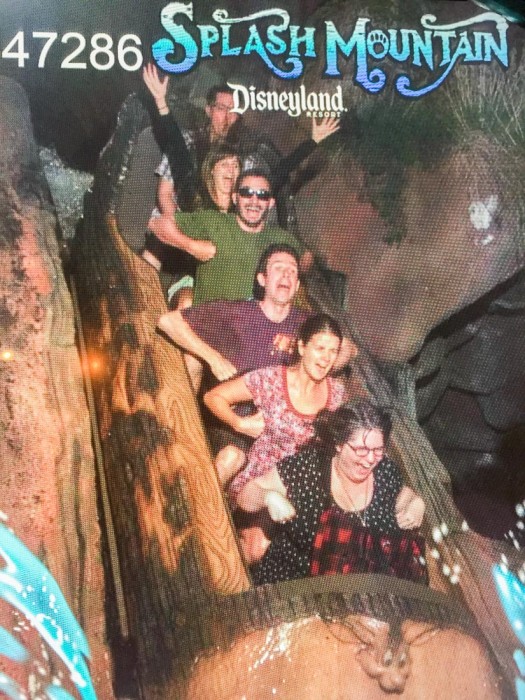 Update: Splash Mountain has now closed and will reopen in late 2024 as Tiana's Bayou Adventure based on the Disney movie, The Princess and The Frog. It will have the same log flume infrastructure but new theming.
The log flume ride starts out slow with a gentle trip through the bayou and ends with a big drop down a waterfall.
If you're sitting near the front like I was, you'll get soaked. Pure Disney fun.
Disney California Adventure 3.30pm-6.30pm
Although there was still plenty we could have done in Disneyland, we had ridden everything on our list, so it was time to head over to California Adventure.
The entrances are just opposite each other so it's easy to go from one to the other.
Disney California Adventure is the newer park that celebrates the history and culture of the state with themed worlds like Cars Land, Paradise Pier, and Hollywood Land.
The worlds are detailed and immersive with some excellent vintage architecture. Disney California Adventure rides are more teenager and adult orientated, and you can even buy beer.
In June 2021, Avengers Campus opened featuring the major attraction, Web Slingers: A Spider Man Adventure. This 3D dark ride is interactive and allows you to sling webs with your arms. It's best ridden with Genie+.
Grizzly River Run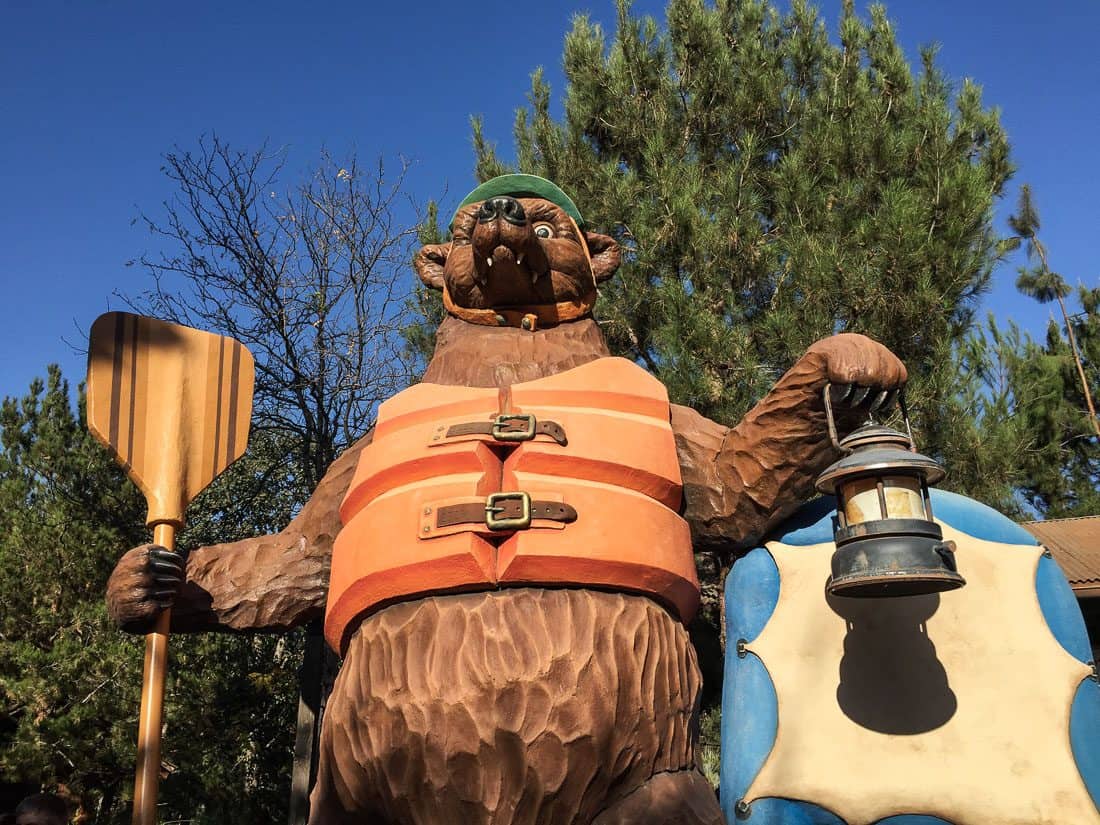 As we were already wet, we started with another water ride. Grizzly River Run is an enjoyable white water rafting ride where you will get wet.
It's included in Genie+ if necessary.
Incredicoaster
For pure thrills, Incredicoaster (previously called California Screamin') is the best Disneyland ride at either of the parks.
It's a classic high-speed roller coaster with plunges and twists and an upside-down loop.
Queues were long, so we saved some time with the single rider line. It's included in Genie+.
Afterwards, we treated ourselves to some delicious Ghirardelli ice cream.
Radiator Springs Racers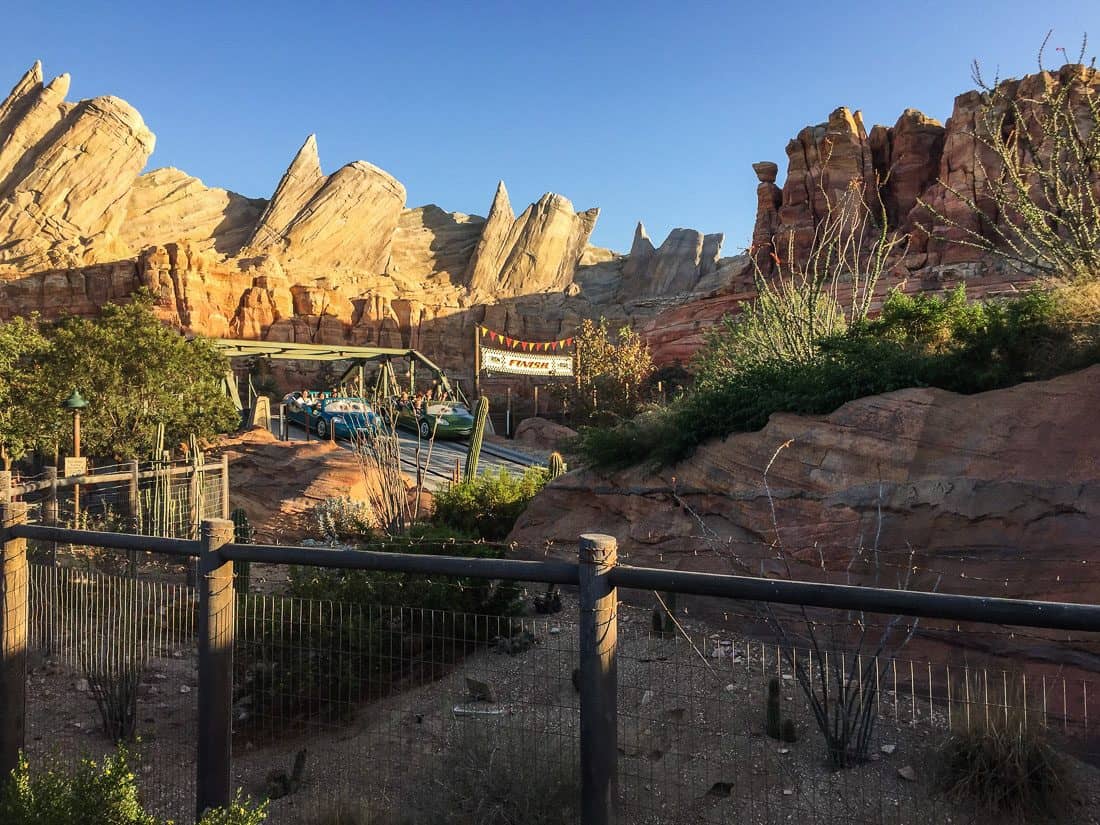 Located in Cars Land, Radiator Springs Racers is one of the most popular rides at California Adventure.
The queue was 60 minutes, so we joined the single rider line.
This worked really well and we only waited two minutes and were in the same car (just not next to each other).
The ride is an outdoor car race through an impressive red-rock desert landscape with characters from the movie Cars.
You could also pay for Individual Lightning Lane access to Radiator Springs Racers.
Guardians of the Galaxy – Mission: BREAKOUT!
When we visited this was still the haunted elevator ride, The Twilight Zone Tower of Terror, one of Disney's best rides.
It now follows a similar format with different theming. You can still expect a sudden thrilling plummet that's a lot of fun.
It's included in Genie+.
Soarin' Around the World
Soarin' is a wonderfully relaxing hand gliding ride where you soar above the world and see famous sights like the Great Wall of China, Iguazu Falls, and Sydney Harbour.
Soarin' is included in Genie+.
It was the perfect way to end our day.
Back to Disneyland (6.30pm – Close)
We had to leave early evening, but the park is usually open much later.
Nighttime is the perfect time to explore the new Star Wars land and ride Millennium Falcon and Star Wars: Rise of the Resistance if you weren't able to ride them earlier, as well as Mickie and Minnie's Runaway Railway.
Finish your night with a fun cocktail at Oga's Cantina in Galaxy's Edge or Trader Sam's Tiki Bar in the nearby Disneyland Hotel. Reservations are recommended.
We haven't been to the California versions, but the same bars at Disney World Orlando are so much fun! Both are a must on a Disneyland for adults itinerary, but go for Oga's Cantina if you have to choose one.
Where to Stay at Disneyland
We visited from San Diego, but it's best to stay close by if you can.
If you stay in one of the onsite Disneyland hotels you'll benefit from Early Entry and be able to enter the parks 30 minutes earlier than everyone else.
The downside is they are much more expensive than off-site hotels.
There are plenty of more affordable hotels within a short walking distance of Disneyland (some are even closer than the official Disney hotels) including:
Best Western Plus Park Place Inn – This is the closest hotel to the parks, directly across the road from the entrance. Rooms are comfortable with microwaves and fridges. There's a small pool and continental breakfast is included.
Anaheim Hotel – One of the more affordable options close to the parks. This is an older hotel but it has a large pool, hot tub, and gym.
Americas Best Value Inn – Basic, cheap motel rooms a 10-minute walk from the parks.
Find more hotels near Disneyland here.
Summary
Our visit to California Adventure was definitely rushed and we would have loved a full day to explore, but we had a fantastic afternoon there and are glad we went.
If you have the time and money, it's well worth spending two days at the Disney California parks. There are many rides to keep you busy and we love just wandering and soaking up the Disney magic and the excellent attention to detail.
But if you only have one day, this Disneyland in one day itinerary offers plenty of Disney fun.
More Disney Posts
Check out our adult itineraries for Disney World Orlando, DisneySea Tokyo, Tokyo Disneyland and Disneyland Paris.
As well as our guide to Is Disney Genie Plus Worth it?
Our picks for the best rides in Magic Kingdom Orlando has many of the same highlights as Disneyland California.
More California Posts
Discover the best things to do in Encinitas California, a cool surf town 90 minutes south of Disneyland near San Diego.
See our detailed itinerary for visiting Yosemite in 3 Days plus side trips to the amazing Bodie Ghost Town and Mono Lake.
Or explore wonderful desert landscapes by hiking in Joshua Tree National Park—it's less than three hours from Disneyland. Combine it with a trip to the quirky Galleta Meadows sculptures in the Borrego Springs desert.
Death Valley is another incredible National Park about 4.5 hours away—discover our Death Valley must sees.
We also love visiting the wineries and coastline of Sonoma County near San Francisco.
If you enjoyed this post, pin it!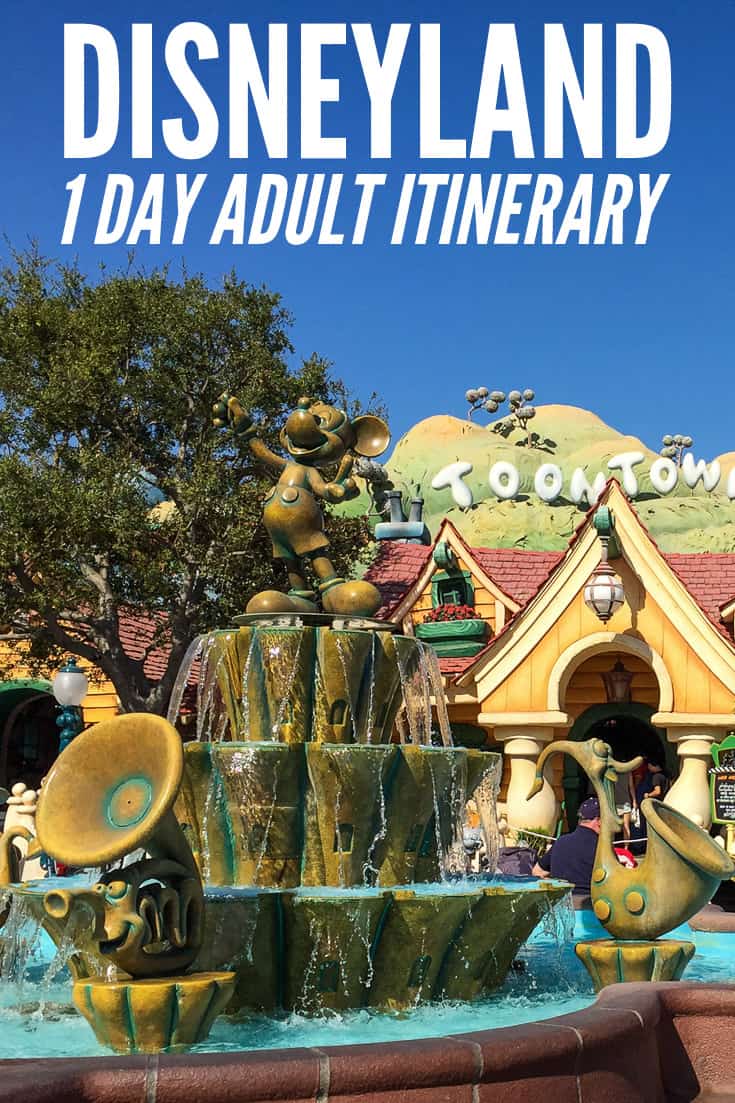 Thanks to Disneyland who provided us with complimentary tickets.
Photo credit: The castle and Big Thunder Mountain photos are by Tom Krones.
SaveSaveSaveSave