This page contains affiliate links. Please read our disclosure for more info.
Death Valley National Park is unlike anywhere else we've visited. It's one of the lowest and hottest places on earth and is full of incredible otherworldly landscapes.
We spent a week roaming its vast stark beauty—watching sunrises on sand dunes and sunsets across salt flats, hiking through rippled badlands and golden canyons, and admiring multicoloured hills and snow-capped peaks.
Here I share our picks for the best things to do in Death Valley from easy but dramatic viewpoints to more challenging hikes. You'll also find our tips for making the most of your trip, where to stay, a suggested itinerary, and a map with all the top attractions.
Contents
Where is Death Valley National Park?
Death Valley National Park is in Inyo County, California, along the border with Nevada (a small part of the park is in the neighbouring state) and east of the Sierra Nevada mountains.
You'll need your own vehicle to get there or you could visit on this small group Death Valley day trip from Las Vegas.
Here are approximate driving times from nearby destinations to Furnace Creek (in the heart of the park):
Las Vegas (Nevada) – 2 hours
Los Angeles – 4 hours 30 minutes
Bakersfield – 4 hours
Joshua Tree – 4 hours 15 minutes
Palm Springs – 5 hours
Yosemite Village – 6 hours (in summer)
Sequoia National Park – 6 hours
Zion National Park (Utah) – 4 hours 30 minutes
We visited Death Valley on a road trip between Palm Springs and Zion National Park. See our tips for visiting Zion in winter.
It's also ideal to combine with Joshua Tree National Park, which we passed on the way (and visited previously).
See our guide to the best things to do in Southern California for more suggestions for the area as well as our post on the best Joshua Tree hikes.
At the end of this post you'll find a map of Death Valley National Park with all these featured attractions.
Best Things to Do in Death Valley National Park: Our Top Picks
Death Valley National Park is immense—3.4 million acres with 1000 miles of roads. These suggested Death Valley activities focus on the main part of the park (within an hour or so of Furnace Creek where the visitor centre and hotels are located).
There are many things to see in Death Valley beyond this area, but you'll have to drive for hours and many roads are 4WD only (all the places below are accessible without 4WD).
These are our Death Valley must sees.
1) See the Sunrise at Zabriskie Point
Access: Paved road
Facilities: Toilet in car park
Time needed: 10+ minutes
Distance from Furnace Creek Visitor Centre: 5 miles (8km)/ 10 minutes

If you only do one Death Valley activity, make it the viewpoint at Zabriskie Point.
It's only a few minutes' walk on a paved path from the parking lot to the viewing area, and it is spectacular.
You gaze down into the valley of bumpy badlands striped yellow and brown, shaped by the force of water. You can also see the jagged peak of Manly Beacon, the rugged Red Cathedral and beyond to the salt flats and snow-topped Panamint Mountains.
Zabriskie Point is most popular at sunrise and it's well worth getting up for. The sun rises behind you and it's a stunning sight as it lights the mountains in front and turns them a glowing red.
Don't expect to have it to yourself, but on a winter weekday, we found there was enough space to spread out. Some visitors are organised and bring chairs, blankets, and hot drinks. You'll definitely want extra layers as it felt very chilly in the wind.
If you don't manage to wake up in time, the light was still beautiful two hours after sunrise when the badlands are fully lit up. It's also a popular sunset spot.
One of the best hikes in Death Valley starts from here (see below).
2) Hike the Golden Canyon and Gower Gulch Loop
Access: Paved road
Facilities: Toilet at both trailhead car parks
Time needed: 1-3 hours
Hiking stats: 6.2 miles (10km)/ 2.5 hours / 1130 feet (345m) elevation gain
Distance from Furnace Creek Visitor Centre to Golden Canyon Trailhead: 3.5 miles (5.5km)/ 7 minutes

The Golden Canyon hike is one of the best things to do in Death Valley National Park. This popular trail has its own trailhead and most visitors do a 2-mile roundtrip hike from here to the junction to Red Cathedral.
You can also experience it on a longer loop hike, which is what we did. As we were already at Zabriskie Point for sunrise we decided to hike down into Golden Canyon and come back up Gower Gulch.
We're so glad we did as the hike was amazing. My favourite part was at the start walking down from Zabriskie on the Badlands Loop with the rippled badlands and Red Cathedral glowing in the golden morning light. Starting at 7.15am we didn't see anyone else until we reached the Golden Canyon.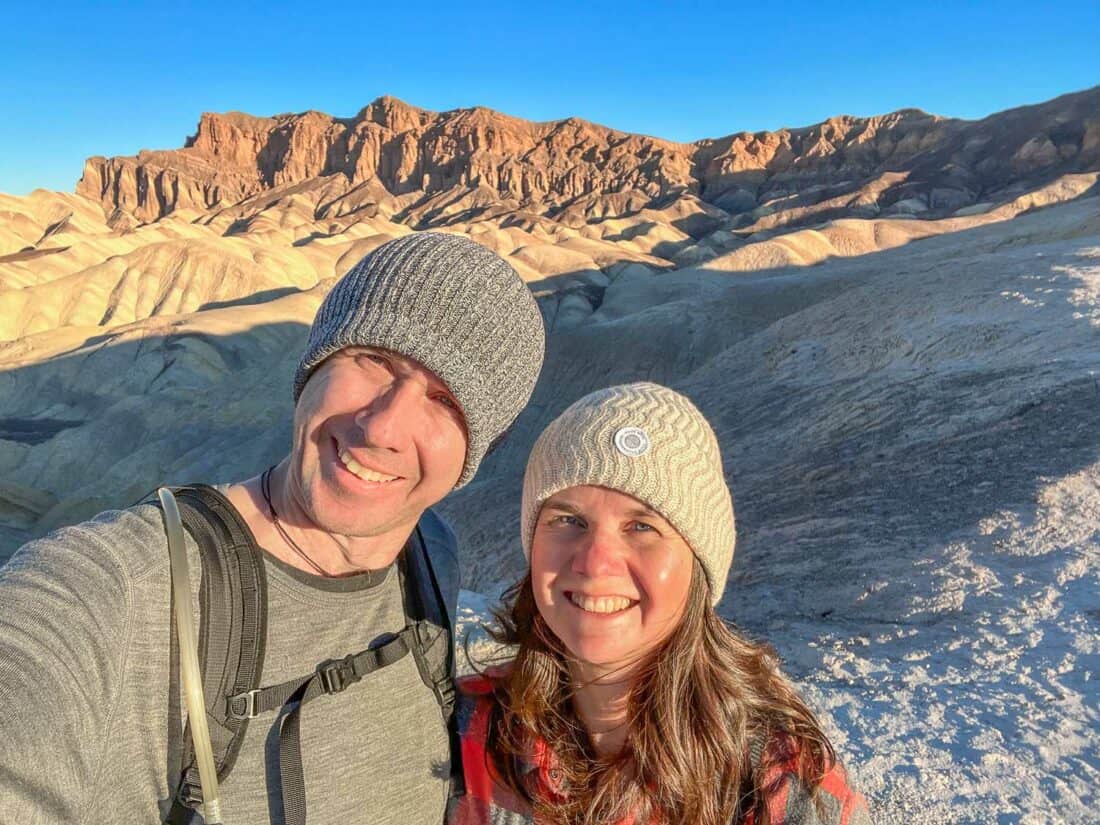 It was magical walking in solitude through the harsh, dry but stunning environment.
It was a little steep and slippy in parts, and you have to walk on a narrow ridge at one point, which was slightly nerve-racking, but overall we didn't find it a difficult walk and it gets easier when you reach Golden Canyon.
You definitely want to start early and bring plenty of water as once the sun hits the canyon, it feels very hot.
When you reach the high walls of Golden Canyon, you have the option of a one-mile return detour to Red Cathedral, but we skipped it as it involves some scrambling.
It took us 65 minutes to reach the Golden Canyon trailhead (where there's a toilet) and then we walked parallel to the road for 10 minutes before turning left into Gower Gulch.
Some people don't think Gower Gulch is worth it but we enjoyed it (and it's quieter than Golden Canyon). There was some gently scrambling at the beginning, but then it opened up and the ascent was fairly easy. There are some interesting rock formations and green and pink walls.
It took another hour to get back to Zabriskie Point—the last section back on the Badlands Loop was the hardest as it was a steep climb in full sun. The view looking back was astounding though.
Don't miss hiking in this area. Even if you don't do the full loop, there are plenty of shorter options.
See a map of the Golden Canyon and Gower Gulch hike on Alltrails or the NPS website for all the Golden Canyon trails.
3) Enjoy a Colourful View at Artists Palette
Access: One-way paved road, no vehicles longer than 25 feet
Facilities: Toilet in car park
Time needed: 30 minutes including drive
Distance from Furnace Creek Visitor Centre: 14.5 miles (23.5km)/ 24 minutes
Another of the best views in Death Valley is at Artists Palette. Here you can admire the colourful hills created by mineral oxidation—pink and green mixing with the usual shades of orange and brown.
The viewpoint is accessed on the 9-mile Artists Drive Loop, a beautiful if twisty road that can only be driven one way (starting at the south end off Badwater Rd).
There are various places to stop and take photos, but the third stop (marked on Google Map as Artist's Palette) is the best one. There's also a toilet here.
You can see the vibrant hills from the parking lot or walk up the trail as far as you'd like for a higher perspective.
Artists Palette is best visited in the golden hour before sunset. We arrived an hour after sunrise (after visiting Badwater Basin) and the hills were still in shadow so the colours were muted.
We came back another day mid-morning (three hours after sunrise) and the colours were much better, although the light was a little harsh.
This was one of the filming locations for Tatooine in the Star Wars movies and it's easy to believe you're on another planet.
4) Watch the Sunset at Dante's View
Access: Paved, winding, and steep road. No RVs or trailers (car park to leave trailers lower down)
Facilities: Toilet at lower parking but it's quite far from upper parking—stop on the way up
Time needed: 30 minutes – 1 hour
Distance from Furnace Creek Visitor Centre: 25 miles (40km)/ 35 minutes
Dante's View is one of the best places to visit in Death Valley for more spectacular views. It's popular at sunset, although I'm sure sunrise would also be beautiful (if freezing).
Here you realise that Death Valley is not all desert as you ascend to 5575 ft (1699 m) above Badwater Basin on the ridge of the Black Mountains. The temperature can be 30ºF lower up here.
The sweeping panorama takes in much of the park—the salt flats and the badlands and the Panamint Mountains on the other side of the valley.
You can easily enjoy the view from the parking lot or follow the trails in either direction along the rim (I think the view is best to the left). It's busy at sunset but easy to find a spot to yourself.
Expect the sun to disappear behind the mountains 10 minutes before the official sunset time. It's well worth waiting 20 minutes after sunset as the sky lights up in pink and orange and the clouds glow—just gorgeous!
It's well worth the drive up here for views like this.
5) Visit the Lowest Point at Badwater Basin Salt Flats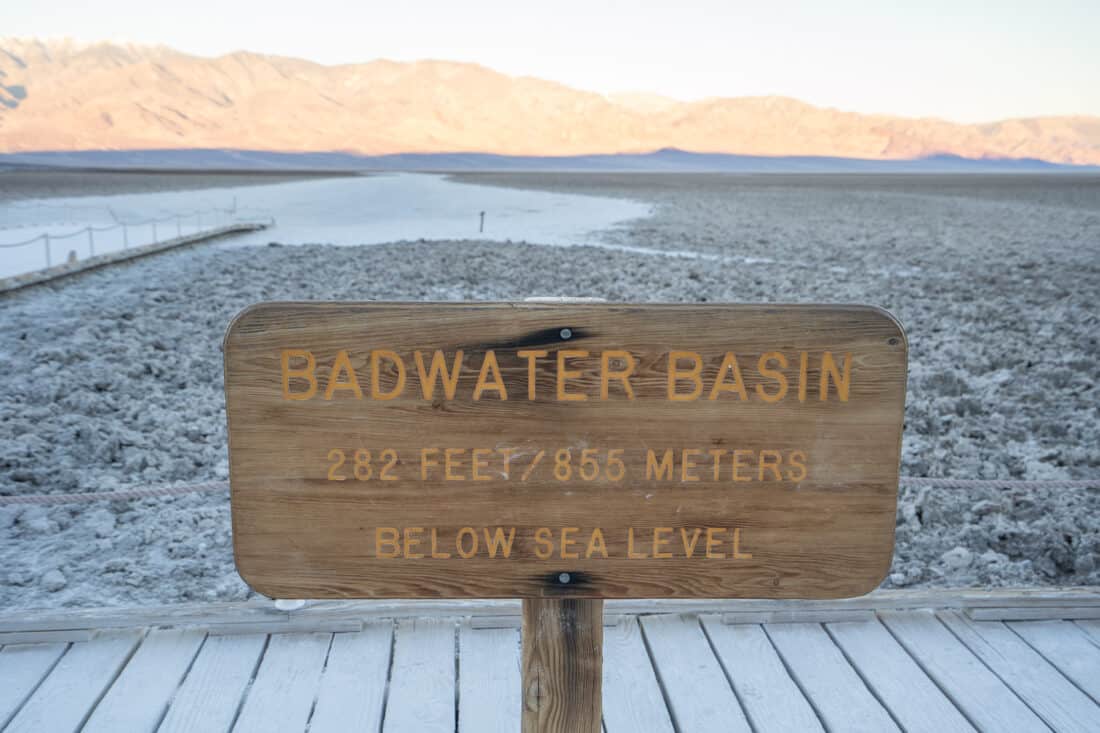 Access: Paved road
Facilities: Toilet in car park
Time needed: 15 minutes+
Distance from Furnace Creek Visitor Centre: 15.5 miles (25km)/ 20 minutes
Badwater Basin is one of the most iconic spots in Death Valley. This salt pan is an ancient lake bed and is the hottest and lowest point in North America at 282 feet below sea level (look for the sea level marker on the mountain above the parking lot).
Again there's an easily accessible viewing platform or you can walk out onto the immense salt flats as far as you want.
It's popular at sunset but there were only a few others here at sunrise. Although we couldn't see the sun come up, it was beautiful to see the light catch the snowy mountains opposite.
6) Climb a Dune at Sunrise at Mesquite Flat
Access: Paved road
Facilities: Toilet in car park
Time needed: 30 minutes – 1 hour+
Distance from Furnace Creek Visitor Centre: 23 miles (35km)/ 26 minutes
The Mesquite Flat sand dunes are the most accessible sand dunes in Death Valley, next to Stovepipe Wells.
It's well worth venturing beyond the parking lot and climbing up into the dunes for the best views. There's no trail—just create your own path.
You can hike to the top of the biggest dune (about two miles return), but walking on sand is hard going so we enjoyed the view from a distance.
We arrived about 30 minutes before sunrise to allow time to get to a good spot—we only had to walk about 10 minutes before we decided on a place to wait. It was another stunning sunrise with the tops of the distant mountains turning pink before the dunes began to glow.
On our way back we had fun running down the dunes (which is less scary than it feels).
Mesquite Flat is best visited at sunrise or sunset when the light is gorgeous and it's not too hot. We wore hiking sandals, which were ideal as shoes would fill with sand.
Eureka Dunes are even taller but they are three hours from Furnace Creek and may require a 4WD. It's much harder to get there for the best light unless you camp nearby.
Other Death Valley Attractions Worth Visiting
If you have more time, we also recommend these things to do in Death Valley.
7) Hike the Rim of Ubehebe Crater
Access: Paved road
Facilities: None (nearest toilet 5 miles before at Grapevine Ranger Station)
Time needed: 1 hour (longer to descend into crater)
Hiking stats: 2 miles (3.2km)/ 50 minutes / 485 feet (148m) elevation gain including Little Hebe Crater
Distance from Furnace Creek Visitor Centre: 55 miles (90km)/ 1 hour and 15 minutes
Ubehebe Crater is an extinct volcano in a more remote part of the park. We visited after Mesquite Flat sand dunes, which are an hour away.
We hiked the rim of the 2100-year-old crater, gazing down into the massive expanse—dark grey on one side, orange and gold on the other. It's a wild and beautiful place—we were the only ones there at 8.30am.
At 2800 feet, it's cooler than Furnace Creek, but it still felt hot as there's no shade. We hiked counterclockwise to do the elevation first—the first hill was surprisingly hard going as you're on loose gravel and sand.
This way you pass the smaller Little Hebe Crater.
You can also hike down into the crater but expect a challenging climb out in ankle-deep debris.
From Ubehebe you can delve deeper into the park to the Racetrack Playa, but it requires a 4WD. Scotty's Castle is also in this area, but it's closed for repairs after a flood until at least 2023.
8) Make a Quick Stop at Devil's Golf Course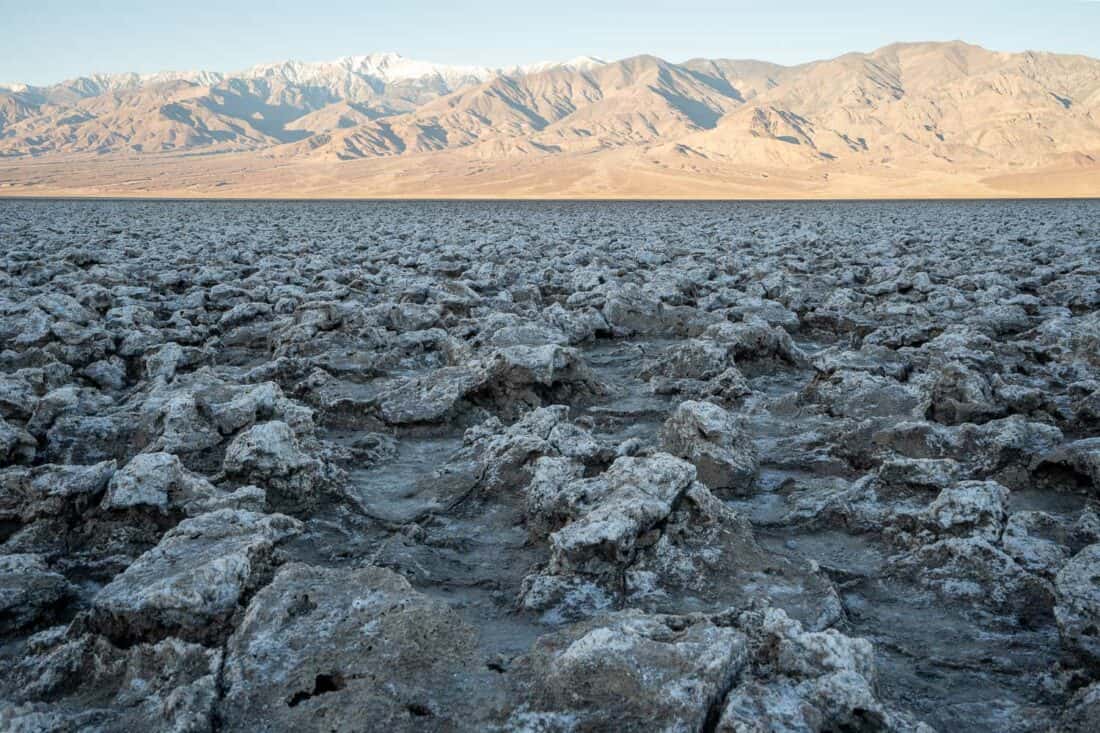 Access: Gravel road off Badwater Rd usually accessible to sedans
Facilities: None
Time needed: 5 minutes+
Distance from Furnace Creek Visitor Centre: 10 miles (15km)/ 15 minutes
Not far from Badwater Basin is a quick stop called Devil's Golf Course where rock salt has been eroded by wind and rain into jagged spires.
It's a cool (and usually quiet) place to see in Death Valley, but you can't walk on the dangerous sharp rocks. Apparently, only the devil could play golf here!
9) Hike Through Desolation Canyon
Access: Unmarked gravel road off Badwater Rd usually accessible to sedans
Facilities: None
Time needed: 1.5 to 2 hours for full hike.
Hiking stats: 3.6 miles (5.8km) / 770 ft (235m) elevation gain
Distance from Furnace Creek Visitor Centre: 5.5 miles (9km)/ 10 minutes
If you are looking for a quieter hiking trail than Golden Canyon, head to Desolation Canyon.
The hike starts uphill through the canyon and ends with a view of Artists Palette.
We didn't make it that far as the heat was a bit much and we turned around after 25 minutes/ 1 mile when we reached an 8ft rocky wall that you had to scramble up.
See the Desolation Canyon hike on Alltrails.
The access road is unmarked so you'll need Google Maps to find it.
10) Drive the Adventurous Twenty Mule Team Canyon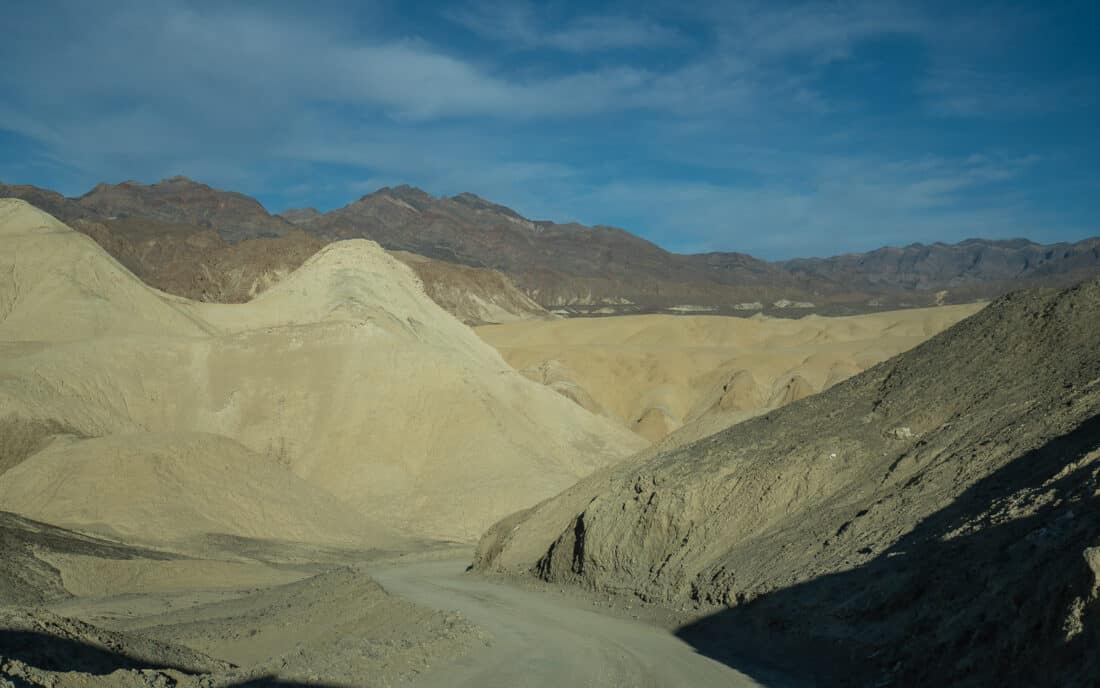 Access: One-way dirt road usually accessible to sedans
Facilities: None
Time needed: 10-30 minutes
Distance from Furnace Creek Visitor Centre: 6 miles (9.5km)/ 10 minutes
We drove the one-way Twenty Mule Team Canyon on the way from Zabriskie Point to Dante's View. It was only a 10-minute detour (we didn't make any stops) and worth it if you are looking to get off the beaten track in Death Valley.
It's not for nervous drivers, though, as the dirt road through the badlands is very narrow, winding, and ends with a steep rollercoasteresque drop.
11) Head Back in Time at Harmony Borax Works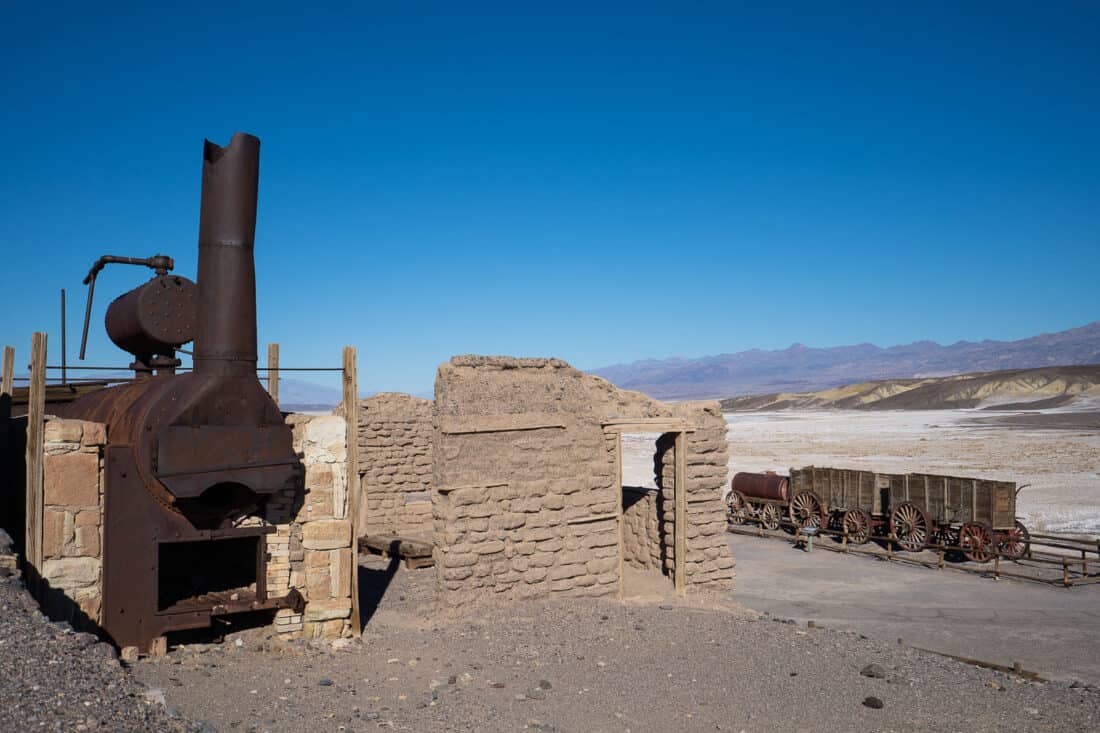 Access: Paved road
Facilities: None
Time needed: 15-20 minutes
Distance from Furnace Creek Visitor Centre: 2 miles (3km)/ 5 minutes
The 0.4-mile history trail at Harmony Borax Works near Furnace Creek is an easy walk and a nice change from other parts of the park.
Signs give you information on the 1884 borax plant as you stroll past the old processing buildings. The wagon on display was pulled by large mule teams (known as the 20-Mule Team) to transport the finished product to market.
Like the Rhyolite gold mine, the plant only lasted a few years.
Harmony Borax Works is one of the best places to see the stars in Death Valley. We were staying too far out to do this, but it's an easy trip from the Furnace Creek hotels (some guests even biked here).
12) Spot Pupfish on the Salt Creek Trail
Access: Gravel road usually accessible to sedans.
Facilities: Toilet in car park
Time needed: 20 minutes
Distance from Furnace Creek Visitor Centre: 14.5 miles (23.5km)/ 20 minutes
I didn't expect much from the Salt Creek Trail, but I enjoyed the easy walk on the 0.5-mile boardwalk loop.
It feels very different from the rest of the park—a little oasis with a pretty stream surrounded by vegetation. The rare tiny pupfish lives in the salty water here.
Salt Creek is easy to add to your Death Valley itinerary as it's not far from Furnace Creek.
13) Cool Off at The Ranch Lodge
Access: Paved road
Facilities: Toilets, stores, restaurants, pool
Time needed: 15 minutes – half a day
Distance from Furnace Creek Visitor Centre: 0.5 miles (1km)/ 2 minutes
The Ranch Lodge in Furnace Creek has a few facilities open to non-guests that we really appreciated after a hot morning hiking.
There's an old-fashioned ice cream parlour where you can sit at the counter or on the outside terrace to enjoy a sundae, cone, or milkshake. It's not the best ice cream, but you won't care in the heat.
There's also a general store, outdoor store, restaurant, golf course, and horse riding.
Best of all, the hotel allows non-guests to access the pool for $14. This was so refreshing after a morning of hiking and the perfect way to spend the heat of the day.
The large spring-fed pool is naturally warm year round so it's comfortable to swim even in winter.
Things to Do Near Death Valley
It's worth leaving the park and heading across the border to Nevada for some interesting attractions.
14) Visit Rhyolite Ghost Town
Rhyolite ghost town is one of the most unusual things to do in Death Valley (even if it is outside the park).
This remote gold mining town thrived in its brief boom years—there was a train station, general store, bank, school, miner's union and more—but it didn't take long until the gold ran out.
You can now wander past the ruins of its glory years—most of the buildings were built in 1906 and 1907 and the mine shut down just a few years later.
Surrounded by dramatic desert mountains it's a bleak but intriguing place.
One of the most interesting sights is Tom Kelly Bottle House—the house was made with thousands of glass bottles as wood was hard to come by.
If you are staying in Beatty, you should definitely stop at Rhyolite. It's free entry and open 24 hours.
15) See Burros in Beatty
Beatty is a small desert town in Nevada and one of the most affordable bases for exploring Death Valley. It has a remote, Wild West vibe with a wooden saloon on Main St (sadly closed).
Best of all, you can often see wild burros roaming the streets. These donkeys were used in the gold mining days and let free when the industry went bust.
Death Valley Itinerary for Two Days
If you only have two days in Death Valley, this is the itinerary I recommend.
Day 1
Zabriskie Point for sunrise
Hike Golden Canyon and Gower Gulch
Lunch/Rest (maybe enjoy the pool at The Ranch)
Harmony Borax Works
Twenty Mule Team Canyon
Dante's View for sunset
Day 2
Mesquite Flat sand dunes for sunrise
Ubehebe Crater
Salt Creek Trail
Lunch/Rest
Artists Palette (1-2 hours before sunset)
Devil's Golf Course
Badwater Basin for sunset
If you have any extra time, add Desolation Canyon or Rhyolite and Beatty.
Accommodation in Death Valley
The best places to stay in Death Valley are in the heart of the park at Furnace Creek. Here you are close to popular attractions like Zabriskie Point (just 10 minutes away), which makes it much easier to be there for sunrise and sunset.
There are two hotels here—The Ranch at Death Valley is more affordable and family-friendly and The Inn at Death Valley is very expensive. Both of them book up far in advance though, so we couldn't get a reservation (booking three weeks out in winter).
Camping is a budget option in Furnace Creek and various locations within the park.
Stovepipe Wells is another place to stay within the park. Stovepipe Wells Village Hotel isn't as convenient for Zabriskie Point (35 minutes away), but it's closer to the Mesquite Flat sand dunes and is more affordable than Furnace Creek.
As we couldn't get a hotel in the park, we rented an Airbnb in the nearest town outside the park—Beatty, which is actually in Nevada.
We loved the quirky, stylish house, but the location did feel further away than we'd like, and we had a lot of 5.30am starts to see the sunrise in the park.
Although Beatty is an easy 40-minute drive from Furnace Creek, you have to bear in mind how spread out the sights are, so we usually had to drive for about an hour.
But if accommodation in the park is unavailable or too expensive, Beatty is a good option. There are a few budget motels here including Death Valley Inn and Exchange Club Motel.
Tips for Visiting Death Valley National Park
There are no entrance gates. Pay the $30 fee (per vehicle) when you arrive at the visitor centre or some popular spots have ticket machines next to the parking.
An America the Beautiful annual national parks pass can also be used (display it in your car). This is excellent value if you'll visit three or more national parks or monuments in a year.
The best time to visit is early spring or winter. It's excessively hot in summer and will be dangerous to hike.
Even in winter, it was hotter than we expected—coming from Beatty before sunrise the temperature rose from 35ºF to 60ºF as we descended into the park. In the afternoons it reached 90ºF. Be prepared with a hat, sunglasses, and sunscreen.
In winter wear layers for the cool mornings and hot afternoons.
Bring a cooler with lots of water and food. There are no shops or restaurants outside Furnace Creek and Stovepipe Wells.
A 4WD vehicle is a good idea and will allow you to explore further into the park, but it's not necessary for the Death Valley top sights on this list. We rented an SUV (without 4WD) and appreciated the higher clearance, but we saw sedans on all the roads we drove. We use Rental Cars to search for the best deals.
There's no cell signal in most of the park so save Google Maps offline for directions.
The Alltrails app is useful if you plan to hike. We bought the Pro plan so we could save route maps offline.
Fill up with gas outside the park (Beatty is a good spot) as it's very expensive at Furnace Creek. Stovepipe Wells is slightly cheaper but still well over regular prices.
Don't enter canyons if there's any sign of rain.
Leave no trace—don't litter or take any rocks or plants with you.
Map of Death Valley Attractions
Is Death Valley Worth Visiting?
Yes, Death Valley is absolutely worth visiting! It's a huge and diverse national park with so much to explore.
Just make sure you visit outside the summer to experience the inhospitable landscapes more safely and enjoyably. At any time of year it's always worth getting up early for the best views and most comfortable temperatures.
I hope this post has given you some ideas of what to see in Death Valley. Let us know your favourite places!
More California Posts
Southern California
Northern California
If you enjoyed this post, pin it!