This page contains affiliate links. Please read our disclosure for more info.
San Diego is perfect for outdoor adventure. In this spread out city you are never far from nature with miles of sandy beaches, hiking trails along dramatic bluffs, and many parks and gardens to explore.
Despite being a metropolitan hub with world-class museums and restaurants, you can get up close to sea lions, dolphins, pelicans, and whales, and enjoy spectacular sunsets over the Pacific Ocean.
Locals spend plenty of time outdoors—surfing, swimming, playing beach volleyball, hiking, biking, paddleboarding, kayaking, snorkelling—and joining them is one of the best ways to experience this Southern California city.
The weather helps too as it stays a pleasant 72ºF (22ºC) for most of the year. We've visited in October and January and had lots of sunshine and ideal temperatures for getting active.
Here I share my picks for the best outdoor activities in San Diego—many are free and all are fun.
Contents
Top Outdoor Activities in San Diego
1) Hike in Torrey Pines State Natural Reserve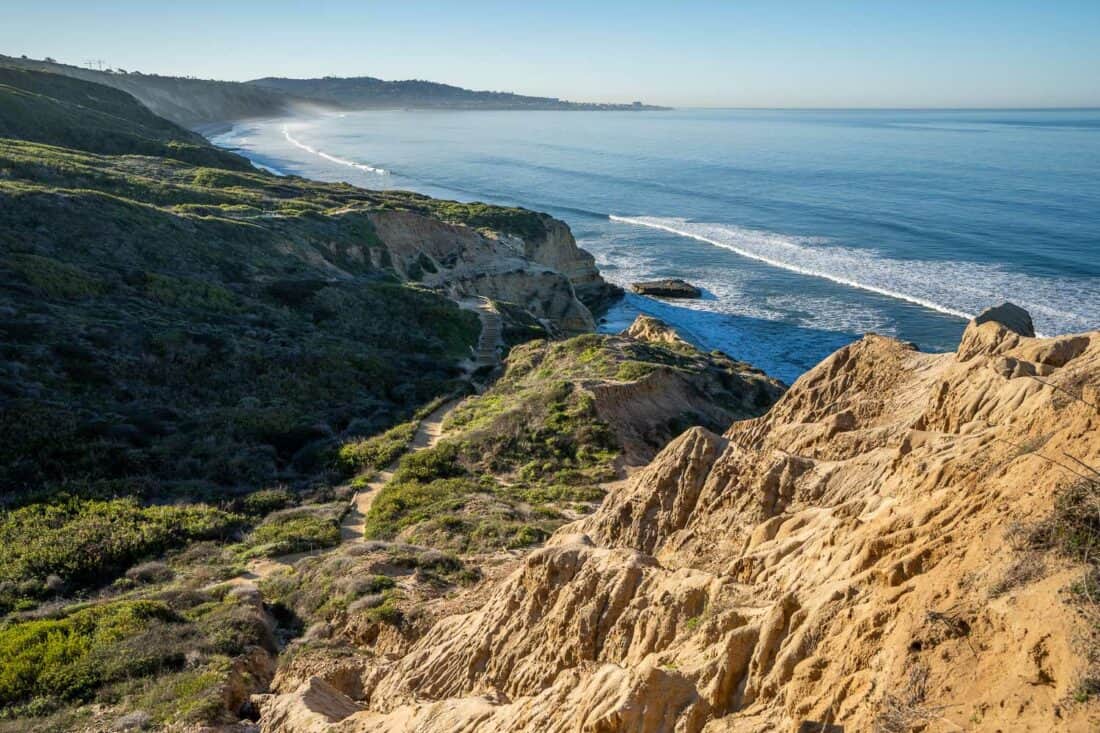 Torrey Pines is the most beautiful place in San Diego for a hike and our pick for one of the best things to do in Southern California.
Located on the cliffs above Torrey Pines State Beach, the preserve protects the namesake Torrey Pine tree, a rare pine only found here and on Santa Rosa Island.
Well-kept sandy trails weave through pines and cacti, along the chiselled sandstone cliffs, and down to the long wild beach.
There are good facilities (including restrooms, maps, and a water bottle refill station) and trails for all abilities from the easy 0.7 mile Guy Fleming Trail, with stunning ocean views, to longer walks combining the shorter trails.
We like to hike both the clifftop trails and the beach, but the beach is only accessible at low tide.
On our latest visit, we did a fairly easy three-mile loop which took us 1 hour 10 mins with 429 feet of elevation gain. We started by parking at the South Beach Lot and walked up the hill next to the road (not the most exciting part, but it's nice to loop back via the beach).
At the top, we took the Razor Point Trail then the Yucca Point Trail, before following the Beach Trail down and walking on the beach beneath the crumbling cliffs (keep your distance!) back to our car.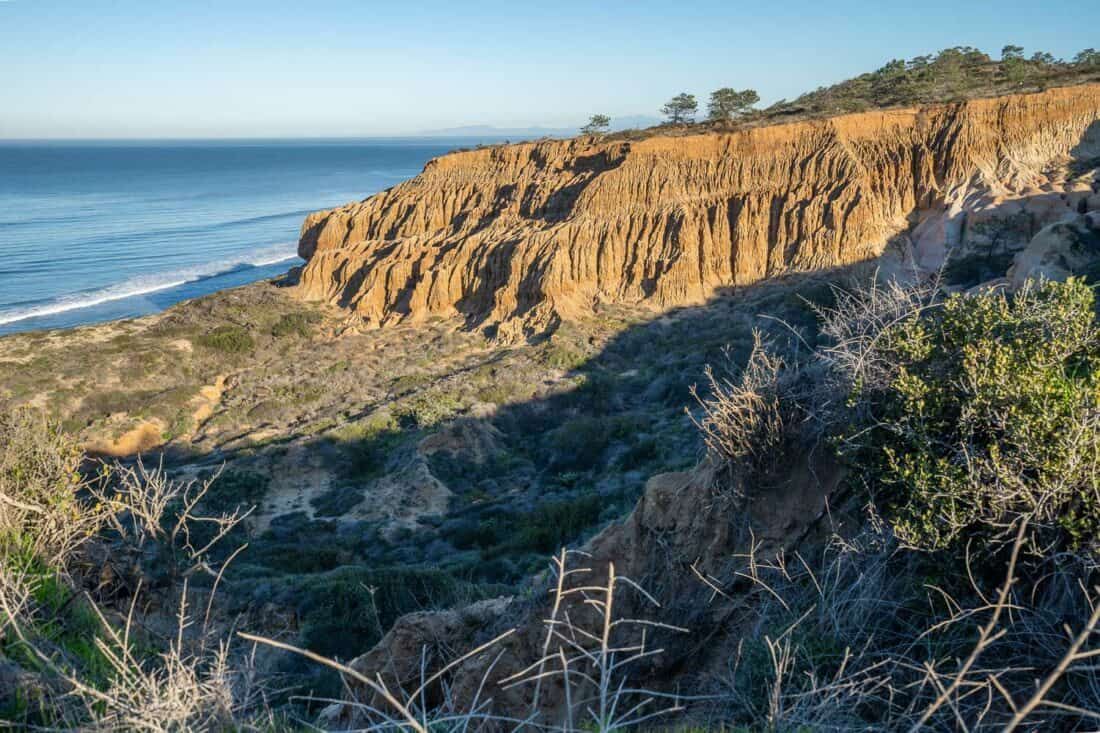 It's worth starting early to avoid the crowds—arriving at 7.30am we had Razor and Yucca Points to ourselves.
Note that the trails are closed when it's raining. If it's low tide you can walk on the beach instead (there's free parking along the road).
If you're looking for even more outdoor adventures in San Diego, you can paraglide and hang glide at Torrey Pines Gliderport for stunning views of the cliffs and beach from above.
Location: N Torrey Pines Rd in La Jolla, about 30 minutes north of downtown San Diego.
Cost: Parking costs $15 – 25 depending on demand and is payable at the machine. You can park at the South Beach Lot and walk up or if you only want to do a short clifftop walk, park near the visitor centre (parking here fills up though).
Opening Hours: 7am – sunset (from 5-8pm depending on the time of year) every day. The visitor centre is open from 9.30am-5.30pm.
Other Great Hiking Spots in San Diego:
You'll find details of the first three easy hikes below. Also, check out my guide to the best things to do in Encinitas for trails in North County San Diego.
Bayside Trail at Cabrillo National Monument
Sunset Cliffs Natural Park
Annie's Canyon in San Elijo Lagoon Reserve
Cowles Mountain Trail in Mission Trails State Park – A 20-minute drive inland, the highest peak in San Diego is on our list for next time.
Borrego Palm Canyon – A two-hour drive away in Anza Borrego Desert State Park, this hike to a desert oasis is best done as an overnight trip. While you are there, don't miss the amazing Anza Borrego sculptures.
2) Cycle Around Coronado Island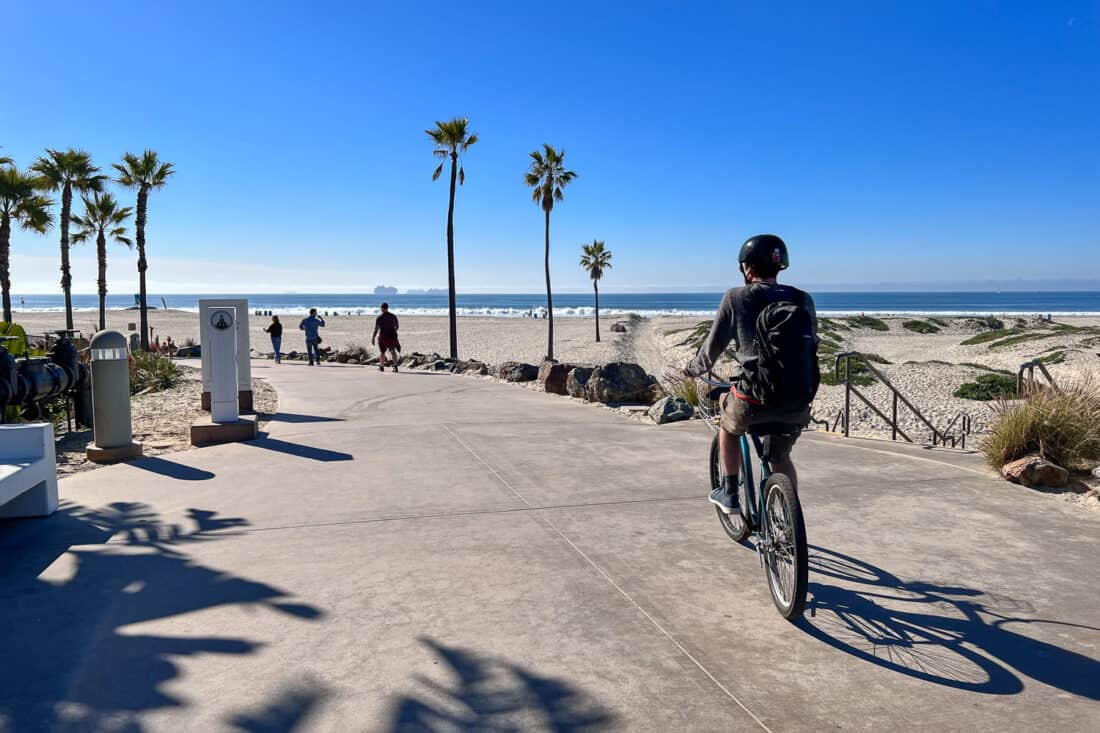 Coronado Island is one of the best places for outdoor activities in San Diego. It's just a short ferry ride or drive across the bridge from downtown but has a relaxed beach town vibe.
Here you'll find a long white sandy beach, a calm bay for paddleboarding, and one of the city's best beach resorts.
On our latest visit, we decided to cycle around the island, which is fairly small (the loop is about six miles) and mostly flat. Although there are a few busy roads, it's mostly peaceful along bike lanes or quiet streets.
We started out in Coronado's beautiful residential neighbourhood with its fancy wooden houses and tree-lined streets.
We then went counterclockwise around the island starting on the Silver Strand Bikeway which connects the beach to Ferry Landing. The Bayshore Bikeway is the best section as it's away from the road with wonderful views of downtown.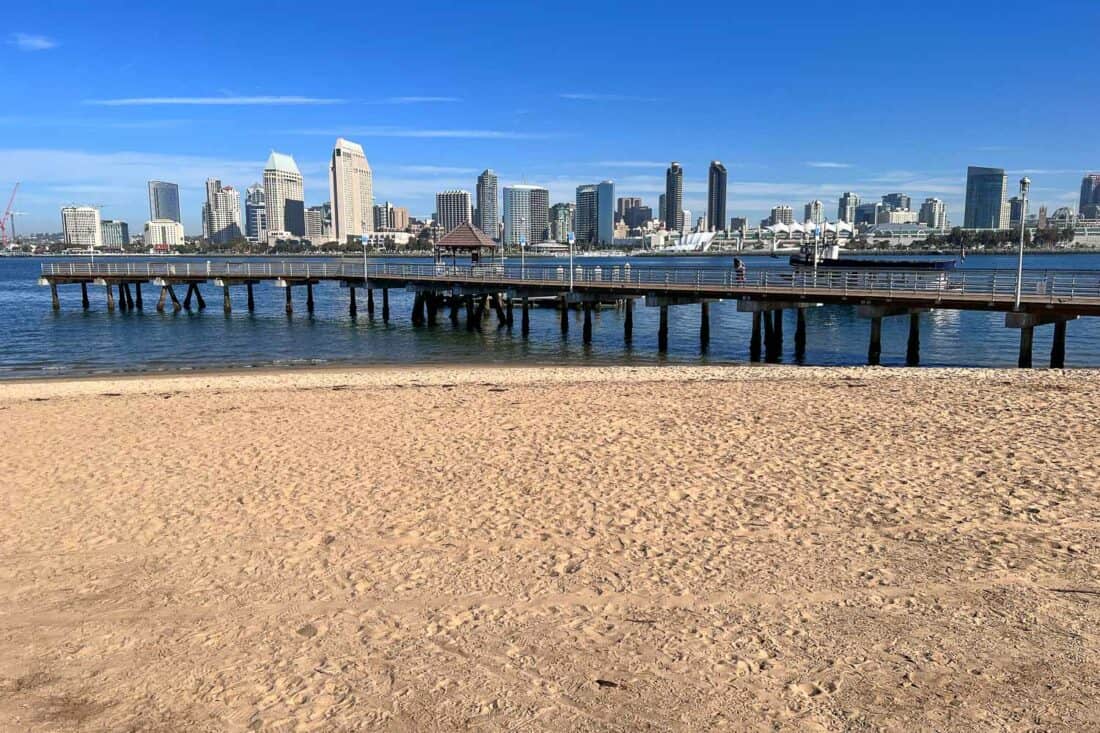 It took us about 25 minutes to reach the Ferry Landing Marketplace where there are lots of shops and restaurants and a small beach.
If you are staying downtown, you could catch the ferry to Coronado and rent bikes from Holland's here to get to the beach.
We crossed back over the island through residential streets to reach Coronado Beach, one of the best in San Diego. Cycling next to the white sand toward Hotel Del Coronado is one of the most scenic parts of the route.
This Victorian hotel dates back to 1888 and is iconic in San Diego. There's a lovely beach resort vibe here and it's hard to believe downtown is only a 10-minute drive away.
This would be a fantastic place to stay, but it's also great to wander with lots of (pricey) places to eat and drink with ocean views. There's an upmarket shop where you pick up picnic ingredients.
We'd seen most of the island at this point (in about an hour of cycling) but decided to extend our ride by cycling down the Silver Strand, the narrow peninsula that connects the island to the mainland.
We didn't particularly enjoy this section, though. The long, straight bike path is next to a road so it's quite noisy and there's no easy way to get across the highway to the beach. We turned around at Fiddler's Cove Marina and faced a strong wind on the way back.
We ended up cycling 12 miles in 90 minutes and our total trip time was 2 hours 15 minutes with short breaks (allow longer if you want to get lunch or relax on the beach).
Even if you don't want to cycle, it's well worth visiting Coronado to swim, enjoy the beach, or paddleboard on the bay.
Location: We rented bikes from Wheel Fun Rentals at 1019 C Ave, Coronado. You can find free street parking in neighbouring streets. They provide a map of the bike paths.
Cost: A basic cruiser costs $8 per hour, $20 for half a day, and $30 for a full day. They also have e-bikes, tandems, and novelty bikes. You need to leave your ID as a deposit.
Opening Hours: 9am – sunset every day, weather permitting. Last rental one hour before closing.
Other San Diego Biking Spots
3) Explore the Many Beaches
San Diego is all about the beach and there are many to choose from whether you want to sunbathe, swim, surf, walk, play volleyball, or spot wildlife.
Here are just a few of the options from south to north:
Coronado Beach – Often voted as one of the best beaches in the US, this is a beautiful long stretch of white sand. The ocean is often calmer than the surf beaches so is good for swimming.
Mission Beach – You won't have this lively beach to yourself, but there's plenty of space. It's good for people watching, volleyball, and running or cycling along the boardwalk. Retro amusement park, Belmont Park with its giant roller coaster is nearby as is Mission Bay, one of the best spots for water activities in San Diego.
La Jolla Cove – Small but pretty and with lots of wildlife to see above and below the water.
Torrey Pines State Beach – Backed by crumbling bluffs, this wild beach is perfect for a walk.
Swami's Beach – Legendary surf and stunning views.
Moonlight State Beach – A great all-rounder for many beach activities with plenty of facilities and lifeguards year-round.
See my guide to the best beaches in Encinitas for more recommendations.
4) Surf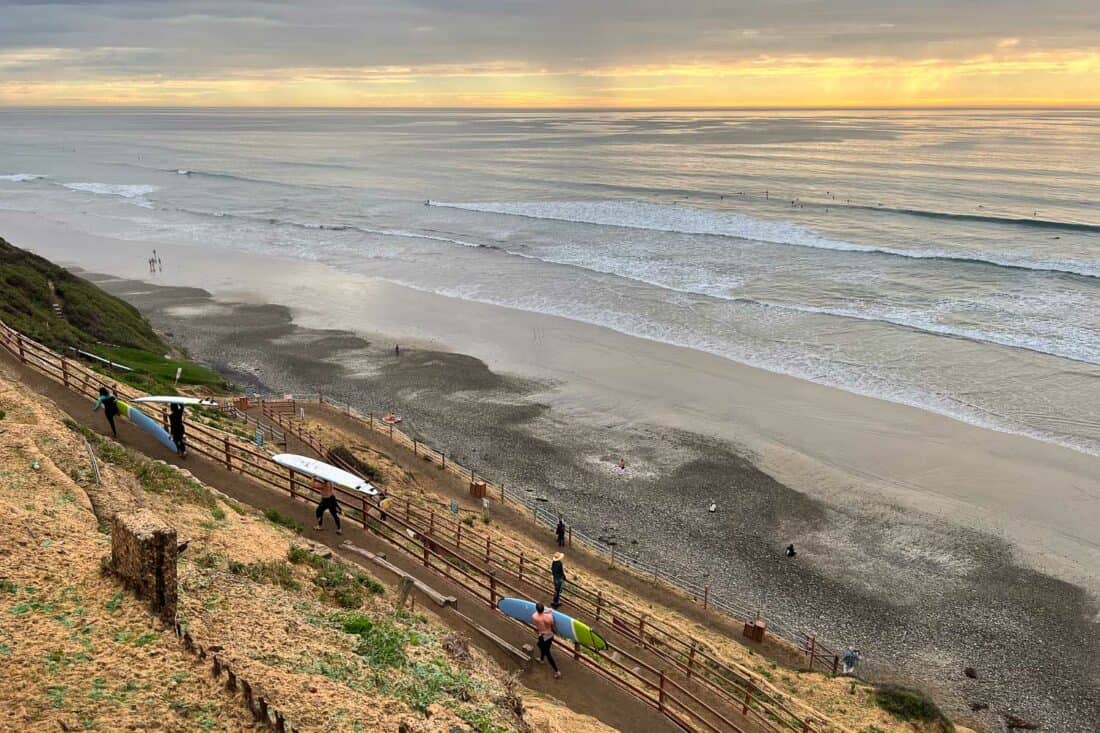 It feels like everyone is a surfer in San Diego. Popular spots with the experts are Swami's, Grandview, and La Jolla Windansea.
There are plenty of gentler waves for beginners, though. On our first trip to the city, our friend took Simon out to his favourite beginner surf beaches—Tourmaline in Pacific Beach and the jetty by Dog Beach in Ocean Beach.
Learning to surf is one of the most fun activities in San Diego and there are loads of places to get lessons.
Everyday California offers 90 minute public or private lessons at La Jolla Shores beach, which is ideal for catching your first wave.
5) Stand Up Paddleboard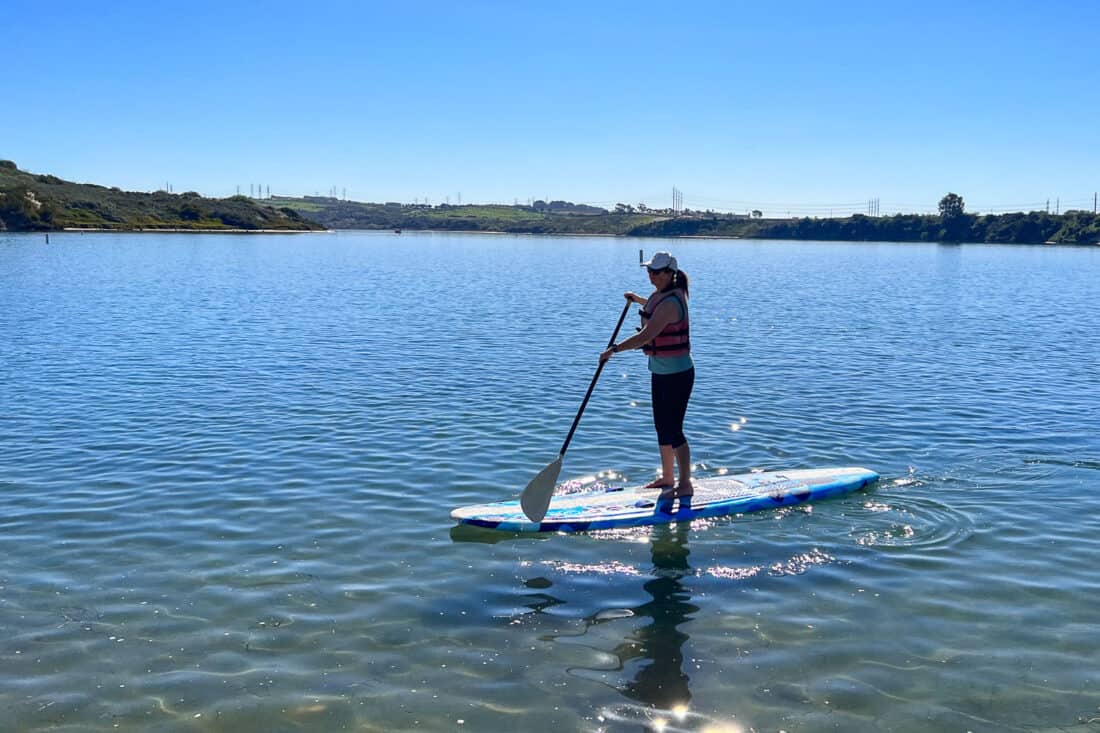 If battling the waves is not for you, I recommend trying stand up paddleboarding instead. It's a lot easier if you find a calm bay and still a great way to get out on the water—I always find it relaxing.
Board rental costs about $30 for one hour. You can usually pick it up without a lesson, but I did find some tips from a teacher helped me improve my technique and navigate windier conditions more easily.
As we were staying in Encinitas, I went paddleboarding at Agua Hedionda Lagoon in Carlsbad.
I recommend paddleboarding on Coronado Island—the bay is calm and has fantastic views of downtown. SUP Coronado rents boards and offers instruction (by appointment only).
Another calm and central spot is Mission Bay. Rentals are available at several places including Aqua Adventures, where kayaks and hydro bikes are also available.
6) Enjoy the View at Cabrillo National Monument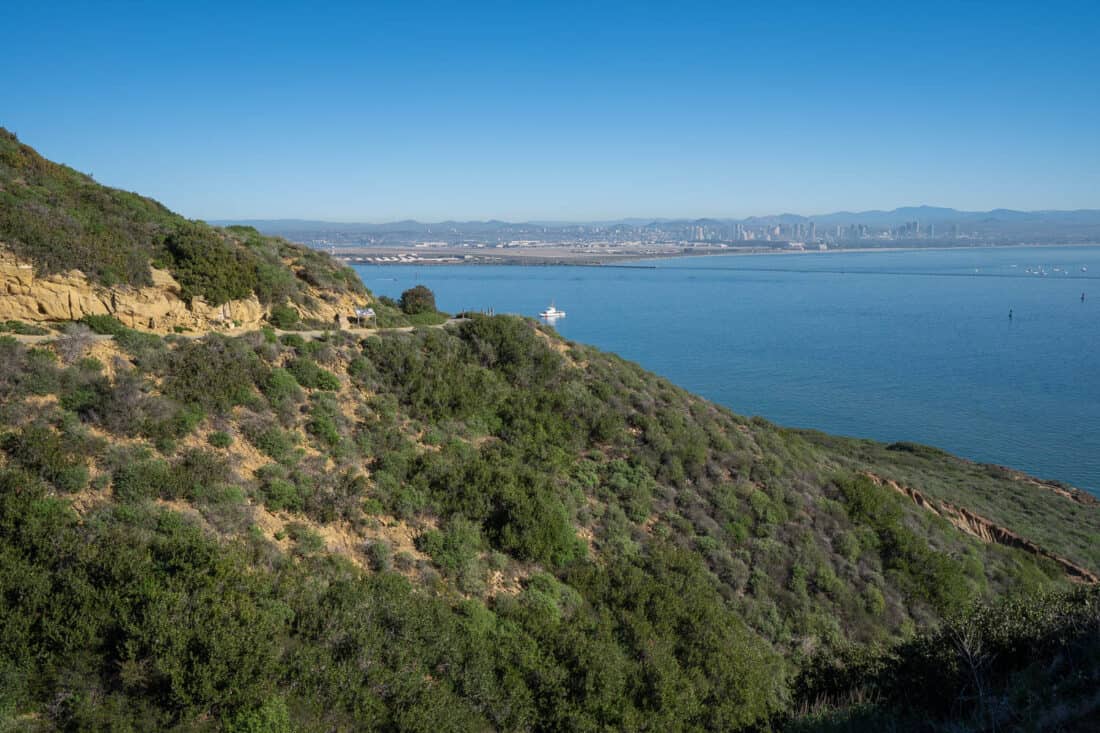 One of the best views in San Diego is found on the tip of the Point Loma Peninsula.
Cabrillo National Monument commemorates the landing of Juan Rodriguez Cabrillo in 1542, the first European to set foot on what is now the West Coast of the United States.
There's a visitor centre to learn more, but our focus was on the nature of the area rather than the colonial history.
We parked at the visitor centre and walked to the Old Point Loma Lighthouse, which dates back to 1855. From here we connected to the Bayside Trail.
The 2.5 mile out and back trail took us just under an hour with breaks to read the signs about the flora and history (there's a searchlight shelter used in World Wars I and II).
There are beautiful ocean views throughout and you can see over to downtown San Diego, the naval base, Coronado Island, and even Mexico.
It's not a challenging walk but it is uphill on the way back so take water—it felt really hot even on a winter morning.
Another area of Cabrillo worth exploring is the tide pools (a short drive from the visitor centre), which are best seen at low tide.
Location: 1800 Cabrillo Memorial Dr, about a 25-minute drive from downtown San Diego.
Cost: Parking costs $20 per vehicle. If you have an America the Beautiful annual pass for National Parks you can use it here.
Opening Hours: 9am – 5pm.
7) Stroll the Encinitas Meditation Gardens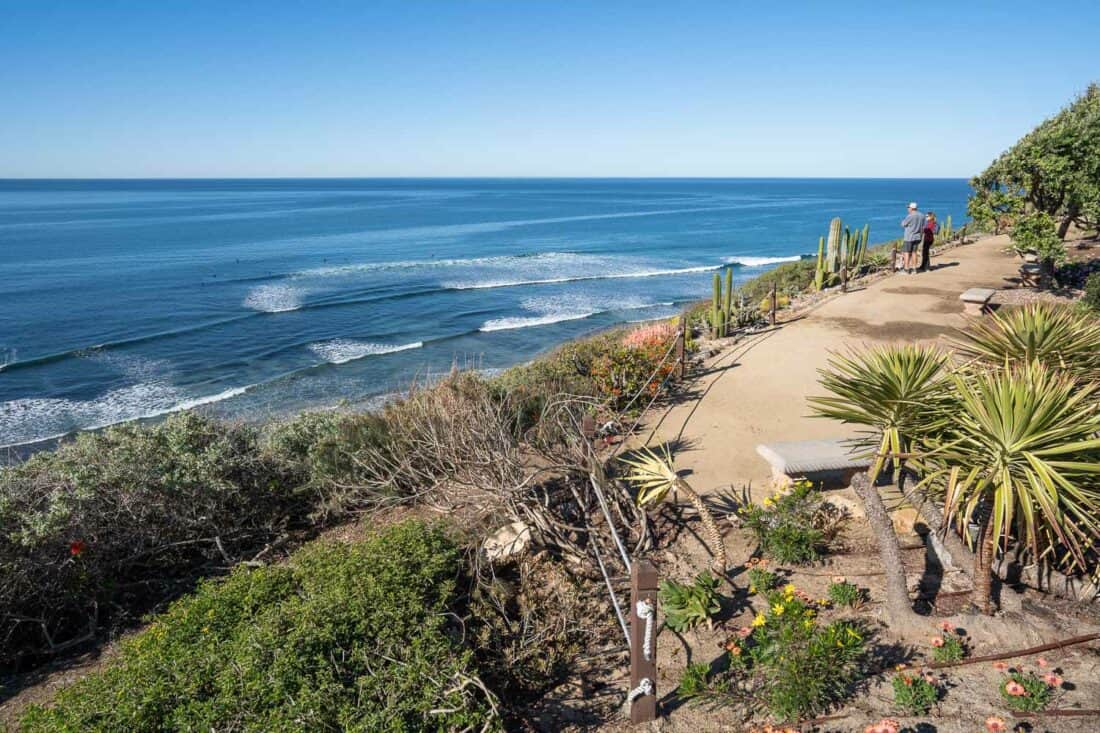 One of our favourite outdoor activities in San Diego is to drive up the coast to Encinitas where you'll find some wonderful beaches and gardens.
The Meditation Gardens at the Self-Realization Fellowship Encinitas Temple are small but lovely, full of vibrant flowers, cacti, and koi ponds.
There are benches overlooking the ocean where you can watch the surfers at Swami's Beach below (I recommend a walk on the beach after the gardens). Or, of course, meditate.
Location: 215 W K St, Encinitas. There's free street parking outside.
Cost: Free.
Opening Hours: Open Tuesday to Sunday from 9am – 5pm (from 11am on Sunday) and closed on Monday.
8) Explore the San Diego Botanic Garden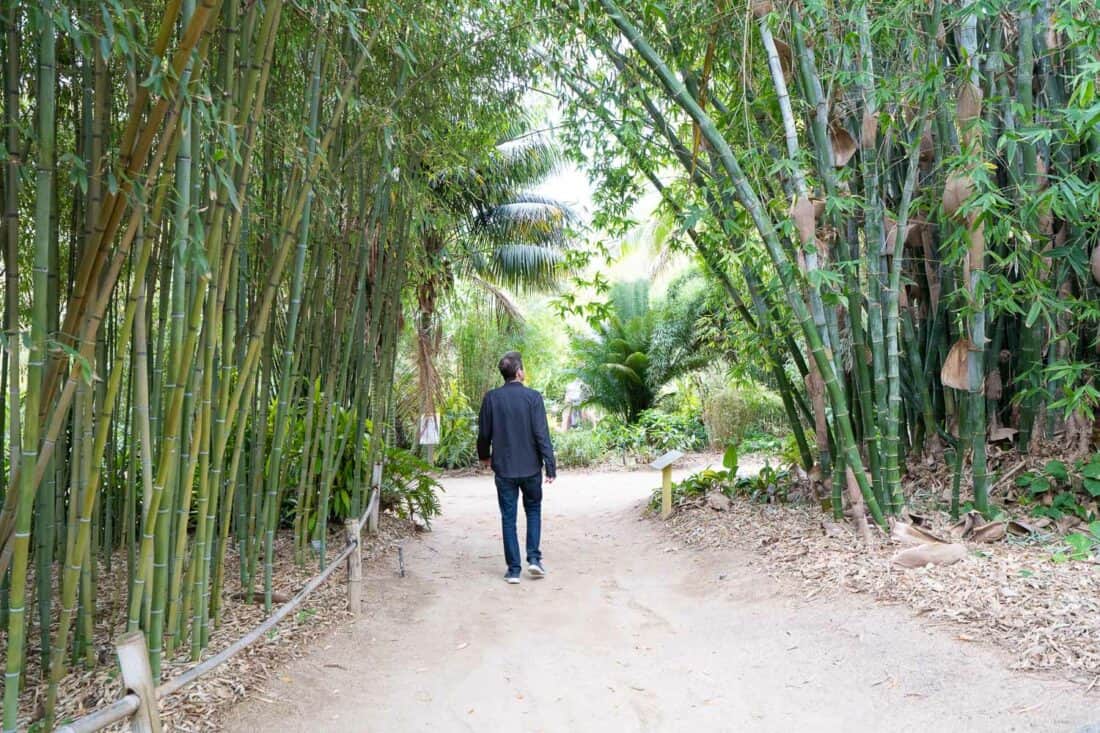 Another wonderful garden in Encinitas is the San Diego Botanic Garden. There are four miles of trails to explore taking you through diverse environments including a rainforest, bamboo forest, cacti garden, and orchid conservatory.
We loved seeing unique plants from Africa, Australia, the Mediterranean, California, Mexico and more.
Allow a few hours for your visit and wear comfortable walking shoes as some trails are unpaved.
Location: Corner of Quail Gardens Drive and Ecke Ranch Rd, Encinitas.
Cost: $18. Advance online reservations for a specific entrance time are encouraged. See the San Diego Botanic Garden website.
Opening Hours: 9am to 5am Wednesday to Monday. Closed on Tuesday.
9) Spot Sea Lions at La Jolla Cove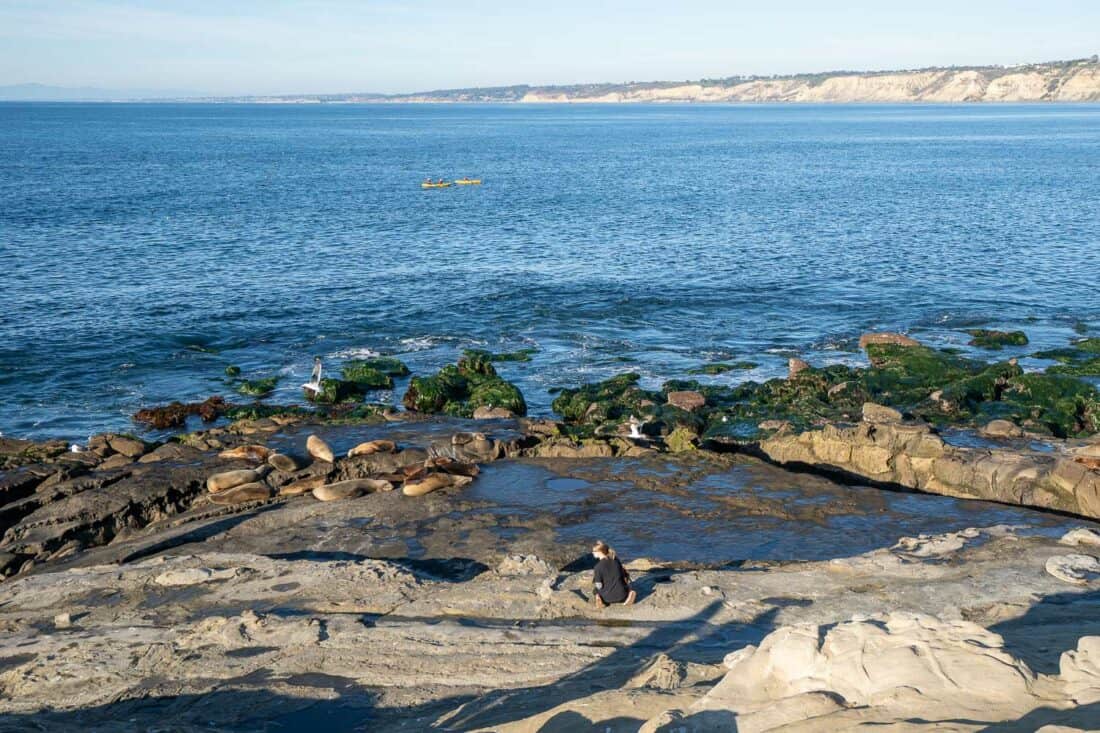 I love how much wildlife there is in San Diego and La Jolla is one of the best places to see it. This upmarket beach community is a 20-minute drive north of downtown San Diego.
In the late afternoon, we walked on the boardwalk from La Jolla Cove to Children's Beach. It's only half a mile but there is plenty to see along the way. It can get busy, though.
La Jolla Cove is a pretty little bay and just around the corner, at Point La Jolla, we saw dozens of California sea lions lolling on the rocks.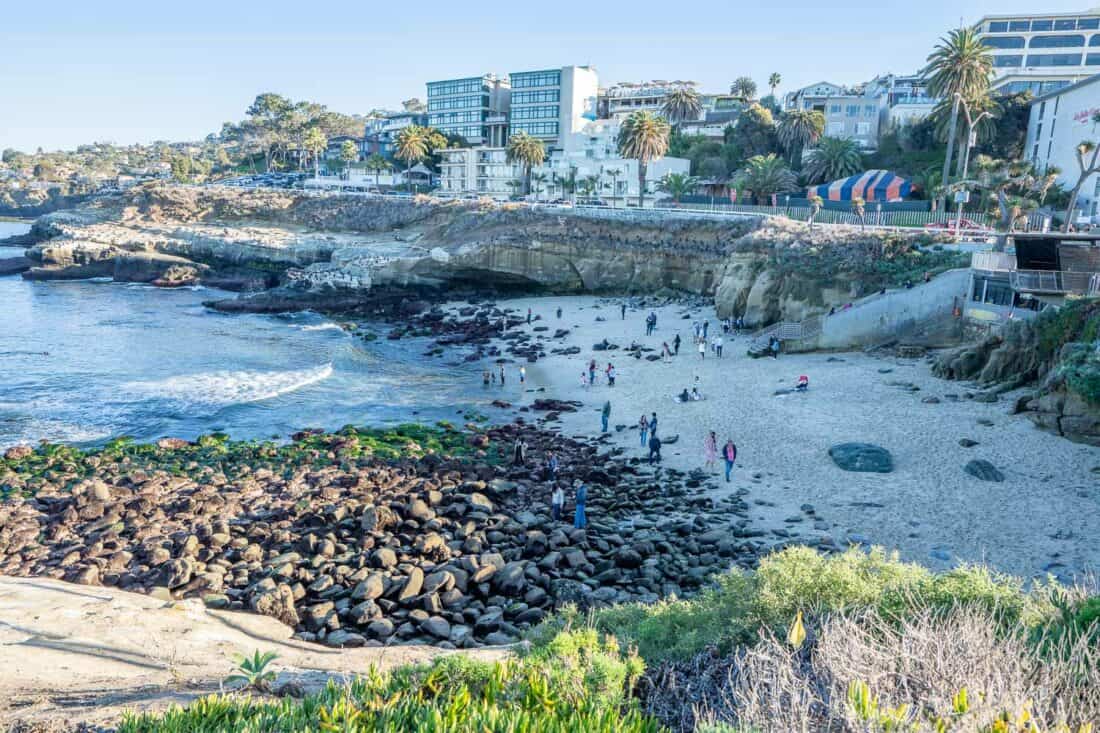 Further along, we walked down the steps to Shell Beach. As it was a negative low tide, it was a good time for tide pooling and we saw a tiny hermit crab change its shell home.
Back up on the cliffs, we watched a flock of California Brown Pelicans with their massive beaks and bright red pouches.
Children's Beach is another small sandy cove. It's supposed to be the best place to see Pacific Harbor seals but we only saw a few.
Just behind the beaches is the large grassy Ellen Browning Scripps Park. We got takeout veggie tacos and potato taquitos from Puesto and ate them on a picnic table as the sun set.
If you want a longer walk, you can continue down the coast in either direction.
10) Kayak and Snorkel in La Jolla
Another great way to experience La Jolla's marine life is to get out on the water on a kayak or with a snorkel. The La Jolla Ecological Reserve is a protected area.
This 90-minute La Jolla kayaking tour includes the Seven Sea Caves and the chance to spot sea lions, dolphins, turtles, a variety of fish (including the bright orange garibaldi), and even whales.
Snorkelling is also excellent in this area. You can rent gear and head out by yourself at La Jolla Cove, but you'll likely see more with a guide.
This two-hour kayaking and snorkelling tour combines the best of both worlds as you kayak out to one of the best snorkelling spots.
We weren't able to do this (snorkelling tours run in the warmer months only), but it's top of my list for next time.
11) Go Tide Pooling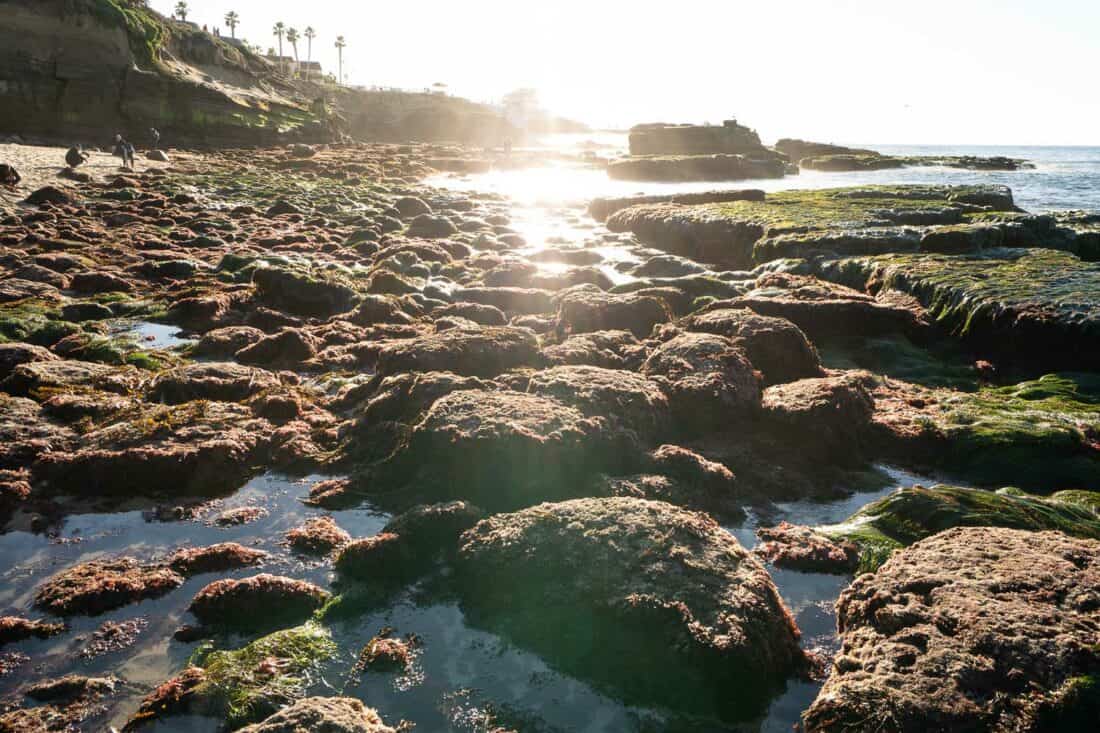 Many of San Diego's beaches have tide pools where you can see marine life like hermit crabs, snails, sea urchins, sea stars and more. If you are very lucky, you can even see octopuses. This is a particularly fun outdoor adventure in San Diego with kids.
Tide pooling is best during the winter when the very low minus tides happen during the day. Check the San Diego tide chart and choose a time when the tide is close to zero (-1 foot or lower is best).
Here are some of the best tide pooling spots in San Diego:
Shell Beach in La Jolla – We were delighted to watch a hermit crab changing its shell.
Cabrillo Tide Pools on Point Loma – The tide pools at the Cabrillo National Monument (see above) are some of the best. The nearby parking fills up quickly so you could park at the visitor centre and walk down.
Tide Beach Park in Solana Beach – We walked here from Cardiff State Beach (about 20 minutes) and found the mossy tide pools particularly scenic.
12) Walk at Sunset Cliffs Natural Park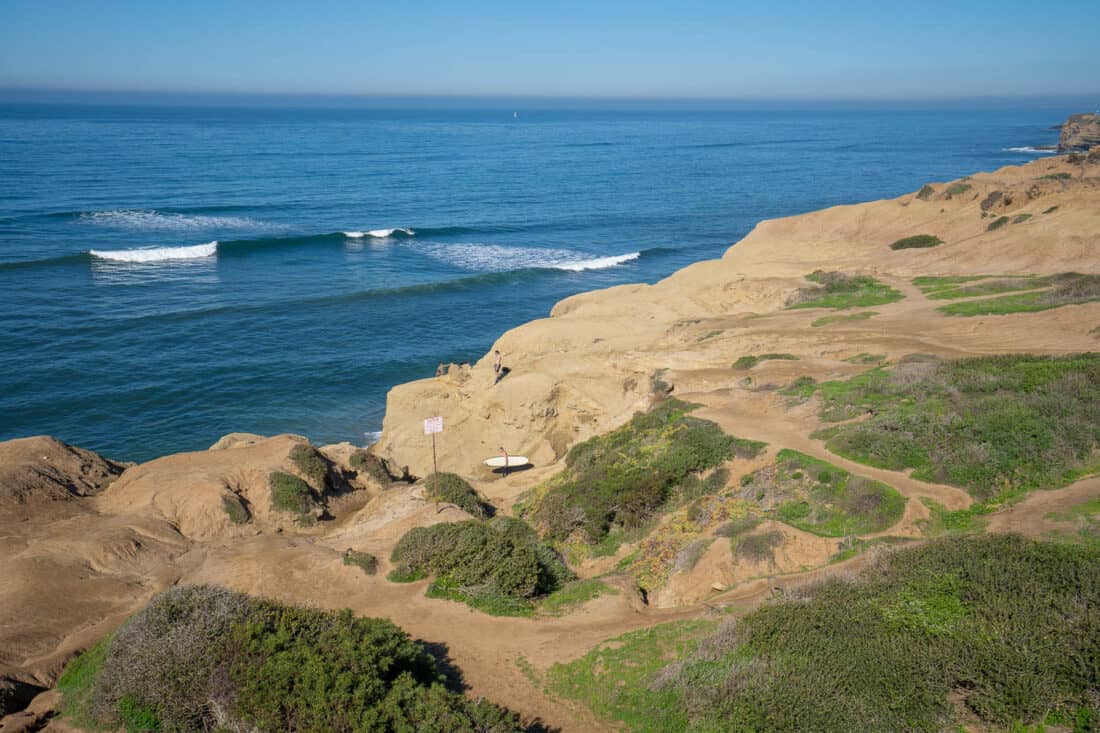 The name gives the attraction away here, but even at other times of day, Sunset Cliffs Natural Park is a beautiful place to walk.
There are various trails and it's a good spot whether you want a quick leg stretch or a longer walk. The trails follow the coast with stunning views of the sandstone cliffs carved into shapes by the elements and the ocean beyond with a few hardy surfers. Look out for whales in winter!
At low tide, you can also walk down to the beach where there are tide pools.
The cliffs are unstable so keep away from the edge.
Location: There are a few access points. We parked at the lot on Ladera Street. Luscomb's Point is supposed to be the best spot for sunset. Parking fills up at sunset. It's a 20-minute drive from downtown. It's on Point Loma so we combined it with a visit to the Cabrillo National Monument.
Cost: Free.
Opening Hours: 24 hours.
13) Head Back in Time at Old Town State Historic Park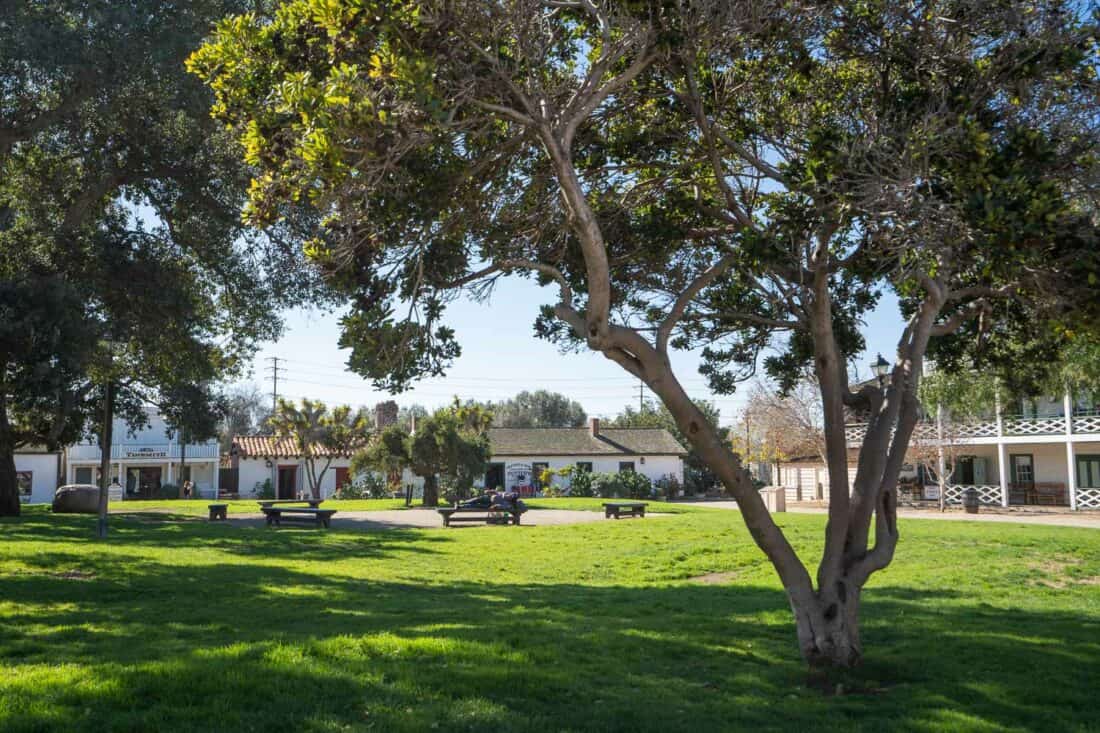 We did not expect much from Old Town, San Diego's open-air living history museum, as it sounded rather touristy. And it is, but it's also very picturesque and a fun, traffic-free place to wander, shop, and eat.
The park is in Old Town, San Diego's first neighbourhood, and was created to protect some of the area's oldest buildings. It's a mix of restored and reconstructed buildings from the 1800s when San Diego transitioned from Mexican to American rule.
The adobe and wooden buildings surround a lovely grassy plaza with beautiful trees. Some sections feel like Mexico Disney (in a charming way), while others have a Wild West vibe.
You can wander for free, shop for souvenirs, learn more in the museums, or take part in one of the activities such as mineral panning. There's also often live music, donkeys, and a working blacksmith. There's more entertainment on weekends but we enjoyed our quiet weekday visit.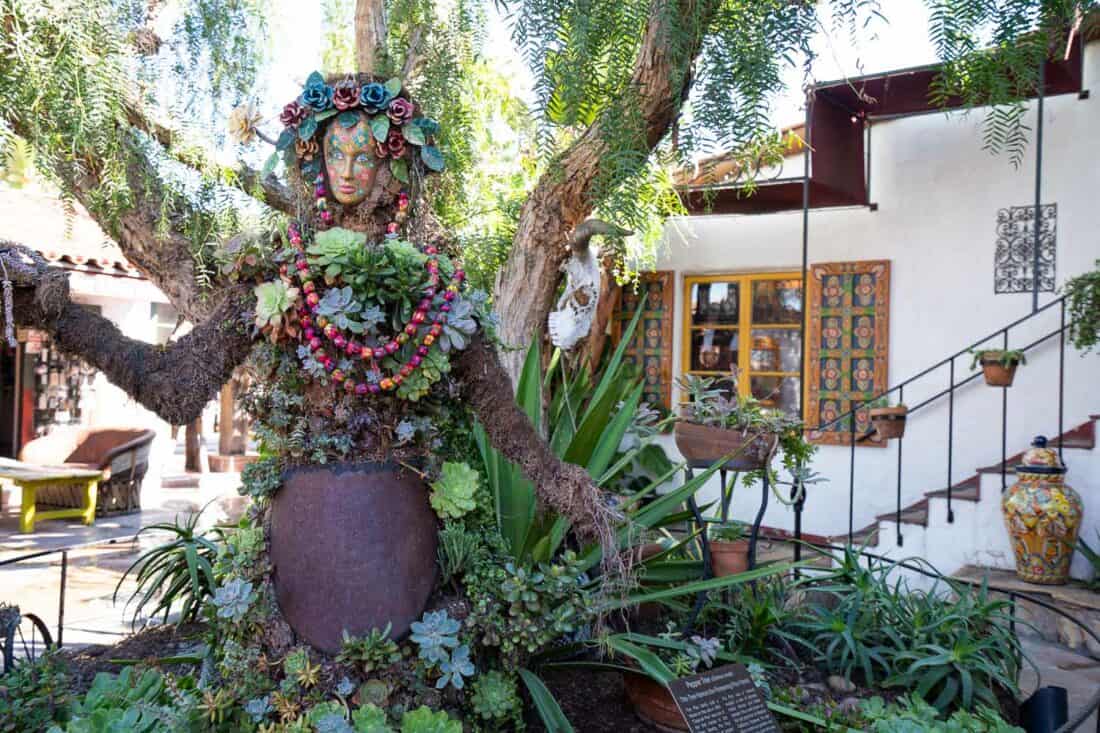 There are a few Mexican restaurants—we had lunch at Casa de Reyes. The food was fine if nothing special, but the large patio is pretty and they can make most dishes vegetarian or vegan.
Location: 4002 Wallace St. A 10-minute drive from downtown.
Cost: Free.
Opening Hours: 10am – 5pm every day.
14) Explore the Many Gardens in Balboa Park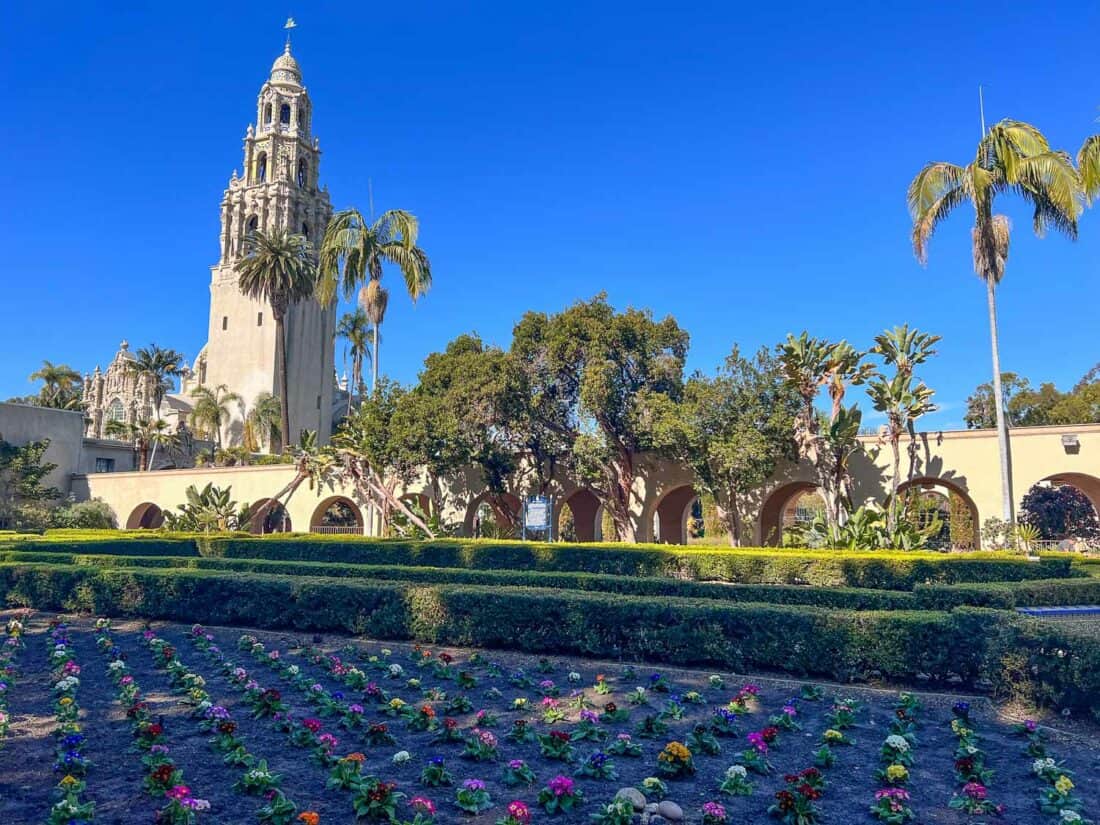 Balboa Park is one of the most popular San Diego attractions and it is absolutely huge. The sprawling park is home to more than 16 museums and arts venues and 1200 acres of gardens and trails.
Even skipping the museums, there's plenty of outdoor fun to be had just wandering the gardens and admiring the grand buildings—it has a European feel.
A highlight is the Spanish-inspired Alcazar Garden with colourful tiled fountains, pretty flower beds, and the iconic California Tower with its mix of architectural styles from baroque to gothic.
You can also stroll through Palm Canyon (with 58 species of palms), admire the bonsais and koi fish in the Japanese Friendship Garden, and see the lily pond at the Botanical Building (home to more than 2100 plants).
We were disappointed that we couldn't see the giant Spreckels Organ, although the pavilion is very grand. To see it, visit on Sundays at 2pm when there are free concerts.
Location: Various access points. We parked for free at 2168 Pan American Rd E near Spreckels Organ. It's a five-minute drive from downtown.
Cost: Free entrance to the park. Some museums and gardens have fees (the Japanese Garden is $12).
Opening Hours: The park is open 24 hours. Individual opening times vary.
15) Climb a Slot Canyon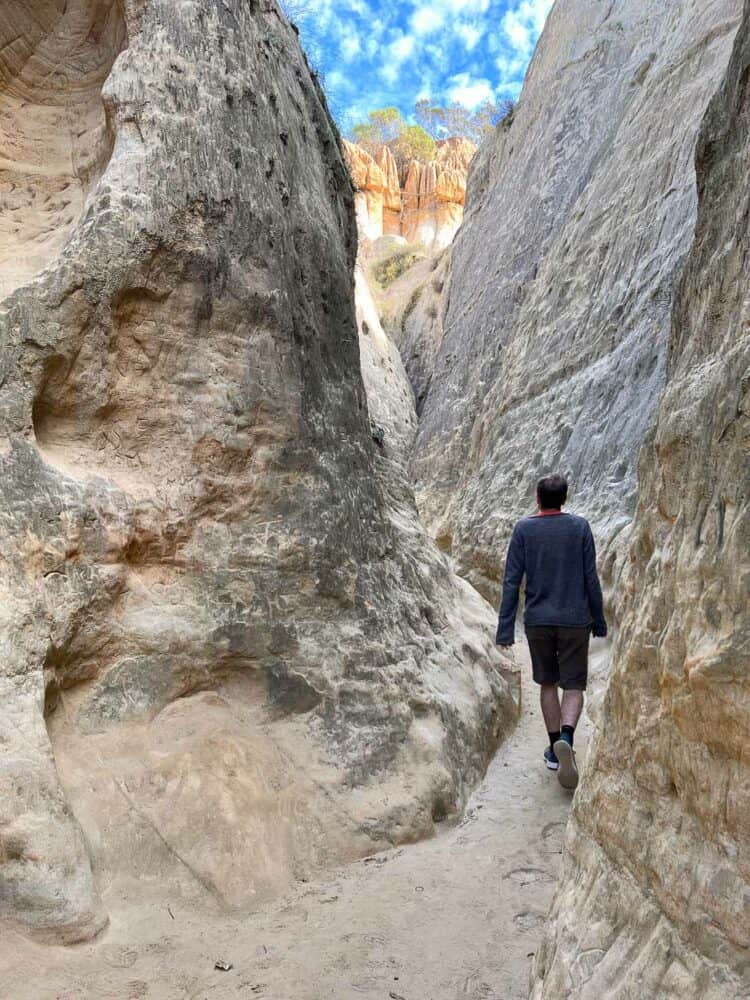 We expected slot canyons in the Arizona desert, not in the middle of a city!
Annie's Canyon in Solana Beach is a unique and fun hike that doesn't take long (the 1.5-mile return trail took us 35 minutes) but has a bit of a challenge.
After an easy stroll along San Elijo Lagoon, you climb up a narrow sandstone canyon that involves some tight squeezes, scrambling, and climbing a ladder. You'll feel far away from the city!
See my guide to what to do in Encinitas for more details (and other trails in the area).
Location: The trail starts at the end of North Rios Avenue in Solana Beach, 30 minutes from downtown.
Cost: Free.
Opening Hours: Sunrise to sunset.
16) Shop at a Farmer's Market
You'll find open-air farmer's markets in many neighbourhoods throughout San Diego.
With its mild climate, you'll find fresh produce year-round as well as many other tasty treats such as cheese, bread, honey, olive oil, dips, salsas, nuts and more.
It's best to go hungry so you can try the free samples as well as enjoy a meal from the diverse hot food stalls.
We've enjoyed the markets in Hillcrest and Leucadia (both on Sunday mornings) and you can find a full list of farmer's markets in San Diego here.
17) Play Disc Golf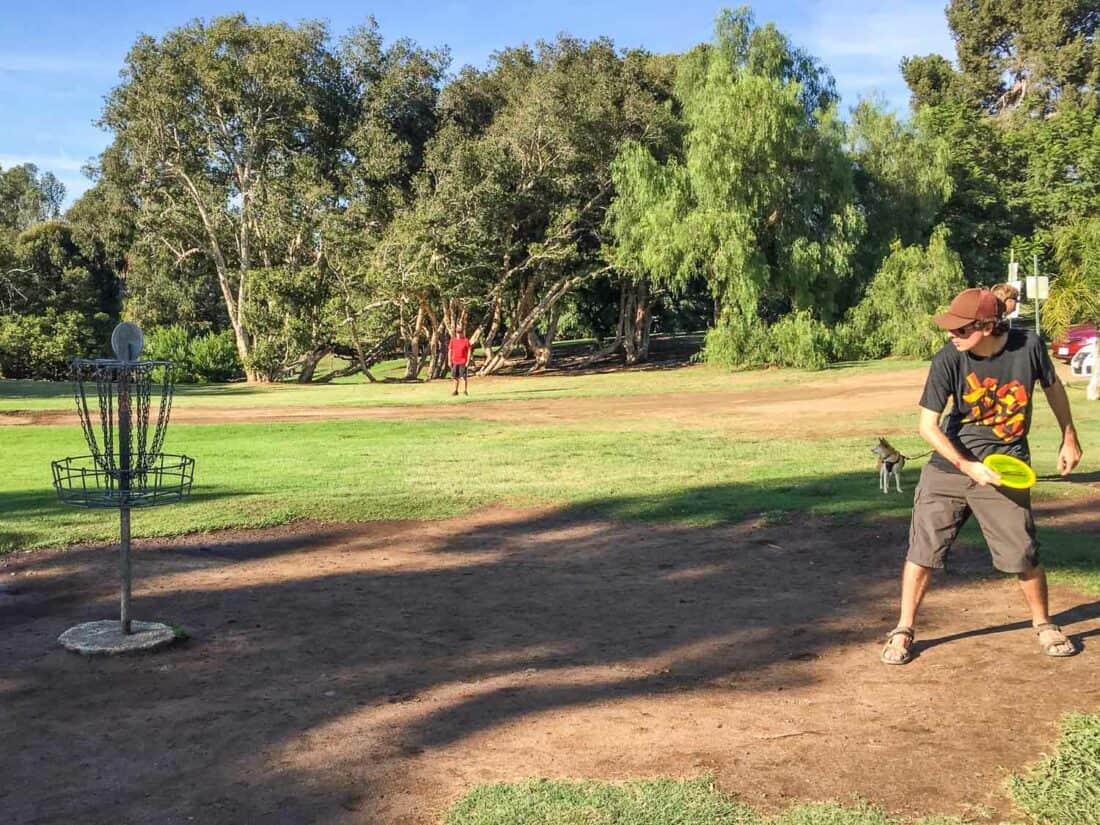 We had never heard of disc golf before a local friend introduced us in San Diego.
This unique sport involves throwing a frisbee around a course trying to get it into each target (a metal basket) in the fewest throws.
You can play disc golf at the scenic tree-filled Morley Field course in Balboa Park. It's one of the most affordable and fun outdoor things to do in San Diego.
Location: 3090 Pershing Drive.
Cost: $5 on weekdays and $6 on weekends and holidays. You can rent discs for $2.50 each.
Opening Hours: Sunrise to sunset. Book your tee time in advance on the Morley Field website.
18) Take a Whale Watching Cruise
On our list for our next visit to San Diego is a whale-watching cruise. It's possible to see whales year-round in San Diego, but the best time is from mid-December to mid-March when gray whales migrate from Alaska to Mexico and back.
This four-hour whale-watching cruise costs $55 and has plenty of indoor and outdoor seating on a large boat.
You may also see dolphins, sea lions, and harbour seals. In summer, blue whales feed offshore.
Map of Outdoor Things to Do in San Diego
More California Posts
Explore more of California with our other travel guides:
San Diego
Southern California
Northern California
Enjoyed this post? Pin for later!